"It Is Not A Question of Who Is Right Or Wrong But What Is Right Or Wrong That Counts.

"

--Geoff Metcalf



Wo
rld & National
Christine Blasey Ford willing to testify about Brett Kavanaugh allegations, her lawyer says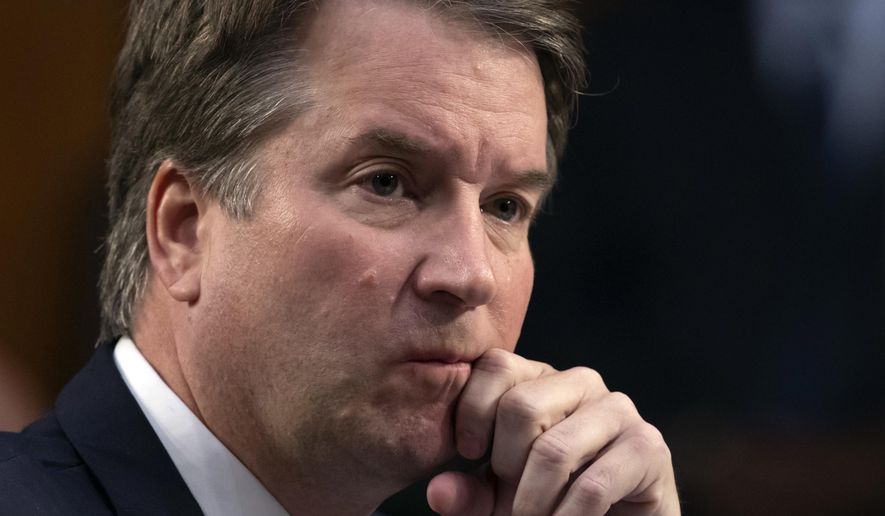 Debra Katz, the attorney representing Christine Blasey Ford, said Monday that her client is willing to testify before Congress about her accusations against Supreme Court nominee Judge Brett M. Kavanaugh.
Ms. Katz confirmed on three morning news shows that Ms. Ford would be willing to go on the record and have a public hearing about the sexual assault allegations she made in a letter to Sen. Dianne Feinstein, California Democrat, and an interview with The Washington Post.
"She's willing to do whatever it takes to get her story forth," she said on NBC's "Today" show.
Ms. Katz told CNN's "New Day" that her client has not been asked to speak before the Senate Judiciary Committee yet. The lawyer explained many lawmakers have statements, but not taken action.
While Ms. Ford is ready to testify, Ms. Katz said Republicans were already planning to play "hardball" with her.
Accuser's story seems to be falling apart
Writer of confidential Kavanaugh letter speaks out about her allegation of sex assault...
WHEN THEY WERE TEENS...
Anti-Trump Activist?
Lawyer History of Dismissing Claims Against Liberals, Defended Franken...
Dems call on Senate to postpone vote...
Republicans join...
Feinstein urges FBI probe...
Brett willing to answer questions on allegations; Hires attorney...

---
Flooding fears surge as rivers rise; Wilmington cut off
Catastrophic flooding from Florence spread across the Carolinas on Sunday, with roads to Wilmington cut off by the epic deluge and muddy river water swamping entire neighborhoods miles inland. "The risk to life is rising with the angry waters," Gov. Roy Cooper declared as the storm's death toll climbed to 17.
The storm continued to crawl westward, dumping more than 30 inches (75 centimeters) of rain in spots since Friday, and fears of historic flooding grew. Tens of thousands were ordered evacuated from communities along the state's steadily rising rivers — with the Cape Fear, Little River, Lumber, Waccamaw and Pee Dee rivers all projected to burst their banks.
Death Toll, Evacuations Rising...




'Worst yet to come'...




LOOTERS CAPITALIZE ON CHAOS...




Price gouging...


Historic rain...


Rivers record levels...




MUDSLIDES...




Wilmington, NC 'cut off'...


500K+ Without Power...


Truck driver rescues 64 dogs and cats...




SATELLITE...

---

Al Gore's claim about Hurricane Florence doused by scientists
Meteorologist Ryan Maue says Gore's assertion made 'without any evidence'

Another climate-change claim by former Vice President Al Gore is coming under fire, this one involving Hurricane Florence.
Mr. Gore said Friday that two major storms from the Atlantic and Pacific oceans had never made landfall at the same time, referring to Hurricane Florence, the Category 1 hurricane that struck North Carolina on Friday, and Super Typhoon Mangkhut, which hit the Philippines early Saturday.
He cited the storm activity on opposite sides of the globe as an example of climate change driving unusual and extreme weather, but meteorologist Ryan Maue was quick to dump cold water on Mr. Gore's assertion. "Al Gore just (fraudulently) claimed without any evidence that we've never had hurricanes in both the Atlantic and Pacific making landfall at the same time," tweeted Mr. Maue, an adjunct scholar at the free-market Cato Institute.
---
Eric Holder rips White House 'occupant' Trump, says MAGA slogan 'rooted in fear'
Former Attorney General Eric H. Holder Jr. gave a scathing speech Saturday at the Human Rights Campaign dinner in Washington, calling President Trump an "occupant" of the White House whose administration is guilty of "rampant corruption," "stunning incompetence" and "shameful intolerance."
Mr. Holder, a Democrat who served under former President Barack Obama, said the Republican Party is "shamefully complicit" for not holding the Trump administration accountable for its purported misdeeds, joking that "perhaps they are just too busy figuring out how to make America great again," referring to Mr. Trump's 2016 campaign slogan.
---
U.S.-born activist stabbed to death in Israel by Palestinian assailant
A Palestinian assailant on Sunday fatally stabbed a well-known Israeli settler to death Sunday at a busy mall in the West Bank.
The victim was identified as Ari Fuld, a U.S.-born activist who was popular in the local community and an outspoken Israel advocate on social media platforms.
The military said the attacker arrived at the mall near a major junction in the southern West Bank, close to the Gush Etzion settlement bloc, and stabbed the Fuld before fleeing. Video footage showed Fuld giving chase and firing at his assailant before collapsing. Other civilians shot the attacker, whom Israeli media identified as a 17-year-old from a nearby Palestinian village. His condition was unclear.
---
Trump Lauds Tariffs as China Warns It Won't Play Defense on Trade
China will not be content to only play defense in an escalating trade war with the United States, a widely read Chinese tabloid warned, as U.S. President Donald Trump was expected to announce new tariffs on $200 billion in Chinese goods as early as Monday.
The United States and China have already levied duties on $50 billion worth of each other's goods in an intensifying row that has jolted global financial markets in the past few months.
---
Coke, Aurora in Talks to Make Cannabis-Infused Drinks
The world's largest beverage company may be the next industry giant to jump into the cannabis drinks business.
Coca-Cola Co. says it's monitoring the nascent industry and is interested in drinks infused with CBD -- the non-psychoactive ingredient in marijuana that treats pain but doesn't get you high. The Atlanta-based soft drinks maker is in talks with Canadian marijuana producer Aurora Cannabis Inc. to develop the beverages, according to a report from BNN Bloomberg Television.
"We are closely watching the growth of non-psychoactive CBD as an ingredient in functional wellness beverages around the world," Coca-Cola spokesman Kent Landers said in an emailed statement to Bloomberg News. "The space is evolving quickly. No decisions have been made at this time." Landers declined to comment on Aurora.
---
Poland wants a U.S. military base
Ever since Russia invaded Georgia a decade ago, the world has known the Kremlin will use its military to expand its influence.
Russia's actions, including the continuing incursions in Ukraine, are seen as a long-term strategy to challenge stability and peace in Europe and the cohesion of the NATO alliance. Such a multidimensional threat requires a measured, comprehensive response. To start, the United States should accept Poland's invitation to deploy U.S. troops and build a joint military base on its soil, a process for which Poland is ready to help foot the bill.
Although the United States and its NATO allies have increased military activities in Central and Eastern Europe, the West is still militarily vulnerable in the region. The Russian military has built up anti-access zones and increased forces next to Poland and the three Baltic states. These actions, made worse by vulnerable geography including the so-called Suwaki Gap, require a firm, long-term response.
---
'There is a God and your anger proves it'
Recent headlines prove once again a simple fact that is as obvious as the sunrise: Contrary to popular belief, and flying in the face of multiple denials, liberals and progressives alike actually do believe in God. In fact, those on the cultural left such as the ladies on "The View," or the talking heads on MSNBC, prove their "biblical faith" as persistently and aggressively as anyone, and they do so every day.
When it comes to big issues such as God, we all have to start at the top of the funnel. Whether you are on the right or the left of the political spectrum, every human being who has ever lived has, at one time or another, asked himself, "is there any logical and empirical reason to believe in God in the first place?"
Whether your name is Machiavelli, Maher or Maddow, there is no denying you have wrestled with and tried to resolve this question. Is there a beginner who is responsible for beginnings, an organizer who is responsible for order and an engineer who is responsible for complexity?
"It is discouraging to think how many people are shocked by honesty and how few by deceit."
-- Noel Coward
(1899-1973) British playwright
---
The Medal of Honor is the highest award for valor in action against an enemy force which can be bestowed upon an individual serving in the Armed Services of the United States.
GeneTrerally presented to its recipient by the President of the United States of America in the name of Congress.
The first award of the Medal of Honor was made March 25, 1863 to Private JACOB PARROTT.The last award of the Medal of Honor was made September 15, 2011 to Sergeant DAKOTA MEYER.
Since then there have been: • 3458 recipients of the Medal of Honor.
• Today there are 85 Living Recipients of the Medal of Honor.
Citation
Captain Humbert R. Versace distinguished himself by extraordinary heroism during the period of 29 October 1963 to 26 September 1965, while serving as S-2 Advisor, Military Assistance Advisory Group, Detachment 52, Ca Mau, Republic of Vietnam. While accompanying a Civilian Irregular Defense Group patrol engaged in combat operations in Thoi Binh District, An Xuyen Province, Captain Versace and the patrol came under sudden and intense mortar, automatic weapons, and small arms fire from elements of a heavily armed enemy battalion. As the battle raged, Captain Versace, although severely wounded in the knee and back by hostile fire, fought valiantly and continued to engage enemy targets. Weakened by his wounds and fatigued by the fierce firefight, Captain Versace stubbornly resisted capture by the over-powering Viet Cong force with the last full measure of his strength and ammunition. Taken prisoner by the Viet Cong, he exemplified the tenets of the Code of Conduct from the time he entered into Prisoner of War status. Captain Versace assumed command of his fellow American soldiers, scorned the enemy's exhaustive interrogation and indoctrination efforts, and made three unsuccessful attempts to escape, despite his weakened condition which was brought about by his wounds and the extreme privation and hardships he was forced to endure. During his captivity, Captain Versace was segregated in an isolated prisoner of war cage, manacled in irons for prolonged periods of time, and placed on extremely reduced ration. The enemy was unable to break his indomitable will, his faith in God, and his trust in the United States of America. Captain Versace, an American fighting man who epitomized the principles of his country and the Code of Conduct, was executed by the Viet Cong on 26 September 1965. Captain Versace's gallant actions in close contact with an enemy force and unyielding courage and bravery while a prisoner of war are in the highest traditions of the military service and reflect the utmost credit upon himself and the United States Army.
---
From the Archives

We Have Met the Enemy…

Geoff Metcalf
"They who can give up essential liberty to obtain a little temporary safety deserve neither liberty nor safety.
--Benjamin Franklin
"The American people must be willing to give up a degree of personal privacy in exchange for safety and security."
--Louis Freeh

In the wake of the clamor over the most recent WikiLeaks data dump, 'Vault 7', 'UMBRAGE', et al, it should be noted this is not really anything new. What we are seeing here is simply the evolution of something that goes back to the late 50s (to the incomplete best knowledge I have).
It is kinda cool to finally see even
The New York Times
acknowledging material
I was writing about in 1998
.
In April of 1998 I wrote "Privacy has become an anachronism." I was commenting on "a massive system designed to intercept all your e-mail, fax traffic and more." I was explaining 'Echelon', the illegitimate offspring of a
UKUSA Treaty
signed by the United States, United Kingdom, Canada, Australia and New Zealand. Its purpose was, and is, to have a vast global intelligence monster, which allegedly shares common goals. The system was so "efficient" that reportedly National Security Agency folk from Fort Meade could work from Menwith Hill in England to intercept local communications without either nation having to burden themselves with the formality of seeking approval (a court order) or disclosing the operation. And this was all pre-9/11 and pre-the anti-constitutional
'Patriot Act'
.
It is illegal (without a Judge's signed permission) for the United States to spy on its citizens … kinda. The laws have long been circumvented by a mutual pact among five nations. Under the terms of UKUSA agreement, Britain spies on Americans and America spies on British citizens, and then the two conspirators trade data. A classic technical finesse. It is legal, but the intent to evade the spirit is inescapable.
I often fictionalized the genesis of 'Echelon' as an informal meeting of a group of post war American and British intelligence types drinking in some remote rustic bar. An imagined CIA type complains to his MI6 buddy about the hassles of US laws preventing US intelligence from surveillance of bad guys, and the Brit echoes the same complaint.
"Hey wait a moment mate," says Nigel, the make-believe MI6 guy, "I can spy on your guys and you can spy on our bad players…why don't we just come up with a mechanism whereby we spy on your villains, you spy on our villains, and we just 'share' the intel?"
This system was called ECHELON, and has been kicking around in some form longer than most of you. The result of the UKUSA treaty signed by the United States, United Kingdom, Canada, Australia and New Zealand was, and is, to have a vast global intelligence monster which allegedly shares common goals.
The London Telegraph reported in December of 1997 that the Civil liberties Committee of the European Parliament had officially confirmed the existence and purpose of ECHELON. "A global electronic spy network that can eavesdrop on every telephone, e-mail and telex communication around the world will be officially acknowledged for the first time in a European Commission report. …"
The report noted: "Within Europe all e-mail, telephone and fax communications are routinely intercepted by the United States National Security Agency, transferring all target information from the European mainland via the strategic hub of London, then by satellite to Fort Meade in Maryland via the crucial hub at Menwith Hill, in the North York moors in the UK.
"The ECHELON system forms part of the UKUSA system but unlike many of the electronic spy systems developed during the Cold War, ECHELON was designed primarily for non-military targets: governments, organizations and businesses in virtually every country."
An interesting sidebar appeared in the International Herald Tribune under the headline, "Big Corporate Brother: It Knows More About You Than You Think." The story details Acxiom Corp, which was a humongous information service hidden in the Ozark foothills. Twenty-four hours a day, Acxiom electronically gathered and sorts all kinds of data about 196 million Americans. Credit card transactions and magazine subscriptions, telephone numbers, real estate records, automotive data, hunting, business and fishing licenses, consumer surveys and demographic detail that would make a marketing department's research manager salivate. This relatively new (legal) enterprise was known as "data warehousing" or "data-mining", and it underscores the cruel reality that the fiction of personal privacy has become obsolete. Technology's ability to collect and analyze data has made privacy a quaint albeit interesting dinosaur.
The Tribune reported that "Axciom can often determine whether an American owns a dog or cat, enjoys camping or gourmet cooking, reads the Bible or lots of other books. It can often pinpoint an American's occupation, car and favorite vacations. By analyzing the equivalent of billions of pages of data, it often projects for its customers who should be offered a credit card or who is likely to buy a computer."
Most of this information is from y 1998 piece. Echelon has developed, matured, and morphed into a much more powerful hybrid. 'Carnivore' was software to help triage the cacophony of data. Vault 7 and 'Umbrage' are logical (some would argue "insidious") growth.
More to follow…