"It Is Not A Question of Who Is Right Or Wrong But What Is Right Or Wrong That Counts.

"

--Geoff Metcalf
Wo

rld & National
Tearful Theresa May Resigns Amid Brexit Failure
Fighting back tears, British Prime Minister Theresa May said on Friday she would quit, triggering a contest that will bring a new leader to power who is likely to push for a more decisive Brexit divorce deal.
May's departure will deepen the Brexit crisis as a new leader is likely to want a more decisive split, raising the chances of a confrontation with the European Union and a potentially unpredictable snap parliamentary election.
May set out a timetable for her departure - she will resign as Conservative Party leader on June 7 with a leadership contest beginning the following week.
---
Trump orders declassification of intelligence in Russia probe origins investigation
President Trump ordered the declassification Thursday night of certain intelligence to aid Attorney General William Barr in his investigation of the origins of government spying on the Trump presidential campaign in 2016.
In a directive to the CIA, the Director of National Intelligence, the Pentagon and several other federal agencies, Mr. Trump said Mr. Barr has the authority to declassify or downgrade "information or intelligence that relates to the attorney general's review."
The president directed the agencies to "promptly provide such assistance and information as the attorney general may request in connection with that review."
White House press secretary Sarah Huckabee Sanders said the order "will help ensure that all Americans learn the truth about the events that occurred, and the actions that were taken, during the last presidential election and will restore confidence in our public institutions."
---
Trump orders immigrant welfare crackdown, reimbursements
President Trump ordered federal agencies Thursday to begin enforcing existing federal rules against immigrants who end up on the public dole, telling the government to begin demanding the money be repaid by the immigrants' sponsors.
The move is aimed at legal immigrants who are generally supposed to prove they are able to sustain themselves without becoming dependent on welfare assistance.
Mr. Trump, in his new directive, said a 1996 law on the subject is plenty tough, but the government has never actually followed through on what Congress wrote.
"The purpose of this memorandum is to direct relevant agencies to update or issue procedures, guidance, and regulations, as needed, to ensure that ineligible non-citizens do not receive means-tested public benefits, in better compliance with the law," he wrote.
In cases where immigrants do get payments, he said the people who sponsored them — and who were supposed to pledge they would be financially responsible — should be asked to pony up.
---
Trump, Pelosi trade insults as their feud heats up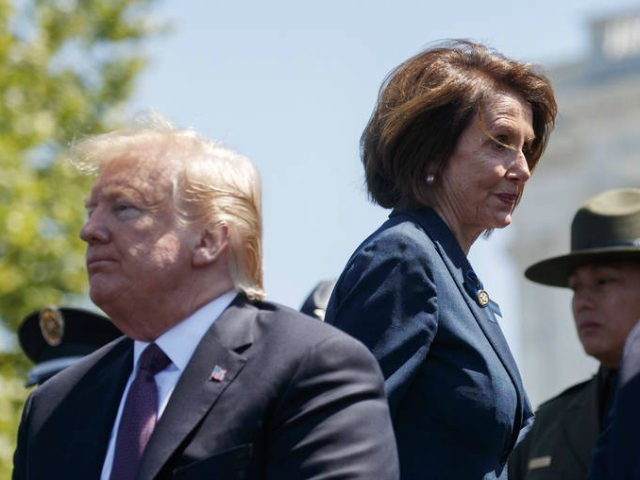 She's calling for an "intervention" to save the nation from him. He says she's "crazy."
The enmity between President Donald Trump and House Speaker Nancy Pelosi deteriorated Thursday into rude-and-then-some questioning of his fitness for office and her sanity, with personal attacks flowing from both the nation's top elected officials after a dramatic blow-up at the White House.
However intended, the exchanges left uncertain ahead of the 2020 election whether Trump and the Democrats will be able to work together on serious, must-pass tasks, such as funding the government and raising the federal borrowing limit, let alone thornier issues such as immigration, national security and more.
---
Planned Parenthood, other health clinics sue Alabama over near-total abortion ban
The law would criminalize abortion in almost all circumstances
Planned Parenthood and the Alabama Women's Center on Friday filed suit against the state of Alabama to block the most restrictive abortion law in the nation.
The near-total ban, signed by Alabama Gov. Kay Ivey on May 15, would criminalize abortion in almost all circumstances — including cases of rape and incest — and punish doctors with up to 99 years in prison. Without any challenges, the law was set to go into effect in as soon as six months.
The lawsuit, filed in United States District Court for the Middle District of Alabama, sets off a chain of events that both sides say is likely to lead to a years-long court battle. State lawmakers have said they passed the law specifically to bring the case in front of the U.S. Supreme Court, which they see as having the most antiabortion bench in decades. The bill was designed to challenge the 1973 Roe v. Wade decision by arguing that a fetus is a person and is therefore due full rights.
---
India general election 2019: What happened?
Results for India's general election released on 23 May saw a landslide victory for the Bharatiya Janata Party (BJP), which increased its huge parliamentary majority.
Narendra Modi and his ruling BJP have swept back to power. The party won 303 seats in the Lok Sabha, the lower house of India's parliament, bettering the 282 seats they won in 2014 - a performance that not many thought was possible.
A party needs to win 272 seats for a majority in parliament. The BJP's victory in 2014 was the first time in three decades that a party had been able to win that number of seats on its own.
---
Robert Mueller wants to testify in private before Congress, House Judiciary Chairman Jerrold Nadler says
Special counsel Robert Mueller wants to talk to Congress about his investigation into the Trump campaign and Russian interference in the 2016 election, but he wants to do it behind closed doors, says Rep. Jerrold Nadler,
Nadler tells MSNBC's Rachel Maddow that Mueller told the committee he would make his opening statement before the public.
A transcript of Mueller's testimony would be made public, Nadler adds.
Nadler says he does not know why Mueller has been pushing for private testimony, but speculated that the Republican former FBI director "doesn't want to participate in anything that he might regard as a political spectacle."
---
Democrat longshots 'getting creative' in battle for final debate stage podium
The 20 podiums allotted for the first Democratic presidential debates are quickly filling up, and the decision about who gets on stage could soon become much more complicated.
Montana Gov. Steve Bullock became the 19th candidate to qualify for the debates just a week after joining the race, leaving one more slot and five announced candidates vying to fill it.
The five people still scrambling to get on stage include New York Mayor Bill de Blasio and Sen. Michael F. Bennet of Colorado. If both of them clear the low bar set to qualify, then the Democratic National Committee will switch to a ranking system to decide who's in and who's out.
---
China ramps up war of rhetoric in trade standoff with US
Stepping up Beijing's propaganda offensive in the tariffs standoff with Washington, Chinese state media on Friday accused the U.S. of seeking to "colonize global business" with moves against Huawei and other Chinese technology companies.
There was no word from either side on progress toward resuming talks between the world's two largest economies, though President Donald Trump said he expected to meet with his Chinese counterpart, Xi Jinping, next month at a G-20 meeting in Japan.
Negotiations over how to cut the huge, longstanding U.S. trade deficit with China and resolve complaints over Beijing's methods for acquiring advanced foreign technologies foundered earlier this month after Trump raised tariffs on billions of dollars of imports from China.
---
Iran says it will not surrender even if it is bombed
Iran will not surrender to U.S. pressure and will not abandon its goals even if it is bombed, President Hassan Rouhani said on Thursday, stepping up the war of words between the Islamic Republic and the United States.
Earlier in the day, Iran's top military chief said the standoff between Tehran and Washington was a "clash of wills", warning that any enemy "adventurism" would meet a crushing response, the semi-official Fars news agency reported.
Tensions are festering between the two countries after Washington sent more military forces to the Middle East in a show of force against what U.S. officials say are Iranian threats to its troops and interests in the region.
---
When the lady won't leave and she can't stay
The lady is clearly in distress, and no one's there to help her. Only a churl would say, even if true, Theresa May brought it on herself.
She never wanted to lead Britain out of the European Union, but she's probably entitled to give herself a B or maybe a C for effort. A grade of C might be worth a cup of tea at Starbucks, but she'll have to pay extra for lemon or cream.
She has been called "dead in the water" for weeks. She has been humiliated three times in Parliament, where her scheme for making an exit from the European Union has been thrice rejected. She has clearly lost the confidence of her party, if not the confidence of her people. She has been on the way out so many times that John O'Sullivan, the British commentator writing in the National Review, says she reminds him of a character in an Ernst Lubitsch movie who tells a rival for a lady's hand, "See here, you keep saying that you're leaving and then you stay, why don't you say you'll stay, and then leave."
---
Remembering those who never made it home
Gary Wetzel will be at Rolling Thunder this weekend in our nation's capital.
Rolling Thunder is more than just the sound of the thousands of motorcycles roaring past the monuments, it is an organization founded in 1987 that puts together a ride to Washington, D.C., each year to raise awareness of the Prisoners of War and Missing in Action (POW/MIA) from Vietnam. Over the years, the ride has grown and their focus has expanded beyond the Vietnam War to include other wars. Sadly, 2019 is their final ride.
Gary Wetzel has been the leader of the pack for most of the annual rides in Washington, D.C. To me, he is a friend and a fellow Harley Davidson rider. He is also a recipient of the Congressional Medal of Honor.
---
---
"It is discouraging to think how many people are shocked by honesty and how few by deceit."

-- Noel Coward

(1899-1973) British playwright

---

The Medal of Honor is the highest award for valor in action against an enemy force which can be bestowed upon an individual serving in the Armed Services of the United States.

GeneTrerally presented to its recipient by the President of the United States of America in the name of Congress.

The first award of the Medal of Honor was made March 25, 1863 to Private JACOB PARROTT.The last award of the Medal of Honor was made September 15, 2011 to Sergeant DAKOTA MEYER.

Since then there have been: • 3458 recipients of the Medal of Honor.

• Today there are 85 Living Recipients of the Medal of Honor.

Citation


Captain Humbert R. Versace distinguished himself by extraordinary heroism during the period of 29 October 1963 to 26 September 1965, while serving as S-2 Advisor, Military Assistance Advisory Group, Detachment 52, Ca Mau, Republic of Vietnam. While accompanying a Civilian Irregular Defense Group patrol engaged in combat operations in Thoi Binh District, An Xuyen Province, Captain Versace and the patrol came under sudden and intense mortar, automatic weapons, and small arms fire from elements of a heavily armed enemy battalion. As the battle raged, Captain Versace, although severely wounded in the knee and back by hostile fire, fought valiantly and continued to engage enemy targets. Weakened by his wounds and fatigued by the fierce firefight, Captain Versace stubbornly resisted capture by the over-powering Viet Cong force with the last full measure of his strength and ammunition. Taken prisoner by the Viet Cong, he exemplified the tenets of the Code of Conduct from the time he entered into Prisoner of War status. Captain Versace assumed command of his fellow American soldiers, scorned the enemy's exhaustive interrogation and indoctrination efforts, and made three unsuccessful attempts to escape, despite his weakened condition which was brought about by his wounds and the extreme privation and hardships he was forced to endure. During his captivity, Captain Versace was segregated in an isolated prisoner of war cage, manacled in irons for prolonged periods of time, and placed on extremely reduced ration. The enemy was unable to break his indomitable will, his faith in God, and his trust in the United States of America. Captain Versace, an American fighting man who epitomized the principles of his country and the Code of Conduct, was executed by the Viet Cong on 26 September 1965. Captain Versace's gallant actions in close contact with an enemy force and unyielding courage and bravery while a prisoner of war are in the highest traditions of the military service and reflect the utmost credit upon himself and the United States Army.

---

From the Archives

We Have Met the Enemy…
Geoff Metcalf


"They who can give up essential liberty to obtain a little temporary safety deserve neither liberty nor safety.
--Benjamin Franklin
"The American people must be willing to give up a degree of personal privacy in exchange for safety and security."
--Louis Freeh


In the wake of the clamor over the most recent WikiLeaks data dump, 'Vault 7', 'UMBRAGE', et al, it should be noted this is not really anything new. What we are seeing here is simply the evolution of something that goes back to the late 50s (to the incomplete best knowledge I have).

It is kinda cool to finally see even

The New York Times

acknowledging material

I was writing about in 1998

.

In April of 1998 I wrote "Privacy has become an anachronism." I was commenting on "a massive system designed to intercept all your e-mail, fax traffic and more." I was explaining 'Echelon', the illegitimate offspring of a

UKUSA Treaty

signed by the United States, United Kingdom, Canada, Australia and New Zealand. Its purpose was, and is, to have a vast global intelligence monster, which allegedly shares common goals. The system was so "efficient" that reportedly National Security Agency folk from Fort Meade could work from Menwith Hill in England to intercept local communications without either nation having to burden themselves with the formality of seeking approval (a court order) or disclosing the operation. And this was all pre-9/11 and pre-the anti-constitutional

'Patriot Act'

.

It is illegal (without a Judge's signed permission) for the United States to spy on its citizens … kinda. The laws have long been circumvented by a mutual pact among five nations. Under the terms of UKUSA agreement, Britain spies on Americans and America spies on British citizens, and then the two conspirators trade data. A classic technical finesse. It is legal, but the intent to evade the spirit is inescapable.

I often fictionalized the genesis of 'Echelon' as an informal meeting of a group of post war American and British intelligence types drinking in some remote rustic bar. An imagined CIA type complains to his MI6 buddy about the hassles of US laws preventing US intelligence from surveillance of bad guys, and the Brit echoes the same complaint.

"Hey wait a moment mate," says Nigel, the make-believe MI6 guy, "I can spy on your guys and you can spy on our bad players…why don't we just come up with a mechanism whereby we spy on your villains, you spy on our villains, and we just 'share' the intel?"

This system was called ECHELON, and has been kicking around in some form longer than most of you. The result of the UKUSA treaty signed by the United States, United Kingdom, Canada, Australia and New Zealand was, and is, to have a vast global intelligence monster which allegedly shares common goals.

The London Telegraph reported in December of 1997 that the Civil liberties Committee of the European Parliament had officially confirmed the existence and purpose of ECHELON. "A global electronic spy network that can eavesdrop on every telephone, e-mail and telex communication around the world will be officially acknowledged for the first time in a European Commission report. …"

The report noted: "Within Europe all e-mail, telephone and fax communications are routinely intercepted by the United States National Security Agency, transferring all target information from the European mainland via the strategic hub of London, then by satellite to Fort Meade in Maryland via the crucial hub at Menwith Hill, in the North York moors in the UK.

"The ECHELON system forms part of the UKUSA system but unlike many of the electronic spy systems developed during the Cold War, ECHELON was designed primarily for non-military targets: governments, organizations and businesses in virtually every country."

An interesting sidebar appeared in the International Herald Tribune under the headline, "Big Corporate Brother: It Knows More About You Than You Think." The story details Acxiom Corp, which was a humongous information service hidden in the Ozark foothills. Twenty-four hours a day, Acxiom electronically gathered and sorts all kinds of data about 196 million Americans. Credit card transactions and magazine subscriptions, telephone numbers, real estate records, automotive data, hunting, business and fishing licenses, consumer surveys and demographic detail that would make a marketing department's research manager salivate. This relatively new (legal) enterprise was known as "data warehousing" or "data-mining", and it underscores the cruel reality that the fiction of personal privacy has become obsolete. Technology's ability to collect and analyze data has made privacy a quaint albeit interesting dinosaur.

The Tribune reported that "Axciom can often determine whether an American owns a dog or cat, enjoys camping or gourmet cooking, reads the Bible or lots of other books. It can often pinpoint an American's occupation, car and favorite vacations. By analyzing the equivalent of billions of pages of data, it often projects for its customers who should be offered a credit card or who is likely to buy a computer."

Most of this information is from y 1998 piece. Echelon has developed, matured, and morphed into a much more powerful hybrid. 'Carnivore' was software to help triage the cacophony of data. Vault 7 and 'Umbrage' are logical (some would argue "insidious") growth.

More to follow…