"It Is Not A Question of Who Is Right Or Wrong But What Is Right Or Wrong That Counts.

"

--Geoff Metcalf
Providing an on line Triage of the news since 1997
Wo
rld & Nation
Democrats agonize over how to cut big spending plan
Ditch expanded Medicare benefits or paid medical leave? Preserve child tax credits or universal preschool?
Democrats are mulling unpopular options as they struggle to trim their massive social welfare spending package to fit a suddenly much lower price tag.
"We have to make some difficult decisions, of course, because we have fewer resources," House Speaker Nancy Pelosi told reporters this week.
President Joe Biden last month dropped a bomb on the primarily liberal House Democratic Caucus: Forget the $3.5 trillion spending bill it hoped would fund a broad array of new government programs and instead aim for a narrower package that spends around $2 trillion to reach a compromise that can win the support of centrist holdouts in the Senate.
---
Pelosi, Schumer watch support nose-dive among Black, Hispanic voters
Support among Black voters and other minorities for House Speaker Nancy Pelosi and Senate Majority Leader Charles E. Schumer is plummeting.
Between April and September, Black support for Mrs. Pelosi and Mr. Schumer dropped from 50% to 39%, according to Pew Research polling data provided to The Washington Times.
Support among Black voters for Congress' overall Democratic leadership skidded from 82% to 59% in that same time frame.
---
Loudoun County superintendent apologizes, board member resigns as backlash grows over alleged sexual assaults
The superintendent of Loudoun County Public Schools issued an apology and a school board member resigned on Friday as the district faces mounting backlash over its response to two alleged sexual assaults, one of which was allegedly carried out by a skirt-wearing male student in a girls' bathroom.
Superintendent Scott Ziegler apologized for saying during a June event that the Virginia district had no record of assaults taking place in its bathrooms. His comments came amid debate about policy changes related to self-identified transgender students. Ziegler said Friday that he misunderstood the question when he made the comment.
Ziegler also said he is "sorry that we failed to provide the safe, welcoming, and affirming environment that we aspire to provide." He told affected students and families: "We acknowledge and share in your pain and we will continue to offer support to help you and your families through this trauma."
---
Far-left Dems plan to purge moderates from the party as payback for resisting Biden's $3.5T bill
The political impasse among Democrats over President Biden's $3.5 trillion social welfare and climate change bill has convinced liberals that the only way to advance their agenda is by purging moderates and taking over the party.
Although some on the far left have long held this view, many say the intransigence of moderate Democrats on Mr. Biden's spending agenda has hardened their resolve.
"A lot of activists and donors who never thought about primaries are now understanding that it really matters whether we have a corporate-aligned Democrat or a bold progressive in these seats," said Adam Green, a co-founder of the Progressive Change Campaign Committee.
---
Garland blasted for unleashing FBI on school board squabbles
House, Senate Republicans say AG is overreacting, local law enforcement should handle clashes
Attorney General Merrick Garland sees a rising domestic threat to the nation's public schools, but others are struggling to identify anything more insidious than irate parents getting rowdy at their local board of education meetings.
The Justice Department is coming under pressure to provide specific reasons for Mr. Garland's hotly contested Oct. 4 directive mobilizing the FBI to respond to "a disturbing spike in harassment, intimidation and threats of violence" against school officials.
The only details about the incidents have come from the National School Boards Association, which gave about two dozen examples of disruptive behavior in its Sept. 29 letter urging President Biden to bring in the feds. It suggested that "the classification of these heinous actions could be the equivalent to a form of domestic terrorism and hate crimes."
---
US Plans to Reinstate 'Remain in Mexico' Policy Next Month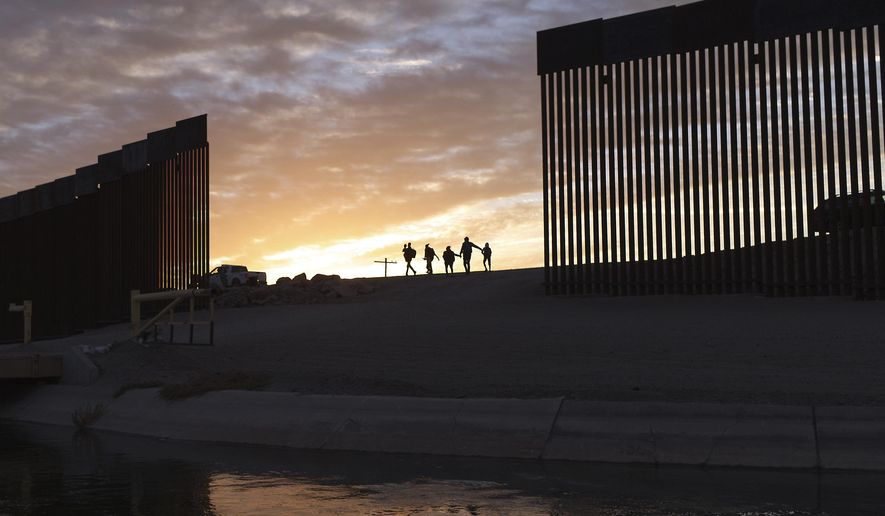 President Joe Biden's administration is taking steps to restart by mid-November a program begun under his predecessor Donald Trump that forced asylum seekers to wait in Mexico for U.S. court hearings after a federal court deemed the termination of the program unjustified, U.S. officials said Thursday.
The administration, however, is planning to make another attempt to rescind the Migrant Protection Protocols (MPP), commonly called the "Remain in Mexico" policy, even as it takes steps to comply with the August ruling by Texas-based U.S. District Court Judge Matthew Kacsmaryk, the officials said.
The possible reinstatement of MPP - even on a short-term basis - would add to a confusing mix of U.S. policies in place at the Mexican border, where crossings into the United States have reached 20-year highs in recent months. The administration said it can only move forward if Mexico agrees. Officials from both countries said they are discussing the matter.
---
Former Trump press secretary says Psaki may have violated Hatch Act with praise for McAuliffe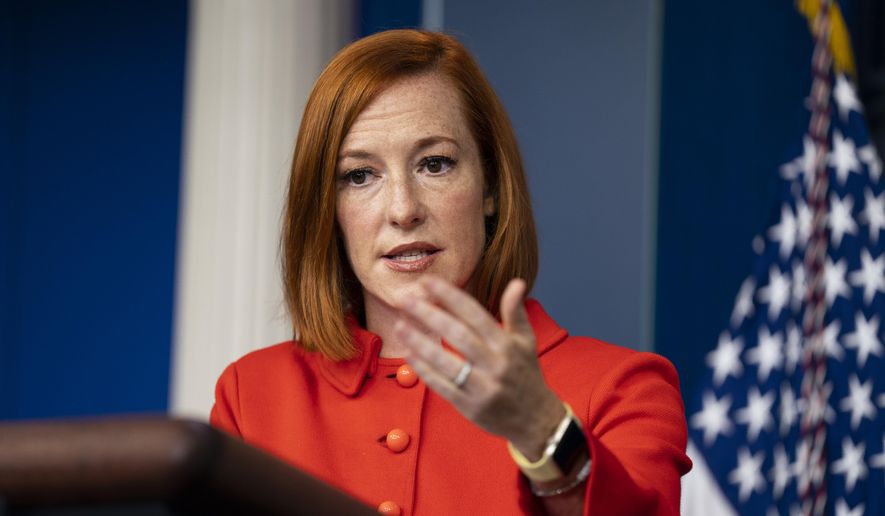 President Trump's former press secretary Kayleigh McEnany on Thursday criticized her immediate successor, current White House press secretary Jen Psaki, suggesting she violated a federal law that bans government employees from political campaigning.
Ms. McEnany said in a tweet that Ms. Psaki's signaling of support for Democratic Virginia gubernatorial candidate Terry McAuliffe may have violated the Hatch Act. The law prohibits government workers from using their position to support political candidates.
"Why does the media not hold @PressSec accountable for potential Hatch Act violations? She has twice advocated for political candidates from the podium," she tweeted.
It is not the first time Ms. Psaki may have fun afoul of the Hatch Act. In March, Citizens for Responsibility and Ethics in Washington, a government watchdog group, sent a letter to the Biden administration complaining about her tweets opposing the effort to recall California Gov. Gavin Newsom, a Democrat.
---
U.S. to lift travel ban Nov. 8, allowing vaccinated international visitors into the country
The White House said Friday it would allow international travelers who are fully vaccinated against Covid-19 into the U.S. starting Nov. 8, lifting a ban on visitors from the European Union, UK and other countries.
The White House last month said it planned to lift the travel restrictions, which barred most non-U.S. citizens who had recently been in Europe, Brazil, South Africa and elsewhere, in early November. The rules were first set Trump administration early in the pandemic to slow the spread of Covid-19, and extended by the new Biden administration in the winter. The Biden administration had said visitors would have to be fully vaccinated against Covid to enter.
The measure is a relief for large airlines like Delta, United and American, which have struggled to return to profitability with international travel curbed for more than a year and a half. Each of those airlines gained more than 2% in morning trading Friday, compared with an 0.4% gain in the S&P 500.
---
New Navy Guidance Will Discharge Sailors Refusing COVID-19 Vaccination Without Exemption
All active-duty Navy personnel must be vaccinated by Nov. 28 or face separation, according to a Navy administrative message released Wednesday.
Any active-duty Navy service members who do not get fully vaccinated or do not have an approved or pending exemption will be processed for an honorable separation without involuntary separation, according to NAVADMIN 225/21, released by Vice Chief of Naval Operations Adm. William Lescher and Chief of Naval Personnel Vice Adm. John Nowell.
Service members in the Ready Reserve Navy will need to be fully vaccinated by Dec. 28.
In order to meet the deadline, active duty members must receive their second dose of the COVID-19 vaccine, if receiving the two-shot Pfizer or Moderna version, by Nov. 14, according to a Thursday Navy news release. A person is not fully vaccinated until 14 days after receiving the second shot.
---
Marine forced to forfeit $5,000 in pay following conviction related to his videos criticizing the US withdrawal from Afghanistan
A Marine who was found guilty after posting a series of videos on social media criticizing top military leaders' handling of the US withdrawal from Afghanistan received a sentence of one month forfeiture of $5,000 in pay and a direction to receive a letter of reprimand from a military judge on Friday.
Marine Corps Judge Col. Glen Hines said he was considering giving Lt. Col. Stuart Scheller two months of docked pay but decided to limit it to one month because Scheller spent nine days in pre-trial confinement, known as the brig, at Camp Lejeune in North Carolina.
The judge handed down the sentence from a military courtroom at Camp Lejeune.
On Thursday, Hines found Scheller guilty after he entered guilty pleas to all five charges he faced -- including "contempt towards officials," "disrespect toward superior commissioned officers" and "failure to obey order or regulation" -- after videos of Scheller criticizing military leaders about their handling of the withdrawal went viral.
---
U.K. lawmaker stabbed in eastern England has died
British Conservative lawmaker David Amess has died after being stabbed Friday during a meeting with constituents at a church in eastern England. A 25-year-old man has been arrested.
The Essex Police force said officers were called to reports of a stabbing in Leigh-on-Sea just after noon Friday. It said "a man was arrested and a knife recovered.
"We are not looking for anyone else in connection with the incident and do not believe there is an ongoing threat to the wider public," police said.
---
Republican AGs say there's no federal vaccine mandate for workers, vow to sue
Republican attorneys general are advising their state residents that President Biden's federal mandate for coronavirus vaccinations is not yet in effect — but once it does become reality, they'll challenge it in the courts.
Montana Attorney General Austin Knudsen, a Republican, said Thursday the Biden administration has just recently submitted the text of its emergency vaccine rule for review to the Office of Management and Budget, so as of now, no regulation is in effect.
"Further, my office is preparing to immediately challenge and enjoin this federal overreach on a variety of grounds when the Biden administration issues its announced rule," he said.
The guidance comes after President Biden gave a speech last month saying he would require private employers to mandate that employees receive the COVID-19 vaccine.
---
More Top News
---
Biden's America headed toward Third World status
The U.S. border wall needs to be built
About a decade ago I lived in the West African nation of Ghana. It is a wonderful place with delightful people. For those who may be unfamiliar, Ghana isn't exactly third-world but is most certainly nowhere near on par with economic industrial powerhouses from western Europe or the United States. Ghana would best be described in economic terms as an emerging mixed economy. Regardless of that official designation, if you dropped off the average American in nearly any part of Ghana, that person's description would likely include the words "third world country."
Ghana is a presidential constitutional democracy with a parliamentary system. Like the United States, it regularly holds scheduled elections and is dominated by two major political parties. For the past thirty years, Ghana has maintained one of the freest and stable governments on the African continent. As good as that may sound, saying it is one of the most stable governments in Africa is a bit like offering a back-handed compliment to a 50-year-old woman by telling her she is attractive "for her age." In both cases the context is important.
Their two-party system emphasizes a major political divide. The methods employed by the major parties in their efforts to undermine the other are often at the expense of the people of Ghana. It is for that reason that despite all of its relative stability, Ghana will remain firmly entrenched in the lower second tier of the world economy.
---
Biden weaponizes terror law against patriots in Virginia
Parents attending school board meetings in America are not terrorists.
Obviously, any sane, rational American would agree. Yet, here we are watching shocking footage of a father concerned about the rape of his daughter in a high school bathroom beaten to the ground by officers for speaking up at a school board meeting in Loudoun County, Virginia.
The brutal attack is part of the Biden's administration's latest push to use anti-terrorism laws enacted in the wake of 9/11 to target law-abiding American citizens.
This is the condition of citizens today. In America.
---
" It is discouraging to think how many people are shocked by honesty and how few by deceit."

-- Noel Coward

(1899-1973) British playwright

---

The Medal of Honor is the highest award for valor in action against an enemy force which can be bestowed upon an individual serving in the Armed Services of the United States.

GeneTrerally presented to its recipient by the President of the United States of America in the name of Congress.

The first award of the Medal of Honor was made March 25, 1863 to Private JACOB PARROTT.The last award of the Medal of Honor was made September 15, 2011 to Sergeant DAKOTA MEYER.

Since then there have been: • 3458 recipients of the Medal of Honor.

• Today there are 85 Living Recipients of the Medal of Honor.

Citation


Captain Humbert R. Versace distinguished himself by extraordinary heroism during the period of 29 October 1963 to 26 September 1965, while serving as S-2 Advisor, Military Assistance Advisory Group, Detachment 52, Ca Mau, Republic of Vietnam. While accompanying a Civilian Irregular Defense Group patrol engaged in combat operations in Thoi Binh District, An Xuyen Province, Captain Versace and the patrol came under sudden and intense mortar, automatic weapons, and small arms fire from elements of a heavily armed enemy battalion. As the battle raged, Captain Versace, although severely wounded in the knee and back by hostile fire, fought valiantly and continued to engage enemy targets. Weakened by his wounds and fatigued by the fierce firefight, Captain Versace stubbornly resisted capture by the over-powering Viet Cong force with the last full measure of his strength and ammunition. Taken prisoner by the Viet Cong, he exemplified the tenets of the Code of Conduct from the time he entered into Prisoner of War status. Captain Versace assumed command of his fellow American soldiers, scorned the enemy's exhaustive interrogation and indoctrination efforts, and made three unsuccessful attempts to escape, despite his weakened condition which was brought about by his wounds and the extreme privation and hardships he was forced to endure. During his captivity, Captain Versace was segregated in an isolated prisoner of war cage, manacled in irons for prolonged periods of time, and placed on extremely reduced ration. The enemy was unable to break his indomitable will, his faith in God, and his trust in the United States of America. Captain Versace, an American fighting man who epitomized the principles of his country and the Code of Conduct, was executed by the Viet Cong on 26 September 1965. Captain Versace's gallant actions in close contact with an enemy force and unyielding courage and bravery while a prisoner of war are in the highest traditions of the military service and reflect the utmost credit upon himself and the United States Army.

---

From the Archives

We Have Met the Enemy…
Geoff Metcalf


"They who can give up essential liberty to obtain a little temporary safety deserve neither liberty nor safety.
--Benjamin Franklin
"The American people must be willing to give up a degree of personal privacy in exchange for safety and security."
--Louis Freeh


In the wake of the clamor over the most recent WikiLeaks data dump, 'Vault 7', 'UMBRAGE', et al, it should be noted this is not really anything new. What we are seeing here is simply the evolution of something that goes back to the late 50s (to the incomplete best knowledge I have).

It is kinda cool to finally see even

The New York Times

acknowledging material

I was writing about in 1998

.

In April of 1998 I wrote "Privacy has become an anachronism." I was commenting on "a massive system designed to intercept all your e-mail, fax traffic and more." I was explaining 'Echelon', the illegitimate offspring of a

UKUSA Treaty

signed by the United States, United Kingdom, Canada, Australia and New Zealand. Its purpose was, and is, to have a vast global intelligence monster, which allegedly shares common goals. The system was so "efficient" that reportedly National Security Agency folk from Fort Meade could work from Menwith Hill in England to intercept local communications without either nation having to burden themselves with the formality of seeking approval (a court order) or disclosing the operation. And this was all pre-9/11 and pre-the anti-constitutional

'Patriot Act'

.

It is illegal (without a Judge's signed permission) for the United States to spy on its citizens … kinda. The laws have long been circumvented by a mutual pact among five nations. Under the terms of UKUSA agreement, Britain spies on Americans and America spies on British citizens, and then the two conspirators trade data. A classic technical finesse. It is legal, but the intent to evade the spirit is inescapable.

I often fictionalized the genesis of 'Echelon' as an informal meeting of a group of post war American and British intelligence types drinking in some remote rustic bar. An imagined CIA type complains to his MI6 buddy about the hassles of US laws preventing US intelligence from surveillance of bad guys, and the Brit echoes the same complaint.

"Hey wait a moment mate," says Nigel, the make-believe MI6 guy, "I can spy on your guys and you can spy on our bad players…why don't we just come up with a mechanism whereby we spy on your villains, you spy on our villains, and we just 'share' the intel?"

This system was called ECHELON, and has been kicking around in some form longer than most of you. The result of the UKUSA treaty signed by the United States, United Kingdom, Canada, Australia and New Zealand was, and is, to have a vast global intelligence monster which allegedly shares common goals.

The report noted: "Within Europe all e-mail, telephone and fax communications are routinely intercepted by the United States National Security Agency, transferring ll target information from the Eurv opean mainland via the strategic hub of London, then by satellite to Fort Meade in Maryland via the crucial hub at Menwith Hill, in the North York moors in th UK.

"The ECHELON system forms part of the UKUSA system but unlike many of the electronic spy systems developed during the Cold War, ECHELON was designed primarily for non-military targets: governments, organizations and businesses in virtually every country."

An interesting sidebar appeared in the International Herald Tribune under the headline, "Big Corporate Brother: It Knows More About You Than You Think." The story details Acxiom Corp, which was a humongous information service hidden in the Ozark foothills. Twenty-four hours a day, Acxiom electronically gathered and sorts all kinds of data about 196 million Americans. Credit card transactions and magazine subscriptions, telephone numbers, real estate records, automotive data, hunting, business and fishing licenses, consumer surveys and demographic detail that would make a marketing department's research manager salivate. This relati vely new (legal) enterprise was known as "data warehousing" or "data-mining", and it underscores the cruel reality that the fiction of personal privacy has become obsolete. Technology's ability to collect and analyze data has made privacy a quaint albeit interesting dinosaur.

The Tribune reported that "Axciom can often determine whether an American owns a dog or cat, enjoys camping or gourmet cooking, reads the Bible or lots of other books. It can often pinpoint an American's occupation, car and favorite vacations. By analyzing the equivalent of billions of pages of data, it often projects for its customers who should be offered a credit card or who is likely to buy a computer."

Most of this information is from y 1998 piece. Echelon has developed, matured, and morphed into a much more powerful hybrid. 'Carnivore' was software to help triage the cacophony of data. Vault 7 and 'Umbrage' are logical (some would argue "insidious") growth.

More to follow…