"It Is Not A Question of Who Is Right Or Wrong But What Is Right Or Wrong That Counts.

"

--Geoff Metcalf
Providing an on line Triage of the news since 1997



Wo

rld & Nation
Former Director of National Intelligence Grenell says Democrats lied about Trump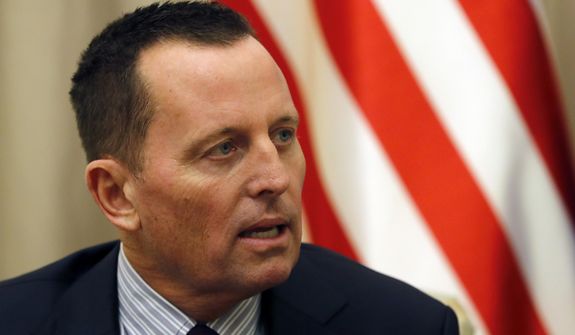 Former acting chief of U.S. intelligence Richard Grenell this week launched a pointed defense of his short, but activist tenure, accusing one Democrat of repeatedly lying to America about President Trump and Russia collusion.
Mr. Grenell served three months as acting director of national intelligence. He declassified a number of documents while revamping headquarters staff. The documents included a list of Obama officials, including Vice President Joe Biden, who requested that the name of retired Army Lt. Gen. Michael Flynn be revealed, or unmasked, in secret intelligence reports they were reading.
He has also prepared for release the call transcripts of Flynn and Russian ambassador Sergey Kislyak––the evidence used by the FBI to gain a criminal conviction.
---
Amy Klobuchar missed chance to prosecute Minneapolis cop now at center of George Floyd death
Derek Chauvin had 10 complaints filed against him during his nearly 20-year career
Minnesota Sen. Amy Klobuchar, who is in the running to be presumed Democratic presidential nominee Joseph R. Biden's running mate, found herself under fire Thursday for not prosecuting years ago a Minneapolis police officer who this week was videotaped kneeling on the neck of an African-American suspect who died in custody.
The attention on Ms. Klobuchar's tenure as Hennepin County attorney, which had posed problems for her during her presidential bid, comes at a time when she is one of several women under consideration by Mr. Biden's campaign as a possible vice presidential candidate.
The issue Thursday largely revolved around former Minneapolis police officer Derek Chauvin, the cop kneeling on George Floyd's neck in the infamous video who, with three other officers, was immediately dismissed from the force when the video surfaced.
---
Maxine Waters links Trump's 'dog-whistling' to George Floyd: Officer 'enjoyed' what he was doing
Rep. Maxine Waters said Thursday that President Trump's racist "dog-whistling" emboldened the Minneapolis police officers involved in the death of George Floyd.
"I'm reflecting on all the killings of young black men in particular, but of course black woman too, at the hands of the police and at the hands of these white supremacists," the California Democrat told TMZ in a virtual interview.
"I'm thinking about the way that the president conducts himself," she continued. "In a way he's dog-whistling, and I think that they are feeling that they can get away with this kind of treatment. I think that the officer who had his name on his neck enjoyed doing what he was doing. I believe sometimes some of these offices leave home thinking, 'I'm going to get me one today.' And I think this is his one that he got today, and he didn't care whether or not anybody was photographing him."
Racial tensions, compounded by months of lockdown restrictions due to the coronavirus pandemic, reached a boiling point in the country this week after Floyd, an unarmed black man, died on Memorial Day after a Minneapolis police officer pinned him to the ground by the neck for nearly eight minutes.
---
George Floyd protesters set Minneapolis police station afire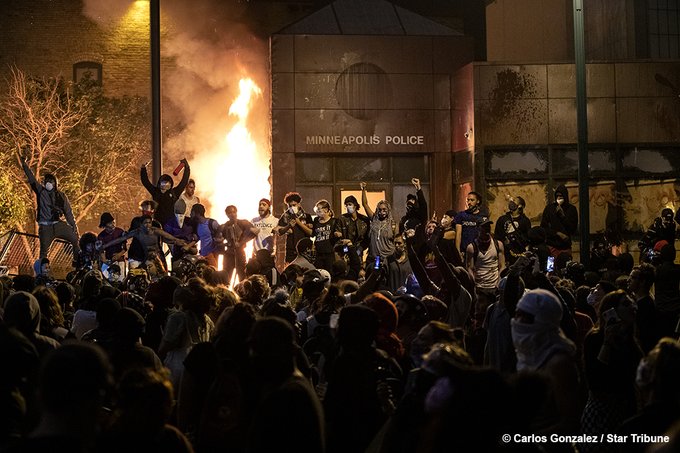 Cheering protesters torched a Minneapolis police station Thursday that the department was forced to abandon as three days of violent protests spread to nearby St. Paul and angry demonstrations flared across the U.S over the death of George Floyd, a handcuffed black man who pleaded for air as a white police officer kneeled on his neck.
A police spokesman confirmed late Thursday that staff had evacuated the 3rd Precinct station, the focus of many of the protests, "in the interest of the safety of our personnel" shortly after 10 p.m. Livestream video showed the protesters entering the building, where fire alarms blared and sprinklers ran as blazes were set.
Protesters could be seen setting fire to a Minneapolis Police Department jacket and cheering.
---
'We're fed up': Trump signs executive order targeting social media companies
President Trump signed an executive order Thursday to force social media companies to operate without political bias, saying platforms such as Twitter form a monopoly with "unchecked power."
"We're here today to defend free speech from one of the greatest dangers it has faced in American history," Mr. Trump said as he signed the order in the Oval Office with Attorney General William P. Barr at his side. "There's no precedent in American history for so small a number of corporations to control so large a sphere of human interaction."
The order requires the Federal Communications Commission to craft a regulation that could exempt social media companies from protections under Section 230 of the Communications Decency Act, which shields companies from legal liability for material posted by their users, if they censor or edit content.
---
Trump, Biden forgo FBI counterintelligence briefings
The campaigns of President Trump and presumed Democratic presidential nominee Joseph R. Biden have turned down offers for counterintelligence briefings on threats to the coming election, a senior U.S. intelligence official has told The Washington Times.
The briefings were offered in the past several weeks and rejected, said the official, who spoke on condition of anonymity.
"You have the Trump campaign and the Biden campaign not agreeing on much, but one thing they did agree on is they don't want the FBI briefing them," the official said.
---
GOP Congressman Pushes Bill to Keep Stimulus Aid Away From Illegal Immigrants
Rep. Ken Buck, R-Colo., has introduced a bill to keep states from giving money from Coronavirus Aid, Relief, and Economic Security Act (CARES Act) funds to illegal immigrants.
The measure, which was introduced Thursday, is a companion bill to legislation Sen. Tom Cotton, R-Ark., introduced in the Senate in early May.
On his website, Buck said he "introduced legislation to ensure taxpayers aren't bailing out states and localities that are setting up programs to send COVID-19 cash payments to illegal immigrants."
"With more than 40 million Americans out of work, it is unfair to send hard-earned taxpayer dollars to non-citizens who entered this country illegally," Buck said.
---
New Zogby Poll Shocker: 37 Percent of Dems Want Biden Replaced
Joe Biden holds a 13-point lead over President Donald Trump, but one in three Democrats are all for replacing the presumptive Democratic nominee with somebody else, a new poll showed.
The survey by John Zogby Strategies and EMIResearch Solutions found 53% favoring the former vice president, and 40% backing Trump.
But there might be problems ahead for Biden, the survey found.
37% support replacing Biden as the nominee;

---
Joe Biden's racism a Democratic Party tradition
Biden has a long history of being racially insensitive
True, we have not even elected him president yet, but isn't it already time to start dismantling Joe Biden's presidential library?
After all, he has a long history of supporting white supremacists and just being an all-around racially insensitive, privileged white geezer.
To be fair, Mr. Biden did not invent the Democratic Party or its racism. But for nearly 50 years he has knowingly and willingly associated himself with and supported the causes of the Democratic Party, known throughout history for its association with white supremacy.
---
Vouchers, scholarships and tax credits will help low-income families implement school choice
Increasing school choice opportunities
Every child deserves access to an excellent education. It should not matter what a student looks like, where she or he lives or what her or his parents do for a living. It may be in a traditional public school like the one my children attended or a charter, choice, private, virtual or home school that is right for their family.
On Wednesday, I spoke to supporters of quality education in one of the hardest-hit areas in America: New York City. The nonprofit Champions for Quality Education supports more than 32,000 students in 121 under-resourced Catholic elementary schools in the Archdiocese of New York. Of the students they serve, 70 percent live near or below the federal poverty line. Additionally, 28 percent are not Catholic, and 58 percent are minority students. The values and the education they receive in these schools are critical to their success.
The shutdown of schools in New York and across the country has been a real challenge for students, parents and teachers. It is particularly difficult for private schools that do not have the same funding streams as public schools. A nationwide survey of private schools from Ed Choice showed that 65 percent of the leaders of the schools said they were "extremely" or "very" worried about their families struggling financially. Fifty-one percent said they were "extremely" or "very" worried about losing enrollment next year.
" It is discouraging to think how many people are shocked by honesty and how few by deceit."

-- Noel Coward

(1899-1973) British playwright

---

The Medal of Honor is the highest award for valor in action against an enemy force which can be bestowed upon an individual serving in the Armed Services of the United States.

GeneTrerally presented to its recipient by the President of the United States of America in the name of Congress.

The first award of the Medal of Honor was made March 25, 1863 to Private JACOB PARROTT.The last award of the Medal of Honor was made September 15, 2011 to Sergeant DAKOTA MEYER.

Since then there have been: • 3458 recipients of the Medal of Honor.

• Today there are 85 Living Recipients of the Medal of Honor.

Citation


Captain Humbert R. Versace distinguished himself by extraordinary heroism during the period of 29 October 1963 to 26 September 1965, while serving as S-2 Advisor, Military Assistance Advisory Group, Detachment 52, Ca Mau, Republic of Vietnam. While accompanying a Civilian Irregular Defense Group patrol engaged in combat operations in Thoi Binh District, An Xuyen Province, Captain Versace and the patrol came under sudden and intense mortar, automatic weapons, and small arms fire from elements of a heavily armed enemy battalion. As the battle raged, Captain Versace, although severely wounded in the knee and back by hostile fire, fought valiantly and continued to engage enemy targets. Weakened by his wounds and fatigued by the fierce firefight, Captain Versace stubbornly resisted capture by the over-powering Viet Cong force with the last full measure of his strength and ammunition. Taken prisoner by the Viet Cong, he exemplified the tenets of the Code of Conduct from the time he entered into Prisoner of War status. Captain Versace assumed command of his fellow American soldiers, scorned the enemy's exhaustive interrogation and indoctrination efforts, and made three unsuccessful attempts to escape, despite his weakened condition which was brought about by his wounds and the extreme privation and hardships he was forced to endure. During his captivity, Captain Versace was segregated in an isolated prisoner of war cage, manacled in irons for prolonged periods of time, and placed on extremely reduced ration. The enemy was unable to break his indomitable will, his faith in God, and his trust in the United States of America. Captain Versace, an American fighting man who epitomized the principles of his country and the Code of Conduct, was executed by the Viet Cong on 26 September 1965. Captain Versace's gallant actions in close contact with an enemy force and unyielding courage and bravery while a prisoner of war are in the highest traditions of the military service and reflect the utmost credit upon himself and the United States Army.

---

From the Archives

We Have Met the Enemy…
Geoff Metcalf


"They who can give up essential liberty to obtain a little temporary safety deserve neither liberty nor safety.
--Benjamin Franklin
"The American people must be willing to give up a degree of personal privacy in exchange for safety and security."
--Louis Freeh


In the wake of the clamor over the most recent WikiLeaks data dump, 'Vault 7', 'UMBRAGE', et al, it should be noted this is not really anything new. What we are seeing here is simply the evolution of something that goes back to the late 50s (to the incomplete best knowledge I have).

It is kinda cool to finally see even

The New York Times

acknowledging material

I was writing about in 1998

.

In April of 1998 I wrote "Privacy has become an anachronism." I was commenting on "a massive system designed to intercept all your e-mail, fax traffic and more." I was explaining 'Echelon', the illegitimate offspring of a

UKUSA Treaty

signed by the United States, United Kingdom, Canada, Australia and New Zealand. Its purpose was, and is, to have a vast global intelligence monster, which allegedly shares common goals. The system was so "efficient" that reportedly National Security Agency folk from Fort Meade could work from Menwith Hill in England to intercept local communications without either nation having to burden themselves with the formality of seeking approval (a court order) or disclosing the operation. And this was all pre-9/11 and pre-the anti-constitutional

'Patriot Act'

.

It is illegal (without a Judge's signed permission) for the United States to spy on its citizens … kinda. The laws have long been circumvented by a mutual pact among five nations. Under the terms of UKUSA agreement, Britain spies on Americans and America spies on British citizens, and then the two conspirators trade data. A classic technical finesse. It is legal, but the intent to evade the spirit is inescapable.

I often fictionalized the genesis of 'Echelon' as an informal meeting of a group of post war American and British intelligence types drinking in some remote rustic bar. An imagined CIA type complains to his MI6 buddy about the hassles of US laws preventing US intelligence from surveillance of bad guys, and the Brit echoes the same complaint.

"Hey wait a moment mate," says Nigel, the make-believe MI6 guy, "I can spy on your guys and you can spy on our bad players…why don't we just come up with a mechanism whereby we spy on your villains, you spy on our villains, and we just 'share' the intel?"

This system was called ECHELON, and has been kicking around in some form longer than most of you. The result of the UKUSA treaty signed by the United States, United Kingdom, Canada, Australia and New Zealand was, and is, to have a vast global intelligence monster which allegedly shares common goals.

The London Telegraph reported in December of 1997 that the Civil liberties Committee of the European Parliament had officially confirmed the existence and purpose of ECHELON. "A global electronic spy network that can eavesdrop on every telephone, e-mail and telex communication around the world will be officially acknowledged for the first time in a European Commission report. …"

The report noted: "Within Europe all e-mail, telephone and fax communications are routinely intercepted by the United States National Security Agency, transferring ll target information from the Eurv opean mainland via the strategic hub of London, then by satellite to Fort Meade in Maryland via the crucial hub at Menwith Hill, in the North York moors in the UK.

"The ECHELON system forms part of the UKUSA system but unlike many of the electronic spy systems developed during the Cold War, ECHELON was designed primarily for non-military targets: governments, organizations and businesses in virtually every country."

An interesting sidebar appeared in the International Herald Tribune under the headline, "Big Corporate Brother: It Knows More About You Than You Think." The story details Acxiom Corp, which was a humongous information service hidden in the Ozark foothills. Twenty-four hours a day, Acxiom electronically gathered and sorts all kinds of data about 196 million Americans. Credit card transactions and magazine subscriptions, telephone numbers, real estate records, automotive data, hunting, business and fishing licenses, consumer surveys and demographic detail that would make a marketing department's research manager salivate. This relatively new (legal) enterprise was known as "data warehousing" or "data-mining", and it underscores the cruel reality that the fiction of personal privacy has become obsolete. Technology's ability to collect and analyze data has made privacy a quaint albeit interesting dinosaur.

The Tribune reported that "Axciom can often determine whether an American owns a dog or cat, enjoys camping or gourmet cooking, reads the Bible or lots of other books. It can often pinpoint an American's occupation, car and favorite vacations. By analyzing the equivalent of billions of pages of data, it often projects for its customers who should be offered a credit card or who is likely to buy a computer."

Most of this information is from y 1998 piece. Echelon has developed, matured, and morphed into a much more powerful hybrid. 'Carnivore' was software to help triage the cacophony of data. Vault 7 and 'Umbrage' are logical (some would argue "insidious") growth.

More to follow…