"It Is Not A Question of Who Is Right Or Wrong But What Is Right Or Wrong That Counts.

"

--Geoff Metcalf



Wo
rld & National
'Changed Forever': Florida Panhandle devastated by Michael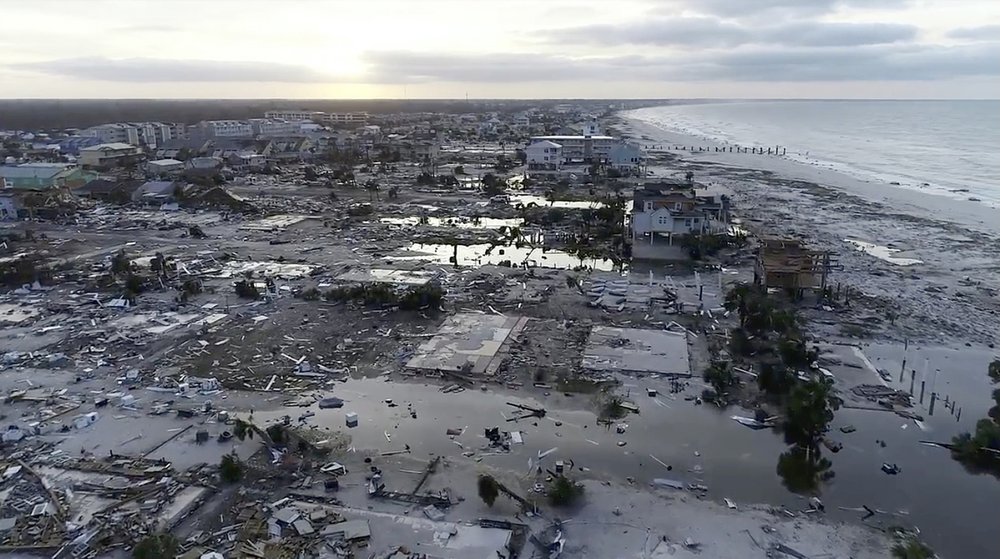 The devastation inflicted by Hurricane Michael came into focus Thursday with rows upon rows of homes found smashed to pieces, and rescue crews struggling to enter stricken areas in hopes of accounting for hundreds of people who may have stayed behind.
At least three deaths were blamed on Michael, the most powerful hurricane to hit the continental U.S. in over 50 years, and it wasn't done yet: Though reduced to a tropical storm, it brought flash flooding to North Carolina and Virginia, soaking areas still recovering from Hurricane Florence.
Under a clear blue sky, families living along the Florida Panhandle emerged from shelters and hotels to a perilous landscape of shattered homes and shopping centers, wailing sirens and hovering helicopters.
UPDATE: Florida Panhandle Pummeled; Mexico Beach Ground Zero...
Images of destruction not to be believed!


The Roar...


Storm chasers stare death in face...


Harrowing tales of survival...


NOW: Bacteria, Virus Health Hazard...


SHARKS UNLEASHED ON SHORE...


Mosquitoes FIVE TIMES normal size...


Inmates volunteer to clear debris...


Florida's main psychiatric hospital cut off...

---
Senate confirms 15 Trump judges after GOP leaders, Democrats strike deal
The Senate confirmed 15 of President Trump's judicial picks Thursday night after GOP leaders reached a deal with Democrats, clearing about a third of the backlog and closing up shop through Election Day to give senators a chance to campaign.
Three of the judges are for the powerful circuit courts of appeals, while the other 12 were for district court positions.
Many cleared on near-party line votes, while others were approved by voice votes. They were the first judicial confirmations since last weekend's vote on Supreme Court Justice Brett M. Kavanaugh.
---
Anti-Trump dossier director Glenn Simpson to defy congressional subpoena
Glenn Simpson, co-founder of Fusion GPS, will refuse to appear for a deposition in front of Congress, according to a letter that his lawyers sent Thursday to the House Judiciary Committee.
Mr. Simpson's legal team told Chairman Bob Goodlatte, Virginia Republican, that their client will employ "constitutional privileges not to testify" because the committee's inquiry "is not designed to discover the truth" but wants to "discredit and otherwise damage witnesses to Russia's interference int he 2016 election."
Mr. Simpson was subpoenaed for a closed deposition scheduled for Oct. 16.
---
Pope Francis OKs resignation of Washington Cardinal Donald Wuerl amid cover-up scandal
Pope Francis has accepted the resignation of Washington Cardinal Donald Wuerl after he became entangled in two major sexual abuse and cover-up scandals and lost the support of many in his flock.
Wuerl, who turns 78 in November, becomes the most prominent head to roll in the scandal roiling the Catholic Church after his predecessor as Washington archbishop, Theodore McCarrick, was forced to resign as cardinal over allegations he sexually abused at least two minors and adult seminarians.
A Vatican statement Friday said Francis had accepted Wuerl's resignation, but named no immediate replacement. The decision came after months in which Wuerl initially downplayed the scandal, insisted on his own good record, but then progressively came to the conclusion that he could no longer lead the archdiocese.
---
'Craziness': Josh Hawley rips Claire McCaskill over census citizenship question opposition
It may not be top on the minds of many voters, but Republican Senate candidate Josh Hawley says Sen. Claire McCaskill's opposition to having the 2020 census ask people about their citizenship status is exactly the reason voters should oust her.
For Mr. Hawley, it's a common-sense question and the answer could enhance Missouri's political muscle in Washington.
He said Ms. McCaskill's antipathy to the census question shows that she sides with Democratic Party leaders over the interests of her state.
---
Mike Pompeo blasts Democrats over 'delay and obstruction' of key State Department nominees
Senate Democrats have for months blamed President Trump for a slew of vacancies on key foreign policy posts, but the administration is now going on the offensive, claiming it was Democrats on Capitol Hill who were blocking confirmation votes for dozens of qualified diplomats whom the White House has nominated in recent months.
The Senate moved Thursday night to confirm Kimberly Breier to be an Assistant Secretary of State for Western Hemisphere Affairs, John Richmond to be Director of the Office to Monitor and Combat Trafficking, Karen Williams to be ambassador to Suriname, and Kevin Sullivan to be ambassador to Nicaragua.
The Senate also confirmed Mary Elizabeth Taylor to be an Assistant Secretary of State for Legislative Affairs, Denise Natali to be an Assistant Secretary of State for Conflict and Stabilization Operations, Donald Y. Yamamoto to be ambassador to Somalia and Earl Robert Miller to be ambassador to Bangladesh.
---
Trump Proposal Could Muzzle DC Protests
Donald Trump's presidency has inspired massive protests, with hundreds of thousands of women marching on the National Mall and scientists swarming the White House fence.
But now the Trump administration is seeking to restrict protests by effectively blocking them along the north sidewalk of the White House and making it easier for police to shut them down. A National Park Service proposal also opens the door to charging organizers for the cost of putting up barricades or re-seeding grass.
The proposed regulation could curtail demonstrations on some of Washington's most iconic staging grounds for protests, including the National Mall where Martin Luther King Jr. delivered his "I have a dream"' speech in 1963. It also includes Lafayette Square across from the White House and the Pennsylvania Avenue sidewalks in front of the Trump International Hotel.
---
Richard Branson Suspends Talks on $1B Saudi Project Over Missing Journalist Khashoggi
Richard Branson suspended talks with Saudi Arabia's sovereign wealth fund over its planned $1 billion investment in Virgin Group's space companies following the disappearance of Saudi journalist Jamal Khashoggi.
Washington Post columnist Khashoggi was last seen entering the kingdom's consulate in Istanbul on Oct. 2, triggering an allegation by Turkish officials that he may have been murdered there. Saudi officials say Khashoggi left the building unharmed on the same day.
"What has reportedly happened in Turkey around the disappearance of journalist Jamal Khashoggi, if proved true, would clearly change the ability of any of us in the West to do business with the Saudi Government," Branson said in an Oct. 11 statement posted on the Virgin website.
---
Trump's List: 289 accomplishments in just 20 months, 'relentless' promise-keeping
The Trump administration's often overlooked list of achievements has surpassed those of former President Reagan at this time and more than doubled since the last tally of accomplishments after his first year in office, giving President Trump a solid platform to run for reelection on.
As Trump nears the two-year mark of his historic election and conducts political rallies around the country during which he talks up his wins in hopes it will energize Republican voters, the administration has counted up 289 accomplishments in 18 categories, capped by the confirmation of Brett Kavanaugh to the Supreme Court.
They include 173 major wins like adding more than 4 million jobs and another 116 smaller victories, some with outsized importance such as the 83 percent one-year increase in arrests of MS-13 gang members.
---
Lurid tales of blood from the crypt
Certain female journalists, dispensing with the ancient newsroom tradition of keeping keep cool when the going gets hot, had confessed that listening to Christine Blasey Ford made them want to cry. But not everyone, and not anymore.
"I didn't cry," confesses the American journalist Lionel Shriver, who has a man's name but a woman's uniquely fetching form and face. "Indeed," she writes in the Spectator magazine of London, "my reaction to Ford's statement was at such odds with the garmentrending anguish of my fellow Democrats that I had to wonder whether either I'd missed something, or maybe there was something wrong with me. So I just read the entire transcript. I hadn't missed anything."
She sets out for the hundredth time [Mrs.] Ford's unlikely tale of teenage woe, that at age 15 she was pushed into a bedroom at a teenage party by two boys. One lay on top of her and began 'running his hands' over her body and 'grinding' into her. She yelled, and he put a hand over her mouth. The other boy sat down on the mattress twice, and she escaped to a bathroom across the hall. Just about everyone in America can recite the tale in all its particulars.
---
The Democrats go mean
'You cannot be civil with a political party that wants to destroy what you stand for, what you care about," announced Hillary Clinton during an interview on CNN. This after the Justice Brett M. Kavanaugh's Senate confirmation hearings descended into mob action to destroy that man and his family.
Here is a twice-failed presidential candidate, former senator and secretary of state, revealing her rejection of the peaceful transfer of power, a hallmark of the American system. One could see this as her confession explaining the Democratic Party's obscene and contrived effort to politically and socially assassinate a good man for committing the crimes of being a conservative and being nominated by President Donald Trump.
You see, the mob action hasn't only been on the street. It was witnessed by us in the Senate, when Sen. Dianne Feinstein first decided to hide the Ford allegation from the committee, deciding to use it as an improvised explosive device against not just then-Judge Kavanaugh but the process itself.
"It is discouraging to think how many people are shocked by honesty and how few by deceit."
-- Noel Coward
(1899-1973) British playwright
---
The Medal of Honor is the highest award for valor in action against an enemy force which can be bestowed upon an individual serving in the Armed Services of the United States.
GeneTrerally presented to its recipient by the President of the United States of America in the name of Congress.
The first award of the Medal of Honor was made March 25, 1863 to Private JACOB PARROTT.The last award of the Medal of Honor was made September 15, 2011 to Sergeant DAKOTA MEYER.
Since then there have been: • 3458 recipients of the Medal of Honor.
• Today there are 85 Living Recipients of the Medal of Honor.
Citation
Captain Humbert R. Versace distinguished himself by extraordinary heroism during the period of 29 October 1963 to 26 September 1965, while serving as S-2 Advisor, Military Assistance Advisory Group, Detachment 52, Ca Mau, Republic of Vietnam. While accompanying a Civilian Irregular Defense Group patrol engaged in combat operations in Thoi Binh District, An Xuyen Province, Captain Versace and the patrol came under sudden and intense mortar, automatic weapons, and small arms fire from elements of a heavily armed enemy battalion. As the battle raged, Captain Versace, although severely wounded in the knee and back by hostile fire, fought valiantly and continued to engage enemy targets. Weakened by his wounds and fatigued by the fierce firefight, Captain Versace stubbornly resisted capture by the over-powering Viet Cong force with the last full measure of his strength and ammunition. Taken prisoner by the Viet Cong, he exemplified the tenets of the Code of Conduct from the time he entered into Prisoner of War status. Captain Versace assumed command of his fellow American soldiers, scorned the enemy's exhaustive interrogation and indoctrination efforts, and made three unsuccessful attempts to escape, despite his weakened condition which was brought about by his wounds and the extreme privation and hardships he was forced to endure. During his captivity, Captain Versace was segregated in an isolated prisoner of war cage, manacled in irons for prolonged periods of time, and placed on extremely reduced ration. The enemy was unable to break his indomitable will, his faith in God, and his trust in the United States of America. Captain Versace, an American fighting man who epitomized the principles of his country and the Code of Conduct, was executed by the Viet Cong on 26 September 1965. Captain Versace's gallant actions in close contact with an enemy force and unyielding courage and bravery while a prisoner of war are in the highest traditions of the military service and reflect the utmost credit upon himself and the United States Army.
---
From the Archives

We Have Met the Enemy…

Geoff Metcalf
"They who can give up essential liberty to obtain a little temporary safety deserve neither liberty nor safety.
--Benjamin Franklin
"The American people must be willing to give up a degree of personal privacy in exchange for safety and security."
--Louis Freeh

In the wake of the clamor over the most recent WikiLeaks data dump, 'Vault 7', 'UMBRAGE', et al, it should be noted this is not really anything new. What we are seeing here is simply the evolution of something that goes back to the late 50s (to the incomplete best knowledge I have).
It is kinda cool to finally see even
The New York Times
acknowledging material
I was writing about in 1998
.
In April of 1998 I wrote "Privacy has become an anachronism." I was commenting on "a massive system designed to intercept all your e-mail, fax traffic and more." I was explaining 'Echelon', the illegitimate offspring of a
UKUSA Treaty
signed by the United States, United Kingdom, Canada, Australia and New Zealand. Its purpose was, and is, to have a vast global intelligence monster, which allegedly shares common goals. The system was so "efficient" that reportedly National Security Agency folk from Fort Meade could work from Menwith Hill in England to intercept local communications without either nation having to burden themselves with the formality of seeking approval (a court order) or disclosing the operation. And this was all pre-9/11 and pre-the anti-constitutional
'Patriot Act'
.
It is illegal (without a Judge's signed permission) for the United States to spy on its citizens … kinda. The laws have long been circumvented by a mutual pact among five nations. Under the terms of UKUSA agreement, Britain spies on Americans and America spies on British citizens, and then the two conspirators trade data. A classic technical finesse. It is legal, but the intent to evade the spirit is inescapable.
I often fictionalized the genesis of 'Echelon' as an informal meeting of a group of post war American and British intelligence types drinking in some remote rustic bar. An imagined CIA type complains to his MI6 buddy about the hassles of US laws preventing US intelligence from surveillance of bad guys, and the Brit echoes the same complaint.
"Hey wait a moment mate," says Nigel, the make-believe MI6 guy, "I can spy on your guys and you can spy on our bad players…why don't we just come up with a mechanism whereby we spy on your villains, you spy on our villains, and we just 'share' the intel?"
This system was called ECHELON, and has been kicking around in some form longer than most of you. The result of the UKUSA treaty signed by the United States, United Kingdom, Canada, Australia and New Zealand was, and is, to have a vast global intelligence monster which allegedly shares common goals.
The London Telegraph reported in December of 1997 that the Civil liberties Committee of the European Parliament had officially confirmed the existence and purpose of ECHELON. "A global electronic spy network that can eavesdrop on every telephone, e-mail and telex communication around the world will be officially acknowledged for the first time in a European Commission report. …"
The report noted: "Within Europe all e-mail, telephone and fax communications are routinely intercepted by the United States National Security Agency, transferring all target information from the European mainland via the strategic hub of London, then by satellite to Fort Meade in Maryland via the crucial hub at Menwith Hill, in the North York moors in the UK.
"The ECHELON system forms part of the UKUSA system but unlike many of the electronic spy systems developed during the Cold War, ECHELON was designed primarily for non-military targets: governments, organizations and businesses in virtually every country."
An interesting sidebar appeared in the International Herald Tribune under the headline, "Big Corporate Brother: It Knows More About You Than You Think." The story details Acxiom Corp, which was a humongous information service hidden in the Ozark foothills. Twenty-four hours a day, Acxiom electronically gathered and sorts all kinds of data about 196 million Americans. Credit card transactions and magazine subscriptions, telephone numbers, real estate records, automotive data, hunting, business and fishing licenses, consumer surveys and demographic detail that would make a marketing department's research manager salivate. This relatively new (legal) enterprise was known as "data warehousing" or "data-mining", and it underscores the cruel reality that the fiction of personal privacy has become obsolete. Technology's ability to collect and analyze data has made privacy a quaint albeit interesting dinosaur.
The Tribune reported that "Axciom can often determine whether an American owns a dog or cat, enjoys camping or gourmet cooking, reads the Bible or lots of other books. It can often pinpoint an American's occupation, car and favorite vacations. By analyzing the equivalent of billions of pages of data, it often projects for its customers who should be offered a credit card or who is likely to buy a computer."
Most of this information is from y 1998 piece. Echelon has developed, matured, and morphed into a much more powerful hybrid. 'Carnivore' was software to help triage the cacophony of data. Vault 7 and 'Umbrage' are logical (some would argue "insidious") growth.
More to follow…