"It Is Not A Question of Who Is Right Or Wrong But What Is Right Or Wrong That Counts.

"

--Geoff Metcalf
Providing an on line Triage of the news since 1997



Wo

rld & Nation
Pelosi defiant as Democrats grow restless over impeachment delay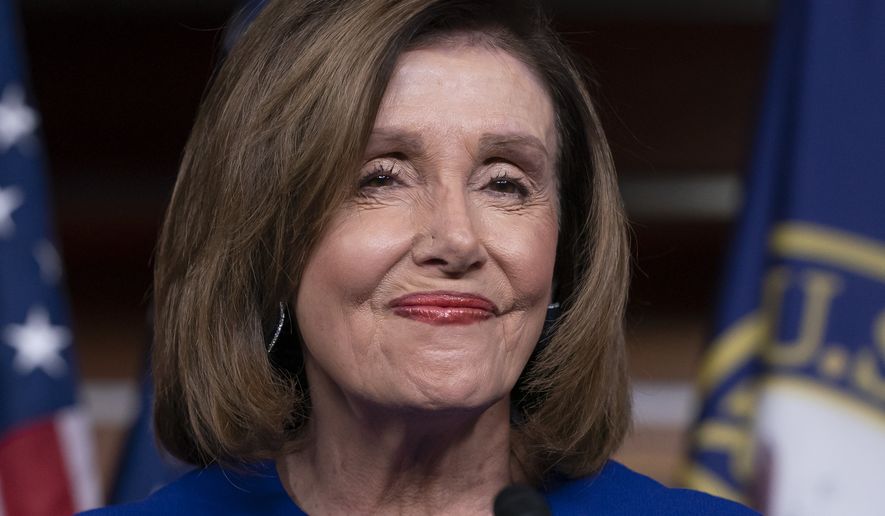 House Speaker Nancy Pelosi defiantly held on to the articles of impeachment Thursday despite cracks in support from congressional Democrats and ramped up efforts by Senate Republicans to take matters into their own hands.
The California Democrat suggested she won't block the Senate trial indefinitely, saying the two articles of impeachment against President Trump would be transmitted "soon." But she insisted the Senate first make public the rules for the trial.
Precedent dictates that the trial cannot start until the House speaker sends the articles to the upper chamber.
Senate Majority Leader Mitch McConnell, Kentucky Republican, has repeatedly said the chamber will follow the same rules and procedures as in President Clinton's 1999 impeachment trial.
---
Iran Denies: 'No Missile Hit the Plane'
Iran on Friday denied Western allegations that one of its own missiles downed a Ukrainian jetliner that crashed outside Tehran, and called on the U.S. and Canada to share any information they have on the crash, which killed all 176 people on board.
Western leaders said the plane appeared to have been unintentionally hit by a surface-to-air missile just hours after Iran launched around a dozen ballistic missiles at two U.S. bases in Iraq to avenge the killing of its top general in an American airstrike last week.
"What is obvious for us, and what we can say with certainty, is that no missile hit the plane," Ali Abedzadeh, head of Iran's national aviation department, told a press conference.
"If they are really sure, they should come and show their findings to the world" in accordance with international standards, he added.
Hassan Rezaeifar, the head of the Iranian investigation team, said recovering data from the black box flight recorders could take more than a month and that the entire investigation could stretch into next year. He also said Iran may request help from international experts if it is not able to extract the flight recordings.
---
House passes symbolic measure to curb Trump moves on Iran
The House on Thursday approved a resolution designed to block President Trump's ability to conduct a war with Iran, moving to reassert congressional power but bringing warnings from Republicans that lawmakers were undercutting the commander in chief at a critical moment in the Middle East.
The measure, sponsored by Rep. Elissa Slotkin, Michigan Democrat and a former CIA analyst, passed by a margin of 224-194. Three Republicans — Reps. Matt Gaetz and Tom Rooney of Florida and Thomas Massie of Kentucky, and newly independent Justin Amash — voted for the resolution, while eight Democrats joined most Republicans in voting against the measure.
The vote came at a time of maximum strain between the White House and Hill Democrats, many of whom say Mr. Trump lacks the authority to unilaterally lead the country into armed conflict with Tehran.
---
General reportedly refuses officer's Special Forces tab reinstatement despite Trump pardon
Another showdown between the military and President Trump over his use of the president's pardon powers may loom.
According to a report in The Washington Post, an Army general has refused a request by an officer whom Mr. Trump pardoned to get back his Special Forces tab.
Citing "two defense officials … speaking on condition of anonymity," The Post reported that Lt. Gen. Francis M. Beaudette, the commander of U.S. Army Special Operations Command, had denied the request for reinstatement by retired Army Maj. Mathew L. Golsteyn.
---
China's crackdown in Hong Kong upends Taiwan election
President Tsai Ing-wen of the pro-independence Democratic Progressive Party favored
The growing threat posed by mainland China and the challenge to Beijing's reunification policy seen in mass protests in Hong Kong are providing the backdrop as voters in Taiwan go to the polls Saturday to pick the island's next president.
Once down by 30 points, President Tsai Ing-wen of the pro-independence Democratic Progressive Party (DPP) has surged in polls and is now favored to win a second four-year term in a race with opposition Kuomintang (KMT) Party candidate Han Kuo-yu.
Taiwan's past presidential elections were more focused on domestic issues such as health care, mass transit, graft and corruption, pension reform and taxes. But Beijing's mishandling of Hong Kong's pro-democracy mass demonstrations, which have stretched over six months and show no signs of abating, has brought the threat posed by China to the forefront for voters.
---
GOP Rep. Bradley Byrne pushes to censure Pelosi for abuse of power
A Republican lawmaker is moving to censure House Speaker Nancy Pelosi over her unprecedented move of holding onto the articles of impeachment for more than three weeks — an event that's never occurred in the nation's history.
Rep. Bradley Byrne, Alabama Republican, introduced his resolution Thursday, charging the California Democrat with abusing her power.
"Speaker Pelosi's decision to hold the articles of impeachment against President Trump in a pathetic and unconstitutional attempt to extract concessions from the Senate is an unprecedented abuse of power," Mr. Byrne said.
He is calling for Mrs. Pelosi to transmit the articles of impeachment, saying that is what the founders intended.
---
Will Meghan Markle and Prince Harry Pursue Hollywood Deals After 'Step Back' From Royal Duties?
"They've probably been flooded with endorsement opportunities,"
Now that Prince Harry and Meghan Markle, the Duke and Duchess of Sussex, have have announced they intend to "step back" from their royal duties and divide their time between the U.K. and North America, the million-dollar question is what the couple could be doing next.
It's not clear whether Markle will be returning to the Hollywood life she left behind when she married the sixth in line to the British throne in 2018 — the American-born actress starred in TV shows like "Suits," "Fringe" and "The League," as well as films like "Get Him to the Greek" and "Horrible Bosses."
Already, "Real Housewives" executive producer Andy Cohen opportunistically offered her a spot on the Beverly Hills edition of the Bravo reality franchise — "Open invite for The Duchess to join #RHOBH !!!" he wrote on the couple's now-infamous Instagram post.
While that seems unlikely, it's possible Markle could pursue any number of media projects, either as an actress, on-camera host or producer. One model for the couple might be Barack and Michelle Obama, whose Netflix-based Higher Ground is developing scripted and unscripted content on serious topics like race, class and civil rights.
---
Gauging Trump's election prospects
Voters are divided on impeachment, with support declining
Heading into the 2020 presidential election year, President Trump's political prospects don't look so good.
Real Clear Politics, the political campaign website that charts all of the presidential election polls and reports their average each month, had bad news for the president at year's end.
When voters were asked if the country was moving in the "right direction" under Mr. Trump, or was off on the "wrong track," 55.8 percent said "wrong track" compared to only 37 percent who replied "right direction."
---
Global climate may improve, but academic gloom seems here to stay
College campus climate change crusade
Predictions of climate gloom and doom have gotten more confident and dire with each passing year. But the passing years have not been kind to the certainty of their fruition.
As a new academic semester gets underway at the beginning of this new decade, the college campus is where catastrophic climate change has actually happened over the most recent decades. Like the inception of a violent storm, the destructive change had small beginnings.
The field of climatology in the 1970s, when I was a student of meteorology at Penn State, was rather cloistered, engaged in the tedious work of compiling facts and figures from decades of weather. The science was focused on collecting, analyzing and disseminating data from local, regional and global observations. Weather trends at the time indicated the potential return of ice-age conditions.
---
" It is discouraging to think how many people are shocked by honesty and how few by deceit."

-- Noel Coward

(1899-1973) British playwright

---

The Medal of Honor is the highest award for valor in action against an enemy force which can be bestowed upon an individual serving in the Armed Services of the United States.

GeneTrerally presented to its recipient by the President of the United States of America in the name of Congress.

The first award of the Medal of Honor was made March 25, 1863 to Private JACOB PARROTT.The last award of the Medal of Honor was made September 15, 2011 to Sergeant DAKOTA MEYER.

Since then there have been: • 3458 recipients of the Medal of Honor.

• Today there are 85 Living Recipients of the Medal of Honor.

Citation


Captain Humbert R. Versace distinguished himself by extraordinary heroism during the period of 29 October 1963 to 26 September 1965, while serving as S-2 Advisor, Military Assistance Advisory Group, Detachment 52, Ca Mau, Republic of Vietnam. While accompanying a Civilian Irregular Defense Group patrol engaged in combat operations in Thoi Binh District, An Xuyen Province, Captain Versace and the patrol came under sudden and intense mortar, automatic weapons, and small arms fire from elements of a heavily armed enemy battalion. As the battle raged, Captain Versace, although severely wounded in the knee and back by hostile fire, fought valiantly and continued to engage enemy targets. Weakened by his wounds and fatigued by the fierce firefight, Captain Versace stubbornly resisted capture by the over-powering Viet Cong force with the last full measure of his strength and ammunition. Taken prisoner by the Viet Cong, he exemplified the tenets of the Code of Conduct from the time he entered into Prisoner of War status. Captain Versace assumed command of his fellow American soldiers, scorned the enemy's exhaustive interrogation and indoctrination efforts, and made three unsuccessful attempts to escape, despite his weakened condition which was brought about by his wounds and the extreme privation and hardships he was forced to endure. During his captivity, Captain Versace was segregated in an isolated prisoner of war cage, manacled in irons for prolonged periods of time, and placed on extremely reduced ration. The enemy was unable to break his indomitable will, his faith in God, and his trust in the United States of America. Captain Versace, an American fighting man who epitomized the principles of his country and the Code of Conduct, was executed by the Viet Cong on 26 September 1965. Captain Versace's gallant actions in close contact with an enemy force and unyielding courage and bravery while a prisoner of war are in the highest traditions of the military service and reflect the utmost credit upon himself and the United States Army.

---

From the Archives

We Have Met the Enemy…
Geoff Metcalf


"They who can give up essential liberty to obtain a little temporary safety deserve neither liberty nor safety.
--Benjamin Franklin
"The American people must be willing to give up a degree of personal privacy in exchange for safety and security."
--Louis Freeh


In the wake of the clamor over the most recent WikiLeaks data dump, 'Vault 7', 'UMBRAGE', et al, it should be noted this is not really anything new. What we are seeing here is simply the evolution of something that goes back to the late 50s (to the incomplete best knowledge I have).

It is kinda cool to finally see even

The New York Times

acknowledging material

I was writing about in 1998

.

In April of 1998 I wrote "Privacy has become an anachronism." I was commenting on "a massive system designed to intercept all your e-mail, fax traffic and more." I was explaining 'Echelon', the illegitimate offspring of a

UKUSA Treaty

signed by the United States, United Kingdom, Canada, Australia and New Zealand. Its purpose was, and is, to have a vast global intelligence monster, which allegedly shares common goals. The system was so "efficient" that reportedly National Security Agency folk from Fort Meade could work from Menwith Hill in England to intercept local communications without either nation having to burden themselves with the formality of seeking approval (a court order) or disclosing the operation. And this was all pre-9/11 and pre-the anti-constitutional

'Patriot Act'

.

It is illegal (without a Judge's signed permission) for the United States to spy on its citizens … kinda. The laws have long been circumvented by a mutual pact among five nations. Under the terms of UKUSA agreement, Britain spies on Americans and America spies on British citizens, and then the two conspirators trade data. A classic technical finesse. It is legal, but the intent to evade the spirit is inescapable.

I often fictionalized the genesis of 'Echelon' as an informal meeting of a group of post war American and British intelligence types drinking in some remote rustic bar. An imagined CIA type complains to his MI6 buddy about the hassles of US laws preventing US intelligence from surveillance of bad guys, and the Brit echoes the same complaint.

"Hey wait a moment mate," says Nigel, the make-believe MI6 guy, "I can spy on your guys and you can spy on our bad players…why don't we just come up with a mechanism whereby we spy on your villains, you spy on our villains, and we just 'share' the intel?"

This system was called ECHELON, and has been kicking around in some form longer than most of you. The result of the UKUSA treaty signed by the United States, United Kingdom, Canada, Australia and New Zealand was, and is, to have a vast global intelligence monster which allegedly shares common goals.

The London Telegraph reported in December of 1997 that the Civil liberties Committee of the European Parliament had officially confirmed the existence and purpose of ECHELON. "A global electronic spy network that can eavesdrop on every telephone, e-mail and telex communication around the world will be officially acknowledged for the first time in a European Commission report. …"

The report noted: "Within Europe all e-mail, telephone and fax communications are routinely intercepted by the United States National Security Agency, transferring ll target information from the European mainland via the strategic hub of London, then by satellite to Fort Meade in Maryland via the crucial hub at Menwith Hill, in the North York moors in the UK.

"The ECHELON system forms part of the UKUSA system but unlike many of the electronic spy systems developed during the Cold War, ECHELON was designed primarily for non-military targets: governments, organizations and businesses in virtually every country."

An interesting sidebar appeared in the International Herald Tribune under the headline, "Big Corporate Brother: It Knows More About You Than You Think." The story details Acxiom Corp, which was a humongous information service hidden in the Ozark foothills. Twenty-four hours a day, Acxiom electronically gathered and sorts all kinds of data about 196 million Americans. Credit card transactions and magazine subscriptions, telephone numbers, real estate records, automotive data, hunting, business and fishing licenses, consumer surveys and demographic detail that would make a marketing department's research manager salivate. This relatively new (legal) enterprise was known as "data warehousing" or "data-mining", and it underscores the cruel reality that the fiction of personal privacy has become obsolete. Technology's ability to collect and analyze data has made privacy a quaint albeit interesting dinosaur.

The Tribune reported that "Axciom can often determine whether an American owns a dog or cat, enjoys camping or gourmet cooking, reads the Bible or lots of other books. It can often pinpoint an American's occupation, car and favorite vacations. By analyzing the equivalent of billions of pages of data, it often projects for its customers who should be offered a credit card or who is likely to buy a computer."

Most of this information is from y 1998 piece. Echelon has developed, matured, and morphed into a much more powerful hybrid. 'Carnivore' was software to help triage the cacophony of data. Vault 7 and 'Umbrage' are logical (some would argue "insidious") growth.

More to follow…