"It Is Not A Question of Who Is Right Or Wrong But What Is Right Or Wrong That Counts.

"

--Geoff Metcalf
Providing an on line Triage of the news since 1997



Wo

rld & Nation
Math favors Sanders as fractured field presents path to victory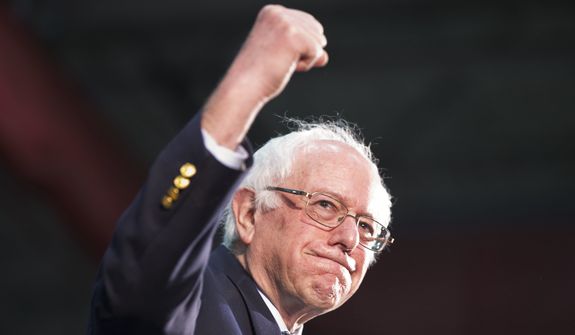 Sen. Bernard Sanders appears to have hit a ceiling of support, with polls and early results showing him struggling to top 30% of the vote in most states.
Yet that may still be more than enough to win the Democratic nomination this year.
So long as the rest of the field remains large and fractured, Mr. Sanders will be able to rack up wins in states with a plurality of the vote. And as long as there's no single opponent matching him win-for-win, he will emerge with the most delegates at the end.
---
'Rigged system' benefits Sanders as Bloomberg botches debate debut
The "rigged" system is suddenly working in Sen. Bernard Sanders' favor.
The Vermont Democratic socialist and most of the other 2020 Democratic presidential hopefuls cried foul when the Democratic National Committee changed the rules and allowed billionaire media mogul Michael Bloomberg onto the debate stage, but the setup proved to be a boon for Mr. Sanders.
Mr. Bloomberg drew a barrage of fire away from the front-running Mr. Sanders at the Las Vegas debate Wednesday night, and the tycoon's botched performance further muddied the more moderate lane of the race and helped clear a path for Mr. Sanders' socialist-style run.
---
Trump eyes Rep. Doug Collins for DNI post, but lawmaker says he's not interested
President Trump said he is considering nominating Rep. Doug Collins, Georgia Republican, as director of national intelligence, but the lawmaker quickly shot down the idea on Friday.
The president made the disclosure to reporters aboard Air Force One on a flight to Las Vegas, Nevada, a day after he selected U.S. Ambassador to Germany Richard Grenell to serve as acting DNI. He said Mr. Collins is one of several candidates he's considering.
But Mr. Collins said on Fox Business that wouldn't accept the nomination because he's running for the Senate.
---
Pompeo: US-Taliban Agreement Expected to Be Signed on Feb. 29
The seven-day "reduction of violence" deal promised by the Taliban will begin Friday night, a senior U.S. State Department official said, without specifying the exact time. That will start the countdown to the signing of a peace agreement between the Taliban and the United States at the end of the month.
That peace agreement, to be signed in Doha, Qatar, on Feb. 29, will pave the way for a withdrawal of U.S. troops and intra- Afghan negotiations. U.S. Secretary of State Mike Pompeo said the peace agreement will also lead to an eventual permanent cease-fire.
"We are preparing for the signing to take place on February 29," Pompeo said in a statement early Friday. "Intra-Afghan negotiations will start soon thereafter, and will build on this fundamental step to deliver a comprehensive and permanent ceasefire and the future political road map for Afghanistan."
---
30-year Treasury bond yield breaks to all-time low as coronavirus fears lift havens
The 10-year Treasury note yield also broke below key level of 1.50% on Friday
U.S. Treasury yields extended their weeklong slump on Friday as investors worried that the economic impact of COVID-19 may not be contained to China, and is spilling over into neighboring regions.
What are Treasurys doing?
The 10-year Treasury note yield TMUBMUSD10Y, -3.73% was down 3 basis points to 1.495%, the lowest since last September, while the 2-year note rate TMUBMUSD02Y, -3.24% edged 1.4 basis points lower to 1.381%. The 30-year bond yield TMUBMUSD30Y, -3.29% slipped 4.2 basis points to 1.930%, falling below its previous all-time low of 1.95%.
---
'Special management zone' declared as coronavirus overwhelms South Korea city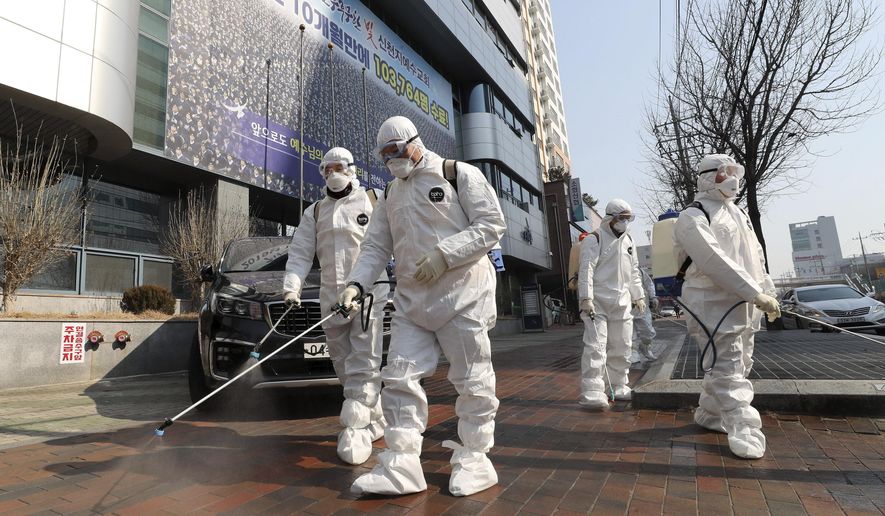 The rate of coronavirus infections in China continued to drop Thursday, but flare-ups elsewhere turned a thriving South Korean city into a ghost town and Japan said two elderly passengers of the Diamond Princess cruise ship died as a result of their infections, raising fears about the bug's global reach.

Daegu, a city in southeastern South Korea, recorded dozens of new cases in recent days, prompting its 2.5 million residents to clear out of normally busy streets and shopping malls.

Fearing the spread of the virus among its armed forces, South Korea also restricted military personnel from taking leave, staying off base overnight or greeting visitors at their installations.



---
Cybercriminals capitalize on Rudy Giuliani's Twitter typos
Rudolph W. Giuliani's digital typos are creating cybersecurity threats for his hundreds of thousands of followers on Twitter.
Cybercriminals are hijacking the incorrect website domain names that President Trump's personal lawyer shares to redirect visitors to web pages with malware.
Jerome Segura, Malwarebytes threat intelligence director, identified three examples of cyber-hooligans exploiting Mr. Giuliani's digital gaffes on Twitter in the last seven days alone.
On Sunday, Mr. Giuliani tweeted a link to his personal website, RudyGiulianics.com but inadvertently included a space between "Rudy" and "Giulianics.com." Upon clicking the link tweeted by Mr. Giuliani, Mr. Segura wrote for Malwarebytes, a series of redirects served users with a browser extension that "can read your browser history, the data you enter on sites, and can change your default search engine."
---
Trump -- not Obama -- behind current economic success, White House tells Congress
The White House told Congress on Thursday that the current economic boom was created by President Trump's agenda of tax cuts and deregulation, not President Barack Obama's taxpayer-funded stimulus plan.
"Contrary to expectations that the expansion would slow as it matured, economic output and labor market gains have accelerated over the past three years," the Council of Economic Advisers said in its annual report on the state of the economy.
Mr. Obama on Monday marked the 11th anniversary of his signing the $800 billion-plus stimulus act by saying the Recovery Act was instrumental in "paving the way for more than a decade of economic growth and the longest streak of job creation in American history."
Mr. Trump said his predecessor was engaging in a "con job" for taking credit for the current economic growth and historically low unemployment rates of about 3.5%.
---
China's military buildup, global ambitions on collision course with U.S., Pentagon official warns
President Xi Jinping overseeing 'one of the most ambitious military modernization efforts in recent history'
China's decadeslong military buildup now poses a threat to U.S. security not just in Asia but also around the globe, and a confrontation with China could emerge at one of several flashpoints, a senior Pentagon official warned Thursday.
Chad Sbragia, deputy assistant defense secretary for China, told a congressional commission that Beijing's buildup of missiles, warships, aircraft, space weaponry and cybercapabilities has accelerated under President Xi Jinping. He described it as "one of the most ambitious military modernization efforts in recent history."
"In most of the potential flashpoints in the Indo-Pacific region — the Taiwan Strait, the South China Sea, the Senkaku Islands or the Korean Peninsula — the United States may find itself in a military crisis with China," Mr. Sbragia told a hearing of the congressionally created United States-China Economic and Security Review Commission. He said the challenge posed by Chinese military and economic expansion requires a Cold War-type response.
---
'Why don't we teach American history anymore?'
Students may be surprised to learn that Republican leaders paved the way for equal rights
Why don't we teach American history anymore?
George Washington's birthday is Feb. 22. Abraham Lincoln's birthday is Feb. 12. And Ronald Reagan's birthday is Feb. 6. Instead of honoring Washington and Lincoln on the anniversary of their actual day of births, we combine them all into one holiday called President's Day.
America is an exceptional country. We have become an exceptional country because of great leaders like Washington, Lincoln and Reagan. There are others too — like Thomas Jefferson, Teddy Roosevelt, Harry Truman and John F. Kennedy. Yet, many of our schools gloss over these important leaders, if they even mention them at all.
---
Embracing the state secession movement: 'Make America small again'
It would acknowledge America's divisions and could result in happier, less corrupt entities
As a people, we've seldom been more divided. And since that doesn't look about to change, maybe it's time to look at the possibility of secession. Nearly every country is staring down a secession movement, so why should we think we're exempt? After all, 1776 was our own secession from Britain.
It's not as though we'd fight a civil war over secession, as we did in 1861. For one thing, the stakes would be a lot lower today. The Civil Rights Revolution has taken hold, and there'd be no going back to the bad old days of Jim Crow in any seceding state. So instead of a war, what we'd see is the kind of sorting out of people that happens today, when people move from California to Texas. That's how moderns settle these things.
Some think that secession is a constitutional impossibility. They're wrong. If a state wanted out, I don't think we'd see a president sending in the troops, and I don't think the U.S. Supreme Court would want to hand him a loaded pistol either. In 1868, when the Civil War was good and over, the court held that there was no right of secession, but they based this on the 1781 Articles of Confederation, which in 1787 the Framers thought were no longer in effect. So the court's originalists would likely take seriously a vote on secession.
---
" It is discouraging to think how many people are shocked by honesty and how few by deceit."

-- Noel Coward

(1899-1973) British playwright

---

The Medal of Honor is the highest award for valor in action against an enemy force which can be bestowed upon an individual serving in the Armed Services of the United States.

GeneTrerally presented to its recipient by the President of the United States of America in the name of Congress.

The first award of the Medal of Honor was made March 25, 1863 to Private JACOB PARROTT.The last award of the Medal of Honor was made September 15, 2011 to Sergeant DAKOTA MEYER.

Since then there have been: • 3458 recipients of the Medal of Honor.

• Today there are 85 Living Recipients of the Medal of Honor.

Citation


Captain Humbert R. Versace distinguished himself by extraordinary heroism during the period of 29 October 1963 to 26 September 1965, while serving as S-2 Advisor, Military Assistance Advisory Group, Detachment 52, Ca Mau, Republic of Vietnam. While accompanying a Civilian Irregular Defense Group patrol engaged in combat operations in Thoi Binh District, An Xuyen Province, Captain Versace and the patrol came under sudden and intense mortar, automatic weapons, and small arms fire from elements of a heavily armed enemy battalion. As the battle raged, Captain Versace, although severely wounded in the knee and back by hostile fire, fought valiantly and continued to engage enemy targets. Weakened by his wounds and fatigued by the fierce firefight, Captain Versace stubbornly resisted capture by the over-powering Viet Cong force with the last full measure of his strength and ammunition. Taken prisoner by the Viet Cong, he exemplified the tenets of the Code of Conduct from the time he entered into Prisoner of War status. Captain Versace assumed command of his fellow American soldiers, scorned the enemy's exhaustive interrogation and indoctrination efforts, and made three unsuccessful attempts to escape, despite his weakened condition which was brought about by his wounds and the extreme privation and hardships he was forced to endure. During his captivity, Captain Versace was segregated in an isolated prisoner of war cage, manacled in irons for prolonged periods of time, and placed on extremely reduced ration. The enemy was unable to break his indomitable will, his faith in God, and his trust in the United States of America. Captain Versace, an American fighting man who epitomized the principles of his country and the Code of Conduct, was executed by the Viet Cong on 26 September 1965. Captain Versace's gallant actions in close contact with an enemy force and unyielding courage and bravery while a prisoner of war are in the highest traditions of the military service and reflect the utmost credit upon himself and the United States Army.

---

From the Archives

We Have Met the Enemy…
Geoff Metcalf


"They who can give up essential liberty to obtain a little temporary safety deserve neither liberty nor safety.
--Benjamin Franklin
"The American people must be willing to give up a degree of personal privacy in exchange for safety and security."
--Louis Freeh


In the wake of the clamor over the most recent WikiLeaks data dump, 'Vault 7', 'UMBRAGE', et al, it should be noted this is not really anything new. What we are seeing here is simply the evolution of something that goes back to the late 50s (to the incomplete best knowledge I have).

It is kinda cool to finally see even

The New York Times

acknowledging material

I was writing about in 1998

.

In April of 1998 I wrote "Privacy has become an anachronism." I was commenting on "a massive system designed to intercept all your e-mail, fax traffic and more." I was explaining 'Echelon', the illegitimate offspring of a

UKUSA Treaty

signed by the United States, United Kingdom, Canada, Australia and New Zealand. Its purpose was, and is, to have a vast global intelligence monster, which allegedly shares common goals. The system was so "efficient" that reportedly National Security Agency folk from Fort Meade could work from Menwith Hill in England to intercept local communications without either nation having to burden themselves with the formality of seeking approval (a court order) or disclosing the operation. And this was all pre-9/11 and pre-the anti-constitutional

'Patriot Act'

.

It is illegal (without a Judge's signed permission) for the United States to spy on its citizens … kinda. The laws have long been circumvented by a mutual pact among five nations. Under the terms of UKUSA agreement, Britain spies on Americans and America spies on British citizens, and then the two conspirators trade data. A classic technical finesse. It is legal, but the intent to evade the spirit is inescapable.

I often fictionalized the genesis of 'Echelon' as an informal meeting of a group of post war American and British intelligence types drinking in some remote rustic bar. An imagined CIA type complains to his MI6 buddy about the hassles of US laws preventing US intelligence from surveillance of bad guys, and the Brit echoes the same complaint.

"Hey wait a moment mate," says Nigel, the make-believe MI6 guy, "I can spy on your guys and you can spy on our bad players…why don't we just come up with a mechanism whereby we spy on your villains, you spy on our villains, and we just 'share' the intel?"

This system was called ECHELON, and has been kicking around in some form longer than most of you. The result of the UKUSA treaty signed by the United States, United Kingdom, Canada, Australia and New Zealand was, and is, to have a vast global intelligence monster which allegedly shares common goals.

The London Telegraph reported in December of 1997 that the Civil liberties Committee of the European Parliament had officially confirmed the existence and purpose of ECHELON. "A global electronic spy network that can eavesdrop on every telephone, e-mail and telex communication around the world will be officially acknowledged for the first time in a European Commission report. …"

The report noted: "Within Europe all e-mail, telephone and fax communications are routinely intercepted by the United States National Security Agency, transferring ll target information from the Eurv opean mainland via the strategic hub of London, then by satellite to Fort Meade in Maryland via the crucial hub at Menwith Hill, in the North York moors in the UK.

"The ECHELON system forms part of the UKUSA system but unlike many of the electronic spy systems developed during the Cold War, ECHELON was designed primarily for non-military targets: governments, organizations and businesses in virtually every country."

An interesting sidebar appeared in the International Herald Tribune under the headline, "Big Corporate Brother: It Knows More About You Than You Think." The story details Acxiom Corp, which was a humongous information service hidden in the Ozark foothills. Twenty-four hours a day, Acxiom electronically gathered and sorts all kinds of data about 196 million Americans. Credit card transactions and magazine subscriptions, telephone numbers, real estate records, automotive data, hunting, business and fishing licenses, consumer surveys and demographic detail that would make a marketing department's research manager salivate. This relatively new (legal) enterprise was known as "data warehousing" or "data-mining", and it underscores the cruel reality that the fiction of personal privacy has become obsolete. Technology's ability to collect and analyze data has made privacy a quaint albeit interesting dinosaur.

The Tribune reported that "Axciom can often determine whether an American owns a dog or cat, enjoys camping or gourmet cooking, reads the Bible or lots of other books. It can often pinpoint an American's occupation, car and favorite vacations. By analyzing the equivalent of billions of pages of data, it often projects for its customers who should be offered a credit card or who is likely to buy a computer."

Most of this information is from y 1998 piece. Echelon has developed, matured, and morphed into a much more powerful hybrid. 'Carnivore' was software to help triage the cacophony of data. Vault 7 and 'Umbrage' are logical (some would argue "insidious") growth.

More to follow…