"It Is Not A Question of Who Is Right Or Wrong But What Is Right Or Wrong That Counts.

"

--Geoff Metcalf
Wo

rld & National
Democrats warn Trump against military force as Iran tensions escalate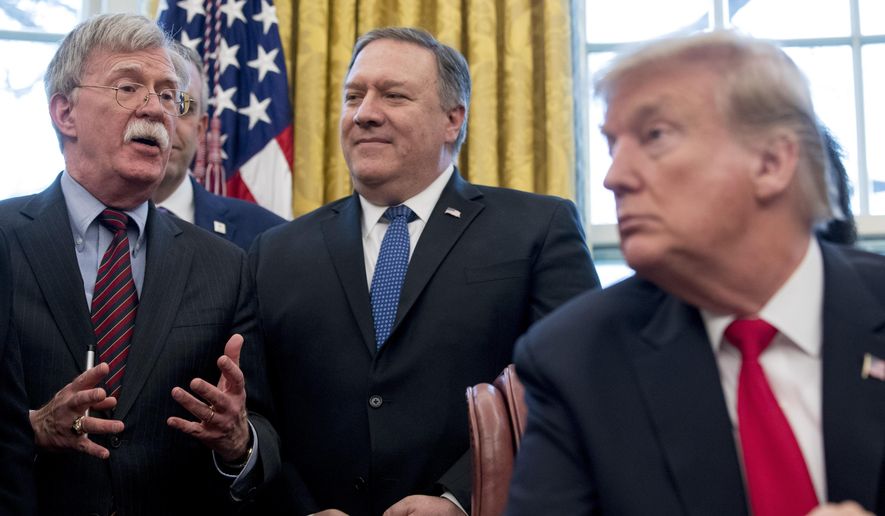 President Trump said Thursday that he hopes to avoid war with Iran, as Democrats warned that the administration lacks congressional approval for military force and tensions continued to rise in the region over the president's pressure campaign against Tehran.
Saudi Arabia took a fresh shot at its longtime regional rival by blaming Tehran for a drone attack that knocked out a key oil pipeline. A newspaper close to the palace called on the U.S. to carry out "surgical" strikes on Iran.
A string of U.S. moves in recent days — including a leaked proposal for a 120,000-troop deployment in the region and the withdrawal of some U.S. diplomatic personnel from neighboring Iraq — has sent fears of a military clash soaring and left the Trump White House scrambling to persuade lawmakers and allies of the strength of its intelligence.
---
Barr Says Review of Russia Probe Could Spark Rule Changes
Attorney General William Barr said his review of the origins of the Russia investigation is focused on U.S. intelligence gathering before the Federal Bureau of Investigation opened its formal inquiry in July 2016 and could lead to rule changes for counterintelligence investigations of political campaigns.
"Government power was used to spy on American citizens," Mr. Barr told The Wall Street Journal, in his first interview since taking office in February. "I can't imagine any world where we wouldn't take a look and make sure that was done properly."
He added: "Just like we need to ensure that foreign actors don't influence the outcome of our elections, we need to ensure that the government doesn't use its powers to put a thumb on the scale."
---
Man in country illegally charged with 11 murders in Texas
A Dallas man previously arrested in the death of an 81-year-old woman has been charged with killing at least 11 more elderly women whose jewelry and other valuables he stole, authorities said Thursday.
Kim Leach, a spokeswoman for the Dallas County district attorney's office, said 46-year-old Billy Chemirmir was indicted Tuesday on six more counts of capital murder in the deaths of women ranging in age from 76 to 94.
---
White House Doesn't Rule out Military Use to Remove Migrants
President Donald Trump will do "everything in his authority" to fight illegal immigration, White House Deputy Press Secretary Hogan Gidley said Friday, while not ruling out the use of the Insurrection Act, a federal law dating back to 1807 that would allow him to use the military to control and remove migrants.
"I'm saying there are lots of tools at his disposal," Gidley told Fox News' "Fox and Friends," after he was asked about reports that the president plans to use the act. "He hasn't used them all and looking at ways to protect the American people."
On Thursday, The Daily Caller, quoting senior administration officials, Trump is considering invoking the Insurrection Act of 1807, which allows a president to use the military to combat "unlawful obstruction or rebellion" inside U.S. borders. President George H.W. Bush used the act in 1992 during the Los Angeles riots.
---
Trump: My campaign was 'conclusively' spied on, which amounts to 'treason'
President Trump said Friday his campaign was "conclusively" spied on, calling it "a really bad situation" and that it amounts to "treason."
"My Campaign for President was conclusively spied on. Nothing like this has ever happened in American Politics. A really bad situation. TREASON means long jail sentences, and this was TREASON," the president tweeted.
The Federal Bureau of Investigation sent an investigator posing as a campaign staffer into Mr. Trump's campaign due to intelligence that Russians were attempting to influence the 2016 election, The New York Times reported earlier this month.
---
Texas asserts sovereign immunity against Congress
Texas is asserting its sovereign immunity against Congress, telling Democrats on two congressional committees this week that the state has no obligation to comply with their investigative demands.
Attorney General Ken Paxton's office says that as a state with sovereign powers under the Constitution, Texas can't be treated like a federal agency or Cabinet secretary who can be compelled to comply.
"Texas does not draw its authority from the United States or the United States Constitution, but from its status as a dual sovereign within the union," Jeffrey C. Mateer, first assistant attorney general, wrote in a letter Monday to the House Oversight and Reform Committee.
---
Michael Flynn: Trump administration, Congress sought to obstruct cooperation with Mueller
People linked to the Trump administration and Congress attempted to obstruct former National Security Adviser Michael Flynn's efforts to cooperate with special counsel Robert Mueller's probe, according to court documents unsealed Thursday.
The filing in a Washington, D.C., federal court says Flynn informed the special counsel of "multiple instances" both before and after his guilty plea where either he or his attorneys received communications "from persons connected to the administration or Congress."
Federal prosecutors say those communications could have affected both Flynn's "willingness to cooperate and the completeness of that cooperation."
---
Mike Pence blasts liberal states for adopting 'extreme pro-abortion' laws
Vice President Mike Pence on Thursday slammed states that are approving "extreme pro-abortion" laws.
Speaking to reporters in Wisconsin, Mr. Pence praised states such as Alabama that are passing laws that ban abortion when a fetal heartbeat is present, saying such efforts "are embracing life."
New York enacted a law in January protecting the "fundamental right" to an abortion. In Massachusetts, the legislature is considering a bill that would remove the requirement for minors to get parental consent for an abortion.
---
College Board adopts 'adversity index' as universities make SAT optional
Instead of paying thousands to boost their children's SAT scores, wealthy parents may instead consider moving to a high-crime neighborhood and getting a divorce.
The College Board, which administers the SAT, PSAT and Advanced Placement test, is expanding a program that gives each applicant a score based on their socioeconomic background, a so-called "adversity index" aimed at improving the admissions chances of students who face hardship.
The 15 factors in the Environmental Context Dashboard include information about the student's community, such as average family income, crime rate and housing stability, as well as their high school, including average SAT scores, number of AP courses, and percentage of students eligible for free lunch.
---
Two U.S. Warships Enter Persian Gulf Without Incident
Two U.S. guided-missile destroyers entered the Persian Gulf on Thursday without incident as the likelihood of an armed confrontation between Iran and the U.S. appears less likely, two U.S. defense officials confirmed to USNI News on Thursday.
USS McFaul (DDG-74) and USS Gonzalez (DDG-66) transited the Strait of Hormuz in the late afternoon local time without challenge from Iran's Islamic Revolution Guards Corps Navy (IRGCN), the sectarian military force responsible for Iran's coastal defense and operations in the Strait of Hormuz, the defense officials confirmed.
The transit of the two warships through the strait with no harassment from the IRGCN is a sign that tensions between Washington and Tehran have simmered since last week's buildup of U.S. military forces in the Middle East.
---
Boris goes for the kill: Tory MPs give 'tearful' May two weeks before she must set a date for leaving as Johnson FINALLY confirms he WILL run
Theresa May was effectively given a fortnight's grace today after making a 'tearful' appeal for one last chance to deliver Brexit at a meeting with senior Tories.
The Prime Minister is said to have been 'emotional' and 'frustrated' during the showdown with members of the powerful 1922 committee in her Commons office.
But despite the MPs stopping short of ordering her to name the date for her departure, she is still facing an effective deadline in the form of a crunch vote on the EU Withdrawal Bill in just over two weeks' time.
---
The most important 44 words in the Constitution
The First Amendment to the Constitution, the most important 44 words in that priceless and precious promise of liberty and freedom, does not guarantee civil, wise or even responsible speech. It guarantees free speech, however goofy, dumb or even irresponsible.
The American obsession with free speech often confounds friend and foe abroad, even those, like our British cousins, who should know better. The Europeans say they cherish free speech, and guarantee the expression of it, but what they mean is that their governments guarantee the free expression of government-approved speech. That's a distinction with a definite difference.
This is relevant, as always, and important to keep in mind this week when the Trump administration declined to sign the "Christchurch Call," designed to be a pledge, nonbinding at the moment, to "take action" against the spread of extremist views on the Internet. It's the brainchild of Prime Minister Jacinda Ardern of New Zealand in the wake of the deadly shootings in Christchurch by a deranged, or more likely evil, young man who published a long, rambling, barely coherent white-supremacist diatribe about why he was doing it. He livestreamed the gruesome spectacle on Facebook.
---
Collective bargaining is not a right
As a local official years ago, I saw the negative impact of collective bargaining on our taxpayers and on our excellent employees. So, during my first year in office as governor of Wisconsin, we took the power away from the big-government special interests and put it firmly into the hands of the hard-working taxpayers. Our Act 10 reforms were both pro-taxpayer and pro-worker.
The taxpayers of Wisconsin saved billions of dollars because of these reforms. And the people duly elected by the taxpayers now run our schools, state and local governments — instead of the big-government union bosses.
Public employees benefit from our reforms as well. Instead of being forced to pay dues to an organization that they may not support, our public servants now have the freedom to choose for themselves.
Our reforms also allowed changes in work rules that are positive for excellent employees. Under the old union contract system, good employees were often punished.
---
---
"It is discouraging to think how many people are shocked by honesty and how few by deceit."

-- Noel Coward

(1899-1973) British playwright

---

The Medal of Honor is the highest award for valor in action against an enemy force which can be bestowed upon an individual serving in the Armed Services of the United States.

GeneTrerally presented to its recipient by the President of the United States of America in the name of Congress.

The first award of the Medal of Honor was made March 25, 1863 to Private JACOB PARROTT.The last award of the Medal of Honor was made September 15, 2011 to Sergeant DAKOTA MEYER.

Since then there have been: • 3458 recipients of the Medal of Honor.

• Today there are 85 Living Recipients of the Medal of Honor.

Citation


Captain Humbert R. Versace distinguished himself by extraordinary heroism during the period of 29 October 1963 to 26 September 1965, while serving as S-2 Advisor, Military Assistance Advisory Group, Detachment 52, Ca Mau, Republic of Vietnam. While accompanying a Civilian Irregular Defense Group patrol engaged in combat operations in Thoi Binh District, An Xuyen Province, Captain Versace and the patrol came under sudden and intense mortar, automatic weapons, and small arms fire from elements of a heavily armed enemy battalion. As the battle raged, Captain Versace, although severely wounded in the knee and back by hostile fire, fought valiantly and continued to engage enemy targets. Weakened by his wounds and fatigued by the fierce firefight, Captain Versace stubbornly resisted capture by the over-powering Viet Cong force with the last full measure of his strength and ammunition. Taken prisoner by the Viet Cong, he exemplified the tenets of the Code of Conduct from the time he entered into Prisoner of War status. Captain Versace assumed command of his fellow American soldiers, scorned the enemy's exhaustive interrogation and indoctrination efforts, and made three unsuccessful attempts to escape, despite his weakened condition which was brought about by his wounds and the extreme privation and hardships he was forced to endure. During his captivity, Captain Versace was segregated in an isolated prisoner of war cage, manacled in irons for prolonged periods of time, and placed on extremely reduced ration. The enemy was unable to break his indomitable will, his faith in God, and his trust in the United States of America. Captain Versace, an American fighting man who epitomized the principles of his country and the Code of Conduct, was executed by the Viet Cong on 26 September 1965. Captain Versace's gallant actions in close contact with an enemy force and unyielding courage and bravery while a prisoner of war are in the highest traditions of the military service and reflect the utmost credit upon himself and the United States Army.

---

From the Archives

We Have Met the Enemy…
Geoff Metcalf


"They who can give up essential liberty to obtain a little temporary safety deserve neither liberty nor safety.
--Benjamin Franklin
"The American people must be willing to give up a degree of personal privacy in exchange for safety and security."
--Louis Freeh


In the wake of the clamor over the most recent WikiLeaks data dump, 'Vault 7', 'UMBRAGE', et al, it should be noted this is not really anything new. What we are seeing here is simply the evolution of something that goes back to the late 50s (to the incomplete best knowledge I have).

It is kinda cool to finally see even

The New York Times

acknowledging material

I was writing about in 1998

.

In April of 1998 I wrote "Privacy has become an anachronism." I was commenting on "a massive system designed to intercept all your e-mail, fax traffic and more." I was explaining 'Echelon', the illegitimate offspring of a

UKUSA Treaty

signed by the United States, United Kingdom, Canada, Australia and New Zealand. Its purpose was, and is, to have a vast global intelligence monster, which allegedly shares common goals. The system was so "efficient" that reportedly National Security Agency folk from Fort Meade could work from Menwith Hill in England to intercept local communications without either nation having to burden themselves with the formality of seeking approval (a court order) or disclosing the operation. And this was all pre-9/11 and pre-the anti-constitutional

'Patriot Act'

.

It is illegal (without a Judge's signed permission) for the United States to spy on its citizens … kinda. The laws have long been circumvented by a mutual pact among five nations. Under the terms of UKUSA agreement, Britain spies on Americans and America spies on British citizens, and then the two conspirators trade data. A classic technical finesse. It is legal, but the intent to evade the spirit is inescapable.

I often fictionalized the genesis of 'Echelon' as an informal meeting of a group of post war American and British intelligence types drinking in some remote rustic bar. An imagined CIA type complains to his MI6 buddy about the hassles of US laws preventing US intelligence from surveillance of bad guys, and the Brit echoes the same complaint.

"Hey wait a moment mate," says Nigel, the make-believe MI6 guy, "I can spy on your guys and you can spy on our bad players…why don't we just come up with a mechanism whereby we spy on your villains, you spy on our villains, and we just 'share' the intel?"

This system was called ECHELON, and has been kicking around in some form longer than most of you. The result of the UKUSA treaty signed by the United States, United Kingdom, Canada, Australia and New Zealand was, and is, to have a vast global intelligence monster which allegedly shares common goals.

The London Telegraph reported in December of 1997 that the Civil liberties Committee of the European Parliament had officially confirmed the existence and purpose of ECHELON. "A global electronic spy network that can eavesdrop on every telephone, e-mail and telex communication around the world will be officially acknowledged for the first time in a European Commission report. …"

The report noted: "Within Europe all e-mail, telephone and fax communications are routinely intercepted by the United States National Security Agency, transferring all target information from the European mainland via the strategic hub of London, then by satellite to Fort Meade in Maryland via the crucial hub at Menwith Hill, in the North York moors in the UK.

"The ECHELON system forms part of the UKUSA system but unlike many of the electronic spy systems developed during the Cold War, ECHELON was designed primarily for non-military targets: governments, organizations and businesses in virtually every country."

An interesting sidebar appeared in the International Herald Tribune under the headline, "Big Corporate Brother: It Knows More About You Than You Think." The story details Acxiom Corp, which was a humongous information service hidden in the Ozark foothills. Twenty-four hours a day, Acxiom electronically gathered and sorts all kinds of data about 196 million Americans. Credit card transactions and magazine subscriptions, telephone numbers, real estate records, automotive data, hunting, business and fishing licenses, consumer surveys and demographic detail that would make a marketing department's research manager salivate. This relatively new (legal) enterprise was known as "data warehousing" or "data-mining", and it underscores the cruel reality that the fiction of personal privacy has become obsolete. Technology's ability to collect and analyze data has made privacy a quaint albeit interesting dinosaur.

The Tribune reported that "Axciom can often determine whether an American owns a dog or cat, enjoys camping or gourmet cooking, reads the Bible or lots of other books. It can often pinpoint an American's occupation, car and favorite vacations. By analyzing the equivalent of billions of pages of data, it often projects for its customers who should be offered a credit card or who is likely to buy a computer."

Most of this information is from y 1998 piece. Echelon has developed, matured, and morphed into a much more powerful hybrid. 'Carnivore' was software to help triage the cacophony of data. Vault 7 and 'Umbrage' are logical (some would argue "insidious") growth.

More to follow…