"It Is Not A Question of Who Is Right Or Wrong But What Is Right Or Wrong That Counts.

"

--Geoff Metcalf
Providing an on line Triage of the news since 1997



Wo

rld & Nation
Trump Administration Asks Supreme Court to Axe Obamacare
As coronavirus cases rise in more than half of the states, the Trump administration is urging the Supreme Court to overturn the Affordable Care Act.
The administration's high court filing Thursday came the same day the government reported that close to half a million people who lost their health insurance amid the economic shutdown to slow the spread of COVID-19 have gotten coverage through HealthCare.gov.
The administration's legal brief makes no mention of the virus.
More than 20 million Americans could lose their health coverage and protections for people with preexisting health conditions also would be put at risk if the court agrees with the administration in a case that won't be heard before the fall.
House Speaker Nancy Pelosi blasted the administration's latest move in a partisan battle over "Obamacare" that has stretched on for a full decade since the law's passage in 2010. Pelosi is planning a floor vote early next week on her own bill to expand the ACA.
---
Fauci: Health Officials Look to Shift Testing Strategy
Trump administration health officials are eyeing a new way to test people for coronavirus—in groups, The Washington Post reports.
Dr. Anthony Fauci told the newspaper that the concept of "pool testing" is being explored by health officials in "intense discussions."
Pool testing works by testing groups of people together so fewer resources are used and infected patients can be identified and isolated more quickly.
"Something's not working," Fauci said of the current approach. "I mean, you can do all the diagramming you want, but something is not working."
Pool testing works by combining samples from a group of people. One test is used on the entire grouping. If the test comes back negative, researchers move onto the next sample group. If the test comes back positive, then each person is individually tested.
---
Change is coming: Non-Whites and Hispanics make up majority of U.S. under-16 population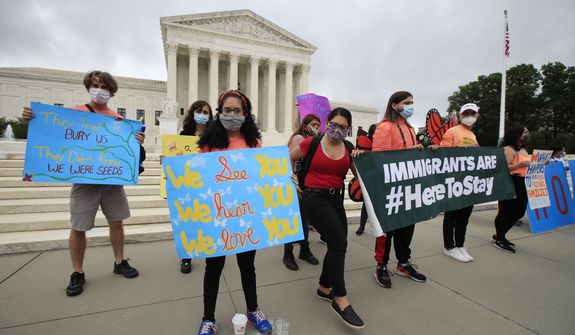 The number of Asian and Hispanic Americans is surging, but nobody is booming like the baby boomers.
The Census Bureau reported Thursday that the 65-and-older population grew in the past decade by a whopping 13.8 million people, or 34.2%, driving up the national median age from 37.2 years in 2010 to 38.4 years in 2019.
"The first baby boomers reached 65 years old in 2011," said Luke Rogers, chief of the Census Bureau's population estimates branch. "Since then, there's been a rapid increase in the size of the 65-and-older population, which grew by over a third since 2010. No other age group saw such a fast increase."
Meanwhile, the young are becoming less numerous and less White. For the first time, non-Whites and Hispanics made up a majority of the under-16 population in 2019, fueled by falling White fertility rates and the rapid growth in the Asian and Hispanic communities.
---
William Barr: Geoffrey Berman was an 'interim' U.S. attorney 'living on borrowed time'
Attorney General William P. Barr said in a new interview that former U.S. Attorney Geoffrey S. Berman had always been "living on borrowed time" and that he was "interim."
Mr. Barr said all U.S. attorneys are appointed by the president and can be removed by the president.
"The president had never made an appointment to that office. Geoffrey Berman was interim," Mr. Barr told NPR in an interview published on Thursday. "He was appointed by the court as a temporary U.S. attorney holding the fort. He was living on borrowed time from the beginning."
---
U.S. schools stumble toward risky reopening with dizzying array of new rules
Temperature checks at bus stops, plexiglass walls between desks and no field trips are a few of the rules school districts are planning to implement as a pandemic-weary nation lurches toward reopening schools this fall.
COVID-19 cases among children remain rare in many states, but school districts must address the health risks of employees, including cafeteria workers, bus drivers and teachers, who could come into contact with children showing no signs of the disease. That has set districts on their heels about how to proceed just a few weeks before schools are scheduled to welcome back students.
"I wish I could wave a wand and send all back to school safely and quickly. But unfortunately, it's not as simple as wearing masks, moving the desks or putting some painter's tape on the floor to keep students farther apart," said Superintendent Austin Beutner, announcing this month that the Los Angeles Unified School District, the country's second-largest, had not decided how to reopen on Aug. 18.
---
'Bigger and stronger than ever': Trump touts economic rebound, military might
President Trump promoted his ability to lead the U.S. on an economic comeback Thursday at a shipbuilding plant in this swing state where he trails Democratic rival Joseph R. Biden.
"Under this administration, American workers like you are national treasures. That's why we're protecting our defense industrial base," the president told Wisconsin workers at Fincantieri Marinette Marine shipyard, which was awarded a $5 billion contract to build 10 guided-missile frigates for the Navy.
He said the U.S. military was "very tired from fighting endless wars" when he became president and embarked on a defense buildup.
---
House passes police overhaul bill as Dems rush to 'fundamentally transform' law enforcement
The House on Thursday passed Democrats' sweeping overhaul of policing, with lawmakers touting new national standards for police conduct and the stripping of legal protections for officers as the only adequate response to Americans' demands for racial justice.
Democrats rushed forward with their bill despite complaints from the left that it didn't satisfy calls to defund the police and criticism from law enforcement advocates who say their voices have been muzzled.
The House passed the bill on a near party-line vote of 236-181.
---
Fox News Poll: Biden Leads in Key Battleground States
Fox News polls released Thursday put Democratic presidential nominee Joe Biden ahead of President Donald Trump by 9 percentage points in Florida and by 1 point in Texas.
In Texas, 45% of registered voters said they would vote for Biden if the election were held today, while 44% would back Trump. In Florida, Biden had 49% while Trump had 40%. Both polls were conducted June 20-23 and had a margin of error of 3 points.
That's an increase of three points since the last Fox News survey of registered Florida voters in April, with Biden enjoying overwhelming support from women, millennials, black and Hispanic voters in the Sunshine State.
---
NYC Homicides Hit Five-Year High; Bronx Police Commander Retiring in Protest
New York City's homicide rate has reached a five-year high with the number of shootings increasing 42 percent from a year ago, city police Commissioner Dermot Shea said Thursday.
Shea blamed a combination of a justice system which has been suppressed in producing criminal indictments; a deteriorated social safety net, which he claims is sending released prisoners into homelessness; bail reform laws that eliminate bail for most misdemeanor and "nonviolent" felonies; and case deferments, WNBC in New York reported.
The revelation and statement by Shea comes as a police commander in the city's borough of the Bronx has announced his retirement after nearly 30 years. Deputy Inspector Richard Brea is quitting because he's not getting any guidance on how to get guns and drugs off the streets amid the department's bid to reform following the riots and protests over the death of a black man in police custody in Minneapolis on Memorial Day, the New York Post reported.
---
Kamala Harris's Very Open Secret
The senator from California seems like the obvious choice to be Joe Biden's running mate. So why is she keeping mum about her thinking?
A few weeks ago, an adviser to Kamala Harris called me to talk through some polling data. "We understand that Joe Biden's the nominee, but the party is so much different than a septuagenarian white male," the adviser said. "Kamala Harris is more symbolic of that changing America—America coming together—than some of the other potential candidates" for vice president.
The adviser spoke on the condition of anonymity because, officially, Harris is pretending that she's not campaigning to be Biden's running mate.
In public, Harris has repeatedly insisted that she's not talking about or thinking about her prospects of being picked. But judging from my conversations with people around Harris, she and her team use her prospects to book events and television hits that aim to show she's neither overeager nor overambitious. She and her team are avoiding situations that could create stumbles. They're hoping that her résumé, her background, and the force of her personality propel her. They're picking specific moments for her to grab attention on the Senate floor or send a calibrated tweet. They're tuning out political reporters who are stuck on their couches, looking to drum up content during the pandemic. They're trying to ease concerns in Biden's orbit that if she's picked and they win, she'll start running for president the morning after the inauguration. They want her on the ticket, and positioned to be the Democratic nominee in 2024.
---
The Democrats' 'Bonfire of Inanities'
In post-Obama America, ignorance -- and the mob -- reign supreme
In this modern Bonfire of Inanities, ignorance reigns supreme. Which is one of the big problems with mob "justice," a painful lesson we history students here in America learned a long time ago.
Not that this current crop of uneducated, stupid, self-enthralled miscreants rioting in public streets and parks has the slightest grasp on five minutes of history. Or, wisdom for that matter.
This is what post-Obama America looks like. Or, as President Trump calls it, "Joe Biden's America."
History is dead. Intelligence is weakness. Wisdom is scorned. Justice is the punchline to a sick joke.
---
Preparing all students to succeed during COVID-19 pandemic
Schools must deal with months of lost learning because of virus, and achievement gaps
All education discussions today have a time horizon of three months. What will we do in the fall? Will we mix at-home with in-school? Does everybody have a digital hookup? Should we have police in schools? As important as these issues are, they have the unfortunate effect of pushing more fundamental issues that could have much greater impact out of the discussion.
The single most important way to ensure that everybody can participate in the modern economy is to ensure that they have the skills that are demanded by the economy. If in September schools miraculously return to what they were in February, the current cohort of students would see their lifetime earnings reduced on average by 3% to 6%. Moreover, disadvantaged students would face an even larger loss, because their experiences over the past several months have been worse than those of more advantaged students.
The current protests across the country and around the world, while supporting a moral imperative for social re-design, have not touched on the deeper issues of how to deal with the underlying disparities that foster broken cities and dead-end jobs. Sadly, the virus is pushing the schools to focus on ever smaller issues that will in the end not produce the change we need or the outcomes we desire.
---
" It is discouraging to think how many people are shocked by honesty and how few by deceit."

-- Noel Coward

(1899-1973) British playwright

---

The Medal of Honor is the highest award for valor in action against an enemy force which can be bestowed upon an individual serving in the Armed Services of the United States.

GeneTrerally presented to its recipient by the President of the United States of America in the name of Congress.

The first award of the Medal of Honor was made March 25, 1863 to Private JACOB PARROTT.The last award of the Medal of Honor was made September 15, 2011 to Sergeant DAKOTA MEYER.

Since then there have been: • 3458 recipients of the Medal of Honor.

• Today there are 85 Living Recipients of the Medal of Honor.

Citation


Captain Humbert R. Versace distinguished himself by extraordinary heroism during the period of 29 October 1963 to 26 September 1965, while serving as S-2 Advisor, Military Assistance Advisory Group, Detachment 52, Ca Mau, Republic of Vietnam. While accompanying a Civilian Irregular Defense Group patrol engaged in combat operations in Thoi Binh District, An Xuyen Province, Captain Versace and the patrol came under sudden and intense mortar, automatic weapons, and small arms fire from elements of a heavily armed enemy battalion. As the battle raged, Captain Versace, although severely wounded in the knee and back by hostile fire, fought valiantly and continued to engage enemy targets. Weakened by his wounds and fatigued by the fierce firefight, Captain Versace stubbornly resisted capture by the over-powering Viet Cong force with the last full measure of his strength and ammunition. Taken prisoner by the Viet Cong, he exemplified the tenets of the Code of Conduct from the time he entered into Prisoner of War status. Captain Versace assumed command of his fellow American soldiers, scorned the enemy's exhaustive interrogation and indoctrination efforts, and made three unsuccessful attempts to escape, despite his weakened condition which was brought about by his wounds and the extreme privation and hardships he was forced to endure. During his captivity, Captain Versace was segregated in an isolated prisoner of war cage, manacled in irons for prolonged periods of time, and placed on extremely reduced ration. The enemy was unable to break his indomitable will, his faith in God, and his trust in the United States of America. Captain Versace, an American fighting man who epitomized the principles of his country and the Code of Conduct, was executed by the Viet Cong on 26 September 1965. Captain Versace's gallant actions in close contact with an enemy force and unyielding courage and bravery while a prisoner of war are in the highest traditions of the military service and reflect the utmost credit upon himself and the United States Army.

---

From the Archives

We Have Met the Enemy…
Geoff Metcalf


"They who can give up essential liberty to obtain a little temporary safety deserve neither liberty nor safety.
--Benjamin Franklin
"The American people must be willing to give up a degree of personal privacy in exchange for safety and security."
--Louis Freeh


In the wake of the clamor over the most recent WikiLeaks data dump, 'Vault 7', 'UMBRAGE', et al, it should be noted this is not really anything new. What we are seeing here is simply the evolution of something that goes back to the late 50s (to the incomplete best knowledge I have).

It is kinda cool to finally see even

The New York Times

acknowledging material

I was writing about in 1998

.

In April of 1998 I wrote "Privacy has become an anachronism." I was commenting on "a massive system designed to intercept all your e-mail, fax traffic and more." I was explaining 'Echelon', the illegitimate offspring of a

UKUSA Treaty

signed by the United States, United Kingdom, Canada, Australia and New Zealand. Its purpose was, and is, to have a vast global intelligence monster, which allegedly shares common goals. The system was so "efficient" that reportedly National Security Agency folk from Fort Meade could work from Menwith Hill in England to intercept local communications without either nation having to burden themselves with the formality of seeking approval (a court order) or disclosing the operation. And this was all pre-9/11 and pre-the anti-constitutional

'Patriot Act'

.

It is illegal (without a Judge's signed permission) for the United States to spy on its citizens … kinda. The laws have long been circumvented by a mutual pact among five nations. Under the terms of UKUSA agreement, Britain spies on Americans and America spies on British citizens, and then the two conspirators trade data. A classic technical finesse. It is legal, but the intent to evade the spirit is inescapable.

I often fictionalized the genesis of 'Echelon' as an informal meeting of a group of post war American and British intelligence types drinking in some remote rustic bar. An imagined CIA type complains to his MI6 buddy about the hassles of US laws preventing US intelligence from surveillance of bad guys, and the Brit echoes the same complaint.

"Hey wait a moment mate," says Nigel, the make-believe MI6 guy, "I can spy on your guys and you can spy on our bad players…why don't we just come up with a mechanism whereby we spy on your villains, you spy on our villains, and we just 'share' the intel?"

This system was called ECHELON, and has been kicking around in some form longer than most of you. The result of the UKUSA treaty signed by the United States, United Kingdom, Canada, Australia and New Zealand was, and is, to have a vast global intelligence monster which allegedly shares common goals.

The London Telegraph reported in December of 1997 that the Civil liberties Committee of the European Parliament had officially confirmed the existence and purpose of ECHELON. "A global electronic spy network that can eavesdrop on every telephone, e-mail and telex communication around the world will be officially acknowledged for the first time in a European Commission report. …"

The report noted: "Within Europe all e-mail, telephone and fax communications are routinely intercepted by the United States National Security Agency, transferring ll target information from the Eurv opean mainland via the strategic hub of London, then by satellite to Fort Meade in Maryland via the crucial hub at Menwith Hill, in the North York moors in the UK.

"The ECHELON system forms part of the UKUSA system but unlike many of the electronic spy systems developed during the Cold War, ECHELON was designed primarily for non-military targets: governments, organizations and businesses in virtually every country."

An interesting sidebar appeared in the International Herald Tribune under the headline, "Big Corporate Brother: It Knows More About You Than You Think." The story details Acxiom Corp, which was a humongous information service hidden in the Ozark foothills. Twenty-four hours a day, Acxiom electronically gathered and sorts all kinds of data about 196 million Americans. Credit card transactions and magazine subscriptions, telephone numbers, real estate records, automotive data, hunting, business and fishing licenses, consumer surveys and demographic detail that would make a marketing department's research manager salivate. This relatively new (legal) enterprise was known as "data warehousing" or "data-mining", and it underscores the cruel reality that the fiction of personal privacy has become obsolete. Technology's ability to collect and analyze data has made privacy a quaint albeit interesting dinosaur.

The Tribune reported that "Axciom can often determine whether an American owns a dog or cat, enjoys camping or gourmet cooking, reads the Bible or lots of other books. It can often pinpoint an American's occupation, car and favorite vacations. By analyzing the equivalent of billions of pages of data, it often projects for its customers who should be offered a credit card or who is likely to buy a computer."

Most of this information is from y 1998 piece. Echelon has developed, matured, and morphed into a much more powerful hybrid. 'Carnivore' was software to help triage the cacophony of data. Vault 7 and 'Umbrage' are logical (some would argue "insidious") growth.

More to follow…