"It Is Not A Question of Who Is Right Or Wrong But What Is Right Or Wrong That Counts.

"

--Geoff Metcalf
Providing an on line Triage of the news since 1997



Wo

rld & Nation
Biden unveils $1.9 trillion economic rescue package; $1,400 checks for millions of Americans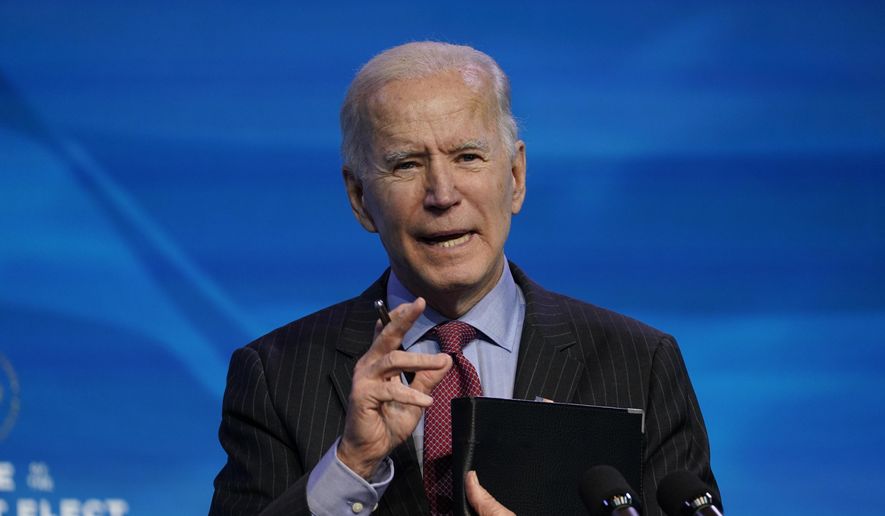 President-elect Joseph R. Biden said Thursday he will demand nearly $2 trillion from Congress to deliver on his plan for reviving the sputtering economy by defeating the deadly coronavirus first, an early test of what the incoming leader will be able to get through Congress after his party officially takes control of the House, Senate and White House.
The plan calls for $1,400 checks to households, unemployment benefits, $25 billion in rental assistance and an extension of a federal eviction moratorium until the end of September.
Mr. Biden wants more than 14 weeks of paid sick and family and medical leave, with a maximum benefit of $1,400 per week for eligible workers, and his proposal would reimburse states and localities for the cost of the leave, as well as employers with fewer than 500 employees.
---
Military battling a hidden enemy: White supremacy
Extremism, white supremacy and white nationalism in the U.S. military have been on the rise over the past year and radical groups are actively encouraging military members to join their ranks, Pentagon officials said Thursday.
While the issue isn't new, it has gained global attention after protest of supporters of President Trump — including a significant number of current and former military members — stormed the Capitol last week and forced Vice President Pence and lawmakers to flee for their lives. Five people, including a police officer, died as a result of the attack, and the demonstrator killed by police gunfire was a former Air Force veteran.
In making public the report on extremism in the ranks, Pentagon officials declined to comment on the Jan. 6 rioting, saying they were cooperating with a Department of Justice investigation.
---
'It's overkill': Inauguration lockdown deals another blow to struggling D.C. businesses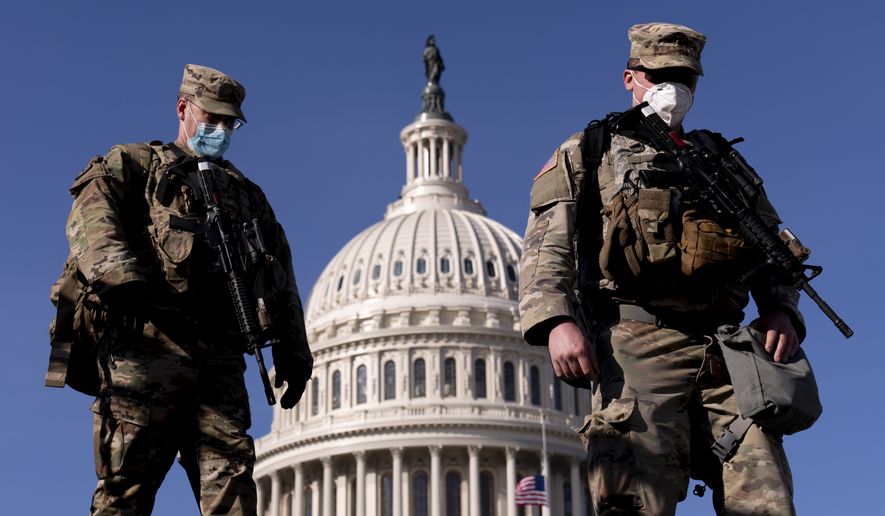 The unprecedented security buildup in Washington for Wednesday's inauguration — 20,000 troops, miles of fences and barricades, mass transit shutdowns — has business owners asking if all this is really necessary.
Federal officials and security experts say the measures are prudent, given the online chatter about a repeat of last week's storming of the U.S. Capitol — an attack that some authorities now suspect was premeditated rather than spontaneous.
"They are sending an f—ing message. There is no question about it," said Lew Schiliro, the former head of the FBI's New York field office.
After a violent mob of pro-Trump supporters forced their way into the Capitol on Jan. 6 to stop Congress from certifying President-elect Joseph R. Biden's election victory, Washington has been on edge. The insurrection resulted in the deaths of five people, including a police officer.
---
WashPost/ABC News Poll: 9 in 10 Americans Oppose Attack on Capitol
Eighty-nine percent of Americans say they are opposed to the attack on the Capitol, while 8 percent say they support it, according to a new poll by The Washington Post and ABC News.
Here are how the results of the poll, released on Friday, break down:
85% of Republicans say Trump should not be removed from office or disqualified from future elected office, while 12% say he should be.
89% of Democrats say he should be removed from office and prevented from holding elected office again, while 9% disagree.
71% of all those polled believe President Donald Trump bears at least some responsibility for the Capitol attack, while 28% say he is not at all responsible.
62% say there is no solid evidence for Trump's claims of voter fraud, compared to 31% who say there is solid evidence.
63% say they are very or somewhat confident in the integrity of the U.S. electoral system, while 36% say they are not so confident or have no confidence at all in it.
38% approve of Trump's handling of his job, compared to 60% who disapprove.
54% say Trump should be charged with inciting a riot, while 43% say he should not be charged.
15% say Trump will go down in history as an outstanding president, 13% say as an above average president, 12% say as an average president, 11% say a below average president, and 48% say he will be remembered as a poor president.
---
Leftist activist arrested, charged in Capitol riot
A leftist activist who is facing criminal charges in Utah stemming from a "defund the police" rally was arrested and charged for his role in the deadly insurrection at the U.S. Capitol, the Justice Department said Thursday night.
John Sullivan, of Utah, was charged with civil disorder, disorderly conduct, and entering a restricted building without authority.
Mr. Sullivan is the first left-leaning activist to be arrested in connection with the Capitol riot. The majority of those charged so far are supporters of President Trump.
---
Evidence of planned attack on Capitol undercuts Dems' incitement claim
The Democratic impeachment claim that President Trump spurred the attack on the U.S. Capitol by whipping his supporters into a violent mob is coming under scrutiny as evidence mounts that the siege was not spontaneous but planned well in advance.
The release of initial court documents show that at least two suspects arrived on or before Jan. 6 armed with explosives, tactical gear and caches of weapons. Facebook has come under fire for failing to remove "Stop the Steal" pages allegedly used by organizers weeks and even months ahead of the rally.
Also emerging are media reports that investigators believe the assault was coordinated and "not just a protest that spiraled out of control," as CNN reported Thursday, and that the FBI knew beforehand of plans for a "war" at the Capitol, as per The Washington Post.
---
China building 'greatest expansion of a nuclear arsenal' since Cold War, State Department warns
Tripled production may violate arms pact, says special presidential envoy for arms control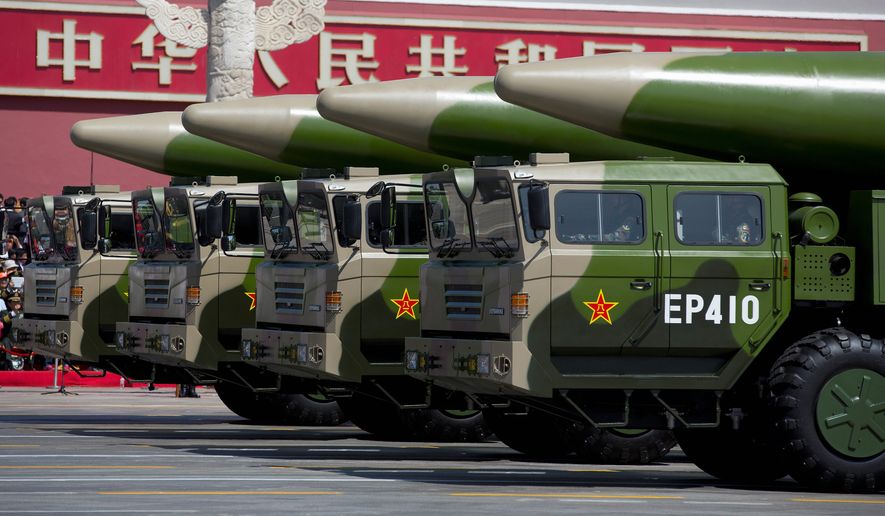 China has rapidly expanded its nuclear and conventional missile forces over the past decade, nearly tripling its ballistic missile production capability and deploying a wide array of nuclear and conventional missile systems, according to an intelligence assessment released by the State Department.
The department also notified Congress on Thursday that it believes Beijing is close to violating the Nuclear Non-Proliferation Treaty (NPT) by refusing to join the United States in nuclear arms reduction talks underway with Russia.
"As of the writing of this letter, China appears to not be in compliance with its Article VI obligations under the NPT and it will be essential that the next administration continue to apply the full range of diplomatic, economic and defensive measures to bring Communist China to the negotiating table," said Marshall Billingslea, special presidential envoy for arms control.
---
Stephen Moore: Biden's Coronavirus Plan Will Kill 4 Million Jobs
President-elect Joe Biden's $1.9 trillion coronavirus rescue plan will bring total spending on the pandemic to about $5 trillion, destroy about 4 million jobs, and "stimulate Washington" and blue state governments, when eliminating the payroll tax for a year would have a much better and far less expensive effect, economist Stephen Moore warns in an opinion piece.
"We could completely eliminate for an entire year the 7.5% payroll taxes paid by every small business and taken out of every worker's paycheck," Moore, an economist for FreedomWorks, wrote for Fox News. "That would unleash millions of jobs. This would have virtually ZERO administrative and bureaucratic costs. Maybe that's why Washington pols don't want to do it."
The Biden "American Rescue Plan" includes "$350 billion for a blue state bailout, paid parental leave, a $15-an-hour minimum wage, $400 a week bonus unemployment checks, transit aid, paid leave of $1,400 a week, some $100 billion for school aid (for schools that have been shut down for almost a year!), 'health equity' grants, student debt relief and checks for illegal immigrants," writes Moore. "All that is missing is the Green New Deal. Does any of this have anything to do with a health emergency?"
---
Biden Picks Ex FDA Chief Kessler as Warp Speed Chief
President-elect Joe Biden has chosen David Kessler, the ex-head of the Food and Drug Administration (FDA), to help lead the COVID-19 vaccine push, his transition team said on Friday.
The news came as Biden was due to outline his plans to ramp up vaccinations amid soaring infections and an early rollout by the Trump administration that Biden has called "a dismal failure."
Kessler, a pediatrician and lawyer who headed the FDA under presidents George Bush senior and Bill Clinton, will be Chief Science Officer of the administration's COVID-19 Response.
That expanded role will include replacing Moncef Slaoui as the chief adviser for the vaccine distribution effort the Trump administration called Operation Warp Speed. Kessler is expected to provide advice on vaccine manufacturing, distribution, safety, and efficacy.
---
Russia withdraws from Open Skies Treaty after U.S. departure
Russia said Friday it is withdrawing from the Open Skies Treaty, just two months after the U.S.' withdrawal from the international agreement allowing nations to conduct unarmed surveillance flights was finalized.
Russia's Foreign Ministry cited the U.S.' exit as the cause for the withdrawal and said in a statement that the move "significantly upended the balance of interests of signatory states."
Parliament will now have to vote to uphold the Russian government's decision to withdraw. If approved, Moscow will have to wait six months, as part of a notification process to Russia and other signatory nations, before the exit is ratified.
---
Government in Netherlands Resigns After Benefit Scandal
A parliamentary report concluded that tax authorities unfairly targeted poor families over child care benefits. Prime Minister Mark Rutte and his entire cabinet stepped down.
Prime Minister Mark Rutte of the Netherlands, one of Europe's longest-serving leaders, and his cabinet resigned on Friday over a report highlighting systemic failure by his government to protect thousands of families from overzealous tax inspectors.
Mr. Rutte has handed in his resignation and that of his entire cabinet to King Willem-Alexander van Oranje, the public broadcaster NOS reported.
"Mistakes have been made on all levels that have led to great injustice for thousands of families. Innocent people have been criminalized, and their lives destroyed," Mr. Rutte said in a news conference. "This cabinet has taken full responsibility." Mr. Rutte said the report that led to the downfall of the cabinet was "hard as nails," but "fair."
The report, the result of an inquiry in which Mr. Rutte was also questioned, concluded that "unprecedented injustice" had been done to innocent families, some of whom were forced to immediately repay huge amounts in child care benefits.
---
Armed insurrection: Congress votes to overturn the next election
The last time these slinking mongrels in Congress impeached President Trump, a deadly disease from China was stalking our country, poised to pounce and kill close to 400,000 Americans.
In those crucial early months of the global pandemic, our federal government ground to a halt as Democrats in Congress pursued with blind fury a hotly partisan and clearly futile effort to remove Mr. Trump.
Democrats failed. Mr. Trump survived. Everyone knew the outcome of the fake charade from the start.
But as Democrats dawdled, bloviated and fawned for the cameras, the pandemic prevailed. If you want to know why Democrats are so hellbent on blaming the China virus on Mr. Trump, it is because the blood is actually on their hands.
---
" It is discouraging to think how many people are shocked by honesty and how few by deceit."

-- Noel Coward

(1899-1973) British playwright

---

The Medal of Honor is the highest award for valor in action against an enemy force which can be bestowed upon an individual serving in the Armed Services of the United States.

GeneTrerally presented to its recipient by the President of the United States of America in the name of Congress.

The first award of the Medal of Honor was made March 25, 1863 to Private JACOB PARROTT.The last award of the Medal of Honor was made September 15, 2011 to Sergeant DAKOTA MEYER.

Since then there have been: • 3458 recipients of the Medal of Honor.

• Today there are 85 Living Recipients of the Medal of Honor.

Citation


Captain Humbert R. Versace distinguished himself by extraordinary heroism during the period of 29 October 1963 to 26 September 1965, while serving as S-2 Advisor, Military Assistance Advisory Group, Detachment 52, Ca Mau, Republic of Vietnam. While accompanying a Civilian Irregular Defense Group patrol engaged in combat operations in Thoi Binh District, An Xuyen Province, Captain Versace and the patrol came under sudden and intense mortar, automatic weapons, and small arms fire from elements of a heavily armed enemy battalion. As the battle raged, Captain Versace, although severely wounded in the knee and back by hostile fire, fought valiantly and continued to engage enemy targets. Weakened by his wounds and fatigued by the fierce firefight, Captain Versace stubbornly resisted capture by the over-powering Viet Cong force with the last full measure of his strength and ammunition. Taken prisoner by the Viet Cong, he exemplified the tenets of the Code of Conduct from the time he entered into Prisoner of War status. Captain Versace assumed command of his fellow American soldiers, scorned the enemy's exhaustive interrogation and indoctrination efforts, and made three unsuccessful attempts to escape, despite his weakened condition which was brought about by his wounds and the extreme privation and hardships he was forced to endure. During his captivity, Captain Versace was segregated in an isolated prisoner of war cage, manacled in irons for prolonged periods of time, and placed on extremely reduced ration. The enemy was unable to break his indomitable will, his faith in God, and his trust in the United States of America. Captain Versace, an American fighting man who epitomized the principles of his country and the Code of Conduct, was executed by the Viet Cong on 26 September 1965. Captain Versace's gallant actions in close contact with an enemy force and unyielding courage and bravery while a prisoner of war are in the highest traditions of the military service and reflect the utmost credit upon himself and the United States Army.

---

From the Archives

We Have Met the Enemy…
Geoff Metcalf


"They who can give up essential liberty to obtain a little temporary safety deserve neither liberty nor safety.
--Benjamin Franklin
"The American people must be willing to give up a degree of personal privacy in exchange for safety and security."
--Louis Freeh


In the wake of the clamor over the most recent WikiLeaks data dump, 'Vault 7', 'UMBRAGE', et al, it should be noted this is not really anything new. What we are seeing here is simply the evolution of something that goes back to the late 50s (to the incomplete best knowledge I have).

It is kinda cool to finally see even

The New York Times

acknowledging material

I was writing about in 1998

.

In April of 1998 I wrote "Privacy has become an anachronism." I was commenting on "a massive system designed to intercept all your e-mail, fax traffic and more." I was explaining 'Echelon', the illegitimate offspring of a

UKUSA Treaty

signed by the United States, United Kingdom, Canada, Australia and New Zealand. Its purpose was, and is, to have a vast global intelligence monster, which allegedly shares common goals. The system was so "efficient" that reportedly National Security Agency folk from Fort Meade could work from Menwith Hill in England to intercept local communications without either nation having to burden themselves with the formality of seeking approval (a court order) or disclosing the operation. And this was all pre-9/11 and pre-the anti-constitutional

'Patriot Act'

.

It is illegal (without a Judge's signed permission) for the United States to spy on its citizens … kinda. The laws have long been circumvented by a mutual pact among five nations. Under the terms of UKUSA agreement, Britain spies on Americans and America spies on British citizens, and then the two conspirators trade data. A classic technical finesse. It is legal, but the intent to evade the spirit is inescapable.

I often fictionalized the genesis of 'Echelon' as an informal meeting of a group of post war American and British intelligence types drinking in some remote rustic bar. An imagined CIA type complains to his MI6 buddy about the hassles of US laws preventing US intelligence from surveillance of bad guys, and the Brit echoes the same complaint.

"Hey wait a moment mate," says Nigel, the make-believe MI6 guy, "I can spy on your guys and you can spy on our bad players…why don't we just come up with a mechanism whereby we spy on your villains, you spy on our villains, and we just 'share' the intel?"

This system was called ECHELON, and has been kicking around in some form longer than most of you. The result of the UKUSA treaty signed by the United States, United Kingdom, Canada, Australia and New Zealand was, and is, to have a vast global intelligence monster which allegedly shares common goals.

The London Telegraph reported in December of 1997 that the Civil liberties Committee of the European Parliament had officially confirmed the existence and purpose of ECHELON. "A global electronic spy network that can eavesdrop on every telephone, e-mail and telex communication around the world will be officially acknowledged for the first time in a European Commission report. …"

The report noted: "Within Europe all e-mail, telephone and fax communications are routinely intercepted by the United States National Security Agency, transferring ll target information from the Eurv opean mainland via the strategic hub of London, then by satellite to Fort Meade in Maryland via the crucial hub at Menwith Hill, in the North York moors in th UK.

"The ECHELON system forms part of the UKUSA system but unlike many of the electronic spy systems developed during the Cold War, ECHELON was designed primarily for non-military targets: governments, organizations and businesses in virtually every country."

An interesting sidebar appeared in the International Herald Tribune under the headline, "Big Corporate Brother: It Knows More About You Than You Think." The story details Acxiom Corp, which was a humongous information service hidden in the Ozark foothills. Twenty-four hours a day, Acxiom electronically gathered and sorts all kinds of data about 196 million Americans. Credit card transactions and magazine subscriptions, telephone numbers, real estate records, automotive data, hunting, business and fishing licenses, consumer surveys and demographic detail that would make a marketing department's research manager salivate. This relatively new (legal) enterprise was known as "data warehousing" or "data-mining", and it underscores the cruel reality that the fiction of personal privacy has become obsolete. Technology's ability to collect and analyze data has made privacy a quaint albeit interesting dinosaur.

The Tribune reported that "Axciom can often determine whether an American owns a dog or cat, enjoys camping or gourmet cooking, reads the Bible or lots of other books. It can often pinpoint an American's occupation, car and favorite vacations. By analyzing the equivalent of billions of pages of data, it often projects for its customers who should be offered a credit card or who is likely to buy a computer."

Most of this information is from y 1998 piece. Echelon has developed, matured, and morphed into a much more powerful hybrid. 'Carnivore' was software to help triage the cacophony of data. Vault 7 and 'Umbrage' are logical (some would argue "insidious") growth.

More to follow…