"It Is Not A Question of Who Is Right Or Wrong But What Is Right Or Wrong That Counts.

"

--Geoff Metcalf



Wo
rld & National
Accusations fly against Kavanaugh in craziest Supreme Court confirmation hearings in decades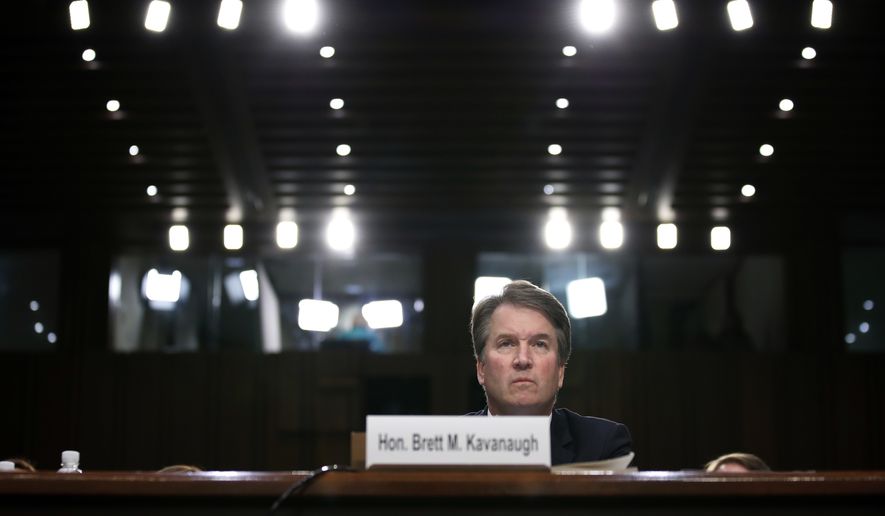 Over three days of hearings, Judge Brett M. Kavanaugh has been accused of being an accomplice to criminal theft, of being complicit in sexual harassment and of using code words to suggest allegiance to racists.
The careless hand gesture of an aide sitting directly behind him sent Twitter into a tizzy with speculation that she was secretly flashing a "white power" symbol to millions of people watching at home.
One senator accused him of being bribed by corporate interests, and another insinuated that Judge Kavanaugh had secret and inappropriate conversations with President Trump's law firm — though she refused to say who among the 350 lawyers at the firm she believes the conversations were with, nor what nefarious doings she suspects.
They've been the craziest confirmation hearings in decades — yet they've done little to change the trajectory of Judge Kavanaugh, who still appears headed for a narrow confirmation to the Supreme Court.
---
Kavanaugh Avoids Major Missteps, Closing 2 Days of Testimony
Senate Democrats worked into the night in a last, ferocious attempt to paint Supreme Court nominee Brett Kavanaugh as a foe of abortion rights and a likely defender of President Donald Trump. But after two marathon days in the witness chair in a Senate hearing room, Kavanaugh appeared to be on a path to confirmation as a Supreme Court justice.
The 53-year-old appellate judge stuck to a well-rehearsed script throughout his testimony, providing only glimpses of his judicial stances while avoiding any serious mistakes that might jeopardize his confirmation. In what almost seemed like a celebration Thursday, Kavanaugh's two daughters returned to the Senate Judiciary Committee hearing room for the final hours of testimony, accompanied by teammates on Catholic school basketball teams their father has coached.
---
Defense Secretary James Mattis makes surprise visit to war-weary Kabul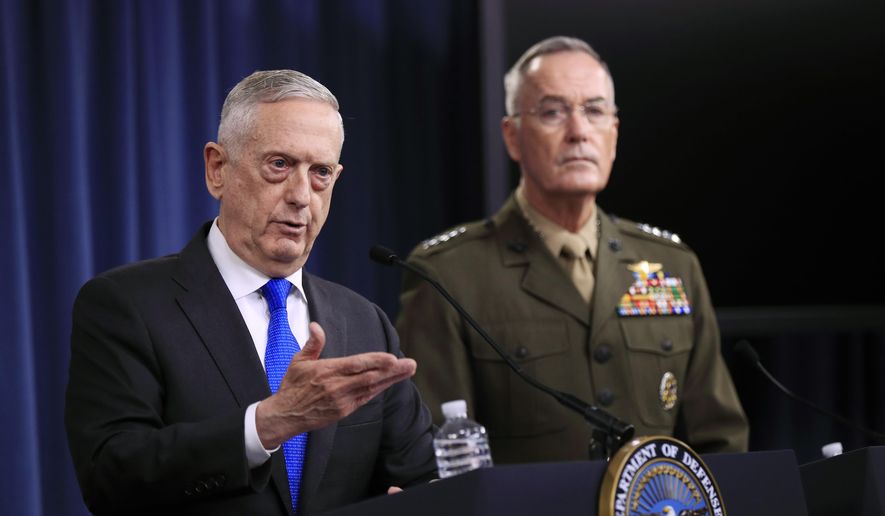 U.S. Defense Secretary James N. Mattis arrived on a surprise visit to Afghanistan's war-shattered capital on Friday, the U.S. command in Afghanistan said, just days after a suicide bomber killed 21 people in the city and wounded 90 others.
As helicopters patrolled the skies over Kabul, Mattis arrived accompanied by Gen. Joseph Dunford, chairman of the joint chiefs of staff. He was expected to meet President Ashraf Ghani, presidential spokesman Mohammad Haroon Chakhansuri told The Associated Press. He was also expected to meet Afghan, U.S. and NATO military commanders.
Mattis' arrival comes amid brutal assaults against the country's minority Shiites and a fresh round of insider attacks this week that have claimed the life of one American service member and eight local police.
---

Elizabeth Warren calls for Trump's removal from office under 25th Amendment: 'It's time'
Goes all-in, making similar arguments in CNN interview, in fundraising letter, on Twitter
Sen. Elizabeth Warren called on White House officials Thursday to remove President Trump from office as unfit to handle the job.
The Massachusetts Democrat and progressive hero, often touted as a 2020 presidential hopeful, said Wednesday's op-ed in The New York Times by an anonymous White House official justifies forcing out Mr. Trump under the constitutional provisions for an incapacitated president.
"If senior administration officials think the President of the United States is not able to do his job, then they should invoke the 25th Amendment," she told CNN in an interview.
Shortly after the interview, Ms. Warren sent out a fundraising letter, making the same case for removing Mr. Trump. The letter asks recipients to "chip in" for Ms. Warren's 2018 Senate re-election campaign and to sign a petition titled "Tell the cabinet: If Trump is unfit, invoke the 25th."
---
Giuliani to AP: Trump Will Not Answer Obstruction Questions
President Donald Trump will not answer federal investigators' questions, in writing or in person, about whether he tried to block the probe into Russian interference in the 2016 election, one of the president's attorneys told The Associated Press.
Trump lawyer Rudy Giuliani said questions about obstruction of justice were a "no-go."
But later, in an interview Thursday night on NBC, the former New York City mayor seemed to walk back his comments.
"We're very opposed to that [but] we're not closing it off 100 percent," Giuliani also told Politico on Thursday. "We don't want to mislead [prosecutors] and have them think it's easy, but we have also not closed our mind to it."
---
Xi to Attend Russia Summit, North Korea's Kim Invited
Chinese President Xi Jinping will attend a regional summit in Russia next week, officials said Friday, joining the prime ministers of Japan and South Korea at a gathering to which North Korean leader Kim Jong Un was invited.
Russian President Vladimir Putin has invited Kim to participate in the September 11-13 Eastern Economic Forum in Vladivostok.
Kim has not confirmed his attendance, but his participation would mark another major step in his efforts to bring Pyongyang out of international isolation over its nuclear weapons programme.
---
Economy adds more jobs than expected in August, and wage growth hits post-recession high
Long-awaited wage growth posted its biggest increase of the economic recovery in August while payroll gains beat expectations and the unemployment rate held near a generational low of 3.9 percent, according to a Bureau of Labor Statistics report Friday.
Average hourly earnings rose 2.9 percent for the month on an annualized basis, while nonfarm payrolls grew by 201,000. Economists surveyed by Reuters had been expecting earnings to rise 2.7 percent, payrolls to increase by 191,000 and the jobless level to decline one-tenth of a point to 3.8 percent.
The wage growth was the highest since April 2009.
---
Brazil far-right candidate Bolsonaro in serious condition after stabbing
The leading candidate in Brazil's presidential election is in serious but stable condition after being stabbed by an assailant at a campaign rally on Thursday, doctors said, pushing an already chaotic campaign into further disarray.
Far-right firebrand Congressman Jair Bolsonaro, a controversial figure who has enraged many Brazilians for years with divisive comments, but has a devout following among conservative voters, could take two months to fully recover and will spend at least a week in the hospital, said Dr. Luiz Henrique Borsato, who operated on the candidate.
"His internal wounds were grave and put the patient's life at risk," Borsato said, adding that a serious challenge now would be preventing an infection that could be caused by the perforation of Bolsonaro's intestines.
Arrives at hospital 'almost dead'...


Wounds reach liver, lung, intestines...


'Socialist' attacker on 'mission from God'...


Election plunged into chaos...


Could reshape race...



---
Mystery builds over anonymous Trump official's identity
The hunt for the identify of the senior administration official who penned a scathing and anonymous op-ed in The New York Times picked up steam on Thursday, as dozens of high-ranking Trump officials issued statements denying they were behind it.
A day after President Trump called the op-ed describing efforts to impede some of his decisions an act of treason, conservatives in Congress said they were exploring the possibility of investigations, legislation or hearings to learn the author's name.
President has 'dirty dozen' suspect list
Obama prosecuted staff leakers...gave lie detector tests

---
Kamala Harris Swings and Misses...
On Tuesday, Sen. Kamala Harris (D-Calif.) accused Supreme Court nominee Brett Kavanaugh of speaking with President Trump's lawyer's law firm about the Robert Mueller investigation. She did so without evidence, and while refusing to provide a list of lawyers at the firm. After this, the senator jumped down Kavanaugh's throat with a question about the white nationalist riots in Charlottesville last year.
"Judge, have you ever discussed Special Counsel Mueller or his investigation with anyone?" Harris asked. After the nominee responded that he had, the senator asked, "Have you discussed it with anyone at Kasowitz, Benson, and Torres, the law firm founded by Marc Kasowitz, President Trump's personal lawyer? Be sure about your answer, sir."
Kavanaugh, perplexed, could not remember if he knew anyone at that law firm. "Is there a person you're talking about?" The senator responded, "I'm asking you a very direct question, yes or no."
Harris and Willie Brown background
---
Cory Booker claims reporter violated Constitution with question on 'Spartacus' 'stunt'
Sen. Cory Booker claimed Thursday that a journalist with The Wall Street Journal was violating the Constitution by asking him a question regarding his failed "Spartacus" moment before the Senate Judiciary Committee.
The New Jersey lawmaker who made national headlines with his assertion that he was releasing confidential documents on Judge Brett Kavanaugh (which turned out not to be confidential), was in no mood to answer Byron Tau's questions on it.
Mr. Booker seemingly referenced a Speech or Debate Clause of the Constitution to dodge a question on political theatrics.
---
Let's plot the Trump coup together
Impeachment is too slow. Assassination is too messy. A coup d'etat sounds just about right, and it sounds French besides. Come, let us plot together.
The New York Times, marketed under the conceit that it supplies "All the news that's fit to print," clearly wants to help with the coup and rid the nation of the man the plotters regard as a blowhard president out to rain on the established order.
The publication in The New York Times of an op-ed essay about how plotters at the White House are determined to block the president's aims and wishes at every turn, landed in Washington with a great noise. The newspaper won't say who wrote the account of how the miserable wise men at the White House have even discussed using the 25th Amendment, which sets out how to remove from office a president unable to perform the duties of a president, to rid Washington of this president.
---
Making 'the wall' work
With 470 BC destruction at Thermopylae of the 300 Spartans and a group of Greek auxiliaries at the hands of a huge invading Persian army under King Xerxes, all Greece appeared open to conquest. The Athenians were particularly at risk and were not much comforted when the Oracle of Delphi predicted than Athens would be saved by her wooden walls.
The problem was that Athens had no wooden walls. The great soldier/statesman Themistocles finally convinced the Athenians that the walls were actually the walls of the Athenian warships; he convinced the populous to redouble their shipbuilding efforts. Themistocles proved right and defeated the Persian fleet. Without the fleet, Xerxes had an army he couldn't support.
Perhaps President Trump does not need the towering structure than he envisions as his wall. There may be alternative and better ways of regaining control of our southern border.
"It is discouraging to think how many people are shocked by honesty and how few by deceit."
-- Noel Coward
(1899-1973) British playwright
---
The Medal of Honor is the highest award for valor in action against an enemy force which can be bestowed upon an individual serving in the Armed Services of the United States.
GeneTrerally presented to its recipient by the President of the United States of America in the name of Congress.
The first award of the Medal of Honor was made March 25, 1863 to Private JACOB PARROTT.The last award of the Medal of Honor was made September 15, 2011 to Sergeant DAKOTA MEYER.
Since then there have been: • 3458 recipients of the Medal of Honor.
• Today there are 85 Living Recipients of the Medal of Honor.
Citation
Captain Humbert R. Versace distinguished himself by extraordinary heroism during the period of 29 October 1963 to 26 September 1965, while serving as S-2 Advisor, Military Assistance Advisory Group, Detachment 52, Ca Mau, Republic of Vietnam. While accompanying a Civilian Irregular Defense Group patrol engaged in combat operations in Thoi Binh District, An Xuyen Province, Captain Versace and the patrol came under sudden and intense mortar, automatic weapons, and small arms fire from elements of a heavily armed enemy battalion. As the battle raged, Captain Versace, although severely wounded in the knee and back by hostile fire, fought valiantly and continued to engage enemy targets. Weakened by his wounds and fatigued by the fierce firefight, Captain Versace stubbornly resisted capture by the over-powering Viet Cong force with the last full measure of his strength and ammunition. Taken prisoner by the Viet Cong, he exemplified the tenets of the Code of Conduct from the time he entered into Prisoner of War status. Captain Versace assumed command of his fellow American soldiers, scorned the enemy's exhaustive interrogation and indoctrination efforts, and made three unsuccessful attempts to escape, despite his weakened condition which was brought about by his wounds and the extreme privation and hardships he was forced to endure. During his captivity, Captain Versace was segregated in an isolated prisoner of war cage, manacled in irons for prolonged periods of time, and placed on extremely reduced ration. The enemy was unable to break his indomitable will, his faith in God, and his trust in the United States of America. Captain Versace, an American fighting man who epitomized the principles of his country and the Code of Conduct, was executed by the Viet Cong on 26 September 1965. Captain Versace's gallant actions in close contact with an enemy force and unyielding courage and bravery while a prisoner of war are in the highest traditions of the military service and reflect the utmost credit upon himself and the United States Army.
---
From the Archives

We Have Met the Enemy…

Geoff Metcalf
"They who can give up essential liberty to obtain a little temporary safety deserve neither liberty nor safety.
--Benjamin Franklin
"The American people must be willing to give up a degree of personal privacy in exchange for safety and security."
--Louis Freeh

In the wake of the clamor over the most recent WikiLeaks data dump, 'Vault 7', 'UMBRAGE', et al, it should be noted this is not really anything new. What we are seeing here is simply the evolution of something that goes back to the late 50s (to the incomplete best knowledge I have).
It is kinda cool to finally see even
The New York Times
acknowledging material
I was writing about in 1998
.
In April of 1998 I wrote "Privacy has become an anachronism." I was commenting on "a massive system designed to intercept all your e-mail, fax traffic and more." I was explaining 'Echelon', the illegitimate offspring of a
UKUSA Treaty
signed by the United States, United Kingdom, Canada, Australia and New Zealand. Its purpose was, and is, to have a vast global intelligence monster, which allegedly shares common goals. The system was so "efficient" that reportedly National Security Agency folk from Fort Meade could work from Menwith Hill in England to intercept local communications without either nation having to burden themselves with the formality of seeking approval (a court order) or disclosing the operation. And this was all pre-9/11 and pre-the anti-constitutional
'Patriot Act'
.
It is illegal (without a Judge's signed permission) for the United States to spy on its citizens … kinda. The laws have long been circumvented by a mutual pact among five nations. Under the terms of UKUSA agreement, Britain spies on Americans and America spies on British citizens, and then the two conspirators trade data. A classic technical finesse. It is legal, but the intent to evade the spirit is inescapable.
I often fictionalized the genesis of 'Echelon' as an informal meeting of a group of post war American and British intelligence types drinking in some remote rustic bar. An imagined CIA type complains to his MI6 buddy about the hassles of US laws preventing US intelligence from surveillance of bad guys, and the Brit echoes the same complaint.
"Hey wait a moment mate," says Nigel, the make-believe MI6 guy, "I can spy on your guys and you can spy on our bad players…why don't we just come up with a mechanism whereby we spy on your villains, you spy on our villains, and we just 'share' the intel?"
This system was called ECHELON, and has been kicking around in some form longer than most of you. The result of the UKUSA treaty signed by the United States, United Kingdom, Canada, Australia and New Zealand was, and is, to have a vast global intelligence monster which allegedly shares common goals.
The London Telegraph reported in December of 1997 that the Civil liberties Committee of the European Parliament had officially confirmed the existence and purpose of ECHELON. "A global electronic spy network that can eavesdrop on every telephone, e-mail and telex communication around the world will be officially acknowledged for the first time in a European Commission report. …"
The report noted: "Within Europe all e-mail, telephone and fax communications are routinely intercepted by the United States National Security Agency, transferring all target information from the European mainland via the strategic hub of London, then by satellite to Fort Meade in Maryland via the crucial hub at Menwith Hill, in the North York moors in the UK.
"The ECHELON system forms part of the UKUSA system but unlike many of the electronic spy systems developed during the Cold War, ECHELON was designed primarily for non-military targets: governments, organizations and businesses in virtually every country."
An interesting sidebar appeared in the International Herald Tribune under the headline, "Big Corporate Brother: It Knows More About You Than You Think." The story details Acxiom Corp, which was a humongous information service hidden in the Ozark foothills. Twenty-four hours a day, Acxiom electronically gathered and sorts all kinds of data about 196 million Americans. Credit card transactions and magazine subscriptions, telephone numbers, real estate records, automotive data, hunting, business and fishing licenses, consumer surveys and demographic detail that would make a marketing department's research manager salivate. This relatively new (legal) enterprise was known as "data warehousing" or "data-mining", and it underscores the cruel reality that the fiction of personal privacy has become obsolete. Technology's ability to collect and analyze data has made privacy a quaint albeit interesting dinosaur.
The Tribune reported that "Axciom can often determine whether an American owns a dog or cat, enjoys camping or gourmet cooking, reads the Bible or lots of other books. It can often pinpoint an American's occupation, car and favorite vacations. By analyzing the equivalent of billions of pages of data, it often projects for its customers who should be offered a credit card or who is likely to buy a computer."
Most of this information is from y 1998 piece. Echelon has developed, matured, and morphed into a much more powerful hybrid. 'Carnivore' was software to help triage the cacophony of data. Vault 7 and 'Umbrage' are logical (some would argue "insidious") growth.
More to follow…