"It Is Not A Question of Who Is Right Or Wrong But What Is Right Or Wrong That Counts.

"

--Geoff Metcalf
Providing an on line Triage of the news since 1997



Wo

rld & Nation

.

Hunter Biden's forgotten laptop mirrors troubled life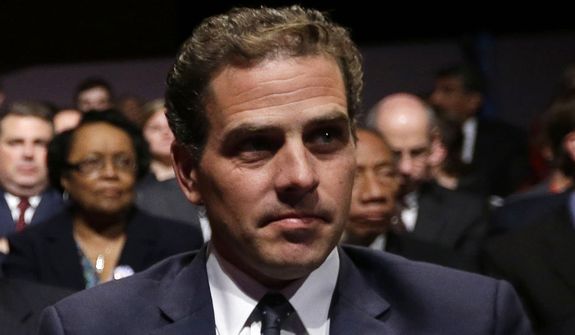 At the time Hunter Biden's laptop reportedly sat unclaimed at a Delaware repair shop, the son of Democratic presidential candidate Joseph R. Biden was living a tumultuous life, including facing a paternity lawsuit from an exotic dancer.
The repair shop owner, John Paul Mac Isaac, told The New York Post a man who he cannot identify left the MacBook Pro in April 2019. He never returned, and Mr. Isaac eventually took custody. He gave a download of the contents to the FBI and President Trump's personal lawyer, Rudolph W. Giuliani, who provided the data to the Post.
The chain of events raises the question of how someone — Mr. Biden, an associate or someone else — could forget about or knowingly discard a computer containing tens of thousands of emails that tell tales of lucrative foreign cash transactions. The hard drive also held explicit sex scenes involving drugs.
---
Sheldon Adelson, Wife Give $75M to Anti-Biden Group
Billionaire casino magnate Sheldon Adelson and his wife Miriam have given $75 million to a new political group that ran ads in battleground states during September that were critical of former Vice President and Democrat nominee Joe Biden.
The donation of Adelson, 87, and his wife, 75, to Preserve America PAC accounted for 90% of the group's fundraising in September, Politico reported Thursday, quoting a "person familiar with the group's finances."
Preserve America raised $83.76 million following its creation Aug. 31 and the end of September, also receiving $5 million from Home Depot co-founder Bernie Marcus, 91; $2 million from investment banker Warren Stephens, 63; and $1 million from ABC Supply co-founder Diane Hendricks.
---
'First Jewish president' Trump not feeling the love despite strong pro-Israel record
His record on Israel is so strong that radio host Mark Levin once called him "the first Jewish president," but President Trump has yet to feel the love from the Jewish electorate.
A Pew Research Center poll released this week showed that 70% of registered Jewish voters support Democratic presidential candidate Joseph R. Biden over Mr. Trump, who was the choice of 27% — slightly more than the 24% who backed him in 2016.
That barely perceptible move of the needle comes even as the Democratic Party's progressive wing continues to trend away from Israel and toward Palestinian causes, led by rising stars such as Reps. Ilhan Omar and Rashida Tlaib, while Mr. Trump has time and again aligned himself with Jerusalem.
---
Hunter Biden demanded Chinese billionaire pay $10 million for 'introductions alone,' emails show
Hunter Biden was receiving a $10 million annual fee from a Chinese billionaire who has been accused of corruption and with whom he sought to increase the cash flow with a joint business ownership, an August 2017 email from Mr. Biden shows.
The money was for "introductions alone," said Mr. Biden, son of Democratic presidential nominee Joseph R. Biden. Another email to Hunter Biden from a consultant says that a 10% stake in an unnamed company will go to "the big guy?" The "big guy" was not identified.
Hunter Biden hooked up with the billionaire, Ye Jianming, chairman of the CEFC China Energy Co. conglomerate, during his father's vice presidency.
---
90% of campaign contributions from Twitter and Facebook went to Democrats: Study
Both Facebook and Twitter have come under scrutiny for their campaign contributions in a new study by Joseph Vazquez, an analyst with the Media Research Center, a conservative press watchdog.
Mr. Vazquez reviewed the current political donation records of both social media giants on Open Secrets, an independent nonprofit which tracks federal campaign donations and lobbying data. The report was released Thursday.
"Open Secrets records revealed that for 'all federal candidates,' both Facebook and Twitter gave over 90% of their political contributions to Democrats for the 2020 cycle so far," Mr. Vazquez wrote.
---
Republicans vow to subpoena Jack Dorsey over Twitter blocks on Hunter Biden report
Furious congressional Republicans vowed Thursday to subpoena the head of Twitter after the social media platform blocked the Trump campaign, an official government website, and scores of other users for sharing reports about Hunter Biden's emails that contradict his father's claims.
Following Facebook's lead, Twitter restricted distribution of the bad news for Democratic presidential nominee Joseph R. Biden by redirecting users to a webpage warning that the story's hyperlink was "unsafe." Twitter then took more aggressive action against its users, including preventing tweets linking to the story and direct messages sharing the story in private.
The news articles from the New York Post provided details of Hunter Biden's sweetheart deals in China and Ukraine while his father was vice president and wielding Obama administration influence in those countries. The details appear to contradict the Democratic candidate's claim that he did not know about his son's business deals while vice president.
---
Trump, Biden fire shots from afar in dueling town halls
President Trump and Democratic nominee Joseph R. Biden faced off in dueling town hall events Thursday night instead of debating on the same stage, with the Democrat quickly attacking the president's handling of the coronavirus crisis and Mr. Trump defending his actions.
Mr. Biden, in Philadelphia on ABC, blasted the president's handling of the COVID-19 pandemic as inept and deceptive.
"Americans didn't panic. He panicked," Mr. Biden said in an allusion to Mr. Trump's claim, repeated Thursday night, that some of his optimistic early words were an effort to prevent mass panic.
---
Pelosi Flags Poison Pills in Stimulus Talks; Testing Deal Nears
House Speaker Nancy Pelosi told Democratic colleagues that a divide persists with the White House over a number of components of the fiscal stimulus she's attempting to negotiate, even as an agreement nears on a coronavirus testing program.
The establishment of a national testing strategy had been a roadblock cited by Pelosi and her aides this week during talks with Treasury Secretary Steven Mnuchin.
After a call lasting more than an hour Thursday, Mnuchin said the administration would only make minor edits to a Democratic proposal on that score. Paperwork is expected to be exchanged on Friday.
---
States Shatter Early Voting Records as Democrats Drive Turnout
Millions of Americans are breaking voter-turnout records with three weeks to go before Election Day, with Democrats casting early ballots at a far higher rate than Republicans.
Concerns about the coronavirus pandemic have increased mail-in voting and led to unprecedented levels of early voting, especially among Democrats. More than 17 million voters have cast their ballot early, either in person or by mail, in states that report voting data, according to the University of Florida Elections Project.
As President Donald Trump and the Republican Party bet on Election Day in-person turnout, states that he won by a small margin in 2016 are seeing more Democrats voting early.
With 18 days of frenetic campaigning by Trump and Democratic nominee Joe Biden still ahead, many states allow early voting. This year, with enthusiasm running high, voters have already cast nearly 13% of the total votes counted in the 2016 general election.
---
C-SPAN suspends Scully after he admits to lie about hack
C-SPAN suspended its political editor Steve Scully indefinitely Thursday after he admitted to lying about his Twitter feed being hacked when he was confronted about a questionable exchange with former Trump aide Anthony Scaramucci.
The news came on the day of what was supposed to be a career highlight for the 30-year C-SPAN veteran. Scully was to moderate the second debate between President Donald Trump and Democrat Joe Biden, which was canceled after Trump would not agree to a virtual format because of his COVID-19 diagnosis.
A week ago, after Trump had criticized him as a "never Trumper," Scully tweeted "@Scaramucci should I respond to Trump." Scaramucci, a former Trump communications director and now a critic of the president, advised Scully to ignore him.
Scully said that when he saw his tweet had created a controversy, "I falsely claimed that my Twitter account had been hacked."
---
China's President Xi violently coughs throughout speech, prompting speculation on his health, as state media cuts away each time he is forced to stop speaking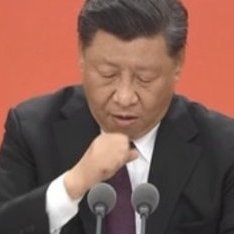 Chinese President Xi Jinping has been caught coughing his way through a speech to his cronies, sparking speculation about his health.
The Communist leader could be heard coughing repeatedly during the final ten minutes of a speech in Shenzhen, close to Hong Kong, on Wednesday.
State TV repeatedly cut away from Xi during the bouts of coughing, but caught the moment he lifted his hand to his mouth.
Audio also caught the President spluttering and sipping from a glass of water in order to clear his throat.
The footage was seized upon by Xi's critics, particularly those in Hong Kong, who speculated about his health amid the coronavirus outbreak.
---
In final stages of Trump Derangement Syndrome, Dems lie down like little shorn lambs
Despite threadbare attempts to smear Amy Cony Barrett, Democrats are out of ammo
President Trump has officially broken these people.
They now find themselves in the final, acute stages of Trump Derangement Syndrome.
House Speaker Nancy Pelosi has turned on her handmaids in the press and is attacking them for quoting fellow Democrats who say she should be negotiating with Mr. Trump on a coronavirus aid package.
---
Kamala Harris embarrassed herself at VP debate and Barrett confirmation hearings
Ignoring the hype surrounding Sen. Harris
Sen. Kamala D. Harris was embarrassed for the second week in a row. First, it was her less-than-stellar performance in the debate with Vice President Mike Pence. Then, it was during the Senate Judiciary Committee hearings on the nomination of Judge Amy Coney Barrett. The hype over Ms. Harris is just that — hype.
Anyone watching Judge Barrett's responses to often ridiculous questions earlier this week could see how brilliant she really is and how prepared she is to serve on the United States Supreme Court. And anyone watching Ms. Harris' questions during the hearings could see how ill-prepared she was for the circumstances — much like her debate performance last week.
---
" It is discouraging to think how many people are shocked by honesty and how few by deceit."

-- Noel Coward

(1899-1973) British playwright

---

The Medal of Honor is the highest award for valor in action against an enemy force which can be bestowed upon an individual serving in the Armed Services of the United States.

GeneTrerally presented to its recipient by the President of the United States of America in the name of Congress.

The first award of the Medal of Honor was made March 25, 1863 to Private JACOB PARROTT.The last award of the Medal of Honor was made September 15, 2011 to Sergeant DAKOTA MEYER.

Since then there have been: • 3458 recipients of the Medal of Honor.

• Today there are 85 Living Recipients of the Medal of Honor.

Citation


Captain Humbert R. Versace distinguished himself by extraordinary heroism during the period of 29 October 1963 to 26 September 1965, while serving as S-2 Advisor, Military Assistance Advisory Group, Detachment 52, Ca Mau, Republic of Vietnam. While accompanying a Civilian Irregular Defense Group patrol engaged in combat operations in Thoi Binh District, An Xuyen Province, Captain Versace and the patrol came under sudden and intense mortar, automatic weapons, and small arms fire from elements of a heavily armed enemy battalion. As the battle raged, Captain Versace, although severely wounded in the knee and back by hostile fire, fought valiantly and continued to engage enemy targets. Weakened by his wounds and fatigued by the fierce firefight, Captain Versace stubbornly resisted capture by the over-powering Viet Cong force with the last full measure of his strength and ammunition. Taken prisoner by the Viet Cong, he exemplified the tenets of the Code of Conduct from the time he entered into Prisoner of War status. Captain Versace assumed command of his fellow American soldiers, scorned the enemy's exhaustive interrogation and indoctrination efforts, and made three unsuccessful attempts to escape, despite his weakened condition which was brought about by his wounds and the extreme privation and hardships he was forced to endure. During his captivity, Captain Versace was segregated in an isolated prisoner of war cage, manacled in irons for prolonged periods of time, and placed on extremely reduced ration. The enemy was unable to break his indomitable will, his faith in God, and his trust in the United States of America. Captain Versace, an American fighting man who epitomized the principles of his country and the Code of Conduct, was executed by the Viet Cong on 26 September 1965. Captain Versace's gallant actions in close contact with an enemy force and unyielding courage and bravery while a prisoner of war are in the highest traditions of the military service and reflect the utmost credit upon himself and the United States Army.

---

From the Archives

We Have Met the Enemy…
Geoff Metcalf


"They who can give up essential liberty to obtain a little temporary safety deserve neither liberty nor safety.
--Benjamin Franklin
"The American people must be willing to give up a degree of personal privacy in exchange for safety and security."
--Louis Freeh


In the wake of the clamor over the most recent WikiLeaks data dump, 'Vault 7', 'UMBRAGE', et al, it should be noted this is not really anything new. What we are seeing here is simply the evolution of something that goes back to the late 50s (to the incomplete best knowledge I have).

It is kinda cool to finally see even

The New York Times

acknowledging material

I was writing about in 1998

.

In April of 1998 I wrote "Privacy has become an anachronism." I was commenting on "a massive system designed to intercept all your e-mail, fax traffic and more." I was explaining 'Echelon', the illegitimate offspring of a

UKUSA Treaty

signed by the United States, United Kingdom, Canada, Australia and New Zealand. Its purpose was, and is, to have a vast global intelligence monster, which allegedly shares common goals. The system was so "efficient" that reportedly National Security Agency folk from Fort Meade could work from Menwith Hill in England to intercept local communications without either nation having to burden themselves with the formality of seeking approval (a court order) or disclosing the operation. And this was all pre-9/11 and pre-the anti-constitutional

'Patriot Act'

.

It is illegal (without a Judge's signed permission) for the United States to spy on its citizens … kinda. The laws have long been circumvented by a mutual pact among five nations. Under the terms of UKUSA agreement, Britain spies on Americans and America spies on British citizens, and then the two conspirators trade data. A classic technical finesse. It is legal, but the intent to evade the spirit is inescapable.

I often fictionalized the genesis of 'Echelon' as an informal meeting of a group of post war American and British intelligence types drinking in some remote rustic bar. An imagined CIA type complains to his MI6 buddy about the hassles of US laws preventing US intelligence from surveillance of bad guys, and the Brit echoes the same complaint.

"Hey wait a moment mate," says Nigel, the make-believe MI6 guy, "I can spy on your guys and you can spy on our bad players…why don't we just come up with a mechanism whereby we spy on your villains, you spy on our villains, and we just 'share' the intel?"

This system was called ECHELON, and has been kicking around in some form longer than most of you. The result of the UKUSA treaty signed by the United States, United Kingdom, Canada, Australia and New Zealand was, and is, to have a vast global intelligence monster which allegedly shares common goals.

The London Telegraph reported in December of 1997 that the Civil liberties Committee of the European Parliament had officially confirmed the existence and purpose of ECHELON. "A global electronic spy network that can eavesdrop on every telephone, e-mail and telex communication around the world will be officially acknowledged for the first time in a European Commission report. …"

The report noted: "Within Europe all e-mail, telephone and fax communications are routinely intercepted by the United States National Security Agency, transferring ll target information from the Eurv opean mainland via the strategic hub of London, then by satellite to Fort Meade in Maryland via the crucial hub at Menwith Hill, in the North York moors in th UK.

"The ECHELON system forms part of the UKUSA system but unlike many of the electronic spy systems developed during the Cold War, ECHELON was designed primarily for non-military targets: governments, organizations and businesses in virtually every country."

An interesting sidebar appeared in the International Herald Tribune under the headline, "Big Corporate Brother: It Knows More About You Than You Think." The story details Acxiom Corp, which was a humongous information service hidden in the Ozark foothills. Twenty-four hours a day, Acxiom electronically gathered and sorts all kinds of data about 196 million Americans. Credit card transactions and magazine subscriptions, telephone numbers, real estate records, automotive data, hunting, business and fishing licenses, consumer surveys and demographic detail that would make a marketing department's research manager salivate. This relatively new (legal) enterprise was known as "data warehousing" or "data-mining", and it underscores the cruel reality that the fiction of personal privacy has become obsolete. Technology's ability to collect and analyze data has made privacy a quaint albeit interesting dinosaur.

The Tribune reported that "Axciom can often determine whether an American owns a dog or cat, enjoys camping or gourmet cooking, reads the Bible or lots of other books. It can often pinpoint an American's occupation, car and favorite vacations. By analyzing the equivalent of billions of pages of data, it often projects for its customers who should be offered a credit card or who is likely to buy a computer."

Most of this information is from y 1998 piece. Echelon has developed, matured, and morphed into a much more powerful hybrid. 'Carnivore' was software to help triage the cacophony of data. Vault 7 and 'Umbrage' are logical (some would argue "insidious") growth.

More to follow…