"It Is Not A Question of Who Is Right Or Wrong But What Is Right Or Wrong That Counts.

"

--Geoff Metcalf
Providing an on line Triage of the news since 1998
My son has narrated the last book I wrote.
Please consider listening to it and encouraging others to do so too.
(Click on Book Cover)
Wo
rld & Nation
Sen. Bob Menendez indicted on bribery charges; raid found cash and gold
Prosecutors say conspirators bought car for senator, wife
A federal grand jury indicted Democratic Sen. Robert Menendez on Friday on charges he accepted bribes from three New Jersey businessmen in exchange for favors that would benefit the trio and secretly aid Egypt.
Prosecutors allege Mr. Menendez, the chairman of the Senate Foreign Relations Committee and the 10th in seniority in the Democrats' slim Senate majority, engaged in a "corrupt" relationship with Wael Hana, Jose Uribe and Fred Daibes from 2018 to 2022, using his power and influence to benefit the men in exchange for hundreds of thousands of dollars in bribes for the senator and his wife, Nadine.
"Those bribes included cash, gold, payments toward a home mortgage, compensation for a low-or-no-show job, a luxury vehicle and other things of value," the indictment, filed in the U.S. District Court of Southern New York, said.
The indictment outlines in stunning detail how a June 2022 raid uncovered the fruits of the alleged bribes in a safe deposit box in the couple's home.
---
Biden Raises Concern After Repeating Same Story Twice 'Word for Word' Within Minutes
President Joe Biden's age and mental fitness have come into question yet again after a recent campaign reception in Manhattan. During his remarks at the gathering, he repeated statements about the 2017 Charlottesville riot and his decision to run for president in 2020, nearly word-for-word, just minutes apart, RadarOnline.com has learned.
"You remember those folks walking out of the fields literally carrying torches, with Nazi swastikas, holding them forward, singing the same vicious, antisemitic bile — the same exact bile — bile that was sung in — in Germany in the early '30s," Biden told the crowd. "And a young woman was killed. A young woman was killed."
Biden then referred to the former president, Donald Trump, who said that there were "very fine people on both sides" when asked about the Charlottesville incident. According to Biden, this was the moment when he decided to run for president again.
After telling the story once, Biden proceeded to tell it again just 20 minutes later. He reiterated the details of the Charlottesville rally, the acts of violence, and Trump's response to the situation nearly word for word.
---
Biden mixes up which minority group he is addressing
President Biden lauded the Congressional Black Caucus in a speech but seemed to forget he was addressing the Congressional Hispanic Caucus.
The mixup in his speech Thursday night was the latest in a string of mental miscues and doddering this week for the 80-year-old commander-in-chief.
Speaking at the Congressional Hispanic Caucus Institute's 46th Annual Gala, Mr. Biden hailed gala award recipient Sister Norma Pimental, executive director of Catholic Charities of Rio Grande Valley, just before the slip-up.
The blunder capped a week of bizarre behavior by Mr. Biden, who is the oldest president in U.S. history.
---
Putin's Great Fear Could Come True: Ukraine Is Close to a Military 'Breakthrough'
Ukrainian armored vehicles have reached beyond the first Russian anti-tank defenses in Southern Ukraine.
Fighting rages in the western part of the Zaporizhzhia Oblast, near the village of Verbove, as Ukrainian forces try to widen the breach they have created and achieve an operational breakthrough.
Footage shows Ukrainian forces have managed to move heavy weapons systems past the first two layers of the Russian defensive line. Ukrainian Marder 1A infantry fighting vehicles and M1126 Stryker infantry carrier vehicles are now operating past extensive anti-tank ditches and obstacles in the vicinity of Verbove.
The Ukrainian military is trying to widen the breach and push through Russian defenses to the rear.
---
House Republicans negotiating package of spending bills with time running out to fund government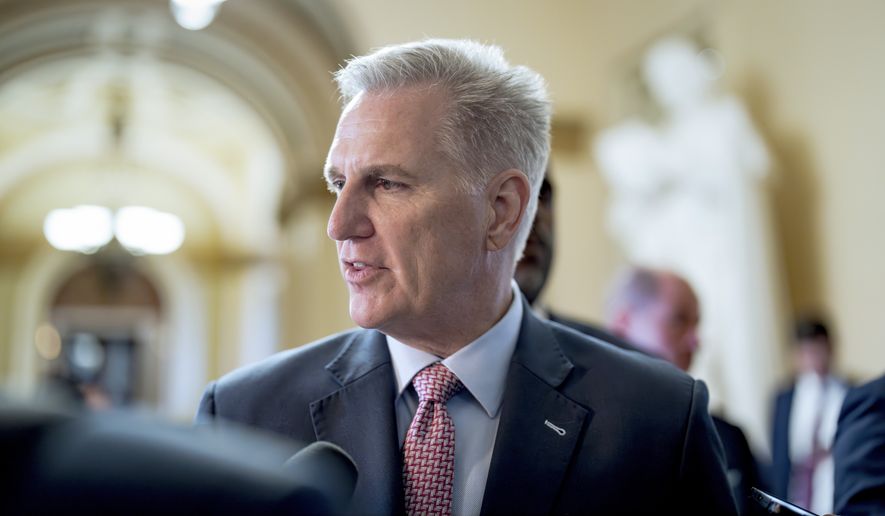 House Republicans are still scrambling to put together a package of spending measures with fresh cuts in lieu of making progress on stopgap spending legislation to prevent a partial government shutdown on Sept. 30.
Word of the package comes as House Speaker Kevin McCarthy failed for the second time this week to advance a procedural vote for the annual defense spending bill, which is considered by many to be a layup vote for conservatives.
Time is running out for lawmakers to do something before the government partially shuts down. There are only nine calendar days left before the Sept. 30 deadline.
Rep. Matt Gaetz, Florida Republican, said after a meeting in House Majority Whip Tom Emmer's office that lawmakers were developing a package of spending measures for next week.
---
Biden handed major legal defeat in attempt to restrict oil, gas drilling in Gulf of Mexico
Federal judge blasts Biden officials for appearing to weaponize wildlife protection laws to block drilling
A federal court struck down the Biden administration's last-minute restrictions on an upcoming offshore oil and gas lease sale, in a ruling late Thursday evening.
Judge James Cain of the Western District of Louisiana granted a preliminary injunction request from plaintiffs — the State of Louisiana, industry association American Petroleum Institute, and oil companies Chevron and Shell — to block the Bureau of Ocean Energy Management's (BOEM) restrictions on Lease Sale 261. The lease sale spanning millions of acres across the Gulf of Mexico is slated for next week.
Cain ruled the federal government must proceed with the lease sale by Sept. 30 under its original conditions. As a result of a July settlement with environmental groups, BOEM removed about six million acres from the sale and imposed various restrictions on oil and gas vessels associated with the leases auctioned to protect the Rice's whale species found in parts of the Gulf of Mexico.
placeholder
---

Even No. 2 Senate Dem Durbin swats new dress code

Senate Democratic Whip Richard J. Durbin isn't excited about the upper chamber's new dress code, which lets senators wear what they want.

The Hill reported that Mr. Durbin said on "The Briefing With Steve Scully" on SiriusXM's POTUS channel that he is "concerned about it."

The second-highest ranking Senate Democrat told the show in an interview that will air Friday that he acknowledges the relaxed dress code will let Sen. John Fetterman, Pennsylvania Democrat, continue wearing his staple outfit of hoodie, gym shorts and sneakers, but standards still are important.



---
Satellite images show increased activity at nuclear test sites in Russia, China and US
Russia, the United States and China have all built new facilities and dug new tunnels at their nuclear test sites in recent years, satellite images obtained exclusively by CNN show, at a time when tensions between the three major nuclear powers have risen to their highest in decades.
While there is no evidence to suggest that Russia, the US or China is preparing for an imminent nuclear test, the images, obtained and provided by a prominent analyst in military nonproliferation studies, illustrate recent expansions at three nuclear test sites compared with just a few years ago.
One is operated by China in the far western region of Xinjiang, one by Russia in an Arctic Ocean archipelago, and another in the US in the Nevada desert.
The satellite images from the past three to five years show new tunnels under mountains, new roads and storage facilities, as well as increased vehicle traffic coming in and out of the sites, said Jeffrey Lewis, an adjunct professor at the James Martin Center for Nonproliferation Studies at the Middlebury Institute of International Studies.
---
Karine Jean-Pierre blasted for blaming border crisis on Republicans
White House Press Secretary Karine Jean-Pierre insisted on Thursday that President Biden is doing "everything" he can to combat the surge of migrants at the southern border and she accused Republicans of not doing enough.
"We have taken steps without the help of Republicans in Congress to do everything that we can to deal with this issue," Jean-Pierre told reporters at the White House.
"And let's not forget what the Republicans propose, their continuing resolution, lead [to] 800 [Customs and Border Protection] agents and officers being fired."
Jean-Pierre then criticized the GOP's decision to block a procedural vote on a defense spending bill.
---
Evidence of Biden's dishonesty and criminality keeps growing
The 22 items being reviewed by House committees are only the beginning
When House Speaker Kevin McCarthy called for an impeachment inquiry into President Biden's various corrupt actions, several reporters called me.
Every one of them began their questions with the assumptions that there was no evidence of wrongdoing by Mr. Biden and that the inquiry was a purely partisan exercise.
None of them seemed to understand what an impeachment inquiry is. The point of any inquiry is to ask if there might be evidence of crimes large enough to justify impeachment.
The inquiry is a prelude, not an act of impeachment. If sufficient proof is found via the inquiry, the next stage is an impeachment. If a thorough review of the information does not indicate serious wrongdoing, the matter is dropped.
---
Biden Loses It, Can't Stop Repeating Himself At Meeting With Ukrainian Officials
President Joe Biden embarrassed himself today while meeting with Ukrainian officials at the White House. While reading a prepared statement, Biden began to repeat himself again and again. The President can be quoted as saying, "Together with 29 other partners. Partners. Partners, partners, and their partners.."
What is wrong with the President? It appears that he has now been reduced to repeating himself, unable to even read a statement from his notes. Remember when the media hammered Ronald Reagan during his second term for his cognitive decline? With a cognitive decline that makes Ronald Reagan's look like absolutely nothing, the mainstream media continue to be silent on Biden's health struggles.
Truthfully, the bias is blatantly transparent. The media attacked Reagan because he was a Republican, and refuses to attack Joe Biden because he is a Democrat. They have no commitment to truth, or facts, only to the news cycle that supports their own political beliefs.
---
---
Medal of Honor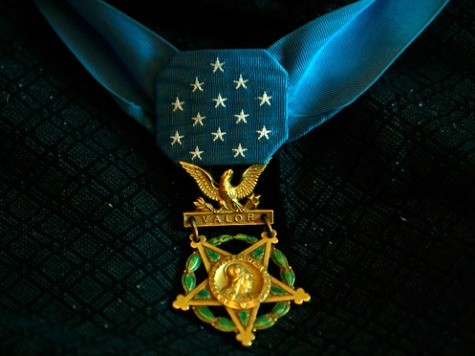 THOMAS JEROME HUDNER JR.
RANK: LIEUTENANT, J.G.
CONFLICT/ERA: KOREAN WAR
MILITARY SERVICE BRANCH: U.S. NAVY
MEDAL OF HONOR ACTION DATE: DECEMBER 4, 1950
MEDAL OF HONOR ACTION PLACE: CHOSIN RESERVOIR, KOREA
For conspicuous gallantry and intrepidity at the risk of his life above and beyond the call of duty as a pilot in Fighter Squadron 32, while attempting to rescue a squadron mate whose plane, struck by antiaircraft fire and trailing smoke, was forced down behind enemy lines. Quickly maneuvering to circle the downed pilot and protect him from enemy troops infesting the area, Lt. (j.g.) Hudner risked his life to save the injured flier who was trapped alive in the burning wreckage. Fully aware of the extreme danger in landing on the rough mountainous terrain, and the scant hope of escape or survival in subzero temperature, he put his plane down skillfully in a deliberate wheels-up landing in the presence of enemy troops. With his bare hands, he packed the fuselage with snow to keep the flames away from the pilot and struggled to pull him free. Unsuccessful in this he returned to his crashed aircraft and radioed other airborne planes, requesting that a helicopter be dispatched with an ax and fire extinguisher. He then remained on the spot despite the continuing danger from enemy action and, with the assistance of the rescue pilot, renewed a desperate but unavailing battle against time, cold, and flames. Lt. (j.g.) Hudner's exceptionally valiant action and selfless devotion to a shipmate sustain and enhance the highest traditions of the U.S. Naval Service.
---
From the Archive....
TO KILL OR FEED A MOCKINGBIRD
By Geoff Metcalf
July 29, 2002
Two mutually exclusive and under reported stories have been troubling me.
* The apparent penchant for political operatives to leak classified information that jeopardizes national security.
* The generational control of information dissemination by powerful controllers.
So we have another 'Catch-22'.
The complicity of the mainstream media to spin, cover, and obfuscate government abuse of power under the color of authority was not unique to the Clinton administration. It may have been more ubiquitous, and at times even clumsy, but it was not unique.
It has been reported that in June 1991 David Rockefeller allegedly told a Bilderberg meeting in Baden Baden German, "We are grateful to the Washington Post, the New York Times, Time Magazine and other great publications whose directors have attended our meetings and respected their promises of discretion for almost forty years." He went on to explain: "It would have been impossible for us to develop our plan for the world if we had been subjected to the lights of publicity during those years. But, the world is more sophisticated and prepared to march towards a world government. The supernational sovereignty of an intellectual elite and world bankers is surely preferable to the national autodetermination practiced in past centuries."
Some argue that quote is apocryphal urban legend. However, although I have never been able to find three corroborating independent sources for it, it IS consistent in content and tone with other Bilderberg quotes I HAVE been able to confirm.
"If we had been subjected to the light of publicity…." Indicates the one world, globalist, wannabe controllers were/are successful in managing the message.
Operation 'Mockingbird' was a program supposedly conceived by a brilliant Machiavellian State Department official, Frank Wisner. Wisner selected Philip Graham, then publisher of the Washington Post to manage the program. According to Deborah Davis, author of 'Katharine the Great', "By the early 1950s, Wisner 'owned' respected members of the New York Times, Newsweek, CBS and other communications vehicles, plus stringers, four to six hundred in all, according to a former CIA analyst."
Over twenty five major newspapers and wire services became willing house organs for the CIA media manipulation.
Investigators digging into MOCKINGBIRD have been flabbergasted to discover FOIA documents in which agents boast (in CIA office memos) of pride in having placed "important assets" inside every major news publication in the country.
I know, this is the stuff of Ludlum novels conspiracy wackos, but not until 1982 did the 'Company' finally concede that reporters on the CIA payroll have been case officers to field agents.
I have too often observed, "Some people don't like to be confused with facts that contradict their preconceived opinions." I have also noted (and struggle to maintain) "It is not WHO is right or wrong…but WHAT is right or wrong."
Anyone with almost 'any' military experience has no doubt seen the once ubiquitous posters cautioning "Loose Lips Sink Ships". It is a left over phrase from WWII and among "lessons learned".
In the complex world of intelligence loose lips can and have cost lives.
Once upon a time, not so long ago, Senator Patrick Leahy (currently the Senate Judiciary committee's lead obstructionist) used to be the Vice Chairman of the Senate Intelligence Committee in the mid 80s. Leahy allegedly 'inadvertently' exposed a top-secret intercept of Egypt's President Hosni Mubarak that led to the capture of the Achille Lauro terrorists. That supposed slip of the tongue "cost the life of at least one Egyptian operative." http://www.newsmax.com/showinside.shtml?a=2001/1/31/85757
Loose Lip Leahy was forced to resign in disgrace 14 years ago in the wake of having to acknowledge he leaked secret intelligence to the press. However today he lords his power over the Senate Judiciary committee. Congress' institutional memory must be as short as some of Jennifer Flowers former paramours.
In our contemporary environment in which whistleblowers have become in many cases heroes it is important to make the distinctions between the appropriateness of corporate and political whistleblowers and the idiot or miscreant who leaks information with genuine national security implications.
Currently the FBI is investigating national security leaks from specifically the House and Senate Select Intelligence committees. This is serious stuff.
Defenders of the indefensible will argue it is a political witch-hunt by politicians in a heavy C.Y.A. mode. That is not true but a convenient political spin job.
Sure it is true the white house is p.o.-ed over media reports that the National Security Agency had received but not acted on two early warning messages to 9/11. Dick Cheney reportedly went ballistic and ripped congressional leaders. Both House and Senate Select Intelligence committees asked the Attorney General to conduct an investigation (and no doubt quietly prayed it would be botched).
Justice said in a statement, "…the appropriate department officials will expeditiously review this matter and take any appropriate action." Not if congress has anything to say about it. Don't expect anything fast. Remember Leahy resigned in disgrace 14 years ago and today has the chutzpah to pontificate ad nauseum to the Judiciary committee and stall any and all Bush judicial appointments.
More on Operation Mockingbird
http://www.whatreallyhappened.com/RANCHO/POLITICS/
MOCK/mockingbird.html
http://www.grandconspiracy.com/library.html#operation
© 2002 Geoff Metcalf - All Rights Reserved
Geoff is a veteran media performer. He has had an eclectic professional background covering a wide spectrum of radio, television, magazine, and newspapers. A former Green Beret and retired Army officer he is in great demand as a speaker. Metcalf has hosted his radio talk show on the ABC/Disney owned and operated KSFO and in worldwide syndication. www.geoffmetcalf.com