"It Is Not A Question of Who Is Right Or Wrong But What Is Right Or Wrong That Counts.

"

--Geoff Metcalf
Providing an on line Triage of the news since 1997



Wo

rld & Nation
Pompeo Rips WH Plan to Restart Iran Nuclear Talks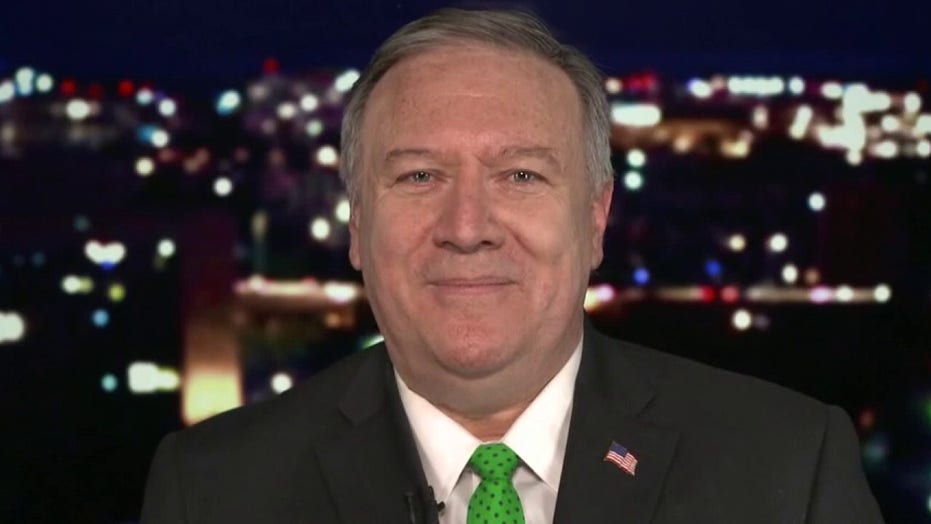 Former Secretary of State Mike Pompeo is blasting the Biden administration for saying it is ready to join talks with Iran and world powers to discuss a return to the 2015 nuclear deal.
Pompeo made his comments to The Washington Free Beacon.
They came after the State Department said on Thursday that the U.S. would accept an invitation from the European Union to attend a meeting of the participants in the original nuclear agreement with Iran.
---
US Begins Admitting Asylum Seekers Blocked by Trump
The United States will on Friday begin rolling back one of former President Donald Trump's strictest immigration policies, allowing in the first of thousands of asylum seekers who have been forced to wait in Mexico for their cases to be heard.
President Joe Biden pledged while campaigning to immediately rescind the Trump policy, known as the Migrant Protection Protocols (MPP). Under the program more than 65,000 non-Mexican asylum seekers were denied entry and sent back across the border pending court hearings. Most returned home but some stayed in Mexico in sometimes squalid or dangerous conditions, vulnerable to kidnapping and other violence.
Now they will be allowed into the United States to wait for their applications to be heard in immigration courts. The effort will start slowly, with only limited numbers of people being admitted on Friday at the port of entry in San Ysidro, California.
---
Six Capitol Police officers suspended, 29 under investigation for actions at riot
The U.S. Capitol Police has suspended six officers with pay and another 29 are under investigation for their actions in response to the deadly Jan. 6 insurrection at the Capitol.
In a statement, the department confirmed that the Capitol Police's Office of Professional Responsibility is investigating the officers.
"Acting Chief Yoganada Pittman directed that any member of her department whose behavior is not in keeping with the Department's Rules of Conduct will face appropriate discipline," the statement said.
In January, multiple news outlets — including The Washington Times — reported that "several" Capitol Police officers were suspended and at least 10 more were under investigation after a mob violently stormed the Capitol following a rally protesting former President Donald Trump's loss in the November election.
---
New ICE rules make many illegal immigrants safe from deportation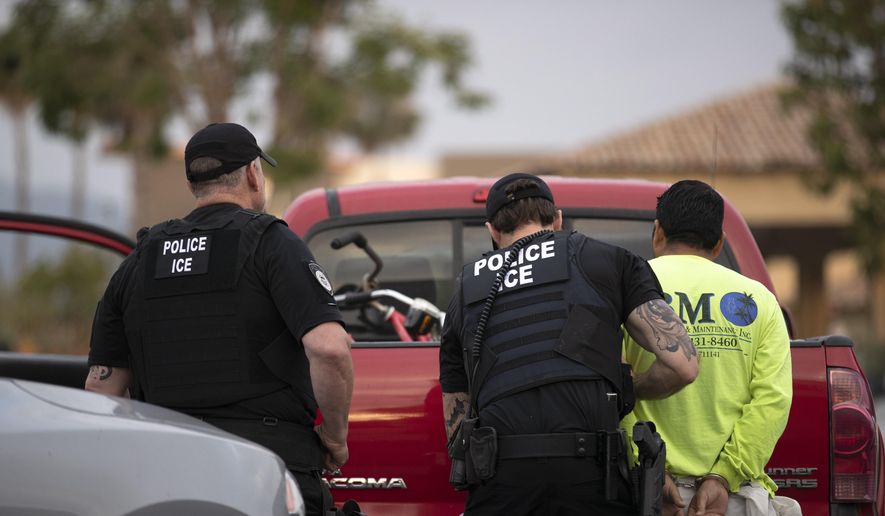 ICE issued new guidance Thursday to grant deportation officers leeway to arrest and deport illegal immigrants, moving to replace rules issued on the Biden administration's first day that led to some embarrassing black eyes.
High-level felons, national security risks and new border jumpers are high priority and are presumed to be deportation targets. One official called them "the cases that the public cares most about." Most other illegal immigrants are not presumptive targets, U.S. Immigration and Customs Enforcement said in the new rules.
Drunken drivers, some domestic assault offenders, identity theft convicts and other felons whose crimes don't rise to the level of "aggravated" are not automatic priorities.
---
'A war zone?': Plan to erect permanent fence around Capitol lambasted
Critics say the issue is not only of aesthetics but also one of economics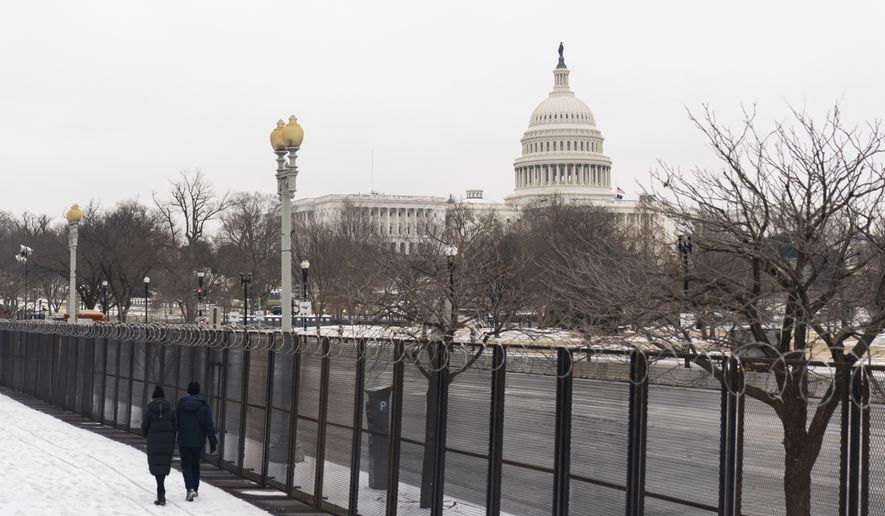 The deadly Jan. 6 riot at the U.S. Capitol has prompted calls to step up security around federal properties in Washington, but D.C. officials and locals say the idea of putting permanent fences around those sites is a step too far.
Today, a steel-bar fence as high as 12 feet and topped with razor wire encloses a 3-square-mile area around the Capitol building, where rioters last month toppled bicycle-rack barriers and overwhelmed police officers to disrupt Congress' certification of the Electoral College vote. Armed National Guardsmen now patrol the fence perimeter, which is backed by concrete Jersey barriers in some areas.
"I hate it. You know, it's ugly and I feel like it's taken away a lot," said Louis Rose, 57, who works nearby at the International Brotherhood of Teamsters and lives in Arlington, Virginia. "It looks like a war zone: razor wire, with armed guards with machine guns behind the fence. How else could you describe that?"
D.C. Delegate Eleanor Holmes Norton is one of many locals who hope the unsightly fencing is only a temporary measure. She told The Washington Times that she wants "to keep the People's House open to the people."
---
Overdose deaths hit record high in pandemic
More stress, less treatment cited
Drug overdoses killed an estimated 83,544 people during a 12-month period ending in July 2020, a record that coincides with the COVID-19 pandemic, which experts say has created a huge amount of stress and hampered treatment services.
That is almost a 25% increase from the year that ended in July 2019, when the Centers for Disease Control and Prevention reported 68,023 overdose deaths.
But the number of deaths last year could be closer to 86,000, the CDC said this week, citing the issue of underreporting caused by incomplete data.
---
Donald Trump to Newsmax TV: Rush Was Unique, Great Friend
Former President Donald Trump lamented the death of conservative talk show host Rush Limbaugh on Newsmax TV on Wednesday, calling him "unique," "spellbinding," and a "great friend."
Trump appeared via phone on "Greg Kelly Reports" to express his sadness for the passing of Limbaugh, who died earlier in the day from lung cancer at the age of 70.
"We lost a great one today," Trump said. "Rush was just a unique character, and a great friend to all of us. So, we lost a really great gentlemen today."
---
Biden to affirm transatlantic ties in first major foreign policy outing
When Joe Biden last addressed the Munich Security Conference two years ago, he made a promise to a packed-in crowd at the Hotel Bayerischer Hof.
"This too shall pass," Biden said in 2019, lamenting the isolationist turn the US took under then-President Donald Trump. "We will be back."
On Friday, Biden will declare that "America is back" as he returns -- virtually -- to the annual security conference to reaffirm the US' position of global leadership, the power of its alliances and the resilience of democracy -- in the United States and abroad.
---
Pelosi's pick to lead Capitol probe says police 'complicit,' helped rioters
Retired Army Lt. Gen. Russel L. Honoré, whom House Speaker Nancy Pelosi named to head a security review of the U.S. Capitol, has stated that he believes the U.S. Capitol Police and the House and Senate sergeants at arms were "complicit" in the deadly Jan. 6 riot.
Mr. Honoré has said in TV and radio interviews that the invasion was an inside job, that the Capitol Police force is "40% Trumpsters" and "gave way" to the protesters.
"They had help inside that force," he told digital show host Roland Martin.
"They were either that stupid or ignorant, or they complicit. I think they were complicit," he said on MSNBC last month.
---
Unspent billions fuel frustration over closed schools, Biden's pricey relief package
Just $6 billion of the nearly $130 billion earmarked for K-12 schools in President Biden's coronavirus relief package is slated to go out the door before October, according to Congress' official budget scorekeeper.
And most of the $113 billion for schools from previous relief packages hasn't been spent yet.
The projections lend credence to the notion that the $1.9 trillion relief package Congress is rushing to pass needs to be better targeted, particularly the spending to reopen schools.
---
Prince Harry & Meghan Markle Confirm They Won't Return to Royal Roles: 'All Are Saddened,' Says Queen
Although Prince Harry and Meghan no longer use their coveted His/Her Highness titles, they will retain them — along with their Duke and Duchess of Sussex titles
Meghan Markle and Prince Harry will officially not be returning to their royal roles, Buckingham Palace confirmed in a statement on Friday.
As was speculated, the couple — who left full-time royal work in March of last year — will no longer keep their patronages (their royal involvement with numerous U.K. charities).
"The Duke and Duchess of Sussex have confirmed to Her Majesty The Queen that they will not be returning as working members of The Royal Family," the Buckingham Palace statement said.
Continued the statement, "Following conversations with The Duke, The Queen has written confirming that in stepping away from the work of The Royal Family it is not possible to continue with the responsibilities and duties that come with a life of public service."
---
The great humility of Rush Limbaugh, on loan from God
Rush Limbaugh believed to his core in the genius and wisdom of the American people
You can measure a man when he dies by how many people spring forth to eulogize him — with stories about themselves.
The airwaves Wednesday were filled with first-person accounts from people who knew Rush Limbaugh. Or, more precisely, people eager to publicly declare how Rush Limbaugh KNEW THEM.
I filled in for Rush on the radio once!
---
How the national anthem binds us together -- despite forces trying to pull us apart
Mark Cuban announced earlier this month that the national anthem would no longer be played before Dallas Mavericks games. Eventually, the NBA stepped in and reversed his decision, but the mere fact that he thought it was acceptable to cancel the anthem of our beloved nation sends a troubling message about the state of our union.
The American flag and the national anthem have historically been things that united us in this country. Regardless of race or sex or ethnicity or age or even political party, these were the things that united us as Americans. They still should.
More than individual heroes, our flag and anthem stood for all of us. Each of us, a thread woven into the fabric of this remarkable country — just like the star-spangled banner that inspired our anthem. Great countries need things that bring people together. Historically, the flag and anthem were two of the most obvious.
---
" It is discouraging to think how many people are shocked by honesty and how few by deceit."

-- Noel Coward

(1899-1973) British playwright

---

The Medal of Honor is the highest award for valor in action against an enemy force which can be bestowed upon an individual serving in the Armed Services of the United States.

GeneTrerally presented to its recipient by the President of the United States of America in the name of Congress.

The first award of the Medal of Honor was made March 25, 1863 to Private JACOB PARROTT.The last award of the Medal of Honor was made September 15, 2011 to Sergeant DAKOTA MEYER.

Since then there have been: • 3458 recipients of the Medal of Honor.

• Today there are 85 Living Recipients of the Medal of Honor.

Citation


Captain Humbert R. Versace distinguished himself by extraordinary heroism during the period of 29 October 1963 to 26 September 1965, while serving as S-2 Advisor, Military Assistance Advisory Group, Detachment 52, Ca Mau, Republic of Vietnam. While accompanying a Civilian Irregular Defense Group patrol engaged in combat operations in Thoi Binh District, An Xuyen Province, Captain Versace and the patrol came under sudden and intense mortar, automatic weapons, and small arms fire from elements of a heavily armed enemy battalion. As the battle raged, Captain Versace, although severely wounded in the knee and back by hostile fire, fought valiantly and continued to engage enemy targets. Weakened by his wounds and fatigued by the fierce firefight, Captain Versace stubbornly resisted capture by the over-powering Viet Cong force with the last full measure of his strength and ammunition. Taken prisoner by the Viet Cong, he exemplified the tenets of the Code of Conduct from the time he entered into Prisoner of War status. Captain Versace assumed command of his fellow American soldiers, scorned the enemy's exhaustive interrogation and indoctrination efforts, and made three unsuccessful attempts to escape, despite his weakened condition which was brought about by his wounds and the extreme privation and hardships he was forced to endure. During his captivity, Captain Versace was segregated in an isolated prisoner of war cage, manacled in irons for prolonged periods of time, and placed on extremely reduced ration. The enemy was unable to break his indomitable will, his faith in God, and his trust in the United States of America. Captain Versace, an American fighting man who epitomized the principles of his country and the Code of Conduct, was executed by the Viet Cong on 26 September 1965. Captain Versace's gallant actions in close contact with an enemy force and unyielding courage and bravery while a prisoner of war are in the highest traditions of the military service and reflect the utmost credit upon himself and the United States Army.

---

From the Archives

We Have Met the Enemy…
Geoff Metcalf


"They who can give up essential liberty to obtain a little temporary safety deserve neither liberty nor safety.
--Benjamin Franklin
"The American people must be willing to give up a degree of personal privacy in exchange for safety and security."
--Louis Freeh


In the wake of the clamor over the most recent WikiLeaks data dump, 'Vault 7', 'UMBRAGE', et al, it should be noted this is not really anything new. What we are seeing here is simply the evolution of something that goes back to the late 50s (to the incomplete best knowledge I have).

It is kinda cool to finally see even

The New York Times

acknowledging material

I was writing about in 1998

.

In April of 1998 I wrote "Privacy has become an anachronism." I was commenting on "a massive system designed to intercept all your e-mail, fax traffic and more." I was explaining 'Echelon', the illegitimate offspring of a

UKUSA Treaty

signed by the United States, United Kingdom, Canada, Australia and New Zealand. Its purpose was, and is, to have a vast global intelligence monster, which allegedly shares common goals. The system was so "efficient" that reportedly National Security Agency folk from Fort Meade could work from Menwith Hill in England to intercept local communications without either nation having to burden themselves with the formality of seeking approval (a court order) or disclosing the operation. And this was all pre-9/11 and pre-the anti-constitutional

'Patriot Act'

.

It is illegal (without a Judge's signed permission) for the United States to spy on its citizens … kinda. The laws have long been circumvented by a mutual pact among five nations. Under the terms of UKUSA agreement, Britain spies on Americans and America spies on British citizens, and then the two conspirators trade data. A classic technical finesse. It is legal, but the intent to evade the spirit is inescapable.

I often fictionalized the genesis of 'Echelon' as an informal meeting of a group of post war American and British intelligence types drinking in some remote rustic bar. An imagined CIA type complains to his MI6 buddy about the hassles of US laws preventing US intelligence from surveillance of bad guys, and the Brit echoes the same complaint.

"Hey wait a moment mate," says Nigel, the make-believe MI6 guy, "I can spy on your guys and you can spy on our bad players…why don't we just come up with a mechanism whereby we spy on your villains, you spy on our villains, and we just 'share' the intel?"

This system was called ECHELON, and has been kicking around in some form longer than most of you. The result of the UKUSA treaty signed by the United States, United Kingdom, Canada, Australia and New Zealand was, and is, to have a vast global intelligence monster which allegedly shares common goals.

The London Telegraph reported in December of 1997 that the Civil liberties Committee of the European Parliament had officially confirmed the existence and purpose of ECHELON. "A global electronic spy network that can eavesdrop on every telephone, e-mail and telex communication around the world will be officially acknowledged for the first time in a European Commission report. …"

The report noted: "Within Europe all e-mail, telephone and fax communications are routinely intercepted by the United States National Security Agency, transferring ll target information from the Eurv opean mainland via the strategic hub of London, then by satellite to Fort Meade in Maryland via the crucial hub at Menwith Hill, in the North York moors in th UK.

"The ECHELON system forms part of the UKUSA system but unlike many of the electronic spy systems developed during the Cold War, ECHELON was designed primarily for non-military targets: governments, organizations and businesses in virtually every country."

An interesting sidebar appeared in the International Herald Tribune under the headline, "Big Corporate Brother: It Knows More About You Than You Think." The story details Acxiom Corp, which was a humongous information service hidden in the Ozark foothills. Twenty-four hours a day, Acxiom electronically gathered and sorts all kinds of data about 196 million Americans. Credit card transactions and magazine subscriptions, telephone numbers, real estate records, automotive data, hunting, business and fishing licenses, consumer surveys and demographic detail that would make a marketing department's research manager salivate. This relatively new (legal) enterprise was known as "data warehousing" or "data-mining", and it underscores the cruel reality that the fiction of personal privacy has become obsolete. Technology's ability to collect and analyze data has made privacy a quaint albeit interesting dinosaur.

The Tribune reported that "Axciom can often determine whether an American owns a dog or cat, enjoys camping or gourmet cooking, reads the Bible or lots of other books. It can often pinpoint an American's occupation, car and favorite vacations. By analyzing the equivalent of billions of pages of data, it often projects for its customers who should be offered a credit card or who is likely to buy a computer."

Most of this information is from y 1998 piece. Echelon has developed, matured, and morphed into a much more powerful hybrid. 'Carnivore' was software to help triage the cacophony of data. Vault 7 and 'Umbrage' are logical (some would argue "insidious") growth.

More to follow…