"It Is Not A Question of Who Is Right Or Wrong But What Is Right Or Wrong That Counts.

"

--Geoff Metcalf
Providing an on line Triage of the news since 1998
My son has narrated the last book I wrote.
Please consider listening to it and encouraging others to do so too.
(Click on Cover)
Wo
rld & Nation
Pentagon pressed on Ukraine endgame as skepticism takes root with some lawmakers
Austin, Milley face questions on scope, scale of U.S. commitment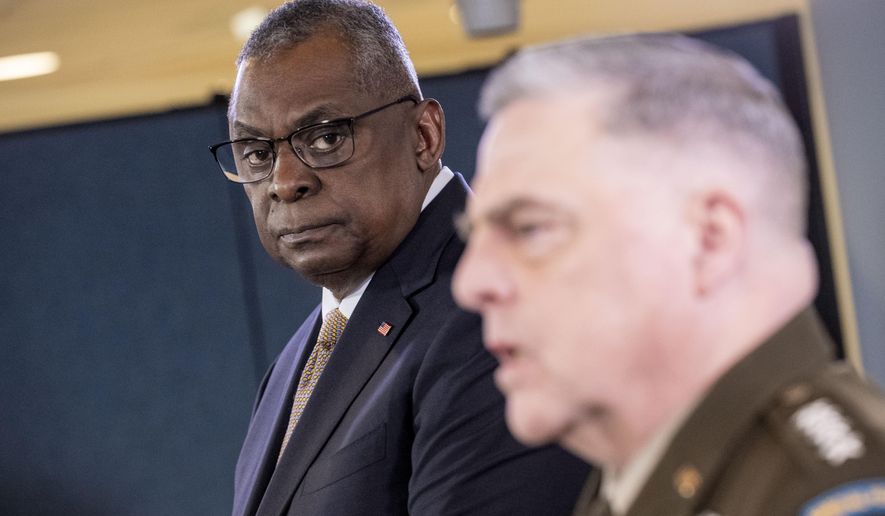 Lawmakers pressed top Pentagon officials Thursday to explain America's ultimate goal in Ukraine, how exactly victory over Russia can be measured, and just how much money and military equipment the U.S. is willing to commit in the latest sign that the political sales job for supporting Kyiv is getting tougher by the day.
With skepticism growing in some corners of the Republican Party about the tens of billions of dollars sent or committed to the war, the Biden administration faces calls to define its endgame in the Russia-Ukraine war.
Defense Secretary Lloyd Austin told a congressional budget hearing Thursday that the aim is to defeat the Russian invasion and uphold a post-World War II international order. He said it's up to Ukraine to define many of the specifics, including the key question of whether Kyiv will insist on wresting all of the disputed Donbas region and the Crimean Peninsula from Russian control.
Russia forcibly annexed Crimea in 2014 and has held it ever since, but Ukrainian officials have said they intend to retake the territory. A looming Ukrainian counteroffensive will fuel hopes of an eventual victory for Kyiv, though Russia has shown no signs of surrender and is in the midst of a massive military mobilization initiative.
---
Federal agency tries to downplay its 'ecogrief' training; skeptics question employee triggers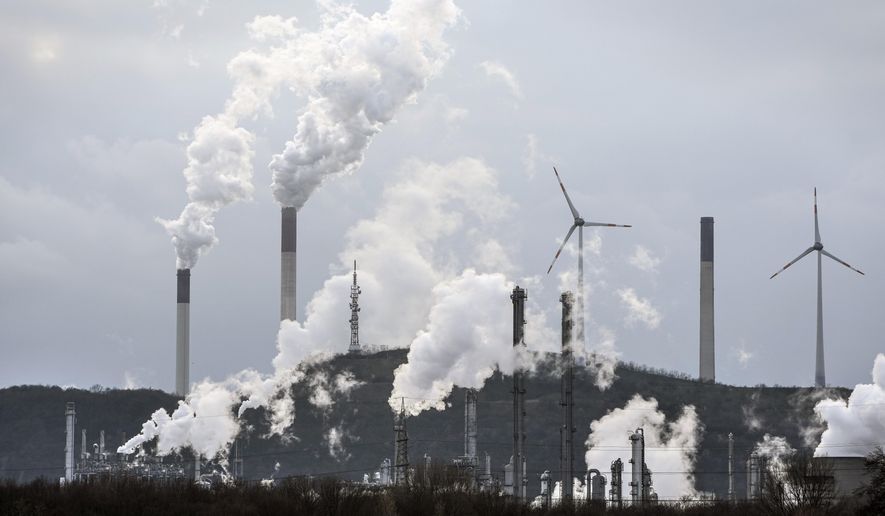 The Fish and Wildlife Service downplayed the scope of its training for employees to handle "ecogrief," telling Congress on Thursday that no more than 150 employees took the classes and calling the sessions "small bore."
Stephen Guertin, the agency's deputy director for policy, said the agency is still working to compile all the details of the training in response to a request from lawmakers.
Early data suggests the training was limited, he said.
"It was not mandatory. It's pretty small bore," he told the House Natural Resources Committee.
The ecogrief classes, first revealed by The Washington Times last month, were meant to help the federal employees cope with anger or a sense of loss over changes to the environment, particularly from climate change.
---
Kamala Harris Trashed In White House Leak: 2 Former Officials Say Joe Biden 'Irked' By VEEP For Not 'Rising to Occasion' Or Taking 'Anything Off His Plate'
It looks like President Joe Biden can't always rely on his No. 2, Vice President Kamala Harris.
According to two former White House officials, the 80-year-old is frustrated with Harris, 58, for not stepping up in her role.
"A point of tension in their relationship is that I don't think that the president sees her as somebody who takes anything off of his plate" as she's fearful "of messing up," one former White House official told Reuters.
Meanwhile, another official said one of the reasons Biden wants to run for president again is because he doesn't think Harris will be able to beat Donald Trump.
---
The Biden Family Can't Hide From Its Shady Financial Past
WH Press Secretary Slammed For Lies on Biden-CCP Deals - Republicans released financial records last week showing that members of President Joe Biden's family received money from a Chinese energy firm with close ties to China's military intelligence.
"After the Chinese company wired Robinson Walker, LLC the $3 million, the Biden family received approximately $1,065,692 over a three-month period in different bank accounts," the House Committee on Oversight and Accountability said last week.
Fox News White House correspondent Peter Doocy asked White House Press Secretary Karine Jean-Pierre for comment as to if she had anything to say about the bank records that showed the president's family members received over $1 million from HK Energy Limited. Doocy asked for what they had been paid for. Last week President Joe Biden denied that his son Hunter, brother James, and daughter-in-law Hallie had pocketed the money, saying it was not true.
Bank records subpoenaed by the committee disclosed two payments totaling $35,000 to Hallie Biden. James Biden received $360,000 between Apr. 3, 2017 and May 18, 2017.
---
Trump Lawyer in Documents Case Appears Before Grand Jury
A lawyer for Donald Trump was back in court Friday after being ordered to answer questions before a grand jury investigating the possible mishandling of classified documents at the former president's Florida estate.
M. Evan Corcoran entered federal court in the District of Columbia early Friday morning, one week after a federal judge ruled in favor of the Justice Department in forcing Corcoran to answer additional questions before a grand jury that has been hearing testimony for months. Corcoran did not make any comments as he arrived at the building.
The interest by prosecutors in Corcoran's testimony underscores the legal peril confronting Trump, making clear the department's continued focus on whether Trump obstructed government efforts to recover hundreds of classified documents taken from the White House to Mar-a-Lago at the end of his term.
---
US contractor is killed in Iranian suicide drone strike in Syria - as Biden orders retaliation 'precision airstrikes' taking out 11 militants tied to Revolutionary Guard
An American contractor has been killed and five service members were wounded when an Iranian suicide drone struck a facility on a coalition base in northeast Syria on Thursday, the Pentagon said.
In retaliation, President Biden ordered the U.S. Central Command forces to launch 'precision airstrikes' against facilities used by groups affiliated with Iran's Revolutionary Guard Corps, killing 11 pro-Iran fighters.
Defense Secretary Lloyd Austin said the airstrikes against the IRGC, a wing of the Iranian military which is blacklisted as a terrorist group by the US, were carried out by F-15 fighter jets.
Earlier on Thursday, a drone strike killed a US contractor and injured five service members, as well as another American contractor at a maintenance facility on a Coalition base near al-Hasakah in northeast Syria. They are said to be in a stable condition, the Washington Post reported, citing a senior military official.
---
Wagner Group forces may be shifting to Africa after clashes with Russian brass over Ukraine
The head of the Wagner Group mercenary force may be shifting his focus away from the battlefield in Ukraine back to Africa, where in the past they have conducted operations in countries such as Sudan and Mali, according to the Moscow Times newspaper.
The possible move may be linked to lingering tensions between Wagner Group leader Yevgeny Prigozhin and senior military officials in the Kremlin. He has accused them of diverting resources away from his fighters and taking credit for the Wagner Group's battlefield successes in the Ukraine fight, the Moscow Times said.
The company's critics inside the Russian military have told President Vladimir Putin that any Wagner Group victories come only after it threw thousands of recruited prisoners to their deaths on Ukraine's front lines, according to Bloomberg, which cited people close to the Kremlin and Russia's intelligence services.
---
175 Americans are still in Afghanistan, some held by the Taliban
There are about 175 Americans still in Afghanistan, and some of them are being held captive by the Taliban, Secretary of State Antony Blinken told Congress on Thursday.
As the U.S. approaches the two-year mark since the catastrophic withdrawal, GOP lawmakers called that situation "inexcusable."
Mr. Blinken said there are "several" Americans actively being held by the Taliban.
"We are working to secure their freedom," Mr. Blinken said. "The families have asked that we protect their identities and don't speak publicly to their cases."
---
Banks Are Still Drawing on the Fed for $164 Billion of Emergency Cash
Banks reduced their borrowings only slightly from two Federal Reserve backstop facilities in the most recent week, a sign that institutions are taking advantage of the central bank's liquidity in the wake of turmoil.
US institutions had a combined $163.9 billion in outstanding borrowings in the week through March 22, compared with $164.8 billion the previous week, according to Fed data Thursday.
Data showed $110.2 billion in borrowing from the Fed's traditional backstop lending program known as the discount window compared with a record $152.9 billion in outstanding credit the previous week. The loans can be extended for up to 90 days and the window accepts a broad range of collateral.
---
In China, embattled TikTok chief seen as hero defying bullying U.S.
After a five-hour verbal thrashing in a U.S. congressional hearing, TikTok chief executive Shou Zi Chew has emerged in China as a lone hero fighting an uphill battle against American anti-Chinese paranoia.
A view of TikTok's parent company ByteDance headquarter building in Shanghai, China, on Friday. © Alex Plavevski/EPA-EFE/Shutterstock A view of TikTok's parent company ByteDance headquarter building in Shanghai, China, on Friday.
On Friday, Chinese internet users, commentators and officials rallied around Chew, who before Thursday's hearing was little known to the Chinese public. State media described the hearings as a farce and an "embarrassment" for the United States, and China's Foreign Ministry said the process amounted to the "unreasonable suppression" of TikTok.
The ubiquitous short-video app is caught in a worsening U.S.-China rivalry that has reached new levels of mutual suspicion in recent months over allegations of espionage involving the app. The Biden administration, citing national security risks, is pushing TikTok's Chinese owners to sell their stakes in the company. Beijing has said it would oppose any forced sale on the grounds that it involves an export of Chinese technology that needs government approval.
---
National Archives just torpedoed Joe Biden's 'I know nothing' defense
For years, President Joe Biden has maintained a Sgt. Schultz defense ("I know nothing, nothing!") to counter allegations that his family has profiteered on influence peddling with foreign countries and companies.
Despite mounting evidence to the contrary, Biden maintains that he "knows nothing, nothing" about Hunter Biden's business deals. He recently doubled down on this defense by even denying that family members received money from foreign sources. He repeated his denial even after the release of financial transfer reports from his own administration showing millions transferred from China.
Now, emails have emerged that show that Biden personally helped draft responses to the controversial deals in 2015 when he was vice president. It also appears that Biden officials like former White House Communications Director Kate Bedingfield knew of his role even as the president continued to deny any involvement.
The National Archives has released emails that show that then-Vice President Joe Biden approved an official statement in December 2015 about Hunter Biden's position on a Ukrainian energy company's board.
Biden has denied any knowledge or involvement in these business dealings at least seven times as a presidential candidate and as president.
---
Democrats' boycotting hearings on illegal immigration indefensible
All 15 Democrats on a House committee boycotted last week's field hearing on the crisis at our southern border, aptly held in Texas for the express purpose of focusing lawmakers' — and national — attention on out-of-control illegal immigration.
Worse, the March 15 hearing of the House Homeland Security Committee in Pharr, Texas, marked the second time in less than a month that House Democrats irresponsibly refused to attend an immigration-related hearing held on the U.S.-Mexico border.
Three weeks earlier, on Feb. 24, all 19 Democrats on the House Judiciary Committee likewise skipped a similar hearing in Yuma, Arizona.
Equally irresponsibly, both hearings also went largely unreported by the mainstream media.
---
" It is discouraging to think how many people are shocked by honesty and how few by deceit."

-- Noel Coward

(1899-1973) British playwright

---

THOMAS JEROME HUDNER JR.

RANK: LIEUTENANT, J.G.

CONFLICT/ERA: KOREAN WAR

MILITARY SERVICE BRANCH: U.S. NAVY

MEDAL OF HONOR ACTION DATE: DECEMBER 4, 1950

MEDAL OF HONOR ACTION PLACE: CHOSIN RESERVOIR, KOREA

For conspicuous gallantry and intrepidity at the risk of his life above and beyond the call of duty as a pilot in Fighter Squadron 32, while attempting to rescue a squadron mate whose plane, struck by antiaircraft fire and trailing smoke, was forced down behind enemy lines. Quickly maneuvering to circle the downed pilot and protect him from enemy troops infesting the area, Lt. (j.g.) Hudner risked his life to save the injured flier who was trapped alive in the burning wreckage. Fully aware of the extreme danger in landing on the rough mountainous terrain, and the scant hope of escape or survival in subzero temperature, he put his plane down skillfully in a deliberate wheels-up landing in the presence of enemy troops. With his bare hands, he packed the fuselage with snow to keep the flames away from the pilot and struggled to pull him free. Unsuccessful in this he returned to his crashed aircraft and radioed other airborne planes, requesting that a helicopter be dispatched with an ax and fire extinguisher. He then remained on the spot despite the continuing danger from enemy action and, with the assistance of the rescue pilot, renewed a desperate but unavailing battle against time, cold, and flames. Lt. (j.g.) Hudner's exceptionally valiant action and selfless devotion to a shipmate sustain and enhance the highest traditions of the U.S. Naval Service.

---

From the Archive....

TO KILL OR FEED A MOCKINGBIRD

By Geoff Metcalf

July 29, 2002

Two mutually exclusive and under reported stories have been troubling me.

* The apparent penchant for political operatives to leak classified information that jeopardizes national security.

* The generational control of information dissemination by powerful controllers.

So we have another 'Catch-22'.

The complicity of the mainstream media to spin, cover, and obfuscate government abuse of power under the color of authority was not unique to the Clinton administration. It may have been more ubiquitous, and at times even clumsy, but it was not unique.

It has been reported that in June 1991 David Rockefeller allegedly told a Bilderberg meeting in Baden Baden German, "We are grateful to the Washington Post, the New York Times, Time Magazine and other great publications whose directors have attended our meetings and respected their promises of discretion for almost forty years." He went on to explain: "It would have been impossible for us to develop our plan for the world if we had been subjected to the lights of publicity during those years. But, the world is more sophisticated and prepared to march towards a world government. The supernational sovereignty of an intellectual elite and world bankers is surely preferable to the national autodetermination practiced in past centuries."

Some argue that quote is apocryphal urban legend. However, although I have never been able to find three corroborating independent sources for it, it IS consistent in content and tone with other Bilderberg quotes I HAVE been able to confirm.

"If we had been subjected to the light of publicity…." Indicates the one world, globalist, wannabe controllers were/are successful in managing the message.

Operation 'Mockingbird' was a program supposedly conceived by a brilliant Machiavellian State Department official, Frank Wisner. Wisner selected Philip Graham, then publisher of the Washington Post to manage the program. According to Deborah Davis, author of 'Katharine the Great', "By the early 1950s, Wisner 'owned' respected members of the New York Times, Newsweek, CBS and other communications vehicles, plus stringers, four to six hundred in all, according to a former CIA analyst."

Over twenty five major newspapers and wire services became willing house organs for the CIA media manipulation.

Investigators digging into MOCKINGBIRD have been flabbergasted to discover FOIA documents in which agents boast (in CIA office memos) of pride in having placed "important assets" inside every major news publication in the country.

I know, this is the stuff of Ludlum novels conspiracy wackos, but not until 1982 did the 'Company' finally concede that reporters on the CIA payroll have been case officers to field agents.

I have too often observed, "Some people don't like to be confused with facts that contradict their preconceived opinions." I have also noted (and struggle to maintain) "It is not WHO is right or wrong…but WHAT is right or wrong."

Anyone with almost 'any' military experience has no doubt seen the once ubiquitous posters cautioning "Loose Lips Sink Ships". It is a left over phrase from WWII and among "lessons learned".

In the complex world of intelligence loose lips can and have cost lives.

Once upon a time, not so long ago, Senator Patrick Leahy (currently the Senate Judiciary committee's lead obstructionist) used to be the Vice Chairman of the Senate Intelligence Committee in the mid 80s. Leahy allegedly 'inadvertently' exposed a top-secret intercept of Egypt's President Hosni Mubarak that led to the capture of the Achille Lauro terrorists. That supposed slip of the tongue "cost the life of at least one Egyptian operative." http://www.newsmax.com/showinside.shtml?a=2001/1/31/85757

Loose Lip Leahy was forced to resign in disgrace 14 years ago in the wake of having to acknowledge he leaked secret intelligence to the press. However today he lords his power over the Senate Judiciary committee. Congress' institutional memory must be as short as some of Jennifer Flowers former paramours.

In our contemporary environment in which whistleblowers have become in many cases heroes it is important to make the distinctions between the appropriateness of corporate and political whistleblowers and the idiot or miscreant who leaks information with genuine national security implications.

Currently the FBI is investigating national security leaks from specifically the House and Senate Select Intelligence committees. This is serious stuff.

Defenders of the indefensible will argue it is a political witch-hunt by politicians in a heavy C.Y.A. mode. That is not true but a convenient political spin job.

Sure it is true the white house is p.o.-ed over media reports that the National Security Agency had received but not acted on two early warning messages to 9/11. Dick Cheney reportedly went ballistic and ripped congressional leaders. Both House and Senate Select Intelligence committees asked the Attorney General to conduct an investigation (and no doubt quietly prayed it would be botched).

Justice said in a statement, "…the appropriate department officials will expeditiously review this matter and take any appropriate action." Not if congress has anything to say about it. Don't expect anything fast. Remember Leahy resigned in disgrace 14 years ago and today has the chutzpah to pontificate ad nauseum to the Judiciary committee and stall any and all Bush judicial appointments.

More on Operation Mockingbird

http://www.whatreallyhappened.com/RANCHO/POLITICS/


MOCK/mockingbird.html

http://www.grandconspiracy.com/library.html#operation

© 2002 Geoff Metcalf - All Rights Reserved

Geoff is a veteran media performer. He has had an eclectic professional background covering a wide spectrum of radio, television, magazine, and newspapers. A former Green Beret and retired Army officer he is in great demand as a speaker. Metcalf has hosted his radio talk show on the ABC/Disney owned and operated KSFO and in worldwide syndication. www.geoffmetcalf.com