"It Is Not A Question of Who Is Right Or Wrong But What Is Right Or Wrong That Counts.

"

--Geoff Metcalf
Providing an on line Triage of the news since 1997



Wo

rld & Nation
Foreign policy 'realists' cheer Trump's Syria withdrawal: 'Not only appropriate, but overdue'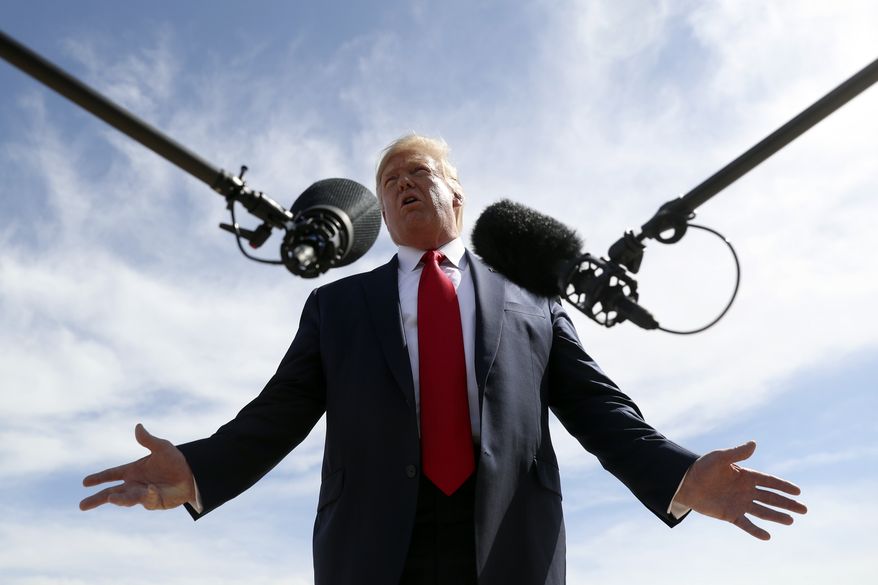 The execution has been messy, the bipartisan opposition has been sharp and U.S. adversaries are now scrambling to exploit President Trump's Syria withdrawal.
But some U.S. foreign policy "realists" are cheering on Mr. Trump's course change in the Middle East, saying that despite its clumsy implementation, the move cuts through contradictions at the heart of the American policy and puts the onus on regional powers to resolve Syria's 8-year-old civil war and prevent an Islamic State resurgence there.
That Syrian Kurdish officials, who last week were allied with Washington, were so quickly willing to switch to cooperation with Mr. Assad proves their point, the realists say.
---

Justice Dept. sets record for prosecuting illegal immigrants

The Justice Department set a record over the last year, prosecuting more criminal cases against illegal immigrants and migrant smugglers than any other year on record, officials announced Friday.

The numbers are still a tiny fraction of the overall illegal activity at the border. With nearly 1 million unauthorized crosses in fiscal year 2019, the government still only charged about 106,000 people with either illegal entry or illegal re-entry after a previous deportation.

Another 4,297 people were charged with migrant smuggling, harboring or otherwise assisting in the illegal traffic.


---
White House chief of staff ties Ukraine aid money to 2016 Russia probe
Mulvaney explanation is a shift for White House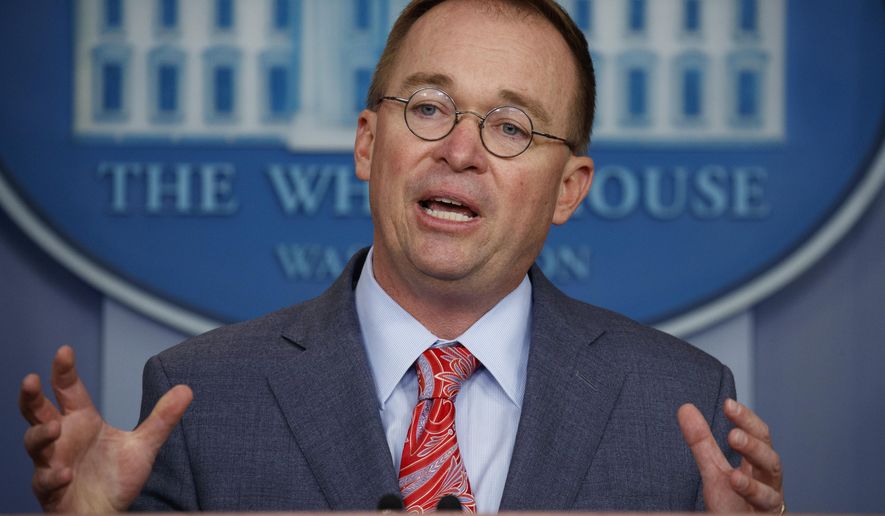 Acting White House Chief of Staff Mick Mulvaney acknowledged Thursday that the Trump administration withheld military aid from Ukraine to force a corruption investigation, which for Democrats was tantalizingly close to confirming the allegation at the core of their impeachment inquiry.
Democrats called it a clear admission of guilt that Mr. Trump used military aid to force Ukraine to investigate Democrats.
Mr. Mulvaney said the president blocked nearly $400 million in military funds to prod other countries to support Ukraine and to push Kyiv to investigate corruption and assist in a Justice Department investigation of Ukrainian interference in the 2016 presidential election.
---
Mike Pence: Turkey agrees to five-day cease-fire to withdraw Kurdish fighters
U.S., Turkey to assist 'orderly withdrawal' of 20-mile zone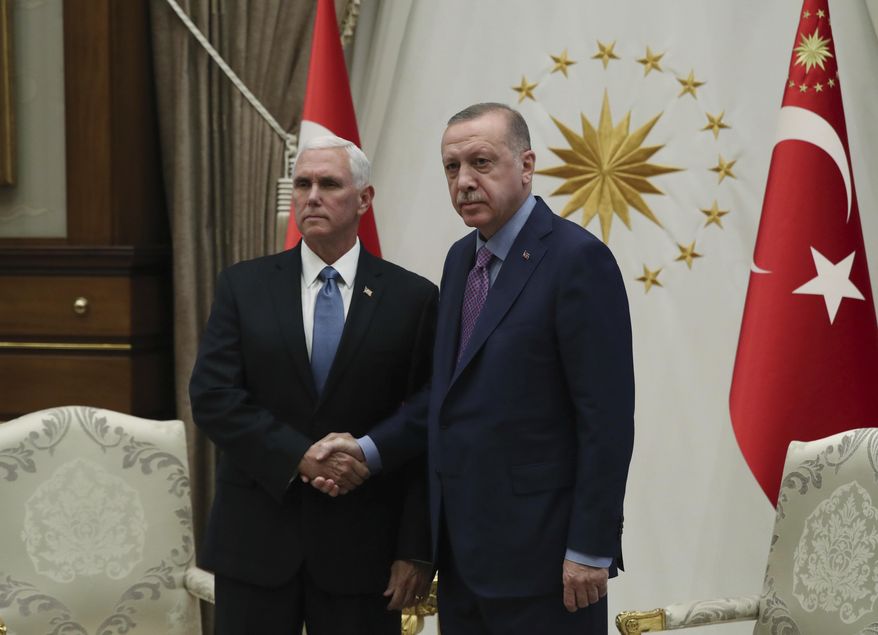 Turkish President Recep Tayyip Erdogan on Thursday agreed to a Trump administration deal for a five-day halt in Ankara's Syria incursion to allow the U.S. to help Kurdish fighters exit a 20-mile border buffer zone, as Congress struggled to respond to White House moves that sparked the crisis.
Emerging from more than four hours of emergency talks, Vice President Mike Pence said Mr. Erdogan was prepared to call off his military incursion into Syria, dubbed Operation Peace Spring, once there is a complete withdrawal of Syrian Kurdish militia fighters, part of the broader Syrian Democratic Forces that Turkey considers to be terrorists linked to a Kurdish separatist movement inside Turkey.
Mr. Erdogan will not attack Kobani, a key border city, and will help the U.S. detain Islamic State fighters in the region, Mr. Pence said. President Trump agreed to delay a string of punitive economic sanctions that were being prepared on Turkish officials and business sectors.
---
Official rebuffed after raising concerns about Hunter Biden and Ukrainian energy company in 2015
A State Department official testified this week that he raised concerns about Hunter Biden's serving on the board of a Ukrainian energy company in 2015 but was rebuffed by a Biden staffer.
George Kent, a deputy assistant secretary of state, testified on Tuesday that he was worried Hunter Biden's position with the company, Burisma Holdings, would complicate U.S. diplomatic efforts on avoiding conflicts of interest, the Washington Post reported on Friday.
But he was told by Mr. Biden's office that the former vice president, whose son Beau was battling cancer at the time, didn't have the "bandwidth" to deal with the issue.
---
AG Barr's special Russia investigator obtained BlackBerrys tied to launch of FBI Russia-Trump probe
It was special investigator John Durham who acquired two BlackBerrys used by Joseph Mifsud, the Maltese professor who jumped-started the FBI's long Russia probe into President Trump's campaign.
Sidney Powell, attorney for retired Army Lt. Gen. Michael Flynn, filed a court motion on Monday disclosing the phones' existence while tying them to Western intelligence.
She told The Washington Times on Thursday that she has confirmed that it was Mr. Durham's office who obtained them.
---
'Overrated' James Mattis responds to Trump: 'I earned my spurs on the battlefield'
Former Defense secretary says, 'I guess I'm the Meryl Streep of generals'
Former Defense Secretary James N. Mattis on Thursday responded to President Trump, his former boss, after Mr. Trump reportedly called him the "world's most overrated general" in a meeting with congressional leaders earlier this week.
Speaking at the 74th Annual Alfred E. Smith Memorial Foundation Dinner in New York, Gen. Mattis said he welcomed the label.
"I'm not just an overrated general. I am the greatest — the world's most overrated," he said. "I'm honored to be considered that by Donald Trump because he also called Meryl Streep an overrated actress. So I guess I'm the Meryl Streep of generals, and frankly that sounds pretty good to me."
"And you do have to admit that between me and Meryl, at least we've had some victories," he said.
He said the rating didn't bother him.
---
Modest Changes in Views of Impeachment Proceedings Since Early September
54% approve of House decision to conduct inquiry
Most Americans have not changed their views on whether the House should conduct impeachment proceedings against President Donald Trump since early September, before House Speaker Nancy Pelosi announced that the House would conduct an impeachment inquiry of the president.
But about one-in-ten adults (9%) who had opposed the House opening impeachment proceedings last month now approve of the decision to conduct an impeachment inquiry, based on an analysis that tracks change in opinion among the same survey respondents over time.
Most of those who had opposed opening impeachment proceedings and now approve of the decision are Democrats and Democratic-leaning independents (61%); about a third (32%) are Republicans and Republican leaners.
---
Economic Models Predicting Even Bigger Trump Win in '20
Moody's Analytics economic models have missed just one presidential election since 1980 – when it slighted President Donald Trump in 2016 – and now three are pointing to an even larger Trump victory in 2020.
After all, "the economy, stupid," as James Carville legendarily said.
"If the economy a year from now is the same as it is today, or roughly so, then the power of incumbency is strong and Trump's election odds are very good, particularly if Democrats aren't enthusiastic and don't get out to vote," Moody's chief economist Mark Zandi told CNBC. "It's about turnout."
Moody's three economic models project at least 289 electoral votes for Trump and as many a 351, per Zandi.
---
UK's Johnson Seals Brexit Deal, But Must Now Win Over Parliament
European Union leaders unanimously backed a new Brexit deal with Britain on Thursday, leaving Prime Minister Boris Johnson facing a battle to secure the UK parliament's backing for the agreement if he is to take Britain out of Europe on Oct. 31.
Speaking after the EU's 27 other leaders had endorsed the deal without Johnson in the room, European Commission President Jean-Claude Juncker declared himself pleased that an agreement had been reached but unhappy to see Britain go.
"All in all, I am happy, relieved that we reached a deal," he said. "But I am sad because Brexit is happening."
---
William Barr's right about left's designs on religious freedom
As the Caribbean saying goes, "I chucked a rock in the pen and a pig squealed."
This explains all the frenzied squealing and indignant grunting we heard in response to the speech Attorney General William Barr gave last week to law students at the University of Notre Dame about the increasing hostility toward religious liberty in America.
Mr. Barr raised alarm over "the force, fervor and comprehensiveness of the assault on religion we are experiencing today."
"This is not decay. It is organized destruction," he said.
---
'Watch out Big Tech, here comes Big Brother'
A government hangman could alter the Internet for the worse
The Trump administration has been tough for Big Tech. With accusations of censorship, calls for antitrust action, and endless congressional hearings, the axe hanging over major technology companies like Facebook and Google seems like a permanent fixture these days. But onlookers shouldn't be so quick to cheer on the government hangman. While Big Tech is a convenient scapegoat for the downsides of disruption, Big Brother would alter the Internet permanently for the worse.
On Wednesday, representatives from Google, Reddit, and the Electronic Frontier Foundation appeared before the House Energy and Commerce Committee to defend Section 230 of the Communications Decency Act, a provision that shields platforms from liability for illegal or defamatory content posted by its users. Busybody politicians from both sides of the aisle are increasingly eager to remove this legal cornerstone of the Internet, usually in the name of cracking down on crime and censorship.
---
---
"It is discouraging to think how many people are shocked by honesty and how few by deceit."

-- Noel Coward

(1899-1973) British playwright

---

The Medal of Honor is the highest award for valor in action against an enemy force which can be bestowed upon an individual serving in the Armed Services of the United States.

GeneTrerally presented to its recipient by the President of the United States of America in the name of Congress.

The first award of the Medal of Honor was made March 25, 1863 to Private JACOB PARROTT.The last award of the Medal of Honor was made September 15, 2011 to Sergeant DAKOTA MEYER.

Since then there have been: • 3458 recipients of the Medal of Honor.

• Today there are 85 Living Recipients of the Medal of Honor.

Citation


Captain Humbert R. Versace distinguished himself by extraordinary heroism during the period of 29 October 1963 to 26 September 1965, while serving as S-2 Advisor, Military Assistance Advisory Group, Detachment 52, Ca Mau, Republic of Vietnam. While accompanying a Civilian Irregular Defense Group patrol engaged in combat operations in Thoi Binh District, An Xuyen Province, Captain Versace and the patrol came under sudden and intense mortar, automatic weapons, and small arms fire from elements of a heavily armed enemy battalion. As the battle raged, Captain Versace, although severely wounded in the knee and back by hostile fire, fought valiantly and continued to engage enemy targets. Weakened by his wounds and fatigued by the fierce firefight, Captain Versace stubbornly resisted capture by the over-powering Viet Cong force with the last full measure of his strength and ammunition. Taken prisoner by the Viet Cong, he exemplified the tenets of the Code of Conduct from the time he entered into Prisoner of War status. Captain Versace assumed command of his fellow American soldiers, scorned the enemy's exhaustive interrogation and indoctrination efforts, and made three unsuccessful attempts to escape, despite his weakened condition which was brought about by his wounds and the extreme privation and hardships he was forced to endure. During his captivity, Captain Versace was segregated in an isolated prisoner of war cage, manacled in irons for prolonged periods of time, and placed on extremely reduced ration. The enemy was unable to break his indomitable will, his faith in God, and his trust in the United States of America. Captain Versace, an American fighting man who epitomized the principles of his country and the Code of Conduct, was executed by the Viet Cong on 26 September 1965. Captain Versace's gallant actions in close contact with an enemy force and unyielding courage and bravery while a prisoner of war are in the highest traditions of the military service and reflect the utmost credit upon himself and the United States Army.

---

From the Archives

We Have Met the Enemy…
Geoff Metcalf


"They who can give up essential liberty to obtain a little temporary safety deserve neither liberty nor safety.
--Benjamin Franklin
"The American people must be willing to give up a degree of personal privacy in exchange for safety and security."
--Louis Freeh


In the wake of the clamor over the most recent WikiLeaks data dump, 'Vault 7', 'UMBRAGE', et al, it should be noted this is not really anything new. What we are seeing here is simply the evolution of something that goes back to the late 50s (to the incomplete best knowledge I have).

It is kinda cool to finally see even

The New York Times

acknowledging material

I was writing about in 1998

.

In April of 1998 I wrote "Privacy has become an anachronism." I was commenting on "a massive system designed to intercept all your e-mail, fax traffic and more." I was explaining 'Echelon', the illegitimate offspring of a

UKUSA Treaty

signed by the United States, United Kingdom, Canada, Australia and New Zealand. Its purpose was, and is, to have a vast global intelligence monster, which allegedly shares common goals. The system was so "efficient" that reportedly National Security Agency folk from Fort Meade could work from Menwith Hill in England to intercept local communications without either nation having to burden themselves with the formality of seeking approval (a court order) or disclosing the operation. And this was all pre-9/11 and pre-the anti-constitutional

'Patriot Act'

.

It is illegal (without a Judge's signed permission) for the United States to spy on its citizens … kinda. The laws have long been circumvented by a mutual pact among five nations. Under the terms of UKUSA agreement, Britain spies on Americans and America spies on British citizens, and then the two conspirators trade data. A classic technical finesse. It is legal, but the intent to evade the spirit is inescapable.

I often fictionalized the genesis of 'Echelon' as an informal meeting of a group of post war American and British intelligence types drinking in some remote rustic bar. An imagined CIA type complains to his MI6 buddy about the hassles of US laws preventing US intelligence from surveillance of bad guys, and the Brit echoes the same complaint.

"Hey wait a moment mate," says Nigel, the make-believe MI6 guy, "I can spy on your guys and you can spy on our bad players…why don't we just come up with a mechanism whereby we spy on your villains, you spy on our villains, and we just 'share' the intel?"

This system was called ECHELON, and has been kicking around in some form longer than most of you. The result of the UKUSA treaty signed by the United States, United Kingdom, Canada, Australia and New Zealand was, and is, to have a vast global intelligence monster which allegedly shares common goals.

The London Telegraph reported in December of 1997 that the Civil liberties Committee of the European Parliament had officially confirmed the existence and purpose of ECHELON. "A global electronic spy network that can eavesdrop on every telephone, e-mail and telex communication around the world will be officially acknowledged for the first time in a European Commission report. …"

The report noted: "Within Europe all e-mail, telephone and fax communications are routinely intercepted by the United States National Security Agency, transferring ll target information from the European mainland via the strategic hub of London, then by satellite to Fort Meade in Maryland via the crucial hub at Menwith Hill, in the North York moors in the UK.

"The ECHELON system forms part of the UKUSA system but unlike many of the electronic spy systems developed during the Cold War, ECHELON was designed primarily for non-military targets: governments, organizations and businesses in virtually every country."

An interesting sidebar appeared in the International Herald Tribune under the headline, "Big Corporate Brother: It Knows More About You Than You Think." The story details Acxiom Corp, which was a humongous information service hidden in the Ozark foothills. Twenty-four hours a day, Acxiom electronically gathered and sorts all kinds of data about 196 million Americans. Credit card transactions and magazine subscriptions, telephone numbers, real estate records, automotive data, hunting, business and fishing licenses, consumer surveys and demographic detail that would make a marketing department's research manager salivate. This relatively new (legal) enterprise was known as "data warehousing" or "data-mining", and it underscores the cruel reality that the fiction of personal privacy has become obsolete. Technology's ability to collect and analyze data has made privacy a quaint albeit interesting dinosaur.

The Tribune reported that "Axciom can often determine whether an American owns a dog or cat, enjoys camping or gourmet cooking, reads the Bible or lots of other books. It can often pinpoint an American's occupation, car and favorite vacations. By analyzing the equivalent of billions of pages of data, it often projects for its customers who should be offered a credit card or who is likely to buy a computer."

Most of this information is from y 1998 piece. Echelon has developed, matured, and morphed into a much more powerful hybrid. 'Carnivore' was software to help triage the cacophony of data. Vault 7 and 'Umbrage' are logical (some would argue "insidious") growth.

More to follow…