"It Is Not A Question of Who Is Right Or Wrong But What Is Right Or Wrong That Counts.

"

--Geoff Metcalf
Providing an on line Triage of the news since 1997



Wo

rld & Nation
Operation Warp Speed Official: Vaccine Distribution May Start Next Month
Gen. Gustave Perna of the Trump administration's Operation Warp Speed vaccine program says about 40 million doses could be ready for distribution in the U.S. quickly if the Food and Drug Administration authorizes emergency use.
He told ABC's "Good Morning America" on Friday that states would decide, with guidance from the FDA and the CDC, who will first get the vaccine.
Pfizer is asking the FDA to allow emergency use of its COVID-19 vaccine candidate, starting a process that could bring the first shots as early as next month. Pfizer and its German partner BioNTech offered preliminary data to suggest its vaccine appears 95% protective.
Perna says the "states are going to tell us exactly where they want it to be...and as soon as they figure out their distribution plan across their states, we will ensure that the vaccine gets there in a timely manner."
---
Pollsters harmed Trump with bad guesses on GOP turnout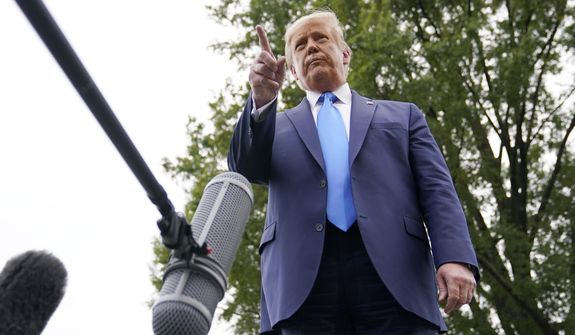 When it comes to political polling, weight matters.
The pollsters who badly missed the national vote, giving Joseph R. Biden a double-digit lead in the final week, are the ones who generally did not "weight" the sample's voters or underestimated Republican turnout, an examination by The Washington Times shows.
Instead, some firms went with how the surveyed voters identified themselves by party with no adjustment, or "weight," based on previous elections. In 2016, Republicans accounted for 33% of the vote. But some 2020 polls predicted less than 30%. The actual 2020 GOP turnout: 36%.
---
Democrats propose DHS overhaul to fix 'cruel' Trump policies
House Democrats announced new legislation Friday to overhaul Homeland Security in the wake of what they cast as President Trump's abuse of the department.
The new legislation would require formal notice to Congress when department deploys police to protect federal property, as was done in Portland, Oregon, and other cities during this year's riots. And it would put new limits on who could be named to acting positions at the department, pushing back on Mr. Trump's approach of altering rules to install his preferred people.
House Homeland Security Committee Democrats also proposed a new senior position, an associate secretary, who would be the No. 3 official behind the secretary and the deputy secretary, and who would have unified authority over the department's law enforcement agencies, including ICE, the Border Patrol and Secret Service.
---
Biden eyes lawsuit to force Trump cooperation with transition team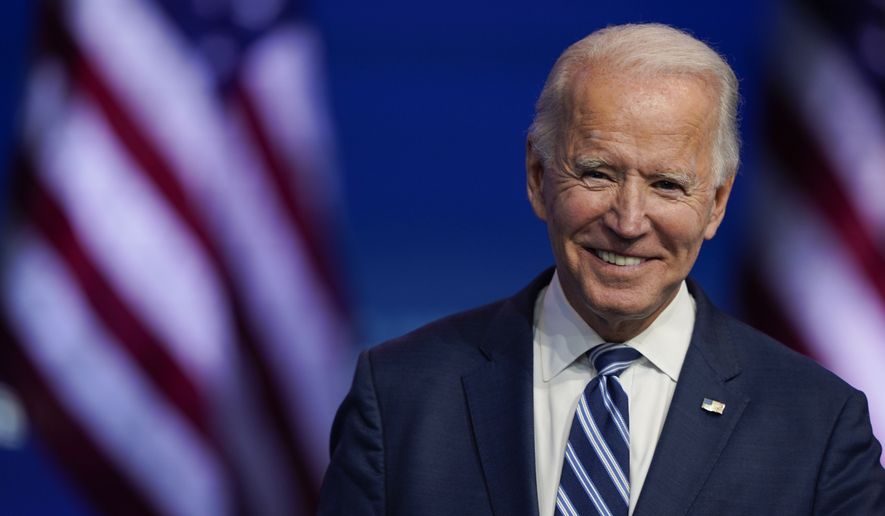 Presumptive President-elect Joseph R. Biden is considering legal action to initiate the transition process, as the president has not conceded the election and instead has doubled down on legal challenges in a handful of battleground states.
The Biden campaign has been exploring all options — including legal options — to pressure the General Services Administration to formally recognize Mr. Biden's win, so the transition process can begin.
Mr. Biden is still considering court action, though he said the country would be better off without more litigation.
---
Trump lawyers lay out voter fraud cases in Pennsylvania, Michigan, Wisconsin
President Trump's legal team accused Democrats and election officials Thursday of widespread voter fraud that, if rectified, would flip the projected outcome of the Nov. 3 election to a victory for the president.
The president's attorneys said Democrat-run cities mounted a coordinated effort to disadvantage Republican voters. They also said voting machines used in more than two dozen states were manipulated to trash votes for Mr. Trump and boost presumptive President-elect Joseph R. Biden.
"This is a massive, well-funded, coordinated effort," Sydney Powell, one of the president's attorneys, said at a press conference in Washington. "It is of the greatest concern. It is the 1775 of our generation and beyond."
---
Michigan Republicans file articles of impeachment against Gretchen Whitmer
Three Republican lawmakers in Michigan filed articles of impeachment Thursday against Gov. Gretchen Whitmer, accusing her of violating the state constitution and abusing her powers.
Reps. Beau LaFave, Matt Maddock and Daire Rendon said the state's Democratic chief executive had committed crimes and misdemeanors via her lockdown orders and her legal and enforcement action related to them.
"She has exceeded her constitutional authority, violated the constitutional rights of the people of Michigan, issued orders that are not in the best interests of the people of this state, and used the Pandemic as an opportunity to reward political allies," the resolution states, according to a report Thursday by Kalamazoo TV station WWMT.
---
Second stimulus check: GOP will move forward with stimulus once Trump exits, Biden says
Congress will be more likely to negotiate on a second coronavirus relief package after President Trump leaves office in January, president-elect Joe Biden said Wednesday.
Speaking to a group of frontline workers, Biden said he thought Republicans would move forward with the bill – likely to include another round of direct payments to the public – once they no longer fear "retribution from the president."
"Hopefully, when he's gone, they will be more willing to do what they know should be done - has to be done - in order to save the communities they live in," Biden said.
There is no indication, however, that the two sides are advancing any negotiations. At issue is the price tag, with Democrats pushing for as much as $2.2 trillion while the White House offered $1.9 trillion. Senate Leader Mitch McConnell, R-Ky., wants that sliced to around $500 billion.
---
Who Will Succeed Mayor de Blasio? New York's Future May Ride on the Answer
The pandemic has reshaped the 2021 mayoral race, with the city's economic and health challenges casting a shadow over social justice issues.
As much of New York City was consumed by the presidential election, a campaign for another critical race was already underway.
Several mayoral candidates made a pilgrimage to Richard Ravitch, seeking his support and advice on confronting the city's economic crisis. Mr. Ravitch, who helped save the city from bankruptcy in the 1970s, has made no endorsement, but Raymond J. McGuire, a Citigroup executive, seemed to have the inside track.
Nearly a dozen Democratic candidates are set to compete in June's mayoral primary, a free-for-all that may be the city's most consequential in a generation.
---
Mnuchin Wants Congress to Unlock $580B for US Economy
Treasury Secretary Steven Mnuchin said lawmakers should redirect unspent stimulus funding, including money he is pulling back from the Federal Reserve, to buoy the economy as the U.S. waits for a coronavirus vaccine.
"I hope that Congress will seriously consider reallocating $580 billion of funds that have already been appropriated that wouldn't cost taxpayers an additional penny," he said in a phone interview Thursday.
Earlier in the day, Mnuchin requested the return of unused funds from the Fed's emergency pandemic lending program, triggering pushback from the central bank, which said the programs served a vital role.
---
Birthday Time: Biden Turns 78, Will Be Oldest US President
Joe Biden turned 78 on Friday. In two months, he is expected to take the reins of a politically fractured nation facing the worst public health crisis in a century, high unemployment, and a reckoning on racial injustice.
As he wrestles with those issues, Biden will be attempting to accomplish another feat: demonstrate to Americans that age is but a number and he's up to the job.
Biden will be sworn in as the oldest president in the nation's history, displacing Ronald Reagan, who left the White House in 1989 when he was 77 years and 349 days old.
---
After years of Democrats' lectures, it turns out that hate wins
Opinion warnings before burning in hell
Hate wins.
Ask yourself, do you know a single person who braved the mailbox this year to cast a mail-in ballot for Joseph R. Biden because they absolutely loved him? Do you know a single person who was so enthralled with Mr. Biden's five decades collecting a federal paycheck in Washington that they just HAD to vote for the guy?
About 140 million Americans — including some number of dead people, more than a few electronic "glitches" and possibly some aliens as well as invisible voters — showed up to vote in this year's election. Roughly half of them showed up because they LOVE President Trump.
The other half was motivated entirely by pure hatred for Mr. Trump.
---
How Trump won in 2016 -- and then got taken down in 2020
"One man operation" strategy for presidential win was unsustainable in latest election
Donald Trump's victory in 2016 was essentially a "one man operation" — and as such he attracted a bunch of very young Capitol Hill staffers who worked for free and were unknown in senior D.C. policy circles. This seemed especially true in the national security, intelligence and foreign affairs areas.
Only a few of these initial "volunteers" remain anywhere in government, however some have managed to "burrow in" and will probably stay as long as they can remain undiscovered. What they mostly excelled with, however, were the skills they learned on Capitol Hill. And that was restricting access — called "door keeping" — to anyone who might know more about a particular subject than they did. And this was most anyone with any "real experience" who wanted to join the Trump team. Result? Very few well-qualified or experienced national security people actually "got in the room."
As a generalized result, the initial "Trump national security team" distinguished itself as probably the least capable and experienced of any in modern times.
---
" It is discouraging to think how many people are shocked by honesty and how few by deceit."

-- Noel Coward

(1899-1973) British playwright

---

The Medal of Honor is the highest award for valor in action against an enemy force which can be bestowed upon an individual serving in the Armed Services of the United States.

GeneTrerally presented to its recipient by the President of the United States of America in the name of Congress.

The first award of the Medal of Honor was made March 25, 1863 to Private JACOB PARROTT.The last award of the Medal of Honor was made September 15, 2011 to Sergeant DAKOTA MEYER.

Since then there have been: • 3458 recipients of the Medal of Honor.

• Today there are 85 Living Recipients of the Medal of Honor.

Citation


Captain Humbert R. Versace distinguished himself by extraordinary heroism during the period of 29 October 1963 to 26 September 1965, while serving as S-2 Advisor, Military Assistance Advisory Group, Detachment 52, Ca Mau, Republic of Vietnam. While accompanying a Civilian Irregular Defense Group patrol engaged in combat operations in Thoi Binh District, An Xuyen Province, Captain Versace and the patrol came under sudden and intense mortar, automatic weapons, and small arms fire from elements of a heavily armed enemy battalion. As the battle raged, Captain Versace, although severely wounded in the knee and back by hostile fire, fought valiantly and continued to engage enemy targets. Weakened by his wounds and fatigued by the fierce firefight, Captain Versace stubbornly resisted capture by the over-powering Viet Cong force with the last full measure of his strength and ammunition. Taken prisoner by the Viet Cong, he exemplified the tenets of the Code of Conduct from the time he entered into Prisoner of War status. Captain Versace assumed command of his fellow American soldiers, scorned the enemy's exhaustive interrogation and indoctrination efforts, and made three unsuccessful attempts to escape, despite his weakened condition which was brought about by his wounds and the extreme privation and hardships he was forced to endure. During his captivity, Captain Versace was segregated in an isolated prisoner of war cage, manacled in irons for prolonged periods of time, and placed on extremely reduced ration. The enemy was unable to break his indomitable will, his faith in God, and his trust in the United States of America. Captain Versace, an American fighting man who epitomized the principles of his country and the Code of Conduct, was executed by the Viet Cong on 26 September 1965. Captain Versace's gallant actions in close contact with an enemy force and unyielding courage and bravery while a prisoner of war are in the highest traditions of the military service and reflect the utmost credit upon himself and the United States Army.

---

From the Archives

We Have Met the Enemy…
Geoff Metcalf


"They who can give up essential liberty to obtain a little temporary safety deserve neither liberty nor safety.
--Benjamin Franklin
"The American people must be willing to give up a degree of personal privacy in exchange for safety and security."
--Louis Freeh


In the wake of the clamor over the most recent WikiLeaks data dump, 'Vault 7', 'UMBRAGE', et al, it should be noted this is not really anything new. What we are seeing here is simply the evolution of something that goes back to the late 50s (to the incomplete best knowledge I have).

It is kinda cool to finally see even

The New York Times

acknowledging material

I was writing about in 1998

.

In April of 1998 I wrote "Privacy has become an anachronism." I was commenting on "a massive system designed to intercept all your e-mail, fax traffic and more." I was explaining 'Echelon', the illegitimate offspring of a

UKUSA Treaty

signed by the United States, United Kingdom, Canada, Australia and New Zealand. Its purpose was, and is, to have a vast global intelligence monster, which allegedly shares common goals. The system was so "efficient" that reportedly National Security Agency folk from Fort Meade could work from Menwith Hill in England to intercept local communications without either nation having to burden themselves with the formality of seeking approval (a court order) or disclosing the operation. And this was all pre-9/11 and pre-the anti-constitutional

'Patriot Act'

.

It is illegal (without a Judge's signed permission) for the United States to spy on its citizens … kinda. The laws have long been circumvented by a mutual pact among five nations. Under the terms of UKUSA agreement, Britain spies on Americans and America spies on British citizens, and then the two conspirators trade data. A classic technical finesse. It is legal, but the intent to evade the spirit is inescapable.

I often fictionalized the genesis of 'Echelon' as an informal meeting of a group of post war American and British intelligence types drinking in some remote rustic bar. An imagined CIA type complains to his MI6 buddy about the hassles of US laws preventing US intelligence from surveillance of bad guys, and the Brit echoes the same complaint.

"Hey wait a moment mate," says Nigel, the make-believe MI6 guy, "I can spy on your guys and you can spy on our bad players…why don't we just come up with a mechanism whereby we spy on your villains, you spy on our villains, and we just 'share' the intel?"

This system was called ECHELON, and has been kicking around in some form longer than most of you. The result of the UKUSA treaty signed by the United States, United Kingdom, Canada, Australia and New Zealand was, and is, to have a vast global intelligence monster which allegedly shares common goals.

The London Telegraph reported in December of 1997 that the Civil liberties Committee of the European Parliament had officially confirmed the existence and purpose of ECHELON. "A global electronic spy network that can eavesdrop on every telephone, e-mail and telex communication around the world will be officially acknowledged for the first time in a European Commission report. …"

The report noted: "Within Europe all e-mail, telephone and fax communications are routinely intercepted by the United States National Security Agency, transferring ll target information from the Eurv opean mainland via the strategic hub of London, then by satellite to Fort Meade in Maryland via the crucial hub at Menwith Hill, in the North York moors in th UK.

"The ECHELON system forms part of the UKUSA system but unlike many of the electronic spy systems developed during the Cold War, ECHELON was designed primarily for non-military targets: governments, organizations and businesses in virtually every country."

An interesting sidebar appeared in the International Herald Tribune under the headline, "Big Corporate Brother: It Knows More About You Than You Think." The story details Acxiom Corp, which was a humongous information service hidden in the Ozark foothills. Twenty-four hours a day, Acxiom electronically gathered and sorts all kinds of data about 196 million Americans. Credit card transactions and magazine subscriptions, telephone numbers, real estate records, automotive data, hunting, business and fishing licenses, consumer surveys and demographic detail that would make a marketing department's research manager salivate. This relatively new (legal) enterprise was known as "data warehousing" or "data-mining", and it underscores the cruel reality that the fiction of personal privacy has become obsolete. Technology's ability to collect and analyze data has made privacy a quaint albeit interesting dinosaur.

The Tribune reported that "Axciom can often determine whether an American owns a dog or cat, enjoys camping or gourmet cooking, reads the Bible or lots of other books. It can often pinpoint an American's occupation, car and favorite vacations. By analyzing the equivalent of billions of pages of data, it often projects for its customers who should be offered a credit card or who is likely to buy a computer."

Most of this information is from y 1998 piece. Echelon has developed, matured, and morphed into a much more powerful hybrid. 'Carnivore' was software to help triage the cacophony of data. Vault 7 and 'Umbrage' are logical (some would argue "insidious") growth.

More to follow…