"It Is Not A Question of Who Is Right Or Wrong But What Is Right Or Wrong That Counts.

"

--Geoff Metcalf
Providing an on line Triage of the news since 1997
Wo
rld & Nation
China Carried Out 'Combat Readiness Patrol' as US Lawmakers Visited Taipei
China's military carried out "combat readiness" patrols in the direction of the Taiwan Strait on Friday as a U.S. Congressional delegation made a surprise visit to Taipei, offering strong support to the Chinese-claimed, democratically governed island.
The five members of the U.S. House of Representatives arrived in Taiwan on Thursday night for a previously unannounced two-day trip, the second time in a month U.S. lawmakers have visited.
As with the last visit, China's military announced the patrols in the vicinity of the narrow and sensitive Taiwan Strait that separates the island from its giant neighbor.
---
Dow drops 900 points as new Covid variant sparks market sell-off
U.S. stock dropped sharply on Friday as a new Covid variant found in South Africa triggered a global shift away from from risk assets.
The Dow Jones Industrial Average dropped 900 points, or 2.5%, while the S&P 500 and Nasdaq Composite slid 1.8% and 1.5%, respectively. Friday is a shortened trading day because of the Thanksgiving holiday with U.S. markets closing at 1 p.m. ET.
The downward moves came after WHO officials on Thursday warned of a new Covid-19 variant that's been detected in South Africa. The new variant contains more mutations to the spike protein, the component of the virus that binds to cells, than the highly contagious Delta variant. Because of these mutations, scientists fear it could have increased resistance to vaccines, though WHO said further investigation is needed.
The United Kingdom temporarily suspended flights from six African countries due to the variant. Israel barred travel to several nations after reporting one case in a traveler. Two cases were identified in Hong Kong. Belgium also confirmed a case.
---
WHO to debate dangerous South Africa coronavirus variant with 'many mutations'
European countries set up travel bans amid fears it will poke through COVID-19 vaccines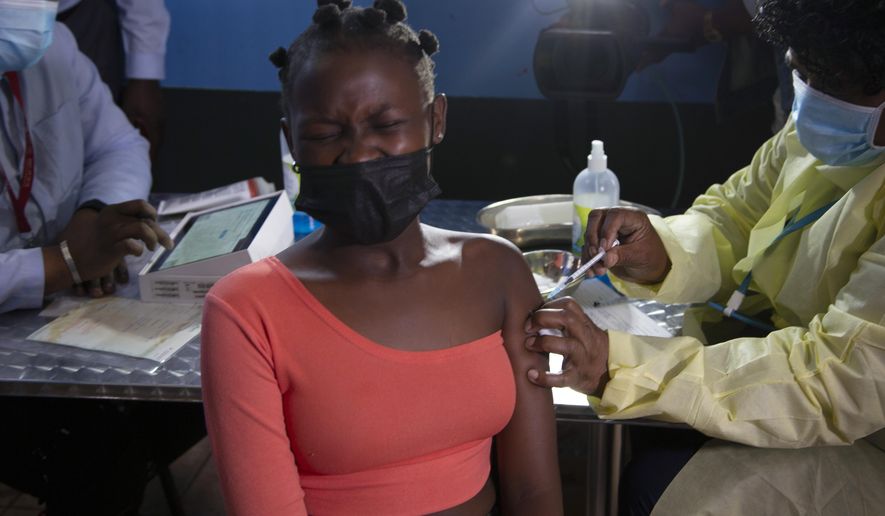 The World Health Organization will meet Friday to discuss what an alarming coronavirus variant with a "large number of mutations" could mean for COVID-19 vaccines and treatments as European countries started to ban flights from South Africa and surrounding nations.
The variant known as B.1.1.529 was detected in small numbers in Johannesburg, South Africa, and nearby nations, but the globe has been burned by variants before, notably delta, and cannot afford a setback in the pandemic fight. Hong Kong detected two cases of the variant and Belgium reported one, making it the first in Europe.
Professor Tulio de Oliveira, the director of the Center for Epidemic Response and Innovation in Africa, said in a news briefing Thursday the variant has "many more mutations than we have expected," including more than 30 in the spike protein the virus uses to hack into human cells.
---
Biden dogged by decision to kill Keystone XL pipeline as gas prices soar
TC Energy moves ahead with $15 billion claim over revoked permit
President Biden's decision to nix the Keystone XL pipeline has come under renewed fire as the administration struggles with rising consumer frustration over skyrocketing gas prices.
Sen. Joe Manchin III, West Virginia Democrat, made another plea for Mr. Biden to reverse his Jan. 20 executive order revoking the $8 billion pipeline expansion after the president announced Tuesday he would release 50 million barrels from the Strategic Petroleum Reserve.
Meanwhile, Republicans were quick to connect the dots between the scuttled fossil-fuel project and the pain at the pump.
---
Tea Party Patriots go local with candidate-training classes for school board, county council races
Tea Party Patriots plan to help conservative candidates win county and municipal elections next year similar to the way the group helped usher in a new class of Republicans in Congress a decade ago.
The grassroots group is teaming with American Majority, a conservative training organization, to offer workshops in seven states between November and February: Arizona, California, Colorado, Florida, Georgia, Ohio and Pennsylvania.
Tea Party Patriots co-founder Jenny Beth Martin said the training is designed for people running for municipal offices, such as mayors and city officials, and builds upon nationwide backlash against COVID-19 mandates and public school policies.
The classes are organized around a simple message of stopping liberal politics in schools and public health policies that go too far, Ms. Martin said.
---
NATO Chief Warns Russia of 'Costs' If It Moves on Ukraine
NATO Secretary-General Jens Stoltenberg warned Russia Friday that any attempt to invade Ukraine would have costs, as concern mounts about a Russian military buildup near its former Soviet neighbor's borders.
Ukraine says Moscow kept about 90,000 troops near their common border following massive war games in western Russia earlier this year. The Ukrainian Defense Ministry said units of the Russian 41st army remain near Yelnya, about 260 kilometers (160 miles) north of the border.
Moscow denies that it's planning any invasion and refuses to provide details about troop movements on its own territory.
---
Biden's infrastructure bill poses major test for Trump voters in deep-red West Virginia
Infrastructure spending, long an issue that has drawn bipartisan support on Capitol Hill, is shaping up to be a clear dividing line in an upcoming congressional primary for one of the nation's most Republican districts.
In West Virginia's newly drawn 2nd Congressional District, two incumbent GOP lawmakers are preparing for a heated primary campaign after their seats were drawn together because of redistricting. The two lawmakers, Reps. David McKinley and Alex Mooney, differ strongly in political style and background.
Those differences culminated earlier this month when President Biden's $1.2 trillion bipartisan infrastructure package ran into trouble with far-left Democrats.
---
ICE arrests plummeted under Biden guidance; officers averaged an arrest every two months
ICE authorized just 20,858 arrests in the six months after the Biden administration announced new rules restricting which illegal immigrants could be targeted — or an average of just one arrest every two months for each deportation officer.
That's down exponentially from the Trump years, when the rate averaged two arrests each month, and it's even worse compared to the peak Obama years, when the ratio was about four arrests each month.
But even though U.S. Immigration and Customs Enforcement says it's catching fewer people overall, it's arresting more aggravated felons, which ICE says is proof the new rules are working to allow officers to focus on the most valuable targets.
In 5½ months after the Feb. 18 issuance of the new rules, ICE recorded 6,046 arrests of aggravated felons, compared to 3,575 during the pandemic-stricken 2020.
---
More Top News
---
Right flight and the 'Gunshine State'
Florida's DeSantis should push his GOP supermajority to repeal the state's gun control regime
Americans – tired of riots and woke politics, poorer from high taxes and increasingly unconstitutional regulations, huddled together as they flee crime and COVID-19 lockdowns, and yearning to breathe free from masks and mandates – are pouring into Florida.
A recent study in the Sunshine State-based James Madison Institute's (JMI) Journal noted that almost 1,000 people a day are moving to Florida at least in part to escape high taxes, spiking crime rates, and coronavirus craziness elsewhere. Moreover, the JMI study found, the state's GOP voter registration just hit a historic high relative to Democrats, a hint these new Floridians probably aren't bringing their former states' politics along with them.
After all, Florida made headlines the way it pushed back against the riots last year—riots that helped to put at least six million more guns in Americans' hands. That means those who move to the state have something else to lose in voting for leftists besides their money.
---
Tragedy in Waukesha should remind us of the most important things in our lives
"You need to call your mother," my wife Tonette said to me, "Something happened at the Waukesha Christmas Parade." I quickly looked online and saw that a red sports utility vehicle (SUV) had plowed through the streets of downtown Waukesha during the annual event.
My mother loves to watch the Christmas Parade as it is in her neighborhood, and she loves parades. I swear that my mom and dad went to nearly every parade I've been in — from my time as a Cub Scout to the high band and the football team to campaigns for State Assembly, County Executive, and Governor. They are parade groupies.
When I spoke with her on Sunday, she explained that she watched the parade and this red vehicle came racing by her seat. She was upset as she thought that the driver could hit someone along the parade route. As it was cold, she was already starting to head home.
---
" It is discouraging to think how many people are shocked by honesty and how few by deceit."

-- Noel Coward

(1899-1973) British playwright

---

The Medal of Honor is the highest award for valor in action against an enemy force which can be bestowed upon an individual serving in the Armed Services of the United States.

GeneTrerally presented to its recipient by the President of the United States of America in the name of Congress.

The first award of the Medal of Honor was made March 25, 1863 to Private JACOB PARROTT.The last award of the Medal of Honor was made September 15, 2011 to Sergeant DAKOTA MEYER.

Since then there have been: • 3458 recipients of the Medal of Honor.

• Today there are 85 Living Recipients of the Medal of Honor.

Citation


Captain Humbert R. Versace distinguished himself by extraordinary heroism during the period of 29 October 1963 to 26 September 1965, while serving as S-2 Advisor, Military Assistance Advisory Group, Detachment 52, Ca Mau, Republic of Vietnam. While accompanying a Civilian Irregular Defense Group patrol engaged in combat operations in Thoi Binh District, An Xuyen Province, Captain Versace and the patrol came under sudden and intense mortar, automatic weapons, and small arms fire from elements of a heavily armed enemy battalion. As the battle raged, Captain Versace, although severely wounded in the knee and back by hostile fire, fought valiantly and continued to engage enemy targets. Weakened by his wounds and fatigued by the fierce firefight, Captain Versace stubbornly resisted capture by the over-powering Viet Cong force with the last full measure of his strength and ammunition. Taken prisoner by the Viet Cong, he exemplified the tenets of the Code of Conduct from the time he entered into Prisoner of War status. Captain Versace assumed command of his fellow American soldiers, scorned the enemy's exhaustive interrogation and indoctrination efforts, and made three unsuccessful attempts to escape, despite his weakened condition which was brought about by his wounds and the extreme privation and hardships he was forced to endure. During his captivity, Captain Versace was segregated in an isolated prisoner of war cage, manacled in irons for prolonged periods of time, and placed on extremely reduced ration. The enemy was unable to break his indomitable will, his faith in God, and his trust in the United States of America. Captain Versace, an American fighting man who epitomized the principles of his country and the Code of Conduct, was executed by the Viet Cong on 26 September 1965. Captain Versace's gallant actions in close contact with an enemy force and unyielding courage and bravery while a prisoner of war are in the highest traditions of the military service and reflect the utmost credit upon himself and the United States Army.

---

From the Archives

We Have Met the Enemy…
Geoff Metcalf


"They who can give up essential liberty to obtain a little temporary safety deserve neither liberty nor safety.
--Benjamin Franklin
"The American people must be willing to give up a degree of personal privacy in exchange for safety and security."
--Louis Freeh


In the wake of the clamor over the most recent WikiLeaks data dump, 'Vault 7', 'UMBRAGE', et al, it should be noted this is not really anything new. What we are seeing here is simply the evolution of something that goes back to the late 50s (to the incomplete best knowledge I have).

It is kinda cool to finally see even

The New York Times

acknowledging material

I was writing about in 1998

.

In April of 1998 I wrote "Privacy has become an anachronism." I was commenting on "a massive system designed to intercept all your e-mail, fax traffic and more." I was explaining 'Echelon', the illegitimate offspring of a

UKUSA Treaty

signed by the United States, United Kingdom, Canada, Australia and New Zealand. Its purpose was, and is, to have a vast global intelligence monster, which allegedly shares common goals. The system was so "efficient" that reportedly National Security Agency folk from Fort Meade could work from Menwith Hill in England to intercept local communications without either nation having to burden themselves with the formality of seeking approval (a court order) or disclosing the operation. And this was all pre-9/11 and pre-the anti-constitutional

'Patriot Act'

.

It is illegal (without a Judge's signed permission) for the United States to spy on its citizens … kinda. The laws have long been circumvented by a mutual pact among five nations. Under the terms of UKUSA agreement, Britain spies on Americans and America spies on British citizens, and then the two conspirators trade data. A classic technical finesse. It is legal, but the intent to evade the spirit is inescapable.

I often fictionalized the genesis of 'Echelon' as an informal meeting of a group of post war American and British intelligence types drinking in some remote rustic bar. An imagined CIA type complains to his MI6 buddy about the hassles of US laws preventing US intelligence from surveillance of bad guys, and the Brit echoes the same complaint.

"Hey wait a moment mate," says Nigel, the make-believe MI6 guy, "I can spy on your guys and you can spy on our bad players…why don't we just come up with a mechanism whereby we spy on your villains, you spy on our villains, and we just 'share' the intel?"

This system was called ECHELON, and has been kicking around in some form longer than most of you. The result of the UKUSA treaty signed by the United States, United Kingdom, Canada, Australia and New Zealand was, and is, to have a vast global intelligence monster which allegedly shares common goals.

The report noted: "Within Europe all e-mail, telephone and fax communications are routinely intercepted by the United States National Security Agency, transferring ll target information from the Eurv opean mainland via the strategic hub of London, then by satellite to Fort Meade in Maryland via the crucial hub at Menwith Hill, in the North York moors in th UK.

"The ECHELON system forms part of the UKUSA system but unlike many of the electronic spy systems developed during the Cold War, ECHELON was designed primarily for non-military targets: governments, organizations and businesses in virtually every country."

An interesting sidebar appeared in the International Herald Tribune under the headline, "Big Corporate Brother: It Knows More About You Than You Think." The story details Acxiom Corp, which was a humongous information service hidden in the Ozark foothills. Twenty-four hours a day, Acxiom electronically gathered and sorts all kinds of data about 196 million Americans. Credit card transactions and magazine subscriptions, telephone numbers, real estate records, automotive data, hunting, business and fishing licenses, consumer surveys and demographic detail that would make a marketing department's research manager salivate. This relati vely new (legal) enterprise was known as "data warehousing" or "data-mining", and it underscores the cruel reality that the fiction of personal privacy has become obsolete. Technology's ability to collect and analyze data has made privacy a quaint albeit interesting dinosaur.

The Tribune reported that "Axciom can often determine whether an American owns a dog or cat, enjoys camping or gourmet cooking, reads the Bible or lots of other books. It can often pinpoint an American's occupation, car and favorite vacations. By analyzing the equivalent of billions of pages of data, it often projects for its customers who should be offered a credit card or who is likely to buy a computer."

Most of this information is from y 1998 piece. Echelon has developed, matured, and morphed into a much more powerful hybrid. 'Carnivore' was software to help triage the cacophony of data. Vault 7 and 'Umbrage' are logical (some would argue "insidious") growth.

More to follow…