Friday May 19th, 2017
"It Is Not A Question of Who Is Right Or Wrong But What Is Right Or Wrong That Counts.
"
--Geoff Metctalf
---
Updated
hrs

Wo
rld & National
"The Press was protected so that it could bare the secrets of the government and inform the people. Only a free and unrestrained press can effectively expose deception in government. And paramount among the responsibilities of a free press is the duty to prevent any part of the government from deceiving the people."


-- Justice Hugo L. Black
(1886-1971) US Supreme Court Justice

A necessary moment for Anthony Weiner
He was a congressman, he was a sexter.
He was a mayoral candidate, he was a sexter.
He was the subject of a cringing documentary, he was a sexter.
He was ultimately the owner of a computer seized by the FBI for sexting that ended up playing a massive role in the 2016 presidential election. He was the husband of one of Hillary Clinton's trusted aides, now he's her ex-husband.
And now, Anthony Weiner will officially have a criminal record. The New York Times, citing an unnamed source, reported that Weiner will plead guilty Friday for a single charge of sending obscene material to a minor.
Ex- Secret Service Agent Sentenced to 20 Years for Sexting
Prosecutors want 2 years for Weiner

---
Russian election meddling probe now a criminal investigation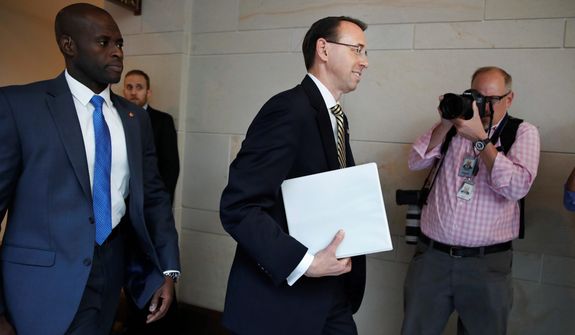 The Justice Department's look at Russian meddling in the presidential election has turned from a counterintelligence investigation into a criminal probe, leading senators said Thursday as they emerged from a secret briefing with Deputy Attorney General Rod Rosenstein.
Addressing lawmakers a day after he appointed a special counsel to head the investigation, Mr. Rosenstein also confirmed that he knew President Trump was going to fire FBI Director James B. Comey even before the president tasked the deputy attorney general with writing a memo justifying the ouster.
Mr. Rosenstein said he has given the special counsel, Robert Mueller, a former FBI director, full independence to pursue his probe and will ensure the investigation has the resources it needs as it looks into Trump campaign aides' alleged dealings with Russian operatives.
---
Special counsel's Russia probe may limit congressional access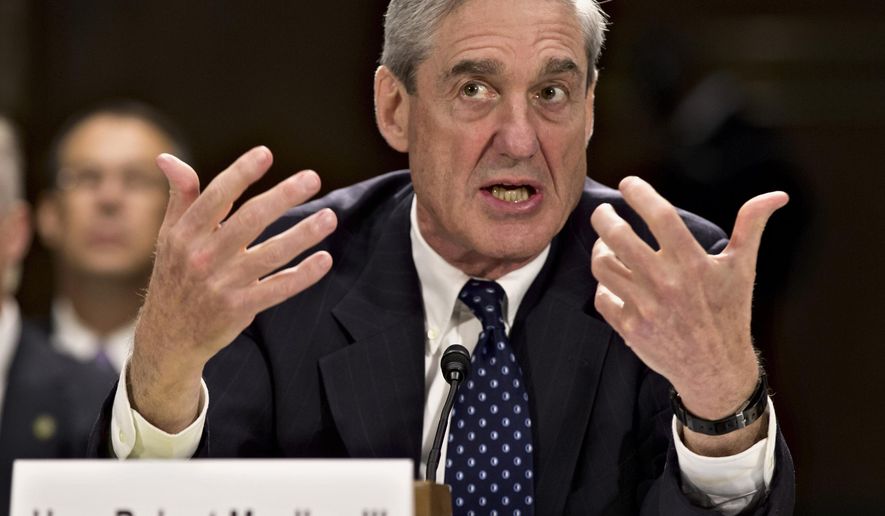 Newly appointed special counsel Robert Mueller's investigation of Russian meddling in the 2016 presidential election will likely hamper Congress' ability to conduct parallel probes, according to senators and former FBI officials.
Emerging from a closed-door briefing Thursday with Deputy Attorney General Rod Rosenstein, Sen. Lindsey Graham said he came away with the understanding that Mr. Mueller's probe will be treated "as if it may be a criminal investigation."
That means congressional committees might have a tough time getting witnesses to testify or obtaining access to other evidence.
---
Worldwide effort set to keep Trump happy on 1st trip aborad
When President Donald Trump sits down for dinner in Saudi Arabia, caterers have ensured that his favorite meal - steak with a side of ketchup - will be offered alongside the traditional local cuisine.
At NATO and the Group of 7 summits, foreign delegations have gotten word that the new U.S. president prefers short presentations and lots of visual aids. And at all of Trump's five stops on his first overseas trip, his team has spent weeks trying to build daily downtime into his otherwise jam-packed schedule.
It's all part of a worldwide effort to accommodate America's homebody president on a voyage with increasingly raised stakes given the ballooning controversy involving his campaign's possible ties to Russia. For a former international businessman, Trump simply doesn't have an affinity for much international.
---
Netanyahu Seeks 'Dirty Harry' Moment With Iran as Trump Arrives
Israeli Prime Minister Benjamin Netanyahu wants to persuade President Donald Trump to impose tough new sanctions on Iran for threatening Israel with ballistic missiles and bankrolling terrorism, a close adviser said.
The restrictions would aim to inflict damage in the same way that blocking money transfers did before Iran signed the 2015 agreement to curtail its nuclear program, said Michael Oren, a deputy cabinet minister to Netanyahu and his former ambassador to the U.S. The Israeli leader was among the most outspoken opponents of the deal and relishes the prospect of renewed confrontation if Iran violates its terms, he said.
---
Obama's State Department made U.S. participation vital to Paris climate pact
Newly released documents show just how badly the State Department wanted to get the U.S. into — and now to remain a party to — the Paris climate agreement that President Trump opposed in his campaign.
As Mr. Trump meets next week with other world leaders at the Group of Seven summit, the emails and cables underscore how the Obama administration's State Department consulted with outside liberal groups and other allies to push the deal across the finish line.
The documents were released after legal prodding by Chris Horner, a lawyer and a senior fellow at the Energy and Environment Legal Institute, amid an ongoing fight inside the administration over whether to exit the deal, which commits the U.S. to significant greenhouse gas emissions reductions over the next decade.
---
'I don't forgive or forget'
Julian Assange complains he has unfairly missed seven years of his children growing up due to his 'detention' as Sweden drops rape probe - but does not exonerate him
WikiLeaks founder Julian Assange has complained he has unfairly missed seven years of his children growing up due to his 'detention' after Sweden dropped its rape probe against him.
The 45-year-old said 'I do not forgive or forget' hours after Sweden's top prosecutor, Marianne Ny, said the investigation had been 'discontinued' having effectively become a lost cause.
Assange, who denies the 2010 rape claims, has been living inside the Ecuadorian Embassy in London for almost five years and has been granted political asylum.
This afternoon he tweeted: 'Detained for 7 years without charge while my children grew up and my name was slandered. I do not forgive or forget.'
---
Iranians Vote in Election Seen in the West as a Verdict on Nuclear Accord
Iranians lined up at polling places on Friday to cast ballots in a crucial election that pits President Hassan Rouhani, a professed moderate who has pursued better relations with the West, against Ebrahim Raisi, a hard-liner.
The election is also being interpreted in the West as a gauge of support for the 2015 accord Iran reached with six nations, including the United States, to limit its nuclear program. For Iranians, though, the economy and freedom of expression seem to be bigger issues.
---
Russia: US strikes on pro-regime forces in Syria 'totally unacceptable'
Russia has condemned a series of US coalition airstrikes on a military convoy allied with President Bashar al-Assad in Syria as "totally unacceptable."
Russian Deputy Foreign Minister Gennady Gatilov hit out at the attack Friday, according to state news agency RIA-Novosti.
"Any military actions leading to the aggravation of the situation in Syria definitely affect the political process, especially if such actions are committed against the Syrian armed forces," Gatilov is quoted as saying. "This is totally unacceptable; it is a violation of Syrian sovereignty."
---
Trump Says He's 'Very Close' to Naming an FBI Director
President Donald Trump says he is "very close" to naming a new FBI director.
An announcement could come Friday, the soft deadline Trump set for himself. The president departs Friday on his inaugural overseas trip, a four-country, five-stop journey tour of the Middle East and Europe that will keep him out of the country for more than a week.
"We're very close to an FBI director," Trump said Thursday when asked about the search during an Oval Office appearance with Colombian President Juan Manuel Santos. He said an announcement could come "soon" and that former Sen. Joe Lieberman was among his top candidates.
---
Destroying Donald Trump is all that matters in the newsrooms of the mainstream media
Now anything goes. All restraints are loosened, all self-discipline trashed. There's no cure or even treatment for Trump Derangement Syndrome, a disease as wild and as swiftly lethal as anything imported from the Ebola River valley of the dark continent. The rules and taboos that once guided even the sleaziest excuse for a newspaper no longer apply.
Destroying Donald Trump is all that matters in the newsrooms of the mainstream media, so called, and by any means necessary. Rarely have so many hysterics contributed so much of the national conversation.
A columnist in The New York Times, ground zero in the epidemic of Trump Derangement Syndrome, suggests that a mutiny at the White House is the "more appropriate" way to rid the nation of the legitimate 46th duly elected president of the United States. Why waste time on impeachment? Mike Pence, Paul Ryan and Mitch McConnell could organize the ambush. The columnist likens them to "stewards for a syphilitic emperor."
---

Venezuela's self-made crisis
Its descent into dictatorship, civil war and chaos demands an immediate response
Time is running out for Venezuela, a nation of 31 million with perhaps the world's largest proved reserves of crude oil. The consequences of its descent for its neighbors and for the United States, whether into dictatorship, civil war, or bloody chaos, demand an immediate response — well beyond the call for dialogue, partial targeted sanctions, and resolutions.
The country's dire conditions are spelled out in headlines and in the public report of Organization of American States (OAS) Secretary General Luis Almagro. That report cited brutal repression, killings of protesters, torture of political prisoners; violation of its constitution, according to its own attorney general; violation of its OAS treaty obligations, and according to the U.N., a man-made humanitarian disaster.
---
"It is discouraging to think how many people are shocked by honesty and how few by deceit."
-- Noel Coward
(1899-1973) British playwright
---
---
The Medal of Honor is the highest award for valor in action against an enemy force which can be bestowed upon an individual serving in the Armed Services of the United States.
GeneTrerally presented to its recipient by the President of the United States of America in the name of Congress.
The first award of the Medal of Honor was made March 25, 1863 to Private JACOB PARROTT.The last award of the Medal of Honor was made September 15, 2011 to Sergeant DAKOTA MEYER.
Since then there have been: • 3458 recipients of the Medal of Honor.
• Today there are 85 Living Recipients of the Medal of Honor.
Citation

Captain Humbert R. Versace distinguished himself by extraordinary heroism during the period of 29 October 1963 to 26 September 1965, while serving as S-2 Advisor, Military Assistance Advisory Group, Detachment 52, Ca Mau, Republic of Vietnam. While accompanying a Civilian Irregular Defense Group patrol engaged in combat operations in Thoi Binh District, An Xuyen Province, Captain Versace and the patrol came under sudden and intense mortar, automatic weapons, and small arms fire from elements of a heavily armed enemy battalion. As the battle raged, Captain Versace, although severely wounded in the knee and back by hostile fire, fought valiantly and continued to engage enemy targets. Weakened by his wounds and fatigued by the fierce firefight, Captain Versace stubbornly resisted capture by the over-powering Viet Cong force with the last full measure of his strength and ammunition. Taken prisoner by the Viet Cong, he exemplified the tenets of the Code of Conduct from the time he entered into Prisoner of War status. Captain Versace assumed command of his fellow American soldiers, scorned the enemy's exhaustive interrogation and indoctrination efforts, and made three unsuccessful attempts to escape, despite his weakened condition which was brought about by his wounds and the extreme privation and hardships he was forced to endure. During his captivity, Captain Versace was segregated in an isolated prisoner of war cage, manacled in irons for prolonged periods of time, and placed on extremely reduced ration. The enemy was unable to break his indomitable will, his faith in God, and his trust in the United States of America. Captain Versace, an American fighting man who epitomized the principles of his country and the Code of Conduct, was executed by the Viet Cong on 26 September 1965. Captain Versace's gallant actions in close contact with an enemy force and unyielding courage and bravery while a prisoner of war are in the highest traditions of the military service and reflect the utmost credit upon himself and the United States Army.
---
3/14/20017

We Have Met the Enemy…

Geoff Metcalf
"They who can give up essential liberty to obtain a little temporary safety deserve neither liberty nor safety.
--Benjamin Franklin
"The American people must be willing to give up a degree of personal privacy in exchange for safety and security."
--Louis Freeh

In the wake of the clamor over the most recent WikiLeaks data dump, 'Vault 7', 'UMBRAGE', et al, it should be noted this is not really anything new. What we are seeing here is simply the evolution of something that goes back to the late 50s (to the incomplete best knowledge I have).
It is kinda cool to finally see even the New York Times (www.nytimes.com/2017/03/09/opinion/the-truth-about-the-wikileaks-cia-cache.html?_r=0) acknowledging material I was writing about in 1998 (http://www.wnd.com/1998/04/6108/ ).
In April of 1998 I wrote "Privacy has become an anachronism." I was commenting on "a massive system designed to intercept all your e-mail, fax traffic and more." I was explaining 'Echelon', the illegitimate offspring of a UKUSA treaty (https://www.nationalarchives.gov.uk/ukusa/ ) signed by the United States, United Kingdom, Canada, Australia and New Zealand. Its purpose was, and is, to have a vast global intelligence monster, which allegedly shares common goals. The system was so "efficient" that reportedly National Security Agency folk from Fort Meade could work from Menwith Hill in England to intercept local communications without either nation having to burden themselves with the formality of seeking approval (a court order) or disclosing the operation. And this was all pre-9/11 and pre-the anti-constitutional 'Patriot Act'.
It is illegal (without a Judge's signed permission) for the United States to spy on its citizens … kinda. The laws have long been circumvented by a mutual pact among five nations. Under the terms of UKUSA agreement, Britain spies on Americans and America spies on British citizens, and then the two conspirators trade data. A classic technical finesse. It is legal, but the intent to evade the spirit is inescapable.
I often fictionalized the genesis of 'Echelon' as an informal meeting of a group of post war American and British intelligence types drinking in some remote rustic bar. An imagined CIA type complains to his MI6 buddy about the hassles of US laws preventing US intelligence from surveillance of bad guys, and the Brit echoes the same complaint.
"Hey wait a moment mate," says Nigel, the make-believe MI6 guy, "I can spy on your guys and you can spy on our bad players…why don't we just come up with a mechanism whereby we spy on your villains, you spy on our villains, and we just 'share' the intel?"
This system was called ECHELON, and has been kicking around in some form longer than most of you. The result of the UKUSA treaty signed by the United States, United Kingdom, Canada, Australia and New Zealand was, and is, to have a vast global intelligence monster which allegedly shares common goals.
The London Telegraph reported in December of 1997 that the Civil liberties Committee of the European Parliament had officially confirmed the existence and purpose of ECHELON. "A global electronic spy network that can eavesdrop on every telephone, e-mail and telex communication around the world will be officially acknowledged for the first time in a European Commission report. …"
The report noted: "Within Europe all e-mail, telephone and fax communications are routinely intercepted by the United States National Security Agency, transferring all target information from the European mainland via the strategic hub of London, then by satellite to Fort Meade in Maryland via the crucial hub at Menwith Hill, in the North York moors in the UK.
"The ECHELON system forms part of the UKUSA system but unlike many of the electronic spy systems developed during the Cold War, ECHELON was designed primarily for non-military targets: governments, organizations and businesses in virtually every country."
An interesting sidebar appeared in the International Herald Tribune under the headline, "Big Corporate Brother: It Knows More About You Than You Think." The story details Acxiom Corp, which was a humongous information service hidden in the Ozark foothills. Twenty-four hours a day, Acxiom electronically gathered and sorts all kinds of data about 196 million Americans. Credit card transactions and magazine subscriptions, telephone numbers, real estate records, automotive data, hunting, business and fishing licenses, consumer surveys and demographic detail that would make a marketing department's research manager salivate. This relatively new (legal) enterprise was known as "data warehousing" or "data-mining", and it underscores the cruel reality that the fiction of personal privacy has become obsolete. Technology's ability to collect and analyze data has made privacy a quaint albeit interesting dinosaur.
The Tribune reported that "Axciom can often determine whether an American owns a dog or cat, enjoys camping or gourmet cooking, reads the Bible or lots of other books. It can often pinpoint an American's occupation, car and favorite vacations. By analyzing the equivalent of billions of pages of data, it often projects for its customers who should be offered a credit card or who is likely to buy a computer."
Most of this information is from y 1998 piece. Echelon has developed, matured, and morphed into a much more powerful hybrid. 'Carnivore' was software to help triage the cacophony of data. Vault 7 and 'Umbrage' are logical (some would argue "insidious") growth.
More to follow…