"It Is Not A Question of Who Is Right Or Wrong But What Is Right Or Wrong That Counts.

"

--Geoff Metcalf






Wo

rld & National
Waiting for a Shutdown to End in Disaster
Aides on Capitol Hill fear that a dramatic government failure may be the only thing to force President Trump and the Democrats back to the table.



As the longest government shutdown in American history lurches toward its fifth week, a grim but growing consensus has begun to emerge on Capitol Hill: There may be no way out of this mess until something disastrous happens.





This is, of course, not a sentiment lawmakers are eager to share on the record. But in interviews this week with congressional staffers on both sides of the aisle (whom I granted anonymity in exchange for candor), I heard the same morbid idea expressed again and again.





The basic theory—explained to me between weary sighs and defeated shrugs—goes like this: Washington is at an impasse that looks increasingly unbreakable. President Donald Trump is dug in; so is Speaker Nancy Pelosi. Democrats have public opinion on their side, but the president is focused on his conservative base. For a deal to shake loose in this environment, it may require a failure of government so dramatic, so shocking, as to galvanize public outrage and force the two parties back to the negotiating table.




---
Former Trump Lawyer Michael Cohen Reconsidering Plan to Testify to Congress
President Donald Trump's former personal attorney Michael Cohen is reconsidering his plan to testify publicly to the U.S. Congress next month because of intimidation by the president, an adviser to Cohen said on Thursday.
Lanny Davis, an attorney who has been advising Cohen on his media strategy, said in an interview with MSNBC that some remarks made by the Republican president about Cohen amounted to witness tampering and deserved to be criminally investigated.
"There is genuine fear and it has caused Michael Cohen to consider whether he should go forward or not, and he has not made a final decision," Davis said.
---
Scott Adams says showman Trump freed by Pelosi SOTU snub: 'They just released the Kraken'
'They freed the president to make this an entertaining event'
'Dilbert' creator Scott Adams said Americans can thank House Speaker Nancy Pelosi if President Trump delivers one of the most entertaining State of the Union speeches of all time — at a venue of his choosing.
The writer behind "Win Bigly: Persuasion in a World Where Facts Don't Matter" says Mr. Trump is creatively unshackled by Mrs. Pelosi's attempts to snub him a Jan. 29 venue in the House. Mr. Adams, who was one of the first social commenters to predict the billionaire's elector success, put it succinctly Thursday: "They just released the Kraken."
Likened to an amalgamation between unstoppable sea monster and master showman, Mr. Trump will be able to craft the event in a way that accentuates his skills in Mr. Adams' view.
---
GOP lawmakers tell Trump to move State of Union to the Senate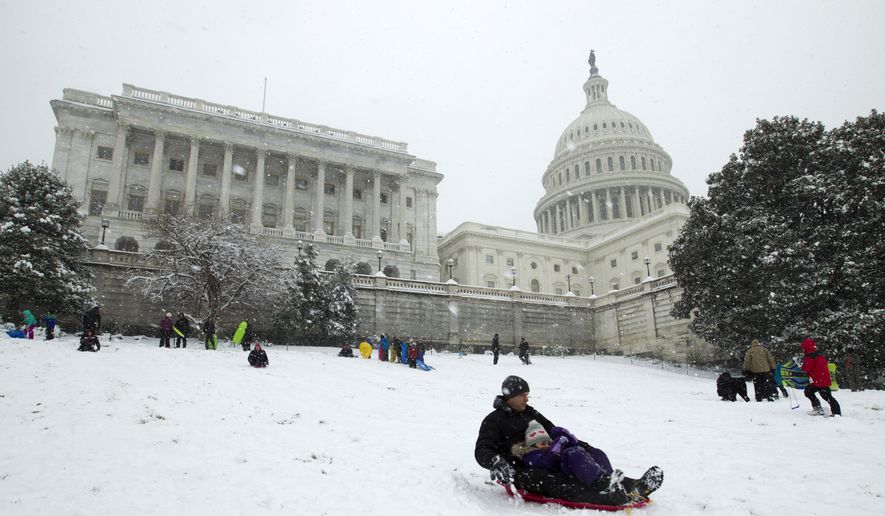 George Washington delivered his first State of the Union address in the Senate chamber.

Now a group of Republicans says President Trump should do the same thing, going around House Democrats who a day earlier had told the president to postpone or cancel the annual address, currently slated for Jan. 29.

"Speaker Pelosi's attempt to muffle President Trump and appease her radical, socialist, open borders base using the false claim of security concerns is shameful," said Rep. Mo Brooks, a Republican who was gathering signatures on a letter proposing the Senate chamber location.


---
Ted Cruz: Pelosi terrified of Trump speaking directly to Americans during State of the Union
Republican says Democrats want all shutdown coverage 'to come from the mainstream media'
Sen. Ted Cruz said the reason House Speaker Nancy Pelosi wants to delay the State of the Union is simple: She fears President Trump speaking directly to the American people during the government shutdown.
The Texas Republican told BlazeTV's "Capitol Hill Brief" this week that public statements by Democrats on the State of the Union are rhetorical smoke and mirrors.
"Nancy Pelosi is terrified, number one, of her extreme left-wing base," Mr. Cruz said Wednesday. "She is captive of them. And number two: The position of congressional Democrats in this shutdown is objectively unreasonable. In 2013, Chuck Schumer and every Senate Democrat voted in favor of 350 miles of border wall. They have right now shut down the government down to stop 234 miles of border wall. I don't know how you explain why you voted for 350 miles, but you shut the government down to stop 234 miles. That is incoherent."
---
Nancy Pelosi's office: Trump 'leaked' commercial travel plans, ruined Afghanistan trip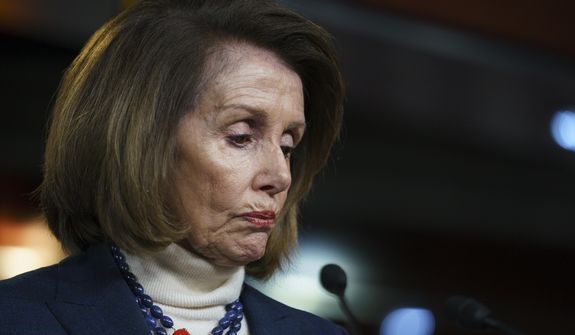 After President Trump canceled House Speaker Nancy Pelosi's military jet transport, he said she could fly commercial on her visit to Afghanistan.
Now her office says the administration ruined those plans, too, by revealing them. That has ruined the possibility of flying commercial, said Drew Hammill, Mrs. Pelosi's deputy chief of staff.
"In light of the grave threats caused by the president's action, the delegation has decided to postpone the trip so as not to further endanger our troops and security personnel, or the other travelers on the flights," Mr. Hammill said on Twitter.
---
Largest single group of migrants ever tunnels under border wall in Arizona, says Border Protection
A group of 376, including nearly 200 minors, was arrested.
The largest single group of asylum seekers ever to cross into the U.S. tunneled beneath the border wall near San Luis, Arizona, on Monday, voluntarily turning themselves into Customs and Border Protection, according to the agency.
Migrants can be seen marching toward Border Patrol agents by the hundreds, according to video obtained by ABC News. Smugglers dug a series of seven holes, only a few feet long beneath the steel border fence, with hundreds going beneath the wall and a smaller number clambering over it, according to CBP.
---
McConnell Hopes to Recruit Pompeo for Kansas Senate Seat
Senate Majority Leader Mitch McConnell, R-Ky., is trying to convince Secretary of Sate Mike Pompeo to run for the open Senate seat in Kansas, The Washington Post reports.
According to the Post, McConnell recently made a personal appeal to Pompeo, who served six years in the House as a representative from Kansas, on a phone call, but members of the GOP have been contacting Pompeo about running since before Sen. Pat Roberts, R-Kan., announced his retirement earlier this month.
---
Details of Trump, Putin powwow likely no secret to snooping U.S. intelligence agencies
Democrats warned against issuing subpoena to president's translator
U.S. spy agencies may already have access to what President Trump discussed during his private meeting with Russian President Vladimir Putin in Helsinki last year, according to intelligence community sources, potentially undermining Democratic demands that Mr. Trump's interpreter should be forced to disclose what the two leaders talked about.
"It's more than conceivable that Finnish intelligence had the room bugged, and they likely would have shared a transcript of what was said either directly with the CIA or with people accessible to U.S. intelligence officers," said one of the sources, who spoke only on the condition of anonymity.
That would pose difficult questions for Democrats on Capitol Hill, including House Foreign Affairs Committee Chairman Eliot L. Engel, New York Democrat, and Rep. Adam B. Schiff, California Democrat and chairman of the House Permanent Select Committee on Intelligence.
---
Nigel Farage Vows 'No More Mr. Nice Guy' on Another Brexit Vote
Brexit architect Nigel Farage on Thursday predicted a possible rerun of the 2016 ballot in the near future, warning if that happens, "it's no more Mr. Nice Guy."
At a Leave Means Leave rally in London, the former U.K. Independence Party leader urged the crowd to "face reality" as Britain's last-minute scramble to shape an exit from the European Union stalls, U.K.'s The Independent reported.
---
GOP Rep. Crenshaw: O'Rourke Should Never Be President
Texas Democrat Beto O'Rourke should never be president after questioning "the validity of the Constitution," Rep. Dan Crenshaw, R-Texas, said Thursday, per the Washington Examiner.
O'Rourke, whose star rose following a shockingly close loss to Sen. Ted Cruz, R-Texas, during the 2018 midterm elections in the red state of Texas, during a recent interview with The Washington Post questioned whether the principles of the U.S. constitution were still relevant.
---
It's an unkind cut and Gillette takes it on the chin
Business schools are growing like weeds in the nation's universities, many of them endowed by the smart, the clever, and the innovative upon whom capitalism has not merely smiled, but laughed out loud.
Some of these wizards with a corner office at Gillette think they have discovered the magic formula they never learned in a classroom. Why be nice to your most loyal customers when you can resort to snark, snarl and insult, putting those customers in their place and pander to the feminists in a perpetual pout at #MeToo. This remarkable experiment in revolutionary counter-marketing has caught the eye and attention of marketing mavens worldwide. You don't need expensive research to figure out that women don't buy many razor blades (and some of the ladies of the #MeToo persuasion obviously don't buy any).
Gillette has its own history of toxic masculinity. The maker of the blue blade was once synonymous with boxing, football and other violent manly exercises. Little boys grew up thinking the Friday Night Fights, the World Series and the New Year's Day bowl games were owned and operated by Gillette. A little boy grew up determined to "look sharp" and "be sharp," and learned to shave with a Gillette blade, dreaming of the day a dishy blonde or dark brunette would caress his cheek to see how smooth it was and step out of a sexually suggestive Gillette commercial to declare upon close inspection that he was in fact "all a man can be."
---
A bright future for U.S. oil and gas
Are fossil fuels like oil and natural gas the energy of the past?
You could be forgiven for thinking so. There is no shortage of headlines on how renewables will be the fastest growing energy source in the coming decades, especially in rapidly growing economies, where renewables are experiencing double-digit growth. According to the BP Statistical Review of Energy, from 2016 to 2017, use of non-hydro renewables increased by 31 percent in China and nearly 20 percent in India.
But based on the global oil and gas market, we might want to pump the brakes on the hype.
---
---
"It is discouraging to think how many people are shocked by honesty and how few by deceit."

-- Noel Coward

(1899-1973) British playwright

---

The Medal of Honor is the highest award for valor in action against an enemy force which can be bestowed upon an individual serving in the Armed Services of the United States.

GeneTrerally presented to its recipient by the President of the United States of America in the name of Congress.

The first award of the Medal of Honor was made March 25, 1863 to Private JACOB PARROTT.The last award of the Medal of Honor was made September 15, 2011 to Sergeant DAKOTA MEYER.

Since then there have been: • 3458 recipients of the Medal of Honor.

• Today there are 85 Living Recipients of the Medal of Honor.

Citation


Captain Humbert R. Versace distinguished himself by extraordinary heroism during the period of 29 October 1963 to 26 September 1965, while serving as S-2 Advisor, Military Assistance Advisory Group, Detachment 52, Ca Mau, Republic of Vietnam. While accompanying a Civilian Irregular Defense Group patrol engaged in combat operations in Thoi Binh District, An Xuyen Province, Captain Versace and the patrol came under sudden and intense mortar, automatic weapons, and small arms fire from elements of a heavily armed enemy battalion. As the battle raged, Captain Versace, although severely wounded in the knee and back by hostile fire, fought valiantly and continued to engage enemy targets. Weakened by his wounds and fatigued by the fierce firefight, Captain Versace stubbornly resisted capture by the over-powering Viet Cong force with the last full measure of his strength and ammunition. Taken prisoner by the Viet Cong, he exemplified the tenets of the Code of Conduct from the time he entered into Prisoner of War status. Captain Versace assumed command of his fellow American soldiers, scorned the enemy's exhaustive interrogation and indoctrination efforts, and made three unsuccessful attempts to escape, despite his weakened condition which was brought about by his wounds and the extreme privation and hardships he was forced to endure. During his captivity, Captain Versace was segregated in an isolated prisoner of war cage, manacled in irons for prolonged periods of time, and placed on extremely reduced ration. The enemy was unable to break his indomitable will, his faith in God, and his trust in the United States of America. Captain Versace, an American fighting man who epitomized the principles of his country and the Code of Conduct, was executed by the Viet Cong on 26 September 1965. Captain Versace's gallant actions in close contact with an enemy force and unyielding courage and bravery while a prisoner of war are in the highest traditions of the military service and reflect the utmost credit upon himself and the United States Army.

---

From the Archives

We Have Met the Enemy…
Geoff Metcalf


"They who can give up essential liberty to obtain a little temporary safety deserve neither liberty nor safety.
--Benjamin Franklin
"The American people must be willing to give up a degree of personal privacy in exchange for safety and security."
--Louis Freeh


In the wake of the clamor over the most recent WikiLeaks data dump, 'Vault 7', 'UMBRAGE', et al, it should be noted this is not really anything new. What we are seeing here is simply the evolution of something that goes back to the late 50s (to the incomplete best knowledge I have).

It is kinda cool to finally see even

The New York Times

acknowledging material

I was writing about in 1998

.

In April of 1998 I wrote "Privacy has become an anachronism." I was commenting on "a massive system designed to intercept all your e-mail, fax traffic and more." I was explaining 'Echelon', the illegitimate offspring of a

UKUSA Treaty

signed by the United States, United Kingdom, Canada, Australia and New Zealand. Its purpose was, and is, to have a vast global intelligence monster, which allegedly shares common goals. The system was so "efficient" that reportedly National Security Agency folk from Fort Meade could work from Menwith Hill in England to intercept local communications without either nation having to burden themselves with the formality of seeking approval (a court order) or disclosing the operation. And this was all pre-9/11 and pre-the anti-constitutional

'Patriot Act'

.

It is illegal (without a Judge's signed permission) for the United States to spy on its citizens … kinda. The laws have long been circumvented by a mutual pact among five nations. Under the terms of UKUSA agreement, Britain spies on Americans and America spies on British citizens, and then the two conspirators trade data. A classic technical finesse. It is legal, but the intent to evade the spirit is inescapable.

I often fictionalized the genesis of 'Echelon' as an informal meeting of a group of post war American and British intelligence types drinking in some remote rustic bar. An imagined CIA type complains to his MI6 buddy about the hassles of US laws preventing US intelligence from surveillance of bad guys, and the Brit echoes the same complaint.

"Hey wait a moment mate," says Nigel, the make-believe MI6 guy, "I can spy on your guys and you can spy on our bad players…why don't we just come up with a mechanism whereby we spy on your villains, you spy on our villains, and we just 'share' the intel?"

This system was called ECHELON, and has been kicking around in some form longer than most of you. The result of the UKUSA treaty signed by the United States, United Kingdom, Canada, Australia and New Zealand was, and is, to have a vast global intelligence monster which allegedly shares common goals.

The London Telegraph reported in December of 1997 that the Civil liberties Committee of the European Parliament had officially confirmed the existence and purpose of ECHELON. "A global electronic spy network that can eavesdrop on every telephone, e-mail and telex communication around the world will be officially acknowledged for the first time in a European Commission report. …"

The report noted: "Within Europe all e-mail, telephone and fax communications are routinely intercepted by the United States National Security Agency, transferring all target information from the European mainland via the strategic hub of London, then by satellite to Fort Meade in Maryland via the crucial hub at Menwith Hill, in the North York moors in the UK.

"The ECHELON system forms part of the UKUSA system but unlike many of the electronic spy systems developed during the Cold War, ECHELON was designed primarily for non-military targets: governments, organizations and businesses in virtually every country."

An interesting sidebar appeared in the International Herald Tribune under the headline, "Big Corporate Brother: It Knows More About You Than You Think." The story details Acxiom Corp, which was a humongous information service hidden in the Ozark foothills. Twenty-four hours a day, Acxiom electronically gathered and sorts all kinds of data about 196 million Americans. Credit card transactions and magazine subscriptions, telephone numbers, real estate records, automotive data, hunting, business and fishing licenses, consumer surveys and demographic detail that would make a marketing department's research manager salivate. This relatively new (legal) enterprise was known as "data warehousing" or "data-mining", and it underscores the cruel reality that the fiction of personal privacy has become obsolete. Technology's ability to collect and analyze data has made privacy a quaint albeit interesting dinosaur.

The Tribune reported that "Axciom can often determine whether an American owns a dog or cat, enjoys camping or gourmet cooking, reads the Bible or lots of other books. It can often pinpoint an American's occupation, car and favorite vacations. By analyzing the equivalent of billions of pages of data, it often projects for its customers who should be offered a credit card or who is likely to buy a computer."

Most of this information is from y 1998 piece. Echelon has developed, matured, and morphed into a much more powerful hybrid. 'Carnivore' was software to help triage the cacophony of data. Vault 7 and 'Umbrage' are logical (some would argue "insidious") growth.

More to follow…