"It Is Not A Question of Who Is Right Or Wrong But What Is Right Or Wrong That Counts.

"

--Geoff Metcalf



Wo
rld & National
Trump hits Russian bank, North Korean firms with sanctions
The Trump administration imposed new sanctions Friday on a Russian bank, two North Korean companies and one North Korean citizen for illegal financial activity.
The Treasury Department said the sanctions are a response for the entities "knowingly facilitating a significant transaction on behalf of an individual designated for weapons of mass destruction-related activities in connection with North Korea."
The announcement came as President Trump continues to push North Korean leader Kim Jong-un to denuclearize, and to gain more cooperation such as the recent return of remains of dozens of U.S. soldiers killed in the Korean War.
---
Republicans to press ahead with Kavanaugh confirmation despite National Archives delay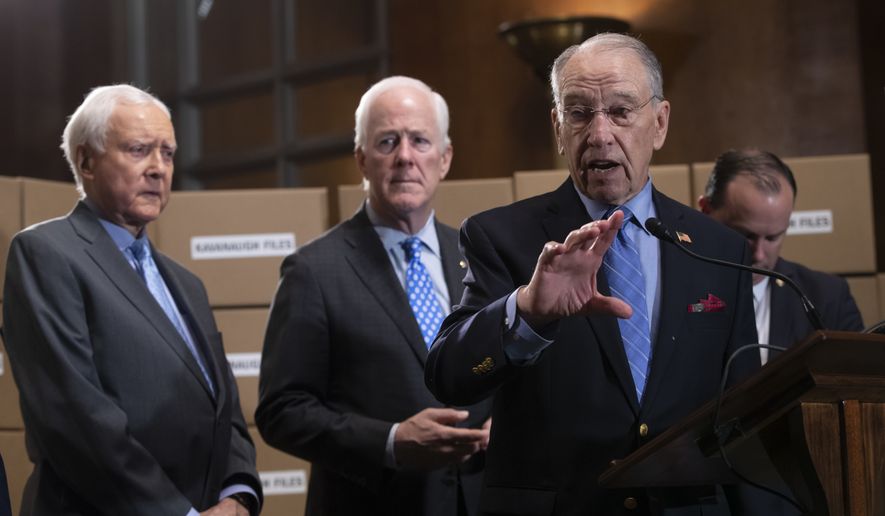 The National Archives says it will take months to process the records Republicans have asked to see from Judge Brett M. Kavanaugh's previous government work, throwing a curveball at the GOP, which had hoped to review the documents, hold hearings and confirm him to the Supreme Court before October.
The Archives said it will take at least through October to review 1 million pages that Republicans have requested to see.
Republican leaders said Thursday that they will plow ahead. They are scheduling a hearing for next month, before all the documents are in, and plan a vote in October at the latest.
---
155,965,000 Employed in June: 11th Record-Setter Under Trump
Following last month's strong employment report, the numbers released on Friday were even better in some respects.
The Labor Department's Bureau of Labor Statistics says a record 155,965,000 people were employed in July, the 11th record-breaker since President Trump took office 19 months ago.
JULY JOBS: +157,000...


Manufacturing +37,000...




Hispanic unemployment record low...




TRADE DEFICIT WIDENS...


China to retaliate with tariffs on $60B in goods...
---
Trump Trashes Media as 'Fake, Fake Disgusting News' at Rally
President Donald Trump is renewing his campaign against the media, claiming at a Pennsylvania rally that the media is the "fake, fake disgusting news" and casting journalists as his true political opponent.
Trump barnstormed Thursday night in a state that he swiped from the Democrats in 2016 and that is home to a Senate seat he is trying to place in the Republicans' column this fall. But the race between GOP U.S. Rep. Lou Barletta and two-term incumbent Democratic Sen. Bob Casey took a back seat to Trump's invectives against the media, which came amid a backdrop of antagonism to journalists from the White House and hostility from the thousands packed into a loud, overheated Wilkes-Barre arena.
---
Feds say it's up to immigration activists to reunify children with deported parents
The Trump administration said Thursday it will largely be up to immigrant-rights advocates to track down deported parents who want to be reunited with their children still in the U.S.
While the government has reunified all the eligible parents it had in its custody who were separated from children during the zero-tolerance border policy, hundreds of children whose parents were already deported remain separated.
A federal judge, government officials and activists are trying to figure out how to handle them — and the administration offered its ante in court papers, saying the American Civil Liberties Union should "use their considerable resources" to track those parents down.
---
China announces $60B of U.S. goods for tariff retaliation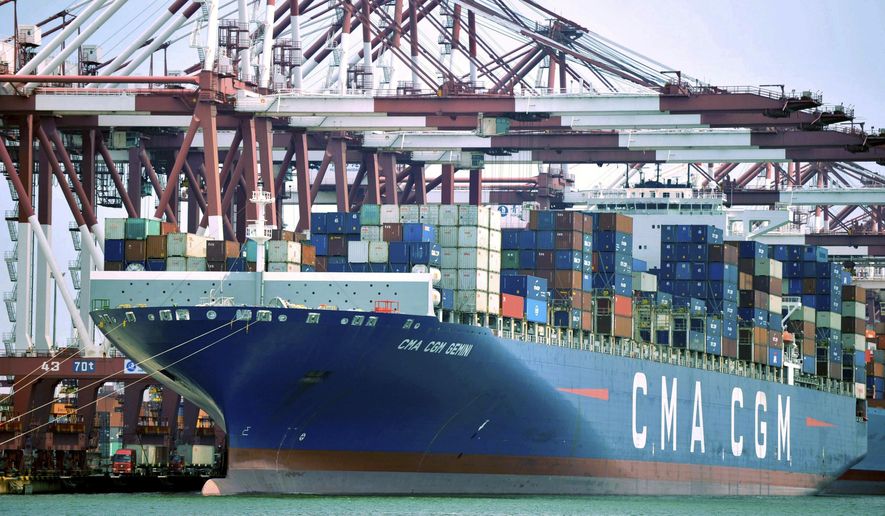 China on Friday announced a $60 billion list of U.S. goods including coffee, honey and industrial chemicals for retaliation if Washington goes ahead with its latest tariff threat.
The Finance Ministry accused the Trump administration of damaging the global economy after it proposed increasing duties on $200 billion of Chinese goods in the second round of a dispute over technology.
"China is forced to take countermeasures," said a ministry statement. It said the retaliatory duties of 25 percent, 20 percent, 10 percent or 5 percent on 5,207 products will be imposed "if the U.S. side persists in putting its tariff measures into effect."
---
Mike Pompeo: 'Ways to go' before North Korea meets denuke vow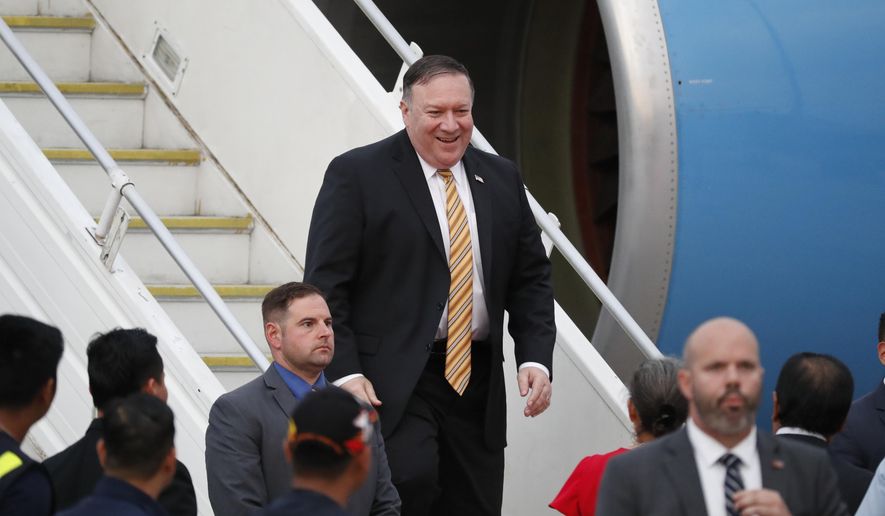 U.S. Secretary of State Mike Pompeo says North Korea is far from living up to its pledge to denuclearize and remains in violation of numerous U.N. Security Council resolutions.
Speaking Friday before he attends an Asian security forum with North Korea's foreign minister, Pompeo told reporters in Singapore there was "still a ways to go before" achieving the goal of ridding the North of its nuclear weapons.
Pompeo's comments came after the White House announced Thursday that President Donald Trump received a new letter from North Korean leader Kim Jong Un and responded quickly with a letter of his own. The correspondence, following up on their Singapore summit in June, came amid fresh concerns over Pyongyang's commitment to denuclearization despite a rosy picture of progress painted by Trump.
---
Trump's Trade War Is Killing American Blue Jeans
Victor Lytvinenko is thumbing through emails on his iPhone trying to find the one that best shows the damage the global trade war has already done to his little, decade-old American jeans company.
The 37-year-old -- dressed in a black t-shirt, rolled-up blue jeans and a pair of Stan Smiths -- eventually looks up after finding the message. It's from a customer in Scotland who's apologizing for canceling an order worth tens of thousands of dollars. The reason? The shop owner balked at paying an additional 25 percent tariff the European Union slapped on American-made jeans in June as part of its response to President Donald Trump's duties on steel and aluminum.
---

NYT defends newly hired opinion writer with history of anti-white tweets
Newspaper attributes racist blasts to 'frequent online harassment'


Apparently it's tougher than it looks to find editorial writers without a history of racially charged tweets, judging from the recent experience of The New York Times.
Six months after giving the heave-ho to an opinion writer over her insensitive social media comments, The New York Times is standing by Sarah Jeong, its newly hired lead technology scribe on the editorial side, despite the racist skeletons in her Twitter feed.
In a statement, the newspaper chalked up her anti-white blasts, such as "white men are bull–-," as a reaction to "frequent online harassment."
---
Pentagon Gets $617B, Scores of F-35 Fighters in $717B Defense Bill
The $717 billion defense bill that Congress sent to the desk of President Donald Trump authorizes the Pentagon to go on a military shopping spree while also handing troops their biggest pay raise in a decade, CNBC reports.
The 2019 National Defense Authorization Act provides a 2.6 percent pay increase for troops and includes $616.9 billion for the Pentagon's base budget, CNBC reports.
---

Iran displays navy's ability to choke off Gulf oil flow
Escalates U.S. battle over nuke deal retreat

Iran's navy sent dozens of small boats into the Strait of Hormuz on Thursday, dramatizing its ability to choke off the strategic Persian Gulf waterway — a move that could send global oil and U.S. gasoline prices soaring — and escalating the confrontation with the Trump administration for withdrawing from the 2015 nuclear deal.
U.S. officials said the naval exercise was Tehran's way to show its capability to create a disruption in the waterway, through which some 30 percent of the world's sea-transported oil passes daily. Officials at the Pentagon said they expected the exercise would last only a few hours, although it was unclear Thursday night whether it had ended.
"We are monitoring it closely, and will continue to work with our partners to ensure freedom of navigation and free flow of commerce," said a statement by Navy Capt. Bill Urban, U.S. Central Command spokesman.
---
Judge Ellis Loses Patience with Mueller Prosecutors and Ends Court Early Over Screw-Up
Paul Manafort's third day on trial over charges of bank fraud and tax evasion was cut a bit short on Thursday after government attorneys made the same mistake twice in a row.
The last witness called to the stand was J. Philip Ayliff, a certified public accountant (CPA) at Paul Manafort's long-serving tax-preparation agency, Kositzka, Wicks and Co. (KWC), of Richmond, Virginia. As time inched along during the last witness's testimony, nothing of particular interest seemed to be occurring at all.
Ayliff was mostly providing foundational testimony regarding the basic functions of a tax-preparation company. Prosecutors then moved on to specifics and attempted to "publish" one of Manafort's e-file forms. Judge T.S. Ellis III's weariness all but amazed the courtroom as he denied the request–complete with an actual and pronounced finger-wag–before shouting:
No! You move it along!
---
Tommy Robinson compares jail to Guantanamo Bay claiming inmates threw 'excrement' at him
Robinson, 35, was freed from jail on Wednesday after a flawed conviction for contempt of court was quashed by three Court of Appeal judges.
The former English Defence League (EDL) leader will face a new contempt of court hearing at the Old Bailey later this year that could see him sent back to prison.
He was jailed for committing contempt of court by filming and broadcasting a Facebook Live video outside a trial at Leeds Crown Court that was subject to blanket reporting restrictions.
---
As far-right marchers and antifa prepare to face off on Saturday, Portland braces for violence
Screams echoed. American flags waved menacingly. Fireworks and flashbang grenades shook the downtown streets. Fists and feet started swinging.
On June 30, as a faceoff between opposite ends of the political spectrum exploded into a street fight, enforcement in Portland, Oregon, jumped into action. The march, organized by Patriot Prayer, a far-right outfit with a history of sparking conflict, was met by anti-fascist - antifa - and other-counter protesters. As the clash escalated, the event was declared a riot. Officers in body armor tried to unknot the scuffles. Four people left the scene in ambulances, the Portland Police later said in a statement. Four others left in handcuffs.
---
The derangement virus stalks the land
Trump Derangement Syndrome (TDS) rarely kills, but it wounds, and it might be fatal to the Democratic crusade to take back the House.
That struggle is just beginning, and one Democratic pollster says Democrats, despite their successful run on Fort Knox to build an abundant campaign war chest, feel more "exhausted" by the current news cycle than Republicans do.
"That doesn't mean they're not going to show up to vote, Margie Omero of GBA Strategies, tells The Hill, the Capitol Hill political daily. "It just means they feel kind of weary by the news because it's so troubling. People need to give themselves a little space from the news."
---
The security benefits of space-based defense
President Trump's proposal to establish a U.S. Space Force as an independent military service on an equal footing with the U.S. Air Force, U.S. Army, U.S. Navy and Marine Corps is necessary to defend the American people from the unprecedented existential and growing threat posed by the horizontal and vertical proliferation of nuclear missiles.
Classical deterrence theory that prevented the bipolar Cold War from escalating into a thermonuclear holocaust may well fail in the emerging new multi-polar security environment wherein Russia, China, North Korea and Iran rely increasingly on weapons of mass destruction and ballistic missiles for blackmail and warfighting.
Electromagnetic pulse (EMP) attack by missile or satellite in the military doctrines of all these actors is considered the most effective element of Combined-Arms Cyber Warfare, the greatest Revolution in Military Affairs in history. EMP attack, that could blackout national electric grids and other life-sustaining critical infrastructures, enables rogue states like North Korea and Iran, and even terrorists groups armed with a single nuclear weapon, to become potentially "giant killers."
"It is discouraging to think how many people are shocked by honesty and how few by deceit."
-- Noel Coward
(1899-1973) British playwright
---
The Medal of Honor is the highest award for valor in action against an enemy force which can be bestowed upon an individual serving in the Armed Services of the United States.
GeneTrerally presented to its recipient by the President of the United States of America in the name of Congress.
The first award of the Medal of Honor was made March 25, 1863 to Private JACOB PARROTT.The last award of the Medal of Honor was made September 15, 2011 to Sergeant DAKOTA MEYER.
Since then there have been: • 3458 recipients of the Medal of Honor.
• Today there are 85 Living Recipients of the Medal of Honor.
Citation
Captain Humbert R. Versace distinguished himself by extraordinary heroism during the period of 29 October 1963 to 26 September 1965, while serving as S-2 Advisor, Military Assistance Advisory Group, Detachment 52, Ca Mau, Republic of Vietnam. While accompanying a Civilian Irregular Defense Group patrol engaged in combat operations in Thoi Binh District, An Xuyen Province, Captain Versace and the patrol came under sudden and intense mortar, automatic weapons, and small arms fire from elements of a heavily armed enemy battalion. As the battle raged, Captain Versace, although severely wounded in the knee and back by hostile fire, fought valiantly and continued to engage enemy targets. Weakened by his wounds and fatigued by the fierce firefight, Captain Versace stubbornly resisted capture by the over-powering Viet Cong force with the last full measure of his strength and ammunition. Taken prisoner by the Viet Cong, he exemplified the tenets of the Code of Conduct from the time he entered into Prisoner of War status. Captain Versace assumed command of his fellow American soldiers, scorned the enemy's exhaustive interrogation and indoctrination efforts, and made three unsuccessful attempts to escape, despite his weakened condition which was brought about by his wounds and the extreme privation and hardships he was forced to endure. During his captivity, Captain Versace was segregated in an isolated prisoner of war cage, manacled in irons for prolonged periods of time, and placed on extremely reduced ration. The enemy was unable to break his indomitable will, his faith in God, and his trust in the United States of America. Captain Versace, an American fighting man who epitomized the principles of his country and the Code of Conduct, was executed by the Viet Cong on 26 September 1965. Captain Versace's gallant actions in close contact with an enemy force and unyielding courage and bravery while a prisoner of war are in the highest traditions of the military service and reflect the utmost credit upon himself and the United States Army.
---
From the Archives

We Have Met the Enemy…

Geoff Metcalf
"They who can give up essential liberty to obtain a little temporary safety deserve neither liberty nor safety.
--Benjamin Franklin
"The American people must be willing to give up a degree of personal privacy in exchange for safety and security."
--Louis Freeh

In the wake of the clamor over the most recent WikiLeaks data dump, 'Vault 7', 'UMBRAGE', et al, it should be noted this is not really anything new. What we are seeing here is simply the evolution of something that goes back to the late 50s (to the incomplete best knowledge I have).
It is kinda cool to finally see even
The New York Times
acknowledging material
I was writing about in 1998
.
In April of 1998 I wrote "Privacy has become an anachronism." I was commenting on "a massive system designed to intercept all your e-mail, fax traffic and more." I was explaining 'Echelon', the illegitimate offspring of a
UKUSA Treaty
signed by the United States, United Kingdom, Canada, Australia and New Zealand. Its purpose was, and is, to have a vast global intelligence monster, which allegedly shares common goals. The system was so "efficient" that reportedly National Security Agency folk from Fort Meade could work from Menwith Hill in England to intercept local communications without either nation having to burden themselves with the formality of seeking approval (a court order) or disclosing the operation. And this was all pre-9/11 and pre-the anti-constitutional
'Patriot Act'
.
It is illegal (without a Judge's signed permission) for the United States to spy on its citizens … kinda. The laws have long been circumvented by a mutual pact among five nations. Under the terms of UKUSA agreement, Britain spies on Americans and America spies on British citizens, and then the two conspirators trade data. A classic technical finesse. It is legal, but the intent to evade the spirit is inescapable.
I often fictionalized the genesis of 'Echelon' as an informal meeting of a group of post war American and British intelligence types drinking in some remote rustic bar. An imagined CIA type complains to his MI6 buddy about the hassles of US laws preventing US intelligence from surveillance of bad guys, and the Brit echoes the same complaint.
"Hey wait a moment mate," says Nigel, the make-believe MI6 guy, "I can spy on your guys and you can spy on our bad players…why don't we just come up with a mechanism whereby we spy on your villains, you spy on our villains, and we just 'share' the intel?"
This system was called ECHELON, and has been kicking around in some form longer than most of you. The result of the UKUSA treaty signed by the United States, United Kingdom, Canada, Australia and New Zealand was, and is, to have a vast global intelligence monster which allegedly shares common goals.
The London Telegraph reported in December of 1997 that the Civil liberties Committee of the European Parliament had officially confirmed the existence and purpose of ECHELON. "A global electronic spy network that can eavesdrop on every telephone, e-mail and telex communication around the world will be officially acknowledged for the first time in a European Commission report. …"
The report noted: "Within Europe all e-mail, telephone and fax communications are routinely intercepted by the United States National Security Agency, transferring all target information from the European mainland via the strategic hub of London, then by satellite to Fort Meade in Maryland via the crucial hub at Menwith Hill, in the North York moors in the UK.
"The ECHELON system forms part of the UKUSA system but unlike many of the electronic spy systems developed during the Cold War, ECHELON was designed primarily for non-military targets: governments, organizations and businesses in virtually every country."
An interesting sidebar appeared in the International Herald Tribune under the headline, "Big Corporate Brother: It Knows More About You Than You Think." The story details Acxiom Corp, which was a humongous information service hidden in the Ozark foothills. Twenty-four hours a day, Acxiom electronically gathered and sorts all kinds of data about 196 million Americans. Credit card transactions and magazine subscriptions, telephone numbers, real estate records, automotive data, hunting, business and fishing licenses, consumer surveys and demographic detail that would make a marketing department's research manager salivate. This relatively new (legal) enterprise was known as "data warehousing" or "data-mining", and it underscores the cruel reality that the fiction of personal privacy has become obsolete. Technology's ability to collect and analyze data has made privacy a quaint albeit interesting dinosaur.
The Tribune reported that "Axciom can often determine whether an American owns a dog or cat, enjoys camping or gourmet cooking, reads the Bible or lots of other books. It can often pinpoint an American's occupation, car and favorite vacations. By analyzing the equivalent of billions of pages of data, it often projects for its customers who should be offered a credit card or who is likely to buy a computer."
Most of this information is from y 1998 piece. Echelon has developed, matured, and morphed into a much more powerful hybrid. 'Carnivore' was software to help triage the cacophony of data. Vault 7 and 'Umbrage' are logical (some would argue "insidious") growth.
More to follow…