"It Is Not A Question of Who Is Right Or Wrong But What Is Right Or Wrong That Counts.

"

--Geoff Metcalf
Providing an on line Triage of the news since 1997



Wo

rld & Nation
Roger Stone guilty on all counts in federal trial of lying to Congress, witness tamperingl
A federal jury has convicted longtime Trump confidant Roger Stone of lying to Congress and tampering with a witness about his efforts to learn about the anti-secrecy group WikiLeaks release of hacked Democratic emails in the 2016 U.S. presidential election.
The panel of nine women and three men deliberated for less than two days before finding Stone, 67, guilty on all seven counts resulting from his September 2017 testimony to a House intelligence committee investigating Russian interference in the 2016 election and the Kremlin's efforts to damage Trump's Democratic opponent, Hillary Clinton.
---
The Latest: Nunes reads White House memo at start of hearing
The top Republican on the House Intelligence Committee has read aloud a memo circulated by the White House that summarizes the first conversation between President Donald Trump and his newly elected Ukrainian counterpart.
The first conversation took place in April after the election of Volodymyr Zelenskiy. It consists largely of pleasantries and words of congratulations.
The White House made a record of the conversation public at the start of the House impeachment hearing on Friday.
---
Focus groups show undecided voters think impeachment is going to 'backfire' on Dems
They don't like President Trump's personality, they don't like his bullying tweets or his name-calling.
But undecided voters in battleground states and key suburbs are saying in focus groups organized by Trump backers that House Democrats' effort to impeach the president is an unfair, confusing waste of time.
"They're wasting a lot of time and energy on it," said a woman in Phoenix. "I just feel like it's hurting everybody."
---
Kevin McCarthy accuses Adam Schiff of lying about the whistleblower
'I don't think its the first time he's lied either'
House Minority Leader Kevin McCarthy explicitly accused House Intelligence Committee Chairman Adam Schiff of lying about his knowledge of the whistleblower.
The California Republican slammed the Democrats' point man for the impeachment process for not publicly acknowledging his staff met with the whistleblower during Wednesday's first public impeachment hearing.
"I don't think it's the first time he's lied either," Mr. McCarthy told reporters on Thursday, citing Mr. Schiff's claims around Russian collusion.
---
White House releases transcript of Trump's first phone call with Ukraine's president
The White House released a transcript Friday of President Trump's first phone call with the president of Ukraine, a brief congratulatory chat about the Ukrainian's election lacking any of the controversy of their later call that led to an impeachment inquiry.
The first phone call between Mr. Trump and Ukraine President Volodymyr Zelensky took place on April 21, with Mr. Trump aboard Air Force One. He began by congratulating the Ukraine leader "on a job well done" and on "a fantastic election."
Mr. Zelensky replied, "Good to hear from you. Thank you so very much. It's very nice to hear from you, and I appreciate the congratulations."
---
Browns star Garrett facing NFL discipline after outburst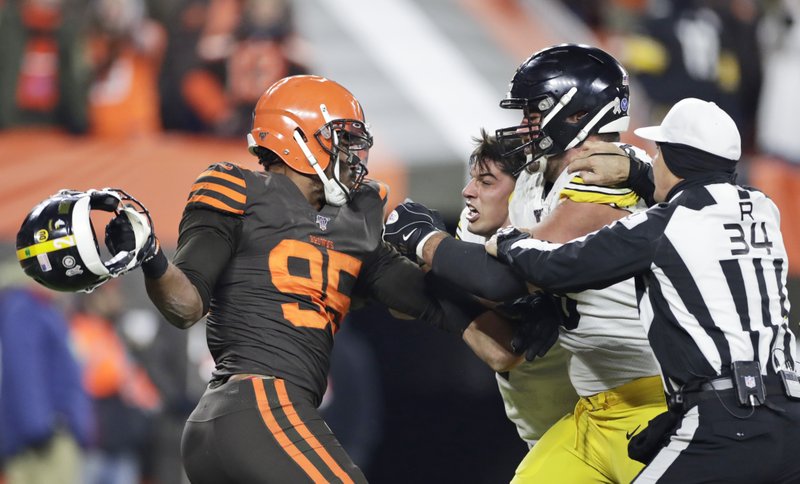 Myles Garrett swung a helmet. The NFL will soon swing back at the Cleveland Browns star.
Garrett could be facing an unprecedented league suspension for his violent outburst Thursday night, when he ripped off Pittsburgh quarterback Mason Rudolph's helmet and clubbed him on the head during the final seconds of Cleveland's 21-7 win.
Garrett's shocking actions on national TV will come with a price. It's possible the league could come down hard on the former No. 1 overall pick, who made strides in cleaning up his game after picking up some personal fouls earlier this season.
---
Trump demands five-fold increase in costs from South Korea to keep US troops, reports say
U.S. Defense Secretary Mark Esper on Friday pressed Washington's case that longtime ally South Korea must pay a bigger share of the cost of having U.S. troops on its soil.
"This is a very strong alliance we have, but Korea is a wealthy country and could and should pay more to help offset the cost of defense," Esper told a joint news conference with his South Korean counterpart, Jeong Kyeong-doo.
Esper said that while South Korea has provided "a fair amount of support in the past," it is important to point out that "most of that money stays here in this country -- easily over 90% of that money stays here in Korea, it does not go to the United States."
The amount Korea pays for the presence of about 28,000 U.S. troops has varied over the years. This year it is nearly $1 billion.
---
How Deval Patrick could torpedo Joe Biden
Deval Patrick looks like the ideal candidate to break Joe Biden's grip on African-American voters.
He's just the second elected black governor since Reconstruction and has close ties with former President Barack Obama.
But even as the former Massachusetts governor's entry into the race is embraced by many black lawmakers and strategists, they question whether his record, relative lack of name ID and late start in a crowded field will impede his ability to make a mark.
Story Continued Below
---
There's an Outbreak of the "Black Death" Plague in China
"The plague is not the most terrifying part. What's even scarier is the information not being made public."
Doctors in China have diagnosed two people with the pneumonic plague, the nation's state-run news agency Xinhua News confirmed on Tuesday. Both patients hail from China's Inner Mongolia region and have received "proper treatment" for their condition at medical institutions in China's Chaoyang District, Xinhua wrote.
On Thursday, the Beijing Municipal Health Commission said that one of the patients is now in stable condition, while the other is in critical condition, but their health has "not deteriorated."
The plague, also known as the "Black Death," comes in three forms — bubonic, septicaemic, and pneumonic — with each targeting a different part of the body. It's best known for killing tens of millions of people in medieval Europe, but occasionally still crops up.
---
Jason Chaffetz: Why Schiff's whistleblower claims at Trump impeachment hearing are impossible to believe
Americans had a front-row seat for Day One of impeachment inquiry hearings in the House on Wednesday. But missing from the testimony on Capitol Hill was the "witness" who started it all. Six grueling hours of testimony by two hearsay witnesses shed little light on the allegations against President Trump.
Neither George Kent, deputy assistant secretary of state for Europe nor William Taylor, the charge d'affaires in Kiev had firsthand information and both clearly had an ax to grind over their differences with the president on foreign policy.
More interesting than their testimony was the complete whitewashing of any reference to the original whistleblower, whose second-hand allegations so deeply concerned House Democrats that they opened an official impeachment inquiry – a process they had three times explicitly rejected in previous House votes.
---
Why are Democrats' candidates avoiding foreign policy?
Most, except Tulsi Gabbard, dodge military realities
It's no secret that the top Democrats have been fixated on domestic issues. It seems advancing their socialism is their number one priority, as they pound the drum of Medicare for All and eliminating student debt — policies with a price tag of trillions of dollars.
Meanwhile, foreign policy has gotten lost in the shuffle. During July's Democratic debate, it took nearly two hours for a candidate to mention even one war the United States is fighting overseas. It's almost like, in their minds, being the head of our military isn't an integral part of the president's job.
A couple of candidates seem to have appropriate concern with the money we're bleeding and the lives we're ruining through our never-ending war endeavors. For her part, Congresswoman Tulsi Gabbard is trying her best to do just that. Calling out the establishment for their hawkish stances on war has become her hobby horse, and rightly so.
---
Donald Trump Jr.'s 'Triggered' skewers the radical left
If you thought President Trump's son Donald Trump Jr. would write a fanatical right-wing book, think again.
To be sure, Don Jr.'s "Triggered: How the Left Thrives on Hate and Tries to Silence Us" is a well-reasoned, chatty manifesto for the free enterprise system and his father's agenda. But the book makes it clear his broadsides against the woke generation, advocates of socialism, and his father's most vicious critics are aimed at the radical left, not at Democrats in general.
"The problem with using racism as a label for everything you don't like, of course, is that racism is still a real problem that persists in this country — not nearly to the extent that the left would have you believe, of course, but it's still one of our major issues," Mr. Trump writes. "Real people face real racism every day. And when you use it as a buzzword to try to win a losing argument, it does a disservice to those who live under it."
" It is discouraging to think how many people are shocked by honesty and how few by deceit."

-- Noel Coward

(1899-1973) British playwright

---

The Medal of Honor is the highest award for valor in action against an enemy force which can be bestowed upon an individual serving in the Armed Services of the United States.

GeneTrerally presented to its recipient by the President of the United States of America in the name of Congress.

The first award of the Medal of Honor was made March 25, 1863 to Private JACOB PARROTT.The last award of the Medal of Honor was made September 15, 2011 to Sergeant DAKOTA MEYER.

Since then there have been: • 3458 recipients of the Medal of Honor.

• Today there are 85 Living Recipients of the Medal of Honor.

Citation


Captain Humbert R. Versace distinguished himself by extraordinary heroism during the period of 29 October 1963 to 26 September 1965, while serving as S-2 Advisor, Military Assistance Advisory Group, Detachment 52, Ca Mau, Republic of Vietnam. While accompanying a Civilian Irregular Defense Group patrol engaged in combat operations in Thoi Binh District, An Xuyen Province, Captain Versace and the patrol came under sudden and intense mortar, automatic weapons, and small arms fire from elements of a heavily armed enemy battalion. As the battle raged, Captain Versace, although severely wounded in the knee and back by hostile fire, fought valiantly and continued to engage enemy targets. Weakened by his wounds and fatigued by the fierce firefight, Captain Versace stubbornly resisted capture by the over-powering Viet Cong force with the last full measure of his strength and ammunition. Taken prisoner by the Viet Cong, he exemplified the tenets of the Code of Conduct from the time he entered into Prisoner of War status. Captain Versace assumed command of his fellow American soldiers, scorned the enemy's exhaustive interrogation and indoctrination efforts, and made three unsuccessful attempts to escape, despite his weakened condition which was brought about by his wounds and the extreme privation and hardships he was forced to endure. During his captivity, Captain Versace was segregated in an isolated prisoner of war cage, manacled in irons for prolonged periods of time, and placed on extremely reduced ration. The enemy was unable to break his indomitable will, his faith in God, and his trust in the United States of America. Captain Versace, an American fighting man who epitomized the principles of his country and the Code of Conduct, was executed by the Viet Cong on 26 September 1965. Captain Versace's gallant actions in close contact with an enemy force and unyielding courage and bravery while a prisoner of war are in the highest traditions of the military service and reflect the utmost credit upon himself and the United States Army.

---

From the Archives

We Have Met the Enemy…
Geoff Metcalf


"They who can give up essential liberty to obtain a little temporary safety deserve neither liberty nor safety.
--Benjamin Franklin
"The American people must be willing to give up a degree of personal privacy in exchange for safety and security."
--Louis Freeh


In the wake of the clamor over the most recent WikiLeaks data dump, 'Vault 7', 'UMBRAGE', et al, it should be noted this is not really anything new. What we are seeing here is simply the evolution of something that goes back to the late 50s (to the incomplete best knowledge I have).

It is kinda cool to finally see even

The New York Times

acknowledging material

I was writing about in 1998

.

In April of 1998 I wrote "Privacy has become an anachronism." I was commenting on "a massive system designed to intercept all your e-mail, fax traffic and more." I was explaining 'Echelon', the illegitimate offspring of a

UKUSA Treaty

signed by the United States, United Kingdom, Canada, Australia and New Zealand. Its purpose was, and is, to have a vast global intelligence monster, which allegedly shares common goals. The system was so "efficient" that reportedly National Security Agency folk from Fort Meade could work from Menwith Hill in England to intercept local communications without either nation having to burden themselves with the formality of seeking approval (a court order) or disclosing the operation. And this was all pre-9/11 and pre-the anti-constitutional

'Patriot Act'

.

It is illegal (without a Judge's signed permission) for the United States to spy on its citizens … kinda. The laws have long been circumvented by a mutual pact among five nations. Under the terms of UKUSA agreement, Britain spies on Americans and America spies on British citizens, and then the two conspirators trade data. A classic technical finesse. It is legal, but the intent to evade the spirit is inescapable.

I often fictionalized the genesis of 'Echelon' as an informal meeting of a group of post war American and British intelligence types drinking in some remote rustic bar. An imagined CIA type complains to his MI6 buddy about the hassles of US laws preventing US intelligence from surveillance of bad guys, and the Brit echoes the same complaint.

"Hey wait a moment mate," says Nigel, the make-believe MI6 guy, "I can spy on your guys and you can spy on our bad players…why don't we just come up with a mechanism whereby we spy on your villains, you spy on our villains, and we just 'share' the intel?"

This system was called ECHELON, and has been kicking around in some form longer than most of you. The result of the UKUSA treaty signed by the United States, United Kingdom, Canada, Australia and New Zealand was, and is, to have a vast global intelligence monster which allegedly shares common goals.

The London Telegraph reported in December of 1997 that the Civil liberties Committee of the European Parliament had officially confirmed the existence and purpose of ECHELON. "A global electronic spy network that can eavesdrop on every telephone, e-mail and telex communication around the world will be officially acknowledged for the first time in a European Commission report. …"

The report noted: "Within Europe all e-mail, telephone and fax communications are routinely intercepted by the United States National Security Agency, transferring ll target information from the European mainland via the strategic hub of London, then by satellite to Fort Meade in Maryland via the crucial hub at Menwith Hill, in the North York moors in the UK.

"The ECHELON system forms part of the UKUSA system but unlike many of the electronic spy systems developed during the Cold War, ECHELON was designed primarily for non-military targets: governments, organizations and businesses in virtually every country."

An interesting sidebar appeared in the International Herald Tribune under the headline, "Big Corporate Brother: It Knows More About You Than You Think." The story details Acxiom Corp, which was a humongous information service hidden in the Ozark foothills. Twenty-four hours a day, Acxiom electronically gathered and sorts all kinds of data about 196 million Americans. Credit card transactions and magazine subscriptions, telephone numbers, real estate records, automotive data, hunting, business and fishing licenses, consumer surveys and demographic detail that would make a marketing department's research manager salivate. This relatively new (legal) enterprise was known as "data warehousing" or "data-mining", and it underscores the cruel reality that the fiction of personal privacy has become obsolete. Technology's ability to collect and analyze data has made privacy a quaint albeit interesting dinosaur.

The Tribune reported that "Axciom can often determine whether an American owns a dog or cat, enjoys camping or gourmet cooking, reads the Bible or lots of other books. It can often pinpoint an American's occupation, car and favorite vacations. By analyzing the equivalent of billions of pages of data, it often projects for its customers who should be offered a credit card or who is likely to buy a computer."

Most of this information is from y 1998 piece. Echelon has developed, matured, and morphed into a much more powerful hybrid. 'Carnivore' was software to help triage the cacophony of data. Vault 7 and 'Umbrage' are logical (some would argue "insidious") growth.

More to follow…