"It Is Not A Question of Who Is Right Or Wrong But What Is Right Or Wrong That Counts.

"

--Geoff Metcalf
Providing an on line Triage of the news since 1997



Wo

rld & Nation
U.S. diplomat Sondland says he followed president's orders on Ukraine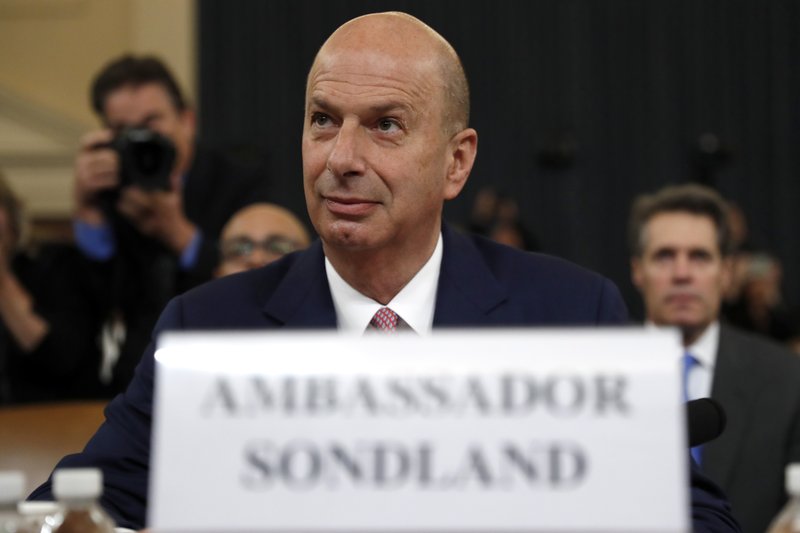 A U.S. diplomat who is a key witness in the impeachment inquiry into President Donald Trump said on Wednesday he worked with Trump's personal attorney Rudy Giuliani on Ukraine issues on "the President's orders."
Gordon Sondland, the U.S. ambassador to the European Union, said in prepared remarks to the investigation that Giuliani's efforts to push Ukrainian President Volodymyr Zelenskiy for investigations into Trump's political rivals "were a quid pro quo for arranging a White House visit" for the Ukrainian leader.
Sondland, a wealthy hotel entrepreneur and Trump donor, said U.S. Secretary of State Mike Pompeo was aware and "fully supportive" of their efforts on Ukraine.
---

Zeldin: Schiff 'Much More Connected' With Whistleblower

Lt. Col. Alexander Vindman's testimony pointed to House Intelligence Committee Chairman Adam Schiff as being "much more connected" with the whistleblower behind the impeachment inquiry into President Donald Trump than had been initially thought, Rep. Lee Zeldin claimed Wednesday.

"I think that what we saw play out yesterday, for example, is showing just how dishonest Adam Schiff has been throughout this process," the New York Republican told Fox News' "Fox and Friends." "I know that there would be additional questions for the whistleblower if he could come in for a private deposition."

He noted that Vindman was asked to name the one person he spoke within the intelligence community about what he'd heard in the July 25 phone call between Trump and Ukraine President Volodymyr Zelenskiy, and "he said he spoke to two people" outside the National Security Council.




---
'Electability problem': Warren sputters, Buttigieg surges into debate clash
Sen. Elizabeth Warren sailed into the fourth Democratic presidential debate in October with the wind at her back after emerging as the candidate to beat in the early primary states.
A month later, however, the Massachusetts senator's support has flattened out, suggesting she has her work cut out for her as she looks to regain her momentum when she walks onto the stage Wednesday night for the fifth debate in Atlanta.
Charlie Cook, of the nonpartisan Cook Political Report, said Ms. Warren had "enjoyed open field running" until the last month or so when "suddenly a lot of people started assuming that she would be the Democratic nominee" and began focusing on her calls for "big structural change."
---
Ben Carson blasts 'true career politician' Maxine Waters: 'Basic manners elude you'
Housing and Urban Development Secretary Ben Carson penned a scathing letter to Rep. Maxine Waters on Monday, calling the 28-year congresswoman a "true career politician" who cares more about getting "cheap headlines" than caring for her own constituents.
The letter came in response to a letter Ms. Waters, chairwoman of the House Financial Services Committee, sent to President Trump last month demanding clarification on reports that the administration was considering moving homeless people from Los Angeles and other California cities off the streets and into unused government facilities.
"Your shamelessness knows no bounds," Ms. Waters wrote Oct. 28. "From day one of your presidency, you have attacked our democracy and now you have set your ire on the 550,000 Americans who on any given night experience homelessness."
In his response, Mr. Carson blasted Ms. Waters for lacking basic manners and ignoring his repeated attempts to discuss the issue in person.
---
FBI investigating possibility of 'criminal enterprise' in Jeffrey Epstein death, prisons chief admits
FBI investigators probing the death of Jeffrey Epstein are looking into whether a "criminal enterprise" may have played a role, the Bureau of Prisons' director revealed Tuesday during testimony in front of the Senate Judiciary Committee.
Kathleen Hawk Sawyer, who described the death as a "black eye on the entire Bureau of Prisons," made the admission when questioned by Sen. Lindsey Graham.
---
Inside the bloody cartel war for Mexico's multibillion-dollar avocado industry
The cartel members showed up in this verdant stretch of western Mexico armed with automatic weapons and chainsaws.
Soon they were cutting timber day and night, the crash of falling trees echoing throughout the virgin forest. When locals protested, explaining that the area was protected from logging, they were held at gunpoint and ordered to keep quiet.
Stealing wood was just a prelude to a more ambitious plan.
The newcomers, members of a criminal group called the Viagras, were almost certainly clearing the forest to set up a grow operation. They wouldn't be planting marijuana or other crops long favored by Mexican cartels, but something potentially even more profitable: avocados.
---
Time: Mike Pompeo Plans to Resign, Run for Senate
Secretary of State Mike Pompeo will resign from his post in order to launch a Senate run in his home state of Kansas, according to a new report.
Time reported Wednesday that three Republicans confirmed Pompeo's plans. He initially was going to resign next spring and run for the Senate, but the ongoing impeachment inquiry and other issues have pushed up his timetable.
Pompeo has come under fire for not defending State Department employees who President Donald Trump has criticized as part of the Democrats' impeachment effort. Trump is accused of using his position to force Ukraine into investigating former Vice President Joe Biden, one of his rivals in the 2020 election.
---
California's largest utility to intentionally shut off power again -- this time to 150,000 customers
California's largest utility will intentionally shut off power to about 150,000 customers starting Wednesday to prevent its equipment from setting off blazes.
The shutoffs will begin as early as 6 a.m. local time and as late as 4 p.m., and will affect Northern California areas of the Sierra Foothills, the North Bay and the North Valley.
Pacific Gas and Electric Co. expects high winds and dry conditions over the next 24 hours, leading to increased fire risk. The public safety power shutoff will affect 18 counties, it said.
"PG&E will safely restore power in stages as quickly as possible, with the goal of restoring the most customers by end of day Thursday, based on the current weather conditions," the company said.
---
Navy Could Remove Gallagher from SEALs, Even after Trump Intervention
Special Operations Chief Edward Gallagher, whose rank was recently restored by President Donald Trump in a controversial move, could be removed from the Navy SEALs, U.S. officials told Reuters on Tuesday.
Gallagher, a SEAL team platoon leader, was accused of committing war crimes while deployed in Iraq in 2017.
In July, a military jury acquitted him of murdering a captured Islamic State fighter by stabbing the wounded prisoner in the neck, but it convicted him of illegally posing with the detainee's corpse. That led to his rank being reduced.
Last week, Trump restored Gallagher's rank and pardoned two Army officers accused of war crimes in Afghanistan. Critics said Trump's moves undermined military justice and sent a message that battlefield atrocities would be tolerated.
---
The Conservatives' plan to wreck Brexit again
Boris Johnson spurned Nigel Farage's offer to form a Brexit alliance, increasing chances for Remain candidates
So, it's official, the Conservative Party wants to wreck Brexit. Why else is it fielding candidates in Labor-held seats that it has not won in more than 100 years, which will split the Brexit vote and increase the chances of Remain candidates winning?
Last week, Prime Minister Boris Johnson spurned Nigel Farage's offer to form a Brexit alliance that would have avoided that outcome, and also the advice of President Donald Trump that the two Brexit leaders should work together.
This had not been an easy decision for Mr. Farage to make as it meant supporting the Conservatives' European Union deal that he loathes and risked splitting his own party.
The prime minister says he wants Brexit decided quickly, but an element within his party still wants to destroy the Brexit Party along with it.
" It is discouraging to think how many people are shocked by honesty and how few by deceit."

-- Noel Coward

(1899-1973) British playwright

---

The Medal of Honor is the highest award for valor in action against an enemy force which can be bestowed upon an individual serving in the Armed Services of the United States.

GeneTrerally presented to its recipient by the President of the United States of America in the name of Congress.

The first award of the Medal of Honor was made March 25, 1863 to Private JACOB PARROTT.The last award of the Medal of Honor was made September 15, 2011 to Sergeant DAKOTA MEYER.

Since then there have been: • 3458 recipients of the Medal of Honor.

• Today there are 85 Living Recipients of the Medal of Honor.

Citation


Captain Humbert R. Versace distinguished himself by extraordinary heroism during the period of 29 October 1963 to 26 September 1965, while serving as S-2 Advisor, Military Assistance Advisory Group, Detachment 52, Ca Mau, Republic of Vietnam. While accompanying a Civilian Irregular Defense Group patrol engaged in combat operations in Thoi Binh District, An Xuyen Province, Captain Versace and the patrol came under sudden and intense mortar, automatic weapons, and small arms fire from elements of a heavily armed enemy battalion. As the battle raged, Captain Versace, although severely wounded in the knee and back by hostile fire, fought valiantly and continued to engage enemy targets. Weakened by his wounds and fatigued by the fierce firefight, Captain Versace stubbornly resisted capture by the over-powering Viet Cong force with the last full measure of his strength and ammunition. Taken prisoner by the Viet Cong, he exemplified the tenets of the Code of Conduct from the time he entered into Prisoner of War status. Captain Versace assumed command of his fellow American soldiers, scorned the enemy's exhaustive interrogation and indoctrination efforts, and made three unsuccessful attempts to escape, despite his weakened condition which was brought about by his wounds and the extreme privation and hardships he was forced to endure. During his captivity, Captain Versace was segregated in an isolated prisoner of war cage, manacled in irons for prolonged periods of time, and placed on extremely reduced ration. The enemy was unable to break his indomitable will, his faith in God, and his trust in the United States of America. Captain Versace, an American fighting man who epitomized the principles of his country and the Code of Conduct, was executed by the Viet Cong on 26 September 1965. Captain Versace's gallant actions in close contact with an enemy force and unyielding courage and bravery while a prisoner of war are in the highest traditions of the military service and reflect the utmost credit upon himself and the United States Army.

---

From the Archives

We Have Met the Enemy…
Geoff Metcalf


"They who can give up essential liberty to obtain a little temporary safety deserve neither liberty nor safety.
--Benjamin Franklin
"The American people must be willing to give up a degree of personal privacy in exchange for safety and security."
--Louis Freeh


In the wake of the clamor over the most recent WikiLeaks data dump, 'Vault 7', 'UMBRAGE', et al, it should be noted this is not really anything new. What we are seeing here is simply the evolution of something that goes back to the late 50s (to the incomplete best knowledge I have).

It is kinda cool to finally see even

The New York Times

acknowledging material

I was writing about in 1998

.

In April of 1998 I wrote "Privacy has become an anachronism." I was commenting on "a massive system designed to intercept all your e-mail, fax traffic and more." I was explaining 'Echelon', the illegitimate offspring of a

UKUSA Treaty

signed by the United States, United Kingdom, Canada, Australia and New Zealand. Its purpose was, and is, to have a vast global intelligence monster, which allegedly shares common goals. The system was so "efficient" that reportedly National Security Agency folk from Fort Meade could work from Menwith Hill in England to intercept local communications without either nation having to burden themselves with the formality of seeking approval (a court order) or disclosing the operation. And this was all pre-9/11 and pre-the anti-constitutional

'Patriot Act'

.

It is illegal (without a Judge's signed permission) for the United States to spy on its citizens … kinda. The laws have long been circumvented by a mutual pact among five nations. Under the terms of UKUSA agreement, Britain spies on Americans and America spies on British citizens, and then the two conspirators trade data. A classic technical finesse. It is legal, but the intent to evade the spirit is inescapable.

I often fictionalized the genesis of 'Echelon' as an informal meeting of a group of post war American and British intelligence types drinking in some remote rustic bar. An imagined CIA type complains to his MI6 buddy about the hassles of US laws preventing US intelligence from surveillance of bad guys, and the Brit echoes the same complaint.

"Hey wait a moment mate," says Nigel, the make-believe MI6 guy, "I can spy on your guys and you can spy on our bad players…why don't we just come up with a mechanism whereby we spy on your villains, you spy on our villains, and we just 'share' the intel?"

This system was called ECHELON, and has been kicking around in some form longer than most of you. The result of the UKUSA treaty signed by the United States, United Kingdom, Canada, Australia and New Zealand was, and is, to have a vast global intelligence monster which allegedly shares common goals.

The London Telegraph reported in December of 1997 that the Civil liberties Committee of the European Parliament had officially confirmed the existence and purpose of ECHELON. "A global electronic spy network that can eavesdrop on every telephone, e-mail and telex communication around the world will be officially acknowledged for the first time in a European Commission report. …"

The report noted: "Within Europe all e-mail, telephone and fax communications are routinely intercepted by the United States National Security Agency, transferring ll target information from the European mainland via the strategic hub of London, then by satellite to Fort Meade in Maryland via the crucial hub at Menwith Hill, in the North York moors in the UK.

"The ECHELON system forms part of the UKUSA system but unlike many of the electronic spy systems developed during the Cold War, ECHELON was designed primarily for non-military targets: governments, organizations and businesses in virtually every country."

An interesting sidebar appeared in the International Herald Tribune under the headline, "Big Corporate Brother: It Knows More About You Than You Think." The story details Acxiom Corp, which was a humongous information service hidden in the Ozark foothills. Twenty-four hours a day, Acxiom electronically gathered and sorts all kinds of data about 196 million Americans. Credit card transactions and magazine subscriptions, telephone numbers, real estate records, automotive data, hunting, business and fishing licenses, consumer surveys and demographic detail that would make a marketing department's research manager salivate. This relatively new (legal) enterprise was known as "data warehousing" or "data-mining", and it underscores the cruel reality that the fiction of personal privacy has become obsolete. Technology's ability to collect and analyze data has made privacy a quaint albeit interesting dinosaur.

The Tribune reported that "Axciom can often determine whether an American owns a dog or cat, enjoys camping or gourmet cooking, reads the Bible or lots of other books. It can often pinpoint an American's occupation, car and favorite vacations. By analyzing the equivalent of billions of pages of data, it often projects for its customers who should be offered a credit card or who is likely to buy a computer."

Most of this information is from y 1998 piece. Echelon has developed, matured, and morphed into a much more powerful hybrid. 'Carnivore' was software to help triage the cacophony of data. Vault 7 and 'Umbrage' are logical (some would argue "insidious") growth.

More to follow…