"It Is Not A Question of Who Is Right Or Wrong But What Is Right Or Wrong That Counts.

"

--Geoff Metcalf
Wo

rld & National
DOJ Agrees to Turn Over Mueller Documents


The Department of Justice has reached agreement with officials from the House Intelligence Committee to turn over documents relating to special counsel Robert Mueller's probe, the panel's chairman Adam Schiff, D-Calif., announced Wednesday.

Schiff made the announcement on Twitter, where he wrote: "DOJ has accepted our offer, and will begin turning over to the Committee twelve categories of counterintelligence and foreign intelligence materials beginning this week. Our subpoena will remain in effect, and be enforced should DOJ fail to comply with the full document request."

On Tuesday, the Justice Department had offered to give committee members access to a less-redacted very of Mueller's report and some documents connected to the probe if Democrats dropped a threat to hold Attorney General William Barr in contempt of Congress, CBS News reported.


---
'Unprecedented power': William Barr blasts federal judges over nationwide injunctions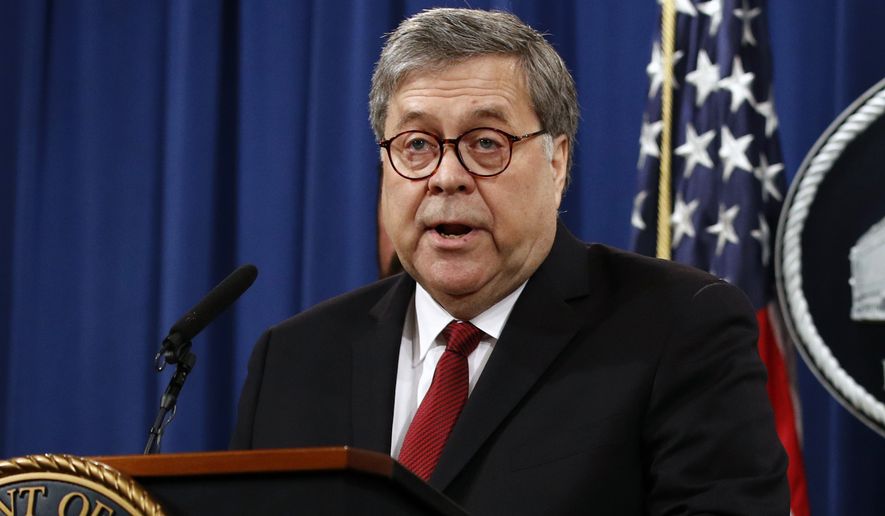 Attorney General William P. Barr on Tuesday railed against federal courts issuing nationwide injunctions blocking President Trump from implementing his policies, saying they wield "unprecedented power."

In a speech before the American Law Institute, Mr. Barr said such injunctions block politicians of all stripes from enacting the voters' will.

"One judge can, in effect, cancel the policy with the stroke of the pen," he said. "No official in the United States government can exercise that kind of nationwide power, with the sole exception of the president. And the Constitution subjects him to nationwide election, among other constitutional checks, as a prerequisite to wielding that power."


---
Reports: Tillerson Met With House Foreign Affairs Leaders
Rex Tillerson had an under-the-radar sit-down with leaders of the House Foreign Affairs Committee about his time as secretary of state in the Trump administration, The Daily Beast reported.
According to the news outlet, an unnamed committee aide said Tillerson reached out and expressed a willingness to meet. And on Tuesday, he sat down for a more than six-hour meeting that was handled with "extreme secrecy."
The news outlet reported Tillerson met with House Foreign Affairs Committee chair Rep. Eliot Engel, D-N.Y., and ranking member Rep. Michael McCaul, R-Texas.
According to The Daily Beast, Tillerson told members and staffers the Trump administration actively avoided confronting Russia about allegations of interference in the election in an effort to develop a solid relationship with the Kremlin.
---
Infrastructure meeting gives Trump and Pelosi time to discuss a different i-word
Everything in Washington comes down to this: It's House Speaker Nancy Pelosi vs. President Donald Trump.
America's two most powerful leaders will come face-to-face again Wednesday in the latest twist of a many-layered test of wills that has momentous implications for the nation's future.
Pelosi will have a frying-pan-into-the-fire moment when she heads to the White House from a meeting of her Democratic caucus, which is pulsating with calls for Trump's impeachment.
---
Nevada passes National Popular Vote bill in bid to upend Electoral College
Assembly Bill 186 headed to Democratic Gov. Steve Sisolak
The Nevada Senate approved Tuesday a National Popular Vote bill on a party-line vote, sending the legislation aimed at upending the Electoral College to the governor.
Assembly Bill 186, which passed the Senate on a 12-8 vote, would bring Nevada into the National Popular Vote Interstate Compact, an agreement between participating states to cast their electoral votes for the winner of the popular vote.
If signed as expected by Democratic Gov. Steve Sisolak, Nevada would become the 16th jurisdiction to join the compact, along with 14 states and the District of Columbia. The compact would take effect after states totaling 270 electoral votes, and with Nevada, the total would reach 195.
---
Vermont Gov. Phil Scott to allow no-limits abortion bill to become law
A spokeswoman for Vermont Gov. Phil Scott says he will allow a sweeping no-limits abortion bill to become law, although it may do so without his signature.
The pro-choice Republican governor has ruled out a veto of H. 57, meaning that he will either sign it or allow it to become law with no action, spokeswoman Rebecca Kelley told multiple Vermont news outlets this week.
"It will become law," Ms. Kelley told Local 22 and Local 44 News. "We have not received the bill from the Legislature yet so that's all I can confirm at this time."
The bill would give Vermont the most expansive abortion law in the nation, making abortion a "fundamental right," allowing the procedure until birth, and forbidding state agencies from interfering with access to "reproductive health services."
---
ICE says Maryland county released MS-13-linked illegal immigrant murder suspects
New murder connected with MS-13, suspects were released last year
Two teens arrested last week on charges stemming from a horrific killing in Maryland were supposed to be deported last year, but local authorities didn't turn them over to ICE, the immigration agency said Tuesday.
Prosecutors say the teens, Josue Rafael Fuentes-Ponce, 16, and Joel Ernesto Escobar, 17 — suspected of being MS-13 gang members — feared they would be ratted out for an April robbery, so they and an accomplice snuffed out a 14-year-old suspected snitch. They made her strip before beating her with a baseball bat and chopping her with a machete.
The girl's body was found in a creek this month.
U.S. Immigration and Customs Enforcement, in a pointed statement Tuesday, said the crime could have been averted but for Prince George's County's sanctuary city policy.
---
Impeachment push gains steam in House as prominent Dems join in
Several senior House Democrats announced their support Tuesday for starting an impeachment inquiry against President Trump, putting party leaders on the defensive as they try to balance their hopes for an aggressive legislative agenda against a left wing out for blood.
Even some of the leadership team of Speaker Nancy Pelosi, California Democrat, joined the push to start the path to impeachment, though they were careful to say they will defer to Mrs. Pelosi's wishes.
Their fury was stoked by Mr. Trump's directive to former White House counsel Don McGahn to defy a subpoena demanding that he testify Tuesday to the House Judiciary Committee. The White House said Mr. McGahn, as a former close adviser to Mr. Trump, did not have to testify under the separation of powers doctrine that protects a president's close team from being forced to testify.
---
Trump has built less than 2 miles of new wall with $1.57 BILLION Congress handed him for this year but insists 'demolition and rebuilding' should count too
The Trump administration has built less than 2 miles of new border barriers using the $1.57 billion Congress allocated to the project for the fiscal year that will end September 30, according to a letter filed Tuesday in federal court.
House of Representatives general counsel Douglas Letter made that revelation to Judge Haywood Gillam, citing information the administration provided to Congress about its efforts through the end of April.
'Based on that updated information, it appears that CBP has now constructed 1.7 miles of fencing with its fiscal year 2018 funding,' Letter wrote.
President Donald Trump fired back Wednesday on Twitter, defending what he said has been 'a complete demolition and rebuilding of old and worthless barriers with a brand new Wall and footings.'
---
END GAME Cabinet abandons isolated Theresa May as Brexiteers plot to kick her out TODAY
Tory MPs want to see the Prime Minister gone after she unveiled her new Brexit deal
DESPERATE Theresa May was today abandoned by the Cabinet and clung to power by a thread as MPs demanded that she step down within hours.
The PM faces mounting fury from her own party after she gave the Commons a chance to vote on a second Brexit referendum.
Plotting ministers stayed away from Prime Minister's Questions and held a meeting to discuss Mrs May's future instead.
Brexiteers are rumoured to be planning a final showdown with the PM later today, telling her it's time to step down.
---
A new folly of identity politics: 'Separate but equal' commencements
During commencement season, young people across the country enjoy the ceremony marking the completion of their college career, attaining degrees reflecting their interest in ideas, innovation, art, sciences and the myriad of courses offered by American academies.
But the camaraderie inherent and necessary as part of the college experience is under attack by a familiar foe: identity politics. This divisive tool is now creating divisions in the very experience that is meant to expand one's world and our belonging in it.
College is meant, in part, to be the shift into adulthood; the experience of moving out of not just your parents' house, but out of your comfort zone as well, and into an arena where you will encounter people different from you, unlike your hometown, challenging what you think you know about your life by tossing you into a different one. In addition to the education by the books, the intention is to expand your understanding of the world beyond yourself. Literally.
There is now a warning sign that the leftist obsession with identity politics and the division that it brings have overwhelmed the academy. The leftist strategy of promoting self-regard, otherness, suspicion and division is taking root in the very institutions that are meant to have the student look outside the known, enter the unknown and make it better with their presence.
---
Race for Democratic presidential nomination over before it begins
New Hampshire's 2020 presidential primary is still more than eight months away. The two dozen candidates now in the race haven't even faced off yet in debates. But the race for the Democratic presidential nomination is already over.
The winner: Joe Biden.
While the media will play up the expansive field — there are now 24 candidates vying for the nomination — and pretend there's some kind of horse race (for ratings, of course), President Trump knows the game is done.
"Looks like Bernie Sanders is history. Sleepy Joe Biden is pulling ahead and think about it, I'm only here because of Sleepy Joe and the man who took him off the 1% trash heap, President O!" Trump wrote Monday on Twitter.
Let's go to the numbers.
---
---
"It is discouraging to think how many people are shocked by honesty and how few by deceit."

-- Noel Coward

(1899-1973) British playwright

---

The Medal of Honor is the highest award for valor in action against an enemy force which can be bestowed upon an individual serving in the Armed Services of the United States.

GeneTrerally presented to its recipient by the President of the United States of America in the name of Congress.

The first award of the Medal of Honor was made March 25, 1863 to Private JACOB PARROTT.The last award of the Medal of Honor was made September 15, 2011 to Sergeant DAKOTA MEYER.

Since then there have been: • 3458 recipients of the Medal of Honor.

• Today there are 85 Living Recipients of the Medal of Honor.

Citation


Captain Humbert R. Versace distinguished himself by extraordinary heroism during the period of 29 October 1963 to 26 September 1965, while serving as S-2 Advisor, Military Assistance Advisory Group, Detachment 52, Ca Mau, Republic of Vietnam. While accompanying a Civilian Irregular Defense Group patrol engaged in combat operations in Thoi Binh District, An Xuyen Province, Captain Versace and the patrol came under sudden and intense mortar, automatic weapons, and small arms fire from elements of a heavily armed enemy battalion. As the battle raged, Captain Versace, although severely wounded in the knee and back by hostile fire, fought valiantly and continued to engage enemy targets. Weakened by his wounds and fatigued by the fierce firefight, Captain Versace stubbornly resisted capture by the over-powering Viet Cong force with the last full measure of his strength and ammunition. Taken prisoner by the Viet Cong, he exemplified the tenets of the Code of Conduct from the time he entered into Prisoner of War status. Captain Versace assumed command of his fellow American soldiers, scorned the enemy's exhaustive interrogation and indoctrination efforts, and made three unsuccessful attempts to escape, despite his weakened condition which was brought about by his wounds and the extreme privation and hardships he was forced to endure. During his captivity, Captain Versace was segregated in an isolated prisoner of war cage, manacled in irons for prolonged periods of time, and placed on extremely reduced ration. The enemy was unable to break his indomitable will, his faith in God, and his trust in the United States of America. Captain Versace, an American fighting man who epitomized the principles of his country and the Code of Conduct, was executed by the Viet Cong on 26 September 1965. Captain Versace's gallant actions in close contact with an enemy force and unyielding courage and bravery while a prisoner of war are in the highest traditions of the military service and reflect the utmost credit upon himself and the United States Army.

---

From the Archives

We Have Met the Enemy…
Geoff Metcalf


"They who can give up essential liberty to obtain a little temporary safety deserve neither liberty nor safety.
--Benjamin Franklin
"The American people must be willing to give up a degree of personal privacy in exchange for safety and security."
--Louis Freeh


In the wake of the clamor over the most recent WikiLeaks data dump, 'Vault 7', 'UMBRAGE', et al, it should be noted this is not really anything new. What we are seeing here is simply the evolution of something that goes back to the late 50s (to the incomplete best knowledge I have).

It is kinda cool to finally see even

The New York Times

acknowledging material

I was writing about in 1998

.

In April of 1998 I wrote "Privacy has become an anachronism." I was commenting on "a massive system designed to intercept all your e-mail, fax traffic and more." I was explaining 'Echelon', the illegitimate offspring of a

UKUSA Treaty

signed by the United States, United Kingdom, Canada, Australia and New Zealand. Its purpose was, and is, to have a vast global intelligence monster, which allegedly shares common goals. The system was so "efficient" that reportedly National Security Agency folk from Fort Meade could work from Menwith Hill in England to intercept local communications without either nation having to burden themselves with the formality of seeking approval (a court order) or disclosing the operation. And this was all pre-9/11 and pre-the anti-constitutional

'Patriot Act'

.

It is illegal (without a Judge's signed permission) for the United States to spy on its citizens … kinda. The laws have long been circumvented by a mutual pact among five nations. Under the terms of UKUSA agreement, Britain spies on Americans and America spies on British citizens, and then the two conspirators trade data. A classic technical finesse. It is legal, but the intent to evade the spirit is inescapable.

I often fictionalized the genesis of 'Echelon' as an informal meeting of a group of post war American and British intelligence types drinking in some remote rustic bar. An imagined CIA type complains to his MI6 buddy about the hassles of US laws preventing US intelligence from surveillance of bad guys, and the Brit echoes the same complaint.

"Hey wait a moment mate," says Nigel, the make-believe MI6 guy, "I can spy on your guys and you can spy on our bad players…why don't we just come up with a mechanism whereby we spy on your villains, you spy on our villains, and we just 'share' the intel?"

This system was called ECHELON, and has been kicking around in some form longer than most of you. The result of the UKUSA treaty signed by the United States, United Kingdom, Canada, Australia and New Zealand was, and is, to have a vast global intelligence monster which allegedly shares common goals.

The London Telegraph reported in December of 1997 that the Civil liberties Committee of the European Parliament had officially confirmed the existence and purpose of ECHELON. "A global electronic spy network that can eavesdrop on every telephone, e-mail and telex communication around the world will be officially acknowledged for the first time in a European Commission report. …"

The report noted: "Within Europe all e-mail, telephone and fax communications are routinely intercepted by the United States National Security Agency, transferring all target information from the European mainland via the strategic hub of London, then by satellite to Fort Meade in Maryland via the crucial hub at Menwith Hill, in the North York moors in the UK.

"The ECHELON system forms part of the UKUSA system but unlike many of the electronic spy systems developed during the Cold War, ECHELON was designed primarily for non-military targets: governments, organizations and businesses in virtually every country."

An interesting sidebar appeared in the International Herald Tribune under the headline, "Big Corporate Brother: It Knows More About You Than You Think." The story details Acxiom Corp, which was a humongous information service hidden in the Ozark foothills. Twenty-four hours a day, Acxiom electronically gathered and sorts all kinds of data about 196 million Americans. Credit card transactions and magazine subscriptions, telephone numbers, real estate records, automotive data, hunting, business and fishing licenses, consumer surveys and demographic detail that would make a marketing department's research manager salivate. This relatively new (legal) enterprise was known as "data warehousing" or "data-mining", and it underscores the cruel reality that the fiction of personal privacy has become obsolete. Technology's ability to collect and analyze data has made privacy a quaint albeit interesting dinosaur.

The Tribune reported that "Axciom can often determine whether an American owns a dog or cat, enjoys camping or gourmet cooking, reads the Bible or lots of other books. It can often pinpoint an American's occupation, car and favorite vacations. By analyzing the equivalent of billions of pages of data, it often projects for its customers who should be offered a credit card or who is likely to buy a computer."

Most of this information is from y 1998 piece. Echelon has developed, matured, and morphed into a much more powerful hybrid. 'Carnivore' was software to help triage the cacophony of data. Vault 7 and 'Umbrage' are logical (some would argue "insidious") growth.

More to follow…