"It Is Not A Question of Who Is Right Or Wrong But What Is Right Or Wrong That Counts.

"

--Geoff Metcalf






Wo

rld & National
'I will not be bullied': AG nominee Barr defends Mueller's Russia probe
I would not carry out instructions to fire Mueller without good cause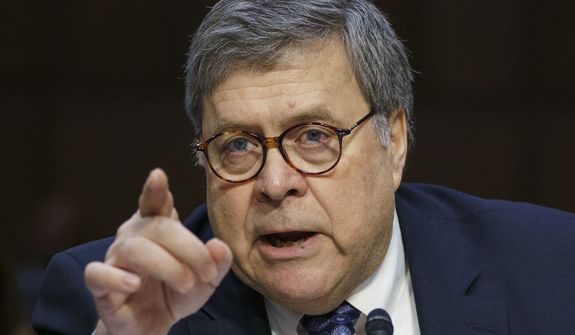 Attorney General nominee William P. Barr promised senators Tuesday that he would refuse to carry out orders to fire special counsel Robert Mueller and defended the ongoing investigation into Trump campaign figures and Russian election meddling, as he sought to assuage concerns that he would be President Trump's hatchet man.
Mr. Barr said he wouldn't be "bullied" into bad decisions and promised that the public would see some transparency from the lengthy investigation — though not necessarily Mr. Mueller's full report.
He rejected Democrats' suggestions that he automatically recuse himself from overseeing the investigation, saying he would make those decisions after weighing all the considerations.
"I am not going to do anything that I think is wrong, and I will not be bullied into doing anything I think is wrong by anybody," he said. "Whether it be editorial boards or Congress or the president, I'm going to do what I think is right."
---
Trump Orders 50k Back to Work Without Pay
The Trump administration has ordered nearly 50,000 furloughed federal employees back to work without pay to inspect planes, issue tax refunds, monitor food safety, and facilitate the sale of offshore oil drilling rights.
The efforts in recent days illustrate how President Donald Trump is trying to limit the impact of the partial government shutdown and shield favored industries as the funding impasse thwarts the deployment of new aircraft, stock offerings and even craft beers. The Obama administration took the opposite approach in 2013 by erecting barricades around open-air monuments and largely closing national parks — then leveraging public anger to blame Republicans for halted government services.
Critics say the Trump administration is skirting federal law by continuing some functions amid the political stalemate between congressional Democrats and Trump over whether to fund a wall on the U.S.-Mexico border. A 149-year-old law bars agencies from spending money Congress hasn't given to them, with only limited exceptions for "emergencies involving the safety of human life or the protection of property."
Newsmax.Headline.Standard- 17137-17145
---
Blast in Syria near U.S.-led coalition patrol causes casualties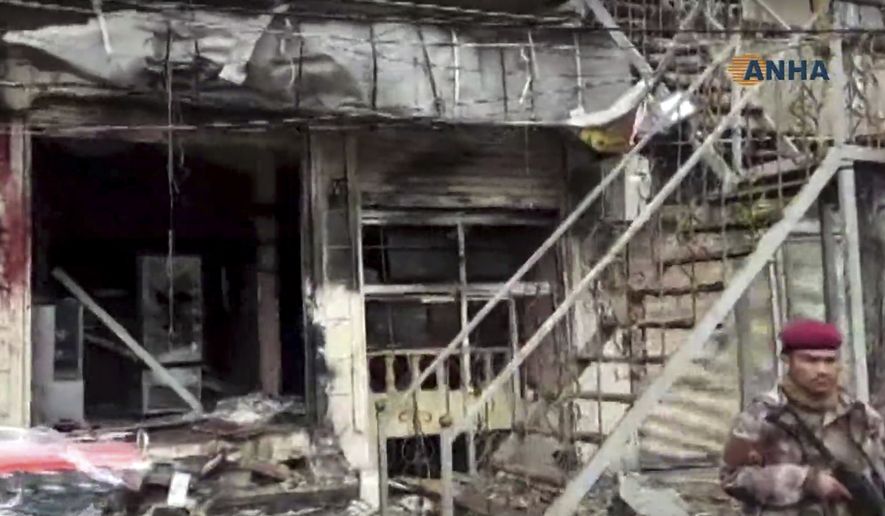 An explosion struck Wednesday near a patrol of the U.S.-led coalition in the northern Syrian town of Manbij, killing and wounding more than a dozen people, a Syrian war monitoring group and a local town council said.
The Britain-based Syrian Observatory for Human Rights said seven civilians were killed and nine wounded in the blast. There was no immediate comment from the U.S.-led coalition or the U.S. military on the explosion or casualties among coalition forces.
The Kurdish Hawar news agency, based in northern Syria, and the Observatory, which monitors the war through activists on the ground, reported U.S. troops were among the casualties.
Turkey's state-run Anadolu Agency, citing unnamed local sources, said a number of U.S. soldiers were injured in the blast and that the U.S. military evacuated soldiers by helicopter.
---
Rashida Tlaib blasts 'right wing media' after coverage of get-together with pro-Hezbollah activist
Tlaib: 'I am Muslim and Palestinian. Get over it.'
Rep. Rashida Tlaib, Michigan Democrat, accused "right wing media" Tuesday of picking on her for being Muslim after she was slammed for hosting a pro-Hezbollah activist at her congressional swearing-in ceremony in Detroit.
"Right wing media targeting me again rather than focusing on the President's reckless government shutdown," tweeted Ms. Tlaib. "Yes, I am Muslim and Palestinian. Get over it."
Her Tuesday tweet came a day after a rash of stories about Palestinian activist Abbas Hamideh, who posted photos of himself and Ms. Tlaib at her Saturday ceremony and said he attended a "private dinner afterward with the entire family, friends and activists across the country."
---
Activist Laura Loomer sets up illegal immigrant 'sanctuary' on Nancy Pelosi's lawn
Conservative provocateur Laura Loomer's latest stunt included bringing a trio of self-described illegal immigrants to set up a "sanctuary" on House Speaker Nancy's Pelosi's lawn in California.
Ms. Loomer live-streamed the stunt on Periscope on Monday as a protest against the Democratic Party's opposition to President Trump's proposed southern border wall and Mrs. Pelosi's characterization of the wall as "immoral."
Ms. Loomer and her "amigos" reportedly from Mexico and Guatemala are seen in the video jumping over a small wall at Mrs. Pelosi's Napa home and setting up a white tent on the lawn painted with the word "immorality."
---
Razor burn: Gillette ad stirs online uproar
A Gillette ad for men invoking the #MeToo movement is sparking intense online backlash, with accusations that it talks down to men and groups calling for a boycott. But Gillette says it doesn't mind sparking a discussion. Since it debuted Monday, the Internet-only ad has garnered nearly 19 million views on YouTube, Facebook and Twitter — a level of buzz that any brand would covet.
The two-minute ad from Procter & Gamble's razor brand shows men and boys engaging in bullying and sexual harassment and encourages men to "say the right thing" and "act the right way." Taking on bullying, sexual harassment and toxic masculinity is a big task for a razor brand. Many critics took to social media saying it was insulting to men and laden with stereotypes.
---
Chinese rapid military advance closing gap on U.S., Pentagon warns
China's rapidly modernizing military is quickly closing the gap with the U.S. and its allies and may soon be tempted to test the status quo with Taiwan, a stark report from the Defense Department's intelligence directorate concluded.
The 50-page report by the Defense Intelligence Agency, released Tuesday, contends that with its advances in military capabilities and an increasingly internationally focused defense strategy, China is rapidly entering "a period of strategic opportunity … [toward] building comprehensive national power," said senior DIA intelligence analyst Dan Taylor.
The goal of China's relentless military buildup is to "impose its will in the region and beyond," Mr. Taylor told reporters at the Pentagon. Beijing "has demonstrated a willingness to use the [military] as an instrument of national power in the execution of … their historic mission in the new century."
---
NO MAY! Crushed Theresa May dares MPs to vote for General Election today after record Brexit defeat
The PM announced there will be a no-confidence vote in the Government today
THERESA May dared MPs to vote for a General Election last night after her Brexit deal suffered the worst defeat in British history.
The PM asked Labour to call a confidence vote in the House of Commons after 432 MPs voted to kill off the withdrawal agreement with only 202 backing her.
The crushing defeat - which saw 118 Tories turn against the PM - is the worst since the advent of full democracy and suggests Mrs May will never win enough support for her strategy.
---
Witness: 'El Chapo' Paid Ex-Mexican President Peņa Nieto $100 Million Bribe
Accused Mexican drug lord Joaquin "El Chapo" Guzman once paid a $100 million bribe to former Mexican President Enrique Peņa Nieto, an ex-Guzman associate testified on Tuesday that he previously told U.S. authorities.
Alex Cifuentes, who has described himself as Guzman's onetime right-hand man, discussed the alleged bribe under cross-examination by Jeffrey Lichtman, one of Guzman's lawyers, in Brooklyn federal court. Asked if he told authorities in 2016 that Guzman arranged the bribe, he answered, "That's right."
Reuters could not immediately reach Peņa Nieto or his former spokesman for comment. He has previously denied taking bribes.
---
Liberals and Gillette characterizing all men as predators
One of the left's favorite tactics to control a society is to divide and conquer. For generations now, the liberal establishment has sought to pit blacks against whites, gays against straights and women against men. While there are differences between people, the concerted effort to exacerbate problems, increase them and then use them politically, continues on.
The latest ridiculous example is from the American Psychological Association (APA), which announced "new guidelines" regarding boys and men for psychologists in this country. According to the APA, something they term "traditional masculinity" is shown to limit "males' psychological development, constrain their behavior, resulting in gender role strain and gender role conflict, and negatively influence mental and physical health."
The rank absurdity of this approach is obvious. It is leftist ideology and political theory combined in a power blender with a massive heaping of sexism and bigotry.
---
Crimes without punishment in Argentina
For more than a decade, Alberto Nisman had been investigating the worst terrorist attack ever committed on Argentine soil: The 1994 bombing of the AMIA Jewish community center in Buenos Aires. Eighty-five people were killed and hundreds injured.
Four years ago this week, the federal prosecutor was putting the finishing touches on a report that would accuse former President Cristina Fernandez de Kirchner and a dozen others of helping cover up the Islamic Republic of Iran's responsibility for the attack.
On Jan. 18, the day before he was to present that report to Argentina's congress, Mr. Nisman was found dead in the bathroom of his locked 13th-floor apartment. A .22-caliber bullet had been fired at close-range into his head.
---
"It is discouraging to think how many people are shocked by honesty and how few by deceit."

-- Noel Coward

(1899-1973) British playwright

---

The Medal of Honor is the highest award for valor in action against an enemy force which can be bestowed upon an individual serving in the Armed Services of the United States.

GeneTrerally presented to its recipient by the President of the United States of America in the name of Congress.

The first award of the Medal of Honor was made March 25, 1863 to Private JACOB PARROTT.The last award of the Medal of Honor was made September 15, 2011 to Sergeant DAKOTA MEYER.

Since then there have been: • 3458 recipients of the Medal of Honor.

• Today there are 85 Living Recipients of the Medal of Honor.

Citation


Captain Humbert R. Versace distinguished himself by extraordinary heroism during the period of 29 October 1963 to 26 September 1965, while serving as S-2 Advisor, Military Assistance Advisory Group, Detachment 52, Ca Mau, Republic of Vietnam. While accompanying a Civilian Irregular Defense Group patrol engaged in combat operations in Thoi Binh District, An Xuyen Province, Captain Versace and the patrol came under sudden and intense mortar, automatic weapons, and small arms fire from elements of a heavily armed enemy battalion. As the battle raged, Captain Versace, although severely wounded in the knee and back by hostile fire, fought valiantly and continued to engage enemy targets. Weakened by his wounds and fatigued by the fierce firefight, Captain Versace stubbornly resisted capture by the over-powering Viet Cong force with the last full measure of his strength and ammunition. Taken prisoner by the Viet Cong, he exemplified the tenets of the Code of Conduct from the time he entered into Prisoner of War status. Captain Versace assumed command of his fellow American soldiers, scorned the enemy's exhaustive interrogation and indoctrination efforts, and made three unsuccessful attempts to escape, despite his weakened condition which was brought about by his wounds and the extreme privation and hardships he was forced to endure. During his captivity, Captain Versace was segregated in an isolated prisoner of war cage, manacled in irons for prolonged periods of time, and placed on extremely reduced ration. The enemy was unable to break his indomitable will, his faith in God, and his trust in the United States of America. Captain Versace, an American fighting man who epitomized the principles of his country and the Code of Conduct, was executed by the Viet Cong on 26 September 1965. Captain Versace's gallant actions in close contact with an enemy force and unyielding courage and bravery while a prisoner of war are in the highest traditions of the military service and reflect the utmost credit upon himself and the United States Army.

---

From the Archives

We Have Met the Enemy…
Geoff Metcalf


"They who can give up essential liberty to obtain a little temporary safety deserve neither liberty nor safety.
--Benjamin Franklin
"The American people must be willing to give up a degree of personal privacy in exchange for safety and security."
--Louis Freeh


In the wake of the clamor over the most recent WikiLeaks data dump, 'Vault 7', 'UMBRAGE', et al, it should be noted this is not really anything new. What we are seeing here is simply the evolution of something that goes back to the late 50s (to the incomplete best knowledge I have).

It is kinda cool to finally see even

The New York Times

acknowledging material

I was writing about in 1998

.

In April of 1998 I wrote "Privacy has become an anachronism." I was commenting on "a massive system designed to intercept all your e-mail, fax traffic and more." I was explaining 'Echelon', the illegitimate offspring of a

UKUSA Treaty

signed by the United States, United Kingdom, Canada, Australia and New Zealand. Its purpose was, and is, to have a vast global intelligence monster, which allegedly shares common goals. The system was so "efficient" that reportedly National Security Agency folk from Fort Meade could work from Menwith Hill in England to intercept local communications without either nation having to burden themselves with the formality of seeking approval (a court order) or disclosing the operation. And this was all pre-9/11 and pre-the anti-constitutional

'Patriot Act'

.

It is illegal (without a Judge's signed permission) for the United States to spy on its citizens … kinda. The laws have long been circumvented by a mutual pact among five nations. Under the terms of UKUSA agreement, Britain spies on Americans and America spies on British citizens, and then the two conspirators trade data. A classic technical finesse. It is legal, but the intent to evade the spirit is inescapable.

I often fictionalized the genesis of 'Echelon' as an informal meeting of a group of post war American and British intelligence types drinking in some remote rustic bar. An imagined CIA type complains to his MI6 buddy about the hassles of US laws preventing US intelligence from surveillance of bad guys, and the Brit echoes the same complaint.

"Hey wait a moment mate," says Nigel, the make-believe MI6 guy, "I can spy on your guys and you can spy on our bad players…why don't we just come up with a mechanism whereby we spy on your villains, you spy on our villains, and we just 'share' the intel?"

This system was called ECHELON, and has been kicking around in some form longer than most of you. The result of the UKUSA treaty signed by the United States, United Kingdom, Canada, Australia and New Zealand was, and is, to have a vast global intelligence monster which allegedly shares common goals.

The London Telegraph reported in December of 1997 that the Civil liberties Committee of the European Parliament had officially confirmed the existence and purpose of ECHELON. "A global electronic spy network that can eavesdrop on every telephone, e-mail and telex communication around the world will be officially acknowledged for the first time in a European Commission report. …"

The report noted: "Within Europe all e-mail, telephone and fax communications are routinely intercepted by the United States National Security Agency, transferring all target information from the European mainland via the strategic hub of London, then by satellite to Fort Meade in Maryland via the crucial hub at Menwith Hill, in the North York moors in the UK.

"The ECHELON system forms part of the UKUSA system but unlike many of the electronic spy systems developed during the Cold War, ECHELON was designed primarily for non-military targets: governments, organizations and businesses in virtually every country."

An interesting sidebar appeared in the International Herald Tribune under the headline, "Big Corporate Brother: It Knows More About You Than You Think." The story details Acxiom Corp, which was a humongous information service hidden in the Ozark foothills. Twenty-four hours a day, Acxiom electronically gathered and sorts all kinds of data about 196 million Americans. Credit card transactions and magazine subscriptions, telephone numbers, real estate records, automotive data, hunting, business and fishing licenses, consumer surveys and demographic detail that would make a marketing department's research manager salivate. This relatively new (legal) enterprise was known as "data warehousing" or "data-mining", and it underscores the cruel reality that the fiction of personal privacy has become obsolete. Technology's ability to collect and analyze data has made privacy a quaint albeit interesting dinosaur.

The Tribune reported that "Axciom can often determine whether an American owns a dog or cat, enjoys camping or gourmet cooking, reads the Bible or lots of other books. It can often pinpoint an American's occupation, car and favorite vacations. By analyzing the equivalent of billions of pages of data, it often projects for its customers who should be offered a credit card or who is likely to buy a computer."

Most of this information is from y 1998 piece. Echelon has developed, matured, and morphed into a much more powerful hybrid. 'Carnivore' was software to help triage the cacophony of data. Vault 7 and 'Umbrage' are logical (some would argue "insidious") growth.

More to follow…