"It Is Not A Question of Who Is Right Or Wrong But What Is Right Or Wrong That Counts.

"

--Geoff Metcalf
Providing an on line Triage of the news since 1997
Wo
rld & Nation
China Says Warplane Exercises Are Warnings to Taiwan and U.S.
A Chinese government official confirmed Wednesday that recent military exercises near Taiwan were intended as warnings to the island's independence supporters and "external forces"—an indirect hint at the United States.
Ma Xiaoguang, a spokesperson for the Taiwan Affairs Office (TAO) in Beijing, spoke after Taiwan's Defense Ministry detected 153 People's Liberation Army warplane sorties into the international airspace southwest of the island, including 150 flights in the span of five days.
It marked an alarming escalation that coincided with China's National Day celebrations on October 1, but Beijing had not specifically linked the PLA missions to any intended audiences until this week.
The regular warplane operations near Taiwan began in earnest in March 2019, defense officials on the island said. The dramatic spike in activity earlier in October also happened as American and British carrier groups sailed from the Western Pacific into the South China Sea—a deployment China appeared to perceive as threatening.
Pentagon Backs Taiwan Against Chinese Military Threats
---
Surging inflation drives largest Social Security COLA hike in nearly 40 years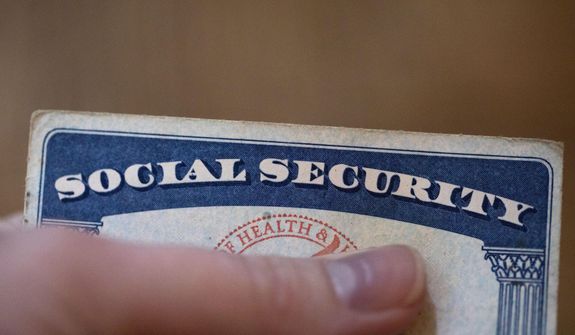 The one upside to surging inflation is that those getting some government checks will see bigger payments, with Social Security announcing a 5.9% cost-of-living adjustment Wednesday.
The average monthly check for a retired worker will rise nearly $100 a month, from $1,565 this year to $1,657 next year.
For an older couple where both spouses get benefits, the average monthly check will rise from $2,599 to $2,753, Social Security said.
It's the largest increase since 1982, when the country was still emerging from the inflationary years of the late 1970s.
---
American Airlines, Southwest to follow federal COVID-19 vaccine mandate, defy Texas order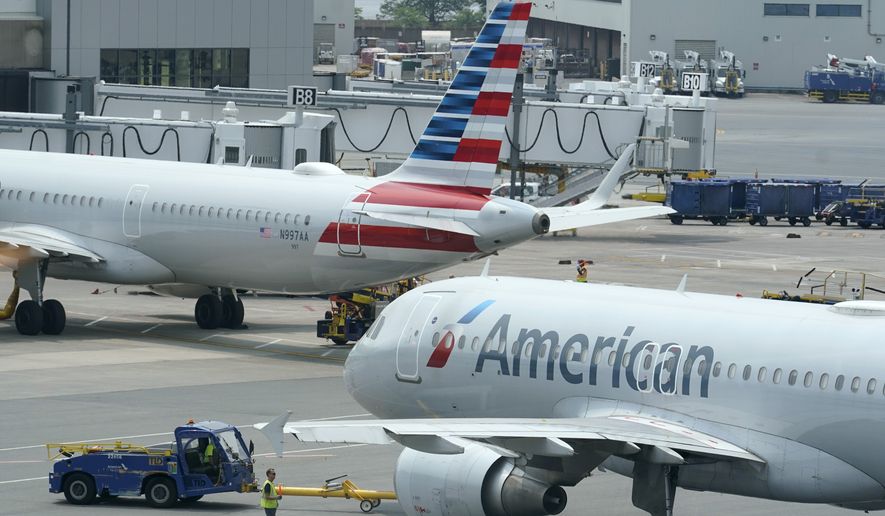 American Airlines and Southwest Airlines said Tuesday they plan to follow federal guidelines to have their employees vaccinated against COVID-19 by December, defying an order by Texas Gov. Greg Abbott to block such mandates.
American Airlines, based in Fort Worth, Texas, said in a statement to USA Today that the governor's order "does not change anything" for the company and that it believes the federal vaccine mandate "supersedes any conflicting state laws."
Southwest gave the news agency a similar response. The airline, based in Dallas, ordered all of its employees to get their COVID-19 shots by Dec. 8 to comply with a federal directive.
---
'Havana Syndrome' mystery expands with new cases at U.S. Embassy in Colombia
U.S. Embassy personnel in Bogota, Colombia, have reported symptoms aligned with the mysterious "Havana Syndrome" that continues to plague U.S. spies and diplomats around the globe.
U.S. officials said Tuesday that two cases were initially reported by embassy personnel in the capital city, but said several others may have been affected. Embassy staff was alerted to the "anomalous health incidents" involving at least five families connected to the embassy in a mid-September email, according to The Wall Street Journal, who first reported the latest known cases in a baffling string of attacks that have mystified U.S. officials.
The State Department and Colombian intelligence are investigating the reports even as Secretary of State Antony Blinken prepares to visit the South American country next week.
---
Virginia father says school board covered up sexual assault of teen daughter
A local father in Loudoun County, Virginia, whom police arrested at a school board meeting in June has accused its members of attempting to cover up an alleged sexual assault of his daughter by a transgender individual.
Scott Smith was found guilty of resisting arrest and disorderly conduct in August. A video shows him trying to give remarks at a rowdy June 22 Loudoun County School Board meeting, but law enforcement officers physically dragged him out before he could do so.
However, according to a report at The Daily Wire, what was unknown at the time is that on May 28, a boy allegedly wearing a skirt walked into a girls' bathroom at Stone Bridge High School, where he reportedly sexually assaulted Mr. Smith's ninth-grade daughter.
Although juvenile records were sealed, Mr. Smith's attorney stated that the boy faces two counts of forcible sodomy, one count of anal sodomy and one count of forcible fellatio related to an incident that day at that school.
---
'Pretty alarming': Biden administration ignored Pentagon concerns with Chinese drone purchase
Republicans say drone purchases is evidence that president is weak on China
The Biden administration ignored an explicit warning from the Pentagon about "cybersecurity concerns" tied to Chinese-made drones and drone parts, proceeding with the purchase of such materials from a top Chinese company that the Trump administration blacklisted for national security reasons.
A review of internal government procurement documents by The Washington Times found that the Secret Service went ahead with buying eight commercial surveillance drones manufactured by the Chinese drone-making giant Da Jiang Innovations (DJI) after the Pentagon issued its warning in July.
The Secret Service has declined to comment on the purchases, but the contract has triggered mounting scrutiny from Republican lawmakers over the extent to which the agency has run afoul of restrictions on U.S. government use of equipment from certain Chinese companies — even if that equipment is available for purchase by U.S. citizens via e-commerce companies such as Amazon.
---
Rep. Jason Smith: The Democrats' Sales Pitch Should Come With an Honest Price Tag
While today's spending by Congress may not suggest as much, our nation does indeed have a debt limit – that is, a cap on how much the federal government can borrow in order to spend.
If you turned on the news or read the paper lately, there is a good chance you have seen Democrats in Congress turning the issue into their latest self-created crisis.
They have insisted that they cannot deal with it by themselves, despite controlling all of Congress and the White House.
As the top Republican on the House Budget Committee, I have watched in complete dismay as the Democrat Chairman of our committee has called for the debt limit to be abolished or raised by a "gazillion" dollars – so high that Congress would effectively never reach it.
---
Manchin and Sinema's 'very different' bottom lines could sink Build Back Better plan, Biden ally says
As President Biden and congressional Democrats try to push their large social and climate policy bill over the finish line, one question dominates the calculus: What will Sen. Joe Manchin (D-W.Va.) and Sen. Kyrsten Sinema (D-Ariz.) accept to support Biden's Build Back Better plan? They are such a formidable centrist obstacle, they even have a celebrity couple name: Manchinema — or maybe Sinemin.
Unfortunately for Democrats, Politico reports early Wednesday, a major "part of solving the Manchinema puzzle is that the 74-year-old former governor from a coal state and the 45-year-old former Green Party activist from Arizona are at odds on some major policies."
"Manchin and Sinema want very different things, both in terms of revenue and programs," a source close to Biden tells Politico. "If you just took their currently presented red lines you wouldn't have enough left to get this past progressives in the House and Senate. It wouldn't raise enough money and it wouldn't do enough big programs."
Sinema, who "only negotiates with the White House," is leery of the proposals to lower prescription drug prices by allowing Medicare to negotiate them, Politico reports, adding that this is "one of the most popular policies on the Democrats' menu of options and many party strategists believe Democrats owe their House majority to this issue." Manchin is "much more willing to support a bolder version of drug pricing reform," Politico says, but he "opposes several Democratic ideas to price carbon pollution, while Sinema favors them."
---
Supreme Court to hear oral arguments in DOJ appeal to reinstate Tsarnaev death sentence
The Supreme Court of the United States is set to hear oral arguments in the federal government's appeal of the dismissal of Boston bomber Dzhokhar Tsarnaev's death sentence.
The Biden administration will attempt to persuade the Supreme Court to reinstate the death penalty for Tsarnaev, convicted of the bombing that killed three people and injured over 250 in April of 2013, after a federal appeals court threw out his death sentence last year on the grounds that a trial judge made a mistake in excluding evidence.
In a 48-page brief filed in June, the DOJ argued that a court of appeals erred in vacating the death penalty over the trial court's failure to have prospective jurors asked about the specifics of what news reports they had seen about the case. Also cited was the refusal to allow what the defense believed would be mitigating evidence related to the role Tsarnaev's brother may have played in a separate triple-murder case.
---
William Shatner, TV's Capt. Kirk, blasts into space
Hollywood's Captain Kirk, 90-year-old William Shatner, blasted into space Wednesday in a convergence of science fiction and science reality, reaching the final frontier aboard a ship built by Jeff Bezos' Blue Origin company.
The "Star Trek" actor and three fellow passengers hurtled to an altitude of 66.5 miles (107 kilometers) over the West Texas desert in the fully automated capsule, then safely parachuted back to Earth in a flight that lasted just over 10 minutes.
"What you have given me is the most profound experience," an exhilarated Shatner told Bezos after emerging from the capsule, the words spilling from him in a soliloquy almost as long as the flight. "I hope I never recover from this. I hope that I can maintain what I feel now. I don't want to lose it."
He said that going from the blue sky to the utter blackness of space was a moving experience: "In an instant you go, whoa, that's death. That's what I saw."
Shatner became the oldest person in space, eclipsing the previous record — set by a passenger on a similar jaunt on a Bezos spaceship in July — by eight years. The flight included about three minutes of weightlessness and a view of the curvature of the Earth.
---
More Top News
---
Biden's mandatory vaccinations will ruin Christmas
Pain in the travel, health care, policing and education sectors are coming
"No, I don't think [vaccines] should be mandatory. I wouldn't demand it be mandatory." President Biden said last year.
Vaccine mandates are "not the role of the federal government," White House press secretary Jen Psaki said in July.
"So — so here is the thing. We are — we cannot require someone to be vaccinated. That's just not what we can do. It is a matter of privacy to know who is or who isn't," House Speaker Nancy Pelosi said in April.
They all lied. Last month, the Biden administration said U.S. companies that employ more than 100 people would be required to ensure their workforce is vaccinated or face fines of almost $14,000 for each violation if they didn't comply.
---
The IPOB is not a terrorist organization
Professor Ivan Sheehan's opinion piece published in the October 4, 2021 edition of the Washington Times and entitled "U.S. Ignores Small African Terrorist Group, IPOB at its peril" was a travesty that could endanger the lives of over 50 million Igbo people of southeastern Nigeria.
The piece was wrong and offensive in its entirety because Professor Sheehan did not present any truth that will help the world assess and evaluate the security situation in Nigeria. This has the danger of encouraging the Nigerian government to continue its raging onslaught against the defenseless indigenous people of the Middlebelt and southern Nigeria (Including Biafra), who are mostly Christians.
It was dangerous because Professor Sheehan wants to shield from world view the genocide that is taking place against these indigenous people of the Middlebelt and southern Nigerian being systematically carried out by ISIS backed Boko Haram and armed Fulani Herdsmen. Equally dangerous to American interests and Homeland Security in that it shields the growing reality of the entire West African region becoming the new epicenter of Islamic Terrorism just on the other side of the Atlantic Ocean from the US.
---
" It is discouraging to think how many people are shocked by honesty and how few by deceit."

-- Noel Coward

(1899-1973) British playwright

---

The Medal of Honor is the highest award for valor in action against an enemy force which can be bestowed upon an individual serving in the Armed Services of the United States.

GeneTrerally presented to its recipient by the President of the United States of America in the name of Congress.

The first award of the Medal of Honor was made March 25, 1863 to Private JACOB PARROTT.The last award of the Medal of Honor was made September 15, 2011 to Sergeant DAKOTA MEYER.

Since then there have been: • 3458 recipients of the Medal of Honor.

• Today there are 85 Living Recipients of the Medal of Honor.

Citation


Captain Humbert R. Versace distinguished himself by extraordinary heroism during the period of 29 October 1963 to 26 September 1965, while serving as S-2 Advisor, Military Assistance Advisory Group, Detachment 52, Ca Mau, Republic of Vietnam. While accompanying a Civilian Irregular Defense Group patrol engaged in combat operations in Thoi Binh District, An Xuyen Province, Captain Versace and the patrol came under sudden and intense mortar, automatic weapons, and small arms fire from elements of a heavily armed enemy battalion. As the battle raged, Captain Versace, although severely wounded in the knee and back by hostile fire, fought valiantly and continued to engage enemy targets. Weakened by his wounds and fatigued by the fierce firefight, Captain Versace stubbornly resisted capture by the over-powering Viet Cong force with the last full measure of his strength and ammunition. Taken prisoner by the Viet Cong, he exemplified the tenets of the Code of Conduct from the time he entered into Prisoner of War status. Captain Versace assumed command of his fellow American soldiers, scorned the enemy's exhaustive interrogation and indoctrination efforts, and made three unsuccessful attempts to escape, despite his weakened condition which was brought about by his wounds and the extreme privation and hardships he was forced to endure. During his captivity, Captain Versace was segregated in an isolated prisoner of war cage, manacled in irons for prolonged periods of time, and placed on extremely reduced ration. The enemy was unable to break his indomitable will, his faith in God, and his trust in the United States of America. Captain Versace, an American fighting man who epitomized the principles of his country and the Code of Conduct, was executed by the Viet Cong on 26 September 1965. Captain Versace's gallant actions in close contact with an enemy force and unyielding courage and bravery while a prisoner of war are in the highest traditions of the military service and reflect the utmost credit upon himself and the United States Army.

---

From the Archives

We Have Met the Enemy…
Geoff Metcalf


"They who can give up essential liberty to obtain a little temporary safety deserve neither liberty nor safety.
--Benjamin Franklin
"The American people must be willing to give up a degree of personal privacy in exchange for safety and security."
--Louis Freeh


In the wake of the clamor over the most recent WikiLeaks data dump, 'Vault 7', 'UMBRAGE', et al, it should be noted this is not really anything new. What we are seeing here is simply the evolution of something that goes back to the late 50s (to the incomplete best knowledge I have).

It is kinda cool to finally see even

The New York Times

acknowledging material

I was writing about in 1998

.

In April of 1998 I wrote "Privacy has become an anachronism." I was commenting on "a massive system designed to intercept all your e-mail, fax traffic and more." I was explaining 'Echelon', the illegitimate offspring of a

UKUSA Treaty

signed by the United States, United Kingdom, Canada, Australia and New Zealand. Its purpose was, and is, to have a vast global intelligence monster, which allegedly shares common goals. The system was so "efficient" that reportedly National Security Agency folk from Fort Meade could work from Menwith Hill in England to intercept local communications without either nation having to burden themselves with the formality of seeking approval (a court order) or disclosing the operation. And this was all pre-9/11 and pre-the anti-constitutional

'Patriot Act'

.

It is illegal (without a Judge's signed permission) for the United States to spy on its citizens … kinda. The laws have long been circumvented by a mutual pact among five nations. Under the terms of UKUSA agreement, Britain spies on Americans and America spies on British citizens, and then the two conspirators trade data. A classic technical finesse. It is legal, but the intent to evade the spirit is inescapable.

I often fictionalized the genesis of 'Echelon' as an informal meeting of a group of post war American and British intelligence types drinking in some remote rustic bar. An imagined CIA type complains to his MI6 buddy about the hassles of US laws preventing US intelligence from surveillance of bad guys, and the Brit echoes the same complaint.

"Hey wait a moment mate," says Nigel, the make-believe MI6 guy, "I can spy on your guys and you can spy on our bad players…why don't we just come up with a mechanism whereby we spy on your villains, you spy on our villains, and we just 'share' the intel?"

This system was called ECHELON, and has been kicking around in some form longer than most of you. The result of the UKUSA treaty signed by the United States, United Kingdom, Canada, Australia and New Zealand was, and is, to have a vast global intelligence monster which allegedly shares common goals.

The London Telegraph reported in December of 1997 that the Civil liberties Committee of the European Parliament had officially confirmed the existence and purpose of ECHELON. "A global electronic spy network that can eavesdrop on every telephone, e-mail and telex communication around the world will be officially acknowledged for the first time in a European Commission report. …"


The report noted: "Within Europe all e-mail, telephone and fax communications are routinely intercepted by the United States National Security Agency, transferring ll target information from the Eurv opean mainland via the strategic hub of London, then by satellite to Fort Meade in Maryland via the crucial hub at Menwith Hill, in the North York moors in th UK.

"The ECHELON system forms part of the UKUSA system but unlike many of the electronic spy systems developed during the Cold War, ECHELON was designed primarily for non-military targets: governments, organizations and businesses in virtually every country."

An interesting sidebar appeared in the International Herald Tribune under the headline, "Big Corporate Brother: It Knows More About You Than You Think." The story details Acxiom Corp, which was a humongous information service hidden in the Ozark foothills. Twenty-four hours a day, Acxiom electronically gathered and sorts all kinds of data about 196 million Americans. Credit card transactions and magazine subscriptions, telephone numbers, real estate records, automotive data, hunting, business and fishing licenses, consumer surveys and demographic detail that would make a marketing department's research manager salivate. This relati vely new (legal) enterprise was known as "data warehousing" or "data-mining", and it underscores the cruel reality that the fiction of personal privacy has become obsolete. Technology's ability to collect and analyze data has made privacy a quaint albeit interesting dinosaur.

The Tribune reported that "Axciom can often determine whether an American owns a dog or cat, enjoys camping or gourmet cooking, reads the Bible or lots of other books. It can often pinpoint an American's occupation, car and favorite vacations. By analyzing the equivalent of billions of pages of data, it often projects for its customers who should be offered a credit card or who is likely to buy a computer."

Most of this information is from y 1998 piece. Echelon has developed, matured, and morphed into a much more powerful hybrid. 'Carnivore' was software to help triage the cacophony of data. Vault 7 and 'Umbrage' are logical (some would argue "insidious") growth.

More to follow…