"It Is Not A Question of Who Is Right Or Wrong But What Is Right Or Wrong That Counts.

"

--Geoff Metcalf
Wo

rld & Nation
Jeffrey Epstein connection emerges as problem for Democrats, Hollywood
Convicted sex offender gave generously to Democrats, hobnobbed with stars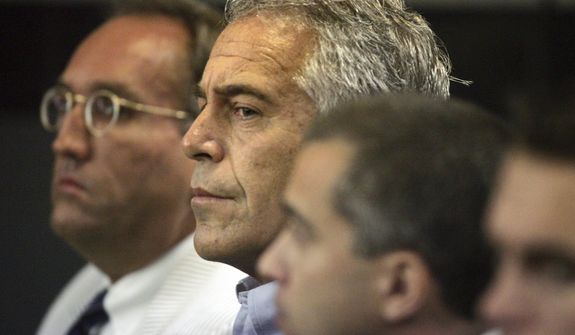 Democrats and Hollywood may have another #MeToo problem on their hands with the late Jeffrey Epstein.
Much has been made of President Trump's one-time association with Epstein, found dead in his jail cell Saturday of an apparent suicide, but the picture emerging of the financier and convicted sex offender reveals an A-lister who hobnobbed with celebrities and gave generously to Democrats.
And not just former President Bill Clinton. Epstein donated $147,426 to Democratic candidates from 1990-2018, versus $18,250 to Republicans. His last GOP donation came in 2000, meaning that he never contributed to the 2016 Trump presidential campaign, according to the Center for Responsive Politics.
---
Steve Bullock swipes at Tom Steyer: A billionaire just bought his way onto the debate stage
Montana Gov. Steve Bullock took a swipe at 2020 Democratic presidential rival Tom Steyer and the qualification metrics for the next debate, saying Mr. Steyer is being allowed to effectively buy his way onto the stage next month in Houston.
"A billionaire literally just spent $10 million to qualify for the next debate stage," Mr. Bullock said in a video posted online late Tuesday. "If we think, as Democrats, that spending $10 million to get 130,000 donors is grassroots support, we're missing something."
Since entering the race last month, Mr. Steyer — a billionaire environmental activist who could spend upwards of $100 million on his campaign — has poured money into TV and online advertising.
He announced on Tuesday that he has secured the 130,000 individual contributions needed to qualify for the next debate stage, and appears to be one qualifying poll short of making it.
---
Democrats warn Supreme Court it's too unhealthy to hear gun case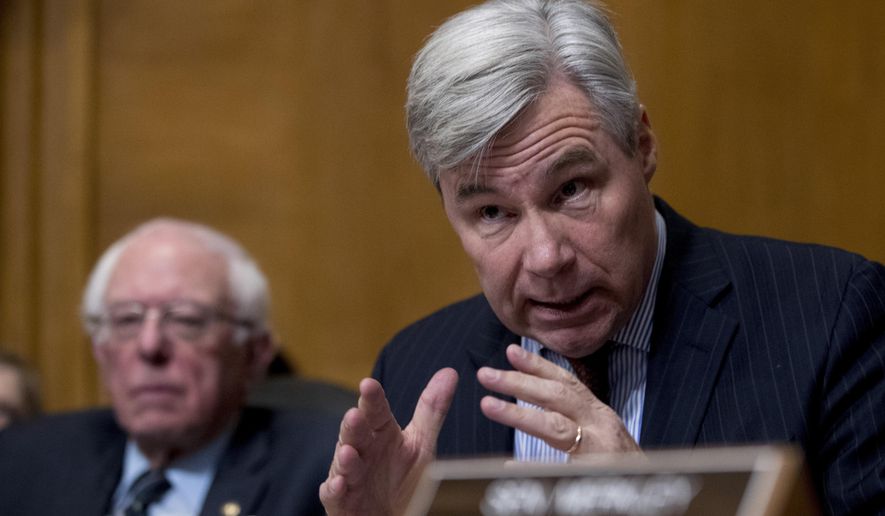 A Senate Democrat warned the Supreme Court this week not to hear a case involving a New York City gun control law, saying the GOP-appointed majority is too tainted to deliver a valid ruling.
The stunning filing by Sen. Sheldon Whitehouse, Rhode Island Democrat, argues the court has become too partisan and has produced too many ideologically divided rulings, damaging the public's trust in the federal judiciary.
He warned of looming changes the political branches could force on the court should it fail to show restraint.
---
Air Force completes A-10 re-winging to keep iconic aircraft flying into 2030s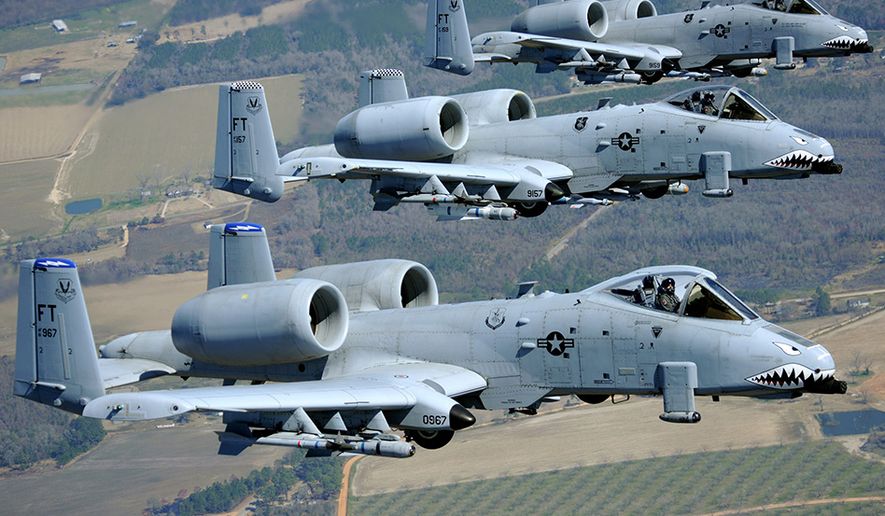 The iconic A-10 Thunderbolt II will be flying into the late 2030s thanks to a re-winging project completed by the U.S. Air Force.
Air Force Materiel Command said in a press release on Monday that 162 A-10s received new wings thanks to a $1.1 billion project that began in 2011.
The contract, awarded to Boeing in 2007, required the creation of new parts for the plane's fuselage.
---
Main yield curve inverts as 2-year yield tops 10-year rate, triggering recession warning
The yield on the benchmark 10-year Treasury note broke below the 2-year rate early Wednesday, an odd bond market phenomenon that has been a reliable, albeit early, indicator for economic recessions.
The yield on U.S. 30-year bond also turned heads on Wall Street during Wednesday's session as it fell to an all-time low, dropping past its prior record notched in summer 2016. The two historic moves coming in tandem show that investors are increasingly worried, and indeed preparing for, a slowdown in both the U.S. and global economies.
Early Wednesday, the yield on the benchmark 10-year Treasury note was at 1.623%, below the 2-year yield at 1.634%. In practice, that means that investors are better compensated for loaning the U.S. over two years than they are for loaning for 10 years. The yields steepened later in the session, pushing the 10-year rate back above that of the 2-year note.
---
Behind Universal's Call to Scrap 'The Hunt': Death Threats, Negative Test Screening Feedback
A politically charged satire denounced by Trump and the right sparked menacing emails as its violent marketing ran squarely into horrific news of a trio of mass shootings.
On the evening of Aug. 6, Universal Pictures held a test screening of its thriller-satire The Hunt at a crowded theater in the San Fernando Valley. It was the second such screening, and some test audience members were again expressing discomfort with the politics of the Jason Blum-produced film, a source familiar with the feedback tells The Hollywood Reporter.
Hunt, directed by Craig Zobel, chronicles a dozen "deplorables" trying to outlast a group of private jet-flying "elites" bent on killing their anti-choice, gun-loving targets. Following a THR story earlier that day on the altering of the film's marketing plan in the wake of a trio of mass shootings, Universal executives and the filmmakers began receiving death threats via email and on social media and immediately paused the campaign altogether.
---
After years of battle, Shari Redstone runs an empire of her own
Now Shari Redstone is poised to cement her position as the most powerful woman in media. Move over, Oprah.
With the merger of CBS Corp. and Viacom Inc., announced Tuesday, the 65-year-old Redstone will control the voting stock and chair the newly combined company, to be called ViacomCBS. That's after spending 13 years playing second fiddle to others as vice chair of both.
While women increasingly are overseeing media companies, none chairs one as big as the rejoined CBS and Viacom, whose combined sales last year were $27.4 billion.
---
Trump says he has 'no idea' if Clintons involved in Epstein's death
President Trump said Tuesday that he has "no idea" if former President Bill Clinton and Hillary Clinton were involved in the death of financier Jeffrey Epstein, who died last weekend in an apparent jailhouse suicide.
But Mr. Trump told reporters that he wants a "full investigation" of the accused child sex trafficker's death, after retweeting a conspiracy theory that blamed the Clintons.
"I want a full investigation, and that's what I absolutely am demanding," the president said. "That's what our our great attorney general is doing."
Both Mr. Trump and Mr. Clinton were former friends of Epstein. Mr. Trump also questioned how many times Mr. Clinton had visited Epstein's infamous estate on Little St. James Island, known to locals as "Pedophile Island."
---
'The Hunt' movie reveals just how far liberals' derangement will take them
After the horrors of mass shootings at Dayton, Ohio, and El Paso, Texas, the nation is finally having a conversation about more than guns. This is a welcome turn of events. For a generation, politicians and their obsession with banning firearms have made it impossible to discuss the multitude of issues leading up to these hideous acts.
One of these major issues is the growing toxicity of our culture due to ultra-violent films, television and video games. This has been a problem for quite some time, but now with Trump Derangement Syndrome fast-walking so many liberals into a frothing madness, its obscene impact on filmmaking shouldn't come as a surprise.
Now, a movie called "The Hunt" has been withdrawn for release after Universal Pictures (a studio owned by Comcast through its subsidiary NBCUniversal) faced increasing pressure from conservatives and criticism by the president about its vile and dangerous premise.
---
In Afghanistan, no deal is better than a bad deal
To trust the Taliban would be naive and foolish
Two years ago this month, Zalmay Khalilzad, the distinguished diplomat who has served as America's ambassador to both Iraq and Afghanistan, praised President Trump for adopting "a realistic position regarding peace talks" with the Taliban, "moving away from President Barack Obama's pursuit of reconciliation regardless of the deteriorating military situation."
A year later, Mr. Khalilzad was appointed U.S. Special Representative for Afghanistan Reconciliation. Since then, he has adopted an unrealistic position regarding peace talks with the Taliban, moving toward President Obama's pursuit of reconciliation regardless of the deteriorating military situation.
If I'm wrong about this, I'll be pleased to eat my words. But the evidence is compelling.
---
---
"It is discouraging to think how many people are shocked by honesty and how few by deceit."

-- Noel Coward

(1899-1973) British playwright

---

The Medal of Honor is the highest award for valor in action against an enemy force which can be bestowed upon an individual serving in the Armed Services of the United States.

GeneTrerally presented to its recipient by the President of the United States of America in the name of Congress.

The first award of the Medal of Honor was made March 25, 1863 to Private JACOB PARROTT.The last award of the Medal of Honor was made September 15, 2011 to Sergeant DAKOTA MEYER.

Since then there have been: • 3458 recipients of the Medal of Honor.

• Today there are 85 Living Recipients of the Medal of Honor.

Citation


Captain Humbert R. Versace distinguished himself by extraordinary heroism during the period of 29 October 1963 to 26 September 1965, while serving as S-2 Advisor, Military Assistance Advisory Group, Detachment 52, Ca Mau, Republic of Vietnam. While accompanying a Civilian Irregular Defense Group patrol engaged in combat operations in Thoi Binh District, An Xuyen Province, Captain Versace and the patrol came under sudden and intense mortar, automatic weapons, and small arms fire from elements of a heavily armed enemy battalion. As the battle raged, Captain Versace, although severely wounded in the knee and back by hostile fire, fought valiantly and continued to engage enemy targets. Weakened by his wounds and fatigued by the fierce firefight, Captain Versace stubbornly resisted capture by the over-powering Viet Cong force with the last full measure of his strength and ammunition. Taken prisoner by the Viet Cong, he exemplified the tenets of the Code of Conduct from the time he entered into Prisoner of War status. Captain Versace assumed command of his fellow American soldiers, scorned the enemy's exhaustive interrogation and indoctrination efforts, and made three unsuccessful attempts to escape, despite his weakened condition which was brought about by his wounds and the extreme privation and hardships he was forced to endure. During his captivity, Captain Versace was segregated in an isolated prisoner of war cage, manacled in irons for prolonged periods of time, and placed on extremely reduced ration. The enemy was unable to break his indomitable will, his faith in God, and his trust in the United States of America. Captain Versace, an American fighting man who epitomized the principles of his country and the Code of Conduct, was executed by the Viet Cong on 26 September 1965. Captain Versace's gallant actions in close contact with an enemy force and unyielding courage and bravery while a prisoner of war are in the highest traditions of the military service and reflect the utmost credit upon himself and the United States Army.

---

From the Archives

We Have Met the Enemy…
Geoff Metcalf


"They who can give up essential liberty to obtain a little temporary safety deserve neither liberty nor safety.
--Benjamin Franklin
"The American people must be willing to give up a degree of personal privacy in exchange for safety and security."
--Louis Freeh


In the wake of the clamor over the most recent WikiLeaks data dump, 'Vault 7', 'UMBRAGE', et al, it should be noted this is not really anything new. What we are seeing here is simply the evolution of something that goes back to the late 50s (to the incomplete best knowledge I have).

It is kinda cool to finally see even

The New York Times

acknowledging material

I was writing about in 1998

.

In April of 1998 I wrote "Privacy has become an anachronism." I was commenting on "a massive system designed to intercept all your e-mail, fax traffic and more." I was explaining 'Echelon', the illegitimate offspring of a

UKUSA Treaty

signed by the United States, United Kingdom, Canada, Australia and New Zealand. Its purpose was, and is, to have a vast global intelligence monster, which allegedly shares common goals. The system was so "efficient" that reportedly National Security Agency folk from Fort Meade could work from Menwith Hill in England to intercept local communications without either nation having to burden themselves with the formality of seeking approval (a court order) or disclosing the operation. And this was all pre-9/11 and pre-the anti-constitutional

'Patriot Act'

.

It is illegal (without a Judge's signed permission) for the United States to spy on its citizens … kinda. The laws have long been circumvented by a mutual pact among five nations. Under the terms of UKUSA agreement, Britain spies on Americans and America spies on British citizens, and then the two conspirators trade data. A classic technical finesse. It is legal, but the intent to evade the spirit is inescapable.

I often fictionalized the genesis of 'Echelon' as an informal meeting of a group of post war American and British intelligence types drinking in some remote rustic bar. An imagined CIA type complains to his MI6 buddy about the hassles of US laws preventing US intelligence from surveillance of bad guys, and the Brit echoes the same complaint.

"Hey wait a moment mate," says Nigel, the make-believe MI6 guy, "I can spy on your guys and you can spy on our bad players…why don't we just come up with a mechanism whereby we spy on your villains, you spy on our villains, and we just 'share' the intel?"

This system was called ECHELON, and has been kicking around in some form longer than most of you. The result of the UKUSA treaty signed by the United States, United Kingdom, Canada, Australia and New Zealand was, and is, to have a vast global intelligence monster which allegedly shares common goals.

The London Telegraph reported in December of 1997 that the Civil liberties Committee of the European Parliament had officially confirmed the existence and purpose of ECHELON. "A global electronic spy network that can eavesdrop on every telephone, e-mail and telex communication around the world will be officially acknowledged for the first time in a European Commission report. …"

The report noted: "Within Europe all e-mail, telephone and fax communications are routinely intercepted by the United States National Security Agency, transferring all target information from the European mainland via the strategic hub of London, then by satellite to Fort Meade in Maryland via the crucial hub at Menwith Hill, in the North York moors in the UK.

"The ECHELON system forms part of the UKUSA system but unlike many of the electronic spy systems developed during the Cold War, ECHELON was designed primarily for non-military targets: governments, organizations and businesses in virtually every country."

An interesting sidebar appeared in the International Herald Tribune under the headline, "Big Corporate Brother: It Knows More About You Than You Think." The story details Acxiom Corp, which was a humongous information service hidden in the Ozark foothills. Twenty-four hours a day, Acxiom electronically gathered and sorts all kinds of data about 196 million Americans. Credit card transactions and magazine subscriptions, telephone numbers, real estate records, automotive data, hunting, business and fishing licenses, consumer surveys and demographic detail that would make a marketing department's research manager salivate. This relatively new (legal) enterprise was known as "data warehousing" or "data-mining", and it underscores the cruel reality that the fiction of personal privacy has become obsolete. Technology's ability to collect and analyze data has made privacy a quaint albeit interesting dinosaur.

The Tribune reported that "Axciom can often determine whether an American owns a dog or cat, enjoys camping or gourmet cooking, reads the Bible or lots of other books. It can often pinpoint an American's occupation, car and favorite vacations. By analyzing the equivalent of billions of pages of data, it often projects for its customers who should be offered a credit card or who is likely to buy a computer."

Most of this information is from y 1998 piece. Echelon has developed, matured, and morphed into a much more powerful hybrid. 'Carnivore' was software to help triage the cacophony of data. Vault 7 and 'Umbrage' are logical (some would argue "insidious") growth.

More to follow…