"It Is Not A Question of Who Is Right Or Wrong But What Is Right Or Wrong That Counts.

"

--Geoff Metcalf
Providing an on line Triage of the news since 1997



Wo

rld & Nation
'Free rein' no longer: How the State Department is cracking down on Chinese working in U.S.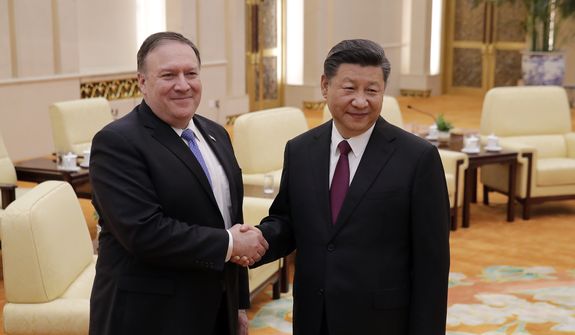 The State Department on Tuesday imposed restrictions on Chinese media operating in the United States, saying they should be treated as virtual arms of the Communist government in Beijing.
A State Department official said the restrictions were put in place under the Foreign Missions Act which controls the activities of foreign governments. Under the curbs, the Chinese media outlets were designated as foreign government missions.
The restrictions were placed on the official Xinhua news agency; China Global Television Network (CGTN); China Radio International; China Daily Distribution Corp., owner of the China Daily, a Communist Party of China outlet; and Hai Tian Development USA that represents the official People's Daily, flagship Party newspaper.
---
President Trump goes on clemency spree, and the list is long
President Donald Trump went on a clemency blitz Tuesday, commuting former Illinois Gov. Rod Blagojevich's 14-year prison sentence and pardoning former New York City police commissioner Bernie Kerik, among a long list of others.
Those who got a break from Trump include financier Michael Milken, the "junk bond king" who served two years in prison in the early 1990s after pleading guilty to violating U.S. securities laws, and Edward DeBartolo Jr., the former San Francisco 49ers owner convicted in a gambling fraud scandal after building one of the most successful NFL teams in history. But Trump also commuted the sentences of several women with more sympathetic cases to balance out the men convicted of corruption.
---
Barr has told those close to Trump that he may quit if president keeps tweeting about investigations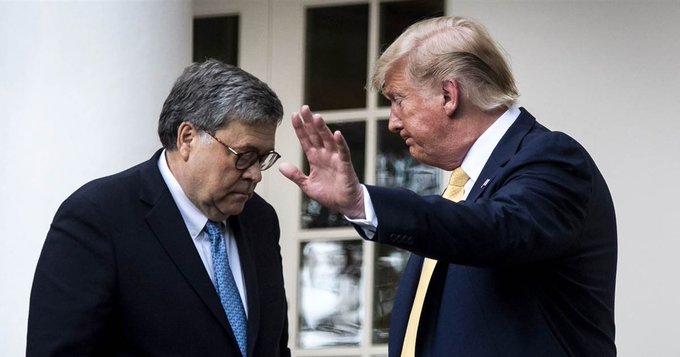 Attorney General William Barr has told people close to President Donald Trump - inside and outside the White House - that he is considering quitting over Trump's tweets about Justice Department investigations, three administration officials said, foreshadowing a possible confrontation between the president and his attorney general over the independence of the Justice Department.
So far, Trump has defied Barr's requests, both public and private, to keep quiet on matters of federal law enforcement. It was not immediately clear Tuesday whether Barr had made his posture known directly to Trump. The administration officials said Barr seemed to be sharing his position with advisers in hopes that the president would get the message that he should stop weighing in publicly on the Justice Department's ongoing criminal investigations.
"He has his limits," said one person familiar with Barr's thinking, speaking on the condition of anonymity, like others, to discuss internal deliberations.
---
Emerson poll gives Trump best ratings of his presidency
President Trump hit a new high approval rating in yet another opinion survey Wednesday, with Emerson College Polling showing him with a 48-44 split, a net-positive 4-point rating.
Emerson also shows Mr. Trump beating four of the top five Democratic rivals, with only Vermont Sen. Bernard Sanders leading him, 51-49.
The president tops 50% of the vote against Sen. Amy Klobuchar of Minnesota, billionaire Michael Bloomberg, former South Bend Mayor Pete Buttigieg and former Vice President Joseph R. Biden, though in each case his lead is only a couple of points, signaling just how close the races are.
---
Bernie blasted for ignoring interests of union workers
Union says senator's plan for electric utility hurts workers and customers
Sen. Bernard Sanders brags about his ties to working people, so it was a particularly harsh shot Tuesday when a California union blasted his idea to have the state take over a large power utility and said they were more disappointed he never ran the proposal by the workers.
The criticism from the International Brotherhood of Electrical Workers Local 1425, which claims 25,000 members, is the second anti-Bernie blast from unions. Nevada's biggest union, the culinary workers, criticized the presidential hopeful's "Medicare-for-All" health care plan.
The dual attacks could signal weakness for Mr. Sanders among union members as the Democratic presidential race shifts to states where organized labor plays a larger role in picking a nominee.
---
Not so secret anymore: Trump says he knows identity of 'Anonymous'
President Trump said Tuesday that he knows the identity of "Anonymous," the administration insider who has penned an op-ed and a book critical of him.
But after an internal search for the culprit, Mr. Trump won't say who it is.
"I know who it is," Mr. Trump told reporters. "I know all about Anonymous. We know a lot."
---
Dems struggle to contain Bloomberg's rise with mogul set for debate debut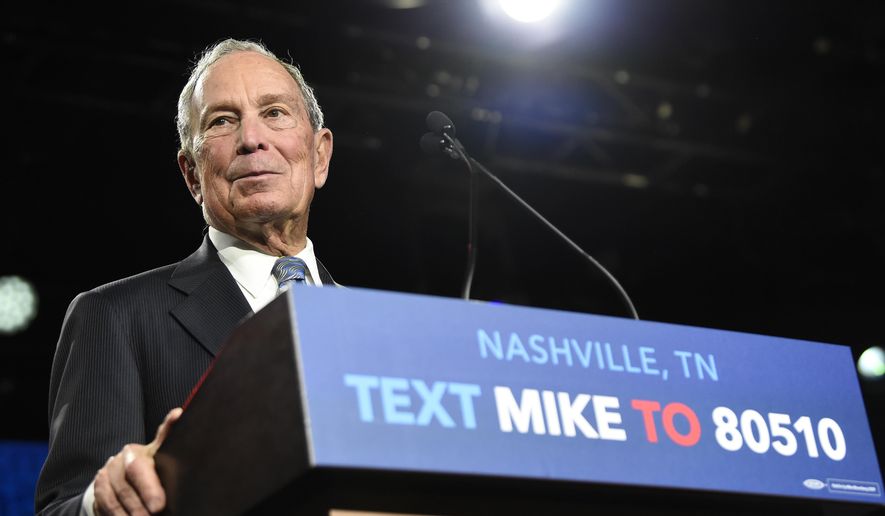 Billionaire media mogul Michael R. Bloomberg will get his first major test as a Democratic presidential contender at Wednesday night's debate in Las Vegas after weeks of relying on big-money ads and tightly scripted campaign appearances.
As his poll numbers have risen, Mr. Bloomberg has suffered a near-daily deluge of embarrassing leaks and exposes in the past week, including his support for tough policing that targeted minorities as New York's mayor and his reported history of making demeaning comments toward women in his corporate empire.
A video surfaced last week of Mr. Bloomberg appearing to disparage farmers: "I could teach anybody, even people in this room so no offense intended, to be a farmer. It's a process. You dig a hole, you put a seed in, you put dirt on top, add water, up comes the corn. You could learn that." For information-era jobs, he said, "you have to have a lot more gray matter."
---
Hillary Clinton says 'no' to being Bloomberg's possible running mate
Hillary Clinton on Tuesday said she is not considering being Mike Bloomberg's running mate after a recent report by Matt Drudge said the former New York City mayor was considering her as his potential vice president.
At a Clinton Global Initiative event in San Juan, Puerto Rico, Mrs. Clinton was asked whether she would entertain being Mr. Bloomberg's vice president should he win the Democratic Party's nomination.
"Oh, no!" the twice-failed presidential candidate responded, as quoted by noted freelance journalist Yashar Ali. "I'm just waiting and watching as this plays out. I will support whoever the nominee is because I think, for all the reasons you can imagine, and here in Puerto Rico there are many, we need to have a new president for our country."
---
Trump: Working on a Very Big Trade Deal With India
President Donald Trump said the United States and India were working on a major trade deal, but he was not sure if it would be completed before the U.S. presidential election in November.
As Trump heads to India on his first official trip on Monday, negotiators have been trying for weeks to put together a limited accord giving the U.S. greater access to India's dairy and poultry markets and lowering tariffs on other products.
But no breakthrough has yet been announced and a planned trip by United States Trade Representative Robert Lighthizer was canceled, underlining the difficulties the two sides face in narrowing differences ahead of Trump's visit.
---

Democratic whining and identity politics


Female presidential candidates complain about sexism, Bloomberg just shows disdain



In this season of election primaries, Democratic women who are running for president have been complaining in this 21st century of racism and sexism hampering their bids for the highest office in the land.

Whining about why you're not doing well is not only not presidential, it's an excuse. It is also one of the inevitable scourges of identity politics.

Here's the irony and why it matters: As the Democrats and their women running for the presidency complain about sexist bigotry coming from their own grassroots making their run especially fraught, they refuse to see how they set themselves up for this fall.


---
Are the Democrats headed to a contested convention?
Only two states have weighed in on the race for the Democratic presidential nomination, but already theories about a contested convention are swirling.
In the error-filled, first-in-the-nation vote in Iowa, it took a week to figure out who won. When the smoke finally cleared, former South Bend, Indiana, Mayor Pete Buttigieg received 14 delegates while Sen. Bernard Sanders — who got more popular votes — took 12. In the also-ran category, Sen. Elizabeth Warren pulled in 8, former Vice President Joseph R. Biden received 6 and Sen. Amy Klobuchar got 1.
In the New Hampshire primary, Mr. Sanders and Mr. Buttigieg tied with nine delegates each. Ms. Klobuchar got six, while Mr. Biden and Ms. Warren got goose eggs. In both Iowa and New Hampshire, the top three all got at least 18% of the vote while nobody got as high as 27%.
---
" It is discouraging to think how many people are shocked by honesty and how few by deceit."

-- Noel Coward

(1899-1973) British playwright

---

The Medal of Honor is the highest award for valor in action against an enemy force which can be bestowed upon an individual serving in the Armed Services of the United States.

GeneTrerally presented to its recipient by the President of the United States of America in the name of Congress.

The first award of the Medal of Honor was made March 25, 1863 to Private JACOB PARROTT.The last award of the Medal of Honor was made September 15, 2011 to Sergeant DAKOTA MEYER.

Since then there have been: • 3458 recipients of the Medal of Honor.

• Today there are 85 Living Recipients of the Medal of Honor.

Citation


Captain Humbert R. Versace distinguished himself by extraordinary heroism during the period of 29 October 1963 to 26 September 1965, while serving as S-2 Advisor, Military Assistance Advisory Group, Detachment 52, Ca Mau, Republic of Vietnam. While accompanying a Civilian Irregular Defense Group patrol engaged in combat operations in Thoi Binh District, An Xuyen Province, Captain Versace and the patrol came under sudden and intense mortar, automatic weapons, and small arms fire from elements of a heavily armed enemy battalion. As the battle raged, Captain Versace, although severely wounded in the knee and back by hostile fire, fought valiantly and continued to engage enemy targets. Weakened by his wounds and fatigued by the fierce firefight, Captain Versace stubbornly resisted capture by the over-powering Viet Cong force with the last full measure of his strength and ammunition. Taken prisoner by the Viet Cong, he exemplified the tenets of the Code of Conduct from the time he entered into Prisoner of War status. Captain Versace assumed command of his fellow American soldiers, scorned the enemy's exhaustive interrogation and indoctrination efforts, and made three unsuccessful attempts to escape, despite his weakened condition which was brought about by his wounds and the extreme privation and hardships he was forced to endure. During his captivity, Captain Versace was segregated in an isolated prisoner of war cage, manacled in irons for prolonged periods of time, and placed on extremely reduced ration. The enemy was unable to break his indomitable will, his faith in God, and his trust in the United States of America. Captain Versace, an American fighting man who epitomized the principles of his country and the Code of Conduct, was executed by the Viet Cong on 26 September 1965. Captain Versace's gallant actions in close contact with an enemy force and unyielding courage and bravery while a prisoner of war are in the highest traditions of the military service and reflect the utmost credit upon himself and the United States Army.

---

From the Archives

We Have Met the Enemy…
Geoff Metcalf


"They who can give up essential liberty to obtain a little temporary safety deserve neither liberty nor safety.
--Benjamin Franklin
"The American people must be willing to give up a degree of personal privacy in exchange for safety and security."
--Louis Freeh


In the wake of the clamor over the most recent WikiLeaks data dump, 'Vault 7', 'UMBRAGE', et al, it should be noted this is not really anything new. What we are seeing here is simply the evolution of something that goes back to the late 50s (to the incomplete best knowledge I have).

It is kinda cool to finally see even

The New York Times

acknowledging material

I was writing about in 1998

.

In April of 1998 I wrote "Privacy has become an anachronism." I was commenting on "a massive system designed to intercept all your e-mail, fax traffic and more." I was explaining 'Echelon', the illegitimate offspring of a

UKUSA Treaty

signed by the United States, United Kingdom, Canada, Australia and New Zealand. Its purpose was, and is, to have a vast global intelligence monster, which allegedly shares common goals. The system was so "efficient" that reportedly National Security Agency folk from Fort Meade could work from Menwith Hill in England to intercept local communications without either nation having to burden themselves with the formality of seeking approval (a court order) or disclosing the operation. And this was all pre-9/11 and pre-the anti-constitutional

'Patriot Act'

.

It is illegal (without a Judge's signed permission) for the United States to spy on its citizens … kinda. The laws have long been circumvented by a mutual pact among five nations. Under the terms of UKUSA agreement, Britain spies on Americans and America spies on British citizens, and then the two conspirators trade data. A classic technical finesse. It is legal, but the intent to evade the spirit is inescapable.

I often fictionalized the genesis of 'Echelon' as an informal meeting of a group of post war American and British intelligence types drinking in some remote rustic bar. An imagined CIA type complains to his MI6 buddy about the hassles of US laws preventing US intelligence from surveillance of bad guys, and the Brit echoes the same complaint.

"Hey wait a moment mate," says Nigel, the make-believe MI6 guy, "I can spy on your guys and you can spy on our bad players…why don't we just come up with a mechanism whereby we spy on your villains, you spy on our villains, and we just 'share' the intel?"

This system was called ECHELON, and has been kicking around in some form longer than most of you. The result of the UKUSA treaty signed by the United States, United Kingdom, Canada, Australia and New Zealand was, and is, to have a vast global intelligence monster which allegedly shares common goals.

The London Telegraph reported in December of 1997 that the Civil liberties Committee of the European Parliament had officially confirmed the existence and purpose of ECHELON. "A global electronic spy network that can eavesdrop on every telephone, e-mail and telex communication around the world will be officially acknowledged for the first time in a European Commission report. …"

The report noted: "Within Europe all e-mail, telephone and fax communications are routinely intercepted by the United States National Security Agency, transferring ll target information from the Eurv opean mainland via the strategic hub of London, then by satellite to Fort Meade in Maryland via the crucial hub at Menwith Hill, in the North York moors in the UK.

"The ECHELON system forms part of the UKUSA system but unlike many of the electronic spy systems developed during the Cold War, ECHELON was designed primarily for non-military targets: governments, organizations and businesses in virtually every country."

An interesting sidebar appeared in the International Herald Tribune under the headline, "Big Corporate Brother: It Knows More About You Than You Think." The story details Acxiom Corp, which was a humongous information service hidden in the Ozark foothills. Twenty-four hours a day, Acxiom electronically gathered and sorts all kinds of data about 196 million Americans. Credit card transactions and magazine subscriptions, telephone numbers, real estate records, automotive data, hunting, business and fishing licenses, consumer surveys and demographic detail that would make a marketing department's research manager salivate. This relatively new (legal) enterprise was known as "data warehousing" or "data-mining", and it underscores the cruel reality that the fiction of personal privacy has become obsolete. Technology's ability to collect and analyze data has made privacy a quaint albeit interesting dinosaur.

The Tribune reported that "Axciom can often determine whether an American owns a dog or cat, enjoys camping or gourmet cooking, reads the Bible or lots of other books. It can often pinpoint an American's occupation, car and favorite vacations. By analyzing the equivalent of billions of pages of data, it often projects for its customers who should be offered a credit card or who is likely to buy a computer."

Most of this information is from y 1998 piece. Echelon has developed, matured, and morphed into a much more powerful hybrid. 'Carnivore' was software to help triage the cacophony of data. Vault 7 and 'Umbrage' are logical (some would argue "insidious") growth.

More to follow…