"It Is Not A Question of Who Is Right Or Wrong But What Is Right Or Wrong That Counts.

"

--Geoff Metcalf
Providing an on line Triage of the news since 1997



Wo

rld & Nation
China conducting covert biological weapons research, State Dept. says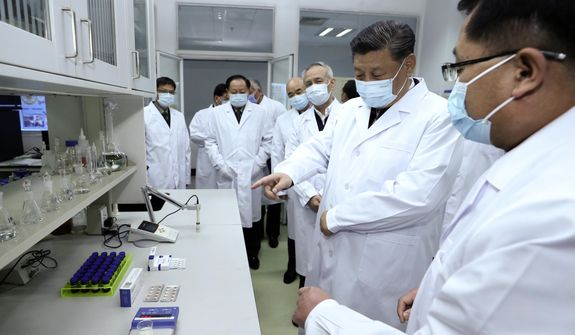 China is conducting clandestine biological weapons-related research and has failed to disclose past offensive germ weapons work, according to a State Department report made public Tuesday.
Beijing also is hiding nuclear-related test data by blocking sensors from an international monitoring system used to detect underground nuclear blasts, the annual arms control compliance report contended.
The unclassified report provides new details regarding U.S. concerns "for many years" related to Beijing's biological weapons research that is not permitted under the 1972 Biological Weapons Convention signed by 183 nations, including China and the United States.
---
Appeals Court Orders Dismissal of Criminal Case Against Michael Flynn


A U.S. appeals court on Wednesday directed a federal judge to drop the criminal case against President Donald Trump's former national security adviser Michael Flynn as demanded by the Justice Department, preventing a judicial review of the propriety of the request.

In a split decision, a three-judge panel of the U.S. Court of Appeals for the District of Columbia Circuit ruled in favor of Flynn and the Trump administration in preventing U.S. District Judge Emmet Sullivan from exercising his discretion on whether to grant the department's motion to clear Flynn, who twice pleaded guilty.

The ruling is a huge win for Trump, who has repeatedly slammed the case against Flynn as part of a broader conspiracy by Democrats to undermine him and his administration. The Justice Department reversed course on its prosecution of Flynn last month, requesting the court drop the case because Flynn's lies to the two agents weren't "material" to the Russia probe and he shouldn't have been interviewed in the first place.


---
Senate Heads for Showdown Over Republican Police Reform Bill
The U.S. Senate headed for a showdown on Wednesday over a Republican police reform bill that Democrats have rejected as too limited to rein in police misconduct, as public protests continue over George Floyd's death.
The bill, crafted by the Senate's only Black Republican, Senator Tim Scott, must garner 60 votes to move forward in the 100-seat chamber. But Republicans control only 53 votes, and Democrats have vowed to oppose the measure while urging talks on a new bipartisan measure.
"It will never get 60 votes," Senate Democratic leader Chuck Schumer vowed on Tuesday. "We need a bipartisan bill and a process to get there. That's when we will move a bill."
The Congressional Black Caucus, which represents more than 50 African-American lawmakers, called on senators to oppose the Republican measure, calling it "a completely watered-down fake reform bill."
---
US Targets $3.1 Billion of EU, UK Imports for New Tariffs
The U.S. is weighing new tariffs on $3.1 billion of exports from France, Germany, Spain and the U.K., adding to an arsenal of measures the Trump administration is using against the European Union that could spiral into a wider transatlantic trade fight later this summer.
The U.S. Trade Representative wants to impose new tariffs on European exports like olives, beer, gin and trucks, while increasing duties on products including aircrafts, cheese and yogurt, according to a notice published late Tuesday evening. The statement lays out a month-long public comment period ending July 26.
If the U.S. follows through with its plan, it could hammer European luxury brands like Givenchy and Hermes -- which produce leather goods -- and Remy Cointreau and Pernod Ricard, which make cognac and champagne. LVMH Moet Hennessy Louis Vuitton would be particularly vulnerable because it produces a wide array of these products.
---
Facebook moderators brag about deleting pro-Trump posts in Project Veritas sting
Facebook CEO Mark Zuckerberg has long insisted that the company is politically neutral, but the same apparently can't be said for all of its content moderators.
The social-media giant said it would review its training and oversight after a Project Veritas sting released Tuesday showed moderators on hidden-camera footage claiming that they delete pro-Trump and conservative posts; that the company harbors an anti-Trump bias, and that Facebook shadow-bans content, despite its claims to the contrary.
The Project Veritas video featured an interview with former content moderator Zach McElroy of Cognizant, a third-party firm used by Facebook to police the platform, who said that about three-quarters of the posts flagged for "civic harassment" tilted to the right.
---
Toppled, Beheaded, Daubed: Controversial Statues
Protests in the wake of African American George Floyd's killing by white police officers in the United States have led to the toppling and vandalism of statues of controversial historical and political figures, often linked to slavery or colonisation.
Near the White House on Monday, protestors tried to topple the statue of former president Andrew Jackson.
Several monuments depicting one of his predecessors, US president Thomas Jefferson, (1801-1809), have also been vandalised. He drew up the US Declaration of Independence but owned more than 600 slaves.
And New York City is to remove a statue of former president Theodore Roosevelt, long criticised as a racist and colonialist symbol.
---
Pro-Trump group runs ad: 'Does Joe Biden have dementia?'
A pro-Trump super PAC is asking voters in a new television to consider whether former Vice President Joseph R. Biden, the presumptive Democratic presidential nominee, is suffering from dementia.
The Committee to Defend the President said it has invested $400,000 in the "Lost His Mind" ad that started airing Wednesday in Arizona and across social media.
"Does Joe Biden have the mental capacity to keep America safe?" the narrator says in the ad, which features footage of Mr. Biden making meandering comments and stumbling through worlds. "Is Joe Biden making any sense? Does Joe Biden have dementia?"
---
Dr. Anthony Fauci warns not to 'throw caution to the wind' as Trump stages Arizona pep talk
Dr. Anthony Fauci on Tuesday said the young people fueling COVID-19 spikes in the Sun Belt shouldn't "throw caution to the wind," as President Trump gathered a crowd of thousands of students for a conservative pep talk in hard-hit Arizona.
Dr. Fauci, who leads infectious disease research at the National Institutes of Health, said he realizes that young people want to go out after months of lockdowns, but he warned that they would be roving dangers if they get too lax with social distancing.
With the coronavirus raging in parts of the country, the European Union is considering an extension of a travel ban on the U.S. when it opens up to other nations July 1.
---
Kim Freezes Military Moves Against South Korea in Latest U-Turn
North Korea said Wednesday leader Kim Jong Un suspended a planned military retaliation against South Korea, in an apparent slowing of the pressure campaign it has waged against its rival amid stalled nuclear negotiations with the Trump administration.
Last week, the North had declared relations with the South as fully ruptured, destroyed an inter-Korean liaison office in its territory and threatened unspecified military action to censure Seoul for a lack of progress in bilateral cooperation and for activists floating anti-Pyongyang leaflets across the border.
Analysts say North Korea, after weeks deliberately raising tensions, may be pulling away just enough to make room for South Korean concessions.
---

Massive Sahara desert dust plume drifting toward the United States

A massive plume of dust from the Sahara desert in northern Africa has been traversing the atmosphere, thousands of feet above the tropical Atlantic Ocean, and is now cloaking the Caribbean and closing in on the southeastern United States.

While summer dust plumes are a common occurrence, this appears to be one of the most extreme in recent memory. It's so large it has been nicknamed the Gorilla Dust Cloud.

"This is the most significant event in the past 50 years. Conditions are dangerous in many Caribbean islands," Pablo Méndez Lázaro, from the University of Puerto Rico's School of Public Health, told the Associated Press.


---
Rhode Island moves to change state's official name due to slavery connotations
The state of Rhode Island is moving to change its official name — "The State of Rhode Island and Providence Plantations" — due to its connection to slavery. Rhode Island Governor Gina Raimondo signed an executive order on Monday to change what appears on government documents, and the state's legislature is moving forward with a bill to alter the name entirely.
"Many of the State's residents find it painful that a word so closely associated with slavery should appear in the official name of the State," Raimondo wrote. "The pain that this association causes to some of our residents should be of concern to all Rhode Islanders and we should do everything in our power to ensure that all communities can take pride in our State."
The order will shorten the name to "Rhode Island" in official communications from the governor's office, including executive orders and citations, and will also change the state's website. It will also remove the word "plantations" from all state agency websites and official correspondence, effective "as soon as practicable."
---
" It is discouraging to think how many people are shocked by honesty and how few by deceit."

-- Noel Coward

(1899-1973) British playwright

---

The Medal of Honor is the highest award for valor in action against an enemy force which can be bestowed upon an individual serving in the Armed Services of the United States.

GeneTrerally presented to its recipient by the President of the United States of America in the name of Congress.

The first award of the Medal of Honor was made March 25, 1863 to Private JACOB PARROTT.The last award of the Medal of Honor was made September 15, 2011 to Sergeant DAKOTA MEYER.

Since then there have been: • 3458 recipients of the Medal of Honor.

• Today there are 85 Living Recipients of the Medal of Honor.

Citation


Captain Humbert R. Versace distinguished himself by extraordinary heroism during the period of 29 October 1963 to 26 September 1965, while serving as S-2 Advisor, Military Assistance Advisory Group, Detachment 52, Ca Mau, Republic of Vietnam. While accompanying a Civilian Irregular Defense Group patrol engaged in combat operations in Thoi Binh District, An Xuyen Province, Captain Versace and the patrol came under sudden and intense mortar, automatic weapons, and small arms fire from elements of a heavily armed enemy battalion. As the battle raged, Captain Versace, although severely wounded in the knee and back by hostile fire, fought valiantly and continued to engage enemy targets. Weakened by his wounds and fatigued by the fierce firefight, Captain Versace stubbornly resisted capture by the over-powering Viet Cong force with the last full measure of his strength and ammunition. Taken prisoner by the Viet Cong, he exemplified the tenets of the Code of Conduct from the time he entered into Prisoner of War status. Captain Versace assumed command of his fellow American soldiers, scorned the enemy's exhaustive interrogation and indoctrination efforts, and made three unsuccessful attempts to escape, despite his weakened condition which was brought about by his wounds and the extreme privation and hardships he was forced to endure. During his captivity, Captain Versace was segregated in an isolated prisoner of war cage, manacled in irons for prolonged periods of time, and placed on extremely reduced ration. The enemy was unable to break his indomitable will, his faith in God, and his trust in the United States of America. Captain Versace, an American fighting man who epitomized the principles of his country and the Code of Conduct, was executed by the Viet Cong on 26 September 1965. Captain Versace's gallant actions in close contact with an enemy force and unyielding courage and bravery while a prisoner of war are in the highest traditions of the military service and reflect the utmost credit upon himself and the United States Army.

---

From the Archives

We Have Met the Enemy…
Geoff Metcalf


"They who can give up essential liberty to obtain a little temporary safety deserve neither liberty nor safety.
--Benjamin Franklin
"The American people must be willing to give up a degree of personal privacy in exchange for safety and security."
--Louis Freeh


In the wake of the clamor over the most recent WikiLeaks data dump, 'Vault 7', 'UMBRAGE', et al, it should be noted this is not really anything new. What we are seeing here is simply the evolution of something that goes back to the late 50s (to the incomplete best knowledge I have).

It is kinda cool to finally see even

The New York Times

acknowledging material

I was writing about in 1998

.

In April of 1998 I wrote "Privacy has become an anachronism." I was commenting on "a massive system designed to intercept all your e-mail, fax traffic and more." I was explaining 'Echelon', the illegitimate offspring of a

UKUSA Treaty

signed by the United States, United Kingdom, Canada, Australia and New Zealand. Its purpose was, and is, to have a vast global intelligence monster, which allegedly shares common goals. The system was so "efficient" that reportedly National Security Agency folk from Fort Meade could work from Menwith Hill in England to intercept local communications without either nation having to burden themselves with the formality of seeking approval (a court order) or disclosing the operation. And this was all pre-9/11 and pre-the anti-constitutional

'Patriot Act'

.

It is illegal (without a Judge's signed permission) for the United States to spy on its citizens … kinda. The laws have long been circumvented by a mutual pact among five nations. Under the terms of UKUSA agreement, Britain spies on Americans and America spies on British citizens, and then the two conspirators trade data. A classic technical finesse. It is legal, but the intent to evade the spirit is inescapable.

I often fictionalized the genesis of 'Echelon' as an informal meeting of a group of post war American and British intelligence types drinking in some remote rustic bar. An imagined CIA type complains to his MI6 buddy about the hassles of US laws preventing US intelligence from surveillance of bad guys, and the Brit echoes the same complaint.

"Hey wait a moment mate," says Nigel, the make-believe MI6 guy, "I can spy on your guys and you can spy on our bad players…why don't we just come up with a mechanism whereby we spy on your villains, you spy on our villains, and we just 'share' the intel?"

This system was called ECHELON, and has been kicking around in some form longer than most of you. The result of the UKUSA treaty signed by the United States, United Kingdom, Canada, Australia and New Zealand was, and is, to have a vast global intelligence monster which allegedly shares common goals.

The London Telegraph reported in December of 1997 that the Civil liberties Committee of the European Parliament had officially confirmed the existence and purpose of ECHELON. "A global electronic spy network that can eavesdrop on every telephone, e-mail and telex communication around the world will be officially acknowledged for the first time in a European Commission report. …"

The report noted: "Within Europe all e-mail, telephone and fax communications are routinely intercepted by the United States National Security Agency, transferring ll target information from the Eurv opean mainland via the strategic hub of London, then by satellite to Fort Meade in Maryland via the crucial hub at Menwith Hill, in the North York moors in the UK.

"The ECHELON system forms part of the UKUSA system but unlike many of the electronic spy systems developed during the Cold War, ECHELON was designed primarily for non-military targets: governments, organizations and businesses in virtually every country."

An interesting sidebar appeared in the International Herald Tribune under the headline, "Big Corporate Brother: It Knows More About You Than You Think." The story details Acxiom Corp, which was a humongous information service hidden in the Ozark foothills. Twenty-four hours a day, Acxiom electronically gathered and sorts all kinds of data about 196 million Americans. Credit card transactions and magazine subscriptions, telephone numbers, real estate records, automotive data, hunting, business and fishing licenses, consumer surveys and demographic detail that would make a marketing department's research manager salivate. This relatively new (legal) enterprise was known as "data warehousing" or "data-mining", and it underscores the cruel reality that the fiction of personal privacy has become obsolete. Technology's ability to collect and analyze data has made privacy a quaint albeit interesting dinosaur.

The Tribune reported that "Axciom can often determine whether an American owns a dog or cat, enjoys camping or gourmet cooking, reads the Bible or lots of other books. It can often pinpoint an American's occupation, car and favorite vacations. By analyzing the equivalent of billions of pages of data, it often projects for its customers who should be offered a credit card or who is likely to buy a computer."

Most of this information is from y 1998 piece. Echelon has developed, matured, and morphed into a much more powerful hybrid. 'Carnivore' was software to help triage the cacophony of data. Vault 7 and 'Umbrage' are logical (some would argue "insidious") growth.

More to follow…