"It Is Not A Question of Who Is Right Or Wrong But What Is Right Or Wrong That Counts.

"

--Geoff Metcalf
Providing an on line Triage of the news since 1997



Wo

rld & Nation
Pelosi: 'No Requirement' That House Has Impeachment Inquiry Vote
House Speaker Nancy Pelosi said Tuesday after meeting with the House Democratic caucus that there will not be a vote at this time to launch formal impeachment proceedings or to formalize the ongoing inquiry against President Donald Trump.
"There's no requirement that we have a vote, and so at this time we will not be having a vote," Pelosi told reporters toward the end of a press conference called after she met with House leaders to discuss a potential formal vote. "We're not here to call bluffs. We're here to find the truth, to uphold the Constitution of the United States. This is not a game for us. This is deadly serious."
During the press conference, Pelosi seemed more interested in talking about legislation underway in the House, and about recent court awards in Democrats' favor, but she did have sharp words about Trump and the ongoing investigation into his conversation with Ukraine's president about former Vice President Joe Biden and his son Hunter.
---
'Punitive' Warren takes heat in debate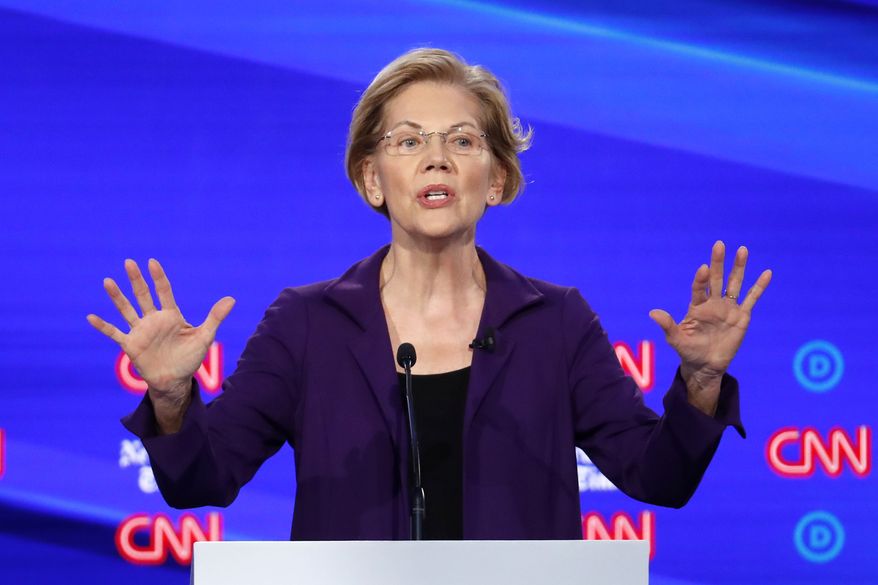 Sen. Elizabeth Warren got a first taste of what it is like to be the front-runner on the debate stage Tuesday when her rivals ganged up on her and questioned whether her tax-the-rich rhetoric was too "punitive" for an already polarized nation.
The more moderate 2020 Democratic hopefuls took aim at Ms. Warren's far-left agenda and plans for a wealth tax to finance a host of new benefits from tuition-free college to universal childcare.
"We need to be focused on lifting people up and sometimes I think that Sen. Warren is more focused on being punitive or putting some part of the country against the other," said former Rep. Beto O'Rourke of Texas.
---
Russian forces sweep into U.S. base abandoned in Syria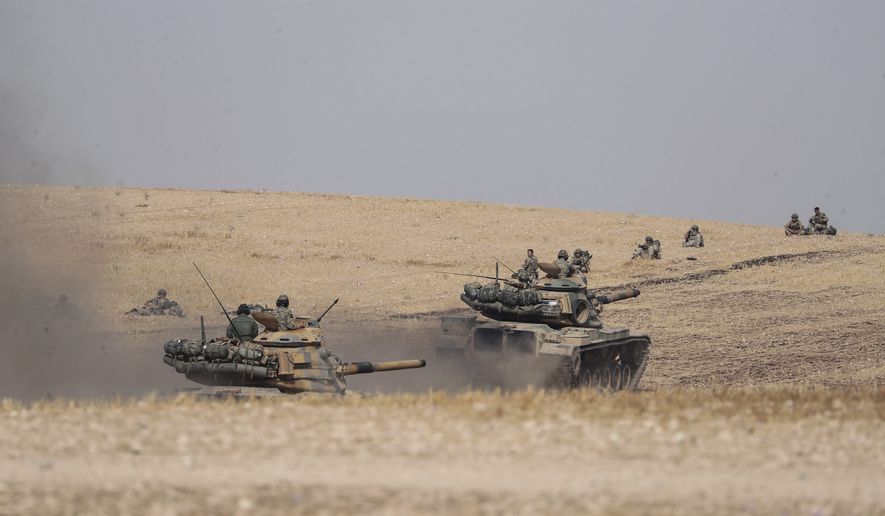 Russian forces began sweeping in to fill a security void left by withdrawing American troops in northern Syria on Tuesday, with Moscow-backed mercenaries taking control of a strategic former U.S. special operations outpost and Russian troops engaging in armored patrols as the new buffer between Turkish and Syrian armies.
Video posted on social media by Russian journalists traveling with the mercenaries and Syrian government forces showed abandoned American military tents under camouflage netting, as well as other remnants hastily left behind in recent days by U.S. troops near the strategic Syrian town of Manbij.
Officials at the Pentagon confirmed that American forces, who had manned outposts around Manbij for the past two years, have pulled out since President Trump ordered the withdrawal days ago. On Monday, the Pentagon said roughly 1,000 U.S. troops in Syria would be shifted to other nations in the Middle East.
---

Trump admin.: We can end birthright citizenship without Constitution fix

The government's citizenship chief said Wednesday that there's no need to amend the Constitution to stop automatic citizenship being granted to illegal immigrants, though he said he's not sure whether President Trump could act alone or whether it would take a law from Congress.

Ken Cuccinelli, the acting director of U.S. Citizenship and Immigration Services, said that second issue still needs study, but he said he has a firm belief that the Constitution allows it.

Birthright citizenship is the policy of granting automatic U.S. citizenship to almost anyone born on American soil, including children of illegal immigrants. The only major exception is children born to foreign diplomats.


---
Trump vetoes measure voiding border wall emergency declaration
President Trump vetoed a measure Tuesday night that terminated his emergency declaration to divert military construction funds for building a wall along the southern border.
In his veto message, which was expected, Mr. Trump said "the situation on our southern border remains a national emergency, and our armed forces are still needed to help confront it."
Defense Secretary Mark Esper agreed last month to transfer $3.6 billion from the Pentagon's budget for the border wall, essentially by defunding 127 military construction projects under emergency powers.
---
Reuters Sources: US Hit Iran With Cyberstrike After Saudi Oil Attack
The United States carried out a secret cyber operation against Iran in the wake of the Sept. 14 attacks on Saudi Arabia's oil facilities, which Washington and Riyadh blame on Tehran, two U.S. officials tell Reuters.
The officials, who spoke on condition of anonymity, said the operation took place in late September and took aim at Tehran's ability to spread "propaganda."
One of the officials said the strike affected physical hardware, but did not provide further details.
---
China Threatens to Retaliate If U.S. Enacts Hong Kong Bill
China threatened unspecified "strong countermeasures" if the U.S. Congress enacts legislation supporting Hong Kong protesters, in a sign of the deepening strain between the world's two largest economies as they attempt to seal a trade deal.
China's foreign ministry issued the warning Wednesday after the U.S. House passed a package of measures backing a pro-democracy movement that has rocked the former British colony for more than four months. Among them was the Hong Kong Human Rights and Democracy Act, which subjects the city's special U.S. trading status to annual reviews and provides for sanctions against officials deemed responsible for undermining its "fundamental freedoms and autonomy."
While the legislation must also pass the U.S. Senate and be signed by President Donald Trump to become law, it already has strong bipartisan support in the Republican-run upper chamber. The Hong Kong measures were passed by the Democrat-controlled House by unanimous voice votes Tuesday.
---
House GOP Moves Forward on Schiff Censure Effort
Republicans in the House continue to pursue a censure resolution against Rep. Adam Schiff, D-Calif., amid the impeachment inquiry of President Donald Trump he is leading.
According to The Hill, Freedom Caucus chairman Rep. Andy Biggs, R-Ariz., revised the resolution that has support from a large portion of the party. A vote on the measure could occur in the coming days.
---
Without encryption, we will lose all privacy. This is our new battleground
In every country of the world, the security of computers keeps the lights on, the shelves stocked, the dams closed, and transportation running. For more than half a decade, the vulnerability of our computers and computer networks has been ranked the number one risk in the US Intelligence Community's Worldwide Threat Assessment – that's higher than terrorism, higher than war. Your bank balance, the local hospital's equipment, and the 2020 US presidential election, among many, many other things, all depend on computer safety.
And yet, in the midst of the greatest computer security crisis in history, the US government, along with the governments of the UK and Australia, is attempting to undermine the only method that currently exists for reliably protecting the world's information: encryption. Should they succeed in their quest to undermine encryption, our public infrastructure and private lives will be rendered permanently unsafe.
---
Mexico leader defends security plan as 28 killed in attacks in two days
President Andres Manuel Lopez Obrador defended his strategy Tuesday for fighting the violent crime wracking Mexico, as relatives mourned 13 police officers killed in an ambush claimed by a powerful drug cartel, while a separate shootout left 15 dead.
Relatives of the 13 slain police officers killed on Monday sobbed over their coffins at a shared funeral service in the Michoacan state capital, Morelia, some holding their now-fatherless babies over the dark brown caskets.
Meanwhile on Tuesday, 14 civilians and a soldier were killed in the southern state of Guerrero after a group of armed civilians attacked security forces, state security spokesman Roberto Alvarez told AFP.
---
Losing it: Hillary Clinton has become completely delusional
There's a book you can buy on Amazon called "Hillary Clinton in Wonderland," a retelling of the Lewis Carroll classic with Hillary as the young heroine.
Sound far-fetched? It isn't. It's real, and it works because Mrs. Clinton has been in a fantasy world since she lost to Donald Trump in the 2016 presidential election.
In the months and years since her humiliating loss, she blamed James Comey, Russia, computer bots, WikiLeaks, Bernie Sanders, Facebook, Joe Biden, fake news, Twitter, voter ID laws, the vast right-wing conspiracy, sexism, Barack Obama, ageism, Anthony Weiner, white women, xenophobia, black people, the Electoral College, the DNC, misogyny, and women cowed by their husbands.
---
Killing Biden -- to salvage Obama
The biggest cover-ups are usually the ones right in front of us — as they say, "hiding in plain sight."
This whole impeachment-in-search-of-a-high-crime charade going on in the House of Representatives today has nothing to do with actually removing President Trump from office.
If that is all Democrats wanted to do, then they would just field a candidate against him whom voters find slightly less detestable than they found Hillary Clinton. That way, when they boot President Trump from office, they will have voters on their side. And Vice President Mike Pence won't be left sitting in the Oval Office.
---
---
"It is discouraging to think how many people are shocked by honesty and how few by deceit."

-- Noel Coward

(1899-1973) British playwright

---

The Medal of Honor is the highest award for valor in action against an enemy force which can be bestowed upon an individual serving in the Armed Services of the United States.

GeneTrerally presented to its recipient by the President of the United States of America in the name of Congress.

The first award of the Medal of Honor was made March 25, 1863 to Private JACOB PARROTT.The last award of the Medal of Honor was made September 15, 2011 to Sergeant DAKOTA MEYER.

Since then there have been: • 3458 recipients of the Medal of Honor.

• Today there are 85 Living Recipients of the Medal of Honor.

Citation


Captain Humbert R. Versace distinguished himself by extraordinary heroism during the period of 29 October 1963 to 26 September 1965, while serving as S-2 Advisor, Military Assistance Advisory Group, Detachment 52, Ca Mau, Republic of Vietnam. While accompanying a Civilian Irregular Defense Group patrol engaged in combat operations in Thoi Binh District, An Xuyen Province, Captain Versace and the patrol came under sudden and intense mortar, automatic weapons, and small arms fire from elements of a heavily armed enemy battalion. As the battle raged, Captain Versace, although severely wounded in the knee and back by hostile fire, fought valiantly and continued to engage enemy targets. Weakened by his wounds and fatigued by the fierce firefight, Captain Versace stubbornly resisted capture by the over-powering Viet Cong force with the last full measure of his strength and ammunition. Taken prisoner by the Viet Cong, he exemplified the tenets of the Code of Conduct from the time he entered into Prisoner of War status. Captain Versace assumed command of his fellow American soldiers, scorned the enemy's exhaustive interrogation and indoctrination efforts, and made three unsuccessful attempts to escape, despite his weakened condition which was brought about by his wounds and the extreme privation and hardships he was forced to endure. During his captivity, Captain Versace was segregated in an isolated prisoner of war cage, manacled in irons for prolonged periods of time, and placed on extremely reduced ration. The enemy was unable to break his indomitable will, his faith in God, and his trust in the United States of America. Captain Versace, an American fighting man who epitomized the principles of his country and the Code of Conduct, was executed by the Viet Cong on 26 September 1965. Captain Versace's gallant actions in close contact with an enemy force and unyielding courage and bravery while a prisoner of war are in the highest traditions of the military service and reflect the utmost credit upon himself and the United States Army.

---

From the Archives

We Have Met the Enemy…
Geoff Metcalf


"They who can give up essential liberty to obtain a little temporary safety deserve neither liberty nor safety.
--Benjamin Franklin
"The American people must be willing to give up a degree of personal privacy in exchange for safety and security."
--Louis Freeh


In the wake of the clamor over the most recent WikiLeaks data dump, 'Vault 7', 'UMBRAGE', et al, it should be noted this is not really anything new. What we are seeing here is simply the evolution of something that goes back to the late 50s (to the incomplete best knowledge I have).

It is kinda cool to finally see even

The New York Times

acknowledging material

I was writing about in 1998

.

In April of 1998 I wrote "Privacy has become an anachronism." I was commenting on "a massive system designed to intercept all your e-mail, fax traffic and more." I was explaining 'Echelon', the illegitimate offspring of a

UKUSA Treaty

signed by the United States, United Kingdom, Canada, Australia and New Zealand. Its purpose was, and is, to have a vast global intelligence monster, which allegedly shares common goals. The system was so "efficient" that reportedly National Security Agency folk from Fort Meade could work from Menwith Hill in England to intercept local communications without either nation having to burden themselves with the formality of seeking approval (a court order) or disclosing the operation. And this was all pre-9/11 and pre-the anti-constitutional

'Patriot Act'

.

It is illegal (without a Judge's signed permission) for the United States to spy on its citizens … kinda. The laws have long been circumvented by a mutual pact among five nations. Under the terms of UKUSA agreement, Britain spies on Americans and America spies on British citizens, and then the two conspirators trade data. A classic technical finesse. It is legal, but the intent to evade the spirit is inescapable.

I often fictionalized the genesis of 'Echelon' as an informal meeting of a group of post war American and British intelligence types drinking in some remote rustic bar. An imagined CIA type complains to his MI6 buddy about the hassles of US laws preventing US intelligence from surveillance of bad guys, and the Brit echoes the same complaint.

"Hey wait a moment mate," says Nigel, the make-believe MI6 guy, "I can spy on your guys and you can spy on our bad players…why don't we just come up with a mechanism whereby we spy on your villains, you spy on our villains, and we just 'share' the intel?"

This system was called ECHELON, and has been kicking around in some form longer than most of you. The result of the UKUSA treaty signed by the United States, United Kingdom, Canada, Australia and New Zealand was, and is, to have a vast global intelligence monster which allegedly shares common goals.

The London Telegraph reported in December of 1997 that the Civil liberties Committee of the European Parliament had officially confirmed the existence and purpose of ECHELON. "A global electronic spy network that can eavesdrop on every telephone, e-mail and telex communication around the world will be officially acknowledged for the first time in a European Commission report. …"

The report noted: "Within Europe all e-mail, telephone and fax communications are routinely intercepted by the United States National Security Agency, transferring ll target information from the European mainland via the strategic hub of London, then by satellite to Fort Meade in Maryland via the crucial hub at Menwith Hill, in the North York moors in the UK.

"The ECHELON system forms part of the UKUSA system but unlike many of the electronic spy systems developed during the Cold War, ECHELON was designed primarily for non-military targets: governments, organizations and businesses in virtually every country."

An interesting sidebar appeared in the International Herald Tribune under the headline, "Big Corporate Brother: It Knows More About You Than You Think." The story details Acxiom Corp, which was a humongous information service hidden in the Ozark foothills. Twenty-four hours a day, Acxiom electronically gathered and sorts all kinds of data about 196 million Americans. Credit card transactions and magazine subscriptions, telephone numbers, real estate records, automotive data, hunting, business and fishing licenses, consumer surveys and demographic detail that would make a marketing department's research manager salivate. This relatively new (legal) enterprise was known as "data warehousing" or "data-mining", and it underscores the cruel reality that the fiction of personal privacy has become obsolete. Technology's ability to collect and analyze data has made privacy a quaint albeit interesting dinosaur.

The Tribune reported that "Axciom can often determine whether an American owns a dog or cat, enjoys camping or gourmet cooking, reads the Bible or lots of other books. It can often pinpoint an American's occupation, car and favorite vacations. By analyzing the equivalent of billions of pages of data, it often projects for its customers who should be offered a credit card or who is likely to buy a computer."

Most of this information is from y 1998 piece. Echelon has developed, matured, and morphed into a much more powerful hybrid. 'Carnivore' was software to help triage the cacophony of data. Vault 7 and 'Umbrage' are logical (some would argue "insidious") growth.

More to follow…