"It Is Not A Question of Who Is Right Or Wrong But What Is Right Or Wrong That Counts.

"

--Geoff Metcalf
Providing an on line Triage of the news since 1997



Wo

rld & Nation
Rush Limbaugh, conservative talk radio pioneer, dead at 70
Limbaugh's death, following Stage IV lung cancer diagnosis, announced by family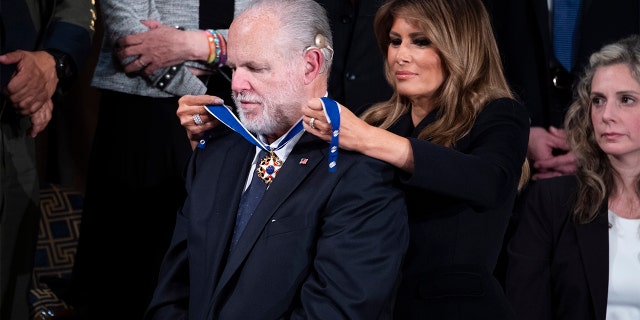 Rush Limbaugh, the monumentally influential media icon who transformed talk radio and politics in his decades behind the microphone, helping shape the modern-day Republican Party, died Wednesday at the age of 70 after a battle with lung cancer, his family announced.

Limbaugh's wife, Kathryn, made the announcement on his radio show.

The radio icon learned he had Stage IV lung cancer in January 2020 and was awarded the Presidential Medal of Freedom by President Trump at the State of the Union address days later. First lady Melania Trump then presented America's highest civilian honor to Limbaugh in an emotional moment on the heels of his devastating cancer diagnosis.

"Rush Limbaugh: Thank you for your decades of tireless devotion to our country," President Trump said during the address.


---
CNN, NBC paid accused rioter for his 'let's burn' Capitol video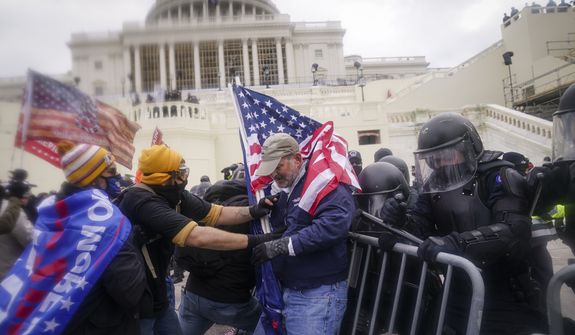 Accused Capitol rioter and Black Lives Matter supporter John E. Sullivan quickly inked deals to sell rights to his self-narrated invasion video to CNN and NBC News, new court filings show.
Mr. Sullivan, who was indicted in D.C. while already facing criminal charges stemming from a violent demonstration in Provo, Utah, became somewhat of a rioting celebrity after he patrolled the halls of Congress and called for burning down the Capitol.
He was interviewed by CNN's Anderson Cooper not as a perpetrator but as an eye-witness. On Jan. 6, the day of the riot by "Stop the Steal" Trump supporters, Mr. Sullivan and CNN signed a $35,000 contract to broadcast his video. Two weeks later, NBC News also ponied up $35,000.
Mr. Sullivan captured Ashli Babbitt's death as she attempted to crash through a door window leading to the Speaker's lobby and was shot by a U.S. Capitol Police officer. Scores of invaders documented their incursions on cell phone videos posted on various Internet platforms.
---
Kamala Harris: Haven't Reviewed Trump as a Prosecutor
Vice President Kamala Harris, a former California attorney general, Wednesday followed President Joe Biden's lead in insisting her focus is on the COVID-19 pandemic and not on determining whether former President Donald Trump committed any crimes in connection with the Jan. 6 riot at the Capitol.
"I haven't reviewed the case through the lens of being a prosecutor," Harris, who was a senator before becoming Biden's vice president, told NBC "Today" anchor Savannah Guthrie. "I'm reviewing the case of COVID in America through the lens of being the vice president of America.​"
While Trump's impeachment trial was going on in the Senate last week, the president kept pushing ahead with his efforts on the pandemic and this week is holding public events to refocus the country's attention.
---
U.S., Japan extend $1.9 billion deal to cover costs of American troops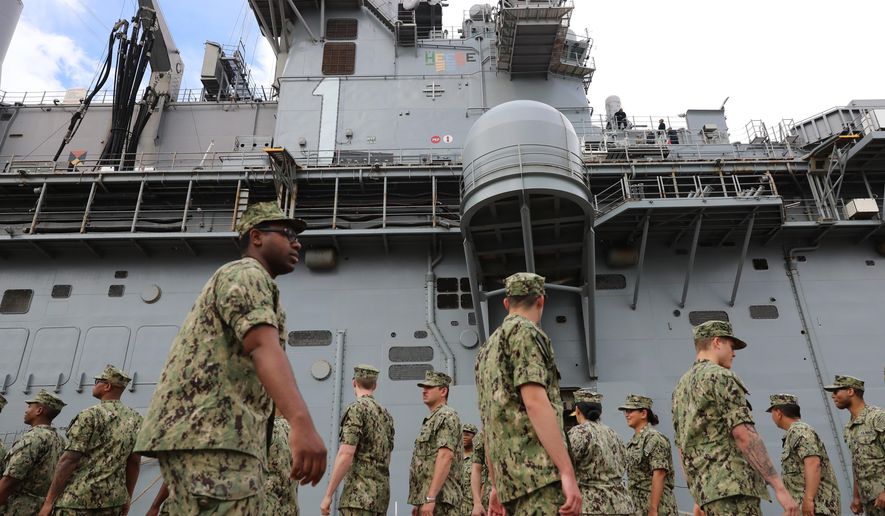 Washington and Tokyo finalized a $1.9 billion deal this week to cover the costs of the roughly 55,000 American troops stationed in Japan.
The deal extends the current U.S.-Japan arrangement for another year, through March 2022, according to Japan's Kyodo News. The next annual payment of about $1.9 billion is the same as past years, and the agreement seemingly ends a previous push by the U.S., under the leadership of former President Trump, to dramatically increase the figure.
"This shows the two countries' strong commitment to the bond of the Japan-U.S. alliance and enhances the credibility of the alliance," Japanese Foreign Minister Toshimitsu Motegi said Wednesday.
The Biden administration still will have to hammer out a long-term deal with Japan before the extension expires in March 2022. The presence of American forces in the Pacific — including in Japan and in South Korea, among other places — is especially important given rising tensions between the U.S. and China.
---
How the Dems' 'very dangerous' bill creates a publicly accessible gun registry
Would require gun owners to buy firearms insurance and ban certain types of ammunition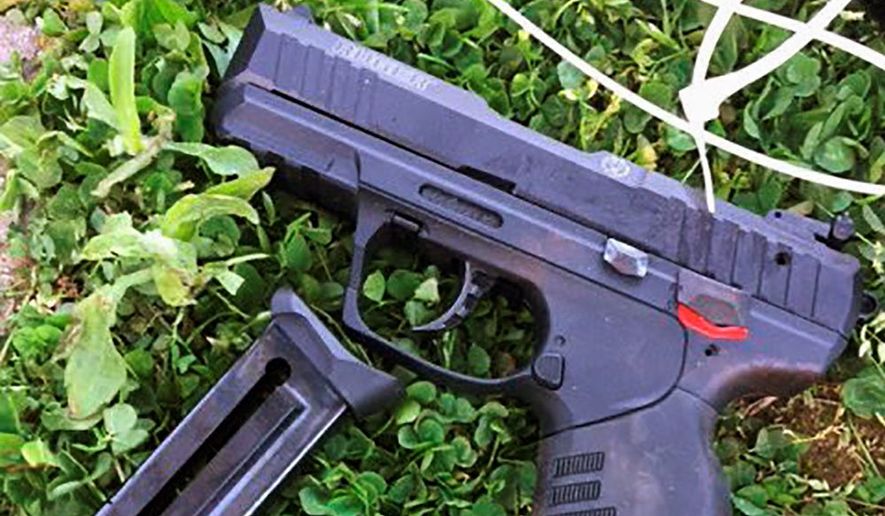 Retired police officers are rallying against a Democratic bill to create a publicly accessible gun registry, saying it puts their lives in danger by advertising how many firearms are in their homes and where they are stored.
The legislation, H.R. 127, would create a mandatory registry that lists the names of gun owners, the number of firearms they possess and where they keep the guns.
It would require all gun owners to participate in the registry, irrespective of having a law enforcement background. Only current law enforcement would be exempt from the database.
---
Biden says investigating Trump is up to the Justice Department
President Biden said Tuesday night that he won't meddle with any decision by his Justice Department to prosecute former President Donald Trump for anything he did while in office.
"One of the most serious pieces of damage done by the last administration was the politicizing of the Justice Department," Mr. Biden said at a CNN Town Hall in Milwaukee.
Asked by moderator Anderson Cooper if he would allow the Justice Department to investigate Mr. Trump, the president said it'll be up to the leaders of that agency.
---
Blinken: US to Pay $200 Million in WHO Obligations
The United States will pay more than $200 million to the World Health Organization by the end of the month after reversing Donald Trump's plan to withdraw, Secretary of State Antony Blinken said Wednesday.
The sum amounts to the commitments the United States had made to the global health body, to which it has been the largest donor.
"This is a key step forward in fulfilling our financial obligations as a WHO member and it reflects our renewed commitment to ensuring the WHO has the support it needs to lead the global response to the pandemic," Blinken told a virtual UN Security Council session on Covid-19.
---
Trump tells GOP to ditch McConnell, vows to back primary challengers
Former President Donald Trump unloaded on Senate Minority Leader Mitch McConnell on Tuesday, calling him a "dour, sullen, and unsmiling political hack," saying Republicans cannot win with him at the party's helm, and vowing to support candidates who will challenge GOP lawmakers in primaries.
The vicious remark came in a statement after Mr. McConnell penned an op-ed saying that while he voted to acquit Mr. Trump in the impeachment case for constitutional reasons, the former president still bears "moral responsibility" for the Jan. 6 attack on the Capitol.
Mr. Trump, in his lengthy statement, didn't address Mr. McConnell's arguments about the mob, instead questioning the senator's "substantial Chinese business holdings" and the loss of the Senate majority in two special elections in Georgia this year.
---

Obama Snub? Biden Says He Never Entered Presidential Residence

President Joe Biden served as eight years as vice president under former President Barack Obama but says in all that time, plus during his 30 years in the Senate, he had not been inside the presidential residence in the White House until he and his wife Jill moved in when he took office in January.

"I had been in the Oval Office a hundred times as vice president — more than that — every morning for the initial meetings, but I had never been up in the residence," Biden during a town hall event hosted by CNN's Anderson Cooper Tuesday night in Milwaukee, reports Fox News.

His disclosure appeared to support reports suggesting the relationship between Biden and Obama might not have been as close as it has been portrayed publicly.


---
Biden distances from Psaki comments on schools being open 1 day a week: 'A mistake in the communication'
Biden also said schools could be open over the summer
The president says reports of reopening schools only one day a week 'was a mistake in communication.
President Biden on Tuesday night distanced himself from previous comments by White House press secretary Jen Psaki that the administration's goal for its first 100 days was to have more than 50% of schools open at least one day per week.
That goal was criticized as unambitious as it had essentially already been met by school districts partially opening on their own before Biden's time in office. There was also speculation that the White House was trying to avoid upsetting teachers unions, which are a major force in the Democratic Party and have in many cases strongly opposed school reopening efforts.
"No, that's not true. That's what was reported; that's not true. There was a mistake in the communication," he said. "But what I -- what I'm talking about is I said opening the majority of schools in K-through-eighth grade because they're the easiest to open, the most needed to be opened, in terms of the impact on children and families having to stay home."
---
Wife of North Korea's Kim Jong Un makes first public appearance in a year
She has not been seen in public in more than a year, but Kim Jong Un's wife, Ri Sol Ju, made an appearance Wednesday, next to her husband.
North Korean leader Kim Jong Un's wife, Ri Sol Ju, appeared in state media for the first time in more than a year on Wednesday, joining her husband at a concert on one of the country's biggest holidays.
The official ruling Worker's Party newspaper Rodong Sinmun released photos of the pair at the event to mark the birthday of Kim's late father and former leader Kim Jong Il.
Ri had often accompanied Kim to major public events, but had not been seen since January last year at an event for the Lunar New Year holiday, stoking speculation over her health and potential pregnancy.
---
Gunmen kidnap at least 20 boys from Nigerian boarding school
Gunmen stormed a north-central Nigerian boarding school early Wednesday, kidnapping at least 20 teenage boys, the local governor said — the second mass abduction of children to shake the country in three months.
The attackers raided the Government Science Secondary School in the town of Kagara before sunrise and dragged the classmates into the dense woods.
Police initially said they suspected "hundreds" could have been taken. Three teachers and 12 family members also vanished into the night, Abubakar Sani Bello, the governor of Niger state, said on television.
---
Legacy media protects Democrats by omission
Stories about Hunter Biden, Andrew Cuomo or the Lincoln Project are ignored
One of the biggest complaints of tens of millions of Americans has been how legacy media covered President Donald Trump not to provide information to their readers and viewers, but to destroy a political opponent.
As he was running for president and then through his term, we witnessed an obscene display of vitriol and bias fueling a mission to destroy a man simply because they disagreed with his politics. And because they were foot soldiers for the other side.
Most Americans knew Mr. Trump was a change-maker and disrupter of a system that had grown fat and smug. So did the Democrats and their enablers.
---
Time for Citizen Trump to write 'The Art of the New, New Deal'
He should remind voters of his judicial appointments and Middle East peace
Saturday was a good day for the Land of the Free and the Home of the Brave. The First Amendment has been validated once again, this time by the U.S. Senate.
Simply by speaking his mind Citizen Trump committed no crime on Jan. 6. That was when he addressed a large crowd telling them they should march "peacefully" and "patriotically." He told them they should "fight like hell." Those are words frequently employed by politicians, and Donald Trump's defense team gave us plenty of blood-curdling examples of Democrats uttering precisely those words in an angry montage Friday.
When it was all over, what struck me is how both sides resort to warlike rhetoric from the stump and, come to think about it, both sides have their thugs, the Proud Boys on the right, the adepts of Antifa and Black Lives Matter on the left.
---
" It is discouraging to think how many people are shocked by honesty and how few by deceit."

-- Noel Coward

(1899-1973) British playwright

---

The Medal of Honor is the highest award for valor in action against an enemy force which can be bestowed upon an individual serving in the Armed Services of the United States.

GeneTrerally presented to its recipient by the President of the United States of America in the name of Congress.

The first award of the Medal of Honor was made March 25, 1863 to Private JACOB PARROTT.The last award of the Medal of Honor was made September 15, 2011 to Sergeant DAKOTA MEYER.

Since then there have been: • 3458 recipients of the Medal of Honor.

• Today there are 85 Living Recipients of the Medal of Honor.

Citation


Captain Humbert R. Versace distinguished himself by extraordinary heroism during the period of 29 October 1963 to 26 September 1965, while serving as S-2 Advisor, Military Assistance Advisory Group, Detachment 52, Ca Mau, Republic of Vietnam. While accompanying a Civilian Irregular Defense Group patrol engaged in combat operations in Thoi Binh District, An Xuyen Province, Captain Versace and the patrol came under sudden and intense mortar, automatic weapons, and small arms fire from elements of a heavily armed enemy battalion. As the battle raged, Captain Versace, although severely wounded in the knee and back by hostile fire, fought valiantly and continued to engage enemy targets. Weakened by his wounds and fatigued by the fierce firefight, Captain Versace stubbornly resisted capture by the over-powering Viet Cong force with the last full measure of his strength and ammunition. Taken prisoner by the Viet Cong, he exemplified the tenets of the Code of Conduct from the time he entered into Prisoner of War status. Captain Versace assumed command of his fellow American soldiers, scorned the enemy's exhaustive interrogation and indoctrination efforts, and made three unsuccessful attempts to escape, despite his weakened condition which was brought about by his wounds and the extreme privation and hardships he was forced to endure. During his captivity, Captain Versace was segregated in an isolated prisoner of war cage, manacled in irons for prolonged periods of time, and placed on extremely reduced ration. The enemy was unable to break his indomitable will, his faith in God, and his trust in the United States of America. Captain Versace, an American fighting man who epitomized the principles of his country and the Code of Conduct, was executed by the Viet Cong on 26 September 1965. Captain Versace's gallant actions in close contact with an enemy force and unyielding courage and bravery while a prisoner of war are in the highest traditions of the military service and reflect the utmost credit upon himself and the United States Army.

---

From the Archives

We Have Met the Enemy…
Geoff Metcalf


"They who can give up essential liberty to obtain a little temporary safety deserve neither liberty nor safety.
--Benjamin Franklin
"The American people must be willing to give up a degree of personal privacy in exchange for safety and security."
--Louis Freeh


In the wake of the clamor over the most recent WikiLeaks data dump, 'Vault 7', 'UMBRAGE', et al, it should be noted this is not really anything new. What we are seeing here is simply the evolution of something that goes back to the late 50s (to the incomplete best knowledge I have).

It is kinda cool to finally see even

The New York Times

acknowledging material

I was writing about in 1998

.

In April of 1998 I wrote "Privacy has become an anachronism." I was commenting on "a massive system designed to intercept all your e-mail, fax traffic and more." I was explaining 'Echelon', the illegitimate offspring of a

UKUSA Treaty

signed by the United States, United Kingdom, Canada, Australia and New Zealand. Its purpose was, and is, to have a vast global intelligence monster, which allegedly shares common goals. The system was so "efficient" that reportedly National Security Agency folk from Fort Meade could work from Menwith Hill in England to intercept local communications without either nation having to burden themselves with the formality of seeking approval (a court order) or disclosing the operation. And this was all pre-9/11 and pre-the anti-constitutional

'Patriot Act'

.

It is illegal (without a Judge's signed permission) for the United States to spy on its citizens … kinda. The laws have long been circumvented by a mutual pact among five nations. Under the terms of UKUSA agreement, Britain spies on Americans and America spies on British citizens, and then the two conspirators trade data. A classic technical finesse. It is legal, but the intent to evade the spirit is inescapable.

I often fictionalized the genesis of 'Echelon' as an informal meeting of a group of post war American and British intelligence types drinking in some remote rustic bar. An imagined CIA type complains to his MI6 buddy about the hassles of US laws preventing US intelligence from surveillance of bad guys, and the Brit echoes the same complaint.

"Hey wait a moment mate," says Nigel, the make-believe MI6 guy, "I can spy on your guys and you can spy on our bad players…why don't we just come up with a mechanism whereby we spy on your villains, you spy on our villains, and we just 'share' the intel?"

This system was called ECHELON, and has been kicking around in some form longer than most of you. The result of the UKUSA treaty signed by the United States, United Kingdom, Canada, Australia and New Zealand was, and is, to have a vast global intelligence monster which allegedly shares common goals.

The London Telegraph reported in December of 1997 that the Civil liberties Committee of the European Parliament had officially confirmed the existence and purpose of ECHELON. "A global electronic spy network that can eavesdrop on every telephone, e-mail and telex communication around the world will be officially acknowledged for the first time in a European Commission report. …"

The report noted: "Within Europe all e-mail, telephone and fax communications are routinely intercepted by the United States National Security Agency, transferring ll target information from the Eurv opean mainland via the strategic hub of London, then by satellite to Fort Meade in Maryland via the crucial hub at Menwith Hill, in the North York moors in th UK.

"The ECHELON system forms part of the UKUSA system but unlike many of the electronic spy systems developed during the Cold War, ECHELON was designed primarily for non-military targets: governments, organizations and businesses in virtually every country."

An interesting sidebar appeared in the International Herald Tribune under the headline, "Big Corporate Brother: It Knows More About You Than You Think." The story details Acxiom Corp, which was a humongous information service hidden in the Ozark foothills. Twenty-four hours a day, Acxiom electronically gathered and sorts all kinds of data about 196 million Americans. Credit card transactions and magazine subscriptions, telephone numbers, real estate records, automotive data, hunting, business and fishing licenses, consumer surveys and demographic detail that would make a marketing department's research manager salivate. This relatively new (legal) enterprise was known as "data warehousing" or "data-mining", and it underscores the cruel reality that the fiction of personal privacy has become obsolete. Technology's ability to collect and analyze data has made privacy a quaint albeit interesting dinosaur.

The Tribune reported that "Axciom can often determine whether an American owns a dog or cat, enjoys camping or gourmet cooking, reads the Bible or lots of other books. It can often pinpoint an American's occupation, car and favorite vacations. By analyzing the equivalent of billions of pages of data, it often projects for its customers who should be offered a credit card or who is likely to buy a computer."

Most of this information is from y 1998 piece. Echelon has developed, matured, and morphed into a much more powerful hybrid. 'Carnivore' was software to help triage the cacophony of data. Vault 7 and 'Umbrage' are logical (some would argue "insidious") growth.

More to follow…