"It Is Not A Question of Who Is Right Or Wrong But What Is Right Or Wrong That Counts.

"

--Geoff Metcalf
Providing an on line Triage of the news since 1997
Wo
rld & Nation
China wins data wars unless American businesses, universities team with U.S. gov't: Pentagon officer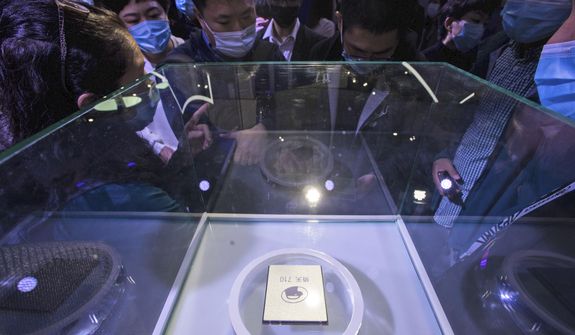 The American government must have successful relationships with academia and the business sector in order to win the ongoing data competition with China, according to David Spirk, the Department of Defense's chief data officer.

Both the U.S.government and the Chinese government scoop up all kinds of data, from publicly accessible information to knowledge gathered from satellites and electronic signals. But China has access to data generated by its commercial sector because of policies that remove barriers between businesses and the country's communist rulers.

America's government and business sectors are independent, though the Biden administration has sought new partnerships between companies and government to bolster U.S. cyber defenses.

Mr. Spirk told reporters at George Washington University's Project for Media and National Security on Wednesday that America is not losing its competition with China — yet.


---
Expanding the Quad? Opening seen to boost pro-democracy alliance against China
America's intensifying pro-democracy alignment with Japan, Australia and India has room to grow as other nations seek ways to push back on an aggressive China that is eager to dominate Asia and beyond in the 21st century, former top U.S. officials and regional experts said Tuesday.
Speaking at The Washington Brief, a monthly forum hosted by The Washington Times Foundation, analysts examined the likelihood that the four-nation informal alliance — known as the Quadrilateral Security Dialogue and more commonly called "The Quad" — could expand to include nations such as South Korea, a strategically vital player in the Pacific.
Although the Quad has fashioned itself as a regional counterweight to China's communist regime, the sheer economic force of Beijing and the attraction of its markets have greatly complicated the calculus for South Korea and other nations that remain close allies of the U.S. but are deeply intertwined financially with China.
The potential economic costs of South Korea openly joining the Quad and angering Beijing, some critics say, outweigh any benefits Seoul would reap.
---
Trump ally Sebastian Gorka sues Jan. 6 committee to block release of his phone records
Conservative commentator and former Trump White House aide Sebastian Gorka has sued the House committee investigating the Jan. 6 attack on the U.S. Capitol to block the release of his phone records.
According to his suit filed Tuesday, Mr. Gorka was not asked to provide documents or testimony before the committee subpoenaed Verizon directly for his records.
"As illustrated by the Select Committee going directly to Mr. Gorka's service provider without first asking him for the information directly, the Committee has no evidence that Dr. Gorka was involved in the attack on the Capitol," the complaint stated. "Attempting to exploit a presumed judicial reluctance to interfere with its investigation of the January 6 attack, the Committee's invasion of Mr. Gorka's privacy amounts to targeted retribution for his disfavored political speech and political associations."
According to Mr. Gorka's complaint, the committee issued its subpoena to Verizon on Dec. 15. He said Verizon notified him of the subpoena on Dec. 17, and he was given until Jan. 5 to challenge the demand for his records in court.
---
Pelosi accused of hiding info on her role in security breakdown on Jan. 6
House Speaker Nancy Pelosi is concealing information about her culpability in the security breakdown during the Jan. 6 riot, according to Republican lawmakers who have been pursuing those documents since immediately after the attack on the U.S. Capitol.
Rep. Rodney Davis of Illinois said Mrs. Pelosi is stonewalling. He is the top Republican on the House Administration Committee, which oversees the management of the Capitol complex.
"The Sergeant at Arms, at the direction of the speaker has refused to provide us their communications surrounding Jan. 6. I believe those records will show there was a lot of communications and coordination between the speaker's office and law enforcement officials leading up to and on Jan. 6," Mr. Davis wrote in a statement Tuesday to The Washington Times.
He sent a letter Monday to Mrs. Pelosi that reiterated House Republicans' demand for the release of documents and communications involving the decision not to deploy the National Guard for the mass protests anticipated that day.
---
A former president in the crosshairs: Jan. 6 committee puts Trump on notice as U.S. marks riot anniversary
If Donald Trump was looking for direction in the special House committee's investigation into the deadly Capitol attacks, the former president now has an unsettling roadmap.
In a series of public appearances a year after the deadly insurrection, panel leaders have put Trump on notice that they have gathered evidence calling into question whether he defaulted on his oath of office to protect and defend the Constitution of the United States.
While his supporters were laying siege to the Capitol, Rep. Liz Cheney, R-Wyo., the committee's co-chair, said Trump was passively watching the violence unfold on television from his White House dining room, indifferent to pleas from his own family that he rise to stop it.
And the alleged inaction, Chairman Bennie Thompson, D-Miss., suggested, could have perilous – even criminal – consequences.
---
Axios Poll: Fewer Think Biden Won; Majority Expect Another Capitol Attack
A majority of Americans say they expect a repeat of last year's Jan. 6 attack on the U.S. Capitol in the next two years, only half say they have faith in the nation's democracy, and the percentage who believe President Joe Biden was the legitimate winner of the 2020 election has declined in the last year, according to a new Axios-Momentive poll.
"It's dispiriting to see that this shocking thing we all witnessed last year hasn't changed people's perceptions," said Laura Wronski, senior manager for research science at Momentive, according to Axios, which reported on the Axios-Momentive poll that was released Wednesday, the day before the first anniversary of the incidents at the Capitol.
Wronski added that Biden either "hasn't done enough" to change people's minds or that he "never had a chance. The partisan division is still the story."
The poll shows 55% accepts that Biden won the presidential election, down 3 points from the Momentive poll conducted a year ago, just before the Senate was to confirm the election results. The previous poll showed 58% believed Biden was the legitimate winner.
---
Omicron Variant Symptoms: Latest COVID 'Making People Really Sick in a Different Way'
Symptoms of omicron variant COVID-19 are different than past waves of the pandemic, but hospitals across the country are filling up anyway
In a grim warning amid near record-high hospitalizations across the state, Hochul reported that more than 9,000 New Yorkers are now hospitalized with COVID-19. NBC New York's Romney Smith and Tracie Strahan report.
As COVID-19 infections with the omicron variant of the virus surge out of control nationwide, emergency rooms are filling up again -- and one well-known New York City doctor says what they're seeing now is much different than the last two years of the pandemic.
Manhattan emergency room physician Dr. Craig Spencer took to Twitter late Monday night to explain how the current surge is different -- both in who's coming to the ER and how they're being affected by the highly contagious virus.
---
Chicago teachers union votes to return to remote learning due to COVID-19 surge
The virus has surged to record levels because of the omicron variant
Chicago's teachers union voted on Tuesday to return to remote learning amid a new surge in coronavirus cases, forcing classes to be canceled on Wednesday, district officials said.
The vote was approved by 73% of the union's members, calling for no in-class learning until "cases substantially subside" or union leaders approve an agreement for safety protocols with the district.
The Chicago school district is the nation's third-largest. Students in the district had just returned to classes on Monday after a two-week winter break.
---
Chicago schools scrap classes after union backs remote learning because of COVID-19 surge
Mayor Lori Lightfoot, school system scramble to calm parents
Chicago public schools canceled classes Wednesday and face an uncertain future after nearly three-quarters of the Chicago Teachers Union voted to revert to remote learning because of a coronavirus surge, prompting a standoff with Mayor Lori Lightfoot and school administrators who want students to remain in the classroom.
School buildings will remain open for essential services, including meals, but students who arrive won't have in-person classes.
The mayor and Chicago Public Schools CEO Pedro Martinez are expected to address the next steps for parents on Wednesday after 73% of the union's 25,000-plus members voted Tuesday night voted to log in remotely until Jan. 18 unless safety demands were met, including more testing, according to WBEZ Chicago.
---
Covid: French uproar as Macron vows to 'piss off' unvaccinated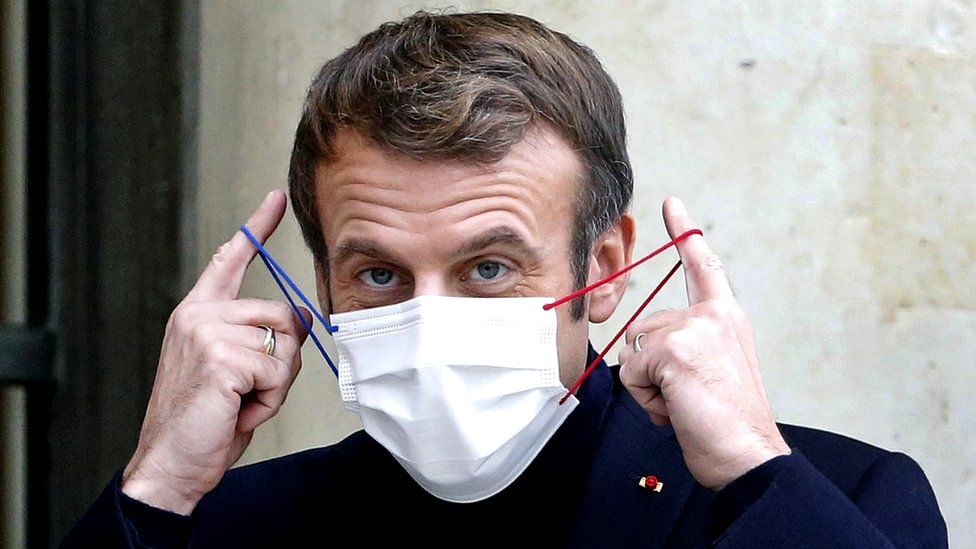 French President Emmanuel Macron has been accused of using divisive, vulgar language after he used a slang term to say he wanted to make life difficult for unvaccinated people.
"I really want to piss them off, and we'll carry on doing this - to the end," he told Le Parisien newspaper.
Three months ahead of a presidential election, opponents of Mr Macron said his words were unworthy of a president.
MPs halted debate on a law barring the unvaccinated from much of public life.
---
Democrats rush to their extinction
The party of the donkey is acting more like the dodo
The Democratic Party of the 21st century needs a new symbol that reflects its commitment to self-destruction. Instead of the donkey, how about the dodo?
When the donkey became a Democratic symbol early in the 19th century, the animal was considered stupid. Scientists now tell us that donkeys are quite intelligent and have remarkable memories.
On the other hand, the dodo is (as House Speaker Nancy Pelosi said of her president) "just perfect."
The large, flightless bird became extinct in the 17th century. Renowned for their stupidity, dodos could not adapt to changes in their environment. When sailors armed with clubs came ashore looking for food, dodos actually ran to greet them.
---
Politicized Department of Justice has forgotten what it stands for
Justice is no longer blind
A depiction of Lady Justice stands guard outside the front entrance to the U.S. Supreme Court building in Washington. Fair, impartial and final — the characteristics of justice symbolized by the blindfold she wears and by the scales and sword she holds.
Inscribed on the U.S. Department of Justice seal is a Latin motto that evokes this same ideal, "Qui Pro Domina Justitia Sequitur." Translation: "Who for Lady Justice prosecutes."
In adopting this motto back in the 1800s, DOJ made clear for posterity that its purpose is not to prosecute on behalf of those in power or whatever political party they happen to hail from, but rather, on behalf of justice.
Sadly, under the leadership of President Biden and Attorney General Merrick Garland, the DOJ has undergone a restaffing that has politicized much of the department. The result has been several frivolous lawsuits targeting the president's political enemies across the country, including attacks on commonsense election integrity reforms and a flurry of new, "official" guidance redefining laws that have been on the books for decades. This politicization severely erodes the DOJ's reputation as an impartial arbiter of justice.
---
" It is discouraging to think how many people are shocked by honesty and how few by deceit."

-- Noel Coward

(1899-1973) British playwright

---

The Medal of Honor is the highest award for valor in action against an enemy force which can be bestowed upon an individual serving in the Armed Services of the United States.

GeneTrerally presented to its recipient by the President of the United States of America in the name of Congress.

The first award of the Medal of Honor was made March 25, 1863 to Private JACOB PARROTT.The last award of the Medal of Honor was made September 15, 2011 to Sergeant DAKOTA MEYER.

Since then there have been: • 3458 recipients of the Medal of Honor.

• Today there are 85 Living Recipients of the Medal of Honor.

Citation


Captain Humbert R. Versace distinguished himself by extraordinary heroism during the period of 29 October 1963 to 26 September 1965, while serving as S-2 Advisor, Military Assistance Advisory Group, Detachment 52, Ca Mau, Republic of Vietnam. While accompanying a Civilian Irregular Defense Group patrol engaged in combat operations in Thoi Binh District, An Xuyen Province, Captain Versace and the patrol came under sudden and intense mortar, automatic weapons, and small arms fire from elements of a heavily armed enemy battalion. As the battle raged, Captain Versace, although severely wounded in the knee and back by hostile fire, fought valiantly and continued to engage enemy targets. Weakened by his wounds and fatigued by the fierce firefight, Captain Versace stubbornly resisted capture by the over-powering Viet Cong force with the last full measure of his strength and ammunition. Taken prisoner by the Viet Cong, he exemplified the tenets of the Code of Conduct from the time he entered into Prisoner of War status. Captain Versace assumed command of his fellow American soldiers, scorned the enemy's exhaustive interrogation and indoctrination efforts, and made three unsuccessful attempts to escape, despite his weakened condition which was brought about by his wounds and the extreme privation and hardships he was forced to endure. During his captivity, Captain Versace was segregated in an isolated prisoner of war cage, manacled in irons for prolonged periods of time, and placed on extremely reduced ration. The enemy was unable to break his indomitable will, his faith in God, and his trust in the United States of America. Captain Versace, an American fighting man who epitomized the principles of his country and the Code of Conduct, was executed by the Viet Cong on 26 September 1965. Captain Versace's gallant actions in close contact with an enemy force and unyielding courage and bravery while a prisoner of war are in the highest traditions of the military service and reflect the utmost credit upon himself and the United States Army.

---

From the Archives

We Have Met the Enemy…
Geoff Metcalf


"They who can give up essential liberty to obtain a little temporary safety deserve neither liberty nor safety.
--Benjamin Franklin
"The American people must be willing to give up a degree of personal privacy in exchange for safety and security."
--Louis Freeh


In the wake of the clamor over the most recent WikiLeaks data dump, 'Vault 7', 'UMBRAGE', et al, it should be noted this is not really anything new. What we are seeing here is simply the evolution of something that goes back to the late 50s (to the incomplete best knowledge I have).

It is kinda cool to finally see even

The New York Times

acknowledging material

I was writing about in 1998

.

In April of 1998 I wrote "Privacy has become an anachronism." I was commenting on "a massive system designed to intercept all your e-mail, fax traffic and more." I was explaining 'Echelon', the illegitimate offspring of a

UKUSA Treaty

signed by the United States, United Kingdom, Canada, Australia and New Zealand. Its purpose was, and is, to have a vast global intelligence monster, which allegedly shares common goals. The system was so "efficient" that reportedly National Security Agency folk from Fort Meade could work from Menwith Hill in England to intercept local communications without either nation having to burden themselves with the formality of seeking approval (a court order) or disclosing the operation. And this was all pre-9/11 and pre-the anti-constitutional

'Patriot Act'

.

It is illegal (without a Judge's signed permission) for the United States to spy on its citizens … kinda. The laws have long been circumvented by a mutual pact among five nations. Under the terms of UKUSA agreement, Britain spies on Americans and America spies on British citizens, and then the two conspirators trade data. A classic technical finesse. It is legal, but the intent to evade the spirit is inescapable.

I often fictionalized the genesis of 'Echelon' as an informal meeting of a group of post war American and British intelligence types drinking in some remote rustic bar. An imagined CIA type complains to his MI6 buddy about the hassles of US laws preventing US intelligence from surveillance of bad guys, and the Brit echoes the same complaint.

"Hey wait a moment mate," says Nigel, the make-believe MI6 guy, "I can spy on your guys and you can spy on our bad players…why don't we just come up with a mechanism whereby we spy on your villains, you spy on our villains, and we just 'share' the intel?"

This system was called ECHELON, and has been kicking around in some form longer than most of you. The result of the UKUSA treaty signed by the United States, United Kingdom, Canada, Australia and New Zealand was, and is, to have a vast global intelligence monster which allegedly shares common goals.

The report noted: "Within Europe all e-mail, telephone and fax communications are routinely intercepted by the United States National Security Agency, transferring ll target information from the Eurv opean mainland via the strategic hub of London, then by satellite to Fort Meade in Maryland via the crucial hub at Menwith Hill, in the North York moors in th UK.

"The ECHELON system forms part of the UKUSA system but unlike many of the electronic spy systems developed during the Cold War, ECHELON was designed primarily for non-military targets: governments, organizations and businesses in virtually every country."

An interesting sidebar appeared in the International Herald Tribune under the headline, "Big Corporate Brother: It Knows More About You Than You Think." The story details Acxiom Corp, which was a humongous information service hidden in the Ozark foothills. Twenty-four hours a day, Acxiom electronically gathered and sorts all kinds of data about 196 million Americans. Credit card transactions and magazine subscriptions, telephone numbers, real estate records, automotive data, hunting, business and fishing licenses, consumer surveys and demographic detail that would make a marketing department's research manager salivate. This relati vely new (legal) enterprise was known as "data warehousing" or "data-mining", and it underscores the cruel reality that the fiction of personal privacy has become obsolete. Technology's ability to collect and analyze data has made privacy a quaint albeit interesting dinosaur.

The Tribune reported that "Axciom can often determine whether an American owns a dog or cat, enjoys camping or gourmet cooking, reads the Bible or lots of other books. It can often pinpoint an American's occupation, car and favorite vacations. By analyzing the equivalent of billions of pages of data, it often projects for its customers who should be offered a credit card or who is likely to buy a computer."

Most of this information is from y 1998 piece. Echelon has developed, matured, and morphed into a much more powerful hybrid. 'Carnivore' was software to help triage the cacophony of data. Vault 7 and 'Umbrage' are logical (some would argue "insidious") growth.

More to follow…