"It Is Not A Question of Who Is Right Or Wrong But What Is Right Or Wrong That Counts.

"

--Geoff Metcalf
Wo

rld & National
New dossier deepens Trump's suspicions about America's top ally
Now there are two British-produced anti-Trump dossiers, deepening the president's suspicions about the U.S.-U.K. "special relationship."
First came Christoper Steele, a former British spy who maintains close contacts with his country's Secret Intelligence Service. In 2016, from his London offices, Mr. Steele churned out 17 allegation-filled memos at the request of his Democratic Party handlers.
A second dossier, written by London's top man in Washington, Kim Darroch, who resigned Wednesday morning, appeared this week in the Daily Mail. Like the Steele papers, the Darroch dossier has been written in segments and is filled with anti-Trump vitriol.
Even before the extraordinary disclosures, President Trump was deeply suspicious of the British government's role in investigating him and his allies about Russian interference in the 2016 election.
---
Kim Darroch, U.K. ambassador to U.S., quits days after leaked cables on Trump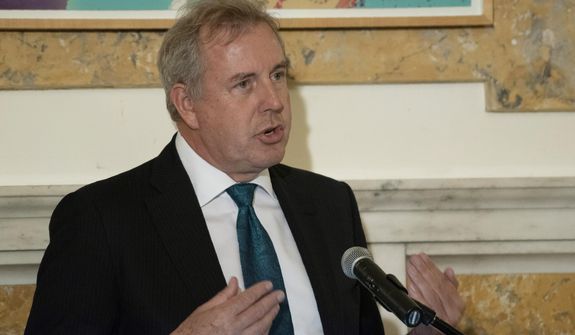 The U.K. Foreign Office says Britain's ambassador to the United States has resigned just days after diplomatic cables criticizing President Donald Trump were leaked.
Kim Darroch said in a letter Wednesday that even though his posting was due to end this year, he believed "in the current circumstances the responsible course is to allow the appointment of a new ambassador."
Darroch said he is "grateful to all those in the UK and the US, who have offered their support during this difficult few days."
---
California Gov. Gavin Newsom signs illegal immigrant health care bill into law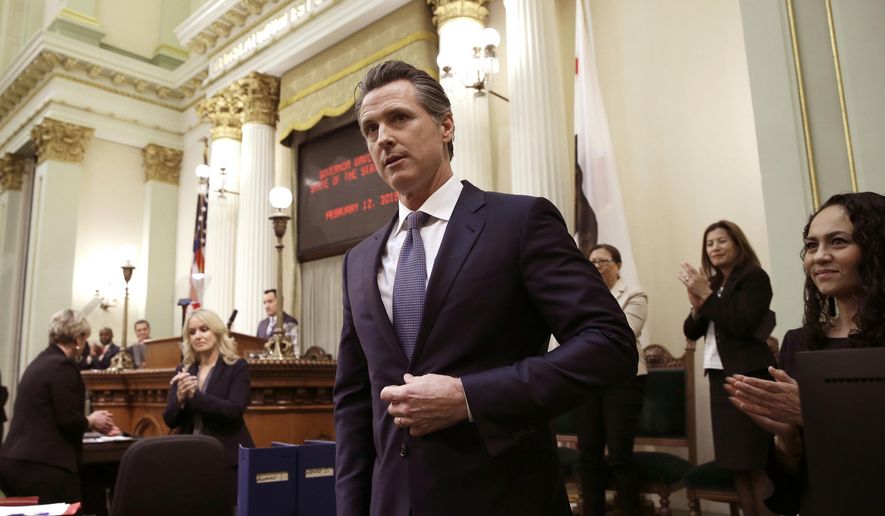 California has become the first state to offer taxpayer-funded health benefits to adults living in the country illegally.
Democratic Gov. Gavin Newsom signed a bill into law on Tuesday that makes low-income adults age 25 and younger eligible for the state's Medicaid program regardless of their immigration status.
State officials expect the plan to cover about 90,000 people and cost taxpayers $98 million. California already covers children ages 18 and younger regardless of immigration status.
The law will not give health insurance benefits to everyone 25 and younger, but only those whose income is low enough to qualify.
---
Trump 9th Circuit Court nominee confirmed over Democrats' objections
Brushing aside Sen. Kamala D. Harris' complaints, Senate Republicans on Tuesday approved a new judge for the federal appeals court with jurisdiction over California, further narrowing Democrats' edge on the famously liberal court.
Daniel Bress was approved on a 53-45 vote, with Sens. Bernard Sanders of Vermont and Kirsten E. Gillibrand of New York not voting.
Ms. Harris and Sen. Dianne Feinstein, California's two Democratic senators, had complained that Mr. Bress was a Washington, D.C., lawyer who wouldn't represent California's interests on the 9th U.S. Circuit Court of Appeals. They said the seat he was filling should go to a Californian.
The two Democrats tried to use the Senate's blue slip tradition, a courtesy to home-state senators, to block Mr. Bress. But Republicans have said they won't let the blue slips be a veto over circuit nominees.
---
Pelosi: Debt limit vote possible before August recess
House Speaker Nancy Pelosi, D-Calif., on Tuesday didn't rule out voting on a debt limit increase before the August recess, though she indicated the need to raise the discretionary spending caps for fiscal 2020 is still an integral part of the discussions.
"Let's see how the conversations go," she said. "We certainly do not want any thought of default on the part of the full faith and credit of the United States of America. That's never been what we've been about, but there are those on the Republican side who have embraced that again and again."
Estimates from the Treasury Department and the Congressional Budget Office have put the deadline for raising the debt limit, required for the U.S. to continue to be able to pay for all government services and benefits, sometime in the latter half of 2019, likely by early October.
---
House Judiciary Dems prepare slew of subpoenas for Trump-tied targets
House Judiciary Committee Democrats announced Tuesday that they plan to authorize subpoenas later this week for a dozen individuals connected to President Trump as part of the panel's escalating probe into obstruction of justice, public corruption and other alleged abuses by the president.
The list of targets includes Trump son-in-law Jared Kushner as well as former Attorney General Jeff Sessions and his old deputy Rod Rosenstein.
Committee Chairman Jerrold Nadler, D-N.Y., said Tuesday that the panel is moving forward with "efforts to request information from critical witnesses as part of our ongoing investigation into obstruction, corruption, and abuse of power by the President and his associates."
---
Appeals Court Signals Sympathy to Bid to Strike Down Obamacare
A federal appeals court panel appeared sympathetic on Tuesday to Republican efforts to overturn Obamacare, expressing skepticism to Democratic calls to overturn the ruling of a Texas judge who found the landmark U.S. healthcare reform law unconstitutional.
Two Republican-appointed members of the three-judge panel of the 5th U.S. Circuit Court of Appeals sharply questioned lawyers for a group of Democratic state attorneys general and the Democratic-led U.S. House of Representatives defending the Affordable Care Act.
Republicans including President Donald Trump have repeatedly and unsuccessfully tried to repeal the ACA since it was passed in 2010. The Justice Department would normally defend a federal law, but Trump's administration has declined to do so in a challenge by 18 Republican-led states.
---
Hurt book: Trump talks Mexican rapists, Obama spying, Russia, Dem collusion with Facebook, Google
'Millions of people out there that are counting on me'
Donald Trump certainly likes to test people. He says something and watches your face for a reaction. He is always pushing, looking for those soft spots in people. And the hard spines that do not budge. He can be belittling, but also highly complimentary.
When not testing people, Trump likes to review his record — whether it is his accomplishments, his epic public fights or the slights people have committed against him. In this case, he wanted to linger a little longer on his announcement speech back in June 2015.
"You know, it's funny," he said. "They gave me great marks for a great speech."
"And then, about three days later, remember?" he asks. "It was like a delay. They said, did he use the word 'rape'?"
---
Looney left says 'patriarchy' keeps office temperatures too low and iPhones too big
Finally, the debate about whether or not we live in dumb times is over.
Now that it's summer, complaints by so-called feminists that air conditioning is sexist have arrived back on our doorstep like an unwanted gag gift.
It pains me to remind you this dumb complaint about air conditioning made headlines last year when actress and apparently not hot Cynthia Nixon was running for governor of New York. Her complaint that room temperatures were "notoriously sexist" reminded everyone how identity politics requires those afflicted to be concerned only with themselves.
---
Who's afraid of nationalism?
Is a new "age of nationalism already upon us?" That premise will be debated in Washington, July 14-16, at the "kick-off event" of the Edmund Burke Foundation, a fledgling public affairs institute dedicated to "strengthening the principles of national conservatism in Western and other democratic countries."
Appearing on stage will be dozens of conservative luminaries from government, think tanks, media and academia. A sampling: National Security Adviser John Bolton, Sen. Josh Hawley, former National Security Council spokesman Michael Anton, Peter Theil, J.D. Vance, Tucker Carlson, Rich Lowry, Christopher DeMuth, Michael Barone and Amity Shlaes. (Full disclosure: I'm on one panel.)
The impresario behind this extravaganza is Yoram Hazony, an Israeli political philosopher, author of "The Virtue of Nationalism," which has caused quite a stir since its publication last year.
---
---
"It is discouraging to think how many people are shocked by honesty and how few by deceit."

-- Noel Coward

(1899-1973) British playwright

---

The Medal of Honor is the highest award for valor in action against an enemy force which can be bestowed upon an individual serving in the Armed Services of the United States.

GeneTrerally presented to its recipient by the President of the United States of America in the name of Congress.

The first award of the Medal of Honor was made March 25, 1863 to Private JACOB PARROTT.The last award of the Medal of Honor was made September 15, 2011 to Sergeant DAKOTA MEYER.

Since then there have been: • 3458 recipients of the Medal of Honor.

• Today there are 85 Living Recipients of the Medal of Honor.

Citation


Captain Humbert R. Versace distinguished himself by extraordinary heroism during the period of 29 October 1963 to 26 September 1965, while serving as S-2 Advisor, Military Assistance Advisory Group, Detachment 52, Ca Mau, Republic of Vietnam. While accompanying a Civilian Irregular Defense Group patrol engaged in combat operations in Thoi Binh District, An Xuyen Province, Captain Versace and the patrol came under sudden and intense mortar, automatic weapons, and small arms fire from elements of a heavily armed enemy battalion. As the battle raged, Captain Versace, although severely wounded in the knee and back by hostile fire, fought valiantly and continued to engage enemy targets. Weakened by his wounds and fatigued by the fierce firefight, Captain Versace stubbornly resisted capture by the over-powering Viet Cong force with the last full measure of his strength and ammunition. Taken prisoner by the Viet Cong, he exemplified the tenets of the Code of Conduct from the time he entered into Prisoner of War status. Captain Versace assumed command of his fellow American soldiers, scorned the enemy's exhaustive interrogation and indoctrination efforts, and made three unsuccessful attempts to escape, despite his weakened condition which was brought about by his wounds and the extreme privation and hardships he was forced to endure. During his captivity, Captain Versace was segregated in an isolated prisoner of war cage, manacled in irons for prolonged periods of time, and placed on extremely reduced ration. The enemy was unable to break his indomitable will, his faith in God, and his trust in the United States of America. Captain Versace, an American fighting man who epitomized the principles of his country and the Code of Conduct, was executed by the Viet Cong on 26 September 1965. Captain Versace's gallant actions in close contact with an enemy force and unyielding courage and bravery while a prisoner of war are in the highest traditions of the military service and reflect the utmost credit upon himself and the United States Army.

---

From the Archives

We Have Met the Enemy…
Geoff Metcalf


"They who can give up essential liberty to obtain a little temporary safety deserve neither liberty nor safety.
--Benjamin Franklin
"The American people must be willing to give up a degree of personal privacy in exchange for safety and security."
--Louis Freeh


In the wake of the clamor over the most recent WikiLeaks data dump, 'Vault 7', 'UMBRAGE', et al, it should be noted this is not really anything new. What we are seeing here is simply the evolution of something that goes back to the late 50s (to the incomplete best knowledge I have).

It is kinda cool to finally see even

The New York Times

acknowledging material

I was writing about in 1998

.

In April of 1998 I wrote "Privacy has become an anachronism." I was commenting on "a massive system designed to intercept all your e-mail, fax traffic and more." I was explaining 'Echelon', the illegitimate offspring of a

UKUSA Treaty

signed by the United States, United Kingdom, Canada, Australia and New Zealand. Its purpose was, and is, to have a vast global intelligence monster, which allegedly shares common goals. The system was so "efficient" that reportedly National Security Agency folk from Fort Meade could work from Menwith Hill in England to intercept local communications without either nation having to burden themselves with the formality of seeking approval (a court order) or disclosing the operation. And this was all pre-9/11 and pre-the anti-constitutional

'Patriot Act'

.

It is illegal (without a Judge's signed permission) for the United States to spy on its citizens … kinda. The laws have long been circumvented by a mutual pact among five nations. Under the terms of UKUSA agreement, Britain spies on Americans and America spies on British citizens, and then the two conspirators trade data. A classic technical finesse. It is legal, but the intent to evade the spirit is inescapable.

I often fictionalized the genesis of 'Echelon' as an informal meeting of a group of post war American and British intelligence types drinking in some remote rustic bar. An imagined CIA type complains to his MI6 buddy about the hassles of US laws preventing US intelligence from surveillance of bad guys, and the Brit echoes the same complaint.

"Hey wait a moment mate," says Nigel, the make-believe MI6 guy, "I can spy on your guys and you can spy on our bad players…why don't we just come up with a mechanism whereby we spy on your villains, you spy on our villains, and we just 'share' the intel?"

This system was called ECHELON, and has been kicking around in some form longer than most of you. The result of the UKUSA treaty signed by the United States, United Kingdom, Canada, Australia and New Zealand was, and is, to have a vast global intelligence monster which allegedly shares common goals.

The London Telegraph reported in December of 1997 that the Civil liberties Committee of the European Parliament had officially confirmed the existence and purpose of ECHELON. "A global electronic spy network that can eavesdrop on every telephone, e-mail and telex communication around the world will be officially acknowledged for the first time in a European Commission report. …"

The report noted: "Within Europe all e-mail, telephone and fax communications are routinely intercepted by the United States National Security Agency, transferring all target information from the European mainland via the strategic hub of London, then by satellite to Fort Meade in Maryland via the crucial hub at Menwith Hill, in the North York moors in the UK.

"The ECHELON system forms part of the UKUSA system but unlike many of the electronic spy systems developed during the Cold War, ECHELON was designed primarily for non-military targets: governments, organizations and businesses in virtually every country."

An interesting sidebar appeared in the International Herald Tribune under the headline, "Big Corporate Brother: It Knows More About You Than You Think." The story details Acxiom Corp, which was a humongous information service hidden in the Ozark foothills. Twenty-four hours a day, Acxiom electronically gathered and sorts all kinds of data about 196 million Americans. Credit card transactions and magazine subscriptions, telephone numbers, real estate records, automotive data, hunting, business and fishing licenses, consumer surveys and demographic detail that would make a marketing department's research manager salivate. This relatively new (legal) enterprise was known as "data warehousing" or "data-mining", and it underscores the cruel reality that the fiction of personal privacy has become obsolete. Technology's ability to collect and analyze data has made privacy a quaint albeit interesting dinosaur.

The Tribune reported that "Axciom can often determine whether an American owns a dog or cat, enjoys camping or gourmet cooking, reads the Bible or lots of other books. It can often pinpoint an American's occupation, car and favorite vacations. By analyzing the equivalent of billions of pages of data, it often projects for its customers who should be offered a credit card or who is likely to buy a computer."

Most of this information is from y 1998 piece. Echelon has developed, matured, and morphed into a much more powerful hybrid. 'Carnivore' was software to help triage the cacophony of data. Vault 7 and 'Umbrage' are logical (some would argue "insidious") growth.

More to follow…