"It Is Not A Question of Who Is Right Or Wrong But What Is Right Or Wrong That Counts.

"

--Geoff Metcalf
Providing an on line Triage of the news since 1997



Wo

rld & Nation
Trump Departs With Airbase Send-Off Before Biden Inaugural
Donald Trump departed Washington for a final time as president Wednesday morning, skipping Joe Biden's inauguration and instead speaking at a military-style send-off at an air base outside the nation's capital before leaving with his family for his Florida resort.
"I will always fight for you. I will be watching, I will be listening, and I will tell you that the future of this country has never been better. I wish the new administration great luck, great success," Trump said at Joint Base Andrews outside of Washington.
But, he added, "we will be back in some form."
Trump was greeted on the tarmac by his family on a cold and blustery morning as his standard campaign rally soundtrack played in the background. He spoke following a 21-gun salute and a rendition of "Hail to the Chief." Several of his closest advisers were in attendance, though key Republican allies on Capitol Hill, several Cabinet members and his own vice president didn't attend.
---
Biden announces Day One erasure of Trump legacy
1776 Commission, travel ban, border wall halted; climate change, racial justice to become focus of admin.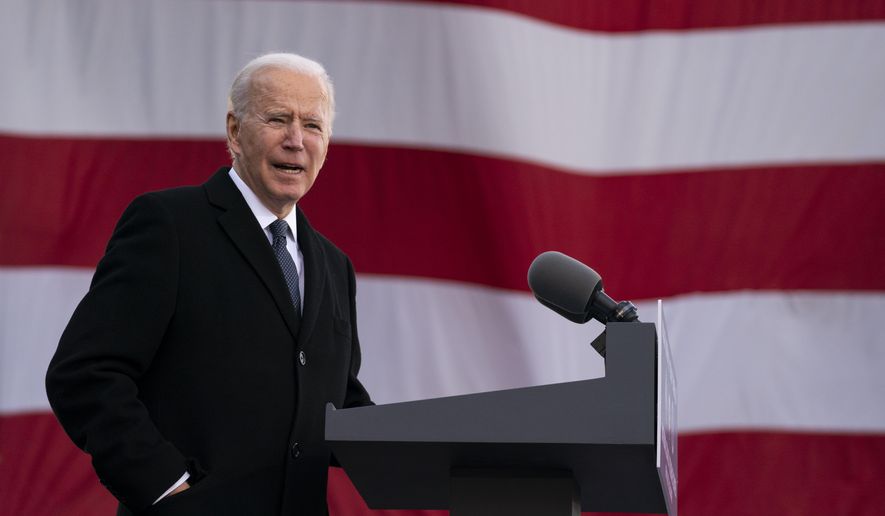 Border wall construction will be halted, the travel ban will be erased, and the 1776 Commission celebrating America's founding will be disbanded all within hours after President-elect Joseph R. Biden is sworn in Wednesday.
Mr. Biden also said he will issue a series of executive orders, memos and other directives to recommit the U.S. to international climate obligations and to re-engage with the World Health Organization.
With several strokes of his pen, Mr. Biden promised to forge a new government focused heavily on constraining the coronavirus pandemic, forging a new focus on the dangers of climate change as an overriding concern for the entire federal bureaucracy, and demanding more attention be paid to racial equality.
---
President Trump's full list of pardons and commutations
Here is the complete list released by the White House early Wednesday of 73 pardons and 70 commutations issued by President Trump. The White House press secretary's office gave the following summaries of each case:
Todd Boulanger – President Trump granted a full pardon to Todd Boulanger. Mr. Boulanger's pardon is supported by numerous friends, as well as by past and present business associates. In 2008, Mr. Boulanger pled guilty to one count of conspiracy to commit honest services fraud. He has taken full responsibility for his conduct. Mr. Boulanger is a veteran of the United States Army Reserves and was honorably discharged. He has also received an award from the City of the District of Columbia for heroism for stopping and apprehending an individual who assaulted an elderly woman with a deadly weapon on Capitol Hill. Mr. Boulanger is known as a model member of his community. In addition, he is remorseful for his actions and would like to leave his mistakes behind him.
Abel Holtz – President Trump granted a full pardon to Abel Holtz. This pardon is supported by Representative Mario Diaz-Balart and friends and business colleagues in his community. Mr. Holtz is currently 86 years old. In 1995, he pled guilty to one count of impeding a grand jury investigation and was sentenced to 45 days in prison. Before his conviction, Mr. Holtz, who was the Chairman of a local bank, never had any legal issues and has had no other legal issues since his conviction. Mr. Holtz has devoted extensive time and resources to supporting charitable causes in South Florida, including substantial donations to the City of Miami Beach.
Click here for full list
---
Trump revokes ethics rule that banned White House staffers from lobbying
President Trump, in one of his final acts in office on early Wednesday, revoked an order that had barred White House aides and former aides from lobbying for five years.
Mr. Trump said the White House employees and ex-staffers "will not be subject to those [ethics] commitments after noon" on Wednesday.
The president had instituted the ban on lobbying on his eighth day in office as part of his pledge to "drain the swamp" in Washington. His order revoking the ban came minutes after Mr. Trump issued last-minute pardons and commutations for 143 people, including former congressmen convicted of corruption.
---
Report: Trump wants to create new political party
President Trump reportedly wants to create a third party once he leaves office.
According to a report Tuesday evening in the Wall Street Journal, citing "people familiar with the matter," Mr. Trump has discussed creating a "Patriot Party."
The discussions have happened with "several aides and other people close to him," the Journal reported.
According to numerous polls in recent years, Mr. Trump has a significant base of support among people who had been either politically inactive or independents, and thus have little institutional loyalty to the GOP.
---
Canadian tribes flip pipeline script by urging Biden not to cancel Keystone XL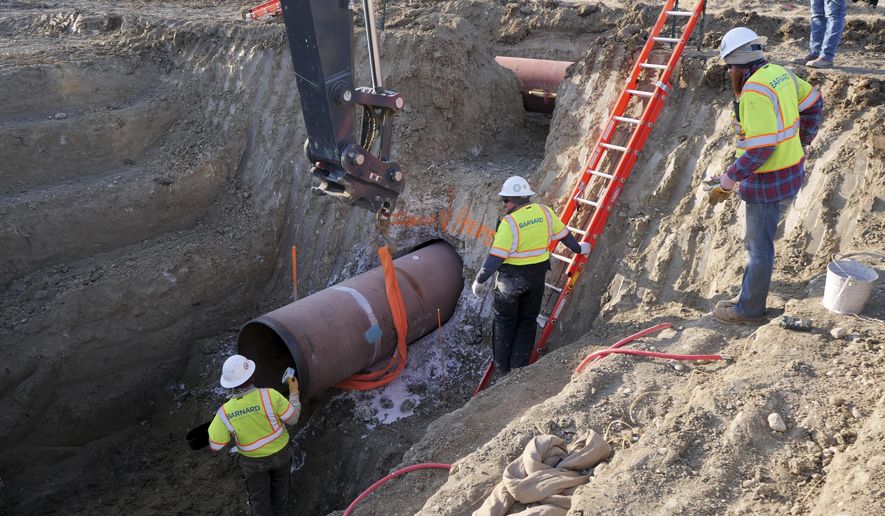 Canadian tribes invested in the Keystone XL are pushing back against President-elect Joseph R. Biden's reported plans to cancel the enormous pipeline project in what could present a delicate political balancing act for the incoming administration.
Reports that Mr. Biden will rip up the U.S. cross-border permit on Day One of his presidency met with a staunch rebuke Tuesday from Alvin Francis, chief of the Nekaneet First Nation in Saskatchewan, who said such a move would be devastating to Indigenous peoples.
"If news of President-elect Biden potentially pulling Keystone XL's presidential permit is true, I want to fully express how devastating this would be to my community and others across Canada and the U.S. who are benefiting from the Project," Mr. Francis said in a statement.
---
Sen. Graham: McConnell Should Unequivocally Oppose Trump Impeachment
Senate Majority Leader Mitch McConnell should state clearly his opposition to the attempt to impeach President Donald Trump, Sen. Lindsey Graham told Fox News' "Hannity."
"What we need right now is Sen. McConnell to unequivocally say the second impeachment of Donald Trump after he leaves office is not only unconstitutional, it is bad for the country," the South Carolina Republican said on Tuesday night, adding that the GOP must "Stand up and fight back."
McConnell's office did not respond to a request for comment, according to The Epoch Times.
---
Alexandria Ocasio-Cortez, emboldened, ramps up calls to 'abolish ICE'
Rep. Alexandria Ocasio-Cortez, the congressional socialist with the mostest, took to Twitter to call for the end of America's leading border control agency, U.S. Immigration and Customs Enforcement.
Yep. Nothing marks the end of President Donald Trump's administration like the leftist call for less border control.
Out with the law and order, in with the utter chaos.
---
Release of Khashoggi Report Could Embarrass Saudi Prince
Joe Biden's nominee for national intelligence director has pledged to release a report on who was responsible for the murder of Saudi critic Jamal Khashoggi, a decision that could embarrass the kingdom's crown prince and strain its relationship with its key ally.
Avril Haines, who would be the nation's first woman to oversee U.S. intelligence agencies, made the promise at her confirmation hearing on Tuesday. Congress required the national intelligence director to release an unclassified report to legislators on the killing, but the Trump administration didn't follow through.
One Year On, Khashoggi Murder Still Casts Pall Over Saudi Arabia
---
2 dead, several injured in Madrid as explosion rocks Spanish capital
At least two people were killed and several injured Wednesday in an explosion caused by a suspected gas leak in the heart of the Spanish capital, Madrid, according to the city's mayor.
The blast, which occurred in a building on Toledo Street, caused widespread damage, according to video footage tweeted out by the Madrid city hall emergency information service, Emergencias Madrid.
At least four floors have been impacted by the explosion and firefighters are evacuating people from the area, the service said.
---
In Saudi Arabia, Quiet Changes May Ease Tensions With Biden
The new president is a Saudi critic, but he takes office as the kingdom scales back beheadings, removes hate speech from text books and limits prison terms for activists.
Joseph R. Biden Jr.'s arrival in the White House may signal the start of a less congenial American relationship with Saudi Arabia, but the kingdom could point to recent progress on a number of issues that have caused longstanding friction with the United States.
Long one of the world's most prodigious executioners, Saudi Arabia announced on Monday that executions declined by 85 percent in 2020 because of legal reforms. Groups that have chronicled incitement against non-Muslims in Saudi textbooks say that the most offensive examples have been excised. And the sentences for two high-profile Saudis widely seen as prosecuted for their politics appear to have been calibrated to limit their time in prison as Mr. Biden takes charge of the kingdom's most important ally.
Human rights campaigners have applauded the changes while emphasizing the many places where the kingdom still fails to ensure basic rights.
---
Wake up: The fabric of our free society will ultimately collapse without basic decency
Every patriotic American should pray for the peaceful inauguration of President Joe Biden on Jan. 20.
This is an important day for drawing a line between the violence of the past year and the need for open dialogue and debate within a peaceful free society. If we cannot tame the violence, it will lead to repression. We will lose more of our freedoms as people demand government action to ensure their safety and protection from criminals — from the right and the left.
We have faced threats to our freedom before.
---
Putting 'unity' ahead of concrete policy
Biden begins his administration with a country divided and a Capitol surrounded by a 12-foot fence
So much talk of "unity" throughout the election season. That was one thing that came out of President-elect Joe Biden when he was in his campaign basement.
It was a mantra from a man who refused to give any details on policy positions, and walked away as reporters attempted to ask questions.
"Unity" is a theme we can expect to dominate his inaugural speech, despite the clear Democratic agenda to condemn and isolate 75 million Americans who did not vote for Mr. Biden.
---
" It is discouraging to think how many people are shocked by honesty and how few by deceit."

-- Noel Coward

(1899-1973) British playwright

---

The Medal of Honor is the highest award for valor in action against an enemy force which can be bestowed upon an individual serving in the Armed Services of the United States.

GeneTrerally presented to its recipient by the President of the United States of America in the name of Congress.

The first award of the Medal of Honor was made March 25, 1863 to Private JACOB PARROTT.The last award of the Medal of Honor was made September 15, 2011 to Sergeant DAKOTA MEYER.

Since then there have been: • 3458 recipients of the Medal of Honor.

• Today there are 85 Living Recipients of the Medal of Honor.

Citation


Captain Humbert R. Versace distinguished himself by extraordinary heroism during the period of 29 October 1963 to 26 September 1965, while serving as S-2 Advisor, Military Assistance Advisory Group, Detachment 52, Ca Mau, Republic of Vietnam. While accompanying a Civilian Irregular Defense Group patrol engaged in combat operations in Thoi Binh District, An Xuyen Province, Captain Versace and the patrol came under sudden and intense mortar, automatic weapons, and small arms fire from elements of a heavily armed enemy battalion. As the battle raged, Captain Versace, although severely wounded in the knee and back by hostile fire, fought valiantly and continued to engage enemy targets. Weakened by his wounds and fatigued by the fierce firefight, Captain Versace stubbornly resisted capture by the over-powering Viet Cong force with the last full measure of his strength and ammunition. Taken prisoner by the Viet Cong, he exemplified the tenets of the Code of Conduct from the time he entered into Prisoner of War status. Captain Versace assumed command of his fellow American soldiers, scorned the enemy's exhaustive interrogation and indoctrination efforts, and made three unsuccessful attempts to escape, despite his weakened condition which was brought about by his wounds and the extreme privation and hardships he was forced to endure. During his captivity, Captain Versace was segregated in an isolated prisoner of war cage, manacled in irons for prolonged periods of time, and placed on extremely reduced ration. The enemy was unable to break his indomitable will, his faith in God, and his trust in the United States of America. Captain Versace, an American fighting man who epitomized the principles of his country and the Code of Conduct, was executed by the Viet Cong on 26 September 1965. Captain Versace's gallant actions in close contact with an enemy force and unyielding courage and bravery while a prisoner of war are in the highest traditions of the military service and reflect the utmost credit upon himself and the United States Army.

---

From the Archives

We Have Met the Enemy…
Geoff Metcalf


"They who can give up essential liberty to obtain a little temporary safety deserve neither liberty nor safety.
--Benjamin Franklin
"The American people must be willing to give up a degree of personal privacy in exchange for safety and security."
--Louis Freeh


In the wake of the clamor over the most recent WikiLeaks data dump, 'Vault 7', 'UMBRAGE', et al, it should be noted this is not really anything new. What we are seeing here is simply the evolution of something that goes back to the late 50s (to the incomplete best knowledge I have).

It is kinda cool to finally see even

The New York Times

acknowledging material

I was writing about in 1998

.

In April of 1998 I wrote "Privacy has become an anachronism." I was commenting on "a massive system designed to intercept all your e-mail, fax traffic and more." I was explaining 'Echelon', the illegitimate offspring of a

UKUSA Treaty

signed by the United States, United Kingdom, Canada, Australia and New Zealand. Its purpose was, and is, to have a vast global intelligence monster, which allegedly shares common goals. The system was so "efficient" that reportedly National Security Agency folk from Fort Meade could work from Menwith Hill in England to intercept local communications without either nation having to burden themselves with the formality of seeking approval (a court order) or disclosing the operation. And this was all pre-9/11 and pre-the anti-constitutional

'Patriot Act'

.

It is illegal (without a Judge's signed permission) for the United States to spy on its citizens … kinda. The laws have long been circumvented by a mutual pact among five nations. Under the terms of UKUSA agreement, Britain spies on Americans and America spies on British citizens, and then the two conspirators trade data. A classic technical finesse. It is legal, but the intent to evade the spirit is inescapable.

I often fictionalized the genesis of 'Echelon' as an informal meeting of a group of post war American and British intelligence types drinking in some remote rustic bar. An imagined CIA type complains to his MI6 buddy about the hassles of US laws preventing US intelligence from surveillance of bad guys, and the Brit echoes the same complaint.

"Hey wait a moment mate," says Nigel, the make-believe MI6 guy, "I can spy on your guys and you can spy on our bad players…why don't we just come up with a mechanism whereby we spy on your villains, you spy on our villains, and we just 'share' the intel?"

This system was called ECHELON, and has been kicking around in some form longer than most of you. The result of the UKUSA treaty signed by the United States, United Kingdom, Canada, Australia and New Zealand was, and is, to have a vast global intelligence monster which allegedly shares common goals.

The London Telegraph reported in December of 1997 that the Civil liberties Committee of the European Parliament had officially confirmed the existence and purpose of ECHELON. "A global electronic spy network that can eavesdrop on every telephone, e-mail and telex communication around the world will be officially acknowledged for the first time in a European Commission report. …"

The report noted: "Within Europe all e-mail, telephone and fax communications are routinely intercepted by the United States National Security Agency, transferring ll target information from the Eurv opean mainland via the strategic hub of London, then by satellite to Fort Meade in Maryland via the crucial hub at Menwith Hill, in the North York moors in th UK.

"The ECHELON system forms part of the UKUSA system but unlike many of the electronic spy systems developed during the Cold War, ECHELON was designed primarily for non-military targets: governments, organizations and businesses in virtually every country."

An interesting sidebar appeared in the International Herald Tribune under the headline, "Big Corporate Brother: It Knows More About You Than You Think." The story details Acxiom Corp, which was a humongous information service hidden in the Ozark foothills. Twenty-four hours a day, Acxiom electronically gathered and sorts all kinds of data about 196 million Americans. Credit card transactions and magazine subscriptions, telephone numbers, real estate records, automotive data, hunting, business and fishing licenses, consumer surveys and demographic detail that would make a marketing department's research manager salivate. This relatively new (legal) enterprise was known as "data warehousing" or "data-mining", and it underscores the cruel reality that the fiction of personal privacy has become obsolete. Technology's ability to collect and analyze data has made privacy a quaint albeit interesting dinosaur.

The Tribune reported that "Axciom can often determine whether an American owns a dog or cat, enjoys camping or gourmet cooking, reads the Bible or lots of other books. It can often pinpoint an American's occupation, car and favorite vacations. By analyzing the equivalent of billions of pages of data, it often projects for its customers who should be offered a credit card or who is likely to buy a computer."

Most of this information is from y 1998 piece. Echelon has developed, matured, and morphed into a much more powerful hybrid. 'Carnivore' was software to help triage the cacophony of data. Vault 7 and 'Umbrage' are logical (some would argue "insidious") growth.

More to follow…