Wednesday May 30th, 2018
"It Is Not A Question of Who Is Right Or Wrong But What Is Right Or Wrong That Counts.
"
--Geoff Metcalf




Wo

rld & National



Trump praises Kim Jon-un's solid response to letter
'Since the President's May 24th letter to North Korean leader Kim Jong-un, the North Koreans have been engaging'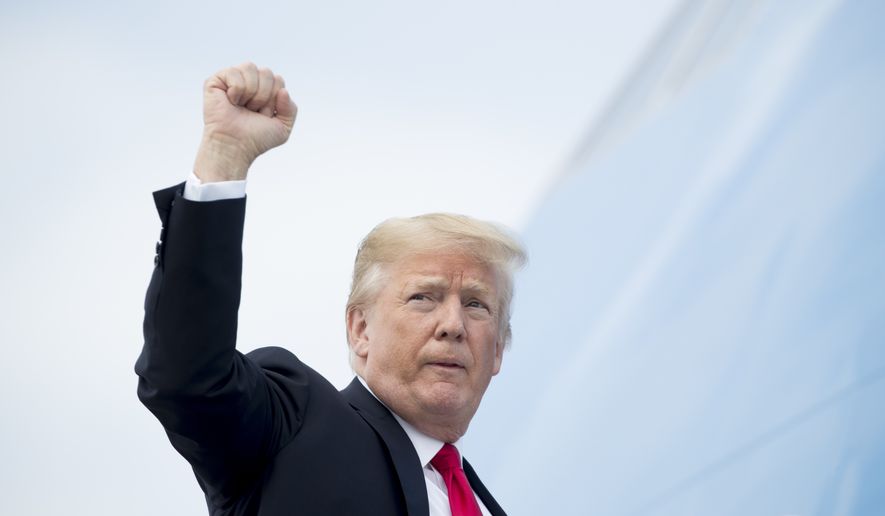 President Trump's team ramped up preparations Tuesday for a summit with North Korean dictator Kim Jong-un, providing the most promising signals yet that the on-again, off-again meeting is back on, and fueling new optimism that a denuclearization deal is in the works.
Mr. Trump heralded progress toward the Singapore summit and applauded North Korea's "solid response" to his letter last week in which he canceled the June 12 summit.
Later Tuesday, the White House called it the "expected summit" and detailed the extensive effort to lay the groundwork for a deal for North Korea to give up nuclear weapons.
"Since the President's May 24th letter to North Korean leader Kim Jong-un, the North Koreans have been engaging. The United States continues to actively prepare for President Trump's expected summit with leader Kim in Singapore," White House press secretary Sarah Huckabee Sanders said in a statement.
---
Trump Agrees With Rep. Gowdy: 'I Wish I Did' Pick a Different AG
Attorney General Jeff Sessions should have informed President Donald Trump that he would have had to recuse himself from the Russia investigation a lot sooner, Rep. Trey Gowdy said Wednesday, and the president quickly agreed.
"If I were the president and I picked someone to be the country's chief officer and they later said, 'By the way, I'm not going to be able to participate,' I would be frustrated, too," Gowdy said on "CBS This Morning."
---
Widespread use of handguns in mass shootings undercuts push to ban semiautomatic rifles
Handguns are almost three times as likely to be used in mass shootings as rifles, according to a new report from a gun-safety group that appears to cut against gun-control advocates' push to ban some semiautomatic rifles.
More than three quarters of mass shootings from 1996 to 2016 involved a handgun, while just 29 percent of shooters used a rifle, according to the New York-based Rockefeller Institute, part of a gun safety initiative convened by a handful of mostly Democratic governors.
The relatively small percentage of mass shootings involving rifles busts one of the "myths" of the gun debate, the new study said.
---

Missouri's embattled Republican governor resigns
'I'm not perfect, but I've not broken any laws or committed any offense worthy of this treatment'
Missouri's embattled Republican governor suddenly resigned Tuesday afternoon, saying that while he did nothing wrong, he could not allow "the forces opposed to us" to damage his family.
Gov. Eric Greitens, mired in a scandal over an extramarital affair and allegations of campaign-finance violations, announced his resignation, effective Friday, at a hastily called news conference as an impeachment effort in the Legislature gained momentum.
The governor has acknowledged having an affair with his hairdresser. "I'm not perfect," he said Tuesday. "But I've not broken any laws or committed any offense worthy of this treatment."
---

Canceled: Blue-collar 'Roseanne' family reflected perspective of Trump voters
Radio host hits industry's double standard: 'If you are a left-winger, you can say whatever you want'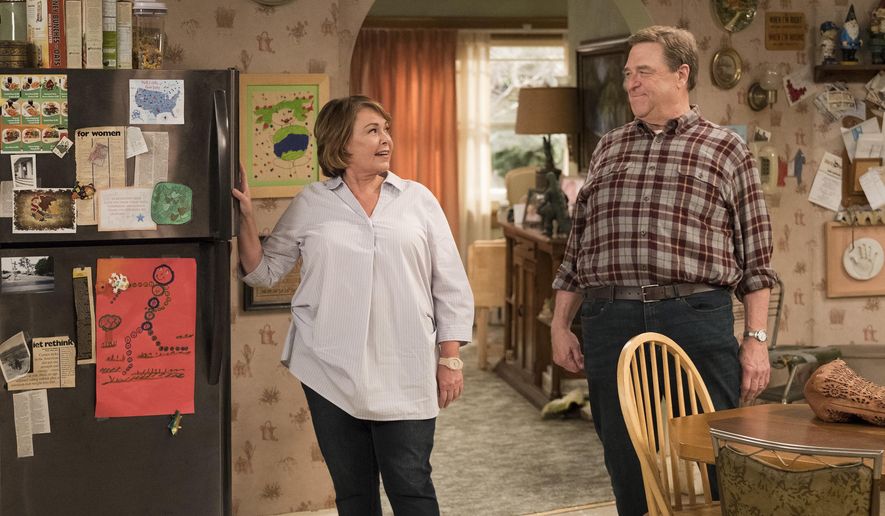 Roseanne Barr's attempt to bridge the political divide came crashing down Tuesday, when ABC canceled her rebooted hit sitcom hours after the television star had sent a racially tinged tweet.
The cancellation comes as a blow to President Trump's supporters who said "Roseanne" accurately represented their political perspective.
Responding to a comment about Valerie Jarrett, a former aide to President Obama, Miss Barr tweeted, "muslim brotherhood & planet of the apes had a baby=vj." She initially defended the tweet as a "joke" — noting that "ISLAM is not a RACE, lefties" — but then issued an apology to "Ms. Jarrett and all Americans."
"I am truly sorry for making a bad joke about her politics and her looks," Miss Barr tweeted. "I should have known better. Forgive me-my joke was in bad taste."
But it was too little too late. Within hours, ABC announced that "Roseanne" would not return for a second season.
ROSEANNE: THE AMBIEN...


Flashback: Having 7 Personalities Is Tough...


I Am Large, I Contain Multitudes*


Cancellation reinforces speech double standard in H'wood...


TRUMP RIPS IGER... DEVELOPING...
---
Ukraine Faked Death of Russian Journalist Critical of Putin
Russian journalist Arkady Babchenko, who had been reported shot and killed in the Ukrainian capital Tuesday, has shown up at a news conference very much alive.
Vasily Gritsak, head of the Ukrainian Security Service, told a news conference on Wednesday the agency faked Babchenko's death to catch those who were trying to kill him.
Kiev and national police had said Babchenko, a strong critic of the Kremlin, was shot multiple times in the back at his apartment building and found bleeding by his wife.
He showed up at Gritsak's new conference on Wednesday and thanked everyone who was mourning his death.
---
Obamas' Netflix deal inked with help from bundler buddy
Netflix chief content officer Ted Sarandos celebrated Barack and Michelle Obama as "among the world's most respected and highly-recognized public figures" in announcing a deal last week for the Obama family to produce films and series for the streaming service.
"We are incredibly proud they have chosen to make Netflix the home for their formidable storytelling abilities," Sarandos said in a news release.
What Sarandos didn't mention: He and his wife have long been donors and friends to the Obamas, having raised more than a half-million dollars as bundlers for the president's campaign in 2012. His wife, Nicole Avant, also was appointed by Obama as ambassador to the Bahamas, serving from 2009 to 2011.
---
Trump Taps VA Chief of Staff to Run Agency on Acting Basis
President Donald Trump named the chief of staff of the Department of Veterans Affairs to lead the agency on an acting basis on Wednesday while the president's nominee awaits Senate confirmation.
The White House said Trump had designated Peter O'Rourke to serve as acting VA secretary, effective Tuesday. Trump tapped acting VA Secretary Robert Wilkie to serve as permanent secretary earlier this month.
Wilkie has led the VA since Trump fired David Shulkin in March amid an ethics scandal. Trump then turned to Ronny Jackson, the Navy doctor who had been his personal physician, but Jackson withdrew following questions about his professionalism. Wilkie, a former Pentagon undersecretary, cannot run the agency on an acting basis while he awaits Senate confirmation.
---

Pentagon pushes NATO for more troops to help maintain security in Iraq
Plan could be scuttled if new ruling coalition in Baghdad seeks to push allied forces out of country
The Pentagon is working behind-the-scenes on a plan to get NATO allies to play a far more significant, boots-on-the-ground role in maintaining security in Iraq as the U.S. military revamps its anti-Islamic State mission into a longer-term stabilization campaign.
Pentagon sources have told The Washington Times that Defense Secretary James N. Mattis intends to present the plan at a NATO meeting in Brussels next month, calling for a larger number of troops from the alliance to support the new mission.
U.S. officials say the overhaul, which has not yet been made public, would reshape the Iraq mission into a longer-term, more advisory and more multinational campaign akin to current American-led operations in Afghanistan, with a central focus on further bolstering Iraq's own security forces.
---
Hillary Clinton and her desire to run Facebook
The first question that comes to mind when hearing that Hillary Clinton would like to be CEO of Facebook is: How would they fit all their servers into her bathroom?
We learned about Clinton's desire to run the social media giant from a question posed to her during an event at Harvard University where she was receiving an award for her "leadership." This for a woman who didn't even have the courage to face her distraught supporters on election night 2016, own the defeat and tell them the truth. As her lackey John Podesta was lying to the confused and crying crowd at her election night party about it not being over, she was on the phone conceding to her rival Donald Trump.
"Speaking at Harvard University before receiving an award Friday, Clinton was asked a hypothetical. … If Clinton could be chief executive of any company right now, which company would she choose? 'Facebook,' Clinton said without hesitating," the Los Angeles Times reported.
---
An emerging constitutional crisis
Clandestine activity in the CIA is designed to promote U.S. interests abroad and when occasion warrants undermining governments hostile to our interests and to the local populace. Who would have guessed that this organization would use its assets to undermine a president of the United States perceived as a threat to its interests? In a manner unprecedented in American history, the CIA and the FBI conspired to undermine the presidency of a duly elected figure who captured 57 percent of the electoral vote.
It is instructive that Elizabeth Warren, noting that Hillary Clinton received 2 million more popular votes than Donald Trump and is still not the president, believes this factoid threatens our democracy. Apparently, Ms. Warren, a potential Democratic candidate for the presidency, does not know we live in a republic, not a democracy. Moreover, didn't she have occasion to read the Federalist Papers?
When candidate Donald Trump argued his campaign had a mole or spy spinning news releases against him, he was described as a paranoid fool. Well, that contention has been put to bed. In fact, there appears to be sufficient evidence of misconduct for a thorough investigation. As of this moment, it appears that the Obama administration used at least one confidential informant to snoop into the Trump presidential campaign in February 2016. Attorney General Jeff Sessions responded to the president's agitation by referring the matter to Inspector General Michael Horowitz. It remains to be seen whether this matter fits into the category of an egregious abuse of power. Mr. Trump may be right in his assertion that this is "bigger" than Watergate.
"It is discouraging to think how many people are shocked by honesty and how few by deceit."
-- Noel Coward
(1899-1973) British playwright
---
The Medal of Honor is the highest award for valor in action against an enemy force which can be bestowed upon an individual serving in the Armed Services of the United States.
GeneTrerally presented to its recipient by the President of the United States of America in the name of Congress.
The first award of the Medal of Honor was made March 25, 1863 to Private JACOB PARROTT.The last award of the Medal of Honor was made September 15, 2011 to Sergeant DAKOTA MEYER.
Since then there have been: • 3458 recipients of the Medal of Honor.
• Today there are 85 Living Recipients of the Medal of Honor.
Citation
Captain Humbert R. Versace distinguished himself by extraordinary heroism during the period of 29 October 1963 to 26 September 1965, while serving as S-2 Advisor, Military Assistance Advisory Group, Detachment 52, Ca Mau, Republic of Vietnam. While accompanying a Civilian Irregular Defense Group patrol engaged in combat operations in Thoi Binh District, An Xuyen Province, Captain Versace and the patrol came under sudden and intense mortar, automatic weapons, and small arms fire from elements of a heavily armed enemy battalion. As the battle raged, Captain Versace, although severely wounded in the knee and back by hostile fire, fought valiantly and continued to engage enemy targets. Weakened by his wounds and fatigued by the fierce firefight, Captain Versace stubbornly resisted capture by the over-powering Viet Cong force with the last full measure of his strength and ammunition. Taken prisoner by the Viet Cong, he exemplified the tenets of the Code of Conduct from the time he entered into Prisoner of War status. Captain Versace assumed command of his fellow American soldiers, scorned the enemy's exhaustive interrogation and indoctrination efforts, and made three unsuccessful attempts to escape, despite his weakened condition which was brought about by his wounds and the extreme privation and hardships he was forced to endure. During his captivity, Captain Versace was segregated in an isolated prisoner of war cage, manacled in irons for prolonged periods of time, and placed on extremely reduced ration. The enemy was unable to break his indomitable will, his faith in God, and his trust in the United States of America. Captain Versace, an American fighting man who epitomized the principles of his country and the Code of Conduct, was executed by the Viet Cong on 26 September 1965. Captain Versace's gallant actions in close contact with an enemy force and unyielding courage and bravery while a prisoner of war are in the highest traditions of the military service and reflect the utmost credit upon himself and the United States Army.
---
From the Archives

We Have Met the Enemy…

Geoff Metcalf
"They who can give up essential liberty to obtain a little temporary safety deserve neither liberty nor safety.
--Benjamin Franklin
"The American people must be willing to give up a degree of personal privacy in exchange for safety and security."
--Louis Freeh

In the wake of the clamor over the most recent WikiLeaks data dump, 'Vault 7', 'UMBRAGE', et al, it should be noted this is not really anything new. What we are seeing here is simply the evolution of something that goes back to the late 50s (to the incomplete best knowledge I have).
It is kinda cool to finally see even
The New York Times
acknowledging material
I was writing about in 1998
.
In April of 1998 I wrote "Privacy has become an anachronism." I was commenting on "a massive system designed to intercept all your e-mail, fax traffic and more." I was explaining 'Echelon', the illegitimate offspring of a
UKUSA Treaty
signed by the United States, United Kingdom, Canada, Australia and New Zealand. Its purpose was, and is, to have a vast global intelligence monster, which allegedly shares common goals. The system was so "efficient" that reportedly National Security Agency folk from Fort Meade could work from Menwith Hill in England to intercept local communications without either nation having to burden themselves with the formality of seeking approval (a court order) or disclosing the operation. And this was all pre-9/11 and pre-the anti-constitutional
'Patriot Act'
.
It is illegal (without a Judge's signed permission) for the United States to spy on its citizens … kinda. The laws have long been circumvented by a mutual pact among five nations. Under the terms of UKUSA agreement, Britain spies on Americans and America spies on British citizens, and then the two conspirators trade data. A classic technical finesse. It is legal, but the intent to evade the spirit is inescapable.
I often fictionalized the genesis of 'Echelon' as an informal meeting of a group of post war American and British intelligence types drinking in some remote rustic bar. An imagined CIA type complains to his MI6 buddy about the hassles of US laws preventing US intelligence from surveillance of bad guys, and the Brit echoes the same complaint.
"Hey wait a moment mate," says Nigel, the make-believe MI6 guy, "I can spy on your guys and you can spy on our bad players…why don't we just come up with a mechanism whereby we spy on your villains, you spy on our villains, and we just 'share' the intel?"
This system was called ECHELON, and has been kicking around in some form longer than most of you. The result of the UKUSA treaty signed by the United States, United Kingdom, Canada, Australia and New Zealand was, and is, to have a vast global intelligence monster which allegedly shares common goals.
The London Telegraph reported in December of 1997 that the Civil liberties Committee of the European Parliament had officially confirmed the existence and purpose of ECHELON. "A global electronic spy network that can eavesdrop on every telephone, e-mail and telex communication around the world will be officially acknowledged for the first time in a European Commission report. …"
The report noted: "Within Europe all e-mail, telephone and fax communications are routinely intercepted by the United States National Security Agency, transferring all target information from the European mainland via the strategic hub of London, then by satellite to Fort Meade in Maryland via the crucial hub at Menwith Hill, in the North York moors in the UK.
"The ECHELON system forms part of the UKUSA system but unlike many of the electronic spy systems developed during the Cold War, ECHELON was designed primarily for non-military targets: governments, organizations and businesses in virtually every country."
An interesting sidebar appeared in the International Herald Tribune under the headline, "Big Corporate Brother: It Knows More About You Than You Think." The story details Acxiom Corp, which was a humongous information service hidden in the Ozark foothills. Twenty-four hours a day, Acxiom electronically gathered and sorts all kinds of data about 196 million Americans. Credit card transactions and magazine subscriptions, telephone numbers, real estate records, automotive data, hunting, business and fishing licenses, consumer surveys and demographic detail that would make a marketing department's research manager salivate. This relatively new (legal) enterprise was known as "data warehousing" or "data-mining", and it underscores the cruel reality that the fiction of personal privacy has become obsolete. Technology's ability to collect and analyze data has made privacy a quaint albeit interesting dinosaur.
The Tribune reported that "Axciom can often determine whether an American owns a dog or cat, enjoys camping or gourmet cooking, reads the Bible or lots of other books. It can often pinpoint an American's occupation, car and favorite vacations. By analyzing the equivalent of billions of pages of data, it often projects for its customers who should be offered a credit card or who is likely to buy a computer."
Most of this information is from y 1998 piece. Echelon has developed, matured, and morphed into a much more powerful hybrid. 'Carnivore' was software to help triage the cacophony of data. Vault 7 and 'Umbrage' are logical (some would argue "insidious") growth.
More to follow…