"It Is Not A Question of Who Is Right Or Wrong But What Is Right Or Wrong That Counts.

"

--Geoff Metcalf
Providing an on line Triage of the news since 1998
Wo
rld & Nation
Trump's GOP rivals keep searching for the right lane to catch up to cruising front-runner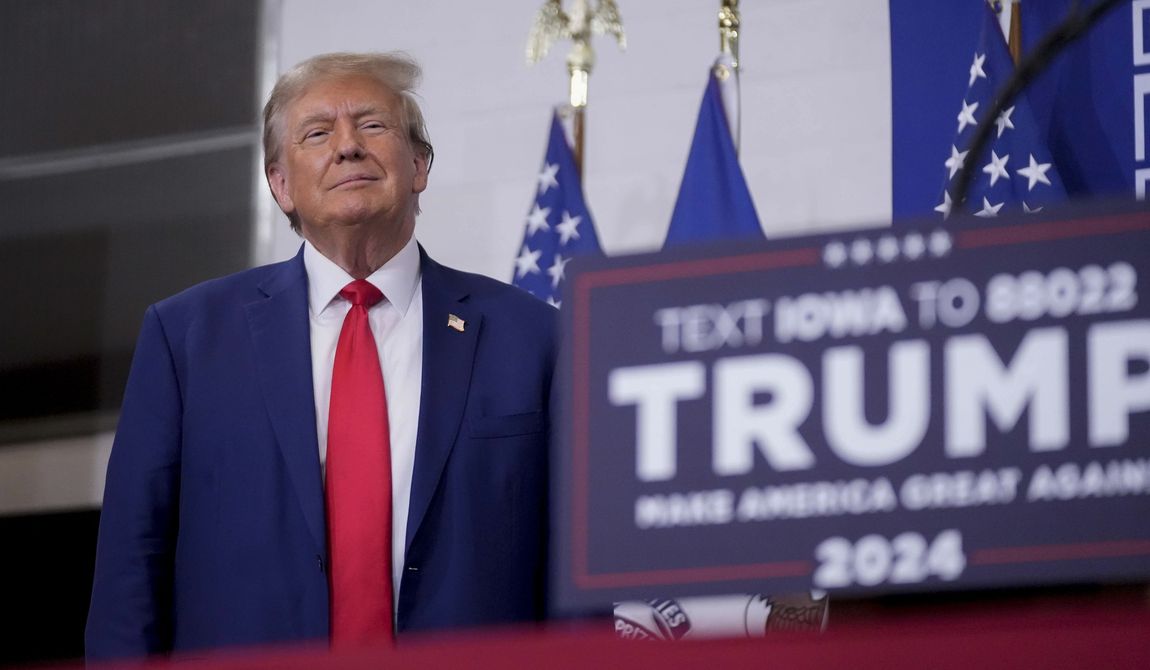 The Republican presidential candidates have spent most of this year searching for that elusive sweet spot with primary voters but, with less than two months until the Iowa caucuses, nobody has laid a glove on front-runner Donald Trump.
Mr. Trump's rivals not only can't touch him, they can't even SEE him. The former president has refused to appear on a debate stage with them, correctly reasoning he has nothing to gain against a field he leads by 40-plus percentage points and growing.
Without Mr. Trump, the debates have had a make-believe feel, as if the survivors are debating the Great and Powerful Oz. And we don't mean Dr. Oz.
So firm is Mr. Trump's grip on the GOP base that former Vice President Mike Pence and South Carolina Sen. Tim Scott, earnest and true conservatives, have dropped out of the race even before any ballots were cast. Nice guys do finish last.
Nevertheless, the candidates who are still standing have attempted to carve out their own lanes where they believe they can attract the most primary voters. And despite the lopsided polls in favor of Mr. Trump, it's a fact that no voters have actually voted yet in the GOP primary. A miracle could happen. Really. Journalists want to believe. It would sell papers and clicks.
---
House Republicans issue a subpoena to federal prosecutor in Hunter Biden's case
House Republicans issued a subpoena Tuesday to a federal prosecutor involved in the criminal investigation into Hunter Biden, demanding answers for what they allege is Justice Department interference in the yearslong case into the president's son.
Rep. Jim Jordan, chair of the House Judiciary Committee, called on Lesley Wolf, the assistant U.S. attorney for Delaware, to appear before the committee by Dec. 7, according to a copy of the congressional subpoena obtained by The Associated Press.
"Based on the Committee's investigation to date, it is clear that you possess specialized and unique information that is unavailable to the Committee through other sources and without which the Committee's inquiry would be incomplete," Jordan wrote in an accompanying letter to Wolf.
The Justice Department did not immediately respond to a request for comment.
The subpoena to Wolf is the latest in a series of demands Jordan and fellow Republican chairmen have made as part of their sprawling impeachment inquiry into President Joe Biden. His youngest son Hunter and brother James received subpoenas last week as Republicans look to gain ground in their nearly yearlong investigation, which has so failed to uncover evidence directly implicating the president in any wrongdoing.
'All Roads Lead to Lesley Wolf'
---
US to Review Terrorist Label for Houthis After Ship Seized
The US is reviewing whether to restore the Iranian-backed Houthis to its list of terrorist organizations after rebels seized a ship Sunday in retaliation for the war in Gaza.
"In light of the recent targeting of civilians by the Houthis, and now the piracy of a ship in international waters, we have begun a review of potential terrorist designations, and we'll be considering other options together with our allies and partners," National Security Council spokesman John Kirby told reporters Tuesday.
Kirby said the seizure of the Galaxy Leader, which is beneficially owned by a unit of Israeli businessman Rami Ungar's Ray Shipping Group, represented "a flagrant violation of international law" and called Iran's involvement unacceptable.
"Iran is complicit to its material support, and its encouragement of the Houthi forces who conducted the seizure — absolutely unacceptable," he said.
A spokesperson for the Houthis has said Israeli ships would continue to be targeted until the country's military operation against Hamas ends. Israel launched a campaign against Hamas — which the US and European Union have designated a terrorist organization — following the militant group's deadly Oct. 7 attack.
---
Defense Secretary Austin urges continuing support for Ukraine as another winter approaches
Defense Secretary Lloyd Austin on Wednesday urged other nations in the Ukraine Defense Contact Group to increase the supply of air defense weapons for Kyiv as it prepares to face another winter of war against Russian invaders.
The virtual meeting, the 17th since the group was created after Moscow's February 2022 invasion, was held soon after Mr. Austin made an unannounced visit to Kyiv to meet with Ukrainian officials, including President Volodymyr Zelenskyy and Defense Minister Rustem Umerov.
"Just days before my visit to Kyiv, [Russian President Vladimir] Putin's forces launched a new barrage of missile attacks at Kyiv and other parts of Ukraine to try to damage Ukraine's energy grid," Mr. Austin said. "Russian attacks on Ukraine's infrastructure could mean suffering and death for countless innocent Ukrainian citizens."
The Contact Group has recently focused on strengthening Ukraine's air force and information-technology capabilities and is expected to next address the country's ground-based air defense needs, Mr. Austin said.
---
Qatar announces Israel-Hamas truce-for-hostages deal that would pause Gaza fighting, bring more aid
Qatar on Wednesday announced a truce-for-hostages deal between Israel and Hamas that would bring a four-day halt in fighting in a devastating six-week war, win freedom for dozens of hostages held in the Gaza Strip, and also lead to the release of dozens of Palestinian prisoners.
Qatar's Foreign Ministry said it would announce within a day when the clock will start ticking on the truce, during which 50 hostages will be released in stages in exchange for what Hamas said would be 150 Palestinians prisoners held by Israel. Those freed by both sides will be women and children.
Humanitarian aid to besieged Gaza would also increase.
The announcement came hours after Israel's Cabinet approved the deal. It capped weeks of indirect Qatari-led negotiations between Israel and Hamas, an Islamic militant group that has ruled Gaza for 16 years. The United States and Egypt were also involved in stop-and-go talks to free some of the roughly 240 hostages held by Hamas and other militants in Gaza.
---
D.C. exceeds bloodiest year in two decades; death of man shot in Southeast marks grim milestone
The death of a gunshot victim early Tuesday in Southeast cemented 2023 as one of District of Columbia's bloodiest years in decades, as the nation's capital struggles to rein in the violence that has tormented residents and dogged local leaders.
The District recorded its 249th homicide Tuesday after 3 a.m. when Metropolitan Police said a man died in a hospital from a gunshot wound to the head in an incident east of the Anacostia River.
It marked the most homicides in the District since the 248 slayings recorded in 2003, when yearly killings were gradually descending from the rampant, gang-driven violence of the 1990s.
---
Rand Paul takes on Dr. Fauci — this time in a new book
Sen. Rand Paul, who has publicly criticized Dr. Anthony Fauci over the origins of COVID-19 and his advocacy of lockdowns and mandates, goes further in a new book by blaming Dr. Fauci for funding the creation of the virus with U.S. dollars and lying about it to Congress.
In interviews about the book, Mr. Paul said he believes Dr. Fauci is a traitor who helped create the pandemic and "without question" belongs in prison.
His assessment is dramatic. Mr. Paul, a Kentucky Republican serving his third term in the Senate, makes the case in the pages of "Deception: The Great Covid Cover-Up" that Dr. Fauci is at least partly to blame for the pandemic, which the Centers for Disease Control and Prevention estimates has killed more than 1 million people in the U.S.
The book goes behind the scenes to investigate efforts to suppress the truth about the origins of the virus and the missteps that led to lockdowns and mandates that have since been largely denounced.
---
Trump appointee sentenced for Jan. 6 crimes won't turn on the former president
Some Jan. 6 defendants have recanted and said they were misled by former President Donald Trump, but not Federico Klein, who said that if there was a real victim in that chaos at the U.S. Capitol that day, it was Mr. Trump.
Staring down a nearly six-year prison sentence as the first Trump appointee convicted of crimes in the Jan. 6, 2021, riot, Klein told The Washington Times that he regrets being at the Capitol that day but doesn't regret standing up for the president.
What's more, he said Mr. Trump should never have been subjected to an inquisition by the news media, Congress and the Justice Department for challenging the 2020 election results.
"What's particularly galling is the repeated accusations [from Trump opponents] of a tampered with and illegitimate election of 2016, and then these people turn around [in 2020] and say, 'Now, this has been the most secure election, and this is a perfectly valid election. So, that's too bad for President Trump,'" he said.
---
Robert Garcia tells fellow Rep. Dean Phillips to 'keep the VP's name out of his mouth'
Rep. Robert Garcia has called out Democratic presidential candidate Dean Phillips for criticizing Vice President Kamala Harris.
"Apparently Dean Phillips is floundering so hard that he's now resorting to attacking Vice President Harris," Mr. Garcia, California Democrat, wrote on X. "He better keep the VP's name out of his mouth and apologize."
He added, "No one will support him, so he's going to torch his reputation on the way out. Sad to see."
In an article in The Atlantic published this week, the Minnesota Democrat shared that he doesn't think Ms. Harris would be the best fit for president if something happened to President Biden.
---
Biden the fool, Musk the idiot pawn and Xi's propaganda coup
China has been treating us like fools
During my four years in the White House, I witnessed President Donald Trump deftly negotiate with the Chinese dictator Xi Jinping on critical issues ranging from unfair trade and Taiwan to the slaughter of Americans by Made in China products and drugs. My key takeaway: Negotiations only serve Communist Chinese interests because the dictator Xi simply cannot be trusted.
No matter what Mr. Xi has promised Joe Biden, Communist China (ChiCom) will continue to ship massive amounts of chemicals used by Mexican cartels not just to manufacture fentanyl. ChiCom factories will also provide the poisons needed to produce everything from cocaine and heroin to ecstasy and methamphetamine. Americans will continue to die by the tens of thousands, decimating our youth and sapping our workforce. This all is according to China's unrestricted warfare plan – and all without Mr. Biden's pushback.
No matter what Mr. Xi has pledged, Communist China will likewise continue to flood U.S. markets with illegally subsidized products. Many will be manufactured with stolen intellectual property. As our trade deficit grows, American consumers will thereby fund the Chinese military while transferring exorbitant sums of American wealth and capital to the Communist mainland.
---
Trading on the family name: Don't forget about Frank Biden
What's in a name? That depends on who you ask – some names are more valuable than others.
House Oversight Committee Chairman James Comer is asking President Biden whether his is worth $200,000 (or was in 2018, before inflation spiked). That was the amount of a check the president's brother James wrote to Joe ostensibly as a "loan repayment." Mr. Comer wants to know the details because there's no record of such a loan elsewhere in the president's documents.
It seems like a worthy question, given the allegations of Hunter Biden repeatedly using the family name to land lucrative sinecures at Ukrainian and Chinese energy companies – "10% for the Big Buy" and all that. There aren't too many families with $200,000 checks circulating, let alone life-long public servants in a position to make that kind of loan.
While he's at it, Chairman Comer shouldn't neglect the other Biden brother. Frank Biden is a serial name-trader, going back at least to when he was a Florida real estate developer, and Joe was U.S. vice president.
---
---