"It Is Not A Question of Who Is Right Or Wrong But What Is Right Or Wrong That Counts.

"

--Geoff Metcalf
Providing an on line Triage of the news since 1997



Wo

rld & Nation
Putin taunts Biden with 'hybrid warfare' operations; U.S. pleads for 'refrain' from escalation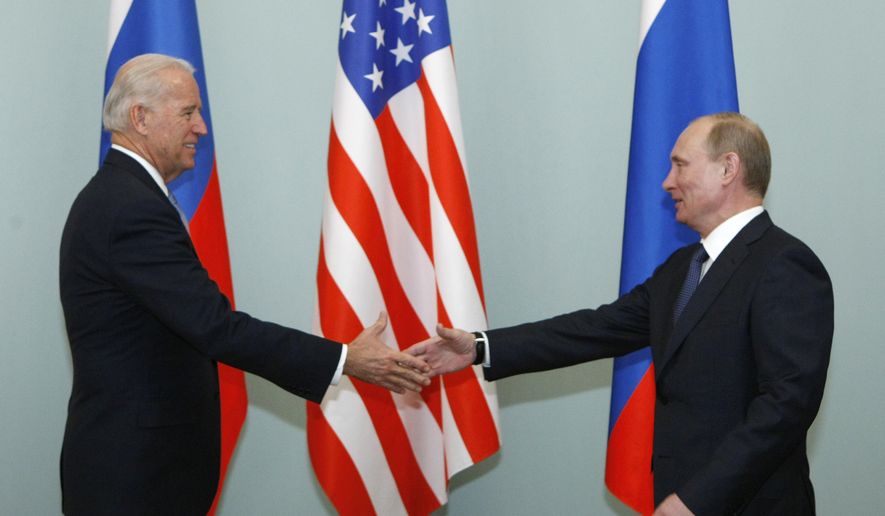 Russian President Vladimir Putin has been ramping up "hybrid warfare" operations in Ukraine and the Arctic in recent weeks in an early test of President Biden's resolve, a build-up that many see as a way for the Russian leader to score points abroad while shoring up sagging polls at home.
The build-up has proven especially alarming for Ukraine, which has seen an outbreak of deadly fighting this year with Russian-backed separatists in its eastern half, leading President Volodymyr Zelenskiy to make a personal plea Tuesday for expedited membership in NATO to fend off the Kremlin's pressure campaign.
"NATO is the only way to end the war in Donbass," Mr. Zelenskiy tweeted after speaking Tuesday with alliance Secretary-General Jens Stoltenberg.
Analysts say full membership is highly unlikely for Ukraine in the near term, although there are signs NATO may increase its presence in the region to counter the new Russian aggressiveness. In the interim, the Biden administration is faced with deciding how aggressively to respond to Mr. Putin's probing.
---
Biden Administration Has Sent More Than 150 Million Relief Checks
The Biden administration has distributed more than 150 million stimulus checks as of Wednesday from the $1.9 trillion coronavirus relief bill.
The Treasury Department and the Internal Revenue Service have sent out roughly 156 million payments to people, totaling roughly $372 billion, according to the Treasury Department.
The majority of these latest payments went to Social Security recipients and beneficiaries, providing a cash infusion more than a year into the pandemic.
---
Ex-Trump adviser Stephen Miller launches group to sue Biden administration
Stephen Miller, a former senior adviser to former President Trump, launched a conservative legal group this week aimed at working with Republican state attorneys general to fight the Biden administration's policies.
America First Legal has the backing of the former president and Trump administration allies like former White House chief of staff Mark Meadows.
After seeing the success of liberal groups like the American Civil Liberties Union in halting the Trump administration's policies in the courts, Mr. Miller, who helped to lead the prior administration's immigration policies, wants his group on the right to do the same.
---
Biden, Democrats backpedal amid MLB All-Star uproar
Democrats scrambled Tuesday to dodge the fallout from Major League Baseball's decision to pull the All-Star Game out of Atlanta as Republicans stepped up to the plate, blaming an overheated "Jim Crow" narrative for stoking an over-the-top corporate backlash against Georgia.
White House press secretary Jen Psaki sought to distance President Biden from the MLB's decision to exit Atlanta, a majority-Black city expected to take a $100 million hit, downplaying his previously expressed support for relocating the game over Georgia's newly passed election law.
"He was answering a direct question during an interview with ESPN about opening day of baseball," Ms. Psaki said at the daily briefing. "He was simply conveying he would support that decision [to move the All-Star game] if that decision was made by MLB — just as he would support decisions made by private sector companies."
A week ago, however, Mr. Biden sounded considerably more enthusiastic. Asked whether MLB should move the All-Star Game, he said, "I would strongly support them doing that."
---
Stacey Abrams to blame for costing Georgia $100 million in lost All-Star Game revenue: Rand Paul
MLB relocates coveted game from majority-Black Atlanta to majority White Denver in protest of election reforms
Former Democratic gubernatorial candidate Stacey Abrams has urged people not to boycott Georgia, but Sen. Rand Paul says she and other Democrats are squarely to blame for Major League Baseball's decision to pull the All-Star Game out of Atlanta.
The founder of Fair Fight, Ms. Abrams led the charge against Senate Bill 202, the Georgia election law that requires identification for absentee ballots, expands early voting and bans electioneering within 150 feet of polling entrances, calling it "Jim Crow 2.0."
"There's all these people who are woke, but now even the woke like Stacey Abrams, are starting to see, oh, no what have I unleashed? I just lost my state $100 million in revenue," said Mr. Paul on Fox's "The Story." "Stacey Abrams and the Democrats cost Georgia $100 million in revenue because they complained about something they didn't read and they said something about it that wasn't true."
---
'I'm punching back': Fla. Gov. DeSantis blasts 'smear merchants' as feud with '60 Minutes' escalates
CBS issues second statement defending report on COVID-19 vaccine distribution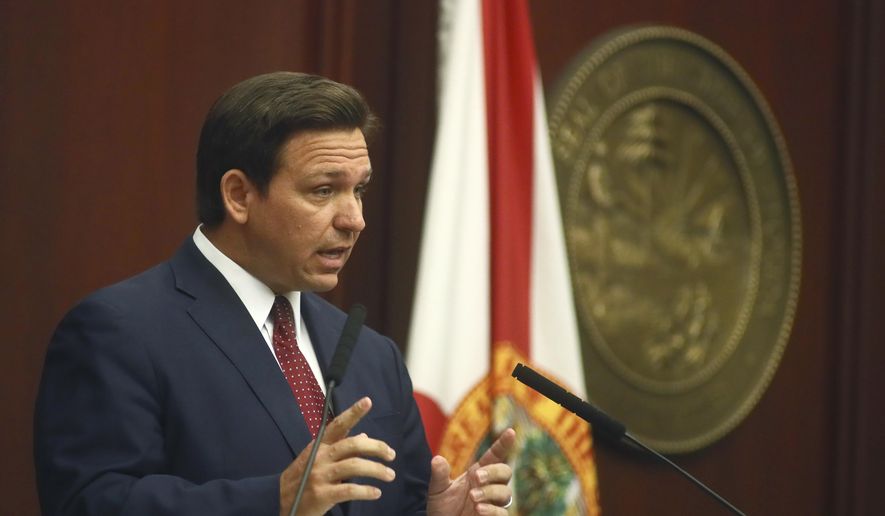 CBS News may be ready to move on from its "60 Minutes" segment on Florida's COVID-19 vaccine rollout, but Gov. Ron DeSantis isn't.
The Republican governor continued Tuesday to assail the long-running news show for its story Sunday accusing him of giving the Publix grocery chain preferential treatment on COVID-19 vaccines, calling the report "horse manure" and accusing the network of selective editing.
"They cut everything that showed that their narrative was a piece of horse manure. And it shows you how dishonest — these are smear merchants," Mr. DeSantis told reporters in Panama City. "That's why nobody trusts corporate media. They are a disaster in what they're doing."
---
Biden's DHS chief vows to defend ICE, battle sanctuary cities
Homeland Security Secretary Alejandro Mayorkas says he's preparing to take on sanctuary cities that refuse to work with Immigration and Customs Enforcement, and he wants to see more illegal immigrants face criminal prosecution for jumping the border.
He also rejected abolishing or splitting up ICE, rejecting calls from some in President Biden's political base to eliminate the government's deportation agents altogether.
Mr. Mayorkas revealed the hard-line stances last week during a virtual town hall forum with ICE employees. The Washington Times has reviewed notes of the conversation, in which Mr. Mayorkas said he's working on a new set of deportation guidelines to govern how and when officers can arrest and attempt to deport illegal immigrants.
---
Kim Says North Korea Facing Its 'Worst-Ever Situation'
North Korean leader Kim Jong Un has acknowledged his country was facing the "worst-ever situation" as he addressed thousands of grassroots members of his ruling party during a major political conference in Pyongyang.
Experts say Kim is facing perhaps his toughest moment as he approaches a decade in rule, with North Korea's coronavirus lockdown unleashing further shock on an economy devastated by decades of mismanagement and crippling U.S.-led sanctions over his nuclear weapons program.
The North's official Korean Central News Agency said Kim made the comments during an opening speech at a meeting of the Workers' Party's cell secretaries on Tuesday.
---
EU medicines regulator finds possible link between AstraZeneca Covid vaccine and blood clots
Europe's medicines regulator on Wednesday announced a possible link between the coronavirus vaccine developed by AstraZeneca and the University of Oxford and rare blood clotting issues in adults who received the shot.
It comes after a review of all currently available evidence into extremely rare cases of unusual blood clots in some vaccinated people.
Emer Cooke, executive director of the European Medicines Agency, said in a televised press conference that the regulator's safety committee "has confirmed that the benefits of the AstraZeneca vaccine in preventing Covid-19 overall outweigh the risks of side effects."
---
Iran ship said to be Red Sea troop base off Yemen attacked
Attack comes in the midst of nuclear talks with US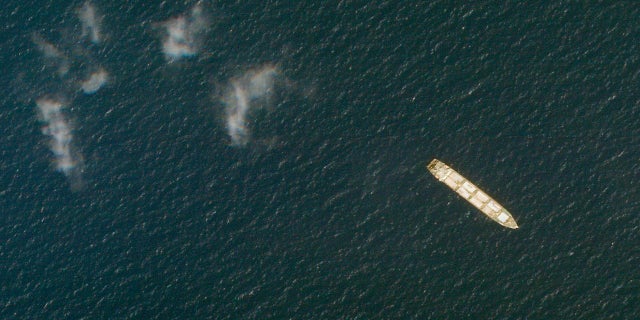 An Iranian ship believed to be a base for the paramilitary Revolutionary Guard and anchored for years in the Red Sea off Yemen has been attacked, Tehran acknowledged Wednesday.
Iran's Foreign Ministry confirmed the attack on the MV Saviz, suspected to have been carried out by Israel — though Tehran did not immediately blamed its regional archenemy. The assault came as Iran and world powers sat down in Vienna for the first talks about the U.S. potentially rejoining the tattered deal aimed at curbing Iran's nuclear program, showing events outside the negotiations could derail those efforts.
The ship's long presence in the region, repeatedly criticized by Saudi Arabia, has come as the West and United Nations experts say Iran has provided arms and support to Yemen's Houthi rebels in that country's yearslong war. Iran denies arming the Houthis, though components found in the rebels' weaponry link back to Tehran.
---
Grassley, Johnson demand Secret Service answer questions about Hunter Biden gun incident
The top Republicans on two powerful Senate committees Tuesday demanded the Secret Secret answer questions surrounding a bizarre incident in which Hunter Biden's gun went missing after being thrown in the trash in Delaware.
Sens. Charles E. Grassley of Iowa and Ron Johnson of Wisconsin sent a letter to Secret Service Director James M. Murray for additional information about the agency's involvement.
Media reports surfaced last month saying agents may have attempted to intervene on behalf of President Biden and his son when the incident purportedly happened in 2018 and they were no longer protecting the Biden family.
But the Secret Service said they have no record that agents attempted to assist Hunter Biden in locating the gun.
---
Snub in EU-Turkey meeting highlights gender equality issue
Gender equality issues took center stage Wednesday in Brussels a day after Ursula von der Leyen, one the EU's most powerful executives, was treated like a second-rank official during a visit to Ankara.
Von der Leyen — the European Commission president — and European Council chief Charles Michel visited Turkey on Tuesday for talks with Turkish leader Recep Tayyip Erdogan focusing on the EU-Turkey relations. After they were led in a big room for discussions with Erdogan, TV images showed that only two chairs had been laid out in front of the EU and the Turkish flags for the three leaders.
Michel and Erdogan took the chairs as von der Leyen stood looking at both men, expressing her astonishment with a "ehm" and a gesture of disappointment. Von der Leyen eventually sat on a large beige sofa, away from her male counterparts.
---
Biden administration creates chaos at every turn
In the short 11 weeks since President Biden was inaugurated on Jan. 20, we can say he and his administration have at least been consistent. Consistent in creating chaos at every turn and in ripping apart successful efforts and policy and replacing them with disasters.
This is nothing new, but it is impressive how consistent they are and how quickly they jump right back into the pool of believing they can cover up their incompetence and sometimes malevolence by misleading and lying to the American people.
Take the remarkably disastrous Democratic decision to attempt to punish the state of Georgia for an election integrity bill passed in the wake of serious challenges during the 2020 presidential race. Despite having won the state in 2020, and Georgia sending two Democratic senators to Washington, Mr. Biden agreed with the woke extremists in his party and said he would support Major League Baseball punishing Atlanta by pulling the All-Star game from that city. "I think today's professional athletes are acting incredibly responsibly. I would strongly support them doing that. People look to them. They're leaders," he told ESPN.
---
Here's why you can never trust the U.S. news media again
Media no longer has any intention of presenting both sides of a story
More than a century ago, way back in 1906, Mark Twain said, "There are only two forces that can carry light to all the corners of the globe — only two — the sun in the heavens and the Associated Press down here."
For the rest of the 20th century, the AP was America's — even the world's — most unbiased news source. If the agency quoted a top House Democrat saying one thing, they'd quote a top Republican a few paragraphs down saying just the opposite. For every point, there was a counterpoint.
That's how the world is. Of course there are "facts," but many can be interpreted in myriad ways. The AP, like a lot of news agencies at the time, simply sought to lay out the two sides — or sometimes 12 sides — and let the reader decide.
---
Truth or Dare
by Geoff Metcalf
"The truth does not change according to our ability to stomach it."
― Flannery O'Connor

When NBC's Lester Holt shrouded in self-righteous sophism proclaimed journalists don't do 'truth', I said bad words. Joe Klaas was apparently correct when he noted, "The truth will set you free, but first it will piss you off."
When accepting the Edward R. Murrow Award for Lifetime Achievement in Journalism, NBC anchor Lester Holt said, "fairness is overrated".
"I think it's become clear that fairness is overrated. ... The idea that we should always give two sides equal weight and merit does not reflect the world we find ourselves in," Holt said.
Holt, either by plan or oversight said, "That the sun sets in the west is a fact. Any contrary view does not deserve our time or attention," Holt continued. "Decisions to not give unsupported arguments equal time are not a dereliction of journalistic responsibility or some kind of agenda. In fact, it's just the opposite." Sophistry!
Holt also railed against "providing an open platform for misinformation," saying that allowing "anyone to come say whatever they want, especially when issues of public health and safety are at stake, can be quite dangerous." And that is a good thing Lester.
The key problem with the pretension of Holt et al saying news organizations should vet and triage controversial news is,
who decides?
What editor gets to decide the conventional wisdom when a group of experts claims we are about to enter a new Ice Age, or the only defense against a pandemic is isolation?
April 28, 1975, Newsweek published a provocative article, "The Cooling World," in which writer and science editor Peter Gwynne described a significant chilling of the world's climate, with evidence accumulating "so massively that meteorologists are hard-pressed to keep up with it." He when on to postulate shorter growing seasons and poor crop yields, famine, and shipping lanes blocked by ice, perhaps to begin as soon as the mid-1980s. Meteorologists, he wrote, were "almost unanimous" in the opinion that our planet was getting colder. Over the years that followed, Gwynne's article became one of the most-cited stories in Newsweek's history. However, he was wrong…way wrong.
The obvious corollary is today's politically correct contention that Global Warming will kill the planet. Notwithstanding THOUSANDS of for real scientists who naysay the Al Gore gang, Holt and his ilk would deny you, me, or anyone from hearing contradictory and/or mitigating science which does not comply with the elitists cause du jour.
"The truth is rarely pure and never simple." said Oscar Wilde in The Importance of Being Earnest.
Empirical facts cannot be disputed: who, what, where, when is going to be reported the same from the left and the right. However, the why and how is where the reader gets sucked into the editorializing muck. One man's "freedom fighter" is another man's "terrorist"…one man's "objective scientist" is another man's "bought and paid for sycophant".
According to a January Axios polls, just 46% of people trust traditional news media, and trust in social media has plummeted to 27%.
Additionally, 56% of the poll respondents said they agreed that "Journalists and reporters are purposely trying to mislead people by saying things they know are false or gross exaggerations."
"The truth." Dumbledore sighed. "It is a beautiful and terrible thing and should therefore be treated with great caution."
Aldous Huxley clearly noted, "Facts do not cease to exist because they are ignored."
An editorial Star Chamber (which is kinda/sorta what Holt seems to want) can attempt to sequester politically incorrect facts or nuance from the unwashed masses, but they only serve to validate George Orwell. "In a time of deceit telling the truth is a revolutionary act."
We are in that "time of deceit" and the mainstream media should be providing light not creating safe haven shadow lands for evil to fester and grow.
---
" It is discouraging to think how many people are shocked by honesty and how few by deceit."

-- Noel Coward

(1899-1973) British playwright

---

The Medal of Honor is the highest award for valor in action against an enemy force which can be bestowed upon an individual serving in the Armed Services of the United States.

GeneTrerally presented to its recipient by the President of the United States of America in the name of Congress.

The first award of the Medal of Honor was made March 25, 1863 to Private JACOB PARROTT.The last award of the Medal of Honor was made September 15, 2011 to Sergeant DAKOTA MEYER.

Since then there have been: • 3458 recipients of the Medal of Honor.

• Today there are 85 Living Recipients of the Medal of Honor.

Citation


Captain Humbert R. Versace distinguished himself by extraordinary heroism during the period of 29 October 1963 to 26 September 1965, while serving as S-2 Advisor, Military Assistance Advisory Group, Detachment 52, Ca Mau, Republic of Vietnam. While accompanying a Civilian Irregular Defense Group patrol engaged in combat operations in Thoi Binh District, An Xuyen Province, Captain Versace and the patrol came under sudden and intense mortar, automatic weapons, and small arms fire from elements of a heavily armed enemy battalion. As the battle raged, Captain Versace, although severely wounded in the knee and back by hostile fire, fought valiantly and continued to engage enemy targets. Weakened by his wounds and fatigued by the fierce firefight, Captain Versace stubbornly resisted capture by the over-powering Viet Cong force with the last full measure of his strength and ammunition. Taken prisoner by the Viet Cong, he exemplified the tenets of the Code of Conduct from the time he entered into Prisoner of War status. Captain Versace assumed command of his fellow American soldiers, scorned the enemy's exhaustive interrogation and indoctrination efforts, and made three unsuccessful attempts to escape, despite his weakened condition which was brought about by his wounds and the extreme privation and hardships he was forced to endure. During his captivity, Captain Versace was segregated in an isolated prisoner of war cage, manacled in irons for prolonged periods of time, and placed on extremely reduced ration. The enemy was unable to break his indomitable will, his faith in God, and his trust in the United States of America. Captain Versace, an American fighting man who epitomized the principles of his country and the Code of Conduct, was executed by the Viet Cong on 26 September 1965. Captain Versace's gallant actions in close contact with an enemy force and unyielding courage and bravery while a prisoner of war are in the highest traditions of the military service and reflect the utmost credit upon himself and the United States Army.

---

From the Archives

We Have Met the Enemy…
Geoff Metcalf


"They who can give up essential liberty to obtain a little temporary safety deserve neither liberty nor safety.
--Benjamin Franklin
"The American people must be willing to give up a degree of personal privacy in exchange for safety and security."
--Louis Freeh


In the wake of the clamor over the most recent WikiLeaks data dump, 'Vault 7', 'UMBRAGE', et al, it should be noted this is not really anything new. What we are seeing here is simply the evolution of something that goes back to the late 50s (to the incomplete best knowledge I have).

It is kinda cool to finally see even

The New York Times

acknowledging material

I was writing about in 1998

.

In April of 1998 I wrote "Privacy has become an anachronism." I was commenting on "a massive system designed to intercept all your e-mail, fax traffic and more." I was explaining 'Echelon', the illegitimate offspring of a

UKUSA Treaty

signed by the United States, United Kingdom, Canada, Australia and New Zealand. Its purpose was, and is, to have a vast global intelligence monster, which allegedly shares common goals. The system was so "efficient" that reportedly National Security Agency folk from Fort Meade could work from Menwith Hill in England to intercept local communications without either nation having to burden themselves with the formality of seeking approval (a court order) or disclosing the operation. And this was all pre-9/11 and pre-the anti-constitutional

'Patriot Act'

.

It is illegal (without a Judge's signed permission) for the United States to spy on its citizens … kinda. The laws have long been circumvented by a mutual pact among five nations. Under the terms of UKUSA agreement, Britain spies on Americans and America spies on British citizens, and then the two conspirators trade data. A classic technical finesse. It is legal, but the intent to evade the spirit is inescapable.

I often fictionalized the genesis of 'Echelon' as an informal meeting of a group of post war American and British intelligence types drinking in some remote rustic bar. An imagined CIA type complains to his MI6 buddy about the hassles of US laws preventing US intelligence from surveillance of bad guys, and the Brit echoes the same complaint.

"Hey wait a moment mate," says Nigel, the make-believe MI6 guy, "I can spy on your guys and you can spy on our bad players…why don't we just come up with a mechanism whereby we spy on your villains, you spy on our villains, and we just 'share' the intel?"

This system was called ECHELON, and has been kicking around in some form longer than most of you. The result of the UKUSA treaty signed by the United States, United Kingdom, Canada, Australia and New Zealand was, and is, to have a vast global intelligence monster which allegedly shares common goals.

The London Telegraph reported in December of 1997 that the Civil liberties Committee of the European Parliament had officially confirmed the existence and purpose of ECHELON. "A global electronic spy network that can eavesdrop on every telephone, e-mail and telex communication around the world will be officially acknowledged for the first time in a European Commission report. …"

The report noted: "Within Europe all e-mail, telephone and fax communications are routinely intercepted by the United States National Security Agency, transferring ll target information from the Eurv opean mainland via the strategic hub of London, then by satellite to Fort Meade in Maryland via the crucial hub at Menwith Hill, in the North York moors in th UK.

"The ECHELON system forms part of the UKUSA system but unlike many of the electronic spy systems developed during the Cold War, ECHELON was designed primarily for non-military targets: governments, organizations and businesses in virtually every country."

An interesting sidebar appeared in the International Herald Tribune under the headline, "Big Corporate Brother: It Knows More About You Than You Think." The story details Acxiom Corp, which was a humongous information service hidden in the Ozark foothills. Twenty-four hours a day, Acxiom electronically gathered and sorts all kinds of data about 196 million Americans. Credit card transactions and magazine subscriptions, telephone numbers, real estate records, automotive data, hunting, business and fishing licenses, consumer surveys and demographic detail that would make a marketing department's research manager salivate. This relatively new (legal) enterprise was known as "data warehousing" or "data-mining", and it underscores the cruel reality that the fiction of personal privacy has become obsolete. Technology's ability to collect and analyze data has made privacy a quaint albeit interesting dinosaur.

The Tribune reported that "Axciom can often determine whether an American owns a dog or cat, enjoys camping or gourmet cooking, reads the Bible or lots of other books. It can often pinpoint an American's occupation, car and favorite vacations. By analyzing the equivalent of billions of pages of data, it often projects for its customers who should be offered a credit card or who is likely to buy a computer."

Most of this information is from y 1998 piece. Echelon has developed, matured, and morphed into a much more powerful hybrid. 'Carnivore' was software to help triage the cacophony of data. Vault 7 and 'Umbrage' are logical (some would argue "insidious") growth.

More to follow…