"It Is Not A Question of Who Is Right Or Wrong But What Is Right Or Wrong That Counts.

"

--Geoff Metcalf




Wo

rld & National



Trump calls memorial for George H.W. Bush 'a day of celebration for a great man'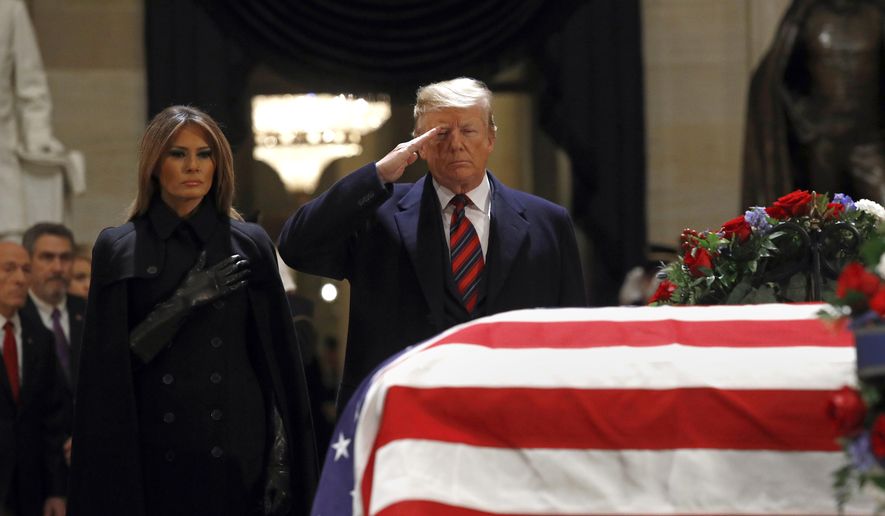 President Trump isn't speaking at the memorial service for the late President George H.W. Bush, but he's tweeting about it.
"This is not a funeral, this is a day of celebration for a great man who has led a long and distinguished life. He will be missed!" Mr. Trump said on Twitter, adding that he is "looking forward to being with the Bush family."
The president and first lady Melania Trump are attending the service at the Washington National Cathedral for Mr. Bush, who died Friday at age 94. Among those delivering eulogies is his son, former President George W. Bush.
---
Robert Mueller calls Michael Flynn cooperation 'substantial,' recommends no jail time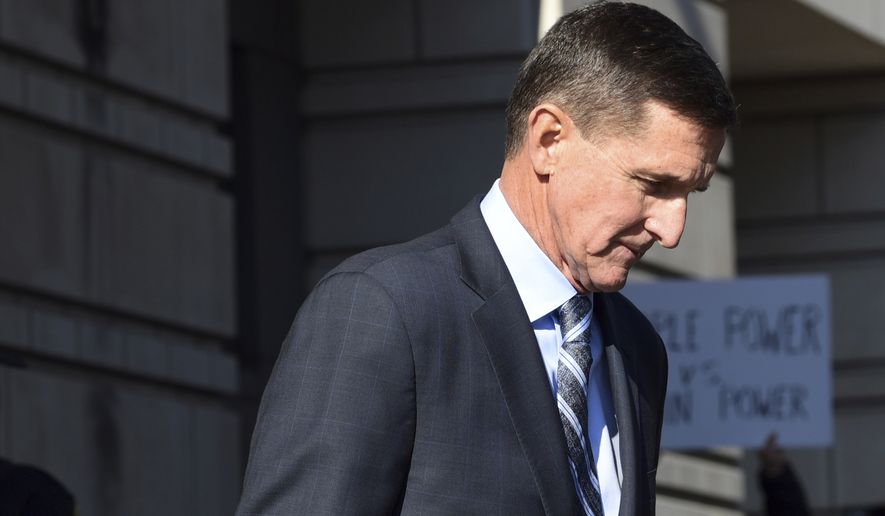 Former National Security Adviser Michael Flynn has provided "substantial assistance," according to court filings Tuesday.
The 13-page heavily redacted filing says Flynn provided "first hand" information about interactions between Russian government officials and President Trump's transition. That information was pieced together during Flynn's 19 meetings with the special counsel's office.
But the filing does not disclose any new details about the information Flynn offered beyond saying it was a "benefit." The special counsel's team said it is not ready to disclose the full scope of Flynn's cooperation because the investigation is still ongoing.
---
9th Circuit Court strikes down federal law against encouraging illegal immigration
A U.S. appeals court struck down a federal immigration law Tuesday that opponents warned could be used to criminalize a wide range of statements involving illegal immigration.
The law made it a felony for someone to encourage an immigrant to enter or live in the U.S. if the person knew either act is illegal.
The law violates the First Amendment because it criminalizes a substantial amount of protected speech, a three-judge panel of the 9th U.S. Circuit Court of Appeals said.
---
Roger Stone pleads Fifth, won't give testimony or documents to Senate Judiciary Committee
Longtime GOP political operative Roger Stone is resisting Senate Democrats' request for documents and testimony, citing his Fifth Amendment right against self-incrimination, his attorney said in a letter released Tuesday.
Mr. Stone's attorney, Grant Smith, said in a letter to ranking Senate Judiciary member Dianne Feinstein, California Democrat, said his client will decline lawmakers' request.
"Mr. Stone's invocation of his Fifth Amendment privilege must be understood by all to be the assertion of a Constitutional right by an innocent citizen who denounces secrecy," Mr. Smith wrote.
---
Trump's impromptu China trade deal unravels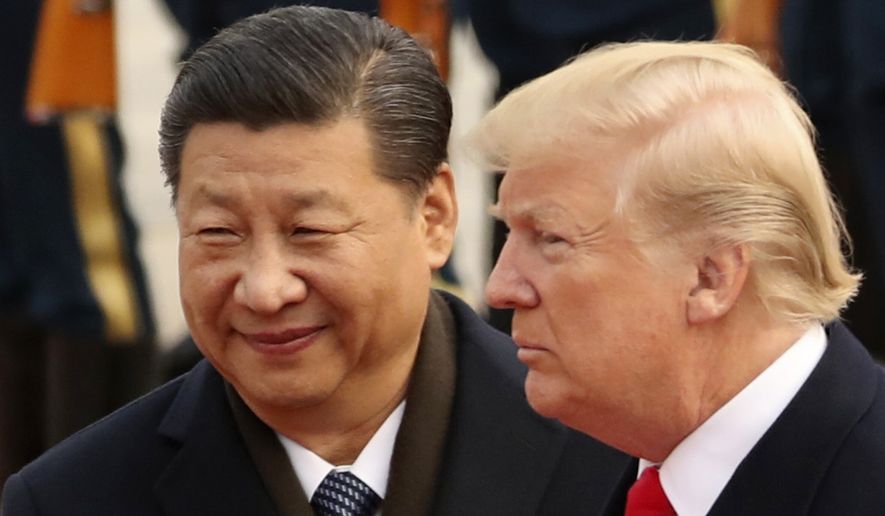 Skepticism mounted Tuesday about President Trump's impromptu trade agreement with the president of China, as Mr. Trump threatened new penalties against Beijing if the deal falls through. Stock markets plummeted.
White House officials acknowledged that China hasn't fully committed to eliminate auto tariffs, as Mr. Trump announced Sunday in a tweet. Officials downplayed expectations about reaching a broader trade deal that would end the tariff war.
---
Russia Threatens to Target US Allies If Trump Exits Arms Treaty
Russian President Vladimir Putin on Wednesday warned the United States that if it walks out of a key arms treaty and starts developing the type of missiles banned by it, Russia will do the same.
Putin's remarks to Russian news agencies on Wednesday came a day after U.S. Secretary of State Mike Pompeo announced at a NATO meeting that Washington will suspend its obligations under the Intermediate-Range Nuclear Forces Treaty (INF) in 60 days, citing Russian "cheating."
The U.S. has shared intelligence evidence with its NATO allies that it says shows that Russia's new SSC-8 ground-fired cruise missile could give Moscow the ability to launch a nuclear strike in Europe with little or no notice. Russia has denied the accusations.
President Donald Trump earlier this year announced his decision to withdraw from the INF, accusing Russia and China — which is not a signatory to the treaty — of violating it.
---
Investors Recalibrate Chances of Brexit Reversal After May Defeats
U.S. investment bank J.P. Morgan said on Wednesday the chances of Britain calling off its divorce from the European Union had increased after a string of humiliating parliamentary defeats for Prime Minister Theresa May cast new doubt over her plan to quit the bloc and sent sterling higher.
Britain's pro-Brexit trade minister Liam Fox also said it was now possible that Brexit would not happen. There was a real danger that parliament would try to "steal" Brexit from the British people, Fox told a parliamentary committee on Wednesday.
In one of the biggest shifts in perceptions since the shock 2016 vote to exit the EU, J.P. Morgan raised the probability of Britain ultimately staying in to 40 percent from 20 percent.
---
Fate of The Weekly Standard is uncertain, editor tells staff
The fate of The Weekly Standard, the conservative magazine that has staked out a position as a publication on the right still critical of President Donald Trump, is uncertain, Editor-in-Chief Stephen Hayes told staff in a series of phone calls Tuesday, according to two people familiar with the matter.
The magazine's precarious position comes after its leadership spent months searching for a buyer, the people told CNN.
The people explained that The Weekly Standard's leadership had butted heads with MediaDC, the current publisher of the magazine, and that the two parties had agreed to allow Hayes to search for a new owner.
However, MediaDC recently informed The Weekly Standard's leadership that the company was no longer interested in a sale, the people said.
---
The secret Facebook documents have just been published by British Parliament
British Parliament has published a cache of secret Facebook documents which it obtained last month from a company suing the social network.
A redacted version of the papers was pushed live on the website of the Digital, Culture, Media and Sport Committee, which is investigating Facebook's privacy standards as part of an inquiry into fake news.
You can view all 250 pages of the Facebook documents right here.
Damian Collins, a Conservative politician and chair of Parliament's Digital, Culture, Media and Sport Committee, prefaced the papers with a summary of what he sees as some of the most explosive revelations.
---
Les Moonves Obstructed Investigation Into Misconduct Claims, Report Says
Facing multiple sexual misconduct allegations and fearing his career as an entertainment titan was over, Leslie Moonves, the chief executive of CBS, destroyed evidence and misled investigators in an attempt to preserve his reputation and save a lucrative severance deal, according to a draft of a report prepared for the company's board.
The report, by lawyers hired by the network, says the company has justification to deny Mr. Moonves his $120 million severance. Mr. Moonves reigned as one of Hollywood's most successful and celebrated executives for decades before being forced to step down in September after allegations by numerous women.
---
Gauging the uptick in drug overdose deaths and suicide
The Centers for Disease Control and Prevention released a shocking report last week revealing American life expectancy is down as a result of higher drug overdose deaths and suicide. For those watching, the advent of Obamacare, the Republican failure in reversing that debacle and the refusal of politicians to secure our southern border all have a hand in this monstrous development.
The Guardian reported earlier this year, "Drug overdoses killed more than 72,000 people in the United States last year — a new record driven by the deadly opioid epidemic, according to data from the Centers for Disease Control. The CDC estimates that 72,287 people died from overdoses in 2017, an increase of about 10 percent from the year before."
For perspective, those overdose deaths in that one year are more that the U.S. deaths in the Vietnam, Afghanistan and Iraq wars combined.
---
Xi's basic plan, control and deception
As the new year approaches, it is timely to suggest what basic plan the Chinese Communist Party Central Committee would have likely promulgated — possibly in 2012 — when Xi Jinping took over as general secretary. While we lack any "inside information" on what such a plan might look like, it's possible to suggest an outline based on living, dealing and working with the "modern" Chinese mind-set, a mind-set which is vastly different than that in the West. And, recall what Napoleon said more than 200 years ago: "China is a sleeping lion — let her sleep, for when she wakes she will shake the world."
China has been "awake" for decades now, beginning after World War II, when the Japanese Empire in Asia ended and the Nationalists fled to Taiwan. Other key events were when the Peoples Republic took the Republic of China's seat in the United Nations and when the PRC was formally recognized by the U.S. in 1979, largely as a result of President Nixon's opening of relations with the PRC.
"It is discouraging to think how many people are shocked by honesty and how few by deceit."

-- Noel Coward

(1899-1973) British playwright

---

The Medal of Honor is the highest award for valor in action against an enemy force which can be bestowed upon an individual serving in the Armed Services of the United States.

GeneTrerally presented to its recipient by the President of the United States of America in the name of Congress.

The first award of the Medal of Honor was made March 25, 1863 to Private JACOB PARROTT.The last award of the Medal of Honor was made September 15, 2011 to Sergeant DAKOTA MEYER.

Since then there have been: • 3458 recipients of the Medal of Honor.

• Today there are 85 Living Recipients of the Medal of Honor.

Citation


Captain Humbert R. Versace distinguished himself by extraordinary heroism during the period of 29 October 1963 to 26 September 1965, while serving as S-2 Advisor, Military Assistance Advisory Group, Detachment 52, Ca Mau, Republic of Vietnam. While accompanying a Civilian Irregular Defense Group patrol engaged in combat operations in Thoi Binh District, An Xuyen Province, Captain Versace and the patrol came under sudden and intense mortar, automatic weapons, and small arms fire from elements of a heavily armed enemy battalion. As the battle raged, Captain Versace, although severely wounded in the knee and back by hostile fire, fought valiantly and continued to engage enemy targets. Weakened by his wounds and fatigued by the fierce firefight, Captain Versace stubbornly resisted capture by the over-powering Viet Cong force with the last full measure of his strength and ammunition. Taken prisoner by the Viet Cong, he exemplified the tenets of the Code of Conduct from the time he entered into Prisoner of War status. Captain Versace assumed command of his fellow American soldiers, scorned the enemy's exhaustive interrogation and indoctrination efforts, and made three unsuccessful attempts to escape, despite his weakened condition which was brought about by his wounds and the extreme privation and hardships he was forced to endure. During his captivity, Captain Versace was segregated in an isolated prisoner of war cage, manacled in irons for prolonged periods of time, and placed on extremely reduced ration. The enemy was unable to break his indomitable will, his faith in God, and his trust in the United States of America. Captain Versace, an American fighting man who epitomized the principles of his country and the Code of Conduct, was executed by the Viet Cong on 26 September 1965. Captain Versace's gallant actions in close contact with an enemy force and unyielding courage and bravery while a prisoner of war are in the highest traditions of the military service and reflect the utmost credit upon himself and the United States Army.

---

From the Archives

We Have Met the Enemy…
Geoff Metcalf


"They who can give up essential liberty to obtain a little temporary safety deserve neither liberty nor safety.
--Benjamin Franklin
"The American people must be willing to give up a degree of personal privacy in exchange for safety and security."
--Louis Freeh


In the wake of the clamor over the most recent WikiLeaks data dump, 'Vault 7', 'UMBRAGE', et al, it should be noted this is not really anything new. What we are seeing here is simply the evolution of something that goes back to the late 50s (to the incomplete best knowledge I have).

It is kinda cool to finally see even

The New York Times

acknowledging material

I was writing about in 1998

.

In April of 1998 I wrote "Privacy has become an anachronism." I was commenting on "a massive system designed to intercept all your e-mail, fax traffic and more." I was explaining 'Echelon', the illegitimate offspring of a

UKUSA Treaty

signed by the United States, United Kingdom, Canada, Australia and New Zealand. Its purpose was, and is, to have a vast global intelligence monster, which allegedly shares common goals. The system was so "efficient" that reportedly National Security Agency folk from Fort Meade could work from Menwith Hill in England to intercept local communications without either nation having to burden themselves with the formality of seeking approval (a court order) or disclosing the operation. And this was all pre-9/11 and pre-the anti-constitutional

'Patriot Act'

.

It is illegal (without a Judge's signed permission) for the United States to spy on its citizens … kinda. The laws have long been circumvented by a mutual pact among five nations. Under the terms of UKUSA agreement, Britain spies on Americans and America spies on British citizens, and then the two conspirators trade data. A classic technical finesse. It is legal, but the intent to evade the spirit is inescapable.

I often fictionalized the genesis of 'Echelon' as an informal meeting of a group of post war American and British intelligence types drinking in some remote rustic bar. An imagined CIA type complains to his MI6 buddy about the hassles of US laws preventing US intelligence from surveillance of bad guys, and the Brit echoes the same complaint.

"Hey wait a moment mate," says Nigel, the make-believe MI6 guy, "I can spy on your guys and you can spy on our bad players…why don't we just come up with a mechanism whereby we spy on your villains, you spy on our villains, and we just 'share' the intel?"

This system was called ECHELON, and has been kicking around in some form longer than most of you. The result of the UKUSA treaty signed by the United States, United Kingdom, Canada, Australia and New Zealand was, and is, to have a vast global intelligence monster which allegedly shares common goals.

The London Telegraph reported in December of 1997 that the Civil liberties Committee of the European Parliament had officially confirmed the existence and purpose of ECHELON. "A global electronic spy network that can eavesdrop on every telephone, e-mail and telex communication around the world will be officially acknowledged for the first time in a European Commission report. …"

The report noted: "Within Europe all e-mail, telephone and fax communications are routinely intercepted by the United States National Security Agency, transferring all target information from the European mainland via the strategic hub of London, then by satellite to Fort Meade in Maryland via the crucial hub at Menwith Hill, in the North York moors in the UK.

"The ECHELON system forms part of the UKUSA system but unlike many of the electronic spy systems developed during the Cold War, ECHELON was designed primarily for non-military targets: governments, organizations and businesses in virtually every country."

An interesting sidebar appeared in the International Herald Tribune under the headline, "Big Corporate Brother: It Knows More About You Than You Think." The story details Acxiom Corp, which was a humongous information service hidden in the Ozark foothills. Twenty-four hours a day, Acxiom electronically gathered and sorts all kinds of data about 196 million Americans. Credit card transactions and magazine subscriptions, telephone numbers, real estate records, automotive data, hunting, business and fishing licenses, consumer surveys and demographic detail that would make a marketing department's research manager salivate. This relatively new (legal) enterprise was known as "data warehousing" or "data-mining", and it underscores the cruel reality that the fiction of personal privacy has become obsolete. Technology's ability to collect and analyze data has made privacy a quaint albeit interesting dinosaur.

The Tribune reported that "Axciom can often determine whether an American owns a dog or cat, enjoys camping or gourmet cooking, reads the Bible or lots of other books. It can often pinpoint an American's occupation, car and favorite vacations. By analyzing the equivalent of billions of pages of data, it often projects for its customers who should be offered a credit card or who is likely to buy a computer."

Most of this information is from y 1998 piece. Echelon has developed, matured, and morphed into a much more powerful hybrid. 'Carnivore' was software to help triage the cacophony of data. Vault 7 and 'Umbrage' are logical (some would argue "insidious") growth.

More to follow…