"It Is Not A Question of Who Is Right Or Wrong But What Is Right Or Wrong That Counts.

"

--Geoff Metcalf
Providing an on line Triage of the news since 1997



Wo

rld & Nation
'Meltdown': Syria rebuke prompts Trump-Pelosi confrontation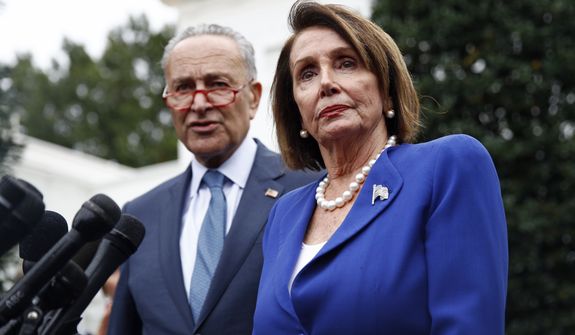 Tensions soared Wednesday over President Trump's decision to pull U.S. troops from Syria, with the House voting overwhelmingly to rebuke him and a subsequent confrontation at the White House that led to Democratic leaders walking out on the president.
House Speaker Nancy Pelosi, California Democrat, said that when she delivered news of the rebuke, Mr. Trump had a "meltdown" and called her a "third-rate politician."
Republicans said it was Mrs. Pelosi whose conduct was outrageous. They said her walkout was unbecoming and her push toward impeaching Mr. Trump is poisoning government at the highest levels.
The White House canceled a classified briefing for Congress scheduled for later this week that was intended to give lawmakers inside information on Syria. That fueled Democrats' complaints that Mr. Trump is trying to shut them out of a role in his decision-making.
---

'Organized destruction': William Barr blasts 'militant secularists' over assault on religion

Attorney General William P. Barr offered a withering evisceration of anti-religious sentiment last week, defending the central role of Judeo-Christian moral standards in American democracy, accusing "militant secularists" of an assault on religion that's become as intolerant as religions they criticize.

"Those who defy the creed risk a figurative burning at the stake — social, educational, and professional ostracism and exclusion waged through lawsuits and savage social media campaigns," he said.

He added: "Militant secularists today do not have a 'live and let live' spirit — they are not content to leave religious people alone to practice their faith. Instead, they seem to take a delight in compelling people to violate their conscience."


---
Powerful Democratic Congressman Elijah Cummings has died
Maryland Rep. Elijah E. Cummings, a sharecropper's son who rose to become a civil rights champion and the powerful chairman of one of the U.S. House committees leading an impeachment inquiry of President Donald Trump, died Thursday of complications from longstanding health problems. He was 68.
Cummings was a formidable orator who advocated for the poor in his black-majority district , which encompasses a large portion of Baltimore and more well-to-do suburbs.
As chairman of the House Oversight and Reform Committee, Cummings led investigations of the president's governmental dealings, including probes in 2019 relating to Trump's family members serving in the White House.
---
EU, UK Agree on Outline Brexit Deal
Britain and the European Union said Thursday that they have struck an outline Brexit deal after days of intense see-saw negotiations — though it must still be formally approved by the bloc and ratified by the European and U.K. Parliaments.
Hours before a summit of all 28 EU national leaders, European Commission President Jean-Claude Juncker tweeted: "We have one! It's a fair and balanced agreement for the EU and the UK and it is testament to our commitment to find solutions."
British Prime Minister Boris Johnson tweeted that the two sides had struck a "great new deal" and urged U.K. lawmakers to ratify it in a special session on Saturday.
---
Beto O'Rourke: Someone who refuses to turn in gun can expect visit from law enforcement
Democratic presidential hopeful Beto O'Rourke on Wednesday said people who refuse to give up their semiautomatic rifles under his mandatory buyback proposal can expect a visit from law enforcement.
"I think just as in any law that is not followed or flagrantly abused, there have to be consequences or else there is no respect for the law," Mr. O'Rourke, a former congressman from Texas, said on MSNBC's "Morning Joe."
Mr. O'Rourke had been asked about a hypothetical "rancher" in Texas who said he wouldn't comply with the law because he thinks it's unconstitutional.
"So in that case, I think there would be a visit by law enforcement to recover that firearm and to make sure that it is purchased, bought back, so that it cannot be potentially used against somebody else," he said.
---
Jeff Zucker tells CNN staff to be 'fully committed' on Trump impeachment in undercover audio
Clearly CNN is committed to providing wall-to-wall coverage of the House Democrats' impeachment inquiry into President Trump, but it appears that CEO Jeffrey Zucker also wants the network to counter those who challenge the probe.
In an undercover audio released Wednesday to Project Veritas, Mr. Zucker can be heard exhorting staffers on the daily "rundown call" to be "fully committed" to the impeachment story, calling it "unbelievably important and unbelievably significant," and that, "I don't want to be afraid to say that."
"And I also don't want to be afraid to call out those who are covering it up and obfuscating, and coming out and saying there's nothing to see here, because they're lying, okay?" said Mr. Zucker in the audio.
---
Turkey's NATO status complicates U.S. response to Erdogan's Syria incursion
Its behavior in recent years may have left Turkey a NATO ally "in name only," but some experts say there is virtually no appetite — and no legal mechanism — to kick the country out of the 70-year-old alliance even as its military offensive in Syria further divides Ankara from the U.S. and its Western partners.
Turkey's status as a member of NATO, which it joined in 1952, greatly complicates efforts by the U.S. and Europe to deal with the unraveling situation in northern Syria, where Ankara on Wednesday pressed ahead with attacks on onetime U.S.-allied Kurdish forces that Turkey views as terrorists.
President Trump, along with military and diplomatic officials, have cited Turkey's NATO membership over the past two weeks as a key reason why the U.S. cannot get in the middle of the widening Turkish-Kurdish fight.
---
Report: Turkish President Tossed Trump's 'Tough Guy' Letter in Trash
Turkey's President Recep Tayyip Erdogan threw away President Donald Trump's warning letter, BBC News is reporting.
Trump, in an Oct. 9 letter, warned Erdogan about Turkey's incursion into Syria. Trump told him: "Don't be a tough guy. Don't be a fool!"
"Let's work out a good deal!" Trump said. "You don't want to be responsible for slaughtering thousands of people, and I don't want to be responsible for destroying the Turkish economy — and I will."
Trump's threats were said to infuriate Erdogan.
---
Buttigieg emerges as new threat to Biden after debate
Joe Biden faces a new threat from South Bend, Ind., Mayor Pete Buttigieg, who is fresh off an eye-opening debate performance and positioning himself to be a top contender for the support of centrist Democrats if the former vice president falters.
Buttigieg has emerged as a fundraising powerhouse and will enter the final stretch before the Iowa caucuses in February flush with cash. Buttigieg has more than $23 million in the bank, compared to only $9 million for Biden, a shockingly low number for a front-runner.
The Buttigieg campaign says it raised $1 million from tens of thousands of donors in the hours after Tuesday's debate concluded.
---
Is USA Today's print edition headed for the sunset as GateHouse and Gannett merge? Signs point to yes.
After a nearly 40-year run, USA Today and its digital sites are about to undergo a major restructuring that will include building up digital marketing while phasing out the print edition.
The deal for GateHouse's parent, New Media Investment Group, to acquire Gannett, which owns USA Today, will not close for at least another month. Nothing much will happen — or legally can happen — until then, and don't look for this to be the new company's first order of business. Winding print down could take several years.
But two knowledgeable sources, talking on background, said a move away from USA Today in print is part of the calculations for the new enterprise. It makes a lot of sense, given the print edition's deteriorating paid circulation and minimal advertising.
---
Martina Navratilova's loyalty to Trump-hating overlords
Caving to bullies on the left to attack an ambassador
It can be inexplicable to witness the behavior of liberals as they appear fixated on their hatred for President Trump and conservatives in general and their apparent need to constantly publicly declare it.
But there is an explanation, at least in some of the very public cases of Trump Derangement Syndrome: The requirement to prove one's fealty to Trump-hating leftist overlords impacts more people than you realize.
Case in point, a Twitter exchange between Ambassador to Germany Richard Grenell and tennis great Martina Navratilova. While on the surface it might appear to be one of the thousands of idiotic attacks on a Trump supporter we see on social media every day, this one provides a window into what the left has done to the very people they claim to support and champion.
---
Democratic race for president comes into focus
This week's ridiculous Democratic presidential debate in Ohio sought to shoehorn 12 candidates onto one stage for nearly three hours.
The Democratic field was once 24 candidates, so a field of just 12 should be taken as progress.
However, a debate that features 12 candidates is not a debate. It's more suited as a candidate forum and it is certainly bad television.
---
---
"It is discouraging to think how many people are shocked by honesty and how few by deceit."

-- Noel Coward

(1899-1973) British playwright

---

The Medal of Honor is the highest award for valor in action against an enemy force which can be bestowed upon an individual serving in the Armed Services of the United States.

GeneTrerally presented to its recipient by the President of the United States of America in the name of Congress.

The first award of the Medal of Honor was made March 25, 1863 to Private JACOB PARROTT.The last award of the Medal of Honor was made September 15, 2011 to Sergeant DAKOTA MEYER.

Since then there have been: • 3458 recipients of the Medal of Honor.

• Today there are 85 Living Recipients of the Medal of Honor.

Citation


Captain Humbert R. Versace distinguished himself by extraordinary heroism during the period of 29 October 1963 to 26 September 1965, while serving as S-2 Advisor, Military Assistance Advisory Group, Detachment 52, Ca Mau, Republic of Vietnam. While accompanying a Civilian Irregular Defense Group patrol engaged in combat operations in Thoi Binh District, An Xuyen Province, Captain Versace and the patrol came under sudden and intense mortar, automatic weapons, and small arms fire from elements of a heavily armed enemy battalion. As the battle raged, Captain Versace, although severely wounded in the knee and back by hostile fire, fought valiantly and continued to engage enemy targets. Weakened by his wounds and fatigued by the fierce firefight, Captain Versace stubbornly resisted capture by the over-powering Viet Cong force with the last full measure of his strength and ammunition. Taken prisoner by the Viet Cong, he exemplified the tenets of the Code of Conduct from the time he entered into Prisoner of War status. Captain Versace assumed command of his fellow American soldiers, scorned the enemy's exhaustive interrogation and indoctrination efforts, and made three unsuccessful attempts to escape, despite his weakened condition which was brought about by his wounds and the extreme privation and hardships he was forced to endure. During his captivity, Captain Versace was segregated in an isolated prisoner of war cage, manacled in irons for prolonged periods of time, and placed on extremely reduced ration. The enemy was unable to break his indomitable will, his faith in God, and his trust in the United States of America. Captain Versace, an American fighting man who epitomized the principles of his country and the Code of Conduct, was executed by the Viet Cong on 26 September 1965. Captain Versace's gallant actions in close contact with an enemy force and unyielding courage and bravery while a prisoner of war are in the highest traditions of the military service and reflect the utmost credit upon himself and the United States Army.

---

From the Archives

We Have Met the Enemy…
Geoff Metcalf


"They who can give up essential liberty to obtain a little temporary safety deserve neither liberty nor safety.
--Benjamin Franklin
"The American people must be willing to give up a degree of personal privacy in exchange for safety and security."
--Louis Freeh


In the wake of the clamor over the most recent WikiLeaks data dump, 'Vault 7', 'UMBRAGE', et al, it should be noted this is not really anything new. What we are seeing here is simply the evolution of something that goes back to the late 50s (to the incomplete best knowledge I have).

It is kinda cool to finally see even

The New York Times

acknowledging material

I was writing about in 1998

.

In April of 1998 I wrote "Privacy has become an anachronism." I was commenting on "a massive system designed to intercept all your e-mail, fax traffic and more." I was explaining 'Echelon', the illegitimate offspring of a

UKUSA Treaty

signed by the United States, United Kingdom, Canada, Australia and New Zealand. Its purpose was, and is, to have a vast global intelligence monster, which allegedly shares common goals. The system was so "efficient" that reportedly National Security Agency folk from Fort Meade could work from Menwith Hill in England to intercept local communications without either nation having to burden themselves with the formality of seeking approval (a court order) or disclosing the operation. And this was all pre-9/11 and pre-the anti-constitutional

'Patriot Act'

.

It is illegal (without a Judge's signed permission) for the United States to spy on its citizens … kinda. The laws have long been circumvented by a mutual pact among five nations. Under the terms of UKUSA agreement, Britain spies on Americans and America spies on British citizens, and then the two conspirators trade data. A classic technical finesse. It is legal, but the intent to evade the spirit is inescapable.

I often fictionalized the genesis of 'Echelon' as an informal meeting of a group of post war American and British intelligence types drinking in some remote rustic bar. An imagined CIA type complains to his MI6 buddy about the hassles of US laws preventing US intelligence from surveillance of bad guys, and the Brit echoes the same complaint.

"Hey wait a moment mate," says Nigel, the make-believe MI6 guy, "I can spy on your guys and you can spy on our bad players…why don't we just come up with a mechanism whereby we spy on your villains, you spy on our villains, and we just 'share' the intel?"

This system was called ECHELON, and has been kicking around in some form longer than most of you. The result of the UKUSA treaty signed by the United States, United Kingdom, Canada, Australia and New Zealand was, and is, to have a vast global intelligence monster which allegedly shares common goals.

The London Telegraph reported in December of 1997 that the Civil liberties Committee of the European Parliament had officially confirmed the existence and purpose of ECHELON. "A global electronic spy network that can eavesdrop on every telephone, e-mail and telex communication around the world will be officially acknowledged for the first time in a European Commission report. …"

The report noted: "Within Europe all e-mail, telephone and fax communications are routinely intercepted by the United States National Security Agency, transferring ll target information from the European mainland via the strategic hub of London, then by satellite to Fort Meade in Maryland via the crucial hub at Menwith Hill, in the North York moors in the UK.

"The ECHELON system forms part of the UKUSA system but unlike many of the electronic spy systems developed during the Cold War, ECHELON was designed primarily for non-military targets: governments, organizations and businesses in virtually every country."

An interesting sidebar appeared in the International Herald Tribune under the headline, "Big Corporate Brother: It Knows More About You Than You Think." The story details Acxiom Corp, which was a humongous information service hidden in the Ozark foothills. Twenty-four hours a day, Acxiom electronically gathered and sorts all kinds of data about 196 million Americans. Credit card transactions and magazine subscriptions, telephone numbers, real estate records, automotive data, hunting, business and fishing licenses, consumer surveys and demographic detail that would make a marketing department's research manager salivate. This relatively new (legal) enterprise was known as "data warehousing" or "data-mining", and it underscores the cruel reality that the fiction of personal privacy has become obsolete. Technology's ability to collect and analyze data has made privacy a quaint albeit interesting dinosaur.

The Tribune reported that "Axciom can often determine whether an American owns a dog or cat, enjoys camping or gourmet cooking, reads the Bible or lots of other books. It can often pinpoint an American's occupation, car and favorite vacations. By analyzing the equivalent of billions of pages of data, it often projects for its customers who should be offered a credit card or who is likely to buy a computer."

Most of this information is from y 1998 piece. Echelon has developed, matured, and morphed into a much more powerful hybrid. 'Carnivore' was software to help triage the cacophony of data. Vault 7 and 'Umbrage' are logical (some would argue "insidious") growth.

More to follow…