"It Is Not A Question of Who Is Right Or Wrong But What Is Right Or Wrong That Counts.

"

--Geoff Metcalf
Providing an on line Triage of the news since 1997



Wo

rld & Nation
'Sabotage': Obama administration's Flynn probe represents broader assault on Trump presidency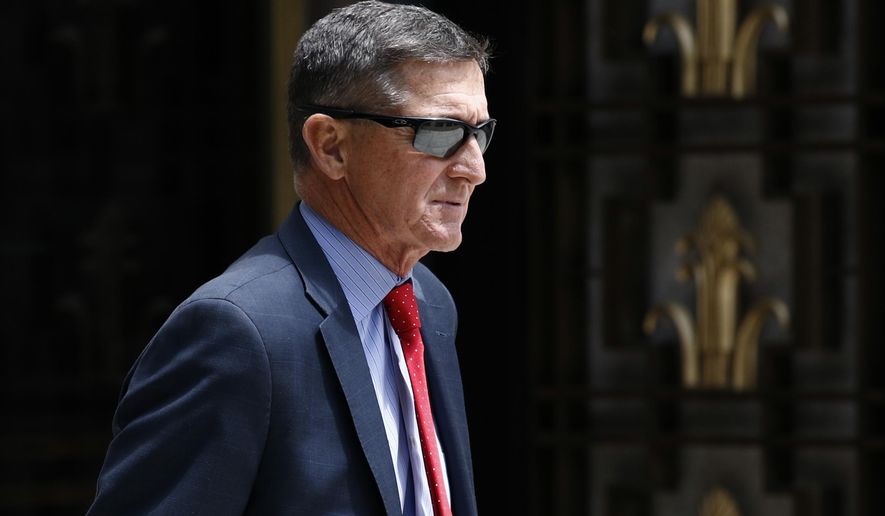 The collapse of the Obama administration's dogged pursuit of retired Army Lt. Gen. Michael Flynn has come to represent a broader assault on the Trump campaign, transition and presidency that Attorney General William P. Barr has concluded amounted to FBI "sabotage."
From July 31, 2016, to deep into the Trump presidency, the FBI littered its investigative trail with questionable conduct that led the president to believe that agents had been after him all along.
"It was an attempted overthrow of the government of the United States of America and duly elected president," Mr. Trump told The Washington Times in an Oval Office interview last week. "And we caught them."
Notes taken by FBI agent Peter Strzok filed Wednesday in the U.S. Court of Appeals in Washington show that President Barack Obama took a keen interest in probing Mr. Flynn, Mr. Trump's first national security adviser. Mr. Obama said in early January 2017 to make sure the FBI had the right people investigating.
---
Trump's National Security Adviser Takes Aim at China
President Donald Trump's national security adviser warned China on Wednesday that the United States is waking up to the threat that it believes the Chinese Communist Party poses "to our great way of life" and will act to check the spread of Beijing's ideology.
Robert O'Brien said his speech challenging China was the first of many in the coming weeks by senior administration officials, including Secretary of State Mike Pompeo, Attorney General William Barr and FBI Director Christopher Wray.
"The days of American passivity and naivety regarding the People's Republic of China are over," O'Brien told a group business leaders in Phoenix.
---
US Marshals Set to Help Defend National Monuments
U.S. marshals are being told they should be ready to help protect national monuments as protests against racism and police violence continue.
The Washington Post reported the directive came in an email from Marshals Service Assistant Director Andrew Smith. In the email, Smith wrote the agency "has been asked to immediately prepare to provide federal law enforcement support to protect national monuments (throughout the country)."
"This is a challenging assignment due to the breadth of possible targets for criminal activity," he wrote. The newspaper noted that other internal correspondence suggests officials are concerned attempts could be made to vandalize monuments over the July 4 holiday.
President Donald Trump said on Tuesday he has "authorized" federal authorities to arrest people trying to vandalize or destroy monuments, statues, or other federal property.
---
Left-wing wins give Democratic Party strength against Trump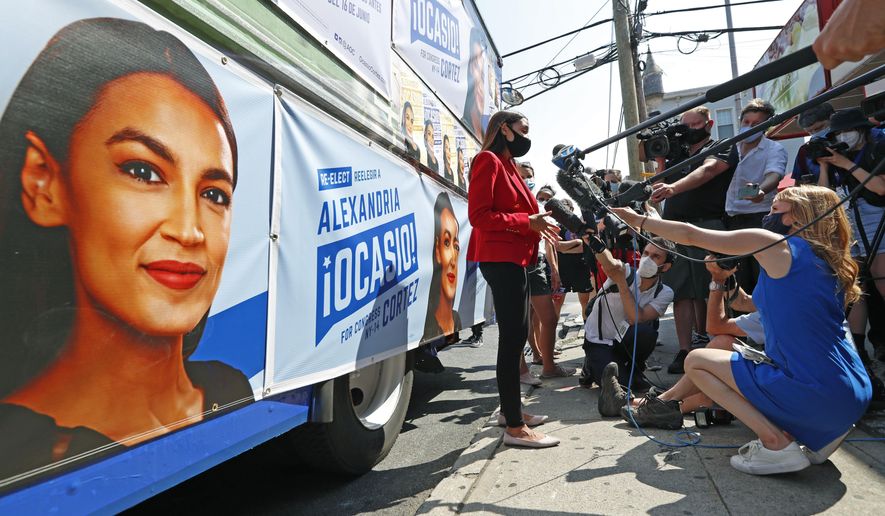 Far-left Democrats hardened their grip on New York City politics in the primaries this week, while President Trump's influence in the Republican Party was called into question after his preferred pick was blown out in a race for a vacant U.S. House seat in North Carolina.
The wave of liberal activism that rose up against Mr. Trump when he took office has intensified since the killing of George Floyd and fueled a changing of the guard in New York's 16th Congressional District.
That was where Jamaal Bowman declared victory Wednesday over Rep. Eliot Engel, who was first elected to Congress in 1988.
---
NC Police Chief Fires 3 Officers for Making Racist Remarks
A police department in North Carolina fired three of its officers for making racist and hate-filled remarks that were caught on an in-car camera system.
Among the comments made by one of the officers in Wilmington, North Carolina, was that he was looking forward to martial law in the U.S. and "slaughtering" Black people. He used an expletive and a racist term in his remark.
They also talked about another civil war coming, with one even saying he was planning to buy another assault rifle.
---
Vaccine Alliance Sees Manufacturing Capacity for 4B Doses
An influential foundation focused on preparation and response to epidemics that is backing nine potential coronavirus vaccines has identified manufacturers with capacity to produce four billion doses a year, the group's top manufacturing expert told Reuters.
The Coalition for Epidemic Preparedness Innovation (CEPI)plans to have two or three manufacturing plants for each vaccine, James Robinson, a longtime biopharma executive leading CEPI'S vast manufacturing push, said in an interview.
The group is planning for eight to 10 regional distribution sites "so that we don't have to make everything centrally and try and ship it around the world," he said.
---
Democrats block Republican policing bill, setting up partisan gridlock
The rush to overhaul America's police forces ran into partisan gridlock Wednesday on Capitol Hill, where Democrats mounted a filibuster to prevent the Senate from taking up a bill, wagering they can use the issue against Republicans in November's elections.
GOP lawmakers urged the Senate to at least begin debating the matter, saying even if Democrats didn't like the bill written by Sen. Tim Scott, the only Black Republican in the chamber, there would be time for amendments.
Democrats said Mr. Scott's bill, heavy on incentives but light on mandates for state and local police, didn't go far enough to be worth starting the debate. They led a filibuster, leaving Republicans four votes shy of the 60 needed to begin action.
---
Larry Kudlow: We're not shutting down the economy again
White House economic adviser Larry Kudlow on Thursday said the U.S. economy is not going to shut down again amid a resurgence of coronavirus cases across some southern and western states.
"The economy is not going to be closed down again," Mr. Kudlow told reporters near the White House. "There may be certain places where there is - that's up to the local authorities. I don't deny that."
"We will not shut the economy down - we're not getting that advice from the health people," he said.
He said there are roughly half a dozen states that have "massive declines" in case rates.
---
China conducting covert biological weapons research, State Dept. says
China is conducting clandestine biological weapons-related research and has failed to disclose past offensive germ weapons work, according to a State Department report made public Tuesday.
Beijing also is hiding nuclear-related test data by blocking sensors from an international monitoring system used to detect underground nuclear blasts, the annual arms control compliance report contended.
The unclassified report provides new details regarding U.S. concerns "for many years" related to Beijing's biological weapons research that is not permitted under the 1972 Biological Weapons Convention signed by 183 nations, including China and the United States.
---
Removing the military mindset in police departments
Police should not operate as an occupying army
The public outrage following the killing of George Floyd has refocused many in Congress and the public on the need for police reform. Some of the proposals are simply outrageous, such as "abolishing" the police or defunding police departments seen by some as "systemically" racist institutions incapable of reform.
Other reforms make sense and are long overdue. Among these are proposals to put a halt to measures that have seemingly transformed many departments into quasi-military forces that act and are seen by those they are supposed to protect as an occupying military force.
Adam Walinsky, a former speechwriter for the late Robert F. Kennedy, had a friend who resigned from the FBI years ago when that agency created its first SWAT team because he believed once it came into existence there would be more and more pressure to use it regardless of the wisdom of doing so. Today, numerous federal agencies and thousands of state and local law enforcement agencies have their own SWAT teams. By 2014, The Washington Post reported that they executed a combined total of as many as 80,000 raids on businesses and homes a year and that number has increased since.
---
Tearing down statues risks rewriting American history and forgetting its slavery roots
Bad men did good things and good men did bad things
"Those who cannot remember the past are condemned to repeat it." — George Santayana (1863-1952)
I am amazed at the efforts around the country to remove and destroy painful mementos of our history. One would think that historical figures need to be perceived as perfect to survive the winds of change that buffet their statues and portraits, and the employment of their names. Some of this is decent and civilized. Some of it is misguided and violent. All of it is unnecessary.
When a statue is erected to a historical figure, the erection is a statement about the balance of the person's life worth. It is not a claim of perfection.
The father of our country owned more than 100 slaves. When the capital of the United States was in Philadelphia, at a time when all slaves were deemed by Pennsylvania law to be freed after six months of their entry into the state, George and Martha Washington — he, the president of the United States at the time — rotated their slaves into and out of the state, so that none would qualify for freedom.
---
" It is discouraging to think how many people are shocked by honesty and how few by deceit."

-- Noel Coward

(1899-1973) British playwright

---

The Medal of Honor is the highest award for valor in action against an enemy force which can be bestowed upon an individual serving in the Armed Services of the United States.

GeneTrerally presented to its recipient by the President of the United States of America in the name of Congress.

The first award of the Medal of Honor was made March 25, 1863 to Private JACOB PARROTT.The last award of the Medal of Honor was made September 15, 2011 to Sergeant DAKOTA MEYER.

Since then there have been: • 3458 recipients of the Medal of Honor.

• Today there are 85 Living Recipients of the Medal of Honor.

Citation


Captain Humbert R. Versace distinguished himself by extraordinary heroism during the period of 29 October 1963 to 26 September 1965, while serving as S-2 Advisor, Military Assistance Advisory Group, Detachment 52, Ca Mau, Republic of Vietnam. While accompanying a Civilian Irregular Defense Group patrol engaged in combat operations in Thoi Binh District, An Xuyen Province, Captain Versace and the patrol came under sudden and intense mortar, automatic weapons, and small arms fire from elements of a heavily armed enemy battalion. As the battle raged, Captain Versace, although severely wounded in the knee and back by hostile fire, fought valiantly and continued to engage enemy targets. Weakened by his wounds and fatigued by the fierce firefight, Captain Versace stubbornly resisted capture by the over-powering Viet Cong force with the last full measure of his strength and ammunition. Taken prisoner by the Viet Cong, he exemplified the tenets of the Code of Conduct from the time he entered into Prisoner of War status. Captain Versace assumed command of his fellow American soldiers, scorned the enemy's exhaustive interrogation and indoctrination efforts, and made three unsuccessful attempts to escape, despite his weakened condition which was brought about by his wounds and the extreme privation and hardships he was forced to endure. During his captivity, Captain Versace was segregated in an isolated prisoner of war cage, manacled in irons for prolonged periods of time, and placed on extremely reduced ration. The enemy was unable to break his indomitable will, his faith in God, and his trust in the United States of America. Captain Versace, an American fighting man who epitomized the principles of his country and the Code of Conduct, was executed by the Viet Cong on 26 September 1965. Captain Versace's gallant actions in close contact with an enemy force and unyielding courage and bravery while a prisoner of war are in the highest traditions of the military service and reflect the utmost credit upon himself and the United States Army.

---

From the Archives

We Have Met the Enemy…
Geoff Metcalf


"They who can give up essential liberty to obtain a little temporary safety deserve neither liberty nor safety.
--Benjamin Franklin
"The American people must be willing to give up a degree of personal privacy in exchange for safety and security."
--Louis Freeh


In the wake of the clamor over the most recent WikiLeaks data dump, 'Vault 7', 'UMBRAGE', et al, it should be noted this is not really anything new. What we are seeing here is simply the evolution of something that goes back to the late 50s (to the incomplete best knowledge I have).

It is kinda cool to finally see even

The New York Times

acknowledging material

I was writing about in 1998

.

In April of 1998 I wrote "Privacy has become an anachronism." I was commenting on "a massive system designed to intercept all your e-mail, fax traffic and more." I was explaining 'Echelon', the illegitimate offspring of a

UKUSA Treaty

signed by the United States, United Kingdom, Canada, Australia and New Zealand. Its purpose was, and is, to have a vast global intelligence monster, which allegedly shares common goals. The system was so "efficient" that reportedly National Security Agency folk from Fort Meade could work from Menwith Hill in England to intercept local communications without either nation having to burden themselves with the formality of seeking approval (a court order) or disclosing the operation. And this was all pre-9/11 and pre-the anti-constitutional

'Patriot Act'

.

It is illegal (without a Judge's signed permission) for the United States to spy on its citizens … kinda. The laws have long been circumvented by a mutual pact among five nations. Under the terms of UKUSA agreement, Britain spies on Americans and America spies on British citizens, and then the two conspirators trade data. A classic technical finesse. It is legal, but the intent to evade the spirit is inescapable.

I often fictionalized the genesis of 'Echelon' as an informal meeting of a group of post war American and British intelligence types drinking in some remote rustic bar. An imagined CIA type complains to his MI6 buddy about the hassles of US laws preventing US intelligence from surveillance of bad guys, and the Brit echoes the same complaint.

"Hey wait a moment mate," says Nigel, the make-believe MI6 guy, "I can spy on your guys and you can spy on our bad players…why don't we just come up with a mechanism whereby we spy on your villains, you spy on our villains, and we just 'share' the intel?"

This system was called ECHELON, and has been kicking around in some form longer than most of you. The result of the UKUSA treaty signed by the United States, United Kingdom, Canada, Australia and New Zealand was, and is, to have a vast global intelligence monster which allegedly shares common goals.

The London Telegraph reported in December of 1997 that the Civil liberties Committee of the European Parliament had officially confirmed the existence and purpose of ECHELON. "A global electronic spy network that can eavesdrop on every telephone, e-mail and telex communication around the world will be officially acknowledged for the first time in a European Commission report. …"

The report noted: "Within Europe all e-mail, telephone and fax communications are routinely intercepted by the United States National Security Agency, transferring ll target information from the Eurv opean mainland via the strategic hub of London, then by satellite to Fort Meade in Maryland via the crucial hub at Menwith Hill, in the North York moors in the UK.

"The ECHELON system forms part of the UKUSA system but unlike many of the electronic spy systems developed during the Cold War, ECHELON was designed primarily for non-military targets: governments, organizations and businesses in virtually every country."

An interesting sidebar appeared in the International Herald Tribune under the headline, "Big Corporate Brother: It Knows More About You Than You Think." The story details Acxiom Corp, which was a humongous information service hidden in the Ozark foothills. Twenty-four hours a day, Acxiom electronically gathered and sorts all kinds of data about 196 million Americans. Credit card transactions and magazine subscriptions, telephone numbers, real estate records, automotive data, hunting, business and fishing licenses, consumer surveys and demographic detail that would make a marketing department's research manager salivate. This relatively new (legal) enterprise was known as "data warehousing" or "data-mining", and it underscores the cruel reality that the fiction of personal privacy has become obsolete. Technology's ability to collect and analyze data has made privacy a quaint albeit interesting dinosaur.

The Tribune reported that "Axciom can often determine whether an American owns a dog or cat, enjoys camping or gourmet cooking, reads the Bible or lots of other books. It can often pinpoint an American's occupation, car and favorite vacations. By analyzing the equivalent of billions of pages of data, it often projects for its customers who should be offered a credit card or who is likely to buy a computer."

Most of this information is from y 1998 piece. Echelon has developed, matured, and morphed into a much more powerful hybrid. 'Carnivore' was software to help triage the cacophony of data. Vault 7 and 'Umbrage' are logical (some would argue "insidious") growth.

More to follow…