"It Is Not A Question of Who Is Right Or Wrong But What Is Right Or Wrong That Counts.

"

--Geoff Metcalf



Wo
rld & National
Hurricane to Hammer Carolinas: 'Catastrophic Flooding'
Hurricane Florence will hit the Carolinas hard, producing catastrophic flooding, "life-threatening storm surge and destructive winds," according to a report on The Weather Channel.
"This will likely be the storm of a lifetime for portions of the Carolina coast," the National Weather Service in Wilmington, North Carolina, wrote in its Tuesday evening area forecast discussion, adding in a Wednesday report that flooding in southeast North Carolina and northeast South Carolina could be "unprecedented."
Florence, which is forecast to crawl up to the North Carolina coast later this week and turn slowly left, weakened Wednesday night as it continued toward the coastal Carolina areas, reported the National Hurricane Center.
Hurricane winds and rain begin lashing Carolinas... Developing...


10 MILLION IN CROSSHAIRS...


VIDEO: UPDATE, DETAILS...


Many fleeing face difficult paths...


'Even Rescuers Cannot Stay'...


Chaos in WALMART as residents stockpile goods...


Fear of venomous snakes swimming in streets...


Creatures at aquariums to ride out storm alone...


COMPUTER MODELS...
SATELLITE...

RADAR...



---
'60 Minutes' Chief Jeff Fager Steps Down
The exec had been at CBS News for 36 years and has been a leading figure at the news division for decades.
The tenure of Jeff Fager as the executive producer of 60 Minutes is over.
"Jeff Fager is leaving the company effective immediately," CBS News president David Rhodes said Wednesday in a statement. "Bill Owens will manage the 60 Minutes team as Ingrid Ciprian-Matthews and I begin the search for a new executive producer of the program. 60 Minutes is the most significant news broadcast on television."
Added Rhodes: "We are fortunate to have incredibly talented journalists in place who we know will continue to deliver our defining investigative work. This action today is not directly related to the allegations surfaced in press reports, which continue to be investigated independently. However, he violated company policy and it is our commitment to uphold those policies at every level. [CBS acting CEO] Joe Ianniello is in full support of this decision and the transition to come."
CBSNEWS On-Cam Ambush Of Own Exec!


Network Airs Disturbing Fager Text...


Allegations of inappropriate conduct...


Threats and Deception: Why Board Turned On Moonves...
---

Texas education board retreats on stripping 'heroic' Alamo defenders from curriculum
Greg Abbott, Dan Patrick accuse panel of political correctness run wild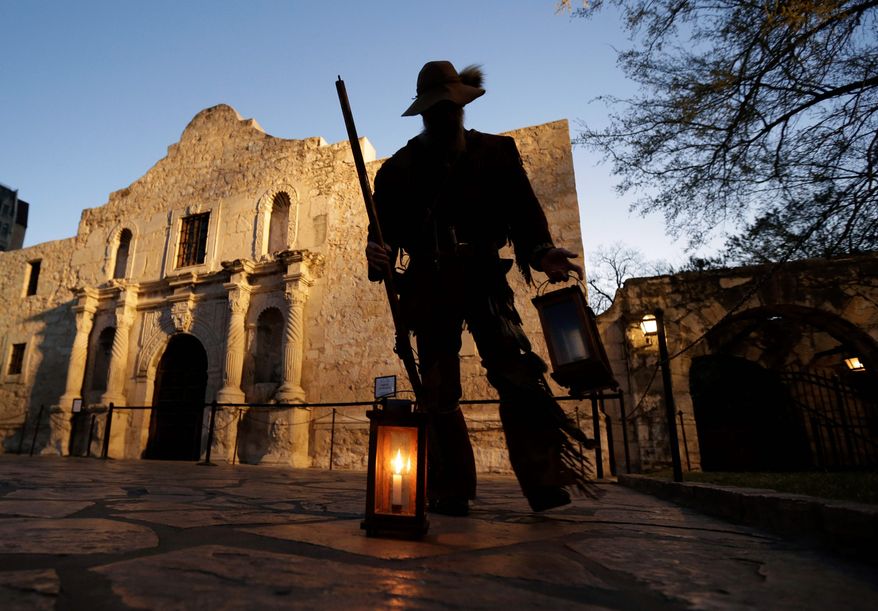 The Texas State Board of Education appears to have decided the heroism of the Alamo is worth teaching to students after all.
State politicians erupted in protest this month after a volunteer team of educators, looking for ways to "streamline" the state's social studies curriculum, recommended scrubbing references to "all the heroic defenders" at the Alamo from classroom teaching plans.
Gov. Greg Abbott and Lt. Gov. Dan Patrick, both Republicans, accused the panel of allowing the dictates of political correctness to run wild and demanded that Texans call the board to complain.
---
Trump: Strzok-Page 'leaking like mad' text a 'disaster and embarrassment' to FBI, Justice Dept.
President Trump said Thursday that new text message between former FBI officials Peter Strzok and Lisa Page about leaks in the run-up to the Russia collusion probe were a "disaster and embarrassment."
"More text messages between former FBI employees Peter Strzok and Lisa Page are a disaster and embarrassment to the FBI & DOJ. This should never have happened but we are learning more and more by the hour," tweeted Mr. Trump.
In newly released text messages between the two, they said others were "leaking like mad" as the Trump-Russia probe gained traction.
---
Ruth Bader Ginsburg blasts Brett Kavanaugh hearings as 'highly partisan show'
Supreme Court Justice Ruth Bader Ginsburg on Wednesday criticized the Senate hearings for Judge Brett M. Kavanaugh and lamented that the confirmation process had devolved into a "highly partisan show" since she was confirmed in 1993.
"The way it was, was right. The way it is, is wrong," the 85-year-old justice said during a discussion at George Washington University Law School, prompting a round of applause.
Justice Ginsburg was confirmed to the bench by a U.S. Senate vote of 96-3, two months after she was nominated by then-President Bill Clinton. The liberal justice said Wednesday that the "atmosphere" back then was "truly bipartisan."
"Think of Justice Scalia, who's certainly a known character in, what was it? 1986," she said. "The vote was unanimous, every Democrat and every Republican voted for him.
"That's the way it should be, instead of what it's become, which is a highly partisan show. The Republicans move in lockstep, and so do the Democrats. I wish I could wave a magic wand and have it go back to the way it was," she added.
---
How Russia is delivering missile systems around the globe to drive wedge between U.S., key allies
It may be Russia's most successful military export since the Kalashnikov — at least at driving a wedge between the U.S. and some key allies.
The S-400 advanced missile defense system, which has been a linchpin protecting Moscow's military bases on the battlefields of Syria, is attracting renewed interest from countries such as India and Turkey — pitting Russia against the Trump administration's drive to boost competing U.S. defense sales.
Since entering the Russian arsenal in 2007, the S-400 Triumph air defense system, which is also known by the NATO moniker SA-21 Growler, has quickly assumed the mantle as Moscow's premier anti-aircraft missile system. Touted as a direct competitor to the American-made PAC-3 Patriot air defense missile system and the Terminal High-Altitude Area Defense or THAAD — the main ballistic missile defense system fielded by U.S. forces, the S-400 is the beneficiary of an increasingly aggressive marketing campaign from Moscow.
---

Female infantry Marine booted for fraternization: 'I really want to move on'
'The biggest mistakes I've made in the infantry were from my personal relationships'
The Marine Corps' efforts to integrate women into infantry units has hit a snag: Cpl. Remedios Cruz will exit military service after pleading guilty to fraternization.
The 1st Battalion, 8th Marines at Camp Lejeune, North Carolina, will be the last stop for one of the first women to serve in an infantry unit. The former sergeant lost rank as part of a plea deal to avoid a court-martial on charges of fraternization, adultery and accessory to larceny.
---
Video Shows Weinstein's Hands-on Encounter With Rape Accuser
A video of Harvey Weinstein aired on television Wednesday showing him boldly propositioning a woman who later accused him of rape and repeatedly touching her and stroking her arm and back during what was supposed to have been a business meeting.
Melissa Thompson, who sued Weinstein in June, said she made the recording, shown by Sky News, while demonstrating video technology for the movie mogul-turned-#MeToo villain at his New York City office in 2011.
Weinstein is seen on the video rejecting a handshake from Thompson and then hugging her instead and rubbing her back.
---

The election that outraged liberals and made 'Fear' profitable
Anonymous sources are willing to tell Woodward anything to harm Trump because they're still mad
Poor Bob Woodward. Poor us. His new book on the Trump White House, "Fear," was released this week, and its author has been making the rounds. But we've seen this movie before: Internationally known author writes book about President Donald Trump that will make all liberal dreams come true. The "expose" of Mr. Trump as Lord of the Flies, ruling over a dystopian, dysfunctional White House.
Or not. Yet, Mr. Woodward, one of the more storied journalists in our history, has decided the Michael Wolff school of book-selling is the new ticket. "Fear" will likely land at No. 1 on The New York Times best-seller list, and there will be a cable mini-series deal, all enriching Mr. Woodward. But when it comes to imparting the truth to the American public? Not so much.
You'll recall Mr. Wolff's book, "Fire and Fury: Inside the Trump White House," released in January 2018, was going to be the tome that took down the president. Instead, the author admitted he wasn't sure what was true and what wasn't in his own book, revealed he knew people had lied to him, but he "wanted the reader to judge" the accuracy for themselves.
---
Democrats sputter lies like they have Tourette's syndrome
Democrats and their lies — it's getting tougher and tougher to keep track of 'em all.
In just the past few days, there was Sen. Kamala Harris and her utterly deceptive tweet of Supreme Court nominee Judge Brett M. Kavanaugh's characterization of birth control as "abortion-inducing drugs," a phrase that he only used as a direct quote of another, the Priests for Life. Harris, in an outright lie, attributed the quote directly to Kavanaugh, saying he "was nominated for the purpose of taking away a woman's constitutionally protected right to" choose, and that, "make no mistake — this is about punishing women."
Lie, lie, lie. Democrats seem to churn them out like they have Tourette's syndrome, like they simply can't stop themselves.
"It is discouraging to think how many people are shocked by honesty and how few by deceit."
-- Noel Coward
(1899-1973) British playwright
---
The Medal of Honor is the highest award for valor in action against an enemy force which can be bestowed upon an individual serving in the Armed Services of the United States.
GeneTrerally presented to its recipient by the President of the United States of America in the name of Congress.
The first award of the Medal of Honor was made March 25, 1863 to Private JACOB PARROTT.The last award of the Medal of Honor was made September 15, 2011 to Sergeant DAKOTA MEYER.
Since then there have been: • 3458 recipients of the Medal of Honor.
• Today there are 85 Living Recipients of the Medal of Honor.
Citation
Captain Humbert R. Versace distinguished himself by extraordinary heroism during the period of 29 October 1963 to 26 September 1965, while serving as S-2 Advisor, Military Assistance Advisory Group, Detachment 52, Ca Mau, Republic of Vietnam. While accompanying a Civilian Irregular Defense Group patrol engaged in combat operations in Thoi Binh District, An Xuyen Province, Captain Versace and the patrol came under sudden and intense mortar, automatic weapons, and small arms fire from elements of a heavily armed enemy battalion. As the battle raged, Captain Versace, although severely wounded in the knee and back by hostile fire, fought valiantly and continued to engage enemy targets. Weakened by his wounds and fatigued by the fierce firefight, Captain Versace stubbornly resisted capture by the over-powering Viet Cong force with the last full measure of his strength and ammunition. Taken prisoner by the Viet Cong, he exemplified the tenets of the Code of Conduct from the time he entered into Prisoner of War status. Captain Versace assumed command of his fellow American soldiers, scorned the enemy's exhaustive interrogation and indoctrination efforts, and made three unsuccessful attempts to escape, despite his weakened condition which was brought about by his wounds and the extreme privation and hardships he was forced to endure. During his captivity, Captain Versace was segregated in an isolated prisoner of war cage, manacled in irons for prolonged periods of time, and placed on extremely reduced ration. The enemy was unable to break his indomitable will, his faith in God, and his trust in the United States of America. Captain Versace, an American fighting man who epitomized the principles of his country and the Code of Conduct, was executed by the Viet Cong on 26 September 1965. Captain Versace's gallant actions in close contact with an enemy force and unyielding courage and bravery while a prisoner of war are in the highest traditions of the military service and reflect the utmost credit upon himself and the United States Army.
---
From the Archives

We Have Met the Enemy…

Geoff Metcalf
"They who can give up essential liberty to obtain a little temporary safety deserve neither liberty nor safety.
--Benjamin Franklin
"The American people must be willing to give up a degree of personal privacy in exchange for safety and security."
--Louis Freeh

In the wake of the clamor over the most recent WikiLeaks data dump, 'Vault 7', 'UMBRAGE', et al, it should be noted this is not really anything new. What we are seeing here is simply the evolution of something that goes back to the late 50s (to the incomplete best knowledge I have).
It is kinda cool to finally see even
The New York Times
acknowledging material
I was writing about in 1998
.
In April of 1998 I wrote "Privacy has become an anachronism." I was commenting on "a massive system designed to intercept all your e-mail, fax traffic and more." I was explaining 'Echelon', the illegitimate offspring of a
UKUSA Treaty
signed by the United States, United Kingdom, Canada, Australia and New Zealand. Its purpose was, and is, to have a vast global intelligence monster, which allegedly shares common goals. The system was so "efficient" that reportedly National Security Agency folk from Fort Meade could work from Menwith Hill in England to intercept local communications without either nation having to burden themselves with the formality of seeking approval (a court order) or disclosing the operation. And this was all pre-9/11 and pre-the anti-constitutional
'Patriot Act'
.
It is illegal (without a Judge's signed permission) for the United States to spy on its citizens … kinda. The laws have long been circumvented by a mutual pact among five nations. Under the terms of UKUSA agreement, Britain spies on Americans and America spies on British citizens, and then the two conspirators trade data. A classic technical finesse. It is legal, but the intent to evade the spirit is inescapable.
I often fictionalized the genesis of 'Echelon' as an informal meeting of a group of post war American and British intelligence types drinking in some remote rustic bar. An imagined CIA type complains to his MI6 buddy about the hassles of US laws preventing US intelligence from surveillance of bad guys, and the Brit echoes the same complaint.
"Hey wait a moment mate," says Nigel, the make-believe MI6 guy, "I can spy on your guys and you can spy on our bad players…why don't we just come up with a mechanism whereby we spy on your villains, you spy on our villains, and we just 'share' the intel?"
This system was called ECHELON, and has been kicking around in some form longer than most of you. The result of the UKUSA treaty signed by the United States, United Kingdom, Canada, Australia and New Zealand was, and is, to have a vast global intelligence monster which allegedly shares common goals.
The London Telegraph reported in December of 1997 that the Civil liberties Committee of the European Parliament had officially confirmed the existence and purpose of ECHELON. "A global electronic spy network that can eavesdrop on every telephone, e-mail and telex communication around the world will be officially acknowledged for the first time in a European Commission report. …"
The report noted: "Within Europe all e-mail, telephone and fax communications are routinely intercepted by the United States National Security Agency, transferring all target information from the European mainland via the strategic hub of London, then by satellite to Fort Meade in Maryland via the crucial hub at Menwith Hill, in the North York moors in the UK.
"The ECHELON system forms part of the UKUSA system but unlike many of the electronic spy systems developed during the Cold War, ECHELON was designed primarily for non-military targets: governments, organizations and businesses in virtually every country."
An interesting sidebar appeared in the International Herald Tribune under the headline, "Big Corporate Brother: It Knows More About You Than You Think." The story details Acxiom Corp, which was a humongous information service hidden in the Ozark foothills. Twenty-four hours a day, Acxiom electronically gathered and sorts all kinds of data about 196 million Americans. Credit card transactions and magazine subscriptions, telephone numbers, real estate records, automotive data, hunting, business and fishing licenses, consumer surveys and demographic detail that would make a marketing department's research manager salivate. This relatively new (legal) enterprise was known as "data warehousing" or "data-mining", and it underscores the cruel reality that the fiction of personal privacy has become obsolete. Technology's ability to collect and analyze data has made privacy a quaint albeit interesting dinosaur.
The Tribune reported that "Axciom can often determine whether an American owns a dog or cat, enjoys camping or gourmet cooking, reads the Bible or lots of other books. It can often pinpoint an American's occupation, car and favorite vacations. By analyzing the equivalent of billions of pages of data, it often projects for its customers who should be offered a credit card or who is likely to buy a computer."
Most of this information is from y 1998 piece. Echelon has developed, matured, and morphed into a much more powerful hybrid. 'Carnivore' was software to help triage the cacophony of data. Vault 7 and 'Umbrage' are logical (some would argue "insidious") growth.
More to follow…