"It Is Not A Question of Who Is Right Or Wrong But What Is Right Or Wrong That Counts.

"

--Geoff Metcalf
Providing an on line Triage of the news since 1997



Wo

rld & Nation
Democrats unveil legislation to add four Supreme Court justices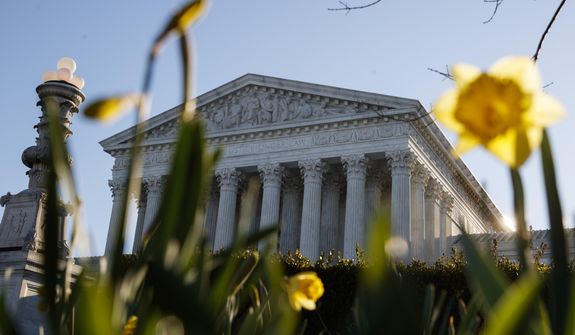 Democratic lawmakers will introduce legislation to expand the Supreme Court on Thursday, jumping ahead of President Biden's recently created commission that's studying the pros and cons of packing the court.
Sen. Edward Markey of Massachusetts, Reps. Jerrold Nadler and Mondaire Jones of New York, and Rep. Hank Johnson of Georgia will unveil their bill on the steps of the Supreme Court on Thursday.
The legislation aims to expand the high court from nine justices to 13, and the lawmakers will defend their bill by citing historic precedent for Congress adjusting the size of the bench.
---
Biden declares Russia threat 'national emergency,' lobs sanctions; 10 diplomats booted over election meddling
US Department of State said it is expelling 10 officials from Russia's bilateral mission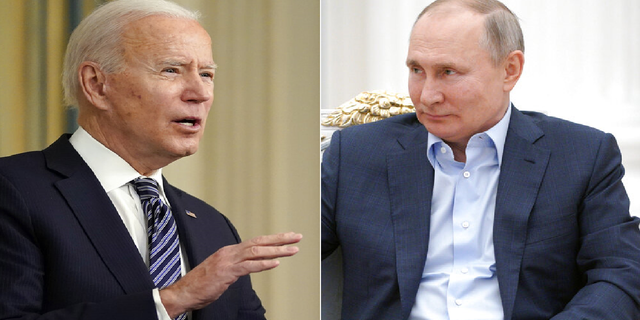 President Biden on Thursday signed an executive order declaring a "national emergency" over the threat from Russia, as his administration slapped new sanctions on the country.
The U.S. Department of State said it is expelling 10 officials from Russia's bilateral mission.
"Today, we announced actions to hold the Russian Government to account for the SolarWinds intrusion, reports of bounties on U.S. soldiers in Afghanistan, and attempts to interfere in the 2020 U.S. elections," Secretary of State Antony Blinken said in a statement.
---
Blinken in Afghanistan to sell Biden troop withdrawal
Secretary of State Antony Blinken made a surprise trip to Afghanistan Thursday a day after the Biden administration announced that all U.S. troops will leave the country by Sept. 11, a move meant to shore up support among Afghan government leaders who soon will face off against the Taliban without American support.
Mr. Blinken met with Afghan President Ashraf Ghani and other top officials in Kabul as preparations begin for the last 2,500 U.S. troops to leave Afghanistan. Another roughly 7,500 NATO troops also will exit the country beginning May 1.
In the hours since President Biden's withdrawal announcement on Wednesday, Mr. Blinken has stressed repeatedly that the military departure does not mean Washington is abandoning the Afghan government. The U.S. is expected to maintain a strong diplomatic presence in Kabul.
---
Daunte Wright had open warrant for choking, threatening to shoot woman for $820
When Daunte Demetrius Wright was pulled over Sunday by police in Brooklyn Center, Minnesota, an expired registration tag and a forbidden air freshener were the least of his problems.
The 20-year-old Wright had an open warrant for a Dec. 1, 2019, attack in which he allegedly tried to rob a female acquaintance by brandishing a handgun and threatening to shoot her, choking her twice and reaching into her bra to grab $820 as she screamed, according to court documents.
Mr. Wright faced being sent to jail for violating the conditions of his release, including a prohibition against firearms possession, which may explain why he resisted officers, jumping back into the vehicle as they tried to handcuff him, as shown on police body-camera video.
Ms. Potter, who resigned Tuesday, was charged Wednesday with second-degree manslaughter, while attorney Ben Crump, who represents the Wright family, disputed the "accidental discharge" explanation.
---
Will Trump 'Broker' Candidates to Unite Against Cheney?
Weeks after making clear he would try to defeat the 10 Republican U.S. Representatives who voted to impeach him, former President Donald Trump on Wednesday escalated his feud with one of them — Rep. Liz Cheney, R-Wyo.
In a strongly worded statement, Trump declared: "[S]o many people are looking to run against Crazy Liz Cheney — but we only want one. … [T]he only way she can win is numerous candidates running against her and splitting the vote. Hopefully, that won't happen. I'll make an Endorsement soon!"
Those remarks came at nearly the same time 3-termer Cheney left Fox News' Neil Cavuto speechless with her response to his question as to whether she would support Trump if he were the Republican nominee for president in 2024.
---
Biden scorns Republicans, stacks administration with partisans and activists
President Biden so far has not named a single Republican to his Cabinet and has stacked his administration with liberal activists, despite a campaign for the White House on a pledge to restore unity and bipartisanship in Washington.
It's also a break with a White House tradition that made his predecessors more bipartisan in filling top administration jobs. Each of the past three presidents had members of the opposing party in either high-ranking White House posts or Cabinet positions.
Former President Donald Trump named two Democrats, Gary Cohn and Peter Navarro, to his White House staff upon taking office. Mr. Trump also appointed Steven T. Mnuchin, a onetime Democrat turned Republican, as his Treasury secretary. Mr. Mnuchin's appointment in 2017 came just months after he donated to Kamala Harris' campaign for U.S. Senate.
Former Presidents Barack Obama and George W. Bush also had at least one or two bipartisan Cabinet members.
---
Mitch McConnell wants his conference to say nice things about these 2 Democrats
Keep Sens. Joe Manchin and Kyrsten Sinema close and publicly praise them, Mitch McConnell explained, because they could "save this institution."
Mitch McConnell had an unusual request for Senate Republicans this week: Say nice things about two Democrats.
Sens. Joe Manchin (D-W.Va.) and Kyrsten Sinema (D-Ariz.) are under lots of pressure from liberal activists and their Democratic colleagues to buckle on the filibuster, McConnell told Senate Republicans on Tuesday, according to two sources familiar with the party meeting. That's why the GOP should keep the moderate pair close and publicly praise them, the party leader explained, because they could "save this institution."
McConnell is modeling his own advice, lauding Manchin for almost "single-handedly" preserving the Senate and expressing admiration for him back home in Kentucky. In a brief interview, the often-reticent Republican leader was, by his standards, effusive about both Democrats.
---
What are the Iran nuclear talks about?
Iran signed an agreement in 2015 intended to set limits on Tehran's nuclear program
Negotiations to bring the United States back into a landmark nuclear deal with Iran resumed Thursday in Vienna amid signs of progress — but also under the shadow of an attack this week on Iran's main nuclear facility.
In 2015, Iran signed an agreement with the U.S., Russia, China, Germany, France and Britain that was intended to set limits on Tehran's nuclear program in order to block it from building a nuclear weapon — something it insists it doesn't want to do.
In exchange, Iran received relief from sanctions that those powers had imposed, including on its exports of oil and access to the global banking system. Iran was allowed to continue to pursue its nuclear program for civilian purposes, with strict limits on how much uranium it could enrich, the purity it could enrich it to and other measures.
---
Study shows vaccines carry much lower risk of blood clots than COVID-19
A study by researchers at Oxford University in England suggests the risks of experiencing dangerous, rare blood clots in the brain are far higher in those who catch the coronavirus than in those who get either the AstraZeneca vaccine, or the vaccines made by Pfizer and Moderna in the U.S. The research shows that the number of people who experience clots after getting the vaccines made by the American pharmaceutical giants appears very similar to the number who get the rare condition after a shot of the AstraZeneca drug, which was developed in conjunction with Oxford's vaccine institute.
A key finding of the research, revealed Thursday as a "pre-print" study which has yet to be reviewed by other scientists, was that the risk of experiencing a blood clot in the brain was about 95 times higher for people who contract COVID-19 than in the general population.
That's yet another serious health threat associated with the disease, and one the scientists hoped would boost confidence in all of the major vaccines currently available in the Western world, as their research suggests the drugs carry a significantly lower threat of clotting than the disease they've been proven to fend off.
---
More Top News
---
The crisis of American civilization
By Newt Gingrich
We are now in a crisis of American civilization fully as dangerous and real as the crisis of the U.S. Civil War or World War II.
During both those crises, if America had lost, it would have ceased to be America — and the cause of freedom around the world would have been dramatically weakened.
Today, we face combined internal and external threats which are as great or greater.
---
Mr. Pelosi's shrewd investments raise suspicions
Paul Pelosi, House Speaker Nancy Pelosi's husband, is one heck of a trader!
He purchased about $10 million in Microsoft shares through call options on March 19th when the stock was trading at $230.35. Days later, Microsoft was awarded a contract by the U.S. Army valued at $22 billion and inked a deal to buy an artificial intelligence firm. Its stock has soared about 12% since Mr. Pelosi's initial investment.
The timing of the Microsoft investment is very suspicious. Mr. Pelosi bought the Microsoft options last year, when the Army was testing Microsoft's AI headset technology. It was unclear if the Army would have the money to award the contract — after all, the $730 billion defense policy bill that Congress passed in January called for cuts to the initiative.
---
Truth or Dare
by Geoff Metcalf
"The truth does not change according to our ability to stomach it."
― Flannery O'Connor

When NBC's Lester Holt shrouded in self-righteous sophism proclaimed journalists don't do 'truth', I said bad words. Joe Klaas was apparently correct when he noted, "The truth will set you free, but first it will piss you off."
When accepting the Edward R. Murrow Award for Lifetime Achievement in Journalism, NBC anchor Lester Holt said, "fairness is overrated".
"I think it's become clear that fairness is overrated. ... The idea that we should always give two sides equal weight and merit does not reflect the world we find ourselves in," Holt said.
Holt, either by plan or oversight said, "That the sun sets in the west is a fact. Any contrary view does not deserve our time or attention," Holt continued. "Decisions to not give unsupported arguments equal time are not a dereliction of journalistic responsibility or some kind of agenda. In fact, it's just the opposite." Sophistry!
Holt also railed against "providing an open platform for misinformation," saying that allowing "anyone to come say whatever they want, especially when issues of public health and safety are at stake, can be quite dangerous." And that is a good thing Lester.
The key problem with the pretension of Holt et al saying news organizations should vet and triage controversial news is,
who decides?
What editor gets to decide the conventional wisdom when a group of experts claims we are about to enter a new Ice Age, or the only defense against a pandemic is isolation?
April 28, 1975, Newsweek published a provocative article, "The Cooling World," in which writer and science editor Peter Gwynne described a significant chilling of the world's climate, with evidence accumulating "so massively that meteorologists are hard-pressed to keep up with it." He when on to postulate shorter growing seasons and poor crop yields, famine, and shipping lanes blocked by ice, perhaps to begin as soon as the mid-1980s. Meteorologists, he wrote, were "almost unanimous" in the opinion that our planet was getting colder. Over the years that followed, Gwynne's article became one of the most-cited stories in Newsweek's history. However, he was wrong…way wrong.
The obvious corollary is today's politically correct contention that Global Warming will kill the planet. Notwithstanding THOUSANDS of for real scientists who naysay the Al Gore gang, Holt and his ilk would deny you, me, or anyone from hearing contradictory and/or mitigating science which does not comply with the elitists cause du jour.
"The truth is rarely pure and never simple." said Oscar Wilde in The Importance of Being Earnest.
Empirical facts cannot be disputed: who, what, where, when is going to be reported the same from the left and the right. However, the why and how is where the reader gets sucked into the editorializing muck. One man's "freedom fighter" is another man's "terrorist"…one man's "objective scientist" is another man's "bought and paid for sycophant".
According to a January Axios polls, just 46% of people trust traditional news media, and trust in social media has plummeted to 27%.
Additionally, 56% of the poll respondents said they agreed that "Journalists and reporters are purposely trying to mislead people by saying things they know are false or gross exaggerations."
"The truth." Dumbledore sighed. "It is a beautiful and terrible thing and should therefore be treated with great caution."
Aldous Huxley clearly noted, "Facts do not cease to exist because they are ignored."
An editorial Star Chamber (which is kinda/sorta what Holt seems to want) can attempt to sequester politically incorrect facts or nuance from the unwashed masses, but they only serve to validate George Orwell. "In a time of deceit telling the truth is a revolutionary act."
We are in that "time of deceit" and the mainstream media should be providing light not creating safe haven shadow lands for evil to fester and grow.
---
" It is discouraging to think how many people are shocked by honesty and how few by deceit."

-- Noel Coward

(1899-1973) British playwright

---

The Medal of Honor is the highest award for valor in action against an enemy force which can be bestowed upon an individual serving in the Armed Services of the United States.

GeneTrerally presented to its recipient by the President of the United States of America in the name of Congress.

The first award of the Medal of Honor was made March 25, 1863 to Private JACOB PARROTT.The last award of the Medal of Honor was made September 15, 2011 to Sergeant DAKOTA MEYER.

Since then there have been: • 3458 recipients of the Medal of Honor.

• Today there are 85 Living Recipients of the Medal of Honor.

Citation


Captain Humbert R. Versace distinguished himself by extraordinary heroism during the period of 29 October 1963 to 26 September 1965, while serving as S-2 Advisor, Military Assistance Advisory Group, Detachment 52, Ca Mau, Republic of Vietnam. While accompanying a Civilian Irregular Defense Group patrol engaged in combat operations in Thoi Binh District, An Xuyen Province, Captain Versace and the patrol came under sudden and intense mortar, automatic weapons, and small arms fire from elements of a heavily armed enemy battalion. As the battle raged, Captain Versace, although severely wounded in the knee and back by hostile fire, fought valiantly and continued to engage enemy targets. Weakened by his wounds and fatigued by the fierce firefight, Captain Versace stubbornly resisted capture by the over-powering Viet Cong force with the last full measure of his strength and ammunition. Taken prisoner by the Viet Cong, he exemplified the tenets of the Code of Conduct from the time he entered into Prisoner of War status. Captain Versace assumed command of his fellow American soldiers, scorned the enemy's exhaustive interrogation and indoctrination efforts, and made three unsuccessful attempts to escape, despite his weakened condition which was brought about by his wounds and the extreme privation and hardships he was forced to endure. During his captivity, Captain Versace was segregated in an isolated prisoner of war cage, manacled in irons for prolonged periods of time, and placed on extremely reduced ration. The enemy was unable to break his indomitable will, his faith in God, and his trust in the United States of America. Captain Versace, an American fighting man who epitomized the principles of his country and the Code of Conduct, was executed by the Viet Cong on 26 September 1965. Captain Versace's gallant actions in close contact with an enemy force and unyielding courage and bravery while a prisoner of war are in the highest traditions of the military service and reflect the utmost credit upon himself and the United States Army.

---

From the Archives

We Have Met the Enemy…
Geoff Metcalf


"They who can give up essential liberty to obtain a little temporary safety deserve neither liberty nor safety.
--Benjamin Franklin
"The American people must be willing to give up a degree of personal privacy in exchange for safety and security."
--Louis Freeh


In the wake of the clamor over the most recent WikiLeaks data dump, 'Vault 7', 'UMBRAGE', et al, it should be noted this is not really anything new. What we are seeing here is simply the evolution of something that goes back to the late 50s (to the incomplete best knowledge I have).

It is kinda cool to finally see even

The New York Times

acknowledging material

I was writing about in 1998

.

In April of 1998 I wrote "Privacy has become an anachronism." I was commenting on "a massive system designed to intercept all your e-mail, fax traffic and more." I was explaining 'Echelon', the illegitimate offspring of a

UKUSA Treaty

signed by the United States, United Kingdom, Canada, Australia and New Zealand. Its purpose was, and is, to have a vast global intelligence monster, which allegedly shares common goals. The system was so "efficient" that reportedly National Security Agency folk from Fort Meade could work from Menwith Hill in England to intercept local communications without either nation having to burden themselves with the formality of seeking approval (a court order) or disclosing the operation. And this was all pre-9/11 and pre-the anti-constitutional

'Patriot Act'

.

It is illegal (without a Judge's signed permission) for the United States to spy on its citizens … kinda. The laws have long been circumvented by a mutual pact among five nations. Under the terms of UKUSA agreement, Britain spies on Americans and America spies on British citizens, and then the two conspirators trade data. A classic technical finesse. It is legal, but the intent to evade the spirit is inescapable.

I often fictionalized the genesis of 'Echelon' as an informal meeting of a group of post war American and British intelligence types drinking in some remote rustic bar. An imagined CIA type complains to his MI6 buddy about the hassles of US laws preventing US intelligence from surveillance of bad guys, and the Brit echoes the same complaint.

"Hey wait a moment mate," says Nigel, the make-believe MI6 guy, "I can spy on your guys and you can spy on our bad players…why don't we just come up with a mechanism whereby we spy on your villains, you spy on our villains, and we just 'share' the intel?"

This system was called ECHELON, and has been kicking around in some form longer than most of you. The result of the UKUSA treaty signed by the United States, United Kingdom, Canada, Australia and New Zealand was, and is, to have a vast global intelligence monster which allegedly shares common goals.

The London Telegraph reported in December of 1997 that the Civil liberties Committee of the European Parliament had officially confirmed the existence and purpose of ECHELON. "A global electronic spy network that can eavesdrop on every telephone, e-mail and telex communication around the world will be officially acknowledged for the first time in a European Commission report. …"

The report noted: "Within Europe all e-mail, telephone and fax communications are routinely intercepted by the United States National Security Agency, transferring ll target information from the Eurv opean mainland via the strategic hub of London, then by satellite to Fort Meade in Maryland via the crucial hub at Menwith Hill, in the North York moors in th UK.

"The ECHELON system forms part of the UKUSA system but unlike many of the electronic spy systems developed during the Cold War, ECHELON was designed primarily for non-military targets: governments, organizations and businesses in virtually every country."

An interesting sidebar appeared in the International Herald Tribune under the headline, "Big Corporate Brother: It Knows More About You Than You Think." The story details Acxiom Corp, which was a humongous information service hidden in the Ozark foothills. Twenty-four hours a day, Acxiom electronically gathered and sorts all kinds of data about 196 million Americans. Credit card transactions and magazine subscriptions, telephone numbers, real estate records, automotive data, hunting, business and fishing licenses, consumer surveys and demographic detail that would make a marketing department's research manager salivate. This relatively new (legal) enterprise was known as "data warehousing" or "data-mining", and it underscores the cruel reality that the fiction of personal privacy has become obsolete. Technology's ability to collect and analyze data has made privacy a quaint albeit interesting dinosaur.

The Tribune reported that "Axciom can often determine whether an American owns a dog or cat, enjoys camping or gourmet cooking, reads the Bible or lots of other books. It can often pinpoint an American's occupation, car and favorite vacations. By analyzing the equivalent of billions of pages of data, it often projects for its customers who should be offered a credit card or who is likely to buy a computer."

Most of this information is from y 1998 piece. Echelon has developed, matured, and morphed into a much more powerful hybrid. 'Carnivore' was software to help triage the cacophony of data. Vault 7 and 'Umbrage' are logical (some would argue "insidious") growth.

More to follow…