"It Is Not A Question of Who Is Right Or Wrong But What Is Right Or Wrong That Counts.

"

--Geoff Metcalf
Providing an on line Triage of the news since 1997



Wo

rld & Nation
Debate night brawl: Bloomberg, Sanders attacked by rivals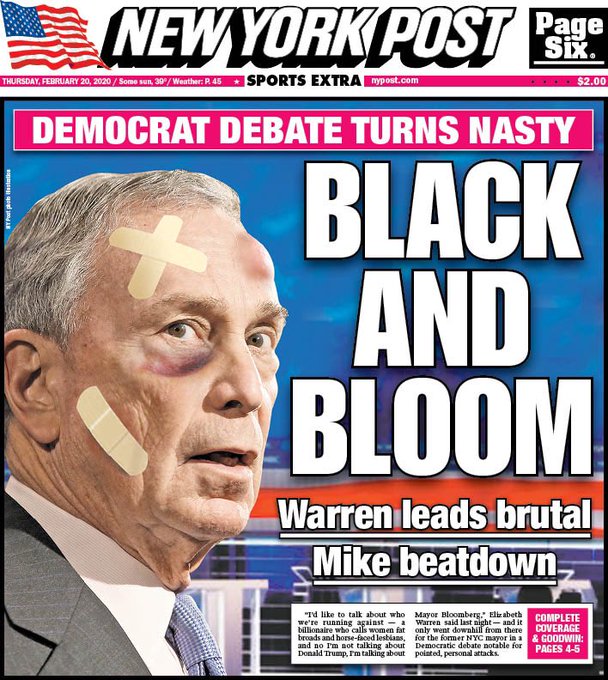 From the opening bell, Democrats savaged New York billionaire Mike Bloomberg and raised pointed questions about Bernie Sanders' take-no-prisoners politics during a contentious debate Wednesday night that threatened to further muddy the party's urgent quest to defeat President Donald Trump.
Bloomberg, the former New York mayor who was once a Republican, was forced to defend his record and past comments related to race, gender and his personal wealth in an occasionally rocky debate stage debut. Sanders, meanwhile, tried to beat back pointed questions about his embrace of democratic socialism and his health following a heart attack last year.
The ninth debate of this cycle featured the most aggressive sustained period of infighting in the Democrats' yearlong search for a presidential nominee. The tension reflected growing anxiety among candidates and party leaders that the nomination fight could yield a candidate who will struggle to build a winning coalition in November to beat Trump.
---
Trump Slams Bloomberg's 'Bumbling' Debate Performance
President Donald Trump ripped Mike Bloomberg on Thursday, saying the former New York City mayor's debate performance was perhaps "the worst" in history.
Trump's comments came in a tweet after the Democrats' presidential debate on Wednesday.
Trump wrote: "Mini Mike Bloomberg's debate performance tonight was perhaps the worst in the history of debates, and there have been some really bad ones. He was stumbling, bumbling and grossly incompetent. If this doesn't knock him out of the race, nothing will. Not so easy to do what I did!"
---
Roger Stone sentenced to 3 years for lying, witness tampering as case roils DOJ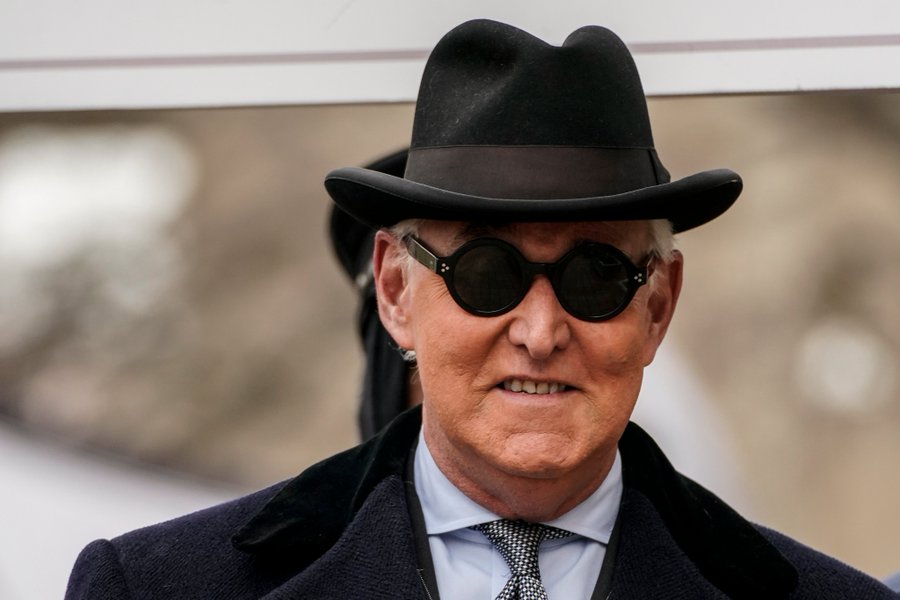 Former Trump associate Roger Stone is sentenced to 40 months in prison after a lengthy deliberation by the judge; David Spunt reports from outside U.S. District Court in Washington, D.C.

GOP operative Roger Stone was sentenced to more than three years in prison on Thursday after days of drama ensnaring career prosecutors, the attorney general and the president over how severe Stone's punishment should be for making false statements to investigators during the Trump-Russia probe.

Before announcing the sentence in a federal courtroom in Washington, the judge in the case, U.S. District Judge Amy Berman Jackson, took a firm stance toward the Republican operative, faulting him for the actions that led to the charges. She sentenced him to 40 months in prison.

"Mr. Stone lied," Jackson said in court. She also said Stone injected himself "smack" into a political controversy and was not "persecuted."





---
Secession fever spikes in five states as conservatives seek to escape blue rule
You've got Oregonians seeking to cascade into Idaho, Virginians who identify as West Virginians, Illinoians fighting to escape Chicago, Californians dreaming of starting a 51st state, and New Yorkers who think three states are better than one.
Separation fever is sweeping the nation as quixotic but tenacious bands of frustrated rural dwellers, suburbanites and conservatives seek to break free from states with legislatures increasingly controlled by liberal big cities and metropolitan strongholds.
"Oregon is controlled by the northwest portion of the state, Portland to Eugene. That's urban land, and their decisions are not really representing rural Oregon," said Mike McCarter, president of Move Oregon's Border for a Greater Idaho. "They have their agenda and they're moving forward with it, and they're not listening to us."
In Virginia, the newly elected Democratic majority's progressive legislation on issues such as gun rights has spurred "Vexit," or "Virginia exit," a campaign to merge right-tilting rural counties into neighboring West Virginia that organizers say has the potential to catch fire nationwide.
---
Trump set to retaliate after China expels U.S. journalists for 'racist' report
The Trump administration is planning to retaliate for China's expulsion Wednesday of three U.S. journalists over an editorial Beijing claimed was "racist," escalating a clash over media access and freedoms that has broken out between the two countries.
Beijing's expulsion of three Wall Street Journal reporters came a day after the State Department said it was imposing restrictions on five Chinese state-run news organizations operating in the United States, saying they would now be treated as the equivalent of foreign government missions.
Administration officials said the State Department and White House are working out plans to how to retaliate to China's response.
---
Trump claims Sen. Murphy's meeting with Iran's Zarif violated federal law
President Trump slammed a recent meeting between Sen. Chris Murphy and Iranian Foreign Minister Javad Zarif, and claimed the Connecticut Democrat violated federal law.
Mr. Trump on Wednesday alleged the meeting violated the Logan Act, which prohibits American citizens from conducting negotiations with a foreign government.
"This is why Iran is not making a deal. Must be dealt with strongly!" the president tweeted.
Mr. Murphy confirmed the meeting, on the sidelines of the Munich Security Conference last weekend, in a post on Medium Tuesday. He said his goal was to discuss Iranian forces in Iraq in the wake of the fatal U.S. strike on former Quds force leader Qassem Soleimani, American citizens being held prisoner in Iran, and the ongoing war in Yemen.
---
2 Japanese Cruise Ship Passengers Die From Coronavirus
Two elderly passengers taken off the quarantined cruise ship Diamond Princess because they were infected with the new virus have died, Japan's Health Ministry said Thursday, becoming the first fatalities from the virus-stricken vessel.
Japan now has three deaths linked to the COVID-19 illness.
The two victims, a man and woman in their 80s who are both Japanese, were believed to have been infected before health checks and a Feb. 5 quarantine began on the ship, Health Ministry official Masami Sakoi said. It was not immediately known if they had any roommates on the ship.
---
Off-duty officers in Kentucky who stopped a robbery during date night say it was just instinct
Two off-duty police officers who stopped a robbery at a chicken restaurant in Kentucky said it would be a mistake to call their actions heroic.
"When you're in the moment, you know, it's more of training kicks in," Nicole McKeown told Randi Kaye on Anderson Cooper Full Circle. "I don't think really either one of us gave a thought as to our immediate safety."
McKeown and her husband, Chase, were having a normal date night at Raising Cane's in Louisville on Saturday when things took a turn. A man came in wearing a mask, and when the McKeowns saw an employee behind the counter put their hands up, both realized what was happening.
---
USS Nimitz captain reveals Navy pilots DO have to watch out for UFOs
after one of the carrier's planes captured secret unreleased video of 2004 encounters with a 'Tic Tac-shaped' mystery aircraft
The commanding officer of the US Navy supercarrier, the USS Nimitz, has revealed his crew has an 'obligation' to make sure the airspace is clear of UFOs.
In an exclusive interview with DailyMail.com, Captain Max Clark said it's important his ship and everybody on it is kept safe from Unidentified Aerial Phenomenon (UAP) - the term for UFOs used by the Navy.
This comes just weeks after the Office of Naval Intelligence revealed the existence of a classified, unreleased video relating to the Nimitz carrier group's 2004 encounters with a 'Tic Tac'-shaped UFO.
---
Mike Bloomberg: The Incredible Shrinking Candidate
In the land of political toadstools, former New York City Mayor Mike Bloomberg is a giant. Even without a box to stand on behind the debate podium.
But, boy, was that a shootout Wednesday night in Las Vegas.
Welcome, Mr. Bloomberg, to the 2020 presidential campaign that you are supposed to salvage for Democrats.
It was almost painful to watch all the blows landed on the bewildered Mr. Bloomberg, the savior with the invisible campaign. Last night, Mr. Bloomberg was the Incredible Shrinking Candidate.
---
Window for historic U.S.-Taiwan trade agreement closing fast
In just three years, the Trump administration has finished renegotiating a trade agreement with Canada and Mexico and hammered out new trade agreements with Japan and China.
With these deals now signed, President Trump has the opportunity to pursue new agreements. And no pact would enhance the legacy of this deal-making administration more than a free-trade agreement with Taiwan. It's 30 years overdue.
Previous administrations often cast aside the idea of a U.S.-Taiwan free trade agreement in favor of economic and strategic dialogues with China. Meanwhile, regional trade blocs and international organizations have kept Taiwan at an arm's length out of fear of angering Beijing.
---
" It is discouraging to think how many people are shocked by honesty and how few by deceit."

-- Noel Coward

(1899-1973) British playwright

---

The Medal of Honor is the highest award for valor in action against an enemy force which can be bestowed upon an individual serving in the Armed Services of the United States.

GeneTrerally presented to its recipient by the President of the United States of America in the name of Congress.

The first award of the Medal of Honor was made March 25, 1863 to Private JACOB PARROTT.The last award of the Medal of Honor was made September 15, 2011 to Sergeant DAKOTA MEYER.

Since then there have been: • 3458 recipients of the Medal of Honor.

• Today there are 85 Living Recipients of the Medal of Honor.

Citation


Captain Humbert R. Versace distinguished himself by extraordinary heroism during the period of 29 October 1963 to 26 September 1965, while serving as S-2 Advisor, Military Assistance Advisory Group, Detachment 52, Ca Mau, Republic of Vietnam. While accompanying a Civilian Irregular Defense Group patrol engaged in combat operations in Thoi Binh District, An Xuyen Province, Captain Versace and the patrol came under sudden and intense mortar, automatic weapons, and small arms fire from elements of a heavily armed enemy battalion. As the battle raged, Captain Versace, although severely wounded in the knee and back by hostile fire, fought valiantly and continued to engage enemy targets. Weakened by his wounds and fatigued by the fierce firefight, Captain Versace stubbornly resisted capture by the over-powering Viet Cong force with the last full measure of his strength and ammunition. Taken prisoner by the Viet Cong, he exemplified the tenets of the Code of Conduct from the time he entered into Prisoner of War status. Captain Versace assumed command of his fellow American soldiers, scorned the enemy's exhaustive interrogation and indoctrination efforts, and made three unsuccessful attempts to escape, despite his weakened condition which was brought about by his wounds and the extreme privation and hardships he was forced to endure. During his captivity, Captain Versace was segregated in an isolated prisoner of war cage, manacled in irons for prolonged periods of time, and placed on extremely reduced ration. The enemy was unable to break his indomitable will, his faith in God, and his trust in the United States of America. Captain Versace, an American fighting man who epitomized the principles of his country and the Code of Conduct, was executed by the Viet Cong on 26 September 1965. Captain Versace's gallant actions in close contact with an enemy force and unyielding courage and bravery while a prisoner of war are in the highest traditions of the military service and reflect the utmost credit upon himself and the United States Army.

---

From the Archives

We Have Met the Enemy…
Geoff Metcalf


"They who can give up essential liberty to obtain a little temporary safety deserve neither liberty nor safety.
--Benjamin Franklin
"The American people must be willing to give up a degree of personal privacy in exchange for safety and security."
--Louis Freeh


In the wake of the clamor over the most recent WikiLeaks data dump, 'Vault 7', 'UMBRAGE', et al, it should be noted this is not really anything new. What we are seeing here is simply the evolution of something that goes back to the late 50s (to the incomplete best knowledge I have).

It is kinda cool to finally see even

The New York Times

acknowledging material

I was writing about in 1998

.

In April of 1998 I wrote "Privacy has become an anachronism." I was commenting on "a massive system designed to intercept all your e-mail, fax traffic and more." I was explaining 'Echelon', the illegitimate offspring of a

UKUSA Treaty

signed by the United States, United Kingdom, Canada, Australia and New Zealand. Its purpose was, and is, to have a vast global intelligence monster, which allegedly shares common goals. The system was so "efficient" that reportedly National Security Agency folk from Fort Meade could work from Menwith Hill in England to intercept local communications without either nation having to burden themselves with the formality of seeking approval (a court order) or disclosing the operation. And this was all pre-9/11 and pre-the anti-constitutional

'Patriot Act'

.

It is illegal (without a Judge's signed permission) for the United States to spy on its citizens … kinda. The laws have long been circumvented by a mutual pact among five nations. Under the terms of UKUSA agreement, Britain spies on Americans and America spies on British citizens, and then the two conspirators trade data. A classic technical finesse. It is legal, but the intent to evade the spirit is inescapable.

I often fictionalized the genesis of 'Echelon' as an informal meeting of a group of post war American and British intelligence types drinking in some remote rustic bar. An imagined CIA type complains to his MI6 buddy about the hassles of US laws preventing US intelligence from surveillance of bad guys, and the Brit echoes the same complaint.

"Hey wait a moment mate," says Nigel, the make-believe MI6 guy, "I can spy on your guys and you can spy on our bad players…why don't we just come up with a mechanism whereby we spy on your villains, you spy on our villains, and we just 'share' the intel?"

This system was called ECHELON, and has been kicking around in some form longer than most of you. The result of the UKUSA treaty signed by the United States, United Kingdom, Canada, Australia and New Zealand was, and is, to have a vast global intelligence monster which allegedly shares common goals.

The London Telegraph reported in December of 1997 that the Civil liberties Committee of the European Parliament had officially confirmed the existence and purpose of ECHELON. "A global electronic spy network that can eavesdrop on every telephone, e-mail and telex communication around the world will be officially acknowledged for the first time in a European Commission report. …"

The report noted: "Within Europe all e-mail, telephone and fax communications are routinely intercepted by the United States National Security Agency, transferring ll target information from the Eurv opean mainland via the strategic hub of London, then by satellite to Fort Meade in Maryland via the crucial hub at Menwith Hill, in the North York moors in the UK.

"The ECHELON system forms part of the UKUSA system but unlike many of the electronic spy systems developed during the Cold War, ECHELON was designed primarily for non-military targets: governments, organizations and businesses in virtually every country."

An interesting sidebar appeared in the International Herald Tribune under the headline, "Big Corporate Brother: It Knows More About You Than You Think." The story details Acxiom Corp, which was a humongous information service hidden in the Ozark foothills. Twenty-four hours a day, Acxiom electronically gathered and sorts all kinds of data about 196 million Americans. Credit card transactions and magazine subscriptions, telephone numbers, real estate records, automotive data, hunting, business and fishing licenses, consumer surveys and demographic detail that would make a marketing department's research manager salivate. This relatively new (legal) enterprise was known as "data warehousing" or "data-mining", and it underscores the cruel reality that the fiction of personal privacy has become obsolete. Technology's ability to collect and analyze data has made privacy a quaint albeit interesting dinosaur.

The Tribune reported that "Axciom can often determine whether an American owns a dog or cat, enjoys camping or gourmet cooking, reads the Bible or lots of other books. It can often pinpoint an American's occupation, car and favorite vacations. By analyzing the equivalent of billions of pages of data, it often projects for its customers who should be offered a credit card or who is likely to buy a computer."

Most of this information is from y 1998 piece. Echelon has developed, matured, and morphed into a much more powerful hybrid. 'Carnivore' was software to help triage the cacophony of data. Vault 7 and 'Umbrage' are logical (some would argue "insidious") growth.

More to follow…