"It Is Not A Question of Who Is Right Or Wrong But What Is Right Or Wrong That Counts.

"

--Geoff Metcalf
Wo

rld & Nation
Probe clears pro-Trump Pentagon analyst, report withheld from defense team
A confidential counterintelligence investigation cleared suspended Pentagon analyst Adam S. Lovinger on allegations of leaking data to the news media, but officials never told his defense team.
The Naval Criminal Investigative Service (NCIS) examined Mr. Lovinger's use of classified computer networks. In a 2018 report, the NCIS said its review "did not reveal any potential CI [counter intelligence] concerns," according to a copy obtained by The Washington Times.
Mr. Lovinger's attorney, Sean Bigley, has now filed a complaint with the Defense Department inspector general. He accuses Pentagon officials who targeted his client of a "serious ethics violation" by withholding the exoneration.
---
Jeffrey Epstein autopsy reportedly finds broken bones in neck
Deceased pedophile Jeffrey Epstein reportedly suffered injuries to his neck that are more common in homicides than suicides, according to the autopsy.
A report Wednesday evening in The Washington Post, citing "two people familiar with the [autopsy] findings," said Epstein suffered multiple broken bones in his neck, including a break in the hyoid bone.
Citing "forensics experts and studies on the subject" of fatal neck injuries, The Post reported that breaks in the hyoid bone, which is near the Adam's apple in men, do occur in suicides but occur more often in strangulation murders.
There have also been numerous irregularities in the handling and protection of Epstein, who once was on suicide watch, in the days and night leading up to his death.
---
Jeffrey Epstein's body claimed by unidentified 'associate'
Jeffrey Epstein's body has been claimed from the New York City medical examiner's office, a source close to the investigation told NBC News on Wednesday.
Epstein, 66, was found dead by apparent suicide Saturday morning in his cell at the Metropolitan Correctional Center in Manhattan. The center's warden has been temporarily reassigned, and the two guards assigned to watch Epstein have been placed on leave.
The person who claimed Epstein's body was described only as an "Epstein associate."
---
U.S. move halts release of Iranian tanker held in Gibraltar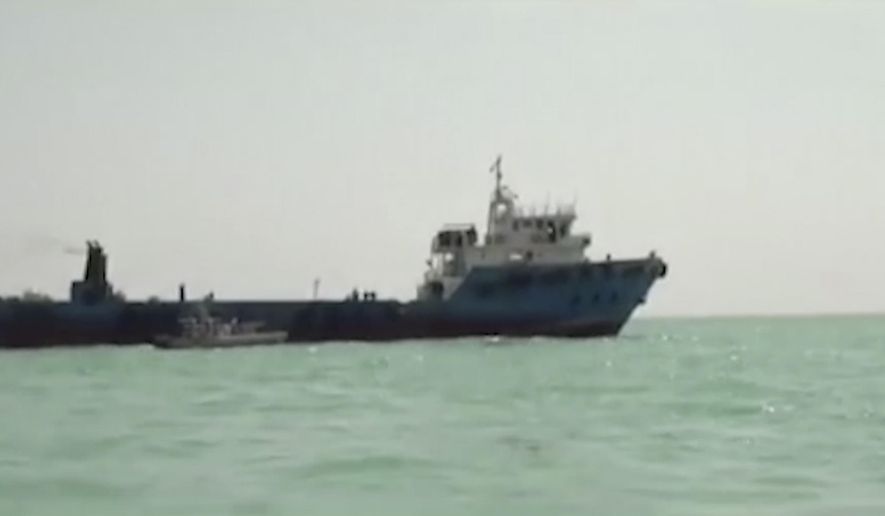 The United States moved on Thursday to halt the release of an Iranian supertanker detained in Gibraltar for breaching EU sanctions on oil shipments to Syria, thwarting efforts by authorities in London and the British overseas territory to defuse tensions with Tehran.
The Gibraltar government confirmed earlier media reports that the U.S. Justice Department seeks to extend the detention of the oil tanker Grace 1, prompting the Supreme Court in the territory to adjourn a scheduled decision on whether to release the ship until later in the day.
"The U.S. Department of Justice has applied to seize the Grace 1 on a number of allegations, which are now being considered," the Gibraltar government said in a statement, adding the matter would be reviewed by the court at 4 p.m.
The Justice Department did not immediately respond to a request for comment.
---
China Threatens Retaliation If US Tariff Hikes Go Ahead
China on Thursday threatened retaliation if Washington steps up their war over trade and technology by going ahead with planned Sept. 1 tariff hikes on additional Chinese imports.
Beijing will take unspecified "necessary countermeasures," the Cabinet said in a one-sentence statement. It gave no details or any indication plans for trade talks in Washington in September might be affected.
The ministry also said the U.S. tariffs violate a consensus reached by the leaders of two countries and get off the right track of resolving disputes via negotiation.
---
Israel Official: Netanyahu Weighing Ban on Omar, Tlaib Visit
Israel is considering barring a visit by two of its sharpest critics in the U.S. Congress, Democrats Rashida Tlaib and Ilhan Omar, who plan to tour the occupied West Bank and East Jerusalem, an Israeli official said on Thursday.
Tlaib and Omar, the first two Muslim women elected to Congress and members of the Democratic party's progressive wing, have voiced support for the pro-Palestinian Boycott, Divestment, Sanctions (BDS) movement.
No date has been formally announced for their trip, but sources familiar with the planned visit said it could begin at the weekend.
---
Trump backs new book's allegations that Obama knew collusion charges were phony
President Trump on Thursday endorsed the view in a new book that then-President Barack Obama knew about his Justice Department pushing an investigation into phony charges of collusion between the Trump campaign and Russia in 2016.
"A very serious situation," Mr. Trump tweeted about the allegations of Mr. Obama's complicity. "Can never be allowed to happen again! DRAIN THE SWAMP."
The book by Andrew McCarthy, titled "Ball of Collusion," was discussed Thursday morning on "Fox & Friends," one of the president's favorite shows. The author contends that the Obama administration exploited its control of law enforcement and intelligence agencies to help Hillary Clinton and undermine Mr. Trump in 2016 in what he calls "a scandalous abuse of power."
---
Suspect surrenders after 6 officers are wounded in Philadelphia standoff
An armed suspect accused of wounding six officers in north Philadelphia during a nearly eight-hour standoff surrendered early Thursday, officials said.
The gunfire began Wednesday afternoon as police tried to serve an arrest warrant, police said. Shortly after midnight, police spokesman Sgt. Eric Gripp tweeted that a suspect was in custody and that SWAT officers were clearing the house.
"It's nothing short of a miracle that we don't have multiple officers killed today," Philadelphia Police Commissioner Richard Ross Jr. said Wednesday night.
---
Biden allies float scaling back events to limit gaffes
Allies to Joe Biden have been floating the idea of altering the former vice president's schedule in an effort to reduce the gaffes he has made in recent days.
The allies, growing increasingly nervous about Biden's verbal flubs, have said it's an approach that's been suggested to campaign officials on the heels of the former vice president's stumbles.
Biden has a tendency to make the blunders late in the day, his allies say, particularly after a long swing on the road, like he had last week in Iowa. They say something needs to be done to give the candidate more down time as the campaign intensifies in the fall.
---

Doing something to the Second Amendment for the sake of appearance would be disastrous


The confiscation of guns from the law-abiding violates the Constitution



When tragedy strikes, as it did in two mass killings earlier this month, there is always the urge to pressure the government to do something. Governments are animated by the belief that doing something — any demonstrable overt behavior — will show that they are in control. I understand the natural fears that good folks have that an El Paso or a Dayton episode might happen again, but doing something for the sake of appearance can be dangerous to personal liberty.

When the U.S. Constitution was written, the idea of owning arms and keeping them in the home was widespread. The colonists had just defeated the armies of King George III. The colonial weapon of choice was the Kentucky long rifle, while British soldiers used their army-issued version of Brown Bessies. Each rifle had its advantages, but the Kentucky (it was actually a German design, perfected and manufactured in Pennsylvania) was able to strike a British soldier at 200 yards, a startlingly long distance at the time. The Bessies were good for only about 80 yards.

Put aside the advantages we had of the passionate defense of freedom and homeland, to say nothing of superior leadership, it doesn't take any advanced understanding of mathematics or ballistics to appreciate why we won the Revolution.


---
Socialism never?
Many young people believe socialism should be implemented in America
President Trump has repeatedly promised "America will never be a socialist country." Since Franklin Roosevelt began expanding government in the 1930s, the United States has increasingly adopted big-state policies associated with socialism.
We may not be at the stage Bernie Sanders would advocate, but more millennials appear to favor a system under which they have never lived. Free stuff is appealing until one realizes its costs.
In an attempt to reach Generation Z — those in their teens and 20s — a new organization is starting this month to combat socialism's appeal.
---
---
"It is discouraging to think how many people are shocked by honesty and how few by deceit."

-- Noel Coward

(1899-1973) British playwright

---

The Medal of Honor is the highest award for valor in action against an enemy force which can be bestowed upon an individual serving in the Armed Services of the United States.

GeneTrerally presented to its recipient by the President of the United States of America in the name of Congress.

The first award of the Medal of Honor was made March 25, 1863 to Private JACOB PARROTT.The last award of the Medal of Honor was made September 15, 2011 to Sergeant DAKOTA MEYER.

Since then there have been: • 3458 recipients of the Medal of Honor.

• Today there are 85 Living Recipients of the Medal of Honor.

Citation


Captain Humbert R. Versace distinguished himself by extraordinary heroism during the period of 29 October 1963 to 26 September 1965, while serving as S-2 Advisor, Military Assistance Advisory Group, Detachment 52, Ca Mau, Republic of Vietnam. While accompanying a Civilian Irregular Defense Group patrol engaged in combat operations in Thoi Binh District, An Xuyen Province, Captain Versace and the patrol came under sudden and intense mortar, automatic weapons, and small arms fire from elements of a heavily armed enemy battalion. As the battle raged, Captain Versace, although severely wounded in the knee and back by hostile fire, fought valiantly and continued to engage enemy targets. Weakened by his wounds and fatigued by the fierce firefight, Captain Versace stubbornly resisted capture by the over-powering Viet Cong force with the last full measure of his strength and ammunition. Taken prisoner by the Viet Cong, he exemplified the tenets of the Code of Conduct from the time he entered into Prisoner of War status. Captain Versace assumed command of his fellow American soldiers, scorned the enemy's exhaustive interrogation and indoctrination efforts, and made three unsuccessful attempts to escape, despite his weakened condition which was brought about by his wounds and the extreme privation and hardships he was forced to endure. During his captivity, Captain Versace was segregated in an isolated prisoner of war cage, manacled in irons for prolonged periods of time, and placed on extremely reduced ration. The enemy was unable to break his indomitable will, his faith in God, and his trust in the United States of America. Captain Versace, an American fighting man who epitomized the principles of his country and the Code of Conduct, was executed by the Viet Cong on 26 September 1965. Captain Versace's gallant actions in close contact with an enemy force and unyielding courage and bravery while a prisoner of war are in the highest traditions of the military service and reflect the utmost credit upon himself and the United States Army.

---

From the Archives

We Have Met the Enemy…
Geoff Metcalf


"They who can give up essential liberty to obtain a little temporary safety deserve neither liberty nor safety.
--Benjamin Franklin
"The American people must be willing to give up a degree of personal privacy in exchange for safety and security."
--Louis Freeh


In the wake of the clamor over the most recent WikiLeaks data dump, 'Vault 7', 'UMBRAGE', et al, it should be noted this is not really anything new. What we are seeing here is simply the evolution of something that goes back to the late 50s (to the incomplete best knowledge I have).

It is kinda cool to finally see even

The New York Times

acknowledging material

I was writing about in 1998

.

In April of 1998 I wrote "Privacy has become an anachronism." I was commenting on "a massive system designed to intercept all your e-mail, fax traffic and more." I was explaining 'Echelon', the illegitimate offspring of a

UKUSA Treaty

signed by the United States, United Kingdom, Canada, Australia and New Zealand. Its purpose was, and is, to have a vast global intelligence monster, which allegedly shares common goals. The system was so "efficient" that reportedly National Security Agency folk from Fort Meade could work from Menwith Hill in England to intercept local communications without either nation having to burden themselves with the formality of seeking approval (a court order) or disclosing the operation. And this was all pre-9/11 and pre-the anti-constitutional

'Patriot Act'

.

It is illegal (without a Judge's signed permission) for the United States to spy on its citizens … kinda. The laws have long been circumvented by a mutual pact among five nations. Under the terms of UKUSA agreement, Britain spies on Americans and America spies on British citizens, and then the two conspirators trade data. A classic technical finesse. It is legal, but the intent to evade the spirit is inescapable.

I often fictionalized the genesis of 'Echelon' as an informal meeting of a group of post war American and British intelligence types drinking in some remote rustic bar. An imagined CIA type complains to his MI6 buddy about the hassles of US laws preventing US intelligence from surveillance of bad guys, and the Brit echoes the same complaint.

"Hey wait a moment mate," says Nigel, the make-believe MI6 guy, "I can spy on your guys and you can spy on our bad players…why don't we just come up with a mechanism whereby we spy on your villains, you spy on our villains, and we just 'share' the intel?"

This system was called ECHELON, and has been kicking around in some form longer than most of you. The result of the UKUSA treaty signed by the United States, United Kingdom, Canada, Australia and New Zealand was, and is, to have a vast global intelligence monster which allegedly shares common goals.

The London Telegraph reported in December of 1997 that the Civil liberties Committee of the European Parliament had officially confirmed the existence and purpose of ECHELON. "A global electronic spy network that can eavesdrop on every telephone, e-mail and telex communication around the world will be officially acknowledged for the first time in a European Commission report. …"

The report noted: "Within Europe all e-mail, telephone and fax communications are routinely intercepted by the United States National Security Agency, transferring all target information from the European mainland via the strategic hub of London, then by satellite to Fort Meade in Maryland via the crucial hub at Menwith Hill, in the North York moors in the UK.

"The ECHELON system forms part of the UKUSA system but unlike many of the electronic spy systems developed during the Cold War, ECHELON was designed primarily for non-military targets: governments, organizations and businesses in virtually every country."

An interesting sidebar appeared in the International Herald Tribune under the headline, "Big Corporate Brother: It Knows More About You Than You Think." The story details Acxiom Corp, which was a humongous information service hidden in the Ozark foothills. Twenty-four hours a day, Acxiom electronically gathered and sorts all kinds of data about 196 million Americans. Credit card transactions and magazine subscriptions, telephone numbers, real estate records, automotive data, hunting, business and fishing licenses, consumer surveys and demographic detail that would make a marketing department's research manager salivate. This relatively new (legal) enterprise was known as "data warehousing" or "data-mining", and it underscores the cruel reality that the fiction of personal privacy has become obsolete. Technology's ability to collect and analyze data has made privacy a quaint albeit interesting dinosaur.

The Tribune reported that "Axciom can often determine whether an American owns a dog or cat, enjoys camping or gourmet cooking, reads the Bible or lots of other books. It can often pinpoint an American's occupation, car and favorite vacations. By analyzing the equivalent of billions of pages of data, it often projects for its customers who should be offered a credit card or who is likely to buy a computer."

Most of this information is from y 1998 piece. Echelon has developed, matured, and morphed into a much more powerful hybrid. 'Carnivore' was software to help triage the cacophony of data. Vault 7 and 'Umbrage' are logical (some would argue "insidious") growth.

More to follow…