"It Is Not A Question of Who Is Right Or Wrong But What Is Right Or Wrong That Counts.

"

--Geoff Metcalf
Providing an on line Triage of the news since 1997



Wo

rld & Nation
Acting Capitol Police chief says intel agencies underestimated threat of Jan. 6 riot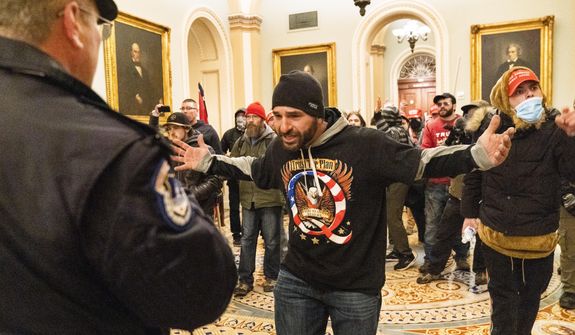 Acting U.S. Capitol Police Chief Yogananda Pittman told lawmakers Thursday that the government was aware that armed extremists were planning mayhem at the Capitol on Jan. 6, but the intelligence grossly underestimated the scope of the attack.
Chief Pittman said had there been better intelligence, she would likely have suggested former Vice President Mike Pence not come to the Capitol to oversee the certification of the presidential election results. Mr. Pence was a target of the insurrectionists angry over former President Trump's loss in the November election.
"The [Capitol Police's] preparations were based on the information it gathered from its law enforcement partners like the FBI and others within the intelligence community, none of which indicated that a mass insurrection of this scale would occur at the U.S. Capitol on January 6," she said in testimony before the House Appropriations Committee.
---
Pelosi refers to Sen. Ron Johnson as 'Miami Vice' actor in security dispute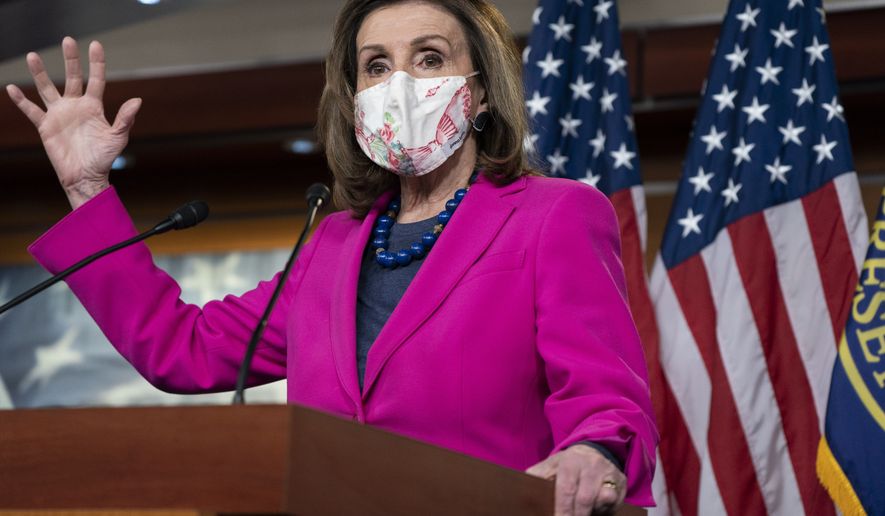 House Speaker Nancy Pelosi on Thursday referred to Sen. Ron Johnson, Wisconsin Republican, as the actor Don Johnson from the 1980s television show "Miami Vice" as she feuded with Senate Republicans over Capitol security.
Mrs. Pelosi first took issue with Senate Minority Leader Mitch McConnell branding her proposed commission to investigate the Jan. 6 riot at the U.S. Capitol as partisan, calling his reaction "disappointing."
She then accused Mr. McConnell of "taking his lead" from Mr. Johnson, but seemed unable to recall the latter lawmaker's full name.
---
Sen. Lee: 'Weird' That Dems Want to Remove Biden Sole Control of Nuclear Football
Three dozen House Democrats have signed off on a letter asking President Joe Biden to give up his sole authority to launch nuclear weapons, and Sen. Mike Lee said he finds that "weird."
"The fact is, the president is the commander-in-chief of the armed forces," the Utah Republican told Fox News' "Fox and Friends" Thursday. "This is why we subject presidents to a rigorous review process. They have to win the election. Once they won the election, you really do have to pick that horse and ride it and let the president be the commander in chief. It seems really weird to me that they want to take that away."
In the letter, written by Rep. Jimmy Panetta, D-Calif., and obtained by Politico, Democrats said that "vesting one person with this authority entails real risks. Past presidents have threatened to attack other countries with nuclear weapons or exhibited behavior that caused other officials to express concern about the president's judgment."
---
CPAC Chair Schlapp: Trump Knows Speech Is 'Important Reset'
Former President Donald Trump, who will mark his first public appearance with a speech at the Conservative Political Action Conference (CPAC) gathering on Sunday, knows his speech is a "very, very important reset," CPAC Chairman Matt Schlapp said Thursday before the annual conference was to kick off in Orlando.
"He thinks about what he is going to say right until he starts saying it," Schlapp told Fox News' "Fox and Friends." "I think he is talking to advisers, people he trusts, trying to ask where should I go with this speech? He knows it's a very, very important reset for him and for the country, and for half the country, and for so many people here in this ballroom."
Stephen Miller, Trump's adviser and one of his speechwriters, told Fox Business' Larry Kudlow in a preview of the speech Wednesday that Trump will likely speak about the economy, opening schools again, and will "obviously talk about the immigration issue, which the president believes, I agree, is political suicide for the Democrat Party."
---
Republicans trash Dems' 'abuse of power' in push to silence conservative-leaning media outlets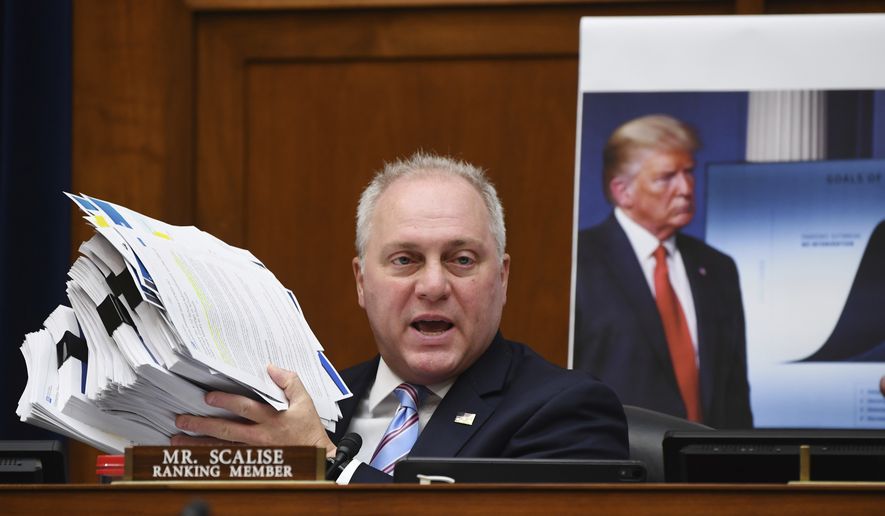 The Democrat-led rush to sideline media outlets such as Fox and Newsmax that they accused of disseminating "disinformation" ran into strong opposition Wednesday from Republicans and free speech advocates who warned that the push puts the nation on a slippery slope toward state-controlled censorship.
Members of a House panel clashed over the widely held belief among Democrats that news outlets should pay a price for parroting former President Donald Trump's false messaging — in particular his downplaying of the coronavirus and insistence that the 2020 election was stolen.
"Let me put it bluntly: Misinformation is killing Americans and damaging our democracy," Rep. Anna G. Eshoo told members of the House Energy and Commerce Committee. "We have to examine how conspiracies and lies convince people to dismiss public health measures and refuse lifesaving vaccines.
---
Five Oregon counties to vote on leaving state, escaping to 'Greater Idaho'
Two Greater Idaho initiatives passed, two failed in November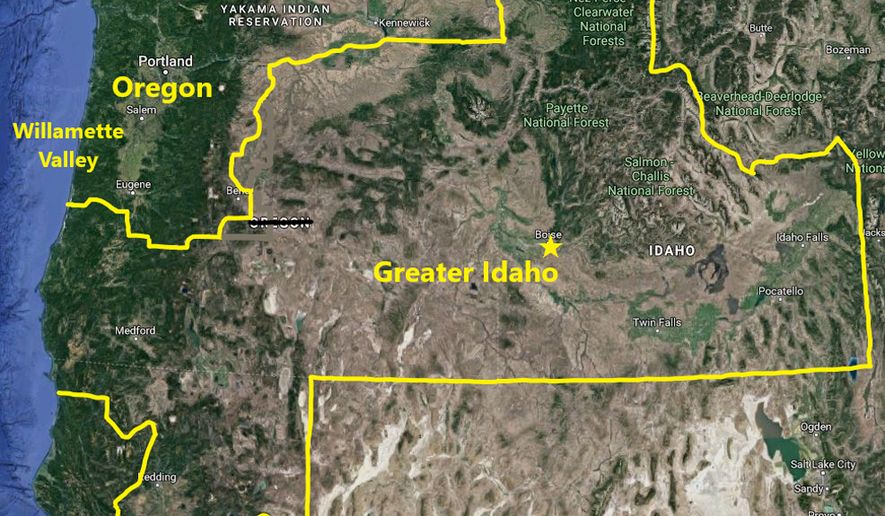 Five Oregon counties will ask voters in the next election whether they want to detach from the deep-blue state and join neighboring red-state Idaho.
Move Oregon's Border, also known as Greater Idaho, confirmed Tuesday that the initiative to move swaths of largely rural eastern and southern Oregon into Idaho qualified for the May 18 special election ballot in five counties: Baker, Grant, Lake, Malheur and Sherman.
In Baker County, organizers far exceeded the 496 signatures required by submitting 746, with the clerk reporting that 630 were accepted. The county population is about 16,000.
---
Biden revokes Trump orders on immigration, funding for 'anarchist' cities
President Biden on Wednesday revoked actions by former President Donald Trump that were aimed at cutting off federal funding to "anarchist" cities, restricting legal immigration during the COVID-19 pandemic, requiring classical architecture for federal buildings, enforcing work requirements for welfare recipients and other moves.
Mr. Biden also rescinded a Trump order allowing the Defense Department to exclude itself from collective bargaining requirements. And he revoked Mr. Trump's order from 2017 establishing "core principles" for federal regulations, as well as a Trump action requiring federal agencies to waive any regulations that could hurt the economic recovery during the pandemic.
Mr. Biden said the Trump order restricting certain forms of legal immigration during the pandemic "does not advance the interests of the United States."
---
Real-World Study: Pfizer Vaccine 94 Percent Effective
A study of over half a million inoculated people found that two doses of the Pfizer vaccine is 94% effective in preventing symptomatic COVID-19 in all age groups.
According to CBS News, results of the Israeli study in collaboration with experts at Harvard University were published Wednesday in the New England Journal of Medicine.
"The study provides the first large-scale peer-reviewed evaluation of the effectiveness of a COVID-19 vaccine in a nationwide mass-vaccination setting," said researchers at the Chalit Research Institute in Israel.
Researchers also found that even after one dose, the vaccine helped prevent serious illness and death. While most data about vaccine efficacy has been gathered from controlled clinical trials, Israel's speed in vaccine rollout provided the ideal opportunity to evaluate real-world statistics.
---
Trump tax returns are now in the hands of the Manhattan district attorney
Former President Donald Trump's tax records have been turned over to Manhattan District Attorney Cyrus Vance Jr. following the Supreme Court's rejection of the ex-president's last-ditch effort to keep the documents shielded.
A spokesperson for Vance, Danny Frost, confirmed that a subpoena was enforced on Monday against Trump's longtime accounting firm, Mazars USA, hours after the nation's highest court rejected Trump's appeal.
The subpoena demanded Trump's personal and corporate records dating to 2011, including his tax returns. Trump bucked modern precedent by refusing to release his tax returns to the public even as he mounted two campaigns for the presidency.
A spokesperson for the former president did not immediately provide comment Thursday. After the court allowed the transfer, Trump pledged to "fight on" and said Vance was pursuing a "fishing expedition."
---
Former top aide details sexual harassment allegations against New York Governor Andrew Cuomo
A former top aide to New York Governor Andrew Cuomo has accused him of intimidation and sexual harassment, expanding on allegations she first made in December. In an essay posted to Medium on Wednesday, the former staffer accused the governor of going "out of his way" to touch her "lower back, arms and legs," and kissing her during a one-on-one meeting.
Lindsey Boylan, the former chief of staff at New York's state economic agency, claimed that the governor took an "uncomfortable" interest in her after she was appointed to the role in 2015. "My boss soon informed me that the Governor had a 'crush' on me," she wrote, saying she was told by the director of the governor's offices that Cuomo suggested she "look up images of Lisa Shields — his rumored former girlfriend — because 'we could be sisters' and I was 'the better looking sister.'"
Boylan, who is now running for Manhattan borough president, wrote in a series of December tweets that Cuomo "sexually harassed me for years."
---
Pro-military marchers in Myanmar attack anti-coup protesters
Supporters of Myanmar's junta attacked people protesting the military government that took power in a coup, using slingshots, iron rods and knives Thursday to injure several of the demonstrators.
The violence complicates an already intractable standoff between the military and a protest movement that has been staging large rallies daily to demand that Aung San Suu Kyi's elected government be restored to power. She and other politicians were ousted and arrested on Feb. 1 in a takeover that shocked the international community and reversed years of slow progress toward democracy.
In response, several Western countries have imposed or threatened sanctions against the military. On Thursday, Britain announced further measures against members of the ruling junta for "overseeing human rights violations since the coup."
---
Donald Trump still the leader of the Republican Party
The 2020 election was by no means a repudiation of his policies
Former President Donald J. Trump is the undisputed leader of the Republican Party.
Flipping just 45,686 votes in three states (Georgia, Arizona, and Wisconsin) would have changed the outcome of the 2020 election in Mr. Trump's favor — in no way was the presidential election a blow-out or a referendum on Mr. Trump's policies.
Mr. Trump expanded the base of the Republican Party, growing it by more than 7 million people in the past four years. He increased the racial and ethnic diversity of the GOP by increasing its gains among Hispanics (R +20), Blacks (R+9) and Asian and other groups (R+13) over 2012.
---
Forget the border wall. To reduce illegal immigration, jail employers who hire ineligible workers
The Republicans are learning quickly how to be in the minority in Congress, and that's good news.
How can you tell? That's easy. They are starting to use the legislative process to move their own agenda and tangle the other side. As part of that, Sens. Tom Cotton of Arkansas and Mitt Romney of Utah on Thursday morning are set to introduce the Higher Wages for American Workers Act.
The legislation would phase in an increase in the federal minimum wage to $10 by 2025 and index it to inflation thereafter, while requiring employers to E-Verify their employees, phasing in implementation over 18 months to allow small businesses additional time to compl). The verification process prevents fraud by requiring workers 18 and older to provide photo identification to their employer, which will be cross-referenced through the federal E-Verify system.
---
" It is discouraging to think how many people are shocked by honesty and how few by deceit."

-- Noel Coward

(1899-1973) British playwright

---

The Medal of Honor is the highest award for valor in action against an enemy force which can be bestowed upon an individual serving in the Armed Services of the United States.

GeneTrerally presented to its recipient by the President of the United States of America in the name of Congress.

The first award of the Medal of Honor was made March 25, 1863 to Private JACOB PARROTT.The last award of the Medal of Honor was made September 15, 2011 to Sergeant DAKOTA MEYER.

Since then there have been: • 3458 recipients of the Medal of Honor.

• Today there are 85 Living Recipients of the Medal of Honor.

Citation


Captain Humbert R. Versace distinguished himself by extraordinary heroism during the period of 29 October 1963 to 26 September 1965, while serving as S-2 Advisor, Military Assistance Advisory Group, Detachment 52, Ca Mau, Republic of Vietnam. While accompanying a Civilian Irregular Defense Group patrol engaged in combat operations in Thoi Binh District, An Xuyen Province, Captain Versace and the patrol came under sudden and intense mortar, automatic weapons, and small arms fire from elements of a heavily armed enemy battalion. As the battle raged, Captain Versace, although severely wounded in the knee and back by hostile fire, fought valiantly and continued to engage enemy targets. Weakened by his wounds and fatigued by the fierce firefight, Captain Versace stubbornly resisted capture by the over-powering Viet Cong force with the last full measure of his strength and ammunition. Taken prisoner by the Viet Cong, he exemplified the tenets of the Code of Conduct from the time he entered into Prisoner of War status. Captain Versace assumed command of his fellow American soldiers, scorned the enemy's exhaustive interrogation and indoctrination efforts, and made three unsuccessful attempts to escape, despite his weakened condition which was brought about by his wounds and the extreme privation and hardships he was forced to endure. During his captivity, Captain Versace was segregated in an isolated prisoner of war cage, manacled in irons for prolonged periods of time, and placed on extremely reduced ration. The enemy was unable to break his indomitable will, his faith in God, and his trust in the United States of America. Captain Versace, an American fighting man who epitomized the principles of his country and the Code of Conduct, was executed by the Viet Cong on 26 September 1965. Captain Versace's gallant actions in close contact with an enemy force and unyielding courage and bravery while a prisoner of war are in the highest traditions of the military service and reflect the utmost credit upon himself and the United States Army.

---

From the Archives

We Have Met the Enemy…
Geoff Metcalf


"They who can give up essential liberty to obtain a little temporary safety deserve neither liberty nor safety.
--Benjamin Franklin
"The American people must be willing to give up a degree of personal privacy in exchange for safety and security."
--Louis Freeh


In the wake of the clamor over the most recent WikiLeaks data dump, 'Vault 7', 'UMBRAGE', et al, it should be noted this is not really anything new. What we are seeing here is simply the evolution of something that goes back to the late 50s (to the incomplete best knowledge I have).

It is kinda cool to finally see even

The New York Times

acknowledging material

I was writing about in 1998

.

In April of 1998 I wrote "Privacy has become an anachronism." I was commenting on "a massive system designed to intercept all your e-mail, fax traffic and more." I was explaining 'Echelon', the illegitimate offspring of a

UKUSA Treaty

signed by the United States, United Kingdom, Canada, Australia and New Zealand. Its purpose was, and is, to have a vast global intelligence monster, which allegedly shares common goals. The system was so "efficient" that reportedly National Security Agency folk from Fort Meade could work from Menwith Hill in England to intercept local communications without either nation having to burden themselves with the formality of seeking approval (a court order) or disclosing the operation. And this was all pre-9/11 and pre-the anti-constitutional

'Patriot Act'

.

It is illegal (without a Judge's signed permission) for the United States to spy on its citizens … kinda. The laws have long been circumvented by a mutual pact among five nations. Under the terms of UKUSA agreement, Britain spies on Americans and America spies on British citizens, and then the two conspirators trade data. A classic technical finesse. It is legal, but the intent to evade the spirit is inescapable.

I often fictionalized the genesis of 'Echelon' as an informal meeting of a group of post war American and British intelligence types drinking in some remote rustic bar. An imagined CIA type complains to his MI6 buddy about the hassles of US laws preventing US intelligence from surveillance of bad guys, and the Brit echoes the same complaint.

"Hey wait a moment mate," says Nigel, the make-believe MI6 guy, "I can spy on your guys and you can spy on our bad players…why don't we just come up with a mechanism whereby we spy on your villains, you spy on our villains, and we just 'share' the intel?"

This system was called ECHELON, and has been kicking around in some form longer than most of you. The result of the UKUSA treaty signed by the United States, United Kingdom, Canada, Australia and New Zealand was, and is, to have a vast global intelligence monster which allegedly shares common goals.

The London Telegraph reported in December of 1997 that the Civil liberties Committee of the European Parliament had officially confirmed the existence and purpose of ECHELON. "A global electronic spy network that can eavesdrop on every telephone, e-mail and telex communication around the world will be officially acknowledged for the first time in a European Commission report. …"

The report noted: "Within Europe all e-mail, telephone and fax communications are routinely intercepted by the United States National Security Agency, transferring ll target information from the Eurv opean mainland via the strategic hub of London, then by satellite to Fort Meade in Maryland via the crucial hub at Menwith Hill, in the North York moors in th UK.

"The ECHELON system forms part of the UKUSA system but unlike many of the electronic spy systems developed during the Cold War, ECHELON was designed primarily for non-military targets: governments, organizations and businesses in virtually every country."

An interesting sidebar appeared in the International Herald Tribune under the headline, "Big Corporate Brother: It Knows More About You Than You Think." The story details Acxiom Corp, which was a humongous information service hidden in the Ozark foothills. Twenty-four hours a day, Acxiom electronically gathered and sorts all kinds of data about 196 million Americans. Credit card transactions and magazine subscriptions, telephone numbers, real estate records, automotive data, hunting, business and fishing licenses, consumer surveys and demographic detail that would make a marketing department's research manager salivate. This relatively new (legal) enterprise was known as "data warehousing" or "data-mining", and it underscores the cruel reality that the fiction of personal privacy has become obsolete. Technology's ability to collect and analyze data has made privacy a quaint albeit interesting dinosaur.

The Tribune reported that "Axciom can often determine whether an American owns a dog or cat, enjoys camping or gourmet cooking, reads the Bible or lots of other books. It can often pinpoint an American's occupation, car and favorite vacations. By analyzing the equivalent of billions of pages of data, it often projects for its customers who should be offered a credit card or who is likely to buy a computer."

Most of this information is from y 1998 piece. Echelon has developed, matured, and morphed into a much more powerful hybrid. 'Carnivore' was software to help triage the cacophony of data. Vault 7 and 'Umbrage' are logical (some would argue "insidious") growth.

More to follow…