"It Is Not A Question of Who Is Right Or Wrong But What Is Right Or Wrong That Counts.

"

--Geoff Metcalf
Wo

rld & National
ICE deportation sweep to begin this weekend: Report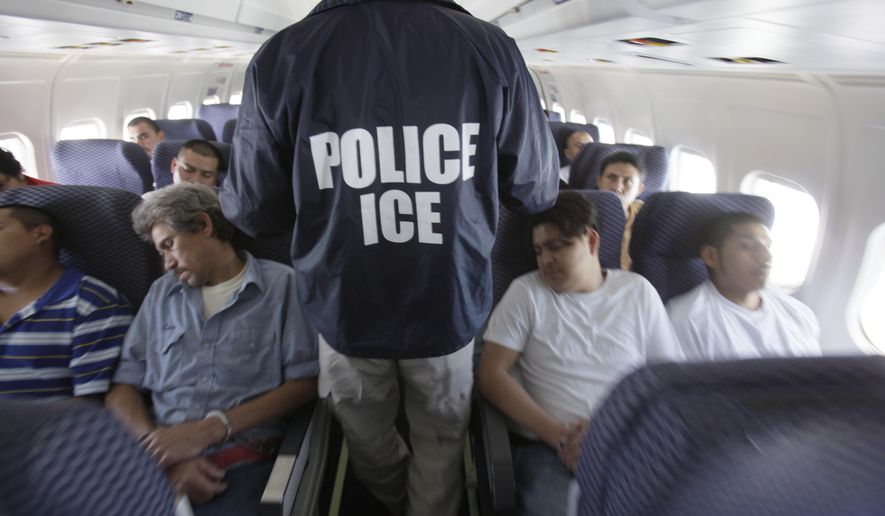 ICE officers will begin President Trump's promised deportation sweep this weekend, targeting about 2,000 illegal immigrants who have been ordered deported but are defying those judges' orders to remain in the country, The New York Times reported Thursday.

The operation is meant to target members of illegal immigrant families who have arrived in the border surge. They have gone through their court hearings, been ordered deported, have been contacted by U.S. Immigration and Customs Enforcement about scheduling an orderly removal, and have ignored all of those entreaties.

But ICE officials have said any other illegal immigrants encountered at the same time are viable targets for arrest and deportation themselves.


---
Trump expected to take executive action on census at press conference
President Trump is expected to take executive action Thursday afternoon aimed at putting a citizenship question on the census.
The president said on Twitter that he will hold a news conference in "the beautiful Rose Garden" to address citizenship and the census. A senior administration official said Thursday morning the action might not take the form of a presidential order, but it will address the citizenship issue.
Mr. Trump hasn't given up in his battle to restore a citizenship question on the census, despite a setback at the Supreme Court two weeks ago. The high court said the administration hadn't made its case, and sent the matter back to the Commerce Department.
---
SEA STANDOFF Royal Navy frigate trains guns on Iranian boats trying to storm Brit tanker in Persian Gulf forcing them to back off
A ROYAL Navy frigate was forced to train its weapons on three Iranian boats that tried to seize a British oil tanker off Iran yesterday.
Iran's elite Revolutionary Guard tried to take control of the vessel as it passed through the Strait of Hormuz - sparking a tense standoff in the Persian Gulf, US officials revealed.
The British Heritage oil tanker, pictured, was travelling through the Strait of Hormuz yesterday when it was approached by Iranian military boats, according to US officialsCredit: Shuttershock
But HMS Montrose quickly trained its 30mm deck guns on the enemy boats and warned them off, they added.
The British Heritage tanker was being escorted through the flashpoint region by the Montrose amid feverish tensions between Iran and the West.
---
Nancy Pelosi defiant amid Dem infighting: 'Regrets is not what I do'
Tensions boil over as Democrats try to pass defense bill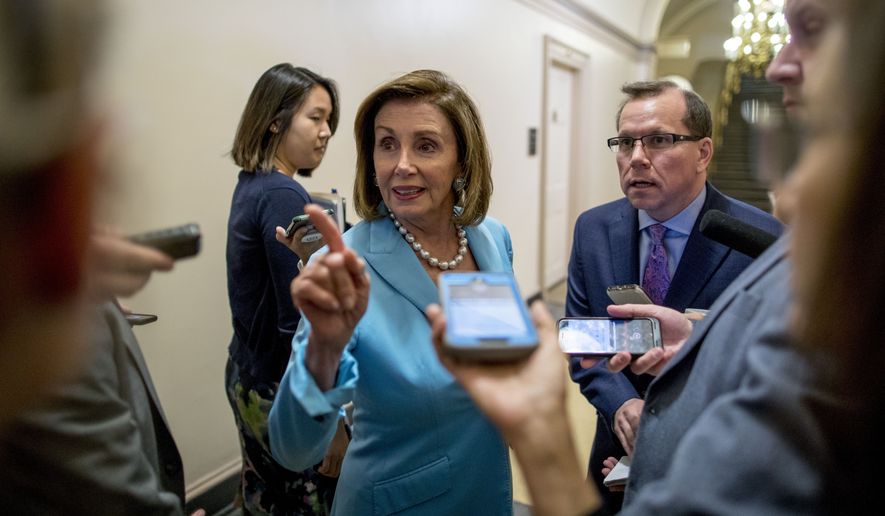 House Speaker Nancy Pelosi said Wednesday that she had "no regrets" about jabbing at Rep. Alexandria Ocasio-Cortez and other rebellious freshmen Democrats, adding fuel to a feud that is straining party unity.
Mrs. Pelosi's lieutenants this week were hoping to patch over the fight, which has spilled into the public in spectacular fashion with interviews and countertweets, saying it's an internal family matter and insisting that House Democrats are still pulling in the same direction.
But the combatants — Mrs. Pelosi on one side and the four freshmen, all women of color, on the other — are still going at it.
"I have no regrets about anything. Regrets is not what I do," said Mrs. Pelosi, defending her comments over the weekend minimizing the political weight of Ms. Ocasio-Cortez and fellow Reps. Ayanna Pressley, Ilhan Omar and Rashida Tlaib.
---
Alex Acosta refuses to resign, blames Florida prosecutors for Epstein deal
Says billionaire would have dodged jail without his intervention
Labor Secretary Alex Acosta rejected calls to resign Wednesday, saying he was the one who made sure billionaire Jeffrey Epstein served jail time and registered as a sex offender the first time he was accused of sexually abusing teen girls.
Fighting for his job and his reputation, Mr. Acosta held a rare press conference to defend the decisions he made a decade ago when, as U.S. attorney in Miami, he was involved in that first case against Mr. Epstein.
His prosecutors struck a deal in 2008 to drop their case in exchange for Mr. Epstein's agreement to plead guilty to a state prostitution charge, to serve time in a work-release program, to register as a sex offender and to pay restitution to victims.
---
House Democrats delete tweets showing Obama-era photo of migrant detention facility
The Democratic-led House Oversight and Reform Committee deleted tweets this week that used Obama-era photos of border detention facilities in an effort to slam President Trump's treatment of illegal immigrants.
"Last week, members of our committee visited a detention center at the southern border and discovered grotesque treatment of children," the committee wrote Tuesday in a now-deleted tweet, according to a screenshot obtained by the Washington Examiner. "This week, we are examining the inhumane treatment of the children in these detention centers."
The tweet included a picture taken during the Obama administration in 2014 by Associated Press photojournalist Ross D. Franklin, which showed detainees sleeping in a holding cell at the U.S. Customs and Border Protection Nogales Placement Center in Nogales, Arizona.
---
High anxiety hits Senate over raising debt ceiling
Senators are growing anxious that they might have to vote to raise the nation's debt ceiling in a matter of weeks given new estimates that the government could hit its borrowing limit earlier than expected.
The debt limit was exceeded earlier this year, and the Treasury Department is now taking steps known as "extraordinary measures" to prevent the government from going over its borrowing limit.
Lawmakers had hoped they would be able to avoid the politically painful vote to raise the debt ceiling until the fall — and that it could be packaged with other legislation to fund the government and set budget caps on spending.
---
Louisiana braces for possible hurricane carrying double trouble
A potential tropical storm or even hurricane brewing in the Gulf of Mexico presents twin troubles for parts of southeast Louisiana - the possibility that a high Mississippi River will be lapping at the tops of levees this weekend, and a danger of flash floods like the one that unexpectedly walloped New Orleans on Wednesday.
A line of thunderstorms ahead of the disturbance dumped as much as 8 inches of rain in parts of the metropolitan area in a three-hour span. The system was forecast to strengthen into a tropical depression Thursday, a tropical storm called Barry Thursday night, and possibly, a weak hurricane by Friday.
Forecasters said Louisiana could see up to 12 inches of rain by Monday, with isolated areas receiving as much as 18 inches. And the storm's surge at the mouth of the Mississippi could also mean a river that's been running high for months will rise even higher.
---
France approves digital tax on American tech giants, defying US trade threat
France's Senate approved a tax on the revenues of tech giants like Google, Amazon and Facebook on Thursday, defying a warning from the President Donald Trump administration that it "unfairly targets American companies."
On Wednesday, Trump ordered an investigation into France's planned "digital tax" on tech companies. The 3% tax would apply to the French revenues of roughly 30 major companies, mostly from the U.S.
"France is sovereign, and France decides its own tax rules. And this will continue to be the case," France's Finance Minister Bruno Le Maire said in a statement.
watch now
---
Reporters Without Borders Urges Saudi Arabia to Free 30 Jailed Journalists
Reporters Without Borders, which advocates for press freedom, increased pressure on Saudi Arabia on Wednesday to release dozens of journalists currently detained in the country and to relax its heavy suppression of the news media and of dissenting voices.
A delegation from Reporters Without Borders met with top Saudi officials this year, including the foreign minister and justice minister, the organization said, in a visit that was spurred by widespread outrage about the killing of the Saudi dissident writer Jamal Khashoggi.
The main objective of the trip was to urge the Saudi government to free the 30 journalists, but the kingdom's dismal ranking in the organization's annual press freedom index also became a focus of conversation, according to Christophe Deloire, secretary general of Reporters Without Borders, who was part of the delegation. Saudi Arabia was ranked 172nd out of 180 countries on the group's annual list for 2019.
---
---
"It is discouraging to think how many people are shocked by honesty and how few by deceit."

-- Noel Coward

(1899-1973) British playwright

---

The Medal of Honor is the highest award for valor in action against an enemy force which can be bestowed upon an individual serving in the Armed Services of the United States.

GeneTrerally presented to its recipient by the President of the United States of America in the name of Congress.

The first award of the Medal of Honor was made March 25, 1863 to Private JACOB PARROTT.The last award of the Medal of Honor was made September 15, 2011 to Sergeant DAKOTA MEYER.

Since then there have been: • 3458 recipients of the Medal of Honor.

• Today there are 85 Living Recipients of the Medal of Honor.

Citation


Captain Humbert R. Versace distinguished himself by extraordinary heroism during the period of 29 October 1963 to 26 September 1965, while serving as S-2 Advisor, Military Assistance Advisory Group, Detachment 52, Ca Mau, Republic of Vietnam. While accompanying a Civilian Irregular Defense Group patrol engaged in combat operations in Thoi Binh District, An Xuyen Province, Captain Versace and the patrol came under sudden and intense mortar, automatic weapons, and small arms fire from elements of a heavily armed enemy battalion. As the battle raged, Captain Versace, although severely wounded in the knee and back by hostile fire, fought valiantly and continued to engage enemy targets. Weakened by his wounds and fatigued by the fierce firefight, Captain Versace stubbornly resisted capture by the over-powering Viet Cong force with the last full measure of his strength and ammunition. Taken prisoner by the Viet Cong, he exemplified the tenets of the Code of Conduct from the time he entered into Prisoner of War status. Captain Versace assumed command of his fellow American soldiers, scorned the enemy's exhaustive interrogation and indoctrination efforts, and made three unsuccessful attempts to escape, despite his weakened condition which was brought about by his wounds and the extreme privation and hardships he was forced to endure. During his captivity, Captain Versace was segregated in an isolated prisoner of war cage, manacled in irons for prolonged periods of time, and placed on extremely reduced ration. The enemy was unable to break his indomitable will, his faith in God, and his trust in the United States of America. Captain Versace, an American fighting man who epitomized the principles of his country and the Code of Conduct, was executed by the Viet Cong on 26 September 1965. Captain Versace's gallant actions in close contact with an enemy force and unyielding courage and bravery while a prisoner of war are in the highest traditions of the military service and reflect the utmost credit upon himself and the United States Army.

---

From the Archives

We Have Met the Enemy…
Geoff Metcalf


"They who can give up essential liberty to obtain a little temporary safety deserve neither liberty nor safety.
--Benjamin Franklin
"The American people must be willing to give up a degree of personal privacy in exchange for safety and security."
--Louis Freeh


In the wake of the clamor over the most recent WikiLeaks data dump, 'Vault 7', 'UMBRAGE', et al, it should be noted this is not really anything new. What we are seeing here is simply the evolution of something that goes back to the late 50s (to the incomplete best knowledge I have).

It is kinda cool to finally see even

The New York Times

acknowledging material

I was writing about in 1998

.

In April of 1998 I wrote "Privacy has become an anachronism." I was commenting on "a massive system designed to intercept all your e-mail, fax traffic and more." I was explaining 'Echelon', the illegitimate offspring of a

UKUSA Treaty

signed by the United States, United Kingdom, Canada, Australia and New Zealand. Its purpose was, and is, to have a vast global intelligence monster, which allegedly shares common goals. The system was so "efficient" that reportedly National Security Agency folk from Fort Meade could work from Menwith Hill in England to intercept local communications without either nation having to burden themselves with the formality of seeking approval (a court order) or disclosing the operation. And this was all pre-9/11 and pre-the anti-constitutional

'Patriot Act'

.

It is illegal (without a Judge's signed permission) for the United States to spy on its citizens … kinda. The laws have long been circumvented by a mutual pact among five nations. Under the terms of UKUSA agreement, Britain spies on Americans and America spies on British citizens, and then the two conspirators trade data. A classic technical finesse. It is legal, but the intent to evade the spirit is inescapable.

I often fictionalized the genesis of 'Echelon' as an informal meeting of a group of post war American and British intelligence types drinking in some remote rustic bar. An imagined CIA type complains to his MI6 buddy about the hassles of US laws preventing US intelligence from surveillance of bad guys, and the Brit echoes the same complaint.

"Hey wait a moment mate," says Nigel, the make-believe MI6 guy, "I can spy on your guys and you can spy on our bad players…why don't we just come up with a mechanism whereby we spy on your villains, you spy on our villains, and we just 'share' the intel?"

This system was called ECHELON, and has been kicking around in some form longer than most of you. The result of the UKUSA treaty signed by the United States, United Kingdom, Canada, Australia and New Zealand was, and is, to have a vast global intelligence monster which allegedly shares common goals.

The London Telegraph reported in December of 1997 that the Civil liberties Committee of the European Parliament had officially confirmed the existence and purpose of ECHELON. "A global electronic spy network that can eavesdrop on every telephone, e-mail and telex communication around the world will be officially acknowledged for the first time in a European Commission report. …"

The report noted: "Within Europe all e-mail, telephone and fax communications are routinely intercepted by the United States National Security Agency, transferring all target information from the European mainland via the strategic hub of London, then by satellite to Fort Meade in Maryland via the crucial hub at Menwith Hill, in the North York moors in the UK.

"The ECHELON system forms part of the UKUSA system but unlike many of the electronic spy systems developed during the Cold War, ECHELON was designed primarily for non-military targets: governments, organizations and businesses in virtually every country."

An interesting sidebar appeared in the International Herald Tribune under the headline, "Big Corporate Brother: It Knows More About You Than You Think." The story details Acxiom Corp, which was a humongous information service hidden in the Ozark foothills. Twenty-four hours a day, Acxiom electronically gathered and sorts all kinds of data about 196 million Americans. Credit card transactions and magazine subscriptions, telephone numbers, real estate records, automotive data, hunting, business and fishing licenses, consumer surveys and demographic detail that would make a marketing department's research manager salivate. This relatively new (legal) enterprise was known as "data warehousing" or "data-mining", and it underscores the cruel reality that the fiction of personal privacy has become obsolete. Technology's ability to collect and analyze data has made privacy a quaint albeit interesting dinosaur.

The Tribune reported that "Axciom can often determine whether an American owns a dog or cat, enjoys camping or gourmet cooking, reads the Bible or lots of other books. It can often pinpoint an American's occupation, car and favorite vacations. By analyzing the equivalent of billions of pages of data, it often projects for its customers who should be offered a credit card or who is likely to buy a computer."

Most of this information is from y 1998 piece. Echelon has developed, matured, and morphed into a much more powerful hybrid. 'Carnivore' was software to help triage the cacophony of data. Vault 7 and 'Umbrage' are logical (some would argue "insidious") growth.

More to follow…