"It Is Not A Question of Who Is Right Or Wrong But What Is Right Or Wrong That Counts.

"

--Geoff Metcalf




Wo

rld & National
Perceived threat: Long, tangled history put Khashoggi in crosshairs
Ties to Saudi intelligence, Muslim Brotherhood and political activism may have led to journalist's disappearance

The prevailing narrative about the bizarre case of U.S.-based Saudi journalist Jamal Khashoggi is that Saudi Arabia's hard-charging young crown prince ordered him kidnapped and perhaps killed in order to silence a particularly effective critic who wrote widely read, disparaging columns about the royal family and the crown prince's own ambitious reform agenda.
But Middle East insiders say some deeper subplots played into Mr. Khashoggi's disappearance — stemming from his long career of political activism, ties to Saudi intelligence and Mr. Khashoggi's past relationship with the Islamist group the Muslim Brotherhood.
Mr. Khashoggi, who was 59 when he disappeared at the Saudi Consulate in Istanbul on Oct. 2, is said to have withdrawn years ago from any formal affiliation with the Brotherhood, but his past ties to the transnational Islamist group are believed to have been a source of distrust for Saudi Crown Prince Mohammed bin Salman.
---
Trump threatens to shut down southern border if Mexico doesn't stop migrant caravan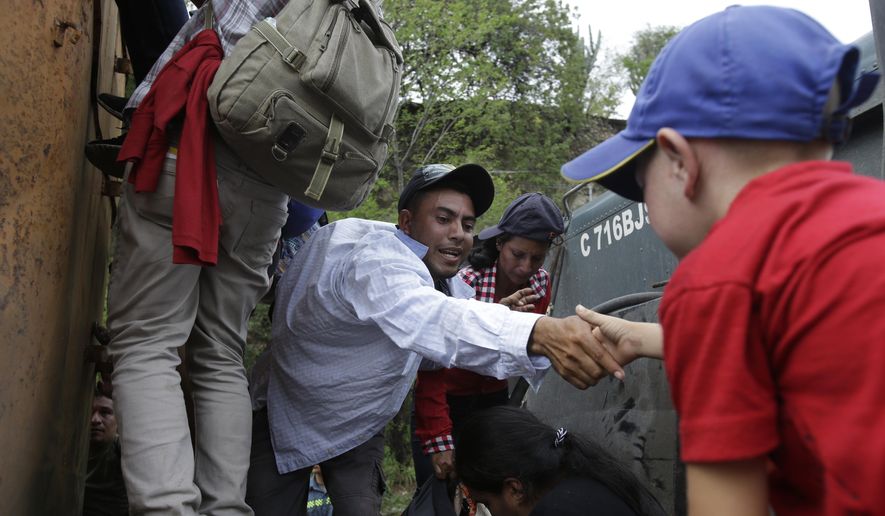 President Trump threatened Thursday to close the southern border if Mexico does not stop the caravan of migrants from reaching the U.S.
Mr. Trump said Guatemala, Honduras and El Salvador are effectively assaulting the country as hundreds of immigrants flee those nations. He once again warned that the U.S. would stop spending money on those nations if the migrants succeeded in making it to the border.
The president also blamed Democrats for the massive migrant movement.
The group, which started out in Honduras, defied the orders of Guatemalan police on Monday and proceeded to pass through the country. Police estimated that the group was around 2,000 on Monday.
---

EPA cheers decline in U.S. greenhouse-gas emissions under Trump administration
U.S. greenhouse-gas emissions declined 2.7% in 2017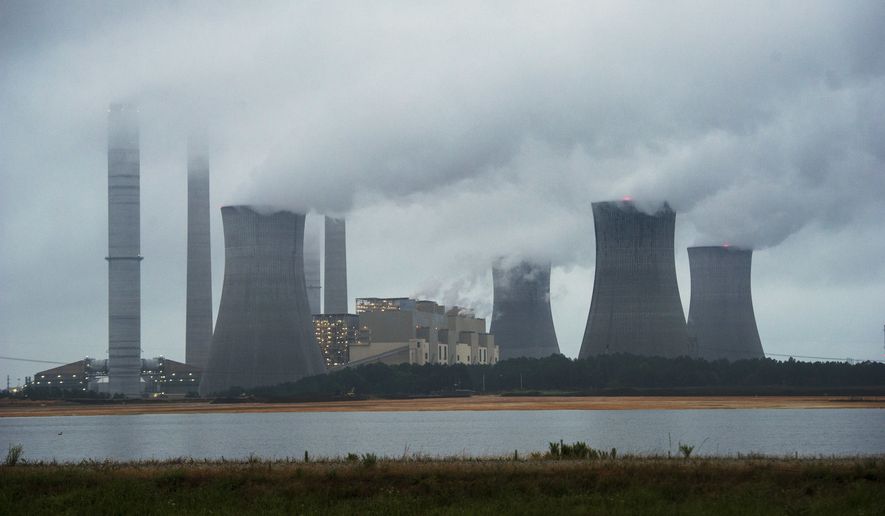 President Trump has come under scorching criticism for his climate change policies, but apparently he is doing something right.
The Environmental Protection Agency announced Wednesday that U.S. greenhouse gas emissions dropped by 2.7 percent last year, the first year of the Trump presidency, even as the administration slashed environmental regulations and global emissions continued to climb.
"Thanks to President Trump's regulatory reform agenda, the economy is booming, energy production is surging and we are reducing greenhouse gas emissions from major industrial sources," said Andrew Wheeler, acting administrator of the EPA.
The yearslong decline in U.S. emissions has been widely credited to the oil and gas boom. Power plants increasingly turned from coal to natural gas as innovations in extraction technology resulted in lower prices.
---
Sen. Doug Jones faces tricky political challenges in conservative Alabama ahead of 2020 re-election
While other senators' votes got more attention, perhaps the most curious "No" vote on Justice Brett M. Kavanaugh came from Sen. Doug Jones of Alabama, a Democrat who represents one of the reddest states in the country but has been voting, at times, like a New England liberal.
After his surprise win in a special election in late 2017 some analysts had predicted Mr. Jones would join Sen. Joe Manchin III, West Virginia Democrat, as the chamber's middle, backing Mr. Trump on some key disputes.
But those occasions have been few, and more often Mr. Jones has sided with his party's leadership on spending cuts, immigration, abortion and those critical presidential nominations such as Justice Kavanaugh.
"He would fit perfectly in New York or California, but in Alabama he is digging his own grave," Terry Lathan, chairwoman of the Alabama GOP, told The Washington Times.
---
Professor calls for harassing Republicans at restaurants, sticking 'fingers in their salads'
The University of Mississippi has condemned a tweet by a faculty member that called on activists to abandon civility and harass Republican senators in public.
"Don't just interrupt a Senator's meal, y'all," James Thomas, an assistant professor of sociology, tweeted from his @Insurgent_Prof account on Oct. 6, the day Justice Brett M. Kavanaugh was sworn into the Supreme Court.
"Put your whole damn fingers in their salads," he wrote. "Take their apps and distribute them to the other diners. Bring boxes and take their food home with you on the way out. They don't deserve your civility."
Without specifically naming Mr. Thomas, Ole Miss Chancellor Jeffrey Vitter issued a statement Sunday condemning a "recent social media post by a UM faculty member," Campus Reform reported.
---
Top U.S. general in Afghanistan escapes brazen insider attack
The top U.S. general in Afghanistan barely escaped Thursday after a brazen attack during a high-level security meeting in Kandahar where Afghan guards turned their guns on American forces, claiming the life of a top Afghan official.
Afghan TV reported that members of the Kandahar province governor's elite guards began firing on Americans and Afghan officials during the meeting, which included Gen. Scott Miller, the head of U.S. and NATO forces in Afghanistan.
Two American troops were wounded in the assault, while Afghan police chief Abdul Raziq was killed. At least two other Afghan officials were wounded in the incident, which comes just two days before key elections in Afghanistan.
---
Judge bucks Cook County law, says boys as young as 10 can be locked up
A Cook County judge on Wednesday declined to follow a new local ordinance that bans boys 12 and younger from being sent to the Juvenile Temporary Detention Center, ordering that two 12-year-olds remain confined there.
Juvenile Court Presiding Judge Michael Toomin said a state law allowing children as young as 10 to be locked up not only trumps the county ordinance under the state's constitution but also does a better job of protecting the public. Both boys have gun charges on their records, and both ran away from home after being charged.
"These minors represent a clear and present threat to society to the extent that only secure placement is appropriate," Toomin wrote in a court order. "The county's ordinance offers little aid or guidance in the processing and placement of this cohort of our minors."
---
Rosenstein Defends Mueller Probe as 'Appropriate,' 'Independent'
Deputy Attorney General Rod Rosenstein is reportedly standing by the special counsel's investigation into Russian election meddling as both "appropriate and independent."
In a rare interview with The Wall Street Journal posted Wednesday, Rosenstein's message is a sharp contrast with President Donald Trump's frequent criticism of the probe as a "witch hunt" and "rigged."
"People are entitled to be frustrated, I can accept that," Rosenstein told the Journal about attacks on the investigation. "But at the end of the day, the public will have confidence that the cases we brought were warranted by the evidence and that it was an appropriate use of resources."
---
Dem operative for Soros-funded group arrested for 'battery' against Nevada GOP candidate's campaign manager
A Democratic operative for American Bridge 21st Century, a group funded by liberal billionaire George Soros, was arrested after a female campaign manager for Nevada GOP gubernatorial nominee Adam Laxalt accused the operative of grabbing her arm and refusing to let go.
A Democratic operative for American Bridge 21st Century, a group founded by David Brock and funded by liberal billionaire George Soros, was arrested Tuesday after the female campaign manager for Nevada GOP gubernatorial nominee Adam Laxalt accused the operative of grabbing and yanking her arm and refusing to let go.
Kristin Davison and other officials for the Nevada attorney general's campaign said the "battery" left her "terrified and traumatized" -- and with bruises on her neck and arms.
---
Despite his denials, midterms are about Trump -- and it's not looking good, experts say
Despite his denials, President Trump is very much the center of the 2018 election, political pros say — and the leader of the Republican Party will earn at least some of the blame should the GOP fail to hold its majorities in Congress.
Mr. Trump stirred the pot this week when he told The Associated Press he's not on the ballot and, while he's been able to boost some candidates in Republican primaries, he won't bear responsibility if they lose control of the House.
But he'd opened up the debate, and analysts said there's little doubt the 2018 election is about Mr. Trump — and right now it doesn't look good for him.
---
'Economic security is national security'
Quietly, President Donald J. Trump is putting together one of the greatest performances on the economy and trade in modern presidential history. This is indeed happening quietly because both the actions and results of Mr. Trump's economic policies are grossly under-reported in the press.
Exhibit A is the president's impressive, but virtually ignored, "hat trick" at the United Nations (U.N.) last week. At the U.N., President Trump fulfilled an important campaign promise when he sat with President Moon Jae-in and signed a landmark modernization of the trade deficit-inflating 2012 South Korea deal known as "KORUS." This new Korea deal means more auto, agricultural, and pharmaceutical exports for American producers even as it extends critical protections for our light truck industry out to 2041.
At the U.N., President Trump and his United States Trade Representative Robert E. Lighthizer also announced the president's intention to ask Congress for "fast track" authority to negotiate a new trade deal with Japan. Such a deal would help pry open Japan's notoriously closed agricultural and auto markets. It was a development hailed from Capitol Hill and Detroit to the wheat fields of Montana — but the news got largely buried.
---
Trump's rising approval rating among black voters
The provocative Donald Trump certainly seems to be disliked by a majority of African-American professional athletes, cable news hosts, academics and the Black Congressional caucus. Yet there are subtle but increasing indications that his approval among other African-Americans may be reaching historic highs for a modern Republican president.
Some polls have indicated that President Trump's approval rating among black voters is close to 20 percent. That is far higher than the 8 percent of the African-American vote that Mr. Trump received on Election Day 2016.
A recent, admittedly controversial Rasmussen Reports poll showed African-American approval of Mr. Trump at 36 percent.
Even 20 percent African-American support for Mr. Trump would all but dismantle Democratic Party presidential hopes for 2020. Hillary Clinton lost the 2016 election with 88 percent of the black vote. That was about a six-point falloff from Barack Obama's share of the black vote in 2012.
"It is discouraging to think how many people are shocked by honesty and how few by deceit."

-- Noel Coward

(1899-1973) British playwright

---

The Medal of Honor is the highest award for valor in action against an enemy force which can be bestowed upon an individual serving in the Armed Services of the United States.

GeneTrerally presented to its recipient by the President of the United States of America in the name of Congress.

The first award of the Medal of Honor was made March 25, 1863 to Private JACOB PARROTT.The last award of the Medal of Honor was made September 15, 2011 to Sergeant DAKOTA MEYER.

Since then there have been: • 3458 recipients of the Medal of Honor.

• Today there are 85 Living Recipients of the Medal of Honor.

Citation


Captain Humbert R. Versace distinguished himself by extraordinary heroism during the period of 29 October 1963 to 26 September 1965, while serving as S-2 Advisor, Military Assistance Advisory Group, Detachment 52, Ca Mau, Republic of Vietnam. While accompanying a Civilian Irregular Defense Group patrol engaged in combat operations in Thoi Binh District, An Xuyen Province, Captain Versace and the patrol came under sudden and intense mortar, automatic weapons, and small arms fire from elements of a heavily armed enemy battalion. As the battle raged, Captain Versace, although severely wounded in the knee and back by hostile fire, fought valiantly and continued to engage enemy targets. Weakened by his wounds and fatigued by the fierce firefight, Captain Versace stubbornly resisted capture by the over-powering Viet Cong force with the last full measure of his strength and ammunition. Taken prisoner by the Viet Cong, he exemplified the tenets of the Code of Conduct from the time he entered into Prisoner of War status. Captain Versace assumed command of his fellow American soldiers, scorned the enemy's exhaustive interrogation and indoctrination efforts, and made three unsuccessful attempts to escape, despite his weakened condition which was brought about by his wounds and the extreme privation and hardships he was forced to endure. During his captivity, Captain Versace was segregated in an isolated prisoner of war cage, manacled in irons for prolonged periods of time, and placed on extremely reduced ration. The enemy was unable to break his indomitable will, his faith in God, and his trust in the United States of America. Captain Versace, an American fighting man who epitomized the principles of his country and the Code of Conduct, was executed by the Viet Cong on 26 September 1965. Captain Versace's gallant actions in close contact with an enemy force and unyielding courage and bravery while a prisoner of war are in the highest traditions of the military service and reflect the utmost credit upon himself and the United States Army.

---

From the Archives

We Have Met the Enemy…
Geoff Metcalf


"They who can give up essential liberty to obtain a little temporary safety deserve neither liberty nor safety.
--Benjamin Franklin
"The American people must be willing to give up a degree of personal privacy in exchange for safety and security."
--Louis Freeh


In the wake of the clamor over the most recent WikiLeaks data dump, 'Vault 7', 'UMBRAGE', et al, it should be noted this is not really anything new. What we are seeing here is simply the evolution of something that goes back to the late 50s (to the incomplete best knowledge I have).

It is kinda cool to finally see even

The New York Times

acknowledging material

I was writing about in 1998

.

In April of 1998 I wrote "Privacy has become an anachronism." I was commenting on "a massive system designed to intercept all your e-mail, fax traffic and more." I was explaining 'Echelon', the illegitimate offspring of a

UKUSA Treaty

signed by the United States, United Kingdom, Canada, Australia and New Zealand. Its purpose was, and is, to have a vast global intelligence monster, which allegedly shares common goals. The system was so "efficient" that reportedly National Security Agency folk from Fort Meade could work from Menwith Hill in England to intercept local communications without either nation having to burden themselves with the formality of seeking approval (a court order) or disclosing the operation. And this was all pre-9/11 and pre-the anti-constitutional

'Patriot Act'

.

It is illegal (without a Judge's signed permission) for the United States to spy on its citizens … kinda. The laws have long been circumvented by a mutual pact among five nations. Under the terms of UKUSA agreement, Britain spies on Americans and America spies on British citizens, and then the two conspirators trade data. A classic technical finesse. It is legal, but the intent to evade the spirit is inescapable.

I often fictionalized the genesis of 'Echelon' as an informal meeting of a group of post war American and British intelligence types drinking in some remote rustic bar. An imagined CIA type complains to his MI6 buddy about the hassles of US laws preventing US intelligence from surveillance of bad guys, and the Brit echoes the same complaint.

"Hey wait a moment mate," says Nigel, the make-believe MI6 guy, "I can spy on your guys and you can spy on our bad players…why don't we just come up with a mechanism whereby we spy on your villains, you spy on our villains, and we just 'share' the intel?"

This system was called ECHELON, and has been kicking around in some form longer than most of you. The result of the UKUSA treaty signed by the United States, United Kingdom, Canada, Australia and New Zealand was, and is, to have a vast global intelligence monster which allegedly shares common goals.

The London Telegraph reported in December of 1997 that the Civil liberties Committee of the European Parliament had officially confirmed the existence and purpose of ECHELON. "A global electronic spy network that can eavesdrop on every telephone, e-mail and telex communication around the world will be officially acknowledged for the first time in a European Commission report. …"

The report noted: "Within Europe all e-mail, telephone and fax communications are routinely intercepted by the United States National Security Agency, transferring all target information from the European mainland via the strategic hub of London, then by satellite to Fort Meade in Maryland via the crucial hub at Menwith Hill, in the North York moors in the UK.

"The ECHELON system forms part of the UKUSA system but unlike many of the electronic spy systems developed during the Cold War, ECHELON was designed primarily for non-military targets: governments, organizations and businesses in virtually every country."

An interesting sidebar appeared in the International Herald Tribune under the headline, "Big Corporate Brother: It Knows More About You Than You Think." The story details Acxiom Corp, which was a humongous information service hidden in the Ozark foothills. Twenty-four hours a day, Acxiom electronically gathered and sorts all kinds of data about 196 million Americans. Credit card transactions and magazine subscriptions, telephone numbers, real estate records, automotive data, hunting, business and fishing licenses, consumer surveys and demographic detail that would make a marketing department's research manager salivate. This relatively new (legal) enterprise was known as "data warehousing" or "data-mining", and it underscores the cruel reality that the fiction of personal privacy has become obsolete. Technology's ability to collect and analyze data has made privacy a quaint albeit interesting dinosaur.

The Tribune reported that "Axciom can often determine whether an American owns a dog or cat, enjoys camping or gourmet cooking, reads the Bible or lots of other books. It can often pinpoint an American's occupation, car and favorite vacations. By analyzing the equivalent of billions of pages of data, it often projects for its customers who should be offered a credit card or who is likely to buy a computer."

Most of this information is from y 1998 piece. Echelon has developed, matured, and morphed into a much more powerful hybrid. 'Carnivore' was software to help triage the cacophony of data. Vault 7 and 'Umbrage' are logical (some would argue "insidious") growth.

More to follow…