"It Is Not A Question of Who Is Right Or Wrong But What Is Right Or Wrong That Counts.

"

--Geoff Metcalf
Wo

rld & National
Trump sends Democratic leaders packing after Pelosi's accusation of cover-up
A visibly disgusted President Trump said Wednesday that he won't work with Democrats while they are seeking to impeach him, cutting short a meeting with Democratic leaders at the White House and vowing to go it alone until Democrats finish their "phony investigations."
"Let them play their games," Mr. Trump told reporters in a hastily arranged press conference in the White House Rose Garden after he sent the Democrats packing. "We're going to go down one track at a time."
The confrontation threw into doubt Mr. Trump's trade deal with Canada and Mexico, a potential $2 trillion plan for infrastructure spending, a possible two-year budget deal and budding signs of cooperation from the White House with some congressional investigations
Newsmax.Headline.Standard- 17764-17773
---
Trump blow up leaves lawmakers worried about disaster aid, budget talks
President Donald Trump's angry threats Wednesday to not work with congressional Democrats until they stopped investigating him came at a sensitive time for talks over several important issues that bipartisan negotiators on Capitol Hill and the White House had hoped to wrap up before Congress leaves as early as Thursday for the Memorial Day recess.
The sudden "flare up," in the words of one GOP leader, left an air of uncertainly over the talks that all sides had reported upbeat progress on in recent days. It also wasn't clear to lawmakers whether Trump's threat related only to the infrastructure spending proposal -- that was the subject of the meeting with Democrats that Trump stormed out of -- or if meant all legislation.
"Seems like we have a little bit of an issue right now," said Sen. John Thune of South Dakota, the second-ranking GOP leader. "It's hard to figure how much gets done around here unless the atmospherics change."
---
'100%' of illegal immigrant families released into U.S.: DHS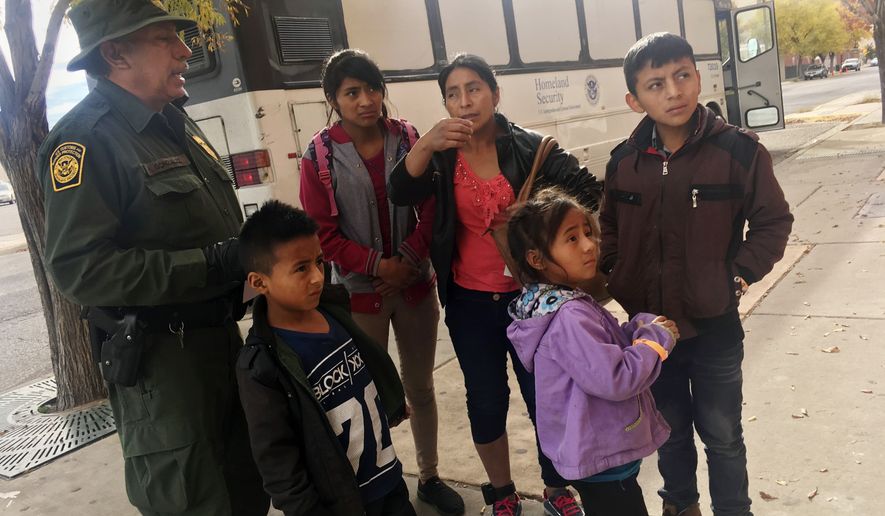 Acting Homeland Security Secretary Kevin McAleenan said Thursday that "100%" of illegal immigrant families in the new border surge are being released into communities, rather than being held and deported.

He said within a month or two, they are also granted work permits, giving them a foothold to live and remain in the U.S. while their cases proceed through the immigration courts — a process that averages two years, and stretches even longer in some overwhelmed regions.
Mr. McAleenan said that system rewarding unauthorized migrants who jump the border with exactly the thing they seek is responsible for the record-breaking numbers.

"That is directly how smugglers are advertising," he told the Senate Homeland Security Committee.


---
John Walker Lindh, 'American Taliban,' released from prison after 17 years
Reportedly still holds extremist views
John Walker Lindh, a California man who was labeled the "American Taliban" following his capture on an Afghanistan battlefield, was released from prison Thursday.
John Walker Lindh, 38, was released from a Terre Haute, Indiana, prison after serving 17 years of a 20-year sentence, according to the Bureau of Prisons.
He will be living in Virginia under the close watch of a probation officer, his lawyer Bill Cummings told CNN.
---
Trump associates weigh defamation lawsuits over Russia probe
Some Trump associates are contemplating lawsuits against the people who they believe defamed them in the Russia election collusion investigation.
A possible road map: the successful lawsuit of wrongly suspected biological weapons scientist Steven Hatfill, who accepted a multimillion-dollar settlement in 2008.
Several former Trump campaign officials are in early discussions about lawsuits, which ultimately might not be filed given the significant cost.
---
Federal judge refuses to block Trump bank subpoenas
A New York judge refused Wednesday to block congressional subpoenas seeking financial records from two banks that did business with President Donald Trump, making it clear it wasn't a close call.
U.S. District Judge Edgardo Ramos said in a ruling delivered from the bench that Trump and his company were "highly unlikely" to succeed in a lawsuit arguing that the subpoenas seeking records from Deutsche Bank and Capital One were unlawful and unconstitutional.
Ramos also concluded that the subpoenas have "a legitimate legislative purpose" and dismissed one-by-one arguments made to try to bury them, though he conceded that records released publicly could cause Trump and his family irreparable harm.
---
U.S. Navy sends message to Russia with 2nd Fleet's Baltic Operations
First mission back at sea: Lead NATO exercises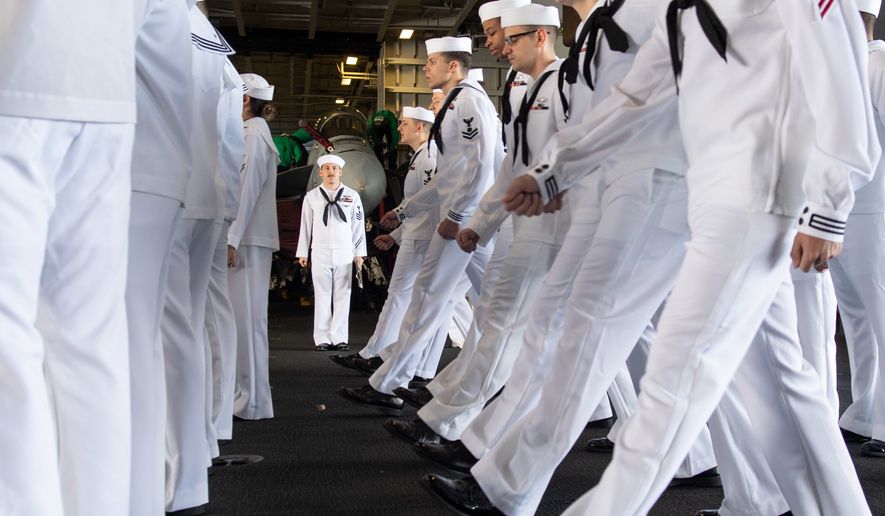 The venerable, reborn 2nd Fleet is embarking on its first major mission into the North Atlantic less than six months after the Navy recommissioned it to counter what the Pentagon says is steadily rising Russian aggression.
Navy commanders say the mission, a large-scale training exercise with European allies, is about "improving interoperability" among allies.
But the underlying message of the Baltic Operations naval drill, or BALTOPS, is unmistakable. It shows Russia and its allies that the 2nd Fleet is ready to fight alongside its NATO counterparts to confront any Moscow challenge of the U.S. and the alliance.
---
Top Admiral: Maduro 'Mafia' Is 'Ruining' Venezuela
Embattled Venezuelan President Nicolas Maduro's "mafia" is "ruining the country," according to the top U.S. military commander for Central America, South America and the Caribbean.
Navy Admiral Craig Faller, the head of U.S. Southern Command," told The Hill in an interview last Tuesday that Maduro, whose refusal to leave office has led to millions in economic sanctions against Venezuela. Faller, whose post covers U.S. forces in Central and South America, with some exceptions, said that Maduro's influence is a "significant threat" to democracy and stability in the region.
"I don't think I'd even call them a regime — it's a mafia. It's an illicit business that he's running with his 2,000 corrupt generals. It's ruining the country," Faller said. "And the effects of that are compounding every other security problem in our neighborhood. Every security problem is made worse by Venezuela."
---
May's last day in power? PM fills gap in her creaking Cabinet after Leadsom's resignation despite massive pressure for her to quit TOMORROW
Theresa May is scrambling to salvage something from the wreckage of her premiership today after a Cabinet mutiny effectively killed off her Brexit plans.
The Prime Minister is trying to maintain dignity as the sun sets on her time in power - with a resignation announcement seen as inevitable after she meets Tory 1922 committee chief Graham Brady tomorrow.
She has already bowed to pressure to pull the vote on the Withdrawal Agreement Bill, which she previously said would happen early next month.
The prospect of giving MPs a choice on whether to hold another referendum had sparked a furious response from Tories - with Commons leader Andrea Leadsom dramatically quitting last night and putting the last nail in Mrs May's coffin.
---
Federal rats are fleeing the sinking collusion ship
The entire Trump-Russia collusion narrative was always implausible.
One, the Washington swamp of fixers such as Paul Manafort and John and Tony Podesta was mostly bipartisan and predated President Trump.
Two, the Trump administration's Russia policies were far tougher on Vladimir Putin than were those of Barack Obama. Mr. Trump confronted Russia in Syria, upped defense spending, increased sanctions and kept the price of oil down through massive new U.S. energy production. He did not engineer a Russian "reset" or get caught on a hot mic offering a self-interested hiatus in tensions with Russia in order to help his own re-election bid.
Three, Russia has a long history of trying to warp U.S. elections that both predated Mr. Trump and earned only prior lukewarm pushback from the Obama administration.
---
Will the real Joe Biden please stand up?
Who is the real Joe Biden?
The media would like you believe he's the savior to the Rust Belt with his middle-of-the-road policy positions. Yet, in an interview with ABC News last month, Mr. Biden stood up for his progressive credentials proclaiming: "I was always labeled as one of the most liberal members of the United States Congress."
The comment was in stark contrast to an interview he gave Kitty Kelley in 1974 where he said: "When it comes to civil rights and civil liberties, I'm a liberal but that's it. I'm really quite conservative on most other issues."
Progressive or conservative?
Herewith in lies the problem with Mr. Biden: By spending more than 40 years in the Washington, D.C., swamp, he can be whomever you want him to be, whenever you want, depending on the political climate. He's the epitome of a swamp monster, shifting his positions and policies as the political tides turn.
---
---
"It is discouraging to think how many people are shocked by honesty and how few by deceit."

-- Noel Coward

(1899-1973) British playwright

---

The Medal of Honor is the highest award for valor in action against an enemy force which can be bestowed upon an individual serving in the Armed Services of the United States.

GeneTrerally presented to its recipient by the President of the United States of America in the name of Congress.

The first award of the Medal of Honor was made March 25, 1863 to Private JACOB PARROTT.The last award of the Medal of Honor was made September 15, 2011 to Sergeant DAKOTA MEYER.

Since then there have been: • 3458 recipients of the Medal of Honor.

• Today there are 85 Living Recipients of the Medal of Honor.

Citation


Captain Humbert R. Versace distinguished himself by extraordinary heroism during the period of 29 October 1963 to 26 September 1965, while serving as S-2 Advisor, Military Assistance Advisory Group, Detachment 52, Ca Mau, Republic of Vietnam. While accompanying a Civilian Irregular Defense Group patrol engaged in combat operations in Thoi Binh District, An Xuyen Province, Captain Versace and the patrol came under sudden and intense mortar, automatic weapons, and small arms fire from elements of a heavily armed enemy battalion. As the battle raged, Captain Versace, although severely wounded in the knee and back by hostile fire, fought valiantly and continued to engage enemy targets. Weakened by his wounds and fatigued by the fierce firefight, Captain Versace stubbornly resisted capture by the over-powering Viet Cong force with the last full measure of his strength and ammunition. Taken prisoner by the Viet Cong, he exemplified the tenets of the Code of Conduct from the time he entered into Prisoner of War status. Captain Versace assumed command of his fellow American soldiers, scorned the enemy's exhaustive interrogation and indoctrination efforts, and made three unsuccessful attempts to escape, despite his weakened condition which was brought about by his wounds and the extreme privation and hardships he was forced to endure. During his captivity, Captain Versace was segregated in an isolated prisoner of war cage, manacled in irons for prolonged periods of time, and placed on extremely reduced ration. The enemy was unable to break his indomitable will, his faith in God, and his trust in the United States of America. Captain Versace, an American fighting man who epitomized the principles of his country and the Code of Conduct, was executed by the Viet Cong on 26 September 1965. Captain Versace's gallant actions in close contact with an enemy force and unyielding courage and bravery while a prisoner of war are in the highest traditions of the military service and reflect the utmost credit upon himself and the United States Army.

---

From the Archives

We Have Met the Enemy…
Geoff Metcalf


"They who can give up essential liberty to obtain a little temporary safety deserve neither liberty nor safety.
--Benjamin Franklin
"The American people must be willing to give up a degree of personal privacy in exchange for safety and security."
--Louis Freeh


In the wake of the clamor over the most recent WikiLeaks data dump, 'Vault 7', 'UMBRAGE', et al, it should be noted this is not really anything new. What we are seeing here is simply the evolution of something that goes back to the late 50s (to the incomplete best knowledge I have).

It is kinda cool to finally see even

The New York Times

acknowledging material

I was writing about in 1998

.

In April of 1998 I wrote "Privacy has become an anachronism." I was commenting on "a massive system designed to intercept all your e-mail, fax traffic and more." I was explaining 'Echelon', the illegitimate offspring of a

UKUSA Treaty

signed by the United States, United Kingdom, Canada, Australia and New Zealand. Its purpose was, and is, to have a vast global intelligence monster, which allegedly shares common goals. The system was so "efficient" that reportedly National Security Agency folk from Fort Meade could work from Menwith Hill in England to intercept local communications without either nation having to burden themselves with the formality of seeking approval (a court order) or disclosing the operation. And this was all pre-9/11 and pre-the anti-constitutional

'Patriot Act'

.

It is illegal (without a Judge's signed permission) for the United States to spy on its citizens … kinda. The laws have long been circumvented by a mutual pact among five nations. Under the terms of UKUSA agreement, Britain spies on Americans and America spies on British citizens, and then the two conspirators trade data. A classic technical finesse. It is legal, but the intent to evade the spirit is inescapable.

I often fictionalized the genesis of 'Echelon' as an informal meeting of a group of post war American and British intelligence types drinking in some remote rustic bar. An imagined CIA type complains to his MI6 buddy about the hassles of US laws preventing US intelligence from surveillance of bad guys, and the Brit echoes the same complaint.

"Hey wait a moment mate," says Nigel, the make-believe MI6 guy, "I can spy on your guys and you can spy on our bad players…why don't we just come up with a mechanism whereby we spy on your villains, you spy on our villains, and we just 'share' the intel?"

This system was called ECHELON, and has been kicking around in some form longer than most of you. The result of the UKUSA treaty signed by the United States, United Kingdom, Canada, Australia and New Zealand was, and is, to have a vast global intelligence monster which allegedly shares common goals.

The London Telegraph reported in December of 1997 that the Civil liberties Committee of the European Parliament had officially confirmed the existence and purpose of ECHELON. "A global electronic spy network that can eavesdrop on every telephone, e-mail and telex communication around the world will be officially acknowledged for the first time in a European Commission report. …"

The report noted: "Within Europe all e-mail, telephone and fax communications are routinely intercepted by the United States National Security Agency, transferring all target information from the European mainland via the strategic hub of London, then by satellite to Fort Meade in Maryland via the crucial hub at Menwith Hill, in the North York moors in the UK.

"The ECHELON system forms part of the UKUSA system but unlike many of the electronic spy systems developed during the Cold War, ECHELON was designed primarily for non-military targets: governments, organizations and businesses in virtually every country."

An interesting sidebar appeared in the International Herald Tribune under the headline, "Big Corporate Brother: It Knows More About You Than You Think." The story details Acxiom Corp, which was a humongous information service hidden in the Ozark foothills. Twenty-four hours a day, Acxiom electronically gathered and sorts all kinds of data about 196 million Americans. Credit card transactions and magazine subscriptions, telephone numbers, real estate records, automotive data, hunting, business and fishing licenses, consumer surveys and demographic detail that would make a marketing department's research manager salivate. This relatively new (legal) enterprise was known as "data warehousing" or "data-mining", and it underscores the cruel reality that the fiction of personal privacy has become obsolete. Technology's ability to collect and analyze data has made privacy a quaint albeit interesting dinosaur.

The Tribune reported that "Axciom can often determine whether an American owns a dog or cat, enjoys camping or gourmet cooking, reads the Bible or lots of other books. It can often pinpoint an American's occupation, car and favorite vacations. By analyzing the equivalent of billions of pages of data, it often projects for its customers who should be offered a credit card or who is likely to buy a computer."

Most of this information is from y 1998 piece. Echelon has developed, matured, and morphed into a much more powerful hybrid. 'Carnivore' was software to help triage the cacophony of data. Vault 7 and 'Umbrage' are logical (some would argue "insidious") growth.

More to follow…