"It Is Not A Question of Who Is Right Or Wrong But What Is Right Or Wrong That Counts.

"

--Geoff Metcalf
Providing an on line Triage of the news since 1997



Wo

rld & Nation
NY Attorney General Seeks to Dissolve NRA
New York's attorney general sued the National Rifle Association on Thursday, seeking to put the powerful gun advocacy organization out of business over allegations that high-ranking executives diverted millions of dollars for lavish personal trips, no-show contracts for associates and other questionable expenditures.
Attorney General Letitia James' lawsuit, filed in state court in Manhattan after an 18-month investigation, highlighted misspending and self-dealing allegations that have roiled the NRA and its longtime leader, Wayne LaPierre, in recent years — from hair and makeup for his wife to a $17 million post-employment contract for himself.
The troubles, which James said were long cloaked by loyal lieutenants and a pass-through payment arrangement with a vendor, started to come to light as the NRA's deficit piled up and it struggled to find its footing after a spate of mass shootings eroded support for its pro-gun agenda. The organization went from a nearly $28 million surplus in 2015 to a $36 million deficit in 2018.
---
Biden: Unlike the Black community, Hispanics are an 'incredibly diverse community'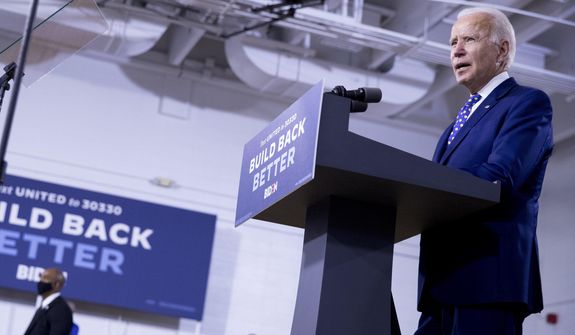 Likely Democratic presidential nominee Joseph R. Biden said that with "notable exceptions," the Black community lacks the kind of diversity in attitudes he sees among Hispanics.
Mr. Biden made the comment as he vowed to reengage the U.S. in the country's relations with Cuba.
"By the way, what you all know but most people don't know, unlike the African American community with notable exceptions, the Latino community is an incredibly diverse community with incredibly different attitudes about different things," he told a group of Black and Latino journalists.
---
Joe Biden gives Republicans ammo on acuity question
Joseph R. Biden's push to make the presidential election "a battle for the soul of the nation" has been muddied by questions about his mental fitness that have dogged him for more than a year and burst into public view Wednesday with startling clarity.
Mr. Biden's frustration with the public prodding boiled over in an interview with a CBS News reporter who pressed him on whether he had undergone a cognitive exam.
"No, I haven't taken a test. Why the hell would I take a test? Come on, man," the Democrat said in a virtual interview with Black and Hispanic journalists.
Mr. Biden likened asking about a cognitive test to asking the reporter, who is Black, to take a test to see whether "you're taking cocaine or not" before the interview.
"What do you think, huh?" the former vice president said. "Are you a junkie?"
---
Navarro: Trump to Sign 'Buy America' Order on Medicines, Medical Equipment
President Donald Trump plans to sign an executive order Thursday that would encourage the production of certain drugs and medical supplies in the U.S., following shortages during the Covid-19 pandemic.
The order urges purchasers to buy American-made products and loosens federal drug-safety and environmental regulations that the administration says disadvantage domestic producers, among other measures.
The drugs and devices covered by the order are expected to include medicines used to respond to a public-health emergency or biohazard attack, among others. White House trade adviser Peter Navarro said on a call with reporters that the Food and Drug Administration will come up with the list of essential medicines covered by the order, but he didn't say by when.
---
Rudy Giuliani: Black Lives Matter is a 'domestic terrorist group'
Rudolph W. Giuliani, President Trump's personal lawyer, on Thursday said Black Lives Matter is a domestic terrorist group and that African Americans have suggested to him that they're not being labeled as such "just because they're Black."
The former New York mayor said both Black Lives Matter and the anti-fascist group Antifa are "domestic terrorist groups — without any doubt."
"You know who knows that best? African Americans," Mr. Giuliani said on "Fox & Friends." "I've actually had them tell me — why aren't they classified as a terrorist group? Is it just because they're Black, and nobody can say it?"
He said some of the people instrumental in the group were "big shots" in the Weather Underground.
---
Planned Taiwan visit escalates tensions between U.S., China
Secretary of Health and Human Services Alex Azar is gearing up for a trip to Taiwan that will mark the highest-level visit to the island by a U.S. official since 1979 — and in the process add fuel to already white-hot tensions between Washington and Beijing.
The move — and a new agenda of moves announced by Secretary of State Mike Pompeo designed to limit the scope of China's high-tech sector — showed the willingness of the Trump administration to escalate the pressure campaign against Beijing even with U.S. elections looming in November.
Presumptive Democratic presidential nominee Joseph R. Biden revealed Wednesday that he plans to reverse many of the recently imposed tariffs on Beijing, a centerpiece of President Trump's China agenda, calling them counterproductive and accusing the administration of failing to work with allies to formulate a more effective response to China.
---
Shots fired at latest Portland riot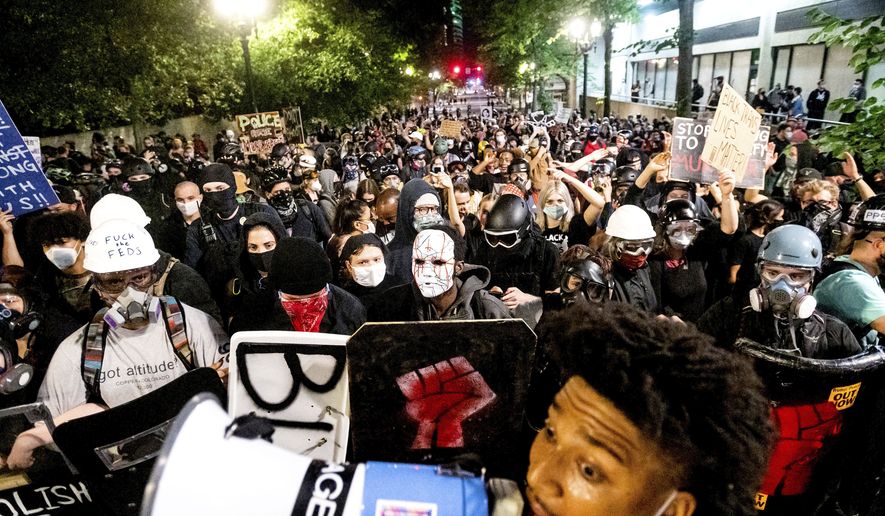 Shots were fired early Wednesday morning as violent protests continued to rock Portland, Oregon, with demonstrators breaking into the Portland Police Association's offices and setting it on fire.
Police declared the event a riot and said they had to use "crowd control munition" to restore order — though they said no tear gas was used.
While they were dispersing that crowd, they said shots were fired nearby in what appeared to be two separate exchanges. One vehicle was struck, but officers said they didn't find anyone hit, and no witnesses would speak to officers about what happened.
---
Comey went 'rogue' on Flynn; Obama spilled the beans to Yates
Former deputy attorney general says former FBI chief's actions 'dumbfounded' her
Former Deputy Attorney General Sally Q. Yates told senators Wednesday that James B. Comey went rogue as FBI director in January 2017 when he dispatched agents to interview Michael Flynn, President Trump's national security adviser at the time, without her authorization.
Ms. Yates, who was the No. 2 official at the Justice Department in the early stages of the Trump-Russia collusion probe, said she neither authorized nor knew ahead of time about the FBI interview with Flynn.
"Did Comey go rogue?" asked Sen. Lindsey Graham, South Carolina Republican and Judiciary Committee chairman.
"You could use that term, yes," replied Ms. Yates, who testified at a hearing for the committee's probe of the FBI's search for collusion between the Trump campaign and the Kremlin to rig the 2016 election.
---
Trump Says Coronavirus Vaccine Possible Before Nov. 3
President Donald Trump said on Thursday it was possible the United States would have a coronavirus vaccine before the Nov. 3 election, a more optimistic forecast than timing put forth by his own White House health experts.
Asked on the Geraldo Rivera radio program when a vaccine might be ready, Trump said, "Sooner than the end of the year, could be much sooner."
"Sooner than November 3?" he was asked.
"I think in some cases, yes possible before, but right around that time," Trump said.
---
Pence: Chief Justice Roberts 'Disappointment to Conservatives'
Vice President Mike Pence said in a new interview that Chief Justice John Roberts is a "disappointment to conservatives" because of the rulings he's issued.
Pence spoke with David Brody of The Christian Broadcast Network and was asked about the Supreme Court.
"Look, we have great respect for the institution of the Supreme Court of the United States, but Chief Justice John Roberts has been a disappointment to conservatives," Pence said.
---
Trader Joe's changes course on branding, stands up to cancel culture
Woke mob now breaks a sweat to find something else to be offended by
There's good news on the "flattening the curve" front. I'm not speaking of the infamous one for the coronavirus that was initially set for 15 days and has turned into months, with continually changing goal posts. I'm speaking of the woke gang's mission to declare as many things as possible racist, then demanding cancellation (also known as complete destruction) of the offensive offender.
Whether it be Aunt Jemima pancake syrup, Uncle Ben's rice, the Land O' Lakes Native American woman logo, or even Eskimo Pie ice cream, we've watched brands respond to complaints, or pre-emptively deciding to blow up branding images, just in case someone might eventually claim offense.
Indicating the woke mob is now having to break a sweat finding things to be offended by, San Diego's over 100-year-old "Museum of Man" announced it was changing its name to the "Museum of Us," after the CEO received complaints from some women that the name made the museum a "monument to the patriarchy." With this new nomenclature, one must ask how long will it be until manhole covers become ushole covers?
---
Portland rioters and Black Lives Matter demand our unconditional surrender
Factions enabled by liberal media drive regime change
In "1984," George Orwell pointed out that, "One does not establish a dictatorship in order to safeguard a revolution; one makes the revolution in order to establish the dictatorship."
Like so many other things written by Orwell, that is spot-on for our times. The revolution we are watching is being funded and directed to drive regime change.
Many of my colleagues have suggested that re-electing the president is the only way to ensure law and order. But that is a fundamental misapprehension of the nature of the protests, whether they be sponsored by BLM, or teachers' unions, or just the random children engaged in extended and ugly cosplay in Portland.
---
" It is discouraging to think how many people are shocked by honesty and how few by deceit."

-- Noel Coward

(1899-1973) British playwright

---

The Medal of Honor is the highest award for valor in action against an enemy force which can be bestowed upon an individual serving in the Armed Services of the United States.

GeneTrerally presented to its recipient by the President of the United States of America in the name of Congress.

The first award of the Medal of Honor was made March 25, 1863 to Private JACOB PARROTT.The last award of the Medal of Honor was made September 15, 2011 to Sergeant DAKOTA MEYER.

Since then there have been: • 3458 recipients of the Medal of Honor.

• Today there are 85 Living Recipients of the Medal of Honor.

Citation


Captain Humbert R. Versace distinguished himself by extraordinary heroism during the period of 29 October 1963 to 26 September 1965, while serving as S-2 Advisor, Military Assistance Advisory Group, Detachment 52, Ca Mau, Republic of Vietnam. While accompanying a Civilian Irregular Defense Group patrol engaged in combat operations in Thoi Binh District, An Xuyen Province, Captain Versace and the patrol came under sudden and intense mortar, automatic weapons, and small arms fire from elements of a heavily armed enemy battalion. As the battle raged, Captain Versace, although severely wounded in the knee and back by hostile fire, fought valiantly and continued to engage enemy targets. Weakened by his wounds and fatigued by the fierce firefight, Captain Versace stubbornly resisted capture by the over-powering Viet Cong force with the last full measure of his strength and ammunition. Taken prisoner by the Viet Cong, he exemplified the tenets of the Code of Conduct from the time he entered into Prisoner of War status. Captain Versace assumed command of his fellow American soldiers, scorned the enemy's exhaustive interrogation and indoctrination efforts, and made three unsuccessful attempts to escape, despite his weakened condition which was brought about by his wounds and the extreme privation and hardships he was forced to endure. During his captivity, Captain Versace was segregated in an isolated prisoner of war cage, manacled in irons for prolonged periods of time, and placed on extremely reduced ration. The enemy was unable to break his indomitable will, his faith in God, and his trust in the United States of America. Captain Versace, an American fighting man who epitomized the principles of his country and the Code of Conduct, was executed by the Viet Cong on 26 September 1965. Captain Versace's gallant actions in close contact with an enemy force and unyielding courage and bravery while a prisoner of war are in the highest traditions of the military service and reflect the utmost credit upon himself and the United States Army.

---

From the Archives

We Have Met the Enemy…
Geoff Metcalf


"They who can give up essential liberty to obtain a little temporary safety deserve neither liberty nor safety.
--Benjamin Franklin
"The American people must be willing to give up a degree of personal privacy in exchange for safety and security."
--Louis Freeh


In the wake of the clamor over the most recent WikiLeaks data dump, 'Vault 7', 'UMBRAGE', et al, it should be noted this is not really anything new. What we are seeing here is simply the evolution of something that goes back to the late 50s (to the incomplete best knowledge I have).

It is kinda cool to finally see even

The New York Times

acknowledging material

I was writing about in 1998

.

In April of 1998 I wrote "Privacy has become an anachronism." I was commenting on "a massive system designed to intercept all your e-mail, fax traffic and more." I was explaining 'Echelon', the illegitimate offspring of a

UKUSA Treaty

signed by the United States, United Kingdom, Canada, Australia and New Zealand. Its purpose was, and is, to have a vast global intelligence monster, which allegedly shares common goals. The system was so "efficient" that reportedly National Security Agency folk from Fort Meade could work from Menwith Hill in England to intercept local communications without either nation having to burden themselves with the formality of seeking approval (a court order) or disclosing the operation. And this was all pre-9/11 and pre-the anti-constitutional

'Patriot Act'

.

It is illegal (without a Judge's signed permission) for the United States to spy on its citizens … kinda. The laws have long been circumvented by a mutual pact among five nations. Under the terms of UKUSA agreement, Britain spies on Americans and America spies on British citizens, and then the two conspirators trade data. A classic technical finesse. It is legal, but the intent to evade the spirit is inescapable.

I often fictionalized the genesis of 'Echelon' as an informal meeting of a group of post war American and British intelligence types drinking in some remote rustic bar. An imagined CIA type complains to his MI6 buddy about the hassles of US laws preventing US intelligence from surveillance of bad guys, and the Brit echoes the same complaint.

"Hey wait a moment mate," says Nigel, the make-believe MI6 guy, "I can spy on your guys and you can spy on our bad players…why don't we just come up with a mechanism whereby we spy on your villains, you spy on our villains, and we just 'share' the intel?"

This system was called ECHELON, and has been kicking around in some form longer than most of you. The result of the UKUSA treaty signed by the United States, United Kingdom, Canada, Australia and New Zealand was, and is, to have a vast global intelligence monster which allegedly shares common goals.

The London Telegraph reported in December of 1997 that the Civil liberties Committee of the European Parliament had officially confirmed the existence and purpose of ECHELON. "A global electronic spy network that can eavesdrop on every telephone, e-mail and telex communication around the world will be officially acknowledged for the first time in a European Commission report. …"

The report noted: "Within Europe all e-mail, telephone and fax communications are routinely intercepted by the United States National Security Agency, transferring ll target information from the Eurv opean mainland via the strategic hub of London, then by satellite to Fort Meade in Maryland via the crucial hub at Menwith Hill, in the North York moors in the UK.

"The ECHELON system forms part of the UKUSA system but unlike many of the electronic spy systems developed during the Cold War, ECHELON was designed primarily for non-military targets: governments, organizations and businesses in virtually every country."

An interesting sidebar appeared in the International Herald Tribune under the headline, "Big Corporate Brother: It Knows More About You Than You Think." The story details Acxiom Corp, which was a humongous information service hidden in the Ozark foothills. Twenty-four hours a day, Acxiom electronically gathered and sorts all kinds of data about 196 million Americans. Credit card transactions and magazine subscriptions, telephone numbers, real estate records, automotive data, hunting, business and fishing licenses, consumer surveys and demographic detail that would make a marketing department's research manager salivate. This relatively new (legal) enterprise was known as "data warehousing" or "data-mining", and it underscores the cruel reality that the fiction of personal privacy has become obsolete. Technology's ability to collect and analyze data has made privacy a quaint albeit interesting dinosaur.

The Tribune reported that "Axciom can often determine whether an American owns a dog or cat, enjoys camping or gourmet cooking, reads the Bible or lots of other books. It can often pinpoint an American's occupation, car and favorite vacations. By analyzing the equivalent of billions of pages of data, it often projects for its customers who should be offered a credit card or who is likely to buy a computer."

Most of this information is from y 1998 piece. Echelon has developed, matured, and morphed into a much more powerful hybrid. 'Carnivore' was software to help triage the cacophony of data. Vault 7 and 'Umbrage' are logical (some would argue "insidious") growth.

More to follow…