"It Is Not A Question of Who Is Right Or Wrong But What Is Right Or Wrong That Counts.

"

--Geoff Metcalf
Wo

rld & National
Trump aims new blasts at McCain, claims credit for funeral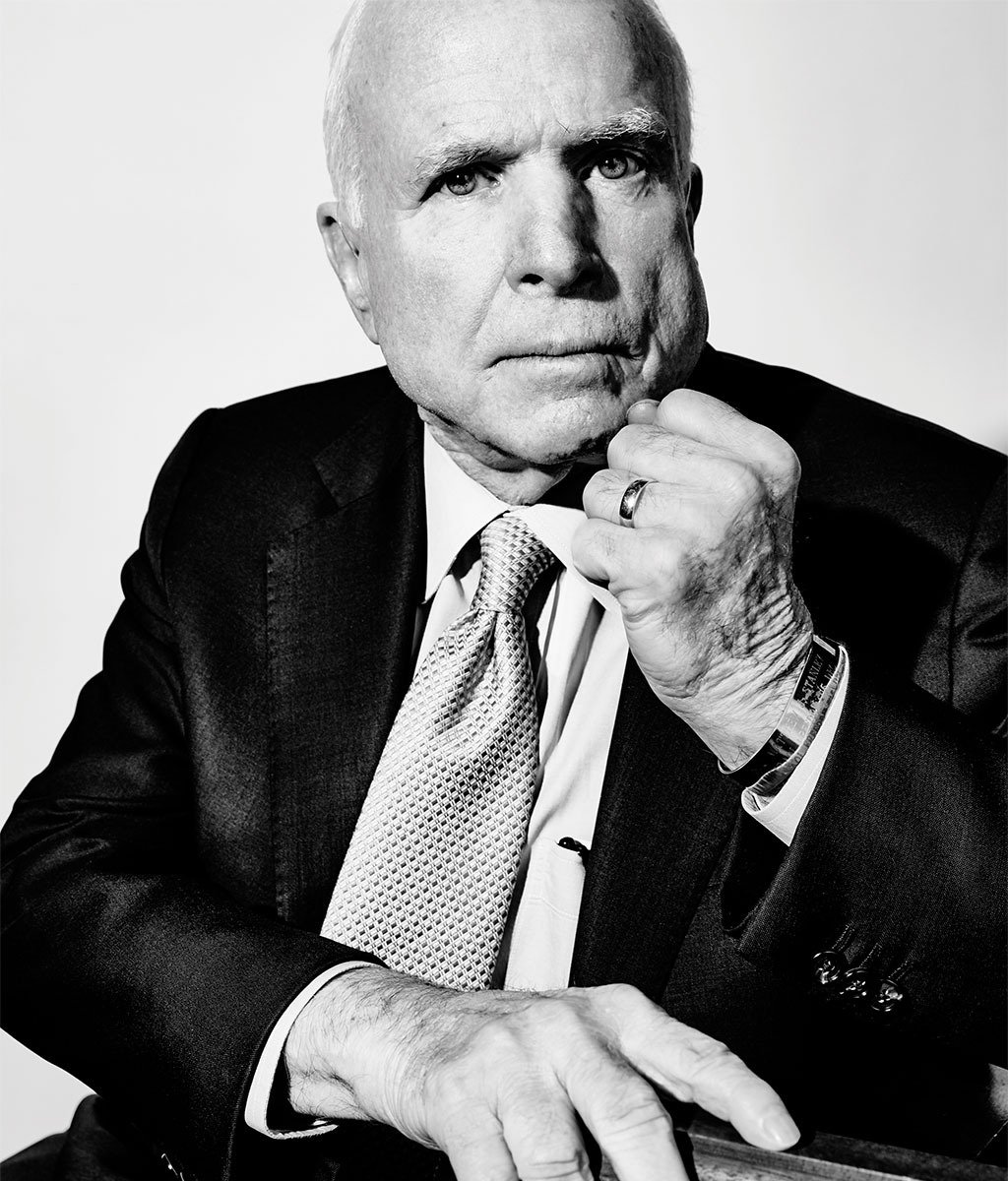 Casting aside rare censure from Republican lawmakers, President Donald Trump aimed new blasts of invective at the late John McCain Wednesday, even claiming credit for the senator's moving Washington funeral and complaining he was never properly thanked.
By the time the president began his anti-McCain tirade in Ohio, several leading Republicans had signaled a new willingness to defy Trump by defending the Vietnam War veteran as a hero seven months after he died of brain cancer. One GOP senator called Trump's remarks "deplorable."
Trump then launched a lengthy rant in which he claimed without citing evidence that McCain had pushed for a war and failed America's veterans.
---
Feds' climate 'propaganda' boosts support for Trump panel: 'It's the deep state that says this'
For those wondering why the White House needs an independent climate panel, supporters recommend starting with the Fourth National Climate Assessment.
The federal report released in November was hailed as evidence that President Trump's own scientists were on board with dire climate disaster forecasts, even though the document was prepared with the help of leading activists and a former Obama administration climate official.
"The panel is absolutely necessary because what happens is, the federal government puts out these biased pieces of propaganda, and then the environmental left trumpets it and says, 'Even the Trump administration says this,' " said James Taylor, senior fellow for energy and the environment for the free-market think tank Heartland Institute.
---
Race to the left: 2020 Democrats eagerly embrace liberals' most aggressive ideas
Rep. Tulsi Gabbard has been serving in the House for years, but it wasn't until this year, as she eyes the White House, that she signed onto a resolution that envisions reparations to black Americans for the legacy of slavery.
Former Rep. Beto O'Rourke watched for years as fencing divided his home city of El Paso from Mexico, but it wasn't until he was taking on President Trump — and as illegal immigration soared in El Paso — that he suggested it might be time to tear it down.
Businessman Andrew Yang, meanwhile, carved out a niche all his own this week, embracing a push to end male circumcision.
Emboldened by the 2018 midterm elections, the liberal wing of the Democratic Party is demanding its 2020 presidential candidates embrace their most aggressive ideas for social change — and many of the candidates have complied.
---
Hiding in plain sight: Trump's escalating war on terror in Africa
Despite reports the Pentagon will pull back its presence in Africa, the Trump administration's military campaign against a radical Islamist group in Somalia is accelerating to a record level amid allegations from leading human rights groups that the U.S. is killing civilians and perpetrating war crimes.
At a time when the Pentagon has talked of pulling back its footprint in Africa, the U.S. military has carried out 28 airstrikes so far this year against the al-Shabab terror group in Somalia, records show — more than 60 percent of the total for all of last year.
If the current 2019 pace continues, the U.S. may nearly triple the number of assaults from 2018. There were just 31 strikes in 2017, according to figures compiled by the Foundation for Defense of Democracy's (FDD) Long War Journal project.
---
Xi Jinping's corruption crackdown in China cements grip on power, changes look of Beijing
Xi Jinping began asserting his authority before he formally assumed the presidency, putting the fight against official corruption at the heart of his rise to power.
Now widely seen as China's most powerful leader since Deng Xiaoping, Mr. Xi two months before taking office in March 2013 delivered a pivotal speech. The address, delivered to the Chinese Communist Party's disciplinary body and touted heavily on state-run media, took aim at a pervasive scourge in Chinese society that was widely seen as sapping the Communist Party's authority: corruption.
The future president vowed to take aim at "tigers and flies" — corrupt officials — regardless of status. The government will be "resolutely investigating law-breaking cases of leading officials and also earnestly resolving the unhealthy tendencies and corruption problems which happen all around people," he promised.
---
New Zealand bans 'military-style semi-automatic rifles,' institutes mandatory buybacks
The New Zealand government on Thursday banned the sale of "military-style semi-automatic rifles," six days after a gunman killed 50 people at two mosques in Christchurch.
"What we are banning today are the things used in last Friday's attack," Prime Minister Jacinda Ardern said at a news conference.
She said more changes to New Zealand's firearms laws on matters such as licensing, registration and storage would come next week.
---
Media FOIA Requests to EPA Spiked After Trump Election, Data Reveal
The number of Freedom of Information Act requests the Environmental Protection Agency received from mainstream outlets such as the New York Times and Washington Post spiked immediately after Republican President Donald Trump took office, according to a Free Beacon analysis of FOIA requests by the media from 2013 to the present.
The figures, obtained through the government's FOIA online database, reveal a clear increase in requests for information from the agency once Trump was elected president.
The New York Times, for example, made just 13 FOIA requests during the four years of Obama's second term, sending 3 in 2013, 1 in 2014, 7 in 2015, and 2 in 2016. The number of FOIA requests the Times sent for Obama's entire second term was nearly quadrupled in the first year of Trump's presidency alone, when the Times sent 59 FOIA requests to the EPA.
---
Trump Tax Reform Hits Home in Wealthy New York Suburbs
Nearly 11 million taxpayers will be affected by the new cap on so-called SALT deductions on the taxes they file this year, and could lose out on a cumulative $323 billion, according to a February estimate from the U.S. Treasury Inspector General for Tax Administration.
For those people, the April 15 deadline carries a greater sense of dread than usual. New rules include a higher standard deduction and changes to the Alternate Minimum Tax, and it can be hard to say, even for experts, how they'll affect individuals until they file.
The situation wasn't made any simpler by state lawmakers, who argued that the cap on the SALT deduction was intended to hurt states that tend to elect Democrats, and concocted a series of elaborate workarounds that were shot down by the Internal Revenue Service.
---
Brexit news latest: Theresa May threatens to quit if MPs push for delay past June 30
Theresa May today asked the EU to delay Brexit until June 30 — and threatened to resign as Prime Minister if MPs demand a longer postponement.
Her stance increased the risk of the country crashing out accidentally on no-deal terms.
Mrs May said she would stage a third vote on her twice-rejected deal, and if that failed, Britain should leave by June 30 in order to avoid having to hold elections to the European Parliament.
She said: "The idea that three years after voting to leave the EU, the people of this country should be asked to elect a new set of MEPs is, I believe, unacceptable.
---
Mueller Laid Out the Dots. His Report May Show If They Connect
Special Counsel Robert Mueller has left little doubt in detailed court filings that Russians interfered in the 2016 presidential election and tried to help Donald Trump defeat Hillary Clinton.
His soon-to-be-released report may answer the most pressing remaining question: Did Americans in Trump's orbit conspire with any of those Russian efforts?
During Mueller's two-year investigation, Americans have learned that Trump's associates repeatedly interacted with Russians and their conduits. Now, the special counsel could connect any dots -- if they exist -- and determine if the campaign worked with Russia to get Trump elected.
---
Venezuela crisis: Juan Guaidó's chief of staff detained
Venezuelan intelligence agents have detained a senior aide to opposition leader Juan Guaidó after a raid on his Caracas home, say legislators.
Mr Guaidó has demanded the immediate release of his chief of staff Roberto Marrero, whose whereabouts are unknown.
The nearby home of opposition legislator Sergio Vergara was also raided. He was briefly detained.
The operation could signal a crackdown on the opposition by embattled President Nicolás Maduro, analysts say.
---
Executing a 'moratorium' on the death penalty in California
During the past eight years, California voters have twice reiterated their support for the death penalty by defeating propositions seeking to overturn it.
If anyone was confused about Californians' understanding of the death penalty representing an important part of justice, in 2016 they even passed a proposition calling for the speeding up of executions by shortening the decades-long appeals process.
In other words, Californians want the death penalty, and they want to it happen faster and more often.
Last week, despite this undeniable demand by the voters, California's new Democratic governor, Gavin Newsom, announced a "moratorium" on the death penalty in the state, effectively granting a reprieve to the 737 condemned killers on California's death row.
The Bakersfield Californian issued an editorial blasting the governor's move:
---
When lyricism is lost in the mourning for a massacre
The good news is that the technological revolution and social media have produced the swiftest and the most expansive means for the communication of ideas that man has ever known. The bad news is that we pay a high price for it. Fact and opinion linger long after proven wrong, as they often are, and the coarsening of the culture continues apace as every Tom, Dick and Henrietta taps a keyboard or speaks into a microphone, magnifying fleeting misinformation.
The simple act of mourning, which inevitably comes to us all, becomes a casualty.
Mourning is always sad up close and personal. We confront grief for a departed loved one, followed if we're fortunate by gathering with others who offer comfort, love and sympathy, sharing traditions of spiritual hope and secular longing. We speak in familiar phrases handed down through the ages. Words ripened on the tree of life fall from the branches as if joining the moment.
---
---
"It is discouraging to think how many people are shocked by honesty and how few by deceit."

-- Noel Coward

(1899-1973) British playwright

---

The Medal of Honor is the highest award for valor in action against an enemy force which can be bestowed upon an individual serving in the Armed Services of the United States.

GeneTrerally presented to its recipient by the President of the United States of America in the name of Congress.

The first award of the Medal of Honor was made March 25, 1863 to Private JACOB PARROTT.The last award of the Medal of Honor was made September 15, 2011 to Sergeant DAKOTA MEYER.

Since then there have been: • 3458 recipients of the Medal of Honor.

• Today there are 85 Living Recipients of the Medal of Honor.

Citation


Captain Humbert R. Versace distinguished himself by extraordinary heroism during the period of 29 October 1963 to 26 September 1965, while serving as S-2 Advisor, Military Assistance Advisory Group, Detachment 52, Ca Mau, Republic of Vietnam. While accompanying a Civilian Irregular Defense Group patrol engaged in combat operations in Thoi Binh District, An Xuyen Province, Captain Versace and the patrol came under sudden and intense mortar, automatic weapons, and small arms fire from elements of a heavily armed enemy battalion. As the battle raged, Captain Versace, although severely wounded in the knee and back by hostile fire, fought valiantly and continued to engage enemy targets. Weakened by his wounds and fatigued by the fierce firefight, Captain Versace stubbornly resisted capture by the over-powering Viet Cong force with the last full measure of his strength and ammunition. Taken prisoner by the Viet Cong, he exemplified the tenets of the Code of Conduct from the time he entered into Prisoner of War status. Captain Versace assumed command of his fellow American soldiers, scorned the enemy's exhaustive interrogation and indoctrination efforts, and made three unsuccessful attempts to escape, despite his weakened condition which was brought about by his wounds and the extreme privation and hardships he was forced to endure. During his captivity, Captain Versace was segregated in an isolated prisoner of war cage, manacled in irons for prolonged periods of time, and placed on extremely reduced ration. The enemy was unable to break his indomitable will, his faith in God, and his trust in the United States of America. Captain Versace, an American fighting man who epitomized the principles of his country and the Code of Conduct, was executed by the Viet Cong on 26 September 1965. Captain Versace's gallant actions in close contact with an enemy force and unyielding courage and bravery while a prisoner of war are in the highest traditions of the military service and reflect the utmost credit upon himself and the United States Army.

---

From the Archives

We Have Met the Enemy…
Geoff Metcalf


"They who can give up essential liberty to obtain a little temporary safety deserve neither liberty nor safety.
--Benjamin Franklin
"The American people must be willing to give up a degree of personal privacy in exchange for safety and security."
--Louis Freeh


In the wake of the clamor over the most recent WikiLeaks data dump, 'Vault 7', 'UMBRAGE', et al, it should be noted this is not really anything new. What we are seeing here is simply the evolution of something that goes back to the late 50s (to the incomplete best knowledge I have).

It is kinda cool to finally see even

The New York Times

acknowledging material

I was writing about in 1998

.

In April of 1998 I wrote "Privacy has become an anachronism." I was commenting on "a massive system designed to intercept all your e-mail, fax traffic and more." I was explaining 'Echelon', the illegitimate offspring of a

UKUSA Treaty

signed by the United States, United Kingdom, Canada, Australia and New Zealand. Its purpose was, and is, to have a vast global intelligence monster, which allegedly shares common goals. The system was so "efficient" that reportedly National Security Agency folk from Fort Meade could work from Menwith Hill in England to intercept local communications without either nation having to burden themselves with the formality of seeking approval (a court order) or disclosing the operation. And this was all pre-9/11 and pre-the anti-constitutional

'Patriot Act'

.

It is illegal (without a Judge's signed permission) for the United States to spy on its citizens … kinda. The laws have long been circumvented by a mutual pact among five nations. Under the terms of UKUSA agreement, Britain spies on Americans and America spies on British citizens, and then the two conspirators trade data. A classic technical finesse. It is legal, but the intent to evade the spirit is inescapable.

I often fictionalized the genesis of 'Echelon' as an informal meeting of a group of post war American and British intelligence types drinking in some remote rustic bar. An imagined CIA type complains to his MI6 buddy about the hassles of US laws preventing US intelligence from surveillance of bad guys, and the Brit echoes the same complaint.

"Hey wait a moment mate," says Nigel, the make-believe MI6 guy, "I can spy on your guys and you can spy on our bad players…why don't we just come up with a mechanism whereby we spy on your villains, you spy on our villains, and we just 'share' the intel?"

This system was called ECHELON, and has been kicking around in some form longer than most of you. The result of the UKUSA treaty signed by the United States, United Kingdom, Canada, Australia and New Zealand was, and is, to have a vast global intelligence monster which allegedly shares common goals.

The London Telegraph reported in December of 1997 that the Civil liberties Committee of the European Parliament had officially confirmed the existence and purpose of ECHELON. "A global electronic spy network that can eavesdrop on every telephone, e-mail and telex communication around the world will be officially acknowledged for the first time in a European Commission report. …"

The report noted: "Within Europe all e-mail, telephone and fax communications are routinely intercepted by the United States National Security Agency, transferring all target information from the European mainland via the strategic hub of London, then by satellite to Fort Meade in Maryland via the crucial hub at Menwith Hill, in the North York moors in the UK.

"The ECHELON system forms part of the UKUSA system but unlike many of the electronic spy systems developed during the Cold War, ECHELON was designed primarily for non-military targets: governments, organizations and businesses in virtually every country."

An interesting sidebar appeared in the International Herald Tribune under the headline, "Big Corporate Brother: It Knows More About You Than You Think." The story details Acxiom Corp, which was a humongous information service hidden in the Ozark foothills. Twenty-four hours a day, Acxiom electronically gathered and sorts all kinds of data about 196 million Americans. Credit card transactions and magazine subscriptions, telephone numbers, real estate records, automotive data, hunting, business and fishing licenses, consumer surveys and demographic detail that would make a marketing department's research manager salivate. This relatively new (legal) enterprise was known as "data warehousing" or "data-mining", and it underscores the cruel reality that the fiction of personal privacy has become obsolete. Technology's ability to collect and analyze data has made privacy a quaint albeit interesting dinosaur.

The Tribune reported that "Axciom can often determine whether an American owns a dog or cat, enjoys camping or gourmet cooking, reads the Bible or lots of other books. It can often pinpoint an American's occupation, car and favorite vacations. By analyzing the equivalent of billions of pages of data, it often projects for its customers who should be offered a credit card or who is likely to buy a computer."

Most of this information is from y 1998 piece. Echelon has developed, matured, and morphed into a much more powerful hybrid. 'Carnivore' was software to help triage the cacophony of data. Vault 7 and 'Umbrage' are logical (some would argue "insidious") growth.

More to follow…