"It Is Not A Question of Who Is Right Or Wrong But What Is Right Or Wrong That Counts.

"

--Geoff Metcalf
Providing an on line Triage of the news since 1997



Wo

rld & Nation
Feds spending millions of dollars to study coronavirus stress
Green space, language bias, student-teacher relationships all subjects of taxpayer-funded research
The country is feeling a lot of stress thanks to the coronavirus, and it's got the National Science Foundation intrigued.
So intrigued, in fact, that it is spending millions of taxpayer dollars on more than 25 studies of how various demographics are handling stress. There's the study of New York parents handling the pains of being forced into helping homeschool their children, and the study of how "at-risk" people are adjusting to the stress of the virus.
There's a study of whether access to green space has helped college kids cope when campuses closed and they were sent back home. Which is not to be confused with the $163,033 study of how graduate students are coping with stress. Or the $75,319 study of how undergraduate engineering students are handling stress.
---
FIRE AND FURY George Floyd protesters burn huge buildings to the ground as Minneapolis erupts in flames and National Guard called in
MINNEAPOLIS has been left burning as a number of fires took hold during rioting which erupted over the death of George Floyd.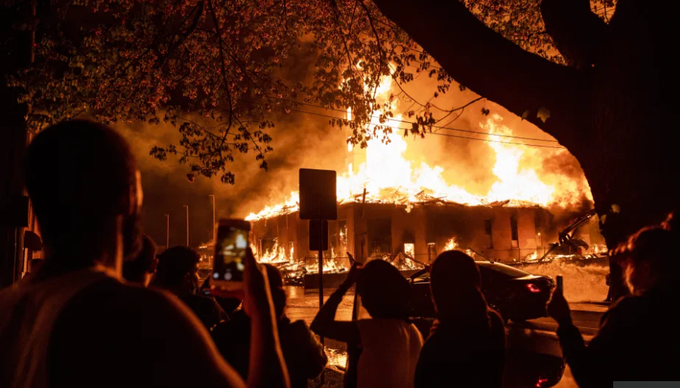 Demonstrations started out peacefully before descending into chaos as cops used rubber bullets, tear gas and pepper spray.
Fury is mounting over the death of Mr Floyd, who died after police officer Derek Chauvin knelt on his neck.
Protesters had initially gathered at the intersection where Floyd died and at the Minneapolis Police Department's Third Precinct.
Hours later however, the Lake and Hiawatha areas had descended into total chaos, with looting, violence and fires.
---
Speculation swirls about next Supreme Court vacancy
Just months before Election Day, the question of whether President Trump will get to select a third Supreme Court justice hangs over the final weeks of the court's term.
Speculation over a possible vacancy has focused in recent years on the prospect of Justice Clarence Thomas exiting while Republicans control the White House and Senate, and alternatively on the health of the court's aging liberal bloc.
Top Senate Republicans drew fresh attention to the bench recently when they said they would confirm a new justice if given the chance despite 2020 being an election year, in an apparent reversal of their rationale for blocking President Obama's nominee late in his second term.
Such statements, including by Sen. Lindsey Graham (R-S.C.) earlier this month, revived the unsubstantiated whisper campaign that Thomas was considering retiring now to allow Republicans to replace him with a like-minded, though younger, jurist to lock down conservatives' 5-4 majority.
---
Researchers: US Virus Outbreak Began After China Travel Ban
A new study suggests that the COVID-19 epidemic in the United States started after the China travel ban President Donald Trump imposed on Jan. 31.
Researchers looked at viral genomes in an effort to get a clear picture of how the coronavirus traveled from China to the rest of the world and how it spread within the United States. The findings show that different forms of SARS-CoV-2, the virus that causes COVID-19, already were circulating early in the year, and that the first cases in the United States — which occurred in Washington — were not related to the outbreak that later cropped up.
"Our results refute prior findings erroneously linking cases in January 2020 with outbreaks that occurred weeks later. Instead, rapid interventions successfully prevented onward transmission of those early cases in Germany and Washington State," the study's abstract reads.
---
Democrats withdraw FISA bill amid Trump veto threat
House Democrats on Thursday withdrew a bill to reauthorize controversial government surveillance powers as Republicans and far-left Democrats united to oppose the measure.
House Majority Leader Steny H. Hoyer, Maryland Democrat, announced he would pull the legislation. The announcement came less than an hour after he had issued a statement saying the vote would occur Thursday.
"At the request of the speaker of the House, I am withdrawing consideration of the FISA Act," Mr. Hoyer said in a statement. "The two-thirds of the Republican party that voted for this bill in March have indicated they are going to vote against it now. I am told they are doing so at the request of the president. I believe this to be against the security interest of the United States and the safety of the American people."
---
Arizona sues Google over tracking user location data without consent
Arizona sued Google this week, alleging the big tech company engaged in deceptive and unfair business practices to obtain users' location data for advertising purposes in order to gain a profit.
The 50-page complaint alleges Google tracks the location of its users even if the consumer had disabled the tracker.
After a roughly two-year probe, Arizona says Google also makes it confusing and increasingly difficult for a consumer to opt-out of the tracking and information collection.
---
William Barr taps U.S. attorney to probe 2016 election 'unmasking'
The Justice Department has ordered an investigation of the use of "unmasking" during the 2016 presidential election.
Attorney General William P. Barr has told John Bash, the U.S. attorney for the Western District of Texas, to lead the probe of the intelligence-agency practice, the department's spokeswoman told Fox News on Wednesday night.
Kerri Kupec said Mr. Barr put Mr. Bash on the case after deciding that issues related to the "unmasking" process had gone beyond U.S. Attorney John Durham's existing probe of the origins of the Trump-Russia probe.
---
Joe Biden's bet on frontline coronavirus governors threatens to backfire as resistance rises
Joseph R. Biden is hitching his political fortunes to Democratic governors from battleground states as he looks to resurrect the "blue wall" that served as the party's backbone for six presidential elections before President Trump demolished it in 2016.
Mr. Biden is betting the lovefest with the governors on the front lines of the coronavirus response in Michigan, Pennsylvania and Wisconson will pay off even as they face stiffening scrutiny from Mr. Trump, his allies and even some in-state Democrats over the pace of their reopening plans.
The former vice president says Democratic governors have filled the leadership void left by Mr. Trump's slow and muddled response to the pandemic.
---
Labor Sec. Scalia: 'Millions of Jobs' Could Return in Next Few Weeks
The nation's unemployment could drop back down below 10% by the end of this year, and millions of jobs could return in the next few weeks as people return to work after shutdowns due to the coronavirus pandemic, Labor Secretary Eugene Scalia said Thursday.
"I think that's achievable, [but] obviously, there are a number of things that will depend on," Scalia said on Fox News' "Mornings With Maria." "We know that many people are in the position of starting to go back to work."
Scalia said states that opened earlier than others are still not seeing spikes in their virus numbers, and that leaves an "opportunity now to return millions upon millions of jobs in the next few weeks, as we do reopen."
---
China Parliament Approves Hong Kong Security Bill
China's parliament approved a decision on Thursday to go forward with national security legislation for Hong Kong that democracy activists in the city and Western countries fear could erode its freedoms and jeopardize its role as a global financial hub.
China says the legislation will aim to tackle secession, subversion, terrorism and foreign interference in the city but the plan, unveiled in Beijing last week, triggered the first big protests in Hong Kong for months.
Riot police were out in force in Hong Kong as its lawmakers debated another piece of legislation, a bill to criminalize disrespect of China's national anthem, while the United States piled on pressure aimed at preserving the city's autonomy.
---
Joe Biden's 'you ain't black' comment: The scourge of the left's identity politics
The left's construct of identity politics is a scourge, not just because it's insulting and shortsighted, but also because the impact of conditioning people into identifying through one sliver of who they are strips away the power of the individual. Ultimately, it destroys lives. By design, that allows politicians to more easily control and manipulate the targets populating their own base: women, people of color and gays.
There are examples of this throughout the last century highlighting how racial and sexual minorities are shamed, denigrated and even their very identities are threatened if they don't do as they're told politically or refuse to conform to the liberal worldview.
The most recent illustration comes courtesy of the former vice president and 2020 Democratic presidential candidate, Joe Biden.
As Mr. Biden is apt to do, he said something without thinking and for the left, that's dangerous. In an interview with a very popular radio host, Charlamagne tha God, he revealed the ugly truth about the Democratic strategy and attitude toward black Americans. At one point after a series of questions, Charlamagne said: "It's a long way until November, we got more questions." Mr. Biden responded, "You got more questions but I tell you what, if you have a problem figuring out whether you're for me or Trump, then you ain't black." Stunned, Charlamagne responded, "It don't have nothing to do with Trump, it has to do with the fact I want something for my community. …"
---
The Senate's fate rests in Trump's performance at the ballot box
Outcomes for a Trump second term or a Democrat's first term depend on which party holds Senate majority
While much of America is watching the presidential race, most of the political class is watching the handful of Senate races that will determine which party presides over the Senate, and, consequently, how much of the next president's agenda will have a chance at becoming reality.
The outcomes of a second term for President Trump or a first term for a Democratic president look radically different depending on which party holds the majority in the Senate.
Republicans currently hold 53 seats in the Senate, the Democrats hold 45, and there is one socialist and one independent, both of whom caucus with the Democrats. If Mr. Trump wins reelection, the Democrats will need to net four additional seats to achieve a voting majority in the Senate. If the eventual Democratic nominee becomes president, they need just three, keeping in mind that the vice president breaks ties in the Senate.
" It is discouraging to think how many people are shocked by honesty and how few by deceit."

-- Noel Coward

(1899-1973) British playwright

---

The Medal of Honor is the highest award for valor in action against an enemy force which can be bestowed upon an individual serving in the Armed Services of the United States.

GeneTrerally presented to its recipient by the President of the United States of America in the name of Congress.

The first award of the Medal of Honor was made March 25, 1863 to Private JACOB PARROTT.The last award of the Medal of Honor was made September 15, 2011 to Sergeant DAKOTA MEYER.

Since then there have been: • 3458 recipients of the Medal of Honor.

• Today there are 85 Living Recipients of the Medal of Honor.

Citation


Captain Humbert R. Versace distinguished himself by extraordinary heroism during the period of 29 October 1963 to 26 September 1965, while serving as S-2 Advisor, Military Assistance Advisory Group, Detachment 52, Ca Mau, Republic of Vietnam. While accompanying a Civilian Irregular Defense Group patrol engaged in combat operations in Thoi Binh District, An Xuyen Province, Captain Versace and the patrol came under sudden and intense mortar, automatic weapons, and small arms fire from elements of a heavily armed enemy battalion. As the battle raged, Captain Versace, although severely wounded in the knee and back by hostile fire, fought valiantly and continued to engage enemy targets. Weakened by his wounds and fatigued by the fierce firefight, Captain Versace stubbornly resisted capture by the over-powering Viet Cong force with the last full measure of his strength and ammunition. Taken prisoner by the Viet Cong, he exemplified the tenets of the Code of Conduct from the time he entered into Prisoner of War status. Captain Versace assumed command of his fellow American soldiers, scorned the enemy's exhaustive interrogation and indoctrination efforts, and made three unsuccessful attempts to escape, despite his weakened condition which was brought about by his wounds and the extreme privation and hardships he was forced to endure. During his captivity, Captain Versace was segregated in an isolated prisoner of war cage, manacled in irons for prolonged periods of time, and placed on extremely reduced ration. The enemy was unable to break his indomitable will, his faith in God, and his trust in the United States of America. Captain Versace, an American fighting man who epitomized the principles of his country and the Code of Conduct, was executed by the Viet Cong on 26 September 1965. Captain Versace's gallant actions in close contact with an enemy force and unyielding courage and bravery while a prisoner of war are in the highest traditions of the military service and reflect the utmost credit upon himself and the United States Army.

---

From the Archives

We Have Met the Enemy…
Geoff Metcalf


"They who can give up essential liberty to obtain a little temporary safety deserve neither liberty nor safety.
--Benjamin Franklin
"The American people must be willing to give up a degree of personal privacy in exchange for safety and security."
--Louis Freeh


In the wake of the clamor over the most recent WikiLeaks data dump, 'Vault 7', 'UMBRAGE', et al, it should be noted this is not really anything new. What we are seeing here is simply the evolution of something that goes back to the late 50s (to the incomplete best knowledge I have).

It is kinda cool to finally see even

The New York Times

acknowledging material

I was writing about in 1998

.

In April of 1998 I wrote "Privacy has become an anachronism." I was commenting on "a massive system designed to intercept all your e-mail, fax traffic and more." I was explaining 'Echelon', the illegitimate offspring of a

UKUSA Treaty

signed by the United States, United Kingdom, Canada, Australia and New Zealand. Its purpose was, and is, to have a vast global intelligence monster, which allegedly shares common goals. The system was so "efficient" that reportedly National Security Agency folk from Fort Meade could work from Menwith Hill in England to intercept local communications without either nation having to burden themselves with the formality of seeking approval (a court order) or disclosing the operation. And this was all pre-9/11 and pre-the anti-constitutional

'Patriot Act'

.

It is illegal (without a Judge's signed permission) for the United States to spy on its citizens … kinda. The laws have long been circumvented by a mutual pact among five nations. Under the terms of UKUSA agreement, Britain spies on Americans and America spies on British citizens, and then the two conspirators trade data. A classic technical finesse. It is legal, but the intent to evade the spirit is inescapable.

I often fictionalized the genesis of 'Echelon' as an informal meeting of a group of post war American and British intelligence types drinking in some remote rustic bar. An imagined CIA type complains to his MI6 buddy about the hassles of US laws preventing US intelligence from surveillance of bad guys, and the Brit echoes the same complaint.

"Hey wait a moment mate," says Nigel, the make-believe MI6 guy, "I can spy on your guys and you can spy on our bad players…why don't we just come up with a mechanism whereby we spy on your villains, you spy on our villains, and we just 'share' the intel?"

This system was called ECHELON, and has been kicking around in some form longer than most of you. The result of the UKUSA treaty signed by the United States, United Kingdom, Canada, Australia and New Zealand was, and is, to have a vast global intelligence monster which allegedly shares common goals.

The London Telegraph reported in December of 1997 that the Civil liberties Committee of the European Parliament had officially confirmed the existence and purpose of ECHELON. "A global electronic spy network that can eavesdrop on every telephone, e-mail and telex communication around the world will be officially acknowledged for the first time in a European Commission report. …"

The report noted: "Within Europe all e-mail, telephone and fax communications are routinely intercepted by the United States National Security Agency, transferring ll target information from the Eurv opean mainland via the strategic hub of London, then by satellite to Fort Meade in Maryland via the crucial hub at Menwith Hill, in the North York moors in the UK.

"The ECHELON system forms part of the UKUSA system but unlike many of the electronic spy systems developed during the Cold War, ECHELON was designed primarily for non-military targets: governments, organizations and businesses in virtually every country."

An interesting sidebar appeared in the International Herald Tribune under the headline, "Big Corporate Brother: It Knows More About You Than You Think." The story details Acxiom Corp, which was a humongous information service hidden in the Ozark foothills. Twenty-four hours a day, Acxiom electronically gathered and sorts all kinds of data about 196 million Americans. Credit card transactions and magazine subscriptions, telephone numbers, real estate records, automotive data, hunting, business and fishing licenses, consumer surveys and demographic detail that would make a marketing department's research manager salivate. This relatively new (legal) enterprise was known as "data warehousing" or "data-mining", and it underscores the cruel reality that the fiction of personal privacy has become obsolete. Technology's ability to collect and analyze data has made privacy a quaint albeit interesting dinosaur.

The Tribune reported that "Axciom can often determine whether an American owns a dog or cat, enjoys camping or gourmet cooking, reads the Bible or lots of other books. It can often pinpoint an American's occupation, car and favorite vacations. By analyzing the equivalent of billions of pages of data, it often projects for its customers who should be offered a credit card or who is likely to buy a computer."

Most of this information is from y 1998 piece. Echelon has developed, matured, and morphed into a much more powerful hybrid. 'Carnivore' was software to help triage the cacophony of data. Vault 7 and 'Umbrage' are logical (some would argue "insidious") growth.

More to follow…