"It Is Not A Question of Who Is Right Or Wrong But What Is Right Or Wrong That Counts.

"

--Geoff Metcalf
Providing an on line Triage of the news since 1997



Wo

rld & Nation
Trump broke law by withholding Ukraine money, Congress' legal branch says
GAO ruling similar to findings on Obama, other presidents
Congress' official legal branch has determined that President Trump broke the law by withholding military assistance from Ukraine after Congress approved the money — fueling Democrats' argument that the president should be impeached for his actions.
The Government Accountability Office said the decision amounted to an "impoundment" of the funds because of a policy dispute, which is not an acceptable reason under the law for the White House to hold up money after Congress votes for it and the president signs it into law.
GAO's ruling has no specific legal force, though Democrats said it's more evidence Mr. Trump has acted outside the law.
---
McConnell: Pelosi's impeachment signing ceremony 'transparently partisan'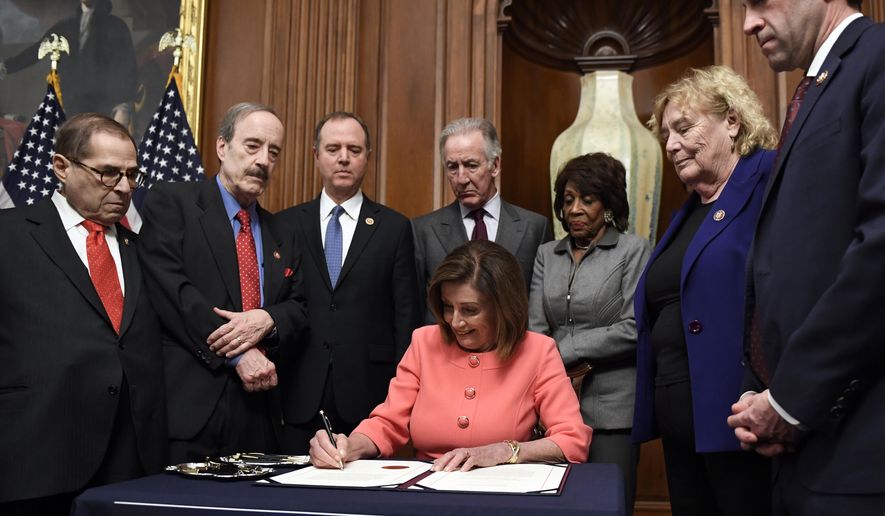 Senate Majority Leader Mitch McConnell called out House Speaker Nancy Pelosi Thursday for her signing ceremony the day before, where she transmitted House Democrats' impeachment articles by handing out souvenir pens and smiling for photographs.
The Kentucky Republican said the somber moment looked more like a happy bill signing, with gold pens being brought out on silver platters.
"This final display neatly distilled the House's entire process into one perfect visual. It was a transparently partisan performance from beginning to end," Mr. McConnell said on the chamber floor.
"The House's hour is over," he added. "The Senate's time is at hand."
---
Trump signs landmark trade deal with China to fix 'wrongs of the past'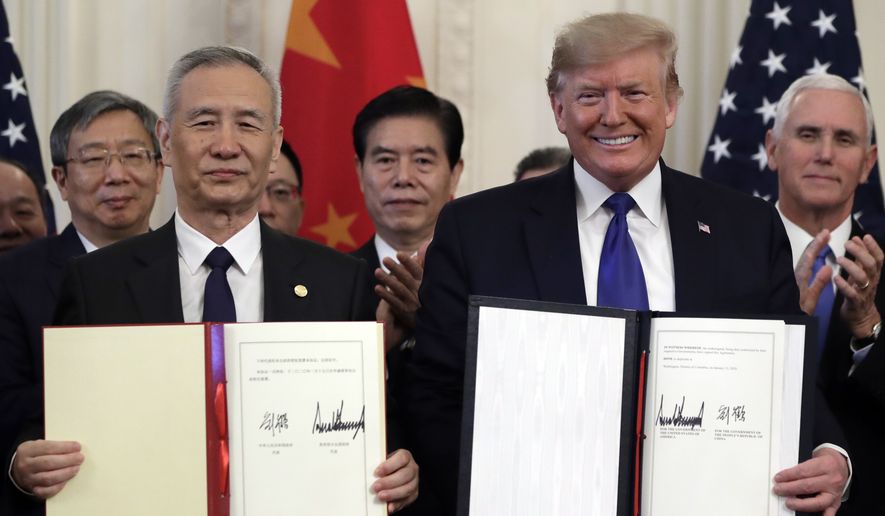 President Trump and Chinese negotiators signed a hard-fought trade agreement on Wednesday that provides big wins for U.S. farmers, energy companies and financial-services firms, a historic breakthrough in the lopsided business dealings between the world's two biggest economies that Mr. Trump achieved through his unconventional use of tariffs.
The president and Chinese Vice Premier Liu He signed the "phase one" agreement during a White House ceremony, after nearly two years of trade tensions that saw both sides impose escalating tariffs on hundreds of billions of dollars' worth of each other's products.
The 86-page agreement calls for China to increase its purchases of U.S. goods by more than $200 billion over the next two years, from soybeans to automobiles. It also adds new restrictions against Beijing forcing U.S. companies operating in China to disclose their technologies and against devaluing its currency.
---
DOJ claps back at Parnas: Claims about William Barr are '100 percent false'
The Justice Department on Thursday denied Lev Parnas' claims that Attorney General William P. Barr knew about President Trump's efforts to pressure Ukraine into announcing an investigation into former Vice President Joseph R. Biden and his son, Hunter.
"100 percent false," Justice Department Kerri Kupec said in a statement.
In a bombshell interview with MSNBC's Rachel Maddow Wednesday night, Mr. Parnas said the attorney general "absolutely" was in contact with Mr. Trump's personal attorney and former New York Mayor Rudolph W. Giuliani about his efforts in Ukraine.
---
CNN reveals audio from Sanders-Warren debate spat
The feud between Sen. Elizabeth Warren and Sen. Bernard Sanders escalated after Tuesday night's debate with her accusing him of calling her "a liar on national TV."
Ms. Warren says Mr. Sanders, in a 2018 meeting, told her a woman couldn't win the White House. Mr. Sanders disputes that. They had a somewhat polite disagreement over it on the stage during the debate.
But afterward, cameras caught Ms. Warren going straight to Mr. Sanders, rebuffing his outstretched hand and exchanging pointed words.
---
Trump to issue new rule ensuring prayer in schools is protected
President Trump is issuing updated rules on Thursday to ensure that public school students are allowed to engage in constitutionally protected prayer.
Taking the action on National Religious Freedom Day, Mr. Trump will hold an Oval Office event to announce updates to federal guidance on school prayer. White House officials said the update is required by law every two years, but hasn't been done since 2003.
"President Trump is committed to making sure that people of faith, particularly children, are not subjected to illegal punishment or pressure for exercising their constitutionally protected rights," said White House Domestic Policy Council Director Joe Grogan.
---
Lincoln Chafee and Adam Kokesh vie for the anti-war Libertarian mantle
Finding a leader for anti-war voters in the 2020 campaign
As the countdown to the political main event of 2020 draws closer, the question for many anti-war voters remains: Will there be anybody on the ballot this November advocating for a foreign policy based on non-violence, diplomacy and non-interventionism? Or will they be stuck simply with different shades of the same old, same exhaustive style Americans have become used to?
For Republicans, they don't have much wiggle room since now their candidate has a full term in office, which means plenty of policy wins, as well as mistakes.
When then-candidate Donald Trump entered the scene in 2015, he echoed the sentiments of many Ron Paul voters from 2008 and 2012, bringing to stage the failure of the Iraq War, the obscene amount of money spent toward intervention overseas, doubts about whether NATO still served a purpose post-Cold War, as well as criticizing the previous Obama administration's role in the disastrous regime toppling nightmare which birthed ISIS in the Middle East and a bustling new slave trade in Libya.
---
Fossil fuel paradoxes put Europe in a precarious position
Europe lectures about greenhouse gases while it depends on oil and gas
Despite its cool Green parties and ambitious wind and solar agendas, Europe remains by far the world's largest importer of oil and natural gas.
Oil output in the North Sea and off the coast of Norway is declining, and the European Union is quietly looking for fossil fuel energy anywhere it can find it.
Europe itself is naturally rich in fossil fuels. It likely has more reserves of shale gas than the United States, currently the world's largest producer of both oil and natural gas. Yet in most European countries, horizontal drilling and fracking to extract gas and oil are either illegal or face so many court challenges and popular protests that they are neither culturally nor economically feasible.
---
" It is discouraging to think how many people are shocked by honesty and how few by deceit."

-- Noel Coward

(1899-1973) British playwright

---

The Medal of Honor is the highest award for valor in action against an enemy force which can be bestowed upon an individual serving in the Armed Services of the United States.

GeneTrerally presented to its recipient by the President of the United States of America in the name of Congress.

The first award of the Medal of Honor was made March 25, 1863 to Private JACOB PARROTT.The last award of the Medal of Honor was made September 15, 2011 to Sergeant DAKOTA MEYER.

Since then there have been: • 3458 recipients of the Medal of Honor.

• Today there are 85 Living Recipients of the Medal of Honor.

Citation


Captain Humbert R. Versace distinguished himself by extraordinary heroism during the period of 29 October 1963 to 26 September 1965, while serving as S-2 Advisor, Military Assistance Advisory Group, Detachment 52, Ca Mau, Republic of Vietnam. While accompanying a Civilian Irregular Defense Group patrol engaged in combat operations in Thoi Binh District, An Xuyen Province, Captain Versace and the patrol came under sudden and intense mortar, automatic weapons, and small arms fire from elements of a heavily armed enemy battalion. As the battle raged, Captain Versace, although severely wounded in the knee and back by hostile fire, fought valiantly and continued to engage enemy targets. Weakened by his wounds and fatigued by the fierce firefight, Captain Versace stubbornly resisted capture by the over-powering Viet Cong force with the last full measure of his strength and ammunition. Taken prisoner by the Viet Cong, he exemplified the tenets of the Code of Conduct from the time he entered into Prisoner of War status. Captain Versace assumed command of his fellow American soldiers, scorned the enemy's exhaustive interrogation and indoctrination efforts, and made three unsuccessful attempts to escape, despite his weakened condition which was brought about by his wounds and the extreme privation and hardships he was forced to endure. During his captivity, Captain Versace was segregated in an isolated prisoner of war cage, manacled in irons for prolonged periods of time, and placed on extremely reduced ration. The enemy was unable to break his indomitable will, his faith in God, and his trust in the United States of America. Captain Versace, an American fighting man who epitomized the principles of his country and the Code of Conduct, was executed by the Viet Cong on 26 September 1965. Captain Versace's gallant actions in close contact with an enemy force and unyielding courage and bravery while a prisoner of war are in the highest traditions of the military service and reflect the utmost credit upon himself and the United States Army.

---

From the Archives

We Have Met the Enemy…
Geoff Metcalf


"They who can give up essential liberty to obtain a little temporary safety deserve neither liberty nor safety.
--Benjamin Franklin
"The American people must be willing to give up a degree of personal privacy in exchange for safety and security."
--Louis Freeh


In the wake of the clamor over the most recent WikiLeaks data dump, 'Vault 7', 'UMBRAGE', et al, it should be noted this is not really anything new. What we are seeing here is simply the evolution of something that goes back to the late 50s (to the incomplete best knowledge I have).

It is kinda cool to finally see even

The New York Times

acknowledging material

I was writing about in 1998

.

In April of 1998 I wrote "Privacy has become an anachronism." I was commenting on "a massive system designed to intercept all your e-mail, fax traffic and more." I was explaining 'Echelon', the illegitimate offspring of a

UKUSA Treaty

signed by the United States, United Kingdom, Canada, Australia and New Zealand. Its purpose was, and is, to have a vast global intelligence monster, which allegedly shares common goals. The system was so "efficient" that reportedly National Security Agency folk from Fort Meade could work from Menwith Hill in England to intercept local communications without either nation having to burden themselves with the formality of seeking approval (a court order) or disclosing the operation. And this was all pre-9/11 and pre-the anti-constitutional

'Patriot Act'

.

It is illegal (without a Judge's signed permission) for the United States to spy on its citizens … kinda. The laws have long been circumvented by a mutual pact among five nations. Under the terms of UKUSA agreement, Britain spies on Americans and America spies on British citizens, and then the two conspirators trade data. A classic technical finesse. It is legal, but the intent to evade the spirit is inescapable.

I often fictionalized the genesis of 'Echelon' as an informal meeting of a group of post war American and British intelligence types drinking in some remote rustic bar. An imagined CIA type complains to his MI6 buddy about the hassles of US laws preventing US intelligence from surveillance of bad guys, and the Brit echoes the same complaint.

"Hey wait a moment mate," says Nigel, the make-believe MI6 guy, "I can spy on your guys and you can spy on our bad players…why don't we just come up with a mechanism whereby we spy on your villains, you spy on our villains, and we just 'share' the intel?"

This system was called ECHELON, and has been kicking around in some form longer than most of you. The result of the UKUSA treaty signed by the United States, United Kingdom, Canada, Australia and New Zealand was, and is, to have a vast global intelligence monster which allegedly shares common goals.

The London Telegraph reported in December of 1997 that the Civil liberties Committee of the European Parliament had officially confirmed the existence and purpose of ECHELON. "A global electronic spy network that can eavesdrop on every telephone, e-mail and telex communication around the world will be officially acknowledged for the first time in a European Commission report. …"

The report noted: "Within Europe all e-mail, telephone and fax communications are routinely intercepted by the United States National Security Agency, transferring ll target information from the Eurv opean mainland via the strategic hub of London, then by satellite to Fort Meade in Maryland via the crucial hub at Menwith Hill, in the North York moors in the UK.

"The ECHELON system forms part of the UKUSA system but unlike many of the electronic spy systems developed during the Cold War, ECHELON was designed primarily for non-military targets: governments, organizations and businesses in virtually every country."

An interesting sidebar appeared in the International Herald Tribune under the headline, "Big Corporate Brother: It Knows More About You Than You Think." The story details Acxiom Corp, which was a humongous information service hidden in the Ozark foothills. Twenty-four hours a day, Acxiom electronically gathered and sorts all kinds of data about 196 million Americans. Credit card transactions and magazine subscriptions, telephone numbers, real estate records, automotive data, hunting, business and fishing licenses, consumer surveys and demographic detail that would make a marketing department's research manager salivate. This relatively new (legal) enterprise was known as "data warehousing" or "data-mining", and it underscores the cruel reality that the fiction of personal privacy has become obsolete. Technology's ability to collect and analyze data has made privacy a quaint albeit interesting dinosaur.

The Tribune reported that "Axciom can often determine whether an American owns a dog or cat, enjoys camping or gourmet cooking, reads the Bible or lots of other books. It can often pinpoint an American's occupation, car and favorite vacations. By analyzing the equivalent of billions of pages of data, it often projects for its customers who should be offered a credit card or who is likely to buy a computer."

Most of this information is from y 1998 piece. Echelon has developed, matured, and morphed into a much more powerful hybrid. 'Carnivore' was software to help triage the cacophony of data. Vault 7 and 'Umbrage' are logical (some would argue "insidious") growth.

More to follow…