"It Is Not A Question of Who Is Right Or Wrong But What Is Right Or Wrong That Counts.

"

--Geoff Metcalf
Providing an on line Triage of the news since 1997



Wo

rld & Nation
'Disqualifying': Past remarks haunt Raphael Warnock in crucial Georgia Senate contest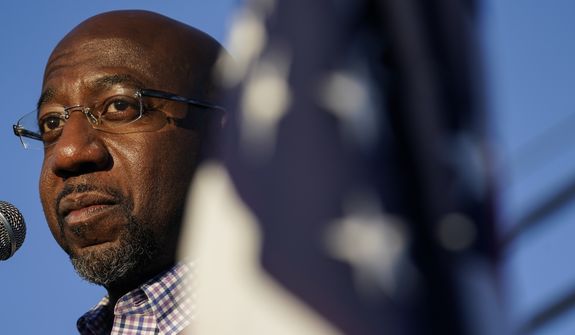 Republicans are framing the two Georgia Senate runoff races as the firewall holding back a left-wing takeover of the federal government, and the Rev. Raphael Warnock is inadvertently providing them with plenty of help.
Since coasting to a first-place finish in the Nov. 3 nonpartisan special election primary, Mr. Warnock has been thrown on the defensive by a relentless barrage of own past statements, many from the pulpit, attacking Israel, police, "worship of whiteness" and the military.
An InsiderAdvantage/Fox5 poll released Tuesday showed the Democrat deadlocked with Republican Sen. Kelly Loeffler, but some analysts expect that to change, especially with the release Tuesday of a 2011 sermon in which Mr. Warnock said that "nobody can serve God and the military."
---
Trump campaign withdraws Michigan election lawsuit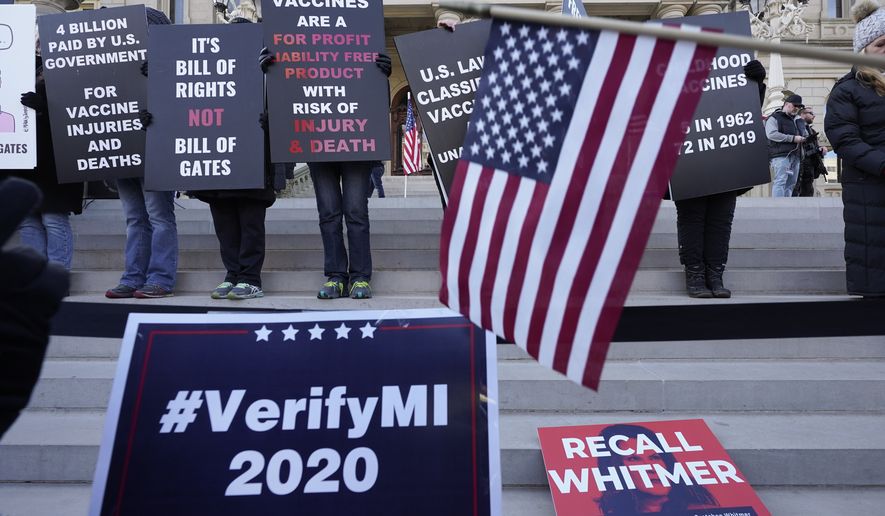 The Trump campaign announced Thursday it was withdrawing its lawsuit challenging mail-in ballots in Michigan after Wayne County Republican officials refused to certify the results.
"This morning we are withdrawing our lawsuit in Michigan as a direct result of achieving the relief we sought: to stop the election in Wayne County from being prematurely certified before residents can be assured that every legal vote has been counted and every illegal vote has not been counted," said Rudolph Giuliani, President Trump's personal attorney.
The federal lawsuit argued there was an equal protection violation in parts of Michigan where Republican poll watchers were not able to review mail-in ballots in the Detroit area. It asked the court to keep the results from being certified.
---
Wayne County GOP Board Members Want to Rescind Votes
Two Michigan Republicans who reversed course and voted to certify the election results in the state's most populous county Tuesday now say they were pressured to certify the election and want to rescind their votes.
Wayne County Board of Canvassers Chairwoman Monica Palmer and William Hartmann, the two Republicans on the four-member board, filed affidavits Wednesday night saying they had been improperly pressured and claiming Democrats on the board reneged on their promise to seek an audit of votes from Detroit, reports The Washington Post.
The vote to certify the results from the Nov. 3 election is seen as a key step toward finalizing Joe Biden's victory in Michigan.
---
Rusty Rudy Giuliani spells trouble for Trump legal fight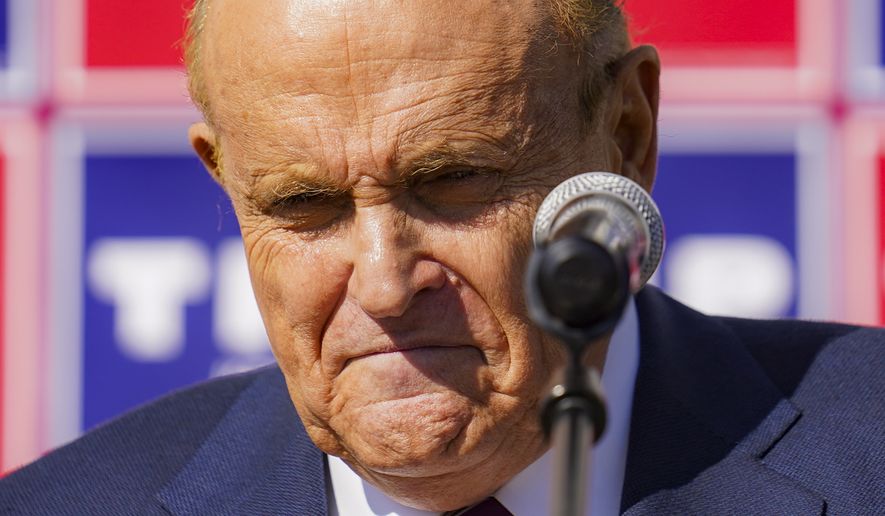 U.S. District Judge Matthew Brann posed a routine question to the lead attorney for President Trump's election challenge in Pennsylvania: What type of standard should the court use to evaluate the campaign's claims of fraud in the Nov. 3 presidential election?
"Normal one," responded Rudolph W. Giuliani.
Lawyers from coast to coast listening in on Tuesday's pivotal election fraud hearing in Williamsport, Pennsylvania, cringed at the response from "America's Mayor," making his first argument in court in years as he tried to back up Mr. Trump's claims that the election was stolen from him.
---
CNN correspondent accused of 'outrageous sexism' for crack about Kelly Loeffler's marriage
A CNN correspondent was accused Wednesday of "outrageous sexism" after he suggested that Sen. Kelly Loeffler's success was based on her marriage.
CNN climate correspondent Bill Weir's comment came after the Georgia Republican tweeted that she had "lived the American dream. I went from the farm to the Fortune 500."
Mr. Weir responded with a sarcastic tweet: "Good news, Georgia! If you live on a farm, you now qualify to marry the Chairman of the New York Stock Exchange!"
He referred to her 2004 marriage to Jeffrey Sprecher, the chairman of the New York Stock Exchange and CEO of Intercontinental Exchange. Ms. Loeffler joined Intercontinental Exchange in 2002 after stints with Citibank, William Blair & Company, and the Crossroads Group.
---
Megyn Kelly says corporate news 'outrage' model kept on life support by Trump: 'They need him'
Former Fox News host Megyn Kelly said corporate news lives to "stoke outrage" and is kept alive by using President Trump as ratings gasoline.
The journalist sat down for a wide-ranging interview this week with The Daily Caller when the topic turned to her conclusions about the state of the industry.
"The media gets paid to get eyeballs, right? To get you viewing them," she said Wednesday. "And the way you do that is to stoke outrage. That's why whenever you turn off the television from cable news, you feel pissed off. You may not even know they're doing it to you, but that's what they're doing to you. It's one of the reasons I wound up leaving."
Ms. Kelly, who also had a brief stint at NBC, said the outrage model of reporting is "kept alive by one man: Donald Trump."
---
'Squad' Democrats demand Lindsey Graham's resignation
Members of the Squad are demanding that Sen. Lindsey Graham resign his U.S. Senate seat. And the South Carolina Republican loves that.
Two members of the far-left group, and other progressives, say Mr. Graham should resign after Georgia's secretary of state accused him of coercing him to toss legally cast votes in that state's razor-thin presidential election.
Mr. Graham took the demands in stride.
"I must be doing something right when the most radical liberal politicians and media pundits in America are calling for my resignation!" he wrote while posting screenshots of the progressives' Twitter demands.
---
Erasing Trump's success: Biden pressured to scrap Space Force
Liberals long lamented what they view as Trump's effort to undermine Obama's legacy
The left is already gunning for one of President Trump's proudest and highest-profile achievements by lobbying presumed President-elect Joseph R. Biden to dismantle the Pentagon's new Space Force and roll back plans for U.S. military domination of the final frontier.
Dozens of liberal groups this week sent a memo to Mr. Biden's Pentagon transition team and laid out a host of proposed changes to the military.
The document, first reported by Politico and later released publicly, represents something of a liberal wish list for the next four years and underscores the kind of pressure Mr. Biden and his national security team will face from the left flank of the Democratic Party.
---
Empty Desks: Coronavirus Robs US Classrooms of Teachers
In July, fourth-grade teacher Susanne Michael was ecstatic as she celebrated the adoption of a former student from a troubled home and two of the girl's brothers. For the festivities, Michael dressed them and her other children in matching T-shirts that read "Gotcha FOREVER."
By October, the 47-year-old Jonesboro, Arkansas, woman was dead — one of an estimated nearly 300 school employees killed by the coronavirus in the U.S. since the outbreak took hold. All together, the U.S. had more than 250,000 confirmed virus deaths as of Wednesday.
Across the U.S., the deaths of educators have torn at the fabric of the school experience, taking the lives of teachers, principals, superintendents, coaches, a middle school secretary, a security guard. The losses have forced school boards to make hard decisions of whether to keep classrooms open and have left students and staff members grief-stricken.
---
12 million Americans set to lose unemployment benefits the day after Christmas
About 12 million jobless workers around the U.S. will lose their unemployment benefits the day after Christmas, according to a new analysis. The benefits cutoff could push many households into poverty while creating headwinds for the economic recovery, experts say.
Two key government programs authorized by the Coronavirus Aid, Relief, and Economic Security Act, or CARES Act expire on December 26. One is the Pandemic Unemployment Assistance program, which provides jobless aid to freelance and gig workers. That would deprive 7.3 million workers of urgently needed income, according to a study released Wednesday by The Century Foundation, a progressive think tank.
Another 4.6 million workers face being dropped from Pandemic Emergency Unemployment Compensation (PEUC) benefits, another CARES Act program that provides an additional 13 weeks of jobless aid beyond the typical 26 weeks that states provide, the analysis found.
---
What voters are telling Joe Biden about his Democrats' radical agenda
In the recent elections, Americans expressed with considerable clarity they are not receptive to the radical agenda embraced by Democrats since Elizabeth Warren and Alexandra Ocasio-Cortez stormed Washington.
Joe Biden's more affable demeanor defeated President Trump's governing style — albeit with help from the mainstream media — but the big blue wave got flushed. Republicans hung on in the Senate, scored gains in the House and kept their edge in governorships and state legislatures.
Liberal California shot down referendums to lift its ban on affirmative action in state hiring and university admissions, extend rent control, raise taxes on commercial landlords and force Uber, Lyft and delivery drivers to become employees. That snubbed organized labor, which too often steals workers' rights to grasp more union membership cards and dues.
---
Irony abounds as the left politicizes COVID-19 pandemic
Gavin Newsom and Nancy Pelosi violate quarantines they have endorsed
Where has the coronavirus gone?
Nowhere. The pandemic has gained a second wind, even as it is mysteriously scarcer in post-election headlines. If anything, COVID-19 seems more contagious as cold temperatures arrive, people stay in indoors and perhaps their vitamin D levels taper off.
Whatever one's views on the virus — whether it remains an existential threat or, contrarily, prompts overreactive lockdowns that are more harmful and maybe even deadlier than the virus itself — nothing much has changed since Election Day.
---
" It is discouraging to think how many people are shocked by honesty and how few by deceit."

-- Noel Coward

(1899-1973) British playwright

---

The Medal of Honor is the highest award for valor in action against an enemy force which can be bestowed upon an individual serving in the Armed Services of the United States.

GeneTrerally presented to its recipient by the President of the United States of America in the name of Congress.

The first award of the Medal of Honor was made March 25, 1863 to Private JACOB PARROTT.The last award of the Medal of Honor was made September 15, 2011 to Sergeant DAKOTA MEYER.

Since then there have been: • 3458 recipients of the Medal of Honor.

• Today there are 85 Living Recipients of the Medal of Honor.

Citation


Captain Humbert R. Versace distinguished himself by extraordinary heroism during the period of 29 October 1963 to 26 September 1965, while serving as S-2 Advisor, Military Assistance Advisory Group, Detachment 52, Ca Mau, Republic of Vietnam. While accompanying a Civilian Irregular Defense Group patrol engaged in combat operations in Thoi Binh District, An Xuyen Province, Captain Versace and the patrol came under sudden and intense mortar, automatic weapons, and small arms fire from elements of a heavily armed enemy battalion. As the battle raged, Captain Versace, although severely wounded in the knee and back by hostile fire, fought valiantly and continued to engage enemy targets. Weakened by his wounds and fatigued by the fierce firefight, Captain Versace stubbornly resisted capture by the over-powering Viet Cong force with the last full measure of his strength and ammunition. Taken prisoner by the Viet Cong, he exemplified the tenets of the Code of Conduct from the time he entered into Prisoner of War status. Captain Versace assumed command of his fellow American soldiers, scorned the enemy's exhaustive interrogation and indoctrination efforts, and made three unsuccessful attempts to escape, despite his weakened condition which was brought about by his wounds and the extreme privation and hardships he was forced to endure. During his captivity, Captain Versace was segregated in an isolated prisoner of war cage, manacled in irons for prolonged periods of time, and placed on extremely reduced ration. The enemy was unable to break his indomitable will, his faith in God, and his trust in the United States of America. Captain Versace, an American fighting man who epitomized the principles of his country and the Code of Conduct, was executed by the Viet Cong on 26 September 1965. Captain Versace's gallant actions in close contact with an enemy force and unyielding courage and bravery while a prisoner of war are in the highest traditions of the military service and reflect the utmost credit upon himself and the United States Army.

---

From the Archives

We Have Met the Enemy…
Geoff Metcalf


"They who can give up essential liberty to obtain a little temporary safety deserve neither liberty nor safety.
--Benjamin Franklin
"The American people must be willing to give up a degree of personal privacy in exchange for safety and security."
--Louis Freeh


In the wake of the clamor over the most recent WikiLeaks data dump, 'Vault 7', 'UMBRAGE', et al, it should be noted this is not really anything new. What we are seeing here is simply the evolution of something that goes back to the late 50s (to the incomplete best knowledge I have).

It is kinda cool to finally see even

The New York Times

acknowledging material

I was writing about in 1998

.

In April of 1998 I wrote "Privacy has become an anachronism." I was commenting on "a massive system designed to intercept all your e-mail, fax traffic and more." I was explaining 'Echelon', the illegitimate offspring of a

UKUSA Treaty

signed by the United States, United Kingdom, Canada, Australia and New Zealand. Its purpose was, and is, to have a vast global intelligence monster, which allegedly shares common goals. The system was so "efficient" that reportedly National Security Agency folk from Fort Meade could work from Menwith Hill in England to intercept local communications without either nation having to burden themselves with the formality of seeking approval (a court order) or disclosing the operation. And this was all pre-9/11 and pre-the anti-constitutional

'Patriot Act'

.

It is illegal (without a Judge's signed permission) for the United States to spy on its citizens … kinda. The laws have long been circumvented by a mutual pact among five nations. Under the terms of UKUSA agreement, Britain spies on Americans and America spies on British citizens, and then the two conspirators trade data. A classic technical finesse. It is legal, but the intent to evade the spirit is inescapable.

I often fictionalized the genesis of 'Echelon' as an informal meeting of a group of post war American and British intelligence types drinking in some remote rustic bar. An imagined CIA type complains to his MI6 buddy about the hassles of US laws preventing US intelligence from surveillance of bad guys, and the Brit echoes the same complaint.

"Hey wait a moment mate," says Nigel, the make-believe MI6 guy, "I can spy on your guys and you can spy on our bad players…why don't we just come up with a mechanism whereby we spy on your villains, you spy on our villains, and we just 'share' the intel?"

This system was called ECHELON, and has been kicking around in some form longer than most of you. The result of the UKUSA treaty signed by the United States, United Kingdom, Canada, Australia and New Zealand was, and is, to have a vast global intelligence monster which allegedly shares common goals.

The London Telegraph reported in December of 1997 that the Civil liberties Committee of the European Parliament had officially confirmed the existence and purpose of ECHELON. "A global electronic spy network that can eavesdrop on every telephone, e-mail and telex communication around the world will be officially acknowledged for the first time in a European Commission report. …"

The report noted: "Within Europe all e-mail, telephone and fax communications are routinely intercepted by the United States National Security Agency, transferring ll target information from the Eurv opean mainland via the strategic hub of London, then by satellite to Fort Meade in Maryland via the crucial hub at Menwith Hill, in the North York moors in th UK.

"The ECHELON system forms part of the UKUSA system but unlike many of the electronic spy systems developed during the Cold War, ECHELON was designed primarily for non-military targets: governments, organizations and businesses in virtually every country."

An interesting sidebar appeared in the International Herald Tribune under the headline, "Big Corporate Brother: It Knows More About You Than You Think." The story details Acxiom Corp, which was a humongous information service hidden in the Ozark foothills. Twenty-four hours a day, Acxiom electronically gathered and sorts all kinds of data about 196 million Americans. Credit card transactions and magazine subscriptions, telephone numbers, real estate records, automotive data, hunting, business and fishing licenses, consumer surveys and demographic detail that would make a marketing department's research manager salivate. This relatively new (legal) enterprise was known as "data warehousing" or "data-mining", and it underscores the cruel reality that the fiction of personal privacy has become obsolete. Technology's ability to collect and analyze data has made privacy a quaint albeit interesting dinosaur.

The Tribune reported that "Axciom can often determine whether an American owns a dog or cat, enjoys camping or gourmet cooking, reads the Bible or lots of other books. It can often pinpoint an American's occupation, car and favorite vacations. By analyzing the equivalent of billions of pages of data, it often projects for its customers who should be offered a credit card or who is likely to buy a computer."

Most of this information is from y 1998 piece. Echelon has developed, matured, and morphed into a much more powerful hybrid. 'Carnivore' was software to help triage the cacophony of data. Vault 7 and 'Umbrage' are logical (some would argue "insidious") growth.

More to follow…