"It Is Not A Question of Who Is Right Or Wrong But What Is Right Or Wrong That Counts.

"

--Geoff Metcalf
Providing an on line Triage of the news since 1998
Wo
rld & Nation
Antony Blinken winces as Biden calls China's Xi 'dictator'
Secretary of State Antony Blinken appeared to wince and shake his head when President Biden referred to China's President Xi Jinping as a "dictator" Wednesday – potentially upending months of tireless diplomacy to rebuild relations between the two countries.
Blinken, 61, physically recoiled and appeared to shake his head and fidget with his hands when Biden said Xi "is a dictator in the sense that he is the guy who runs the country that is a community country…based on a form of government different than ours" at a solo press conference.
The indelicate remark came shortly after Biden, 80, met with Xi for four hours in San Francisco ahead of the Asia-Pacific Economic Cooperation (APEC) conference – marking the two leaders' first in-person sit-down in a year.
Former Italian diplomat Marco Carnelos took to X to call out Blinken's "desperate body language" in response to Biden's statement.
---
Israel Signals Wider Operations in Southern Gaza
Israeli forces dropped leaflets warning Palestinians to flee parts of southern Gaza, residents said Thursday, signaling a possible expansion of their offensive to areas where hundreds of thousands of people who heeded earlier evacuation orders are crowded into U.N.-run shelters and family homes.
Meanwhile, soldiers continued searching Shifa Hospital in the north, in a raid that began early Wednesday. They displayed guns they say were found hidden in one building, but have yet to release any evidence of the central Hamas command center that Israel has said is concealed beneath the complex. Hamas and staff at the hospital, Gaza's largest, deny the allegations.
Broadening operations to the south — where Israel already carries out daily air raids — threatens to worsen an already severe humanitarian crisis in the besieged territory. Over 1.5 million people have been internally displaced in Gaza, with most having fled to the south, where food, water and electricity are increasingly scarce.
---
Iran's uranium stockpile has increased to 22 times larger than levels set by 2015 accord
U.N. watchdog accuses Tehran of blocking inspection of uranium enrichment sites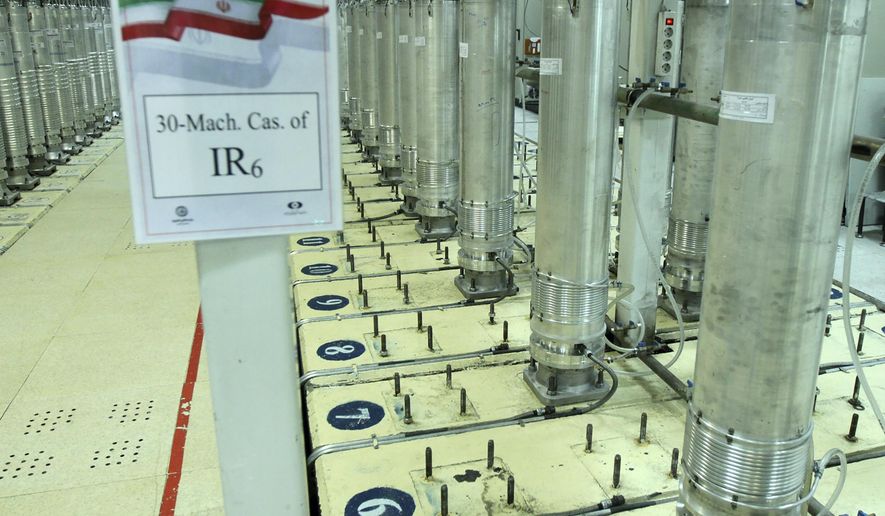 Iran is accelerating its nuclear program by stockpiling enriched uranium — the material needed to create atomic bombs — in violation of U.N. Security Council resolutions.
A confidential report this week by the U.N.'s nuclear watchdog agency said Iran's stockpile has reached a level 22 times above the limit set by the 2015 nuclear accord between Tehran and world powers.
The findings by the International Atomic Energy Agency suggest that Iran has advanced the program dramatically since 2018, when then-President Donald Trump pulled the United States out of the accord on grounds that it had failed to curtail Tehran's funding of terrorist proxy groups like Hamas and Hezbollah.
The IAEA's confidential report, which was reviewed and first publicized Wednesday by Agence France-Presse, said Iran's total enriched uranium stockpile was estimated at nearly 9,900 pounds as of Oct. 28, up by more than 1,500 pounds from August.
The limit in the 2015 accord was set at roughly 500 pounds.
---
Rep. Comer: Hunter Biden to Testify by Dec. 4
Hunter Biden will testify before the House Oversight and Accountability Committee by Dec. 4, Chair James Comer, R-Ky., told Newsmax on Thursday.
Comer last week subpoenaed the first son and other family members and associates of President Joe Biden as the committee investigates alleged influence peddling.
Comer was asked when he expected to see Hunter Biden appear before the House panel.
"We said by December 4th and we expect to have him here on Capitol Hill December 4th or earlier," Comer said on "Wake Up America." "Now, we haven't heard from his attorney, but obviously we know they received the subpoena because what do they do just days later? They subpoena [former President] Donald Trump [in Hunter Biden's federal gun case].
"They're always going to try to blame it on Trump somehow the money they've taken from China and Romania. But at the end of the day, we're ready to bring Hunter Biden because we have the bank records, and we can connect the dots."
Among the people subpoenaed to appear before the committee is entertainment lawyer Kevin Morris, who allegedly loaned Hunter Biden millions of dollars to pay back taxes.
---
Mayorkas unaware that Clapper, Brennan signed Hunter Biden laptop disinformation letter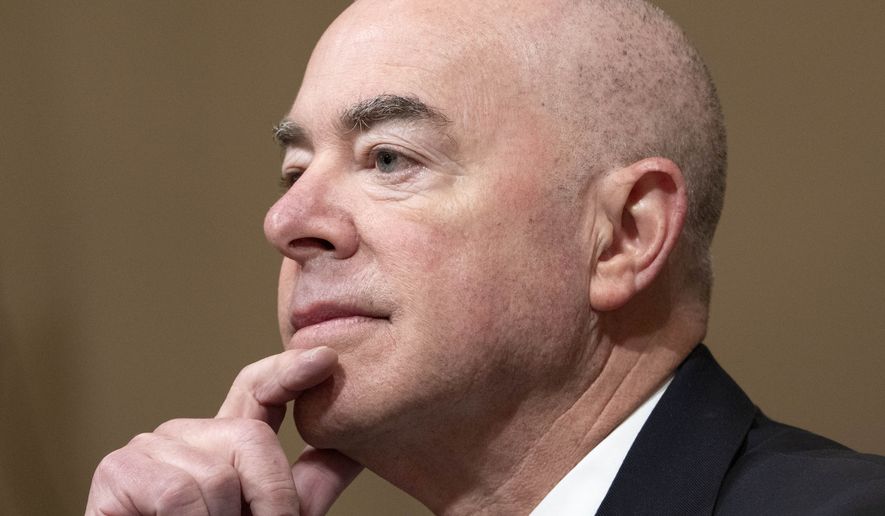 Homeland Security Secretary Alejandro Mayorkas told Congress on Wednesday that he didn't know that three people he appointed to a new intelligence experts panel had spread disinformation about Hunter Biden's laptop just ahead of the 2020 election.
James Clapper, the former Director of National Intelligence; John Brennan, the former CIA chief in the Obama administration, and Paul Kolbe, a long-time CIA official, were among dozens who signed the letter calling a New York Post report on the laptop Russian disinformation. In fact, the laptop was authentic — something the FBI knew at the time.
Mr. Mayorkas in September named them to his intelligence experts board, drawing fierce pushback, given their role in the laptop letter.
---
Brands supporting Black Lives Matter ignore anti-Israel stance; 'woke alert' calls out Dove, Airbnb
Companies that continue to embrace Black Lives Matter are feeling the heat as corporate America's once-favorite cause faces a backlash over pro-Hamas and anti-Israel statements.
Consumers' Research issued a "woke alert" Wednesday against three brands: Dove, DoorDash and Airbnb. The conservative corporate watchdog accused the brands of hypocrisy for their ongoing support of Black Lives Matter.
"Corporations that chose to publicly weigh in on woke political issues over the past several years can't seem to find that same voice to condemn a shocking terrorist attack in which Hamas slaughtered more than 1,200 innocents," Consumers' Research Executive Director Will Hild told The Washington Times.
---
Senate Democrats block Republicans' surprise vote on aid to Israel
Senate Democrats blocked a surprise move by Senate Republicans to force a vote on aid for Israel, funds that Democrats have been using to leverage to get House support for war aid for Ukraine.
Sen. Roger Marshall, Kansas Republican, on Tuesday moved for the chamber to proceed to the emergency spending bill when there was no other business on the floor. Sen. Raphael Warnock, Georgia Democrat, called for a quorum call to stall the vote while the rest of his party could discuss what to do next.
"The quorum call is right now just freezing the floor of the Senate. My assumption is that Chuck Schumer and Democratic leadership is in their office panicking and trying to figure out what to do next. Their objective is to prevent a vote," Sen. Ted Cruz, Texas Republican said.
The Democrat-run Senate eventually voted to table the bid to take up the measure in a 51-48 vote.
---
US Capitol Police Clash With Protesters Demanding Gaza Cease-Fire
U.S. Capitol Police (USCP) officers in riot gear clashed with roughly 200 demonstrators who gathered outside the Democratic National Committee (DNC) headquarters in Washington on Wednesday evening to demand a cease-fire in Gaza.
The protest was organized by three advocacy groups and held in an area near the U.S. Capitol. Lawmakers who were inside the DNC building said police had evacuated them from the area.
Six officers were treated for injuries, from minor cuts to being pepper sprayed to being punched, USCP said.
---
Here's the proof Bidenomics really isn't working for Americans
The American economy continues to stumble along, doing better than expected at the macro level, while hurting working Americans at the micro level.
Inflation continues to loom large, despite October's numbers beating Wall Street's expectations; interest rates are at near record high levels, the housing market is a trainwreck, and credit card debt is at all-time highs.
Yet, for some reason, the Biden administration continues to give speeches touting the strength of the economy, touting Bidenomics. However, it isn't resonating with voters.
A recent poll shows that just two percent of voters in "six battleground states said the economy was excellent. More than half of voters under 30, Hispanics, women, and people in every income bracket say they trust former President Trump to handle the economy more than Biden."
---
Russia warns NATO of 'catastrophic consequences' as tensions with Moscow threaten WW3
Russia has warned the West of "catastrophic consequences" if relations continue to sour, sparking World War 3 fears between Moscow and NATO.
The Russian Foreign Ministry released a dire statement on the 90th anniversary of the Russian-US relationship warning that relations were hanging by a thread.
The statement read in part: "Owing to Washington's policy of rampant Russophobia, [relations] risk being severed at any moment. This is not Russia's choice, but reckless moves on the part of the United States that spin the wheel of escalation, including the doctrinal task of inflicting a 'strategic defeat' on Moscow, risk leading to catastrophic consequences."
Relations between the West and Russia have plummeted to lows not seen since the Cold War following NATO's backing of Ukraine.
Major blow for Putin after 'kamikaze drone strike' destroys missile base
---
House abruptly heads home early after conservatives retaliate over Johnson's government funding plan
House lawmakers abruptly went home a day early partially due to a familiar sight for the House Republican conference: a rebellion from the lower chamber's most conservative lawmakers.
The quick departure came just one day after passing a short-term stopgap measure to avert a government shutdown.
Some 19 Republicans, mostly comprised of members of the ultraconservative House Freedom Caucus, tanked a procedural vote Wednesday morning. The procedural vote – referred to as a rule vote – has traditionally passed along party lines regardless of any member's support or opposition to the bill's rule.
---
The most important election of our lifetime: 2024 edition
The questions on most voters' minds
As we wander toward yet another most important election of our lifetime, there are many things worth thinking about. Will both presidential front-runners manage to stay healthy and out of jail until Nov. 5, 2024? Does Robert F. Kennedy Jr. really believe that oil and gas company executives should be jailed for crimes against humanity? What kind of Irishman has a middle name like "Robinette"? Is former President Donald Trump actually going to choose South Dakota Gov. Kristi Noem as his running mate?
Let's focus on two fundamental questions for a moment: Can President Biden really be commander in chief for four more years, and have the attacks on Mr. Trump changed anyone's feelings about him?
Many in the legacy media believe that the best way for the Biden campaign to win in 2024 is to knit together all the disparate elements of the anti-Trump efforts — the Never Trump Republicans (Mitt Romney, Liz Cheney), what remains of the moderate Democrats (Joe Manchin III, Joe Lieberman), and the folks on the legitimate left (Cornel West, Jill Stein). There is also some thought that the other part of a solution involves passing out various jobs to hangers-on like the Clintons and Rahm Emanuel as a way of conveying that Mr. Biden is not doing all this by himself — which is a gentle nod to his age.
---
After Megan Rapinoe's shocking 'God' proclamation, Sen. Tim Scott drops the perfect antidote
Controversial soccer star Megan Rapinoe — known for her progressive politics and penchant for kneeling during the national anthem — has once again found herself in critics' crosshairs after uttering head-turning comments about God's existence.
Ms. Rapinoe, who tore her Achilles' heel in the final match of her career, said at the post-game news conference that the injury is somehow proof there's no Almighty.
"I thought about it a little bit," she said. "I mean, I'm not a religious person or anything, and if there was a God, like, this is proof that there isn't. This is f—-ed up."
While many simply dismissed the comments as a strange or benign quip, others took stauncher and more perturbed positions, with former ESPN host Sage Steele calling the moment "narcissism at its finest." Meanwhile, former NFL quarterback Devlin Hodges delivered a more poignant and equally notable reaction.
---
---