"It Is Not A Question of Who Is Right Or Wrong But What Is Right Or Wrong That Counts.

"

--Geoff Metcalf
Providing an on line Triage of the news since 1997
Wo
rld & Nation
Sensenbrenner, Patriot Act author, raises alarms over Biden's targeting of concerned parents
A former Republican lawmaker and principal author of the Patriot Act says the Biden administration's targeting of parents protesting COVID-19 restrictions and race-based curriculum during school board meetings confirms his worst fears about the abuse of federal laws "as instruments of political repression."
Former Rep. F. James Sensenbrenner, who served as chairman of the House Judiciary Committee in the wake of the Sept. 11, 2001, terrorist attacks, says he warned of potential abuse of the Patriot Act when drafting the legislation nearly two decades ago. Looking back now, Mr. Sensenbrenner says he couldn't have imagined it would be used to target citizens' rights to freedom of expression.
"When debating the Patriot Act and other federal anti-terrorism laws, nobody in either chamber of Congress could have imagined these laws would be turned against concerned parents at local school board meetings," the former Republican congressman wrote in an op-ed published Tuesday in The Wall Street Journal.
---
Republicans report record fundraising for House campaigns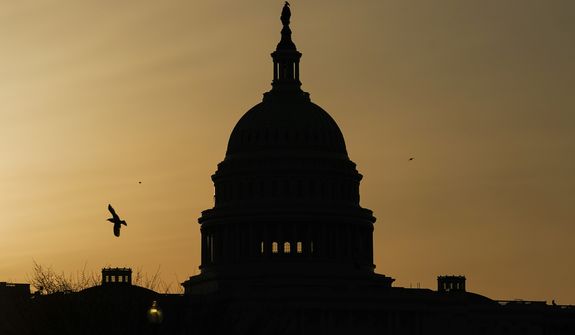 The campaign arm for House Republicans announced Thursday it has raised more than $105 million over the first nine months of 2021 — touting it as a sign of strength in its quest to flip the House next year.
The National Republican Congressional Committee said the record haul is a 74% increase over the last election cycle, and said it has $65 million cash on hand, which comes close to tripling the amount the committee had at this point in the last election cycle.
"Voters are ready to fire [House Speaker] Nancy Pelosi and hold the failed Biden Administration accountable," NRCC Chairman Tom Emmer said in a statement. "House Democrats are sprinting toward the exits because they know their days in the majority are numbered and we look forward to keeping up the pressure."
The financial haul could prove to be a bad omen for Democrats. President Biden's poll numbers have been sagging, and fears are mounting in Democratic circles over their ability to defend their fragile majorities in the House and the Senate.
---
Democrats confront divisions over health care benefits in Biden's mega-bill
Democrats, wrestling with what to cut from their economic and safety net package, are confronting intensifying divisions over health care as competing factions on Capitol Hill fight to keep their priorities off the chopping block.
As President Joe Biden seeks to cut more than $1 trillion from his $3.5 trillion price tag, House leaders are trending toward prioritizing extending the increase of the Obamacare subsidy in the American Rescue Plan and closing the Medicaid coverage gap in states that didn't expand the program.
"I feel very proprietary about the Affordable Care Act," said Speaker Nancy Pelosi, D-Calif., who shepherded the bill into law in 2010 and embraces it as part of her legacy.
---
U.S. military archbishop says conscientious objectors can refuse vaccine
'No one should be forced to receive a COVID-19 vaccine if it would violate the sanctity of his or her conscience'
The top chaplain of the Archdiocese for the Military Services has declared that Catholic troops may refuse to be vaccinated on the grounds of conscientious objection, reversing his previous position.
Archbishop Timothy Broglio said this week in a statement that although he initially supported the Biden administration's Aug. 24 vaccine mandate for all troops, he changed his position when "some service members" asked for religious exemptions.
Although the Vatican and U.S. bishops have declared it morally permissible to get the shots, many Catholics have refused due to the pharmaceutical companies' use of fetal stem cell tissues, which represents a potential violation of church teaching on abortion.
---
Biden to meet with Pope Francis at the Vatican
President Biden will meet with Pope Francis at the Vatican on Oct. 29 ahead of his two-day summit with leaders of the 20 largest economies, the White House said Thursday.
Mr. Biden, who is Catholic, will speak with the pope about ending the COVID-19 pandemic, tackling the climate crisis and caring for the poor, the White House said in a statement.
A Catholic who attends Mass regularly, Mr. Biden has recently come under fire from some Roman Catholic bishops in the U.S. for his support of abortion rights.
The U.S. Conference of Catholic Bishops this summer voted to draft new guidance on the Eucharist, or Holy Communion, that could result in denying the sacrament to politicians who support abortion legislation.
---
Katie Couric withheld Justice Ginsburg's opposition to racial justice protesters taking a knee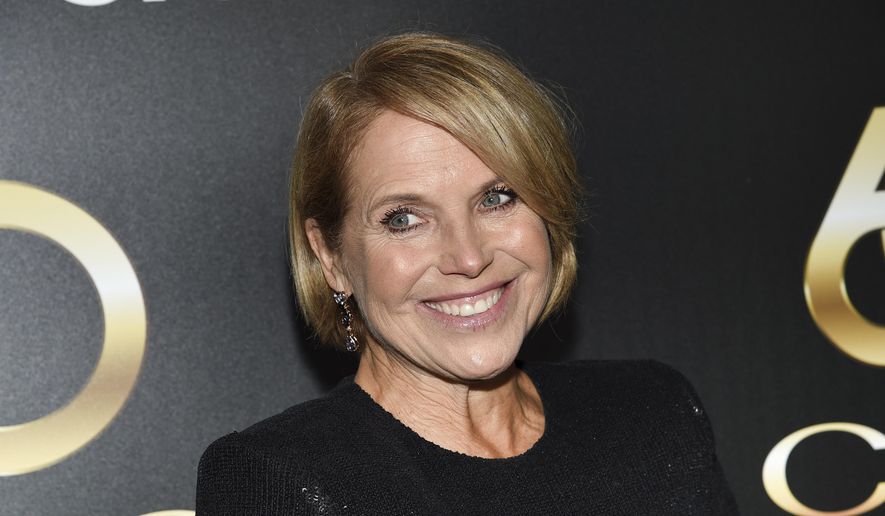 Katie Couric intentionally withheld the late Supreme Court Justice Ruth Bader Ginsburg's dislike for people who take a knee in protest of racial justice during the national anthem, according to reports from Ms. Couric's new memoir out later this month.
The journalist admitted to trying to "protect" Ginsburg by editing out comments she made about the kneeling controversy during a 2016 interview that Ms. Couric, a former host of NBC's "Today" show, was doing for Yahoo News.
In the article, Ginsburg is quoted saying that taking a knee is "dumb and disrespectful," but her more fiery comments were omitted.
In her memoir, "Going There," Ms. Couric admits to letting her personal views influence certain stories, pointing to the 2016 interview with Ginsburg.
---
Researchers: Zuckerberg Spent $419.5M to Push Democrat Votes in 2020
Facebook CEO Mark Zuckerberg spent $419.5 million during the 2020 election to bring out likely Democrat voters through legal loopholes that allowed him to pass money through two organizations that put the money into local government elections offices with stipulations about how the funding could be spent, according to researchers.
The New York Post featured the shocking political influence story on its cover Thursday.
Headlined "ZUCK'S BUCK How Facebook boss gave $419 million to get Biden elected," the report stated that "the 2020 election wasn't stolen — it was likely bought by one of the world's wealthiest and most powerful men pouring his money through legal loopholes."
The report said Zuckerberg had orchestrated and funded a "a targeted, private takeover of government election operations" for highly partisan purposes despite being run through nonprofit organizations.
---
Unemployment Claims Fall to 293,000, Lowest Level of Pandemic
The number of Americans applying for unemployment benefits fell to its lowest level since the pandemic began, a sign the job market is still improving even as hiring has slowed in the past two months.
Unemployment claims dropped 36,000 to 293,000 last week, the second straight drop, the Labor Department said Thursday. That's the smallest number of people to apply for benefits since March 2020, when the pandemic intensified. Applications for jobless aid, which generally track the pace of layoffs, have fallen steadily since last spring as many businesses, struggling to fill jobs, have held onto their workers.
Hiring has slowed in the past two months, even as companies and other employers have posted a near-record number of open jobs. Businesses are struggling to find workers as about three million people who lost jobs and stopped looking for work since the pandemic have yet to resume their job searches. Economists hoped more people would find work in September as schools reopened, easing child care constraints, and enhanced unemployment aid ended nationwide.
---
China Fears 'Political Manipulation' of WHO Virus Probe
China's Foreign Ministry on Thursday warned against what it called possible "political manipulation" of a renewed probe by the World Health Organization into the origins of the coronavirus, while saying it would support the international body's efforts.
The WHO on Wednesday released a proposed list of 25 experts to advise it on next steps in the search for the virus' origins after its earlier efforts were attacked for going too easy on China, where the first human cases were detected in late 2019.
Beijing was accused of withholding raw data on early cases during a visit by a WHO team in February and has since resisted calls for further investigation, saying the U.S. and others were politicizing the matter.
---
Indictment against Mark Ridley-Thomas another blow to L.A. politics
Los Angeles' political and community leaders were stunned by the corruption indictment handed down Wednesday against Mark Ridley-Thomas, one of the city's best-known and longest-serving officials.
Ridley-Thomas is accused of conspiring with Marilyn Louise Flynn, who at the time was dean of USC's School of Social Work, to steer county money to the university in return for admitting his son Sebastian into the graduate school with a full-tuition scholarship and a paid professorship. Ridley-Thomas was on the Los Angeles County Board of Supervisors at the time. He was later elected to the City Council representing South Los Angeles.
Neither Ridley-Thomas nor his attorney has responded so far to requests for comment.
---
Price pinch: global economy caught in perfect storm
From beef bowls in Tokyo to fried chicken in London, consumers are starting to feel the pinch from the surge in costs coursing through the global economy.
The rebound as coronavirus restrictions are eased has exposed supply chain shortages, with firms scrambling for workers, ships and even fuel to power factories, threatening the fledgling economic recovery.
Britain's biggest chicken producer said that the country's 20-year cheap food binge is ending and food price inflation could hit double digits.
---
EU Ready to Escalate Brexit Clash If U.K. Quits Northern Ireland Pact
The European Union's chief Brexit negotiator told member states they should be ready with a dramatic response if the U.K. makes good on threats to ditch its commitments over trade with Northern Ireland.
European Commissioner Maros Sefcovic struck a conciliatory tone on Wednesday evening as he presented his proposals for resolving the stand off over Northern Ireland in public. But earlier in the day he told European diplomats meeting behind closed doors that the bloc would retaliate forcefully if the U.K. seeks to pull out of the Northern Ireland protocol, according to two officials briefed on the conversation.
---
Former Supreme Court Justice Gableman, head of Republican review of Wisconsin election, says he does not understand how elections work
The attorney leading a partisan review of Wisconsin's 2020 election acknowledged this week that he doesn't understand how elections are supposed to be run.
The admission by former state Supreme Court Justice Michael Gableman comes as he subpoenas mayors and election officials.
His comment raises fresh questions about how long Gableman's taxpayer-financed review will take. He called an Oct. 31 deadline set for him by Assembly Speaker Robin Vos of Rochester unrealistic.
---
More Top News
---
Biden's 'Truman Show': The fake and choreographed presidency
For a good reason, there have been more than a few references in social media lately to "The Truman Show," a 1998 Jim Carrey film about a man living what he thinks is a totally normal life but, in fact, is a completely contrived reality show. He slowly grows to realize that his friends, family, and everyone else populating his life are actors, with thousands of cameras secreted throughout his town filming everything he does for a worldwide audience.
In the late 90s, everyone considered the premise absurd. Fast-forward to the 21st century, and "reality television" is standard fare. But it's the Biden administration's behavior that has reminded us of what it's like to be presented with something that is meant to appear real and natural but is nothing other than orchestrated and contrived. Things you see that are supposed to be genuine are instead fake sets, with fake actors, delivered by fake news.
During the 2020 presidential campaign and the ludicrous attempts to keep Joe Biden secreted in a basement and away from cameras and reporters, Americans have known that something was not quite real about what was being presented to us.
---
Could Biden have screwed more things up in just 10 months?
The GOP must be absolutely salivating for Election Day 2022
All of the bad news — soaring crime and inflation, a badly botched withdrawal from Afghanistan, the endless crisis at the border, gridlock on Capitol Hill — has finally caught up with President Joe Biden.
New polls show Mr. Biden's approval rating plunging to record lows and the Republican Party soaring up in the eyes of Americans, who think the GOP is better able to handle the country's problems.
Mr. Biden's approval is now 15 points underwater, according to a Quinnipiac University poll released last week.
---
" It is discouraging to think how many people are shocked by honesty and how few by deceit."

-- Noel Coward

(1899-1973) British playwright

---

The Medal of Honor is the highest award for valor in action against an enemy force which can be bestowed upon an individual serving in the Armed Services of the United States.

GeneTrerally presented to its recipient by the President of the United States of America in the name of Congress.

The first award of the Medal of Honor was made March 25, 1863 to Private JACOB PARROTT.The last award of the Medal of Honor was made September 15, 2011 to Sergeant DAKOTA MEYER.

Since then there have been: • 3458 recipients of the Medal of Honor.

• Today there are 85 Living Recipients of the Medal of Honor.

Citation


Captain Humbert R. Versace distinguished himself by extraordinary heroism during the period of 29 October 1963 to 26 September 1965, while serving as S-2 Advisor, Military Assistance Advisory Group, Detachment 52, Ca Mau, Republic of Vietnam. While accompanying a Civilian Irregular Defense Group patrol engaged in combat operations in Thoi Binh District, An Xuyen Province, Captain Versace and the patrol came under sudden and intense mortar, automatic weapons, and small arms fire from elements of a heavily armed enemy battalion. As the battle raged, Captain Versace, although severely wounded in the knee and back by hostile fire, fought valiantly and continued to engage enemy targets. Weakened by his wounds and fatigued by the fierce firefight, Captain Versace stubbornly resisted capture by the over-powering Viet Cong force with the last full measure of his strength and ammunition. Taken prisoner by the Viet Cong, he exemplified the tenets of the Code of Conduct from the time he entered into Prisoner of War status. Captain Versace assumed command of his fellow American soldiers, scorned the enemy's exhaustive interrogation and indoctrination efforts, and made three unsuccessful attempts to escape, despite his weakened condition which was brought about by his wounds and the extreme privation and hardships he was forced to endure. During his captivity, Captain Versace was segregated in an isolated prisoner of war cage, manacled in irons for prolonged periods of time, and placed on extremely reduced ration. The enemy was unable to break his indomitable will, his faith in God, and his trust in the United States of America. Captain Versace, an American fighting man who epitomized the principles of his country and the Code of Conduct, was executed by the Viet Cong on 26 September 1965. Captain Versace's gallant actions in close contact with an enemy force and unyielding courage and bravery while a prisoner of war are in the highest traditions of the military service and reflect the utmost credit upon himself and the United States Army.

---

From the Archives

We Have Met the Enemy…
Geoff Metcalf


"They who can give up essential liberty to obtain a little temporary safety deserve neither liberty nor safety.
--Benjamin Franklin
"The American people must be willing to give up a degree of personal privacy in exchange for safety and security."
--Louis Freeh


In the wake of the clamor over the most recent WikiLeaks data dump, 'Vault 7', 'UMBRAGE', et al, it should be noted this is not really anything new. What we are seeing here is simply the evolution of something that goes back to the late 50s (to the incomplete best knowledge I have).

It is kinda cool to finally see even

The New York Times

acknowledging material

I was writing about in 1998

.

In April of 1998 I wrote "Privacy has become an anachronism." I was commenting on "a massive system designed to intercept all your e-mail, fax traffic and more." I was explaining 'Echelon', the illegitimate offspring of a

UKUSA Treaty

signed by the United States, United Kingdom, Canada, Australia and New Zealand. Its purpose was, and is, to have a vast global intelligence monster, which allegedly shares common goals. The system was so "efficient" that reportedly National Security Agency folk from Fort Meade could work from Menwith Hill in England to intercept local communications without either nation having to burden themselves with the formality of seeking approval (a court order) or disclosing the operation. And this was all pre-9/11 and pre-the anti-constitutional

'Patriot Act'

.

It is illegal (without a Judge's signed permission) for the United States to spy on its citizens … kinda. The laws have long been circumvented by a mutual pact among five nations. Under the terms of UKUSA agreement, Britain spies on Americans and America spies on British citizens, and then the two conspirators trade data. A classic technical finesse. It is legal, but the intent to evade the spirit is inescapable.

I often fictionalized the genesis of 'Echelon' as an informal meeting of a group of post war American and British intelligence types drinking in some remote rustic bar. An imagined CIA type complains to his MI6 buddy about the hassles of US laws preventing US intelligence from surveillance of bad guys, and the Brit echoes the same complaint.

"Hey wait a moment mate," says Nigel, the make-believe MI6 guy, "I can spy on your guys and you can spy on our bad players…why don't we just come up with a mechanism whereby we spy on your villains, you spy on our villains, and we just 'share' the intel?"

This system was called ECHELON, and has been kicking around in some form longer than most of you. The result of the UKUSA treaty signed by the United States, United Kingdom, Canada, Australia and New Zealand was, and is, to have a vast global intelligence monster which allegedly shares common goals.

The report noted: "Within Europe all e-mail, telephone and fax communications are routinely intercepted by the United States National Security Agency, transferring ll target information from the Eurv opean mainland via the strategic hub of London, then by satellite to Fort Meade in Maryland via the crucial hub at Menwith Hill, in the North York moors in th UK.

"The ECHELON system forms part of the UKUSA system but unlike many of the electronic spy systems developed during the Cold War, ECHELON was designed primarily for non-military targets: governments, organizations and businesses in virtually every country."

An interesting sidebar appeared in the International Herald Tribune under the headline, "Big Corporate Brother: It Knows More About You Than You Think." The story details Acxiom Corp, which was a humongous information service hidden in the Ozark foothills. Twenty-four hours a day, Acxiom electronically gathered and sorts all kinds of data about 196 million Americans. Credit card transactions and magazine subscriptions, telephone numbers, real estate records, automotive data, hunting, business and fishing licenses, consumer surveys and demographic detail that would make a marketing department's research manager salivate. This relati vely new (legal) enterprise was known as "data warehousing" or "data-mining", and it underscores the cruel reality that the fiction of personal privacy has become obsolete. Technology's ability to collect and analyze data has made privacy a quaint albeit interesting dinosaur.

The Tribune reported that "Axciom can often determine whether an American owns a dog or cat, enjoys camping or gourmet cooking, reads the Bible or lots of other books. It can often pinpoint an American's occupation, car and favorite vacations. By analyzing the equivalent of billions of pages of data, it often projects for its customers who should be offered a credit card or who is likely to buy a computer."

Most of this information is from y 1998 piece. Echelon has developed, matured, and morphed into a much more powerful hybrid. 'Carnivore' was software to help triage the cacophony of data. Vault 7 and 'Umbrage' are logical (some would argue "insidious") growth.

More to follow…