Thursday July 24th, 2014
"It Is Not A Question of Who Is Right Or Wrong But What Is Right Or Wrong That Counts.
"
--Geoff Metcalf
---
Updated 0901
PST

World & National
Tale of the Tapes
IRS head confirms investigators have found backup tapes in Lerner probe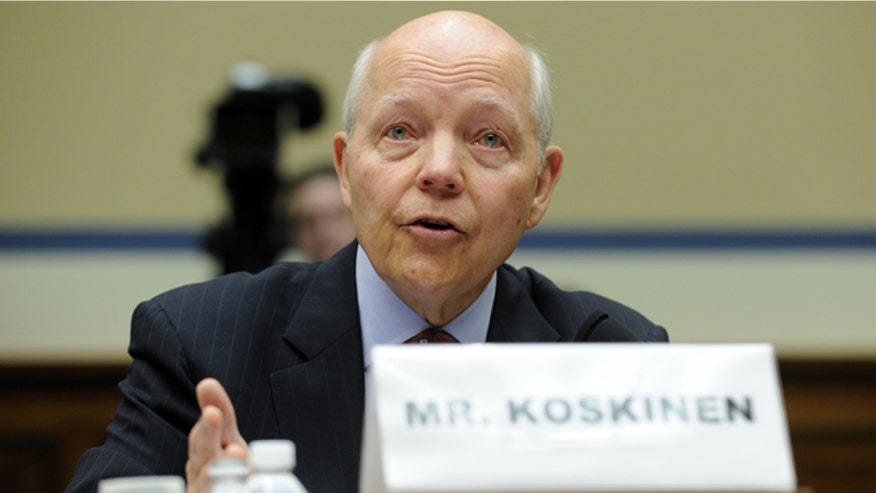 The head of the IRS confirmed Wednesday that investigators looking into missing emails from ex-agency official Lois Lerner have found and are reviewing "backup tapes" -- despite earlier IRS claims that the tapes had been recycled.

IRS Commissioner John Koskinen, testifying before a House oversight subcommittee, stressed that he does not know "how they found them" or "whether there's anything on them or not." But he said the inspector general's office advised him the investigators are reviewing tapes to see if they contain any "recoverable" material.

The revelation is significant because the IRS claimed, when the agency first told Congress about the missing emails, that backup tapes "no longer exist because they have been recycled."


---

After Kerry peace effort fails, Fears grow of Hezbollah joining Hamas fight

Hamas rejected Secretary of State John F. Kerry's call for a cease-fire amid concerns that an agreement won't be reached before other parties are drawn into its conflict with Israel.

A new jihadi media outlet called Al Fawaris released a video Wednesday calling on Gazans to endure the military operation. Its message said victory looms and that Muslims all over the world support them.


---

FAA Lifts Ban on US Flights to Israel

The Federal Aviation Administration has lifted its ban on U.S. flights in and out of Israel, which the agency had imposed out of concern for the risk of planes being hit by Hamas rockets.

The decision was effective at 11:45 p.m. EDT Wednesday.

"Before making this decision, the FAA worked with its U.S. government counterparts to assess the security situation in Israel and carefully reviewed both significant new information and measures the government of Israel is taking to mitigate potential risks to civil aviation," the FAA said. "The agency will continue to closely monitor the very fluid situation around Ben Gurion Airport and will take additional actions as necessary."


---
Kerry meets with Netanyahu amid Israeli anger over ban on U.S. flights


The United States on Wednesday put the most direct pressure yet on its ally Israel to cut short its military campaign against Hamas in Gaza, but Secretary of State John F. Kerry did not get a deal from Israel or the Palestinians to stop the bloodshed.

Despite a swirl of shuttle diplomacy, the war looked far from over Wednesday. Israeli leaders told their soldiers to prepare for an escalation inside the Gaza Strip, while the leader of Hamas vowed that his Islamist militant movement would not sign a permanent cease-fire until Israel ends its blockade of the coastal enclave.


---
WSJ Slams Obama: 'Most Provincial' President, Tells World 'Drop Dead'


President Barack Obama is the "most provincial U.S. president in at least a century" and despite being the leader of the free world he is ignoring major international crises that will only escalate further in the final two years of his presidency, the Wall Street Journal said.

In a column written by Daniel Henninger under a headline 'Obama To World: Drop Dead', the Journal lambastes the president for his weak response toward Russia following the shooting down of Malaysia Airlines Flight 17. It criticizes him for ignoring multiple escalating conflicts throughout the world, instead focusing on fundraising and domestic Democratic politics.

"As the world burns, the president spent this week fiddling at fundraisers in the living rooms of five Democratic Party fat cats in Seattle, San Francisco and Los Angeles. As White House communications director Jennifer Palmieri famously explained, changing the president's fundraising schedule 'can have the unintended consequence of unduly alarming the American people or creating a false sense of crisis,'" wrote Henninger, the paper's deputy editorial page editor.


---

Obamacare Official Gets Ethics Waiver as Former Company Faces Scrutiny

Andrew Slavitt, a former executive at the technology company tasked with saving HealthCare.gov and current second-in-command at the Centers for Medicare and Medicaid Services, was granted an ethics waiver by the Department of Health and Human Services to begin working with his former company immediately.

The waiver was granted despite Republican lawmakers' concerns about Slavitt's potential conflict of interest. The Daily Signal revealed those concerns in a story yesterday.


---

Obama Motorcade Prevents Woman in Labor from Crossing Street to Hospital

Witnesses say a pregnant woman in labor was prevented by authorities from crossing a Los Angeles street to a hospital Wednesday because the road had been closed for President Barack Obama's impending motorcade.

The unidentified woman was barred from walking the few hundred feet to the hospital for at least 30 minutes as authorities waited for the president's motorcade to pass by, witness Carrie Clifford told TheBlaze early Thursday morning.


---

Obama locks out the press--

again



President Barack Obama went to the West Coast to meet donors from two top Democratic super PACs, but the press wasn't invited.

Tuesday, the reporters and photographers traveling with the president on Air Force One and in his motorcade were left on the gravel path not even within sight of former Costco CEO Jim Sinegal's house in the Seattle suburbs where Obama sat for a Senate Majority PAC fundraiser with a $25,000 entrance fee.

Wednesday morning, when he met with big donors for the House Majority PAC at the Four Seasons hotel in downtown San Francisco, they weren't even told what room or floor he was on.


---

Air Algerie Flight AH5017 Crashes in Niger Due to Bad Weather

The disappeared Air Algerie flight AH5017 has crashed in Niger after flying through violent storms, it has been confirmed.

Algerian television station Elnahar confirmed the plane went down due to bad weather and an Algerian aviation official had told Reuters flight AH5017 had crashed.

The region was badly affected by violent storms and it was earlier said the plane was rerouted while it was flying over Mali.


---

Militants Order Genital mutilation of 4-Million Iraq women
'This is something very new for Iraq and is of grave concern,' UN official says

Militant group Islamic State has ordered all girls and women in and around Iraq's northern city of Mosul to undergo female genital mutilation, the United Nations said on Thursday.

The "fatwa" issued by the Sunni Muslim fighters would potentially affect 4 million women and girls, UN resident and humanitarian co-ordinator in Iraq Jacqueline Badcock told reporters in Geneva by videolink from Arbil.

"This is something very new for Iraq, particularly in this area, and is of grave concern and does need to be addressed," she said.


---
Obamacare enrollees faking for freebies
The subsidies are a hit with patients who don't exist
Obamacare was revealed to have a fatal flaw on Tuesday when federal appellate courts split over the legality of the subsidies crucial to the health care plan. The subsidies have been given to anyone who asks for them. That's not how the law said to do it.
Anyone interested in $2,700 worth of Obamacare subsidies need only tick a few boxes on a government form and tell a few lies to get the discount. That was the finding of Government Accountability Office (GAO) investigators who went undercover to find out what happens when fake applications are submitted to Healthcare.gov, or given to a counselor on the Obamacare telephone hotline.
---
Poor Hillary, rock-star wannabe
Dead broke and hungry, she demands the perks of a rock star
Many of the Democrats who tell the world from the bumpers of their hybrids that they're "Ready for Hillary 2016," regard Hillary Clinton as something of a rock star. She does, too.
The former secretary of state expects to get $275,000 for a speech to a school, a charity or even a capitalist enterprise with more money than it needs. Her fee sometimes exceeds that of the likes of Paris Hilton, the heiress who's famous for being famous and who got a cool quarter of a million not long ago for thrilling the guests with her presence at an A-list birthday party at a Lake Tahoe casino.
---
The birth of a new alignment in the Middle East
Obama's aloofness could force longtime adversaries to band together
It did not take all that long, when you think about it, for America's Nobel Prize-winning statesman to bring the world to a boil. Perhaps our Nobel Prize-wining president was only a community organizer all along. He has brought the world to a boil not by his use of force, but by his inattentiveness. He has been playing golf or lecturing the world from a higher plain. He has been picking fights with the Republicans or devising new ways to thwart the Constitution. He has not reacted to provocations around the world that threaten peace and our allies. The allies are beginning to worry.
President Obama has simply failed to respond to an outburst of violence around the world. It is an outburst that has not been seen since the 1970s. His only reaction is mere rhetoric, sometimes no rhetoric at all. Sometimes he changes the subject. Whether it be mobs of Central American children at our southern border or armed rebels in Ukraine shooting commercial aircraft out of the skies, there is only emollient talk from Washington. There is no alternative policy. Things are getting worse.
---
Medal of Honor
The Medal of Honor is the highest award for valor in action against an enemy force which can be bestowed upon an individual serving in the Armed Services of the United States.
GeneTrerally presented to its recipient by the President of the United States of America in the name of Congress.
The first award of the Medal of Honor was made March 25, 1863 to Private JACOB PARROTT.The last award of the Medal of Honor was made September 15, 2011 to Sergeant DAKOTA MEYER.
Since then there have been: • 3458 recipients of the Medal of Honor.
• Today there are 85 Living Recipients of the Medal of Honor.



CARPENTER, WILLIAM KYLE
Rank: Lance Corporal
U.S. Marine Corps


Citation



For conspicuous gallantry and intrepidity at the risk of his life above and beyond the call of duty while serving as an Automatic Rifleman with Company F, 2d Battalion, 9th Marines, Regimental Combat Team 1, 1st Marine Division (Forward), 1 Marine Expeditionary Force (Forward), in Helmand Province, Afghanistan in support of Operation Enduring Freedom on 21 November 2010. Lance Corporal Carpenter was a member of a platoon-sized coalition force, comprised of two reinforced Marine squads partnered with an Afghan National Army squad. The platoon had established Patrol Base Dakota two days earlier in a small village in the Marjah District in order to disrupt enemy activity and provide security for the local Afghan population. Lance Corporal Carpenter and a fellow Marine were manning a rooftop security position on the perimeter of Patrol Base Dakota when the enemy initiated a daylight attack with hand grenades, one of which landed inside their sandbagged position. Without hesitation, and with complete disregard for his own safety, Lance Corporal Carpenter moved toward the grenade in an attempt to shield his fellow Marine from the deadly blast. When the grenade detonated, his body absorbed the brunt of the blast, severely wounding him, but saving the life of his fellow Marine. By his undaunted courage, bold fighting spirit, and unwavering devotion to duty in the face of almost certain death, Lance Corporal Carpenter reflected great credit upon himself and upheld the highest traditions of the Marine Corps and the United States Naval Service.

---
From the Archives


Let Slip the Dogs of War.
On a Short Leash?
By Geoff Metcalf
November 5, 2003
"Vivacity, leadership, must be had, and we are not allowed to be nice in choosing.
We must fetch the pump with dirty water, if clean cannot be had."
- Ralph Waldo Emerson

I love the Army. Metcalfs have served in the Army since before we officially had one. However, I am apoplectic over the chairborne- politically correct cancer-brain flatulence, which reportedly intends to excoriate Lt. Col. Allen B. West for doing his job and saving lives.
The Army has myopically filed a criminal assault charge against an American officer who coerced an Iraqi into providing information that foiled a planned attack on U.S. soldiers. http://www.washingtontimes.com/national/20031028-113335-6042r.htm.
Col. West did not torture or physically harm the Iraqi detainee. He did used psychological pressure to scare the snot out of the bad guy. And it worked! After twice firing his service weapon away from the wannabe terrorist (who was an Iraqi police officer) the detainee talked and gave up the information on a planned attack.
Lives were saved and now some uniformed bureaucrats back in the rear with the gear want to destroy the life of a combat leader. It is enough to gag maggots.
When Tom Clancy's Jack Ryan interrogates a bad guy working with terrorists by shooting him in the arms and legs we cheered. When an Army officer scares an enemy in a combat zone with a loud noise they want to nail him to a wall?
The same kind of politically correct desk jockey types who are Jonesing to put women in combat, neuter fighter jocks, and impose rules of engagement for a cricket club instead of barbaric 13th century guerrillas, now seek to destroy an exceptionally effective combat leader. What is wrong with this picture?
Col. West was with the 4th Infantry occupying areas around Tikrit (Saddam's hometown)…a real bad neighborhood infested with bad guys intent on killing him and his troops.
An informant reported that there was an assassination plot against Col. West.
The informant told the soldiers that one person involved in the attack was a town policeman.
Col West had the policeman detained but interrogators couldn't get anything of substance out of him.
FM22-100 (the Army leadership manual) notes that, "Leaders are responsible for the welfare, discipline and tactical deployment of their troops."
Col. West wrote in an email, "I asked for soldiers to accompany me and told them we had to gather information and that it could get ugly…"
He said his soldiers "physically aggress[ed]" the prisoner. Apparently they pushed him around.
After the pushing around failed, Col. West says he brandished his pistol.
"I did use my 9 mm weapon to threaten him and fired it twice. Once I fired into the weapons clearing barrel…and the next time I did it while having his head close to the barrel. I fired away from him. I stood in between the firing and his person.
He said, "I admit that what I did was not right but it was done with the concern of the safety of my soldiers and myself." I disagree. Given the results…that saved lives, his actions were both appropriate and effective.
Unlike many politicians and corporate types with less honor and character he did not try to cover up or hide what he did. He informed his superior of his actions.
The incident resulted in the bad guy providing the location of the planned sniper attack and the names of three guerrillas.
If Col West had waited for the ambush and shot and killed the Iraqi cop, no harm/no foul. However, because he 'scared' him with an implied threat of force 'preemptively', the Army wants to destroy his life and blow off over 19 years of superior dedicated service? For what…implementing 'The Bush Doctrine' down to Battalion level?
His wife, said, "My husband is a top-of-the-line officer. My husband is an African-American. He has had to overcome a number of things to get where he is."
Col. West is prepared to "…accept being retired at the grade of major and paying whatever fine required, but resignation and prison seems an attempt to destroy me,"…BULLFEATHERS! Now, more than ever, we NEED officers like this man.
The Army's division of political correctness doesn't like West's interrogation tactic. An Article 32 hearing has been scheduled lead to the court-martial and a potential prison term of eight years. They should have given him a medal and promotion.
Some soldiers are hinky about the Army's drive to punish the officer for an interrogation technique that probably is used regularly to get information from terrorists.
There ARE consequences to what we do and don't do. For a military struggling with morale, recruiting and retention issues to do what they are to Col. West WILL exact a cost. It is a cost we cannot and should not be forced to endure.
Woodrow Wilson observed," Leadership does not always wear the harness of compromise…Men of strenuous minds and high ideals come forward.... The attacks they sustain are more cruel than the collision of arms.... Friends desert and despise them.... They stand alone and oftentimes are made bitter by their isolation...."
Please don't allow Col. West to "stand alone." Spread the word. There IS an election around the corner.
---
---