"It Is Not A Question of Who Is Right Or Wrong But What Is Right Or Wrong That Counts.

"

--Geoff Metcalf
Providing an on line Triage of the news since 1997



Wo

rld & Nation
Expiring arms control treaty with Russia presents early challenge for Biden
President reportedly seeking a five-year extension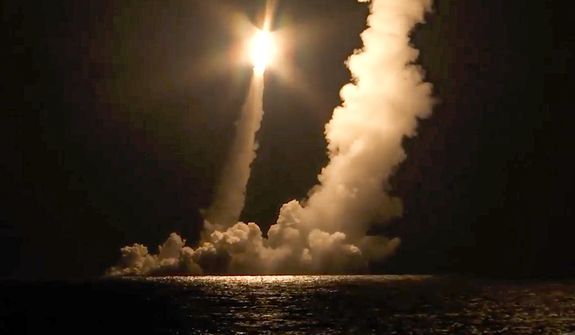 One of President Biden's first foreign policy tests will be brokering an extension of a nuclear arms reduction treaty with Russia that expires in just two weeks.

Negotiating the renewal of the Strategic Arms Reduction Treaty or New START is complicated by Mr. Biden's vows to punish Moscow for the recent SolarWinds hack and tensions with the Kremlin over meddling in the 2016 presidential race and allegations of putting bounties on U.S. troops in Afghanistan.

It presents Mr. Biden, who prides himself as a foreign policy whiz, with a difficult diplomatic needle to thread in the early days of his new administration.


---
Biden to Keep Wray as FBI Director
President Joe Biden is planning to keep Christopher Wray as FBI Director, CNBC and other media outlets reported Thursday.
White House spokeswoman Jen Psaki was asked on Wednesday if Biden had confidence in Wray and said she had not spoken to the newly elected president about the matter.
Wray, appointed by President Donald Trump in 2017, has six years left in his term.
The FBI is conducting a probe of the Jan. 6 Capitol riot.
Trump picked Wray for the job after firing James Comey.
---
Kevin McCarthy supports keeping Liz Cheney in House leadership role after her vote impeaching Trump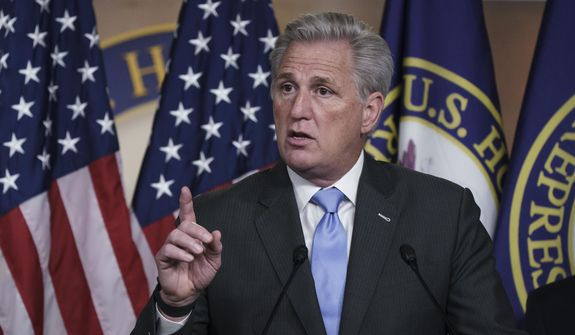 House Minority Leader Kevin McCarthy said Thursday that he supports Rep. Liz Cheney retaining her leadership role in the GOP despite her vote to impeach former President Trump.
Mr. McCarthy told reporters, "Yes" when asked directly about whether the Wyoming Republican would continue to serve as the GOP's No. 3 leader in the House.
"This is the same leadership team with the ranking members and others that came five seats away from winning the majority when everybody in America thought we were going to lose 20 seats," Mr. McCarthy of California said. "Yes, we allow differences of opinion inside our conference. They're welcomed, but I think there's questions that need to be answered, style in which things were delivered — at the end of the day, we will unify because our policies are right."
While Mr. McCarthy stood by Ms. Cheney, he also told reporters that he thought Mr. Trump ought to play an important role in the Republican Party's future as well.
---
Joe Biden's First Executive Orders—Full List of What New President Has Signed
President Joe Biden wasted no time using his executive powers to begin shaping his agenda moving forward and commence reversing the actions of his predecessor, Donald Trump.
Following his inauguration, he signed a raft of executive orders while directing other actions, looking to shift the nation's course.
Below, Newsweek looks at what executive orders Biden signed on day one of his presidency.
---
Report: Labor Pick Paid $90,000 to Biden-Linked Firm Before Nomination
Boston Mayor Marty Walsh, President Joe Biden's pick to head the Labor Department, had paid thousands of dollars to a consulting firm founded by top Biden adviser Anita Dunn, The Washington Free Beacon is reporting.
Walsh made the payments using campaign funds in the months before being selected for the Labor post, according to the Beacon.
The news outlet said the Walsh campaign paid the communications firm SKDKnickerbocker $18,000 in consulting fees in September.
It said just one day later Dunn, SKDK's managing director who had led the Biden presidential campaign, joined the Biden transition team as one of four national co-chairs.
---
McConnell: Biden off to a bad start on climate, pipeline, immigration policies
Senate Minority Leader Mitch McConnell on Thursday criticized President Biden for taking "several big steps in the wrong direction" on his first day in office, citing the Democrat's moves to rejoin the Paris Climate Agreement and to kill the Keystone XL pipeline project.
"This was not the Day One that American workers deserved," the Kentucky Republican said on the Senate floor. "It's still early. There's still plenty of time for President Biden to remember that he does not owe his election to the far left."
Mr. McConnell, who is negotiating a power-sharing agreement with Majority Leader Charles E. Schumer in the 50-50 Senate, also blasted Mr. Biden's move to grant blanket amnesty for roughly 11 million illegal immigrants in the U.S. He said it will "invite another humanitarian crisis on our border."
---
House cancels business during first full Biden week
The House won't meet next week, Speaker Nancy Pelosi said Thursday, canceling the first full week for the chamber under President Biden.
Mrs. Pelosi said committees will continue to press forward with their business, and she hopes to have a coronavirus package ready for the floor by the first week in February.
"As we work in these issues, we won't be back in session until the beginning of February," Mrs. Pelosi said.
The move drew a strong rebuke from Rep. Kevin McCarthy, Republicans' leader,
---
Fauci praises WHO leadership in coronavirus pandemic, signaling break from Trump era
Going forward, the United States will work with — not against — the World Health Organization. That was the message delivered Thursday by President Biden's chief medical adviser.
In remarks to the U.N. health agency's executive board, Anthony S. Fauci confirmed that the United States will halt its withdrawal from the WHO and work cooperatively to fight the coronavirus pandemic.
Biden issuing pandemic plan that aims to expand access to testing and vaccines, reopen schools
---
Biden's renewed anti-bias training for feds spurs legal coalition fighting critical race theory
President Biden's lifting of the Trump-era ban on mandatory anti-bias training at federal agencies added fuel to an expanding legal fight against the training that critics call a "cult-like indoctrination."
A coalition of lawyers under the banner Stop Critical Race Theory on Wednesday announced an aggressive legal campaign to confront the training across America.
"It is time to fight back," said Christopher Rufo, a leader of the coalition. "Critical race theory training programs have become commonplace in academia, government and corporate life, where they have sought to advance the ideology through cult-like indoctrination, intimidation and harassment."
Mr. Rufo last year declared a "one-man war" against critical race theory, which is the view that White people are inherently racist and perpetuate their economic and political power by oppressing people of color.
---
Oregon Democratic Party offices vandalized amid post-inauguration protests
Protesters in Portland and Seattle smashed windows and graffitied buildings hours after President Joe Biden was sworn into office.
Police arrested eight people on Wednesday after the Democratic Party headquarters in Portland, Oregon, was vandalized hours after President Joe Biden's inauguration.
The building's doors and windows were smashed, a small dumpster was lit on fire, and graffiti reading "Breonna Taylor deserves justice" and "F--- Biden" was sprayed on the outside walls, according to videos filmed at the scene mid-afternoon by reporters for NBC Portland affiliate KGW.
Portland police said some of the group of about 150 people carried weapons "including Molotov cocktails, knives, batons, chemical spray and a crowbar."
---
Canadian PM Trudeau 'disappointed' in Biden plan to revoke Keystone XL permit
Canadian Prime Minister Justin Trudeau on Wednesday said he was "disappointed" in President Biden's pledge to revoke a permit for the controversial Keystone XL pipeline — as the company behind it said work on the project was being suspended.
In a statement issued following Biden's inauguration, Trudeau said he "spoke directly" to Biden about the $8 billion project in November, and other Canadian officials "made the case" in favor of it "to high-level officials in the incoming administration."
"While we welcome the President's commitment to fight climate change, we are disappointed but acknowledge the President's decision to fulfill his election campaign promise on Keystone XL," Trudeau said.
---
Alexei Navalny exposes Instagram of Putin's alleged love child
Poisoned Kremlin critic Alexei Navalny continues to be a thorn in the side of Russian President Vladimir Putin after unearthing the Instagram account of the strongman's purported 17-year-old love child, according to a report.
Putin, 68, has been linked by Russian outlet Proekt to Svetlana Krivonogikh, a cleaner who is worth more than $100 million and lives in a posh area of St. Petersburg.
Glamorous images of her luxury-loving daughter Elizaveta — also known as Luiza – have emerged online showing the teen sporting a Gucci mask, posing seductively in designer outfits and drinking booze amid the coronavirus pandemic, the Sun reported.
---
Trump terrorizes the swamp: 'We will be back...'
Washington will never be the same.
But former President Donald Trump? He leaves office today the very same man who swore the oath of office four years ago. He leaves the very same man who launched his campaign for the presidency over five years ago.
It is true he has been denied a second term. For now. But they also stole his first term from him.
In a town where everybody gets a honeymoon, Mr. Trump was not even allowed to work one single day without the constant onslaught of distraction.
---
" It is discouraging to think how many people are shocked by honesty and how few by deceit."

-- Noel Coward

(1899-1973) British playwright

---

The Medal of Honor is the highest award for valor in action against an enemy force which can be bestowed upon an individual serving in the Armed Services of the United States.

GeneTrerally presented to its recipient by the President of the United States of America in the name of Congress.

The first award of the Medal of Honor was made March 25, 1863 to Private JACOB PARROTT.The last award of the Medal of Honor was made September 15, 2011 to Sergeant DAKOTA MEYER.

Since then there have been: • 3458 recipients of the Medal of Honor.

• Today there are 85 Living Recipients of the Medal of Honor.

Citation


Captain Humbert R. Versace distinguished himself by extraordinary heroism during the period of 29 October 1963 to 26 September 1965, while serving as S-2 Advisor, Military Assistance Advisory Group, Detachment 52, Ca Mau, Republic of Vietnam. While accompanying a Civilian Irregular Defense Group patrol engaged in combat operations in Thoi Binh District, An Xuyen Province, Captain Versace and the patrol came under sudden and intense mortar, automatic weapons, and small arms fire from elements of a heavily armed enemy battalion. As the battle raged, Captain Versace, although severely wounded in the knee and back by hostile fire, fought valiantly and continued to engage enemy targets. Weakened by his wounds and fatigued by the fierce firefight, Captain Versace stubbornly resisted capture by the over-powering Viet Cong force with the last full measure of his strength and ammunition. Taken prisoner by the Viet Cong, he exemplified the tenets of the Code of Conduct from the time he entered into Prisoner of War status. Captain Versace assumed command of his fellow American soldiers, scorned the enemy's exhaustive interrogation and indoctrination efforts, and made three unsuccessful attempts to escape, despite his weakened condition which was brought about by his wounds and the extreme privation and hardships he was forced to endure. During his captivity, Captain Versace was segregated in an isolated prisoner of war cage, manacled in irons for prolonged periods of time, and placed on extremely reduced ration. The enemy was unable to break his indomitable will, his faith in God, and his trust in the United States of America. Captain Versace, an American fighting man who epitomized the principles of his country and the Code of Conduct, was executed by the Viet Cong on 26 September 1965. Captain Versace's gallant actions in close contact with an enemy force and unyielding courage and bravery while a prisoner of war are in the highest traditions of the military service and reflect the utmost credit upon himself and the United States Army.

---

From the Archives

We Have Met the Enemy…
Geoff Metcalf


"They who can give up essential liberty to obtain a little temporary safety deserve neither liberty nor safety.
--Benjamin Franklin
"The American people must be willing to give up a degree of personal privacy in exchange for safety and security."
--Louis Freeh


In the wake of the clamor over the most recent WikiLeaks data dump, 'Vault 7', 'UMBRAGE', et al, it should be noted this is not really anything new. What we are seeing here is simply the evolution of something that goes back to the late 50s (to the incomplete best knowledge I have).

It is kinda cool to finally see even

The New York Times

acknowledging material

I was writing about in 1998

.

In April of 1998 I wrote "Privacy has become an anachronism." I was commenting on "a massive system designed to intercept all your e-mail, fax traffic and more." I was explaining 'Echelon', the illegitimate offspring of a

UKUSA Treaty

signed by the United States, United Kingdom, Canada, Australia and New Zealand. Its purpose was, and is, to have a vast global intelligence monster, which allegedly shares common goals. The system was so "efficient" that reportedly National Security Agency folk from Fort Meade could work from Menwith Hill in England to intercept local communications without either nation having to burden themselves with the formality of seeking approval (a court order) or disclosing the operation. And this was all pre-9/11 and pre-the anti-constitutional

'Patriot Act'

.

It is illegal (without a Judge's signed permission) for the United States to spy on its citizens … kinda. The laws have long been circumvented by a mutual pact among five nations. Under the terms of UKUSA agreement, Britain spies on Americans and America spies on British citizens, and then the two conspirators trade data. A classic technical finesse. It is legal, but the intent to evade the spirit is inescapable.

I often fictionalized the genesis of 'Echelon' as an informal meeting of a group of post war American and British intelligence types drinking in some remote rustic bar. An imagined CIA type complains to his MI6 buddy about the hassles of US laws preventing US intelligence from surveillance of bad guys, and the Brit echoes the same complaint.

"Hey wait a moment mate," says Nigel, the make-believe MI6 guy, "I can spy on your guys and you can spy on our bad players…why don't we just come up with a mechanism whereby we spy on your villains, you spy on our villains, and we just 'share' the intel?"

This system was called ECHELON, and has been kicking around in some form longer than most of you. The result of the UKUSA treaty signed by the United States, United Kingdom, Canada, Australia and New Zealand was, and is, to have a vast global intelligence monster which allegedly shares common goals.

The London Telegraph reported in December of 1997 that the Civil liberties Committee of the European Parliament had officially confirmed the existence and purpose of ECHELON. "A global electronic spy network that can eavesdrop on every telephone, e-mail and telex communication around the world will be officially acknowledged for the first time in a European Commission report. …"

The report noted: "Within Europe all e-mail, telephone and fax communications are routinely intercepted by the United States National Security Agency, transferring ll target information from the Eurv opean mainland via the strategic hub of London, then by satellite to Fort Meade in Maryland via the crucial hub at Menwith Hill, in the North York moors in th UK.

"The ECHELON system forms part of the UKUSA system but unlike many of the electronic spy systems developed during the Cold War, ECHELON was designed primarily for non-military targets: governments, organizations and businesses in virtually every country."

An interesting sidebar appeared in the International Herald Tribune under the headline, "Big Corporate Brother: It Knows More About You Than You Think." The story details Acxiom Corp, which was a humongous information service hidden in the Ozark foothills. Twenty-four hours a day, Acxiom electronically gathered and sorts all kinds of data about 196 million Americans. Credit card transactions and magazine subscriptions, telephone numbers, real estate records, automotive data, hunting, business and fishing licenses, consumer surveys and demographic detail that would make a marketing department's research manager salivate. This relatively new (legal) enterprise was known as "data warehousing" or "data-mining", and it underscores the cruel reality that the fiction of personal privacy has become obsolete. Technology's ability to collect and analyze data has made privacy a quaint albeit interesting dinosaur.

The Tribune reported that "Axciom can often determine whether an American owns a dog or cat, enjoys camping or gourmet cooking, reads the Bible or lots of other books. It can often pinpoint an American's occupation, car and favorite vacations. By analyzing the equivalent of billions of pages of data, it often projects for its customers who should be offered a credit card or who is likely to buy a computer."

Most of this information is from y 1998 piece. Echelon has developed, matured, and morphed into a much more powerful hybrid. 'Carnivore' was software to help triage the cacophony of data. Vault 7 and 'Umbrage' are logical (some would argue "insidious") growth.

More to follow…