"It Is Not A Question of Who Is Right Or Wrong But What Is Right Or Wrong That Counts.

"

--Geoff Metcalf
Providing an on line Triage of the news since 1997



Wo

rld & Nation
Trump slams Twitter's 'massive campaign contribution' for Biden by blocking NY Post story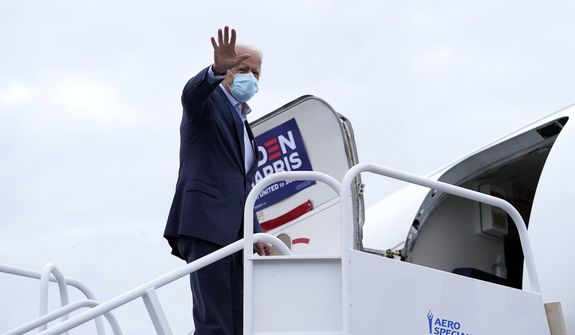 President Trump said Thursday that Big Tech's censorship of an anti-Biden news story amounts to "a massive campaign contribution" to the Democratic nominee.
"It's like a third arm, maybe a first arm, of the DNC," Mr. Trump said on Fox Business Network, referring to actions by Twitter and Facebook. "It's a massive campaign contribution."
Twitter blocked the accounts of Mr. Trump's campaign, and of White House press secretary Kayleigh McEnany, on Wednesday for posting a New York Post story alleging that Mr. Biden met while he was vice president with an official of a Ukrainian energy company that hired his son Hunter.
---
House Republicans play whack-a-mole with Twitter to amplify Hunter Biden story
House Judiciary Republicans respond after platform blocks users from sharing New York Post report
The House Judiciary Republicans are fighting Twitter's efforts to cancel the New York Post's Hunter Biden expose by engaging in a social media version of whack-a-mole.
The committee Republicans did an end run around the platform Wednesday after Twitter blocked retweets of the newspaper's scoop, reprinting the story on their House website and posting a link to their Twitter account, @JudiciaryGOP.
Twitter responded by slapping a warning on the link, saying, "The link you are trying to access has been identified by Twitter or our partners as being potentially spammy or unsafe, in accordance with Twitter's URL Policy."
---
'Future of policing depends on this election': 'Defund' movement drives cops to Trump, GOP
Retired cop Paul Beakman Jr. has been a pro-union Democrat his entire life. He heads two western New York police associations and is even running as a Democrat for city alderman in Lockport, New York.
So he surprised himself when he attended a Trump rally last month outside of Harrisburg, Pennsylvania — and wept at the outpouring of respect and support he felt for law enforcement.
"I couldn't believe it," he told The Washington Times. "I just started crying. I am used to hearing about cops being spit on and having bags of feces thrown at us. And here we were with 17,000 real Americans cheering for us."
To endorse Mr. Trump, police unions and associations across the country are bucking the AFL-CIO.
---
Kamala Harris cancels travel through Sunday after staffer tests positive for COVID-19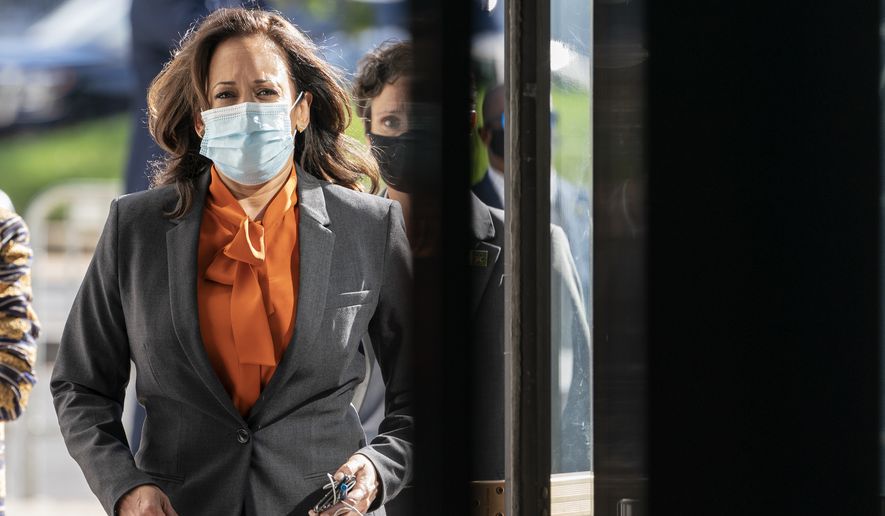 Democratic vice presidential nominee Sen. Kamala D. Harris is canceling travel plans through Sunday after her communications director tested positive for the coronavirus.
Joseph R. Biden's campaign said Thursday that Liz Allen, Ms. Harris's communications director, and a "non-staff flight crew member" have tested positive for COVID-19.
Ms. Harris said she has had two negative tests this week and is not showing symptoms.
---
'Pivotal moment': Man admits firing shot that preceded Kyle Rittenhouse shooting
A Wisconsin man has reportedly admitted firing the first gunshot in the Kenosha riots, moments before Kyle Rittenhouse killed two people and wounded a third in what his attorneys are calling self-defense.
According to the New York Post, Joshua Ziminski, 35, and his wife Kelly "both admitted" that he "fired off a 'warning shot' into the air."
The report cited "a criminal complaint obtained by The Post."
Mr. Rittenhouse's attorneys, along with eyewitness accounts backed by viral videos, have said the gunshot marked a "pivotal moment" in the 17-year-old suspect's demeanor at the riots.
---
Senate Judiciary Committee to hold vote on Amy Coney Barrett on Oct. 22
https://www.foxnews.com/politics/unmasking-probe-ends-no-charges
Republicans on the Senate Judiciary Committee plowed ahead Thursday with a party-line vote agreeing to move forward with the confirmation process of Supreme Court nominee Judge Amy Coney Barrett, setting a date for her committee vote next week.
Democrats protested, issuing motions to adjourn the hearing and demand a delay.
But Sen. Lindsey Graham, the chairman of the committee, moved forward with the GOP majority shooting down the Democrats' demands.
---
Trump Says He'd Go Over $1.8 Trillion on Stimulus, Blames Pelosi
President Donald Trump said he'd support a fiscal stimulus package in excess of $1.8 trillion -- his administration's most recent negotiating proposal -- but blamed House Speaker Nancy Pelosi for holding up a deal.
"We're not holding it up, she's holding it up," Trump said in an interview Thursday on Fox Business. "She wants to wait until after the election. She thinks it hurts the Republicans."
Pelosi is scheduled to have another call with Treasury Secretary Steven Mnuchin Thursday in a continuing saga of talks on a Covid-19 relief package. Democrats have sought a $2.2 trillion effort, including a number of priorities that Republicans reject.
---
Giuliani to Newsmax TV: Biden Family 'Taking Money Illegally' for Years
The mainstream media has been involved in its "usual coverup" of the "criminality" of Democrat presidential nominee Joe Biden and his family when there is "so much evidence that the Biden family has been taking money illegally for many, many years," President Donald Trump's personal attorney Rudy Giuliani told Newsmax TV Thursday.
"Now we have [Hunter] Biden's own text messages to his father, to others, which make it clear they were stealing money, taking money from countries like Iraq, Ukraine, China, Romania, don't forget Moscow, the $3.5 million from Moscow that Biden lied about at the debate," Giuliani told Newsmax TV's "National Report."
He also claimed that one of the messages shows Joe Biden was getting money that was being paid to his son Hunter Biden from overseas interests.
---
Tax Burden Equal to 70% Rate Crushes Americans Unable to Pay
Millions of low-income Americans are locked into poverty thanks to U.S. tax policy, Federal Reserve Bank of Atlanta researchers say.
About a quarter of lower-income workers effectively face marginal tax rates of more than 70% when adjusted for the loss of government benefits, a study led by Atlanta Fed Research Director David Altig found. That means for every $1,000 gained in income, $700 goes to the government in taxes or reduced spending. In some cases, there are no gains at all.
Poorer families may rely on Medicaid insurance, welfare payments, food stamps, housing vouchers and tax credits that are based on family incomes. Small increases in wages can bring big losses of benefits, reinforcing a negative cycle in which workers aren't rewarded if they improve their skills or pay.
---
'Unmasking' investigation closes without report or charges: report
The previous head of the investigation resigned at the beginning of October.
The Justice Department reportedly concluded its investigation into unmasking requests made by Obama-era officials without charging anyone involved or releasing a public report on the issue.
Sources told The Washington Post that the investigation, previously led by former U.S. Attorney John Bash, concluded without finding any substantive wrongdoing. While "unmasking" names on classified documents is a common practice, DOJ spokeswoman Kerri Kupec, who revealed the investigation in May, said that month that the frequency of or motive behind Obama-era officials' requests might have been "problematic."
The roster featured top-ranking figures including then-Vice President Joe Biden, then-FBI Director James Comey, then-CIA Director John Brennan, then-Director of National Intelligence James Clapper and Obama's then-chief of staff, Denis McDonough.
---
Dems make fools of themselves at Barrett confirmation hearing
Still licking wounds from Kavanaugh hearing, Feinstein, Harris and Hirono try to rattle the unflappable Barrett
The Senate confirmation hearing of Judge Amy Coney Barrett for the Supreme Court has made certain things quite clear. One, our country would be in a much better position if people with the values, love of country and the constitution Judge Barrett exemplifies were reflective of those serving in the Senate. And two, somehow an august body like the United States Senate has become peopled with the worst of us.
The grotesque scandal of the confirmation hearing for Justice Brett M. Kavanaugh is forever seared into the memory of the American people. Individuals such as Sens. Dianne Feinstein, Kamala Harris and Mazie Hirono made fools of themselves in a specific effort to destroy an innocent man simply because they could and because they thought there would be political bennies.
Alas, the American people didn't much like the insanity of that display, and said so in the 2018 midterm elections by expanding Republican control of the Senate. That message was even more distinct considering the Democrats gained control of the House. After watching that fiasco, the voters decided they couldn't trust the Democrats with a sharp object like the Senate.
---
Biden will eventually have to answer to the media and the public
Campaign takes advantage of Trump's irresistible urge to make the narrative about himself
Why won't Democratic presidential candidate Joseph R. Biden answer the simple question about whether he is in favor or opposed to packing the Supreme Court?
His team believes he shouldn't answer the question because it would open up the remainder of the slightly crazed, poorly thought-out wish list from the left to more scrutiny than it can bear currently. Statehood for Puerto Rico? Yep. A $4 trillion tax increase? Absolutely.
Getting rid of hydraulic fracturing, known as fracking, on public lands and fossil fuels in general? Yes and yes. A $90 trillion Green New Deal that would make California's electricity system and forest management look like success stories? Heck, yeah.
---
" It is discouraging to think how many people are shocked by honesty and how few by deceit."

-- Noel Coward

(1899-1973) British playwright

---

The Medal of Honor is the highest award for valor in action against an enemy force which can be bestowed upon an individual serving in the Armed Services of the United States.

GeneTrerally presented to its recipient by the President of the United States of America in the name of Congress.

The first award of the Medal of Honor was made March 25, 1863 to Private JACOB PARROTT.The last award of the Medal of Honor was made September 15, 2011 to Sergeant DAKOTA MEYER.

Since then there have been: • 3458 recipients of the Medal of Honor.

• Today there are 85 Living Recipients of the Medal of Honor.

Citation


Captain Humbert R. Versace distinguished himself by extraordinary heroism during the period of 29 October 1963 to 26 September 1965, while serving as S-2 Advisor, Military Assistance Advisory Group, Detachment 52, Ca Mau, Republic of Vietnam. While accompanying a Civilian Irregular Defense Group patrol engaged in combat operations in Thoi Binh District, An Xuyen Province, Captain Versace and the patrol came under sudden and intense mortar, automatic weapons, and small arms fire from elements of a heavily armed enemy battalion. As the battle raged, Captain Versace, although severely wounded in the knee and back by hostile fire, fought valiantly and continued to engage enemy targets. Weakened by his wounds and fatigued by the fierce firefight, Captain Versace stubbornly resisted capture by the over-powering Viet Cong force with the last full measure of his strength and ammunition. Taken prisoner by the Viet Cong, he exemplified the tenets of the Code of Conduct from the time he entered into Prisoner of War status. Captain Versace assumed command of his fellow American soldiers, scorned the enemy's exhaustive interrogation and indoctrination efforts, and made three unsuccessful attempts to escape, despite his weakened condition which was brought about by his wounds and the extreme privation and hardships he was forced to endure. During his captivity, Captain Versace was segregated in an isolated prisoner of war cage, manacled in irons for prolonged periods of time, and placed on extremely reduced ration. The enemy was unable to break his indomitable will, his faith in God, and his trust in the United States of America. Captain Versace, an American fighting man who epitomized the principles of his country and the Code of Conduct, was executed by the Viet Cong on 26 September 1965. Captain Versace's gallant actions in close contact with an enemy force and unyielding courage and bravery while a prisoner of war are in the highest traditions of the military service and reflect the utmost credit upon himself and the United States Army.

---

From the Archives

We Have Met the Enemy…
Geoff Metcalf


"They who can give up essential liberty to obtain a little temporary safety deserve neither liberty nor safety.
--Benjamin Franklin
"The American people must be willing to give up a degree of personal privacy in exchange for safety and security."
--Louis Freeh


In the wake of the clamor over the most recent WikiLeaks data dump, 'Vault 7', 'UMBRAGE', et al, it should be noted this is not really anything new. What we are seeing here is simply the evolution of something that goes back to the late 50s (to the incomplete best knowledge I have).

It is kinda cool to finally see even

The New York Times

acknowledging material

I was writing about in 1998

.

In April of 1998 I wrote "Privacy has become an anachronism." I was commenting on "a massive system designed to intercept all your e-mail, fax traffic and more." I was explaining 'Echelon', the illegitimate offspring of a

UKUSA Treaty

signed by the United States, United Kingdom, Canada, Australia and New Zealand. Its purpose was, and is, to have a vast global intelligence monster, which allegedly shares common goals. The system was so "efficient" that reportedly National Security Agency folk from Fort Meade could work from Menwith Hill in England to intercept local communications without either nation having to burden themselves with the formality of seeking approval (a court order) or disclosing the operation. And this was all pre-9/11 and pre-the anti-constitutional

'Patriot Act'

.

It is illegal (without a Judge's signed permission) for the United States to spy on its citizens … kinda. The laws have long been circumvented by a mutual pact among five nations. Under the terms of UKUSA agreement, Britain spies on Americans and America spies on British citizens, and then the two conspirators trade data. A classic technical finesse. It is legal, but the intent to evade the spirit is inescapable.

I often fictionalized the genesis of 'Echelon' as an informal meeting of a group of post war American and British intelligence types drinking in some remote rustic bar. An imagined CIA type complains to his MI6 buddy about the hassles of US laws preventing US intelligence from surveillance of bad guys, and the Brit echoes the same complaint.

"Hey wait a moment mate," says Nigel, the make-believe MI6 guy, "I can spy on your guys and you can spy on our bad players…why don't we just come up with a mechanism whereby we spy on your villains, you spy on our villains, and we just 'share' the intel?"

This system was called ECHELON, and has been kicking around in some form longer than most of you. The result of the UKUSA treaty signed by the United States, United Kingdom, Canada, Australia and New Zealand was, and is, to have a vast global intelligence monster which allegedly shares common goals.

The London Telegraph reported in December of 1997 that the Civil liberties Committee of the European Parliament had officially confirmed the existence and purpose of ECHELON. "A global electronic spy network that can eavesdrop on every telephone, e-mail and telex communication around the world will be officially acknowledged for the first time in a European Commission report. …"

The report noted: "Within Europe all e-mail, telephone and fax communications are routinely intercepted by the United States National Security Agency, transferring ll target information from the Eurv opean mainland via the strategic hub of London, then by satellite to Fort Meade in Maryland via the crucial hub at Menwith Hill, in the North York moors in th UK.

"The ECHELON system forms part of the UKUSA system but unlike many of the electronic spy systems developed during the Cold War, ECHELON was designed primarily for non-military targets: governments, organizations and businesses in virtually every country."

An interesting sidebar appeared in the International Herald Tribune under the headline, "Big Corporate Brother: It Knows More About You Than You Think." The story details Acxiom Corp, which was a humongous information service hidden in the Ozark foothills. Twenty-four hours a day, Acxiom electronically gathered and sorts all kinds of data about 196 million Americans. Credit card transactions and magazine subscriptions, telephone numbers, real estate records, automotive data, hunting, business and fishing licenses, consumer surveys and demographic detail that would make a marketing department's research manager salivate. This relatively new (legal) enterprise was known as "data warehousing" or "data-mining", and it underscores the cruel reality that the fiction of personal privacy has become obsolete. Technology's ability to collect and analyze data has made privacy a quaint albeit interesting dinosaur.

The Tribune reported that "Axciom can often determine whether an American owns a dog or cat, enjoys camping or gourmet cooking, reads the Bible or lots of other books. It can often pinpoint an American's occupation, car and favorite vacations. By analyzing the equivalent of billions of pages of data, it often projects for its customers who should be offered a credit card or who is likely to buy a computer."

Most of this information is from y 1998 piece. Echelon has developed, matured, and morphed into a much more powerful hybrid. 'Carnivore' was software to help triage the cacophony of data. Vault 7 and 'Umbrage' are logical (some would argue "insidious") growth.

More to follow…