"It Is Not A Question of Who Is Right Or Wrong But What Is Right Or Wrong That Counts.

"

--Geoff Metcalf
Wo

rld & Nation
Dorian Rebounds to Category 3 Strength
Hurricane Dorian—once again a major hurricane as of late Wednesday night—pushed ever closer to the Southeast U.S. coast as it gradually regained strength. Hurricane Hunter data showed that Dorian's central pressure had dropped from 964 mb at 2 pm EDT to 955 mb by 11 pm. Surface winds of around 100 knots reported by dropsonde and deduced from microwave radiometer, along with satellite-based intensity estimates, prompted the National Hurricane Center to make Dorian a Category 3 storm once again at 11 pm EDT, with top sustained winds of 115 mph.
It is difficult for any large hurricane to regain strength like this after having dropped from Cat 5 to Cat 2 strength. Certainly, Dorian is now a large hurricane, with tropical-storm-force winds extending out up to 195 miles and hurricane-force winds out to more than 55 miles. Dorian's strengthening on Wednesday afternoon and evening testifies to the hurricane's resilient structure and the favorable environment still in place for it. Dorian was traveling over the very warm waters of the Gulf Stream (sea surface temperatures of 28-29°C or 82-84°F), and the southerly winds at upper levels near Dorian—resulting in strong wind shear of around 20 knots—were working to ventilate the storm rather than tear it apart, as seen in the outstanding outflow evident on satellite. Intense thunderstorms blossomed on Wednesday afternoon and evening around Dorian's large eye (about 45 miles across).
---
Putin to develop new 'tactical' nuclear missiles after Trump spikes weapons treaty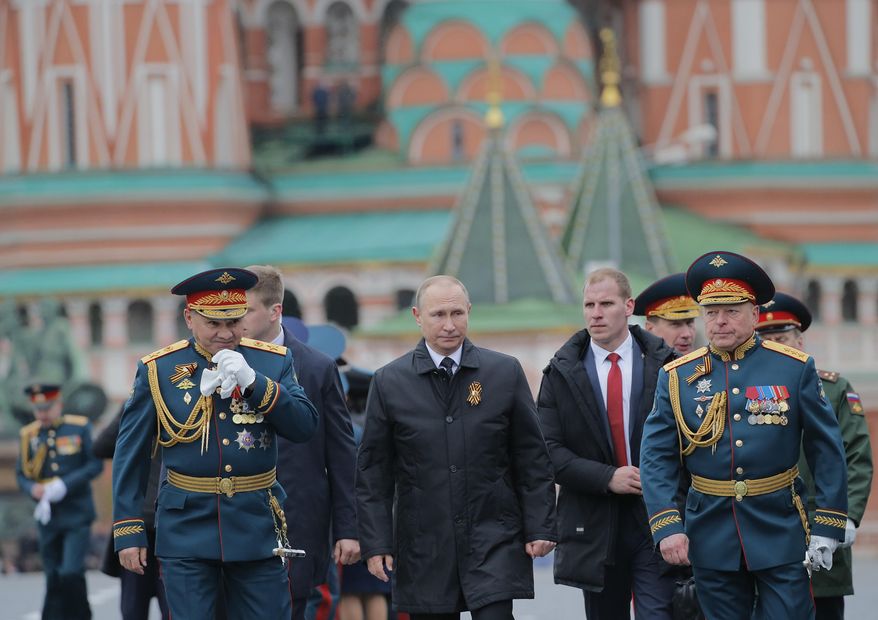 Russian President Vladimir Putin on Thursday declared that Moscow will begin producing missiles that were previously prohibited under the Cold War-era nuclear weapons ban that was repudiated by President Trump earlier this year.

In a speech at the Eastern Economic Forum in Vladivostok, Russia, Mr. Putin said that although the country would move forward with plans for the shorter-range, "tactical" nuclear weapons, Moscow would not deploy them unless the U.S. made the first move.

"We said outright that we will not deploy anything after the Americans tested such a missile," Mr. Putin said.

"We will make such missiles, of course, but we will not deploy them in the regions where no ground-based missile systems of this class manufactured by the United States have emerged," he added.


---
Horrific deaths a grim reminder of lucrative migrant smuggling across Mexico border
Passersby saw blood dripping out of the BMW and said there was a foul smell emanating from the vehicle left on a city street in San Diego.
Police who investigated found three dead Chinese illegal immigrants — two of them a mother and her 15-year-old son — stuffed in the trunk.
This week authorities announced they'd made an arrest, nabbing Neil Edwin Valera at a bus station in San Diego over the weekend, three weeks after they say he sneaked the three Chinese migrants across the border in the trunk of his BMW 528i sedan.
---

U.S., China agree to new round of trade talks

China announced Thursday that it will resume trade talks with the U.S. and send a team of negotiators to Washington in October, raising the prospect of easing the tariff war that has roiled world markets.

The Chinese Commerce Ministry said the country's top trade negotiator, Vice Premier Liu He, agreed to the October visit in a phone call with Treasury Secretary Steven T. Mnuchin and U.S. Trade Representative Robert Lighthizer.

Beijing also said that "serious" mid-level talks will begin in mid-September.


---
US Diplomat Urges Merkel to Take 'Firm Stance' in China
The U.S. ambassador to Germany says "now is not the time for business as usual with China" as Chancellor Angela Merkel prepares to make her 12th visit to the country as German leader.
Merkel is due to visit Chinese leaders in Beijing on Friday. She will travel with a business delegation.
In comments to The Associated Press Wednesday, U.S. Ambassador Richard Grenell said China's "willful disregard of its commitments" to Hong Kong, the U.N. and World Trade Organization, along with human rights violations in Tibet and Xinjiang, show China's communist party "stands against the values Germany cherishes."
He says: "We hope that Chancellor Merkel will take a firm stance for the values that unified Germany after the fall of Communism: human rights, democracy, and the rule of law."
---
Newt Gingrich: 'Radical Left' Pressuring Pelosi to Shelve Trade Deal
House Speaker Nancy Pelosi won't advance the U.S.-Mexico-Canada trade agreement to a House vote because the pressure on her from the "radical left" is "very, very real" not to give President Donald Trump anything that can be seen as a victory, former House Speaker Newt Gingrich said Thursday.
"The fact is, Canada, Mexico, and the U.S. have agreed to this," Gingrich told Fox Business' "Mornings with Maria."
"Ultimately it comes down to yes or no."
Since Pelosi, D-Calif., won't advance the bill, there must be counter-pressure built for it, including asking why Democrats are killing jobs by rejecting the measure, why they are refusing to create economic opportunity, and why they are abandoning American workers, said Gingrich.
---
Joe Biden's left eye fills with blood during CNN town hall on 'climate crisis'
Former vice president suffered two cranial aneurysms in 1988
Former Vice President Joseph R. Biden's left eye appeared to fill with blood during Wednesday's CNN town hall on "the climate crisis," raising questions about his health.
Mr. Biden, 76, took questions from the audience and moderator Anderson Cooper during his 30-minute segment as part of the seven-hour town hall, even as his eye grew redder.
While the Democratic presidential front-runner didn't seem to notice the eye bleed, the episode created a stir on social media.
Mr. Biden underwent surgery after he suffered two cranial aneurysms in 1988 while serving in the Senate. In his 2007 book "Promises to Keep," he said doctors gave him a 50% chance of surviving the surgery.
---
Eric McCormack and Debra Messing tweets expose totalitarian instincts of liberals
Two actors who are best known for a television sitcom that aired more than a decade ago have found a new lease on life — exposing for all of us of the totalitarian instincts of liberals.
x
Eric McCormack and Debra Messing of the 1990s TV series "Will and Grace" decided it would be a really good idea to use social media to call for a blacklist of conservatives in Hollywood. Being oh so clever, and knowing exactly what it was they were doing, they opted to couch their fascist instinct as a personal inquiry so that they would know who not to work with.
In response to a Hollywood Reporter tweet announcing that President Donald Trump would be appearing in a Beverly Hills fundraiser in mid-September, Mr. McCormack tweeted, "Hey, kindly report on everyone attending this event so the rest of us can be clear about who we don't wanna work with. Thx." Ms. Messing issued her support for the creation of the list shortly thereafter, tweeting the trade magazine should "print a list of all attendees please" adding that "the public has a right to know."
Both Ms. Messing and Mr. McCormack are middle-aged. They're not 20-somethings with no education about U.S. history, which would include the 1950s' McCarthy-era and the blacklisting of actors and other creative people who were, or just thought to be, associated with the Communist Party.
---
The conservative movement hits the shores of Hong Kong
The movement has landed — in Hong Kong.
Not the Marines, but Matt Schlapp and his American Conservative Union.
Their message to Hong Kong's anti-Beijing protestors: American conservatism has your backs.
Risking arrest and imprisonment by Hong Kong authorities who are way too friendly with Beijing, Mr. Schlapp made an impromptu, 1,800-mile Labor Day flight from Tokyo, leaving a Japanese Conservative Political Action Conference (CPAC) for the besieged streets of the former British colony.
---
---
"It is discouraging to think how many people are shocked by honesty and how few by deceit."

-- Noel Coward

(1899-1973) British playwright

---

The Medal of Honor is the highest award for valor in action against an enemy force which can be bestowed upon an individual serving in the Armed Services of the United States.

GeneTrerally presented to its recipient by the President of the United States of America in the name of Congress.

The first award of the Medal of Honor was made March 25, 1863 to Private JACOB PARROTT.The last award of the Medal of Honor was made September 15, 2011 to Sergeant DAKOTA MEYER.

Since then there have been: • 3458 recipients of the Medal of Honor.

• Today there are 85 Living Recipients of the Medal of Honor.

Citation


Captain Humbert R. Versace distinguished himself by extraordinary heroism during the period of 29 October 1963 to 26 September 1965, while serving as S-2 Advisor, Military Assistance Advisory Group, Detachment 52, Ca Mau, Republic of Vietnam. While accompanying a Civilian Irregular Defense Group patrol engaged in combat operations in Thoi Binh District, An Xuyen Province, Captain Versace and the patrol came under sudden and intense mortar, automatic weapons, and small arms fire from elements of a heavily armed enemy battalion. As the battle raged, Captain Versace, although severely wounded in the knee and back by hostile fire, fought valiantly and continued to engage enemy targets. Weakened by his wounds and fatigued by the fierce firefight, Captain Versace stubbornly resisted capture by the over-powering Viet Cong force with the last full measure of his strength and ammunition. Taken prisoner by the Viet Cong, he exemplified the tenets of the Code of Conduct from the time he entered into Prisoner of War status. Captain Versace assumed command of his fellow American soldiers, scorned the enemy's exhaustive interrogation and indoctrination efforts, and made three unsuccessful attempts to escape, despite his weakened condition which was brought about by his wounds and the extreme privation and hardships he was forced to endure. During his captivity, Captain Versace was segregated in an isolated prisoner of war cage, manacled in irons for prolonged periods of time, and placed on extremely reduced ration. The enemy was unable to break his indomitable will, his faith in God, and his trust in the United States of America. Captain Versace, an American fighting man who epitomized the principles of his country and the Code of Conduct, was executed by the Viet Cong on 26 September 1965. Captain Versace's gallant actions in close contact with an enemy force and unyielding courage and bravery while a prisoner of war are in the highest traditions of the military service and reflect the utmost credit upon himself and the United States Army.

---

From the Archives

We Have Met the Enemy…
Geoff Metcalf


"They who can give up essential liberty to obtain a little temporary safety deserve neither liberty nor safety.
--Benjamin Franklin
"The American people must be willing to give up a degree of personal privacy in exchange for safety and security."
--Louis Freeh


In the wake of the clamor over the most recent WikiLeaks data dump, 'Vault 7', 'UMBRAGE', et al, it should be noted this is not really anything new. What we are seeing here is simply the evolution of something that goes back to the late 50s (to the incomplete best knowledge I have).

It is kinda cool to finally see even

The New York Times

acknowledging material

I was writing about in 1998

.

In April of 1998 I wrote "Privacy has become an anachronism." I was commenting on "a massive system designed to intercept all your e-mail, fax traffic and more." I was explaining 'Echelon', the illegitimate offspring of a

UKUSA Treaty

signed by the United States, United Kingdom, Canada, Australia and New Zealand. Its purpose was, and is, to have a vast global intelligence monster, which allegedly shares common goals. The system was so "efficient" that reportedly National Security Agency folk from Fort Meade could work from Menwith Hill in England to intercept local communications without either nation having to burden themselves with the formality of seeking approval (a court order) or disclosing the operation. And this was all pre-9/11 and pre-the anti-constitutional

'Patriot Act'

.

It is illegal (without a Judge's signed permission) for the United States to spy on its citizens … kinda. The laws have long been circumvented by a mutual pact among five nations. Under the terms of UKUSA agreement, Britain spies on Americans and America spies on British citizens, and then the two conspirators trade data. A classic technical finesse. It is legal, but the intent to evade the spirit is inescapable.

I often fictionalized the genesis of 'Echelon' as an informal meeting of a group of post war American and British intelligence types drinking in some remote rustic bar. An imagined CIA type complains to his MI6 buddy about the hassles of US laws preventing US intelligence from surveillance of bad guys, and the Brit echoes the same complaint.

"Hey wait a moment mate," says Nigel, the make-believe MI6 guy, "I can spy on your guys and you can spy on our bad players…why don't we just come up with a mechanism whereby we spy on your villains, you spy on our villains, and we just 'share' the intel?"

This system was called ECHELON, and has been kicking around in some form longer than most of you. The result of the UKUSA treaty signed by the United States, United Kingdom, Canada, Australia and New Zealand was, and is, to have a vast global intelligence monster which allegedly shares common goals.

The London Telegraph reported in December of 1997 that the Civil liberties Committee of the European Parliament had officially confirmed the existence and purpose of ECHELON. "A global electronic spy network that can eavesdrop on every telephone, e-mail and telex communication around the world will be officially acknowledged for the first time in a European Commission report. …"

The report noted: "Within Europe all e-mail, telephone and fax communications are routinely intercepted by the United States National Security Agency, transferring ll target information from the European mainland via the strategic hub of London, then by satellite to Fort Meade in Maryland via the crucial hub at Menwith Hill, in the North York moors in the UK.

"The ECHELON system forms part of the UKUSA system but unlike many of the electronic spy systems developed during the Cold War, ECHELON was designed primarily for non-military targets: governments, organizations and businesses in virtually every country."

An interesting sidebar appeared in the International Herald Tribune under the headline, "Big Corporate Brother: It Knows More About You Than You Think." The story details Acxiom Corp, which was a humongous information service hidden in the Ozark foothills. Twenty-four hours a day, Acxiom electronically gathered and sorts all kinds of data about 196 million Americans. Credit card transactions and magazine subscriptions, telephone numbers, real estate records, automotive data, hunting, business and fishing licenses, consumer surveys and demographic detail that would make a marketing department's research manager salivate. This relatively new (legal) enterprise was known as "data warehousing" or "data-mining", and it underscores the cruel reality that the fiction of personal privacy has become obsolete. Technology's ability to collect and analyze data has made privacy a quaint albeit interesting dinosaur.

The Tribune reported that "Axciom can often determine whether an American owns a dog or cat, enjoys camping or gourmet cooking, reads the Bible or lots of other books. It can often pinpoint an American's occupation, car and favorite vacations. By analyzing the equivalent of billions of pages of data, it often projects for its customers who should be offered a credit card or who is likely to buy a computer."

Most of this information is from y 1998 piece. Echelon has developed, matured, and morphed into a much more powerful hybrid. 'Carnivore' was software to help triage the cacophony of data. Vault 7 and 'Umbrage' are logical (some would argue "insidious") growth.

More to follow…