"It Is Not A Question of Who Is Right Or Wrong But What Is Right Or Wrong That Counts.

"

--Geoff Metcalf
Providing an on line Triage of the news since 1997



Wo

rld & Nation
Trump says he will 'strongly consider' providing testimony in impeachment probe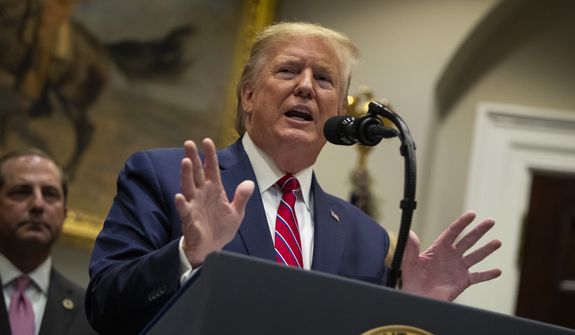 President Trump on Monday said he will "strongly consider" providing testimony in the House's impeachment inquiry.
He noted House Speaker Nancy Pelosi's suggestion in an interview that aired Sunday on CBS that he testify "about the phony Impeachment Witch Hunt."
"She also said I could do it in writing," Mr. Trump said on Twitter. "Even though I did nothing wrong, and don't like giving credibility to this No Due Process Hoax, I like the idea & will, in order to get Congress focused again, strongly consider it!"
Mrs. Pelosi, California Democrat, had told CBS that Mr. Trump will have "every opportunity" to make his case.
"The president could come right before the committee and talk, speak all the truth that he wants if he wants to take the oath of office, or he could do it in writing," she said.
---
House Republicans call on ABC to explain why it spiked Jeffrey Epstein story
Letter to network expresses concern that 'ABC chose to bury the truth'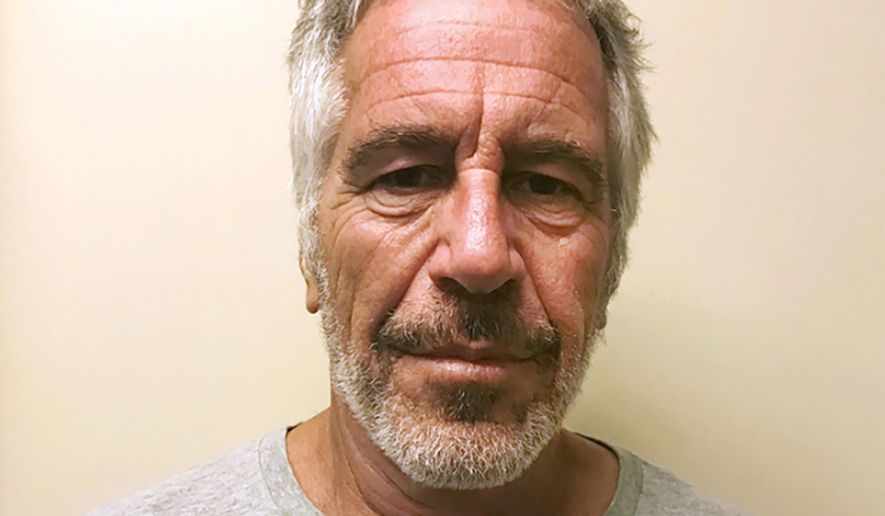 Top House Republicans turned up the heat Sunday on ABC News, calling on the network to explain why it sat on a story about convicted sex-offender Jeffrey Epstein and whether it contacted authorities with evidence of sex-trafficking.
In a Sunday letter to ABC News President James Goldston, House Minority Leader Kevin McCarthy and two other leading Republicans said they were concerned that the network sought to "bury the truth" about anchor Amy Robach's reporting.
"I am deeply concerned that this victim, in search of justice, went to ABC News, provided information and an interview, and ABC chose to bury the truth," the letter said. "This was a decision that Ms. Robach alluded was due to protecting powerful people or financial interests."
The Republicans asked ABC to provide Congress with the interview of Epstein accuser Virginia Roberts Giuffre, who has alleged that the late billionaire used her as a teen sex slave, and explain whether any "outside forces" were involved in spiking the story.
---
'Bribery' sharper than 'quid pro quo' in Democrats' focus group on Trump
Democrats are increasingly fending off accusations that their impeachment inquiry is chiefly a mission to oust President Trump from office or damage him politically, rather than the solemn fact-finding quest for truth they have claimed.
With more witnesses set to testify this week, Republicans on Sunday pointed to Democrats' recent shift to focus on "bribery" in the wake of focus group testing as evidence that the impeachment inquiry is intrinsically political in nature.
"The worst part is they don't care about the substance. They know they have nothing, so now they're making it up and polling to figure out what is best to sell to the American people," Rep. Doug Collins of Georgia, the top Republican on the House Judiciary Committee, said on Fox News' "Sunday Morning Futures."
---
U.S., South Korea call off military exercises in 'good will' gesture to North Korea
The U.S. and South Korea have postponed joint military exercises that were scheduled for Monday in what the Pentagon has called an "act of good will" aimed at boosting diplomatic efforts with North Korea.
The move comes as the Trump White House seeks fresh momentum in denuclearization talks with the North, which have shown little progress since a summit between President Trump and North Korean leader Kim Jong-un broke up abruptly without a deal in February in Hanoi.
Defense Secretary Mark T. Esper told reporters in Seoul over the weekend that suspending the exercises, which North Korea has long seen as provocative, was done "to facilitate a political agreement — a deal, if you will — that leads to the denuclearization of the Korean peninsula."
---
Immigration jails in Trump era are packed, but deportations are fewer than in Obama's
It has been nearly 700 days since Bakhodir Madjitov was taken to prison in the United States. He has never been charged with a crime.
Madjitov, a 38-year-old Uzbek national and father of three U.S. citizens, received a final deportation order after his applications to legally immigrate failed. He is one of the approximately 50,000 people jailed on any given day in the past year under the authority of U.S. Immigration and Customs Enforcement, the most foreigners held in immigration detention in U.S. history.
The majority of those detainees, such as Madjitov, are people with no prior criminal records.
Though President Donald Trump has made cracking down on immigration a centerpiece of his first term, his administration lags far behind President Barack Obama's pace of deportations. Obama - whom immigrant advocates at one point called the "deporter in chief" - removed 409,849 people in 2012. Trump, who has vowed to deport "millions" of immigrants, has yet to surpass 260,000 deportations in a single year.
And while Obama deported 1.18 million people during his first three years in office, Trump has deported fewer than 800,000.
---
Trump Says "Everything Was Discussed" Including "Negative Rates" In Unscheduled Monday Meeting With Chair Powell
Moments ago, the Fed announced that in a previously unannounced meeting that was not on the official White House Calendar, Fed Chair Powell met with Trump and Mnuchin at the White House "to discuss the economy, growth, employment and inflation." That boilerplate statement was followed by another, with the Fed noting that "Powell's comments were consistent with his remarks at his congressional hearings last week. He did not discuss his expectations for monetary policy, except to stress that the path of policy will depend entirely on incoming information that bears on the outlook for the economy."
What is notable is the Fed's addition that "Powell said that he and his colleagues on the Federal Open Market Committee will set monetary policy, as required by law, to support maximum employment and stable prices and will make those decisions based solely on careful, objective and non-political analysis."
---
Boris Johnson surges ahead in election polls as Tories take 15% lead
The latest polls have given Boris Johnson a major pre-election boost, with forecasters suggesting the Conservatives boast a 15-point lead over Labour, despite a stuttering start to the campaign.
Less than a month before the General Election on December 12, a Deltapoll for The Mail on Sunday puts the Prime Minister's party on 45%, ahead of Labour on 30%.
The four point rise for the Tories – and one point rise for Labour, comes at the expenses of the Liberal Democrats.
---
Hundreds Trapped in Hong Kong Siege, Raising Fears of Crackdown
A two-day university siege has transfixed Hong Kong, raising fears of a bloody crackdown on hundreds of protesters who remain trapped in a campus surrounded by police.
Running battles between police and protesters on Monday featured raging fires, tear gas and flaming vehicles. By the evening tens of thousands of demonstrators marched toward the Hong Kong Polytechnic University to aid those stuck in the campus.
Some managed to escape from the university in Kowloon by climbing over walls, while police arrested dozens of others -- sometimes tackling them to the ground or pounding them with batons.
---
Prince Andrew: Royalty has failed Epstein's accusers, says lawyer
The Duke of York should apologise for his friendship with Jeffrey Epstein, a lawyer for the convicted sex offender's accusers has said.
Spencer Kuvin, who represents several unnamed alleged victims, said "royalty has failed them".
He called Prince Andrew's interview with BBC Newsnight on Saturday "sad" and "depressing".
The prince has stood by his decision to take part, despite critics describing it as a "car crash".
---
College should pay student athletes
Democrats and Republicans agree that higher education is out of control
The growing movement in state capitals to allow or require public universities to pay student athletes has created a unique opportunity.
Not only is it an opportunity to reorient public policy debates over issues related to higher education, but it is a rare chance to bring Republicans and Democrats and liberals and conservatives together at a time of bitter partisan and ideological division.
A recent example came in Michigan, where a bill to allow for paying student athletes was introduced in the lower house of the state legislature with bipartisan support. This follows a much-publicized new law in California that has served as model legislation by legislators in other states.
Nobody in their right mind can defend big-time college sports when schools, coaches, apparel companies and TV networks — in short, everyone but the athletes — make millions off ostensibly amateur athletics.
---
No one is above the law -- unless you're a Democrat
Democratic lawlessness got a pass in the Obama and Clinton eras
"No one is above the law," House Speaker Nancy Pelosi said when announcing the start of the impeachment process against President Trump.
She should have tempered it with: "unless you're a Democrat."
For starters, literally hundreds of Democrat-controlled jurisdictions operate as "sanctuary cities," flouting the law by refusing to cooperate with federal immigration officials. Nothing ever happens to the Democratic politicians, just the crime victims at the hands of criminal aliens who are released instead of being turned over to immigration enforcement officers.
" It is discouraging to think how many people are shocked by honesty and how few by deceit."

-- Noel Coward

(1899-1973) British playwright

---

The Medal of Honor is the highest award for valor in action against an enemy force which can be bestowed upon an individual serving in the Armed Services of the United States.

GeneTrerally presented to its recipient by the President of the United States of America in the name of Congress.

The first award of the Medal of Honor was made March 25, 1863 to Private JACOB PARROTT.The last award of the Medal of Honor was made September 15, 2011 to Sergeant DAKOTA MEYER.

Since then there have been: • 3458 recipients of the Medal of Honor.

• Today there are 85 Living Recipients of the Medal of Honor.

Citation


Captain Humbert R. Versace distinguished himself by extraordinary heroism during the period of 29 October 1963 to 26 September 1965, while serving as S-2 Advisor, Military Assistance Advisory Group, Detachment 52, Ca Mau, Republic of Vietnam. While accompanying a Civilian Irregular Defense Group patrol engaged in combat operations in Thoi Binh District, An Xuyen Province, Captain Versace and the patrol came under sudden and intense mortar, automatic weapons, and small arms fire from elements of a heavily armed enemy battalion. As the battle raged, Captain Versace, although severely wounded in the knee and back by hostile fire, fought valiantly and continued to engage enemy targets. Weakened by his wounds and fatigued by the fierce firefight, Captain Versace stubbornly resisted capture by the over-powering Viet Cong force with the last full measure of his strength and ammunition. Taken prisoner by the Viet Cong, he exemplified the tenets of the Code of Conduct from the time he entered into Prisoner of War status. Captain Versace assumed command of his fellow American soldiers, scorned the enemy's exhaustive interrogation and indoctrination efforts, and made three unsuccessful attempts to escape, despite his weakened condition which was brought about by his wounds and the extreme privation and hardships he was forced to endure. During his captivity, Captain Versace was segregated in an isolated prisoner of war cage, manacled in irons for prolonged periods of time, and placed on extremely reduced ration. The enemy was unable to break his indomitable will, his faith in God, and his trust in the United States of America. Captain Versace, an American fighting man who epitomized the principles of his country and the Code of Conduct, was executed by the Viet Cong on 26 September 1965. Captain Versace's gallant actions in close contact with an enemy force and unyielding courage and bravery while a prisoner of war are in the highest traditions of the military service and reflect the utmost credit upon himself and the United States Army.

---

From the Archives

We Have Met the Enemy…
Geoff Metcalf


"They who can give up essential liberty to obtain a little temporary safety deserve neither liberty nor safety.
--Benjamin Franklin
"The American people must be willing to give up a degree of personal privacy in exchange for safety and security."
--Louis Freeh


In the wake of the clamor over the most recent WikiLeaks data dump, 'Vault 7', 'UMBRAGE', et al, it should be noted this is not really anything new. What we are seeing here is simply the evolution of something that goes back to the late 50s (to the incomplete best knowledge I have).

It is kinda cool to finally see even

The New York Times

acknowledging material

I was writing about in 1998

.

In April of 1998 I wrote "Privacy has become an anachronism." I was commenting on "a massive system designed to intercept all your e-mail, fax traffic and more." I was explaining 'Echelon', the illegitimate offspring of a

UKUSA Treaty

signed by the United States, United Kingdom, Canada, Australia and New Zealand. Its purpose was, and is, to have a vast global intelligence monster, which allegedly shares common goals. The system was so "efficient" that reportedly National Security Agency folk from Fort Meade could work from Menwith Hill in England to intercept local communications without either nation having to burden themselves with the formality of seeking approval (a court order) or disclosing the operation. And this was all pre-9/11 and pre-the anti-constitutional

'Patriot Act'

.

It is illegal (without a Judge's signed permission) for the United States to spy on its citizens … kinda. The laws have long been circumvented by a mutual pact among five nations. Under the terms of UKUSA agreement, Britain spies on Americans and America spies on British citizens, and then the two conspirators trade data. A classic technical finesse. It is legal, but the intent to evade the spirit is inescapable.

I often fictionalized the genesis of 'Echelon' as an informal meeting of a group of post war American and British intelligence types drinking in some remote rustic bar. An imagined CIA type complains to his MI6 buddy about the hassles of US laws preventing US intelligence from surveillance of bad guys, and the Brit echoes the same complaint.

"Hey wait a moment mate," says Nigel, the make-believe MI6 guy, "I can spy on your guys and you can spy on our bad players…why don't we just come up with a mechanism whereby we spy on your villains, you spy on our villains, and we just 'share' the intel?"

This system was called ECHELON, and has been kicking around in some form longer than most of you. The result of the UKUSA treaty signed by the United States, United Kingdom, Canada, Australia and New Zealand was, and is, to have a vast global intelligence monster which allegedly shares common goals.

The London Telegraph reported in December of 1997 that the Civil liberties Committee of the European Parliament had officially confirmed the existence and purpose of ECHELON. "A global electronic spy network that can eavesdrop on every telephone, e-mail and telex communication around the world will be officially acknowledged for the first time in a European Commission report. …"

The report noted: "Within Europe all e-mail, telephone and fax communications are routinely intercepted by the United States National Security Agency, transferring ll target information from the European mainland via the strategic hub of London, then by satellite to Fort Meade in Maryland via the crucial hub at Menwith Hill, in the North York moors in the UK.

"The ECHELON system forms part of the UKUSA system but unlike many of the electronic spy systems developed during the Cold War, ECHELON was designed primarily for non-military targets: governments, organizations and businesses in virtually every country."

An interesting sidebar appeared in the International Herald Tribune under the headline, "Big Corporate Brother: It Knows More About You Than You Think." The story details Acxiom Corp, which was a humongous information service hidden in the Ozark foothills. Twenty-four hours a day, Acxiom electronically gathered and sorts all kinds of data about 196 million Americans. Credit card transactions and magazine subscriptions, telephone numbers, real estate records, automotive data, hunting, business and fishing licenses, consumer surveys and demographic detail that would make a marketing department's research manager salivate. This relatively new (legal) enterprise was known as "data warehousing" or "data-mining", and it underscores the cruel reality that the fiction of personal privacy has become obsolete. Technology's ability to collect and analyze data has made privacy a quaint albeit interesting dinosaur.

The Tribune reported that "Axciom can often determine whether an American owns a dog or cat, enjoys camping or gourmet cooking, reads the Bible or lots of other books. It can often pinpoint an American's occupation, car and favorite vacations. By analyzing the equivalent of billions of pages of data, it often projects for its customers who should be offered a credit card or who is likely to buy a computer."

Most of this information is from y 1998 piece. Echelon has developed, matured, and morphed into a much more powerful hybrid. 'Carnivore' was software to help triage the cacophony of data. Vault 7 and 'Umbrage' are logical (some would argue "insidious") growth.

More to follow…