"It Is Not A Question of Who Is Right Or Wrong But What Is Right Or Wrong That Counts.

"

--Geoff Metcalf
Wo

rld & National
DHS on track to nab 100,000 illegals at border this month
Nielsen says southwest border at 'systemwide meltdown'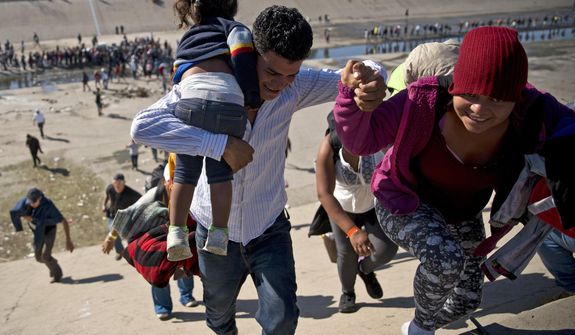 The government is on track to catch nearly 100,000 illegal immigrants at the border this month, Homeland Security Secretary Kirstjen Nielsen said Monday, renewing the administration's plea for Congress to do something.

That number would be the worst in more than a decade, and it's more troubling than the worst years because the migrants are children and families who despite being unauthorized, are almost impossible to deport.

"The situation at our Southern Border has gone from a crisis, to a national emergency, to a near systemwide meltdown," Ms. Nielsen said in delivering an update on the state of her department 16 years after it was established.


---
Robert Mueller pursues new Trump-Russia collusion leads despite talk of probe winding down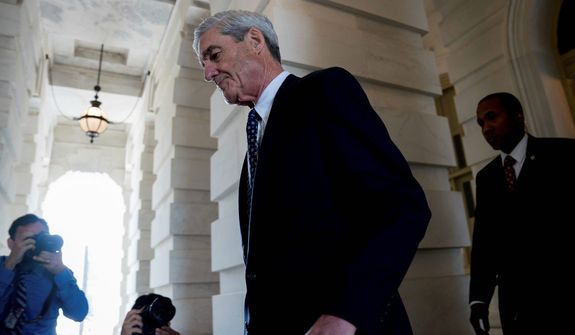 Special counsel Robert Mueller has been pursuing several Russia collusion leads even as a number of media outlets say his final report is due soon, according to court filings and sources.
Former acting Attorney General Matthew G. Whitaker said in January that he had been read-in on the nearly two-year probe and concluded it was "close to being completed."
But there are signs that Russia issues remain:
---
Threat of increased gun control in New Zealand sparks run on AR-15s, other firearms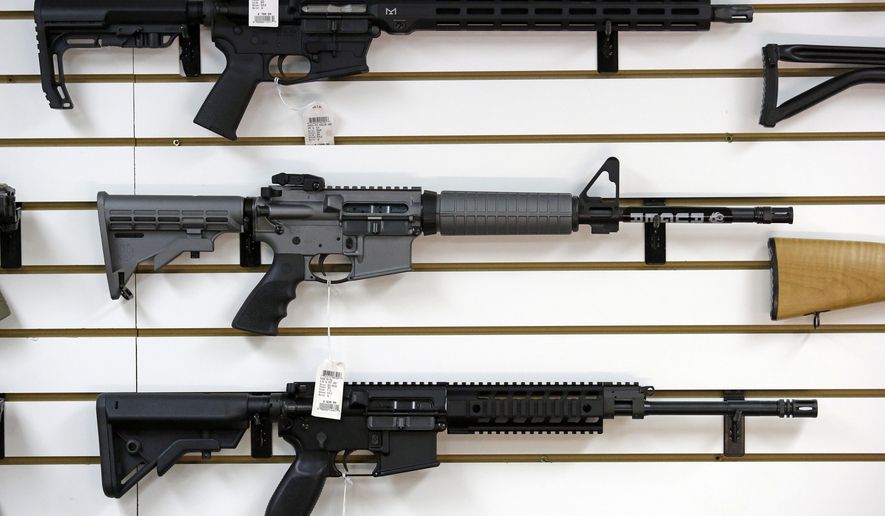 The New Zealand government's vow to pass stiffer gun laws in the wake of the Christchurch mosques massacre has produced a run on gun stores, especially benefiting military-style semi-automatic weapons, before any new bans or restrictions can pass.
Multiple sources and reports on the New Zealand newspaper portal stuff.co.nz described continuous inquiries on the AR-15, the popular rifles being out of stock, and panic buying.
Visiting Gun City in Auckland, the self-described "largest gun store in the world," a Stuff reporter wrote that "a staff member was overheard telling someone on the phone that the AR-15 had sold out, but there were other models of semi-automatic guns available. The rack where the AR-15s had been displayed was empty."
---
Prime Minister: New Gun Laws to Make NZ Safer After Mosque Shootings
New Zealand Prime Minister Jacinda Ardern said on Monday she would announce new gun laws within days, after a lone gunman killed 50 people in mass shootings at two mosques in the city of Christchurch.
Australian Brenton Tarrant, 28, a suspected white supremacist, was charged with murder on Saturday. Tarrant was remanded without a plea and is due back in court on April 5 where police said he was likely to face more charges.
"Within 10 days of this horrific act of terrorism we will have announced reforms which will, I believe, make our community safer," Ardern told a news conference after her cabinet reached in principle decisions on gun reform laws in the wake of New Zealand's worst ever mass shooting.
---
WSJ: US Military Plans to Keep 1,000 Troops in Syria
The U.S. military has plans to keep 1,000 troops in Syria, a change that comes months after President Donald Trump called for a complete withdrawal, according to The Wall Street Journal.
But mulitple media outlets, including Fox News and CNN are reporting that Joint Chiefs Chairman Gen. Joseph Dunford is calling the report "factually incorrect." Dunford says "no change" is being made to troop numbers.
Trump's December 19 surprise announcement that American forces would leave Syria "now" ran into stiff opposition among members of his own party and led to the resignation of Defense Secretary James Mattis.
---
Trump Hits GM: Reopen Ohio Plant, Close One in Mexico or China
President Donald Trump is escalating his pressure on General Motors, as he calls for the company to reopen an Ohio manufacturing plant.
Trump tweeted Monday that GM should: "Close a plant in China or Mexico, where you invested so heavily pre-Trump," and "Bring jobs home!"
Trump travels to politically important Ohio this week. Over the weekend, Trump tweeted that officials should start talks with the United Auto Workers immediately so that the Lordstown plant could be reopened or sold.
---
Ex-Putin adviser found dead in D.C. hotel had complete neck fracture
Newly released documents show that a former adviser to Russia's president sustained a complete fracture of his neck "at or near the time of his death" in a Washington hotel room in 2015.
The documents from the city's medical examiner were released to Radio Free Europe/Radio Liberty in response to a Freedom of Information Act lawsuit filed nearly two years ago.
In a report published Saturday, RFE said the finding offers no clear-cut evidence of foul play in the death of Mikhail Lesin, who was a key adviser to Russian President Vladimir Putin during Putin's rise to power.
But RFE said the documents provide "the most precise scientific description" yet of a death that's been shrouded in suspicion.
---
Trump threatens 'Saturday Night Live' with federal investigation and charges comedy show as an 'an advertisement without consequences' for mocking him
President Donald Trump began his Sunday morning venting about 'Saturday Night Live,' complaining the show should be investigated by federal regulators for mocking him but not Democrats.
The president complained their treatment of him was 'like an advertisement without consequences' and a boost to help Democrats.
'It's truly incredible that shows like Saturday Night Live, not funny/no talent, can spend all of their time knocking the same person (me), over & over, without so much of a mention of 'the other side.' Like an advertisement without consequences. Same with Late Night Shows,' he wrote on Twitter.
---
Trump: 'Last in his class' McCain gave dossier to FBI, media to undermine White House bid
President Trump accused the late Sen. John McCain on Sunday of working with the Democrats during the 2016 presidential election by giving the Christopher Steele dossier to the FBI and media, in the hope that it would be printed and help defeat Mr. Trump.
But according to several reports, McCain didn't hand over the dossier to the FBI until after the 2016 election in December. It was circulated to the media through one of McCain's aides, David Kramer, after the election.
Mr. Trump has continuously denied that the information detailed in the unverified and salacious dossier is accurate.
---
Brexit: Jeremy Hunt says a 'lot more work' needed to get deal through
A "lot more work" is required to get MPs to back Theresa May's Brexit deal, Jeremy Hunt has said, amid uncertainty over whether it will be put to a vote for a third time this week.
The foreign secretary said there were "encouraging signs" that opponents of the deal were slowly coming round.
But he said another vote would only be held before Thursday's EU summit if ministers were "confident" of victory.
A number of Brexiteers have signalled they will continue to oppose the deal.
---
A meteor exploded over Earth with 10 times the energy of Hiroshima's atomic bomb
Nobody saw or was even aware of the fireball that exploded above the Bering Sea on December 18, 2018—until now. (The image above is a stock one.)
The scale: It's the biggest blast since the meteor that exploded over Chelyabinsk in Russia in 2015—and the second-biggest in 30 years, says the BBC. It was 10 meters across, and the energy released as it exploded in Earth's atmosphere was equivalent to 173 kilotons of TNT. That's about 10 times bigger than the atomic bomb used on Hiroshima in 1945.
Discovery: NASA eventually found out about the blast from military satellites that spotted light it emitted when it exploded. The fireball was also spotted by Peter Brown at Canada's University of Western Ontario, who announced his finding on Twitter. He looked at data taken from around 16 different infrared stations that were originally set up to listen for covert nuclear tests.
---
Amid tight Senate race, Reuters reporter sat on Beto hacking story
It'd be great if reporters stopped handing President Trump ammunition for his attacks on the press.
Reuters' Joseph Menn, for example, discovered prior to the 2018 midterm races that former Rep. Beto O'Rourke, D-Texas, was a member of the infamous Cult of the Dead Cow hacking group in the 1980s. As a contributor to the group, the former congressman penned a whole lot of deeply weird and poorly aged fiction and poetry.
Yes, he wrote violent and deeply perverted things. Still, teenagers do and say many, many, many regrettable things. The real issue here is that the Reuters journalist offered to sit on the story until after the midterm Senate races had ended, even after O'Rourke had already confirmed in 2017 that he was a member of the group. That is really bad.
---
Uneasy nuclear balance over Kashmir
The war between India and Pakistan over the possession of Kashmir simmers constantly but doesn't boil. It flames but doesn't explode for one overarching reason: Both nations have nuclear weapons and the means to deliver them. India and Pakistan have concluded that, although their peoples and leaders obsess over Kashmir, control over the region isn't worth a nuclear war between them.
The latest flare-up came as a result of a February 14 terrorist suicide bomb attack that killed 40 Indian soldiers in Kashmir. Twelve days later India launched air strikes on a camp of the suspected terrorist group, Jaish-e-Mohammed in Pakistani territory. (JeM is one of the many terrorist networks that Pakistan supports and provides safe harbor.)
Pakistan shot down at least one Indian fighter and later returned its pilot. It also arrested 44 suspected JeM members, including the brother of Masood Ashar, the JeM leader. At that point, both sides de-escalated the fight.
---
A health care parable
Recently, I chaired a discussion at CPAC on the importance of choice in health care, and specifically health care coverage. My fellow panelists talked about government rule-making, Medicare waivers and the many problems that approaches like "Medicare for All" create — such as interposing Uncle Sam between physicians and patients. All important aspects of the health care puzzle — but nothing that hasn't been turned over more than once in a wonky world of $5 words and inside the Beltway policy chatter.
What stood out was what one panelist, Larry Foster, talked about: The ideas behind a concept called "health sharing" and its growing popularity as an alternative to traditional insurance.
---
---
"It is discouraging to think how many people are shocked by honesty and how few by deceit."

-- Noel Coward

(1899-1973) British playwright

---

The Medal of Honor is the highest award for valor in action against an enemy force which can be bestowed upon an individual serving in the Armed Services of the United States.

GeneTrerally presented to its recipient by the President of the United States of America in the name of Congress.

The first award of the Medal of Honor was made March 25, 1863 to Private JACOB PARROTT.The last award of the Medal of Honor was made September 15, 2011 to Sergeant DAKOTA MEYER.

Since then there have been: • 3458 recipients of the Medal of Honor.

• Today there are 85 Living Recipients of the Medal of Honor.

Citation


Captain Humbert R. Versace distinguished himself by extraordinary heroism during the period of 29 October 1963 to 26 September 1965, while serving as S-2 Advisor, Military Assistance Advisory Group, Detachment 52, Ca Mau, Republic of Vietnam. While accompanying a Civilian Irregular Defense Group patrol engaged in combat operations in Thoi Binh District, An Xuyen Province, Captain Versace and the patrol came under sudden and intense mortar, automatic weapons, and small arms fire from elements of a heavily armed enemy battalion. As the battle raged, Captain Versace, although severely wounded in the knee and back by hostile fire, fought valiantly and continued to engage enemy targets. Weakened by his wounds and fatigued by the fierce firefight, Captain Versace stubbornly resisted capture by the over-powering Viet Cong force with the last full measure of his strength and ammunition. Taken prisoner by the Viet Cong, he exemplified the tenets of the Code of Conduct from the time he entered into Prisoner of War status. Captain Versace assumed command of his fellow American soldiers, scorned the enemy's exhaustive interrogation and indoctrination efforts, and made three unsuccessful attempts to escape, despite his weakened condition which was brought about by his wounds and the extreme privation and hardships he was forced to endure. During his captivity, Captain Versace was segregated in an isolated prisoner of war cage, manacled in irons for prolonged periods of time, and placed on extremely reduced ration. The enemy was unable to break his indomitable will, his faith in God, and his trust in the United States of America. Captain Versace, an American fighting man who epitomized the principles of his country and the Code of Conduct, was executed by the Viet Cong on 26 September 1965. Captain Versace's gallant actions in close contact with an enemy force and unyielding courage and bravery while a prisoner of war are in the highest traditions of the military service and reflect the utmost credit upon himself and the United States Army.

---

From the Archives

We Have Met the Enemy…
Geoff Metcalf


"They who can give up essential liberty to obtain a little temporary safety deserve neither liberty nor safety.
--Benjamin Franklin
"The American people must be willing to give up a degree of personal privacy in exchange for safety and security."
--Louis Freeh


In the wake of the clamor over the most recent WikiLeaks data dump, 'Vault 7', 'UMBRAGE', et al, it should be noted this is not really anything new. What we are seeing here is simply the evolution of something that goes back to the late 50s (to the incomplete best knowledge I have).

It is kinda cool to finally see even

The New York Times

acknowledging material

I was writing about in 1998

.

In April of 1998 I wrote "Privacy has become an anachronism." I was commenting on "a massive system designed to intercept all your e-mail, fax traffic and more." I was explaining 'Echelon', the illegitimate offspring of a

UKUSA Treaty

signed by the United States, United Kingdom, Canada, Australia and New Zealand. Its purpose was, and is, to have a vast global intelligence monster, which allegedly shares common goals. The system was so "efficient" that reportedly National Security Agency folk from Fort Meade could work from Menwith Hill in England to intercept local communications without either nation having to burden themselves with the formality of seeking approval (a court order) or disclosing the operation. And this was all pre-9/11 and pre-the anti-constitutional

'Patriot Act'

.

It is illegal (without a Judge's signed permission) for the United States to spy on its citizens … kinda. The laws have long been circumvented by a mutual pact among five nations. Under the terms of UKUSA agreement, Britain spies on Americans and America spies on British citizens, and then the two conspirators trade data. A classic technical finesse. It is legal, but the intent to evade the spirit is inescapable.

I often fictionalized the genesis of 'Echelon' as an informal meeting of a group of post war American and British intelligence types drinking in some remote rustic bar. An imagined CIA type complains to his MI6 buddy about the hassles of US laws preventing US intelligence from surveillance of bad guys, and the Brit echoes the same complaint.

"Hey wait a moment mate," says Nigel, the make-believe MI6 guy, "I can spy on your guys and you can spy on our bad players…why don't we just come up with a mechanism whereby we spy on your villains, you spy on our villains, and we just 'share' the intel?"

This system was called ECHELON, and has been kicking around in some form longer than most of you. The result of the UKUSA treaty signed by the United States, United Kingdom, Canada, Australia and New Zealand was, and is, to have a vast global intelligence monster which allegedly shares common goals.

The London Telegraph reported in December of 1997 that the Civil liberties Committee of the European Parliament had officially confirmed the existence and purpose of ECHELON. "A global electronic spy network that can eavesdrop on every telephone, e-mail and telex communication around the world will be officially acknowledged for the first time in a European Commission report. …"

The report noted: "Within Europe all e-mail, telephone and fax communications are routinely intercepted by the United States National Security Agency, transferring all target information from the European mainland via the strategic hub of London, then by satellite to Fort Meade in Maryland via the crucial hub at Menwith Hill, in the North York moors in the UK.

"The ECHELON system forms part of the UKUSA system but unlike many of the electronic spy systems developed during the Cold War, ECHELON was designed primarily for non-military targets: governments, organizations and businesses in virtually every country."

An interesting sidebar appeared in the International Herald Tribune under the headline, "Big Corporate Brother: It Knows More About You Than You Think." The story details Acxiom Corp, which was a humongous information service hidden in the Ozark foothills. Twenty-four hours a day, Acxiom electronically gathered and sorts all kinds of data about 196 million Americans. Credit card transactions and magazine subscriptions, telephone numbers, real estate records, automotive data, hunting, business and fishing licenses, consumer surveys and demographic detail that would make a marketing department's research manager salivate. This relatively new (legal) enterprise was known as "data warehousing" or "data-mining", and it underscores the cruel reality that the fiction of personal privacy has become obsolete. Technology's ability to collect and analyze data has made privacy a quaint albeit interesting dinosaur.

The Tribune reported that "Axciom can often determine whether an American owns a dog or cat, enjoys camping or gourmet cooking, reads the Bible or lots of other books. It can often pinpoint an American's occupation, car and favorite vacations. By analyzing the equivalent of billions of pages of data, it often projects for its customers who should be offered a credit card or who is likely to buy a computer."

Most of this information is from y 1998 piece. Echelon has developed, matured, and morphed into a much more powerful hybrid. 'Carnivore' was software to help triage the cacophony of data. Vault 7 and 'Umbrage' are logical (some would argue "insidious") growth.

More to follow…