"It Is Not A Question of Who Is Right Or Wrong But What Is Right Or Wrong That Counts.

"

--Geoff Metcalf



Wo
rld & National
Trump Speaks to Saudi King, Sends Pompeo for Follow-Up
President Donald Trump says he's spoken to King Salman of Saudi Arabia, who "denies any knowledge of whatever may have happened" to missing Washington Post journalist Jamal Khashoggi.
In a tweet issued shortly before 9 a.m. ET Monday, Trump also said he was dispatching Secretary of State Mike Pompeo to meet with the king :
"Just spoke to the King of Saudi Arabia who denies any knowledge of whatever may have happened 'to our Saudi Arabian citizen.' He said that they are working closely with Turkey to find answer. I am immediately sending our Secretary of State to meet with King!'
Khashoggi, a Saudi national and U.S. resident who has been a vocal press critic of Saudi Prince Mohammed bin Salman, has not been seen since entering the Saudi consulate in Istanbul on Oct. 2. He is feared dead.
---
Saudi Arabia Breaks 45-Year Taboo With Veiled Oil Weapon Threat
For 45 years, it's been considered out of bounds for Saudi Arabia. But all of a sudden, Riyadh made what many read as a veiled threat to use the kingdom's oil wealth as a political weapon -- something unheard of since the 1973 Arab embargo that triggered the first oil crisis.
Saudi Arabia, the world's biggest oil exporter, said on Sunday it would retaliate against any punitive measures linked to the disappearance of Washington Post columnist Jamal Khashoggi with even "stronger ones.' In an implicit reference to the kingdom's petroleum wealth, the statement noted the Saudi economy "has an influential and vital role in the global economy."
Roger Diwan, a longstanding OPEC watcher at consultant IHS Markit Ltd., said the Saudi comments broke "an essential oil market taboo."
---
Closing in on Clinton-Justice Russia collusion conspiracy as middleman pleads the Fifth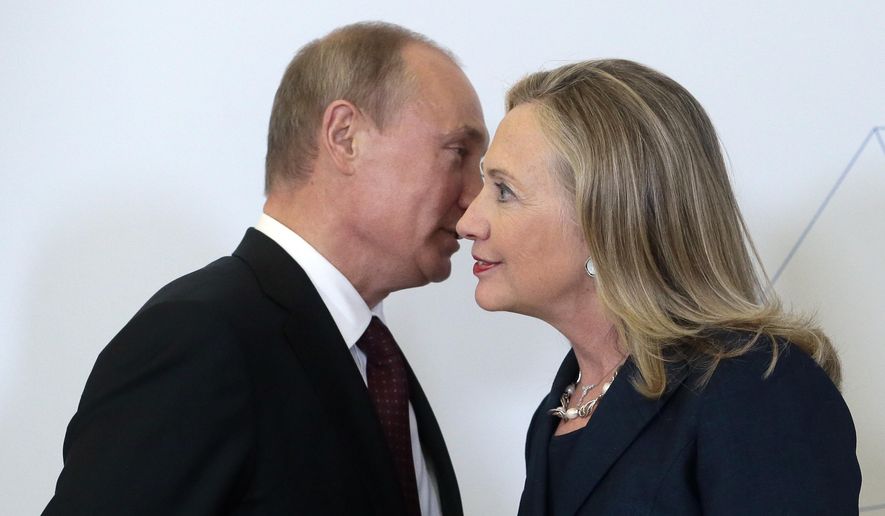 Congressional Republicans are collecting evidence to show an extensive, election year, anti-Trump conspiracy between Hillary Clinton operatives such as Fusion GPS and Barack Obama appointees at the Justice Department and the FBI.
The investigation took a new turn last week. Fusion co-founder Glenn Simpson decided to invoke the Fifth Amendment rather than testify under subpoena before a special House Republican task force.
The Republicans see Mr. Simpson as the key middleman between Justice and the Clinton campaign. He orchestrated the Democrat-financed dossier on which the FBI built its early investigation of candidate Donald Trump. Republicans believe the unproven dossier, with its charge of extensive Trump-Russia collusion, is a sham perpetrated by Democrats and the press.
---
Hillary Clinton: #MeToo doesn't apply to Bill, Lewinsky was 'adult'
Former Secretary of State Hillary Clinton rejected Sunday the suggestion that her husband's relationship with Monica Lewinsky was an abuse of power, noting that the intern "was an adult."
Mrs. Clinton also said that President Bill Clinton should "absolutely not" have stepped down over the White House affair, which began in 1995 when Ms. Lewinsky was 22.
Asked if he should have resigned, Mrs. Clinton said, "Absolutely not." Was it an abuse of power? "No. No," she told "CBS Sunday Morning" in an interview with Tony Dokoupil.
---
Trump distrusts some White House staff, calls Mattis 'sort of a Democrat'
President Trump told CBS's "60 Minutes" on Sunday night that he doesn't trust some of his White House staff and that he considers Defense Secretary James N. Mattis "sort of a Democrat" who could leave the administration relatively soon.
In a wide-ranging interview with Lesley Stahl, Mr. Trump was asked about first lady Melania Trump's recent comments that she doesn't trust some of the president's aides.
"I feel the same way," the president replied. "I don't trust everybody in the White House, I'll be honest with you."
---
Warren releases results of DNA test
Senator Elizabeth Warren has released a DNA test that provides "strong evidence'' she had a Native American in her family tree dating back 6 to 10 generations, an unprecedented move by one of the top possible contenders for the 2020 Democratic nomination for president.
Warren, whose claims to Native American blood have been mocked by President Trump and other Republicans, provided the test results to the Globe on Sunday in an effort to defuse questions about her ancestry that have persisted for years. She planned an elaborate rollout Monday of the results as she aimed for widespread attention.
Warren's pure Native American ancestor appears in her family tree "in the range of 6-10 generations ago." That timing fits Warren's family lore, passed down during her Oklahoma upbringing, that her great-great-great-grandmother, O.C. Sarah Smith, was at least partially Native American.
Trump reacts

---
Three reasons Mueller may not charge Trump with obstruction
Washington is in another frenzy over the disclosure that President Trump's lawyers are preparing answers to written questions from special counsel Robert Mueller. Observers are speculating on the meaning of this move, as anticipation grows for the investigation's culmination.
If the suspense is killing you, a bigger surprise may await.
The most significant aspect of this story may be what it did not contain: questions about obstruction. Mueller is asking about Russian collusion, rather than the driving force behind his appointment after the firing of former FBI Director James Comey. Indeed, ample reasons exist to question whether there is a serious obstruction charge in the making — the focus of so much media attention since Comey was ignobly dispatched on May 10, 2017.
---
San Francisco to Vote on Taxing Rich Businesses for Homeless
San Francisco has come to be known around the world as a place for aggressive panhandling, open-air drug use and sprawling tent camps, the dirt and despair all the more remarkable for the city's immense wealth.
Some streets are so filthy that officials launched a special "poop patrol," and a young tech worker created "Snapcrap" — an app to report the filth. Morning commuters walk briskly past homeless people huddled against subway walls. In the city's squalid downtown sector, the frail and sick shuffle along in wheelchairs or stumble around, sometimes half-clothed.
The situation has become so dire that a coalition of activists collected enough signatures to put a measure on the city's Nov. 6 ballot. Proposition C would tax hundreds of San Francisco's wealthiest companies to help thousands of homeless and mentally ill residents, an effort that failed earlier this year in Seattle. San Francisco's measure is expected to raise $300 million a year, nearly doubling what the city already spends.
---
Top 3% of U.S. Taxpayers Paid Majority of Income Taxes in 2016
Individual income taxes are the federal government's single biggest revenue source. In fiscal year 2018, which ended Sept. 30, the individual income tax is expected to bring in roughly $1.7 trillion, or about half of all federal revenues, according to the Congressional Budget Office.
If past statistics can offer any guidance, in 2016, $1.44 trillion income taxes were paid by 140.9 million taxpayers reporting a total of $10.2 trillion in adjusted gross income, according to data recently released by the Internal Revenue Services.
Bloomberg looked into the 2016 individual returns data in detail for some additional insights illustrated in the charts below:
---
Packing the Court
Faced with a 5-4 conservative majority on the U.S. Supreme Court, some liberal Democrats want to pack the court to reverse the balance. Once the Democrats regain control of the White House and the Senate, so the argument goes, the new Democratic president could create enough new seats on the Supreme Court to ensure a liberal majority.
The last time the Democrats tried that was in 1937. President Franklin Roosevelt had just been re-elected by the largest majority in American history. He carried all but two states, Maine and Vermont, and racked up unprecedented Democratic majorities in the Senate and House.
Not since Reconstruction had the nation been so close to one-party rule. The moment had finally arrived for FDR to square off against the Supreme Court — specifically, against the aging conservatives who had thwarted him by declaring huge chunks of the New Deal unconstitutional.
---
Seeking government coddling
To them, it was unthinkable that common people were enlightened enough to rule themselves. That experiment is now the hope and dream of people throughout the world, but what about here in the United States?
Astonishingly, today's Americans expect government to care for us from cradle to grave, the way commoners once expected a benevolent king to care for his subjects. We treat people as members of groups rather than as individuals, insidiously devolving into the very class system against which the Founders rebelled.
In a deeply disturbing sense, Americans are voluntarily surrendering the very freedoms that millions fought and died to establish and protect. President James Garfield once said the most common form of death in politics is suicide. After a noble 225-year history, is the American experiment dying at the hands of its own people?
"It is discouraging to think how many people are shocked by honesty and how few by deceit."
-- Noel Coward
(1899-1973) British playwright
---
The Medal of Honor is the highest award for valor in action against an enemy force which can be bestowed upon an individual serving in the Armed Services of the United States.
GeneTrerally presented to its recipient by the President of the United States of America in the name of Congress.
The first award of the Medal of Honor was made March 25, 1863 to Private JACOB PARROTT.The last award of the Medal of Honor was made September 15, 2011 to Sergeant DAKOTA MEYER.
Since then there have been: • 3458 recipients of the Medal of Honor.
• Today there are 85 Living Recipients of the Medal of Honor.
Citation
Captain Humbert R. Versace distinguished himself by extraordinary heroism during the period of 29 October 1963 to 26 September 1965, while serving as S-2 Advisor, Military Assistance Advisory Group, Detachment 52, Ca Mau, Republic of Vietnam. While accompanying a Civilian Irregular Defense Group patrol engaged in combat operations in Thoi Binh District, An Xuyen Province, Captain Versace and the patrol came under sudden and intense mortar, automatic weapons, and small arms fire from elements of a heavily armed enemy battalion. As the battle raged, Captain Versace, although severely wounded in the knee and back by hostile fire, fought valiantly and continued to engage enemy targets. Weakened by his wounds and fatigued by the fierce firefight, Captain Versace stubbornly resisted capture by the over-powering Viet Cong force with the last full measure of his strength and ammunition. Taken prisoner by the Viet Cong, he exemplified the tenets of the Code of Conduct from the time he entered into Prisoner of War status. Captain Versace assumed command of his fellow American soldiers, scorned the enemy's exhaustive interrogation and indoctrination efforts, and made three unsuccessful attempts to escape, despite his weakened condition which was brought about by his wounds and the extreme privation and hardships he was forced to endure. During his captivity, Captain Versace was segregated in an isolated prisoner of war cage, manacled in irons for prolonged periods of time, and placed on extremely reduced ration. The enemy was unable to break his indomitable will, his faith in God, and his trust in the United States of America. Captain Versace, an American fighting man who epitomized the principles of his country and the Code of Conduct, was executed by the Viet Cong on 26 September 1965. Captain Versace's gallant actions in close contact with an enemy force and unyielding courage and bravery while a prisoner of war are in the highest traditions of the military service and reflect the utmost credit upon himself and the United States Army.
---
From the Archives

We Have Met the Enemy…

Geoff Metcalf
"They who can give up essential liberty to obtain a little temporary safety deserve neither liberty nor safety.
--Benjamin Franklin
"The American people must be willing to give up a degree of personal privacy in exchange for safety and security."
--Louis Freeh

In the wake of the clamor over the most recent WikiLeaks data dump, 'Vault 7', 'UMBRAGE', et al, it should be noted this is not really anything new. What we are seeing here is simply the evolution of something that goes back to the late 50s (to the incomplete best knowledge I have).
It is kinda cool to finally see even
The New York Times
acknowledging material
I was writing about in 1998
.
In April of 1998 I wrote "Privacy has become an anachronism." I was commenting on "a massive system designed to intercept all your e-mail, fax traffic and more." I was explaining 'Echelon', the illegitimate offspring of a
UKUSA Treaty
signed by the United States, United Kingdom, Canada, Australia and New Zealand. Its purpose was, and is, to have a vast global intelligence monster, which allegedly shares common goals. The system was so "efficient" that reportedly National Security Agency folk from Fort Meade could work from Menwith Hill in England to intercept local communications without either nation having to burden themselves with the formality of seeking approval (a court order) or disclosing the operation. And this was all pre-9/11 and pre-the anti-constitutional
'Patriot Act'
.
It is illegal (without a Judge's signed permission) for the United States to spy on its citizens … kinda. The laws have long been circumvented by a mutual pact among five nations. Under the terms of UKUSA agreement, Britain spies on Americans and America spies on British citizens, and then the two conspirators trade data. A classic technical finesse. It is legal, but the intent to evade the spirit is inescapable.
I often fictionalized the genesis of 'Echelon' as an informal meeting of a group of post war American and British intelligence types drinking in some remote rustic bar. An imagined CIA type complains to his MI6 buddy about the hassles of US laws preventing US intelligence from surveillance of bad guys, and the Brit echoes the same complaint.
"Hey wait a moment mate," says Nigel, the make-believe MI6 guy, "I can spy on your guys and you can spy on our bad players…why don't we just come up with a mechanism whereby we spy on your villains, you spy on our villains, and we just 'share' the intel?"
This system was called ECHELON, and has been kicking around in some form longer than most of you. The result of the UKUSA treaty signed by the United States, United Kingdom, Canada, Australia and New Zealand was, and is, to have a vast global intelligence monster which allegedly shares common goals.
The London Telegraph reported in December of 1997 that the Civil liberties Committee of the European Parliament had officially confirmed the existence and purpose of ECHELON. "A global electronic spy network that can eavesdrop on every telephone, e-mail and telex communication around the world will be officially acknowledged for the first time in a European Commission report. …"
The report noted: "Within Europe all e-mail, telephone and fax communications are routinely intercepted by the United States National Security Agency, transferring all target information from the European mainland via the strategic hub of London, then by satellite to Fort Meade in Maryland via the crucial hub at Menwith Hill, in the North York moors in the UK.
"The ECHELON system forms part of the UKUSA system but unlike many of the electronic spy systems developed during the Cold War, ECHELON was designed primarily for non-military targets: governments, organizations and businesses in virtually every country."
An interesting sidebar appeared in the International Herald Tribune under the headline, "Big Corporate Brother: It Knows More About You Than You Think." The story details Acxiom Corp, which was a humongous information service hidden in the Ozark foothills. Twenty-four hours a day, Acxiom electronically gathered and sorts all kinds of data about 196 million Americans. Credit card transactions and magazine subscriptions, telephone numbers, real estate records, automotive data, hunting, business and fishing licenses, consumer surveys and demographic detail that would make a marketing department's research manager salivate. This relatively new (legal) enterprise was known as "data warehousing" or "data-mining", and it underscores the cruel reality that the fiction of personal privacy has become obsolete. Technology's ability to collect and analyze data has made privacy a quaint albeit interesting dinosaur.
The Tribune reported that "Axciom can often determine whether an American owns a dog or cat, enjoys camping or gourmet cooking, reads the Bible or lots of other books. It can often pinpoint an American's occupation, car and favorite vacations. By analyzing the equivalent of billions of pages of data, it often projects for its customers who should be offered a credit card or who is likely to buy a computer."
Most of this information is from y 1998 piece. Echelon has developed, matured, and morphed into a much more powerful hybrid. 'Carnivore' was software to help triage the cacophony of data. Vault 7 and 'Umbrage' are logical (some would argue "insidious") growth.
More to follow…