"It Is Not A Question of Who Is Right Or Wrong But What Is Right Or Wrong That Counts.

"

--Geoff Metcalf






Wo

rld & National
Trump yields on 3 immigration policies in effort to reach compromise on wall
President Trump's latest immigration proposal marks a retreat on three areas of policy in what the White House said was a "good faith" effort to try to break the gridlock that for more than a decade has thwarted every effort to strike a compromise on the thorny issue.
In each of those areas — the Obama-era DACA program, Temporary Protected Status and a new path for asylum for children in Central America — Mr. Trump had canceled the Obama administration's initiatives.
On Saturday, he did an about-face and proposed to restore each of those programs. Going further, he offered approval to write them into law, giving them a permanence Mr. Obama could never win from Congress during his tenure.
---
Sen. Kamala Harris announces 2020 presidential campaign: 'Let's do this together'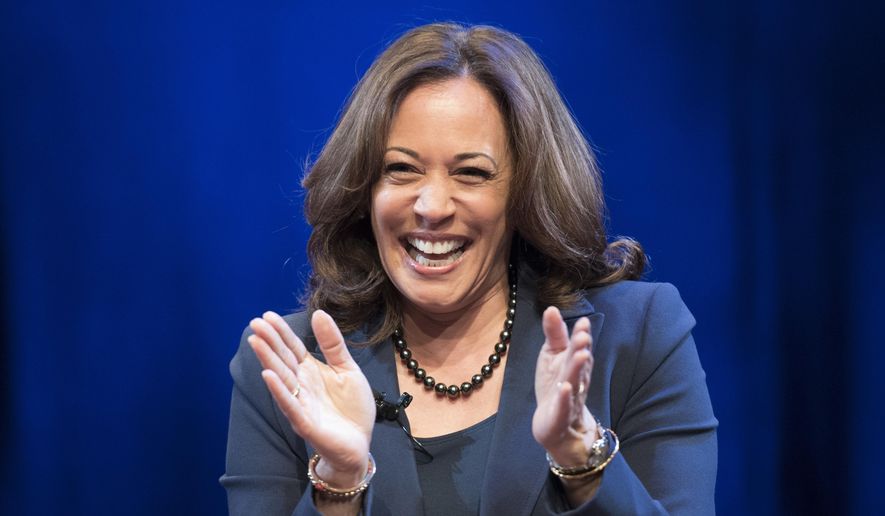 Sen. Kamala Harris on Monday formally announced her candidacy for the 2020 presidential race.
"I am running for president of the United States," the California Democrat said on ABC's "Good Morning America." "I'm very excited about it.
Ms. Harris, 54, is a first-term senator from California who previously served as the state's attorney general.
---
New video shows Native American man confronting Catholic teens with MAGA hats at March for Life
Conflict at March for Life gets second look after new video emerges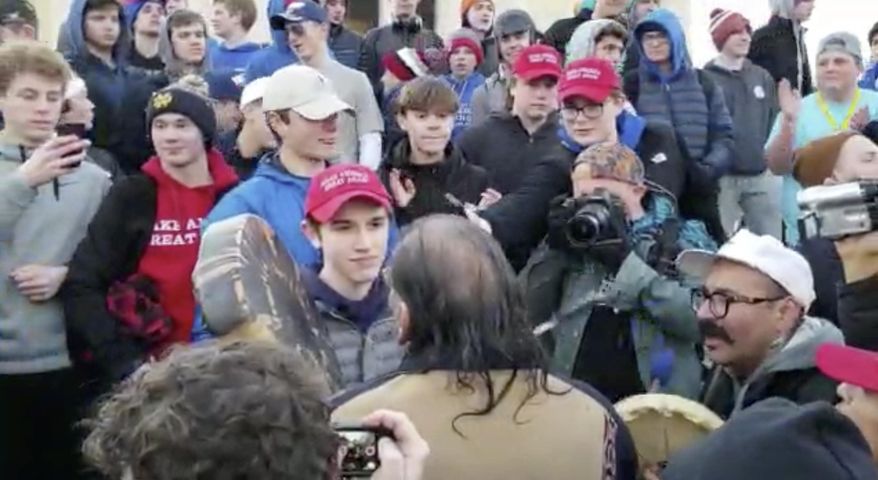 A group of Catholic boys, some wearing red Make America Great Again caps, has been decried for harassing an American Indian as he performed a drum ceremony, but now it appears that there may be more to the story.
Multiple videos taken Friday show Omaha tribe elder Nathan Phillips and other men walking toward a group from Covington Catholic High School as the boys performed a school cheer, then making their way inside their students' circle.
---
BuzzFeed sticks by disputed Michael Cohen-Trump Tower report as Republicans decry media bias
Republicans unleashed Sunday on the media "obsession" with tearing down President Trump after last week's uproar over a since-disputed article in BuzzFeed, while the news outlet continued to stand by its report.
"I think what it says more about is the obsession of many in the national media to attack this president for any reason, for any allegation, for any report in the media," said Vice President Mike Pence on "Fox News Sunday."
"It was remarkable for what we saw happening for 24 hours in the media on the basis of the report that appeared in BuzzFeed," he said. "I just think it's one of the reasons why people are so frustrated with many in the national media and the constant obsession on this."
---
Sen. Kennedy: BuzzFeed Report on Trump, Cohen 'Bruised' First Amendment
A report claiming President Donald Trump told his ex-lawyer Michael Cohen to lie about the timeline of talks on a Trump Tower Moscow project "bruised" the First Amendment, Sen. John Kennedy, R-La., said Sunday.
In an interview on CBS News' "Face The Nation," Kennedy said the BuzzFeed News report was "embarrassing."
"I think the First Amendment was bruised," he said.
---
Trump rips 'Radical Democrat' Pelosi: 'So petrified of the lefties ... she has lost control'
President Trump said in a Sunday tweetstorm that House Speaker Nancy Pelosi has lost control of her party, becoming a "Radical Democrat" in order to appease the Democratic Party's far left.
"Nancy Pelosi has behaved so irrationally & has gone so far to the left that she has now officially become a Radical Democrat," Mr. Trump said. "She is so petrified of the 'lefties' in her party that she has lost control … And by the way, clean up the streets in San Francisco, they are disgusting!"
His tweet came after Mrs. Pelosi rejected his Saturday border-security and immigration deal, calling his proposals a "non-starter" that would likely fail in the House.
---
China's economy grew 6.6% in 2018, the lowest pace in 28 years
China on Monday announced that its official economic growth came in at 6.6 percent in 2018 — the slowest pace since 1990.
That announcement was highly anticipated by many around the world amid Beijing's ongoing trade dispute with the U.S., its largest trading partner.
Economists polled by Reuters had predicted full-year GDP to come in at that pace, which was down from a revised 6.8 percent in 2017.
---
Researchers Find Another Undisclosed NKorean Missile Base
Researchers have discovered a secret ballistic missile base in North Korea, according to a report released on Monday by Beyond Parallel, a project sponsored by the Center for Strategic and International Studies defense think tank.
The discovery of the Sino-ri base comes after an announcement on Friday that President Donald Trump and North Korean Chairman Kim Jong Un will hold a second summit next month.
"The North Koreans are not going to negotiate over things they don't disclose," Victor Cha, one of the authors of the report, told NBC News. "It looks like they're playing a game. They're still going to have all this operational capability, even if they destroy their disclosed nuclear facilities."
---
Debate Grows On Making Mueller Report Public
Debate is growing over whether Special Counsel Robert Mueller's reports should be made public, particularly after Attorney General nominee William Barr was pressed last week by Democrats on the Senate Judiciary Committee on the issue.
Barr said he intended to release as much as he could, but also said he'll make the judgments based solely on the law, without allowing personal or political interests to influence the decision, reports The Hill.
---
Theresa May to Try to Break Brexit Deadlock With EU Concessions
British Prime Minister Theresa May will try to break the Brexit deadlock on Monday by setting out proposals in parliament that are expected to focus on winning more concessions from the European Union.
With just over two months until the United Kingdom is due to leave the European Union on March 29 there is no agreement in London on how and even whether it should leave the world's biggest trading bloc.
After her Brexit divorce deal was rejected by lawmakers last week, May has been searching for a way to get a deal through parliament, so far in vain.
---
Super Bowl: Pats vs Rams in a meeting of Past vs Future
It began in 2002, back when the Rams were in St. Louis and the Patriots were a plucky underdog standing in the way of a potential dynasty.
So much has changed.
This hasn't: Bill Belichick and Tom Brady.
The duo, every bit as formidable now as when they won that first title, face the Rams, now back in Los Angeles, in a Super Bowl rematch of sorts that pits the NFL's past against its future.
At 32, Sean McVay is the youngest Super Bowl coach. At 66, Bill Belichick has an NFL-record 30 playoff wins.
---
The offer Erdogan couldn't refuse
President Trump's surprise announcement that the United States was pulling all its troops out of Syria caught everyone by surprise. He quickly backed off of an immediate withdrawal — or seemed to — and then the Pentagon announced that the withdrawal was underway.
Or not. Both Secretary of State Mike Pompeo and National Security Adviser John Bolton spent a week visiting our Middle Eastern allies (with one notable exception) to assure them that we weren't going to leave unless certain conditions were met.
The principal condition was that the Kurdish forces would not be abandoned to the murderous intentions of Turkish President Recep Tayyip Erdogan. Mr. Erdogan refused to meet with Mr. Bolton during his swing through the Middle East.
---
Navigating the Pelosi shutdown
On Saturday President Trump shrewdly flipped the table on House Speaker Nancy Pelosi in the government shutdown standoff.
Mr. Trump has now proposed a grand bargain on immigration: Legalization of some 1 million so-called "Dreamers" — the foreigners who were brought into the United States illegally by their parents — and an immediate end to the shutdown, if she agrees to expand funding to $5.7 billion for the wall.
It's the kind of checkmate political maneuver that may guarantee his reelection.
---
---
"It is discouraging to think how many people are shocked by honesty and how few by deceit."

-- Noel Coward

(1899-1973) British playwright

---

The Medal of Honor is the highest award for valor in action against an enemy force which can be bestowed upon an individual serving in the Armed Services of the United States.

GeneTrerally presented to its recipient by the President of the United States of America in the name of Congress.

The first award of the Medal of Honor was made March 25, 1863 to Private JACOB PARROTT.The last award of the Medal of Honor was made September 15, 2011 to Sergeant DAKOTA MEYER.

Since then there have been: • 3458 recipients of the Medal of Honor.

• Today there are 85 Living Recipients of the Medal of Honor.

Citation


Captain Humbert R. Versace distinguished himself by extraordinary heroism during the period of 29 October 1963 to 26 September 1965, while serving as S-2 Advisor, Military Assistance Advisory Group, Detachment 52, Ca Mau, Republic of Vietnam. While accompanying a Civilian Irregular Defense Group patrol engaged in combat operations in Thoi Binh District, An Xuyen Province, Captain Versace and the patrol came under sudden and intense mortar, automatic weapons, and small arms fire from elements of a heavily armed enemy battalion. As the battle raged, Captain Versace, although severely wounded in the knee and back by hostile fire, fought valiantly and continued to engage enemy targets. Weakened by his wounds and fatigued by the fierce firefight, Captain Versace stubbornly resisted capture by the over-powering Viet Cong force with the last full measure of his strength and ammunition. Taken prisoner by the Viet Cong, he exemplified the tenets of the Code of Conduct from the time he entered into Prisoner of War status. Captain Versace assumed command of his fellow American soldiers, scorned the enemy's exhaustive interrogation and indoctrination efforts, and made three unsuccessful attempts to escape, despite his weakened condition which was brought about by his wounds and the extreme privation and hardships he was forced to endure. During his captivity, Captain Versace was segregated in an isolated prisoner of war cage, manacled in irons for prolonged periods of time, and placed on extremely reduced ration. The enemy was unable to break his indomitable will, his faith in God, and his trust in the United States of America. Captain Versace, an American fighting man who epitomized the principles of his country and the Code of Conduct, was executed by the Viet Cong on 26 September 1965. Captain Versace's gallant actions in close contact with an enemy force and unyielding courage and bravery while a prisoner of war are in the highest traditions of the military service and reflect the utmost credit upon himself and the United States Army.

---

From the Archives

We Have Met the Enemy…
Geoff Metcalf


"They who can give up essential liberty to obtain a little temporary safety deserve neither liberty nor safety.
--Benjamin Franklin
"The American people must be willing to give up a degree of personal privacy in exchange for safety and security."
--Louis Freeh


In the wake of the clamor over the most recent WikiLeaks data dump, 'Vault 7', 'UMBRAGE', et al, it should be noted this is not really anything new. What we are seeing here is simply the evolution of something that goes back to the late 50s (to the incomplete best knowledge I have).

It is kinda cool to finally see even

The New York Times

acknowledging material

I was writing about in 1998

.

In April of 1998 I wrote "Privacy has become an anachronism." I was commenting on "a massive system designed to intercept all your e-mail, fax traffic and more." I was explaining 'Echelon', the illegitimate offspring of a

UKUSA Treaty

signed by the United States, United Kingdom, Canada, Australia and New Zealand. Its purpose was, and is, to have a vast global intelligence monster, which allegedly shares common goals. The system was so "efficient" that reportedly National Security Agency folk from Fort Meade could work from Menwith Hill in England to intercept local communications without either nation having to burden themselves with the formality of seeking approval (a court order) or disclosing the operation. And this was all pre-9/11 and pre-the anti-constitutional

'Patriot Act'

.

It is illegal (without a Judge's signed permission) for the United States to spy on its citizens … kinda. The laws have long been circumvented by a mutual pact among five nations. Under the terms of UKUSA agreement, Britain spies on Americans and America spies on British citizens, and then the two conspirators trade data. A classic technical finesse. It is legal, but the intent to evade the spirit is inescapable.

I often fictionalized the genesis of 'Echelon' as an informal meeting of a group of post war American and British intelligence types drinking in some remote rustic bar. An imagined CIA type complains to his MI6 buddy about the hassles of US laws preventing US intelligence from surveillance of bad guys, and the Brit echoes the same complaint.

"Hey wait a moment mate," says Nigel, the make-believe MI6 guy, "I can spy on your guys and you can spy on our bad players…why don't we just come up with a mechanism whereby we spy on your villains, you spy on our villains, and we just 'share' the intel?"

This system was called ECHELON, and has been kicking around in some form longer than most of you. The result of the UKUSA treaty signed by the United States, United Kingdom, Canada, Australia and New Zealand was, and is, to have a vast global intelligence monster which allegedly shares common goals.

The London Telegraph reported in December of 1997 that the Civil liberties Committee of the European Parliament had officially confirmed the existence and purpose of ECHELON. "A global electronic spy network that can eavesdrop on every telephone, e-mail and telex communication around the world will be officially acknowledged for the first time in a European Commission report. …"

The report noted: "Within Europe all e-mail, telephone and fax communications are routinely intercepted by the United States National Security Agency, transferring all target information from the European mainland via the strategic hub of London, then by satellite to Fort Meade in Maryland via the crucial hub at Menwith Hill, in the North York moors in the UK.

"The ECHELON system forms part of the UKUSA system but unlike many of the electronic spy systems developed during the Cold War, ECHELON was designed primarily for non-military targets: governments, organizations and businesses in virtually every country."

An interesting sidebar appeared in the International Herald Tribune under the headline, "Big Corporate Brother: It Knows More About You Than You Think." The story details Acxiom Corp, which was a humongous information service hidden in the Ozark foothills. Twenty-four hours a day, Acxiom electronically gathered and sorts all kinds of data about 196 million Americans. Credit card transactions and magazine subscriptions, telephone numbers, real estate records, automotive data, hunting, business and fishing licenses, consumer surveys and demographic detail that would make a marketing department's research manager salivate. This relatively new (legal) enterprise was known as "data warehousing" or "data-mining", and it underscores the cruel reality that the fiction of personal privacy has become obsolete. Technology's ability to collect and analyze data has made privacy a quaint albeit interesting dinosaur.

The Tribune reported that "Axciom can often determine whether an American owns a dog or cat, enjoys camping or gourmet cooking, reads the Bible or lots of other books. It can often pinpoint an American's occupation, car and favorite vacations. By analyzing the equivalent of billions of pages of data, it often projects for its customers who should be offered a credit card or who is likely to buy a computer."

Most of this information is from y 1998 piece. Echelon has developed, matured, and morphed into a much more powerful hybrid. 'Carnivore' was software to help triage the cacophony of data. Vault 7 and 'Umbrage' are logical (some would argue "insidious") growth.

More to follow…