"It Is Not A Question of Who Is Right Or Wrong But What Is Right Or Wrong That Counts.

"

--Geoff Metcalf
Providing an on line Triage of the news since 1997



Wo

rld & Nation
'Public charge': Trump enforces rule linking immigrant welfare use to green card chances
Ken Cuccinelli: The president is determined 'to make self-sufficiency matter again'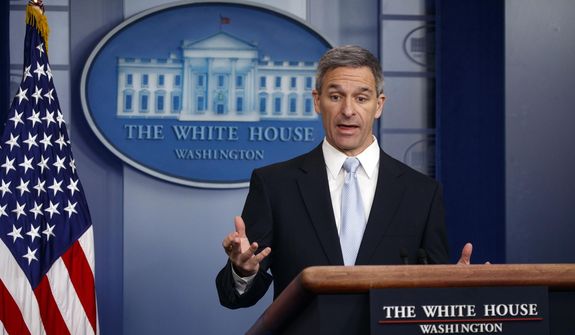 Conservatives have been trying for decades to create an immigration system that rewards immigrants who won't be a burden on society and discourages those who will.
The Trump administration is taking a major step toward that goal Monday when the "public charge" rule takes effect, giving U.S. Citizenship and Immigration Services the authority to refuse green cards — the key step on the path to citizenship — to people who have used a wide range of nonemergency welfare programs.
"The main reason this got done is because we have a president who is determined enough to make self-sufficiency matter again in a meaningful way," said Ken Cuccinelli, who pushed through the rule as acting chief of USCIS and is now acting deputy secretary at the Department of Homeland Security. "That kind of entrepreneurial mentality is a natural for him."
---
Bernie Sanders: 'Unfair' to say everything is bad about Fidel Castro's Cuba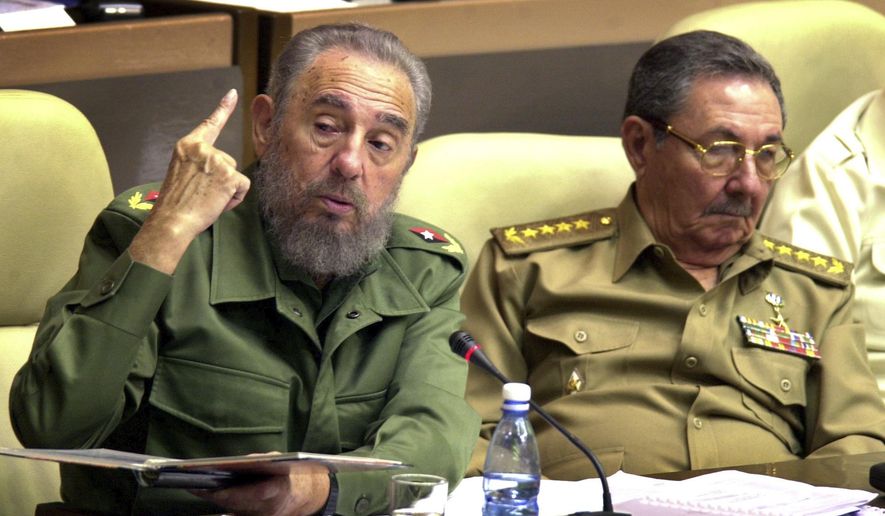 Sen. Bernard Sanders of Vermont said in an interview that aired Sunday that it's "unfair" to say everything about Fidel Castro's Cuba is bad.
"We're very opposed to the authoritarian nature of Cuba, but you know, it's unfair to simply say everything is bad," Mr. Sanders, the Democratic presidential front-runner, said on CBS's "60 Minutes."
"You know? When Fidel Castro came into office, you know what he did? He had a massive literacy program. Is that a bad thing? Even though Fidel Castro did it?" he said.
---
Trump accuses Schiff of leaking intel about Russia supporting Sanders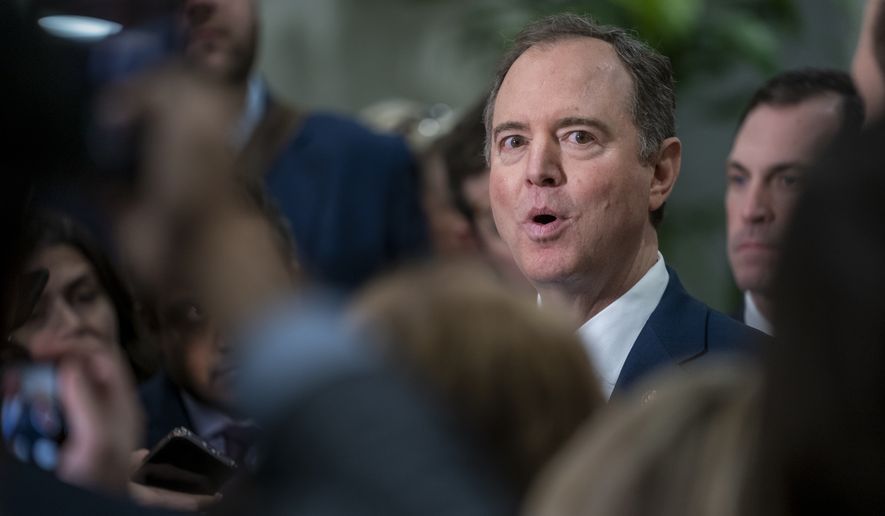 President Trump on Sunday accused House Intelligence Committee Chairman Adam B. Schiff of leaking information that Russia was helping Sen. Bernard Sanders in the Democratic primary, as part of an establishment effort to undermine his candidacy.
"I have not been briefed on that at all. Nobody told me about it," Mr. Trump told reporters at the White House. "They ought to investigate Adam Schiff for leaking that intelligence. He should not be leaking information out of intelligence."
U.S. officials have told Mr. Sanders that Russia is attempting to help his presidential campaign, but Mr. Trump said he hasn't been briefed on it.
The president also said he believes the leak is part of the Democratic Party's effort to spoil the candidacy of Mr. Sanders, the socialist who won the Nevada caucuses on Saturday and is the party's frontrunner in polls.
---

Coronavirus Cases Continue Global Spread as Fears Grow

Fears of a coronavirus pandemic grew on Monday after sharp rises in new cases reported in Iran, Italy, and South Korea, but China relaxed restrictions on movements in several places including Beijing as its rates of new infections eased.

The surge of infections outside mainland China triggered steep falls in Asian shares and Wall Street stock futures as investors fled to safe havens such as gold. Oil prices tumbled and the Korean won fell to its lowest since August.

The Geneva-based World Health Organization (WHO) said it no longer had a process for declaring a pandemic but the coronavirus outbreak remained an international emergency.


---
Axios: Trump Allies Have Drawn Up Lists of Those Disloyal to Him
President Donald Trump's allies have been putting together lists of government officials considered to be disloyal to him, along with pro-Trump personnel to replace them, Axios reported on Sunday.
These lists, which have been worked on since 2018 but have taken on added significance since Trump's acquittal in the Senate impeachment trial, have been put together by supporters of the president outside the White House, including Ginni Thomas, wife to Supreme Court Justice Clarence Thomas.
Since the end of his trial, an emboldened Trump has sought out "Deep State snakes" from within his government to fire and replace as soon as possible, according to Axios.
---
Bernie Sanders leads Mike Bloomberg, other Democratic presidential candidates in N.Y.: Poll
Sen. Bernard Sanders of Vermont has an edge over former New York Mayor Michael Bloomberg and the rest of the 2020 Democratic presidential field in New York State, according to a Siena College poll released on Monday.
Among registered Democrats, Mr. Sanders was at 25% support and was followed by Mr. Bloomberg at 21%, former Vice President Joseph R. Biden at 13%, Sen. Elizabeth Warren of Massachusetts at 11%, and former South Bend Mayor Pete Buttigieg and Sen. Amy Klobuchar of Minnesota at 9% apiece.
Thirty-three percent of Democrats said Mr. Bloomberg has the best chance to beat President Trump, compared to 22% who picked Mr. Sanders and 16% who said Mr. Biden.
---
Three Weinstein Accusers Could Send Producer to Prison for Life
As the jurors in Harvey Weinstein's sexual assault trial wrestle with a pair of charges that could send the fallen movie mogul to prison for life, the testimony of three women who don't even appear in his indictment could help seal his fate.
They're known as Molineux witnesses in New York, where Weinstein is being tried, and they testified to their own encounters with him as prosecutors sought to persuade the jury that the two women he is charged with attacking never gave their consent to sex. Such witnesses testified in the retrial of Bill Cosby in Pennsylvania, which ended in his conviction.
On Friday the jury sent a note to the judge referring to two counts of predatory sexual assault -- counts one and three on the verdict sheet it's working from -- and suggesting it might be deadlocked.
---
Julian Assange hearing: sources 'disappeared' after WikiLeaks release
Lawyers for US government deliver opening arguments as extradition case begins
Secret sources who had supplied information to the US government "disappeared" after they were put at risk from death or torture by the release of classified documents by WikiLeaks, the first day of Julian Assange's extradition hearing has been told.
The US case for the extradition of the WikiLeaks founder was opened at Woolwich crown court by James Lewis QC, who referred to a range of sources in states including Iraq, Afghanistan and China.
"The US is aware of sources, whose redacted names and other identifying information was contained in classified documents published by WikiLeaks, who subsequently disappeared, although the US can't prove at this point that their disappearance was the result of being outed by WikiLeaks," he told the court in south-east London.
By disseminating material in an unredacted form, Lewis said Assange knowingly put human rights activists, dissidents, journalists and their families at risk of serious harm in states operated by oppressive regimes.
---
The depressed, dismal Democrats have forgotten how to have fun
Today's Republicans are at least entertaining
The late Christopher Hitchens once observed that you can tell who's winning in politics by determining "which side is … having more fun." By that measurement, even a few minutes of the recent Democratic presidential debate proves that today's Democrats are in real trouble. The world, if you listen to them, is a gloomy place indeed; so gloomy as to render them incapable of humor in themselves or in others.
Oh, the candidates sometimes think they're poking fun at their adversaries, but invariably they forget to smile and are far more interested in belittling or even demonizing those with whom they disagree. Laughing at or even with the lineup of foes is unthinkable. And they never, ever make fun of themselves. Maybe it's hard to crack a joke when you see everyone with whom you disagree as a Hitler, Pol Pot or Stalin.
If you actually believe the Earth is going to implode in fewer than a dozen years, it's hard to love life. For whatever reason, the current Democratic field isn't entertaining and certainly doesn't seem to have much fun. Their parties, like their debates, must be dismal affairs.
---
Boy Scouts of America's bankrupt moral standards embrace leftist ideals
Leaders' decisions doom the once influential organization
I'm writing more in anger than in sadness.
As holder of an Eagle Scout badge, I went through the sadness stage back in 2013 when the Boy Scouts board caved to the LGBTQ lobby.
Well, OK, I was pretty angry then, too, watching the saboteurs within and without the organization systematically undermine it in the name of "tolerance."
It didn't matter that the Scouts won all their court battles, including at the U.S. Supreme Court, to maintain their moral standards. The saboteurs were intent on ending the Scouts' common-sense, existentially necessary exclusion of boys who sexually desire males. And that was only the beginning.
---
" It is discouraging to think how many people are shocked by honesty and how few by deceit."

-- Noel Coward

(1899-1973) British playwright

---

The Medal of Honor is the highest award for valor in action against an enemy force which can be bestowed upon an individual serving in the Armed Services of the United States.

GeneTrerally presented to its recipient by the President of the United States of America in the name of Congress.

The first award of the Medal of Honor was made March 25, 1863 to Private JACOB PARROTT.The last award of the Medal of Honor was made September 15, 2011 to Sergeant DAKOTA MEYER.

Since then there have been: • 3458 recipients of the Medal of Honor.

• Today there are 85 Living Recipients of the Medal of Honor.

Citation


Captain Humbert R. Versace distinguished himself by extraordinary heroism during the period of 29 October 1963 to 26 September 1965, while serving as S-2 Advisor, Military Assistance Advisory Group, Detachment 52, Ca Mau, Republic of Vietnam. While accompanying a Civilian Irregular Defense Group patrol engaged in combat operations in Thoi Binh District, An Xuyen Province, Captain Versace and the patrol came under sudden and intense mortar, automatic weapons, and small arms fire from elements of a heavily armed enemy battalion. As the battle raged, Captain Versace, although severely wounded in the knee and back by hostile fire, fought valiantly and continued to engage enemy targets. Weakened by his wounds and fatigued by the fierce firefight, Captain Versace stubbornly resisted capture by the over-powering Viet Cong force with the last full measure of his strength and ammunition. Taken prisoner by the Viet Cong, he exemplified the tenets of the Code of Conduct from the time he entered into Prisoner of War status. Captain Versace assumed command of his fellow American soldiers, scorned the enemy's exhaustive interrogation and indoctrination efforts, and made three unsuccessful attempts to escape, despite his weakened condition which was brought about by his wounds and the extreme privation and hardships he was forced to endure. During his captivity, Captain Versace was segregated in an isolated prisoner of war cage, manacled in irons for prolonged periods of time, and placed on extremely reduced ration. The enemy was unable to break his indomitable will, his faith in God, and his trust in the United States of America. Captain Versace, an American fighting man who epitomized the principles of his country and the Code of Conduct, was executed by the Viet Cong on 26 September 1965. Captain Versace's gallant actions in close contact with an enemy force and unyielding courage and bravery while a prisoner of war are in the highest traditions of the military service and reflect the utmost credit upon himself and the United States Army.

---

From the Archives

We Have Met the Enemy…
Geoff Metcalf


"They who can give up essential liberty to obtain a little temporary safety deserve neither liberty nor safety.
--Benjamin Franklin
"The American people must be willing to give up a degree of personal privacy in exchange for safety and security."
--Louis Freeh


In the wake of the clamor over the most recent WikiLeaks data dump, 'Vault 7', 'UMBRAGE', et al, it should be noted this is not really anything new. What we are seeing here is simply the evolution of something that goes back to the late 50s (to the incomplete best knowledge I have).

It is kinda cool to finally see even

The New York Times

acknowledging material

I was writing about in 1998

.

In April of 1998 I wrote "Privacy has become an anachronism." I was commenting on "a massive system designed to intercept all your e-mail, fax traffic and more." I was explaining 'Echelon', the illegitimate offspring of a

UKUSA Treaty

signed by the United States, United Kingdom, Canada, Australia and New Zealand. Its purpose was, and is, to have a vast global intelligence monster, which allegedly shares common goals. The system was so "efficient" that reportedly National Security Agency folk from Fort Meade could work from Menwith Hill in England to intercept local communications without either nation having to burden themselves with the formality of seeking approval (a court order) or disclosing the operation. And this was all pre-9/11 and pre-the anti-constitutional

'Patriot Act'

.

It is illegal (without a Judge's signed permission) for the United States to spy on its citizens … kinda. The laws have long been circumvented by a mutual pact among five nations. Under the terms of UKUSA agreement, Britain spies on Americans and America spies on British citizens, and then the two conspirators trade data. A classic technical finesse. It is legal, but the intent to evade the spirit is inescapable.

I often fictionalized the genesis of 'Echelon' as an informal meeting of a group of post war American and British intelligence types drinking in some remote rustic bar. An imagined CIA type complains to his MI6 buddy about the hassles of US laws preventing US intelligence from surveillance of bad guys, and the Brit echoes the same complaint.

"Hey wait a moment mate," says Nigel, the make-believe MI6 guy, "I can spy on your guys and you can spy on our bad players…why don't we just come up with a mechanism whereby we spy on your villains, you spy on our villains, and we just 'share' the intel?"

This system was called ECHELON, and has been kicking around in some form longer than most of you. The result of the UKUSA treaty signed by the United States, United Kingdom, Canada, Australia and New Zealand was, and is, to have a vast global intelligence monster which allegedly shares common goals.

The London Telegraph reported in December of 1997 that the Civil liberties Committee of the European Parliament had officially confirmed the existence and purpose of ECHELON. "A global electronic spy network that can eavesdrop on every telephone, e-mail and telex communication around the world will be officially acknowledged for the first time in a European Commission report. …"

The report noted: "Within Europe all e-mail, telephone and fax communications are routinely intercepted by the United States National Security Agency, transferring ll target information from the Eurv opean mainland via the strategic hub of London, then by satellite to Fort Meade in Maryland via the crucial hub at Menwith Hill, in the North York moors in the UK.

"The ECHELON system forms part of the UKUSA system but unlike many of the electronic spy systems developed during the Cold War, ECHELON was designed primarily for non-military targets: governments, organizations and businesses in virtually every country."

An interesting sidebar appeared in the International Herald Tribune under the headline, "Big Corporate Brother: It Knows More About You Than You Think." The story details Acxiom Corp, which was a humongous information service hidden in the Ozark foothills. Twenty-four hours a day, Acxiom electronically gathered and sorts all kinds of data about 196 million Americans. Credit card transactions and magazine subscriptions, telephone numbers, real estate records, automotive data, hunting, business and fishing licenses, consumer surveys and demographic detail that would make a marketing department's research manager salivate. This relatively new (legal) enterprise was known as "data warehousing" or "data-mining", and it underscores the cruel reality that the fiction of personal privacy has become obsolete. Technology's ability to collect and analyze data has made privacy a quaint albeit interesting dinosaur.

The Tribune reported that "Axciom can often determine whether an American owns a dog or cat, enjoys camping or gourmet cooking, reads the Bible or lots of other books. It can often pinpoint an American's occupation, car and favorite vacations. By analyzing the equivalent of billions of pages of data, it often projects for its customers who should be offered a credit card or who is likely to buy a computer."

Most of this information is from y 1998 piece. Echelon has developed, matured, and morphed into a much more powerful hybrid. 'Carnivore' was software to help triage the cacophony of data. Vault 7 and 'Umbrage' are logical (some would argue "insidious") growth.

More to follow…