"It Is Not A Question of Who Is Right Or Wrong But What Is Right Or Wrong That Counts.

"

--Geoff Metcalf
Providing an on line Triage of the news since 1997



Wo

rld & Nation
Supreme Court strikes down Louisiana abortion law restricting providers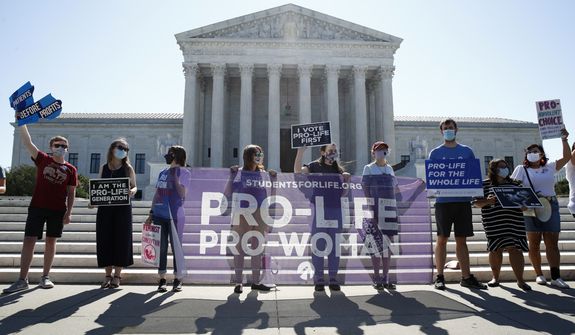 The Supreme Court ruled Monday Louisiana could not require doctors performing abortions to have admitting privileges at nearby hospitals.
The ruling was 5 to 4 with Chief Justice John G. Roberts Jr., a Bush appointee, joining the liberal wing of the court in ruling for the abortion providers.
The decision strikes down the Louisiana law that pro-choice advocates said attempted to curtail women's abortion rights.
---
Iran Issues Arrest Warrant for Trump Over Killing of Top General
Iran has issued an arrest warrant and asked Interpol for help in detaining President Donald Trump and dozens of others it believes carried out the U.S. drone strike that killed a top Iranian general in Baghdad, a local prosecutor reportedly said Monday.
Interpol later said it wouldn't consider Iran's request, meaning Trump faces no danger of arrest. However, the charges underscore the heightened tensions between Iran and the United States since Trump unilaterally withdrew America from Tehran's nuclear deal with world powers.
Tehran prosecutor Ali Alqasimehr said Trump and 35 others whom Iran accuses of involvement in the Jan. 3 strike that killed Gen. Qassem Soleimani in Baghdad face "murder and terrorism charges," the state-run IRNA news agency reported.
Alqasimehr did not identify anyone else sought other than Trump, but stressed that Iran would continue to pursue his prosecution even after his presidency ends.
---
Joe Biden's basement-dwelling strategy pays off: 'Antidote to Donald Trump'
Joseph R. Biden's basement-dwelling strategy appears to be a winning move in the presidential race.
The Democrats' likely nominee has kept largely out of the public eye over the past three months because of the coronavirus crisis, yet his standing against President Trump has soared.
It's not that voters are enthusiastic about the former vice president, but they have become increasingly tired of Mr. Trump. A New York Times poll last week showed that 50% said they had a "very unfavorable" view of the president.
---
Trump knocks Princeton for removing Woodrow Wilson's name, slams effort to rename John Wayne Airport
President Trump on Monday criticized Princeton University for erasing the name of Woodrow Wilson from its campus and Democrats for trying to rename John Wayne Airport in Southern California, both movements in response to the men's racist attitudes.
His tweet came a day after Mr. Trump tweeted, then deleted, a video of a Trump supporter yelling "white power" at anti-Trump protesters in Florida. The White House said the president hadn't noticed the comment.
Princeton's board of trustees voted on Friday to rename its policy school the Princeton School of Public and International Affairs, removing the name of the nation's 28th president from the school. A residential college formerly named for him will be known as "First College" instead.
---
Fauci: Herd Immunity 'Unlikely' If Enough Refuse Vaccine
Dr. Anthony Fauci said it's "unlikely" the United States would reach herd immunity from the coronavirus even if a successful vaccine is developed because of strong resistance to getting inoculated.
The director of the National Institute of Allergy and Infectious Diseases spoke with CNN's Elizabeth Cohen during an interview broadcast for the Aspen Ideas Festival Sunday night and noted there is a good chance a vaccine for the SARS-CoV-2 virus will be available by the end of this year or early next year.
"I still think that one can say that I'm cautiously optimistic that we will have one or maybe more candidates of vaccines that could be available and be effective by the end of the year or the beginning of 2021," he said.
---
Biden's best vice-president pick is (

should be

) obvious
Whatever his wobbles, Joe Biden has, from the start of his presidential campaign, got one thing exactly right: The 2020 election is a battle for the soul of America. That's not just a pretty slogan. It's the stomach-knotting truth — and it's the frame he should use for choosing his running mate.
It's why he should pick Senator Tammy Duckworth of Illinois.
She's a paragon of the values that Donald Trump, for all his practice as a performer, can't even pantomime. She's best described by words that are musty relics in his venal and vainglorious circle: "sacrifice," "honour," "humility." More than any of the many extraordinary women on Biden's list of potential vice-presidential nominees, she's the anti-Trump, the antidote to the ugliness he revels in and the cynicism he stokes.
Duckworth, a former Army lieutenant colonel who lost both of her legs during combat duty in Iraq, is a choice that makes exquisite emotional and moral sense. Largely, but not entirely, because of that, she makes strategic sense, too.
---
U.S. eyes nuclear tests in show of force reaction to latest Russia, China moves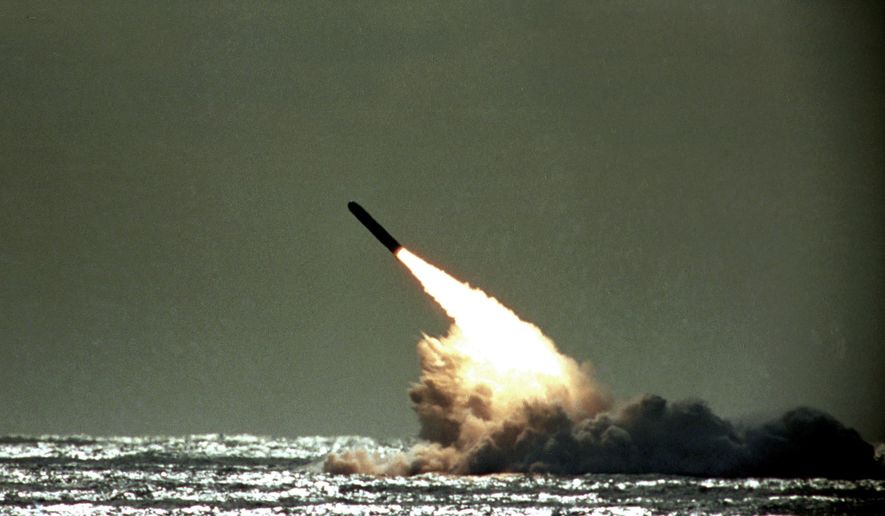 It has been nearly 30 years since the U.S. last tested a nuclear bomb, but the Trump administration and its allies on Capitol Hill are teasing a return while Russia conducts its own secretive underground experiments and China gives deep concerns to the national security community.
The Senate's version of the massive annual National Defense Authorization Act (NDAA) being debated in Congress this month includes $10 million to speed up nuclear weapons tests on American soil if the administration determines they are needed. Such language has met stiff resistance from Senate Democrats and is a nonstarter in the House, where lawmakers instead are seeking an outright ban and warn that any resumption of testing could spark the first post-Cold War nuclear arms race.
Top administration officials last week insisted there are no immediate plans to resume nuclear testing but pointedly would not close the door on the issue. They cited intelligence assessments that Russia had violated the terms of a multinational treaty banning such experiments and argued that the U.S. may need to respond in kind at some point.
---
De Blasio: NYC to Shift $1 Billion From NYPD to Social Services
New York Mayor Bill de Blasio said he's presented a plan to the City Council to shift about $1 billion from the police department to social programs.
The issue, coming a day before the city's June 30 budget deadline, may remove a major obstacle in negotiations because City Council Speaker Corey Johnson has insisted on cutting that amount from the NYPD's $5.9 billion budget.
The mayor proposed a $95 billion budget in January, then reduced it to $89.3 billion in April, as the virus forced a lockdown that removed billions of dollars in tax revenue. His latest budget, he has said, has been pared down to about $87 billion.
---
'Morale is lower with White officers' in wake of George Floyd's death in police custody
The past month has been surreal for Black police officers, who find themselves straddling the line between Black and Blue.
Standing on the front lines with fellow police, they have been pelted with rocks and racial insults from Black Lives Matter protesters who say they don't understand how a Black person can be part of a racist police system.
Black officers say they have always faced greater challenges than White cops, but now they find themselves empathizing with the very protesters who are scorning them.
---
Welcome to the neo-Marxist 'Church of Holy Wokeness'
It's a church that places riots over revivals, conflict over unity
At a Black Lives Matter protest in Cary, North Carolina, a white woman takes to her megaphone. "We repent on behalf of, uh, Caucasian people," she shouts, as she calls upon the crowd to kneel before two Black pastors seated before them on a park bench. Several audibly weep as they bow in obeisance.
At a church in Atlanta, Dan Cathy, CEO of Chick-fil-A, genuflects before a Black colleague while shining his shoes in a ritual atoning for the collective "shame" of being White.
In Washington, D.C., thousands kneel at the foot of a monument to Martin Luther King Jr. in penance for the sins presumed to be endemic to their race. On the streets of New York City, a Black man approaches numerous White women and demands that they bow and apologize for who they are. Dozens comply as he videotapes their confessions.
---
Rioters who burned police stations and businesses may find their nemesis, Trump, reelected
The airwaves are filled these days with experts telling us and each other that America has reached a "tipping point," that public attitudes toward race, crime, the police and even socialism have changed virtually overnight so that issues believed marginal just a few weeks or months ago are now mainstream.
They are certain that we are on the verge of a radical or progressive realignment that will finally, as Barack Obama declared after his election, "fundamentally transform" America.
There are superficial signs that this might be so, but pardon the skepticism of some who have heard it all before. Too many Americans tend to ignore history and its lessons assuming that whatever happened in the past is somehow 1960s was that society was not only in upheaval, but that the young people demonstrating for justice and an end to the war raging in Vietnam were leading a popular movement that would transform the country.
---
" It is discouraging to think how many people are shocked by honesty and how few by deceit."

-- Noel Coward

(1899-1973) British playwright

---

The Medal of Honor is the highest award for valor in action against an enemy force which can be bestowed upon an individual serving in the Armed Services of the United States.

GeneTrerally presented to its recipient by the President of the United States of America in the name of Congress.

The first award of the Medal of Honor was made March 25, 1863 to Private JACOB PARROTT.The last award of the Medal of Honor was made September 15, 2011 to Sergeant DAKOTA MEYER.

Since then there have been: • 3458 recipients of the Medal of Honor.

• Today there are 85 Living Recipients of the Medal of Honor.

Citation


Captain Humbert R. Versace distinguished himself by extraordinary heroism during the period of 29 October 1963 to 26 September 1965, while serving as S-2 Advisor, Military Assistance Advisory Group, Detachment 52, Ca Mau, Republic of Vietnam. While accompanying a Civilian Irregular Defense Group patrol engaged in combat operations in Thoi Binh District, An Xuyen Province, Captain Versace and the patrol came under sudden and intense mortar, automatic weapons, and small arms fire from elements of a heavily armed enemy battalion. As the battle raged, Captain Versace, although severely wounded in the knee and back by hostile fire, fought valiantly and continued to engage enemy targets. Weakened by his wounds and fatigued by the fierce firefight, Captain Versace stubbornly resisted capture by the over-powering Viet Cong force with the last full measure of his strength and ammunition. Taken prisoner by the Viet Cong, he exemplified the tenets of the Code of Conduct from the time he entered into Prisoner of War status. Captain Versace assumed command of his fellow American soldiers, scorned the enemy's exhaustive interrogation and indoctrination efforts, and made three unsuccessful attempts to escape, despite his weakened condition which was brought about by his wounds and the extreme privation and hardships he was forced to endure. During his captivity, Captain Versace was segregated in an isolated prisoner of war cage, manacled in irons for prolonged periods of time, and placed on extremely reduced ration. The enemy was unable to break his indomitable will, his faith in God, and his trust in the United States of America. Captain Versace, an American fighting man who epitomized the principles of his country and the Code of Conduct, was executed by the Viet Cong on 26 September 1965. Captain Versace's gallant actions in close contact with an enemy force and unyielding courage and bravery while a prisoner of war are in the highest traditions of the military service and reflect the utmost credit upon himself and the United States Army.

---

From the Archives

We Have Met the Enemy…
Geoff Metcalf


"They who can give up essential liberty to obtain a little temporary safety deserve neither liberty nor safety.
--Benjamin Franklin
"The American people must be willing to give up a degree of personal privacy in exchange for safety and security."
--Louis Freeh


In the wake of the clamor over the most recent WikiLeaks data dump, 'Vault 7', 'UMBRAGE', et al, it should be noted this is not really anything new. What we are seeing here is simply the evolution of something that goes back to the late 50s (to the incomplete best knowledge I have).

It is kinda cool to finally see even

The New York Times

acknowledging material

I was writing about in 1998

.

In April of 1998 I wrote "Privacy has become an anachronism." I was commenting on "a massive system designed to intercept all your e-mail, fax traffic and more." I was explaining 'Echelon', the illegitimate offspring of a

UKUSA Treaty

signed by the United States, United Kingdom, Canada, Australia and New Zealand. Its purpose was, and is, to have a vast global intelligence monster, which allegedly shares common goals. The system was so "efficient" that reportedly National Security Agency folk from Fort Meade could work from Menwith Hill in England to intercept local communications without either nation having to burden themselves with the formality of seeking approval (a court order) or disclosing the operation. And this was all pre-9/11 and pre-the anti-constitutional

'Patriot Act'

.

It is illegal (without a Judge's signed permission) for the United States to spy on its citizens … kinda. The laws have long been circumvented by a mutual pact among five nations. Under the terms of UKUSA agreement, Britain spies on Americans and America spies on British citizens, and then the two conspirators trade data. A classic technical finesse. It is legal, but the intent to evade the spirit is inescapable.

I often fictionalized the genesis of 'Echelon' as an informal meeting of a group of post war American and British intelligence types drinking in some remote rustic bar. An imagined CIA type complains to his MI6 buddy about the hassles of US laws preventing US intelligence from surveillance of bad guys, and the Brit echoes the same complaint.

"Hey wait a moment mate," says Nigel, the make-believe MI6 guy, "I can spy on your guys and you can spy on our bad players…why don't we just come up with a mechanism whereby we spy on your villains, you spy on our villains, and we just 'share' the intel?"

This system was called ECHELON, and has been kicking around in some form longer than most of you. The result of the UKUSA treaty signed by the United States, United Kingdom, Canada, Australia and New Zealand was, and is, to have a vast global intelligence monster which allegedly shares common goals.

The London Telegraph reported in December of 1997 that the Civil liberties Committee of the European Parliament had officially confirmed the existence and purpose of ECHELON. "A global electronic spy network that can eavesdrop on every telephone, e-mail and telex communication around the world will be officially acknowledged for the first time in a European Commission report. …"

The report noted: "Within Europe all e-mail, telephone and fax communications are routinely intercepted by the United States National Security Agency, transferring ll target information from the Eurv opean mainland via the strategic hub of London, then by satellite to Fort Meade in Maryland via the crucial hub at Menwith Hill, in the North York moors in the UK.

"The ECHELON system forms part of the UKUSA system but unlike many of the electronic spy systems developed during the Cold War, ECHELON was designed primarily for non-military targets: governments, organizations and businesses in virtually every country."

An interesting sidebar appeared in the International Herald Tribune under the headline, "Big Corporate Brother: It Knows More About You Than You Think." The story details Acxiom Corp, which was a humongous information service hidden in the Ozark foothills. Twenty-four hours a day, Acxiom electronically gathered and sorts all kinds of data about 196 million Americans. Credit card transactions and magazine subscriptions, telephone numbers, real estate records, automotive data, hunting, business and fishing licenses, consumer surveys and demographic detail that would make a marketing department's research manager salivate. This relatively new (legal) enterprise was known as "data warehousing" or "data-mining", and it underscores the cruel reality that the fiction of personal privacy has become obsolete. Technology's ability to collect and analyze data has made privacy a quaint albeit interesting dinosaur.

The Tribune reported that "Axciom can often determine whether an American owns a dog or cat, enjoys camping or gourmet cooking, reads the Bible or lots of other books. It can often pinpoint an American's occupation, car and favorite vacations. By analyzing the equivalent of billions of pages of data, it often projects for its customers who should be offered a credit card or who is likely to buy a computer."

Most of this information is from y 1998 piece. Echelon has developed, matured, and morphed into a much more powerful hybrid. 'Carnivore' was software to help triage the cacophony of data. Vault 7 and 'Umbrage' are logical (some would argue "insidious") growth.

More to follow…