"It Is Not A Question of Who Is Right Or Wrong But What Is Right Or Wrong That Counts.

"

--Geoff Metcalf
Providing an on line Triage of the news since 1997



Wo

rld & Nation
Gun background checks jump 79% in July amid coronavirus, rioting fears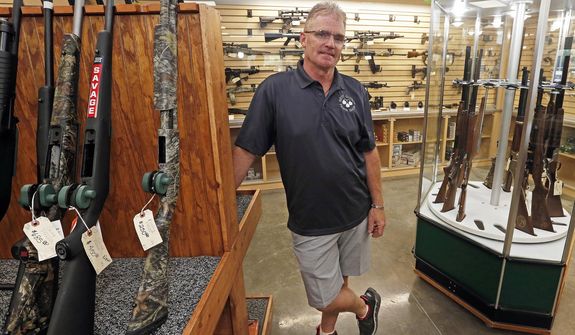 Gun background checks surged 79% in July compared to last year amid national unrest, protests and rioting, according to data released Monday by the FBI.

The bureau ran more than 3.6 million checks through the National Instant Criminal Background Check System (NICS) last month — a 79% increase compared to July 2019.

The 3.6 million figure is the third-highest monthly total ever recorded, behind the 3.9 million checks in June and the 3.7 million checks in March.


---
Base politics: U.S. struggles to preserve access to Diego Garcia
British claim to control key Indian Ocean base facing serious challenge
It has been described as the most strategically vital U.S. military installation in the world, but the Diego Garcia air base is at the center of a bitter geopolitical fight over colonialism, national security and human rights, a fight that has pitted Washington and London against virtually the rest of the world.
The base, named for the largest island in the Chagos Archipelago in the remote waters of the Indian Ocean, sits on land claimed by the British and leased to the U.S. government for the sole purpose of operating a military base. The United Kingdom separated the islands from Mauritius, a former British colony, three years before Mauritius gained its independence in 1968.
Diego Garcia is now a part of the British Indian Ocean Territory, which critics paint as a vestige of the United Kingdom's colonial past.
---
Trump Rips Nevada's Vote-by-Mail Plan: 'Illegal Late Night Coup'
President Donald Trump accused Nevada's "clubhouse governor" of staging an "illegal late night coup" after the state approved a plan to hold the November election mostly through the mail.
The morning after the Nevada legislature passed the measure, Trump tweeted Monday morning, "In an illegal late night coup, Nevada's clubhouse Governor made it impossible for Republicans to win the state. Post Office could never handle the Traffic of Mail-In Votes without preparation. Using Covid to steal the state. See you in Court!"
According to the Reno Gazette Journal, the Nevada plan was one of the top priorities for the state's Gov. Steve Sisolak.
Trump's tweet was in response to Republican National Committee Chairwoman Ronna McDaniel's reaction to the voting plan.
---
Birx: US Entering New Phase as Virus Becomes More 'Widespread'
U.S. cases rose by 58,908, the least in five days, according to data compiled by Bloomberg and Johns Hopkins University. Deaths increased by 946, rising by less than 1,000 for the first time in five days. White House coronavirus task force coordinator Deborah Birx cautioned that the virus is "extraordinarily widespread."
Birx warned all Americans to take the virus seriously, saying it's now spreading rapidly across rural and urban areas.
"What we are seeing today is different from March and April. It is extraordinarily widespread. It's into the rural as equal urban areas," Birx told CNN's Dana Bash on "State of the Union."
America is on the move during the summer vacation season and people need to recognize the risks, including protecting vulnerable people when they come home, Birx said on CNN's "State of the Union."
---
SpaceX capsule and NASA crew make 1st splashdown in 45 years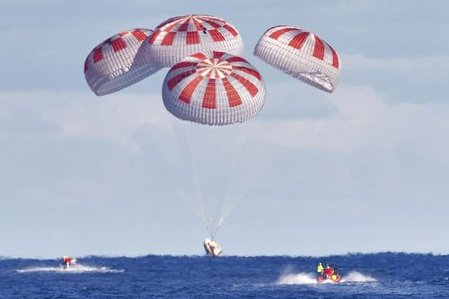 Two NASA astronauts returned to Earth on Sunday in a dramatic, retro-style splashdown, their capsule parachuting into the Gulf of Mexico to close out an unprecedented test flight by Elon Musk's SpaceX company.
It was the first splashdown by U.S. astronauts in 45 years, with the first commercially built and operated spacecraft to carry people to and from orbit. The return clears the way for another SpaceX crew launch as early as next month and possible tourist flights next year.
Test pilots Doug Hurley and Bob Behnken arrived back on Earth in their SpaceX Dragon capsule named Endeavour, less than a day after departing the International Space Station and two months after blasting off from Florida. The capsule parachuted into the calm gulf waters about 40 miles off the coast of Pensacola, hundreds of miles from Tropical Storm Isaias pounding Florida's Atlantic coast.
---
Joe Biden is 'empty vessel of the radical left,' Trump campaign manager says
Bill Stepien, President Trump's campaign manager, on Monday cast presumptive Democratic presidential nominee Joseph R. Biden as "an empty vessel of the radical left" and said Mr. Trump is on solid footing in the campaign's internal polling.
"I think you need to judge Joe Biden by the people he's surrounding himself with," Mr. Stepien said on "Fox & Friends."
He said Mr. Biden has "kowtowed to the radical left."
---
Heir apparent: Would-be Biden running mates sprint to veepstakes finish
Karen Bass, Tammy Duckworth hit 'Fox News Sunday' as Kamala Harris, Val Demings win endorsements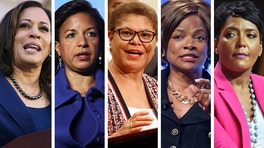 Democratic vice-presidential hopefuls sprinted for the finish Sunday as the 2020 veepstakes entered the home stretch in what could be the most crucial running-mate selection since World War II.
Not since 1944, when an ailing President Franklin Delano Roosevelt dumped incumbent Vice President Henry Wallace and selected Sen. Harry S. Truman as his second-in-command, has the decision been so widely viewed as the choosing of an heir apparent, given former Vice President Joseph R. Biden's age and the open speculation surrounding his cognitive abilities.
"It is consequential in that for Joe Biden, his VP pick is in many ways his political living will," said Trump senior campaign adviser Jason Miller on "Fox News Sunday." "He's already said he's going to be a transition candidate for the next generation. He's refused to say whether he'll run again. So it really does matter who is picked."
With the 77-year-old Mr. Biden expected to undertake final one-on-one interviews this week, Rep. Karen Bass of California and Sen. Tammy Duckworth of Illinois proved their mettle by braving appearances on "Fox News Sunday" with Chris Wallace, a notoriously tough interviewer.
---
Biden's delay in announcing running mate intensifies jockeying between potential picks
Presumptive Democratic nominee Joe Biden has extended his vice-presidential search by as much as two weeks, intensifying the jockeying and lobbying between allies of the women who hope to join his White House. Even some longtime Biden allies worry that the process has become "messier than it should be," pitting women, especially Black women, against one another.
The dynamic threatens to undermine Biden's effort to use the vice-presidential search to spotlight some of the party's brightest female stars during the highly public vetting process. And it's already providing President Donald Trump's campaign an opening to dig up dirt and launch attacks on potential rivals.
"It's been relentless. It's been unfortunate. But I must say it's been predictable," said Donna Brazile, a former interim chair of the Democratic National Committee. "It's extremely disappointing, because many of these attacks . . . are being made by Democratic men who should know better."
---
Clinton accuser burned personal journal; kept infamous photo of Prince Andrew
Virginia Giuffre, a prime accuser of Jeffrey Epstein and partner Ghislaine Maxwell, testified four years ago that she had kept a detailed journal of her forced role in the two's global sex trafficking, but then she burned it in a backyard bonfire.
Ms. Giuffre said Ms. Maxwell recruited her in the late 1990s when she was 16 and introduced her to Epstein at Donald Trump's Mar-a-Lago country club in Palm Beach, Florida. She said Epstein and Ms. Maxwell groomed her for a life of global-trotting sexual encounters.
In recent years, Ms. Giuffre, now 36, made sensational allegations about her encounters. She said they included Britain's Prince Andrew, former Epstein counsel Alan Dershowitz, former Ambassador to the United Nations Bill Richardson and former Sen. George Mitchell of Maine. She also said she saw former President Bill Clinton at Epstein's private Caribbean island where underage girls frolicked.
Mr. Dershowitz adamantly denies the claim and has sued Ms. Giuffre. He told Fox News host Tucker Carlson on Friday night that Ms. Giuffre is making up stories in an attempt to get money.
---
Seattle City Council move to abolish police department with new bill
Seattle lawmakers want to abolish the city's police force and replace it with a "community-led" safety prevention program, according to proposed legislation released Friday.
Arguing that the Seattle Police Department "perpetuates racism and violence" and upholds "white supremacy culture," the Seattle City Council moved to redirect cash to a non-profit, civilian-led "Department of Community Safety & Violence Prevention" — and offered a "blueprint" on how to defund the police, according to the resolution.
Under the bill, cops would be replaced by "community-led activities" and organizations focused on "housing, food security, and other basic needs" along with "culturally-relevant expertise rooted in community connections," according to documents posted by Christopher Rufo, Director of Discovery Institute's Center on Wealth & Poverty.
---
Doctor goes on offensive after coordinated attacks on hydroxychloroquine
Dr. James Todaro stood on the steps of the Supreme Court last week to join fellow doctors in touting hydroxychloroquine as a viable early-stage treatment for those who contract the coronavirus — and says he was stunned by the backlash.
Video of the doctors triggered the internet, with Twitter pulling down tweets that showed clips of the event, even suspending the account of presidential son Donald Trump Jr., insisting that the doctors and anyone on social media who backed them were spreading bad medicine amid the pandemic.
"I've never seen so many different institutional levels attack," said Dr. Todaro, a former physician turned investment manager with Blocktown Capital. "It seems like a coordinated effort to discredit hydroxychloroquine."
---
Why Biden's VP pick will matter so much
Civil wars, vice presidents and mentally teetering candidates
There is a good reason why former Vice President Joe Biden's looming selection of a running mate has become so freighted with emotion and expectation, and it is not just that the Democratic presidential nominee is not, shall we say, entirely and always there.
The anticipation is heightened because this will be Mr. Biden's first personnel selection for an administration that is likely to be marked by a difficult and durable civil war over its ideological preferences.
For most Americans, this vice presidential selection is more important than usual because they understand and even sometimes have witnessed that Mr. Biden appears to be in the midst of an unfortunate cognitive decline. This concern is enhanced by the equally clear understanding that most of the media, which vote for and prefer Democrats, have a vested interest in not covering the actual extent of the decline. There is nothing censurable with having an opinion — but it is wrong to pretend that you don't.
---
Liberal media blurs cost of ongoing Black Lives Matter/Antifa race riots
We must never forget the reality of the Democrats' experiment in street justice
The Chinese Communist coronavirus isn't the only epidemic in the land.
America's news media are suffering mass amnesia, stuffing down a memory hole the extent of destruction from the ongoing Black Lives Matter/Antifa race riots.
Apart from lots of happy stories depicting the whole country kneeling to the BLM's anti-White, Marxist demands, you won't see much about the real costs.
---
" It is discouraging to think how many people are shocked by honesty and how few by deceit."

-- Noel Coward

(1899-1973) British playwright

---

The Medal of Honor is the highest award for valor in action against an enemy force which can be bestowed upon an individual serving in the Armed Services of the United States.

GeneTrerally presented to its recipient by the President of the United States of America in the name of Congress.

The first award of the Medal of Honor was made March 25, 1863 to Private JACOB PARROTT.The last award of the Medal of Honor was made September 15, 2011 to Sergeant DAKOTA MEYER.

Since then there have been: • 3458 recipients of the Medal of Honor.

• Today there are 85 Living Recipients of the Medal of Honor.

Citation


Captain Humbert R. Versace distinguished himself by extraordinary heroism during the period of 29 October 1963 to 26 September 1965, while serving as S-2 Advisor, Military Assistance Advisory Group, Detachment 52, Ca Mau, Republic of Vietnam. While accompanying a Civilian Irregular Defense Group patrol engaged in combat operations in Thoi Binh District, An Xuyen Province, Captain Versace and the patrol came under sudden and intense mortar, automatic weapons, and small arms fire from elements of a heavily armed enemy battalion. As the battle raged, Captain Versace, although severely wounded in the knee and back by hostile fire, fought valiantly and continued to engage enemy targets. Weakened by his wounds and fatigued by the fierce firefight, Captain Versace stubbornly resisted capture by the over-powering Viet Cong force with the last full measure of his strength and ammunition. Taken prisoner by the Viet Cong, he exemplified the tenets of the Code of Conduct from the time he entered into Prisoner of War status. Captain Versace assumed command of his fellow American soldiers, scorned the enemy's exhaustive interrogation and indoctrination efforts, and made three unsuccessful attempts to escape, despite his weakened condition which was brought about by his wounds and the extreme privation and hardships he was forced to endure. During his captivity, Captain Versace was segregated in an isolated prisoner of war cage, manacled in irons for prolonged periods of time, and placed on extremely reduced ration. The enemy was unable to break his indomitable will, his faith in God, and his trust in the United States of America. Captain Versace, an American fighting man who epitomized the principles of his country and the Code of Conduct, was executed by the Viet Cong on 26 September 1965. Captain Versace's gallant actions in close contact with an enemy force and unyielding courage and bravery while a prisoner of war are in the highest traditions of the military service and reflect the utmost credit upon himself and the United States Army.

---

From the Archives

We Have Met the Enemy…
Geoff Metcalf


"They who can give up essential liberty to obtain a little temporary safety deserve neither liberty nor safety.
--Benjamin Franklin
"The American people must be willing to give up a degree of personal privacy in exchange for safety and security."
--Louis Freeh


In the wake of the clamor over the most recent WikiLeaks data dump, 'Vault 7', 'UMBRAGE', et al, it should be noted this is not really anything new. What we are seeing here is simply the evolution of something that goes back to the late 50s (to the incomplete best knowledge I have).

It is kinda cool to finally see even

The New York Times

acknowledging material

I was writing about in 1998

.

In April of 1998 I wrote "Privacy has become an anachronism." I was commenting on "a massive system designed to intercept all your e-mail, fax traffic and more." I was explaining 'Echelon', the illegitimate offspring of a

UKUSA Treaty

signed by the United States, United Kingdom, Canada, Australia and New Zealand. Its purpose was, and is, to have a vast global intelligence monster, which allegedly shares common goals. The system was so "efficient" that reportedly National Security Agency folk from Fort Meade could work from Menwith Hill in England to intercept local communications without either nation having to burden themselves with the formality of seeking approval (a court order) or disclosing the operation. And this was all pre-9/11 and pre-the anti-constitutional

'Patriot Act'

.

It is illegal (without a Judge's signed permission) for the United States to spy on its citizens … kinda. The laws have long been circumvented by a mutual pact among five nations. Under the terms of UKUSA agreement, Britain spies on Americans and America spies on British citizens, and then the two conspirators trade data. A classic technical finesse. It is legal, but the intent to evade the spirit is inescapable.

I often fictionalized the genesis of 'Echelon' as an informal meeting of a group of post war American and British intelligence types drinking in some remote rustic bar. An imagined CIA type complains to his MI6 buddy about the hassles of US laws preventing US intelligence from surveillance of bad guys, and the Brit echoes the same complaint.

"Hey wait a moment mate," says Nigel, the make-believe MI6 guy, "I can spy on your guys and you can spy on our bad players…why don't we just come up with a mechanism whereby we spy on your villains, you spy on our villains, and we just 'share' the intel?"

This system was called ECHELON, and has been kicking around in some form longer than most of you. The result of the UKUSA treaty signed by the United States, United Kingdom, Canada, Australia and New Zealand was, and is, to have a vast global intelligence monster which allegedly shares common goals.

The London Telegraph reported in December of 1997 that the Civil liberties Committee of the European Parliament had officially confirmed the existence and purpose of ECHELON. "A global electronic spy network that can eavesdrop on every telephone, e-mail and telex communication around the world will be officially acknowledged for the first time in a European Commission report. …"

The report noted: "Within Europe all e-mail, telephone and fax communications are routinely intercepted by the United States National Security Agency, transferring ll target information from the Eurv opean mainland via the strategic hub of London, then by satellite to Fort Meade in Maryland via the crucial hub at Menwith Hill, in the North York moors in the UK.

"The ECHELON system forms part of the UKUSA system but unlike many of the electronic spy systems developed during the Cold War, ECHELON was designed primarily for non-military targets: governments, organizations and businesses in virtually every country."

An interesting sidebar appeared in the International Herald Tribune under the headline, "Big Corporate Brother: It Knows More About You Than You Think." The story details Acxiom Corp, which was a humongous information service hidden in the Ozark foothills. Twenty-four hours a day, Acxiom electronically gathered and sorts all kinds of data about 196 million Americans. Credit card transactions and magazine subscriptions, telephone numbers, real estate records, automotive data, hunting, business and fishing licenses, consumer surveys and demographic detail that would make a marketing department's research manager salivate. This relatively new (legal) enterprise was known as "data warehousing" or "data-mining", and it underscores the cruel reality that the fiction of personal privacy has become obsolete. Technology's ability to collect and analyze data has made privacy a quaint albeit interesting dinosaur.

The Tribune reported that "Axciom can often determine whether an American owns a dog or cat, enjoys camping or gourmet cooking, reads the Bible or lots of other books. It can often pinpoint an American's occupation, car and favorite vacations. By analyzing the equivalent of billions of pages of data, it often projects for its customers who should be offered a credit card or who is likely to buy a computer."

Most of this information is from y 1998 piece. Echelon has developed, matured, and morphed into a much more powerful hybrid. 'Carnivore' was software to help triage the cacophony of data. Vault 7 and 'Umbrage' are logical (some would argue "insidious") growth.

More to follow…