"It Is Not A Question of Who Is Right Or Wrong But What Is Right Or Wrong That Counts.

"

--Geoff Metcalf
Providing an on line Triage of the news since 1997
Wo
rld & Nation
Colin Powell, former secretary of state, dies of COVID-19 complications, was fully vaccinated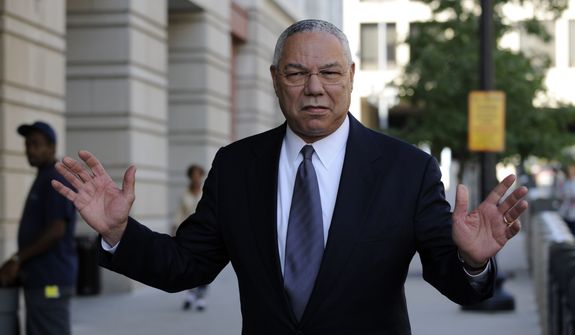 Colin L. Powell, the first Black secretary of state and a key figure in Republican administrations, died Monday of complications from COVID-19, his family said.
The 84-year-old's family announced the news on Facebook, saying he was "fully vaccinated."
"We have lost a remarkable and loving husband, father, grandfather and a great American," the family said on Facebook about the retired four-star Army general.
Former President George W. Bush said he and former first lady Laura Bush were "deeply saddened" by Powell's death.
---
Bidens blasted for violating D.C. mask mandate at upscale Georgetown restaurant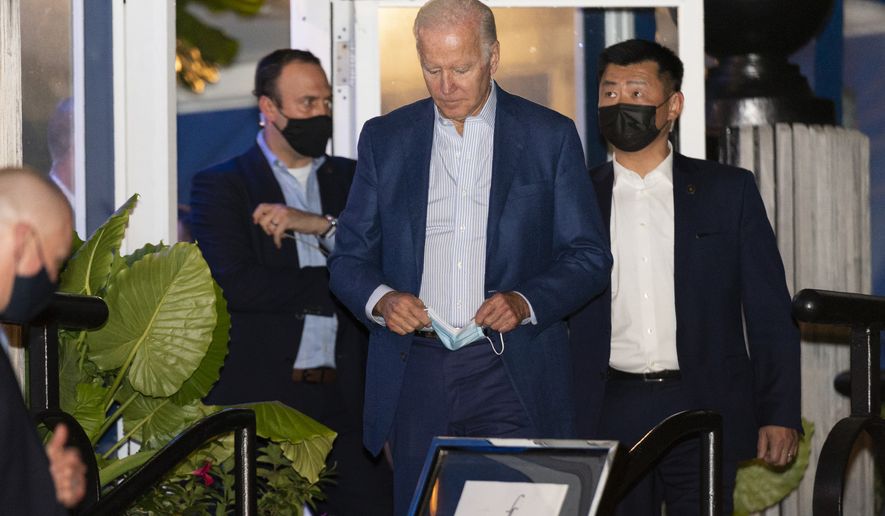 President Biden is being accused of hypocrisy for failing to wear a mask Saturday at a swanky Georgetown restaurant in an apparent violation of the District's rules on facial coverings.
Mr. Biden and first lady Jill Biden were caught on video walking maskless through the Fiola Mare alongside masked Secret Service agents, even though the District's reinstated mandate requires facial coverings at indoor public settings for everyone over the age of 2.
Among those posting the video was the Republican National Committee, which tweeted, "WATCH: Joe Biden walks through an expensive Washington, D.C. restaurant without a mask, violating D.C.'s mask mandate."
---
Supreme Court sides with officers in two qualified immunity disputes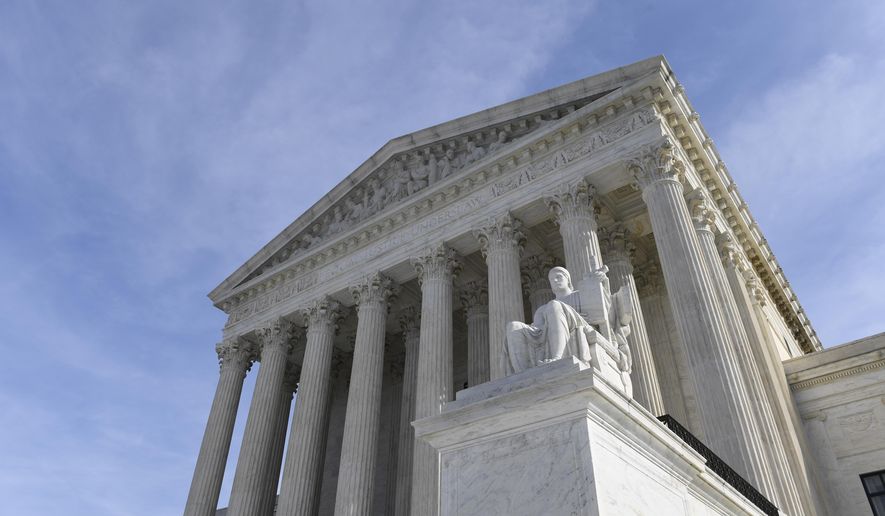 The Supreme Court sided Monday with police officers in two separate disputes over cases involving qualified immunity, which protects officers from civil lawsuits so long as they acted reasonably.
In one dispute involving an ex-husband who was intoxicated in his former wife's garage, the court unanimously said officers acted within the law when they shot and killed the man.
He had obtained a hammer from the back of the garage and approached officers in a manner suggesting he was going to swing or throw it at them.
---
Biden Team Asks Supreme Court to Halt Texas Abortion Law
The Biden administration is asking the Supreme Court to block the Texas law banning most abortions, while the fight over the measure's constitutionality plays out in the courts.
The law has been in effect since September, aside from a district court-ordered pause that lasted just 48 hours, and bans abortions once cardiac activity is detected, usually around six weeks and before some women know they are pregnant.
The Justice Department asked the high court Monday to lift an order imposed by a conservative federal appeals court that has allowed Texas to continue enforcing the nation's strictest curbs on abortion through a novel law that was written to make it hard to challenge in the federal court system. The department had announced its intentions last Friday.
---
Dems Growing Concerned Biden Cannot Unite His Own Party
President Joe Biden had pitched himself as the uniter in chief, but his failing to bring even his own party together to pass a budget has Democrats wanting him to be more aggressive than passive.
"The reality right now is that a lot of people are saying, 'Where's Joe Biden? This is his agenda, why isn't he more involved in the negotiations?'" a House Democrat told CNN.
A failure to move big-ticket spending items is one thing, but even failing to agree on what the size and scope of the budget should be is leading some to question whether Biden can live up to his campaign promise to prove government can work.
---
Haiti gang kidnaps US missionary group, including children
The missionaries were on their way home from building an orphanage, according to Ohio-based Christian Aid Ministries
A group of 17 U.S. missionaries including children was kidnapped by a gang in Haiti on Saturday, according to a voice message sent to various religious missions by an organization with direct knowledge of the incident.
The missionaries were on their way home from building an orphanage, according to a message from Ohio-based Christian Aid Ministries.
"This is a special prayer alert," the one-minute message said. "Pray that the gang members would come to repentance."
The message says the mission's field director is working with the U.S. Embassy, and that the field director's family and one other unidentified man stayed at the ministry's base while everyone else visited the orphanage.
---
Chinese nuclear-capable hypersonic missile test surprises US intelligence: Report
The weapon is far more advanced than what US officials had anticipated
China tested a nuclear-capable hypersonic missile in a move that caught U.S. intelligence by surprise, according to a new report.
The missile launched in August and circled the globe before speeding towards its target, which it missed by about two-dozen miles according to three individuals briefed on the intelligence. Two of those individuals said the test showed how far China has progressed on hypersonic weaponry – farther that U.S. officials realized.
Taylor Fravel, an expert on Chinese nuclear weapons and professor at MIT, said it would be "destabilizing" if China fully developed and deployed such a weapon.
---
Pompeo accuses China of 'deep' subversion of the United States
Warns foreign investment by state pension funds are fueling Chinese weapons of war
China's Communist Party is engaged in aggressive influence and intelligence operations inside the United States, targeting federal, state and local governments, according to former Secretary of State Mike Pompeo.
Mr. Pompeo said that during his 1,000 days as secretary of state under former President Trump, he declassified an intelligence report that revealed how Beijing was targeting state governors in a bid to influence their policies in favor of China.
The former secretary of state, who appears readying a run for president in 2024, outlined what he called the successes of the major shift in U.S. policies toward China during the Trump administration, reversing decades of conciliatory polices of successive Republican and Democratic administrations.
---
Manchin lays down demands for child tax credit: report
Sen. Joe Manchin (D-W.Va.) has reportedly laid down new red lines for the Democrats' multitrillion-dollar reconciliation bill, this time making demands regarding the expanded child tax credit provision.
Axios reported on Sunday, citing people familiar with the matter, that Manchin informed the White House that the child tax credit must have an "established work" requirement and a family income limit in the $60,000 range if Democrats want his vote for the package.
Those demands, Axios noted, would significantly weaken the child tax credit, which is one of President Biden's key programs to assist working families. It would also bring down the price tag of the spending bill, which Manchin and fellow moderate Sen. Kyrsten Sinema (D-Ariz.) have both said is too high.
Progressives, however, are unlikely to get on board with the scaled-back version of the child tax credit, according to Axios.
---
Rising prices and empty store shelves spell danger for Biden and Democrats
Joe Biden's struggle to make America normal again after the pandemic is proving to be far more protracted and complicated than first thought, which has enormous political implications for the President and his party.
An admission by Transportation Secretary Pete Buttigieg on CNN Sunday that supply chain backups, which are having a corrosive impact on the wider economy, will linger into next year further underscored a tough midterm election environment for Democrats. There is only limited action Biden can take to get containers stacked up at ports out into the country, meaning the situation is causing a real headache for the White House.
When Americans head into stores and see bacon has doubled in price, or when they cannot buy the gifts they want heading into the holiday season, Biden and Democrats are likely to get the blame in next month's elections and in 2022. The cost of living -- along with gasoline that is now averaging $3.32 a gallon nationwide, according to the American Automobile Association -- provides an opening for Republicans to argue that the Biden presidency is a failure. Rising discontent also fits neatly into the narrative of decay and national humiliation that Donald Trump is painting as he prepares the ground for a likely presidential campaign for 2024. On Sunday, for instance, the ex-President sent out a fundraising email that noted "prices soaring."
---
Lawmakers question whether Amazon misled congressional panel about its business practices
Members of a congressional panel are questioning whether Amazon executives misled them in testimony about their business practices and have given the company two weeks to provide documentation supporting their statements, according to a letter lawmakers sent the tech giant.
The letter dated Monday and addressed to chief executive Andy Jassy asked Amazon for "exculpatory evidence" to corroborate testimony its executives, including founder Jeff Bezos, provided to the House Judiciary Committee's antitrust panel regarding the use of data from third-party sellers. Otherwise, they said, the matter may be referred to the Justice Department for criminal investigation. (Bezos owns The Washington Post.)
"At best, this reporting confirms that Amazon's representatives misled the Committee," Reps. Jerrod Nadler (D-N.Y.), Ken Buck (R-Colo.), Pramila Jayapal (D-Wash.), David N. Cicilline (D-R.I.) and Matt Gaetz (R-Fla.) said in the letter. "At worst, it demonstrates that they may have lied to Congress."
---
Jerome Powell Sold More Than a Million Dollars of Stock as the Market Was Tanking
Disclosure documents reveal that the spectacle of Fed officials personally trading stocks extended to the chair himself.
Federal Reserve Chairman Jerome Powell sold between $1 million and $5 million worth of stock from his personal account on October 1, 2020, according to disclosure forms reviewed by the Prospect. Powell's sale of shares from a Vanguard Total Stock Market Index Fund has not been previously reported. This sale occurred right before the Dow Jones Industrial Average suffered a significant drop.
A Fed media relations spokesperson was not available for comment. We will report on any Fed statement on Powell's trades.
Three other senior Fed officials have faced serious criticism for making stock trades during the pandemic. Dallas Fed President Robert Kaplan and Boston Fed President Eric Rosengren were compelled to take early retirements as a result of the disclosure of their trades. Fed Vice Chair Richard Clarida also came under fire for stock trading. The other trades are now the subject of investigations by the Fed's own inspector general and the SEC.
---
More Top News
---
America's strength doesn't reside in the system, it resides in the people
Most of the public discourse in this country is about what is wrong, what needs fixing. This is as it should be. Things that are going well should be mostly left alone.
Everyone once in a while, however, it is worth thinking about what makes this nation great.
To my mind, what makes America great is her people, the ordinary everyday people who do the work that God and fate have assigned them as best they can and without too many complaints. The strength of the nation resides almost entirely in the men and women who seek no greater titles than "dad" or "mom" or who work at or own one of the 30 million businesses in the United States or who wear their nation's uniform or who serve in its governments.
---
Virginia gave us the American Revolution and may do so again
A win for Republicans would be a blow to Democrats socialist-driven agenda
Over the next three weeks, Virginia will be Ground Zero in the resistance movement to take back America from a socialist-dominated Democrat Party.
A victory for liberty in the Old Dominion would be fitting, given that the colony played a central part in the American Revolution 245 years ago. That's when Thomas Jefferson's draft of the Declaration of Independence listing unalienable rights granted by the Creator –not men – was adopted by the Continental Congress.
America became America because God-fearing Virginia patriots such as Jefferson, George Washington, James Madison, George Mason, and others hammered out limits on government to ensure maximum freedom under the law.
---
" It is discouraging to think how many people are shocked by honesty and how few by deceit."

-- Noel Coward

(1899-1973) British playwright

---

The Medal of Honor is the highest award for valor in action against an enemy force which can be bestowed upon an individual serving in the Armed Services of the United States.

GeneTrerally presented to its recipient by the President of the United States of America in the name of Congress.

The first award of the Medal of Honor was made March 25, 1863 to Private JACOB PARROTT.The last award of the Medal of Honor was made September 15, 2011 to Sergeant DAKOTA MEYER.

Since then there have been: • 3458 recipients of the Medal of Honor.

• Today there are 85 Living Recipients of the Medal of Honor.

Citation


Captain Humbert R. Versace distinguished himself by extraordinary heroism during the period of 29 October 1963 to 26 September 1965, while serving as S-2 Advisor, Military Assistance Advisory Group, Detachment 52, Ca Mau, Republic of Vietnam. While accompanying a Civilian Irregular Defense Group patrol engaged in combat operations in Thoi Binh District, An Xuyen Province, Captain Versace and the patrol came under sudden and intense mortar, automatic weapons, and small arms fire from elements of a heavily armed enemy battalion. As the battle raged, Captain Versace, although severely wounded in the knee and back by hostile fire, fought valiantly and continued to engage enemy targets. Weakened by his wounds and fatigued by the fierce firefight, Captain Versace stubbornly resisted capture by the over-powering Viet Cong force with the last full measure of his strength and ammunition. Taken prisoner by the Viet Cong, he exemplified the tenets of the Code of Conduct from the time he entered into Prisoner of War status. Captain Versace assumed command of his fellow American soldiers, scorned the enemy's exhaustive interrogation and indoctrination efforts, and made three unsuccessful attempts to escape, despite his weakened condition which was brought about by his wounds and the extreme privation and hardships he was forced to endure. During his captivity, Captain Versace was segregated in an isolated prisoner of war cage, manacled in irons for prolonged periods of time, and placed on extremely reduced ration. The enemy was unable to break his indomitable will, his faith in God, and his trust in the United States of America. Captain Versace, an American fighting man who epitomized the principles of his country and the Code of Conduct, was executed by the Viet Cong on 26 September 1965. Captain Versace's gallant actions in close contact with an enemy force and unyielding courage and bravery while a prisoner of war are in the highest traditions of the military service and reflect the utmost credit upon himself and the United States Army.

---

From the Archives

We Have Met the Enemy…
Geoff Metcalf


"They who can give up essential liberty to obtain a little temporary safety deserve neither liberty nor safety.
--Benjamin Franklin
"The American people must be willing to give up a degree of personal privacy in exchange for safety and security."
--Louis Freeh


In the wake of the clamor over the most recent WikiLeaks data dump, 'Vault 7', 'UMBRAGE', et al, it should be noted this is not really anything new. What we are seeing here is simply the evolution of something that goes back to the late 50s (to the incomplete best knowledge I have).

It is kinda cool to finally see even

The New York Times

acknowledging material

I was writing about in 1998

.

In April of 1998 I wrote "Privacy has become an anachronism." I was commenting on "a massive system designed to intercept all your e-mail, fax traffic and more." I was explaining 'Echelon', the illegitimate offspring of a

UKUSA Treaty

signed by the United States, United Kingdom, Canada, Australia and New Zealand. Its purpose was, and is, to have a vast global intelligence monster, which allegedly shares common goals. The system was so "efficient" that reportedly National Security Agency folk from Fort Meade could work from Menwith Hill in England to intercept local communications without either nation having to burden themselves with the formality of seeking approval (a court order) or disclosing the operation. And this was all pre-9/11 and pre-the anti-constitutional

'Patriot Act'

.

It is illegal (without a Judge's signed permission) for the United States to spy on its citizens … kinda. The laws have long been circumvented by a mutual pact among five nations. Under the terms of UKUSA agreement, Britain spies on Americans and America spies on British citizens, and then the two conspirators trade data. A classic technical finesse. It is legal, but the intent to evade the spirit is inescapable.

I often fictionalized the genesis of 'Echelon' as an informal meeting of a group of post war American and British intelligence types drinking in some remote rustic bar. An imagined CIA type complains to his MI6 buddy about the hassles of US laws preventing US intelligence from surveillance of bad guys, and the Brit echoes the same complaint.

"Hey wait a moment mate," says Nigel, the make-believe MI6 guy, "I can spy on your guys and you can spy on our bad players…why don't we just come up with a mechanism whereby we spy on your villains, you spy on our villains, and we just 'share' the intel?"

This system was called ECHELON, and has been kicking around in some form longer than most of you. The result of the UKUSA treaty signed by the United States, United Kingdom, Canada, Australia and New Zealand was, and is, to have a vast global intelligence monster which allegedly shares common goals.

The report noted: "Within Europe all e-mail, telephone and fax communications are routinely intercepted by the United States National Security Agency, transferring ll target information from the Eurv opean mainland via the strategic hub of London, then by satellite to Fort Meade in Maryland via the crucial hub at Menwith Hill, in the North York moors in th UK.

"The ECHELON system forms part of the UKUSA system but unlike many of the electronic spy systems developed during the Cold War, ECHELON was designed primarily for non-military targets: governments, organizations and businesses in virtually every country."

An interesting sidebar appeared in the International Herald Tribune under the headline, "Big Corporate Brother: It Knows More About You Than You Think." The story details Acxiom Corp, which was a humongous information service hidden in the Ozark foothills. Twenty-four hours a day, Acxiom electronically gathered and sorts all kinds of data about 196 million Americans. Credit card transactions and magazine subscriptions, telephone numbers, real estate records, automotive data, hunting, business and fishing licenses, consumer surveys and demographic detail that would make a marketing department's research manager salivate. This relati vely new (legal) enterprise was known as "data warehousing" or "data-mining", and it underscores the cruel reality that the fiction of personal privacy has become obsolete. Technology's ability to collect and analyze data has made privacy a quaint albeit interesting dinosaur.

The Tribune reported that "Axciom can often determine whether an American owns a dog or cat, enjoys camping or gourmet cooking, reads the Bible or lots of other books. It can often pinpoint an American's occupation, car and favorite vacations. By analyzing the equivalent of billions of pages of data, it often projects for its customers who should be offered a credit card or who is likely to buy a computer."

Most of this information is from y 1998 piece. Echelon has developed, matured, and morphed into a much more powerful hybrid. 'Carnivore' was software to help triage the cacophony of data. Vault 7 and 'Umbrage' are logical (some would argue "insidious") growth.

More to follow…