Monday June 19th, 2017
"It Is Not A Question of Who Is Right Or Wrong But What Is Right Or Wrong That Counts.
"
--Geoff Metctalf
---
Updated
hrs

Wo
rld & National
"The Press was protected so that it could bare the secrets of the government and inform the people. Only a free and unrestrained press can effectively expose deception in government. And paramount among the responsibilities of a free press is the duty to prevent any part of the government from deceiving the people."
-- Justice Hugo L. Black
(1886-1971) US Supreme Court Justice


Russia cuts communications with U.S. in Syria
Threatens to target coalition jets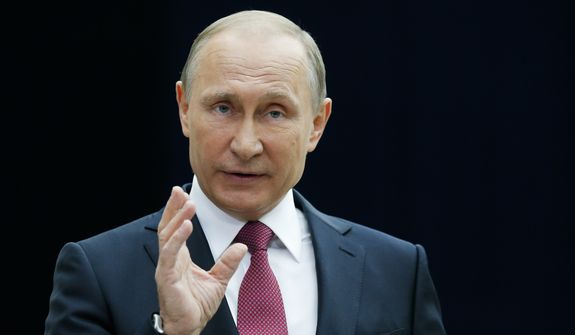 Russia has shut down a vital communication line with its U.S. counterparts in Syria, threatening to target any aircraft operating above Russian and Syrian regime-controlled territory in the country.
Moscow outlined the changes in Syria war policy via a terse statement by officials from the Russian Ministry of Defense released Monday, local news reports state. The moves were taken in response to Sunday's shoot-down of a Syrian military aircraft by a U.S. fighter.
The shoot-down took place near the Syrian town of Ja'Din, located south of Tabqa dam, the coalition's main logistics and air support hub for the ongoing assault to drive the terror group known as ISIS or ISIL from their self-styled capital of Raqqa, says a Pentagon statement.
---
U.S. warplane shots down Syrian jet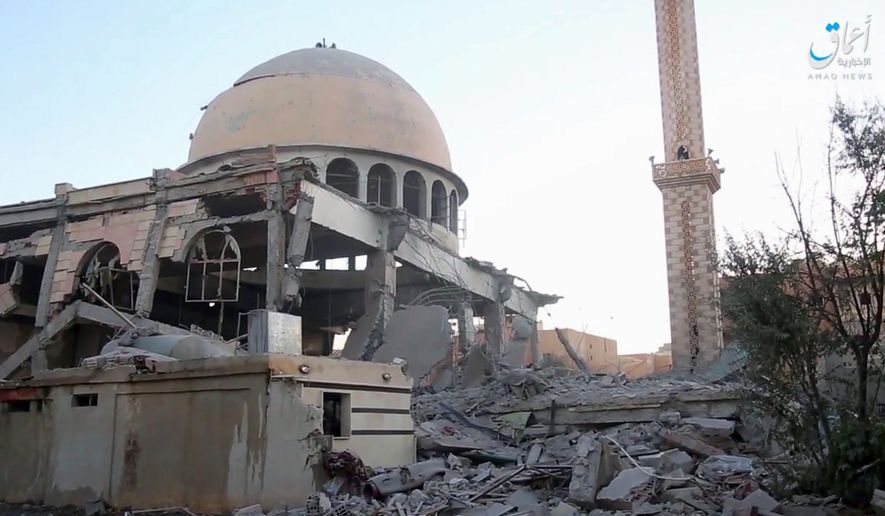 The convoluted war zone in Syria grew more complicated Sunday with the downing of a government warplane by an American jet defending U.S.-backed coalition forces battling the Islamic State and, for the first time, direct action against the insurgent terror group by Iran, which fired ballistic missiles at Islamic State targets in Syria.
The American shootdown of the Syrian jet took place near the Syrian town of Ja'Din, located south of Tabqa dam, the coalition's main logistics and air support hub for the ongoing assault to drive the terror group also known as ISIS or ISIL from their self-styled capital of Raqqa, according to a Pentagon statement.
---
Man plows van into crowd by London Mosque
1 dead and 10 injured
In an attack that British Muslims say was aimed directly at them, a man plowed a van into a crowd of Muslim worshippers outside a north London mosque early Monday, injuring 10 people. London police are investigating it as a terrorist incident.
Police said another man died at the scene, although he was receiving first aid at the time and it wasn't clear if he died as a result of the attack or of something else.
British Prime Minister Theresa May condemned the attack "on innocent people" and declared that Britain would stop at nothing to defeat extremism.
---
Supreme Court says government can't refuse disparaging trademarks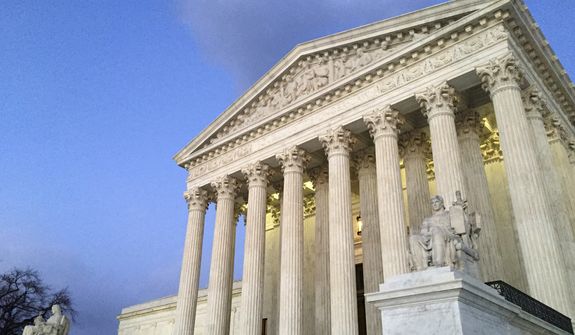 The government cannot censor trademarks on the grounds they may be offensive to some, the Supreme Court ruled Monday in a major decision that could also clear the way for the Washington Redskins football team to maintain its trademarks.
The case before the high court involved an Asian rock band named "The Slants." The U.S. Patent and Trademark Office originally denying the band's name, saying it was a racial slur that violated the agency's policy, based on federal law, that prohibits granting disparaging trademarks.
Justices, though, said that violated the First Amendment.
"Speech may not be banned on the ground that it expresses ideas that offend," Justice Samuel A. Alito Jr. said in his opinion for the court.
---
Mattis under pressure to reverse Obama administration's approval of transgender troops
Defense Secretary James Mattis is facing his first significant decision in the military's sexual revolution legacy left by the last commander in chief, Barack Obama.
Skip
Mr. Obama's defense secretary, Ashton Carter, issued a directive last year permitting transgender troops to remain in the military and undergo sex reassignment procedures instead of facing automatic discharge.
The next step in the transgender agenda is due July 1, according to Mr. Carter's timeline. Mr. Mattis is to decide whether the armed forces will allow transgender people to join the military.
Deputy Defense Secretary Robert O. Work, an Obama holdover, required each service to submit plans for how they will open the ranks to transgender recruits. Those road maps are now in, leaving the next move up to Mr. Mattis, a retired Marine Corps four-star general who in the past has complained about the Pentagon's intense focus on social issues.
Mr. Mattis testified last week before three congressional committees but did not address his plans for transgender troops.
---

Jared Kushner to Travel to Middle East to Advnace U.S. Peace Efforts
Senior White House adviser plans to meet with Benjamin Netanyahu and Mahmoud Abbas
President Donald Trump's son-in-law and senior White House adviser, Jared Kushner, plans to travel to the Middle East this week to try to advance U.S. efforts to reach an Israeli-Palestinian peace deal, a White House official said Sunday.
The trip marks the White House's first major follow up to Mr. Trump's trip to the region last month and suggests Mr. Kushner's policy portfolio is far from shrinking despite scrutiny by federal investigators into his meetings with Russian officials.
Mr. Kushner plans to meet with Israeli Prime Minister Benjamin Netanyahu in Jerusalem and travel to Ramallah to meet with Palestinian leader Mahmoud Abbas to discuss "their priorities and potential next steps" in the peace process, the White House official said.
---
Democrats Plan Proteset as GOP Pushes on Health Care
Democrats plan to hold the Senate floor Monday night as their GOP counterparts hope to vote on a health care overhaul before July 4.
Republicans' plan to push a health care overhaul through the Senate before the July 4 recess is returning to the spotlight Monday, with both sides planning to ramp up the pressure surrounding the as-yet completed legislation.
Majority Leader Mitch McConnell still plans to put the Senate's revamped bill on the floor for a vote before lawmakers wrap up work ahead of the holiday at the end of next week. The constraints of the process – specifically, the need to wait for the nonpartisan Congressional Budget Office to produce a score on the cost and effects of the legislation – mean that negotiators must come to an agreement on the Senate version by the end of this week, according to Axios.
---
Trump's Actions on Comey NOT Obstruction of Justice
Nobody wants to undermine Robert Mueller, the special counsel in the Russia-U.S. election probe, but the media has been accusing President Donald Trump of committing acts that do not constitute obstruction of justice, one of his attorneys, Jay Sekulow said Monday.
"The president of the United States takes action after receiving a memorandum from his attorney general, a letter actually from his attorney general and memorandum from his deputy attorney general," Sekulow told Fox News' "Fox & Friends" program.
"In that letter, there's recommendation for the removal of James Comey. He had been thinking about that as well."
---
Energy Secretary Rick Perry: Carbon Dioxide Not Prime Driver of Global warming
Energy Secretary Rick Perry says he does not believe carbon dioxide is a primary contributor to global warming, a statement at odds with mainstream scientific consensus but in line with the head of the Environmental Protection Agency.
Perry was asked Monday on CNBC's "Squawk Box" whether carbon emissions are primarily responsible for climate change and said no. He added that "the most likely the primary control knob is the ocean waters and this environment that we live in."
Perry's view contradicts mainstream climate science, including NASA and the National Oceanic and Atmospheric Administration.
---
GOP considers canceling August recess to salvage agenda
Alarmed by the stalemate on healthcare reform, lack of progress on tax reform and appropriations bills that are far behind schedule, Republican lawmakers across Congress are increasingly willing to consider canceling the month-long August recess.
Senate Republican negotiators reported that they are not close to a deal on healthcare reform and that scheduling a vote by July 4, which Senate Majority Leader Mitch McConnell (R-Ky.) has pushed, is likely unrealistic.
That impasse has held up work on a budget resolution, which is necessary to move tax reform and the annual appropriations bills.
Once Republicans vote on a budget resolution for 2018, it will wipe out the special vehicle they plan to use to pass healthcare reform with a simple majority vote — a vehicle that was set up by the budget resolution for 2017.
---

Sanctuaries, for goose and gander, too
Liberals may learn that cities supporting school prayer or anti-abortion views could also become 'sanctuaries'
Since the beginning of this century, officials in states and localities controlled by the Democratic Party have increasingly disregarded laws, referenda and court decisions that affront their "progressive" sensibilities. That amounts to nullification, and it's hard for the federal government to impose its will on them. But now the progressives are going to learn that two can play at that game.
Today, some 200 local jurisdictions are nullifying federal law on immigration, claiming the status of "sanctuary cities." Colorado is formally nullifying federal law on marijuana, while Oregon and others are doing it informally. The State of California has an executive department to identify the ways in which the nation's biggest state can ignore or stiff what might come out of Washington that is not to progressive tastes. President Trump wants out of a climate accord, but Jerry Brown's California wants in. The Federal government raises no objection.
No objection then, theoretical or practical, should stop cities or states that are governed by solid majorities of "deplorables" from declaring themselves "sanctuaries" for whatever they want. Suppose that the government of North Dakota, or of Texas, were to declare the state a "sanctuary" for prayer in schools and other public places, ordering state employees to do nothing that might hinder any such prayer by anyone.
---

Trump, the new JFK in space
Like his predecessor, the president sees opportunities in space and economic innovation
Bill Gates first noticed parallels between President John F. Kennedy and President-elect Donald Trump after speaking with the newly electd president: "But in the same way President Kennedy talked about the space mission and got the country behind that, there can be a very upbeat message that [Trump's] administration [is] going to organize things, get rid of regulatory barriers, and have American leadership through innovation."
Indeed, there may be more to Mr. Gates' JFK-space reference than just a metaphor.
The Cold War with Russia greeted JFK upon becoming president in 1961, including the failed Bay of Pigs invasion of Cuba in his first 100 days. Currently, Donald Trump is experiencing real Cold War-style tensions with China, Russia and their client states.
"It is discouraging to think how many people are shocked by honesty and how few by deceit."
-- Noel Coward
(1899-1973) British playwright
---
---
The Medal of Honor is the highest award for valor in action against an enemy force which can be bestowed upon an individual serving in the Armed Services of the United States.
GeneTrerally presented to its recipient by the President of the United States of America in the name of Congress.
The first award of the Medal of Honor was made March 25, 1863 to Private JACOB PARROTT.The last award of the Medal of Honor was made September 15, 2011 to Sergeant DAKOTA MEYER.
Since then there have been: • 3458 recipients of the Medal of Honor.
• Today there are 85 Living Recipients of the Medal of Honor.
Citation

Captain Humbert R. Versace distinguished himself by extraordinary heroism during the period of 29 October 1963 to 26 September 1965, while serving as S-2 Advisor, Military Assistance Advisory Group, Detachment 52, Ca Mau, Republic of Vietnam. While accompanying a Civilian Irregular Defense Group patrol engaged in combat operations in Thoi Binh District, An Xuyen Province, Captain Versace and the patrol came under sudden and intense mortar, automatic weapons, and small arms fire from elements of a heavily armed enemy battalion. As the battle raged, Captain Versace, although severely wounded in the knee and back by hostile fire, fought valiantly and continued to engage enemy targets. Weakened by his wounds and fatigued by the fierce firefight, Captain Versace stubbornly resisted capture by the over-powering Viet Cong force with the last full measure of his strength and ammunition. Taken prisoner by the Viet Cong, he exemplified the tenets of the Code of Conduct from the time he entered into Prisoner of War status. Captain Versace assumed command of his fellow American soldiers, scorned the enemy's exhaustive interrogation and indoctrination efforts, and made three unsuccessful attempts to escape, despite his weakened condition which was brought about by his wounds and the extreme privation and hardships he was forced to endure. During his captivity, Captain Versace was segregated in an isolated prisoner of war cage, manacled in irons for prolonged periods of time, and placed on extremely reduced ration. The enemy was unable to break his indomitable will, his faith in God, and his trust in the United States of America. Captain Versace, an American fighting man who epitomized the principles of his country and the Code of Conduct, was executed by the Viet Cong on 26 September 1965. Captain Versace's gallant actions in close contact with an enemy force and unyielding courage and bravery while a prisoner of war are in the highest traditions of the military service and reflect the utmost credit upon himself and the United States Army.
---
3/14/20017

We Have Met the Enemy…

Geoff Metcalf
"They who can give up essential liberty to obtain a little temporary safety deserve neither liberty nor safety.
--Benjamin Franklin
"The American people must be willing to give up a degree of personal privacy in exchange for safety and security."
--Louis Freeh

In the wake of the clamor over the most recent WikiLeaks data dump, 'Vault 7', 'UMBRAGE', et al, it should be noted this is not really anything new. What we are seeing here is simply the evolution of something that goes back to the late 50s (to the incomplete best knowledge I have).
It is kinda cool to finally see even the New York Times (www.nytimes.com/2017/03/09/opinion/the-truth-about-the-wikileaks-cia-cache.html?_r=0) acknowledging material I was writing about in 1998 (http://www.wnd.com/1998/04/6108/ ).
In April of 1998 I wrote "Privacy has become an anachronism." I was commenting on "a massive system designed to intercept all your e-mail, fax traffic and more." I was explaining 'Echelon', the illegitimate offspring of a UKUSA treaty (https://www.nationalarchives.gov.uk/ukusa/ ) signed by the United States, United Kingdom, Canada, Australia and New Zealand. Its purpose was, and is, to have a vast global intelligence monster, which allegedly shares common goals. The system was so "efficient" that reportedly National Security Agency folk from Fort Meade could work from Menwith Hill in England to intercept local communications without either nation having to burden themselves with the formality of seeking approval (a court order) or disclosing the operation. And this was all pre-9/11 and pre-the anti-constitutional 'Patriot Act'.
It is illegal (without a Judge's signed permission) for the United States to spy on its citizens … kinda. The laws have long been circumvented by a mutual pact among five nations. Under the terms of UKUSA agreement, Britain spies on Americans and America spies on British citizens, and then the two conspirators trade data. A classic technical finesse. It is legal, but the intent to evade the spirit is inescapable.
I often fictionalized the genesis of 'Echelon' as an informal meeting of a group of post war American and British intelligence types drinking in some remote rustic bar. An imagined CIA type complains to his MI6 buddy about the hassles of US laws preventing US intelligence from surveillance of bad guys, and the Brit echoes the same complaint.
"Hey wait a moment mate," says Nigel, the make-believe MI6 guy, "I can spy on your guys and you can spy on our bad players…why don't we just come up with a mechanism whereby we spy on your villains, you spy on our villains, and we just 'share' the intel?"
This system was called ECHELON, and has been kicking around in some form longer than most of you. The result of the UKUSA treaty signed by the United States, United Kingdom, Canada, Australia and New Zealand was, and is, to have a vast global intelligence monster which allegedly shares common goals.
The London Telegraph reported in December of 1997 that the Civil liberties Committee of the European Parliament had officially confirmed the existence and purpose of ECHELON. "A global electronic spy network that can eavesdrop on every telephone, e-mail and telex communication around the world will be officially acknowledged for the first time in a European Commission report. …"
The report noted: "Within Europe all e-mail, telephone and fax communications are routinely intercepted by the United States National Security Agency, transferring all target information from the European mainland via the strategic hub of London, then by satellite to Fort Meade in Maryland via the crucial hub at Menwith Hill, in the North York moors in the UK.
"The ECHELON system forms part of the UKUSA system but unlike many of the electronic spy systems developed during the Cold War, ECHELON was designed primarily for non-military targets: governments, organizations and businesses in virtually every country."
An interesting sidebar appeared in the International Herald Tribune under the headline, "Big Corporate Brother: It Knows More About You Than You Think." The story details Acxiom Corp, which was a humongous information service hidden in the Ozark foothills. Twenty-four hours a day, Acxiom electronically gathered and sorts all kinds of data about 196 million Americans. Credit card transactions and magazine subscriptions, telephone numbers, real estate records, automotive data, hunting, business and fishing licenses, consumer surveys and demographic detail that would make a marketing department's research manager salivate. This relatively new (legal) enterprise was known as "data warehousing" or "data-mining", and it underscores the cruel reality that the fiction of personal privacy has become obsolete. Technology's ability to collect and analyze data has made privacy a quaint albeit interesting dinosaur.
The Tribune reported that "Axciom can often determine whether an American owns a dog or cat, enjoys camping or gourmet cooking, reads the Bible or lots of other books. It can often pinpoint an American's occupation, car and favorite vacations. By analyzing the equivalent of billions of pages of data, it often projects for its customers who should be offered a credit card or who is likely to buy a computer."
Most of this information is from y 1998 piece. Echelon has developed, matured, and morphed into a much more powerful hybrid. 'Carnivore' was software to help triage the cacophony of data. Vault 7 and 'Umbrage' are logical (some would argue "insidious") growth.
More to follow…