"It Is Not A Question of Who Is Right Or Wrong But What Is Right Or Wrong That Counts.

"

--Geoff Metcalf
Providing an on line Triage of the news since 1997



Wo

rld & Nation
'One kind of fraud': Biden won thousands of illegal votes by noncitizens, study shows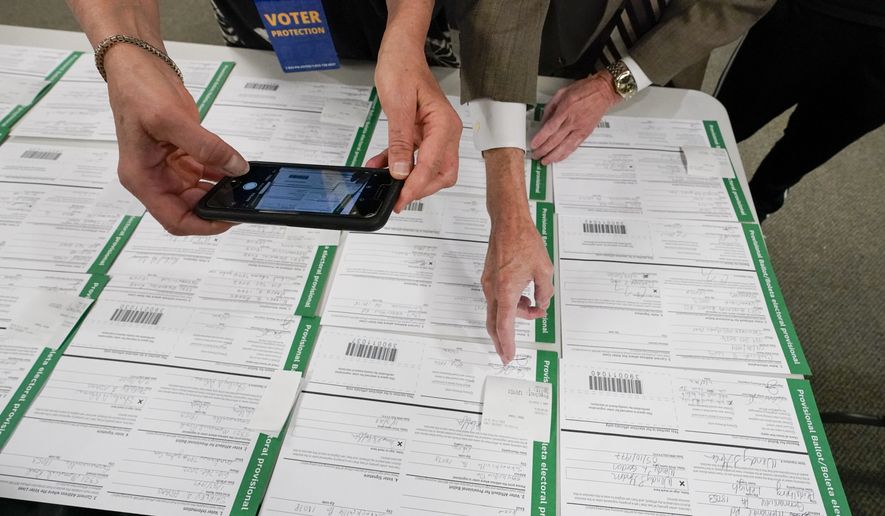 A new study estimates that presumptive President-elect Joseph R. Biden benefited from thousands of illegal votes by noncitizens, providing President Trump's backers with another potential argument for a fraud-tainted election.
The study comes from the nonprofit research institute Just Facts, and its president, James D. Agresti, who looked at election returns from seven battleground states: Arizona, Georgia, Michigan, Nevada, North Carolina, Pennsylvania and Wisconsin.
He compared U.S. Census numbers on noncitizens (a total of 21.7 million) with each battleground state's demographics and election results. He then applied previous election polling of noncitizens.
---
Trump: More Votes Than Voters in Key Swing States
President Donald Trump tweeted late Sunday night that "there were more votes than people who voted" in key swing states and insisted that he won the 2020 presidential election.
"In certain swing states, there were more votes than people who voted, and in big numbers. Does that not really matter?" the president wrote on Twitter. "Stopping Poll Watchers, voting for unsuspecting people, fake ballots and so much more. Such egregious conduct. We will win!"
In another post, Trump linked to a Breitbart piece detailing how his "Anti-Globalism, Pro-Police Message" led to gains in Hispanic support and added, "Great, but we also won the election!"
The Breitbart story notes that the president improved his margins compared to the 2016 election in 78 of the nation's 100 majority-Hispanic counties and among Hispanics "in exit polls of each of the top 10 battleground states," according to Politico.
---
Biden expected to tap Antony Blinken to be secretary of state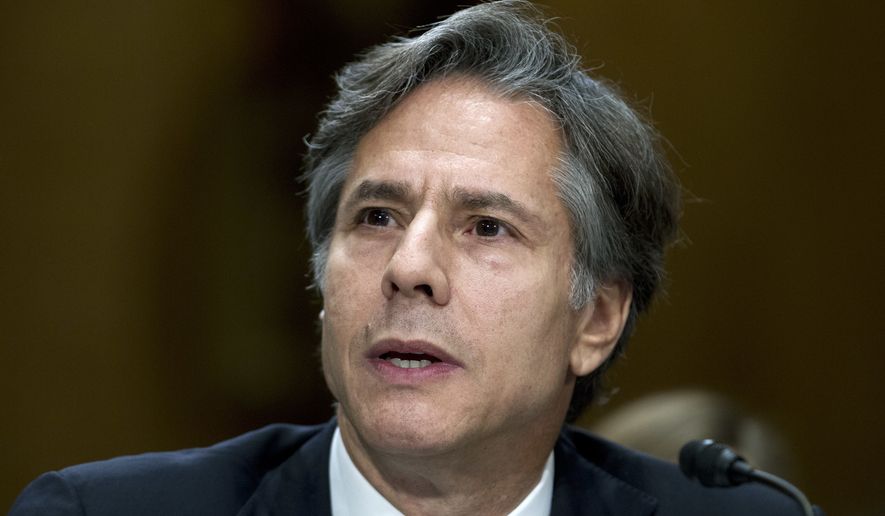 Presumptive President-elect Joseph R. Biden is expected to nominate Antony Blinken as secretary of state, according to multiple people familiar with the Biden team's planning.
Blinken, 58, served as deputy secretary of state and deputy national security adviser during the Obama administration and has close ties with Biden. If nominated and confirmed, he would be a leading force in the incoming administration's bid to reframe the U.S. relationship with the rest of the world after four years in which President Donald Trump questioned longtime alliances.
In nominating Blinken, Biden would sidestep potentially thorny issues that could have affected Senate confirmation for two other candidates on his short list to be America's top diplomat: Susan Rice and Sen. Chris Coons.
---
Oregon Gov. Kate Brown urges residents to call cops on shutdown violators
Oregon Gov. Kate Brown wants residents to call the police on their neighbors over violations of the state's latest coronavirus shutdown, which includes a six-person limit on in-home gatherings.
The temporary "freeze," which went into effect Wednesday, restricts indoor at-home and social gatherings to six people from no more than two households, with no exceptions for Thanksgiving dinner get-togethers.
In a Friday virtual interview with KGW-TV, Ms. Brown agreed that Oregonians should contact authorities if they see their neighbors hosting more than six people.
"Look, this is no different than what happens if there's a party down the street and it's keeping everyone awake. What do neighbors do? They call law enforcement because it's too noisy," the Democratic governor told KGW. "This is just like that. It's like a violation of a noise ordinance."
---
Trump legal team distances itself from Sidney Powell: 'Practicing law on her own'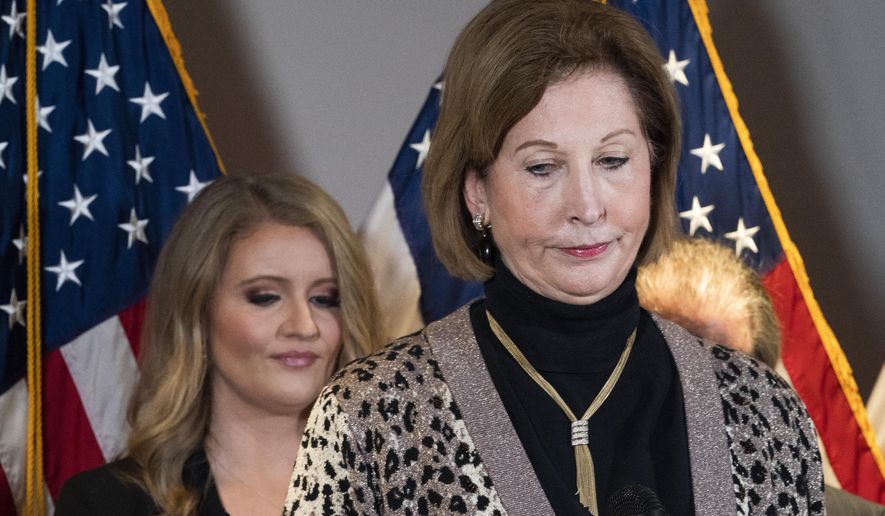 President Trump's legal team distanced itself Sunday evening from the attorney who has led the claims made against the security of voting software.
Sidney Powell, who appeared alongside Mr. Trump's lawyers at a press conference last week, has alleged manipulation of voting machines used in more than two dozen states of lowering the president's vote tally while increasing that of Democratic candidate Joseph R. Biden.
But on Sunday, the Trump campaign issued a statement appearing to distance itself from Ms. Powell's claims, some of which have been dismissed as conspiracy theory.
---
Climate legislation 'to fix a problem that doesn't exist' imperils livelihood of towns
An occasional interview series with Americans who are challenging the status quo.
There isn't a hospital in Akutan, Alaska. Nor are there office buildings, parks, or scores of grocery stores, pharmacies, restaurants and the like.
What Akutan has is a fish-processing plant.
The entire community exists because of and for that plant, which sits hard against the Bering Sea, beneath slopes that in the summertime are as green as Ireland.
---
US Drafts List of 89 China Firms With Military Ties
The Trump administration is close to declaring that 89 Chinese aerospace and other companies have military ties, restricting them from buying a range of U.S. goods and technology, according to a draft copy of the list seen by Reuters.
The list, if published, could further escalate trade tensions with Beijing and hurt U.S. companies that sell civil aviation parts and components to China, among other industries.
A spokesman for the U.S. Department of Commerce, which produced the list, declined to comment.
Speaking in Beijing, Chinese Foreign Ministry spokesman Zhao Lijian said China "firmly opposes the unprovoked suppression of Chinese companies by the United States."
---
Rep. Nunes Worried Biden Will Shut Down Durham Investigation
Rep. Devin Nunes said he is concerned that Joe Biden may shut down U.S. Attorney John Durham's probe into the Russia investigation if he becomes the next president.
During an appearance on Fox News' "Sunday Morning Futures," the Republican lawmaker from California told host Maria Bartiromo that Attorney General William Barr should set up a special counsel before Inauguration Day to ensure the investigation keeps going.
Durham is looking into the origins of how the FBI's Russia inquiry began. So far, he has obtained one guilty plea from a former FBI lawyer.
"Now we're sitting waiting for Durham to complete this investigation," he said. "I think people are getting not only very frustrated but also, there's a growing concern that Durham is not going to come out with anything and then Biden and Obama are going to be back in, and they're going to shut this investigation off," Nunes said.
---
Thanksgiving travelers converge on virus testing sites before holiday
A long line of masked D.C. residents snaked around a coronavirus testing site exactly a week before Thanksgiving, as a steady stream of motorists zipped into the parking lot to get their noses swabbed.
For Claire Bailey, a 28-year-old D.C. resident, it was her first time getting tested at the public site at the University of the District of Columbia's Bertie Backus Campus on South Dakota Avenue NE.
"I'm getting tested because I want to go visit my parents for Thanksgiving. They live in Richmond, so a two-hour drive south, but I want to make sure I'm negative before I go home for the holidays," Ms. Bailey said Thursday while waiting in line.
---
Oxford's Coronavirus Vaccine Is 70% Effective, Early Data Shows. It's The Third Vaccine To Clear A Crucial Hurdle.
A COVID-19 vaccine developed by the University of Oxford and AstraZeneca has shown "positive high-level results" in early data from clinical trials, researchers announced Monday. It is the third vaccine to clear that crucial hurdle, alongside ones made by Pfizer and Moderna.
The vaccine has been 70% effective on average so far, researchers said. The early data came with a potentially promising surprise: The vaccine was 90% effective for volunteers who were given a half-dose of the vaccine followed by a full dose — a much higher success rate than those who were given two full doses, which was 62% effective.
The early analysis was based on 131 COVID-19 cases among trial participants who either received the vaccine or a placebo injection. The underlying data have not yet been peer-reviewed or released to the public.
---
Israeli Reports Say Netanyahu Met Saudi Crown Prince, but Saudis Deny It
Prime Minister Benjamin Netanyahu of Israel flew to Saudi Arabia for a covert meeting with Crown Prince Mohammed bin Salman of Saudi Arabia, Israeli news media reported on Monday.
Hours after those reports, attributed to an unidentified Israeli official, the Saudi foreign minister flatly and publicly denied that such a meeting had taken place.
The confusing turn of events came as Israel and the Trump administration have promoted the idea that a diplomatic opening between Saudi Arabia and Israel is only a matter of time, while the Saudis have continued to insist that an Israeli-Palestinian peace deal must come first.
The meeting, if confirmed, would be the first known to have taken place between high-level Israeli and Saudi leaders.
---
For distracted Republicans, it's time to refocus on Georgia Senate races
If you are a Republican, it is time to refocus your time and attention.
It is time to refocus on winning the two Senate races in Georgia. If Republicans lose even one of those races, presumptive President-elect Joseph R. Biden and the Democrats in the Senate will give statehood to the District of Columbia and Puerto Rico, and whoever else may want it. They will pass the largest tax increase in history. They will impose their climate change agenda without remorse.
If Republicans lose one of those seats in Georgia, it will be difficult to recover any time in the next generation.
---
Pandering Democrats protect own ideology but say nothing to defend free speech
On May 10, 1933, students in 34 university towns across Germany gathered to burn more than 25,000 books. The works of authors like Albert Einstein, Ernest Hemingway and Helen Keller went up in flames.
At the same time, 40,000 people gathered to hear the German Minister of Public Enlightenment, Joseph Goebbels, give a speech applauding those who were "commit[ting] to the flames the evil spirit of the past." The unwanted ideas of Western civilization fueled the bonfires of Berlin.
On May 16, 1966, Mao Zedong empowered his nation's youth to threaten and silence all who held unwelcome views. The chairman's "Red Guard," thus, proceeded to attack and persecute all they dubbed politically incorrect. Books were burned. Several hundred thousand people died. Unwanted ideas went the way of the flames and the grave.
---
" It is discouraging to think how many people are shocked by honesty and how few by deceit."

-- Noel Coward

(1899-1973) British playwright

---

The Medal of Honor is the highest award for valor in action against an enemy force which can be bestowed upon an individual serving in the Armed Services of the United States.

GeneTrerally presented to its recipient by the President of the United States of America in the name of Congress.

The first award of the Medal of Honor was made March 25, 1863 to Private JACOB PARROTT.The last award of the Medal of Honor was made September 15, 2011 to Sergeant DAKOTA MEYER.

Since then there have been: • 3458 recipients of the Medal of Honor.

• Today there are 85 Living Recipients of the Medal of Honor.

Citation


Captain Humbert R. Versace distinguished himself by extraordinary heroism during the period of 29 October 1963 to 26 September 1965, while serving as S-2 Advisor, Military Assistance Advisory Group, Detachment 52, Ca Mau, Republic of Vietnam. While accompanying a Civilian Irregular Defense Group patrol engaged in combat operations in Thoi Binh District, An Xuyen Province, Captain Versace and the patrol came under sudden and intense mortar, automatic weapons, and small arms fire from elements of a heavily armed enemy battalion. As the battle raged, Captain Versace, although severely wounded in the knee and back by hostile fire, fought valiantly and continued to engage enemy targets. Weakened by his wounds and fatigued by the fierce firefight, Captain Versace stubbornly resisted capture by the over-powering Viet Cong force with the last full measure of his strength and ammunition. Taken prisoner by the Viet Cong, he exemplified the tenets of the Code of Conduct from the time he entered into Prisoner of War status. Captain Versace assumed command of his fellow American soldiers, scorned the enemy's exhaustive interrogation and indoctrination efforts, and made three unsuccessful attempts to escape, despite his weakened condition which was brought about by his wounds and the extreme privation and hardships he was forced to endure. During his captivity, Captain Versace was segregated in an isolated prisoner of war cage, manacled in irons for prolonged periods of time, and placed on extremely reduced ration. The enemy was unable to break his indomitable will, his faith in God, and his trust in the United States of America. Captain Versace, an American fighting man who epitomized the principles of his country and the Code of Conduct, was executed by the Viet Cong on 26 September 1965. Captain Versace's gallant actions in close contact with an enemy force and unyielding courage and bravery while a prisoner of war are in the highest traditions of the military service and reflect the utmost credit upon himself and the United States Army.

---

From the Archives

We Have Met the Enemy…
Geoff Metcalf


"They who can give up essential liberty to obtain a little temporary safety deserve neither liberty nor safety.
--Benjamin Franklin
"The American people must be willing to give up a degree of personal privacy in exchange for safety and security."
--Louis Freeh


In the wake of the clamor over the most recent WikiLeaks data dump, 'Vault 7', 'UMBRAGE', et al, it should be noted this is not really anything new. What we are seeing here is simply the evolution of something that goes back to the late 50s (to the incomplete best knowledge I have).

It is kinda cool to finally see even

The New York Times

acknowledging material

I was writing about in 1998

.

In April of 1998 I wrote "Privacy has become an anachronism." I was commenting on "a massive system designed to intercept all your e-mail, fax traffic and more." I was explaining 'Echelon', the illegitimate offspring of a

UKUSA Treaty

signed by the United States, United Kingdom, Canada, Australia and New Zealand. Its purpose was, and is, to have a vast global intelligence monster, which allegedly shares common goals. The system was so "efficient" that reportedly National Security Agency folk from Fort Meade could work from Menwith Hill in England to intercept local communications without either nation having to burden themselves with the formality of seeking approval (a court order) or disclosing the operation. And this was all pre-9/11 and pre-the anti-constitutional

'Patriot Act'

.

It is illegal (without a Judge's signed permission) for the United States to spy on its citizens … kinda. The laws have long been circumvented by a mutual pact among five nations. Under the terms of UKUSA agreement, Britain spies on Americans and America spies on British citizens, and then the two conspirators trade data. A classic technical finesse. It is legal, but the intent to evade the spirit is inescapable.

I often fictionalized the genesis of 'Echelon' as an informal meeting of a group of post war American and British intelligence types drinking in some remote rustic bar. An imagined CIA type complains to his MI6 buddy about the hassles of US laws preventing US intelligence from surveillance of bad guys, and the Brit echoes the same complaint.

"Hey wait a moment mate," says Nigel, the make-believe MI6 guy, "I can spy on your guys and you can spy on our bad players…why don't we just come up with a mechanism whereby we spy on your villains, you spy on our villains, and we just 'share' the intel?"

This system was called ECHELON, and has been kicking around in some form longer than most of you. The result of the UKUSA treaty signed by the United States, United Kingdom, Canada, Australia and New Zealand was, and is, to have a vast global intelligence monster which allegedly shares common goals.

The London Telegraph reported in December of 1997 that the Civil liberties Committee of the European Parliament had officially confirmed the existence and purpose of ECHELON. "A global electronic spy network that can eavesdrop on every telephone, e-mail and telex communication around the world will be officially acknowledged for the first time in a European Commission report. …"

The report noted: "Within Europe all e-mail, telephone and fax communications are routinely intercepted by the United States National Security Agency, transferring ll target information from the Eurv opean mainland via the strategic hub of London, then by satellite to Fort Meade in Maryland via the crucial hub at Menwith Hill, in the North York moors in th UK.

"The ECHELON system forms part of the UKUSA system but unlike many of the electronic spy systems developed during the Cold War, ECHELON was designed primarily for non-military targets: governments, organizations and businesses in virtually every country."

An interesting sidebar appeared in the International Herald Tribune under the headline, "Big Corporate Brother: It Knows More About You Than You Think." The story details Acxiom Corp, which was a humongous information service hidden in the Ozark foothills. Twenty-four hours a day, Acxiom electronically gathered and sorts all kinds of data about 196 million Americans. Credit card transactions and magazine subscriptions, telephone numbers, real estate records, automotive data, hunting, business and fishing licenses, consumer surveys and demographic detail that would make a marketing department's research manager salivate. This relatively new (legal) enterprise was known as "data warehousing" or "data-mining", and it underscores the cruel reality that the fiction of personal privacy has become obsolete. Technology's ability to collect and analyze data has made privacy a quaint albeit interesting dinosaur.

The Tribune reported that "Axciom can often determine whether an American owns a dog or cat, enjoys camping or gourmet cooking, reads the Bible or lots of other books. It can often pinpoint an American's occupation, car and favorite vacations. By analyzing the equivalent of billions of pages of data, it often projects for its customers who should be offered a credit card or who is likely to buy a computer."

Most of this information is from y 1998 piece. Echelon has developed, matured, and morphed into a much more powerful hybrid. 'Carnivore' was software to help triage the cacophony of data. Vault 7 and 'Umbrage' are logical (some would argue "insidious") growth.

More to follow…