"It Is Not A Question of Who Is Right Or Wrong But What Is Right Or Wrong That Counts.

"

--Geoff Metcalf
Wo

rld & National
Trump moves to reject some asylum seekers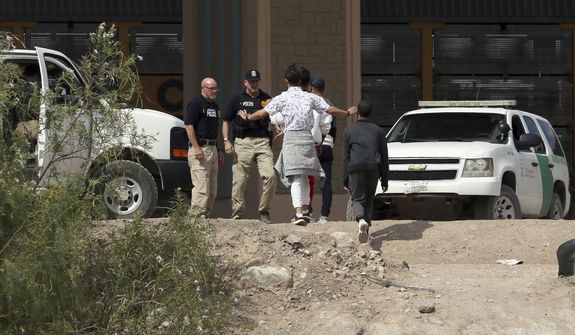 The Trump administration announced a new regulation Monday aimed at trying to deny some migrants the chance to claim asylum in the U.S. if they have crossed other countries to get here.

The move is an executive branch power play, with the administration frustrated at lack of action in Congress and saying it has decided to take steps on its own to change the incentives drawing migrants north.

In particular, the policy is intended to change the thinking of Central Americans eyeing the trip north to make asylum claims — most of them unfounded — in an attempt to game U.S. laws to gain a foothold in the country.

Under the change, the migrants would be denied a chance at asylum if after they left home they'd crossed another country where protections from persecution or torture are available.


---
Trump Wants 'Radical Left Congresswomen' to Apologize
President Donald Trump Monday added more salvos to his Twitter attacks apparently aimed at four freshmen members of Congress, calling for them to apologize for their "foul language" and "terrible things they have said" a day after telling them to "go back" to the countries they "originally came from."
"When will the Radical Left Congresswomen apologize to our Country, the people of Israel and even to the Office of the President, for the foul language they have used, and the terrible things they have said," Trump tweeted. "So many people are angry at them & their horrible & disgusting actions!"
He followed up by saying, "if Democrats want to unite around the foul language & racist hatred spewed from the mouths and actions of these very unpopular & unrepresentative Congresswomen, it will be interesting to see how it plays out. I can tell you that they have made Israel feel abandoned by the U.S."
---
Democrats withhold support for minority judges nominated by Trump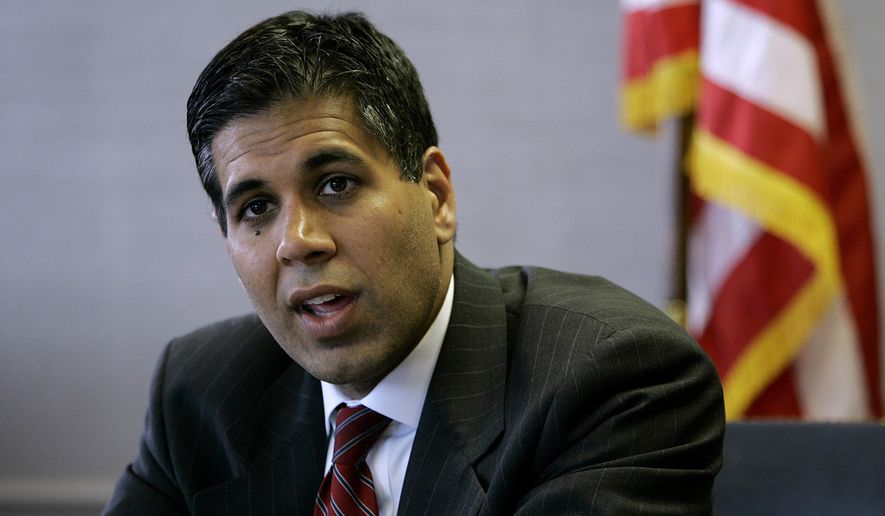 Amul Thapar broke new ground when he became the first federal judge of South Asian descent in 2007, and over the next decade he built a record as a well-respected jurist.
When President Trump nominated Judge Thapar to a seat on a federal appeals court, the American Bar Association unanimously graded him "well qualified." Yet when the son of Indian immigrants came up for a vote on the Senate floor, not a single Democrat backed him.
The process played out the same way for Neomi Rao, a daughter of Indian immigrants whom the ABA rated "well qualified" but who was confirmed only on a party-line vote, and for Michael Park, a Korean American, and Kenneth Lee, a Korean immigrant.
None of them earned a single Democratic vote.
---
Lindsey Graham: 30% of adults with kids trying to cross border are 'fake families'
Border agents report cases of 'recycled' children
Sen. Lindsey Graham, South Carolina Republican, said Sunday that about 30% of migrant adults with children trying to cross the U.S. border are "fake families" trying to game the U.S. asylum system.
Mr. Graham, who toured two Texas detention centers Friday with Vice President Mike Pence, said he was told during the visits that "30% of the people with small children are fake families."
He said agencies have launched a pilot program to undertake genetic testing of parents and children.
---
Bill de Blasio: Immigration raids underway in New York City
New York City Mayor Bill de Blasio says he's getting reports that a nationwide crackdown on immigrants facing deportation is already underway in his city.
The sweeps were expected to start Sunday, but de Blasio tweeted on Saturday that the Immigration and Customs Enforcement agency had already taken action in New York.
The mayor says ICE agents did not succeed in rounding up any residents of Brooklyn's Sunset Park neighborhood and Harlem.
---
Nancy Pelosi Emerges As Unexpected Villain At Netroots Nation
The chatter at Netroots Nation, a progressive gathering that attracts thousands of people each year, was expected to be on the rising influence of the left on the 2020 presidential election. But frustration with House Speaker Nancy Pelosi, once considered an avatar of San Francisco liberalism, has emerged as a constant theme ― centered on her recent criticism of progressive members of her caucus.
"She doesn't act this way when Blue Dogs say stupid shit about other Democrats and about the party and constantly criticize the party," said Markos Moulitsas, the founder of the popular liberal blog Daily Kos, referring to a group of conservative House Democrats. "For some reason, she's singling out these four for a special brand of conflict. It doesn't make any sense."
---
Power outages leave parts of Manhattan, subways, Broadway, in the dark for hours
Power outages struck much of Manhattan for five hours Saturday evening, plunging subway stations, Broadway theaters and skyscrapers in the heart of the Big Apple into darkness on the 42nd anniversary — nearly to the hour–of the 1977 blackout.
Officials said some 73,000 residents were without power at the height of the outage, which officials preliminarily blamed on an Upper West Side manhole fire affecting an underground transformer.
The power went out at around 7 p.m., a blackout originally confined to the 30 blocks west of Fifth Avenue between 72nd Street and 42nd Street.
---
EU's GPS satellites have been down for four days in mysterious outage
EU's Galileo global navigation satellite system nears 100 hours of downtime.
Galileo, the EU's global navigation satellite system, has been down for four days, since July 11, following a mysterious outage. All Galileo satellites are still non-operational, at the time of writing.
According to a service status page, 24 of the 26 Galileo satellites are listed as "not usable," while the other two are listing a status of "testing," which also means they're not ready for real-world usage.
The European GNSS Agency (GSA), the organization in charge of Galileo, has not published any information in regards to the root of the outage, which began four days ago, on Thursday, July 11.
---

Peter Thiel says FBI, CIA should probe Google

Peter Thiel, billionaire investor and Facebook board member, on Sunday night said that Google should be federally investigated for allegedly aiding the Chinese military.

Why it matters: Thiel is the tech industry's highest-profile Trump supporter, and one of the most powerful players in Silicon Valley.

Thiel spoke at the National Conservatism Conference, a new event that bills itself as being focused on Trump-era nationalism, with part of his speech focusing on "three questions that should be asked" of Google:


---
The demon in liberalism
"Why has Sweden become the North Korea of Europe?" That's what a Dane semi-facetiously asked Swedish cartoonist Lars Vilks at a conference I attended in 2014. Mr. Vilks unconvincingly muttered about Swedes' partiality for consensus.
Now, along comes Ryszard Legutko, a Polish professor of philosophy and leading politician, with a better answer. His book, translated by Teresa Adelson, "The Demon in Democracy: Totalitarian Temptations in Free Societies" (Encounter), methodically shows the surprising but substantial similarities between Soviet-style communism and modern liberalism as defined by Sweden or the European Union or Barack Obama.
---
Lessons from a Texas graveyard
About 80 miles from the U.S.Mexico border sits Sacred Heart Burial Park in Falfurrias, Texas. There, spread across three sections of the graveyard, lies a somber sight: Row upon row of small aluminum markers bearing a serial number. Buried under them lie the remains of human beings, casualties of the lawlessness at our border and in our immigration policies.
Sterile descriptions like "Unknown male," "Unknown female," "Bones" or "Skull" are all that memorialize daughters and sons, sisters and brothers, mothers and fathers. The cemetery is at once a chilling and inadequate monument to those who died anonymously far from loved ones and a foreshadowing of what continues to lie in store if things are not brought under control.
In the last 10 years, Brooks County — home to Falfurrias and Sacred Heart Burial Park — has recovered the bodies of more than 600 illegal immigrants who died crossing the desert. One can't blame them for wanting to come here. But one can blame those in Washington whose inaction and political games have allowed the tragedy to continue for so long.
---
---
"It is discouraging to think how many people are shocked by honesty and how few by deceit."

-- Noel Coward

(1899-1973) British playwright

---

The Medal of Honor is the highest award for valor in action against an enemy force which can be bestowed upon an individual serving in the Armed Services of the United States.

GeneTrerally presented to its recipient by the President of the United States of America in the name of Congress.

The first award of the Medal of Honor was made March 25, 1863 to Private JACOB PARROTT.The last award of the Medal of Honor was made September 15, 2011 to Sergeant DAKOTA MEYER.

Since then there have been: • 3458 recipients of the Medal of Honor.

• Today there are 85 Living Recipients of the Medal of Honor.

Citation


Captain Humbert R. Versace distinguished himself by extraordinary heroism during the period of 29 October 1963 to 26 September 1965, while serving as S-2 Advisor, Military Assistance Advisory Group, Detachment 52, Ca Mau, Republic of Vietnam. While accompanying a Civilian Irregular Defense Group patrol engaged in combat operations in Thoi Binh District, An Xuyen Province, Captain Versace and the patrol came under sudden and intense mortar, automatic weapons, and small arms fire from elements of a heavily armed enemy battalion. As the battle raged, Captain Versace, although severely wounded in the knee and back by hostile fire, fought valiantly and continued to engage enemy targets. Weakened by his wounds and fatigued by the fierce firefight, Captain Versace stubbornly resisted capture by the over-powering Viet Cong force with the last full measure of his strength and ammunition. Taken prisoner by the Viet Cong, he exemplified the tenets of the Code of Conduct from the time he entered into Prisoner of War status. Captain Versace assumed command of his fellow American soldiers, scorned the enemy's exhaustive interrogation and indoctrination efforts, and made three unsuccessful attempts to escape, despite his weakened condition which was brought about by his wounds and the extreme privation and hardships he was forced to endure. During his captivity, Captain Versace was segregated in an isolated prisoner of war cage, manacled in irons for prolonged periods of time, and placed on extremely reduced ration. The enemy was unable to break his indomitable will, his faith in God, and his trust in the United States of America. Captain Versace, an American fighting man who epitomized the principles of his country and the Code of Conduct, was executed by the Viet Cong on 26 September 1965. Captain Versace's gallant actions in close contact with an enemy force and unyielding courage and bravery while a prisoner of war are in the highest traditions of the military service and reflect the utmost credit upon himself and the United States Army.

---

From the Archives

We Have Met the Enemy…
Geoff Metcalf


"They who can give up essential liberty to obtain a little temporary safety deserve neither liberty nor safety.
--Benjamin Franklin
"The American people must be willing to give up a degree of personal privacy in exchange for safety and security."
--Louis Freeh


In the wake of the clamor over the most recent WikiLeaks data dump, 'Vault 7', 'UMBRAGE', et al, it should be noted this is not really anything new. What we are seeing here is simply the evolution of something that goes back to the late 50s (to the incomplete best knowledge I have).

It is kinda cool to finally see even

The New York Times

acknowledging material

I was writing about in 1998

.

In April of 1998 I wrote "Privacy has become an anachronism." I was commenting on "a massive system designed to intercept all your e-mail, fax traffic and more." I was explaining 'Echelon', the illegitimate offspring of a

UKUSA Treaty

signed by the United States, United Kingdom, Canada, Australia and New Zealand. Its purpose was, and is, to have a vast global intelligence monster, which allegedly shares common goals. The system was so "efficient" that reportedly National Security Agency folk from Fort Meade could work from Menwith Hill in England to intercept local communications without either nation having to burden themselves with the formality of seeking approval (a court order) or disclosing the operation. And this was all pre-9/11 and pre-the anti-constitutional

'Patriot Act'

.

It is illegal (without a Judge's signed permission) for the United States to spy on its citizens … kinda. The laws have long been circumvented by a mutual pact among five nations. Under the terms of UKUSA agreement, Britain spies on Americans and America spies on British citizens, and then the two conspirators trade data. A classic technical finesse. It is legal, but the intent to evade the spirit is inescapable.

I often fictionalized the genesis of 'Echelon' as an informal meeting of a group of post war American and British intelligence types drinking in some remote rustic bar. An imagined CIA type complains to his MI6 buddy about the hassles of US laws preventing US intelligence from surveillance of bad guys, and the Brit echoes the same complaint.

"Hey wait a moment mate," says Nigel, the make-believe MI6 guy, "I can spy on your guys and you can spy on our bad players…why don't we just come up with a mechanism whereby we spy on your villains, you spy on our villains, and we just 'share' the intel?"

This system was called ECHELON, and has been kicking around in some form longer than most of you. The result of the UKUSA treaty signed by the United States, United Kingdom, Canada, Australia and New Zealand was, and is, to have a vast global intelligence monster which allegedly shares common goals.

The London Telegraph reported in December of 1997 that the Civil liberties Committee of the European Parliament had officially confirmed the existence and purpose of ECHELON. "A global electronic spy network that can eavesdrop on every telephone, e-mail and telex communication around the world will be officially acknowledged for the first time in a European Commission report. …"

The report noted: "Within Europe all e-mail, telephone and fax communications are routinely intercepted by the United States National Security Agency, transferring all target information from the European mainland via the strategic hub of London, then by satellite to Fort Meade in Maryland via the crucial hub at Menwith Hill, in the North York moors in the UK.

"The ECHELON system forms part of the UKUSA system but unlike many of the electronic spy systems developed during the Cold War, ECHELON was designed primarily for non-military targets: governments, organizations and businesses in virtually every country."

An interesting sidebar appeared in the International Herald Tribune under the headline, "Big Corporate Brother: It Knows More About You Than You Think." The story details Acxiom Corp, which was a humongous information service hidden in the Ozark foothills. Twenty-four hours a day, Acxiom electronically gathered and sorts all kinds of data about 196 million Americans. Credit card transactions and magazine subscriptions, telephone numbers, real estate records, automotive data, hunting, business and fishing licenses, consumer surveys and demographic detail that would make a marketing department's research manager salivate. This relatively new (legal) enterprise was known as "data warehousing" or "data-mining", and it underscores the cruel reality that the fiction of personal privacy has become obsolete. Technology's ability to collect and analyze data has made privacy a quaint albeit interesting dinosaur.

The Tribune reported that "Axciom can often determine whether an American owns a dog or cat, enjoys camping or gourmet cooking, reads the Bible or lots of other books. It can often pinpoint an American's occupation, car and favorite vacations. By analyzing the equivalent of billions of pages of data, it often projects for its customers who should be offered a credit card or who is likely to buy a computer."

Most of this information is from y 1998 piece. Echelon has developed, matured, and morphed into a much more powerful hybrid. 'Carnivore' was software to help triage the cacophony of data. Vault 7 and 'Umbrage' are logical (some would argue "insidious") growth.

More to follow…