"It Is Not A Question of Who Is Right Or Wrong But What Is Right Or Wrong That Counts.

"

--Geoff Metcalf






Wo

rld & National



Complicity in felony serious enough for Trump impeachment, key Democrat says
The likely chairman of the House Judiciary Committee said Sunday that it would be an impeachable offense if President Trump is found to be complicit in a felony.
Rep. Jerrold Nadler made the remarks after federal prosecutors connected Mr. Trump to illicit hush-money payments allegedly made on his behalf to silence women who say they had sexual relationships with the president before the 2016 campaign.
Still, the New York Democrat and other critics of the president said Congress isn't to the point of initiating impeachment proceedings, which would begin in Mr. Nadler's committee.
Mr. Nadler said there are still questions that need answers.
---

US Job Openings in October Rise to 2nd-Highest on Record

The number of open jobs rose in October to the second-highest on record, evidence that U.S. employers remain determined to hire despite ongoing trade disputes and rocky financial markets.

The Labor Department said Monday that the number of job openings increased 1.7 percent to a seasonally adjusted 7.1 million. That is not far from the record of 7.3 million reached in August.

The number of people hired also climbed while the ranks of those who quit their jobs fell slightly.


---
Most Americans oppose increased immigration
Most of world's big economies also skeptical of migration
The world is decidedly against immigration, with people in nearly every major economy saying they would rather see reductions than increases in the numbers of migrants their nation admits each year, according to a new global survey released Monday.
The U.S. is among the most generous, yet even here, just 24 percent want more immigration compared to 29 percent who want less, according to the Pew Research Center survey of 27 countries.
Another 44 percent of Americans say the current level is right — meaning that combined, 69 percent would oppose the kinds of increases most lawmakers on Capitol Hill are contemplating.
---
Trump sees a 'good shutdown' as a political winner; Republicans in Congress are wary
For most presidents, a government shutdown is a noun, an event and a signal of failure — something lawmakers fall into out of malfeasance. For President Trump, it's a verb, a tactic, something to order up if he doesn't get his way.
He envisions a "good shutdown," and since nearly his first days in office has been cheerleading for the possibility, though he has yet to get his way.
That could change over the next two weeks as negotiations stall on how to fund key agencies that, absent action, will run out of money Dec. 21.
---
May pulls vote on her divorce deal, thrusting Brexit into the unknown


British Prime Minister Theresa May on Monday abruptly pulled a parliamentary vote on her Brexit deal, throwing Britain's plan to leave the European Union into chaos after admitting that she faced a rout.

May's move on the eve of a crucial parliamentary vote opens up an array of options for the United Kingdom, including a disorderly Brexit with no deal, another referendum on EU membership, or a last minute renegotiation of May's deal.

Announcing the delay, May was laughed at by some members of parliament when she said there was broad support for the deal and that she had listened carefully to different views it - the result of 18 months of tortuous negotiations.

"If we went ahead and held the vote tomorrow the deal would be rejected by a significant margin," May told parliament, adding that she was confident it was the right deal.


---
Trump to tap Gen. Mark Milley to be next chairman of the Joint Chiefs of Staff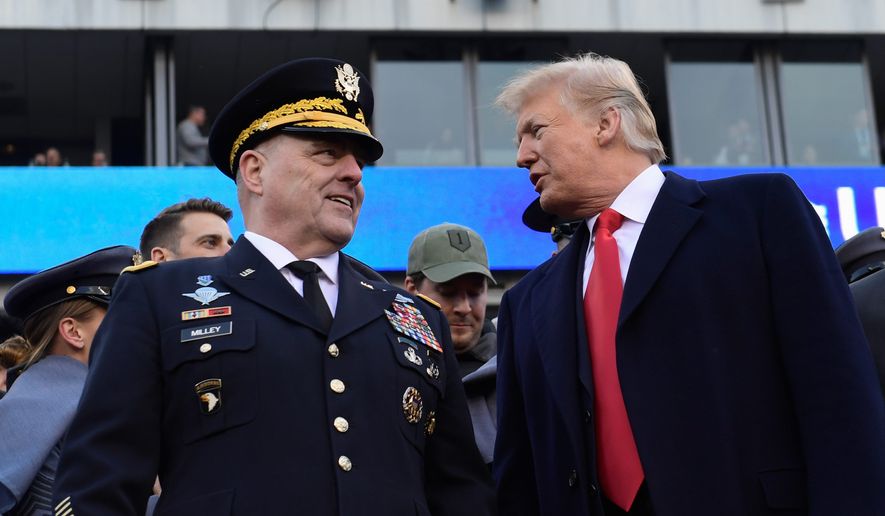 The current chairman of the Joint Chiefs of Staff has 10 months left on his term, but President Trump over the weekend laid out an early succession plan and said he'll tap Army Chief of Staff Gen. Mark Milley as the Pentagon's next top officer.
Gen. Milley, 60, was appointed to his current job by President Barack Obama in 2015. As Joint Chiefs chairman, he will replace Marine Corps Gen. Joseph Dunford, who has held the post since 2015.
Gen. Dunford's term lasts until Oct. 1, 2019, and he's given no indication he plans to step down before then. But Mr. Trump over the weekend hinted that the change could come sooner.
---
Pence aide out of running to be Trump's next chief of staff
President Donald Trump evaluated new candidates to serve as his next chief of staff Sunday after plans for an orderly succession for departing John Kelly fell through.
The new hire was to be key to a West Wing reshuffling to shift focus toward the 2020 re-election campaign and the challenge of governing with Democrats in control of the House.
But even senior White House officials were caught off guard Sunday when Trump and Nick Ayers, whose hiring was believed to be a done deal, couldn't come to terms. No obvious successor was in sight and there was some fretting that Trump may not be able to fill the job by the time Kelly was set to leave around year's end.
---
Lighthizer: US Says March 1 'Hard Deadline' for Trade Deal With China
Unless U.S.-China trade talks wrap up successfully by March 1, new tariffs will be imposed, U.S. Trade Representative Robert Lighthizer said on Sunday, clarifying there is a "hard deadline" after a week of seeming confusion among President Donald Trump and his advisers.
Global markets are jittery about a collision between the world's two largest economic powers over China's huge trade surplus with the United States and U.S. claims that China is stealing intellectual property and technology.
"As far as I am concerned it is a hard deadline. When I talk to the president of the United States he is not talking about going beyond March," Lighthizer said on the CBS show "Face the Nation," referring to Trump's recent decision to delay new tariffs while talks proceed.
Newsmax.Headline.Standard- 16975-169
---
For US Allies, 'Mad Dog' Mattis Is the Last Adult in the Room
And then there was one.
Since Donald Trump assumed office almost two years ago, U.S. allies in Europe, Asia and beyond have counted on a number of so-called adults in the room to constrain an unpredictable president. With the imminent departure of White House Chief of Staff John Kelly, only Defense Secretary Jim Mattis remains.
As Trump assembled his first cabinet, allies took comfort that the group -- including retired or serving generals -- would help preserve the fundamentals of U.S. foreign and economic policy that have largely endured for decades. The expectation was they would guide, and even restrain, the new commander-in-chief of the world's most powerful military.
Attrition has been high. Secretary of State Rex Tillerson was fired by tweet in March. Chief economic adviser, former Goldman Sachs Chief Operating Officer Gary Cohn announced he was resigning the same month, while U.S. Army Lieutenant General H.R. McMaster said he was leaving as National Security Adviser. And now Trump has announced Kelly, a retired Marine General, will leave later this month.
---
Corsi Sues Mueller, Claims Illegal Surveillance
Conservative author Jerome Corsi filed a lawsuite against Special Counsel James Meuller on Sunday, saying Meuller's office conducted illegellal surveillance of him, The Hill reported.
The lawsuit, which seeks $350 million in damages and an injunction in his case, also alleges illegal leaking of information on him to the media, including that he had information on WikiLeaks' hacked emails from Hillary Clinton's presidential campaign.
"Defendant Mueller and his prosecutorial and media staff, acting in their official capacity and personally, also illegally released grand jury information to harm Plaintiff Corsi by attempting to destroy his reputation and personal and professional well-being and livelihood, thus also attempting to drive him into bankruptcy," the lawsuit reportedly reads, and that Mueler's team "intended to coerce, extort, threaten and/or blackmail him into submission and designed to remove the current president of the United States for political and other improper purposes."
---
Adapting to wildfires
While Gov. Jerry Brown blames the horrific death toll from California's late-season wildfires, he and the state's lawmakers have done little to discourage people from building homes in high-risk wildfire zones known as the wildland-urban interface (WUI). By shifting the cost of wildfire prevention and protection to general taxpayers, they send the wrong signals about risk to WUI homeowners.
The result of misguided policies is that the number of California homes built in the WUI grew by 34 percent between 1990 and 2010, bringing the total to nearly 5 million homes. Research published in Land Use Policy estimates that nearly 12 million acres of wild and agricultural lands in California will be replaced with houses by 2050. Nearly 1 million homes will be "in 'very high' wildfire severity zones." Regardless of the cause, wildfires will be more devastating than they have been.
Insurance companies are sending a clearer signal to homeowners regarding wildfire risk. State officials reported that non-renewals increased by 15 percent between 2015 and 2016 and that some premiums have increased five-fold. Such signals should encourage less development in the WUI.
---
Nebraska without Christmas
The Christmas season is upon us and once again, the headlines in the mainstream news are replete with stories of secular intolerance of Christ's mass. Leading this year's Festivus parade is Jennifer Sinclair, the principal of Nebraska's Manchester Elementary School who sent out a memo earlier this week to her faculty, staff, students and parents telling them that Santa Claus, Christmas trees, reindeer, the colors green and red, and even candy canes were considered offensive and would, therefore, be prohibited at her school.
Why specifically candy canes? Well to quote Ms. Sinclair: "Historically, the shape is a 'J' for Jesus. The red is for the blood of Christ and the white is a symbol of his resurrection."
Doubling down on her intolerance of all ideas, colors, symbols, animals, icons, trees and even candy that she considers to be intolerable, while at the same time demanding the exclusion of everything she has labeled exclusive, the good principal summarized her head-spinning hypocrisy by saying, " in our school and it is our job to be inclusive."
"It is discouraging to think how many people are shocked by honesty and how few by deceit."

-- Noel Coward

(1899-1973) British playwright

---

The Medal of Honor is the highest award for valor in action against an enemy force which can be bestowed upon an individual serving in the Armed Services of the United States.

GeneTrerally presented to its recipient by the President of the United States of America in the name of Congress.

The first award of the Medal of Honor was made March 25, 1863 to Private JACOB PARROTT.The last award of the Medal of Honor was made September 15, 2011 to Sergeant DAKOTA MEYER.

Since then there have been: • 3458 recipients of the Medal of Honor.

• Today there are 85 Living Recipients of the Medal of Honor.

Citation


Captain Humbert R. Versace distinguished himself by extraordinary heroism during the period of 29 October 1963 to 26 September 1965, while serving as S-2 Advisor, Military Assistance Advisory Group, Detachment 52, Ca Mau, Republic of Vietnam. While accompanying a Civilian Irregular Defense Group patrol engaged in combat operations in Thoi Binh District, An Xuyen Province, Captain Versace and the patrol came under sudden and intense mortar, automatic weapons, and small arms fire from elements of a heavily armed enemy battalion. As the battle raged, Captain Versace, although severely wounded in the knee and back by hostile fire, fought valiantly and continued to engage enemy targets. Weakened by his wounds and fatigued by the fierce firefight, Captain Versace stubbornly resisted capture by the over-powering Viet Cong force with the last full measure of his strength and ammunition. Taken prisoner by the Viet Cong, he exemplified the tenets of the Code of Conduct from the time he entered into Prisoner of War status. Captain Versace assumed command of his fellow American soldiers, scorned the enemy's exhaustive interrogation and indoctrination efforts, and made three unsuccessful attempts to escape, despite his weakened condition which was brought about by his wounds and the extreme privation and hardships he was forced to endure. During his captivity, Captain Versace was segregated in an isolated prisoner of war cage, manacled in irons for prolonged periods of time, and placed on extremely reduced ration. The enemy was unable to break his indomitable will, his faith in God, and his trust in the United States of America. Captain Versace, an American fighting man who epitomized the principles of his country and the Code of Conduct, was executed by the Viet Cong on 26 September 1965. Captain Versace's gallant actions in close contact with an enemy force and unyielding courage and bravery while a prisoner of war are in the highest traditions of the military service and reflect the utmost credit upon himself and the United States Army.

---

From the Archives

We Have Met the Enemy…
Geoff Metcalf


"They who can give up essential liberty to obtain a little temporary safety deserve neither liberty nor safety.
--Benjamin Franklin
"The American people must be willing to give up a degree of personal privacy in exchange for safety and security."
--Louis Freeh


In the wake of the clamor over the most recent WikiLeaks data dump, 'Vault 7', 'UMBRAGE', et al, it should be noted this is not really anything new. What we are seeing here is simply the evolution of something that goes back to the late 50s (to the incomplete best knowledge I have).

It is kinda cool to finally see even

The New York Times

acknowledging material

I was writing about in 1998

.

In April of 1998 I wrote "Privacy has become an anachronism." I was commenting on "a massive system designed to intercept all your e-mail, fax traffic and more." I was explaining 'Echelon', the illegitimate offspring of a

UKUSA Treaty

signed by the United States, United Kingdom, Canada, Australia and New Zealand. Its purpose was, and is, to have a vast global intelligence monster, which allegedly shares common goals. The system was so "efficient" that reportedly National Security Agency folk from Fort Meade could work from Menwith Hill in England to intercept local communications without either nation having to burden themselves with the formality of seeking approval (a court order) or disclosing the operation. And this was all pre-9/11 and pre-the anti-constitutional

'Patriot Act'

.

It is illegal (without a Judge's signed permission) for the United States to spy on its citizens … kinda. The laws have long been circumvented by a mutual pact among five nations. Under the terms of UKUSA agreement, Britain spies on Americans and America spies on British citizens, and then the two conspirators trade data. A classic technical finesse. It is legal, but the intent to evade the spirit is inescapable.

I often fictionalized the genesis of 'Echelon' as an informal meeting of a group of post war American and British intelligence types drinking in some remote rustic bar. An imagined CIA type complains to his MI6 buddy about the hassles of US laws preventing US intelligence from surveillance of bad guys, and the Brit echoes the same complaint.

"Hey wait a moment mate," says Nigel, the make-believe MI6 guy, "I can spy on your guys and you can spy on our bad players…why don't we just come up with a mechanism whereby we spy on your villains, you spy on our villains, and we just 'share' the intel?"

This system was called ECHELON, and has been kicking around in some form longer than most of you. The result of the UKUSA treaty signed by the United States, United Kingdom, Canada, Australia and New Zealand was, and is, to have a vast global intelligence monster which allegedly shares common goals.

The London Telegraph reported in December of 1997 that the Civil liberties Committee of the European Parliament had officially confirmed the existence and purpose of ECHELON. "A global electronic spy network that can eavesdrop on every telephone, e-mail and telex communication around the world will be officially acknowledged for the first time in a European Commission report. …"

The report noted: "Within Europe all e-mail, telephone and fax communications are routinely intercepted by the United States National Security Agency, transferring all target information from the European mainland via the strategic hub of London, then by satellite to Fort Meade in Maryland via the crucial hub at Menwith Hill, in the North York moors in the UK.

"The ECHELON system forms part of the UKUSA system but unlike many of the electronic spy systems developed during the Cold War, ECHELON was designed primarily for non-military targets: governments, organizations and businesses in virtually every country."

An interesting sidebar appeared in the International Herald Tribune under the headline, "Big Corporate Brother: It Knows More About You Than You Think." The story details Acxiom Corp, which was a humongous information service hidden in the Ozark foothills. Twenty-four hours a day, Acxiom electronically gathered and sorts all kinds of data about 196 million Americans. Credit card transactions and magazine subscriptions, telephone numbers, real estate records, automotive data, hunting, business and fishing licenses, consumer surveys and demographic detail that would make a marketing department's research manager salivate. This relatively new (legal) enterprise was known as "data warehousing" or "data-mining", and it underscores the cruel reality that the fiction of personal privacy has become obsolete. Technology's ability to collect and analyze data has made privacy a quaint albeit interesting dinosaur.

The Tribune reported that "Axciom can often determine whether an American owns a dog or cat, enjoys camping or gourmet cooking, reads the Bible or lots of other books. It can often pinpoint an American's occupation, car and favorite vacations. By analyzing the equivalent of billions of pages of data, it often projects for its customers who should be offered a credit card or who is likely to buy a computer."

Most of this information is from y 1998 piece. Echelon has developed, matured, and morphed into a much more powerful hybrid. 'Carnivore' was software to help triage the cacophony of data. Vault 7 and 'Umbrage' are logical (some would argue "insidious") growth.

More to follow…