"It Is Not A Question of Who Is Right Or Wrong But What Is Right Or Wrong That Counts.

"

--Geoff Metcalf



Wo
rld & National
Trump says meeting with Putin a 'great opportunity' to discuss trade, nukes, China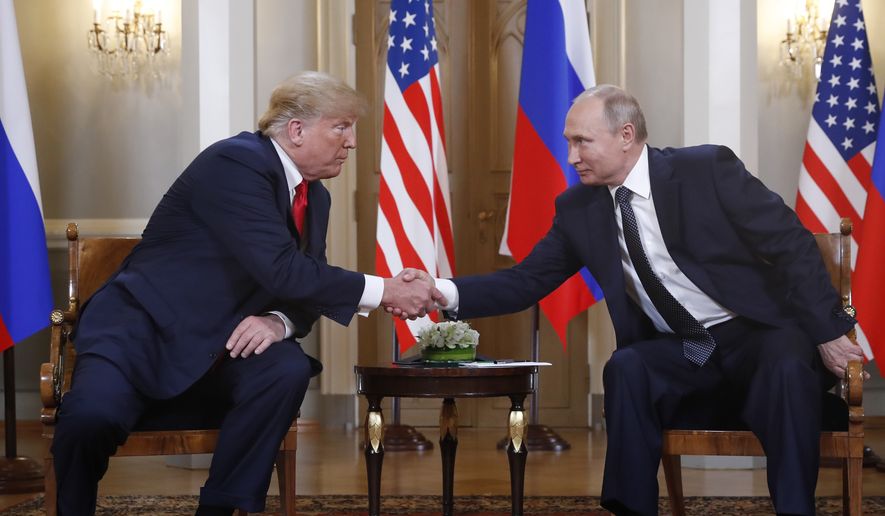 President Trump called it a "great opportunity" as he and Russian President Vladimir Putin sat down together Monday in Helsinki, Finland.
Mr. Trump said the U.S. and Russia "have not been getting along very well" for years, but he hoped to change that.
"I think we will end up having an extraordinary relationship," he told Mr. Putin. "I've been saying, and I'm sure you've been hearing over the years and as I've campaigned, that getting along with Russia is a good thing, not a bad thing."
Trump winks at Putin during high stakes Helsinki summit...




SLAMS 'FOOLISHNESS' OF PAST ADMINISTRATIONS...


'WORLD WANTS TO GET ALONG'...


Body language expert analyzes...




HILLARY TROLLS...




EU urges to protect global order...


China watching and learning...
---
Trump dismisses Democratic field of potential challengers for 2020
President Trump said Monday that he doesn't think any Democrats are capable of beating him in 2020.
"I don't see anybody," the president told British commentator Piers Morgan. "I know them all and I don't see anybody."
Among the potential Democratic challengers so far are former Vice President Joseph R. Biden; Sen. Bernard Sanders, Vermont independent; Sen. Kamala D. Harris of California; former Massachusetts Gov. Deval Patrick; Sen. Kirsten Gillibrand of New York; Sen. Elizabeth Warren of Massachusetts; Gov. Jerry Brown of California; Sen. Cory Booker of New Jersey and New York Gov. Andrew Cuomo.
---

California Democratic Party snubs Feinstein, endorses rival
Kevin de Leon, state senator, gets backing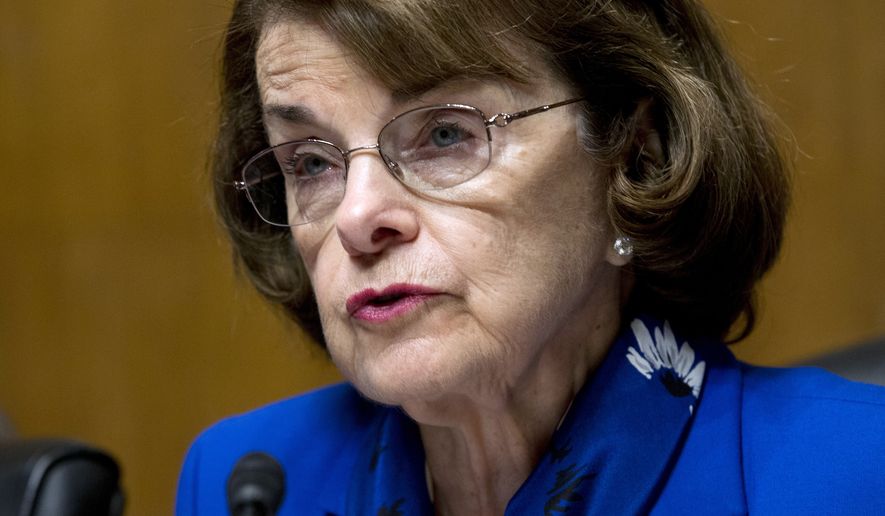 The California Democratic Party snubbed Sen. Dianne Feinstein on Saturday by handing its official endorsement and a badly needed boost to state Sen. Kevin de Leon, her long-shot Democratic challenger.
In backing Mr. de Leon, a majority of the party's 360-member executive board ignored Ms. Feinstein's calls to stay neutral in the race. Her allies had warned an endorsement in the race would create an intraparty squabble that could detract from important down-ballot races.
Mr. de Leon has long been courting party activists and appealed to those seeking a fresh face and a more progressive senator to fight against President Trump.
---
Trump calls FBI agent Peter Strzok a 'disgrace to our country'
President Trump is slamming FBI agent Peter Strzok as a "disgrace to our country," saying the bureau's "witch hunt" into possible coordination between his 2016 campaign and Russia is hurting the United States.
Mr. Trump said he watched some of Mr. Strzok's congressional testimony last week and thought it was "a disgrace to our country."
"I thought it was an absolute disgrace. Where he wants to do things against me before I was even, I guess before I was even the candidate. It was a disgrace. And then he lied about it," Mr. Trump said in an interview with CBS News, portions of which were released Sunday.
---
Trey Gowdy breaks with Trump: Russia probe is not a 'witch hunt'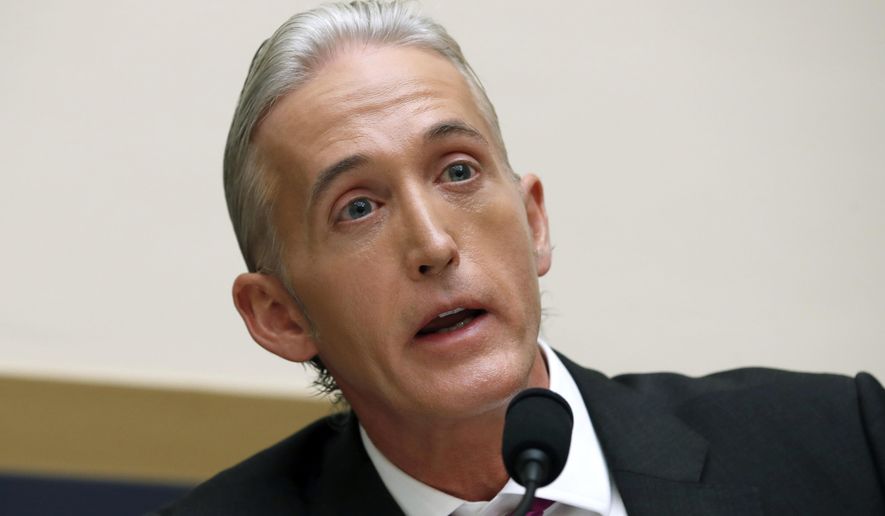 The Republican chairman of the House Oversight and Government Reform Committee says he does not agree with President Trump's assertions that special counsel Robert Mueller's probe of Russian interference in the 2016 election is a "witch hunt."
"I don't think it's a witch hunt. I've never thought it was a witch hunt," Rep. Trey Gowdy said Sunday on CBS' "Face the Nation."
"Russia attacked this country in 2016. That's the number one thing we've asked Mueller to look at — what did Russia do," the South Carolina Republican said.
He said no Americans have yet been indicted for conspiring to affect the 2016 elections, but his focus is on what Russia did.
---
Bombshell Bourdain interview is published one month after his suicide: Celebrity chef unloads on 'rapey, gropey and disgusting Bill Clinton and hopes Weinstein is 'beaten to death in jail'
Anthony Bourdain pulled no punches in one of his final interviews as the celebrity chef slammed Bill Clinton for being 'rapey, gropey and disgusting' and spoke of how he imagined Harvey Weinstein dying alone in a bathtub.
The globe-trotting food chronicler, who hanged himself in a French hotel in June, gave a lengthy and wide-ranging interview to journalist Maria Bustillos for her recently launched magazine Popula.
The interview was conducted in one of Bourdain's favorite Irish pubs in New York back in February and was only published on Sunday. It covered everything from Weinstein's downfall, the Clinton-Trump election and even Jared Kushner's eyebrows.
---
Kavanaugh's Thoughts on Rehnquist's Dissent in Roe v. Wade Get Scrutiny
Although President Donald Trump's Supreme Court nominee Brett Kavanaugh clerked for Justice Anthony Kennedy and called him his mentor, his first judicial hero was the late Chief Justice William Rehnquist, according to The Washington Post.
A speech Kavanaugh gave last September is receiving extra scrutiny due to its focus on abortion, which is certain to be a major and contentious topic at his confirmation hearings.
In the speech to the American Enterprise Institute, Kavanaugh noted Rehnquist's dissent in Roe v. Wade and his rejection of the idea of a "wall of separation between church and state."
The Post points out that Kavanaugh subscribes to an originalist interpretation of the Constitution and clearly is not aligned with Kennedy.
---
China Files WTO Challenge to US $200B Tariff Plan
China announced it filed a World Trade Organization challenge Monday to U.S. President Donald Trump's proposal for a tariff hike on $200 billion of Chinese goods, reacting swiftly amid deepening concern about the economic impact of their spiraling technology dispute.
The one-sentence Commerce Ministry statement gave no legal grounds for the challenge or other details. It was an unusually rapid move for a trade case, coming less than one week after the U.S. Trade Representative announced the tariff plan, which wouldn't take effect until at least September.
---
Consolidating a dictatorship, deepening divisions
The Kurdistan Worker's Party (PKK) entered into a unilateral ceasefire prior to Turkey's elections on June 24. Though Turkish armed forces repeatedly attacked the PKK headquarters in the Qandil Mountains of northern Iraq, the PKK refused to take the bait. It understood that renewed conflict would be used by President Recep Tayyip Erdogan to rally his nationalist base and justify an even more intense crackdown.
Kurds in Turkey preferred to show their power at the ballot box. They hoped to deprive Mr. Erdogan of a majority in the election for president, thereby forcing a second round. Furthermore, the pro-Kurdish People's Democratic Party (HDP) would pass a critical threshold and be seated in parliament if it gained more than 10 percent of the popular vote.
The election was no surprise. Mr. Erdogan won the presidency with 52 percent, while the HDP's charismatic presidential candidate, Selahattin Demirtas, received less than 9 percent. Though conditions were stacked against the HDP, it still got 12 percent. In a free and fair elections, the HDP would have dome much better.
---
Social Media Memes Obscure Bombshell Strozk Revelations
Lost amid the strange footage of Strzok, which rapidly spread across the social media landscape, two bombshell revelations were unearthed that were new to the public and the press. The first occurred during questioning by Rep. Louie Gohmert, R-Texas, and came immediately after an exchange in which Democrats went into hysterics over Gohmert questioning Strzok as to whether he wore the same grin when he lied to his wife about having an extramarital affair.
Although the outburst by the Democrats sounded rather rehearsed, it did manage to distract from the pertinent information that was about to be exposed. Via his questions to Strzok, Gohmert revealed that the Intelligence Community Inspector General (ICIG) had informed Strzok that forensic analysis of metadata from Hillary Clinton's email had indicated that over 30,000 of Clinton's emails had been forwarded to the email address of a known hostile foreign entity, and that this entity was not Russia.
"It is discouraging to think how many people are shocked by honesty and how few by deceit."
-- Noel Coward
(1899-1973) British playwright
---
The Medal of Honor is the highest award for valor in action against an enemy force which can be bestowed upon an individual serving in the Armed Services of the United States.
GeneTrerally presented to its recipient by the President of the United States of America in the name of Congress.
The first award of the Medal of Honor was made March 25, 1863 to Private JACOB PARROTT.The last award of the Medal of Honor was made September 15, 2011 to Sergeant DAKOTA MEYER.
Since then there have been: • 3458 recipients of the Medal of Honor.
• Today there are 85 Living Recipients of the Medal of Honor.
Citation
Captain Humbert R. Versace distinguished himself by extraordinary heroism during the period of 29 October 1963 to 26 September 1965, while serving as S-2 Advisor, Military Assistance Advisory Group, Detachment 52, Ca Mau, Republic of Vietnam. While accompanying a Civilian Irregular Defense Group patrol engaged in combat operations in Thoi Binh District, An Xuyen Province, Captain Versace and the patrol came under sudden and intense mortar, automatic weapons, and small arms fire from elements of a heavily armed enemy battalion. As the battle raged, Captain Versace, although severely wounded in the knee and back by hostile fire, fought valiantly and continued to engage enemy targets. Weakened by his wounds and fatigued by the fierce firefight, Captain Versace stubbornly resisted capture by the over-powering Viet Cong force with the last full measure of his strength and ammunition. Taken prisoner by the Viet Cong, he exemplified the tenets of the Code of Conduct from the time he entered into Prisoner of War status. Captain Versace assumed command of his fellow American soldiers, scorned the enemy's exhaustive interrogation and indoctrination efforts, and made three unsuccessful attempts to escape, despite his weakened condition which was brought about by his wounds and the extreme privation and hardships he was forced to endure. During his captivity, Captain Versace was segregated in an isolated prisoner of war cage, manacled in irons for prolonged periods of time, and placed on extremely reduced ration. The enemy was unable to break his indomitable will, his faith in God, and his trust in the United States of America. Captain Versace, an American fighting man who epitomized the principles of his country and the Code of Conduct, was executed by the Viet Cong on 26 September 1965. Captain Versace's gallant actions in close contact with an enemy force and unyielding courage and bravery while a prisoner of war are in the highest traditions of the military service and reflect the utmost credit upon himself and the United States Army.
---
From the Archives

We Have Met the Enemy…

Geoff Metcalf
"They who can give up essential liberty to obtain a little temporary safety deserve neither liberty nor safety.
--Benjamin Franklin
"The American people must be willing to give up a degree of personal privacy in exchange for safety and security."
--Louis Freeh

In the wake of the clamor over the most recent WikiLeaks data dump, 'Vault 7', 'UMBRAGE', et al, it should be noted this is not really anything new. What we are seeing here is simply the evolution of something that goes back to the late 50s (to the incomplete best knowledge I have).
It is kinda cool to finally see even
The New York Times
acknowledging material
I was writing about in 1998
.
In April of 1998 I wrote "Privacy has become an anachronism." I was commenting on "a massive system designed to intercept all your e-mail, fax traffic and more." I was explaining 'Echelon', the illegitimate offspring of a
UKUSA Treaty
signed by the United States, United Kingdom, Canada, Australia and New Zealand. Its purpose was, and is, to have a vast global intelligence monster, which allegedly shares common goals. The system was so "efficient" that reportedly National Security Agency folk from Fort Meade could work from Menwith Hill in England to intercept local communications without either nation having to burden themselves with the formality of seeking approval (a court order) or disclosing the operation. And this was all pre-9/11 and pre-the anti-constitutional
'Patriot Act'
.
It is illegal (without a Judge's signed permission) for the United States to spy on its citizens … kinda. The laws have long been circumvented by a mutual pact among five nations. Under the terms of UKUSA agreement, Britain spies on Americans and America spies on British citizens, and then the two conspirators trade data. A classic technical finesse. It is legal, but the intent to evade the spirit is inescapable.
I often fictionalized the genesis of 'Echelon' as an informal meeting of a group of post war American and British intelligence types drinking in some remote rustic bar. An imagined CIA type complains to his MI6 buddy about the hassles of US laws preventing US intelligence from surveillance of bad guys, and the Brit echoes the same complaint.
"Hey wait a moment mate," says Nigel, the make-believe MI6 guy, "I can spy on your guys and you can spy on our bad players…why don't we just come up with a mechanism whereby we spy on your villains, you spy on our villains, and we just 'share' the intel?"
This system was called ECHELON, and has been kicking around in some form longer than most of you. The result of the UKUSA treaty signed by the United States, United Kingdom, Canada, Australia and New Zealand was, and is, to have a vast global intelligence monster which allegedly shares common goals.
The London Telegraph reported in December of 1997 that the Civil liberties Committee of the European Parliament had officially confirmed the existence and purpose of ECHELON. "A global electronic spy network that can eavesdrop on every telephone, e-mail and telex communication around the world will be officially acknowledged for the first time in a European Commission report. …"
The report noted: "Within Europe all e-mail, telephone and fax communications are routinely intercepted by the United States National Security Agency, transferring all target information from the European mainland via the strategic hub of London, then by satellite to Fort Meade in Maryland via the crucial hub at Menwith Hill, in the North York moors in the UK.
"The ECHELON system forms part of the UKUSA system but unlike many of the electronic spy systems developed during the Cold War, ECHELON was designed primarily for non-military targets: governments, organizations and businesses in virtually every country."
An interesting sidebar appeared in the International Herald Tribune under the headline, "Big Corporate Brother: It Knows More About You Than You Think." The story details Acxiom Corp, which was a humongous information service hidden in the Ozark foothills. Twenty-four hours a day, Acxiom electronically gathered and sorts all kinds of data about 196 million Americans. Credit card transactions and magazine subscriptions, telephone numbers, real estate records, automotive data, hunting, business and fishing licenses, consumer surveys and demographic detail that would make a marketing department's research manager salivate. This relatively new (legal) enterprise was known as "data warehousing" or "data-mining", and it underscores the cruel reality that the fiction of personal privacy has become obsolete. Technology's ability to collect and analyze data has made privacy a quaint albeit interesting dinosaur.
The Tribune reported that "Axciom can often determine whether an American owns a dog or cat, enjoys camping or gourmet cooking, reads the Bible or lots of other books. It can often pinpoint an American's occupation, car and favorite vacations. By analyzing the equivalent of billions of pages of data, it often projects for its customers who should be offered a credit card or who is likely to buy a computer."
Most of this information is from y 1998 piece. Echelon has developed, matured, and morphed into a much more powerful hybrid. 'Carnivore' was software to help triage the cacophony of data. Vault 7 and 'Umbrage' are logical (some would argue "insidious") growth.
More to follow…