"It Is Not A Question of Who Is Right Or Wrong But What Is Right Or Wrong That Counts.

"

--Geoff Metcalf
Providing an on line Triage of the news since 1997



Wo

rld & Nation
NYTimes: Trump Considering Leaving 200 US Troops in Eastern Syria
President Donald Trump is considering a proposal to leave about 200 American troops in eastern Syria to combat ISIS and prevent Syrian government forces and their Russian allies from seizing control of oil production facilities in the region, reports The New York Times.
The report follows comments by Trump's Pentagon chief that all the U.S. troops leaving Syria will go to western Iraq and continue operations against the Islamic State group. Defense Secretary Mark Esper earlier Sunday said the mission for those troops would be to "help defend Iraq" and "perform a counter-ISIS mission."
Trump also shared a quote from Esper that said, "The ceasefire is holding up very nicely. There are some minor skirmishes that have ended quickly. New areas being resettled with the Kurds."
---
University dumps professor who found polar bears thriving despite climate change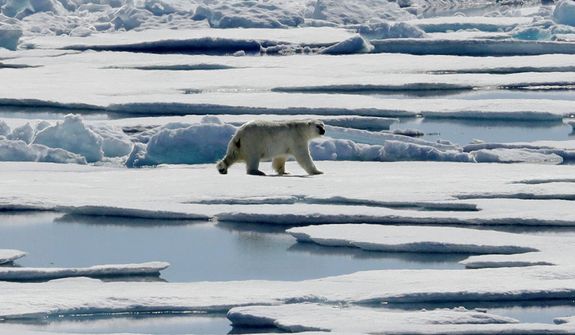 Nobody has done more to sink the claim that climate change is endangering polar bears than zoologist Susan Crockford — and she may have paid for it with her job.
After 15 years as an adjunct assistant professor, Ms. Crockford said the University of Victoria rejected without explanation in May her renewal application, despite her high profile as a speaker and author stemming from her widely cited research on polar bears and dog domestication.
Ms. Crockford accused officials at the Canadian university of bowing to "outside pressure," the result of her research showing that polar bear populations are stable and even thriving, not plummeting as a result of shrinking Arctic sea ice, defying claims of the climate change movement.
Her dismissal, which she announced Wednesday in a post on her Polar Bear Science blog, has spurred alarm over the implications for academic freedom and the rise of the "cancel culture" for professors and scientists who challenge climate catastrophe predictions.
---
Justice Department proposes collecting DNA samples from detained migrants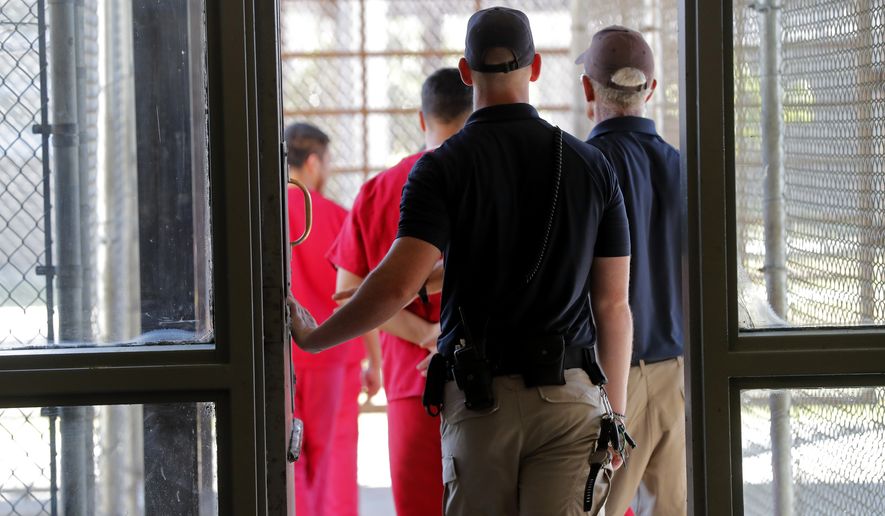 The Justice Department Monday took the first step towards dramatically expanding its collection of DNA samples from migrants facing criminal charges.
The department has proposed a rule that would collect DNA samples from migrants in both U.S. Customs and Border Protection and U.S. Immigration and Customs Enforcement and sent those samples to the FBI lab for analysis.
FBI investigators would then enter the DNA information into its Combined DNA Index System, or CODIS, database. The database is used to identify criminals and assist with investigations through the sharing of DNA with local law enforcement.
---
2020 Democrats back Tulsi Gabbard in Hillary Clinton feud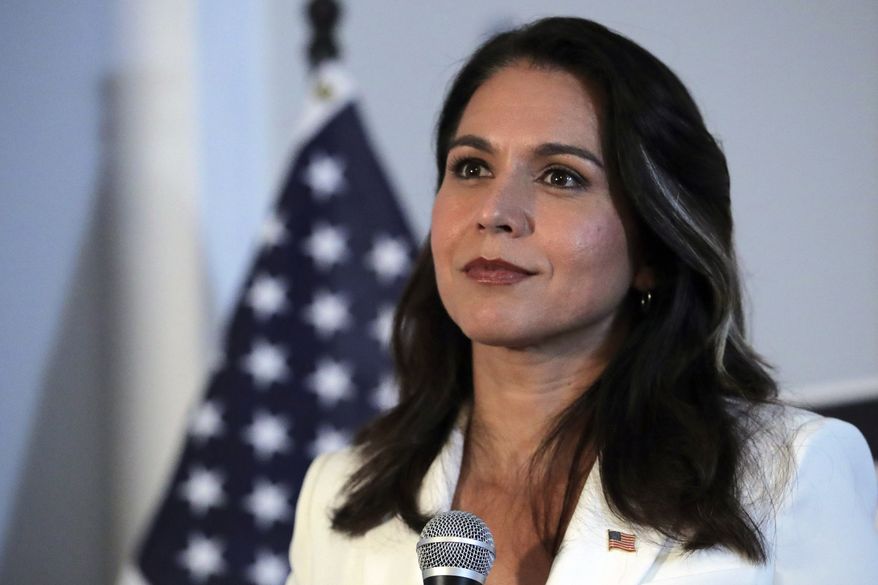 Rep. Tulsi Gabbard received support from a handful of her fellow Democratic presidential candidates this weekend after former Secretary of State Hillary Clinton said she thought the Hawaii congresswoman was being groomed as a Russian asset.
"Tulsi is not being groomed by anyone. She is her own person," said former Rep. Beto O'Rourke of Texas. "Obviously has served this country, continues to serve this country in uniform, in Congress, as a candidate for presidency, so I think those facts speak for themselves."
The Hawaii Democrat also received kind words on social media from both author Marianne Williamson and entrepreneur Andrew Yang.
Ms. Gabbard shot back on Twitter at the "queen of warmongers," accusing the former secretary of state of orchestrating a "concerted campaign to destroy my reputation."
---
'Deep state' diplomats caught up in Trump impeachment fight back
Three years of simmering frustration inside the State Department is boiling over on Capitol Hill as a parade of current and former diplomats testify to their concerns about the Trump administration's unorthodox policy toward Ukraine.
Over White House objections, the diplomats are appearing before impeachment investigators looking into President Donald Trump's dealings with Ukraine and they're recounting stories of possible impropriety, misconduct and mistreatment by their superiors.
To Trump and his allies, the diplomats are evidence of a "deep state" within the government that has been out to get him from the start. But to the employees of a department demoralized by the administration's repeated attempts to slash its budget and staff, cooperating with the inquiry is seen as a moment of catharsis, an opportunity to reassert the foreign policy norms they believe Trump has blown past.
---
On offense: White House takes on Syria pullout backlash, impeachment inquiry
The Trump administration went on the offensive Sunday to beat back purported advances in the Democrats' impeachment inquiry and bipartisan outrage over the president's military pullout in Syria, events that last week knocked the White House on its heels.
Even with both parties at war over the impeachment inquiry, President Trump's decision to withdraw troops from northern Syria, though they will reportedly stay in the region to counter the Islamic State, united lawmakers across Capitol Hill in condemnation.
Despite the backlash from Capitol Hill, Secretary of State Mike Pompeo was optimistic that the administration's strategy would pay off.
---
Poll: Iowa caucuses are 'up for grabs' as Pete Buttigieg surges into top tier
It's a new three-way race in Iowa.
Pete Buttigieg, the mayor of South Bend, Indiana, who was initially seen as a long-shot presidential contender, has surged within striking distance of former vice president Joe Biden and Massachusetts Sen. Elizabeth Warren in the first-in-the-nation Iowa caucuses, a Suffolk University/USA TODAY Poll finds.
Biden, long viewed as the Democratic frontrunner, is faltering in the wake of a debate performance last week that those surveyed saw as disappointing.
The poll, taken Wednesday through Friday, put Biden at 18%, Warren at 17% and Buttigieg at 13% among 500 likely Democratic caucusgoers.
---
Hong Kong descends into chaos again as protesters defy ban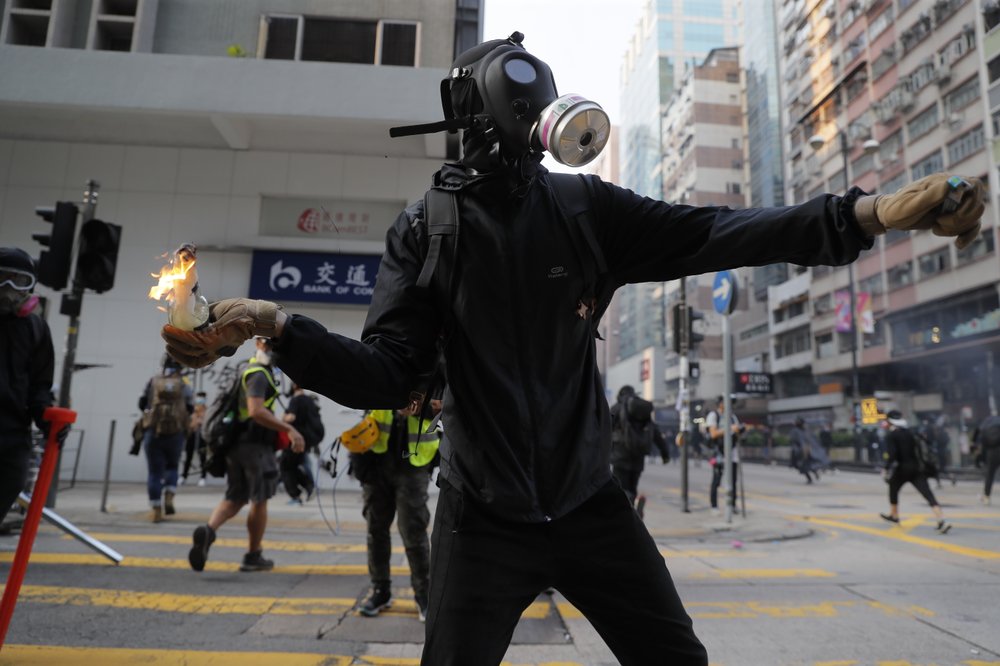 Hong Kong streets descended into chaotic scenes following an unauthorized pro-democracy rally Sunday, as protesters set up roadblocks and torched businesses, and police responded with tear gas and a water cannon.
Protesters tossed firebombs and took their anger out on shops with mainland Chinese ties as they skirmished late into the evening with riot police, who unleashed numerous tear gas rounds on short notice, angering residents and passers-by.
Police had beefed up security measures ahead of the rally, for which they refused to give permission, the latest chapter in the unrest that has disrupted life in the financial hub since early June.
---
Canada vote too close to call as Trudeau hopes to cling on
Canadians vote in a general election Monday with polling predicting a minority government as Prime Minister Justin Trudeau's Liberal Party risks losing its majority or even being kicked out of office.
The Liberals and the Conservatives, led by Andrew Scheer, could be set for a near dead heat with pundits calling it one of the nation's closest elections ever.
But neither of the two parties that have led Canada since Confederation in 1867 is forecast to win enough support to secure an absolute majority of seats in parliament.
---
Rush to judgment of Fort Worth police shooting driven by political expediency
When a police officer uses deadly force
The tragic shooting death of Atatiana Jefferson at the hands of Fort Worth police officer Aaron Dean has reignited the conversation around policing and the use of deadly force. It is clear Miss Jefferson was innocent. She should be alive today. It is also possible that mistakes were made in the police response to the call to Miss Jefferson's home to investigate an open front door. But these facts, taken by themselves, do not mean Aaron Dean is guilty of murder.
The shooting death of Miss Jefferson marks the second time in about the last year that an African-American was shot to death in his or her own home by police in the Dallas-Fort Worth area. The first such instance involved the equally tragic fatal shooting of Botham Jean by former Dallas Police Officer Amber Guyger.
In this most recent case, then-officer Dean responded to the Jefferson home in response to a call for service. A neighbor notified the Fort Worth Police Department the front door of the Jefferson home had been left open and that was, presumably, unusual. The neighbor was concerned enough to notify police rather than go check it out himself. Two Fort Worth police officers, including Dean, responded.
---
Abortion-loving, Bible-hating Democratic Party lets its mask slip
This cabal isn't the party of JFK and Humphrey
Things have come to a pretty pass when the most "moderate" Democratic presidential candidate wants to make history by bringing along a "first gentleman" instead of a first lady.
That's where things stand after the latest Democratic debates, townhalls and other glimpses into the bizarre strain in American politics known as progressivism.
The aforementioned "moderate" is Pete Buttigieg, the openly homosexual South Bend, Indiana mayor whose legal spouse is a man. He did take issue with fellow candidate Robert Francis "Beto" O'Rourke's crowd-pleasing vow at an LGBTQ Democratic Town Hall to strip churches of their tax exemptions if they refuse to marry same-sex couples.
---
---
"It is discouraging to think how many people are shocked by honesty and how few by deceit."

-- Noel Coward

(1899-1973) British playwright

---

The Medal of Honor is the highest award for valor in action against an enemy force which can be bestowed upon an individual serving in the Armed Services of the United States.

GeneTrerally presented to its recipient by the President of the United States of America in the name of Congress.

The first award of the Medal of Honor was made March 25, 1863 to Private JACOB PARROTT.The last award of the Medal of Honor was made September 15, 2011 to Sergeant DAKOTA MEYER.

Since then there have been: • 3458 recipients of the Medal of Honor.

• Today there are 85 Living Recipients of the Medal of Honor.

Citation


Captain Humbert R. Versace distinguished himself by extraordinary heroism during the period of 29 October 1963 to 26 September 1965, while serving as S-2 Advisor, Military Assistance Advisory Group, Detachment 52, Ca Mau, Republic of Vietnam. While accompanying a Civilian Irregular Defense Group patrol engaged in combat operations in Thoi Binh District, An Xuyen Province, Captain Versace and the patrol came under sudden and intense mortar, automatic weapons, and small arms fire from elements of a heavily armed enemy battalion. As the battle raged, Captain Versace, although severely wounded in the knee and back by hostile fire, fought valiantly and continued to engage enemy targets. Weakened by his wounds and fatigued by the fierce firefight, Captain Versace stubbornly resisted capture by the over-powering Viet Cong force with the last full measure of his strength and ammunition. Taken prisoner by the Viet Cong, he exemplified the tenets of the Code of Conduct from the time he entered into Prisoner of War status. Captain Versace assumed command of his fellow American soldiers, scorned the enemy's exhaustive interrogation and indoctrination efforts, and made three unsuccessful attempts to escape, despite his weakened condition which was brought about by his wounds and the extreme privation and hardships he was forced to endure. During his captivity, Captain Versace was segregated in an isolated prisoner of war cage, manacled in irons for prolonged periods of time, and placed on extremely reduced ration. The enemy was unable to break his indomitable will, his faith in God, and his trust in the United States of America. Captain Versace, an American fighting man who epitomized the principles of his country and the Code of Conduct, was executed by the Viet Cong on 26 September 1965. Captain Versace's gallant actions in close contact with an enemy force and unyielding courage and bravery while a prisoner of war are in the highest traditions of the military service and reflect the utmost credit upon himself and the United States Army.

---

From the Archives

We Have Met the Enemy…
Geoff Metcalf


"They who can give up essential liberty to obtain a little temporary safety deserve neither liberty nor safety.
--Benjamin Franklin
"The American people must be willing to give up a degree of personal privacy in exchange for safety and security."
--Louis Freeh


In the wake of the clamor over the most recent WikiLeaks data dump, 'Vault 7', 'UMBRAGE', et al, it should be noted this is not really anything new. What we are seeing here is simply the evolution of something that goes back to the late 50s (to the incomplete best knowledge I have).

It is kinda cool to finally see even

The New York Times

acknowledging material

I was writing about in 1998

.

In April of 1998 I wrote "Privacy has become an anachronism." I was commenting on "a massive system designed to intercept all your e-mail, fax traffic and more." I was explaining 'Echelon', the illegitimate offspring of a

UKUSA Treaty

signed by the United States, United Kingdom, Canada, Australia and New Zealand. Its purpose was, and is, to have a vast global intelligence monster, which allegedly shares common goals. The system was so "efficient" that reportedly National Security Agency folk from Fort Meade could work from Menwith Hill in England to intercept local communications without either nation having to burden themselves with the formality of seeking approval (a court order) or disclosing the operation. And this was all pre-9/11 and pre-the anti-constitutional

'Patriot Act'

.

It is illegal (without a Judge's signed permission) for the United States to spy on its citizens … kinda. The laws have long been circumvented by a mutual pact among five nations. Under the terms of UKUSA agreement, Britain spies on Americans and America spies on British citizens, and then the two conspirators trade data. A classic technical finesse. It is legal, but the intent to evade the spirit is inescapable.

I often fictionalized the genesis of 'Echelon' as an informal meeting of a group of post war American and British intelligence types drinking in some remote rustic bar. An imagined CIA type complains to his MI6 buddy about the hassles of US laws preventing US intelligence from surveillance of bad guys, and the Brit echoes the same complaint.

"Hey wait a moment mate," says Nigel, the make-believe MI6 guy, "I can spy on your guys and you can spy on our bad players…why don't we just come up with a mechanism whereby we spy on your villains, you spy on our villains, and we just 'share' the intel?"

This system was called ECHELON, and has been kicking around in some form longer than most of you. The result of the UKUSA treaty signed by the United States, United Kingdom, Canada, Australia and New Zealand was, and is, to have a vast global intelligence monster which allegedly shares common goals.

The London Telegraph reported in December of 1997 that the Civil liberties Committee of the European Parliament had officially confirmed the existence and purpose of ECHELON. "A global electronic spy network that can eavesdrop on every telephone, e-mail and telex communication around the world will be officially acknowledged for the first time in a European Commission report. …"

The report noted: "Within Europe all e-mail, telephone and fax communications are routinely intercepted by the United States National Security Agency, transferring ll target information from the European mainland via the strategic hub of London, then by satellite to Fort Meade in Maryland via the crucial hub at Menwith Hill, in the North York moors in the UK.

"The ECHELON system forms part of the UKUSA system but unlike many of the electronic spy systems developed during the Cold War, ECHELON was designed primarily for non-military targets: governments, organizations and businesses in virtually every country."

An interesting sidebar appeared in the International Herald Tribune under the headline, "Big Corporate Brother: It Knows More About You Than You Think." The story details Acxiom Corp, which was a humongous information service hidden in the Ozark foothills. Twenty-four hours a day, Acxiom electronically gathered and sorts all kinds of data about 196 million Americans. Credit card transactions and magazine subscriptions, telephone numbers, real estate records, automotive data, hunting, business and fishing licenses, consumer surveys and demographic detail that would make a marketing department's research manager salivate. This relatively new (legal) enterprise was known as "data warehousing" or "data-mining", and it underscores the cruel reality that the fiction of personal privacy has become obsolete. Technology's ability to collect and analyze data has made privacy a quaint albeit interesting dinosaur.

The Tribune reported that "Axciom can often determine whether an American owns a dog or cat, enjoys camping or gourmet cooking, reads the Bible or lots of other books. It can often pinpoint an American's occupation, car and favorite vacations. By analyzing the equivalent of billions of pages of data, it often projects for its customers who should be offered a credit card or who is likely to buy a computer."

Most of this information is from y 1998 piece. Echelon has developed, matured, and morphed into a much more powerful hybrid. 'Carnivore' was software to help triage the cacophony of data. Vault 7 and 'Umbrage' are logical (some would argue "insidious") growth.

More to follow…