"It Is Not A Question of Who Is Right Or Wrong But What Is Right Or Wrong That Counts.

"

--Geoff Metcalf
Providing an on line Triage of the news since 1997



Wo

rld & Nation
Obamacare Is Focus as Democrats Try to Hinder Barrett Supreme Court Hearing
Senate Democrats branded Supreme Court nominee Amy Coney Barrett a threat to the Affordable Care Act and many Americans' health care Monday at the start of a fast-tracked hearing that Republicans are confident will end with Barrett's confirmation to replace the late Justice Ruth Bader Ginsburg before Election Day.
In a competing effort to approvingly define the 48-year-old Barrett, who sat silent and wearing a face mask, Republican senators called President Donald Trump's pick a thoughtful judge with impeccable credentials.
Barring a dramatic development, Republicans appear to have the votes to confirm Barrett to a lifetime seat on the Supreme Court. If she is confirmed quickly she could be on the Supreme Court when it hears the latest challenge to the law popularly known as "Obamacare" on Nov. 10, a week after the election.
One after another, Democrats sought to tie her nomination to the upcoming court case.
---
American Bar Association rates Amy Coney Barrett 'well qualified'
The American Bar Association rated Supreme Court nominee Judge Amy Coney Barrett "well qualified" to fill a seat on the high court, judging by her "integrity, professional competence and judicial temperament."
The left-leaning ABA said a "substantial majority" of the evaluating committee gave her the "well qualified" rating, though a minority of members dissented, saying only that she was "qualified." No member voted "not qualified."
"The majority rating represents the standing committee's official rating," Randall D. Noel, chair of the evaluating panel, wrote in a letter to senators.
---
Schumer says Democrats won't give GOP quorum to advance Barrett nomination
Schumer called the Barrett confirmation effort 'illegitimate, dangerous and unpopular'
Senate Minority Leader Chuck Schumer on Sunday night promised that Democrats will not "supply quorum" for votes to advance Supreme Court nominee Amy Coney Barrett's confirmation effort, essentially meaning that Democrats will boycott the votes in an attempt to stall the confirmation ahead of the election.
Schumer made the comments during a Sunday night press conference in which he also demanded Barrett recuse herself from any cases involving the Affordable Care Act (ACA) and the presidential election. Schumer called the Barrett confirmation process "illegitimate, dangerous and unpopular," Sunday as Democrats ramp up their rhetoric ahead of the Senate Judiciary Committee hearings on Barrett that start Monday.
"We will talk about when the actual vote occurs in committee and on the floor. Democrats will not supply the quorum," Schumer said. "Period."
---
'Zero' chance U.S. troops will be deployed in event of disputed election: Gen. Mark Milley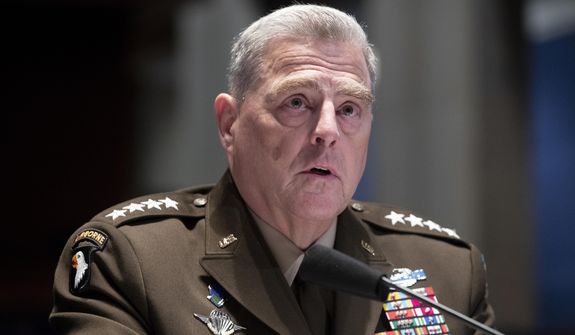 There is "zero" chance that U.S. troops will be deployed to cities in the event of a disputed election, Gen. Mark Milley, chairman of the Joint Chiefs of Staff, said Monday.
President Trump has previously suggested that his supporters "go into the polls and watch very carefully" for fraudulent activity. The president's comment was quickly analyzed by experts who have questioned whether he would deploy the National Guard to polling places to monitor the process and quell unrest.
But the possibility of such an outcome was squashed Monday morning when the Pentagon's top uniformed officer told NPR in an interview there is "no role for the U.S. military in determining the outcome of a U.S. election. Zero. There is no role there."
---
Trump: Senate Dems make 'self serving statements' at Supreme Court hearing
President Trump expressed frustration Monday during the first day of Supreme Court nominee Judge Amy Coney Barrett's hearing, saying Senate Democrats are taking too much time to attack his pick for the high court.
"The Republicans are giving the Democrats a great deal of time, which is not mandated, to make their self serving statements relative to our great new future Supreme Court Justice," the president tweeted.
The president's administration has been in talks with Capitol Hill on another round of COVID-19 relief but some Senate Republicans have grown frustrated over the administration continuously increasing the number potentially beyond $1.8 trillion — in negotiation with House Speaker Nancy Pelosi.
Instead of holding a vote on stimulus relief, the Senate is not currently in session. The Senate Judiciary Committee, though, is at work all week, holding a four day hearing for Judge Barrett.
---
Coronavirus restrictions drive Democrats to back Trump in Pennsylvania
Democrats suffer backlash from governor who isn't on ballot, but policies are
The coronavirus restrictions imposed by Pennsylvania Gov. Tom Wolf, a Democrat, have turned Pauline Grady from a lifelong Democrat into a registered Republican who is voting for President Trump.
"I was always 'blue' across the board," Mrs. Grady, 44, said of her voting habits. "Tom Wolf tipped me over the edge. I started opening my eyes a little more."
The second-term governor isn't on the ballot this year, but his handling of coronavirus shutdowns and the slow pace of reopening the state's sporting events, restaurants and other businesses have sparked widespread anger. Even some Democrats worry that it will cause a backlash at the polls that could help Mr. Trump, who is trailing Democrat Joseph R. Biden in the key swing state.
---
Boris Johnson is set to announce strict new coronavirus restrictions as hospital admissions exceed level seen at start of first UK lockdown
UK Prime Minister Boris Johnson will on Monday reveal plans for a series of new local lockdown restrictions as the number of people being hospitalised with the coronavirus in the UK exceeds the level seen at the start of first national lockdown.
Johnson will unveil the plan to Members of Parliament this afternoon before explaining them to the nation in a televised press conference alongside his scientific advisers at 18:00 (BST.)
The UK government is under growing pressure to escalate lockdown measures after a surge in new infections across the country — particularly in the north of England and cities Liverpool, Manchester, Nottingham, and Newcastle.
---
Astronomers see a black hole 'spaghettify' a star in real time
Coming too close can mean being instantly transformed into some very unpleasant pasta.
It's one of those astounding events that sounds like science fiction, but is just plain science. Astronomers say they were able to capture the process of a star being ripped into strips and devoured by a black hole in unprecedented detail.
The powerful phenomenon caught the attention of scientists when a new blast of light near a known supermassive black hole was spotted by telescopes around the world. Months worth of follow-up observations made it clear they were seeing the destruction of a far-off sun as it happened.
"In this case the star was torn apart with about half of its mass feeding -- or accreting -- into a black hole of one million times the mass of the Sun, and the other half was ejected outward," explained astronomer Edo Berger from the Harvard-Smithsonian Center for Astrophysics, in a statement.
---
U.S. air strikes target Taliban fighters advancing on key Afghan city
The United States launched air strikes against Taliban fighters in Afghanistan's southern Helmand province, U.S. officials said on Monday, after a large-scale offensive saw insurgents take over military bases in the region and close in on a key provincial capital.
The strikes, carried out over the last two days, mark a rare military intervention by the United States since it signed an agreement on troop withdrawal with the Taliban in February.
The deal provides for the withdrawal of foreign forces from Afghanistan in exchange for security guarantees from the insurgent group, and a pledge to sit down with the Kabul administration to find a peaceful settlement to decades of war.
---
The Great California Exodus Accelerates
German author Franz Kafka wrote in The Metamorphosis, "There is an infinite amount of hope in the universe … but not for us." The legendary writer might as well have been writing about the state of California, a progressive wasteland that is the personification of everything wrong with leftist orthodoxy. In the mid-19th century, when it became a state, tens of thousands of people headed west. Today, those with a modicum of judgment and respect for their pocketbook are heading anywhere that is not named California, attempting to flee the incompetent mismanagement of Governor Gavin Newsom and his Democratic friends in Sacramento on every subject, from the economy to civil liberties.
California may be the most populous state in the Union, but it could transform into the exodus capital of America. The Golden State has witnessed its population stall, declining slightly from 39.96 million to 39.78 million in the second half of 2019, according to the Department of Finance.
Growth has slowed close to zero or even declined in most coastal counties. The San Francisco Bay Area advanced, and counties east of Los Angeles witnessed modest growth. However, Los Angeles County shed residents for the second consecutive year in 2019. It is unclear how severe the population drop is in the aftermath of the Coronavirus pandemic and the state government's proposed tax hikes.
---
Portland protesters topple statues of Theodore Roosevelt, Abraham Lincoln in 'Day of Rage'; police declare riot
A group of protesters toppled statues of former presidents Theodore Roosevelt and Abraham Lincoln and shattered the entrance to the Oregon Historical Society in Portland's South Park Blocks late Sunday before moving into other areas of downtown, smashing storefronts and engaging in other acts of destruction.
Police declared the event a riot and ordered people rampaging through the city's streets to disperse but did not directly intervene until nearly an hour after the first statue fell. The crowd scattered when police cruisers flooded the area, and officers in tactical gear appeared to make several arrests.
Protest organizers had promoted the event on social media as an "Indigenous Peoples Day of Rage." Monday is the federally observed holiday of Columbus Day, but many states and cities now recognize the day instead as Indigenous Peoples Day over concerns that Christopher Columbus' arrival in the Americas helped launch centuries of violence against indigenous populations.
---
Behind the scenes of Democrats' half-century quest to destroy the Supreme Court
For nearly 50 years now Democrats have plotted to annihilate the Supreme Court.
Unable to sell their dangerous, destructive — even murderous — legislative agenda to voters, Democrats instead sought to strip the judicial branch of its independence by infecting it with their own twisted partisanship.
The reigning euphemism of the day is "court packing," which former Vice President Joe Biden openly refuses to discuss with voters until after the election. A more accurate term is "expanding" the Supreme Court by adding seats to dilute the currently sitting justices. Or "exploding" the federal judiciary. Or "annihilating" the independence of an entire branch of the federal government.
---
'Democrats are a party of hate and death. And they admit it'
Proof abounds that Democrats spout hateful messages, including ill wishes for the president and first lady
This past week proved it. The Democratic Party is now a party of hate and revenge. It is a party of violence and vice.
The Democratic Party is one of elite socialists who wish for, and celebrate, the death of all who dare to stand in their way.
Stated simply, Democrats are now a Nietzschean party of the Ubermensch — a party of racial, political and ideological supremacists who openly disdain all who disagree with their Marxist march for power and their bloodlust for control.
---
" It is discouraging to think how many people are shocked by honesty and how few by deceit."

-- Noel Coward

(1899-1973) British playwright

---

The Medal of Honor is the highest award for valor in action against an enemy force which can be bestowed upon an individual serving in the Armed Services of the United States.

GeneTrerally presented to its recipient by the President of the United States of America in the name of Congress.

The first award of the Medal of Honor was made March 25, 1863 to Private JACOB PARROTT.The last award of the Medal of Honor was made September 15, 2011 to Sergeant DAKOTA MEYER.

Since then there have been: • 3458 recipients of the Medal of Honor.

• Today there are 85 Living Recipients of the Medal of Honor.

Citation


Captain Humbert R. Versace distinguished himself by extraordinary heroism during the period of 29 October 1963 to 26 September 1965, while serving as S-2 Advisor, Military Assistance Advisory Group, Detachment 52, Ca Mau, Republic of Vietnam. While accompanying a Civilian Irregular Defense Group patrol engaged in combat operations in Thoi Binh District, An Xuyen Province, Captain Versace and the patrol came under sudden and intense mortar, automatic weapons, and small arms fire from elements of a heavily armed enemy battalion. As the battle raged, Captain Versace, although severely wounded in the knee and back by hostile fire, fought valiantly and continued to engage enemy targets. Weakened by his wounds and fatigued by the fierce firefight, Captain Versace stubbornly resisted capture by the over-powering Viet Cong force with the last full measure of his strength and ammunition. Taken prisoner by the Viet Cong, he exemplified the tenets of the Code of Conduct from the time he entered into Prisoner of War status. Captain Versace assumed command of his fellow American soldiers, scorned the enemy's exhaustive interrogation and indoctrination efforts, and made three unsuccessful attempts to escape, despite his weakened condition which was brought about by his wounds and the extreme privation and hardships he was forced to endure. During his captivity, Captain Versace was segregated in an isolated prisoner of war cage, manacled in irons for prolonged periods of time, and placed on extremely reduced ration. The enemy was unable to break his indomitable will, his faith in God, and his trust in the United States of America. Captain Versace, an American fighting man who epitomized the principles of his country and the Code of Conduct, was executed by the Viet Cong on 26 September 1965. Captain Versace's gallant actions in close contact with an enemy force and unyielding courage and bravery while a prisoner of war are in the highest traditions of the military service and reflect the utmost credit upon himself and the United States Army.

---

From the Archives

We Have Met the Enemy…
Geoff Metcalf


"They who can give up essential liberty to obtain a little temporary safety deserve neither liberty nor safety.
--Benjamin Franklin
"The American people must be willing to give up a degree of personal privacy in exchange for safety and security."
--Louis Freeh


In the wake of the clamor over the most recent WikiLeaks data dump, 'Vault 7', 'UMBRAGE', et al, it should be noted this is not really anything new. What we are seeing here is simply the evolution of something that goes back to the late 50s (to the incomplete best knowledge I have).

It is kinda cool to finally see even

The New York Times

acknowledging material

I was writing about in 1998

.

In April of 1998 I wrote "Privacy has become an anachronism." I was commenting on "a massive system designed to intercept all your e-mail, fax traffic and more." I was explaining 'Echelon', the illegitimate offspring of a

UKUSA Treaty

signed by the United States, United Kingdom, Canada, Australia and New Zealand. Its purpose was, and is, to have a vast global intelligence monster, which allegedly shares common goals. The system was so "efficient" that reportedly National Security Agency folk from Fort Meade could work from Menwith Hill in England to intercept local communications without either nation having to burden themselves with the formality of seeking approval (a court order) or disclosing the operation. And this was all pre-9/11 and pre-the anti-constitutional

'Patriot Act'

.

It is illegal (without a Judge's signed permission) for the United States to spy on its citizens … kinda. The laws have long been circumvented by a mutual pact among five nations. Under the terms of UKUSA agreement, Britain spies on Americans and America spies on British citizens, and then the two conspirators trade data. A classic technical finesse. It is legal, but the intent to evade the spirit is inescapable.

I often fictionalized the genesis of 'Echelon' as an informal meeting of a group of post war American and British intelligence types drinking in some remote rustic bar. An imagined CIA type complains to his MI6 buddy about the hassles of US laws preventing US intelligence from surveillance of bad guys, and the Brit echoes the same complaint.

"Hey wait a moment mate," says Nigel, the make-believe MI6 guy, "I can spy on your guys and you can spy on our bad players…why don't we just come up with a mechanism whereby we spy on your villains, you spy on our villains, and we just 'share' the intel?"

This system was called ECHELON, and has been kicking around in some form longer than most of you. The result of the UKUSA treaty signed by the United States, United Kingdom, Canada, Australia and New Zealand was, and is, to have a vast global intelligence monster which allegedly shares common goals.

The London Telegraph reported in December of 1997 that the Civil liberties Committee of the European Parliament had officially confirmed the existence and purpose of ECHELON. "A global electronic spy network that can eavesdrop on every telephone, e-mail and telex communication around the world will be officially acknowledged for the first time in a European Commission report. …"

The report noted: "Within Europe all e-mail, telephone and fax communications are routinely intercepted by the United States National Security Agency, transferring ll target information from the Eurv opean mainland via the strategic hub of London, then by satellite to Fort Meade in Maryland via the crucial hub at Menwith Hill, in the North York moors in th UK.

"The ECHELON system forms part of the UKUSA system but unlike many of the electronic spy systems developed during the Cold War, ECHELON was designed primarily for non-military targets: governments, organizations and businesses in virtually every country."

An interesting sidebar appeared in the International Herald Tribune under the headline, "Big Corporate Brother: It Knows More About You Than You Think." The story details Acxiom Corp, which was a humongous information service hidden in the Ozark foothills. Twenty-four hours a day, Acxiom electronically gathered and sorts all kinds of data about 196 million Americans. Credit card transactions and magazine subscriptions, telephone numbers, real estate records, automotive data, hunting, business and fishing licenses, consumer surveys and demographic detail that would make a marketing department's research manager salivate. This relatively new (legal) enterprise was known as "data warehousing" or "data-mining", and it underscores the cruel reality that the fiction of personal privacy has become obsolete. Technology's ability to collect and analyze data has made privacy a quaint albeit interesting dinosaur.

The Tribune reported that "Axciom can often determine whether an American owns a dog or cat, enjoys camping or gourmet cooking, reads the Bible or lots of other books. It can often pinpoint an American's occupation, car and favorite vacations. By analyzing the equivalent of billions of pages of data, it often projects for its customers who should be offered a credit card or who is likely to buy a computer."

Most of this information is from y 1998 piece. Echelon has developed, matured, and morphed into a much more powerful hybrid. 'Carnivore' was software to help triage the cacophony of data. Vault 7 and 'Umbrage' are logical (some would argue "insidious") growth.

More to follow…