"It Is Not A Question of Who Is Right Or Wrong But What Is Right Or Wrong That Counts.

"

--Geoff Metcalf
Providing an on line Triage of the news since 1997



Wo

rld & Nation
White House: National address from Trump isn't going to stop Antifa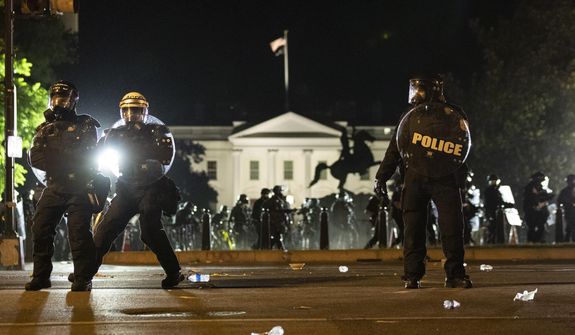 White House press secretary Kayleigh McEnany said Monday a national address from President Trump isn't going to "stop Antifa," the left-wing anti-fascist street organization Mr. Trump is fingering as a lead instigator in the ongoing protests across the country.

"A national Oval Office address is not going to stop Antifa," Ms. McEnany said on Fox News. "What's going to stop Antifa is action, and this president is committed to acting on this. He has several meetings pertaining to that today and that's his focus right now, is acting and keeping our streets safe."

Ms. McEnany pointed out that Mr. Trump has already delivered remarks on George Floyd, a black man who died in police custody in Minnesota last week after an officer knelt on his neck for nearly nine minutes and whose death has sparked a wave of protests around the country.


---
Unrest overshadows peaceful US protests for another night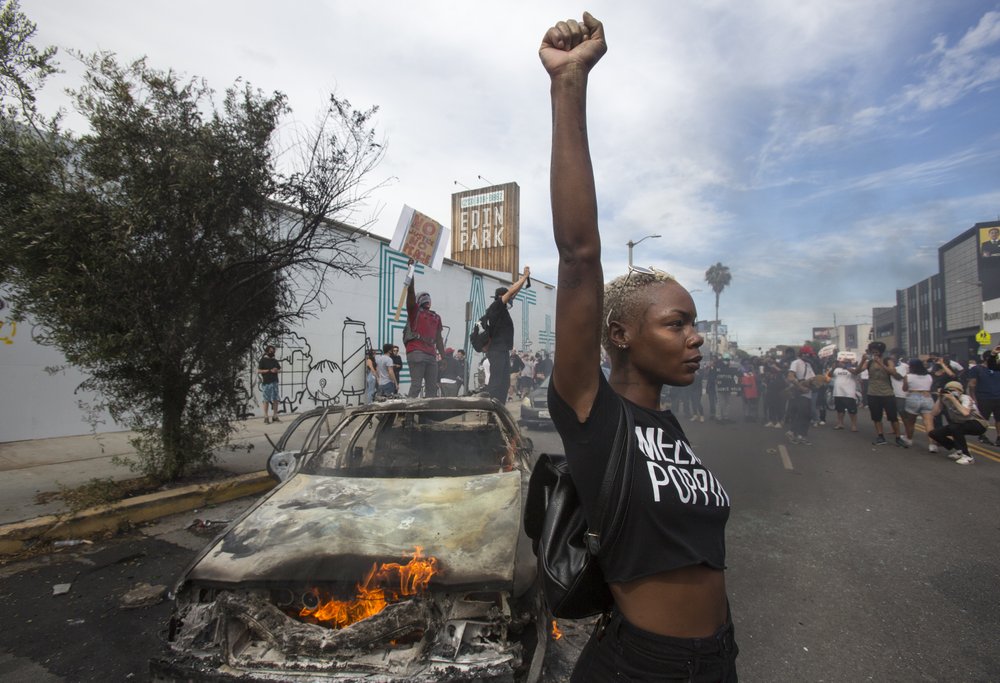 Tens of thousands of protesters took to the streets across America again Sunday, with peaceful demonstrations against police killings of black people overshadowed by unrest that ravaged cities from Philadelphia to Los Angeles and flared near the White House.
City and state officials deployed thousands of National Guard soldiers, enacted strict curfews and shut down mass transit systems to slow protesters' movements, but that did little to stop parts of many cities from again erupting into mayhem.
Protesters in Philadelphia hurled rocks and Molotov cocktails at police, officials said, while thieves in more than 20 California cities smashed their way into businesses and ran off with as much as they could carry — boxes of sneakers, armloads of clothes, and cellphones, TVs and other electronics.
---
NBA's J.R. Smith beats up protester who allegedly broke car window in Los Angeles
Smith: 'I chased him down and whupped his ass'
A protester accused of smashing windows in a Los Angeles residential neighborhood picked the wrong car.
Former Cleveland Cavaliers guard J.R. Smith beat up a man who allegedly broke the window on his parked vehicle amid protests over the death of George Floyd, as shown on video released Sunday by TMZ.
Smith, 34, a free agent who played in the NBA for 15 years and won the 2016 NBA Championship with Cleveland, later posted a video explaining that "one of these mother**ing white boys didn't know where he was going and broke my f**ing window on my truck."
---

D.C. Mayor Bowser suggests outside professional protesters among those in the city

D.C. Mayor Muriel Bowser on Monday suggested that professional protesters were involved in demonstrations over the weekend in the nation's capital, though she didn't name any particular groups.

"We've seen some of these tactics before, so we know that they were among the groups here," Ms. Bowser said on NBC's "Today" program. "The types of tools that they use, restocking, setting fires here and there to try to draw in the police to various locations."

"We recognize that people are frustrated and mad but tearing up our beautiful city is not the way to bring attention to what is a righteous cause," she said.


---
Trump: Biden 'Clueless' of 'Radical Left' Staffers Bailing Out Protesters
President Donald Trump ripped presumptive Democratic Party presidential nominee Joe Biden in a Monday morning tweet calling him "clueless" about his "people" donating money to an organization to help bail George Floyd protesters out of jail.
Trump called out "Sleepy" Joe Biden's campaign staff for being part of the "Radical Left" and "working to get the Anarchists out of jail" and "probably more" in his tweet.
Protests have turned violent nationwide as people started rioting and looting to raise attention to the killing of a black man by a white police officer in Minneapolis, Minnesota. The National Guard has been activated in several states, including in Minnesota, where the incident occurred, and protests have been going on for days. Protesters have been arrested for breaking into stores, setting buildings on fire and conducting violent protests.
---
Trump: U.S. to designate Antifa as terrorist organization
President Trump said Sunday that the U.S. will designate the anti-fascist street movement known as Antifa as a terrorist organization, placing the focus squarely on far-left agitators as the nation's major cities braced for another night of protest violence.
Attorney General William Barr backed up the president's declaration. He said the "violence instigated and carried out by Antifa and other similar groups in connection with the rioting is domestic terrorism and will be treated accordingly."
"It is time to stop watching the violence and to confront and stop it," Mr. Barr said. "The continued violence and destruction of property endangers the lives and livelihoods of others and interferes with the rights of peaceful protesters as well as other citizens."
---
US Judge Weighing Fight over Trump Ex-Adviser Flynn to Respond on Case
The U.S. judge weighing whether to drop a criminal case against President Donald Trump's former adviser Michael Flynn faces a Monday deadline to respond to the Justice Department's bombshell request to drop a charge to which Flynn has pleaded guilty.
The U.S. Court of Appeals for the District of Columbia Circuit ordered Judge Emmet Sullivan to respond by June 1 after Flynn, who briefly served as Trump's national security adviser, filed an emergency petition in line with the Justice Department's request.
Sullivan has tapped attorney Beth Wilkinson, one of the former top prosecutors on the Oklahoma City bombing case, to represent him in the appellate court case.
---
The Morning After: SpaceX makes history
Private spaceflight makes it to the International Space Station.
Since our early weekend edition of the Morning After, SpaceX has made it into space. Its second attempt, on Saturday afternoon, marked the first time a commercial aerospace company has transported astronauts off-world. It's also the first time since the cancellation of the Space Shuttle program in 2011 that astronauts have lifted off from US soil.
Roughly nine minutes after the Falcon 9 took off, the first stage rocket successfully set down on its autonomous sea barge here on Earth, and the Crew Dragon capsule, nicknamed Endeavor, successfully separated from its second stage.
Then, less than 24 hours ago, astronauts Bob Behnken and Doug Hurley docked the capsule with the International Space Station. More on that and the rest of the latest tech headlines, below.
---
Nancy Pelosi's proxy voting designed to dilute power of rank-and-file lawmakers
She denies House members the ability to draft, deliberate, amend and vote
In 561 BC, Peisistratos dissolved the Athenian "Ecclesia" ("Assembly") and seized power in Athens and Attica. The Ecclesia, made up of all adult male landowners in the Athenian city-state, would not rule the city again for more than 50 years.
In 1258, Simon de Montfort, in a bid to maintain his shaky control over England, convened the precursor to the modern Parliament (from the French for "a place or occasion to talk"). In the subsequent years, kings and parliaments would joust for supremacy, with the parliament ultimately winning — primarily by executing Charles I in 1649. Across those four centuries, one of the most used and useful weapons wielded by monarchs against parliaments was to dissolve them and send them back to their shires.
On May 20, in a similar way, House Speaker Nancy Pelosi essentially dissolved the House of Representatives in a bid to reduce the power and authority of most of its members and increase the power and authority of its leadership. The given reason for doing this is to restrain the progress of the coronavirus, but the actual purpose is to accelerate the steady migration of decision-making power from rank and file lawmakers to leadership, its lieutenants and staff.
---
What happens when you apologize to rioters?
Minnesota government and police officials raised pant legs to reveal something ugly on Saturday.
They showed they were up to their ankles in shared criminal liability with Antifa, Black Lives Matter and those ordinary Minnesotan rioters of African descent.
Those ordinary, non-professional rioters let loose an endless string of verbal nonsequiturs and destructive violence. They lit up our flat screens through Friday night and into Saturday morning.
" It is discouraging to think how many people are shocked by honesty and how few by deceit."

-- Noel Coward

(1899-1973) British playwright

---

The Medal of Honor is the highest award for valor in action against an enemy force which can be bestowed upon an individual serving in the Armed Services of the United States.

GeneTrerally presented to its recipient by the President of the United States of America in the name of Congress.

The first award of the Medal of Honor was made March 25, 1863 to Private JACOB PARROTT.The last award of the Medal of Honor was made September 15, 2011 to Sergeant DAKOTA MEYER.

Since then there have been: • 3458 recipients of the Medal of Honor.

• Today there are 85 Living Recipients of the Medal of Honor.

Citation


Captain Humbert R. Versace distinguished himself by extraordinary heroism during the period of 29 October 1963 to 26 September 1965, while serving as S-2 Advisor, Military Assistance Advisory Group, Detachment 52, Ca Mau, Republic of Vietnam. While accompanying a Civilian Irregular Defense Group patrol engaged in combat operations in Thoi Binh District, An Xuyen Province, Captain Versace and the patrol came under sudden and intense mortar, automatic weapons, and small arms fire from elements of a heavily armed enemy battalion. As the battle raged, Captain Versace, although severely wounded in the knee and back by hostile fire, fought valiantly and continued to engage enemy targets. Weakened by his wounds and fatigued by the fierce firefight, Captain Versace stubbornly resisted capture by the over-powering Viet Cong force with the last full measure of his strength and ammunition. Taken prisoner by the Viet Cong, he exemplified the tenets of the Code of Conduct from the time he entered into Prisoner of War status. Captain Versace assumed command of his fellow American soldiers, scorned the enemy's exhaustive interrogation and indoctrination efforts, and made three unsuccessful attempts to escape, despite his weakened condition which was brought about by his wounds and the extreme privation and hardships he was forced to endure. During his captivity, Captain Versace was segregated in an isolated prisoner of war cage, manacled in irons for prolonged periods of time, and placed on extremely reduced ration. The enemy was unable to break his indomitable will, his faith in God, and his trust in the United States of America. Captain Versace, an American fighting man who epitomized the principles of his country and the Code of Conduct, was executed by the Viet Cong on 26 September 1965. Captain Versace's gallant actions in close contact with an enemy force and unyielding courage and bravery while a prisoner of war are in the highest traditions of the military service and reflect the utmost credit upon himself and the United States Army.

---

From the Archives

We Have Met the Enemy…
Geoff Metcalf


"They who can give up essential liberty to obtain a little temporary safety deserve neither liberty nor safety.
--Benjamin Franklin
"The American people must be willing to give up a degree of personal privacy in exchange for safety and security."
--Louis Freeh


In the wake of the clamor over the most recent WikiLeaks data dump, 'Vault 7', 'UMBRAGE', et al, it should be noted this is not really anything new. What we are seeing here is simply the evolution of something that goes back to the late 50s (to the incomplete best knowledge I have).

It is kinda cool to finally see even

The New York Times

acknowledging material

I was writing about in 1998

.

In April of 1998 I wrote "Privacy has become an anachronism." I was commenting on "a massive system designed to intercept all your e-mail, fax traffic and more." I was explaining 'Echelon', the illegitimate offspring of a

UKUSA Treaty

signed by the United States, United Kingdom, Canada, Australia and New Zealand. Its purpose was, and is, to have a vast global intelligence monster, which allegedly shares common goals. The system was so "efficient" that reportedly National Security Agency folk from Fort Meade could work from Menwith Hill in England to intercept local communications without either nation having to burden themselves with the formality of seeking approval (a court order) or disclosing the operation. And this was all pre-9/11 and pre-the anti-constitutional

'Patriot Act'

.

It is illegal (without a Judge's signed permission) for the United States to spy on its citizens … kinda. The laws have long been circumvented by a mutual pact among five nations. Under the terms of UKUSA agreement, Britain spies on Americans and America spies on British citizens, and then the two conspirators trade data. A classic technical finesse. It is legal, but the intent to evade the spirit is inescapable.

I often fictionalized the genesis of 'Echelon' as an informal meeting of a group of post war American and British intelligence types drinking in some remote rustic bar. An imagined CIA type complains to his MI6 buddy about the hassles of US laws preventing US intelligence from surveillance of bad guys, and the Brit echoes the same complaint.

"Hey wait a moment mate," says Nigel, the make-believe MI6 guy, "I can spy on your guys and you can spy on our bad players…why don't we just come up with a mechanism whereby we spy on your villains, you spy on our villains, and we just 'share' the intel?"

This system was called ECHELON, and has been kicking around in some form longer than most of you. The result of the UKUSA treaty signed by the United States, United Kingdom, Canada, Australia and New Zealand was, and is, to have a vast global intelligence monster which allegedly shares common goals.

The London Telegraph reported in December of 1997 that the Civil liberties Committee of the European Parliament had officially confirmed the existence and purpose of ECHELON. "A global electronic spy network that can eavesdrop on every telephone, e-mail and telex communication around the world will be officially acknowledged for the first time in a European Commission report. …"

The report noted: "Within Europe all e-mail, telephone and fax communications are routinely intercepted by the United States National Security Agency, transferring ll target information from the Eurv opean mainland via the strategic hub of London, then by satellite to Fort Meade in Maryland via the crucial hub at Menwith Hill, in the North York moors in the UK.

"The ECHELON system forms part of the UKUSA system but unlike many of the electronic spy systems developed during the Cold War, ECHELON was designed primarily for non-military targets: governments, organizations and businesses in virtually every country."

An interesting sidebar appeared in the International Herald Tribune under the headline, "Big Corporate Brother: It Knows More About You Than You Think." The story details Acxiom Corp, which was a humongous information service hidden in the Ozark foothills. Twenty-four hours a day, Acxiom electronically gathered and sorts all kinds of data about 196 million Americans. Credit card transactions and magazine subscriptions, telephone numbers, real estate records, automotive data, hunting, business and fishing licenses, consumer surveys and demographic detail that would make a marketing department's research manager salivate. This relatively new (legal) enterprise was known as "data warehousing" or "data-mining", and it underscores the cruel reality that the fiction of personal privacy has become obsolete. Technology's ability to collect and analyze data has made privacy a quaint albeit interesting dinosaur.

The Tribune reported that "Axciom can often determine whether an American owns a dog or cat, enjoys camping or gourmet cooking, reads the Bible or lots of other books. It can often pinpoint an American's occupation, car and favorite vacations. By analyzing the equivalent of billions of pages of data, it often projects for its customers who should be offered a credit card or who is likely to buy a computer."

Most of this information is from y 1998 piece. Echelon has developed, matured, and morphed into a much more powerful hybrid. 'Carnivore' was software to help triage the cacophony of data. Vault 7 and 'Umbrage' are logical (some would argue "insidious") growth.

More to follow…