"It Is Not A Question of Who Is Right Or Wrong But What Is Right Or Wrong That Counts.

"

--Geoff Metcalf
Wo

rld & Nation
Hong Kong protesters flood city streets for largest rally in weeks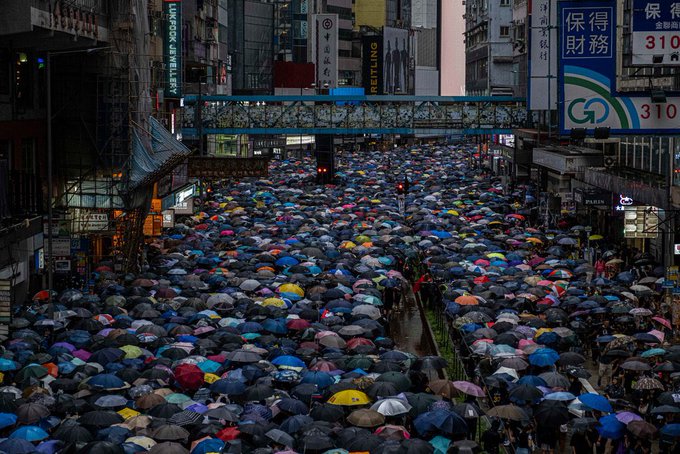 A sea of democracy activists flooded the streets of Hong Kong Sunday under torrential rains in a peaceful demonstration to city leaders that their movement still draws wide public support, despite mounting violence and increasingly stark warnings from Beijing.
Hundreds of thousands of umbrella-carrying protesters poured across the heart of Hong Kong island, defying both the downpour and a police order not to march from a park where they had gathered earlier for a rally.
Weeks of demonstrations have plunged the financial hub into crisis, with images of masked, black-clad protesters engulfed by tear gas during street battles against riot police stunning a city once renowned for its stability.
---
Warren's plans to fix America require $5 trillion in new taxes -- just for starters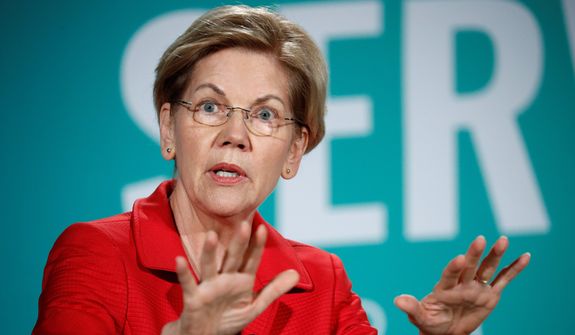 Democratic presidential candidate Elizabeth Warren has churned out scores of plans to fix America, and almost all of them require cracking the federal checkbook wide open.
Her campaign's estimates of the cost of the proposals, which include free child care and overhauling election systems, total more than $5 trillion over a decade. That sum does not include other high-priced items on the liberal wish list such as "Medicare for All" government-run health care.
It appears that Ms. Warren is just getting started.
The Washington Times' tally of a $5 trillion price tag did not include the cost of fully implementing a "Green New Deal" environmental makeover of the U.S. economy, estimated at between $52 trillion and $93 trillion, or Medicare for All, estimated at between $28 trillion and $32 trillion.
---
Trump Dismisses Worries of Recession, Says Economy Is Strong
President Donald Trump said Sunday the economy is "doing very well" and dismissed concerns of recession, offering an optimistic outlook after last week's steep drop in the financial markets.
"I don't think we're having a recession," Trump told reporters as he returned to Washington from his New Jersey golf club. "We're doing tremendously well. Our consumers are rich. I gave a tremendous tax cut and they're loaded up with money."
Larry Kudlow, Trump's top economic adviser, also played down fears of a looming recession and predicted the economy will perform well in the second half of 2019. In Sunday television interviews, he said that consumers are seeing higher wages and are able to spend and save more.
---
Islamic State claims bombing at Kabul wedding that killed 63
The suicide bomber stood in the middle of the dancing, clapping crowd as hundreds of Afghan children and adults celebrated a wedding in a joyous release from Kabul's strain of war. Then, in a flash, he detonated his explosives-filled vest, killing dozens — and Afghanistan grieved again.
The local Islamic State affiliate claimed responsibility for the deadliest attack in the capital this year, with 63 killed and 182 wounded, while outraged Afghans questioned just how safe they will be under an approaching deal between the United States and the Taliban to end America's longest war.
Stunned families buried the dead, some digging with their bare hands. One wounded survivor, Mohammad Aslim, still wore his bloodied clothes the day after the blast late Saturday. He and his friends had already buried 16 bodies, among them several close relatives, including a 7-year-old boy.
---
Trump says 'very good' talks with Taliban moving toward peace, smaller U.S. presence
President Trump said Sunday he wants to withdraw more U.S. troops from Afghanistan but leave behind a significant intelligence-gathering operation to prevent the nation from becoming "a laboratory for terror" again.
"We're there for one reason, we don't want that to be a laboratory … It can't be a laboratory for terror," the president told reporters in New Jersey after he held meetings on a U.S.-Taliban peace plan. "We're having very good discussions with the Taliban. We're having very good discussions with the Afghan government. We'll decide whether or not we'll be staying longer or not."
Afghanistan was a base for al Qaeda's plot to attack the U.S. on Sept. 11, 2001, leading to America's longest-running war. The peace plan is expected to cause the U.S. to reduce its force there from about 15,000 troops to around 8,000.
---
ROBOT BATTLESHIP US Navy to build £330m world's largest robot warship to patrol the most dangerous seas
THE US Navy wants to build a fleet of ten robot warships over the next five years.
The huge ships referred to as Large Unmanned Surface Vehicles (LUSVs) would function as scouts for the main battle fleet, carrying radar and sonar as well as anti-air and cruise missiles.
The vessels will mostly carry out "3D work" – dull, dirty and dangerous.
A document shared with potnetial contractors, posted on the FedBizOpps website, said: "The LUSV will be a high-endurance, reconfigurable ship able to accommodate various payloads for unmanned missions to augment the Navy's manned surface force.
---
Joe Manchin 'encouraged' by Capitol Hill gun control talks: 'We shouldn't be living in fear'
Sen. Joe Manchin III said Sunday that while President Trump hasn't pledged support for his bill to expand background checks — or for any other gun measures — he is "encouraged" by talks on Capitol Hill in the wake of mass shootings in Texas and Ohio.
"We haven't had this before," the West Virginia Democrat said of the dialogue.
Speaking to CBS's "Face the Nation," Mr. Manchin said he's hoping to overcome GOP opposition to his bill, co-written with Republican Sen. Pat Toomey, that would expand the number of gun sales subject to background checks.
---
CNN's Clarissa Ward says intimidation effort made on Russia story
CNN's Clarissa Ward says her story this week about Russian involvement in the Central African Republic came with a price: She was trailed during her reporting and made the subject of a 15-minute propaganda video denigrating her work.
Ward said she was shaken by the experience but it confirmed for her that the story made powerful people uncomfortable.
"This was very clearly an attempt to discredit and intimidate us," Ward, CNN's chief international correspondent, said Friday.
Her story about Russian involvement in gold mining and other activities in the African nation touched upon the role of Wagner, a private Russian military contractor believed to be backed by Yevgeny Prigozhin, a businessman with close ties to the Kremlin. Prigozhin was sanctioned by the U.S. for investing in organizations that tried to influence the 2016 American presidential election.
---
Joe Biden has bigger problems than just gaffes
Joe Biden, 76, has been getting heaps of attention for his verbal gaffes. Alas, voters should worry about a far bigger problem: It's impossible to know what he stands for.
Yes, some of his slip-ups can be head-scratching. Democrats choose "truth over facts," he said. Huh? The kids from the Parkland high school shooting — which happened after he left office — "came to see me when I was vice president."
His advisers insist it's not his age but just "Joe being Joe." That's hardly consolation. Still, misspeaking isn't the worst of sins.
The bigger trouble is that, even when he's not mangling words, it can be hard to tell his true position — not just because he's inarticulate but because some of what he says is just plain bizarre. And because he's flip-flopped so furiously under pressure from his Democratic foes.
---
Blame the shooter, not law-abiding gun owners
It really takes uncommon depravity for someone to use a tragedy such as a shooting to score political points. It is a level of disregard for human life that the vast majority of decent people in America cannot comprehend.
Yet, we seem to have a political stage full of such abjectly depraved people. It is so bad that these people may as well support live-birth abortion. Oh, wait. They do.
As despicable as it was watching all the Democrats running for president scramble over dead bodies to offer the first and most depraved reactions to the recent shootings, it was a political thug in Philadelphia who proved to be the worst.
---
Human beings aren't defined by their desires or appetites
The July 27 edition of The Wall Street Journal contains a debate between David French (attorney and writer for National Review and columnist for Time) and Marci Hamilton (professor at the University of Pennsylvania and former clerk for Sandra Day O'Connor).
The pro and con exchange was on the issue of religious liberty. While, Mr. French does a good job in defending religious freedom, Ms. Hamilton's argument for curtailing it falls short.
The primary error Ms. Hamilton commits can be boiled down to what Chuck Colson called getting the answer to the "first question" of human identity wrong.
---
---
"It is discouraging to think how many people are shocked by honesty and how few by deceit."

-- Noel Coward

(1899-1973) British playwright

---

The Medal of Honor is the highest award for valor in action against an enemy force which can be bestowed upon an individual serving in the Armed Services of the United States.

GeneTrerally presented to its recipient by the President of the United States of America in the name of Congress.

The first award of the Medal of Honor was made March 25, 1863 to Private JACOB PARROTT.The last award of the Medal of Honor was made September 15, 2011 to Sergeant DAKOTA MEYER.

Since then there have been: • 3458 recipients of the Medal of Honor.

• Today there are 85 Living Recipients of the Medal of Honor.

Citation


https://www.washingtontimes.com/news/2019/aug/16/being-human/

Captain Humbert R. Versace distinguished himself by extraordinary heroism during the period of 29 October 1963 to 26 September 1965, while serving as S-2 Advisor, Military Assistance Advisory Group, Detachment 52, Ca Mau, Republic of Vietnam. While accompanying a Civilian Irregular Defense Group patrol engaged in combat operations in Thoi Binh District, An Xuyen Province, Captain Versace and the patrol came under sudden and intense mortar, automatic weapons, and small arms fire from elements of a heavily armed enemy battalion. As the battle raged, Captain Versace, although severely wounded in the knee and back by hostile fire, fought valiantly and continued to engage enemy targets. Weakened by his wounds and fatigued by the fierce firefight, Captain Versace stubbornly resisted capture by the over-powering Viet Cong force with the last full measure of his strength and ammunition. Taken prisoner by the Viet Cong, he exemplified the tenets of the Code of Conduct from the time he entered into Prisoner of War status. Captain Versace assumed command of his fellow American soldiers, scorned the enemy's exhaustive interrogation and indoctrination efforts, and made three unsuccessful attempts to escape, despite his weakened condition which was brought about by his wounds and the extreme privation and hardships he was forced to endure. During his captivity, Captain Versace was segregated in an isolated prisoner of war cage, manacled in irons for prolonged periods of time, and placed on extremely reduced ration. The enemy was unable to break his indomitable will, his faith in God, and his trust in the United States of America. Captain Versace, an American fighting man who epitomized the principles of his country and the Code of Conduct, was executed by the Viet Cong on 26 September 1965. Captain Versace's gallant actions in close contact with an enemy force and unyielding courage and bravery while a prisoner of war are in the highest traditions of the military service and reflect the utmost credit upon himself and the United States Army.

---

From the Archives

We Have Met the Enemy…
Geoff Metcalf


"They who can give up essential liberty to obtain a little temporary safety deserve neither liberty nor safety.
--Benjamin Franklin
"The American people must be willing to give up a degree of personal privacy in exchange for safety and security."
--Louis Freeh


In the wake of the clamor over the most recent WikiLeaks data dump, 'Vault 7', 'UMBRAGE', et al, it should be noted this is not really anything new. What we are seeing here is simply the evolution of something that goes back to the late 50s (to the incomplete best knowledge I have).

It is kinda cool to finally see even

The New York Times

acknowledging material

I was writing about in 1998

.

In April of 1998 I wrote "Privacy has become an anachronism." I was commenting on "a massive system designed to intercept all your e-mail, fax traffic and more." I was explaining 'Echelon', the illegitimate offspring of a

UKUSA Treaty

signed by the United States, United Kingdom, Canada, Australia and New Zealand. Its purpose was, and is, to have a vast global intelligence monster, which allegedly shares common goals. The system was so "efficient" that reportedly National Security Agency folk from Fort Meade could work from Menwith Hill in England to intercept local communications without either nation having to burden themselves with the formality of seeking approval (a court order) or disclosing the operation. And this was all pre-9/11 and pre-the anti-constitutional

'Patriot Act'

.

It is illegal (without a Judge's signed permission) for the United States to spy on its citizens … kinda. The laws have long been circumvented by a mutual pact among five nations. Under the terms of UKUSA agreement, Britain spies on Americans and America spies on British citizens, and then the two conspirators trade data. A classic technical finesse. It is legal, but the intent to evade the spirit is inescapable.

I often fictionalized the genesis of 'Echelon' as an informal meeting of a group of post war American and British intelligence types drinking in some remote rustic bar. An imagined CIA type complains to his MI6 buddy about the hassles of US laws preventing US intelligence from surveillance of bad guys, and the Brit echoes the same complaint.

"Hey wait a moment mate," says Nigel, the make-believe MI6 guy, "I can spy on your guys and you can spy on our bad players…why don't we just come up with a mechanism whereby we spy on your villains, you spy on our villains, and we just 'share' the intel?"

This system was called ECHELON, and has been kicking around in some form longer than most of you. The result of the UKUSA treaty signed by the United States, United Kingdom, Canada, Australia and New Zealand was, and is, to have a vast global intelligence monster which allegedly shares common goals.

The London Telegraph reported in December of 1997 that the Civil liberties Committee of the European Parliament had officially confirmed the existence and purpose of ECHELON. "A global electronic spy network that can eavesdrop on every telephone, e-mail and telex communication around the world will be officially acknowledged for the first time in a European Commission report. …"

The report noted: "Within Europe all e-mail, telephone and fax communications are routinely intercepted by the United States National Security Agency, transferring all target information from the European mainland via the strategic hub of London, then by satellite to Fort Meade in Maryland via the crucial hub at Menwith Hill, in the North York moors in the UK.

"The ECHELON system forms part of the UKUSA system but unlike many of the electronic spy systems developed during the Cold War, ECHELON was designed primarily for non-military targets: governments, organizations and businesses in virtually every country."

An interesting sidebar appeared in the International Herald Tribune under the headline, "Big Corporate Brother: It Knows More About You Than You Think." The story details Acxiom Corp, which was a humongous information service hidden in the Ozark foothills. Twenty-four hours a day, Acxiom electronically gathered and sorts all kinds of data about 196 million Americans. Credit card transactions and magazine subscriptions, telephone numbers, real estate records, automotive data, hunting, business and fishing licenses, consumer surveys and demographic detail that would make a marketing department's research manager salivate. This relatively new (legal) enterprise was known as "data warehousing" or "data-mining", and it underscores the cruel reality that the fiction of personal privacy has become obsolete. Technology's ability to collect and analyze data has made privacy a quaint albeit interesting dinosaur.

The Tribune reported that "Axciom can often determine whether an American owns a dog or cat, enjoys camping or gourmet cooking, reads the Bible or lots of other books. It can often pinpoint an American's occupation, car and favorite vacations. By analyzing the equivalent of billions of pages of data, it often projects for its customers who should be offered a credit card or who is likely to buy a computer."

Most of this information is from y 1998 piece. Echelon has developed, matured, and morphed into a much more powerful hybrid. 'Carnivore' was software to help triage the cacophony of data. Vault 7 and 'Umbrage' are logical (some would argue "insidious") growth.

More to follow…