"It Is Not A Question of Who Is Right Or Wrong But What Is Right Or Wrong That Counts.

"

--Geoff Metcalf
Providing an on line Triage of the news since 1997



Wo

rld & Nation
Nancy Pelosi's moves delay start to Senate impeachment trial
House speaker pushes back on pressure to transmit impeachment articles
House Speaker Nancy Pelosi began to drag her feet again Sunday after caving to bipartisan pressure to transmit the articles of impeachment to the Senate, raising new questions about when the trial against the president could begin in the upper chamber.
Mrs. Pelosi, California Democrat, said Friday that she would transmit the articles to the Senate early this week, but she was not specific Sunday about when her chamber would formally send the charges to the upper chamber. She said only that she would discuss the timing with her members at their Tuesday meeting.
"We will determine in our meeting when we send them over. But it — we have never — I have always said I would send them over. So there shouldn't be any mystery to that," she said during an interview on ABC's "This Week."
---
Elizabeth Warren: Disappointed that Bernie Sanders is sending volunteers out to 'trash' me
Sen. Elizabeth Warren of Massachusetts on Sunday said she's "disappointed" that Sen. Bernard Sanders of Vermont is sending volunteers out to "trash her," after a script for Sanders volunteers had surfaced saying that Ms. Warren isn't bringing new people to the Democratic Party.
"I was disappointed to hear that Bernie is sending his volunteers out to trash me. Bernie knows me and has known me for a long time," Ms. Warren told reporters while campaigning in Iowa. "I hope Bernie reconsiders and turns his campaign in a different direction."
She also warned Democrats against the "factionalism" she said was present in the 2016 race.
---
'Opposite of Benghazi': Obama's weak response motivated Trump's Iran strike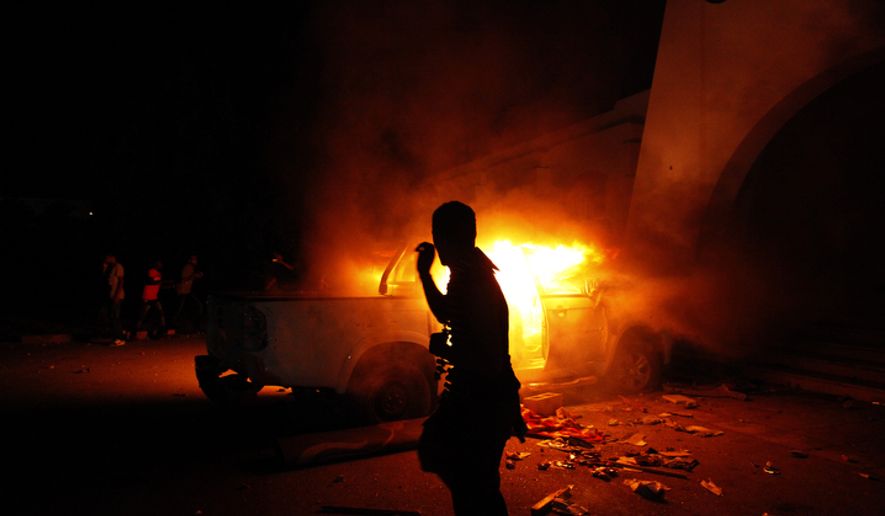 President Trump calls his military clash with Iran over a besieged U.S. Embassy "the opposite of Benghazi," and people close to him say it's impossible to overstate how deeply Mr. Trump was influenced by the fatal 2012 terrorist attack on the U.S. facilities in Libya, and by President Barack Obama's weak response.
When Iran-backed forces attacked the U.S. Embassy in Baghdad and set fires to the walls of the compound, Mr. Trump quickly ordered a contingent of Marines to defend the complex.
Then he ordered a drone strike in Baghdad that killed Iranian Maj. Gen. Qassem Soleimani, a designated terrorist believed to have plotted the embassy assault and to have been planning more attacks on Americans.
---
Trump 'Couldn't Care Less' If Iran Wants to Negotiate
President Donald Trump says he "couldn't care less" if Iran wants to negotiate.
His comments follow White House National Security Adviser Robert O'Brien's statement that despite recent aggression from Iran, a combination of sanctions and protests from its citizens will force officials back to the table for a nuclear deal.
"Iran is being choked off, and Iran is going to have no other choice but to come to the table."
Trump seized on the comment, tweeting: "National Security Adviser suggested today that sanctions & protests have Iran 'choked off,' will force them to negotiate. Actually, I couldn't care less if they negotiate. Will be totally up to them but, no nuclear weapons and 'don't kill your protesters.'"
---
Report reveals lone FBI source of Trump conspiracy evidence came in bogus dossier
The long FBI probe into a purported Russia election collusion was absent of any direct conspiracy evidence against a Trump associate except for the discredited Democratic Party-financed dossier and its impresario, Fusion GPS.
For the first time in an official report, there are explanations of why the FBI initially targeted four Trump advisers: retired Army Lt. Gen. Michael Flynn, adviser George Papadopoulos, campaign chairman Paul Manafort and adviser Carter Page.
The internal August 2016 explanations are found in the 436-page report of Justice Department Inspector General Michael E. Horowitz. No FBI predication accused the four or listed evidence of a conspiracy.
---
Mike Rowe: Bloomberg 'lost me' with calling California great example
"Returning the Favor" host Mike Rowe threw some shade Friday at 2020 hopeful Michael Bloomberg's claim that California should serve as a model for the rest of the United States.
Mr. Rowe, the former host of the Discovery Channel's "Dirty Jobs" who has become a household name among blue-collar conservatives for his everyman and often patriotic words of wisdom, told Fox News that Mr. Bloomberg "lost me with that whole 'California is a model' thing."
"It's probably beyond my pay grade but my understanding of what's going on in California is seemingly different than his, so I don't get it," he said.
Conservatives, including President Trump, have pointed to California's homelessness and drug crises as examples of the setbacks of unrestrained liberalism. Mr. Bloomberg, however, opened his first campaign office in the state in Los Angeles Monday, telling supporters that he admired the state for being a leader on issues such as gun control and protecting illegal immigrants.
---
Obama campaign guru: Trump would love to run against Bernie
Jim Messina says Sanders' socialism at the top of the ticket would be problematic for the party.
Barack Obama's 2012 campaign manager is warning that Democrats would struggle in a general election against Donald Trump if Bernie Sanders is the nominee.
In an interview with POLITICO, Jim Messina predicted that Trump would exploit Sanders' stamp of socialism in battleground states needed to defeat Trump, keep control of the House and have a shot at winning the Senate.
Story Continued Below
"If I were a campaign manager for Donald Trump and I look at the field, I would very much want to run against Bernie Sanders," Messina said. "I think the contrast is the best. He can say, 'I'm a business guy, the economy's good and this guy's a socialist.' I think that contrast for Trump is likely one that he'd be excited about in a way that he wouldn't be as excited about Biden or potentially Mayor Pete or some of the more Midwestern moderate candidates."
---
Harry faces the music: Prince arrives at Sandringham for royal 'Megxit' summit showdown with the Queen, Charles and William to thrash out a deal for his and Meghan's future
Prince Harry has arrived at Sandringham to finally face the Queen, Prince Charles and Prince William for the first time since quitting as a senior royal with Meghan 'dialling in' to support her husband from Canada.
The Duke of Sussex wants his 93-year-old grandmother, father and brother to let him and his wife keep their royal titles while living abroad and grabbing 'financial independence' to earn their own money using the Sussex brand, which experts say could be worth £400million.
Harry drove into Sandringham via its rear entrance in a blacked-out Range Rover Evoque at 11.20am - just as he and his older brother released their first joint statement since the abdication crisis blasting claims William has been bullying the Sussexes.
Her Majesty has been supported by Prince Philip throughout the abdication crisis and her husband of 72 years has acted as her sounding board for finding a solution. The Duke of Edinburgh ducked out of the palace before the mega-summit started, leaving his wife to broker the deal, but is said to be furious with his grandson and his Californian-born wife.
---
What to expect next from Iran after Soleimani killing
Iran's true response to death will come at a time of its choosing
Gen. Qassem Soleimani is dead. The Iranians have retaliated by firing a volley of missiles at U.S. bases in Iraq. The usual strident critics of the Trump administration are talking about World War III, and the press is filled with reports that terrified millennials believe they are about to be drafted.
The world waits to see what will happen next. Is this the beginning of a broader conflict or simply the end of a limited exchange of fire?
It is neither. It is the end of the beginning.
---
A 2020 national security wish list
Nation-building must be rejected and a new strategy found to replace it
America is never as solipsistic as it is in election years. This one will be no exception because Congress, the media and public debate will be almost totally dominated by election news and the Democrats' impeachment melodrama.
We need to shake off that self-hypnosis to consider what can and should be done this year to improve our national security and America's standing in the world. Here's a national security wish list for 2020.
President Trump has already made a significant step toward accomplishing the first thing on the list, which is to bring the conflict with Iran to a successful conclusion. Success must be defined in terms of ending Iran's continued aggression. But how? Iran is a revolutionary power that is not susceptible to long-term deterrence.
---
" It is discouraging to think how many people are shocked by honesty and how few by deceit."

-- Noel Coward

(1899-1973) British playwright

---

The Medal of Honor is the highest award for valor in action against an enemy force which can be bestowed upon an individual serving in the Armed Services of the United States.

GeneTrerally presented to its recipient by the President of the United States of America in the name of Congress.

The first award of the Medal of Honor was made March 25, 1863 to Private JACOB PARROTT.The last award of the Medal of Honor was made September 15, 2011 to Sergeant DAKOTA MEYER.

Since then there have been: • 3458 recipients of the Medal of Honor.

• Today there are 85 Living Recipients of the Medal of Honor.

Citation


Captain Humbert R. Versace distinguished himself by extraordinary heroism during the period of 29 October 1963 to 26 September 1965, while serving as S-2 Advisor, Military Assistance Advisory Group, Detachment 52, Ca Mau, Republic of Vietnam. While accompanying a Civilian Irregular Defense Group patrol engaged in combat operations in Thoi Binh District, An Xuyen Province, Captain Versace and the patrol came under sudden and intense mortar, automatic weapons, and small arms fire from elements of a heavily armed enemy battalion. As the battle raged, Captain Versace, although severely wounded in the knee and back by hostile fire, fought valiantly and continued to engage enemy targets. Weakened by his wounds and fatigued by the fierce firefight, Captain Versace stubbornly resisted capture by the over-powering Viet Cong force with the last full measure of his strength and ammunition. Taken prisoner by the Viet Cong, he exemplified the tenets of the Code of Conduct from the time he entered into Prisoner of War status. Captain Versace assumed command of his fellow American soldiers, scorned the enemy's exhaustive interrogation and indoctrination efforts, and made three unsuccessful attempts to escape, despite his weakened condition which was brought about by his wounds and the extreme privation and hardships he was forced to endure. During his captivity, Captain Versace was segregated in an isolated prisoner of war cage, manacled in irons for prolonged periods of time, and placed on extremely reduced ration. The enemy was unable to break his indomitable will, his faith in God, and his trust in the United States of America. Captain Versace, an American fighting man who epitomized the principles of his country and the Code of Conduct, was executed by the Viet Cong on 26 September 1965. Captain Versace's gallant actions in close contact with an enemy force and unyielding courage and bravery while a prisoner of war are in the highest traditions of the military service and reflect the utmost credit upon himself and the United States Army.

---

From the Archives

We Have Met the Enemy…
Geoff Metcalf


"They who can give up essential liberty to obtain a little temporary safety deserve neither liberty nor safety.
--Benjamin Franklin
"The American people must be willing to give up a degree of personal privacy in exchange for safety and security."
--Louis Freeh


In the wake of the clamor over the most recent WikiLeaks data dump, 'Vault 7', 'UMBRAGE', et al, it should be noted this is not really anything new. What we are seeing here is simply the evolution of something that goes back to the late 50s (to the incomplete best knowledge I have).

It is kinda cool to finally see even

The New York Times

acknowledging material

I was writing about in 1998

.

In April of 1998 I wrote "Privacy has become an anachronism." I was commenting on "a massive system designed to intercept all your e-mail, fax traffic and more." I was explaining 'Echelon', the illegitimate offspring of a

UKUSA Treaty

signed by the United States, United Kingdom, Canada, Australia and New Zealand. Its purpose was, and is, to have a vast global intelligence monster, which allegedly shares common goals. The system was so "efficient" that reportedly National Security Agency folk from Fort Meade could work from Menwith Hill in England to intercept local communications without either nation having to burden themselves with the formality of seeking approval (a court order) or disclosing the operation. And this was all pre-9/11 and pre-the anti-constitutional

'Patriot Act'

.

It is illegal (without a Judge's signed permission) for the United States to spy on its citizens … kinda. The laws have long been circumvented by a mutual pact among five nations. Under the terms of UKUSA agreement, Britain spies on Americans and America spies on British citizens, and then the two conspirators trade data. A classic technical finesse. It is legal, but the intent to evade the spirit is inescapable.

I often fictionalized the genesis of 'Echelon' as an informal meeting of a group of post war American and British intelligence types drinking in some remote rustic bar. An imagined CIA type complains to his MI6 buddy about the hassles of US laws preventing US intelligence from surveillance of bad guys, and the Brit echoes the same complaint.

"Hey wait a moment mate," says Nigel, the make-believe MI6 guy, "I can spy on your guys and you can spy on our bad players…why don't we just come up with a mechanism whereby we spy on your villains, you spy on our villains, and we just 'share' the intel?"

This system was called ECHELON, and has been kicking around in some form longer than most of you. The result of the UKUSA treaty signed by the United States, United Kingdom, Canada, Australia and New Zealand was, and is, to have a vast global intelligence monster which allegedly shares common goals.

The London Telegraph reported in December of 1997 that the Civil liberties Committee of the European Parliament had officially confirmed the existence and purpose of ECHELON. "A global electronic spy network that can eavesdrop on every telephone, e-mail and telex communication around the world will be officially acknowledged for the first time in a European Commission report. …"

The report noted: "Within Europe all e-mail, telephone and fax communications are routinely intercepted by the United States National Security Agency, transferring ll target information from the European mainland via the strategic hub of London, then by satellite to Fort Meade in Maryland via the crucial hub at Menwith Hill, in the North York moors in the UK.

"The ECHELON system forms part of the UKUSA system but unlike many of the electronic spy systems developed during the Cold War, ECHELON was designed primarily for non-military targets: governments, organizations and businesses in virtually every country."

An interesting sidebar appeared in the International Herald Tribune under the headline, "Big Corporate Brother: It Knows More About You Than You Think." The story details Acxiom Corp, which was a humongous information service hidden in the Ozark foothills. Twenty-four hours a day, Acxiom electronically gathered and sorts all kinds of data about 196 million Americans. Credit card transactions and magazine subscriptions, telephone numbers, real estate records, automotive data, hunting, business and fishing licenses, consumer surveys and demographic detail that would make a marketing department's research manager salivate. This relatively new (legal) enterprise was known as "data warehousing" or "data-mining", and it underscores the cruel reality that the fiction of personal privacy has become obsolete. Technology's ability to collect and analyze data has made privacy a quaint albeit interesting dinosaur.

The Tribune reported that "Axciom can often determine whether an American owns a dog or cat, enjoys camping or gourmet cooking, reads the Bible or lots of other books. It can often pinpoint an American's occupation, car and favorite vacations. By analyzing the equivalent of billions of pages of data, it often projects for its customers who should be offered a credit card or who is likely to buy a computer."

Most of this information is from y 1998 piece. Echelon has developed, matured, and morphed into a much more powerful hybrid. 'Carnivore' was software to help triage the cacophony of data. Vault 7 and 'Umbrage' are logical (some would argue "insidious") growth.

More to follow…