"It Is Not A Question of Who Is Right Or Wrong But What Is Right Or Wrong That Counts.

"

--Geoff Metcalf



Wo
rld & National
'Q' followers gain prominence at Trump rallies: 'All of us are looking for truth'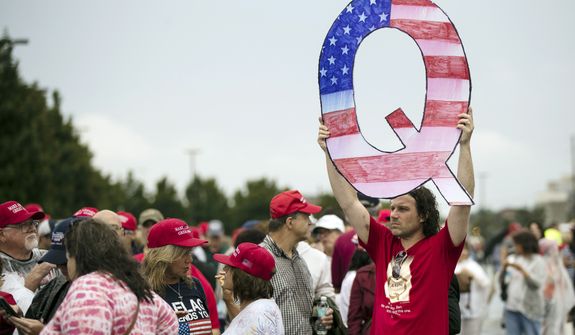 Gary Brown of central Ohio is a follower of "Q," the mysterious internet figure suddenly gaining prominence at President Trump's campaign rallies.
Mr. Brown, a real estate agent and retired firefighter, began paying attention to the cryptic and frequently pro-Trump comments posted by the anonymous Q on message boards last year. He concluded that Q is better informed than the mainstream media about Washington and other topics.
"I don't know for a fact who Q is," Mr. Brown said. "I have strong thoughts that it certainly could be someone in the administration. All I know is, when I read what is posted on the 'Q board,' it seems to be more relevant and more true than what I'm reading in the papers."
---
Trump defends son's 'totally legal' Trump Tower meeting, says he didn't know about it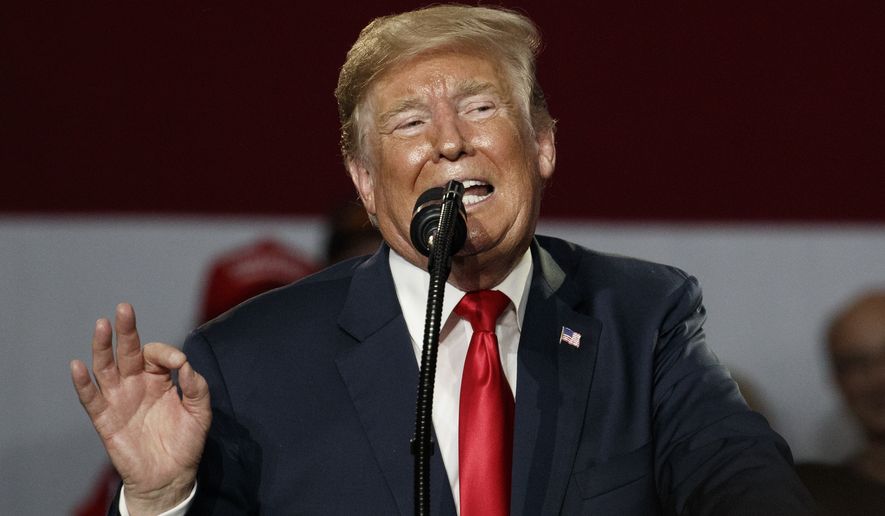 President Trump dismissed news reports Sunday that he's worried about legal trouble for his son related to the special counsel's investigation, and continued his attacks on the media.
A source close to Mr. Trump said the president is worried about special counsel Robert Mueller targeting his son Donald Trump Jr. after his former personal attorney Michael Cohen alleged Mr. Trump knew of Don Jr.'s meeting with a Russian attorney at Trump Tower before the meeting, CNN reports.
Mr. Trump Jr. had testified to lawmakers that his father never knew about his meeting in the summer of 2016, which took place to potentially get dirt on Mr. Trump's opponent Hillary Clinton.
UPDATE: Trump Tower meeting with Russians WAS meant to 'get information' on Hillary...




'I did not know about it!'




Trump would fight any special counsel subpoena in court...




WASH POST: Precarious moment in presidency...

---
Mike Pompeo says sanctions a pillar of U.S. policy toward Iran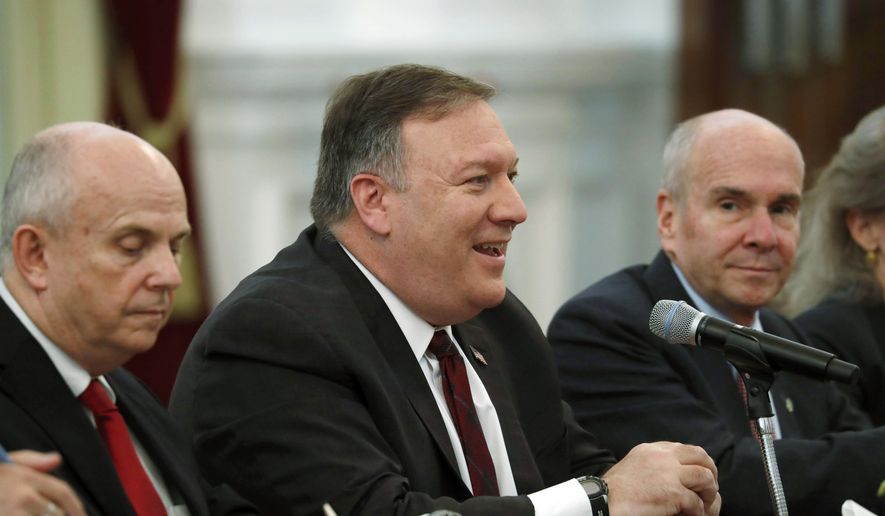 Secretary of State Mike Pompeo said renewed U.S. sanctions on Iran will be rigorously enforced and remain in place until the Iranian government radically changes course.
Speaking to reporters aboard his plane on his way home from a three-nation trip to Southeast Asia, Pompeo said Monday's re-imposition of sanctions is an important pillar in U.S. policy toward Iran. He said the Trump administration is open to looking beyond sanctions but that would "require enormous change" from Tehran.
"We're hopeful that we can find a way to move forward but it's going to require enormous change on the part of the Iranian regime," he said Sunday. "They've got to behave like a normal country. That's the ask. It's pretty simple."
---
Candace Owens mimics N.Y. Times' Sarah Jeong, gets suspended by Twitter
Saying "white people are bull—t" won't get you banned from Twitter but saying Jewish people are will.
That's what happened to conservative activist Candace Owens, who was suspended from Twitter for mimicking the racist tweets of new New York Times editorial-board member Sarah Jeong.
Despite her tweet explicitly saying it was a parody of someone else's tweets, that got her a note from Twitter saying "Your account has been locked … for violating the Twitter Rules. Specifically for violating our rules against hateful conduct."
---

Democratic rift: Grassroots liberals rally around identity politics in midterm campaigns
Some Democrats think the emphasis could hurt the party's ability to deliver a unifying message

The liberal push to remake the Democratic Party into a more progressive and diverse political organization will be tested this week in Michigan, where a coalition of grassroots groups has unified behind Abdul El-Sayed's underdog quest to become the nation's first Muslim governor.
Mr. El-Sayed is hoping to follow in the footsteps of Stacey Abrams, who became the first black female nominee for governor in Georgia, and Alexandria Ocasio-Cortez, who is well-positioned to become the first Hispanic to represent the 14th Congressional District in New York after stunning the political world with a victory over Rep. Joseph Crowley.
"Everyone in the progressive grassroots is lined up behind Abdul," said Neil Sroka, spokesman for Democracy for America.
---

Was Venezuela 'drone attack' faked?
President Nicolas Maduro claims he was the subject of an assassination plot using explosives-rigged drones
Questions have been raised about whether the 'drone attack' against the president of Venezuela was faked after TV cameras failed to capture the 'missiles' and firefighters said the incident was actually a gas tank explosion.
Nicolas Maduro started rounding up his political opponents after blaming them for what he called an assassination attempt on Saturday.
Maduro had been addressing a military parade in Caracas on live TV, when he suddenly halted and looked to the sky after hearing an explosion.
---
At least 63 people have been shot and nine are dead after a violent weekend in Chicago.
Dozens of people have been wounded in weekend shootings across Chicago police said.
63 people have been shot, ten fatally, since 5 p.m. Friday. 34 of the shootings and five deaths occurred between 10 a.m. Saturday and 10 a.m. Sunday, according to police.
During one two-and-a-half hour-hour period, 25 people were shot in five multi-injury shootings. One paramedic described Saturday evening into Sunday morning as "a war zone."
---
Iran Guards says it held Gulf drills as U.S. tensions rise
Iran's Revolutionary Guards confirmed on Sunday it had held war games in the Gulf over the past several days, saying they were aimed at "confronting possible threats" by enemies, the state news agency IRNA reported.
U.S. officials told Reuters on Thursday that the United States believed Iran had started carrying out naval exercises in the Gulf, apparently moving up the timing of annual drills amid heightened tensions with Washington.
---
Trump Touts Presidential Approval Rating: 'Might Be a Red Wave'
President Donald Trump on Sunday touted his presidential approval numbers compared to his predecessor Barack Obama, tweeting that his administration was, "winning on just about every front and for that reason there will not be a Blue Wave, but there might be a Red Wave!"
The president touted his approval rating specifically on the economy and U.S. military, but didn't provide where he received his information.
Forty-eight percent of likely voters approve of Trump's job performance, according to the Rasmussen Report released August 3, while the most recent Gallup Poll has the president with a 40 percent approval rating compared to Obama's 45 percent at roughly this time in his presidency. The Rasmussen Report has Obama with a 46 percent rating at this time in his presidency.
---
Saudi Arabia Recalls Ambassador, Freezes New Trade With Canada
Saudi Arabia announced Monday it was expelling the Canadian ambassador and had recalled its envoy while freezing business ties with Ottawa, over what it called "interference" in its internal affairs.
The move follows vigorous calls by Canada for the immediate release of human rights activists swept up in a new wave of detentions.
"The kingdom of Saudi Arabia... will not accept interference in its internal affairs or imposed diktats from any country," the foreign ministry tweeted.
"The kingdom announces that it is recalling its ambassador... to Canada for consultation."
---
When the media acts irresponsibly
When White House Press Secretary Sarah Sanders said media reports compromised the fact that the U.S. government was intercepting Osama bin Laden's satellite phone calls, the media clobbered her.
"The media routinely reports on classified information and government secrets that put lives in danger and risk valuable national security tools," Ms. Sanders said at a press briefing on Aug. 1. "One of the worst cases was the reporting on the U.S. ability to listen to Osama bin Laden's satellite phone in the late '90s. Because of that reporting, he stopped using that phone, and the country lost valuable intelligence."
CNN tweeted that "Sarah Sanders falsely blamed journalists for thwarting U.S. spying on Osama bin Laden just years before the 9/11 terrorist attacks."
---
The impacts and costs of flooding
In an era of increasingly intense and frequent severe weather, tens of millions of Americans are all too familiar with the impacts and costs of flooding.
Unfortunately, Congress has failed to update flood policy to meet the challenges of this new norm, instead choosing to continually extend its own deadline for reauthorizing the National Flood Insurance Program (NFIP), which provides federally backed coverage for homeowners and small businesses in 22,000 communities nationwide.
The program, which is more than $20 billion in debt, is in dire need of reform. In its current form, the NFIP has failed in two of its goals — decreasing the costs from flood damage and improving the federal government's management of flood risk — and without major improvements will continue to burn through taxpayer dollars while incentivizing policyholders to live in at-risk areas through subsidized premiums.
"It is discouraging to think how many people are shocked by honesty and how few by deceit."
-- Noel Coward
(1899-1973) British playwright
---
The Medal of Honor is the highest award for valor in action against an enemy force which can be bestowed upon an individual serving in the Armed Services of the United States.
GeneTrerally presented to its recipient by the President of the United States of America in the name of Congress.
The first award of the Medal of Honor was made March 25, 1863 to Private JACOB PARROTT.The last award of the Medal of Honor was made September 15, 2011 to Sergeant DAKOTA MEYER.
Since then there have been: • 3458 recipients of the Medal of Honor.
• Today there are 85 Living Recipients of the Medal of Honor.
Citation
Captain Humbert R. Versace distinguished himself by extraordinary heroism during the period of 29 October 1963 to 26 September 1965, while serving as S-2 Advisor, Military Assistance Advisory Group, Detachment 52, Ca Mau, Republic of Vietnam. While accompanying a Civilian Irregular Defense Group patrol engaged in combat operations in Thoi Binh District, An Xuyen Province, Captain Versace and the patrol came under sudden and intense mortar, automatic weapons, and small arms fire from elements of a heavily armed enemy battalion. As the battle raged, Captain Versace, although severely wounded in the knee and back by hostile fire, fought valiantly and continued to engage enemy targets. Weakened by his wounds and fatigued by the fierce firefight, Captain Versace stubbornly resisted capture by the over-powering Viet Cong force with the last full measure of his strength and ammunition. Taken prisoner by the Viet Cong, he exemplified the tenets of the Code of Conduct from the time he entered into Prisoner of War status. Captain Versace assumed command of his fellow American soldiers, scorned the enemy's exhaustive interrogation and indoctrination efforts, and made three unsuccessful attempts to escape, despite his weakened condition which was brought about by his wounds and the extreme privation and hardships he was forced to endure. During his captivity, Captain Versace was segregated in an isolated prisoner of war cage, manacled in irons for prolonged periods of time, and placed on extremely reduced ration. The enemy was unable to break his indomitable will, his faith in God, and his trust in the United States of America. Captain Versace, an American fighting man who epitomized the principles of his country and the Code of Conduct, was executed by the Viet Cong on 26 September 1965. Captain Versace's gallant actions in close contact with an enemy force and unyielding courage and bravery while a prisoner of war are in the highest traditions of the military service and reflect the utmost credit upon himself and the United States Army.
---
From the Archives

We Have Met the Enemy…

Geoff Metcalf
"They who can give up essential liberty to obtain a little temporary safety deserve neither liberty nor safety.
--Benjamin Franklin
"The American people must be willing to give up a degree of personal privacy in exchange for safety and security."
--Louis Freeh

In the wake of the clamor over the most recent WikiLeaks data dump, 'Vault 7', 'UMBRAGE', et al, it should be noted this is not really anything new. What we are seeing here is simply the evolution of something that goes back to the late 50s (to the incomplete best knowledge I have).
It is kinda cool to finally see even
The New York Times
acknowledging material
I was writing about in 1998
.
In April of 1998 I wrote "Privacy has become an anachronism." I was commenting on "a massive system designed to intercept all your e-mail, fax traffic and more." I was explaining 'Echelon', the illegitimate offspring of a
UKUSA Treaty
signed by the United States, United Kingdom, Canada, Australia and New Zealand. Its purpose was, and is, to have a vast global intelligence monster, which allegedly shares common goals. The system was so "efficient" that reportedly National Security Agency folk from Fort Meade could work from Menwith Hill in England to intercept local communications without either nation having to burden themselves with the formality of seeking approval (a court order) or disclosing the operation. And this was all pre-9/11 and pre-the anti-constitutional
'Patriot Act'
.
It is illegal (without a Judge's signed permission) for the United States to spy on its citizens … kinda. The laws have long been circumvented by a mutual pact among five nations. Under the terms of UKUSA agreement, Britain spies on Americans and America spies on British citizens, and then the two conspirators trade data. A classic technical finesse. It is legal, but the intent to evade the spirit is inescapable.
I often fictionalized the genesis of 'Echelon' as an informal meeting of a group of post war American and British intelligence types drinking in some remote rustic bar. An imagined CIA type complains to his MI6 buddy about the hassles of US laws preventing US intelligence from surveillance of bad guys, and the Brit echoes the same complaint.
"Hey wait a moment mate," says Nigel, the make-believe MI6 guy, "I can spy on your guys and you can spy on our bad players…why don't we just come up with a mechanism whereby we spy on your villains, you spy on our villains, and we just 'share' the intel?"
This system was called ECHELON, and has been kicking around in some form longer than most of you. The result of the UKUSA treaty signed by the United States, United Kingdom, Canada, Australia and New Zealand was, and is, to have a vast global intelligence monster which allegedly shares common goals.
The London Telegraph reported in December of 1997 that the Civil liberties Committee of the European Parliament had officially confirmed the existence and purpose of ECHELON. "A global electronic spy network that can eavesdrop on every telephone, e-mail and telex communication around the world will be officially acknowledged for the first time in a European Commission report. …"
The report noted: "Within Europe all e-mail, telephone and fax communications are routinely intercepted by the United States National Security Agency, transferring all target information from the European mainland via the strategic hub of London, then by satellite to Fort Meade in Maryland via the crucial hub at Menwith Hill, in the North York moors in the UK.
"The ECHELON system forms part of the UKUSA system but unlike many of the electronic spy systems developed during the Cold War, ECHELON was designed primarily for non-military targets: governments, organizations and businesses in virtually every country."
An interesting sidebar appeared in the International Herald Tribune under the headline, "Big Corporate Brother: It Knows More About You Than You Think." The story details Acxiom Corp, which was a humongous information service hidden in the Ozark foothills. Twenty-four hours a day, Acxiom electronically gathered and sorts all kinds of data about 196 million Americans. Credit card transactions and magazine subscriptions, telephone numbers, real estate records, automotive data, hunting, business and fishing licenses, consumer surveys and demographic detail that would make a marketing department's research manager salivate. This relatively new (legal) enterprise was known as "data warehousing" or "data-mining", and it underscores the cruel reality that the fiction of personal privacy has become obsolete. Technology's ability to collect and analyze data has made privacy a quaint albeit interesting dinosaur.
The Tribune reported that "Axciom can often determine whether an American owns a dog or cat, enjoys camping or gourmet cooking, reads the Bible or lots of other books. It can often pinpoint an American's occupation, car and favorite vacations. By analyzing the equivalent of billions of pages of data, it often projects for its customers who should be offered a credit card or who is likely to buy a computer."
Most of this information is from y 1998 piece. Echelon has developed, matured, and morphed into a much more powerful hybrid. 'Carnivore' was software to help triage the cacophony of data. Vault 7 and 'Umbrage' are logical (some would argue "insidious") growth.
More to follow…