"It Is Not A Question of Who Is Right Or Wrong But What Is Right Or Wrong That Counts.

"

--Geoff Metcalf
Providing an on line Triage of the news since 1997



Wo

rld & Nation
Biden official contradicts administration, uses 'crisis' to describe migrant surge
Says number of children is 'unprecedented'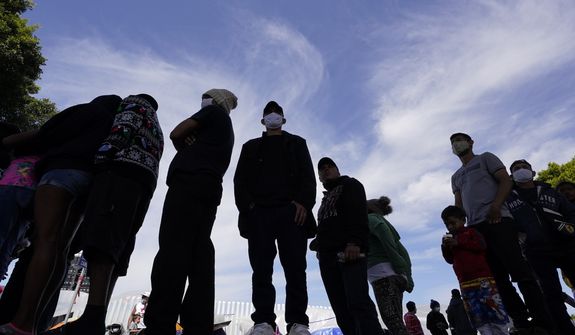 The White House and Homeland Security may not want to call the border a "crisis" but the top health official in charge of caring for the massive surge of children is using the term, telling a federal judge the emergency shelters they've opened to detain the kids is delivering "a crisis standard of care."
Cindy Huang, who runs the Office of Refugee Resettlement at Health and Human Services, called the number of children rushing the border "historic" and "unprecedented," undercutting President Biden's assertion that the current surge happens "every year."
Ms. Huang said her department is so overwhelmed that that normal rules about facilities and care have gone out the window and they must cut some corners as they rush to open Emergency Intake Sites — known in government-speak as EIS.
---
Senate GOP pans infrastructure package as 'dog's breakfast' ahead of White House meeting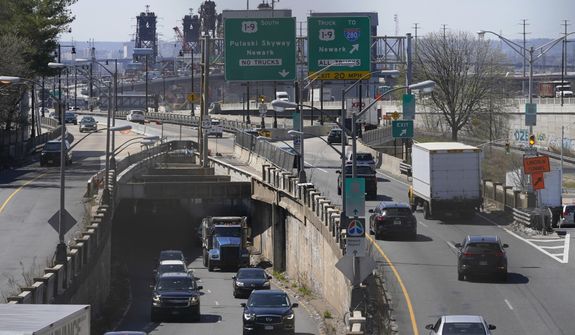 Senate Republicans are panning President Biden's $2.3 trillion infrastructure as a "dog's breakfast" of special funds for Democratic priorities ahead of Mr. Biden's meeting at the White House on Monday with a bipartisan group of lawmakers.
"Eleven days ago, President Biden laid out a partisan plan to kill jobs and create slush funds on the taxpayer dime," said a new memo from the Senate Republican Conference. "Described as both a 'jobs plan' and an 'infrastructure' plan, the proposal undermines both."
The memo points out that the package spends just 5% of the $2.7 trillion total on roads and bridges.
---
Gretchen Whitmer's office defends aide who posted Florida vacation photos, rips 'partisan attack'
Michigan Gov. Gretchen Whitmer's office blasted a "partisan attack" by conservative media after photos surfaced of an aide vacationing in Florida just days after the governor said she was worried about Michiganders traveling there.
Tricia Foster, the governor's chief operating officer, posted photos on Facebook last week of herself and family enjoying the beach in Siesta Key, according to screenshots first published Friday by Breitbart News.
The photos, which have since been deleted, came one week after Ms. Whitmer, a Democrat, said she was worried about spring breakers traveling to Florida — the only state with more cases than Michigan of the COVID-19 variant B.1.1.7.
---
Arizona Suing Administration: Immigration Policy Violates Environmental Laws
Arizona is suing the Biden administration on claims that its immigration policy, which has allowed record numbers of migrants to enter the country, along with its decision to stop construction on the nation's border wall, is having a "devastating impact" on the state's environment, Arizona Attorney General Mark Brnovich said Monday.
"This is a lawsuit that the Sierra Club should love," Brnovich said on Fox News' "Fox and Friends." "In this lawsuit, we allege the Biden administration is violating the National Environmental Protection Act (NEPA), what the left uses to stop highway projects, airport reconstruction, and all that other stuff."
Arizona, in the third lawsuit it's filed over Biden's border actions, says that by stopping wall construction, "they are violating NEPA because it's allowing more and more people to come into this country," said Brnovich. "That's having a devastating impact on our environment and also impacting the increase in population, which will have all sorts of impacts down the road."
---
Biden Taps Trump Critics to Lead Border and Immigration Agencies
President Joe Biden intends to nominate two critics of former President Donald Trump's immigration policies to key positions in his administration, a White House official said on Monday, signaling a continued push to ease Trump's restrictions on migration.
Biden will tap Chris Magnus, the chief of police in Tucson, Arizona, to lead U.S. Customs and Border Protection (CBP), the agency charged with border security and facilitating legal trade and travel, the official said. Biden will nominate Ur Jaddou as director of U.S. Citizenship and Immigration Services (USCIS), which handles immigration paperwork and processing.
The Democratic president has reversed many of his Republican predecessor's immigration policies. Biden's immigration actions have pleased his Democratic base but outraged many Republicans, who accuse him of encouraging illegal immigration as the number of migrants arriving at the U.S.-Mexican border has soared in recent months.
---
'A delay tactic': Biden's Supreme Court commission called move to placate left wing
Ben Sasse said the president knows his court-packing commission isn't going anywhere
President Biden's commission to examine changes to the Supreme Court is a move to placate his base, which is agitating to add liberal justices to the conservative-leaning court, according to court watchers.
But liberals are split on whether any real court-packing will result from the president's panel.
"There is nothing productive that is going to come from this," said Josh Blackman, a professor at South Texas College of Law. "If anything, this report will probably counsel against expanding the court."
The commission, created through an executive order Friday, will be co-chaired by Bob Bauer, a legal adviser to Mr. Biden's 2020 campaign, and Cristina Rodríguez, a Yale Law School professor and deputy assistant attorney general during the Obama administration.
---
Brooklyn Center police fatally shoot man, 20, inflaming tensions during the Derek Chauvin trial
Man, 20, killed after being pulled over for traffic violation in Brooklyn Center
A Brooklyn Center police officer fatally shot a man during a traffic stop Sunday afternoon, inflaming already raw tensions between police and community members in the midst of the Derek Chauvin trial.
Relatives of Daunte Wright, 20, who is Black, told a tense crowd gathered at the scene in the northern Minneapolis suburb Sunday afternoon that Wright drove for a short distance after he was shot, crashed his car, and died at the scene.
Protesters later walked to the Brooklyn Center police headquarters near N. 67th Avenue and N. Humboldt Avenue and were locked in a standoff with police in riot gear late Sunday night. Officers repeatedly ordered the crowd of about 500 to disperse as protesters chanted Wright's name and climbed atop the police headquarters sign, by then covered in graffiti. Police used tear gas, flash bangs and rubber bullets on the crowd.
National Guard troops arrived just before midnight as looters targeted the Brooklyn Center Walmart and nearby shopping mall. Several businesses around the Walmart were completely destroyed, including Foot Locker, T Mobile, and a New York men's clothing store.
---
One of the Virginia police officers who pepper-sprayed an Army officer during a traffic stop has been fired
One of the police officers accused of using excessive force in a Virginia traffic stop has been fired following an investigation, the town manager said late Sunday.
The Windsor, Virginia, officers pointed guns at, pepper sprayed, and pushed a Black US Army officer to the ground during the traffic stop last December. During the stop, the police officers believed the Army officer was missing a license plate on his new SUV.
Second Lt. Caron Nazario, who is Black and Latino, is suing over the incident, claiming the two officers violated his rights guaranteed under the First and Fourth Amendments.
One of the officers, Joe Gutierrez, has been fired, Town Manager William Saunders confirmed to CNN late Sunday evening. The other officer, Daniel Crocker, is still employed by the police department, Saunders said.
---
Israeli army chief appears to hint at possible role in Iran nuclear site incident
Israel's army chief has appeared to hint at possible Israeli involvement in an incident at the Natanz nuclear site in Iran, which was described as "terrorist action" by the head of Iran's atomic energy agency.
Iranian officials on Sunday confirmed an "incident" at Natanz, an underground facility where uranium enrichment takes place. "Fortunately, the incident did not cause any human injuries or leaks," said Behrouz Kamalvand, a spokesman for Iran's Atomic Energy Organization (AEOI). "The causes of the accident are under investigation and further information will be announced later."
AEOI condemned the incident, calling it a "terrorist action," according to the Iranian telegram channel of the Revolution Guard Corps, or IRGC, a branch of the Iranian Armed Forces.
---
Trump slams 'stone cold loser' McConnell for giving up on 2020 election fight
Former President Donald Trump slammed Senate Minority Leader Mitch McConnell and former Vice President Mike Pence over the weekend for giving up too easily on Republicans' fight to overturn the 2020 election results.
In a speech to Republican donors, Mr. Trump referred to Mr. McConnell as a "stone cold loser" at one point, according to multiple reports.
"If that were Schumer instead of this dumb son of a bitch Mitch McConnell they would never allow it to happen. They would have fought it," Mr. Trump said of Congress' vote to certify the election results on Jan. 6.
The former president was speaking over the weekend to a national Republican gathering at his Mar-a-Lago club in Florida as the GOP gears up for the 2022 midterm elections.
---
Biden puts China on notice by proposing electric car cash windfall for the communist state
President Biden's push to fill the nation's roads with electric vehicles would be a boon for China and would increase America's dependence on the communist power, which dominates the globe in advanced battery production and the mining of rare minerals needed to make those batteries.
The White House is working with congressional Democrats to ensure its infrastructure package includes at least $174 billion for "made in America" electric vehicles. At least $40 billion would be used to install 500,000 electric vehicle charging stations across the country.
"I'm proposing a plan for the nation that … will grow the economy, make us more competitive around the world, promote our national security interests and put us in a position to win the global competition with China in the upcoming years," Mr. Biden said recently.
But instead of putting the communist superpower on notice, the administration's embrace of electric vehicles would benefit China, experts say.
---
Ukraine's President heads to the trenches as Russia masses its troops
Ankle-deep in thick black sludge, Ukrainian President Volodymyr Zelensky moves stealthily with his troops in single file through the warren of trenches and tunnels that form the tense front lines in the east of his country.
It feels more like the early 20th century than a modern conflict, with tired, nervous soldiers gripping their rifles around him as they reach open ground, scanning the area for movement across no-mans-land.
They know snipers, likely trained by Russians, say Ukrainian officials are looking for a chance to fire. More than 20 of their comrades have been gunned down already this year.
---
Twitter protects BLM, YouTube deletes DeSantis
Over the weekend, Twitter censors stepped in to protect Black Lives Matter.
Reports surfaced BLM co-founder and self-described Marxist Patrisse Khan-Cullors purchased a $1.4 million home in a secluded area of Los Angeles, where the black population is less than 2% Black. Moreover, there was speculation Ms. Khan-Cullors used BLM fundraising monies to purchase the real estate.
After the news broke, the head of Black Lives Matter Greater New York City, called for an "independent investigation" to audit how the global network spends its donations.
---
Feds should keep their noses out of running elections
States must improve and keep control of the voting process
Whatever you think of the 2020 elections, it seems prudent to be concerned about the quality and integrity of the process. The fact that our fourth-largest state (New York) finally completed its vote counting just a few days ago — five full months after the polls closed — should tell you that something is seriously wrong.
As always when something goes wrong, there are those who want the federal government to fix it.
But the simple truth is that only the doomed expect salvation from the federal government. However bad you think the 2020 elections were, imagine how much worse they would have been if the federal government were responsible for running them. Or, if that isn't scary enough, how about if the federal government were responsible for fixing it?
---
Truth or Dare
by Geoff Metcalf
"The truth does not change according to our ability to stomach it."
― Flannery O'Connor

When NBC's Lester Holt shrouded in self-righteous sophism proclaimed journalists don't do 'truth', I said bad words. Joe Klaas was apparently correct when he noted, "The truth will set you free, but first it will piss you off."
When accepting the Edward R. Murrow Award for Lifetime Achievement in Journalism, NBC anchor Lester Holt said, "fairness is overrated".
"I think it's become clear that fairness is overrated. ... The idea that we should always give two sides equal weight and merit does not reflect the world we find ourselves in," Holt said.
Holt, either by plan or oversight said, "That the sun sets in the west is a fact. Any contrary view does not deserve our time or attention," Holt continued. "Decisions to not give unsupported arguments equal time are not a dereliction of journalistic responsibility or some kind of agenda. In fact, it's just the opposite." Sophistry!
Holt also railed against "providing an open platform for misinformation," saying that allowing "anyone to come say whatever they want, especially when issues of public health and safety are at stake, can be quite dangerous." And that is a good thing Lester.
The key problem with the pretension of Holt et al saying news organizations should vet and triage controversial news is,
who decides?
What editor gets to decide the conventional wisdom when a group of experts claims we are about to enter a new Ice Age, or the only defense against a pandemic is isolation?
April 28, 1975, Newsweek published a provocative article, "The Cooling World," in which writer and science editor Peter Gwynne described a significant chilling of the world's climate, with evidence accumulating "so massively that meteorologists are hard-pressed to keep up with it." He when on to postulate shorter growing seasons and poor crop yields, famine, and shipping lanes blocked by ice, perhaps to begin as soon as the mid-1980s. Meteorologists, he wrote, were "almost unanimous" in the opinion that our planet was getting colder. Over the years that followed, Gwynne's article became one of the most-cited stories in Newsweek's history. However, he was wrong…way wrong.
The obvious corollary is today's politically correct contention that Global Warming will kill the planet. Notwithstanding THOUSANDS of for real scientists who naysay the Al Gore gang, Holt and his ilk would deny you, me, or anyone from hearing contradictory and/or mitigating science which does not comply with the elitists cause du jour.
"The truth is rarely pure and never simple." said Oscar Wilde in The Importance of Being Earnest.
Empirical facts cannot be disputed: who, what, where, when is going to be reported the same from the left and the right. However, the why and how is where the reader gets sucked into the editorializing muck. One man's "freedom fighter" is another man's "terrorist"…one man's "objective scientist" is another man's "bought and paid for sycophant".
According to a January Axios polls, just 46% of people trust traditional news media, and trust in social media has plummeted to 27%.
Additionally, 56% of the poll respondents said they agreed that "Journalists and reporters are purposely trying to mislead people by saying things they know are false or gross exaggerations."
"The truth." Dumbledore sighed. "It is a beautiful and terrible thing and should therefore be treated with great caution."
Aldous Huxley clearly noted, "Facts do not cease to exist because they are ignored."
An editorial Star Chamber (which is kinda/sorta what Holt seems to want) can attempt to sequester politically incorrect facts or nuance from the unwashed masses, but they only serve to validate George Orwell. "In a time of deceit telling the truth is a revolutionary act."
We are in that "time of deceit" and the mainstream media should be providing light not creating safe haven shadow lands for evil to fester and grow.
---
" It is discouraging to think how many people are shocked by honesty and how few by deceit."

-- Noel Coward

(1899-1973) British playwright

---

The Medal of Honor is the highest award for valor in action against an enemy force which can be bestowed upon an individual serving in the Armed Services of the United States.

GeneTrerally presented to its recipient by the President of the United States of America in the name of Congress.

The first award of the Medal of Honor was made March 25, 1863 to Private JACOB PARROTT.The last award of the Medal of Honor was made September 15, 2011 to Sergeant DAKOTA MEYER.

Since then there have been: • 3458 recipients of the Medal of Honor.

• Today there are 85 Living Recipients of the Medal of Honor.

Citation


Captain Humbert R. Versace distinguished himself by extraordinary heroism during the period of 29 October 1963 to 26 September 1965, while serving as S-2 Advisor, Military Assistance Advisory Group, Detachment 52, Ca Mau, Republic of Vietnam. While accompanying a Civilian Irregular Defense Group patrol engaged in combat operations in Thoi Binh District, An Xuyen Province, Captain Versace and the patrol came under sudden and intense mortar, automatic weapons, and small arms fire from elements of a heavily armed enemy battalion. As the battle raged, Captain Versace, although severely wounded in the knee and back by hostile fire, fought valiantly and continued to engage enemy targets. Weakened by his wounds and fatigued by the fierce firefight, Captain Versace stubbornly resisted capture by the over-powering Viet Cong force with the last full measure of his strength and ammunition. Taken prisoner by the Viet Cong, he exemplified the tenets of the Code of Conduct from the time he entered into Prisoner of War status. Captain Versace assumed command of his fellow American soldiers, scorned the enemy's exhaustive interrogation and indoctrination efforts, and made three unsuccessful attempts to escape, despite his weakened condition which was brought about by his wounds and the extreme privation and hardships he was forced to endure. During his captivity, Captain Versace was segregated in an isolated prisoner of war cage, manacled in irons for prolonged periods of time, and placed on extremely reduced ration. The enemy was unable to break his indomitable will, his faith in God, and his trust in the United States of America. Captain Versace, an American fighting man who epitomized the principles of his country and the Code of Conduct, was executed by the Viet Cong on 26 September 1965. Captain Versace's gallant actions in close contact with an enemy force and unyielding courage and bravery while a prisoner of war are in the highest traditions of the military service and reflect the utmost credit upon himself and the United States Army.

---

From the Archives

We Have Met the Enemy…
Geoff Metcalf


"They who can give up essential liberty to obtain a little temporary safety deserve neither liberty nor safety.
--Benjamin Franklin
"The American people must be willing to give up a degree of personal privacy in exchange for safety and security."
--Louis Freeh


In the wake of the clamor over the most recent WikiLeaks data dump, 'Vault 7', 'UMBRAGE', et al, it should be noted this is not really anything new. What we are seeing here is simply the evolution of something that goes back to the late 50s (to the incomplete best knowledge I have).

It is kinda cool to finally see even

The New York Times

acknowledging material

I was writing about in 1998

.

In April of 1998 I wrote "Privacy has become an anachronism." I was commenting on "a massive system designed to intercept all your e-mail, fax traffic and more." I was explaining 'Echelon', the illegitimate offspring of a

UKUSA Treaty

signed by the United States, United Kingdom, Canada, Australia and New Zealand. Its purpose was, and is, to have a vast global intelligence monster, which allegedly shares common goals. The system was so "efficient" that reportedly National Security Agency folk from Fort Meade could work from Menwith Hill in England to intercept local communications without either nation having to burden themselves with the formality of seeking approval (a court order) or disclosing the operation. And this was all pre-9/11 and pre-the anti-constitutional

'Patriot Act'

.

It is illegal (without a Judge's signed permission) for the United States to spy on its citizens … kinda. The laws have long been circumvented by a mutual pact among five nations. Under the terms of UKUSA agreement, Britain spies on Americans and America spies on British citizens, and then the two conspirators trade data. A classic technical finesse. It is legal, but the intent to evade the spirit is inescapable.

I often fictionalized the genesis of 'Echelon' as an informal meeting of a group of post war American and British intelligence types drinking in some remote rustic bar. An imagined CIA type complains to his MI6 buddy about the hassles of US laws preventing US intelligence from surveillance of bad guys, and the Brit echoes the same complaint.

"Hey wait a moment mate," says Nigel, the make-believe MI6 guy, "I can spy on your guys and you can spy on our bad players…why don't we just come up with a mechanism whereby we spy on your villains, you spy on our villains, and we just 'share' the intel?"

This system was called ECHELON, and has been kicking around in some form longer than most of you. The result of the UKUSA treaty signed by the United States, United Kingdom, Canada, Australia and New Zealand was, and is, to have a vast global intelligence monster which allegedly shares common goals.

The London Telegraph reported in December of 1997 that the Civil liberties Committee of the European Parliament had officially confirmed the existence and purpose of ECHELON. "A global electronic spy network that can eavesdrop on every telephone, e-mail and telex communication around the world will be officially acknowledged for the first time in a European Commission report. …"

The report noted: "Within Europe all e-mail, telephone and fax communications are routinely intercepted by the United States National Security Agency, transferring ll target information from the Eurv opean mainland via the strategic hub of London, then by satellite to Fort Meade in Maryland via the crucial hub at Menwith Hill, in the North York moors in th UK.

"The ECHELON system forms part of the UKUSA system but unlike many of the electronic spy systems developed during the Cold War, ECHELON was designed primarily for non-military targets: governments, organizations and businesses in virtually every country."

An interesting sidebar appeared in the International Herald Tribune under the headline, "Big Corporate Brother: It Knows More About You Than You Think." The story details Acxiom Corp, which was a humongous information service hidden in the Ozark foothills. Twenty-four hours a day, Acxiom electronically gathered and sorts all kinds of data about 196 million Americans. Credit card transactions and magazine subscriptions, telephone numbers, real estate records, automotive data, hunting, business and fishing licenses, consumer surveys and demographic detail that would make a marketing department's research manager salivate. This relatively new (legal) enterprise was known as "data warehousing" or "data-mining", and it underscores the cruel reality that the fiction of personal privacy has become obsolete. Technology's ability to collect and analyze data has made privacy a quaint albeit interesting dinosaur.

The Tribune reported that "Axciom can often determine whether an American owns a dog or cat, enjoys camping or gourmet cooking, reads the Bible or lots of other books. It can often pinpoint an American's occupation, car and favorite vacations. By analyzing the equivalent of billions of pages of data, it often projects for its customers who should be offered a credit card or who is likely to buy a computer."

Most of this information is from y 1998 piece. Echelon has developed, matured, and morphed into a much more powerful hybrid. 'Carnivore' was software to help triage the cacophony of data. Vault 7 and 'Umbrage' are logical (some would argue "insidious") growth.

More to follow…