"It Is Not A Question of Who Is Right Or Wrong But What Is Right Or Wrong That Counts.

"

--Geoff Metcalf
Providing an on line Triage of the news since 1998
Wo
rld & Nation
Qatar: Israel, Hamas Agree to 2-Day Truce Extension
Israel and Hamas agreed to extend their cease-fire for two more days past Monday, the Qatari government said, bringing the prospect of a longer halt to their deadliest and most destructive war and further exchanges of militant-held hostages for Palestinians imprisoned by Israel.
The announcement, made by Qatari Foreign Ministry spokesman Majid Al Ansary in a post on X, came on the final day of the original four-day truce between the warring sides. A fourth swap of hostages for prisoners under that deal was expected later Monday. Qatar, along with the United States and Egypt, has been the key mediator in the ongoing conflict between Israel and Hamas.
Israel has said it would extend the cease-fire by one day for every 10 additional hostages released. After the Qatari announcement, Hamas confirmed it had agreed to a two-day extension "under the same terms."
But Israel says it remains committed to crushing Hamas' military capabilities and ending its 16-year rule over Gaza after its Oct. 7 attack into southern Israel. That would likely mean expanding a ground offensive from devastated northern Gaza to the south, where hundreds of thousands of Palestinians have crammed into United Nations shelters, and where dire conditions persist despite the increased delivery of aid under the truce.
---
War threatens to end Netanyahu power; Israelis fed up with divisiveness, defiance of accountability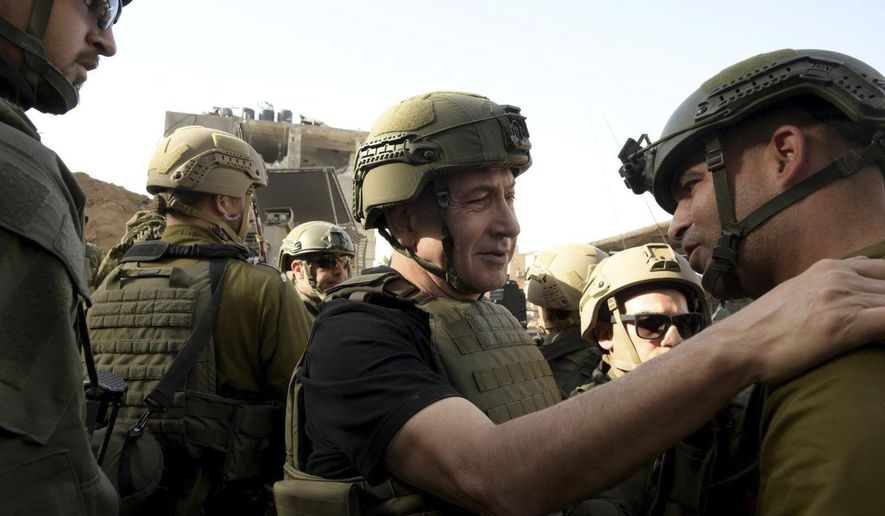 The bloody campaign to crush Hamas is perhaps the most ambitious undertaking of Israeli Prime Minister Benjamin Netanyahu's decades of rule.
Growing evidence indicates it may also be his political swan song.
Even as the nation rallies together after Hamas' horrific Oct. 7 terrorist assault and while a shaky cease-fire and prisoner exchange plays out, a recent survey showed Mr. Netanyahu's approval rating among the Israeli public at a dismal 22%. Even fewer Israelis support the prime minister's coalition government in the aftermath of the attack.
---
Joe Biden can 'no longer be propped up' President slammed ahead of 2024 elections 'can't be trusted'
Joe Biden can "no longer be propped up" with the US President facing mutiny from sections of his own voter base, Lauren Chen has claimed.
The political commentator says there is "trouble ahead" for the Democrats as the party struggles with its stance on the Israel-Hamas conflict.
Swathes of youngsters have taken to the streets of America demanding a ceasefire, a position at odds with the US President who is steadfast in his support for Israel.
"There's no question that he is, whether you're Democrat or Republican, frankly, just not physically and mentally fit to serve as president", she said.
---
The Ukrainians Have Blown Up So Many Russian Vehicles Near Avdiivka That The Russians Are Now Attacking On Foot
After losing hundreds of armored vehicles in direct assaults on Ukrainian positions in and around Avdiivka, in eastern Ukraine's Donbas region, the Russian armed forces are switching to dismounted infantry assaults.
It's not a terrible idea, tactically speaking. Ukrainian brigades switched from mounted to dismounted assaults this summer during their counteroffensive in southern Ukraine and, as a result, advanced 10 or a dozen miles along at least two important axes.
But infantry assaults can be risky when the enemy is dug in, the weather is wet and cold and—perhaps most gravely—the footbound soldiers don't have good air and artillery support.
---
Trump says GOP cannot give up on repealing Obamacare
Democrats see a political boon for their side
Democrats are pouncing on former President Donald Trump's pledge to find alternatives to Obamacare, a repeal-and-replace mantra that proved costly for Republicans in past election cycles.
Mr. Trump, writing on his social media platform, said "the cost of Obamacare is out of control, plus, it's not good Healthcare."
Liberals responded with glee and signaled they would take a double-barreled approach to attacking Mr. Trump and the GOP on health care in the 2024 elections.
They tied Mr. Trump's renewed interest in scrapping the Affordable Care Act to his role in appointing three Supreme Court justices who helped to overturn the national right to abortion, opening the door to states' limits on the procedure.
---
Trump hints at expanded role for the military within the US. A legacy law gives him few guardrails
Campaigning in Iowa this year, Donald Trump said he was prevented during his presidency from using the military to quell violence in primarily Democratic cities and states.
Calling New York City and Chicago "crime dens," the front-runner for the 2024 Republican presidential nomination told his audience, "The next time, I'm not waiting. One of the things I did was let them run it and we're going to show how bad a job they do," he said. "Well, we did that. We don't have to wait any longer."
Trump has not spelled out precisely how he might use the military during a second term, although he and his advisers have suggested they would have wide latitude to call up units. While deploying the military regularly within the country's borders would be a departure from tradition, the former president already has signaled an aggressive agenda if he wins, from mass deportations to travel bans imposed on certain Muslim-majority countries.
The Insurrection Act allows presidents to call on reserve or active-duty military units to respond to unrest in the states, an authority that is not reviewable by the courts. One of its few guardrails merely requires the president to request that the participants disperse.
---
Supreme Court asked to upend administrative agency proceedings, civil penalties
The Supreme Court is set to hear arguments on whether civil penalties imposed by a federal agency, not a judicial court, violate the Constitution in a case that legal experts say could unravel the administrative state.
In SEC v. Jarkesy, which the justices are scheduled to hear Wednesday, the Securities and Exchange Commission seeks to overturn a lower court ruling that it violated the Seventh Amendment when an in-house administrative law judge fined a hedge fund manager $300,000 for a securities violation.
Depending on the extent of the decision, a ruling against the SEC could limit or even end federal agencies' in-house proceedings and require federal judges to rule in administrative cases.
---
Iran Adds Sophisticated Warship to Caspian Fleet
Iran's navy on Monday added a destroyer capable of launching cruise missiles to its Caspian Sea fleet, state media reported.
The 1,400-ton Deilaman destroyer, named for a town in north of Iran, is 312 feet long and 36 feet wide and is able to launch torpedoes while traveling at 30 knots (35 mph), the state-owned IRNA news agency said.
Deilaman can detect more than 100 targets, including vessels, drones, helicopters, submarines and aircraft, simultaneously, the report said.
---
Robert Kennedy Jr. counts on youth in push to get on all 50 state ballots
A determined independent presidential hopeful has not given up on his quest to win the White House. He may get some traction this week with young voters — with the help of a 15,000-square-foot nightclub.
"Robert F. Kennedy Jr. is hitting the campaign trail to continue his bid for president of the United States of America. As an independent candidate, Kennedy has launched a huge grassroots effort to get on the ballot in all 50 states," his campaign said in a written statement shared with Inside the Beltway.
"Normally, independent candidates pay companies millions of dollars to gather signatures. We're taking a different route that starts with our thousands of volunteers in every state," Mr. Kennedy said in the written statement.
The candidate is making the most of his events. At his upcoming campaign rallies, Mr. Kennedy's fans will be offered the chance to add their signatures to the official ballot petition.
---
Abortion access and 2024 elections
Issue is probably not going to save Biden, nor is it likely to help Trump
The recent defeat of the pro-life cause in Ohio has been identified as the ratification of a new moment in American politics, one in which red states ultimately are turned blue over the issue of access to abortion, which is popular, even in many red states.
When voters have had a chance to vote on the issue — in isolation — since the Dobbs decision, abortion access has won all seven times. Not surprisingly, the left, increasingly divided over fundamental economic and foreign policy issues, intends to use the abortion issue to improve turnout and reverse their recent electoral fortunes in states such as Virginia and Florida.
That certainly seems reasonable, but it is not at all clear the extent to which abortion politics affect general elections.
---
Post-pandemic COVID-19 vaccine distrust
Few Americans are eager for another round
An autumn chill always precedes the annual period of cold-weather maladies. It was during such a season four years ago that murmurings of a fearful coronavirus disease arose, the memories of which are still fresh.
Even though the updated COVID-19 vaccines are "safe, effective and free," according to assurances of public-health officialdom, Americans aren't buying it, refusing to roll up their sleeves any more.
"CDC recommends everyone 6 months and older get an updated COVID-19 vaccine to protect against the potentially serious outcomes of COVID-19 illness this fall and winter," reads a recent advisory from the U.S. Centers for Disease Control and Prevention (CDC).
The government agency reported that as of Nov. 17, a vanishingly small 5.4% of Americans had received the recently released 2023-24 COVID-19 jab. Even the vulnerable 65-plus cohort only logged a 31.7% vaccination rate. By contrast, 35.1% of the population has accepted inoculation for the seasonal flu.
---
---