"It Is Not A Question of Who Is Right Or Wrong But What Is Right Or Wrong That Counts.

"

--Geoff Metcalf
Providing an on line Triage of the news since 1997



Wo

rld & Nation
Outrage over FBI vetting of National Guard deployed to D.C.: 'Most offensive thing I've ever heard'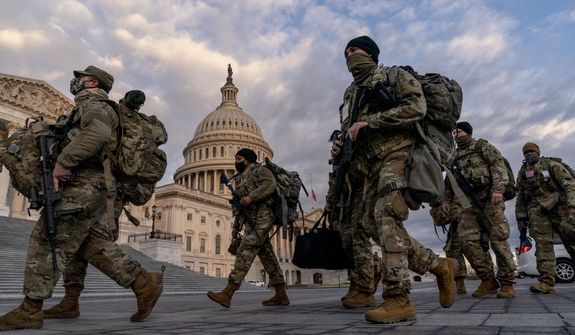 A retired Army sergeant major who ran the nation's enlisted National Guard association says "it's paranoia" and a "serious distrust of our nation's military" for FBI vetting of inaugural security troops on suspicion of extremist ties.

"I think it's paranoia basically to vet members of the National Guard," Frank Yoakum told The Washington Times. "National Guardsmen have already been vetted. They may hold views that are contrary to the incoming administration. But they nonetheless own security clearances, are trusted by this nation to do the nation's bidding, both domestically and in times of war, and they don't vet them before they send them to Afghanistan and Iraq or Somalia or Kosovo or any other place."

A Democratic congressman suggested this week that Guardsmen might commit an act of sedition at Wednesday's inaugural of president-elect Joseph R. Biden.


---
Biden's DHS nominee says 'cages' were built on Obama's watch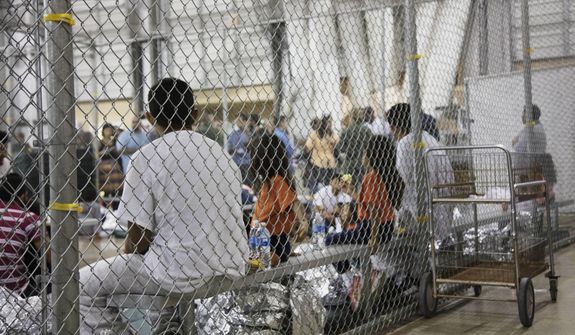 Alejandro Mayorkas, President-elect Joseph R. Biden's pick to lead Homeland Security in the new administration, acknowledged Tuesday that the so-called "cages" where migrant children were held on the border were first erected under President Barack Obama.
Mr. Mayorkas was deputy secretary at Homeland Security during the 2014 and 2015 border surges, when the chain-link enclosures were built.
Sen. Ron Johnson, Wisconsin Republican, asked him if those were the same enclosures that the Trump administration took heat for in 2018 and 2019, during a later border surge.
"Yes sir," Mr. Mayorkas said.
---
Rep. Waltz: Cohen's Claims Guard Might Harm Biden 'Insulting'
Rep. Michael Waltz, a National Guard colonel and Green Beret, said Tuesday it is "insulting" for Democrat Rep. Steve Cohen to claim that some members of the National Guard in Washington, D.C., to provide security for the inauguration "might want to do something" to harm President-elect Joe Biden.
"I think every veteran, every Guardsman is offended by those comments," the Florida Republican said Tuesday on Fox News' "Fox and Friends." "It is not about the person. It is about the oath they take, the same oath as every member of Congress. Those Guardsmen and women that are out there right now vow to support and defend the Constitution against all enemies."
Cohen, D-Tenn., told CNN's Jim Sciotto Monday he had been reminded that India Prime Minister Indira Gandhi and Egypt's Anwar Sadat had both been assassinated by extremists among their bodyguards and that supporters of President Donald Trump within members of National Guard units should be considered suspicious.
---
Shutdown foes buoyed by study showing 'no clear significant' benefit to lockdowns
South Dakota Gov. Kristi Noem and other lockdown critics have been accused for months of ignoring the science on the novel coronavirus, but a recently released study by Stanford University researchers is providing an empirical boost to those who want to shut down the shutdowns.
A peer-reviewed article in the European Journal of Clinical Investigation found "no clear significant beneficial effect" from stay-at-home orders and business closures in eight nations, including the United States, versus voluntary measures adopted by South Korea and Sweden.
Published Jan. 5, the article offers what may be the strongest scientific challenge yet to more restrictive non-pharmaceutical interventions, or NPIs, prompting cheers from policymakers calling for the reopening of schools, restaurants, bars and gyms.
---
Hunter Biden laptop repairman posts tell-all videos
Raises money on GoFundMe to pay legal expenses to pursue defamation lawsuits
The Wilmington, Delaware, repair shop owner who distributed Hunter Biden's laptop contents to the FBI and Trump supporters has emerged on a GoFundMe page to tell his story.
John Paul Mac Isaac has posted a series of videos — titled "The Truth" and "I am Not a Russian" and "I am Not a Hacker" — to dispel what Democrats and President Barack Obama's intelligence kingpins said about him.
"To imply that I'm a hacker and that that information was hacked has had an irreversible impact on my business and my character," Mr. Mac Isaac says in a video.
He says that at first, the FBI wanted nothing to do with the Biden laptop. Once the FBI took possession of it on Dec. 9, 2019, he got the feeling they were waiting for Hunter Biden to claim it.
---
Liz Cheney censured in Wyoming for vote to impeach Trump: 'Did not represent our voice'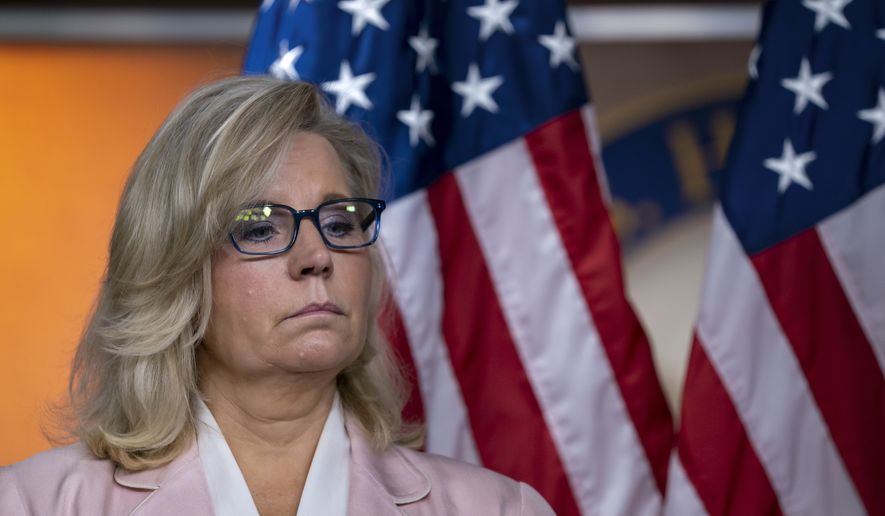 The Republican Party Central Committee in Carbon County, Wyoming, has censured Rep. Liz Cheney for voting to impeach President Trump, as support for the one-time rising GOP star crumbles in her home state.
The censure resolution passed in a unanimous vote by the 45-member central committee. It included a demand that Ms. Cheney appear before the committee to explain her actions.
"Our representative did not represent our voice," said Carbon County GOP Chairman Joey Correnti IV, who presented the resolution to the central committee at a Saturday meeting where the vote took place.
The resolution condemns Ms. Cheney for conduct described as defying the will of most Wyoming Republican voters and joining in a rushed impeachment that did not examine all the facts and denied Mr. Trump due process.
---
'Absolutely brutal': Biden struggles to reconcile unity message, fortified Capitol
President-elect Joseph R. Biden on Wednesday will give an inaugural address aimed at unifying the country, but he will wrestle with the grim reality that he must take the oath of office in a militarized zone.
From the west front of the U.S. Capitol, Mr. Biden at his inauguration will look out on a city fortified to fend off pro-Trump demonstrators after the Jan. 6 attack on Congress.
He'll see a Washington coming under complete Democratic control and on the verge of an unprecedented Senate trial of a former president, with Mr. Biden's Democrats trying to forever bar President Trump from again running for the White House.
---
Trump leaves mark as one of the most consequential one-term presidents
President broke barriers to make major deals at home and abroad
President Trump leaves office reluctantly Wednesday after compiling one of the most consequential and turbulent records of any one-term leader.
Mr. Trump forged peace deals in the Middle East for the first time in generations, spurred an economic revival by slashing regulations and taxes, overhauled the immigration system, ripped up and renegotiated trade deals, enacted elusive criminal justice reform and stocked the federal judiciary with conservatives at a record pace.
Even as the COVID-19 pandemic devastated the economy and contributed heavily to his failed reelection bid, Mr. Trump marshaled an unprecedented effort to produce vaccines in less than a year.
---
Panel: China, WHO Acted Too Slow to Stop Pandemic
A panel of experts commissioned by the World Health Organization has criticized China and other countries for not moving to stem the initial outbreak of the coronavirus earlier and questioned whether the U.N. health agency should have labeled it a pandemic sooner.
In a report issued to the media Monday, the panel led by former Liberian President Ellen Johnson Sirleaf and former New Zealand Prime Minister Helen Clark said there were "lost opportunities" to set up basic public health measures as early as possible.
"What is clear to the panel is that public health measures could have been applied more forcefully by local and national health authorities in China in January," shortly after the coronavirus began sickening clusters of people, it said.
---
UK hospitals are using blockchain to track the temperature of coronavirus vaccines
Two hospitals in the U.K. are actively using blockchain technology to help maintain the temperature of coronavirus vaccines before administering them to patients.
The National Health Service facilities in South Warwickshire, England, are using tech developed by U.K. firm Everyware and U.S. organization Hedera Hashgraph. Everyware uses sensors to monitor equipment in real-time, while Hedera is a blockchain consortium backed by the likes of Google and IBM.
Though originally created as the digital ledger underpinning bitcoin, blockchain has since been adapted by various industries for applications outside the realm of finance. IBM and Walmart, for instance, have used blockchain to trace food supply chains and identify potential contamination.
---
Joe Biden's mandate: Don't call it the China virus ...
Welcome to the dumbest administration on earth
Ladies and gentlemen, welcome to the dumbest administration on earth.
Make America Senile Again.
Joe Biden was supposedly elected to end all the madness. Make the crazy stop. Give in to the media's lunatic four-year temper tantrum so the rest of us can get a wink of sleep.
All Joe Biden had to do is … nothing really.
---
Biden's honeymoon from hell
With progressives' demands and Trump impeachment looming, new administration won't have a honeymoon
You are at a gas station and have inadvertently let your tank overfill. You are standing in a pool of gasoline; what do you do? How about lighting a cigarette while considering your situation? That is exactly what congressional Democrats — and some Republicans — are doing with impeachment proceedings in the wake of the Jan. 6 riots on Capitol Hill.
Democrats should not forget that almost half of the electorate voted against Joe Biden, and many in the opposition are in a mutinous mood. Democratic congressmen are pursuing victor's justice in prematurely ousting their opponent with days left in his term. Nancy Pelosi has ensured that President Biden will have virtually no honeymoon at all. This will not end happily.
How then do Republicans respond now that Pelosi-led Democrats — and their Republican lackeys — are burning down the gas station? I would suggest that aspiring future leaders of the Republican Party and conservative movement take the long view and begin working toward 2022 and 2024. The Democratic Party is not monolithic, and its progressive wing has an agenda that is anathema to middle-class Americans — many of whom voted against Donald Trump because they did not like him. But they will soon find out that they have climbed into bed with people who are not acting in their best interests.
---
" It is discouraging to think how many people are shocked by honesty and how few by deceit."

-- Noel Coward

(1899-1973) British playwright

---

The Medal of Honor is the highest award for valor in action against an enemy force which can be bestowed upon an individual serving in the Armed Services of the United States.

GeneTrerally presented to its recipient by the President of the United States of America in the name of Congress.

The first award of the Medal of Honor was made March 25, 1863 to Private JACOB PARROTT.The last award of the Medal of Honor was made September 15, 2011 to Sergeant DAKOTA MEYER.

Since then there have been: • 3458 recipients of the Medal of Honor.

• Today there are 85 Living Recipients of the Medal of Honor.

Citation


Captain Humbert R. Versace distinguished himself by extraordinary heroism during the period of 29 October 1963 to 26 September 1965, while serving as S-2 Advisor, Military Assistance Advisory Group, Detachment 52, Ca Mau, Republic of Vietnam. While accompanying a Civilian Irregular Defense Group patrol engaged in combat operations in Thoi Binh District, An Xuyen Province, Captain Versace and the patrol came under sudden and intense mortar, automatic weapons, and small arms fire from elements of a heavily armed enemy battalion. As the battle raged, Captain Versace, although severely wounded in the knee and back by hostile fire, fought valiantly and continued to engage enemy targets. Weakened by his wounds and fatigued by the fierce firefight, Captain Versace stubbornly resisted capture by the over-powering Viet Cong force with the last full measure of his strength and ammunition. Taken prisoner by the Viet Cong, he exemplified the tenets of the Code of Conduct from the time he entered into Prisoner of War status. Captain Versace assumed command of his fellow American soldiers, scorned the enemy's exhaustive interrogation and indoctrination efforts, and made three unsuccessful attempts to escape, despite his weakened condition which was brought about by his wounds and the extreme privation and hardships he was forced to endure. During his captivity, Captain Versace was segregated in an isolated prisoner of war cage, manacled in irons for prolonged periods of time, and placed on extremely reduced ration. The enemy was unable to break his indomitable will, his faith in God, and his trust in the United States of America. Captain Versace, an American fighting man who epitomized the principles of his country and the Code of Conduct, was executed by the Viet Cong on 26 September 1965. Captain Versace's gallant actions in close contact with an enemy force and unyielding courage and bravery while a prisoner of war are in the highest traditions of the military service and reflect the utmost credit upon himself and the United States Army.

---

From the Archives

We Have Met the Enemy…
Geoff Metcalf


"They who can give up essential liberty to obtain a little temporary safety deserve neither liberty nor safety.
--Benjamin Franklin
"The American people must be willing to give up a degree of personal privacy in exchange for safety and security."
--Louis Freeh


In the wake of the clamor over the most recent WikiLeaks data dump, 'Vault 7', 'UMBRAGE', et al, it should be noted this is not really anything new. What we are seeing here is simply the evolution of something that goes back to the late 50s (to the incomplete best knowledge I have).

It is kinda cool to finally see even

The New York Times

acknowledging material

I was writing about in 1998

.

In April of 1998 I wrote "Privacy has become an anachronism." I was commenting on "a massive system designed to intercept all your e-mail, fax traffic and more." I was explaining 'Echelon', the illegitimate offspring of a

UKUSA Treaty

signed by the United States, United Kingdom, Canada, Australia and New Zealand. Its purpose was, and is, to have a vast global intelligence monster, which allegedly shares common goals. The system was so "efficient" that reportedly National Security Agency folk from Fort Meade could work from Menwith Hill in England to intercept local communications without either nation having to burden themselves with the formality of seeking approval (a court order) or disclosing the operation. And this was all pre-9/11 and pre-the anti-constitutional

'Patriot Act'

.

It is illegal (without a Judge's signed permission) for the United States to spy on its citizens … kinda. The laws have long been circumvented by a mutual pact among five nations. Under the terms of UKUSA agreement, Britain spies on Americans and America spies on British citizens, and then the two conspirators trade data. A classic technical finesse. It is legal, but the intent to evade the spirit is inescapable.

I often fictionalized the genesis of 'Echelon' as an informal meeting of a group of post war American and British intelligence types drinking in some remote rustic bar. An imagined CIA type complains to his MI6 buddy about the hassles of US laws preventing US intelligence from surveillance of bad guys, and the Brit echoes the same complaint.

"Hey wait a moment mate," says Nigel, the make-believe MI6 guy, "I can spy on your guys and you can spy on our bad players…why don't we just come up with a mechanism whereby we spy on your villains, you spy on our villains, and we just 'share' the intel?"

This system was called ECHELON, and has been kicking around in some form longer than most of you. The result of the UKUSA treaty signed by the United States, United Kingdom, Canada, Australia and New Zealand was, and is, to have a vast global intelligence monster which allegedly shares common goals.

The London Telegraph reported in December of 1997 that the Civil liberties Committee of the European Parliament had officially confirmed the existence and purpose of ECHELON. "A global electronic spy network that can eavesdrop on every telephone, e-mail and telex communication around the world will be officially acknowledged for the first time in a European Commission report. …"

The report noted: "Within Europe all e-mail, telephone and fax communications are routinely intercepted by the United States National Security Agency, transferring ll target information from the Eurv opean mainland via the strategic hub of London, then by satellite to Fort Meade in Maryland via the crucial hub at Menwith Hill, in the North York moors in th UK.

"The ECHELON system forms part of the UKUSA system but unlike many of the electronic spy systems developed during the Cold War, ECHELON was designed primarily for non-military targets: governments, organizations and businesses in virtually every country."

An interesting sidebar appeared in the International Herald Tribune under the headline, "Big Corporate Brother: It Knows More About You Than You Think." The story details Acxiom Corp, which was a humongous information service hidden in the Ozark foothills. Twenty-four hours a day, Acxiom electronically gathered and sorts all kinds of data about 196 million Americans. Credit card transactions and magazine subscriptions, telephone numbers, real estate records, automotive data, hunting, business and fishing licenses, consumer surveys and demographic detail that would make a marketing department's research manager salivate. This relatively new (legal) enterprise was known as "data warehousing" or "data-mining", and it underscores the cruel reality that the fiction of personal privacy has become obsolete. Technology's ability to collect and analyze data has made privacy a quaint albeit interesting dinosaur.

The Tribune reported that "Axciom can often determine whether an American owns a dog or cat, enjoys camping or gourmet cooking, reads the Bible or lots of other books. It can often pinpoint an American's occupation, car and favorite vacations. By analyzing the equivalent of billions of pages of data, it often projects for its customers who should be offered a credit card or who is likely to buy a computer."

Most of this information is from y 1998 piece. Echelon has developed, matured, and morphed into a much more powerful hybrid. 'Carnivore' was software to help triage the cacophony of data. Vault 7 and 'Umbrage' are logical (some would argue "insidious") growth.

More to follow…