"It Is Not A Question of Who Is Right Or Wrong But What Is Right Or Wrong That Counts.

"

--Geoff Metcalf
Providing an on line Triage of the news since 1997



Wo

rld & Nation
NY Times Poll: In 6 Swing States Majority Oppose Impeachment
Fifty-three percent of voters in six battleground states oppose impeaching President Donald Trump and removing him from office, according to a New York Times/Siena College poll.
Forty-three percent in the swing states of Pennsylvania, Michigan, Florida, North Carolina, Wisconsin, and Arizona support impeachment and removal.
The survey results for those key states were released Monday. Here is how they break down
92% of Republicans oppose impeachment and removal, compared to 5% who support it.
14% of Democrats oppose impeachment and removal, while 84% support it.
55% of independents are against impeachment and removal, compared to 39% who back it.
50% of all those surveyed support the impeachment inquiry of Trump, while 45% oppose it.

---
Trump compares impeachment drive to 'lynching'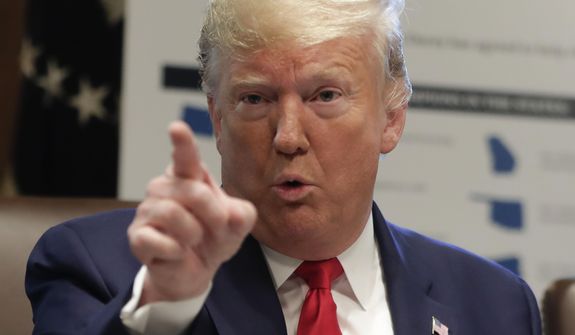 President Trump called the House Democrats' push for impeachment a "lynching" Tuesday as he pushed Republicans to rally around him amid the inquiry.
Mr. Trump used the incendiary language as he tested a new line of attack, reasoning that Democrats should be careful what they wish for because he feels they are watering down the standard for impeachment.
"So some day, if a Democrat becomes President and the Republicans win the House, even by a tiny margin, they can impeach the President, without due process or fairness or any legal rights," he wrote. "All Republicans must remember what they are witnessing here — a lynching. But we will WIN!"
---
Trump administration eyes reversal on troop withdrawal from Syria
The Trump administration signaled Monday it may re-thinking its troop withdrawal strategy in Syria, with the president and military officials now saying a small number of U.S. forces may remain in the country to protect oil supplies and keep them from falling into the hands of the Islamic State terror group.https://apnews.com/db4ffb2f5d7d4a66b1ca371a902e7fbc
The shift, which comes amid a fragile cease-fire in the battle between Turkey and the formerly U.S.-backed Syrian Democratic Forces (SDF), comes in the face of intense bipartisan criticism of Mr. Trump's Syria policy from lawmakers, foreign policy analysts and retired military officials.
The president unexpectedly announced last week that the U.S. would move roughly 1,000 troops out of northeastern Syria as the Turkish advance gained steam, and military officials said that most of those forces are now on their way to Iraq.
---
LA's sanctuary policy releases 100 criminals a day: ICE
California's sanctuary city policies are causing as many as 100 illegal immigrants with criminal records to be released out into the communities every day in the Los Angeles area alone, a top ICE official told Congress on Tuesday.
Timothy S. Robbins, acting executive associate director at U.S. Immigration and Customs Enforcement, said that's just one city in a state where sanctuary policies are now a law state wide.
He said before the law took effect in 2018 the Los Angeles area turned over 75 to 100 criminal aliens each day. Now, he said ICE gets fewer than five.
"All things being equal, there are 70 to 100 criminal aliens hitting the streets in Los Angeles alone. That is one city within the United States. This is a significant problem that has been overlooked for too long," he said
---
Voters reject Democrats' court-packing, say Trump should fill any 2020 vacancy
The public rejects Democrats' plans to pack the Supreme Court with more members but are strikingly eager to impose term limits on the justices, according to a Marquette University Law School Poll released Monday that took a deep dive into Americans' views of the unelected branch of government.
Americans are still smarting over Republicans' move in 2016 to block action on President Barack Obama's final Supreme Court pick, saving the seat for President Trump to fill.
But should another seat become vacant next year, in the middle of another campaign, the public says it wants Mr. Trump and the Republican-led Senate to fill it without waiting for results of the elections.
---
Trump: China Trade Talks on Target for Nov. Deal
President Donald Trump said China has indicated that negotiations over an initial trade deal are advancing, raising expectations the nations' leaders could sign an agreement at a meeting next month in Chile.
"They have started the buying," Trump said Monday during a Cabinet meeting at the White House, referring to Chinese purchases of U.S. agriculture products that the president has pushed for as part of a deal. "I want more," he added.
Earlier Monday, Commerce Secretary Wilbur Ross said that it was more important to get details of the agreement right than it was for Trump to sign it at an expected meeting with Chinese President Xi Jinping next month in Chile.
---
Canada's Trudeau wins 2nd term but nation more divided
Prime Minister Justin Trudeau won a second term in Canada's national elections, losing the majority but saying Tuesday he was given a clear mandate despite an increasingly divided Parliament and nation.
Trudeau's Liberal Party took the most seats in Parliament. However Trudeau fell short of a majority, so the Liberals would have to rely on an opposition party to pass legislation
His early morning address to supporters came, unusually, as his Conservative rival, Andrew Scheer, had just begun speaking to his own supporters, forcing networks to tear away from Scheer's speech.
---
Anxious Democratic Establishment Asks, 'Is There Anybody Else?'
When a half-dozen Democratic donors gathered at the Whitby Hotel in Manhattan last week, the dinner began with a discussion of which presidential candidates the contributors liked. But as conversations among influential Democrats often go these days, the meeting quickly evolved into a discussion of who was not in the race — but could be lured in.
Would Hillary Clinton get in, the contributors wondered, and how about Michael R. Bloomberg, the former New York mayor? One person even mused whether Michelle Obama would consider a late entry, according to two people who attended the event, which was hosted by the progressive group American Bridge.
"Since the last debate, just anecdotally, I've had five or six people ask me: 'Is there anybody else?'" said Leah Daughtry, a longtime Democrat who has run two of the party's recent conventions.
---
Democrats' 2020 race has a new shadow: Hillary Clinton
Some Democrats are putting up caution signs for Hillary Clinton as she wades back into presidential politics by casting 2020 candidate Tulsi Gabbard as a "Russian asset," mocking President Donald Trump's dealings with a foreign leader and drawing counterattacks from both.
Bernie Sanders, who lost the 2016 nomination to Clinton and is running again in 2020, took to Twitter with implicit criticisms of his erstwhile rival. "People can disagree on issues," Sanders wrote Monday, "but it is outrageous for anyone to suggest that Tulsi is a foreign asset."
Larry Cohen, one of Sanders' top supporters, was more conciliatory but warned in an interview that Clinton could harm the eventual 2020 nominee by weighing in against specific candidates, even a longshot like Gabbard.
---
Boris Johnson threatens to DITCH Brexit Bill and demand Christmas election if he loses crunch Commons vote tonight
BORIS Johnson has threatened to DITCH his Brexit Bill and will demand a Christmas election if he loses a crunch Commons clash with rebel MPs tonight.
The future of Britain's exit now hangs in the balance as MPs debate the PM's Withdrawal Agreement Bill in the Commons for the first time.
At the start of a titanic clash in the Commons this afternoon, Boris said: "I will in no way allow months more of this.
"If Parliament refuses to allow Brexit to happen and instead gets its way to delay until January, in no way can the Government continue with this.
---
Paging President Trump to the pitcher's mound
The Washington Nationals are in the World Series for the first time, setting up a historic opportunity to heal our senselessly divided political system in the nation's capital.
This series between the Nationals and the Houston Astros is an opportunity to put all the unhinged and vitriolic partisanship in the past and move forward as a unified country. It is a brief moment when all Americans can pause to reflect on all that we love about one another and this country — even as we remain fiercely divided on the baseball diamond.
But this great healing moment will not make itself. It must be nudged in the right direction, which takes leadership and decency, a sense of fairness, and honesty and principle. Do not expect such leadership to come from our federal political apparatus, known far and wide as "the swamp."
---
How do you say President Buttigieg?
Are Americans ready for a male president who is married to another male and whose surname gives you lockjaw?
We're talking about South Bend, Indiana, Mayor Pete Buttigieg, of course.
Mr. Buttigieg's husband is Chasten Glezman Buttigieg, a junior high school teacher who would be America's very first "First Gentleman."
Maybe an America of genderless bathrooms and of male makeovers winning women's athletic competitions is ready.
---
---
"It is discouraging to think how many people are shocked by honesty and how few by deceit."

-- Noel Coward

(1899-1973) British playwright

---

The Medal of Honor is the highest award for valor in action against an enemy force which can be bestowed upon an individual serving in the Armed Services of the United States.

GeneTrerally presented to its recipient by the President of the United States of America in the name of Congress.

The first award of the Medal of Honor was made March 25, 1863 to Private JACOB PARROTT.The last award of the Medal of Honor was made September 15, 2011 to Sergeant DAKOTA MEYER.

Since then there have been: • 3458 recipients of the Medal of Honor.

• Today there are 85 Living Recipients of the Medal of Honor.

Citation


Captain Humbert R. Versace distinguished himself by extraordinary heroism during the period of 29 October 1963 to 26 September 1965, while serving as S-2 Advisor, Military Assistance Advisory Group, Detachment 52, Ca Mau, Republic of Vietnam. While accompanying a Civilian Irregular Defense Group patrol engaged in combat operations in Thoi Binh District, An Xuyen Province, Captain Versace and the patrol came under sudden and intense mortar, automatic weapons, and small arms fire from elements of a heavily armed enemy battalion. As the battle raged, Captain Versace, although severely wounded in the knee and back by hostile fire, fought valiantly and continued to engage enemy targets. Weakened by his wounds and fatigued by the fierce firefight, Captain Versace stubbornly resisted capture by the over-powering Viet Cong force with the last full measure of his strength and ammunition. Taken prisoner by the Viet Cong, he exemplified the tenets of the Code of Conduct from the time he entered into Prisoner of War status. Captain Versace assumed command of his fellow American soldiers, scorned the enemy's exhaustive interrogation and indoctrination efforts, and made three unsuccessful attempts to escape, despite his weakened condition which was brought about by his wounds and the extreme privation and hardships he was forced to endure. During his captivity, Captain Versace was segregated in an isolated prisoner of war cage, manacled in irons for prolonged periods of time, and placed on extremely reduced ration. The enemy was unable to break his indomitable will, his faith in God, and his trust in the United States of America. Captain Versace, an American fighting man who epitomized the principles of his country and the Code of Conduct, was executed by the Viet Cong on 26 September 1965. Captain Versace's gallant actions in close contact with an enemy force and unyielding courage and bravery while a prisoner of war are in the highest traditions of the military service and reflect the utmost credit upon himself and the United States Army.

---

From the Archives

We Have Met the Enemy…
Geoff Metcalf


"They who can give up essential liberty to obtain a little temporary safety deserve neither liberty nor safety.
--Benjamin Franklin
"The American people must be willing to give up a degree of personal privacy in exchange for safety and security."
--Louis Freeh


In the wake of the clamor over the most recent WikiLeaks data dump, 'Vault 7', 'UMBRAGE', et al, it should be noted this is not really anything new. What we are seeing here is simply the evolution of something that goes back to the late 50s (to the incomplete best knowledge I have).

It is kinda cool to finally see even

The New York Times

acknowledging material

I was writing about in 1998

.

In April of 1998 I wrote "Privacy has become an anachronism." I was commenting on "a massive system designed to intercept all your e-mail, fax traffic and more." I was explaining 'Echelon', the illegitimate offspring of a

UKUSA Treaty

signed by the United States, United Kingdom, Canada, Australia and New Zealand. Its purpose was, and is, to have a vast global intelligence monster, which allegedly shares common goals. The system was so "efficient" that reportedly National Security Agency folk from Fort Meade could work from Menwith Hill in England to intercept local communications without either nation having to burden themselves with the formality of seeking approval (a court order) or disclosing the operation. And this was all pre-9/11 and pre-the anti-constitutional

'Patriot Act'

.

It is illegal (without a Judge's signed permission) for the United States to spy on its citizens … kinda. The laws have long been circumvented by a mutual pact among five nations. Under the terms of UKUSA agreement, Britain spies on Americans and America spies on British citizens, and then the two conspirators trade data. A classic technical finesse. It is legal, but the intent to evade the spirit is inescapable.

I often fictionalized the genesis of 'Echelon' as an informal meeting of a group of post war American and British intelligence types drinking in some remote rustic bar. An imagined CIA type complains to his MI6 buddy about the hassles of US laws preventing US intelligence from surveillance of bad guys, and the Brit echoes the same complaint.

"Hey wait a moment mate," says Nigel, the make-believe MI6 guy, "I can spy on your guys and you can spy on our bad players…why don't we just come up with a mechanism whereby we spy on your villains, you spy on our villains, and we just 'share' the intel?"

This system was called ECHELON, and has been kicking around in some form longer than most of you. The result of the UKUSA treaty signed by the United States, United Kingdom, Canada, Australia and New Zealand was, and is, to have a vast global intelligence monster which allegedly shares common goals.

The London Telegraph reported in December of 1997 that the Civil liberties Committee of the European Parliament had officially confirmed the existence and purpose of ECHELON. "A global electronic spy network that can eavesdrop on every telephone, e-mail and telex communication around the world will be officially acknowledged for the first time in a European Commission report. …"

The report noted: "Within Europe all e-mail, telephone and fax communications are routinely intercepted by the United States National Security Agency, transferring ll target information from the European mainland via the strategic hub of London, then by satellite to Fort Meade in Maryland via the crucial hub at Menwith Hill, in the North York moors in the UK.

"The ECHELON system forms part of the UKUSA system but unlike many of the electronic spy systems developed during the Cold War, ECHELON was designed primarily for non-military targets: governments, organizations and businesses in virtually every country."

An interesting sidebar appeared in the International Herald Tribune under the headline, "Big Corporate Brother: It Knows More About You Than You Think." The story details Acxiom Corp, which was a humongous information service hidden in the Ozark foothills. Twenty-four hours a day, Acxiom electronically gathered and sorts all kinds of data about 196 million Americans. Credit card transactions and magazine subscriptions, telephone numbers, real estate records, automotive data, hunting, business and fishing licenses, consumer surveys and demographic detail that would make a marketing department's research manager salivate. This relatively new (legal) enterprise was known as "data warehousing" or "data-mining", and it underscores the cruel reality that the fiction of personal privacy has become obsolete. Technology's ability to collect and analyze data has made privacy a quaint albeit interesting dinosaur.

The Tribune reported that "Axciom can often determine whether an American owns a dog or cat, enjoys camping or gourmet cooking, reads the Bible or lots of other books. It can often pinpoint an American's occupation, car and favorite vacations. By analyzing the equivalent of billions of pages of data, it often projects for its customers who should be offered a credit card or who is likely to buy a computer."

Most of this information is from y 1998 piece. Echelon has developed, matured, and morphed into a much more powerful hybrid. 'Carnivore' was software to help triage the cacophony of data. Vault 7 and 'Umbrage' are logical (some would argue "insidious") growth.

More to follow…