"It Is Not A Question of Who Is Right Or Wrong But What Is Right Or Wrong That Counts.

"

--Geoff Metcalf
Providing an on line Triage of the news since 1997



Wo

rld & Nation
Amy Coney Barrett defends original meaning of Second Amendment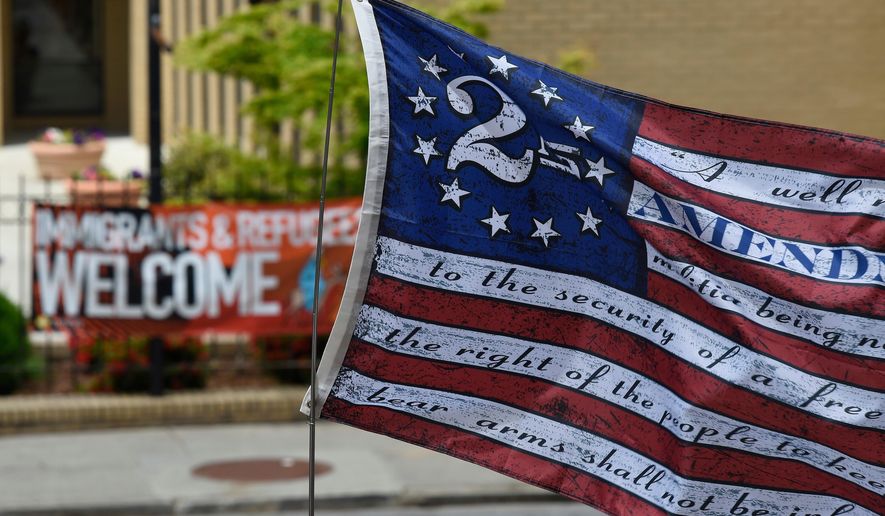 Supreme Court nominee Judge Amy Coney Barrett defended the original meaning of the Second Amendment during her Supreme Court confirmation hearing Tuesday.
She was asked about a dissent that she wrote in the case Kanter v. Barr while sitting on the 7th U.S. Circuit Court of Appeals where she said a man who was convicted of a nonviolent crime should not lose his Second Amendment rights.
"The original meaning of the Second Amendment … does support the idea that governments are free to keep guns out of the hands of the dangerous," she said, referencing the mentally ill or others with violent records.
---
Judge Barrett decries 'attacks' on family, 'caricatures' of her Catholic faith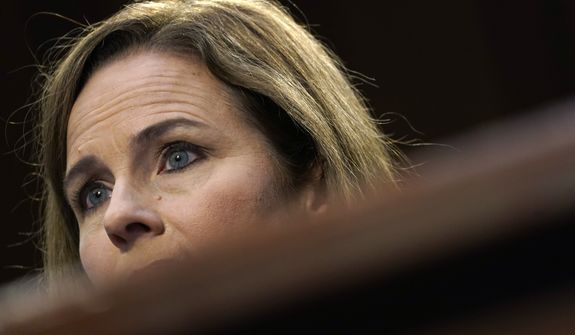 Judge Amy Coney Barrett said Tuesday that her family has been "attacked" during her bid for a seat on the Supreme Court, and she's seen "caricatures floating around" concerning her Catholic faith, but said she's going through it because she feels a duty to defend the law.
As senators kicked off the first round of questions, Judge Barrett said she knows she's made "distinct" choices to have a large, interracial family — she has seven children, two of them adopted from Haiti — and to have a law career, but said she has never imposed those preferences on anyone else, either personally or as a judge.
"We knew our lives would be combed over for any negative detail, we knew our faith would be caricatured, our family would be attacked, and so we had to decide whether those difficulties would be worth it. Because what sane person would go through that if there was not a benefit on the other side?" she said. "The benefit is that I am committed to the rule of law and the role of the Supreme Court and dispensing equal justice for all."
She concluded: "I'm not the only person who could do this job, but I was asked, and it would be difficult for anyone, so why should I say someone else should do the difficulty if the difficulty is the only reason to say no. I should serve my country. And my family is all in on that because they share my belief in the rule of law."
---
Court packing part of Democratic Party platform adopted at Biden convention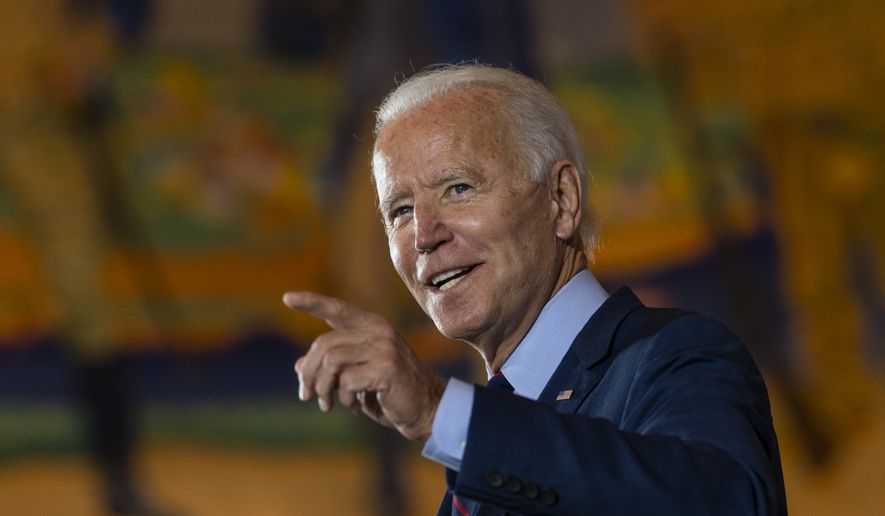 Democrats agree that their court-packing plan has gained relevancy after Senate Republicans pushed through Judge Amy Coney Barrett's confirmation to the Supreme Court. But the plan has been on the Democratic Party's agenda for months, if not years.
Packing the Supreme Court is explicitly called for in the 2020 Democratic Party platform adopted in August, a month before Justice Ruth Bader Ginsburg died and President Trump nominated Judge Barrett to fill the vacancy.
Liberal activists argue that court-packing — from the Supreme Court down through the lower federal courts — is necessary to depoliticize the rogue behavior of Mr. Trump and Senate Republicans.
---
Gaffes pile up as Biden says he's running for Senate, forgets 'Mormon' Romney's name
Trump tweets: 'If I did any of this, it would be disqualifying'
Former Vice President Joseph R. Biden had a few hiccups during his Monday campaign stop in Ohio, saying that he was running for "the Senate" and referring to Mitt Romney as the "Mormon."
"I'm running as a proud Democrat for the Senate," Mr. Biden told the local United Auto Workers at a campaign stop in Toledo. "When I ran as a proud Democrat for vice president. I'm running as a proud Democrat for president."
The Democratic presidential candidate later appeared to forget the name of Mr. Romney, who challenged the Obama-Biden ticket as the Republican presidential nominee in 2012.
"You may remember, I got in trouble running against the senator who was a Mormon, the governor, OK?" Mr. Biden said on the tarmac, as shown on a video clip. "And I took him on. And no one's faith should be questioned."
---
J&J COVID-19 Vaccine Study Paused Due to Unexplained Illness in Participant
Johnson & Johnson has paused clinical trials of its coronavirus vaccine candidate due to an unexplained illness in a study participant, delaying one of the highest profile efforts to contain the global pandemic.
The move comes around a month after AstraZeneca also suspended trials of its experimental coronavirus vaccine - which uses a similar technology - due to a participant falling ill.
J&J (JNJ) said on Monday the illness was being reviewed by an independent data and safety monitoring board as well as the U.S. group's clinical and safety physicians.
---
Biden: Americans who think they're better off today 'probably shouldn't' vote for me
Democratic presidential nominee Joseph R. Biden said Monday that the majority of Americans who recently told Gallup they're better off today under President Trump "probably shouldn't" vote for him.
In an interview with Cincinnati's WKRC, the former vice president was asked by reporter Kyle Inskeep to weigh in on a Gallup poll that said last week that 56% of registered voters had reported being better off now than they were four years ago under the Obama-Biden administration.
"So why should people who feel that they are better off today, under the Trump administration, vote for you?" Mr. Inskeep asked Mr. Biden.
"Well, if they think that, they probably shouldn't," Mr. Biden answered. "If they think — 54% of the American people are better off economically today than they were under our administration? Well, their memory is not very good, quite frankly.
---
US Air Strikes Target Taliban Fighters Advancing on Key Afghan City
The United States launched air strikes against Taliban fighters in Afghanistan's southern Helmand province, U.S. officials said on Monday, after a large-scale offensive saw insurgents take over military bases in the region and close in on a key provincial capital.
The strikes, carried out over the last two days, mark a rare military intervention by the United States since it signed an agreement on troop withdrawal with the Taliban in February.
The deal provides for the withdrawal of foreign forces from Afghanistan in exchange for security guarantees from the insurgent group, and a pledge to sit down with the Kabul administration to find a peaceful settlement to decades of war.
---
Iran Seeks 'Strategic Partnership' With China
Iranian President Hassan Rouhani is looking to engage with China in a "strategic partnership" against the United States, according to the Economist.
Rouhani said Oct. 1 the two countries have made a "major step" to this end by strengthening their economic, security, and technological connections.
Iran is desperate to deepen this relationship after its oil trade has drastically slowed and its currency has dropped to a historic low.
For the effort, Iranian foreign minister Mohammed Javad Zarif visited China on Friday.
---
Top U.S. general won't confirm Trump's Afghanistan withdrawal timeline
The Pentagon is pushing back at President Trump's recent campaign trail claim that all American troops could be out of Afghanistan by Christmas, fueling fresh questions about the war zone exit plan at a moment when U.S. forces continue to engage in direct clashes with an emboldened Taliban.
Gen. Mark A. Milley, chairman of the Joint Chiefs of Staff, refused over the weekend to confirm the rapid withdrawal timeline Mr. Trump laid out in an unexpected Twitter post last week. Gen. Milley also wouldn't comment directly on National Security Adviser Robert O'Brien's recent pledge that the U.S. troop number will be down to 2,500 by early next year.
In an interview with NPR that aired Monday, Gen. Milley said only that the U.S. is in the process of cutting its force to about 4,500 service members, down from the roughly 12,000 American forces stationed in Afghanistan at the start of 2020.
---
Joe Biden and Kamala Harris mask the far left's scary agenda
Progressive trick is no treat
Halloween, like so much else, will be different this year from previous years, but it also offers an analogy that can be applied to the current presidential campaign.
The purpose of Halloween masks is to hide the identity of the person wearing them. They are also supposed to be scary. Inversely, as I see it, the purpose of the "masks" being worn by Joe Biden and Kamala Harris is to soothe those who see and listen to them and hide the scary faces beneath.
Politico reported last week that "progressives" (that is, the far left) have put together an agenda they hope to use to pull a President Biden in their direction. These include members of the House of Representatives, known as "The Squad," and groups such as Black Lives Matter, whose co-founder described herself and fellow organizers as "trained Marxists," as well as labor leaders, and other far-left organizations.
---
Biden presidency bad for media business and America
Democrat's playbook familiar to those have lived in or studied failed socialist states
Most voters have made some votes they regret — when they voted for a winner, and he or she did not live up to expectations. The situation is even worse when you convince someone to vote for a candidate who turns out to be a disaster. The person you convinced to make the bad decision probably, at least quietly, resents you for giving bad advice and has lost some respect for your judgment.
Most of the mainstream media, by being so far in the tank for Joe Biden, have now put themselves in the position that if he is elected and fails, they are going to suffer even lower reputations. To the extent they try to defend a failing Biden presidency, fewer readers or listeners are going to pay any attention to them — lower ratings mean fewer advertising dollars, which will result in more job layoffs for journalists.
Under the best of circumstances, a Biden presidency is probably going to be bad for the journalistic profession. Mr. Biden is low energy and boring. For his defenders, he will be particularly hard to cover, because he is unlikely to give them the red meat that sells newspapers and attracts listeners.
---
" It is discouraging to think how many people are shocked by honesty and how few by deceit."

-- Noel Coward

(1899-1973) British playwright

---

The Medal of Honor is the highest award for valor in action against an enemy force which can be bestowed upon an individual serving in the Armed Services of the United States.

GeneTrerally presented to its recipient by the President of the United States of America in the name of Congress.

The first award of the Medal of Honor was made March 25, 1863 to Private JACOB PARROTT.The last award of the Medal of Honor was made September 15, 2011 to Sergeant DAKOTA MEYER.

Since then there have been: • 3458 recipients of the Medal of Honor.

• Today there are 85 Living Recipients of the Medal of Honor.

Citation


Captain Humbert R. Versace distinguished himself by extraordinary heroism during the period of 29 October 1963 to 26 September 1965, while serving as S-2 Advisor, Military Assistance Advisory Group, Detachment 52, Ca Mau, Republic of Vietnam. While accompanying a Civilian Irregular Defense Group patrol engaged in combat operations in Thoi Binh District, An Xuyen Province, Captain Versace and the patrol came under sudden and intense mortar, automatic weapons, and small arms fire from elements of a heavily armed enemy battalion. As the battle raged, Captain Versace, although severely wounded in the knee and back by hostile fire, fought valiantly and continued to engage enemy targets. Weakened by his wounds and fatigued by the fierce firefight, Captain Versace stubbornly resisted capture by the over-powering Viet Cong force with the last full measure of his strength and ammunition. Taken prisoner by the Viet Cong, he exemplified the tenets of the Code of Conduct from the time he entered into Prisoner of War status. Captain Versace assumed command of his fellow American soldiers, scorned the enemy's exhaustive interrogation and indoctrination efforts, and made three unsuccessful attempts to escape, despite his weakened condition which was brought about by his wounds and the extreme privation and hardships he was forced to endure. During his captivity, Captain Versace was segregated in an isolated prisoner of war cage, manacled in irons for prolonged periods of time, and placed on extremely reduced ration. The enemy was unable to break his indomitable will, his faith in God, and his trust in the United States of America. Captain Versace, an American fighting man who epitomized the principles of his country and the Code of Conduct, was executed by the Viet Cong on 26 September 1965. Captain Versace's gallant actions in close contact with an enemy force and unyielding courage and bravery while a prisoner of war are in the highest traditions of the military service and reflect the utmost credit upon himself and the United States Army.

---

From the Archives

We Have Met the Enemy…
Geoff Metcalf


"They who can give up essential liberty to obtain a little temporary safety deserve neither liberty nor safety.
--Benjamin Franklin
"The American people must be willing to give up a degree of personal privacy in exchange for safety and security."
--Louis Freeh


In the wake of the clamor over the most recent WikiLeaks data dump, 'Vault 7', 'UMBRAGE', et al, it should be noted this is not really anything new. What we are seeing here is simply the evolution of something that goes back to the late 50s (to the incomplete best knowledge I have).

It is kinda cool to finally see even

The New York Times

acknowledging material

I was writing about in 1998

.

In April of 1998 I wrote "Privacy has become an anachronism." I was commenting on "a massive system designed to intercept all your e-mail, fax traffic and more." I was explaining 'Echelon', the illegitimate offspring of a

UKUSA Treaty

signed by the United States, United Kingdom, Canada, Australia and New Zealand. Its purpose was, and is, to have a vast global intelligence monster, which allegedly shares common goals. The system was so "efficient" that reportedly National Security Agency folk from Fort Meade could work from Menwith Hill in England to intercept local communications without either nation having to burden themselves with the formality of seeking approval (a court order) or disclosing the operation. And this was all pre-9/11 and pre-the anti-constitutional

'Patriot Act'

.

It is illegal (without a Judge's signed permission) for the United States to spy on its citizens … kinda. The laws have long been circumvented by a mutual pact among five nations. Under the terms of UKUSA agreement, Britain spies on Americans and America spies on British citizens, and then the two conspirators trade data. A classic technical finesse. It is legal, but the intent to evade the spirit is inescapable.

I often fictionalized the genesis of 'Echelon' as an informal meeting of a group of post war American and British intelligence types drinking in some remote rustic bar. An imagined CIA type complains to his MI6 buddy about the hassles of US laws preventing US intelligence from surveillance of bad guys, and the Brit echoes the same complaint.

"Hey wait a moment mate," says Nigel, the make-believe MI6 guy, "I can spy on your guys and you can spy on our bad players…why don't we just come up with a mechanism whereby we spy on your villains, you spy on our villains, and we just 'share' the intel?"

This system was called ECHELON, and has been kicking around in some form longer than most of you. The result of the UKUSA treaty signed by the United States, United Kingdom, Canada, Australia and New Zealand was, and is, to have a vast global intelligence monster which allegedly shares common goals.

The London Telegraph reported in December of 1997 that the Civil liberties Committee of the European Parliament had officially confirmed the existence and purpose of ECHELON. "A global electronic spy network that can eavesdrop on every telephone, e-mail and telex communication around the world will be officially acknowledged for the first time in a European Commission report. …"

The report noted: "Within Europe all e-mail, telephone and fax communications are routinely intercepted by the United States National Security Agency, transferring ll target information from the Eurv opean mainland via the strategic hub of London, then by satellite to Fort Meade in Maryland via the crucial hub at Menwith Hill, in the North York moors in th UK.

"The ECHELON system forms part of the UKUSA system but unlike many of the electronic spy systems developed during the Cold War, ECHELON was designed primarily for non-military targets: governments, organizations and businesses in virtually every country."

An interesting sidebar appeared in the International Herald Tribune under the headline, "Big Corporate Brother: It Knows More About You Than You Think." The story details Acxiom Corp, which was a humongous information service hidden in the Ozark foothills. Twenty-four hours a day, Acxiom electronically gathered and sorts all kinds of data about 196 million Americans. Credit card transactions and magazine subscriptions, telephone numbers, real estate records, automotive data, hunting, business and fishing licenses, consumer surveys and demographic detail that would make a marketing department's research manager salivate. This relatively new (legal) enterprise was known as "data warehousing" or "data-mining", and it underscores the cruel reality that the fiction of personal privacy has become obsolete. Technology's ability to collect and analyze data has made privacy a quaint albeit interesting dinosaur.

The Tribune reported that "Axciom can often determine whether an American owns a dog or cat, enjoys camping or gourmet cooking, reads the Bible or lots of other books. It can often pinpoint an American's occupation, car and favorite vacations. By analyzing the equivalent of billions of pages of data, it often projects for its customers who should be offered a credit card or who is likely to buy a computer."

Most of this information is from y 1998 piece. Echelon has developed, matured, and morphed into a much more powerful hybrid. 'Carnivore' was software to help triage the cacophony of data. Vault 7 and 'Umbrage' are logical (some would argue "insidious") growth.

More to follow…