"It Is Not A Question of Who Is Right Or Wrong But What Is Right Or Wrong That Counts.

"

--Geoff Metcalf
Wo

rld & Nation
Riot police storm Hong Kong Airport after second day of cancellations due to protests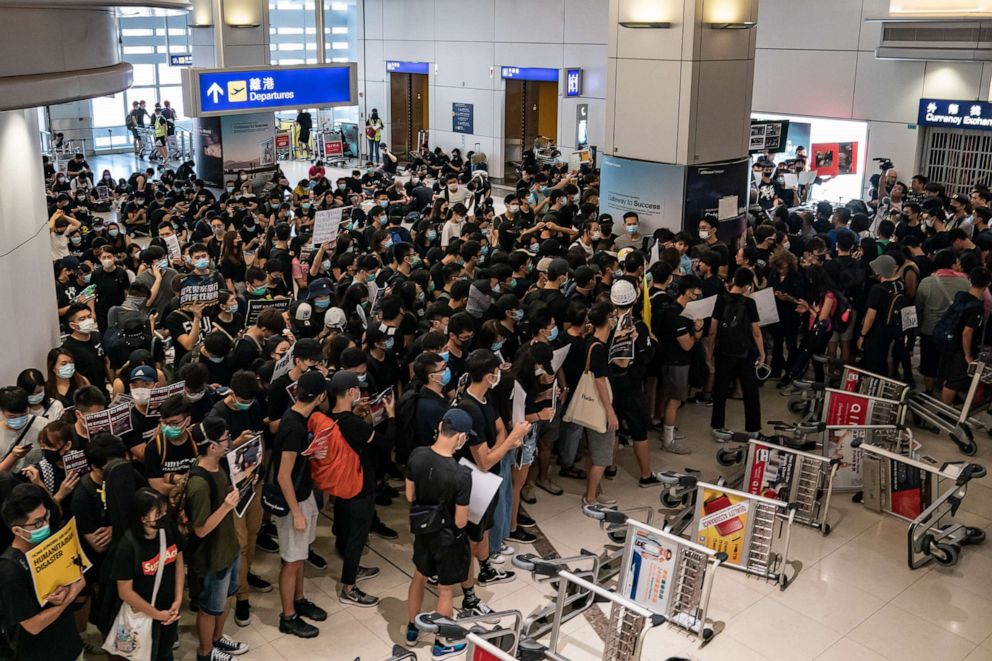 Hong Kong International Airport canceled all flights for the second straight day on Tuesday as crowds of anti-government protesters clashed with police as they continued to occupy the terminals.

"Terminal operations at Hong Kong International Airport have been seriously disrupted, and all check-in processes have now been suspended," the airport authority said in a statement Tuesday afternoon.

Travelers at the airport, one of the world's busiest, were advised to leave the terminals as quickly as possible and contact the airlines for more information.


---

Trump delays China tariffs until December, markets higher

The Trump administration announced Tuesday it will delay 10% tariffs on $300 billion worth of Chinese imports for certain products from Sept. 1 to Dec. 15, carving out toys, clothing and electronics that may be popular during the holiday shopping season.

The announcement by the Office of the U.S. Trade Representative sent U.S. stocks sharply higher in early trading.

The administration said some products will also be taken off the tariff list based on "health, safety, national security and other factors."


---
ABC News: Feds Search Epstein's Island Home
Federal agents swarmed the private Caribbean island home owned by disgraced financier Jeffrey Epstein on Monday, as the investigation into his alleged sex trafficking ring continues despite his death, ABC News reports.
Epstein, who reportedly hung himself early Saturday in his prison cell at the federal Metropolitan Correctional Center in Manhattan, owned Little Saint James Island in the Virgin Islands.
The search was led by the Epstein task force with the U.S. Attorney's office for the Southern District of New York, according to sources who spoke with ABC News. Epstein's accusers have previously claimed the financier and his accomplices used the island as a discreet location to sexually assault underage girls.
---

$3,727,014,000,000: Federal Spending Sets Record Through July;
Treasury Runs $866,812,000,000 Deficit

The federal government spent a record $3,727,014,000,000 in the first ten months of fiscal 2019 (October through July), according to the Monthly Treasury Statement released today.

While spending that record $3,727,014,000,000, the government ran a deficit of $866,812,000,000.

Before this year, the most that the federal government had ever spent in the first ten months of a fiscal year was in fiscal 2009, when the Treasury spent $3,576,745,930,000 (in constant June 2019 dollars, adjusted using the Bureau of Labor Statistics inflation calculator).



---
Tom Steyer's 'toe-to-toe with Trump' ad blitz wows Iowa voters, boosts standings
Hedge fund billionaire on path of qualify for September debate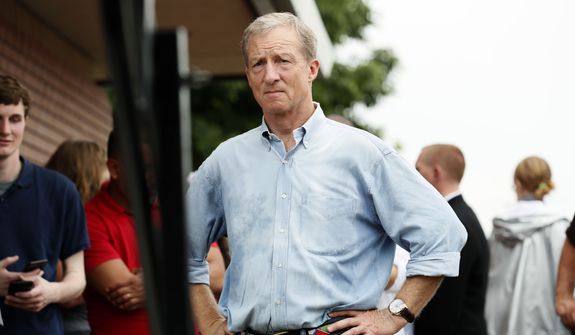 Hedge fund billionaire and Democratic presidential candidate Tom Steyer quickly demonstrated that money talks and voters listen, with a TV ad blitz in crucial early voting states getting his self-funded campaign noticed and pushing him up in the polls.
The commercials, in which he stands in front of a weathered barn to deliver his people-over-corporations message, made him a familiar face in Iowa before he set foot in the state over the weekend.
Mr. Steyer entered the Democratic race a month ago with a six-figure ad buy across four early voting states. It paid off with rising poll numbers. At 2% and 3% in recent polls, his numbers are rising faster than many of the experienced politicians in the race who remain stuck in the 1% club.
---
Harry Reid calls for end to filibuster, says 2020 contenders should support abolishing it
Former Senate Majority Leader Harry Reid this week called for an end to the legislative filibuster in the U.S. Senate and said Democrats vying for the White House should support eliminating it as well.
Mr. Reid said the Senate today has become "an unworkable legislative graveyard."
"Republicans over the past decade — knowing their policies are unpopular and that obstruction benefits them politically — perfected and increased the gratuitous use of the filibuster," he wrote in a piece in The New York Times published on Monday.
Mr. Reid called on the Senate to abandon the filibuster "in all its forms," "[a]nd I am calling on candidates seeking the Democratic nomination for president to do the same."
---
Claws out after Trump administration overhauls 'bureaucratic' Endangered Species Act
California, Massachusetts attorneys general vow to sue to stop updated rules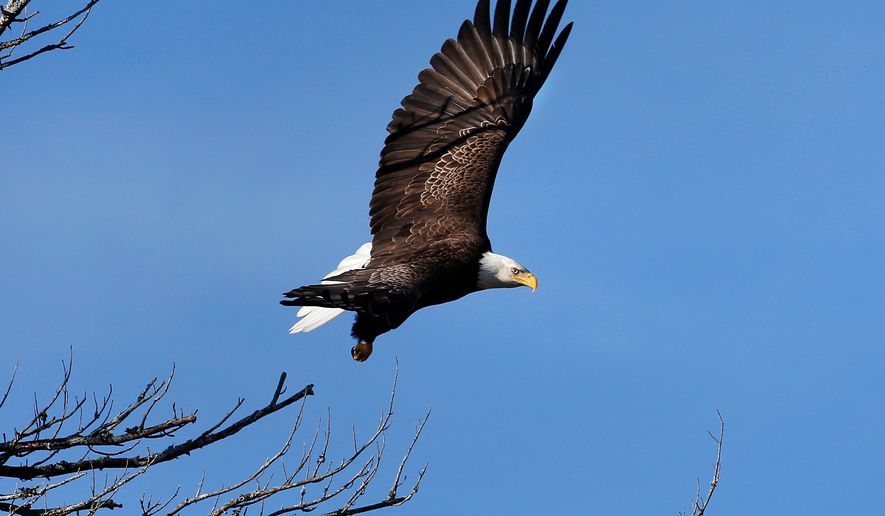 Rep. Don Young, Alaska Republican, supports the Endangered Species Act — he is the only sitting lawmaker left who voted for it in 1973 — but says the law aimed at saving wildlife and plants from extinction has since become a "bureaucratic nightmare."
Only 3% of the 1,661 species listed as endangered or threatened since 1973 have been recovered. Meanwhile, critics say the act has been weaponized to block economic development, cordon off lands and halt forest management while cultivating a tangled thicket of federal regulations.
On Monday, the Trump administration moved to "bring the Act into the 21st century" by finalizing sweeping revisions that maintain the "best available science" standard while placing limits on the designation of critical habitat, streamlining the listings process and making clear the costs of such designations.
---
CNN Stands Behind Anchor Chris Cuomo in 'Fredo' Fight
CNN is standing behind star anchor Chris Cuomo after a video surfaced Monday night of him spouting profanities and threatening to throw a man down a flight of stairs for calling him "Fredo" — a reference to "The Godfather" character Fredo Corleone, the cowardly brother who was desperate for respect from his father.
"Chris Cuomo defended himself when he was verbally attacked with the use of an ethnic slur in an orchestrated setup," CNN spokesman Matt Dornic in a Twitter statement. "We completely support him."
The video went viral after a right-wing YouTube channel, "THAT'S THE POINT with Brandon" posted it, showing Cuomo threatening the man. YouTube later removed the video, saying it violated its bullying standards.
Brandon Recor, the channel's host, told The Washington Post the man in the confrontation sent him the video. claiming he went up to Cuomo to ask for a picture.
---
Mitch McConnell warns China: U.S. won't tolerate violent crackdown in Hong Kong
Senate Majority Leader Mitch McConnell warned China's government that a violent crackdown on protesters in Hong Kong would be "completely unacceptable" as pro-democracy demonstrations in the Chinese-ruled territory widened anew Monday.
With protests inside Hong Kong's airport prompting all flights there canceled through at least Tuesday, Mr. McConnell entered the fray via Twitter to assert that the "people of Hong Kong are bravely standing up to the Chinese Communist Party as Beijing tries to encroach on their autonomy and freedom."
The Kentucky Republican's comments came as Trump administration officials called on protesters and Chinese authorities to avoid violence, but also as some analysts called on the U.S. to show more solidarity with the demonstrators — even as Beijing accuses Washington and others of stoking unrest in Hong Kong.
---
Senate's snub of SAFE Act may be blessing in disguise
Let's get something straight: Fair elections and safe and secure elections are not the same.
Generically speaking, fair elections in the United States mean federal, state and local yokels cannot arbitrarily decide who can and cannot vote.
Safe and secure elections mean ensuring that a Muriel Bowser who lives in Maryland cannot slip into a D.C. polling place, "identify" herself as a D.C. resident, and steal and cast a ballot — or vote twice.
Safe and secure elections also mean ensuring there are no cyberattacks on our election apparatus and that the U.S. Constitution isn't kicked to the curb because of states' rights.
---
Protecting consumers from Facebook
With Congress' help, the FTC can stop Facebook's abuse
On Aug. 1,, news reports showed that the Federal Trade Commission is examining whether Facebook acquired other social media giants, including Instagram and WhatsApp, for anti-competitive reasons.
Indeed, Facebook has been said to have swallowed 90 companies for the sole purpose of calcifying the industry. However, if the events that have transpired over the last two weeks are any indication, Congress should not rely on the FTC alone to make this determination. To adequately protect consumers, it is going to have to have an intervention of its own.
Nothing underscored the need for a stronger congressional presence over antitrust policy better than the slap on the wrist granted by the FTC to Facebook for its privacy violations on July 25.
---
---
"It is discouraging to think how many people are shocked by honesty and how few by deceit."

-- Noel Coward

(1899-1973) British playwright

---

The Medal of Honor is the highest award for valor in action against an enemy force which can be bestowed upon an individual serving in the Armed Services of the United States.

GeneTrerally presented to its recipient by the President of the United States of America in the name of Congress.

The first award of the Medal of Honor was made March 25, 1863 to Private JACOB PARROTT.The last award of the Medal of Honor was made September 15, 2011 to Sergeant DAKOTA MEYER.

Since then there have been: • 3458 recipients of the Medal of Honor.

• Today there are 85 Living Recipients of the Medal of Honor.

Citation


Captain Humbert R. Versace distinguished himself by extraordinary heroism during the period of 29 October 1963 to 26 September 1965, while serving as S-2 Advisor, Military Assistance Advisory Group, Detachment 52, Ca Mau, Republic of Vietnam. While accompanying a Civilian Irregular Defense Group patrol engaged in combat operations in Thoi Binh District, An Xuyen Province, Captain Versace and the patrol came under sudden and intense mortar, automatic weapons, and small arms fire from elements of a heavily armed enemy battalion. As the battle raged, Captain Versace, although severely wounded in the knee and back by hostile fire, fought valiantly and continued to engage enemy targets. Weakened by his wounds and fatigued by the fierce firefight, Captain Versace stubbornly resisted capture by the over-powering Viet Cong force with the last full measure of his strength and ammunition. Taken prisoner by the Viet Cong, he exemplified the tenets of the Code of Conduct from the time he entered into Prisoner of War status. Captain Versace assumed command of his fellow American soldiers, scorned the enemy's exhaustive interrogation and indoctrination efforts, and made three unsuccessful attempts to escape, despite his weakened condition which was brought about by his wounds and the extreme privation and hardships he was forced to endure. During his captivity, Captain Versace was segregated in an isolated prisoner of war cage, manacled in irons for prolonged periods of time, and placed on extremely reduced ration. The enemy was unable to break his indomitable will, his faith in God, and his trust in the United States of America. Captain Versace, an American fighting man who epitomized the principles of his country and the Code of Conduct, was executed by the Viet Cong on 26 September 1965. Captain Versace's gallant actions in close contact with an enemy force and unyielding courage and bravery while a prisoner of war are in the highest traditions of the military service and reflect the utmost credit upon himself and the United States Army.

---

From the Archives

We Have Met the Enemy…
Geoff Metcalf


"They who can give up essential liberty to obtain a little temporary safety deserve neither liberty nor safety.
--Benjamin Franklin
"The American people must be willing to give up a degree of personal privacy in exchange for safety and security."
--Louis Freeh


In the wake of the clamor over the most recent WikiLeaks data dump, 'Vault 7', 'UMBRAGE', et al, it should be noted this is not really anything new. What we are seeing here is simply the evolution of something that goes back to the late 50s (to the incomplete best knowledge I have).

It is kinda cool to finally see even

The New York Times

acknowledging material

I was writing about in 1998

.

In April of 1998 I wrote "Privacy has become an anachronism." I was commenting on "a massive system designed to intercept all your e-mail, fax traffic and more." I was explaining 'Echelon', the illegitimate offspring of a

UKUSA Treaty

signed by the United States, United Kingdom, Canada, Australia and New Zealand. Its purpose was, and is, to have a vast global intelligence monster, which allegedly shares common goals. The system was so "efficient" that reportedly National Security Agency folk from Fort Meade could work from Menwith Hill in England to intercept local communications without either nation having to burden themselves with the formality of seeking approval (a court order) or disclosing the operation. And this was all pre-9/11 and pre-the anti-constitutional

'Patriot Act'

.

It is illegal (without a Judge's signed permission) for the United States to spy on its citizens … kinda. The laws have long been circumvented by a mutual pact among five nations. Under the terms of UKUSA agreement, Britain spies on Americans and America spies on British citizens, and then the two conspirators trade data. A classic technical finesse. It is legal, but the intent to evade the spirit is inescapable.

I often fictionalized the genesis of 'Echelon' as an informal meeting of a group of post war American and British intelligence types drinking in some remote rustic bar. An imagined CIA type complains to his MI6 buddy about the hassles of US laws preventing US intelligence from surveillance of bad guys, and the Brit echoes the same complaint.

"Hey wait a moment mate," says Nigel, the make-believe MI6 guy, "I can spy on your guys and you can spy on our bad players…why don't we just come up with a mechanism whereby we spy on your villains, you spy on our villains, and we just 'share' the intel?"

This system was called ECHELON, and has been kicking around in some form longer than most of you. The result of the UKUSA treaty signed by the United States, United Kingdom, Canada, Australia and New Zealand was, and is, to have a vast global intelligence monster which allegedly shares common goals.

The London Telegraph reported in December of 1997 that the Civil liberties Committee of the European Parliament had officially confirmed the existence and purpose of ECHELON. "A global electronic spy network that can eavesdrop on every telephone, e-mail and telex communication around the world will be officially acknowledged for the first time in a European Commission report. …"

The report noted: "Within Europe all e-mail, telephone and fax communications are routinely intercepted by the United States National Security Agency, transferring all target information from the European mainland via the strategic hub of London, then by satellite to Fort Meade in Maryland via the crucial hub at Menwith Hill, in the North York moors in the UK.

"The ECHELON system forms part of the UKUSA system but unlike many of the electronic spy systems developed during the Cold War, ECHELON was designed primarily for non-military targets: governments, organizations and businesses in virtually every country."

An interesting sidebar appeared in the International Herald Tribune under the headline, "Big Corporate Brother: It Knows More About You Than You Think." The story details Acxiom Corp, which was a humongous information service hidden in the Ozark foothills. Twenty-four hours a day, Acxiom electronically gathered and sorts all kinds of data about 196 million Americans. Credit card transactions and magazine subscriptions, telephone numbers, real estate records, automotive data, hunting, business and fishing licenses, consumer surveys and demographic detail that would make a marketing department's research manager salivate. This relatively new (legal) enterprise was known as "data warehousing" or "data-mining", and it underscores the cruel reality that the fiction of personal privacy has become obsolete. Technology's ability to collect and analyze data has made privacy a quaint albeit interesting dinosaur.

The Tribune reported that "Axciom can often determine whether an American owns a dog or cat, enjoys camping or gourmet cooking, reads the Bible or lots of other books. It can often pinpoint an American's occupation, car and favorite vacations. By analyzing the equivalent of billions of pages of data, it often projects for its customers who should be offered a credit card or who is likely to buy a computer."

Most of this information is from y 1998 piece. Echelon has developed, matured, and morphed into a much more powerful hybrid. 'Carnivore' was software to help triage the cacophony of data. Vault 7 and 'Umbrage' are logical (some would argue "insidious") growth.

More to follow…