"It Is Not A Question of Who Is Right Or Wrong But What Is Right Or Wrong That Counts.

"

--Geoff Metcalf
Providing an on line Triage of the news since 1997



Wo

rld & Nation
House expected to vote Wednesday on articles of impeachment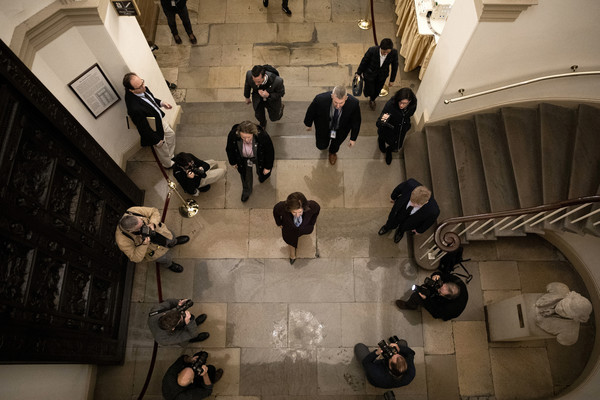 The House of Representatives is preparing for a Wednesday vote to transmit articles of impeachment against President Donald Trump to the Senate, members told reporters Tuesday.
"The Speaker indicated that the articles of impeachment ... will be transmitted to the Senate at some point tomorrow," House Democratic Caucus Chair Hakeem Jeffries, N.Y., said at a news conference following a closed Democratic caucus meeting.
Wednesday's House resolution is expected to have three functions: To transmit the articles of impeachment to the Senate, name the House members who will serve as managers of the impeachment trial, and fund the trial itself.
---
GOP Senators Reject Plans to Dismiss Trump Impeachment
Senate Republicans signaled they would reject the idea of simply voting to dismiss the articles of impeachment against President Donald Trump as the House prepares to send the charges to the chamber for the historic trial.
"I think our members, generally are not interested in the motion to dismiss. They think both sides need to be heard," Sen. Roy Blunt, R-Mo., who is part of GOP leadership, said Monday.
It will be only the third presidential impeachment trial in American history, a serious and dramatic endeavor coming amid the backdrop of a politically divided nation and the start of an election year.
---
New York sanctuary policy forced release of suspect in shocking murder
New York City defied a deportation request from ICE last year and released an illegal immigrant into the community — and now he stands accused of killing a 92-year-old woman beloved by her community.
Reeaz Khan, 21, has been charged with murder and sexual abuse against someone incapable of consent. Police say they caught him initiating the attack on surveillance video.
U.S. Immigration and Customs Enforcement says he never should have been out on the streets anyway, after he was arrested on weapons and assault charged last year, and ICE asked New York to turn him over.
---
Iran Makes Arrests in Shootdown of Ukrainian Airliner
Iran's judiciary said Tuesday arrests have been made for the accidental shootdown of a Ukrainian passenger plane that killed all 176 people on board just after takeoff from Tehran last week.
The announcement came amid an upswell of anger and protests by Iranians in recent days over the downing of the jetliner last Wednesday and apparent attempts by senior officials in Iran to cover up the cause of the crash.
Iran, which initially dismissed allegations that a missile had brought down the plane, acknowledged only on Saturday — three days after and in the face of mounting evidence — that its Revolutionary Guard had shot down the plane by mistake as the force braced for a possible military confrontation with the United States.
---
Boiling point: U.S. seizes on Iranian anger as game-changer
Furious Iranian protesters took to the streets for the third straight day Monday as anger with leadership in Tehran reached a boiling point, while the Trump administration seized on the popular uprising as a potential game-changer in the struggle between the Iranian people and their government.
Amid reports of Iranian security deploying tear gas and possibly opening fire on demonstrators, Tehran scrambled to tamp down mounting outrage over its admission that military forces inadvertently brought down a civilian airliner last week and killed all 176 people on board.
The shocking incident, an apparent fog-of-war incident at the height of U.S.-Iranian tensions, quickly changed the dynamic on the ground inside Iran and shifted popular anger away from the U.S. and toward the Iranian government — as evidenced by the fact that protesters on Monday refused to trample an American flag and instead ramped up their calls for the resignation of top Iranian leaders.
---
Equal Rights Amendment clears first hurdle in Virginia legislature
A Virginia House committee gave first approval Tuesday to the Equal Rights Amendment to the U.S. Constitution, sending the legislation to the chamber floor.
It's the first step toward what backers say is ratification by a 38th state — the threshold for adding a new amendment to the country's founding document.
"We are on the precipice of history," said House Speaker Eileen Filler-Corn.
Approval in the House and Senate is expected, with Democrats now in control of both chambers, and the ERA an announced top priority for party leaders.
---
Judge rules Trump administration within authority in separating families at border
A federal judge ruled Monday that the Trump administration is operating within its authority when separating families stopped at the Mexican border, rejecting arguments that it was quietly returning to widespread practices that drew international condemnation.
The American Civil Liberties Union argued that the administration was splitting families over dubious allegations and minor transgressions including traffic offenses. It asked the judge in July to rule on whether the government was justified in separating 911 children during the first year after the judge halted the general practice in June 2018.
U.S. District Judge Dana Sabraw indicated he was uncomfortable second-guessing government decisions to separate children on grounds that parents were considered unfit or dangerous, or in other limited circumstances like criminal history, communicable diseases and doubts about parentage. He found no evidence that the government was abusing its discretion.
---
Ex-CNN host 'likely' to be sued over now-deleted 'punchable face' tweet: Sandmann attorney
After nearly a year, former CNN host Reza Aslan finally removed a tweet referring to Covington Catholic student Nicholas Sandmann's "punchable face," but that doesn't mean the teen is willing to let bygones be bygones.
Sandmann attorney Todd V. McMurtry said Monday that Mr. Aslan is a "top" target of the teen's legal team, which has already filed defamation lawsuits against NBCUniversal and the Washington Post, and reached a settlement last week with CNN.
"All I can say is that Nicholas Sandmann has not yet initiated legal action against Reza Aslan. He is one of our top 'individual' (non-corporate) targets," said Mr. McMurtry in an email. "It is likely we will bring suit in time."
---
'Act of terrorism': Feds search for clues in Pensacola shooter's secret Twitter account, 2 iPhones
A Royal Saudi Air Force cadet who opened fire last month at a Florida naval base and killed three American service members in an act of terrorism marked last year's anniversary of the Sept. 11 attacks by declaring on social media "the countdown has begun."
Over the Thanksgiving weekend, he visited the 9/11 Memorial in New York City.
Those moves contributed to the Justice Department's confirmation Monday that the shooting at Naval Air Station Pensacola was a terrorist attack.
---
Democrats set to clash in final debate before Iowa caucuses
Democrats are preparing for what could be their most contentious debate yet as the leading candidates gather in Iowa on Tuesday looking for a way to break out of the crowded top tier less than three weeks before the state's caucuses kick-start the presidential nomination process.
Some of the fiercest clashes could center on Sens. Bernie Sanders of Vermont and Elizabeth Warren of Massachusetts, fellow progressives who until now have largely avoided criticizing each other.
But Warren chastised Sanders over the weekend following a report that his campaign instructed volunteers to speak poorly of her to win over undecided voters. The tensions escalated on Monday after CNN reported Sanders told Warren in a private 2018 meeting that he didn't think a woman could win the election, a charge that Sanders vigorously denied but that Warren confirmed later Monday.
---
Spartacus drops his sword in clash of crazy ideas
Well, there goes Spartacus. Slain by a fellow warrior supposedly fighting for the same side.
Not that Sen. Cory Booker ever had any real shot at the Democratic nomination for president considering the angry lust for socialism that drives Democratic politicians in Washington these days. Well, that and an unstinting hatred of President Trump.
As left wing and riled up as Spartacus is, he is simply no match for the fever dreams spun by the rest of the crazies in his party, all vying for the Holy Grail.
---
Questions for Trump and the Democratic presidential candidates
Democrats try to sound high-minded, but their goal of removing Trump from office is clear
House Speaker Nancy Pelosi's strategy of holding onto the two weak articles of impeachment against President Trump was starting to rattle some Democrats, who felt they were losing the political battle. Last Wednesday, Sen. Dianne Feinstein, California Democrat, told reporters, "If we're going to do it, she should send them over," adding, "I don't see what good delay does."
On Friday, Mrs. Pelosi sent a letter to her Democratic colleagues that announced she was preparing to send the two articles of impeachment to the Senate this week. "I will be consulting with you at our Tuesday House Democratic Caucus meeting on how we proceed further," she added.
Over the weekend, she said Senate Majority Leader Mitch McConnell would be guilty of a "cover-up" if he did not allow witnesses at a Senate trial of the president. Mr. McConnell has said the House cannot dictate to the Senate.
As high-minded as most Democrats try to sound when trying to remove Mr. Trump from office, their real motives appear transparent.
---
" It is discouraging to think how many people are shocked by honesty and how few by deceit."

-- Noel Coward

(1899-1973) British playwright

---

The Medal of Honor is the highest award for valor in action against an enemy force which can be bestowed upon an individual serving in the Armed Services of the United States.

GeneTrerally presented to its recipient by the President of the United States of America in the name of Congress.

The first award of the Medal of Honor was made March 25, 1863 to Private JACOB PARROTT.The last award of the Medal of Honor was made September 15, 2011 to Sergeant DAKOTA MEYER.

Since then there have been: • 3458 recipients of the Medal of Honor.

• Today there are 85 Living Recipients of the Medal of Honor.

Citation


Captain Humbert R. Versace distinguished himself by extraordinary heroism during the period of 29 October 1963 to 26 September 1965, while serving as S-2 Advisor, Military Assistance Advisory Group, Detachment 52, Ca Mau, Republic of Vietnam. While accompanying a Civilian Irregular Defense Group patrol engaged in combat operations in Thoi Binh District, An Xuyen Province, Captain Versace and the patrol came under sudden and intense mortar, automatic weapons, and small arms fire from elements of a heavily armed enemy battalion. As the battle raged, Captain Versace, although severely wounded in the knee and back by hostile fire, fought valiantly and continued to engage enemy targets. Weakened by his wounds and fatigued by the fierce firefight, Captain Versace stubbornly resisted capture by the over-powering Viet Cong force with the last full measure of his strength and ammunition. Taken prisoner by the Viet Cong, he exemplified the tenets of the Code of Conduct from the time he entered into Prisoner of War status. Captain Versace assumed command of his fellow American soldiers, scorned the enemy's exhaustive interrogation and indoctrination efforts, and made three unsuccessful attempts to escape, despite his weakened condition which was brought about by his wounds and the extreme privation and hardships he was forced to endure. During his captivity, Captain Versace was segregated in an isolated prisoner of war cage, manacled in irons for prolonged periods of time, and placed on extremely reduced ration. The enemy was unable to break his indomitable will, his faith in God, and his trust in the United States of America. Captain Versace, an American fighting man who epitomized the principles of his country and the Code of Conduct, was executed by the Viet Cong on 26 September 1965. Captain Versace's gallant actions in close contact with an enemy force and unyielding courage and bravery while a prisoner of war are in the highest traditions of the military service and reflect the utmost credit upon himself and the United States Army.

---

From the Archives

We Have Met the Enemy…
Geoff Metcalf


"They who can give up essential liberty to obtain a little temporary safety deserve neither liberty nor safety.
--Benjamin Franklin
"The American people must be willing to give up a degree of personal privacy in exchange for safety and security."
--Louis Freeh


In the wake of the clamor over the most recent WikiLeaks data dump, 'Vault 7', 'UMBRAGE', et al, it should be noted this is not really anything new. What we are seeing here is simply the evolution of something that goes back to the late 50s (to the incomplete best knowledge I have).

It is kinda cool to finally see even

The New York Times

acknowledging material

I was writing about in 1998

.

In April of 1998 I wrote "Privacy has become an anachronism." I was commenting on "a massive system designed to intercept all your e-mail, fax traffic and more." I was explaining 'Echelon', the illegitimate offspring of a

UKUSA Treaty

signed by the United States, United Kingdom, Canada, Australia and New Zealand. Its purpose was, and is, to have a vast global intelligence monster, which allegedly shares common goals. The system was so "efficient" that reportedly National Security Agency folk from Fort Meade could work from Menwith Hill in England to intercept local communications without either nation having to burden themselves with the formality of seeking approval (a court order) or disclosing the operation. And this was all pre-9/11 and pre-the anti-constitutional

'Patriot Act'

.

It is illegal (without a Judge's signed permission) for the United States to spy on its citizens … kinda. The laws have long been circumvented by a mutual pact among five nations. Under the terms of UKUSA agreement, Britain spies on Americans and America spies on British citizens, and then the two conspirators trade data. A classic technical finesse. It is legal, but the intent to evade the spirit is inescapable.

I often fictionalized the genesis of 'Echelon' as an informal meeting of a group of post war American and British intelligence types drinking in some remote rustic bar. An imagined CIA type complains to his MI6 buddy about the hassles of US laws preventing US intelligence from surveillance of bad guys, and the Brit echoes the same complaint.

"Hey wait a moment mate," says Nigel, the make-believe MI6 guy, "I can spy on your guys and you can spy on our bad players…why don't we just come up with a mechanism whereby we spy on your villains, you spy on our villains, and we just 'share' the intel?"

This system was called ECHELON, and has been kicking around in some form longer than most of you. The result of the UKUSA treaty signed by the United States, United Kingdom, Canada, Australia and New Zealand was, and is, to have a vast global intelligence monster which allegedly shares common goals.

The London Telegraph reported in December of 1997 that the Civil liberties Committee of the European Parliament had officially confirmed the existence and purpose of ECHELON. "A global electronic spy network that can eavesdrop on every telephone, e-mail and telex communication around the world will be officially acknowledged for the first time in a European Commission report. …"

The report noted: "Within Europe all e-mail, telephone and fax communications are routinely intercepted by the United States National Security Agency, transferring ll target information from the European mainland via the strategic hub of London, then by satellite to Fort Meade in Maryland via the crucial hub at Menwith Hill, in the North York moors in the UK.

"The ECHELON system forms part of the UKUSA system but unlike many of the electronic spy systems developed during the Cold War, ECHELON was designed primarily for non-military targets: governments, organizations and businesses in virtually every country."

An interesting sidebar appeared in the International Herald Tribune under the headline, "Big Corporate Brother: It Knows More About You Than You Think." The story details Acxiom Corp, which was a humongous information service hidden in the Ozark foothills. Twenty-four hours a day, Acxiom electronically gathered and sorts all kinds of data about 196 million Americans. Credit card transactions and magazine subscriptions, telephone numbers, real estate records, automotive data, hunting, business and fishing licenses, consumer surveys and demographic detail that would make a marketing department's research manager salivate. This relatively new (legal) enterprise was known as "data warehousing" or "data-mining", and it underscores the cruel reality that the fiction of personal privacy has become obsolete. Technology's ability to collect and analyze data has made privacy a quaint albeit interesting dinosaur.

The Tribune reported that "Axciom can often determine whether an American owns a dog or cat, enjoys camping or gourmet cooking, reads the Bible or lots of other books. It can often pinpoint an American's occupation, car and favorite vacations. By analyzing the equivalent of billions of pages of data, it often projects for its customers who should be offered a credit card or who is likely to buy a computer."

Most of this information is from y 1998 piece. Echelon has developed, matured, and morphed into a much more powerful hybrid. 'Carnivore' was software to help triage the cacophony of data. Vault 7 and 'Umbrage' are logical (some would argue "insidious") growth.

More to follow…