"It Is Not A Question of Who Is Right Or Wrong But What Is Right Or Wrong That Counts.

"

--Geoff Metcalf
Wo

rld & National
Lynch clashes with Comey, says she never told him to call Clinton email probe a 'matter'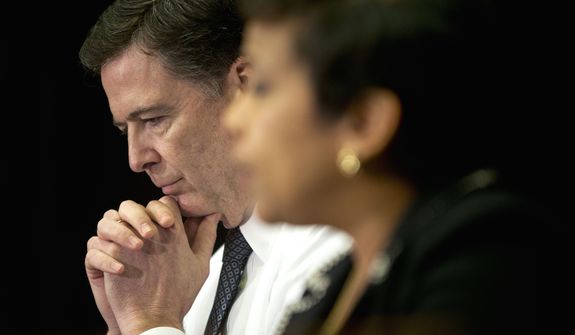 Former Attorney General Loretta Lynch denied that she instructed former FBI Director James Comey to refer to the Hillary Clinton email probe as a "matter," rather than an "investigation," as Mr. Comey had claimed in 2017.
Mr. Comey had testified that Ms. Lynch instructed him to refer to the probe into Mrs. Clinton's use of a private email server - a major issue in the 2016 presidential race - as a "matter," rather than an investigation.
But Ms. Lynch told House investigators that's not true.
---
Jerry Nadler: 'We're gonna have to hold McGahn in contempt' if he doesn't testify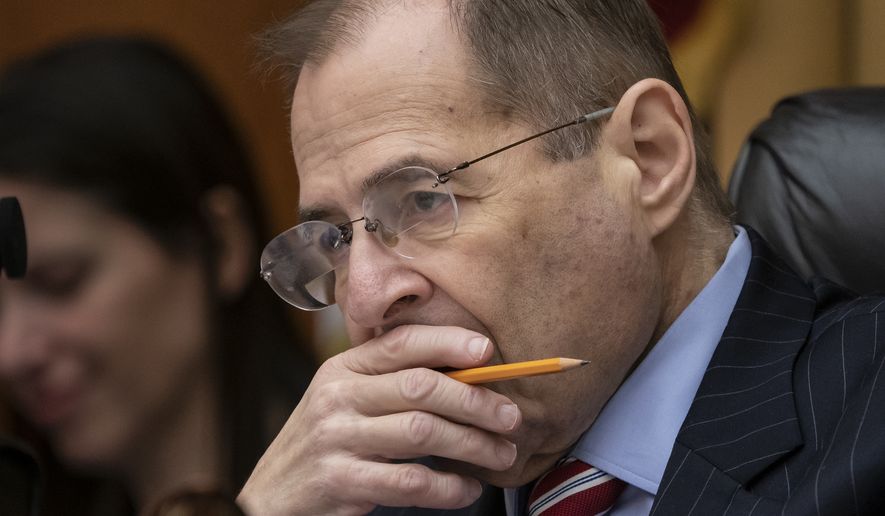 House Judiciary Committee Chairman Jerry Nadler said he would hold former White House top lawyer Don McGahn in contempt Tuesday if he didn't appear for his scheduled testimony on special counsel Robert Mueller's report.
"First thing we're gonna do is we're gonna have to hold McGahn in contempt —then we're gonna pass a resolution in the House enforcing our contempt citations against Barr and McGahn and seek to enforce those subpoenas in court," the New York Democrat said on CNN's "Cuomo Prime Time."
Mr. Nadler condemned President Trump's actions to prevent the investigation, adding it shows they're "dealing with a lawless president who is willing to go to any lengths to prevent testimony" that may hurt him.
---
Judge Rules Against President Trump in Financial Records Fight With Congress
A federal judge in Washington ruled Monday against President Donald Trump in a financial records dispute with Congress.
U.S. District Judge Amit Mehta, who was appointed by President Barack Obama, said Trump cannot block a House subpoena of financial records. He said the Democratic-led House committee seeking the information has said it believes the documents would help lawmakers consider strengthening ethics and disclosure laws, among other things.
The committee's reasons were "valid legislative purposes," Mehta said, and it was not for him "to question whether the Committee's actions are truly motivated by political considerations."
---
Iran ramps up uranium enrichment after Trump threats
Tensions between Washington and Tehran reached a new level Monday as Iranian officials said they had significantly boosted their uranium enrichment production capacity less than a day after Iranian Foreign Minister Javad Zarif and President Trump exchanged belligerent threats and jabs over Twitter.
A day after Mr. Trump warned against new moves by Tehran, Iranian state media reported that the production of uranium would be enriched to the limit set by the 2015 international nuclear deal. Mr. Trump pulled the U.S. out of the accord last year while reinstating harsh economic sanctions on Tehran.
The move does not technically violate the 2015 deal, but Iran has warned that the other signatories — China, Russia and leading European powers — that it will no longer be bound by curbs on its nuclear programs if they do not find a way around the crushing U.S. economic sanctions.
---
Civilian hawks push U.S. to brink of war after Trump's generals depart
President Trump's brain trust of retired military officers has disappeared just as tensions with Iran, Venezuela and North Korea heat up — and critics say the White House is in danger of rushing to the brink of war under a mostly civilian and increasingly hawkish leadership team.
The cadre of officers who once surrounded the president — which Mr. Trump early in his term proudly referred to as "my generals" — made its final exit Jan. 1 when retired Marine Corps Gen. James N. Mattis handed the reins of the Pentagon to Patrick M. Shanahan, a 30-year corporate executive from defense contractor Boeing. The departure followed that of White House National Security Adviser Gen. H.R. McMaster and White House Chief of Staff Gen. John F. Kelly, replaced by foreign policy firebrand John R. Bolton and former Republican lawmaker Mick Mulvaney, respectively.
Amid reports of tensions between the White House and Pentagon on rising Middle East tensions and increasingly belligerent rhetoric on both sides, the makeover of the White House national security team and its impact on U.S. foreign policy are expected to be a major focus of conversation this week as leading defense companies, technology firms and military leaders from around the world gather for the Special Operations Forces Industry Conference.
---
Four in 10 Americans Embrace Some Form of Socialism
43% of Americans say socialism would be a good thing for the country
51% believe socialism would be a bad thing for the country
Americans today are more closely divided than they were earlier in the last century when asked whether some form of socialism would be a good or bad thing for the country. While 51% of U.S. adults say socialism would be a bad thing for the country, 43% believe it would be a good thing. Those results contrast with a 1942 Roper/Fortune survey that found 40% describing socialism as a bad thing, 25% a good thing and 34% not having an opinion.
The Roper/Fortune survey is one of the oldest trend questions measuring attitudes on socialism in the U.S. Gallup's update of the question in an April 17-30 survey finds Americans more likely to have an opinion on the matter now, as well as a smaller gap in the percentage calling socialism a bad thing vs. a good thing.
---
Mom Was Right. Politeness Pays
On the Q&A website Stack Exchange, researchers find, "answers written more politely are more likely to be perceived as high quality answers."
Politeness goes a long way on the internet. So for heaven's sake, don't write things like this: "no offence, but your code is horrible and doesn't show any logic" or "This is very poor object oriented design."
On the popular Q&A website Stack Exchange, people who ask questions are more likely to accept answers that are politely phrased, according to an article in the June 2019 issue of MIS Quarterly by Shun-Yang Lee of the University of Connecticut, Huaxia Rui of the University of Rochester, and Andrew Whinston of the University of Texas at Austin.
"The more impolite an answer is, the less likely it will be chosen as the best answer," they write. One big exception is if the impolite answerer is perceived as a true expert. In that case, they find, "the question asker will find the impoliteness to be less of a concern or even as a signal of authority."
---
151-year-old Indian treaty grants hunting rights, Supreme Court rules
Wyoming can't abrogate an 1868 treaty with the Crow Tribe just because it was signed before Wyoming officially became a state, the Supreme Court ruled Monday in a case breathing new life into American Indian-U.S. relations.
The ruling contradicts a century-old high court precedent and could guarantee American Indians' hunting rights on some federal lands.
The case was brought by Clayvin Herrera, a member of the Crow Tribe, whom Wyoming charged with offseason hunting in 2014 after state officials discovered him and other tribe members hunting bull elk on the Big Horn National Forest, discarding the bodies and taking the heads for trophies.
---
2020 Democrats on hot seat after climate change backfires on Australian left
Australian Labor Party upset by Liberal/National Party's coal-touting Scott Morrison
The Australian Labor Party's stunning defeat may offer a cold, hard warning for Democrats counting on climate change to sweep them to victory in 2020.
Running on a climate-change platform, the left-wing party lost a supposedly "unlosable" election on Saturday to the conservative Liberal/National Party Coalition, led by Prime Minister Scott Morrison, who once praised fossil fuels while holding up a chunk of coal on the floor of Parliament.
"Every time Labor and [activists] reminded Australia that Morrison brought a lump of coal to Parliament, they were helping Morrison," said Australian climate skeptic Joanne Nova in a post on her JoNova blog headlined, "How to lose the unloseable election: be anti-coal."
---
Joe Biden's rumble in the jungle of empty rhetoric
Pity good ol' Joe Biden. He's eager at last to master the hounds, to impose order in the kennel. He wants to encourage the amiable golden retrievers, collies and cocker spaniels in his care, and he has to throw a little raw meat to the rabid pit bulls. How can he do that and escape with his life, too?
The ex-veep opened his campaign for the Democratic nomination the other day in Philadelphia, "the city of brotherly love," and revealed his scheme to "unify America" with an all-out assault, in the name of brotherly love, on the leader of the other half of America. It's an unusual strategy, "bringing America together" by driving it apart.
The former vice president kicked off his White House bid with an impassioned call for fairness and equality in the country, urging voters to put an end to the mean-spirited pettiness and partisan squabbles that have made Americans angry and dispirited.
---
Behind the FBI's witch-hunt targeting Donald Trump
In the burgeoning controversy about the FBI investigation of Donald Trump, one thing is clear: The decision by Andrew McCabe as acting FBI director to open a counterintelligence probe targeting Mr. Trump after he fired FBI Director James Comey was based on false pretenses.
In his book "The Threat," Mr. McCabe says he opened that investigation and urged Deputy Attorney General Rod Rosenstein to appoint a special counsel based almost entirely on Mr. Trump's comment to NBC's Lester Holt that he thought about "this Russia thing" when he decided to fire Jim Comey as FBI director in May 2017.
Mr. McCabe interpreted those meandering words to mean that Mr. Trump fired Mr. Comey because the director was pursuing the ongoing FBI investigation into interference in the election and Mr. Trump wanted to stop it. But as noted in my book "The Trump White House," Mr. Trump went on to say twice to Mr. Holt that he recognized that by firing Mr. Comey, he was probably prolonging the investigation and that he wanted it "to be absolutely done properly." It was the exact opposite of attempting to obstruct an investigation.
---
---
"It is discouraging to think how many people are shocked by honesty and how few by deceit."

-- Noel Coward

(1899-1973) British playwright

---

The Medal of Honor is the highest award for valor in action against an enemy force which can be bestowed upon an individual serving in the Armed Services of the United States.

GeneTrerally presented to its recipient by the President of the United States of America in the name of Congress.

The first award of the Medal of Honor was made March 25, 1863 to Private JACOB PARROTT.The last award of the Medal of Honor was made September 15, 2011 to Sergeant DAKOTA MEYER.

Since then there have been: • 3458 recipients of the Medal of Honor.

• Today there are 85 Living Recipients of the Medal of Honor.

Citation


Captain Humbert R. Versace distinguished himself by extraordinary heroism during the period of 29 October 1963 to 26 September 1965, while serving as S-2 Advisor, Military Assistance Advisory Group, Detachment 52, Ca Mau, Republic of Vietnam. While accompanying a Civilian Irregular Defense Group patrol engaged in combat operations in Thoi Binh District, An Xuyen Province, Captain Versace and the patrol came under sudden and intense mortar, automatic weapons, and small arms fire from elements of a heavily armed enemy battalion. As the battle raged, Captain Versace, although severely wounded in the knee and back by hostile fire, fought valiantly and continued to engage enemy targets. Weakened by his wounds and fatigued by the fierce firefight, Captain Versace stubbornly resisted capture by the over-powering Viet Cong force with the last full measure of his strength and ammunition. Taken prisoner by the Viet Cong, he exemplified the tenets of the Code of Conduct from the time he entered into Prisoner of War status. Captain Versace assumed command of his fellow American soldiers, scorned the enemy's exhaustive interrogation and indoctrination efforts, and made three unsuccessful attempts to escape, despite his weakened condition which was brought about by his wounds and the extreme privation and hardships he was forced to endure. During his captivity, Captain Versace was segregated in an isolated prisoner of war cage, manacled in irons for prolonged periods of time, and placed on extremely reduced ration. The enemy was unable to break his indomitable will, his faith in God, and his trust in the United States of America. Captain Versace, an American fighting man who epitomized the principles of his country and the Code of Conduct, was executed by the Viet Cong on 26 September 1965. Captain Versace's gallant actions in close contact with an enemy force and unyielding courage and bravery while a prisoner of war are in the highest traditions of the military service and reflect the utmost credit upon himself and the United States Army.

---

From the Archives

We Have Met the Enemy…
Geoff Metcalf


"They who can give up essential liberty to obtain a little temporary safety deserve neither liberty nor safety.
--Benjamin Franklin
"The American people must be willing to give up a degree of personal privacy in exchange for safety and security."
--Louis Freeh


In the wake of the clamor over the most recent WikiLeaks data dump, 'Vault 7', 'UMBRAGE', et al, it should be noted this is not really anything new. What we are seeing here is simply the evolution of something that goes back to the late 50s (to the incomplete best knowledge I have).

It is kinda cool to finally see even

The New York Times

acknowledging material

I was writing about in 1998

.

In April of 1998 I wrote "Privacy has become an anachronism." I was commenting on "a massive system designed to intercept all your e-mail, fax traffic and more." I was explaining 'Echelon', the illegitimate offspring of a

UKUSA Treaty

signed by the United States, United Kingdom, Canada, Australia and New Zealand. Its purpose was, and is, to have a vast global intelligence monster, which allegedly shares common goals. The system was so "efficient" that reportedly National Security Agency folk from Fort Meade could work from Menwith Hill in England to intercept local communications without either nation having to burden themselves with the formality of seeking approval (a court order) or disclosing the operation. And this was all pre-9/11 and pre-the anti-constitutional

'Patriot Act'

.

It is illegal (without a Judge's signed permission) for the United States to spy on its citizens … kinda. The laws have long been circumvented by a mutual pact among five nations. Under the terms of UKUSA agreement, Britain spies on Americans and America spies on British citizens, and then the two conspirators trade data. A classic technical finesse. It is legal, but the intent to evade the spirit is inescapable.

I often fictionalized the genesis of 'Echelon' as an informal meeting of a group of post war American and British intelligence types drinking in some remote rustic bar. An imagined CIA type complains to his MI6 buddy about the hassles of US laws preventing US intelligence from surveillance of bad guys, and the Brit echoes the same complaint.

"Hey wait a moment mate," says Nigel, the make-believe MI6 guy, "I can spy on your guys and you can spy on our bad players…why don't we just come up with a mechanism whereby we spy on your villains, you spy on our villains, and we just 'share' the intel?"

This system was called ECHELON, and has been kicking around in some form longer than most of you. The result of the UKUSA treaty signed by the United States, United Kingdom, Canada, Australia and New Zealand was, and is, to have a vast global intelligence monster which allegedly shares common goals.

The London Telegraph reported in December of 1997 that the Civil liberties Committee of the European Parliament had officially confirmed the existence and purpose of ECHELON. "A global electronic spy network that can eavesdrop on every telephone, e-mail and telex communication around the world will be officially acknowledged for the first time in a European Commission report. …"

The report noted: "Within Europe all e-mail, telephone and fax communications are routinely intercepted by the United States National Security Agency, transferring all target information from the European mainland via the strategic hub of London, then by satellite to Fort Meade in Maryland via the crucial hub at Menwith Hill, in the North York moors in the UK.

"The ECHELON system forms part of the UKUSA system but unlike many of the electronic spy systems developed during the Cold War, ECHELON was designed primarily for non-military targets: governments, organizations and businesses in virtually every country."

An interesting sidebar appeared in the International Herald Tribune under the headline, "Big Corporate Brother: It Knows More About You Than You Think." The story details Acxiom Corp, which was a humongous information service hidden in the Ozark foothills. Twenty-four hours a day, Acxiom electronically gathered and sorts all kinds of data about 196 million Americans. Credit card transactions and magazine subscriptions, telephone numbers, real estate records, automotive data, hunting, business and fishing licenses, consumer surveys and demographic detail that would make a marketing department's research manager salivate. This relatively new (legal) enterprise was known as "data warehousing" or "data-mining", and it underscores the cruel reality that the fiction of personal privacy has become obsolete. Technology's ability to collect and analyze data has made privacy a quaint albeit interesting dinosaur.

The Tribune reported that "Axciom can often determine whether an American owns a dog or cat, enjoys camping or gourmet cooking, reads the Bible or lots of other books. It can often pinpoint an American's occupation, car and favorite vacations. By analyzing the equivalent of billions of pages of data, it often projects for its customers who should be offered a credit card or who is likely to buy a computer."

Most of this information is from y 1998 piece. Echelon has developed, matured, and morphed into a much more powerful hybrid. 'Carnivore' was software to help triage the cacophony of data. Vault 7 and 'Umbrage' are logical (some would argue "insidious") growth.

More to follow…