"It Is Not A Question of Who Is Right Or Wrong But What Is Right Or Wrong That Counts.

"

--Geoff Metcalf



Wo
rld & National
Trump pledges to look into 3D guns the day before blueprints are publicly released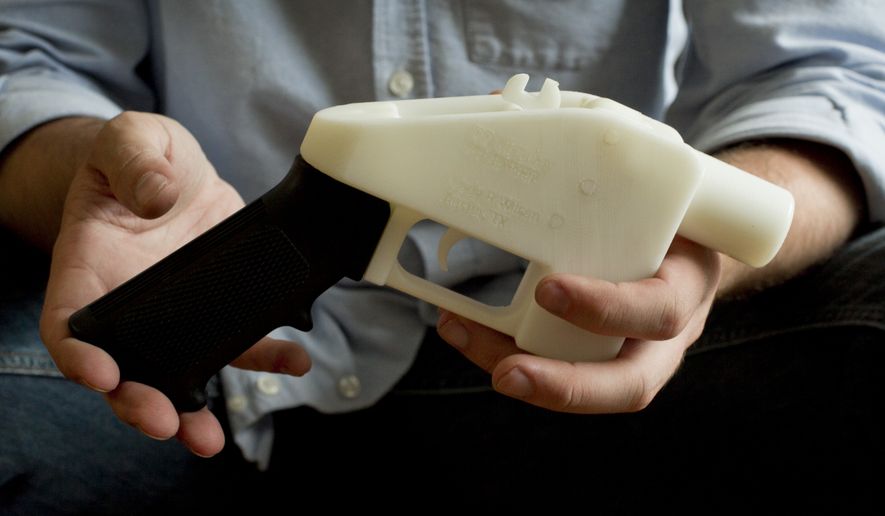 President Trump pledged to look into 3D plastic guns on Tuesday, the day before the blueprints become publicly available for free download.
Mr. Trump explained that he spoke to the National Rifle Association about the matter, and said it "doesn't seem to make much sense."
The president's promise comes a day after nine states filed a lawsuit against the Trump administration for allowing the open-source software.
---
Trump: 'Globalist' Koch brothers are 'a total joke in real Republican circles'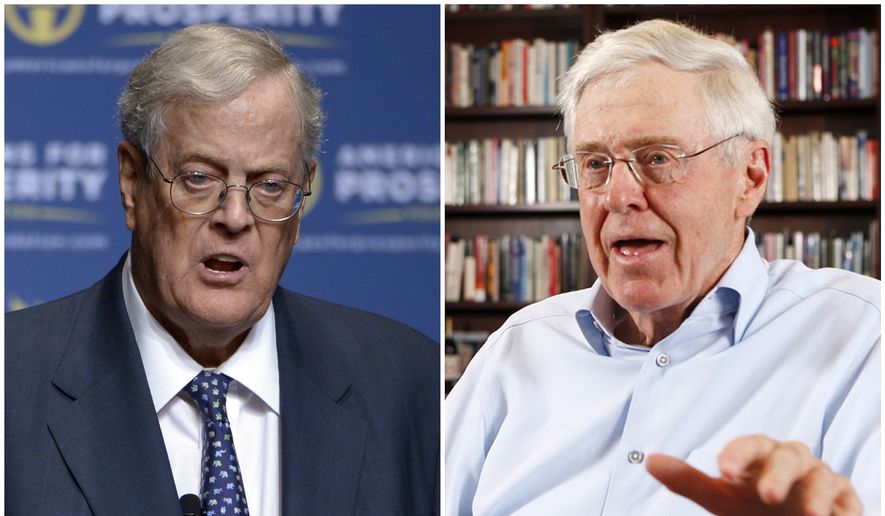 President Trump went after the "globalist" Koch brothers Tuesday morning, calling them "a total joke in real Republican circles," after Charles Koch criticized the president's trade policies.
Mr. Trump accused the billionaire Koch brothers — Charles and David Koch — of wanting to protect their companies outside the U.S. from being taxed at the cost of U.S. workers, saying they're "two nice guys with bad ideas."
---
Paul Manafort's trial set to start Tuesday; he is facing 18 criminal counts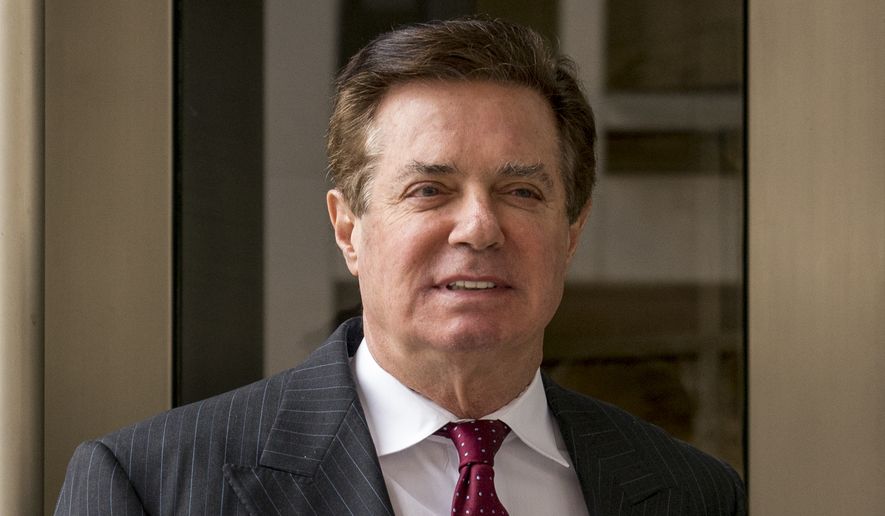 The first trial to emerge from special counsel Robert Mueller's Russia probe is set to start Tuesday when former Trump campaign chairman Paul Manafort appears before a federal judge in Alexandria, Virginia.
Mr. Manafort is facing 18 criminal counts, including bank and tax fraud, which could net him 30 years in prison. He has pleaded not guilty to all charges.
The charges stem from Mr. Manafort's lobbying in the Ukraine on behalf of politicians with ties to Russia. Prosecutors have alleged he was paid more than $60 million for his work, which includes support of former Ukrainian President Viktor Yankovich.
---
Kavanaugh gets Rand Paul's vote, meets with key Democrat
Supreme Court nominee Brett M. Kavanaugh won the support of one critical Republican senator Monday and met privately with a key Democrat as he inches closer to securing enough votes for confirmation to the high court.
Sen. Rand Paul of Kentucky, one of a few Republicans who had not immediately backed President Trump's nominee publicly, said he was assuaged after his meeting last week that Judge Kavanaugh would bring an open mind to privacy cases and be a strong supporter of First and Second Amendment rights.
"My conversation with Judge Kavanaugh reinforces my belief that he will evaluate cases before the Supreme Court from a textual and originalist point of view," Mr. Paul said.
---
Trump offers to meet Iran without preconditions
President Trump said Monday that he's ready to meet Iran's president without preconditions to discuss how to improve ties, despite a recent exchange of threats with the leader of the Islamist regime.
"If they want to meet, I'll meet any time they want," Mr. Trump said. "No preconditions. I believe in meetings."
The president's comments, at a White House press conference with Italy's prime minister, were a significant change in tone from the warning he issued to Iranian President Hassan Rouhani on social media on July 22. At the time, Mr. Trump threatened Mr. Rouhani in an all-caps tweet, "Never, ever threaten the United States again or you will suffer consequences the likes of which few throughout history have ever suffered before."
---
Trump Brings Old U.S. Enemies in From Cold
First it was Kim Jong Un. Then Vladimir Putin. Now Donald Trump has set his sights on a meeting with Iranian President Hassan Rouhani.
The U.S. president – who has vaunted his one-on-ones with the leaders of North Korea and Russia this summer despite criticism of the outcomes – said yesterday that he'd be willing to talk to Rouhani with "no preconditions."
The comments, which the White House appeared to later walk back, come with tensions between the two countries mounting after the U.S. withdrew from the 2015 nuclear deal. And an adviser to Rouhani said that a meeting would be difficult unless Trump returned to that accord.
---
Northern California wildfire 9th most destructive in history
A pair of wildfires that prompted evacuation orders for nearly 20,000 people barreled Monday toward small lake towns in Northern California, and authorities faced questions about how quickly they warned residents about the largest and deadliest blaze burning in the state.
Ed Bledsoe told CBS News he did not receive any warning to evacuate his home in the city of Redding before the flames came through last week and killed his wife, Melody, and his great-grandchildren, 5-year-old James Roberts and 4-year-old Emily Roberts.
---
2 Koreas Hold Military Talks as US Detects Missile Activity in North Korea
North and South Korea held military talks to build trust on Tuesday, while the United States detected renewed activity at a North Korean missile factory, casting more suspicion over the North's intentions.
The meeting, their second since June, held in the border village of Panmunjom in the demilitarised zone (DMZ), was designed to follow on from an inter-Korean summit in April at which leaders of the two Koreas agreed to defuse tensions and halt "all hostile acts."
North Korean leader Kim Jong Un also vowed during his separate summit with U.S. President Donald Trump in Singapore last month to work toward denuclearisation, but there has not been a concrete agreement to accomplish that goal.
---
450 Gun Owners See Weapons Taken Under New Florida Law
More than 450 gun owners have been ordered to give up their weapons under the Florida law that went into effect weeks after the Marjory Stoneman Douglas High School shooting on Feb. 14 in which 17 were killed, Fox News reported.
In the wake of the deadly Parkland shooting, Florida Gov. Rick Scott signed the Risk Protection Order, which enables family members and law enforcement officials to request a court order to restrict a person's access to firearms should they display warning signs of posing a danger to themselves or others.
Since then roughly 200 firearms have actually been confiscated in the state along with 30,000 rounds of ammunition, Sgt. Jason Schmittendorf of the Pinellas County Sheriff's Office told WFTS-TV.
---
The noisy clashing dreams of 2020
Even fake news has its standards, and fake news has its fans, depending on who the faker may be. A faker should not be confused with a fakir, a wandering Hindu holy man or sometimes a Muslim beggar of alms. They're all just trying to make a living.
A couple of columnists for The New York Times with nothing better to do consulted their imaginations the other day to see how the 2020 presidential election will have turned out, and in two very different dreamy dreams happy days are on the way.
The Democratic ticket of Elizabeth Warren and Eric Holder will have been elected president and vice president, but David Leonhardt of The New York Times apparently woke up before he got some of the important details. Did Pocahontas win the Indian vote in Oklahoma? Was it unanimous? Did Eric Holder match Barack Obama's spectacular numbers in the District of Columbia? Inquiring minds want to know.
Satire, like the lower forms of humor, is a sharp knife, best left to the professionals lest you cut yourself.
---
Iran's long game in Syria
While the Obama administration was joyous over its nuclear deal with Iran, they paid little or no attention to Iran's efforts supporting terrorists in the Middle East and their increasingly active involvement in the Syrian civil war. Warnings from Israeli Prime Minister Benjamin Netanyahu fell on deaf ears at the Obama White House, where he was regarded as an annoyance and undertook efforts to unseat him in the Israeli elections.
With the Syrian civil war clearly winding down after seven years of horrible death and destruction, attention has now focused on the immediate issues of reconstruction and refugee displacement as well as the future status of the foreign forces that came into Syria to aid Bashar Assad in defeating ISIS and other rebel forces. Included here are the Russians, Iranian forces, as well as Hezbollah fighters also backed by Iran.
Russia poses no threat to Israel and has been actively engaged in discussions about Israeli security interests. Mr. Netanyahu and Russian President Vladimir Putin have met personally three times within the past six months, and presently both Russian Foreign Minister Sergey Lavrov and Chief of Staff Gen. Valery Gerasimov are in Israel to ensure that Israel will not hinder Syrian operations in the southern Golan Heights and to address Israeli concerns about Iran exploiting the evolving situation in southern Syria.
"It is discouraging to think how many people are shocked by honesty and how few by deceit."
-- Noel Coward
(1899-1973) British playwright
---
The Medal of Honor is the highest award for valor in action against an enemy force which can be bestowed upon an individual serving in the Armed Services of the United States.
GeneTrerally presented to its recipient by the President of the United States of America in the name of Congress.
The first award of the Medal of Honor was made March 25, 1863 to Private JACOB PARROTT.The last award of the Medal of Honor was made September 15, 2011 to Sergeant DAKOTA MEYER.
Since then there have been: • 3458 recipients of the Medal of Honor.
• Today there are 85 Living Recipients of the Medal of Honor.
Citation
Captain Humbert R. Versace distinguished himself by extraordinary heroism during the period of 29 October 1963 to 26 September 1965, while serving as S-2 Advisor, Military Assistance Advisory Group, Detachment 52, Ca Mau, Republic of Vietnam. While accompanying a Civilian Irregular Defense Group patrol engaged in combat operations in Thoi Binh District, An Xuyen Province, Captain Versace and the patrol came under sudden and intense mortar, automatic weapons, and small arms fire from elements of a heavily armed enemy battalion. As the battle raged, Captain Versace, although severely wounded in the knee and back by hostile fire, fought valiantly and continued to engage enemy targets. Weakened by his wounds and fatigued by the fierce firefight, Captain Versace stubbornly resisted capture by the over-powering Viet Cong force with the last full measure of his strength and ammunition. Taken prisoner by the Viet Cong, he exemplified the tenets of the Code of Conduct from the time he entered into Prisoner of War status. Captain Versace assumed command of his fellow American soldiers, scorned the enemy's exhaustive interrogation and indoctrination efforts, and made three unsuccessful attempts to escape, despite his weakened condition which was brought about by his wounds and the extreme privation and hardships he was forced to endure. During his captivity, Captain Versace was segregated in an isolated prisoner of war cage, manacled in irons for prolonged periods of time, and placed on extremely reduced ration. The enemy was unable to break his indomitable will, his faith in God, and his trust in the United States of America. Captain Versace, an American fighting man who epitomized the principles of his country and the Code of Conduct, was executed by the Viet Cong on 26 September 1965. Captain Versace's gallant actions in close contact with an enemy force and unyielding courage and bravery while a prisoner of war are in the highest traditions of the military service and reflect the utmost credit upon himself and the United States Army.
---
From the Archives

We Have Met the Enemy…

Geoff Metcalf
"They who can give up essential liberty to obtain a little temporary safety deserve neither liberty nor safety.
--Benjamin Franklin
"The American people must be willing to give up a degree of personal privacy in exchange for safety and security."
--Louis Freeh

In the wake of the clamor over the most recent WikiLeaks data dump, 'Vault 7', 'UMBRAGE', et al, it should be noted this is not really anything new. What we are seeing here is simply the evolution of something that goes back to the late 50s (to the incomplete best knowledge I have).
It is kinda cool to finally see even
The New York Times
acknowledging material
I was writing about in 1998
.
In April of 1998 I wrote "Privacy has become an anachronism." I was commenting on "a massive system designed to intercept all your e-mail, fax traffic and more." I was explaining 'Echelon', the illegitimate offspring of a
UKUSA Treaty
signed by the United States, United Kingdom, Canada, Australia and New Zealand. Its purpose was, and is, to have a vast global intelligence monster, which allegedly shares common goals. The system was so "efficient" that reportedly National Security Agency folk from Fort Meade could work from Menwith Hill in England to intercept local communications without either nation having to burden themselves with the formality of seeking approval (a court order) or disclosing the operation. And this was all pre-9/11 and pre-the anti-constitutional
'Patriot Act'
.
It is illegal (without a Judge's signed permission) for the United States to spy on its citizens … kinda. The laws have long been circumvented by a mutual pact among five nations. Under the terms of UKUSA agreement, Britain spies on Americans and America spies on British citizens, and then the two conspirators trade data. A classic technical finesse. It is legal, but the intent to evade the spirit is inescapable.
I often fictionalized the genesis of 'Echelon' as an informal meeting of a group of post war American and British intelligence types drinking in some remote rustic bar. An imagined CIA type complains to his MI6 buddy about the hassles of US laws preventing US intelligence from surveillance of bad guys, and the Brit echoes the same complaint.
"Hey wait a moment mate," says Nigel, the make-believe MI6 guy, "I can spy on your guys and you can spy on our bad players…why don't we just come up with a mechanism whereby we spy on your villains, you spy on our villains, and we just 'share' the intel?"
This system was called ECHELON, and has been kicking around in some form longer than most of you. The result of the UKUSA treaty signed by the United States, United Kingdom, Canada, Australia and New Zealand was, and is, to have a vast global intelligence monster which allegedly shares common goals.
The London Telegraph reported in December of 1997 that the Civil liberties Committee of the European Parliament had officially confirmed the existence and purpose of ECHELON. "A global electronic spy network that can eavesdrop on every telephone, e-mail and telex communication around the world will be officially acknowledged for the first time in a European Commission report. …"
The report noted: "Within Europe all e-mail, telephone and fax communications are routinely intercepted by the United States National Security Agency, transferring all target information from the European mainland via the strategic hub of London, then by satellite to Fort Meade in Maryland via the crucial hub at Menwith Hill, in the North York moors in the UK.
"The ECHELON system forms part of the UKUSA system but unlike many of the electronic spy systems developed during the Cold War, ECHELON was designed primarily for non-military targets: governments, organizations and businesses in virtually every country."
An interesting sidebar appeared in the International Herald Tribune under the headline, "Big Corporate Brother: It Knows More About You Than You Think." The story details Acxiom Corp, which was a humongous information service hidden in the Ozark foothills. Twenty-four hours a day, Acxiom electronically gathered and sorts all kinds of data about 196 million Americans. Credit card transactions and magazine subscriptions, telephone numbers, real estate records, automotive data, hunting, business and fishing licenses, consumer surveys and demographic detail that would make a marketing department's research manager salivate. This relatively new (legal) enterprise was known as "data warehousing" or "data-mining", and it underscores the cruel reality that the fiction of personal privacy has become obsolete. Technology's ability to collect and analyze data has made privacy a quaint albeit interesting dinosaur.
The Tribune reported that "Axciom can often determine whether an American owns a dog or cat, enjoys camping or gourmet cooking, reads the Bible or lots of other books. It can often pinpoint an American's occupation, car and favorite vacations. By analyzing the equivalent of billions of pages of data, it often projects for its customers who should be offered a credit card or who is likely to buy a computer."
Most of this information is from y 1998 piece. Echelon has developed, matured, and morphed into a much more powerful hybrid. 'Carnivore' was software to help triage the cacophony of data. Vault 7 and 'Umbrage' are logical (some would argue "insidious") growth.
More to follow…