"It Is Not A Question of Who Is Right Or Wrong But What Is Right Or Wrong That Counts.

"

--Geoff Metcalf





Wo
rld & National
Manafort attempted to tamper with potential witnesses -U.S. special counsel
President Donald Trump's former campaign chairman, Paul Manafort, who has been indicted by U.S. Special Counsel Robert Mueller, attempted to tamper with potential witnesses, Mueller said in a court filing on Monday.
Mueller, who is investigating possible collusion between the Trump campaign and Russia, asked the judge overseeing the case in U.S. District Court for the District of Columbia to revoke or revise an order releasing Manafort ahead of his trial.
Manafort was released to home confinement after his arraignment in October.
---
Schumer, Democrats give Trump list of conditions for North Korea nuclear deal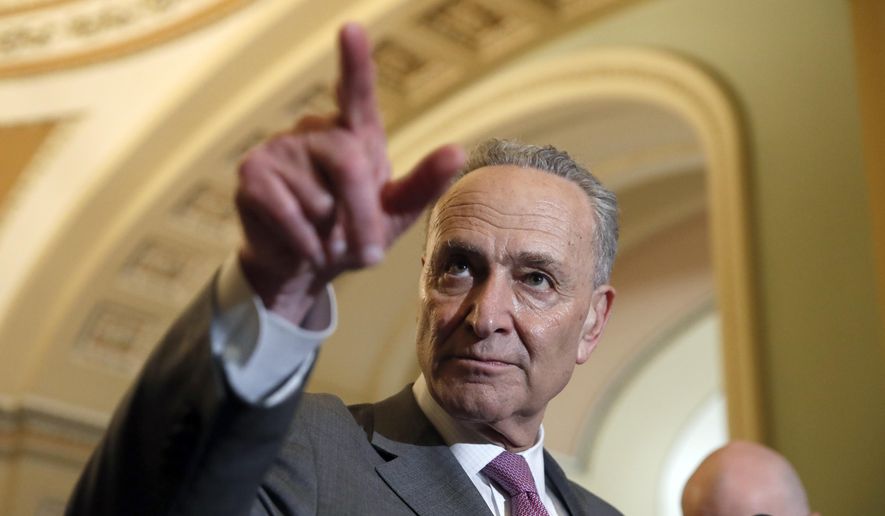 Senate Democrats inserted themselves Monday into President Trump's negotiations with North Korea, handing him a list of conditions for a denuclearization deal and cautioning him not to get snookered by North Korean leader Kim Jong-un.
Demanding a role in the deal making, Senate Minority Leader Charles E. Schumer and top congressional Democrats said they feared Mr. Trump would cave in at the June 12 summit with Mr. Kim in Singapore in his eagerness to strike a deal.
Among the demands: a "permanent" dismantling and removal of every North Korean weapon of mass destruction; the destruction of the North's entire nuclear weapons infrastructure; the end of Pyongyang's ballistic missile programs as well; and regular and complete briefings of Congress on the progress of the talks.
---
Trump Again Bemoans Picking Jeff Sessions for AG
President Donald Trump is blaming his attorney general, Jeff Sessions, for allowing the Russia investigation to continue.
Trump tweeted Tuesday morning that he would have "picked someone else" for the top job at the Justice Department had he known Sessions would recuse himself from the probe.
It's the latest salvo from Trump in his bid to discredit the ongoing probe by special counsel Robert Mueller. Mueller is investigating Russia's attempts to sway voters in the 2016 election and whether Trump associates provided any help. He's also investigating whether Trump obstructed justice by taking steps to shut down the probe
---
Trump: Where's Report on 'Crooked Hillary and Slippery James Comey'?
President Donald Trump wants to know "what is taking so long" with an internal Justice Department probe expected to criticize the FBI and its handling of the case involving Democrat Hillary Clinton's private email server.
"What is taking so long with the Inspector General's Report on Crooked Hillary and and Slippery James Comey. Numerous delays. Hope Report is not being changed and made weaker! There are so many horrible things to tell, the public has the right to know," Trump tweeted early Tuesday. "Transparency!"
The FBI's timing has been a sore point for Clinton supporters, who say then-director James Comey's announcement of the review less than two weeks before the Nov. 8, 2016, election contributed to her loss to Trump.
---
Supreme Court sides with Christian baker in same-sex wedding cake case
The Supreme Court granted a limited victory Monday to a Colorado baker who refused to make a cake for a same-sex couple, finding the state showed fierce hostility toward his Christian beliefs when it ruled that he broke the law with his refusal.
But the 7-2 decision does not establish a First Amendment right to refuse services to same-sex couples and will likely lead to more tough legal questions for justices as a case involving a florist who opposes same-sex marriage hangs in the high court's purview.
Instead, the decision suggested a road map for states such as Colorado, which have public accommodation laws, to use in evaluating cases that pit First Amendment religious rights against anti-discrimination protections.
---

Former Navy sailor pardoned by Trump sets legal sights on Obama, Comey
'They didn't prosecute Hillary Clinton. Hillary is still walking free'
Former President Obama, former FBI Director James Comey and the U.S. Department of Justice are in the legal crosshairs of ex-Navy sailor Kristian Saucier.
The former machinist mate who spent one year in federal prison for unauthorized photos taken aboard a nuclear submarine is seeking legal recourse due to unequal protection of the law. Mr. Saucier claims prosecuting authorities made an example of him — he pleaded guilty to unauthorized detention of defense information while aboard the USS Alexandria — while legally excusing former Secretary of State Hillary Clinton's decision to maintain a secret email server.
"They interpreted the law in my case to say it was criminal, but they didn't prosecute Hillary Clinton," Mr. Sauciertold Fox News on Monday. "Hillary is still walking free. Two guys on my ship did the same thing and weren't treated as criminals. We want them to correct the wrong. … My case was usually something handled by military courts."
---
Banned gun buyers beat background checks -- and are rarely prosecuted when caught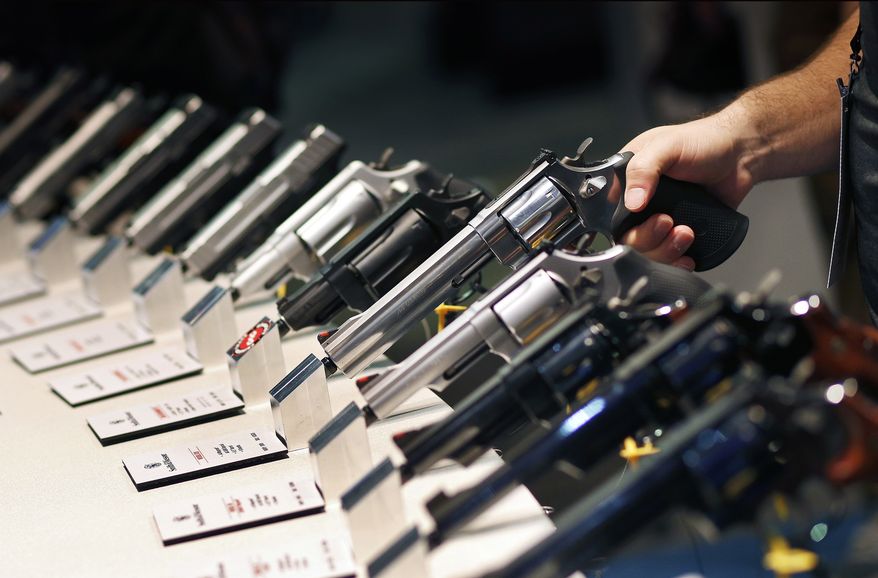 A convicted felon from Colorado lied about his criminal past while trying to buy guns at two upstate New York stores in 2016.
The man failed the instant background checks and was denied the weapons. Law enforcement was notified because lying on a firearms application is a federal offense, but the man fled back to Colorado before the authorities caught up to him.
Francis Neeley, a 30-year veteran of the Federal Bureau of Alcohol, Tobacco, Firearms and Explosives, took the case to federal prosecutors in upstate New York, seeking charges and an arrest warrant. The prosecutors declined the case, citing a Department of Justice policy to pursue only the most extreme instances in which someone lies on a federal firearms application, Mr. Neeley said.
Mr. Neeley also hit a dead end with New York state prosecutors. They said the case was worthy of prosecution, but they didn't have funds to send investigators to Colorado and bring the man back to New York, Mr. Neeley recalled.
---
Intel officials warn of Russian cyberattacks as 7 states set to hold primaries
Candidates won't be the only ones sweating the vote as California and six other states hold primaries Tuesday, as election security officials say they are bracing to see how their systems hold up against an expected wave of cyberattacks.
U.S. intelligence agencies say Russian hackers tried to disrupt both the campaign and vote-counting in 2016 and that they fully expect another wave of online attacks this year. Hackers last month sabotaged an online debate among congressional candidates by streaming gay pornography.
Federal officials say Russian hackers targeted election systems in 21 states two years ago, although no evidence surfaced that any result was corrupted by the incursions. Tuesday's primaries will be the largest single block of states voting on one day ahead of November's fiercely contested midterm elections and the largest election day since November 2016.
---

Poland's Catholic Church bucks Pope Francis' liberal embrace
Close ties to conservative government proves divisive, leads many Poles to question their faith
During the long period of communist rule in Poland, the Catholic Church was seen as an institution embodying the resiliency of the nation's identity, a pragmatic counterforce to a repressive, officially atheistic regime.
But today, as the Catholic Church of Pope Francis has embraced a liberal version of the faith stressing modernity and pluralism, the Polish Catholic Church has pulled an about-face, positioning itself as an anchor for traditional values — and an ally of the government here — in the face of liberal demands for change.
In one of the West's most heavily Catholic countries, the Polish church has embraced and defended the socially conservative policies of the nation's nationalist government, dividing an overwhelmingly Catholic body politic striving to revive links to Western Europe and liberal political current while trying to protect Poland's uniqueness and historical legacy.
---
Supreme Court likely to rack up more reversals for West Coast's 9th Circuit
The federal appeals court that covers the country's West Coast is doing little to shake its reputation as the most out-of-touch circuit, already having notched seven cases that have been reversed by the U.S. Supreme Court so far this year and 115 over the past decade.
As the justices prepare to release final rulings in 29 cases, the U.S. Court of Appeals for the 9th Circuit again will be in the spotlight with some of its major cases, such as President Trump's travel ban, up for review — and potential reversal — by the high court.
But as bad as the 9th Circuit's record is, it's losing percentage — 78 percent so far this year and 76 percent for the past decade — still isn't the worst.
That honor goes to the U.S. Court of Appeals for the 6th Circuit, based in Ohio. Nearly 90 percent of its cases that reached the Supreme Court have been overturned in the past decade.
---
The gay times roll, but the Supremes stop the music
The Supreme Court can sometimes twist itself into a pretzel to write law. The court on Monday upheld again the Constitutional principle that freedom of speech includes the right not to speak, but it all but apologized for saying so.
The court ruled on narrow grounds, but by an interesting margin, that a Colorado baker was within his rights to decline to bake a cake celebrating the legal union of two homosexual men.
Justice Anthony Kennedy three years ago wrote into the Constitution that the legal institution of marriage — established thousands of years ago across every culture and every religious faith — must include such homosexual unions. This time he wrote the opinion that the baker, Jack Phillips of Masterpiece Cakeshop, cannot be required to bake a cake to celebrate a union that his faith tells him is wrong. A "sin," to use a quaint word.
---
The political polarization of intelligence
No Washington establishment — especially the party in power — took Donald Trump seriously as a presidential candidate. Accordingly, the early decisions made in the imbedded intelligence bureaucracies — often called the "deep state" — were clearly made with the assumption that there would never be any review or accountability.
We can see this assumption demonstrated blatantly in the emails between James Comey's senior staffers at the FBI, now mostly fired, resigned or reassigned. The point is probably best made by asking: Would we have ever seen these had Hillary Clinton won?
Next, we have a rather obvious intelligence community "bent" on at least an assumption that they could regard Mr. Trump's admittedly amateurish campaign "organization" as a vehicle for collecting intelligence on the extent to which they were connecting with foreign targets of interest.
"It is discouraging to think how many people are shocked by honesty and how few by deceit."
-- Noel Coward
(1899-1973) British playwright
---
The Medal of Honor is the highest award for valor in action against an enemy force which can be bestowed upon an individual serving in the Armed Services of the United States.
GeneTrerally presented to its recipient by the President of the United States of America in the name of Congress.
The first award of the Medal of Honor was made March 25, 1863 to Private JACOB PARROTT.The last award of the Medal of Honor was made September 15, 2011 to Sergeant DAKOTA MEYER.
Since then there have been: • 3458 recipients of the Medal of Honor.
• Today there are 85 Living Recipients of the Medal of Honor.
Citation
Captain Humbert R. Versace distinguished himself by extraordinary heroism during the period of 29 October 1963 to 26 September 1965, while serving as S-2 Advisor, Military Assistance Advisory Group, Detachment 52, Ca Mau, Republic of Vietnam. While accompanying a Civilian Irregular Defense Group patrol engaged in combat operations in Thoi Binh District, An Xuyen Province, Captain Versace and the patrol came under sudden and intense mortar, automatic weapons, and small arms fire from elements of a heavily armed enemy battalion. As the battle raged, Captain Versace, although severely wounded in the knee and back by hostile fire, fought valiantly and continued to engage enemy targets. Weakened by his wounds and fatigued by the fierce firefight, Captain Versace stubbornly resisted capture by the over-powering Viet Cong force with the last full measure of his strength and ammunition. Taken prisoner by the Viet Cong, he exemplified the tenets of the Code of Conduct from the time he entered into Prisoner of War status. Captain Versace assumed command of his fellow American soldiers, scorned the enemy's exhaustive interrogation and indoctrination efforts, and made three unsuccessful attempts to escape, despite his weakened condition which was brought about by his wounds and the extreme privation and hardships he was forced to endure. During his captivity, Captain Versace was segregated in an isolated prisoner of war cage, manacled in irons for prolonged periods of time, and placed on extremely reduced ration. The enemy was unable to break his indomitable will, his faith in God, and his trust in the United States of America. Captain Versace, an American fighting man who epitomized the principles of his country and the Code of Conduct, was executed by the Viet Cong on 26 September 1965. Captain Versace's gallant actions in close contact with an enemy force and unyielding courage and bravery while a prisoner of war are in the highest traditions of the military service and reflect the utmost credit upon himself and the United States Army.
---
From the Archives

We Have Met the Enemy…

Geoff Metcalf
"They who can give up essential liberty to obtain a little temporary safety deserve neither liberty nor safety.
--Benjamin Franklin
"The American people must be willing to give up a degree of personal privacy in exchange for safety and security."
--Louis Freeh

In the wake of the clamor over the most recent WikiLeaks data dump, 'Vault 7', 'UMBRAGE', et al, it should be noted this is not really anything new. What we are seeing here is simply the evolution of something that goes back to the late 50s (to the incomplete best knowledge I have).
It is kinda cool to finally see even
The New York Times
acknowledging material
I was writing about in 1998
.
In April of 1998 I wrote "Privacy has become an anachronism." I was commenting on "a massive system designed to intercept all your e-mail, fax traffic and more." I was explaining 'Echelon', the illegitimate offspring of a
UKUSA Treaty
signed by the United States, United Kingdom, Canada, Australia and New Zealand. Its purpose was, and is, to have a vast global intelligence monster, which allegedly shares common goals. The system was so "efficient" that reportedly National Security Agency folk from Fort Meade could work from Menwith Hill in England to intercept local communications without either nation having to burden themselves with the formality of seeking approval (a court order) or disclosing the operation. And this was all pre-9/11 and pre-the anti-constitutional
'Patriot Act'
.
It is illegal (without a Judge's signed permission) for the United States to spy on its citizens … kinda. The laws have long been circumvented by a mutual pact among five nations. Under the terms of UKUSA agreement, Britain spies on Americans and America spies on British citizens, and then the two conspirators trade data. A classic technical finesse. It is legal, but the intent to evade the spirit is inescapable.
I often fictionalized the genesis of 'Echelon' as an informal meeting of a group of post war American and British intelligence types drinking in some remote rustic bar. An imagined CIA type complains to his MI6 buddy about the hassles of US laws preventing US intelligence from surveillance of bad guys, and the Brit echoes the same complaint.
"Hey wait a moment mate," says Nigel, the make-believe MI6 guy, "I can spy on your guys and you can spy on our bad players…why don't we just come up with a mechanism whereby we spy on your villains, you spy on our villains, and we just 'share' the intel?"
This system was called ECHELON, and has been kicking around in some form longer than most of you. The result of the UKUSA treaty signed by the United States, United Kingdom, Canada, Australia and New Zealand was, and is, to have a vast global intelligence monster which allegedly shares common goals.
The London Telegraph reported in December of 1997 that the Civil liberties Committee of the European Parliament had officially confirmed the existence and purpose of ECHELON. "A global electronic spy network that can eavesdrop on every telephone, e-mail and telex communication around the world will be officially acknowledged for the first time in a European Commission report. …"
The report noted: "Within Europe all e-mail, telephone and fax communications are routinely intercepted by the United States National Security Agency, transferring all target information from the European mainland via the strategic hub of London, then by satellite to Fort Meade in Maryland via the crucial hub at Menwith Hill, in the North York moors in the UK.
"The ECHELON system forms part of the UKUSA system but unlike many of the electronic spy systems developed during the Cold War, ECHELON was designed primarily for non-military targets: governments, organizations and businesses in virtually every country."
An interesting sidebar appeared in the International Herald Tribune under the headline, "Big Corporate Brother: It Knows More About You Than You Think." The story details Acxiom Corp, which was a humongous information service hidden in the Ozark foothills. Twenty-four hours a day, Acxiom electronically gathered and sorts all kinds of data about 196 million Americans. Credit card transactions and magazine subscriptions, telephone numbers, real estate records, automotive data, hunting, business and fishing licenses, consumer surveys and demographic detail that would make a marketing department's research manager salivate. This relatively new (legal) enterprise was known as "data warehousing" or "data-mining", and it underscores the cruel reality that the fiction of personal privacy has become obsolete. Technology's ability to collect and analyze data has made privacy a quaint albeit interesting dinosaur.
The Tribune reported that "Axciom can often determine whether an American owns a dog or cat, enjoys camping or gourmet cooking, reads the Bible or lots of other books. It can often pinpoint an American's occupation, car and favorite vacations. By analyzing the equivalent of billions of pages of data, it often projects for its customers who should be offered a credit card or who is likely to buy a computer."
Most of this information is from y 1998 piece. Echelon has developed, matured, and morphed into a much more powerful hybrid. 'Carnivore' was software to help triage the cacophony of data. Vault 7 and 'Umbrage' are logical (some would argue "insidious") growth.
More to follow…