"It Is Not A Question of Who Is Right Or Wrong But What Is Right Or Wrong That Counts.

"

--Geoff Metcalf
Providing an on line Triage of the news since 1998
My son has narrated the last book I wrote.
Please consider listening to it and encouraging others to do so too.
(Click on Cover)
Wo
rld & Nation
North Korea shows photos of tactical nukes for first time

North Korea released photos of what appear to be tactical nuclear warheads for the first time on Tuesday, sparking concern in Washington and Seoul about Pyongyang's widening weapons arsenal.
The regime of North Korean leader Kim Jong-un has long claimed to have tactical nukes, although it has not previously shown them in public or released photos of them.
State-controlled media in Pyongyang circulated photos Tuesday of Mr. Kim inspecting a row of small nuclear warheads. South Korea's official Yonhap News Agency reported that the photos "showed around 10 tactical nuclear warheads," called Hwasan-31, for the first time.
---
Mayorkas 'not aware' cartels use illegal immigrants to distract border agents
Homeland Security Secretary Alejandro Mayorkas on Tuesday told Congress he's unaware that cartels use illegal immigrants to flood the border and sneak over dangerous contraband.
That admission surprised Sen. John Cornyn, a Texas Republican who pointed out that Attorney General Merrick Garland acknowledged the strategy in his own testimony to Congress earlier this month.
And some of Mr. Mayorkas' top Border Patrol agents testified to Congress about the strategy last month.
"You've simply lost all credibility, Mr. Secretary," Mr. Cornyn said.
---
Top Democrats Warn Biden About the Border
Nearly two dozen Democratic Senators are breaking with the White House's plans to reinstate a Trump-era policy to detain undocumented migrant families who cross the U.S. Southern border with Mexico as it continues to grapple with a spiking number of illegal crossings.
Facing heavy criticism of his administration's handling of the border earlier this spring, President Joe Biden's administration reportedly began reconsidering the revival of a policy he'd previously eliminated to detain migrant families for deportation, rather than allowing them to remain in the United States until their deportation papers had been processed.
Biden's proposal—once deployed by the Trump White House as a deterrent to migrants looking to cross the border illegally—was seen by many of the president's supporters as a reversal of a key promise Biden had made on the campaign trail as a candidate in 2020, earning him public rebukes from high-profile Latino politicians like onetime presidential candidate Julian Castro as well as many members of his own party in Congress.
---
Biden to veto Republican energy permitting bill, White House says
U.S. President Joe Biden would veto a Republican energy legislation package if it were to pass Congress, citing cost increases that the legislation could lead to, the White House said on Monday.
"H.R. 1 (Lower Energy Costs Act) would double the cost of energy efficiency upgrades that families need to reduce household bills and would repeal the Greenhouse Gas Reduction Fund that will cut energy costs and boost economic development in rural and urban communities across the country," the White House said.
"Therefore, if presented to the president in its current form, he would veto it."
Republicans plan to bring the legislation to the floor of the House of Representatives, where they hold a slim majority, for a vote this week, Representative Elise Stefanik, who chairs the House Republican Conference, said on Monday.
---
IRS sent agent to Twitter Files journalist's home on day of House weaponization committee testimony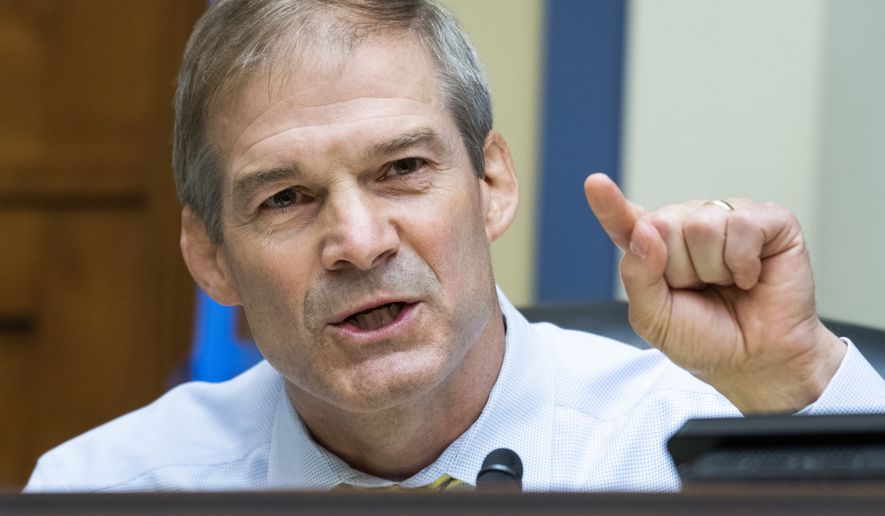 House Judiciary Committee chairman Jim Jordan is probing an unannounced, in-person visit by the IRS to the home of Matt Taibbi on the same day the "Twitter Files" journalist warned of a sprawling "censorship industrial complex" in testimony before the subcommittee on the weaponization of the federal government.
In a letter to Treasury Secretary Janet Yellen and IRS Commissioner Daniel Werfel on Monday, Mr. Jordan said that while Mr. Taibbi was testifying before the committee on March 9, an IRS revenue officer appeared at Mr. Taibbi's New Jersey residence and left a note telling him to call the agency in four days.
The IRS agent later informed Mr. Taibbi that the reason for the visit was that his tax returns from 2018 and 2021 had been rejected over concerns of identity theft, according to Mr. Jordan's letter.
Mr. Taibbi alerted the committee to the visit and said the IRS accepted his 2018 tax return electronically more than four-and-a-half years ago, and that the IRS had not notified Mr. Taibbi that there were any issues with the return until the visit this month.
---
Body Cam Footage Shows Police Killing Nashville School Shooter
Nashville police on Tuesday released footage showing officers firing multiple bullets at the suspected attacker in Monday's school shooting minutes after storming into the private Christian grade school with rifles and conducting a room-by-room search.
The six minutes of footage, taken from body-worn cameras from two of the responding officers, showed police clearing one classroom after another on the first floor before venturing up the stairs to the second floor.
Shots can be heard seconds before the suspect comes into view and drops to the floor after apparently being shot. One officer fires additional rounds into the assailant, who appears to be moving on the ground as another officer repeatedly yells, "Get your hands away from the gun!"
The Metropolitan Nashville Police Department began receiving calls about a shooter at 10:13 a.m., police spokesperson Don Aaron told reporters. The suspect was pronounced dead by 10:27 a.m.
---
Bans on biological males competing in girls' sports now sweeping the nation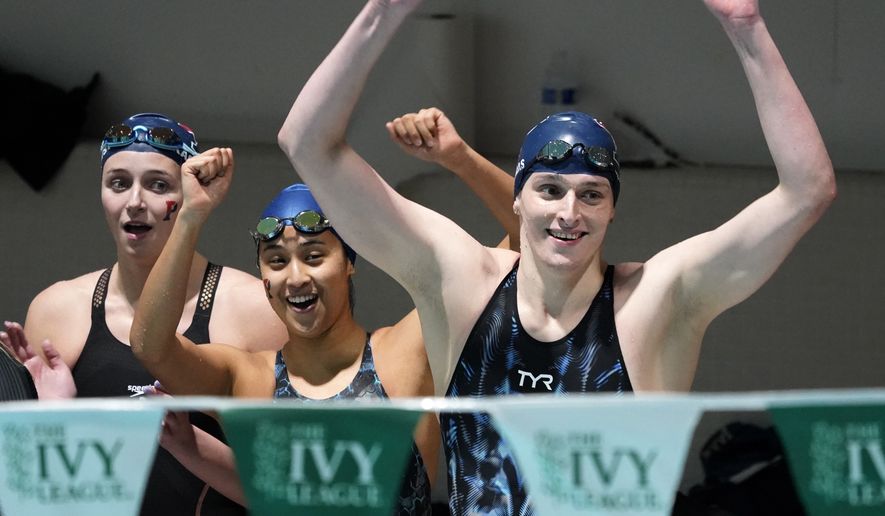 Wyoming Gov. Mark Gordon has allowed a bill barring biological males from female scholastic sports to become law without his signature, but he isn't happy about it.
The Republican governor said he worries that Senate Bill 0133 is "overly draconian." He describes the measure as a solution in search of a problem in a state with about 91,000 students and just four known transgender athletes.
"First, while I support and agree with the overall goal of fairness in competitive sports, I am concerned that the ban included in this legislation is overly draconian, is discriminatory without attention to individual circumstances or mitigating factors, and pays little attention to the fundamental principles of equality," Mr. Gordon said in a March 17 letter.
His reservations notwithstanding, such bills are gaining momentum nationwide. Wyoming is the 19th state to enact Fairness in Women's Sports measures despite pushback from LGBTQ+ advocates who insist that "trans women are women" and decry the laws as "transgender sports bans."
---
Dershowitz to Newsmax: Grand Jury Could Save Trump From Indictment
Alan Dershowitz told Newsmax that the grand jury investigating former President Donald Trump might prevent Manhattan District Attorney Alvin Bragg from issuing charges.
Joining "Spicer & Co." on Monday, the "Get Trump" author explained that attorney Robert Costello might have convinced some jurors with his testimony against his former client Michael Cohen.
Costello's comments, among other potential holes in the prosecution, might also be causing some to second-guess charges even from within the Manhattan district attorney's office, Dershowitz suggested.
"If I were a young lawyer in Bragg's office — and some of the young lawyers were my students — I would be saying to him, 'You can't do this,'" Dershowitz said, adding that he suspects "there's some dissension going on within the office."
---
France sees new pension protests, police brace for violence
Protests and strikes against unpopular pension reforms gripped France again Tuesday, with many thousands marching and the Eiffel Tower closed and police ramping up security amid government warnings that radical demonstrators intended "to destroy, to injure and to kill."
Concerns that violence could mar the large demonstrations prompted what Interior Minister Gérald Darmanin described as an unprecedented deployment of 13,000 officers, nearly half of them concentrated in the French capital.
After months of upheaval, an exit from the firestorm of protest triggered by President Emmanuel Macron 's changes to France's retirement system looked as far away as ever. Despite fresh union pleas that the government pause its hotly contested push to raise France's legal retirement age from 62 to 64, Macron seemingly remained wedded to it.
---
Social Security Slowdown Blamed on Biden; GOP Calls President's Meeting Requests 'A Lie'
Current efforts to deal with a looming Social Security funding shortfall have barely made it past the idea stage, and at least one U.S. lawmaker is putting the blame squarely on President Joe Biden.
In a speech last week on the Senate floor, Sen. Bill Cassidy (R-La.) said Biden has resisted efforts to meet with legislators to discuss Social Security reform, and that a plan to address the funding shortfall is "noticeably absent" from the president's recent budget proposal.
Cassidy also questioned White House claims that Biden is ready to meet with Congress on fixing Social Security, which will lose a major funding source when the Old-Age and Survivors Insurance (OASI) Trust Fund runs out of money by the middle of next decade. The fund currently pays about 20% to 25% of Social Security benefits. When it runs dry, the program will have to be funded solely through payroll taxes.
---
Moscow Elite in a Panic Over Tape Blasting Putin as 'Satan'
Two prominent supporters of Vladimir Putin have been accused of calling the Russian president "Satan" and a "dwarf" in a leaked phone conversation that has erupted into a full-blown scandal.
The 35-minute phone call, shared by Ukraine's Channel Five, allegedly features Russian oligarch and former senator Farkhad Akhmedov and prominent Moscow music producer Iosif Prigozhin delving into a profanity-laced tirade against Putin and his inner circle.
The Russian government has "fucked us, our children, their future, their destiny," Akhmedov allegedly said in the leaked call, referring to the Kremlin's handling of the war in Ukraine, according to Meduza. "He's Satan," he goes on to say of Putin in the phone call, which reportedly took place on Jan. 24.
---
Bank records don't lie: Bidens' business dealings will be uncovered
President Biden and the Biden family business have a big problem on their hands: Bank records don't lie. For years now, with the help of the corporate mainstream media, they've obfuscated, ducked, denied and dismissed their lucrative influence-peddling operation — hiding in plain sight — as one big outlandish conspiracy theory. But as Congress starts connecting the dots with critical evidence that has eluded the public until now, the old lies no longer hold water.
Even when the treasure trove of evidence on Hunter Biden's laptop was first reported by the courageous New York Post, the Bidens and their powerful Washington allies perpetuated their big lie, this time with the help of former high-ranking U.S. intelligence officials, Big Tech social media giants, and even the FBI.
And for the first two years of the Biden administration — the least transparent administration in history — the White House was not pressured by the biased liberal media to answer serious questions about any of the corruption allegations swirling around about the Biden family's business interests in China, Ukraine, Russia and other foreign countries. Even after The New York Times admitted in March 2022 — 18 months late — that the laptop and its contents were authentic, the legacy media continued to assist in the cover-up by keeping the story from "getting legs."
---
" It is discouraging to think how many people are shocked by honesty and how few by deceit."

-- Noel Coward

(1899-1973) British playwright

---

THOMAS JEROME HUDNER JR.

RANK: LIEUTENANT, J.G.

CONFLICT/ERA: KOREAN WAR

MILITARY SERVICE BRANCH: U.S. NAVY

MEDAL OF HONOR ACTION DATE: DECEMBER 4, 1950

MEDAL OF HONOR ACTION PLACE: CHOSIN RESERVOIR, KOREA

For conspicuous gallantry and intrepidity at the risk of his life above and beyond the call of duty as a pilot in Fighter Squadron 32, while attempting to rescue a squadron mate whose plane, struck by antiaircraft fire and trailing smoke, was forced down behind enemy lines. Quickly maneuvering to circle the downed pilot and protect him from enemy troops infesting the area, Lt. (j.g.) Hudner risked his life to save the injured flier who was trapped alive in the burning wreckage. Fully aware of the extreme danger in landing on the rough mountainous terrain, and the scant hope of escape or survival in subzero temperature, he put his plane down skillfully in a deliberate wheels-up landing in the presence of enemy troops. With his bare hands, he packed the fuselage with snow to keep the flames away from the pilot and struggled to pull him free. Unsuccessful in this he returned to his crashed aircraft and radioed other airborne planes, requesting that a helicopter be dispatched with an ax and fire extinguisher. He then remained on the spot despite the continuing danger from enemy action and, with the assistance of the rescue pilot, renewed a desperate but unavailing battle against time, cold, and flames. Lt. (j.g.) Hudner's exceptionally valiant action and selfless devotion to a shipmate sustain and enhance the highest traditions of the U.S. Naval Service.

---

From the Archive....

TO KILL OR FEED A MOCKINGBIRD

By Geoff Metcalf

July 29, 2002

Two mutually exclusive and under reported stories have been troubling me.

* The apparent penchant for political operatives to leak classified information that jeopardizes national security.

* The generational control of information dissemination by powerful controllers.

So we have another 'Catch-22'.

The complicity of the mainstream media to spin, cover, and obfuscate government abuse of power under the color of authority was not unique to the Clinton administration. It may have been more ubiquitous, and at times even clumsy, but it was not unique.

It has been reported that in June 1991 David Rockefeller allegedly told a Bilderberg meeting in Baden Baden German, "We are grateful to the Washington Post, the New York Times, Time Magazine and other great publications whose directors have attended our meetings and respected their promises of discretion for almost forty years." He went on to explain: "It would have been impossible for us to develop our plan for the world if we had been subjected to the lights of publicity during those years. But, the world is more sophisticated and prepared to march towards a world government. The supernational sovereignty of an intellectual elite and world bankers is surely preferable to the national autodetermination practiced in past centuries."

Some argue that quote is apocryphal urban legend. However, although I have never been able to find three corroborating independent sources for it, it IS consistent in content and tone with other Bilderberg quotes I HAVE been able to confirm.

"If we had been subjected to the light of publicity…." Indicates the one world, globalist, wannabe controllers were/are successful in managing the message.

Operation 'Mockingbird' was a program supposedly conceived by a brilliant Machiavellian State Department official, Frank Wisner. Wisner selected Philip Graham, then publisher of the Washington Post to manage the program. According to Deborah Davis, author of 'Katharine the Great', "By the early 1950s, Wisner 'owned' respected members of the New York Times, Newsweek, CBS and other communications vehicles, plus stringers, four to six hundred in all, according to a former CIA analyst."

Over twenty five major newspapers and wire services became willing house organs for the CIA media manipulation.

Investigators digging into MOCKINGBIRD have been flabbergasted to discover FOIA documents in which agents boast (in CIA office memos) of pride in having placed "important assets" inside every major news publication in the country.

I know, this is the stuff of Ludlum novels conspiracy wackos, but not until 1982 did the 'Company' finally concede that reporters on the CIA payroll have been case officers to field agents.

I have too often observed, "Some people don't like to be confused with facts that contradict their preconceived opinions." I have also noted (and struggle to maintain) "It is not WHO is right or wrong…but WHAT is right or wrong."

Anyone with almost 'any' military experience has no doubt seen the once ubiquitous posters cautioning "Loose Lips Sink Ships". It is a left over phrase from WWII and among "lessons learned".

In the complex world of intelligence loose lips can and have cost lives.

Once upon a time, not so long ago, Senator Patrick Leahy (currently the Senate Judiciary committee's lead obstructionist) used to be the Vice Chairman of the Senate Intelligence Committee in the mid 80s. Leahy allegedly 'inadvertently' exposed a top-secret intercept of Egypt's President Hosni Mubarak that led to the capture of the Achille Lauro terrorists. That supposed slip of the tongue "cost the life of at least one Egyptian operative." http://www.newsmax.com/showinside.shtml?a=2001/1/31/85757

Loose Lip Leahy was forced to resign in disgrace 14 years ago in the wake of having to acknowledge he leaked secret intelligence to the press. However today he lords his power over the Senate Judiciary committee. Congress' institutional memory must be as short as some of Jennifer Flowers former paramours.

In our contemporary environment in which whistleblowers have become in many cases heroes it is important to make the distinctions between the appropriateness of corporate and political whistleblowers and the idiot or miscreant who leaks information with genuine national security implications.

Currently the FBI is investigating national security leaks from specifically the House and Senate Select Intelligence committees. This is serious stuff.

Defenders of the indefensible will argue it is a political witch-hunt by politicians in a heavy C.Y.A. mode. That is not true but a convenient political spin job.

Sure it is true the white house is p.o.-ed over media reports that the National Security Agency had received but not acted on two early warning messages to 9/11. Dick Cheney reportedly went ballistic and ripped congressional leaders. Both House and Senate Select Intelligence committees asked the Attorney General to conduct an investigation (and no doubt quietly prayed it would be botched).

Justice said in a statement, "…the appropriate department officials will expeditiously review this matter and take any appropriate action." Not if congress has anything to say about it. Don't expect anything fast. Remember Leahy resigned in disgrace 14 years ago and today has the chutzpah to pontificate ad nauseum to the Judiciary committee and stall any and all Bush judicial appointments.

More on Operation Mockingbird

http://www.whatreallyhappened.com/RANCHO/POLITICS/


MOCK/mockingbird.html

http://www.grandconspiracy.com/library.html#operation

© 2002 Geoff Metcalf - All Rights Reserved

Geoff is a veteran media performer. He has had an eclectic professional background covering a wide spectrum of radio, television, magazine, and newspapers. A former Green Beret and retired Army officer he is in great demand as a speaker. Metcalf has hosted his radio talk show on the ABC/Disney owned and operated KSFO and in worldwide syndication. www.geoffmetcalf.com