"It Is Not A Question of Who Is Right Or Wrong But What Is Right Or Wrong That Counts.

"

--Geoff Metcalf
Providing an on line Triage of the news since 1997



Wo

rld & Nation
Democrats seek elusive game changer to sway public on impeachment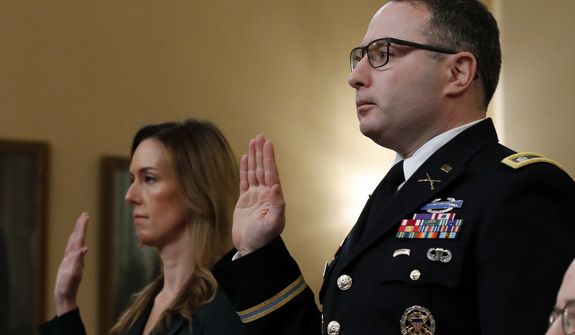 House Democrats will use a marathon of impeachment hearings this week to inch allegations of bribery closer to President Trump, gambling that the parade of witnesses voicing concerns or distrust about his actions in Ukraine will finally move the needle of public opinion against the president.
The steady drip of leaks and transcripts from closed-door testimony and last week's public hearings have had little impact so far on those backing Mr. Trump, though Democratic lawmakers appear locked on course to an impeachment vote anyway.
House Speaker Nancy Pelosi, California Democrat, said Monday that the case against Mr. Trump is airtight and slammed Republicans for saying the impeachment push was too close to the 2020 presidential election.
---
White House bucks Vindman testimony: Trump sets agenda 'not unelected bureaucrats'
White House officials on Tuesday took issue with Lieutenant Colonel Alexander Vindman's testimony in the House impeachment inquiry, saying his complaints were "nothing more than policy disagreements."
Col. Vindman, also complained that President Trump, during an April phone call with Ukraine President Volodymyr Zelensky, veered from the talking points approved by the NSC and did not talk about the broad issue of corruption.
The White House pushed back, saying Col. Vindman's talking points do not establish U.S. foreign policy.
"The President is in charge of setting the foreign policy of the United States, not unelected bureaucrats," said the White House. "The president has every right to conduct American foreign policy in whatever way he sees fit and is not in any way obligated to follow bureaucratic talking points written by staff."
---
Taliban free two professors from the U.S. and Australia in exchange for three Taliban prisoners
The Taliban said they freed on Tuesday an American and an Australian hostage held since 2016 in exchange for three top Taliban figures who were released by the Kabul government and flown out of Afghanistan the previous day.
The hostages — American Kevin King and Australian Timothy Weeks — were released in southern Zabul province, ending their more than three years in captivity.
According to a Taliban official, who spoke on condition of anonymity because he wasn't authorized to talk to the media, the release took place in the province's Now Bahar district, a region largely under Taliban control.
---
China exploiting U.S. schools to steal research, Senate report finds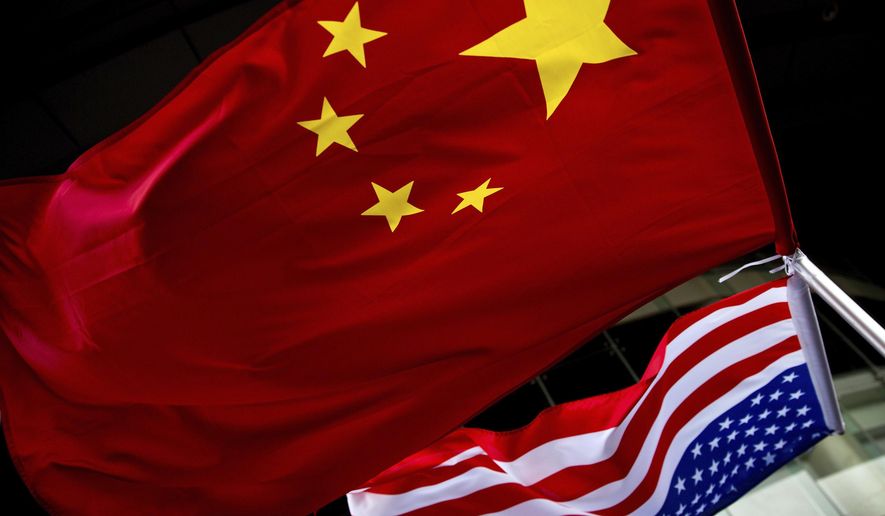 China has built its economy in part on research funded by taxpayers in the U.S., then siphoned across the Pacific Ocean by academics recruited by Beijing to act as double agents, stealing intellectual property from their American universities, a bipartisan Senate report revealed Monday.
The academics signed contracts that in some cases committed them to hiding their dual research status from their U.S. employers while giving China a first look at their work, the Senate Homeland Security and Governmental Affairs permanent subcommittee on investigations found.
Beijing's interest in stealing U.S. military and economic secrets has long been known, but the federal government was slow to act, the report says.
---
'I can't change history': Stop-and-frisk snags Bloomberg 2020 bid
Michael R. Bloomberg's abrupt reversal on his racially polarizing stop-and-frisk policing policy as New York mayor has Democratic presidential primary voters looking deeper into his varied and unconventional record during three terms running the country's most populous city.
How party regulars — and Democratic black voters in particular — react to the former mayor's blunt mea culpa will determine whether Mr. Bloomberg's last-minute, long-shot bid for the 2020 nomination has any viability at all.
Though he gets more attention for his post-mayoral political advocacy efforts, Mr. Bloomberg built a reputation as a data-driven technocrat who oversaw New York City's post-9/11 economic recovery and who left a legacy that touched on issues including charter schools and easing the Big Apple's legendary traffic jams.
---
Police surround last holdouts at Hong Kong university
About 100 anti-government protesters remained holed up at a Hong Kong university Tuesday, their choices dwindling along with their food supplies as they braced for the endgame in a police siege of the campus that entered its third day.
Full Coverage: Hong Kong
Police were waiting them out after 10 days of some of the most intense protests the city has seen in more than five months of often-violent unrest gripping the semi-autonomous Chinese city. Over the past day, more than 1,000 people were arrested and hundreds of injured treated at hospitals, authorities said.
The government has stood firm, rejecting most of the protesters' demands, even as they shut down major roads and trains during rush hour every day last week, turned several university campuses into fortresses and blocked a major road tunnel, which remained shut Tuesday.
---
Supreme Court halts turnover of Trump tax returns
The Supreme Court temporarily halted a lower court order Monday requiring President Trump's accounting firm to turn over his tax records to House Democrats in their impeachment probe.
Chief Justice John G. Roberts, Jr. granted the administration's request to stay the federal appeals court ruling against Mr. Trump until "further order" — for now — as the high court decides whether or not to hear the president's challenge.
The president's legal team had petitioned the high court last week asking the justices to put on hold a ruling from the lower courts siding with the Committee on Oversight and Reform, which issued a subpoena in February for eight years of the president's tax returns in the House Democrats' impeachment investigation.
---
Prince Andrew's efforts to put scandal behind him backfire
Prince Andrew's effort to put the Jeffrey Epstein scandal behind him may have instead done him irreparable harm.
While aides are trying to put the best face on his widely criticized interview with the BBC, royal watchers are asking whether he can survive the public relations disaster and remain a working member of the royal family.
The question facing Queen Elizabeth II and her advisers is how to protect the historic institution of the monarchy from the taint of a 21st-century sex-and-trafficking scandal and the repeated missteps of a prince who has been a magnet for bad publicity as he struggles to find a national role for himself.
---
DOJ Details Peter Strzok's Security Violations, Releases More Texts
Fired FBI agent Peter Strzok committed a multitude of security violations during his time at the bureau related to communications with his mistress and the mishandling of classified information, according to records released by the Department of Justice.
The documents made public Monday include several text messages between Strzok, who worked on the FBI's Hillary Clinton and Russia investigations before being fired in August 2018, and other pieces of evidence that are part of an internal investigation of his conduct.
According to the documents, which are part of a case labeled "Strzok vs. Barr/DOJ," Strzok's wife got ahold of his personal cell phone and discovered evidence of the affair he was having with FBI lawyer Lisa Page. Strzok and Page discussed the development using a chat app on their FBI phones, which Strzok said they used to communicate in order to keep the affair from their spouses.
---
Coddling fake witnesses in a fake trial is an insult to real witnesses in real-world trials
Washington, this is why America hates you.
Every day in America, a young child takes a witness stand to point a small finger at some monster a few feet away who has committed some of the most heinous crimes known to man. Through tears, the child struggles to give unspeakable testimony.
But gives it nonetheless.
Every day in America, brave women step into witness boxes in courtrooms full of complete strangers and describe the most intimate and horrific violations that have ever been committed against a human.
Each one of them is a pillar of justice.
---
Finding common ground with liberals at Thanksgiving
There's no need to dread conflict during dinner, but just in case here are some issues that may come up
With Thanksgiving approaching, a common complaint I hear is that the mix of political views at holiday gatherings can create some tense moments.
However, there's no need to dread conflict during dinner. In fact, a conversation handled the right way may actually show your family that they have more in common than they think.
The key is to talk about issues from common ground. Many liberals don't understand that conservatives care just as much as they do (maybe more) about clean air and water, helping the poor, ensuring no one goes without needed health care, and creating jobs so everyone has a chance to live the American Dream.
" It is discouraging to think how many people are shocked by honesty and how few by deceit."

-- Noel Coward

(1899-1973) British playwright

---

The Medal of Honor is the highest award for valor in action against an enemy force which can be bestowed upon an individual serving in the Armed Services of the United States.

GeneTrerally presented to its recipient by the President of the United States of America in the name of Congress.

The first award of the Medal of Honor was made March 25, 1863 to Private JACOB PARROTT.The last award of the Medal of Honor was made September 15, 2011 to Sergeant DAKOTA MEYER.

Since then there have been: • 3458 recipients of the Medal of Honor.

• Today there are 85 Living Recipients of the Medal of Honor.

Citation


Captain Humbert R. Versace distinguished himself by extraordinary heroism during the period of 29 October 1963 to 26 September 1965, while serving as S-2 Advisor, Military Assistance Advisory Group, Detachment 52, Ca Mau, Republic of Vietnam. While accompanying a Civilian Irregular Defense Group patrol engaged in combat operations in Thoi Binh District, An Xuyen Province, Captain Versace and the patrol came under sudden and intense mortar, automatic weapons, and small arms fire from elements of a heavily armed enemy battalion. As the battle raged, Captain Versace, although severely wounded in the knee and back by hostile fire, fought valiantly and continued to engage enemy targets. Weakened by his wounds and fatigued by the fierce firefight, Captain Versace stubbornly resisted capture by the over-powering Viet Cong force with the last full measure of his strength and ammunition. Taken prisoner by the Viet Cong, he exemplified the tenets of the Code of Conduct from the time he entered into Prisoner of War status. Captain Versace assumed command of his fellow American soldiers, scorned the enemy's exhaustive interrogation and indoctrination efforts, and made three unsuccessful attempts to escape, despite his weakened condition which was brought about by his wounds and the extreme privation and hardships he was forced to endure. During his captivity, Captain Versace was segregated in an isolated prisoner of war cage, manacled in irons for prolonged periods of time, and placed on extremely reduced ration. The enemy was unable to break his indomitable will, his faith in God, and his trust in the United States of America. Captain Versace, an American fighting man who epitomized the principles of his country and the Code of Conduct, was executed by the Viet Cong on 26 September 1965. Captain Versace's gallant actions in close contact with an enemy force and unyielding courage and bravery while a prisoner of war are in the highest traditions of the military service and reflect the utmost credit upon himself and the United States Army.

---

From the Archives

We Have Met the Enemy…
Geoff Metcalf


"They who can give up essential liberty to obtain a little temporary safety deserve neither liberty nor safety.
--Benjamin Franklin
"The American people must be willing to give up a degree of personal privacy in exchange for safety and security."
--Louis Freeh


In the wake of the clamor over the most recent WikiLeaks data dump, 'Vault 7', 'UMBRAGE', et al, it should be noted this is not really anything new. What we are seeing here is simply the evolution of something that goes back to the late 50s (to the incomplete best knowledge I have).

It is kinda cool to finally see even

The New York Times

acknowledging material

I was writing about in 1998

.

In April of 1998 I wrote "Privacy has become an anachronism." I was commenting on "a massive system designed to intercept all your e-mail, fax traffic and more." I was explaining 'Echelon', the illegitimate offspring of a

UKUSA Treaty

signed by the United States, United Kingdom, Canada, Australia and New Zealand. Its purpose was, and is, to have a vast global intelligence monster, which allegedly shares common goals. The system was so "efficient" that reportedly National Security Agency folk from Fort Meade could work from Menwith Hill in England to intercept local communications without either nation having to burden themselves with the formality of seeking approval (a court order) or disclosing the operation. And this was all pre-9/11 and pre-the anti-constitutional

'Patriot Act'

.

It is illegal (without a Judge's signed permission) for the United States to spy on its citizens … kinda. The laws have long been circumvented by a mutual pact among five nations. Under the terms of UKUSA agreement, Britain spies on Americans and America spies on British citizens, and then the two conspirators trade data. A classic technical finesse. It is legal, but the intent to evade the spirit is inescapable.

I often fictionalized the genesis of 'Echelon' as an informal meeting of a group of post war American and British intelligence types drinking in some remote rustic bar. An imagined CIA type complains to his MI6 buddy about the hassles of US laws preventing US intelligence from surveillance of bad guys, and the Brit echoes the same complaint.

"Hey wait a moment mate," says Nigel, the make-believe MI6 guy, "I can spy on your guys and you can spy on our bad players…why don't we just come up with a mechanism whereby we spy on your villains, you spy on our villains, and we just 'share' the intel?"

This system was called ECHELON, and has been kicking around in some form longer than most of you. The result of the UKUSA treaty signed by the United States, United Kingdom, Canada, Australia and New Zealand was, and is, to have a vast global intelligence monster which allegedly shares common goals.

The London Telegraph reported in December of 1997 that the Civil liberties Committee of the European Parliament had officially confirmed the existence and purpose of ECHELON. "A global electronic spy network that can eavesdrop on every telephone, e-mail and telex communication around the world will be officially acknowledged for the first time in a European Commission report. …"

The report noted: "Within Europe all e-mail, telephone and fax communications are routinely intercepted by the United States National Security Agency, transferring ll target information from the European mainland via the strategic hub of London, then by satellite to Fort Meade in Maryland via the crucial hub at Menwith Hill, in the North York moors in the UK.

"The ECHELON system forms part of the UKUSA system but unlike many of the electronic spy systems developed during the Cold War, ECHELON was designed primarily for non-military targets: governments, organizations and businesses in virtually every country."

An interesting sidebar appeared in the International Herald Tribune under the headline, "Big Corporate Brother: It Knows More About You Than You Think." The story details Acxiom Corp, which was a humongous information service hidden in the Ozark foothills. Twenty-four hours a day, Acxiom electronically gathered and sorts all kinds of data about 196 million Americans. Credit card transactions and magazine subscriptions, telephone numbers, real estate records, automotive data, hunting, business and fishing licenses, consumer surveys and demographic detail that would make a marketing department's research manager salivate. This relatively new (legal) enterprise was known as "data warehousing" or "data-mining", and it underscores the cruel reality that the fiction of personal privacy has become obsolete. Technology's ability to collect and analyze data has made privacy a quaint albeit interesting dinosaur.

The Tribune reported that "Axciom can often determine whether an American owns a dog or cat, enjoys camping or gourmet cooking, reads the Bible or lots of other books. It can often pinpoint an American's occupation, car and favorite vacations. By analyzing the equivalent of billions of pages of data, it often projects for its customers who should be offered a credit card or who is likely to buy a computer."

Most of this information is from y 1998 piece. Echelon has developed, matured, and morphed into a much more powerful hybrid. 'Carnivore' was software to help triage the cacophony of data. Vault 7 and 'Umbrage' are logical (some would argue "insidious") growth.

More to follow…