"It Is Not A Question of Who Is Right Or Wrong But What Is Right Or Wrong That Counts.

"

--Geoff Metcalf






Wo

rld & National
Case of terror suspect caught sneaking into U.S. roils immigration debate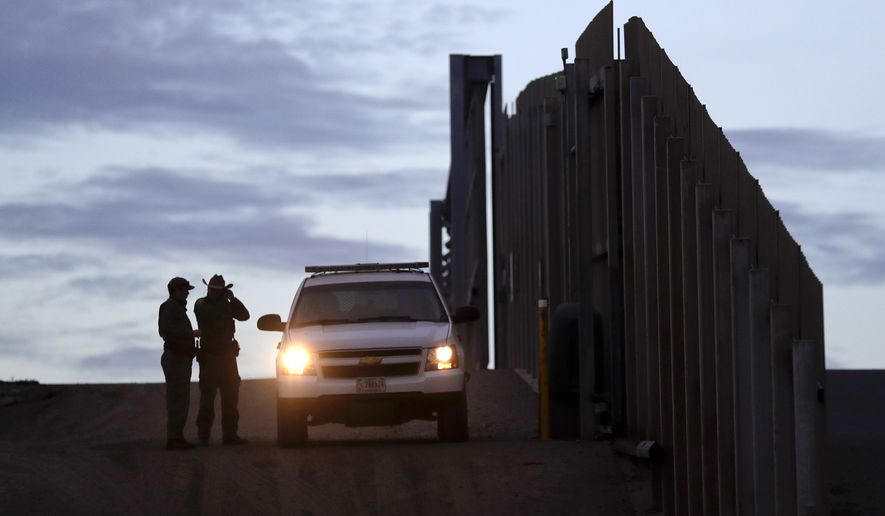 Zabi-Ullah Hemmat wasn't just one of 415,816 illegal immigrants caught at the southwest border in fiscal 2016. Nor was he just another of the 84 people from Afghanistan apprehended by Border Patrol agents that year.
What made Mr. Hemmat of special interest to authorities is that when he was snared by agents after 11 p.m. on a chilly November night and they ran his name through federal databases, he came back listed on the no-fly terrorist watch-list.
Mr. Hemmat is one of the terrorism suspects caught trying to sneak into the U.S. from Mexico — a category of people that is very much part of the current debate over illegal immigration, with President Trump insisting his border wall would deter people from being able to reach American soil and Democrats saying there's no real danger.
---
Supreme Court to Consider Gun Rights for 1st Time in 9 Years


The Supreme Court said Tuesday it will take up its first gun rights case in nine years, a challenge to New York City's prohibition on carrying a licensed, locked, and unloaded handgun outside the city limits.

The court's decision to hear the appeal filed by three New York residents and New York's National Rifle Association affiliate could signal a revived interest in gun rights by a more conservative court. The case won't be argued until October.


---
Supreme Court allows Trump administration transgender military policy to go into effect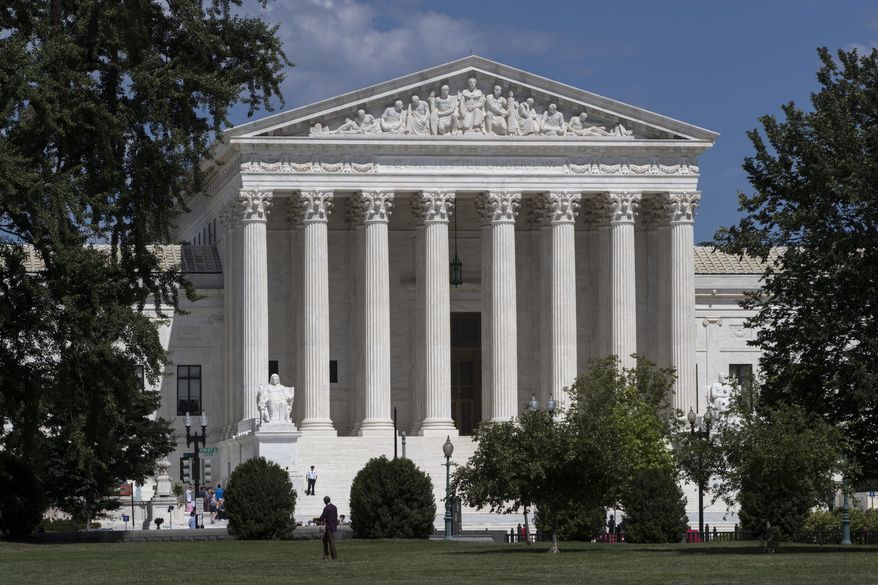 The Supreme Court announced Tuesday it would allow the Trump administration's policy limiting military service for transgender individuals to go into effect while the case is on appeal.
The justices in a 5-4 decision lifted the injunction issued by a district court against the Trump administration while the case is pending at the 9th U.S. Circuit Court of Appeals.
Justice Elena Kagan, Justice Ruth Bader Ginsburg, Justice Stephen Breyer and Justice Sonia Sotomayor would have denied the request.
---
Dreamer immigrant activist: Pledge of Allegiance 'rooted in ... white supremacy'
Proposes updated version for 'indigenous and immigrant heritage'
A prominent immigrant-rights activist launched a drive Tuesday to rewrite the American Pledge of Allegiance, saying as it stands now it's a symbol of "rooted in nativism and white supremacy."
Cesar Vargas, a "Dreamer" who came to the country illegally with his mother and now runs the Dream Action Coalition, says the pledge speaks to fear, while he wants to see a version imbued with "optimism."
"The upgraded version should read: "I pledge allegiance and love to our indigenous and immigrant heritage, rooted in the United States of America, to our civil rights for which we strive, one voice, one nation, for equality and justice for all,'" Mr. Vargas wrote in a commentary piece for The Hill, a newspaper covering Congress and Washington.
---
Questions arise over whether Catholic teens were targeted by Native elder with activist history
Extended video shows Nathan Phillips initiated encounter with teens at Lincoln Memorial
The viral face-off between a drum-beating elder and a Catholic teen has spurred questions over whether the encounter was random or a "set-up" staged by political activists.
The crowd of boys from Covington Catholic High School was initially accused of harassing Nathan Phillips, a 63-year-old Omaha tribal elder, until extended video showed that he initiated contact with the teens, some of whom wore red Make America Great Again caps, at the Lincoln Memorial.
The episode was filmed by several adults accompanying Mr. Phillips, who has a history of political activism in Native American causes, including serving previously as director of the Native Youth Alliance and demonstrating at the 2016 Dakota Access Pipeline protest.
---
Dalio: Ocasio-Cortez's 70 Percent Tax Rate Real Threat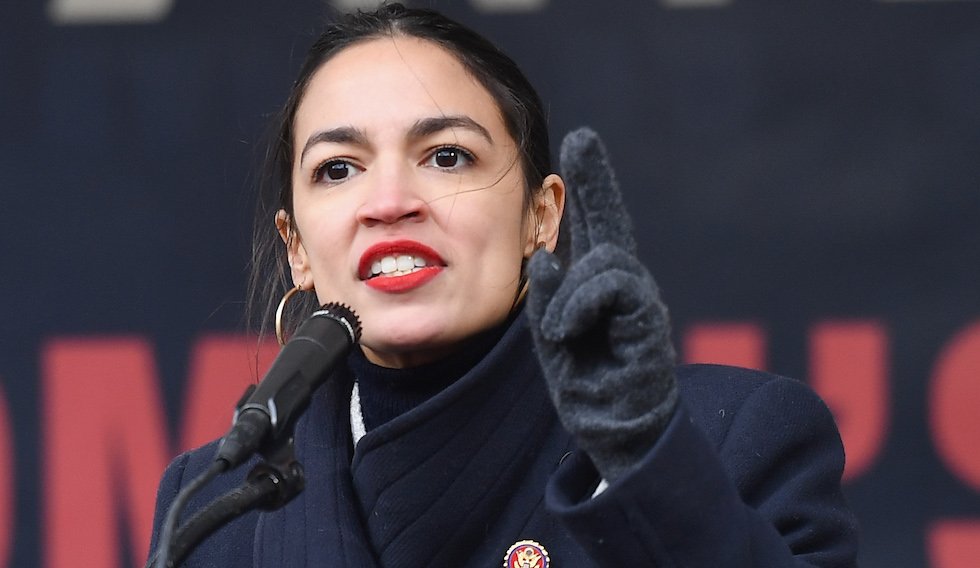 She may not be in Davos, but Alexandria Ocasio-Cortez's influence is already being felt on the slopes of the Swiss Alps.
Three weeks after the Congresswoman for New York called for an income tax rate of as much as 70 percent on the wealthiest Americans, billionaire investor Ray Dalio suggested that the idea may have legs in the run up to the U.S. presidential election.
---
Giuliani tries to clean up comments about Trump Tower Moscow
President Donald Trump's attorney Rudy Giuliani said Monday that the President had no recollection of whether discussions about a proposed Trump Tower Moscow project went through the 2016 election, distancing himself from a claim he made Sunday.
Giuliani's remarks were an attempt at damage control after comments he made a day prior when he said the talks about the Moscow project continued through the campaign, even possibly as late as October or November 2016. Adjusting his previous timeline, Giuliani told CNN on Monday that there was no way of determining exactly when the discussions ended because they had no record of it.
---
Never mind climate change, Davos prefers private jets
The Davos elite say they are more worried than ever about climate change. But that isn't stopping them chartering private jets in record numbers.
The convenience and comfort of flying privately rather than commercially appears to outweigh any concerns about the outsized carbon footprint it involves, judging by a number-crunching exercise by the company Air Charter Service (ACS).
It forecast nearly 1,500 private jet flights over the week of the World Economic Forum (WEF) to airports near Davos in the Swiss Alps.
---
Taliban militants kill dozens at Afghan intelligence base
Dozens of Afghan security staff were killed by Taliban militants who overran a military intelligence base near Kabul, officials have confirmed.
At least 43 people were killed and 54 injured in Monday's attack, the NDS intelligence service told the BBC.
Insurgents blew their way into the base using a car bomb before opening fire. Some reports put the toll at over 100.
---
A sad day for the gentlemen of the press
The New York Times thinks ours is "a golden age for journalism." The press, the Old Gray Lady says, "has come through with some investigative work that can stand with the finest Watergate-era reporting."
There's a new appreciation for shoe-leather reporting. "Clicks and subscriptions are up, welcome news for an industry in shaky financial shape."
Some of that is sort of true, and The New York Times is entitled to its opinion, which it attempts to link to great hits of others in the past, particularly invoking the names of Bob Woodward and Carl Bernstein, two reporters for The Washington Post celebrated by journalists everywhere for bringing down Richard Nixon in "the Watergate scandal."
---
Sorting out Syria, militarily and politically
It's seldom that the president makes a key decision against the advice of the national security establishment, which is what President Trump did in deciding to remove 2,000 U.S. troops from northern Syria. Many in the media as well as some of his strongest supporters in Congress have questioned this decision, but it is worth considering this decision and what the actual consequences are.
The United States has had only limited involvement in the eight years of civil war in Syria. U.S. forces were introduced only for the purpose of eliminating ISIS — a mission that has largely been accomplished. While the United States was a significant factor in removing ISIS from Syria, much of this was accomplished by Russia that largely destroyed the ISIS-held city of Raqqa, operating under different rules of engagement and a far different view of collateral damage. Russian air strikes destroyed much of ISIS, along with a large part of the city and its civilian population. Also important in the defeat of ISIS have been Kurdish forces and the Syrian army which remain to counter ISIS.
---
---
"It is discouraging to think how many people are shocked by honesty and how few by deceit."

-- Noel Coward

(1899-1973) British playwright

---

The Medal of Honor is the highest award for valor in action against an enemy force which can be bestowed upon an individual serving in the Armed Services of the United States.

GeneTrerally presented to its recipient by the President of the United States of America in the name of Congress.

The first award of the Medal of Honor was made March 25, 1863 to Private JACOB PARROTT.The last award of the Medal of Honor was made September 15, 2011 to Sergeant DAKOTA MEYER.

Since then there have been: • 3458 recipients of the Medal of Honor.

• Today there are 85 Living Recipients of the Medal of Honor.

Citation


Captain Humbert R. Versace distinguished himself by extraordinary heroism during the period of 29 October 1963 to 26 September 1965, while serving as S-2 Advisor, Military Assistance Advisory Group, Detachment 52, Ca Mau, Republic of Vietnam. While accompanying a Civilian Irregular Defense Group patrol engaged in combat operations in Thoi Binh District, An Xuyen Province, Captain Versace and the patrol came under sudden and intense mortar, automatic weapons, and small arms fire from elements of a heavily armed enemy battalion. As the battle raged, Captain Versace, although severely wounded in the knee and back by hostile fire, fought valiantly and continued to engage enemy targets. Weakened by his wounds and fatigued by the fierce firefight, Captain Versace stubbornly resisted capture by the over-powering Viet Cong force with the last full measure of his strength and ammunition. Taken prisoner by the Viet Cong, he exemplified the tenets of the Code of Conduct from the time he entered into Prisoner of War status. Captain Versace assumed command of his fellow American soldiers, scorned the enemy's exhaustive interrogation and indoctrination efforts, and made three unsuccessful attempts to escape, despite his weakened condition which was brought about by his wounds and the extreme privation and hardships he was forced to endure. During his captivity, Captain Versace was segregated in an isolated prisoner of war cage, manacled in irons for prolonged periods of time, and placed on extremely reduced ration. The enemy was unable to break his indomitable will, his faith in God, and his trust in the United States of America. Captain Versace, an American fighting man who epitomized the principles of his country and the Code of Conduct, was executed by the Viet Cong on 26 September 1965. Captain Versace's gallant actions in close contact with an enemy force and unyielding courage and bravery while a prisoner of war are in the highest traditions of the military service and reflect the utmost credit upon himself and the United States Army.

---

From the Archives

We Have Met the Enemy…
Geoff Metcalf


"They who can give up essential liberty to obtain a little temporary safety deserve neither liberty nor safety.
--Benjamin Franklin
"The American people must be willing to give up a degree of personal privacy in exchange for safety and security."
--Louis Freeh


In the wake of the clamor over the most recent WikiLeaks data dump, 'Vault 7', 'UMBRAGE', et al, it should be noted this is not really anything new. What we are seeing here is simply the evolution of something that goes back to the late 50s (to the incomplete best knowledge I have).

It is kinda cool to finally see even

The New York Times

acknowledging material

I was writing about in 1998

.

In April of 1998 I wrote "Privacy has become an anachronism." I was commenting on "a massive system designed to intercept all your e-mail, fax traffic and more." I was explaining 'Echelon', the illegitimate offspring of a

UKUSA Treaty

signed by the United States, United Kingdom, Canada, Australia and New Zealand. Its purpose was, and is, to have a vast global intelligence monster, which allegedly shares common goals. The system was so "efficient" that reportedly National Security Agency folk from Fort Meade could work from Menwith Hill in England to intercept local communications without either nation having to burden themselves with the formality of seeking approval (a court order) or disclosing the operation. And this was all pre-9/11 and pre-the anti-constitutional

'Patriot Act'

.

It is illegal (without a Judge's signed permission) for the United States to spy on its citizens … kinda. The laws have long been circumvented by a mutual pact among five nations. Under the terms of UKUSA agreement, Britain spies on Americans and America spies on British citizens, and then the two conspirators trade data. A classic technical finesse. It is legal, but the intent to evade the spirit is inescapable.

I often fictionalized the genesis of 'Echelon' as an informal meeting of a group of post war American and British intelligence types drinking in some remote rustic bar. An imagined CIA type complains to his MI6 buddy about the hassles of US laws preventing US intelligence from surveillance of bad guys, and the Brit echoes the same complaint.

"Hey wait a moment mate," says Nigel, the make-believe MI6 guy, "I can spy on your guys and you can spy on our bad players…why don't we just come up with a mechanism whereby we spy on your villains, you spy on our villains, and we just 'share' the intel?"

This system was called ECHELON, and has been kicking around in some form longer than most of you. The result of the UKUSA treaty signed by the United States, United Kingdom, Canada, Australia and New Zealand was, and is, to have a vast global intelligence monster which allegedly shares common goals.

The London Telegraph reported in December of 1997 that the Civil liberties Committee of the European Parliament had officially confirmed the existence and purpose of ECHELON. "A global electronic spy network that can eavesdrop on every telephone, e-mail and telex communication around the world will be officially acknowledged for the first time in a European Commission report. …"

The report noted: "Within Europe all e-mail, telephone and fax communications are routinely intercepted by the United States National Security Agency, transferring all target information from the European mainland via the strategic hub of London, then by satellite to Fort Meade in Maryland via the crucial hub at Menwith Hill, in the North York moors in the UK.

"The ECHELON system forms part of the UKUSA system but unlike many of the electronic spy systems developed during the Cold War, ECHELON was designed primarily for non-military targets: governments, organizations and businesses in virtually every country."

An interesting sidebar appeared in the International Herald Tribune under the headline, "Big Corporate Brother: It Knows More About You Than You Think." The story details Acxiom Corp, which was a humongous information service hidden in the Ozark foothills. Twenty-four hours a day, Acxiom electronically gathered and sorts all kinds of data about 196 million Americans. Credit card transactions and magazine subscriptions, telephone numbers, real estate records, automotive data, hunting, business and fishing licenses, consumer surveys and demographic detail that would make a marketing department's research manager salivate. This relatively new (legal) enterprise was known as "data warehousing" or "data-mining", and it underscores the cruel reality that the fiction of personal privacy has become obsolete. Technology's ability to collect and analyze data has made privacy a quaint albeit interesting dinosaur.

The Tribune reported that "Axciom can often determine whether an American owns a dog or cat, enjoys camping or gourmet cooking, reads the Bible or lots of other books. It can often pinpoint an American's occupation, car and favorite vacations. By analyzing the equivalent of billions of pages of data, it often projects for its customers who should be offered a credit card or who is likely to buy a computer."

Most of this information is from y 1998 piece. Echelon has developed, matured, and morphed into a much more powerful hybrid. 'Carnivore' was software to help triage the cacophony of data. Vault 7 and 'Umbrage' are logical (some would argue "insidious") growth.

More to follow…