"It Is Not A Question of Who Is Right Or Wrong But What Is Right Or Wrong That Counts.

"

--Geoff Metcalf
Providing an on line Triage of the news since 1997



Wo

rld & Nation
Pressure builds on Biden as Iran outreach backfires
The Biden administration came under pressure from all sides Monday in its push to restart nuclear talks with Iran, as leaders in Tehran threatened to dramatically ramp up uranium enrichment programs while officials in China and Israel laid out their own wildly different blueprints for how Washington should handle the tense diplomatic standoff.
The White House extended the first olive branch last week by offering to join multilateral talks with Tehran, but Iranian Supreme Leader Ayatollah Khamenei responded Monday with a fiery declaration that his nation may rapidly expand its nuclear program at a moment's notice with little regard for American demands. His aggressive stance suggests that the Iranian regime — facing its own backlash from hardliners in parliament who are wary of any engagement with the U.S. — will not offer President Biden an easy diplomatic victory.
The 2015 Joint Comprehensive Plan of Action (JCPOA), signed by Iran, the U.S. and five other world powers, limits Iran's uranium enrichment to 3.67%, though Tehran stopped abiding by that threshold after former President Trump pulled America from the deal in 2018 and Washington reimposed a set of crippling economic sanctions. During the final weeks of the Trump administration, Iranian officials announced they would begin enriching uranium up to 20% at some key facilities.
---
Neera Tanden, Xavier Becerra under fire as Biden nominees fight to survive confirmation battles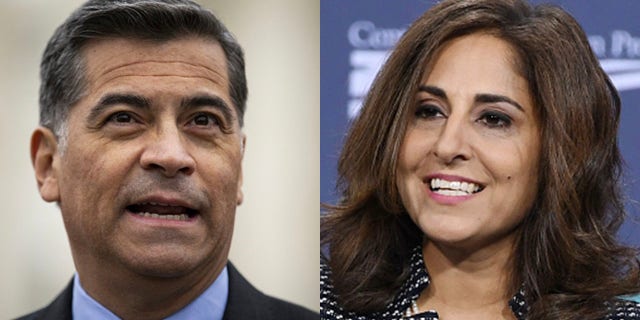 President Biden is standing behind a pair of Cabinet picks facing uphill battles -- including Neera Tanden, his nominee to lead the Office of Management and Budget, and Xavier Becerra, his pick for secretary of the Department of Health and Human Services -- as a growing number of senators have vowed to oppose their confirmations.
Tanden's confirmation appears to be the most in jeopardy after several swing vote senators -- including at least one Democrat -- have announced plans to vote against her confirmation. The former president of the liberal Center for American Progress repeatedly came under fire during her confirmation hearing, as Republicans pointed to hostile tweets she posted against various lawmakers -- many of which she deleted late last year.
During that hearing, Sen. Ron Portman, R-Ohio, gave examples of "a few of the thousands of negative public statements" Tanden has made. These included her calling Sen. Susan Collins, R-Maine, "the worst" and Sen. Tom Cotton, R-Ark., a "fraud," saying that "vampires have more heart than Ted Cruz," and referring to then-Senate Majority Leader Mitch McConnell, R-Ky., as "Moscow Mitch" and "Voldemort," referring to the Harry Potter villain.
---
Virginia lawmakers pass ban on death penalty
Virginia's Democratic-controlled General Assembly on Monday approved a final bill that would ban the death penalty and sent the legislation to Gov. Ralph Northam, putting the commonwealth on the verge of becoming the first Southern state to prohibit executions.
Mr. Northam has said he would sign the bill into law, which would make Virginia the 23rd state to abolish capital punishment.
Democratic leaders, including the governor, were united in backing the death penalty ban as a marquee item of a larger criminal justice reform agenda that includes rolling back mandatory minimum sentences, legalizing marijuana and automatically expunging records for certain crimes.
---
Wife of drug kingpin El Chapo to appear in court in DC
The wife of Mexican drug kingpin Joaquin "El Chapo" Guzman was arrested in the United States and accused of helping her husband run his multibillion-dollar cartel and plot his audacious escape from a Mexican prison in 2015.
Emma Coronel Aispuro, a 31-year-old former beauty queen, was arrested at Dulles International Airport in Virginia on Monday and is expected to appear in federal court in Washington, by video, on Tuesday afternoon. She is a dual citizen of the United States and Mexico.
Her arrest is the latest twist in the bloody, multinational saga involving Guzman, the longtime head of the Sinaloa drug cartel. Guzman, whose two dramatic prison escapes in Mexico fed into a legend that he and his family were all but untouchable, was extradited to the United States in 2017 and is serving life in prison.
---
'Follow the science' Biden accused of ignoring science on key issues
President Biden is all about following the science — unless it conflicts with his policy positions on hot-button issues, as far as his critics are concerned.
Despite his "follow the science" mantra, Mr. Biden has run up against mounting empirical challenges on a host of issues, including reopening schools, climate change, women's sports and abortion, from those who say his scientific expertise begins and ends with political science.
"Whenever the Biden administration and the environmental left say 'follow the science,' what they're really saying is 'follow the social science,' not the hard physical science," said James Taylor, president of the free-market Heartland Institute.
The most glaring example comes with the increasingly fraught debate over bringing back K-12 students for in-person instruction where teachers' unions are holding out until districts meet their demands such as replacing ventilation systems and vaccinating all teachers against the coronavirus.
---
Biden promised quick action on guns. The pandemic has scrambled that.
The White House is weighing a number of gun safety proposals as it looks to deliver on President Joe Biden's campaign promises. But some activists are upset that after one month in office the administration has yet to set a firm timeline or provide specifics about it's overarching plan.
Joe Biden wearing a suit and tie: President Joe Biden speaks during a White House event.© Evan Vucci/AP Photo President Joe Biden speaks during a White House event.
Among the executive actions under consideration by the administration is one that would require buyers of so-called ghost guns — homemade or makeshift firearms that lack serial numbers — to undergo background checks, according to three people who have spoken to the White House about their plans.
Sen. Richard Blumenthal (D-Conn.), who spoke to the White House in the last week, said he recommended the administration take executive actions to close the so-called Charleston loophole that allows a gun to be transferred from licensed gun dealers before a completed background check. But Biden aides were reluctant, Blumenthal said.
---
Murdoch son funds Dem-allied fake news while slamming conservative media 'disinformation'
James Murdoch and his wife, Kathryn, split from the family's Fox News empire and condemned conservative-leaning media for "spreading disinformation," but at the same time they gave a half-million dollars to a political action committee linked to a Democratic-allied fake news operation.
The couple blamed the owners of news outlets with "propagating lies" that they said contributed to a multitude of catastrophes, including the Jan. 6 attack on the U.S. Capitol.
While championing journalistic integrity, however, Mrs. Murdoch gave a total of $500,000 to Pacronym, a super PAC affiliated with the liberal activist group Acronym and its pseudo-news outlets called Courier Newsroom, according to Federal Election Commission records.
---
Florida Dem Refusing to Lower Flags to Honor Rush Limbaugh
Florida's Agriculture Commissioner Nikki Fried, a Democrat, says she will not follow a directive by Gov. Ron DeSantis to fly flags at half-staff in remembrance of the late radio host Rush Limbaugh.
Fried said she won't lower any flags at state offices under her direction, according to a statement on her department's website.
"Lowering to half-staff the flag of the United States of America is a sacred honor that pays respect to fallen heroes and patriots. It is not a partisan political tool," she said in a statement.
---
House Democrats Target Newsmax, Fox News for De-platforming From Cable
Democrats are waging an assault on the First Amendment, with two Democrat House lawmakers demanding answers from cable television providers on the role they play in the "spread of dangerous misinformation."
The letter, signed by Reps. Anna Eshoo, D-Calif., and Jerry McNerney, D-Calif., and released to the press Monday, targets only conservative-leaning outlets, including Fox News, Newsmax, and OANN.
On Wednesday, the House subcommittee on Communications and Technology of the Committee on Energy and Commerce is scheduled to hold a hearing on disinformation and extremism in media.
---
Former US Capitol Police chief to say intelligence didn't point to a riot on January 6
Former US Capitol Police Chief Steven Sund will tell lawmakers Tuesday that law enforcement was prepared for the January 6 US Capitol riots based on the intelligence it had but that intelligence did not suggest a violent, coordinated attack, which overwhelmed their forces that day.
"The breach of the United States Capitol was not the result of poor planning or failure to contain a demonstration gone wrong," Sund says in written testimony submitted for the hearing.
Sund will testify alongside other law enforcement leaders Tuesday where Americans could hear for the first time why intelligence and operations failed dramatically on January 6 from the very people whose choices contributed to the crisis -- information that will likely help shape the search for new leaders and possibly a new security management structure on Capitol Hill.
---
Reporter asks State Dept. spokesman if Biden is taking credit for Trump-era policy
State Department spokesman Ned Price clashed with a reporter during a press briefing at the White House on Monday.
The tense exchange erupted as Price was boasting about the administration's efforts to scale back the controversial Nord Stream 2 pipeline from Russia to Germany.
Associated Press reporter Matt Lee then chimed in.
"You guys have only been in office for a month, right? Are you telling me that in the last four weeks these 18 companies all of the sudden decided to say, 'Oh my God! We better not be doing anything with Nord Stream 2," Lee said.
"You guys are taking credit for stuff the previous administration did. Yes or no?"
---
Tom Cotton, Mitt Romney release plan to increase minimum wage to $10 per hour
Sens. Tom Cotton of Arkansas and Mitt Romney of Utah on Tuesday released new details of their plan to increase the federal minimum wage to $10 per hour and prevent employers from hiring illegal immigrants in the process.
The Republican senators' plan would increase the wage from $7.25 per hour to $10 within five years and then index it to inflation.
The increase would not happen until after the COVID-19 crisis passes. There would be a more gradual phase-in for businesses with fewer than 20 employees.
---
Biden mourns 500,000 dead, balancing nation's grief and hope
With sunset remarks and a national moment of silence, President Joe Biden on Monday confronted head-on the country's once-unimaginable loss — half a million Americans in the COVID-19 pandemic — as he tried to strike a balance between mourning and hope.
Addressing the "grim, heartbreaking milestone" directly and publicly, Biden stepped to a lectern in the White House Cross Hall, unhooked his face mask and delivered an emotion-filled eulogy for more than 500,000 Americans he said he felt he knew.
"We often hear people described as ordinary Americans. There's no such thing," he said Monday evening. "There's nothing ordinary about them. The people we lost were extraordinary."
---
John Kerry never got out of bed with Iran
He kept up a bromance with Javad Zarif during the entire Trump administration
Failed former Secretary of State John Kerry spent so much time wooing Iran Foreign Minister Javad Zarif during the Obama administration that people started talking.
After years of public canoodling, romantic garden strolls and secret pallets of cold, hard American cash sent under the cover of night, Monsieur Kerry never could get Mr. Zarif and the Iranians to kick their habit of bankrolling terrorism around the globe.
With the election of Donald Trump, the world thought Monsieur Kerry had finally given up his lusty pursuit of Mr. Zarif. Turns out they had just gotten a room.
---
Trumka: The Judas goat of the labor movement
President Biden's decision to cancel the Keystone XL pipeline has destroyed tens of thousands of jobs, and angered some of his strongest supporters. One of them, AFL-CIO boss Richard Trumka, was so upset he let the world know in an interview with Axios.
Given the fact that Presidential candidate Joe Biden had clearly promised to cancel the pipeline if he won the election, it raises the obvious question – was Mr. Trumka the Judas goat of the labor movement, deliberately leading his followers to slaughter?
That Mr. Trumka is unhappy is not in doubt. "I wish he hadn't done that on the first day," he told Axios. "I wish he had paired that more carefully with the thing that he did second, by saying here's where we're creating jobs."
---
" It is discouraging to think how many people are shocked by honesty and how few by deceit."

-- Noel Coward

(1899-1973) British playwright

---

The Medal of Honor is the highest award for valor in action against an enemy force which can be bestowed upon an individual serving in the Armed Services of the United States.

GeneTrerally presented to its recipient by the President of the United States of America in the name of Congress.

The first award of the Medal of Honor was made March 25, 1863 to Private JACOB PARROTT.The last award of the Medal of Honor was made September 15, 2011 to Sergeant DAKOTA MEYER.

Since then there have been: • 3458 recipients of the Medal of Honor.

• Today there are 85 Living Recipients of the Medal of Honor.

Citation


Captain Humbert R. Versace distinguished himself by extraordinary heroism during the period of 29 October 1963 to 26 September 1965, while serving as S-2 Advisor, Military Assistance Advisory Group, Detachment 52, Ca Mau, Republic of Vietnam. While accompanying a Civilian Irregular Defense Group patrol engaged in combat operations in Thoi Binh District, An Xuyen Province, Captain Versace and the patrol came under sudden and intense mortar, automatic weapons, and small arms fire from elements of a heavily armed enemy battalion. As the battle raged, Captain Versace, although severely wounded in the knee and back by hostile fire, fought valiantly and continued to engage enemy targets. Weakened by his wounds and fatigued by the fierce firefight, Captain Versace stubbornly resisted capture by the over-powering Viet Cong force with the last full measure of his strength and ammunition. Taken prisoner by the Viet Cong, he exemplified the tenets of the Code of Conduct from the time he entered into Prisoner of War status. Captain Versace assumed command of his fellow American soldiers, scorned the enemy's exhaustive interrogation and indoctrination efforts, and made three unsuccessful attempts to escape, despite his weakened condition which was brought about by his wounds and the extreme privation and hardships he was forced to endure. During his captivity, Captain Versace was segregated in an isolated prisoner of war cage, manacled in irons for prolonged periods of time, and placed on extremely reduced ration. The enemy was unable to break his indomitable will, his faith in God, and his trust in the United States of America. Captain Versace, an American fighting man who epitomized the principles of his country and the Code of Conduct, was executed by the Viet Cong on 26 September 1965. Captain Versace's gallant actions in close contact with an enemy force and unyielding courage and bravery while a prisoner of war are in the highest traditions of the military service and reflect the utmost credit upon himself and the United States Army.

---

From the Archives

We Have Met the Enemy…
Geoff Metcalf


"They who can give up essential liberty to obtain a little temporary safety deserve neither liberty nor safety.
--Benjamin Franklin
"The American people must be willing to give up a degree of personal privacy in exchange for safety and security."
--Louis Freeh


In the wake of the clamor over the most recent WikiLeaks data dump, 'Vault 7', 'UMBRAGE', et al, it should be noted this is not really anything new. What we are seeing here is simply the evolution of something that goes back to the late 50s (to the incomplete best knowledge I have).

It is kinda cool to finally see even

The New York Times

acknowledging material

I was writing about in 1998

.

In April of 1998 I wrote "Privacy has become an anachronism." I was commenting on "a massive system designed to intercept all your e-mail, fax traffic and more." I was explaining 'Echelon', the illegitimate offspring of a

UKUSA Treaty

signed by the United States, United Kingdom, Canada, Australia and New Zealand. Its purpose was, and is, to have a vast global intelligence monster, which allegedly shares common goals. The system was so "efficient" that reportedly National Security Agency folk from Fort Meade could work from Menwith Hill in England to intercept local communications without either nation having to burden themselves with the formality of seeking approval (a court order) or disclosing the operation. And this was all pre-9/11 and pre-the anti-constitutional

'Patriot Act'

.

It is illegal (without a Judge's signed permission) for the United States to spy on its citizens … kinda. The laws have long been circumvented by a mutual pact among five nations. Under the terms of UKUSA agreement, Britain spies on Americans and America spies on British citizens, and then the two conspirators trade data. A classic technical finesse. It is legal, but the intent to evade the spirit is inescapable.

I often fictionalized the genesis of 'Echelon' as an informal meeting of a group of post war American and British intelligence types drinking in some remote rustic bar. An imagined CIA type complains to his MI6 buddy about the hassles of US laws preventing US intelligence from surveillance of bad guys, and the Brit echoes the same complaint.

"Hey wait a moment mate," says Nigel, the make-believe MI6 guy, "I can spy on your guys and you can spy on our bad players…why don't we just come up with a mechanism whereby we spy on your villains, you spy on our villains, and we just 'share' the intel?"

This system was called ECHELON, and has been kicking around in some form longer than most of you. The result of the UKUSA treaty signed by the United States, United Kingdom, Canada, Australia and New Zealand was, and is, to have a vast global intelligence monster which allegedly shares common goals.

The London Telegraph reported in December of 1997 that the Civil liberties Committee of the European Parliament had officially confirmed the existence and purpose of ECHELON. "A global electronic spy network that can eavesdrop on every telephone, e-mail and telex communication around the world will be officially acknowledged for the first time in a European Commission report. …"

The report noted: "Within Europe all e-mail, telephone and fax communications are routinely intercepted by the United States National Security Agency, transferring ll target information from the Eurv opean mainland via the strategic hub of London, then by satellite to Fort Meade in Maryland via the crucial hub at Menwith Hill, in the North York moors in th UK.

"The ECHELON system forms part of the UKUSA system but unlike many of the electronic spy systems developed during the Cold War, ECHELON was designed primarily for non-military targets: governments, organizations and businesses in virtually every country."

An interesting sidebar appeared in the International Herald Tribune under the headline, "Big Corporate Brother: It Knows More About You Than You Think." The story details Acxiom Corp, which was a humongous information service hidden in the Ozark foothills. Twenty-four hours a day, Acxiom electronically gathered and sorts all kinds of data about 196 million Americans. Credit card transactions and magazine subscriptions, telephone numbers, real estate records, automotive data, hunting, business and fishing licenses, consumer surveys and demographic detail that would make a marketing department's research manager salivate. This relatively new (legal) enterprise was known as "data warehousing" or "data-mining", and it underscores the cruel reality that the fiction of personal privacy has become obsolete. Technology's ability to collect and analyze data has made privacy a quaint albeit interesting dinosaur.

The Tribune reported that "Axciom can often determine whether an American owns a dog or cat, enjoys camping or gourmet cooking, reads the Bible or lots of other books. It can often pinpoint an American's occupation, car and favorite vacations. By analyzing the equivalent of billions of pages of data, it often projects for its customers who should be offered a credit card or who is likely to buy a computer."

Most of this information is from y 1998 piece. Echelon has developed, matured, and morphed into a much more powerful hybrid. 'Carnivore' was software to help triage the cacophony of data. Vault 7 and 'Umbrage' are logical (some would argue "insidious") growth.

More to follow…