"It Is Not A Question of Who Is Right Or Wrong But What Is Right Or Wrong That Counts.

"

--Geoff Metcalf
Providing an on line Triage of the news since 1997



Wo

rld & Nation
AOC squad member Rashida Tlaib in danger of being shot down in Dem primary
Voters in five states to decide party nominees
Rep. Rashida Tlaib's hard-charging tenure as a headline-snatching member of "The Squad" has showcased her calling President Trump a "motherf–-r," publicly belittling Hillary Clinton and embracing an anti-establishment message that has transformed her into a liberal folk hero who is a curse on both parties.
She also has refused to endorse presumed Democratic presidential nominee Joseph R. Biden.
But the splashiest Tlaib headline could come at her own expense in the Michigan primary Tuesday if her campaign goes down in flames against former Rep. Brenda Jones, the president of the Detroit City Council who has turned Ms. Tlaib's political stardom against her.
---

House panel calls new postal chief to explain mail delays

The House Oversight Committee has invited the new postmaster general to appear at a September hearing to examine operational changes at the U.S. Postal Service that are causing delays in mail deliveries across the country.

The plan imposed by Louis DeJoy, a Republican fundraiser who took over the top job at the Postal Service in June, eliminates overtime for hundreds of thousands of postal workers and orders that mail be kept until the next day if postal distribution centers are running late.

Rep. Carolyn Maloney, a New York Democrat who chairs the Oversight panel, said the Sept. 17 hearing will focus on "the need for on-time mail delivery during the ongoing pandemic and upcoming election," which is expected to include a major expansion of mail-in ballots.


---
Lax vetting of foreign employees at U.S. broadcasters jeopardizing national security
Chinese, Iranian nationals grants improper clearances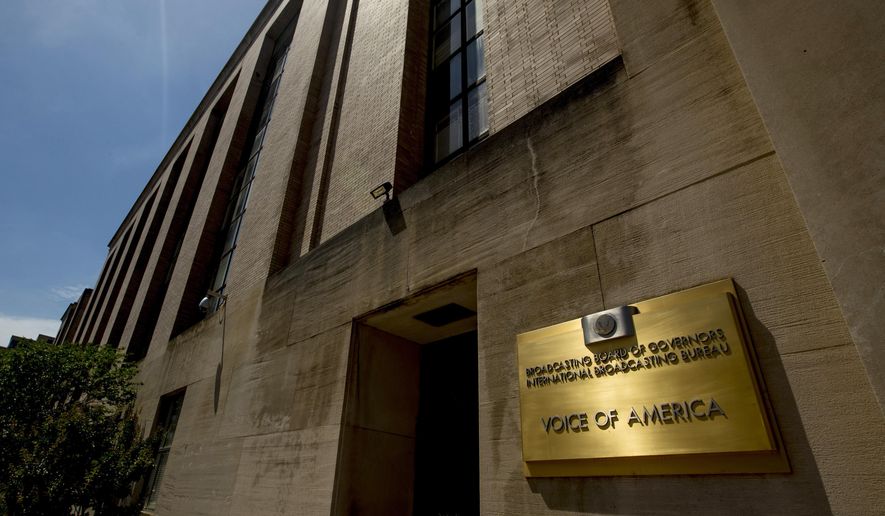 Foreign nationals from countries such as China and Iran were granted security clearances by the U.S. government agency in charge of broadcasting, jeopardizing national security, according to officials and internal documents from the U.S. Agency for Global Media.
The global media agency oversees the Voice of America, Radio Free Asia and several other official broadcast outlets focusing on Europe, Russia, Cuba and the Middle East, with an annual budget this year of $637 million.
"U.S. national security is jeopardized any time there is even a single security violation," said a senior USAGM official, speaking on background. "In this case, an entire agency with daily global reach was permitted to fully inculcate lax, or nonexistent, security procedures."
---

China vows retaliation if any U.S. action against journalists

China vowed on Tuesday to retaliate if the United States persisted with "hostile action" against Chinese journalists who may be forced to leave in coming days if their U.S. visas are not extended.

Chinese foreign ministry spokesman Wang Wenbin told reporters at a daily briefing that no Chinese journalist in the United States had been granted a visa extension since the United States, on May 11, limited their stay to 90 days, with an option to extend.

"The U.S. has been escalating its actions against Chinese journalists," Wang told reporters. "The U.S. should immediately correct its mistake and stop its actions."


---

After protests near her home, Seattle police chief asks City Council for intervention; activists dispute claims of 'illegal behavior'

A debate unfolded online Sunday night over whether protests against police brutality should include visits to public officials' homes — and whether such a discussion distracts from the fight for Black lives — after Seattle police Chief Carmen Best implored the City Council to "forcefully call for the end of these tactics."

Best wrote a letter to the council Sunday after protesters showed up outside her Snohomish County home Saturday night, the latest in a series of visits the demonstrations have paid to those who hold public power in Seattle, including City Council members and Mayor Jenny Durkan.

Residents blocked a road into Best's neighborhood, according to the letter and posts on social media from that evening. Multiple posts that appeared to come from Best's neighbors referred to protesters as "terrorists," and at least one included a photo of a gun.


---
Sen. Lindsey Graham's proposal: Cap unemployment benefits at 100% of workers' wages
Sen. Lindsey Graham on Monday said he plans to introduce an amendment that would cap boosted unemployment benefits at 100% of a worker's previous wages.
The South Carolina Republican explained in at a press gaggle in his home state that he hopes his proposal will be the middle ground that actually breaks the gridlock between Democrats and Republicans on the coronavirus relief talks.
Mr. Graham's plan would give states about a month to create a system that would shift the additional weekly benefits to completely cover a worker's wages rather than the current $600 payments across the board. He argued that some people are making about 150% more with these unemployment benefits than they did before.
---
November election debacle like New York's would spark endless legal challenges, uncertainty
The November elections are shaping up to be debacles of long lines at polls, lost mail-in ballots and delayed results — all of which will give losers ample room to challenge the outcome.
President Trump's suggestion last week that the elections be postponed drew little support from either Republicans or Democrats, but the president did identify a serious problem when he pointed out that New York is still counting votes from its botched June primaries.
The state has invalidated tens of thousands of ballots and has yet to declare winners in some of the June 23 contests. Primary day was seen as an early test of the push to expand mail-in balloting.
---
Poll: Americans Still Delaying Medical Care as Virus Rages
Many Americans are continuing to put off getting medical care during the pandemic, with the latest number at 40% — roughly where it's been for 12 weeks.
The U.S. Census Bureau's Household Pulse Survey found:
40.1% of Americans delayed getting medical care over the last week.
The areas with the highest percentage of people who are delaying medical care are Washington, D.C. (50.6%); the Detroit-Warren-Dearborn, Michigan, Metro Area (50%); Maine (49.4%); Oregon (47.4%); and New Mexico (46.5%).
The percentage of Americans who have delayed medical care over the last 12 weeks has hovered between 38.7% and 41.5%.
---
MSNBC producer pens scathing exit letter: Ratings model 'blocks diversity of thought and content'
Producer Ariana Pekary recently resigned from MSNBC with an open letter accusing the news network of predicating its editorial process on ratings and alleging that its model "blocks diversity of thought and content because the networks have incentive to amplify fringe voices and events."
"I don't know what I'm going to do next exactly but I simply couldn't stay there anymore," Ariana Pekary, a producer for MSNBC's second-most-watched program, "The Last Word with Lawrence O'Donnell," wrote on her website. "My colleagues are very smart people with good intentions. The problem is the job itself. It forces skilled journalists to make bad decisions on a daily basis."
"It's possible that I'm more sensitive to the editorial process due to my background in public radio, where no decision I ever witnessed was predicated on how a topic or guest would 'rate.' The longer I was at MSNBC, the more I saw such choices — it's practically baked into the editorial process — and those decisions affect news content every day," she continued. "Likewise, it's taboo to discuss how the ratings scheme distorts content, or it's simply taken for granted, because everyone in the commercial broadcast news industry is doing the exact same thing."
---
Illinois state rep calls for 'abolishment of history classes'
An Illinois state lawmaker and other local leaders on Sunday called on the state's Board of Education to temporarily suspend all history teaching in schools until a new curriculum can be developed that doesn't contribute to systemic racism and white privilege.
At a press conference in Evanston, State Rep. La Shawn Ford, a Democrat, said the current school curriculum in Illinois is "miseducating" children and overlooks the contributions to society by women and people of color.
"Today, I'm calling for the abolishment of history classes in Illinois," Mr. Ford told reporters. "We're concerned that current school history teachings lead to white privilege and a racist society."
---
Islamic State group claims deadly attack on Afghanistan prison
At least 29 people have been killed in an attack on a prison in the eastern Afghan city of Jalalabad which saw more than 1,000 inmates try to flee.
The attack, claimed by the Islamic State group (IS), began on Sunday evening when car bombs were detonated at the prison's entrance by gunmen.
Eight of the attackers were killed in a battle lasting almost 20 hours, a Nangarhar province spokesman said.
As many as 300 inmates are believed to be still on the run.
---
Jerrold Nadler's air bag didn't deploy, but Jerrold Nadler the windbag did
Nadler tries to blame riots on Trump and Barr
On his way to a hearing last week, House Judiciary Committee Chairman Jerrold Nadler was in a car accident.
Thankfully, the New York pol was unhurt. But the accident caused Mr. Nadler to be an hour late to the hearing.
Watching Mr. Nadler during that hearing, which starred Attorney General William Barr, you might think he had hit his head in the accident. But, alas, Mr. Nadler was already that dumb. Even before the accident, he was severely damaged goods.
---
Obama turned Lewis funeral into an anti-Trump event
Even sadder than the politicized service was the applause from attendees
Traditionally, funerals are supposed to serve at least three purposes: honor the life of the deceased, comfort those who mourn his passing and preach a message about eternity and the brevity of life.
Tradition was discarded during John Lewis' funeral last week in Atlanta. Like the memorial service of the late Sen. Paul Wellstone, Minnesota Democrat, in 2008, the Lewis service was a political event that included veiled denunciations. There were allegations of voter suppression by Republicans and a comparison of President Trump by former President Obama to the late Alabama governor and segregationist George Wallace.
On that last point, it was Wallace who stood in a schoolhouse door 1963 in an effort to stop African-Americans from entering the University of Alabama. Today's Democrats have it reversed. They are blocking poor kids from escaping failed public schools, bowing to the desires of teachers' unions that support and contribute campaign money to Democratic politicians.
---
" It is discouraging to think how many people are shocked by honesty and how few by deceit."

-- Noel Coward

(1899-1973) British playwright

---

The Medal of Honor is the highest award for valor in action against an enemy force which can be bestowed upon an individual serving in the Armed Services of the United States.

GeneTrerally presented to its recipient by the President of the United States of America in the name of Congress.

The first award of the Medal of Honor was made March 25, 1863 to Private JACOB PARROTT.The last award of the Medal of Honor was made September 15, 2011 to Sergeant DAKOTA MEYER.

Since then there have been: • 3458 recipients of the Medal of Honor.

• Today there are 85 Living Recipients of the Medal of Honor.

Citation


Captain Humbert R. Versace distinguished himself by extraordinary heroism during the period of 29 October 1963 to 26 September 1965, while serving as S-2 Advisor, Military Assistance Advisory Group, Detachment 52, Ca Mau, Republic of Vietnam. While accompanying a Civilian Irregular Defense Group patrol engaged in combat operations in Thoi Binh District, An Xuyen Province, Captain Versace and the patrol came under sudden and intense mortar, automatic weapons, and small arms fire from elements of a heavily armed enemy battalion. As the battle raged, Captain Versace, although severely wounded in the knee and back by hostile fire, fought valiantly and continued to engage enemy targets. Weakened by his wounds and fatigued by the fierce firefight, Captain Versace stubbornly resisted capture by the over-powering Viet Cong force with the last full measure of his strength and ammunition. Taken prisoner by the Viet Cong, he exemplified the tenets of the Code of Conduct from the time he entered into Prisoner of War status. Captain Versace assumed command of his fellow American soldiers, scorned the enemy's exhaustive interrogation and indoctrination efforts, and made three unsuccessful attempts to escape, despite his weakened condition which was brought about by his wounds and the extreme privation and hardships he was forced to endure. During his captivity, Captain Versace was segregated in an isolated prisoner of war cage, manacled in irons for prolonged periods of time, and placed on extremely reduced ration. The enemy was unable to break his indomitable will, his faith in God, and his trust in the United States of America. Captain Versace, an American fighting man who epitomized the principles of his country and the Code of Conduct, was executed by the Viet Cong on 26 September 1965. Captain Versace's gallant actions in close contact with an enemy force and unyielding courage and bravery while a prisoner of war are in the highest traditions of the military service and reflect the utmost credit upon himself and the United States Army.

---

From the Archives

We Have Met the Enemy…
Geoff Metcalf


"They who can give up essential liberty to obtain a little temporary safety deserve neither liberty nor safety.
--Benjamin Franklin
"The American people must be willing to give up a degree of personal privacy in exchange for safety and security."
--Louis Freeh


In the wake of the clamor over the most recent WikiLeaks data dump, 'Vault 7', 'UMBRAGE', et al, it should be noted this is not really anything new. What we are seeing here is simply the evolution of something that goes back to the late 50s (to the incomplete best knowledge I have).

It is kinda cool to finally see even

The New York Times

acknowledging material

I was writing about in 1998

.

In April of 1998 I wrote "Privacy has become an anachronism." I was commenting on "a massive system designed to intercept all your e-mail, fax traffic and more." I was explaining 'Echelon', the illegitimate offspring of a

UKUSA Treaty

signed by the United States, United Kingdom, Canada, Australia and New Zealand. Its purpose was, and is, to have a vast global intelligence monster, which allegedly shares common goals. The system was so "efficient" that reportedly National Security Agency folk from Fort Meade could work from Menwith Hill in England to intercept local communications without either nation having to burden themselves with the formality of seeking approval (a court order) or disclosing the operation. And this was all pre-9/11 and pre-the anti-constitutional

'Patriot Act'

.

It is illegal (without a Judge's signed permission) for the United States to spy on its citizens … kinda. The laws have long been circumvented by a mutual pact among five nations. Under the terms of UKUSA agreement, Britain spies on Americans and America spies on British citizens, and then the two conspirators trade data. A classic technical finesse. It is legal, but the intent to evade the spirit is inescapable.

I often fictionalized the genesis of 'Echelon' as an informal meeting of a group of post war American and British intelligence types drinking in some remote rustic bar. An imagined CIA type complains to his MI6 buddy about the hassles of US laws preventing US intelligence from surveillance of bad guys, and the Brit echoes the same complaint.

"Hey wait a moment mate," says Nigel, the make-believe MI6 guy, "I can spy on your guys and you can spy on our bad players…why don't we just come up with a mechanism whereby we spy on your villains, you spy on our villains, and we just 'share' the intel?"

This system was called ECHELON, and has been kicking around in some form longer than most of you. The result of the UKUSA treaty signed by the United States, United Kingdom, Canada, Australia and New Zealand was, and is, to have a vast global intelligence monster which allegedly shares common goals.

The London Telegraph reported in December of 1997 that the Civil liberties Committee of the European Parliament had officially confirmed the existence and purpose of ECHELON. "A global electronic spy network that can eavesdrop on every telephone, e-mail and telex communication around the world will be officially acknowledged for the first time in a European Commission report. …"

The report noted: "Within Europe all e-mail, telephone and fax communications are routinely intercepted by the United States National Security Agency, transferring ll target information from the Eurv opean mainland via the strategic hub of London, then by satellite to Fort Meade in Maryland via the crucial hub at Menwith Hill, in the North York moors in the UK.

"The ECHELON system forms part of the UKUSA system but unlike many of the electronic spy systems developed during the Cold War, ECHELON was designed primarily for non-military targets: governments, organizations and businesses in virtually every country."

An interesting sidebar appeared in the International Herald Tribune under the headline, "Big Corporate Brother: It Knows More About You Than You Think." The story details Acxiom Corp, which was a humongous information service hidden in the Ozark foothills. Twenty-four hours a day, Acxiom electronically gathered and sorts all kinds of data about 196 million Americans. Credit card transactions and magazine subscriptions, telephone numbers, real estate records, automotive data, hunting, business and fishing licenses, consumer surveys and demographic detail that would make a marketing department's research manager salivate. This relatively new (legal) enterprise was known as "data warehousing" or "data-mining", and it underscores the cruel reality that the fiction of personal privacy has become obsolete. Technology's ability to collect and analyze data has made privacy a quaint albeit interesting dinosaur.

The Tribune reported that "Axciom can often determine whether an American owns a dog or cat, enjoys camping or gourmet cooking, reads the Bible or lots of other books. It can often pinpoint an American's occupation, car and favorite vacations. By analyzing the equivalent of billions of pages of data, it often projects for its customers who should be offered a credit card or who is likely to buy a computer."

Most of this information is from y 1998 piece. Echelon has developed, matured, and morphed into a much more powerful hybrid. 'Carnivore' was software to help triage the cacophony of data. Vault 7 and 'Umbrage' are logical (some would argue "insidious") growth.

More to follow…