"It Is Not A Question of Who Is Right Or Wrong But What Is Right Or Wrong That Counts.

"

--Geoff Metcalf
Wo

rld & National
Records: FBI Began Probing Michael Cohen a Year Before Raid
The FBI was investigating President Donald Trump's former personal attorney and fixer for nearly a year before agents raided his home and office, documents released Tuesday show.
The search warrant, while heavily redacted, offered new details about the federal inquiry of Cohen's business dealings and the FBI raids of his Manhattan home and office.
It shows the federal inquiry into Michael Cohen had been going on since July 2017 — far longer than had previously been known.
---
Trump turns insults, nicknames into political capital: 'He keeps scratching that scab'
President Trump on Monday referred to former Vice President Joseph R. Biden as a "low I.Q. individual," just days after he questioned whether former Rep. Beto O'Rourke's fast-moving hand movements are a sign of mental instability.
As the 2020 Democratic field takes shape, the man they are aiming for is preparing his own suppressive fire in the same fashion he used so effectively against his 2016 opponents: ridicule.
"Joe Biden got tongue tied over the weekend when he was unable to properly deliver a very simple line about his decision to run for President," Mr. Trump tweeted Monday. "Get used to it, another low I.Q. individual!"
---
Pentagon lays out $6.8 billion of projects to cut for Trump border wall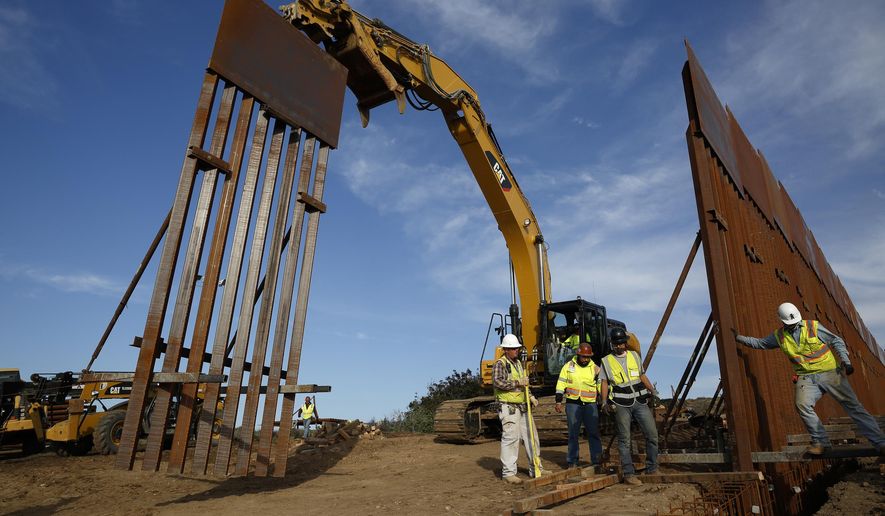 The Pentagon has a list of $6.8 billion worth of construction projects it could choose to take money from in order to build President Trump's border wall, according to a list belatedly provided to Congress on Monday.
But officials have yet to even decide how much Defense Department money they'll use toward the wall, and so they haven't decided which projects on the target list would actually be affected.
The Pentagon also said Congress can make sure none of the projects suffer by passing an increase in military construction money for 2020, allowing the government to go back and replenish the accounts Mr. Trump wants to drain for his border wall.
---
Dossier author Christopher Steele orchestrated post-election media push against Trump
Dossier creator Christopher Steele had a far greater role in trying to sell his anti-Trump charges to Washington's journalism establishment than previously known, a court filing shows.
It was public knowledge through Mr. Steele's previous declarations in two libel lawsuits that he had met with the powerhouses of D.C. journalism before the presidential election to brief his Trump-Russia conspiracy allegations.
But with the March 14 unsealing of testimony from an aide of the late Sen. John McCain, it is now known that Mr. Steele also adopted a postelection strategy to damage or perhaps stop the Trump presidency.
---
Why aren't we deporting illegal aliens who already have deportation orders?
We are told by the legal profession that nothing can be done to block bogus asylum-seekers from entering our country en masse, obtaining catch-and-release, and remaining here pending the outcome of a court decision that may be years in coming. But why is the DHS not at least deporting those who already went through this tedious process and have been ordered to be deported? Doing so would not only help eliminate public charge and potential gang members and drug runners for MS-13, it would deter the current and future wave waiting at the "conveyor belt" through Mexico from making the trip north.
According to new data obtained by the Immigration Reform Law Institute (IRLI) via a FOIA request, there are 644,488 illegal aliens remaining in our country who have already been served final deportation orders. And those are just from the top four countries of origin – El Salvador, Guatemala, Honduras, and Mexico. The IRLI shared much more data with CR. The total number of illegal aliens who remain in the country despite final deportation orders is 1,009,550.
---
Putin Signs 'Fake News,' 'Internet Insults' Bills Into Law
Russian President Vladimir Putin has signed a controversial set of bills that make it a crime to "disrespect" the state and spread "fake news" online, Russian media reported on Monday.
The bills amending existing information laws overwhelmingly passed both chambers of Russian parliament in less than two months. Observers and some lawmakers have criticized the legislation for its vague language and potential to stifle free speech.
The legislation will establish punishments for spreading information that "exhibits blatant disrespect for the society, government, official government symbols, constitution or governmental bodies of Russia."
---
Murdoch family launches a new Fox; former House Speaker Paul Ryan joins company's board
Rupert Murdoch's 21st Century Fox has spun off various television assets — including the Fox News Channel and Fox broadcast network — to form a new company that will be known simply as Fox Corp.
The spinoff completed early Tuesday is part of a multi-pronged process that will culminate with the $71.3-billion sale of the rest of Murdoch's entertainment company to Walt Disney Co. The company announced that it had finished the process of issuing shares in the new Fox Corp. to investors of 21st Century Fox.
Fox announced its board members, including former U.S. House Speaker Paul D. Ryan (R-Wis.). Other board members include Rupert Murdoch, Lachlan Murdoch, Anne Dias, Chase Carey, Roland A. Hernandez and Jacques Nasser.
---
Report: Nunes Sues Twitter for $250M for Election Meddling
Alleging "shadow-banning conservatives" to influence 2018 midterm elections, Rep. Devin Nunes, R-Calif., has filed a lawsuit over $250 million against Twitter and a handful of its users, Fox News reported Monday.
"Twitter is a machine," Steven Biss, Rep. Nunes' personal attorney, told Fox News. "It is a modern-day Tammany Hall. Congressman Nunes intends to hold Twitter fully accountable for its abusive behavior and misconduct."
Nunes' lawsuit filed in Virginia state court Monday alleges defamation, conspiracy, and negligence, seeking compensatory damages of $250 million and punitive damages of $350,000, because Twitter "knowingly hosting and monetizing content that is clearly abusive, hateful and defamatory – providing both a voice and financial incentive to the defamers – thereby facilitating defamation on its platform," according to the report.
---
National Enquirer reportedly paid girlfriend's brother $200,000 for private Bezos texts
The Wall Street Journal reports that the National Enquirer's publisher paid $200,000 to obtain intimate texts between Amazon CEO Jeff Bezos and his mistress Lauren Sanchez. American Media, the supermarket tabloid's publisher, reportedly paid that sum to Michael Sanchez, Lauren's brother.
The Journal's finding, attributed to people familiar with the matter, parallels the conclusion reached by private investigators working for Bezos as of early February. Those investigators reportedly found that Michael Sanchez had leaked the texts to the Enquirer, although they didn't appear to conclude who might have paid for them.
Bezos has said American Media threatened to publish explicit photos of him unless he stopped investigating how the Enquirer obtained his private exchanges and publicly declared that the Enquirer's coverage of him was not politically motivated.
---
Water on Mars BOMBSHELL: Did NASA find PROOF of life on Red Planet in huge ancient sea?
NASA may have unknowingly found a huge ancient sea on Mars 20 years ago, a shock new study has revealed.
According to MailOnline, while carrying out its first Red Plant rover in 1997, a NASA probe landed in a part of an inland sea, where floods once decimated the land. The first rover could have seen the massive flood plains when it was originally deployed. NASA believe these would be bigger than anything found on Earth.
Planetary Science Institute Senior Scientist Alexis Rodriguez said: "Our paper shows a basin, with roughly the surface area of California, that separates most of the gigantic Martian channels from the Pathfinder landing site.
"The very existence of the basin requires cataclysmic floods as the channels' primary formational mechanism."
---
Rosenstein to Remain at DOJ, Still Primary Liaison with Mueller
Deputy Attorney General Rod Rosenstein will remain at the Department of Justice for "a little while longer," despite planning to leave before now, Fox News reports.
Rosenstein planned on leaving the department in mid-March, according to multiple reports in February. However, sources close to him told Fox News that he has yet to submit his two weeks notice, and that he is still the primary liaison between the DOJ and special counsel Robert Mueller's office.
CNN reports that the decision to stay on came "after consulting with Attorney General William Barr," who assumed office in February.
---
Every candidate must learn his past is never past
What all our politicians need, if not necessarily deserve, is a reliable statute of limitations.
Blaming a newborn male child, trying to get accustomed to his cradle (which is not nearly as comfortable as the digs he just left), for stealing a randy glance at the babe in pink in the cradle next to him, should not prevent his running for president of the United States three or four decades on.
Nevertheless, that's where we are, circa almost 2020. The Kavanaugh confirmation hearings set the new standard that it's never too late to punish a sin of the past, even if the sin didn't happen. He was accused of harassing a young woman at a party when they were in high school. She doesn't remember when it was, where it was, how she got there and how she got home or even whether she went home that night, and Mr. Kavanaugh doesn't remember it at all because he says it never happened. But it almost prevented his taking his place on the U.S. Supreme Court.
---
The two faces of 'investi-gate'
Nancy Pelosi's exasperating plan for more investigations into all things Trump, led by four of her committee chairmen in the U.S. House of Representatives, may not simply be just part of her standard political playbook. Instead, it's very likely a smokescreen for a massive power struggle going on within the Democratic Party behind the scenes.
Here's a short history lesson on how Mrs. Pelosi operated in the past: Back in 2006, when Mrs. Pelosi first took up the speaker's gavel, she played this same game. Investigations were launched by her committee chairmen into all things Bush. They investigated the Iraq War, Guantanamo and even the president's energy policy at the time.
Remember that?
---
---
"It is discouraging to think how many people are shocked by honesty and how few by deceit."

-- Noel Coward

(1899-1973) British playwright

---

The Medal of Honor is the highest award for valor in action against an enemy force which can be bestowed upon an individual serving in the Armed Services of the United States.

GeneTrerally presented to its recipient by the President of the United States of America in the name of Congress.

The first award of the Medal of Honor was made March 25, 1863 to Private JACOB PARROTT.The last award of the Medal of Honor was made September 15, 2011 to Sergeant DAKOTA MEYER.

Since then there have been: • 3458 recipients of the Medal of Honor.

• Today there are 85 Living Recipients of the Medal of Honor.

Citation


Captain Humbert R. Versace distinguished himself by extraordinary heroism during the period of 29 October 1963 to 26 September 1965, while serving as S-2 Advisor, Military Assistance Advisory Group, Detachment 52, Ca Mau, Republic of Vietnam. While accompanying a Civilian Irregular Defense Group patrol engaged in combat operations in Thoi Binh District, An Xuyen Province, Captain Versace and the patrol came under sudden and intense mortar, automatic weapons, and small arms fire from elements of a heavily armed enemy battalion. As the battle raged, Captain Versace, although severely wounded in the knee and back by hostile fire, fought valiantly and continued to engage enemy targets. Weakened by his wounds and fatigued by the fierce firefight, Captain Versace stubbornly resisted capture by the over-powering Viet Cong force with the last full measure of his strength and ammunition. Taken prisoner by the Viet Cong, he exemplified the tenets of the Code of Conduct from the time he entered into Prisoner of War status. Captain Versace assumed command of his fellow American soldiers, scorned the enemy's exhaustive interrogation and indoctrination efforts, and made three unsuccessful attempts to escape, despite his weakened condition which was brought about by his wounds and the extreme privation and hardships he was forced to endure. During his captivity, Captain Versace was segregated in an isolated prisoner of war cage, manacled in irons for prolonged periods of time, and placed on extremely reduced ration. The enemy was unable to break his indomitable will, his faith in God, and his trust in the United States of America. Captain Versace, an American fighting man who epitomized the principles of his country and the Code of Conduct, was executed by the Viet Cong on 26 September 1965. Captain Versace's gallant actions in close contact with an enemy force and unyielding courage and bravery while a prisoner of war are in the highest traditions of the military service and reflect the utmost credit upon himself and the United States Army.

---

From the Archives

We Have Met the Enemy…
Geoff Metcalf


"They who can give up essential liberty to obtain a little temporary safety deserve neither liberty nor safety.
--Benjamin Franklin
"The American people must be willing to give up a degree of personal privacy in exchange for safety and security."
--Louis Freeh


In the wake of the clamor over the most recent WikiLeaks data dump, 'Vault 7', 'UMBRAGE', et al, it should be noted this is not really anything new. What we are seeing here is simply the evolution of something that goes back to the late 50s (to the incomplete best knowledge I have).

It is kinda cool to finally see even

The New York Times

acknowledging material

I was writing about in 1998

.

In April of 1998 I wrote "Privacy has become an anachronism." I was commenting on "a massive system designed to intercept all your e-mail, fax traffic and more." I was explaining 'Echelon', the illegitimate offspring of a

UKUSA Treaty

signed by the United States, United Kingdom, Canada, Australia and New Zealand. Its purpose was, and is, to have a vast global intelligence monster, which allegedly shares common goals. The system was so "efficient" that reportedly National Security Agency folk from Fort Meade could work from Menwith Hill in England to intercept local communications without either nation having to burden themselves with the formality of seeking approval (a court order) or disclosing the operation. And this was all pre-9/11 and pre-the anti-constitutional

'Patriot Act'

.

It is illegal (without a Judge's signed permission) for the United States to spy on its citizens … kinda. The laws have long been circumvented by a mutual pact among five nations. Under the terms of UKUSA agreement, Britain spies on Americans and America spies on British citizens, and then the two conspirators trade data. A classic technical finesse. It is legal, but the intent to evade the spirit is inescapable.

I often fictionalized the genesis of 'Echelon' as an informal meeting of a group of post war American and British intelligence types drinking in some remote rustic bar. An imagined CIA type complains to his MI6 buddy about the hassles of US laws preventing US intelligence from surveillance of bad guys, and the Brit echoes the same complaint.

"Hey wait a moment mate," says Nigel, the make-believe MI6 guy, "I can spy on your guys and you can spy on our bad players…why don't we just come up with a mechanism whereby we spy on your villains, you spy on our villains, and we just 'share' the intel?"

This system was called ECHELON, and has been kicking around in some form longer than most of you. The result of the UKUSA treaty signed by the United States, United Kingdom, Canada, Australia and New Zealand was, and is, to have a vast global intelligence monster which allegedly shares common goals.

The London Telegraph reported in December of 1997 that the Civil liberties Committee of the European Parliament had officially confirmed the existence and purpose of ECHELON. "A global electronic spy network that can eavesdrop on every telephone, e-mail and telex communication around the world will be officially acknowledged for the first time in a European Commission report. …"

The report noted: "Within Europe all e-mail, telephone and fax communications are routinely intercepted by the United States National Security Agency, transferring all target information from the European mainland via the strategic hub of London, then by satellite to Fort Meade in Maryland via the crucial hub at Menwith Hill, in the North York moors in the UK.

"The ECHELON system forms part of the UKUSA system but unlike many of the electronic spy systems developed during the Cold War, ECHELON was designed primarily for non-military targets: governments, organizations and businesses in virtually every country."

An interesting sidebar appeared in the International Herald Tribune under the headline, "Big Corporate Brother: It Knows More About You Than You Think." The story details Acxiom Corp, which was a humongous information service hidden in the Ozark foothills. Twenty-four hours a day, Acxiom electronically gathered and sorts all kinds of data about 196 million Americans. Credit card transactions and magazine subscriptions, telephone numbers, real estate records, automotive data, hunting, business and fishing licenses, consumer surveys and demographic detail that would make a marketing department's research manager salivate. This relatively new (legal) enterprise was known as "data warehousing" or "data-mining", and it underscores the cruel reality that the fiction of personal privacy has become obsolete. Technology's ability to collect and analyze data has made privacy a quaint albeit interesting dinosaur.

The Tribune reported that "Axciom can often determine whether an American owns a dog or cat, enjoys camping or gourmet cooking, reads the Bible or lots of other books. It can often pinpoint an American's occupation, car and favorite vacations. By analyzing the equivalent of billions of pages of data, it often projects for its customers who should be offered a credit card or who is likely to buy a computer."

Most of this information is from y 1998 piece. Echelon has developed, matured, and morphed into a much more powerful hybrid. 'Carnivore' was software to help triage the cacophony of data. Vault 7 and 'Umbrage' are logical (some would argue "insidious") growth.

More to follow…