"It Is Not A Question of Who Is Right Or Wrong But What Is Right Or Wrong That Counts.

"

--Geoff Metcalf



Wo
rld & National
Expect a Storm Surge of 15 - 20 Feet in a Landfalling Category 4 Storm in the Carolinas
Landfalling Category 4 hurricanes are rare in the mainland U.S., with just 24 such landfalls since 1851—an average of one every seven years. (Category 5 landfalls are rarer still, with just three on record). All but three of these 27 landfalls by Cat4s and Cat5s have occurred south of South Carolina's latitude; thus, Florence will be in very select company if it manages to make landfall at Category 4 strength in North or South Carolina.
If Florence hits the coast of North or South Carolina as a Category 3 or stronger hurricane, we should expect to see record storm surge heights, with a 15 – 20' surge very possible, according to two experts I communicated with today. Dr. Robert Young, Professor of Coastal Geology at Western Carolina University, says that "the track of Hurricane Florence, combined with its expected size and strength at landfall and the unique coastal geomorphology of the region, is likely to result in a record storm surge along portions of the warning area." And according to storm surge expert Dr. Hal Needham, "we could definitely see a 20+ foot storm surge/storm tide in the Carolinas. Even if Florence weakens a bit in the time right before landfall, the surge heights correlate better with the pre-landfall winds than the winds at landfall."
---
House Republicans move to lock in cuts with Tax Reform 2.0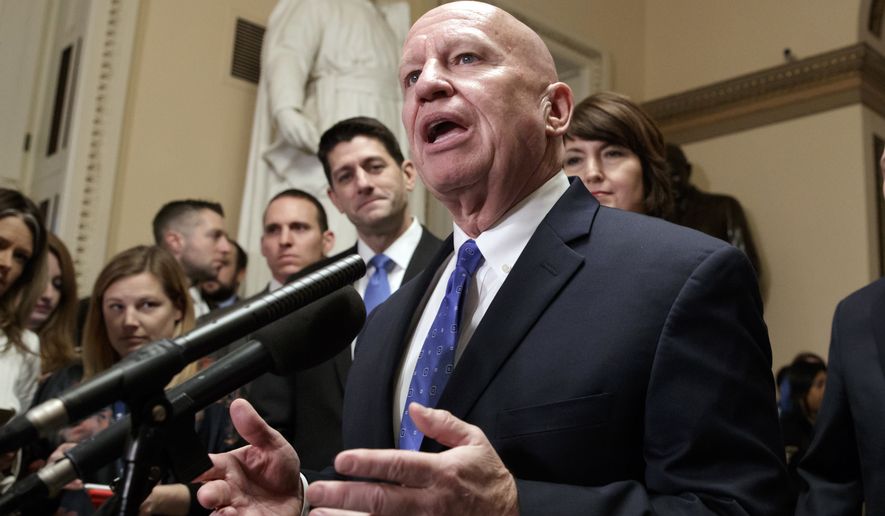 House Republicans announced legislation Monday to permanently lock in last year's tax cuts, looking to remind voters of the surging economy — and the Republicans' role in getting it there — in the weeks before the November elections.
The three bills have been dubbed Tax Reform 2.0. They would make good on President Trump's repeated calls on Congress to go beyond the $1.5 trillion package he signed last year and give Americans more breaks.
The legislation would make permanent last year's tax breaks for individuals, preventing them from facing a tax increase in eight years, while boosting incentives for retirement savings and giving more lenient tax treatment to startups and small businesses.
---
Brett Kavanaugh's digital privacy revelation intrigues senators, advocates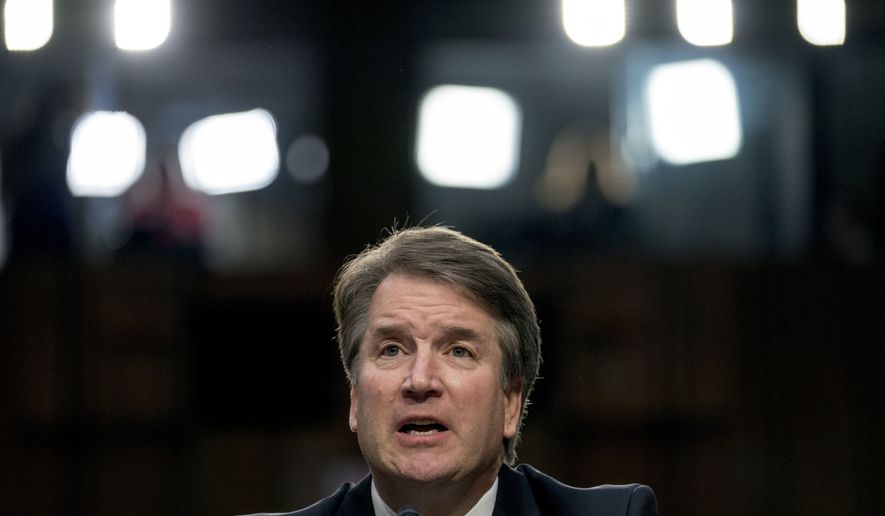 Judge Brett M. Kavanaugh made some significant legal news during his confirmation hearing when he suggested his thinking on privacy in the digital age has evolved.
Just a few years ago, he upheld the government's bulk collection of telephone data, ruling that once Americans turned over their data to an outside party — in this case, their phone companies — the government could have at it.
But in his confirmation hearing last week, Judge Kavanaugh said he likely wouldn't make that ruling now, after Chief Justice John G. Roberts Jr. paved new ground this year in the Carpenter case, ruling that people don't give up their privacy interests to their data merely by involving a third party.
---
NYPD Detective Remembers 9/11: 'Running From the Dust'
It seemed the sun went down around 10 a.m. ET on Sept. 11, 2001, at least in lower Manhattan.
The day started out as most do, an easy pace, the usual rituals being conducted, commutes starting, and folks starting their days at work or school.
It quickly changed into a long and stressful day that stretched into weeks and months.
By 10 a.m., the city and the world had been plunged into watching what evil truly looks like. Much of Manhattan was in a twilight, masked by smoke that even the brightest sunlight could not penetrate. Several times it got so dark, it seemed like midnight during midday.
All forms of communication were basically cut off. No cell service existed after the two main towers fell. For us down at the site, we had no idea what was going on in the world.
---
Peter Strzok, Lisa Page conspired to leak anti-Trump stories to mainstream media
FBI agent Peter Strzok conspired with his in-house lover to leak anti-Trump stories to the media in spring 2017 when he headed the Russia probe into the Trump campaign, a congressman said on Monday.
Rep. Mark Meadows, North Carolina Republican, sent a letter to Deputy Attorney General Rod Rosenstein saying a House task force had just received a new shipment of Justice Department documents.
"Our review of these new documents raises grave concerns regarding an apparent systemic culture of media leaking by high-ranking officials at FBI and DOJ," Mr. Meadows said. "Review of these new documents suggest a coordinated effort on the part of the FBI and DOJ to release information in the public domain potentially harmful to President Donald Trump's administration."
---
Border agents in South Texas saw increase in migrant families make illegal crossings in August
The number of Central American families arrested for entering the United States illegally surged again in August, according to a Trump administration official and Border Patrol agents in South Texas, an increase that comes as the president threatens a government shutdown to extract funding from Congress for a border wall.
U.S. Customs and Border Protection is expected to publish the most recent border arrest totals this week, and the numbers will be used to gauge the effect of President Donald Trump's order halting the separation of migrant parents from their children.
Agents working in the Rio Grande Valley, the nation's busiest corridor for illegal crossings, say they've seen more families turn themselves in and ask for asylum in recent weeks, a potential indication that the policy reversal has encouraged more Central Americans to head north.
100 Bangladeshi Nationals Apprehended Near Texas...


Facial biometrics catches another illegal at DC airport...



---
Vatican Promises 'Clarifications' to Pope Cover-Up Claims
Pope Francis' top advisers say the Vatican is preparing the "necessary clarifications" about accusations that the pope covered up the sexual misconduct of a now-disgraced American cardinal.
Francis' nine cardinal advisers expressed their "full solidarity" Monday with the pope over the scandal, which has thrown his papacy into crisis.
The cardinals, who are meeting this week at the Vatican, issued a statement saying the Holy See "is working on formulating potential and necessary clarifications."
Francis has refused to respond to claims by the retired ambassador to the U.S., Archbishop Carlo Maria Vigano, that Francis rehabilitated ex-Cardinal Theodore McCarrick from canonical sanctions imposed on him by Pope Benedict XVI.
---
FBI Director Christopher Wray: 'Terrorism today moves at the speed of social media'
On the anniversary of 9/11, FBI Director Christopher A. Wray warned that the terrorism threat has expanded with the rise of social media.
Mr. Wray explained during an interview on CBS' "This Morning" that traditional aggressors like al Qaeda and other major terrorist organizations still loom 17 years after foreign terrorists attacked America.
However, he warned that the agency is "very focused" on homegrown violent extremists. He described how these threats are already embedded in the U.S., in "big cities, small towns, coast to coast," and are mostly radicalized through online exposure.
"Terrorism today moves at the speed of social media," Mr. Wray said, while acknowledging that part of the solution is to work with tech companies to fight radicalization.
---
Taking a knee looks like the Democratic strategy
The Democrats appear to have given up on their long-anticipated "blue wave." This was the wave of sound and fury that was to sweep out everything before it. The wave, alas, is still on the far horizon, if that's not merely a mirage of whine and wail, and the Democrats are left with only manufactured hysteria.
They've done well in their primaries, with Democrats bashing Democrats with gay abandon. They've forgotten there's a difference between intramural and varsity sports. Varsity politics is neither Mr. Dooley's bean-bag nor a frightened mother's soccer.
The intramural Democrats have given up their old base and America as we have all known it since the creation, and linked their fortunes this year to those who think the America of Washington, Lincoln, FDR and Reagan is past the sell-by date, that only an infusion of ideals and values of a European welfare state can make the nation worthy of Maxine Waters and Colin Kaepernick. And of course of Pocahontas, too. We must not forget Pocahontas and her dream of a Pocahontas-Maxine ticket in 2020 to harness the power of undiluted estrogen to restore the party's fortunes.
---
Putting a squeeze on the Palestinians to make peace
One of the few secrets that people in the Trump administration haven't yet leaked is what will comprise its new proposal to settle the constant war between the Palestinians and Israel.
It's become clear that many Arab leaders, such as Saudi Crown Prince Mohammed bin Salman, have become fed up with the Palestinians' constant refusal to make peace even after being offered very generous terms by the Israelis. "MBS," as he's often called, in March told a closed-door meeting of American Jewish leaders that the Palestinians should take whatever the United States offers.
One of the biggest obstacles to peace is the U.N. Relief and Works Agency (UNRWA), a 1949 creation that is supposed to be providing relief to the Palestinians, whom it continues to call "refugees." Secretary of State Mike Pompeo and President Trump's top Middle East adviser, son-in-law Jared Kushner, have decided to stop U.S. funding for UNRWA to put more pressure on the Palestinians to accept the forthcoming peace plan. It's a good decision both diplomatically and politically.
"It is discouraging to think how many people are shocked by honesty and how few by deceit."
-- Noel Coward
(1899-1973) British playwright
---
The Medal of Honor is the highest award for valor in action against an enemy force which can be bestowed upon an individual serving in the Armed Services of the United States.
GeneTrerally presented to its recipient by the President of the United States of America in the name of Congress.
The first award of the Medal of Honor was made March 25, 1863 to Private JACOB PARROTT.The last award of the Medal of Honor was made September 15, 2011 to Sergeant DAKOTA MEYER.
Since then there have been: • 3458 recipients of the Medal of Honor.
• Today there are 85 Living Recipients of the Medal of Honor.
Citation
Captain Humbert R. Versace distinguished himself by extraordinary heroism during the period of 29 October 1963 to 26 September 1965, while serving as S-2 Advisor, Military Assistance Advisory Group, Detachment 52, Ca Mau, Republic of Vietnam. While accompanying a Civilian Irregular Defense Group patrol engaged in combat operations in Thoi Binh District, An Xuyen Province, Captain Versace and the patrol came under sudden and intense mortar, automatic weapons, and small arms fire from elements of a heavily armed enemy battalion. As the battle raged, Captain Versace, although severely wounded in the knee and back by hostile fire, fought valiantly and continued to engage enemy targets. Weakened by his wounds and fatigued by the fierce firefight, Captain Versace stubbornly resisted capture by the over-powering Viet Cong force with the last full measure of his strength and ammunition. Taken prisoner by the Viet Cong, he exemplified the tenets of the Code of Conduct from the time he entered into Prisoner of War status. Captain Versace assumed command of his fellow American soldiers, scorned the enemy's exhaustive interrogation and indoctrination efforts, and made three unsuccessful attempts to escape, despite his weakened condition which was brought about by his wounds and the extreme privation and hardships he was forced to endure. During his captivity, Captain Versace was segregated in an isolated prisoner of war cage, manacled in irons for prolonged periods of time, and placed on extremely reduced ration. The enemy was unable to break his indomitable will, his faith in God, and his trust in the United States of America. Captain Versace, an American fighting man who epitomized the principles of his country and the Code of Conduct, was executed by the Viet Cong on 26 September 1965. Captain Versace's gallant actions in close contact with an enemy force and unyielding courage and bravery while a prisoner of war are in the highest traditions of the military service and reflect the utmost credit upon himself and the United States Army.
---
From the Archives

We Have Met the Enemy…

Geoff Metcalf
"They who can give up essential liberty to obtain a little temporary safety deserve neither liberty nor safety.
--Benjamin Franklin
"The American people must be willing to give up a degree of personal privacy in exchange for safety and security."
--Louis Freeh

In the wake of the clamor over the most recent WikiLeaks data dump, 'Vault 7', 'UMBRAGE', et al, it should be noted this is not really anything new. What we are seeing here is simply the evolution of something that goes back to the late 50s (to the incomplete best knowledge I have).
It is kinda cool to finally see even
The New York Times
acknowledging material
I was writing about in 1998
.
In April of 1998 I wrote "Privacy has become an anachronism." I was commenting on "a massive system designed to intercept all your e-mail, fax traffic and more." I was explaining 'Echelon', the illegitimate offspring of a
UKUSA Treaty
signed by the United States, United Kingdom, Canada, Australia and New Zealand. Its purpose was, and is, to have a vast global intelligence monster, which allegedly shares common goals. The system was so "efficient" that reportedly National Security Agency folk from Fort Meade could work from Menwith Hill in England to intercept local communications without either nation having to burden themselves with the formality of seeking approval (a court order) or disclosing the operation. And this was all pre-9/11 and pre-the anti-constitutional
'Patriot Act'
.
It is illegal (without a Judge's signed permission) for the United States to spy on its citizens … kinda. The laws have long been circumvented by a mutual pact among five nations. Under the terms of UKUSA agreement, Britain spies on Americans and America spies on British citizens, and then the two conspirators trade data. A classic technical finesse. It is legal, but the intent to evade the spirit is inescapable.
I often fictionalized the genesis of 'Echelon' as an informal meeting of a group of post war American and British intelligence types drinking in some remote rustic bar. An imagined CIA type complains to his MI6 buddy about the hassles of US laws preventing US intelligence from surveillance of bad guys, and the Brit echoes the same complaint.
"Hey wait a moment mate," says Nigel, the make-believe MI6 guy, "I can spy on your guys and you can spy on our bad players…why don't we just come up with a mechanism whereby we spy on your villains, you spy on our villains, and we just 'share' the intel?"
This system was called ECHELON, and has been kicking around in some form longer than most of you. The result of the UKUSA treaty signed by the United States, United Kingdom, Canada, Australia and New Zealand was, and is, to have a vast global intelligence monster which allegedly shares common goals.
The London Telegraph reported in December of 1997 that the Civil liberties Committee of the European Parliament had officially confirmed the existence and purpose of ECHELON. "A global electronic spy network that can eavesdrop on every telephone, e-mail and telex communication around the world will be officially acknowledged for the first time in a European Commission report. …"
The report noted: "Within Europe all e-mail, telephone and fax communications are routinely intercepted by the United States National Security Agency, transferring all target information from the European mainland via the strategic hub of London, then by satellite to Fort Meade in Maryland via the crucial hub at Menwith Hill, in the North York moors in the UK.
"The ECHELON system forms part of the UKUSA system but unlike many of the electronic spy systems developed during the Cold War, ECHELON was designed primarily for non-military targets: governments, organizations and businesses in virtually every country."
An interesting sidebar appeared in the International Herald Tribune under the headline, "Big Corporate Brother: It Knows More About You Than You Think." The story details Acxiom Corp, which was a humongous information service hidden in the Ozark foothills. Twenty-four hours a day, Acxiom electronically gathered and sorts all kinds of data about 196 million Americans. Credit card transactions and magazine subscriptions, telephone numbers, real estate records, automotive data, hunting, business and fishing licenses, consumer surveys and demographic detail that would make a marketing department's research manager salivate. This relatively new (legal) enterprise was known as "data warehousing" or "data-mining", and it underscores the cruel reality that the fiction of personal privacy has become obsolete. Technology's ability to collect and analyze data has made privacy a quaint albeit interesting dinosaur.
The Tribune reported that "Axciom can often determine whether an American owns a dog or cat, enjoys camping or gourmet cooking, reads the Bible or lots of other books. It can often pinpoint an American's occupation, car and favorite vacations. By analyzing the equivalent of billions of pages of data, it often projects for its customers who should be offered a credit card or who is likely to buy a computer."
Most of this information is from y 1998 piece. Echelon has developed, matured, and morphed into a much more powerful hybrid. 'Carnivore' was software to help triage the cacophony of data. Vault 7 and 'Umbrage' are logical (some would argue "insidious") growth.
More to follow…