"It Is Not A Question of Who Is Right Or Wrong But What Is Right Or Wrong That Counts.

"

--Geoff Metcalf
Providing an on line Triage of the news since 1997
Wo
rld & Nation
China's Xi pledges 1 billion COVID-19 vaccine doses to Africa in wake of omicron variant
Donation is part of jockeying with U.S. over pandemic leadership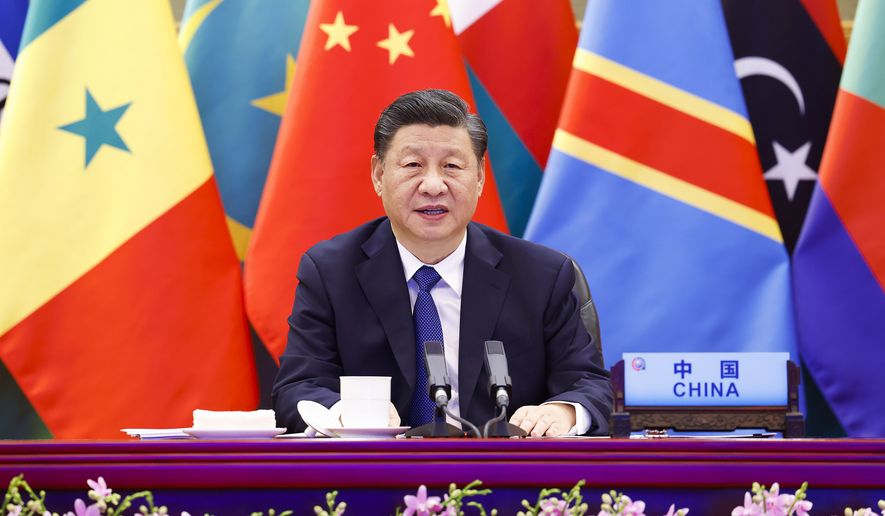 China pledged late Monday to provide 1 billion doses of its COVID-19 vaccines to Africa amid fears of the omicron variant and jockeying with the U.S. to be viewed as a responsible nation doing its part to battle the pandemic on the world stage.
President Xi Jinping announced the gift via a video address to open the Forum on China-Africa Cooperation. He said 600 million of the doses will be donated while the remainder would be produced in joint ventures between Chinese and African companies.
China has used domestically produced vaccines to flex its global influence after it was criticized for its secretive handling of the early days of the coronavirus outbreak in Wuhan in late 2019 and its lack of cooperation with investigators looking into the virus's origins.
The donation comes after South African scientists discovered the omicron variant, which has nearly 30 worrying mutations and may spread faster than other known variants. Scientists are trying to determine whether it causes severe disease — some early patients had mild symptoms — and if it punctures the protection offered by COVID-19 vaccines.
---
Dem senator warns Supreme Court of 'revolution' if Roe v. Wade is overturned
Sen. Jeanne Shaheen, D-N.H., issued a warning to the Supreme Court days before oral arguments in a potential landmark abortion case, claiming that a "revolution" will take place if the high court overturns existing precedent.
During a virtual event Monday featuring New Hampshire's entire House and Senate delegation, WMUR reporter Adam Sexton had asked if public debate over abortion had "muted" due to many people in the U.S. only knowing life post-Roe v. Wade. Shaheen asserted that nothing would be muted about the reaction to a possible overturning of that decision.
The Supreme Court's current makeup – a 6-3 majority of justices appointed by Republicans – has led to speculation that they might overturn Roe v. Wade, which recognized a right to get an abortion before a fetus is viable, generally about 23 or 24 weeks into pregnancy. Wednesday's case, Dobbs v. Jackson Women's Health, centers on a Mississippi law that clearly challenges Roe by banning abortion after 15 weeks.
---
Iranian demands raise fresh doubts as nuke talks resume
Tehran presses for sanctions relief; some see last chance for deal
Iran refused to meet face-to-face with American diplomats as talks over the Islamic republic's suspect nuclear programs resumed Monday in Vienna following a five-month hiatus — a period in which a hardline new government has come to power.
While U.S. officials say time is short for Tehran to bring its uranium enrichment activities back into compliance with limits set by the 2015 Iranian nuclear deal, the Biden administration is clinging to hopes that Iran will soften its posture and rejoin the Obama-era agreement.
But critics say that's a long shot at best, because the Iranians are demanding Washington make a major concession to get talks rolling — specifically by freeing up billions of dollars in frozen Iranian assets as recompense for what Tehran claims was an unfair sabotaging of the nuclear deal by former President Donald Trump in 2018 when he reimposed crushing economic sanctions on Iran and its trading partners.
---
Inflation, supply shortages drive up Christmas tree prices
Whether it's a towering noble fir, a medium-sized Colorado blue spruce or even a fake plastic evergreen, expect to pay more for your Christmas tree this season.
As they have with other goods, inflation and supply chain shortages are jacking up tree prices, according to the American Christmas Tree Association. And the group's executive director, Jami Warner, has a word of advice for shoppers: "Get out there and buy one today."
Prices are up 10% to 20% for live trees and 10% to 30% for artificial ones over last year, according to the association, which represents U.S. Christmas tree producers and retailers.
---
Chris Cuomo used contacts to warn brother about sexual harassment reports
Evidence released by New York's attorney general on Monday stoked speculation over Chris Cuomo's future at CNN, showing that the primetime host used media contacts to glean information about women accusing his brother, then New York governor Andrew Cuomo, of sexual harassment – then sought to make his sibling aware of upcoming coverage.
Chris Cuomo told investigators a "source" told him about Ruch and a friend told him that "maybe she had been put up to it".
The broadcaster also used his contacts to warn his brother, via DeRosa, of yet-to-be-published media reports regarding allegations against him.
---
'This is not going to be good': Moderna CEO on what scientists are telling him about the omicron coronavirus variant
Moderna MRNA, -7.74% CEO Stéphane Bancel has left no doubt whether he's taking a glass half-full or half-empty approach to the emergence of the new omicron coronavirus variant.
He told the Financial Times there's no world where current vaccines are as effective as they have been against the delta variant. And he suggested the drop-off could be significant.
The interview put another scare into financial markets, with futures on the Dow industrials YM00, -1.34% contract losing more than 500 points. "The major vaccine makers have offered timelines of two to six weeks for assessing its vaccine evading capabilities, and in the meantime, travel shutdowns and behaviour modification are a risk as we await anecdotal and statistical evidence of the spread of the virus and its virulence," said Steen Jakobsen, chief investment officer at Saxo Bank.
---
China's Mysterious Hypersonic Weapon Can Stay In Orbit According To Space Force General
The ability to keep a nuclear-armed hypersonic glide vehicle in orbit for a prolonged period of time makes for a far more unpredictable threat.
A senior U.S. Space Force officer has stressed that China's new hypersonic weapon system is indeed orbital in nature and could be able to stay in space for an extended period of time. This is the latest piece of official information about this novel system that reportedly uses some kind of hypersonic glider, which may be capable of launching its own projectiles to actually execute a strike.
Space Force Lieutenant General Chance Saltzman, the Deputy Chief of Space Operations for Operations, Cyber, and Nuclear, responded to questions about this new Chinese strategic weapon during an online event hosted by the Air Force Association's Mitchell Institute earlier today. Saltzman, who transitioned from the Air Force to the Space Force last year, "has overall responsibility for Operations, Intelligence, Sustainment, Cyber, and Nuclear Operations of the United States Space Force," according to the service's website.
"I think the words that we use are important, so that we understand exactly what we're talking about here," Saltzman explained. "I hear things like hypersonic missile, and I hear suborbital sometimes."
---
Vaccine passport program could be coming soon to '15 or 20' states, governor says
A COVID-19 vaccination passport program that would allow residents to quickly demonstrate their vaccine status could be up and running in Massachusetts and several other states soon, Gov. Charlie Baker said Monday.
Proof of vaccination would be available on a QR code on an individual's cellphone. The code could be quickly scanned to show the person's vaccination status.
"It's a universal standard and we've been working with a bunch of other states, there's probably 15 or 20 of them, to try to create a single QR code that can be used for all sorts of things where people may choose to require a vaccine," Baker said Monday during an appearance on GBH News.
The Republican said he already has a QR code on his phone with his vaccination status.
---
Eyeing China, Pentagon to shift resources, seek access from Pacific allies
The Pentagon will invest heavily in military construction across the Pacific while updating existing facilities in Guam and Australia, officials said Monday, offering the first broad glimpses of the U.S. military's unfolding effort to redirect equipment and personnel to counter the growing threat posed by China.
Speaking to reporters Monday afternoon, defense officials laid out the general principles in the Biden administration's "global posture review," or GPR, which represents a comprehensive reevaluation of U.S. military assets across the globe and a rough road map for where those assets should be stationed in the 21st century. The document itself is classified and Pentagon officials offered little detail on specific future moves.
But defense officials made clear that the GPR reinforces the overall strategic imperative that resources need to be moved from the Middle East and elsewhere toward the Pacific, where an increasingly aggressive China and its well-funded People's Liberation Army pose a newfound threat to stability. That broad "pivot" toward China was a policy priority of former Presidents Barack Obama and Donald Trump and has been continued in many ways by President Biden.
---
More Top News
---
Down with foreign-citizen voting in American elections
Diluting American votes in citywide elections is a slippery slope
Approximately 808,000 "non-citizens" may vote in future New York City elections if the City Council welcomes them to do so as early as December. These potential new members of the electorate would include Green Card holders and those with certain work permits.
This is a rotten idea. However, love or hate it, everyone at least should debate this concept with maximum precision.
These 808,000 potential new voters are not non-citizens. The computer on which I write these words is a non-citizen. So is the medium via which you are reading them right now.
Rather than non-citizens, these people are foreign citizens. While they are not American citizens, they remain citizens of the foreign nations from whence they came — Mexico, Haiti, Russia, Singapore, New Zealand, and dozens more.
---
'Don't mention the war!'
Running out of Greek letters to appease the Chinese
The British Empire did not fall because of a weak navy. Nor as a result of over-extended colonization. The British Empire was doomed by a crisis of delusional politeness.
Set aside the vastly long volumes of British history by William Shakespeare, Winston Churchill and William Manchester for the moment. They are, as I mentioned, terribly long.
Instead, just ask Basil Fawlty.
It all came to mind last week after it was revealed that the World Health Organization skipped the letter "Xi" in the Greek alphabet so they could name the newest variant of the China Virus "Omicron" instead and spare Chinese President Xi Jinping the embarrassment of having one of his variants named after him.
---
" It is discouraging to think how many people are shocked by honesty and how few by deceit."

-- Noel Coward

(1899-1973) British playwright

---

The Medal of Honor is the highest award for valor in action against an enemy force which can be bestowed upon an individual serving in the Armed Services of the United States.

GeneTrerally presented to its recipient by the President of the United States of America in the name of Congress.

The first award of the Medal of Honor was made March 25, 1863 to Private JACOB PARROTT.The last award of the Medal of Honor was made September 15, 2011 to Sergeant DAKOTA MEYER.

Since then there have been: • 3458 recipients of the Medal of Honor.

• Today there are 85 Living Recipients of the Medal of Honor.

Citation


Captain Humbert R. Versace distinguished himself by extraordinary heroism during the period of 29 October 1963 to 26 September 1965, while serving as S-2 Advisor, Military Assistance Advisory Group, Detachment 52, Ca Mau, Republic of Vietnam. While accompanying a Civilian Irregular Defense Group patrol engaged in combat operations in Thoi Binh District, An Xuyen Province, Captain Versace and the patrol came under sudden and intense mortar, automatic weapons, and small arms fire from elements of a heavily armed enemy battalion. As the battle raged, Captain Versace, although severely wounded in the knee and back by hostile fire, fought valiantly and continued to engage enemy targets. Weakened by his wounds and fatigued by the fierce firefight, Captain Versace stubbornly resisted capture by the over-powering Viet Cong force with the last full measure of his strength and ammunition. Taken prisoner by the Viet Cong, he exemplified the tenets of the Code of Conduct from the time he entered into Prisoner of War status. Captain Versace assumed command of his fellow American soldiers, scorned the enemy's exhaustive interrogation and indoctrination efforts, and made three unsuccessful attempts to escape, despite his weakened condition which was brought about by his wounds and the extreme privation and hardships he was forced to endure. During his captivity, Captain Versace was segregated in an isolated prisoner of war cage, manacled in irons for prolonged periods of time, and placed on extremely reduced ration. The enemy was unable to break his indomitable will, his faith in God, and his trust in the United States of America. Captain Versace, an American fighting man who epitomized the principles of his country and the Code of Conduct, was executed by the Viet Cong on 26 September 1965. Captain Versace's gallant actions in close contact with an enemy force and unyielding courage and bravery while a prisoner of war are in the highest traditions of the military service and reflect the utmost credit upon himself and the United States Army.

---

From the Archives

We Have Met the Enemy…
Geoff Metcalf


"They who can give up essential liberty to obtain a little temporary safety deserve neither liberty nor safety.
--Benjamin Franklin
"The American people must be willing to give up a degree of personal privacy in exchange for safety and security."
--Louis Freeh


In the wake of the clamor over the most recent WikiLeaks data dump, 'Vault 7', 'UMBRAGE', et al, it should be noted this is not really anything new. What we are seeing here is simply the evolution of something that goes back to the late 50s (to the incomplete best knowledge I have).

It is kinda cool to finally see even

The New York Times

acknowledging material

I was writing about in 1998

.

In April of 1998 I wrote "Privacy has become an anachronism." I was commenting on "a massive system designed to intercept all your e-mail, fax traffic and more." I was explaining 'Echelon', the illegitimate offspring of a

UKUSA Treaty

signed by the United States, United Kingdom, Canada, Australia and New Zealand. Its purpose was, and is, to have a vast global intelligence monster, which allegedly shares common goals. The system was so "efficient" that reportedly National Security Agency folk from Fort Meade could work from Menwith Hill in England to intercept local communications without either nation having to burden themselves with the formality of seeking approval (a court order) or disclosing the operation. And this was all pre-9/11 and pre-the anti-constitutional

'Patriot Act'

.

It is illegal (without a Judge's signed permission) for the United States to spy on its citizens … kinda. The laws have long been circumvented by a mutual pact among five nations. Under the terms of UKUSA agreement, Britain spies on Americans and America spies on British citizens, and then the two conspirators trade data. A classic technical finesse. It is legal, but the intent to evade the spirit is inescapable.

I often fictionalized the genesis of 'Echelon' as an informal meeting of a group of post war American and British intelligence types drinking in some remote rustic bar. An imagined CIA type complains to his MI6 buddy about the hassles of US laws preventing US intelligence from surveillance of bad guys, and the Brit echoes the same complaint.

"Hey wait a moment mate," says Nigel, the make-believe MI6 guy, "I can spy on your guys and you can spy on our bad players…why don't we just come up with a mechanism whereby we spy on your villains, you spy on our villains, and we just 'share' the intel?"

This system was called ECHELON, and has been kicking around in some form longer than most of you. The result of the UKUSA treaty signed by the United States, United Kingdom, Canada, Australia and New Zealand was, and is, to have a vast global intelligence monster which allegedly shares common goals.

The report noted: "Within Europe all e-mail, telephone and fax communications are routinely intercepted by the United States National Security Agency, transferring ll target information from the Eurv opean mainland via the strategic hub of London, then by satellite to Fort Meade in Maryland via the crucial hub at Menwith Hill, in the North York moors in th UK.

"The ECHELON system forms part of the UKUSA system but unlike many of the electronic spy systems developed during the Cold War, ECHELON was designed primarily for non-military targets: governments, organizations and businesses in virtually every country."

An interesting sidebar appeared in the International Herald Tribune under the headline, "Big Corporate Brother: It Knows More About You Than You Think." The story details Acxiom Corp, which was a humongous information service hidden in the Ozark foothills. Twenty-four hours a day, Acxiom electronically gathered and sorts all kinds of data about 196 million Americans. Credit card transactions and magazine subscriptions, telephone numbers, real estate records, automotive data, hunting, business and fishing licenses, consumer surveys and demographic detail that would make a marketing department's research manager salivate. This relati vely new (legal) enterprise was known as "data warehousing" or "data-mining", and it underscores the cruel reality that the fiction of personal privacy has become obsolete. Technology's ability to collect and analyze data has made privacy a quaint albeit interesting dinosaur.

The Tribune reported that "Axciom can often determine whether an American owns a dog or cat, enjoys camping or gourmet cooking, reads the Bible or lots of other books. It can often pinpoint an American's occupation, car and favorite vacations. By analyzing the equivalent of billions of pages of data, it often projects for its customers who should be offered a credit card or who is likely to buy a computer."

Most of this information is from y 1998 piece. Echelon has developed, matured, and morphed into a much more powerful hybrid. 'Carnivore' was software to help triage the cacophony of data. Vault 7 and 'Umbrage' are logical (some would argue "insidious") growth.

More to follow…