"It Is Not A Question of Who Is Right Or Wrong But What Is Right Or Wrong That Counts.

"

--Geoff Metcalf
Wo

rld & National
Amazon, Microsoft wage war over the Pentagon's 'war cloud'

Amazon and Microsoft are battling it out over a $10 billion opportunity to build the U.S. military its first "war cloud" computing system. But Amazon's early hopes of a shock-and-awe victory may be slipping away.

Formally called the Joint Enterprise Defense Infrastructure plan, or JEDI, the military's computing project would store and process vast amounts of classified data, allowing the Pentagon to use artificial intelligence to speed up its war planning and fighting capabilities. The Defense Department hopes to award the winner-take-all contract as soon as August. Oracle and IBM were eliminated at an earlier round of the contract competition.

But that's only if the project isn't derailed first. It faces a legal challenge by Oracle and growing congressional concerns about alleged Pentagon favoritism toward Amazon. Military officials hope to get started soon on what will be a decade-long business partnership they describe as vital to national security.


---
Ross Perot, self-made billionaire, patriot and philanthropist, dies at 89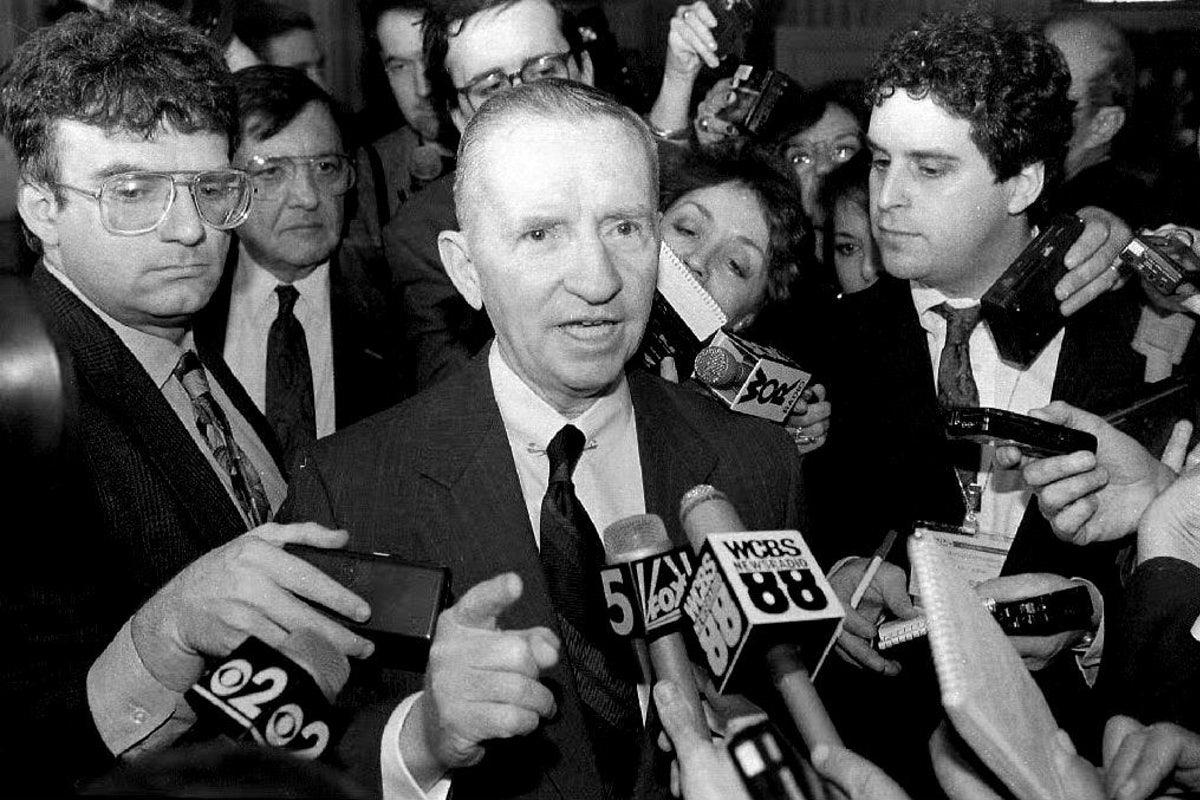 Ross Perot, self-made billionaire, renowned patriot and two-time independent candidate for U.S. president, has died after a five-month battle with leukemia.
He was 89.
The pioneer of the computer services industry, who founded Electronic Data Systems Corp. in 1962 and Perot Systems Corp. 26 years later, was just 5-foot-6, but his presence filled a room.
---
DOJ Watchdog Grills Trump 'Dossier' Author Steele in FBI FISA Probe
Federal lawyers probing the origins of the investigation of ties between Russia and President Donald Trump's campaign have interviewed the author of a "dossier" that alleged misconduct between Trump and Moscow, prompting the lawyers to extend their inquiry.
Three attorneys from the Inspector General's office of the U.S. Department of Justice met in person in early June with dossier author Christopher Steele in Britain, said two sources with direct knowledge of the lawyers' travels.
The interview with Steele, a former top spy on Russia for Britain's Secret Intelligence Service, or MI6, took place while Trump was in London for a formal state visit with Queen Elizabeth and a meeting with UK Prime Minister Theresa May.
Steele's dossier, made public in 2017, alleged that Moscow attempted to interfere in the 2016 U.S. presidential election and that there was potential collusion between Russia and Trump's campaign, along with other unverified and salacious claims about the president.
---
Trump Bashes British Ambassador: 'Very Stupid Guy'
President Donald Trump continued his Twitter assault on the British ambassador to the United States Tuesday morning, calling Kim Darroch "wacky" and "a very stupid guy."
Trump was reacting to leaked emails in which Darroch said the president was "inept" and his White House is "dysfunctional."
"The wacky Ambassador that the U.K. foisted upon the United States is not someone we are thrilled with, a very stupid guy. He should speak to his country, and Prime Minister May, about their failed Brexit negotiation, and not be upset with my criticism of how badly it was…" Trump wrote on Twitter Tuesday.
---
Billionaire activist Tom Steyer reverses course, jumps into presidential race
Billionaire environmental activist Tom Steyer on Tuesday jumped into the race for the 2020 Democratic presidential nomination, after saying in January that he wasn't planning to make a run for the White House.
Mr. Steyer's team said his campaign will focus on fixing two major "crises" — reforming a "broken political system" and "saving our planet from the ravages of climate change."
"The other Democratic candidates for president have many great ideas that will absolutely move our country forward, but we won't be able to get any of those done until we end the hostile corporate takeover of our democracy," Mr. Steyer said in a statement.
---
House Dems to subpoena Kushner, Sessions, Rosenstein
The House Judiciary Committee will vote this week to subpoena President Trump's son-in-law and top adviser Jared Kushner, as Democrats' battle with the White House gets more personal.
Mr. Kushner is among a dozen names slated to get subpoenas under the resolution the committee will vote on. Also targeted are former Attorney General Jeff Sessions, former Deputy Attorney General Rod Rosenstein, former White House Chief of Staff John Kelly and former Trump campaign chief Corey Lewandowski.
The subpoenas are intended to pry loose information on last year's zero-tolerance border policy, potential presidential pardons and a host of other issues surrounding Mr. Trump's immigration decisions.
---
Bill Clinton issues statement on Jeffrey Epstein
Former President Bill Clinton claimed in a statement Monday that he knows nothing about the pedophilia charges filed against financier Jeffrey Epstein.
A spokesman for the former president, who flew on Mr. Epstein's Boeing 727 more than 20 times, said in a statement first reported by Fox News, that he "knows nothing" about the "terrible crimes" linked to Mr. Epstein.
The statement downplayed the extent of Mr. Clinton's ties to the accused pedophile and said the trips had been tied to work with the Clinton Foundation.
---

Pelosi calls for Acosta to step down over Epstein case

Speaker Nancy Pelosi (D-Calif.) late Monday called for Labor Secretary Alexander Acosta to resign for his "unconscionable agreement" in securing a plea deal for Jeffrey Epstein that enabled the financier to serve just over a year in prison following a sex crimes conviction.

"@SecretaryAcosta must step down," Pelosi tweeted. "As US Attorney, he engaged in an unconscionable agreement w/ Jeffrey Epstein kept secret from courageous, young victims preventing them from seeking justice. This was known by @POTUS when he appointed him to the cabinet."

Acosta, a U.S. attorney at the time of Epstein's 2008 conviction for soliciting prostitution from underaged girls, approved the deal with Epstein that enabled him to serve 13 months in "custody with work release." The deal also let Epstein spend 16 hours a day outside of prison.


---
Iran Threatens to Enrich Uranium to 20% Purity as Tensions Rise
Iran said it had already begun enriching uranium beyond the cap set in the landmark 2015 nuclear deal and threatened to boost enrichment to 20% purity, escalating tensions with European partners who are struggling to salvage the accord in the face of tightening U.S. sanctions.
Iran announced on Sunday that it would abandon the 3.67% limit for uranium enrichment as it scales back its commitments in response to U.S. penalties reimposed after U.S. President Donald Trump withdrew from the agreement last year. It said more steps would be taken to reduce compliance every 60 days unless European parties find ways to ensure it can continue to trade its oil.
---
President Trump cannot block his critics on Twitter, federal appeals court rules
President Trump cannot block his critics from the Twitter feed he regularly uses to communicate with the public, a federal appeals court said Tuesday, in a case with implications for how elected officials nationwide interact with constituents on social media.
The decision from the New York-based appeals court upholds an earlier ruling that Trump violated the First Amendment when he blocked individual users critical of the president or his policies.
"The First Amendment does not permit a public official who utilizes a social media account for all manner of official purposes to exclude persons from an otherwise open online dialogue because they expressed views with which the official disagrees," wrote Judge Barrington D. Parker in the unanimous decision from the U.S. Court of Appeals for the 2nd Circuit.
---
The lynching of the only Democratic hope
Joe Biden got it right, it's just that he said it in the wrong country. In Joe's country, getting it right is wrong, and the unwary pay for it. In Joe's country, a sucker never gets an even break, and everybody's a sucker.
Joe's country is the modern Democratic Party, where the grown-ups looked at the field of dwarfs, concluded that not even Snow White could find a credible candidate for president among that motley crew of 25, and figured that Joe, who might not scare the horses, was the man they needed. He would be the wise, avuncular graybeard needed to steady the mayhem in the nursery.
Joe looks credible. He has been around the track a few times. He knows how Washington works (when it works). He would know how things get done. He told a group of early donors that one of "my greatest strengths is bringing people together," and observed that when he got to Washington in 1972, to serve his first term in the Senate, he would work with men whose political views he opposed if he had to do that to accomplish good things, as he and his constituents defined "good" things.
---
Making Greece great again, by putting Greece first
In the aftermath of EU Parliamentary Elections, the political infrastructure of Greece, the birthplace of democracy, has been rattled to its foundations.
With our Parliament dissolved and as we prepare for snap general elections on July 7, our citizens are well aware that their nation has, for far too long, suffered from economic turmoil, with continued sacrifices being made within a broken political system.
In short, our country longs for change.
Greece demands the type of change that re-establishes our identity, breaks us free from the hegemony of others and puts its national priorities back on the frontlines of our leaders' consciousness.
---
---
"It is discouraging to think how many people are shocked by honesty and how few by deceit."

-- Noel Coward

(1899-1973) British playwright

---

The Medal of Honor is the highest award for valor in action against an enemy force which can be bestowed upon an individual serving in the Armed Services of the United States.

GeneTrerally presented to its recipient by the President of the United States of America in the name of Congress.

The first award of the Medal of Honor was made March 25, 1863 to Private JACOB PARROTT.The last award of the Medal of Honor was made September 15, 2011 to Sergeant DAKOTA MEYER.

Since then there have been: • 3458 recipients of the Medal of Honor.

• Today there are 85 Living Recipients of the Medal of Honor.

Citation


Captain Humbert R. Versace distinguished himself by extraordinary heroism during the period of 29 October 1963 to 26 September 1965, while serving as S-2 Advisor, Military Assistance Advisory Group, Detachment 52, Ca Mau, Republic of Vietnam. While accompanying a Civilian Irregular Defense Group patrol engaged in combat operations in Thoi Binh District, An Xuyen Province, Captain Versace and the patrol came under sudden and intense mortar, automatic weapons, and small arms fire from elements of a heavily armed enemy battalion. As the battle raged, Captain Versace, although severely wounded in the knee and back by hostile fire, fought valiantly and continued to engage enemy targets. Weakened by his wounds and fatigued by the fierce firefight, Captain Versace stubbornly resisted capture by the over-powering Viet Cong force with the last full measure of his strength and ammunition. Taken prisoner by the Viet Cong, he exemplified the tenets of the Code of Conduct from the time he entered into Prisoner of War status. Captain Versace assumed command of his fellow American soldiers, scorned the enemy's exhaustive interrogation and indoctrination efforts, and made three unsuccessful attempts to escape, despite his weakened condition which was brought about by his wounds and the extreme privation and hardships he was forced to endure. During his captivity, Captain Versace was segregated in an isolated prisoner of war cage, manacled in irons for prolonged periods of time, and placed on extremely reduced ration. The enemy was unable to break his indomitable will, his faith in God, and his trust in the United States of America. Captain Versace, an American fighting man who epitomized the principles of his country and the Code of Conduct, was executed by the Viet Cong on 26 September 1965. Captain Versace's gallant actions in close contact with an enemy force and unyielding courage and bravery while a prisoner of war are in the highest traditions of the military service and reflect the utmost credit upon himself and the United States Army.

---

From the Archives

We Have Met the Enemy…
Geoff Metcalf


"They who can give up essential liberty to obtain a little temporary safety deserve neither liberty nor safety.
--Benjamin Franklin
"The American people must be willing to give up a degree of personal privacy in exchange for safety and security."
--Louis Freeh


In the wake of the clamor over the most recent WikiLeaks data dump, 'Vault 7', 'UMBRAGE', et al, it should be noted this is not really anything new. What we are seeing here is simply the evolution of something that goes back to the late 50s (to the incomplete best knowledge I have).

It is kinda cool to finally see even

The New York Times

acknowledging material

I was writing about in 1998

.

In April of 1998 I wrote "Privacy has become an anachronism." I was commenting on "a massive system designed to intercept all your e-mail, fax traffic and more." I was explaining 'Echelon', the illegitimate offspring of a

UKUSA Treaty

signed by the United States, United Kingdom, Canada, Australia and New Zealand. Its purpose was, and is, to have a vast global intelligence monster, which allegedly shares common goals. The system was so "efficient" that reportedly National Security Agency folk from Fort Meade could work from Menwith Hill in England to intercept local communications without either nation having to burden themselves with the formality of seeking approval (a court order) or disclosing the operation. And this was all pre-9/11 and pre-the anti-constitutional

'Patriot Act'

.

It is illegal (without a Judge's signed permission) for the United States to spy on its citizens … kinda. The laws have long been circumvented by a mutual pact among five nations. Under the terms of UKUSA agreement, Britain spies on Americans and America spies on British citizens, and then the two conspirators trade data. A classic technical finesse. It is legal, but the intent to evade the spirit is inescapable.

I often fictionalized the genesis of 'Echelon' as an informal meeting of a group of post war American and British intelligence types drinking in some remote rustic bar. An imagined CIA type complains to his MI6 buddy about the hassles of US laws preventing US intelligence from surveillance of bad guys, and the Brit echoes the same complaint.

"Hey wait a moment mate," says Nigel, the make-believe MI6 guy, "I can spy on your guys and you can spy on our bad players…why don't we just come up with a mechanism whereby we spy on your villains, you spy on our villains, and we just 'share' the intel?"

This system was called ECHELON, and has been kicking around in some form longer than most of you. The result of the UKUSA treaty signed by the United States, United Kingdom, Canada, Australia and New Zealand was, and is, to have a vast global intelligence monster which allegedly shares common goals.

The London Telegraph reported in December of 1997 that the Civil liberties Committee of the European Parliament had officially confirmed the existence and purpose of ECHELON. "A global electronic spy network that can eavesdrop on every telephone, e-mail and telex communication around the world will be officially acknowledged for the first time in a European Commission report. …"

The report noted: "Within Europe all e-mail, telephone and fax communications are routinely intercepted by the United States National Security Agency, transferring all target information from the European mainland via the strategic hub of London, then by satellite to Fort Meade in Maryland via the crucial hub at Menwith Hill, in the North York moors in the UK.

"The ECHELON system forms part of the UKUSA system but unlike many of the electronic spy systems developed during the Cold War, ECHELON was designed primarily for non-military targets: governments, organizations and businesses in virtually every country."

An interesting sidebar appeared in the International Herald Tribune under the headline, "Big Corporate Brother: It Knows More About You Than You Think." The story details Acxiom Corp, which was a humongous information service hidden in the Ozark foothills. Twenty-four hours a day, Acxiom electronically gathered and sorts all kinds of data about 196 million Americans. Credit card transactions and magazine subscriptions, telephone numbers, real estate records, automotive data, hunting, business and fishing licenses, consumer surveys and demographic detail that would make a marketing department's research manager salivate. This relatively new (legal) enterprise was known as "data warehousing" or "data-mining", and it underscores the cruel reality that the fiction of personal privacy has become obsolete. Technology's ability to collect and analyze data has made privacy a quaint albeit interesting dinosaur.

The Tribune reported that "Axciom can often determine whether an American owns a dog or cat, enjoys camping or gourmet cooking, reads the Bible or lots of other books. It can often pinpoint an American's occupation, car and favorite vacations. By analyzing the equivalent of billions of pages of data, it often projects for its customers who should be offered a credit card or who is likely to buy a computer."

Most of this information is from y 1998 piece. Echelon has developed, matured, and morphed into a much more powerful hybrid. 'Carnivore' was software to help triage the cacophony of data. Vault 7 and 'Umbrage' are logical (some would argue "insidious") growth.

More to follow…