"It Is Not A Question of Who Is Right Or Wrong But What Is Right Or Wrong That Counts.

"

--Geoff Metcalf






Wo

rld & National



Trump clashes with Pelosi, Schumer at White House, threatens shutdown: 'The wall will get built'




President Trump threatened a partial government shutdown in a heated meeting with Democratic congressional leaders over funding for the border wall.





As incoming House Speaker Nancy Pelosi implored Mr. Trump not to discuss the wall in front of the press, Mr. Trump said "the wall will get built."





"It is not an easy situation," Mr. Trump said in the Oval Office meeting. "We are on very opposite sides. I would not like to see a government closing, a shutdown. We have to take care of border security."



The unprecedented on-camera squabbling played out in full view of the press pool, which Mr. Trump had invited into the meeting after it was initially scheduled as closed. "Let's debate in private," Mr. Schumer pleaded.


---
Trump corners Democrats with threat to kill NAFTA: 'It is going to force Congress to act'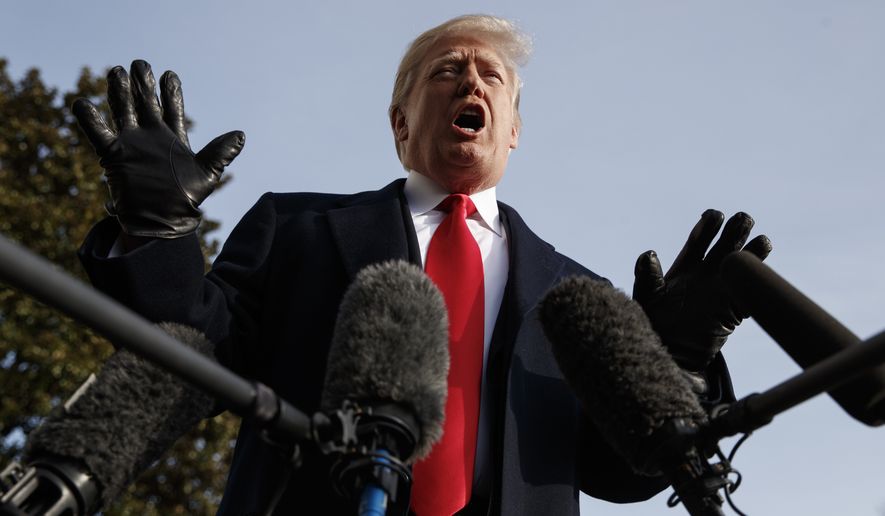 Democratic congressional leaders are loath to acknowledge it, but President Trump has them cornered with his threat to terminate NAFTA if his new trade deal with Mexico and Canada isn't approved.
Scrapping the North American Free Trade Agreement without a replacement would deliver a heavy blow to the U.S. economy. In the short term, it would reduce real U.S. gross domestic product — the total output of goods and services — by as much as $231 billion, more than 1 percent during the first five years, according to an analysis commissioned by the Business Roundtable.
Sen. Charles E. Grassley, the Iowa Republican who next year will take charge of the Senate Finance Committee, which oversees trade agreements, said the president has Congress over a barrel.
---
More than 3,000 illegals caught in one day: DHS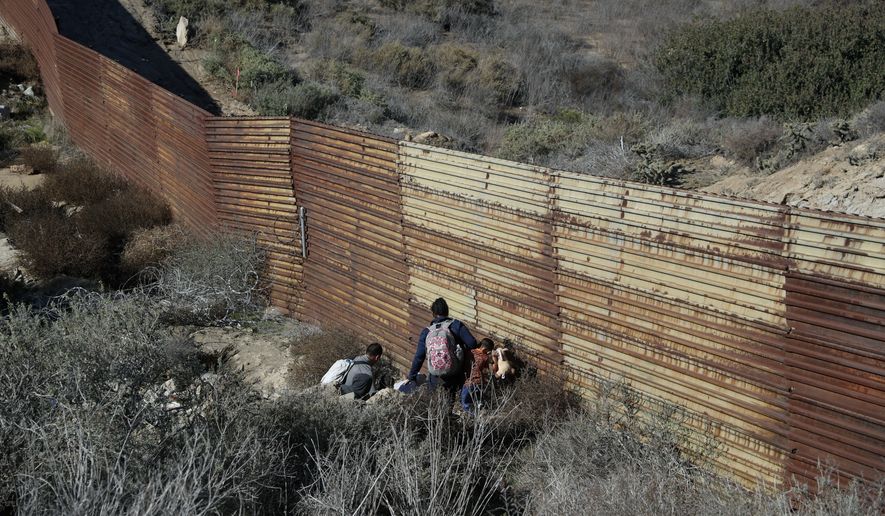 The government snared more than 3,000 illegal immigrants in just one day last week, the administration's top border official told Congress on Tuesday, saying the situation qualifies as a full-blown "crisis."
Kevin K. McAleenan, commissioner of U.S. Customs and Border Protection, said more than 1,100 of those caught either jumping the border or trying to come through a border crossing without permission were children, either traveling alone or with parents, and forced on the treacherous journey.
He said the 3,029 people caught on Dec. 3 was the highest total in years, and said at the rate illegal immigration across the border is running right now, the numbers of families and children could be double the record rate recorded last year.
---
Daily Presidential Tracking Poll
The Rasmussen Reports daily Presidential Tracking Poll for Tuesday shows that 49% of Likely U.S. Voters approve of President Trump's job performance. Forty-nine percent (49%) disapprove.
The latest figures include 36% who Strongly Approve of the way Trump is performing and 39% who Strongly Disapprove. This gives him a Presidential Approval Index rating of -3. (see trends).
---
In major shift, Mitch McConnell announces the Senate will vote on criminal justice reform bill
Senate Majority Leader Mitch McConnell announced Tuesday the Senate would take up a long-awaited bipartisan bill that aims to reduce the number of people in the nation's crowded prisons.
"At the request of the president and following improvements to the legislation that has been secured by several members, the Senate will take up the revised criminal justice bill this month," the Kentucky Republican said. He added he would turn to it as early as the end of the week.
An unusual coalition of Republicans and Democrats, conservatives and liberals, civil rights groups and the White House have rallied around criminal justice reform pushing for action on the latest effort: a Senate bill called the "First Step Act."
---
Judge rules Trump administration justified in ending Obama-era immigration program
The Trump administration provided adequate justification for its decision to end a program that reunited hundreds of immigrants from Central America with family members in the U.S., a federal judge ruled Monday.
Magistrate Judge Laurel Beeler threw out the bulk of a lawsuit that argued the termination of the Obama-era Central American Minors program was arbitrary and violated the U.S. Constitution.
The program allowed parents legally in the U.S. to apply to bring children or other family members living in Honduras, Guatemala or El Salvador to the U.S.
One of the goals was to discourage children from making the dangerous journey from those countries to the U.S. to be with family.
---
Trump foes scrambling to derail 'cruel' rule requiring immigrants to show they aren't public burden
The Trump administration is now on the clock to finalize one of the biggest changes to legal immigration policy in a generation, after the official comment period ended Monday on a plan to require immigrants to show they aren't a public burden if they want to extend their visas or get on the path to citizenship.
Immigrant rights groups and other Trump opponents mounted a feverish last-minute push to try to derail the proposal. They submitted tens of thousands of comments calling the plan misguided and racist and warned that it would keep needy immigrants from visiting doctors and leave children hungry because their parents fear signing them up for free school lunches, lest they lose their chance at citizenship.
The president's backers said they expect Mr. Trump and his team to finalize the proposal. If anything, they said, it doesn't go far enough to crack down on what appears to be rampant welfare use by noncitizens and their children.
---
Macron surrenders to 'yellow vests' in blow to climate movement: 'The government did not listen'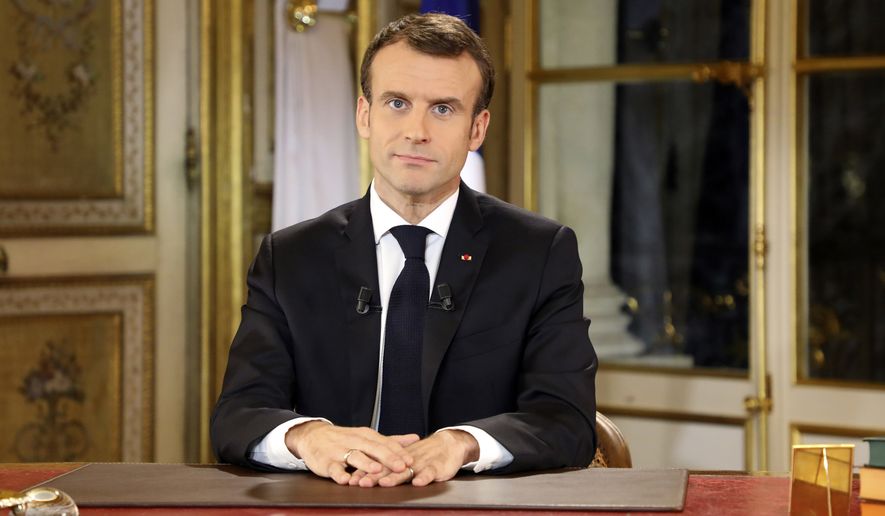 A chastened French President Emmanuel Macron surrendered Monday to the demands of protesters who have shut down much of the country over the past month, offering wage hikes and tax cuts starting next year while signaling a retreat from his greater plan to overhaul France's heavily regulated economy and generous social welfare system.
Addressing the nation on television after weeks of seclusion, Mr. Macron called the protesters' grievances "deep and in many ways legitimate" and asked businesses to help quell their anger.
"I would ask all employers who can, pay an end-of-year bonus to their employees," said Mr. Macron, who just 19 months ago won an overwhelming election victory that handed him a massive mandate in the national legislature as well.
---
Judge rules Americans can secretly record public officials in victory for Project Veritas
A federal judge ruled Monday that Americans have a right to secretly record their public officials, including police, when they are engaged in their government duties.
U.S. District Chief Judge Patti B. Saris said a Massachusetts law banning secret recordings violates the First Amendment when it comes to government employees, rejecting the state's claims that officials need some space to be able to operate without having to worry about being monitored.
"This is not to say that police and government officials have no privacy interests," she wrote. "However, the diminished privacy interests of government officials performing their duties in public must be balanced by the First Amendment interest in newsgathering and information-dissemination."
---
Madoff Victims Get $419 Million Payment 10 Years After Arrest
Another batch of compensation checks is in the works for victims of Bernard Madoff on the 10th anniversary of the con man's arrest in New York following the collapse of his $19 billion Ponzi scheme.
Irving Picard, the trustee unwinding Madoff's defunct investment advisory firm, said in a statement Tuesday that he asked a bankruptcy court judge to authorize $419 million in distributions on approved claims, which will go out to 880 accounts.
That would bring total payouts over the past decade to more than $12 billion. While victims will never recover the $45 billion in fake profits Madoff claimed on account statements, the trustee has focused on returning the cash they invested.
---
How did he get in so easily?
Fresh terror fears at Westminster as man shouting 'we're coming for you politicians' breaches Parliament gates before he is Tasered to floor
Armed police tasered an intruder after he got through the gates of Parliament and ran at officers this morning.
The man was bundled to the cobbles of New Palace Yard, not far from where Westminster terror attacker Khalid Masood murdered PC Keith Palmer last year.
The suspect is said to have ran in through gates as a taxi drove out. He made it a few metres into the Parliamentary estate before he was Tasered to the ground.
---
A modern president and his tweet stuff
Thomas Jefferson collected old books and French wines, Warren Harding collected poker buddies, and FDR collected stamps. Harry S Truman collected sheet music and played the piano. Once he played it at the National Press Club, with Lauren Bacall draped across the upright with a helping of cheesecake. Bess, the first lady, was not amused.
Not so long ago, wife-collecting was over the line. Cats do it, dogs do it and even educated fleas were said by Cole Porter to conduct serial romances. Presidents were held to a tougher moral standard.
Donald Trump was not the first president to test the notion that Americans had moved past making moral judgments about politicians and their amours, and were at last like the French, where anything goes if you pronounce it correctly. Nelson Rockefeller thought he was on his way to the White House in 1964 when he divorced his blueblood wife to marry a nice lady of red blood named Happy. This was a mighty scandal, as difficult as that may seem to our randy, rowdy and enlightened age, but Mr. Rockefeller was regaining traction in the California Republican primary when Happy birthed their child on the eve of the voting. Barry Goldwater won a narrow victory, won the nomination and was buried in a landslide of momentous proportions. The rest, like Nelson Rockefeller, was history and forgotten until Gerald Ford remembered a decade later, and made him his forgettable vice president.
---
Changing their tune on 41
Before George H.W. Bush fades from memory into the darkness of history books, one more point needs to be made. It is about the contrast between how most of the major media treated him when he was president and how they mostly (but not completely) did a 180 during their coverage and commentary of his funeral.
Maybe reporters and anchors considered their largely favorable and complimentary coverage of the man in death as penance for their earlier sins during his life, but they still should be held accountable for what they said about him when it mattered.
CBS News anchor Dan Rather interviewed Vice President Bush in 1988, before the Iowa caucuses. This was at the height of the Iran-contra affair, during which the White House sought to circumvent a law banning funds to aid the Nicaraguan Contras who were fighting Communist forces. Mr. Bush and Mr. Rather shouted at each other in the 10-minute interview on live television.
CBS began its segment on Mr. Bush with a taped report that suggested the vice president had played a greater role in the Iran-Contra affair than Mr. Bush has acknowledged, and Mr. Rather hammered Mr. Bush about it during the interview, The New York Times reported. The candidate said he had been deceived about the true intent of the interview.
"It is discouraging to think how many people are shocked by honesty and how few by deceit."

-- Noel Coward

(1899-1973) British playwright

---

The Medal of Honor is the highest award for valor in action against an enemy force which can be bestowed upon an individual serving in the Armed Services of the United States.

GeneTrerally presented to its recipient by the President of the United States of America in the name of Congress.

The first award of the Medal of Honor was made March 25, 1863 to Private JACOB PARROTT.The last award of the Medal of Honor was made September 15, 2011 to Sergeant DAKOTA MEYER.

Since then there have been: • 3458 recipients of the Medal of Honor.

• Today there are 85 Living Recipients of the Medal of Honor.

Citation


Captain Humbert R. Versace distinguished himself by extraordinary heroism during the period of 29 October 1963 to 26 September 1965, while serving as S-2 Advisor, Military Assistance Advisory Group, Detachment 52, Ca Mau, Republic of Vietnam. While accompanying a Civilian Irregular Defense Group patrol engaged in combat operations in Thoi Binh District, An Xuyen Province, Captain Versace and the patrol came under sudden and intense mortar, automatic weapons, and small arms fire from elements of a heavily armed enemy battalion. As the battle raged, Captain Versace, although severely wounded in the knee and back by hostile fire, fought valiantly and continued to engage enemy targets. Weakened by his wounds and fatigued by the fierce firefight, Captain Versace stubbornly resisted capture by the over-powering Viet Cong force with the last full measure of his strength and ammunition. Taken prisoner by the Viet Cong, he exemplified the tenets of the Code of Conduct from the time he entered into Prisoner of War status. Captain Versace assumed command of his fellow American soldiers, scorned the enemy's exhaustive interrogation and indoctrination efforts, and made three unsuccessful attempts to escape, despite his weakened condition which was brought about by his wounds and the extreme privation and hardships he was forced to endure. During his captivity, Captain Versace was segregated in an isolated prisoner of war cage, manacled in irons for prolonged periods of time, and placed on extremely reduced ration. The enemy was unable to break his indomitable will, his faith in God, and his trust in the United States of America. Captain Versace, an American fighting man who epitomized the principles of his country and the Code of Conduct, was executed by the Viet Cong on 26 September 1965. Captain Versace's gallant actions in close contact with an enemy force and unyielding courage and bravery while a prisoner of war are in the highest traditions of the military service and reflect the utmost credit upon himself and the United States Army.

---

From the Archives

We Have Met the Enemy…
Geoff Metcalf


"They who can give up essential liberty to obtain a little temporary safety deserve neither liberty nor safety.
--Benjamin Franklin
"The American people must be willing to give up a degree of personal privacy in exchange for safety and security."
--Louis Freeh


In the wake of the clamor over the most recent WikiLeaks data dump, 'Vault 7', 'UMBRAGE', et al, it should be noted this is not really anything new. What we are seeing here is simply the evolution of something that goes back to the late 50s (to the incomplete best knowledge I have).

It is kinda cool to finally see even

The New York Times

acknowledging material

I was writing about in 1998

.

In April of 1998 I wrote "Privacy has become an anachronism." I was commenting on "a massive system designed to intercept all your e-mail, fax traffic and more." I was explaining 'Echelon', the illegitimate offspring of a

UKUSA Treaty

signed by the United States, United Kingdom, Canada, Australia and New Zealand. Its purpose was, and is, to have a vast global intelligence monster, which allegedly shares common goals. The system was so "efficient" that reportedly National Security Agency folk from Fort Meade could work from Menwith Hill in England to intercept local communications without either nation having to burden themselves with the formality of seeking approval (a court order) or disclosing the operation. And this was all pre-9/11 and pre-the anti-constitutional

'Patriot Act'

.

It is illegal (without a Judge's signed permission) for the United States to spy on its citizens … kinda. The laws have long been circumvented by a mutual pact among five nations. Under the terms of UKUSA agreement, Britain spies on Americans and America spies on British citizens, and then the two conspirators trade data. A classic technical finesse. It is legal, but the intent to evade the spirit is inescapable.

I often fictionalized the genesis of 'Echelon' as an informal meeting of a group of post war American and British intelligence types drinking in some remote rustic bar. An imagined CIA type complains to his MI6 buddy about the hassles of US laws preventing US intelligence from surveillance of bad guys, and the Brit echoes the same complaint.

"Hey wait a moment mate," says Nigel, the make-believe MI6 guy, "I can spy on your guys and you can spy on our bad players…why don't we just come up with a mechanism whereby we spy on your villains, you spy on our villains, and we just 'share' the intel?"

This system was called ECHELON, and has been kicking around in some form longer than most of you. The result of the UKUSA treaty signed by the United States, United Kingdom, Canada, Australia and New Zealand was, and is, to have a vast global intelligence monster which allegedly shares common goals.

The London Telegraph reported in December of 1997 that the Civil liberties Committee of the European Parliament had officially confirmed the existence and purpose of ECHELON. "A global electronic spy network that can eavesdrop on every telephone, e-mail and telex communication around the world will be officially acknowledged for the first time in a European Commission report. …"

The report noted: "Within Europe all e-mail, telephone and fax communications are routinely intercepted by the United States National Security Agency, transferring all target information from the European mainland via the strategic hub of London, then by satellite to Fort Meade in Maryland via the crucial hub at Menwith Hill, in the North York moors in the UK.

"The ECHELON system forms part of the UKUSA system but unlike many of the electronic spy systems developed during the Cold War, ECHELON was designed primarily for non-military targets: governments, organizations and businesses in virtually every country."

An interesting sidebar appeared in the International Herald Tribune under the headline, "Big Corporate Brother: It Knows More About You Than You Think." The story details Acxiom Corp, which was a humongous information service hidden in the Ozark foothills. Twenty-four hours a day, Acxiom electronically gathered and sorts all kinds of data about 196 million Americans. Credit card transactions and magazine subscriptions, telephone numbers, real estate records, automotive data, hunting, business and fishing licenses, consumer surveys and demographic detail that would make a marketing department's research manager salivate. This relatively new (legal) enterprise was known as "data warehousing" or "data-mining", and it underscores the cruel reality that the fiction of personal privacy has become obsolete. Technology's ability to collect and analyze data has made privacy a quaint albeit interesting dinosaur.

The Tribune reported that "Axciom can often determine whether an American owns a dog or cat, enjoys camping or gourmet cooking, reads the Bible or lots of other books. It can often pinpoint an American's occupation, car and favorite vacations. By analyzing the equivalent of billions of pages of data, it often projects for its customers who should be offered a credit card or who is likely to buy a computer."

Most of this information is from y 1998 piece. Echelon has developed, matured, and morphed into a much more powerful hybrid. 'Carnivore' was software to help triage the cacophony of data. Vault 7 and 'Umbrage' are logical (some would argue "insidious") growth.

More to follow…