"It Is Not A Question of Who Is Right Or Wrong But What Is Right Or Wrong That Counts.

"

--Geoff Metcalf
Providing an on line Triage of the news since 1997
Wo
rld & Nation
DHS secretary orders ICE to stop targeting illegal immigrants at jobs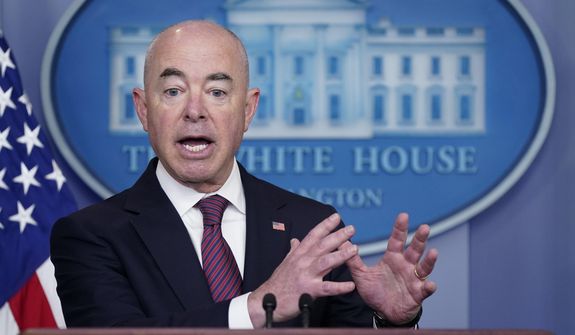 Homeland Security Secretary Alejandro Mayorkas issued new orders Tuesday halting ICE from going after large numbers of illegal immigrants at job sites, saying it is a waste of resources and actually helps unscrupulous employers abuse unauthorized workers.

Mr. Mayorkas said he wants his department's three immigration agencies to come up with new strategies to target employers while leaving the illegal immigrants unscathed.

But those solutions are in the future. For now, he said, "mass worksite operations" must cease.

He also urged U.S. Immigration and Customs Enforcement to exercise prosecutorial discretion to drop cases against illegal immigrants whom the Labor Department says are victims or witnesses of exploitation in a workplace.


---
Dems' 'Plan C' for amnesty could protect 7.1 million illegal immigrants
As Democrats search for a way to legalize illegal immigrants in their massive budget bill, a new analysis Tuesday says they could grant a tentative foothold to some 7.1 million illegal immigrants through the use of "parole" powers.
Parole has been used to bring smaller groups of people into the country, including for tens of thousands of Afghan evacuees who were airlifted to the U.S. But Democrats are eyeing a mass parole that would cover a majority of illegal immigrants already in the country.
The Center for American Progress, a liberal think tank, calculated that if parole were granted to anyone who made it into the U.S. before Jan. 1, 2011, it would cover 7.1 million illegal immigrants.
---
Biden Admin Doubles Down on Use of Title 42
Homeland Security Secretary Alejandro Mayorkas has doubled down on the Biden administration's use of Title 42, dismissing recent criticism from a former senior State Department official who called it "illegal" and "inhumane," instead insisting to Yahoo News on Tuesday that while it "is not an immigration policy that we in this administration would embrace," the policy is a "public health imperative."
Title 42, which was first used by former President Donald Trump and then continued by the Biden administration to expel hundreds of thousands of migrants who have crossed into the United States from Mexico, is an obscure public health authority that permits the government to prevent noncitizens from entering the U.S. during a pandemic.
When the Trump administration first invoked Title 42 early in the coronavirus pandemic last year, the Centers for Disease Control and Prevention issued an emergency order that permitted immigration officials to quickly expel mostly Mexican and Central American migrants without giving them an opportunity to apply for asylum or other protections in the U.S.
---
Southwest pilots' union president blames airline for widespread cancellations: "We've been sounding this alarm for about four years"
Southwest Airlines is experiencing a fifth straight day of widespread cancellations. Early numbers show 7% of Southwest flights have been canceled today. On Monday, 435 Southwest flights were canceled, bringing the total above 2,000 since Friday.
Some Southwest passengers have had to pick between paying for other transportation or staying put for days.
It's not clear what is causing the disruption but the delays and cancelations began shortly after the pilot's union tried to block Southwest's new COVID-19 vaccine mandate.
When asked by CBS News if there was any chance the disruption could have been caused by pilots calling out sick over the company's vaccine mandate, Capt. Casey Murray, president of the Southwest Airlines Pilots Association, said that was not the case and that the airline's pilot sick rate for this weekend was "right in line with what was occurring this summer."
---
A record 4.3 million workers quit their jobs in August, led by food and retail industries
Job openings declined sharply in August while hiring also fell and the level of workers quitting their jobs hit the highest level since at least late-2000, the Labor Department reported Tuesday.
Employment vacancies fell to 10.44 million during the month, a drop of 659,000 from July's upwardly revised 11.1 million, according to the department's Job Openings and Labor Turnover Survey. Federal Reserve officials watch the JOLTS report closely for signs of slack in the labor market.
The total fell well short of market expectations for 10.96 million openings, according to FactSet.
---
Biden meets with G-20 leaders to discuss Afghanistan humanitarian crisis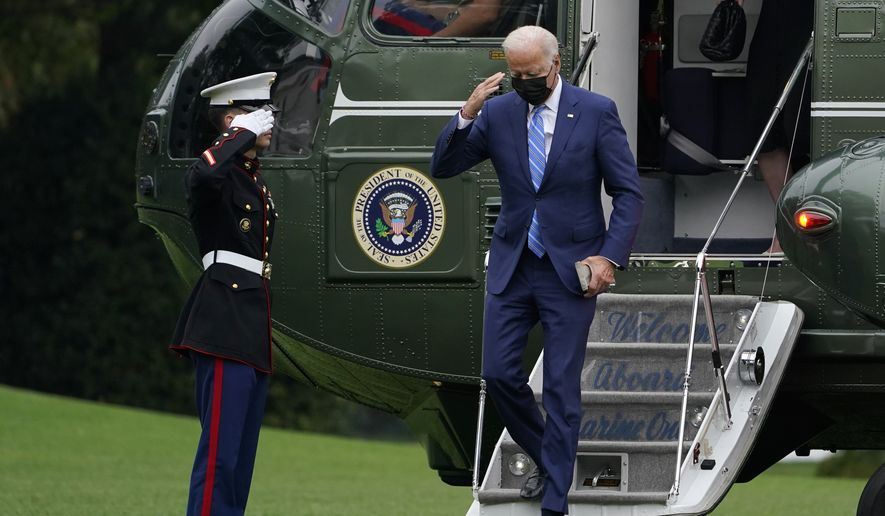 President Biden participated in a special summit with other Group of 20 leaders Tuesday to discuss the growing humanitarian crisis in Afghanistan since the Taliban assumed control of the country in August.
The virtual summit opened with the European Union pledging a $1.2 billion aid package to the beleaguered country. European Commission President Ursula von der Leyen said the aid package will help "avert a major humanitarian and socio-economic collapse" in Afghanistan.
In a statement, the European Union said the funds are "direct support" for Afghans and would be administered via international humanitarian organizations, not the Taliban government.
---
Annapolis couple accused of selling nuclear secrets could face life in prison
Federal prosecutors said Monday they will seek continued detention for a Maryland husband and wife accused of trying to sell U.S. nuclear submarine secrets, out of concern the couple may try to flee the country rather than face a potential life prison sentence.
Jonathan and Diana Toebbe, who live in Annapolis and have two children, are scheduled to make a brief appearance Tuesday in federal court in Martinsburg, W. Va. They were arrested Saturday in Jefferson County, W. Va., during what officials said was their latest "dead drop" of information to a person they thought was their foreign spy service handler.
During a nearly year-long sting operation, the couple allegedly sent thousands of government documents about nuclear submarine propulsion systems to the purported handler — who turned out to be an undercover FBI agent gathering evidence against them, according to a criminal complaint unsealed Sunday.
---
Texas GOP Rep. Crenshaw pens children's book warning against cancel culture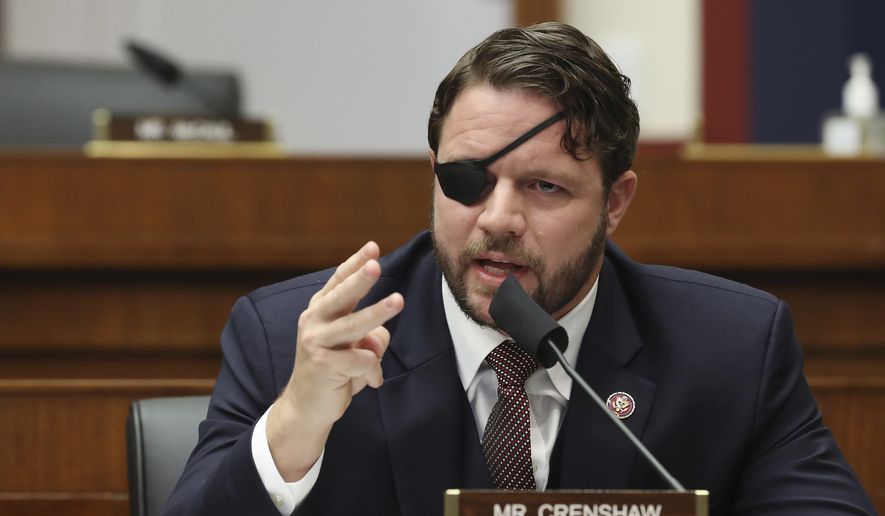 Rep. Dan Crenshaw has written a children's book that seeks to teach youth about the dangers of the cancel culture.
The Texas Republican explained this week that his motivations were to create a book that competes with left-wing books penned for children.
"You've got [to] reach all audiences," Mr. Crenshaw told Fox News. "Parents are increasingly frustrated by their school's curriculum. They can go find left-wing progressive and woke children's books out there. It's pretty hard to find exclusively conservative-themed children's products."
Mr. Crenshaw's book, titled "Fame, Blame, and the Raft of Shame," will be the fourth book in a series of titles put out by Brave Books, a conservative publishing house that is "empowering this generation's youth with conservative values," according to its website.
---
'Unprecedented': Newsom regulations target lawnmowers, ketchup, toys
California Gov. Gavin Newsom, fresh off last month's recall victory, signed a bundle of bills over the weekend that delivered a fresh layer of woke regulations to his allies on the Democratic left.
Included were landmark measures to require ethnic studies for high school graduation; order large retailers to offer gender-neutral children's products such as toys and toothbrushes; ban restaurants from providing unsolicited single-use condiment packets and utensils; and phase out gas-powered lawnmowers and leaf-blowers.
Those were only a few of the 100-plus bills the Democrat signed at the end of the 2021 state legislative session, but headline-grabbing measures fueled the perception that the governor is thumbing his nose at recall supporters by expanding the state's regulatory authority.
---
US Drops Sanctions Against 2 Iranian Companies
The Biden administration has removed sanctions against two Iranian companies.
The action was announced Friday regarding Mammut Industrial Group (Mammut Industries) and its subsidiary Mammut Diesel. According to The Hill, both companies are involved in military missile programs.
The two companies had both been sanctioned by the Trump administration in September 2020. The Hill reported the sanctions had been part of an increased pressure campaign on Iran over that nation's nuclear activity.
At the time, the Treasury Department had labeled the companies among the "key actors in Iran's nuclear and ballistic missile programs."
---
Risky move: Biden undercuts WH executive privilege shield
It's a risky move by President Joe Biden that could come back to haunt him — and future presidents — in the hyperpartisan world of Washington politics.
Democrat Biden has agreed to a request from Congress seeking sensitive information on the actions of his predecessor Donald Trump and his aides during the Jan. 6 insurrection, though the former president claims the information is guarded by executive privilege.
The move by Biden isn't the final word; Republican Trump says he will challenge the requests and a lengthy legal battle is likely to ensue over the information. Courts have ruled that former presidents are afforded executive privilege in some cases.
But the playbook for the legal world is different from the political world. And in the political world, "every time a president does something controversial, it becomes a building block for future presidents," said Saikrishna Prakash, a law professor at the University of Virginia who studies presidential powers.
---
Netflix backs Dave Chappelle amid criticism over transgender remarks
A top Netflix executive said Dave Chappelle's special "The Closer" doesn't cross "the line on hate" and will remain on the streaming service despite fallout over the comedian's remarks about the transgender community.
In an internal memo, co-CEO Ted Sarandos told managers that "some talent" may join third parties in calling for the show's removal, adding, "which we are not going to do."
Netflix declined comment on the memo, which was reported Monday by Variety.
---
More Top News
---
Congress' classical narcissists fret as the Trump train rolls on
No, GOP swampers, Donald Trump is not going away.
Much to the shock and dismay of establishment Republicans in Washington, President Trump has no plans whatsoever of going quietly into that good night. Or retirement. Or surrender. Or whatever.
Did you see his rally in Iowa this weekend? Or the one in Georgia before that?
No. Your long, national nightmare is nowhere near over.
---
Biden's woke, socialist garbage is a bad fit for America
Americans didn't sign up for radical change
The radical Biden agenda is falling apart on all fronts. To date, President Joe Biden has created a border crisis, a crime crisis, an inflation crisis, an Afghanistan crisis, and a vaccine mandate crisis. Since taking office, the American people have witnessed a steady drumbeat of unprecedented policy failures due to this president's weak leadership and bad decisions.
Meanwhile, on Capitol Hill, Mr. Biden's dangerous federal takeover of elections legislation is all but dead, his infrastructure bill is being held hostage by the fringe left, and his multi-trillion socialist wish list - also known as budget reconciliation - is being decimated.
This entire unfolding catastrophe is of Mr. Biden's own making. The plain truth is Mr. Biden is in serious political trouble because he keeps trying to jam a square peg into a round hole. Socialism and the radical left's warped vision to fundamentally transform our country versus our Constitutional Republic and the American people who cherish limited government and freedom.
---
" It is discouraging to think how many people are shocked by honesty and how few by deceit."

-- Noel Coward

(1899-1973) British playwright

---

The Medal of Honor is the highest award for valor in action against an enemy force which can be bestowed upon an individual serving in the Armed Services of the United States.

GeneTrerally presented to its recipient by the President of the United States of America in the name of Congress.

The first award of the Medal of Honor was made March 25, 1863 to Private JACOB PARROTT.The last award of the Medal of Honor was made September 15, 2011 to Sergeant DAKOTA MEYER.

Since then there have been: • 3458 recipients of the Medal of Honor.

• Today there are 85 Living Recipients of the Medal of Honor.

Citation


Captain Humbert R. Versace distinguished himself by extraordinary heroism during the period of 29 October 1963 to 26 September 1965, while serving as S-2 Advisor, Military Assistance Advisory Group, Detachment 52, Ca Mau, Republic of Vietnam. While accompanying a Civilian Irregular Defense Group patrol engaged in combat operations in Thoi Binh District, An Xuyen Province, Captain Versace and the patrol came under sudden and intense mortar, automatic weapons, and small arms fire from elements of a heavily armed enemy battalion. As the battle raged, Captain Versace, although severely wounded in the knee and back by hostile fire, fought valiantly and continued to engage enemy targets. Weakened by his wounds and fatigued by the fierce firefight, Captain Versace stubbornly resisted capture by the over-powering Viet Cong force with the last full measure of his strength and ammunition. Taken prisoner by the Viet Cong, he exemplified the tenets of the Code of Conduct from the time he entered into Prisoner of War status. Captain Versace assumed command of his fellow American soldiers, scorned the enemy's exhaustive interrogation and indoctrination efforts, and made three unsuccessful attempts to escape, despite his weakened condition which was brought about by his wounds and the extreme privation and hardships he was forced to endure. During his captivity, Captain Versace was segregated in an isolated prisoner of war cage, manacled in irons for prolonged periods of time, and placed on extremely reduced ration. The enemy was unable to break his indomitable will, his faith in God, and his trust in the United States of America. Captain Versace, an American fighting man who epitomized the principles of his country and the Code of Conduct, was executed by the Viet Cong on 26 September 1965. Captain Versace's gallant actions in close contact with an enemy force and unyielding courage and bravery while a prisoner of war are in the highest traditions of the military service and reflect the utmost credit upon himself and the United States Army.

---

From the Archives

We Have Met the Enemy…
Geoff Metcalf


"They who can give up essential liberty to obtain a little temporary safety deserve neither liberty nor safety.
--Benjamin Franklin
"The American people must be willing to give up a degree of personal privacy in exchange for safety and security."
--Louis Freeh


In the wake of the clamor over the most recent WikiLeaks data dump, 'Vault 7', 'UMBRAGE', et al, it should be noted this is not really anything new. What we are seeing here is simply the evolution of something that goes back to the late 50s (to the incomplete best knowledge I have).

It is kinda cool to finally see even

The New York Times

acknowledging material

I was writing about in 1998

.

In April of 1998 I wrote "Privacy has become an anachronism." I was commenting on "a massive system designed to intercept all your e-mail, fax traffic and more." I was explaining 'Echelon', the illegitimate offspring of a

UKUSA Treaty

signed by the United States, United Kingdom, Canada, Australia and New Zealand. Its purpose was, and is, to have a vast global intelligence monster, which allegedly shares common goals. The system was so "efficient" that reportedly National Security Agency folk from Fort Meade could work from Menwith Hill in England to intercept local communications without either nation having to burden themselves with the formality of seeking approval (a court order) or disclosing the operation. And this was all pre-9/11 and pre-the anti-constitutional

'Patriot Act'

.

It is illegal (without a Judge's signed permission) for the United States to spy on its citizens … kinda. The laws have long been circumvented by a mutual pact among five nations. Under the terms of UKUSA agreement, Britain spies on Americans and America spies on British citizens, and then the two conspirators trade data. A classic technical finesse. It is legal, but the intent to evade the spirit is inescapable.

I often fictionalized the genesis of 'Echelon' as an informal meeting of a group of post war American and British intelligence types drinking in some remote rustic bar. An imagined CIA type complains to his MI6 buddy about the hassles of US laws preventing US intelligence from surveillance of bad guys, and the Brit echoes the same complaint.

"Hey wait a moment mate," says Nigel, the make-believe MI6 guy, "I can spy on your guys and you can spy on our bad players…why don't we just come up with a mechanism whereby we spy on your villains, you spy on our villains, and we just 'share' the intel?"

This system was called ECHELON, and has been kicking around in some form longer than most of you. The result of the UKUSA treaty signed by the United States, United Kingdom, Canada, Australia and New Zealand was, and is, to have a vast global intelligence monster which allegedly shares common goals.

The London Telegraph reported in December of 1997 that the Civil liberties Committee of the European Parliament had officially confirmed the existence and purpose of ECHELON. "A global electronic spy network that can eavesdrop on every telephone, e-mail and telex communication around the world will be officially acknowledged for the first time in a European Commission report. …"

The report noted: "Within Europe all e-mail, telephone and fax communications are routinely intercepted by the United States National Security Agency, transferring ll target information from the Eurv opean mainland via the strategic hub of London, then by satellite to Fort Meade in Maryland via the crucial hub at Menwith Hill, in the North York moors in th UK.

"The ECHELON system forms part of the UKUSA system but unlike many of the electronic spy systems developed during the Cold War, ECHELON was designed primarily for non-military targets: governments, organizations and businesses in virtually every country."

An interesting sidebar appeared in the International Herald Tribune under the headline, "Big Corporate Brother: It Knows More About You Than You Think." The story details Acxiom Corp, which was a humongous information service hidden in the Ozark foothills. Twenty-four hours a day, Acxiom electronically gathered and sorts all kinds of data about 196 million Americans. Credit card transactions and magazine subscriptions, telephone numbers, real estate records, automotive data, hunting, business and fishing licenses, consumer surveys and demographic detail that would make a marketing department's research manager salivate. This relati vely new (legal) enterprise was known as "data warehousing" or "data-mining", and it underscores the cruel reality that the fiction of personal privacy has become obsolete. Technology's ability to collect and analyze data has made privacy a quaint albeit interesting dinosaur.

The Tribune reported that "Axciom can often determine whether an American owns a dog or cat, enjoys camping or gourmet cooking, reads the Bible or lots of other books. It can often pinpoint an American's occupation, car and favorite vacations. By analyzing the equivalent of billions of pages of data, it often projects for its customers who should be offered a credit card or who is likely to buy a computer."

Most of this information is from y 1998 piece. Echelon has developed, matured, and morphed into a much more powerful hybrid. 'Carnivore' was software to help triage the cacophony of data. Vault 7 and 'Umbrage' are logical (some would argue "insidious") growth.

More to follow…