"It Is Not A Question of Who Is Right Or Wrong But What Is Right Or Wrong That Counts.

"

--Geoff Metcalf
Wo

rld & Nation
Trump says he has fired Bolton as national security adviser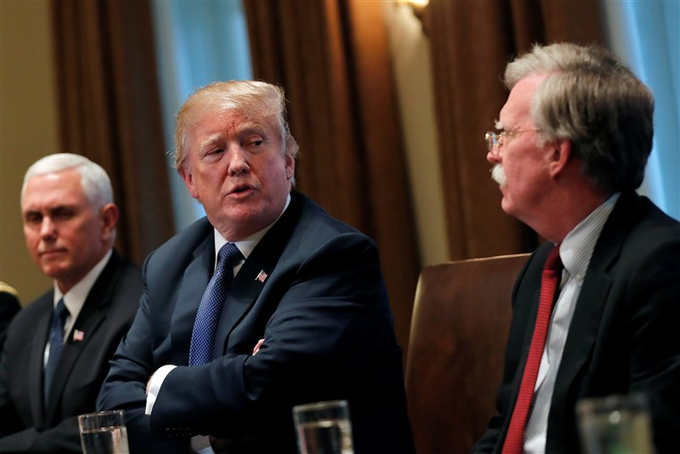 President Trump announced Tuesday that he had fired his national security adviser, John Bolton, saying in tweets that he "disagreed strongly with many of his suggestions."

"I informed John Bolton last night that his services are no longer needed at the White House," Trump said on Twitter."I asked John for his resignation, which was given to me this morning. I thank John very much for his service."

Trump said he would name a replacement next week, as the latest upheaval in his administration played out.


---
Holes poked in CNN report blaming Trump for alarm that led to extraction of Kremlin informant
New details about a high-level CIA informant close to the Kremlin cast doubt on President Trump playing a role in the lead-up to the decision to extract the individual from Russia in 2017.
Hours after CNN reported Trump's handling of classified information was the inciting incident leading to this spy's extraction, a follow-up story from the New York Times cited sources who insisted media scrutiny alone is what jeopardized the safety of this source.
---
Liberal bias: Popular U.S. history textbook inflates Democrats to 'superhuman levels'
'American Pageant' is an 'unreliable narrator of U.S. history,' says report by ex-Reagan Education Department official
The country's most popular American history textbook tarnishes 20th century conservative icons, inflates Democratic presidents to "superhuman levels" and has an anti-Trump bias, according to a report from a former Education Department official.
"American Pageant," now in its 17th edition, is awash in liberal excesses, according to the report released Tuesday by The Education and Research Institute, a nonprofit chaired by Daniel Oliver, who served as an attorney in the Department of Education under President Ronald Reagan.
The institute notes that "American Pageant" is the bestselling American history textbook, has been read by millions of students over the past 60 years and is considered a favorite for advanced placement classes. However, the research group says the textbook suffers from liberal bias, pointing out that it:
"The problem is that the American Pageant is a thoroughly unreliable narrator of U.S. history," says the report, which was written by Mr. Oliver, a former board member for National Review.
---
A chaotic final night for Parliament leaves Johnson with bleak choices on the path to Brexit
British Prime Minister Boris Johnson faced a charred political landscape Tuesday morning that offers few viable options for achieving his "do or die" exit from the European Union, hours after Parliament crushed his dreams of an election that could clear the path to departure.
In a chaotic final session — marked by scenes of pandemonium in the wee hours of Tuesday — Johnson's bid for a new vote was soundly defeated, continuing a remarkable streak in which the once-swaggering prime minister has lost every key vote of his young premiership.
Tuesday was the second time in as many weeks that Johnson had asked for Parliament to allow a fresh election, only to be rebuffed by a unified opposition.
---

NRA sues San Francisco over 'domestic terrorist organization' declaration

The National Rifle Association sued San Francisco on Monday over the city's recent declaration that the gun-rights lobby is a "domestic terrorist organization."

The lawsuit, filed in U.S. District Court for the Northern District of California, accuses city officials of violating the gun lobby's free speech rights for political reasons and says the city is seeking to blacklist anyone associated with the NRA. It asks the court to step in "to instruct elected officials that freedom of speech means you cannot silence or punish those with whom you disagree."

Last week, the San Francisco Board of Supervisors passed a resolution calling the NRA a "domestic terrorist organization," contending the group spreads propaganda that seeks to deceive the public about the dangers of gun violence.


---
Air Force to review lodging rules amid Trump property flap
The Air Force is calling for a wide-ranging review of housing policies for personnel operating around the world in the wake of multiple reports that crew members have stayed at Trump properties during overnight refueling stops.
In a letter released late Monday, acting Air Force Secretary Matthew Donovan and Chief of Staff Gen. David Goldfein requested a "review [of] all relevant guidance associated with the use of civil airports and lodging selections for aircrew at en route locations" within the next 30 days.
The review comes on the heels of reports that dozens of airmen — at least 60 according to a new Politico report — have stayed at the president's Turnberry resort in Scotland within the last year.
---
'Dangerous and reckless': Thom Tillis furious N.C. sanctuary cities let loose nearly 500 illegals
Sen. Thom Tillis on Monday blasted sanctuary cities in his home state of North Carolina for turning loose nearly 500 illegal immigrants despite detention requests from U.S. Immigration and Customs Enforcement.
"These North Carolina counties are releasing illegal immigrants charged with violent crimes like rape and murder without even notifying federal officials, jeopardizing public safety," Mr. Tillis fumed.
The release of 489 illegal immigrants by law enforcement agencies across North Carolina was detailed in a report by WBTV in Charlotte. The illegals were turned loose during the past 10 months as a result of sanctuary city policies that ignore detainer requests from ICE, according to the report.
---
Trump Says as Far as He Is Concerned, Afghanistan Peace Talks Are Dead
President Donald Trump said on Monday that talks with Afghanistan's Taliban leaders are off and that he was still considering a U.S. troop drawdown in the country.
"They're dead. They're dead. As far as I'm concerned, they're dead," Trump said of the talks, speaking with reporters as he left the White House for North Carolina.
Months of U.S. negotiations with the Taliban militants, who control large parts of Afghanistan, ended on Saturday when Trump abruptly announced he was canceling secret talks at Camp David with the Taliban and the country's president, Ashraf Ghani. The talks were aimed at securing an agreement to pull U.S. troops out after nearly 20 years of war.
---
George Soros offers rare praise for Trump and how he's handled Huawei in the trade war
In a Wall Street Journal op-ed, liberal billionaire financier George Soros offered some rare praise of President Trump for his policies around China and Huawei.
But Soros said he worries that Trump will reverse his own strategies to use Huawei as one of his "bargaining chips" in trade talks with China in the run-up to the 2020 election.
Soros said Huawei should not be removed from the U.S. entity list without Congress' consent.
---
North Korea fires 2 projectiles after offering talks with US
North Korea launched two projectiles toward the sea on Tuesday, South Korea's military said, hours after the North offered to resume nuclear diplomacy with the United States but warned its dealings with Washington may end without new U.S. proposals.
The launches and demand for new proposals were apparently aimed at pressuring the United States to make concessions when the North Korea-U.S. talks restart. North Korea is widely believed to want the United States to provide security guarantees and extensive relief from U.S.-led sanctions in return for limited denuclearization steps.
The North Korean projectiles fired from its South Phyongan province, which surrounds its capital city of Pyongyang, flew about 330 kilometers (205 miles) across the country and in the direction of the waters off its east coast, according to South Korea's Joint Chiefs of Staff and Defense Ministry.
---
'Leverage game': Trump puts America first by walking away from bad deals
Sometimes the art of the deal is turning down the deal on the table.
Critics feared President Trump's career as real-estate mogul turned reality-TV star would find him all too ready in the Oval Office to accept foreign policy offers that promised favorable coverage and won a few news cycles.
But some of the biggest calls of his presidency — from North Korea negotiations to the Iran nuclear deal and now the freeze on talks with the Taliban — have shown Mr. Trump's ability to walk away from the table, even when it seems like a deal could be within grasp.
---
How reason will take a backseat in Thursday's Democratic debate
The discussion will likely veer far left on issues such as college debt amnesty and gun buy-back programs
The third Democratic debate is just around the corner. While it's challenging to predict what zingers the candidates will deploy, one thing is more certain: Moderate and reasonable policy ideas will take a backseat to far-fetched proposals that belong more in the realm of fairytale.
The discussion will likely veer even further to the left compared to previous debates. Some of the less extreme candidates — including Sen. Michael Bennet and former Congressman John Delaney — will not be participating in Thursday's spectacle.
Hurricane Dorian will be Exhibit A for the "climate crisis." Opinions range broadly on the matter. Some argue changes to climate are largely cyclical, although influenced by human behavior. Others predict it will be impossible to avert doomsday if Americans don't immediately purchase a Prius. The 2020 Democratic hopefuls argue it's closer to the latter end of the spectrum.
---
President Trump dealing with the Taliban devil
A premature pullout from Afghanistan will fulfill bin Laden's prophecy
President Trump was right to cancel a "secret" meeting with leaders of the Taliban and the Afghan government following two bomb attacks by the terrorist group that killed 10 civilians, an American soldier and a Romanian service member in heavily fortified Kabul.
The president is eager to fulfill a desire to withdraw remaining American forces in what has been one of America's longest wars. Who isn't?
Unfortunately, terrorism does not fall under a single umbrella. It is not just al Qaeda, though all Islamist terrorist groups appear to have the same objective: Kill Americans, weaken the United States, subjugate women, eliminate Israel and impose its version of sharia law across the globe.
The prospect of a peace agreement would normally be cause for celebration, except in this case U.S. negotiators don't appear to know who and what they are dealing with. As he ended American involvement in the Vietnam War with the Paris Peace Accords, President Nixon declared "peace with honor." It wasn't long before the Communist North's takeover of South Vietnam and their murder of "collaborators."
---
---
"It is discouraging to think how many people are shocked by honesty and how few by deceit."

-- Noel Coward

(1899-1973) British playwright

---

The Medal of Honor is the highest award for valor in action against an enemy force which can be bestowed upon an individual serving in the Armed Services of the United States.

GeneTrerally presented to its recipient by the President of the United States of America in the name of Congress.

The first award of the Medal of Honor was made March 25, 1863 to Private JACOB PARROTT.The last award of the Medal of Honor was made September 15, 2011 to Sergeant DAKOTA MEYER.

Since then there have been: • 3458 recipients of the Medal of Honor.

• Today there are 85 Living Recipients of the Medal of Honor.

Citation


Captain Humbert R. Versace distinguished himself by extraordinary heroism during the period of 29 October 1963 to 26 September 1965, while serving as S-2 Advisor, Military Assistance Advisory Group, Detachment 52, Ca Mau, Republic of Vietnam. While accompanying a Civilian Irregular Defense Group patrol engaged in combat operations in Thoi Binh District, An Xuyen Province, Captain Versace and the patrol came under sudden and intense mortar, automatic weapons, and small arms fire from elements of a heavily armed enemy battalion. As the battle raged, Captain Versace, although severely wounded in the knee and back by hostile fire, fought valiantly and continued to engage enemy targets. Weakened by his wounds and fatigued by the fierce firefight, Captain Versace stubbornly resisted capture by the over-powering Viet Cong force with the last full measure of his strength and ammunition. Taken prisoner by the Viet Cong, he exemplified the tenets of the Code of Conduct from the time he entered into Prisoner of War status. Captain Versace assumed command of his fellow American soldiers, scorned the enemy's exhaustive interrogation and indoctrination efforts, and made three unsuccessful attempts to escape, despite his weakened condition which was brought about by his wounds and the extreme privation and hardships he was forced to endure. During his captivity, Captain Versace was segregated in an isolated prisoner of war cage, manacled in irons for prolonged periods of time, and placed on extremely reduced ration. The enemy was unable to break his indomitable will, his faith in God, and his trust in the United States of America. Captain Versace, an American fighting man who epitomized the principles of his country and the Code of Conduct, was executed by the Viet Cong on 26 September 1965. Captain Versace's gallant actions in close contact with an enemy force and unyielding courage and bravery while a prisoner of war are in the highest traditions of the military service and reflect the utmost credit upon himself and the United States Army.

---

From the Archives

We Have Met the Enemy…
Geoff Metcalf


"They who can give up essential liberty to obtain a little temporary safety deserve neither liberty nor safety.
--Benjamin Franklin
"The American people must be willing to give up a degree of personal privacy in exchange for safety and security."
--Louis Freeh


In the wake of the clamor over the most recent WikiLeaks data dump, 'Vault 7', 'UMBRAGE', et al, it should be noted this is not really anything new. What we are seeing here is simply the evolution of something that goes back to the late 50s (to the incomplete best knowledge I have).

It is kinda cool to finally see even

The New York Times

acknowledging material

I was writing about in 1998

.

In April of 1998 I wrote "Privacy has become an anachronism." I was commenting on "a massive system designed to intercept all your e-mail, fax traffic and more." I was explaining 'Echelon', the illegitimate offspring of a

UKUSA Treaty

signed by the United States, United Kingdom, Canada, Australia and New Zealand. Its purpose was, and is, to have a vast global intelligence monster, which allegedly shares common goals. The system was so "efficient" that reportedly National Security Agency folk from Fort Meade could work from Menwith Hill in England to intercept local communications without either nation having to burden themselves with the formality of seeking approval (a court order) or disclosing the operation. And this was all pre-9/11 and pre-the anti-constitutional

'Patriot Act'

.

It is illegal (without a Judge's signed permission) for the United States to spy on its citizens … kinda. The laws have long been circumvented by a mutual pact among five nations. Under the terms of UKUSA agreement, Britain spies on Americans and America spies on British citizens, and then the two conspirators trade data. A classic technical finesse. It is legal, but the intent to evade the spirit is inescapable.

I often fictionalized the genesis of 'Echelon' as an informal meeting of a group of post war American and British intelligence types drinking in some remote rustic bar. An imagined CIA type complains to his MI6 buddy about the hassles of US laws preventing US intelligence from surveillance of bad guys, and the Brit echoes the same complaint.

"Hey wait a moment mate," says Nigel, the make-believe MI6 guy, "I can spy on your guys and you can spy on our bad players…why don't we just come up with a mechanism whereby we spy on your villains, you spy on our villains, and we just 'share' the intel?"

This system was called ECHELON, and has been kicking around in some form longer than most of you. The result of the UKUSA treaty signed by the United States, United Kingdom, Canada, Australia and New Zealand was, and is, to have a vast global intelligence monster which allegedly shares common goals.

The London Telegraph reported in December of 1997 that the Civil liberties Committee of the European Parliament had officially confirmed the existence and purpose of ECHELON. "A global electronic spy network that can eavesdrop on every telephone, e-mail and telex communication around the world will be officially acknowledged for the first time in a European Commission report. …"

The report noted: "Within Europe all e-mail, telephone and fax communications are routinely intercepted by the United States National Security Agency, transferring ll target information from the European mainland via the strategic hub of London, then by satellite to Fort Meade in Maryland via the crucial hub at Menwith Hill, in the North York moors in the UK.

"The ECHELON system forms part of the UKUSA system but unlike many of the electronic spy systems developed during the Cold War, ECHELON was designed primarily for non-military targets: governments, organizations and businesses in virtually every country."

An interesting sidebar appeared in the International Herald Tribune under the headline, "Big Corporate Brother: It Knows More About You Than You Think." The story details Acxiom Corp, which was a humongous information service hidden in the Ozark foothills. Twenty-four hours a day, Acxiom electronically gathered and sorts all kinds of data about 196 million Americans. Credit card transactions and magazine subscriptions, telephone numbers, real estate records, automotive data, hunting, business and fishing licenses, consumer surveys and demographic detail that would make a marketing department's research manager salivate. This relatively new (legal) enterprise was known as "data warehousing" or "data-mining", and it underscores the cruel reality that the fiction of personal privacy has become obsolete. Technology's ability to collect and analyze data has made privacy a quaint albeit interesting dinosaur.

The Tribune reported that "Axciom can often determine whether an American owns a dog or cat, enjoys camping or gourmet cooking, reads the Bible or lots of other books. It can often pinpoint an American's occupation, car and favorite vacations. By analyzing the equivalent of billions of pages of data, it often projects for its customers who should be offered a credit card or who is likely to buy a computer."

Most of this information is from y 1998 piece. Echelon has developed, matured, and morphed into a much more powerful hybrid. 'Carnivore' was software to help triage the cacophony of data. Vault 7 and 'Umbrage' are logical (some would argue "insidious") growth.

More to follow…