Monday May 21st, 2018
"It Is Not A Question of Who Is Right Or Wrong But What Is Right Or Wrong That Counts.
"
--Geoff Metcalf
---
Wo
rld & National
Trump demands inquiry into whether FBI infiltrated campaign for political purposes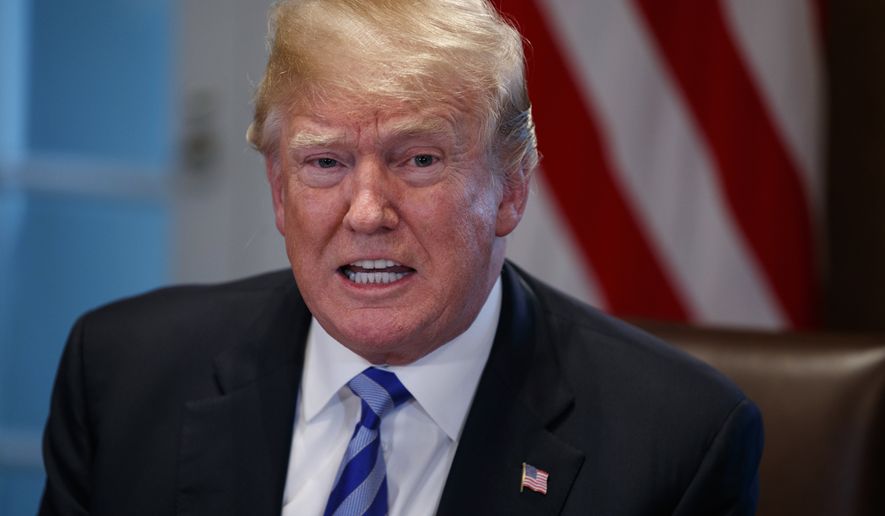 President Trump's feud with the Justice Department escalated dramatically over the weekend amid reports of an FBI informant snooping around his campaign, and now the president is calling on the embattled agency to investigate itself.
In a tweet on Sunday, the president said he will officially call for an investigation to determine the extent of the FBI's infiltration into his campaign and where the order originated.
"I hereby demand, and will do so officially tomorrow, that the Department of Justice look into whether or not the FBI/DOJ infiltrated or surveilled the Trump Campaign for Political Purposes — and if any such demands or requests were made by people within the Obama Administration!" the president tweeted.
The demand was made days after media reports identified Cambridge professor Stefan Halper, 73, as the FBI informant who met with several members of the Trump campaign in the summer of 2016.
MARK PENN UNLEASHES ON MUELLER: 'DEEP STATE' DESPERATE...
TRUMP FRIENDS, FAMILY 'SMEARED' BY SELECTIVE LEAKS...
INTEL OPS USED AGAINST OPPOSING CAMPAIGNS -- WITHOUT EVIDENCE....


CIA BRENNAN WARNS MCONNELL, RYAN...
---
DOJ Says Inspector General Will Investigate Trump Campaign Surveillance Claims
The Department of Justice said Sunday its inspector general will investigate whether the FBI engaged in politically motivated surveillance of President Donald Trump's presidential campaign in 2016 following a public demand by Trump to do so, the Washington Examiner reported Sunday.
"The Department has asked the Inspector General to expand the ongoing review of the FISA application process to include determining whether there was any impropriety or political motivation in how the FBI conducted its counterintelligence investigation of persons suspected of involvement with the Russian agents who interfered in the 2016 presidential election," Justice Department spokeswoman Sarah Isgur Flores said in a statement.
"As always," Flores said, "the Inspector General will consult with the appropriate U.S. Attorney if there is any evidence of potential criminal conduct."
---
Trump shares quote ripping Brennan: 'This guy is the genesis of this whole debacle'
President Trump on Monday shared a quote from a former Secret Service agent and conservative commentator, Dan Bongino, who slammed former CIA director John Brennan.
"'John Brennan is panicking. He has disgraced himself, he has disgraced the Country, he has disgraced the entire Intelligence Community. He is the one man who is largely responsible for the destruction of American's faith in the Intelligence Community and in some people at the........top of the FBI." Trump wrote on Twitter.
"Brennan started this entire debacle about President Trump. We now know that Brennan had detailed knowledge of the (phony) Dossier...he knows about the Dossier, he denies knowledge of the Dossier, he briefs the Gang of 8 on the Hill about the Dossier, which.......they then used to start an investigation about Trump," the president added.
---
Trump works with South Korean president to keep North's summit on track
President Trump and South Korean President Moon Jae-in spoke Sunday to ensure that the U.S. summit with North Korea is still on track, despite Pyongyang's threat to cancel the high-stakes meeting between Mr. Trump and North Korean leader Kim Jong-un.
In a phone call, Mr. Trump and Mr. Moon "exchanged views on various actions taken by North Korea recently," South Korea's presidential office said. The two leaders agreed to work closely on the planned summit in Singapore on June 12, which would be the first meeting between a sitting U.S. president and a North Korean leader.
---
CNN's Jake Tapper presses Democrat for evidence Trump campaign colluded with Russia
CNN's Jake Tapper pressed Sen. Mark Warner for evidence that the Trump campaign accepted help from a foreign adversary to win the 2016 presidential race.
Mr. Warner, vice chairman of the Senate Select Committee on Intelligence, cited a report released by the committee last week that found Russia "massively interfered in our elections," not only "to sow disarray, but to help Trump and to hurt Clinton."
But Mr. Tapper said the big question is still whether Russia did so "with the assistance or participation of any American, especially and including people who are in the Trump campaign's orbit."
---

Rudy Giuliani says he has rare understanding of Trump and can 'get the best out of him'
'To me, this is like public service. This will free him up even more to accomplish remarkable things'
Rudolph W. Giuliani says he can get the best out of Donald Trump as he vigorously defends him and lashes out at his enemies, allowing the president to focus on landmark achievements.
"I think the value that I bring to this is I understand him in a way that few other people do," Mr. Giuliani, the president's attorney and spokesman, said in an interview with The Washington Times.
Mr. Giuliani and President Trump are reunited in a new campaign. This time, it's Mr. Trump versus special counsel Robert Mueller, his shop of mostly Democratic prosecutors, a rapacious liberal press and the other political party, some of whom want impeachment.
---
Be careful if China cuts you a check, says former US trade official
"I'd say focus more on structural changes, getting market opening, fair treatment level playing field, IP (intellectual property) issues, investment protection. Focus on those kind of issues that will allow you to sell on market terms," said Frank Lavin, who was formerly U.S. Under Secretary of Commerce for international trade.
On developments on the Korean Peninsula, North Korea is unlikely to agree to a complete denuclearization, but there may be "baby steps" from the Trump-Kim meeting, he added.
---
Venezuela Election Won by Maduro Amid Widespread Disillusionment
President Nicolás Maduro won a second term as president of Venezuela, a country in the midst of a historic economic collapse marked by soaring prices, widespread hunger, rampant crime, a failing health system and a large-scale exodus of its citizens.
Electoral officials declared Mr. Maduro the victor Sunday night, in a contest that critics said was heavily rigged in his favor.
In the capital and around the country, the turnout was extremely low, with more than half of voters not casting ballots, reflecting both a call from many opposition leaders for a boycott of the vote and the disillusionment of longtime government supporters.
---
Paul Ryan Under Pressure to Surrender Speakership
Top Republicans are considering a plan to force House Speaker Paul Ryan out during the summer in order to clear the way for his presumed successor, Majority Leader Kevin McCarthy, to take over, The Weekly Standard reported on Monday.
Although there were always Republican representatives uneasy after Ryan announced last month he was not seeking re-election that a lame-duck speaker would have diminished powers to push through legislation and would be a liability for midterm elections, the breaking point for many appeared to come on Friday after GOP leaders did not find a compromise within their own party that resulted in the embarrassing failure of the farm bill.
---
'GOD LOVES YOU' Pope Francis tells gay man 'God made you like this and loves you like this'
POPE Francis has told a gay man that God loves him during a private meeting, it has been claimed.
In a private dialogue, the Pontiff is understood to have told Juan Carlos Cruz, a victim of sexual abuse at the hands of Catholic priests, that God loves gay people and it is fine to be homosexual.
The comments are the most striking public acceptance about homosexuality ever made by a head of the Roman Catholic Church.
---

Pompeo promises strongest sanctions in history on Iran
Now that America is out of the Iran deal, what's next for US-Iran relations?
The Trump administration will embark on an "unprecedented" pressure campaign against Iran meant to fundamentally change its foreign policy, US Secretary of State Mike Pompeo said on Monday.
Delivering his first major foreign policy address as top diplomat at the Heritage Foundation, a think tank in Washington, Pompeo listed twelve sweeping and uncompromising conditions for a new nuclear deal with Tehran after President Donald Trump withdrew from an existing one governing its nuclear work earlier this month.
"The list is long" because Iran's activities are bold in scope, the secretary said: "We didn't create the list. They did."
---
US, China agree to abandon trade war: Beijing
Washington and Beijing have agreed to abandon any trade war and back off from imposing tariffs on each other, Chinese state media reported Sunday.
The announcement came after high-level talks in the US capital and followed months of tensions over what President Donald Trump has blasted as an unfair commercial relationship between the two economic giants.
---
Donald Trump's Socratic method
While the press likes to portray President Trump as impetuous and impatient with details, when it comes to important decisions, he usually weighs options carefully.
Before making a decision, Mr. Trump routinely canvasses a wide range of people for their opinions. Besides his own aides, he will ask opinions of Secret Service agents, chambermaids or butlers. He values the opinions of working class people, believing they often have more common sense than the highly educated.
In addition, he regularly calls friends to bounce off ideas and ask for their input. The smarter they are, the more he likes them.
---
Negotiating better trade agreements
President Trump is now hot and heavy in the trade negotiations with China, as well as Canada and Mexico in negotiating NAFTA 2.0. We are strong free traders, but we also believe that Mr. Trump's plans to negotiate better trade agreements that reduce trade barriers abroad are right on the mark. He also has to make sure those deals fully protect U.S. intellectual property, or what is commonly called know-how.
American investments, ingenuity and entrepreneurship have made intellectual property one of our nation's most important assets — IP-intensive industries including software, biotechnology and entertainment now support nearly one-third of all U.S. jobs. But too often, our foreign trading partners take unfair advantage of our IP innovations to enrich themselves at our expense.
This is glaringly evident in the pharmaceutical sector.
"It is discouraging to think how many people are shocked by honesty and how few by deceit."
-- Noel Coward
(1899-1973) British playwright
---
The Medal of Honor is the highest award for valor in action against an enemy force which can be bestowed upon an individual serving in the Armed Services of the United States.
GeneTrerally presented to its recipient by the President of the United States of America in the name of Congress.
The first award of the Medal of Honor was made March 25, 1863 to Private JACOB PARROTT.The last award of the Medal of Honor was made September 15, 2011 to Sergeant DAKOTA MEYER.
Since then there have been: • 3458 recipients of the Medal of Honor.
• Today there are 85 Living Recipients of the Medal of Honor.
Citation
Captain Humbert R. Versace distinguished himself by extraordinary heroism during the period of 29 October 1963 to 26 September 1965, while serving as S-2 Advisor, Military Assistance Advisory Group, Detachment 52, Ca Mau, Republic of Vietnam. While accompanying a Civilian Irregular Defense Group patrol engaged in combat operations in Thoi Binh District, An Xuyen Province, Captain Versace and the patrol came under sudden and intense mortar, automatic weapons, and small arms fire from elements of a heavily armed enemy battalion. As the battle raged, Captain Versace, although severely wounded in the knee and back by hostile fire, fought valiantly and continued to engage enemy targets. Weakened by his wounds and fatigued by the fierce firefight, Captain Versace stubbornly resisted capture by the over-powering Viet Cong force with the last full measure of his strength and ammunition. Taken prisoner by the Viet Cong, he exemplified the tenets of the Code of Conduct from the time he entered into Prisoner of War status. Captain Versace assumed command of his fellow American soldiers, scorned the enemy's exhaustive interrogation and indoctrination efforts, and made three unsuccessful attempts to escape, despite his weakened condition which was brought about by his wounds and the extreme privation and hardships he was forced to endure. During his captivity, Captain Versace was segregated in an isolated prisoner of war cage, manacled in irons for prolonged periods of time, and placed on extremely reduced ration. The enemy was unable to break his indomitable will, his faith in God, and his trust in the United States of America. Captain Versace, an American fighting man who epitomized the principles of his country and the Code of Conduct, was executed by the Viet Cong on 26 September 1965. Captain Versace's gallant actions in close contact with an enemy force and unyielding courage and bravery while a prisoner of war are in the highest traditions of the military service and reflect the utmost credit upon himself and the United States Army.
---
From the Archives

We Have Met the Enemy…

Geoff Metcalf
"They who can give up essential liberty to obtain a little temporary safety deserve neither liberty nor safety.
--Benjamin Franklin
"The American people must be willing to give up a degree of personal privacy in exchange for safety and security."
--Louis Freeh

In the wake of the clamor over the most recent WikiLeaks data dump, 'Vault 7', 'UMBRAGE', et al, it should be noted this is not really anything new. What we are seeing here is simply the evolution of something that goes back to the late 50s (to the incomplete best knowledge I have).
It is kinda cool to finally see even the New York Times (www.nytimes.com/2017/03/09/opinion/the-truth-about-the-wikileaks-cia-cache.html?_r=0) acknowledging material I was writing about in 1998 (http://www.wnd.com/1998/04/6108/ ).
In April of 1998 I wrote "Privacy has become an anachronism." I was commenting on "a massive system designed to intercept all your e-mail, fax traffic and more." I was explaining 'Echelon', the illegitimate offspring of a UKUSA treaty (https://www.nationalarchives.gov.uk/ukusa/ ) signed by the United States, United Kingdom, Canada, Australia and New Zealand. Its purpose was, and is, to have a vast global intelligence monster, which allegedly shares common goals. The system was so "efficient" that reportedly National Security Agency folk from Fort Meade could work from Menwith Hill in England to intercept local communications without either nation having to burden themselves with the formality of seeking approval (a court order) or disclosing the operation. And this was all pre-9/11 and pre-the anti-constitutional 'Patriot Act'.
https://www.washingtontimes.com/news/2018/mar/15/hyperloop-a-new-transportation-technology-offers-s/
It is illegal (without a Judge's signed permission) for the United States to spy on its citizens … kinda. The laws have long been circumvented by a mutual pact among five nations. Under the terms of UKUSA agreement, Britain spies on Americans and America spies on British citizens, and then the two conspirators trade data. A classic technical finesse. It is legal, but the intent to evade the spirit is inescapable.
I often fictionalized the genesis of 'Echelon' as an informal meeting of a group of post war American and British intelligence types drinking in some remote rustic bar. An imagined CIA type complains to his MI6 buddy about the hassles of US laws preventing US intelligence from surveillance of bad guys, and the Brit echoes the same complaint.
"Hey wait a moment mate," says Nigel, the make-believe MI6 guy, "I can spy on your guys and you can spy on our bad players…why don't we just come up with a mechanism whereby we spy on your villains, you spy on our villains, and we just 'share' the intel?"
This system was called ECHELON, and has been kicking around in some form longer than most of you. The result of the UKUSA treaty signed by the United States, United Kingdom, Canada, Australia and New Zealand was, and is, to have a vast global intelligence monster which allegedly shares common goals.
The London Telegraph reported in December of 1997 that the Civil liberties Committee of the European Parliament had officially confirmed the existence and purpose of ECHELON. "A global electronic spy network that can eavesdrop on every telephone, e-mail and telex communication around the world will be officially acknowledged for the first time in a European Commission report. …"
The report noted: "Within Europe all e-mail, telephone and fax communications are routinely intercepted by the United States National Security Agency, transferring all target information from the European mainland via the strategic hub of London, then by satellite to Fort Meade in Maryland via the crucial hub at Menwith Hill, in the North York moors in the UK.
"The ECHELON system forms part of the UKUSA system but unlike many of the electronic spy systems developed during the Cold War, ECHELON was designed primarily for non-military targets: governments, organizations and businesses in virtually every country."
An interesting sidebar appeared in the International Herald Tribune under the headline, "Big Corporate Brother: It Knows More About You Than You Think." The story details Acxiom Corp, which was a humongous information service hidden in the Ozark foothills. Twenty-four hours a day, Acxiom electronically gathered and sorts all kinds of data about 196 million Americans. Credit card transactions and magazine subscriptions, telephone numbers, real estate records, automotive data, hunting, business and fishing licenses, consumer surveys and demographic detail that would make a marketing department's research manager salivate. This relatively new (legal) enterprise was known as "data warehousing" or "data-mining", and it underscores the cruel reality that the fiction of personal privacy has become obsolete. Technology's ability to collect and analyze data has made privacy a quaint albeit interesting dinosaur.
The Tribune reported that "Axciom can often determine whether an American owns a dog or cat, enjoys camping or gourmet cooking, reads the Bible or lots of other books. It can often pinpoint an American's occupation, car and favorite vacations. By analyzing the equivalent of billions of pages of data, it often projects for its customers who should be offered a credit card or who is likely to buy a computer."
Most of this information is from y 1998 piece. Echelon has developed, matured, and morphed into a much more powerful hybrid. 'Carnivore' was software to help triage the cacophony of data. Vault 7 and 'Umbrage' are logical (some would argue "insidious") growth.
More to follow…