"It Is Not A Question of Who Is Right Or Wrong But What Is Right Or Wrong That Counts.

"

--Geoff Metcalf
Wo

rld & National
William Barr: Mueller clears Trump in Russia probe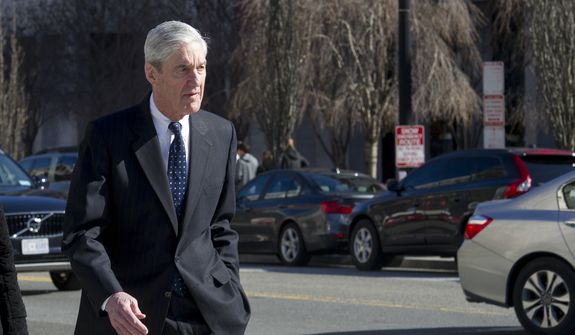 Special counsel Robert Mueller found no evidence that anyone connected with President Trump or his 2016 campaign conspired with Russia to subvert the election, according to a summary of his findings released Sunday by Attorney General William P. Barr.
Yet Mr. Mueller did find actions by Mr. Trump after he was in office that could be seen as efforts to obstruct the investigation into the election. Mr. Mueller did not recommend prosecution, but he left the decision up to Mr. Barr, who said he doesn't see enough evidence of a crime to pursue charges.
"Deputy Attorney General Rod Rosenstein and I have concluded that the evidence developed during the special counsel's investigation is not sufficient to establish that the president committed an obstruction of justice offense," Mr. Barr wrote in a letter summarizing his findings. The letter was sent to Congress on Sunday afternoon and quickly became public.
---
Sen. Graham to James Comey: 'See you soon' after Mueller report vindicates Trump
Senate Judiciary Committee Chairman Lindsey Graham suggested Sunday night that he intends to call in former FBI Director James B. Comey for questioning, after special counsel Robert Mueller's report produced no charges against President Trump.
Mr. Comey tweeted Sunday evening of the report, "So many questions."
Mr. Graham, South Carolina Republican, replied to Mr. Comey on Twitter: "Could not agree more. See you soon."
---
Nadler: We will call Attorney General William Barr to testify on Mueller report
Cites Justice Department's 'final decision-making' on obstruction of justice
A top Democrat said Sunday he plans to haul Attorney General William P. Barr before Congress as his party looks to wring every detail of special counsel Robert Mueller's probe out of the Justice Department.
Rep. Jerrold Nadler, New York Democrat and House Judiciary Committee chairman, announced on Twitter he will call the attorney general to testify "in the near future," citing Congress' oversight duties and what he called "discrepancies" in the decisions that led to largely vindicating the president.
Mr. Barr delivered a summary of Mr. Mueller's findings to Congress on Sunday that found no collusion between President Trump's team and Russian meddlers in the 2016 campaign.
---
Brexit Up in the Air as May Faces Possible Plot, Parliament Revolt
British Prime Minister Theresa May was holding crisis talks with colleagues on Sunday in an effort to breathe life into her twice-defeated Brexit deal after reports that her cabinet was plotting to topple her.
The United Kingdom's exit from the European Union was already slipping from May's weakened grasp as she struggled to increase support for her deal and parliament prepared to grab control of Brexit in the coming days.
At one of the most important junctures for the country since World War Two, British politics was at fever pitch. Yet, nearly three years since the 2016 referendum, it remains unclear how, when or if Brexit will ever take place.
With May humiliated and weakened, ministers publicly downplayed any immediate threat to her leadership, insisting that she is still in control and the best option is for parliament to ratify her Brexit divorce deal.
---
Ilhan Omar tells Muslims to 'raise hell' and 'make people uncomfortable' in defending their rights
Congresswoman's speech to Council on American-Islamic Relations draws protesters
Rep. Ilhan Omar, the Minnesota Democrat dogged by allegations of anti-Semitism, told Muslims in a speech Saturday to "raise hell" and "make people uncomfortable" in defense of their rights.
As hundreds of pro-Israel protesters rallied outside, Ms. Omar said U.S. Muslims should confront discrimination in her keynote speech at a fundraiser hosted by the Council on American-Islamic Relations of Greater Los Angeles in Woodland Hills, California.
"So, to me, I say raise hell. Make people uncomfortable," Ms. Omar said as the crowd cheered. "Because here's the truth, here's the truth: Far too long we have lived with the discomfort of being a second-class citizen and frankly I'm tired of it, and every single Muslim in this country should be tired of it."
---
Exclusive: DHS data shows growing surge of migrants at the border
The number of immigrants arrested or turned away at the southern border has continued to climb to levels not seen for years, according to new Department of Homeland Security data obtained by Axios.
Why it matters: The surge has been driven by an influx of migrant families and unaccompanied children, according to a DHS official. "At the moment, we have the closest thing to an open border that we've had," said Leon Fresco, an immigration attorney and member of a Homeland Security advisory committee formed by DHS Secretary Kirstjen Nielsen several months ago.
Detention centers are overcrowded, and immigration officials often aren't able to deport immigrants as quickly through expedited removal procedures.
---
CNN defends its Covington Catholic coverage after being hit with $275 million lawsuit
CNN is defending its reporting after being sued by the Covington Catholic High School teen at the center of January's viral incident, insisting that the network "reported on a newsworthy event" and was careful to "report on additional facts as they developed."
In its first public acknowledgment of the legal action, CNN posted a four-paragraph article on its website that said the network was "reviewing the lawsuit," referring to student Nicholas Sandmann's defamation complaint filed March 12 seeking $275 million for "false, vicious attacks."
"CNN reported on a newsworthy event and public discussion about it, taking care to report on additional facts as they developed and to share the perspectives of eyewitnesses and other participants and stakeholders as they came forward," said the CNN statement in the article posted Thursday.
---
Skeptical Supreme Court to Hear Redistricting Challenge
Last year, proponents of limiting partisan politics in the creation of electoral districts needed to win over Justice Anthony Kennedy. They couldn't.
The issue is back before the Supreme Court again, with arguments on Tuesday, and it might be harder than ever to convince the justices to rein in the practice known as partisan gerrymandering, designing districts to benefit one political party.
A new round of redistricting awaits after the 2020 census, and the court's decision could help shape the makeup of Congress and state legislatures over the next 10 years.
---
Netanyahu Cuts Short US Visit Over Gaza Tensions
Israeli Prime Minister Benjamin Netanyahu cut short a visit to the United States on Monday and the military said it dispatched reinforcements to the Gaza border after a rocket attack near Tel Aviv wounded seven people.
Netanyahu threatened a forceful response to the long-range strike amid accusations from opponents in a closely contested Israeli election, two weeks away, that he had been showing weakness in the face of security challenges from Gaza militants.
Netanyahu, who arrived in Washington on Sunday for a four-day visit, said he would fly home immediately after meeting President Donald Trump at the White House, as planned, later on Monday.
---
Marking Gorbachev's unhappy birthday
The 88th birthday of Mikhail Gorbachev, the last president of the Soviet Union, passed recently without much fanfare. Russian President Vladimir Putin merely sent a customary salutation to the former leader of an empire, the man who gave freedom to 250 million people instead of fighting a bloody power struggle to maintain his own position.
This small but polite greeting italicized a frightening truth: Under Mr. Putin, Mr. Gorbachev's legacy of peace has been halted. Instead, we may be headed for war.
In his birthday message, Mr. Putin wrote, "It is gratifying that you have not moved to the sidelines, but are actively engaged in expert discussions on key issues of the international agenda and make a significant contribution to developing open substantive dialogue on crucial contemporary matters." He also wished Mr. Gorbachev good health and high spirits.
---
You can confront the lies of abortion by seeing 'Unplanned'
The mantra of "pro choice" activists has long been to make abortion "safe, legal and rare."
Some 50 million butchered preborn babies later, does anyone still believe that lie?
We know that Planned Parenthood, the nation's largest provider of abortions, sets quotas for their clinics. Directors and staff who meet or exceed the number of babies they are supposed to kill are rewarded.
We know that they train their "counselors" to talk young, frightened girls into having the dangerous, deadly procedure.
---
"It is discouraging to think how many people are shocked by honesty and how few by deceit."

-- Noel Coward

(1899-1973) British playwright

---

The Medal of Honor is the highest award for valor in action against an enemy force which can be bestowed upon an individual serving in the Armed Services of the United States.

GeneTrerally presented to its recipient by the President of the United States of America in the name of Congress.

The first award of the Medal of Honor was made March 25, 1863 to Private JACOB PARROTT.The last award of the Medal of Honor was made September 15, 2011 to Sergeant DAKOTA MEYER.

Since then there have been: • 3458 recipients of the Medal of Honor.

• Today there are 85 Living Recipients of the Medal of Honor.

Citation


Captain Humbert R. Versace distinguished himself by extraordinary heroism during the period of 29 October 1963 to 26 September 1965, while serving as S-2 Advisor, Military Assistance Advisory Group, Detachment 52, Ca Mau, Republic of Vietnam. While accompanying a Civilian Irregular Defense Group patrol engaged in combat operations in Thoi Binh District, An Xuyen Province, Captain Versace and the patrol came under sudden and intense mortar, automatic weapons, and small arms fire from elements of a heavily armed enemy battalion. As the battle raged, Captain Versace, although severely wounded in the knee and back by hostile fire, fought valiantly and continued to engage enemy targets. Weakened by his wounds and fatigued by the fierce firefight, Captain Versace stubbornly resisted capture by the over-powering Viet Cong force with the last full measure of his strength and ammunition. Taken prisoner by the Viet Cong, he exemplified the tenets of the Code of Conduct from the time he entered into Prisoner of War status. Captain Versace assumed command of his fellow American soldiers, scorned the enemy's exhaustive interrogation and indoctrination efforts, and made three unsuccessful attempts to escape, despite his weakened condition which was brought about by his wounds and the extreme privation and hardships he was forced to endure. During his captivity, Captain Versace was segregated in an isolated prisoner of war cage, manacled in irons for prolonged periods of time, and placed on extremely reduced ration. The enemy was unable to break his indomitable will, his faith in God, and his trust in the United States of America. Captain Versace, an American fighting man who epitomized the principles of his country and the Code of Conduct, was executed by the Viet Cong on 26 September 1965. Captain Versace's gallant actions in close contact with an enemy force and unyielding courage and bravery while a prisoner of war are in the highest traditions of the military service and reflect the utmost credit upon himself and the United States Army.

---

From the Archives

We Have Met the Enemy…
Geoff Metcalf


"They who can give up essential liberty to obtain a little temporary safety deserve neither liberty nor safety.
--Benjamin Franklin
"The American people must be willing to give up a degree of personal privacy in exchange for safety and security."
--Louis Freeh


In the wake of the clamor over the most recent WikiLeaks data dump, 'Vault 7', 'UMBRAGE', et al, it should be noted this is not really anything new. What we are seeing here is simply the evolution of something that goes back to the late 50s (to the incomplete best knowledge I have).

It is kinda cool to finally see even

The New York Times

acknowledging material

I was writing about in 1998

.

In April of 1998 I wrote "Privacy has become an anachronism." I was commenting on "a massive system designed to intercept all your e-mail, fax traffic and more." I was explaining 'Echelon', the illegitimate offspring of a

UKUSA Treaty

signed by the United States, United Kingdom, Canada, Australia and New Zealand. Its purpose was, and is, to have a vast global intelligence monster, which allegedly shares common goals. The system was so "efficient" that reportedly National Security Agency folk from Fort Meade could work from Menwith Hill in England to intercept local communications without either nation having to burden themselves with the formality of seeking approval (a court order) or disclosing the operation. And this was all pre-9/11 and pre-the anti-constitutional

'Patriot Act'

.

It is illegal (without a Judge's signed permission) for the United States to spy on its citizens … kinda. The laws have long been circumvented by a mutual pact among five nations. Under the terms of UKUSA agreement, Britain spies on Americans and America spies on British citizens, and then the two conspirators trade data. A classic technical finesse. It is legal, but the intent to evade the spirit is inescapable.

I often fictionalized the genesis of 'Echelon' as an informal meeting of a group of post war American and British intelligence types drinking in some remote rustic bar. An imagined CIA type complains to his MI6 buddy about the hassles of US laws preventing US intelligence from surveillance of bad guys, and the Brit echoes the same complaint.

"Hey wait a moment mate," says Nigel, the make-believe MI6 guy, "I can spy on your guys and you can spy on our bad players…why don't we just come up with a mechanism whereby we spy on your villains, you spy on our villains, and we just 'share' the intel?"

This system was called ECHELON, and has been kicking around in some form longer than most of you. The result of the UKUSA treaty signed by the United States, United Kingdom, Canada, Australia and New Zealand was, and is, to have a vast global intelligence monster which allegedly shares common goals.

The London Telegraph reported in December of 1997 that the Civil liberties Committee of the European Parliament had officially confirmed the existence and purpose of ECHELON. "A global electronic spy network that can eavesdrop on every telephone, e-mail and telex communication around the world will be officially acknowledged for the first time in a European Commission report. …"

The report noted: "Within Europe all e-mail, telephone and fax communications are routinely intercepted by the United States National Security Agency, transferring all target information from the European mainland via the strategic hub of London, then by satellite to Fort Meade in Maryland via the crucial hub at Menwith Hill, in the North York moors in the UK.

"The ECHELON system forms part of the UKUSA system but unlike many of the electronic spy systems developed during the Cold War, ECHELON was designed primarily for non-military targets: governments, organizations and businesses in virtually every country."

An interesting sidebar appeared in the International Herald Tribune under the headline, "Big Corporate Brother: It Knows More About You Than You Think." The story details Acxiom Corp, which was a humongous information service hidden in the Ozark foothills. Twenty-four hours a day, Acxiom electronically gathered and sorts all kinds of data about 196 million Americans. Credit card transactions and magazine subscriptions, telephone numbers, real estate records, automotive data, hunting, business and fishing licenses, consumer surveys and demographic detail that would make a marketing department's research manager salivate. This relatively new (legal) enterprise was known as "data warehousing" or "data-mining", and it underscores the cruel reality that the fiction of personal privacy has become obsolete. Technology's ability to collect and analyze data has made privacy a quaint albeit interesting dinosaur.

The Tribune reported that "Axciom can often determine whether an American owns a dog or cat, enjoys camping or gourmet cooking, reads the Bible or lots of other books. It can often pinpoint an American's occupation, car and favorite vacations. By analyzing the equivalent of billions of pages of data, it often projects for its customers who should be offered a credit card or who is likely to buy a computer."

Most of this information is from y 1998 piece. Echelon has developed, matured, and morphed into a much more powerful hybrid. 'Carnivore' was software to help triage the cacophony of data. Vault 7 and 'Umbrage' are logical (some would argue "insidious") growth.

More to follow…