"It Is Not A Question of Who Is Right Or Wrong But What Is Right Or Wrong That Counts.

"

--Geoff Metcalf
Providing an on line Triage of the news since 1997



Wo

rld & Nation
'Fed up' conservatives fight corporations' woke activism: 'Just get the hell out of politics'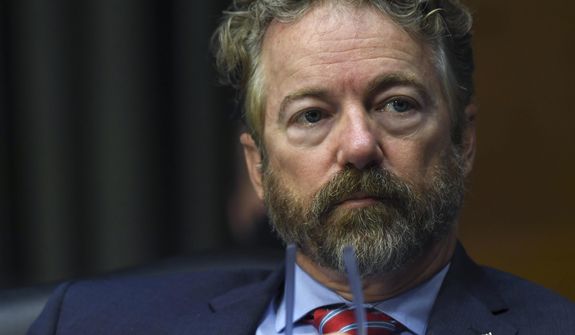 Time was when conservatives and corporate America were on the same side, but the rise of woke companies acting at the behest of leftist advocacy groups has ignited a backlash on the right aimed at getting business out of the activism business.
The corporate uprising against Georgia's new election law has acted as a catalyst, prompting boycott calls from top Republicans such as former President Donald Trump and Sen. Rand Paul, as well as the launch of conservative campaigns aimed at persuading CEOs to cut the cultural and political agitating.
"What I'm hearing is that people are just fed up," said Alfredo Ortiz, president of the Job Creators Network. "I think people are finally saying, 'You know what? Enough is enough. We don't want politics in our sports, we don't think there should be politics in the boardroom.'"
The American Conservative Union (ACU), which hosts the annual Conservative Political Action Conference, announced this week a campaign to push back against the "leftward lurch of U.S. corporations," saying it would demand meetings with CEOs and warning of consequences for those who stay on the woke path.
---
Moscow claims it escorted U.S. spy plane away from Russian border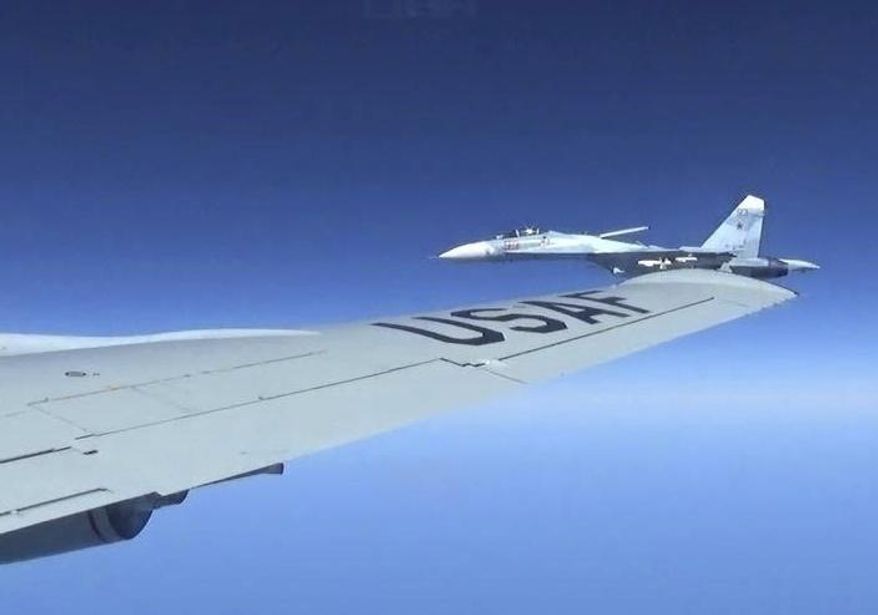 A Russian fighter jet escorted a U.S. spy plane over the Pacific Ocean recently and kept the American aircraft from violating Russian airspace, according to Russian media.
Moscow's state-run TASS news agency reported the incident Friday, though it did not give a specific date of the supposed escort. The news outlet cited a statement from the Russian Defense Ministry that claimed a Russian MiG-31 fighter jet was scrambled to escort a U.S. RC-135 reconnaissance aircraft near the Kamchatka Peninsula.
Russian officials said the U.S. aircraft was "prevented from violating the Russian border" but did not provide detail on how close the American plane had gotten to Russian airspace.
---
Border-jumping 'gotaways' spike 156% from last year
'Coming in by the droves' at Rio Grande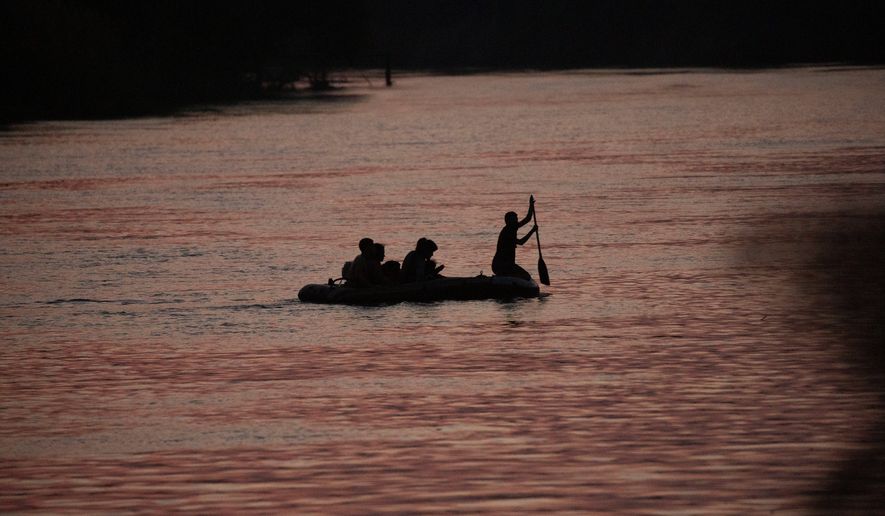 Illegal immigrants are escaping capture at more than double the pace of a year ago, according to Texas figures that show the surge of migrants being caught at the border is just a part of the problem the Biden administration is facing.
The Texas Department of Public Safety, which runs its own camera system under Operation Drawbridge to track illegal entries, shows nearly 21,904 migrants who evaded capture from January through April 7, according to data shared with The Washington Times. That is up from 8,561 "gotaways," as they are known, during the same period in 2020, which works out to a 156% increase.
Sheriff Joe Frank Martinez in Val Verde County, along the Rio Grande, said that number is likely too low.
---
Biden Administration to Spend $1.7 Billion to Track Covid Variants
President Joe Biden's administration is allocating $1.7 billion in funding to track the spread of Covid-19 variants, which are proving dangerous as they spread quickly and risk dragging out the pandemic.
Biden will direct $1 billion to genomic sequencing, which helps federal agencies and states track which version of the virus is spreading. They also announced $400 million for epidemiological research and $300 million for health data and training.
The announcement, with funding from the aid package Biden signed a month ago, comes as mutations of the virus fuel new outbreaks across the U.S. -- especially in the upper Midwest.
---
Pompeo: Biden Administration Must 'Show Resolve' on China, Taiwan
The Biden administration must "show resolve" with China, or Beijing is "much more likely to take action that will put the Taiwanese people at risk," former Secretary of State Mike Pompeo said Friday.
"We only need to listen to what [Chinese leader] Xi Jinping says about Taiwan," Pompeo, now a Fox News contributor told Fox Business' Maria Bartiromo on "Mornings with Maria."
"He wants to bring Taiwan inside of China … we know that China was never part of mainland China, but he's made a commitment. He keeps moving the timeline forward."
Pompeo also said he thinks comments made by Adm. Philip Davidson, commander of the U.S. Indo-Pacific Command, on the risk of a Chinese military attack on Taiwan should be taken seriously.
---
Steny Hoyer prods Biden on reparations for Black Americans: 'He can do it on his own'
House Majority Leader Steny H. Hoyer on Thursday urged President Biden to create a commission to study paying reparations to Black Americans, which would keep the issue alive because a House bill to do it is likely doomed in the Senate.
The House Judiciary Committee passed a Democratic bill to create the commission to explore reparations to Black Americans for slavery.
"The chances of this bill in the Senate are pretty dim," Mr. Hoyer told reporters. "The president ought to have a commission do that. He can do it on his own."
---
8 dead in shooting at FedEx facility in Indianapolis, say police
A gunman killed eight people and wounded several others before apparently taking his own life in a late-night attack at a FedEx facility near the Indianapolis airport, police said, in the latest in a spate of mass shootings in the United States after a relative lull during the coronavirus pandemic.
Five people were hospitalized after the Thursday night shooting, according to police. One of them had critical injuries, police spokesperson Genae Cook said. Another two people were treated and released at the scene. FedEx said people who worked for the company were among the dead.
A witness said that he was working inside the building when he heard several gunshots in rapid succession.
---
Facebook Blocks NY Post Story on BLM Founder's Mansions
Big tech is covering for liberal activists and censoring the New York Post again, blocking a story on the Black Lives Matter co-founder's multiple million-dollar homes.
Facebook is preventing users from sharing the Post report, instead giving the error message: "Your content couldn't be shared, because this link goes against our Community Standards."
The Post story "was removed for violating our privacy and personal information policy," a Facebook spokesperson told The Hill.
---
Florida Senate Approves 'Anti-Riot' Bill
Florida's Senate has voted to approve an "anti-riot" bill supported by Republicans, and Gov. Ron DeSantis in particular, but criticized by Democrats and civil rights groups as limiting the right to protest in the state, the Orlando Sentinel reports.
The newspaper notes that Democrats and civil rights organizations specifically point to the provisions in the bill that "grant civil legal immunity to people who drive through protesters blocking a road; prevent people arrested for rioting or offenses committed during a riot from bailing out of jail until their first court appearance; and impose a six-month mandatory sentence for battery on a police officer during a riot."
The bill also states that a city cannot reduce its police budget without prior approval from the state, in an apparent response to the movement to redistribute some of the funding that goes towards police.
---
'Mortal threat': Communist China gaming free market to gain world domination, economists warn
China is exploiting access to the capitalist economic system to achieve global dominance and ultimately seeks to control the world economy, two former Trump administration China experts warned a congressional commission on Thursday.
Miles Yu, former State Department policy planning official for China, said the U.S. must demand strict reciprocity in dealing with the Chinese Communist Party to level the economic playing field and prevent Beijing from achieving its goals.
"If there's one thing that every American should understand about the People's Republic of China, it is that it is a communist dictatorship ruled by a Marxist-Leninist party," Mr. Yu told a hearing of the U.S.-China Economic Security and Review Commission.
---
RBG and other liberal justices opposed Supreme Court expansion
Only a handful of Supreme Court justices have publicly commented on proposals to add seats to the court, but those who have spoken out are fiercely opposed.
That opposition doesn't break along ideological grounds either, as justices appointed by both Republican and Democratic presidents have condemned previous efforts to expand the court.
House Democrats on Thursday launched the most serious effort to pack the court since President Franklin D. Roosevelt in 1937. Though the move was hailed by progressive activists and lawmakers, liberal icon Ruth Bader Ginsburg was a strong opponent of the idea.
---
What to expect at Prince Philip's funeral
Windsor Castle prepares for Prince Philip's funeral
Prince Philip, the late husband of Queen Elizabeth II, requested a no-fuss funeral before he died April 9 at 99.
But low-key for a British royal still means a high-profile affair.
Every detail of the day has been meticulously planned to reflect both Philip's life and the long tradition of royal pageantry.
---
9 Hong Kong Pro-Democracy Activists Sentenced For 2019 Protests
Nine veteran activists and lawmakers in Hong Kong have been sentenced to prison terms of up to 18 months because of their participation in anti-government protests nearly two years ago.
Media mogul Jimmy Lai received one year in prison, while prominent lawyers Margaret Ng and Martin Lee received suspended sentences of 12 and 11 months respectively, meaning if they are not convicted of another crime in the next two years, they will not have to spend time behind bars. The heaviest sentence of 18 months was meted out to Lee Cheuk-yan, an activist and former lawmaker.
The nine are the most prominent figures in Hong Kong to be sent to prison thus far as Beijing mounts several waves of arrests in the aftermath of widespread protests against its control of the region. They were convicted earlier this month of participating in two unauthorized but peaceful protests in August 2019.
---
Iran starts enriching uranium to 60%, its highest level ever
While 60% is higher than any level Iran previously enriched uranium, it is still lower than weapons-grade levels of 90%
Iran began enriching uranium Friday to its highest level ever, edging closer to weapons-grade levels to pressure talks in Vienna aimed at restoring its nuclear deal with world powers after an attack on its main atomic site.
A top official said only a few grams an hour of uranium gas would be enriched up to 60% purity — triple the level it once did but at a rate far slower than what Tehran could produce. International inspectors already said Iran planned to do so above-ground at its Natanz nuclear site, not deep within its underground halls hardened to withstand airstrikes.
The move is likely to raise tensions even as Iran negotiates in Vienna over a way to allow the U.S. back into the agreement and lift the crushing economic sanctions it faces. However, its scope also provides Iran with a way to quickly de-escalate if it chose.
---
Democrats led by a whole Squad of ghoulish opportunists
Ilhan Omar, Alexandria Ocasio-Cortez and Rashida Tlaib weigh in on death of Daunte Wright
There is a special breed of sewer rat in Washington who is willing to exploit any human catastrophe for personal political gain.
Sadly, these vermin are no longer the rare exceptions in the Democrat Party; today, they are the face of the Democrat Party.
Minnesota police pull over a 20-year-old for expired car registration and the driver winds up dead after a cop shoots him in a struggle — an unspeakable tragedy to be sure. But leave it to sick politicians in Washington to exploit the tragedy for their own twisted benefit.
---
Students willing to change their liberal views when presented with facts
New poll from Young America's Foundation shows cancel culture's progressive talking points can be refuted
College and high school students have liberal views — which have moved further to the left during the past year. On the bright side, opinions shift when students are presented with data refuting progressive talking points. These are a few of the key findings in a new Tax Day poll released by Young America's Foundation (YAF).
Not surprisingly, 64% of students surveyed in the poll support the federal government eliminating student loan debt for all borrowers. However, more than half of respondents agreed that it was not fair for those who did not attend college to pay for student loan debt cancellation with their hard-earned tax dollars.
An overwhelming majority of students, 69%, said they support a $15 federal minimum wage. However, their support dropped nearly 20 points when they learned of the Congressional Budget Office's projection of 1.4 million jobs lost due to the wage increase. Again, it boils down to fairness. A higher minimum wage for some isn't much consolation for those who face unemployment.
---
Truth or Dare
by Geoff Metcalf
"The truth does not change according to our ability to stomach it."
― Flannery O'Connor

When NBC's Lester Holt shrouded in self-righteous sophism proclaimed journalists don't do 'truth', I said bad words. Joe Klaas was apparently correct when he noted, "The truth will set you free, but first it will piss you off."
When accepting the Edward R. Murrow Award for Lifetime Achievement in Journalism, NBC anchor Lester Holt said, "fairness is overrated".
"I think it's become clear that fairness is overrated. ... The idea that we should always give two sides equal weight and merit does not reflect the world we find ourselves in," Holt said.
Holt, either by plan or oversight said, "That the sun sets in the west is a fact. Any contrary view does not deserve our time or attention," Holt continued. "Decisions to not give unsupported arguments equal time are not a dereliction of journalistic responsibility or some kind of agenda. In fact, it's just the opposite." Sophistry!
Holt also railed against "providing an open platform for misinformation," saying that allowing "anyone to come say whatever they want, especially when issues of public health and safety are at stake, can be quite dangerous." And that is a good thing Lester.
The key problem with the pretension of Holt et al saying news organizations should vet and triage controversial news is,
who decides?
What editor gets to decide the conventional wisdom when a group of experts claims we are about to enter a new Ice Age, or the only defense against a pandemic is isolation?
April 28, 1975, Newsweek published a provocative article, "The Cooling World," in which writer and science editor Peter Gwynne described a significant chilling of the world's climate, with evidence accumulating "so massively that meteorologists are hard-pressed to keep up with it." He when on to postulate shorter growing seasons and poor crop yields, famine, and shipping lanes blocked by ice, perhaps to begin as soon as the mid-1980s. Meteorologists, he wrote, were "almost unanimous" in the opinion that our planet was getting colder. Over the years that followed, Gwynne's article became one of the most-cited stories in Newsweek's history. However, he was wrong…way wrong.
The obvious corollary is today's politically correct contention that Global Warming will kill the planet. Notwithstanding THOUSANDS of for real scientists who naysay the Al Gore gang, Holt and his ilk would deny you, me, or anyone from hearing contradictory and/or mitigating science which does not comply with the elitists cause du jour.
"The truth is rarely pure and never simple." said Oscar Wilde in The Importance of Being Earnest.
Empirical facts cannot be disputed: who, what, where, when is going to be reported the same from the left and the right. However, the why and how is where the reader gets sucked into the editorializing muck. One man's "freedom fighter" is another man's "terrorist"…one man's "objective scientist" is another man's "bought and paid for sycophant".
According to a January Axios polls, just 46% of people trust traditional news media, and trust in social media has plummeted to 27%.
Additionally, 56% of the poll respondents said they agreed that "Journalists and reporters are purposely trying to mislead people by saying things they know are false or gross exaggerations."
"The truth." Dumbledore sighed. "It is a beautiful and terrible thing and should therefore be treated with great caution."
Aldous Huxley clearly noted, "Facts do not cease to exist because they are ignored."
An editorial Star Chamber (which is kinda/sorta what Holt seems to want) can attempt to sequester politically incorrect facts or nuance from the unwashed masses, but they only serve to validate George Orwell. "In a time of deceit telling the truth is a revolutionary act."
We are in that "time of deceit" and the mainstream media should be providing light not creating safe haven shadow lands for evil to fester and grow.
---
" It is discouraging to think how many people are shocked by honesty and how few by deceit."

-- Noel Coward

(1899-1973) British playwright

---

The Medal of Honor is the highest award for valor in action against an enemy force which can be bestowed upon an individual serving in the Armed Services of the United States.

GeneTrerally presented to its recipient by the President of the United States of America in the name of Congress.

The first award of the Medal of Honor was made March 25, 1863 to Private JACOB PARROTT.The last award of the Medal of Honor was made September 15, 2011 to Sergeant DAKOTA MEYER.

Since then there have been: • 3458 recipients of the Medal of Honor.

• Today there are 85 Living Recipients of the Medal of Honor.

Citation


Captain Humbert R. Versace distinguished himself by extraordinary heroism during the period of 29 October 1963 to 26 September 1965, while serving as S-2 Advisor, Military Assistance Advisory Group, Detachment 52, Ca Mau, Republic of Vietnam. While accompanying a Civilian Irregular Defense Group patrol engaged in combat operations in Thoi Binh District, An Xuyen Province, Captain Versace and the patrol came under sudden and intense mortar, automatic weapons, and small arms fire from elements of a heavily armed enemy battalion. As the battle raged, Captain Versace, although severely wounded in the knee and back by hostile fire, fought valiantly and continued to engage enemy targets. Weakened by his wounds and fatigued by the fierce firefight, Captain Versace stubbornly resisted capture by the over-powering Viet Cong force with the last full measure of his strength and ammunition. Taken prisoner by the Viet Cong, he exemplified the tenets of the Code of Conduct from the time he entered into Prisoner of War status. Captain Versace assumed command of his fellow American soldiers, scorned the enemy's exhaustive interrogation and indoctrination efforts, and made three unsuccessful attempts to escape, despite his weakened condition which was brought about by his wounds and the extreme privation and hardships he was forced to endure. During his captivity, Captain Versace was segregated in an isolated prisoner of war cage, manacled in irons for prolonged periods of time, and placed on extremely reduced ration. The enemy was unable to break his indomitable will, his faith in God, and his trust in the United States of America. Captain Versace, an American fighting man who epitomized the principles of his country and the Code of Conduct, was executed by the Viet Cong on 26 September 1965. Captain Versace's gallant actions in close contact with an enemy force and unyielding courage and bravery while a prisoner of war are in the highest traditions of the military service and reflect the utmost credit upon himself and the United States Army.

---

From the Archives

We Have Met the Enemy…
Geoff Metcalf


"They who can give up essential liberty to obtain a little temporary safety deserve neither liberty nor safety.
--Benjamin Franklin
"The American people must be willing to give up a degree of personal privacy in exchange for safety and security."
--Louis Freeh


In the wake of the clamor over the most recent WikiLeaks data dump, 'Vault 7', 'UMBRAGE', et al, it should be noted this is not really anything new. What we are seeing here is simply the evolution of something that goes back to the late 50s (to the incomplete best knowledge I have).

It is kinda cool to finally see even

The New York Times

acknowledging material

I was writing about in 1998

.

In April of 1998 I wrote "Privacy has become an anachronism." I was commenting on "a massive system designed to intercept all your e-mail, fax traffic and more." I was explaining 'Echelon', the illegitimate offspring of a

UKUSA Treaty

signed by the United States, United Kingdom, Canada, Australia and New Zealand. Its purpose was, and is, to have a vast global intelligence monster, which allegedly shares common goals. The system was so "efficient" that reportedly National Security Agency folk from Fort Meade could work from Menwith Hill in England to intercept local communications without either nation having to burden themselves with the formality of seeking approval (a court order) or disclosing the operation. And this was all pre-9/11 and pre-the anti-constitutional

'Patriot Act'

.

It is illegal (without a Judge's signed permission) for the United States to spy on its citizens … kinda. The laws have long been circumvented by a mutual pact among five nations. Under the terms of UKUSA agreement, Britain spies on Americans and America spies on British citizens, and then the two conspirators trade data. A classic technical finesse. It is legal, but the intent to evade the spirit is inescapable.

I often fictionalized the genesis of 'Echelon' as an informal meeting of a group of post war American and British intelligence types drinking in some remote rustic bar. An imagined CIA type complains to his MI6 buddy about the hassles of US laws preventing US intelligence from surveillance of bad guys, and the Brit echoes the same complaint.

"Hey wait a moment mate," says Nigel, the make-believe MI6 guy, "I can spy on your guys and you can spy on our bad players…why don't we just come up with a mechanism whereby we spy on your villains, you spy on our villains, and we just 'share' the intel?"

This system was called ECHELON, and has been kicking around in some form longer than most of you. The result of the UKUSA treaty signed by the United States, United Kingdom, Canada, Australia and New Zealand was, and is, to have a vast global intelligence monster which allegedly shares common goals.

The London Telegraph reported in December of 1997 that the Civil liberties Committee of the European Parliament had officially confirmed the existence and purpose of ECHELON. "A global electronic spy network that can eavesdrop on every telephone, e-mail and telex communication around the world will be officially acknowledged for the first time in a European Commission report. …"

The report noted: "Within Europe all e-mail, telephone and fax communications are routinely intercepted by the United States National Security Agency, transferring ll target information from the Eurv opean mainland via the strategic hub of London, then by satellite to Fort Meade in Maryland via the crucial hub at Menwith Hill, in the North York moors in th UK.

"The ECHELON system forms part of the UKUSA system but unlike many of the electronic spy systems developed during the Cold War, ECHELON was designed primarily for non-military targets: governments, organizations and businesses in virtually every country."

An interesting sidebar appeared in the International Herald Tribune under the headline, "Big Corporate Brother: It Knows More About You Than You Think." The story details Acxiom Corp, which was a humongous information service hidden in the Ozark foothills. Twenty-four hours a day, Acxiom electronically gathered and sorts all kinds of data about 196 million Americans. Credit card transactions and magazine subscriptions, telephone numbers, real estate records, automotive data, hunting, business and fishing licenses, consumer surveys and demographic detail that would make a marketing department's research manager salivate. This relatively new (legal) enterprise was known as "data warehousing" or "data-mining", and it underscores the cruel reality that the fiction of personal privacy has become obsolete. Technology's ability to collect and analyze data has made privacy a quaint albeit interesting dinosaur.

The Tribune reported that "Axciom can often determine whether an American owns a dog or cat, enjoys camping or gourmet cooking, reads the Bible or lots of other books. It can often pinpoint an American's occupation, car and favorite vacations. By analyzing the equivalent of billions of pages of data, it often projects for its customers who should be offered a credit card or who is likely to buy a computer."

Most of this information is from y 1998 piece. Echelon has developed, matured, and morphed into a much more powerful hybrid. 'Carnivore' was software to help triage the cacophony of data. Vault 7 and 'Umbrage' are logical (some would argue "insidious") growth.

More to follow…