"It Is Not A Question of Who Is Right Or Wrong But What Is Right Or Wrong That Counts.

"

--Geoff Metcalf
Providing an on line Triage of the news since 1997



Wo

rld & Nation
Schumer: Pelosi Will Transmit Trump Impeachment Article Monday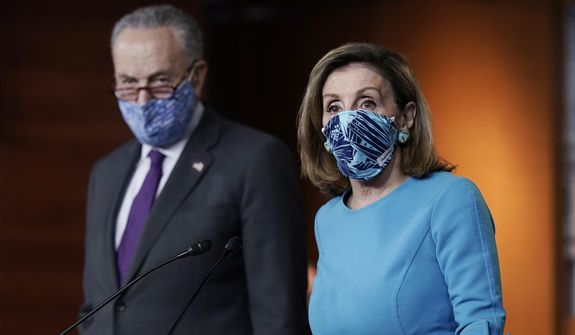 House Speaker Nancy Pelosi plans to send the article of impeachment against Donald Trump to the Senate on Monday, launching the start of the former president's trial on a charge of incitement of insurrection over the deadly Capitol riot.

Senate Majority Leader Chuck Schumer announced the schedule Friday.

"There will be a trial," Schumer said. "It will be a full trial, it will be a fair trial"

Trump is the first president to be twice impeached and the first to face a trial after leaving office.


---
Senate approves ex-Gen. Austin as first Black defense secretary on 93-2 vote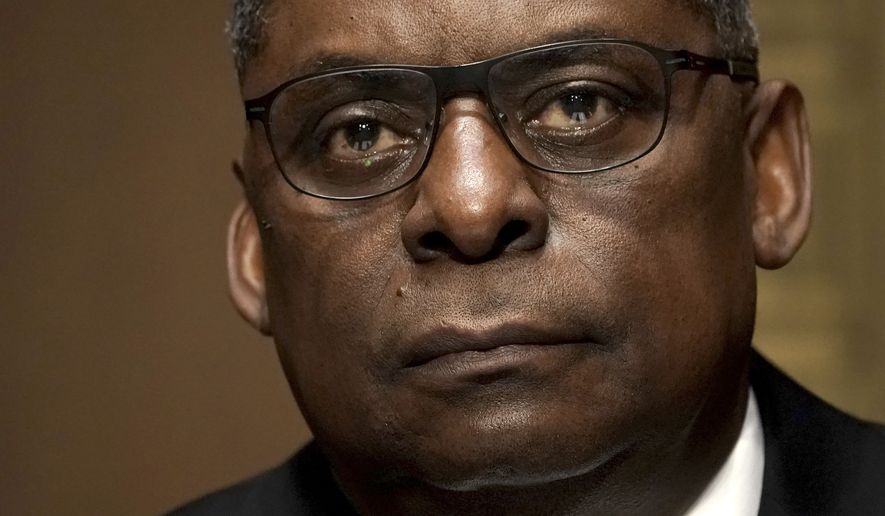 The Senate Friday overwhelmingly approved former Gen. Lloyd Austin as secretary of defense, giving President Biden a key member for his national security team. The final vote was 93-2.
The 41-year Army veteran, a former head of U.S. Central Command in the Middle East, becomes the nation's first Black defense secretary. He had been a key military adviser to Mr. Biden when he was vice president in the Obama administration.
Just two Republicans ended up voting against the nominee: Sens. Mike Lee of Utah and Josh Hawley of Missouri.
---
Chuck Grassley prods Biden to condemn protest violence in Oregon, Washington
ICE offices, federal courthouse targeted by rioters
Sen. Charles E. Grassley, Iowa Republican, took a jab at President Biden's silence on violent protests Wednesday that included attacks on police and federal buildings in Portland and Seattle.
"I'm waiting for Pres Biden to condemn violence/looting/arson last two days in Oregon & Washington state," Mr. Grassley said in a Thursday tweet.
His comment came as a pointed reminder that the White House has yet to comment on the post-inauguration unrest, which saw protest crowds touting Antifa and Black Lives Matter slogans vandalize the Immigration and Customs Enforcement facility in Portland and break windows at the William Kenzo Nakamura Courthouse in Seattle.
---
Biden's Order on Keystone XL Must Be Stopped
It will not be easy to reverse President Joe Biden's executive order halting construction on the Keystone XL pipeline, but Sen. Roger Marshall, who is working on a bill to keep the project alive, told Newsmax TV Friday that it is vital that the United States remain energy independent.
"It's not going to be easy with (Senate Majority Leader) Chuck Schumer," the Kansas Republican said on Newsmax TV's "National Report." "The United States' carbon footprint has decreased by over 10% in the last decade. We're in a 25-year low. Stopping this pipeline is going to drive the price of gasoline up for people at the pump, and it's going to make us more dependent upon oil from the Middle East. That's not what we need in the United States right now."
But instead of Biden turning down the temperature in the United States, as he promised, executive orders like the one on the pipeline will hurt everyday Americans through the loss of jobs, said Marshall.
---
Fauci Says Coronavirus Infections Might Be Plateauing
Dr. Anthony Fauci, the top U.S. infectious disease expert, said on Thursday that based on recent seven-day averages, coronavirus infections may be about to hit a plateau in the United States.
At a White House news briefing, Fauci also said coronavirus vaccines can be modified to account for new variants of the virus, and that while the South Africa variant is concerning, it does not appear to be in the United States.
COVID-19 has spiraled out of control for months, with the U.S. death toll having exceeded 400,000.
Fauci said he expects current vaccines will be effective against the recently discovered virus mutations.
---
Biden to act on federal collective bargaining, $15-per-hour minimum wage for contractors
President Biden is planning to take executive action on Friday designed to expand the collective bargaining power of the federal workforce and make it harder to fire certain civil servants.
Mr. Biden plans to revoke a trio of executive orders from former President Trump that put restrictions on the timeline for federal employees to course-correct poor performance and curtailed their ability to pursue grievances on official time.
Mr. Biden also plans to eliminate an order from Mr. Trump that made it easier to fire certain civil servants.
---
No joke: Biden poised to build upon Trump's treasured Space Force
It was Donald Trump's baby, but it's Joe Biden's charge now.
The creation of the U.S. Space Force, America's newest military service, became fodder for late-night TV hosts and political cartoonists when it came to life with Mr. Trump's signing of the $738 billion defense bill in December 2019. Online critics mocked the logo design as a rip-off of Star Trek, made fun of the "Guardians" nickname for members of the force and questioned where it would fit in the Pentagon's long-established service hierarchy.
But Mr. Trump saw U.S. Space Force as one of the signature accomplishments of his administration, giving it pride of place in virtually every campaign speech and rally.
---
National Guard troops allowed back into Capitol after being 'banished' to parking garage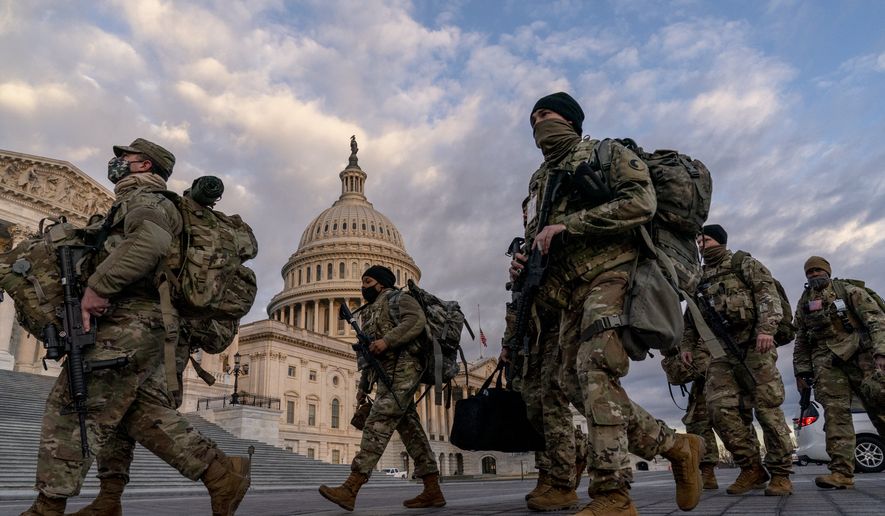 Thousands of National Guard troops who flew into Washington to secure the inauguration have been allowed back into the U.S. Capitol amid bipartisan outrage from lawmakers after they were "banished" to a small parking garage.
The National Guard Inauguration Task Force commander confirmed in a statement late Thursday that troops will be taking their breaks near Emancipation Hall in the Capitol.
Photos of the troops hunkering down in a cold, cramped parking garage instead of the Capitol quickly went viral. Guard members were moved to the garage to take their break time, according to Politico, which first reported the story.
---
Biden agenda stuck in neutral as power-sharing deal eludes Senate
Who's on first, what's on second, and nobody knows exactly how the Senate is being run right now.
Though Democrats technically took the reins of the chamber this week, they have been unable to reach a power-sharing deal with Republicans, leaving the Senate partially frozen.
Democrats hold the gavel in the chamber itself, but GOP lawmakers are still the chairs of committees, for now.
---
Russia detains Navalny aides as protests go viral
Russian police have detained close aides of the jailed Russian opposition politician Alexei Navalny, whose fans have flooded social media with calls to rally in support of him on Saturday.
Moscow police say any unauthorised demonstrations and provocations will be "immediately suppressed".
More than 55m people have watched his video about President Vladimir Putin's alleged luxury Black Sea palace.
The Kremlin denies the property belongs to the president.
---
Rep. Marjorie Taylor Greene files articles of impeachment against Biden
Freshman Rep. Marjorie Taylor Greene said she filed articles of impeachment on Thursday against President Biden on his first full day in office, as promised.
"We'll see how it goes," the Georgia Republican said in a video posted on Twitter.
She had said earlier that she would file impeachment articles accusing Mr. Biden of abuse of power, for his family's business connections in China and Ukraine when he served as vice president.
---
Top reasons why conservatives are in a good position right now
With an advantage at the Supreme Court, and Joe Manchin in the Senate, liberals won't go too far
Conservatives are in a good position. Those living within the 68 square miles surrounded by reality (otherwise known as Washington, D.C.) or in the depths of social media will vehemently disagree. Still, the facts show that conservatives are in a decent place right now. And are headed in the right direction to gain even more ground over the next few years.
First, conservatives have an overwhelming advantage now on the U.S. Supreme Court. The additions of Justices Neil Gorsuch, Brett Kavanaugh and particularly Amy Coney Barrett will significantly alter the high court — for the better — toward a strict interpretation of the U.S. Constitution for decades to come.
Second, liberals will control the Senate, House and White House, but self-proclaimed moderate Sen. Joe Manchin can stop them from ending the filibuster and enacting radical ideas like packing the Supreme Court or passing the so-called Green New Deal.
---
A message to Joe Biden on presidential leadership
Former Democratic congressman suggests ways to forge a collective sense of purpose
Dear Joe,
You are now the most powerful person in our country and arguably, in the world. The source of your power comes from much more than our military might or the size of our economy.
It arises from what is your strongest personal quality and is our greatest national need. You have a unique ability to make people feel valued both in your eyes and as valued citizens of our great country. Today, too many Americans feel disenfranchised and if they don't find reason to feel as though they belong then they could present the greatest national security threat to the peace and security of our society.
For us baby boomers, your last hurrah is also ours. You will certainly be the last of our generation. By the time you leave office, Nancy, Steny, Jim, Pat, Diane and Mitch will have already retired. Frankly, there are far too many of today's leaders in their late 70s and 80s to name them all.
---
" It is discouraging to think how many people are shocked by honesty and how few by deceit."

-- Noel Coward

(1899-1973) British playwright

---

The Medal of Honor is the highest award for valor in action against an enemy force which can be bestowed upon an individual serving in the Armed Services of the United States.

GeneTrerally presented to its recipient by the President of the United States of America in the name of Congress.

The first award of the Medal of Honor was made March 25, 1863 to Private JACOB PARROTT.The last award of the Medal of Honor was made September 15, 2011 to Sergeant DAKOTA MEYER.

Since then there have been: • 3458 recipients of the Medal of Honor.

• Today there are 85 Living Recipients of the Medal of Honor.

Citation


Captain Humbert R. Versace distinguished himself by extraordinary heroism during the period of 29 October 1963 to 26 September 1965, while serving as S-2 Advisor, Military Assistance Advisory Group, Detachment 52, Ca Mau, Republic of Vietnam. While accompanying a Civilian Irregular Defense Group patrol engaged in combat operations in Thoi Binh District, An Xuyen Province, Captain Versace and the patrol came under sudden and intense mortar, automatic weapons, and small arms fire from elements of a heavily armed enemy battalion. As the battle raged, Captain Versace, although severely wounded in the knee and back by hostile fire, fought valiantly and continued to engage enemy targets. Weakened by his wounds and fatigued by the fierce firefight, Captain Versace stubbornly resisted capture by the over-powering Viet Cong force with the last full measure of his strength and ammunition. Taken prisoner by the Viet Cong, he exemplified the tenets of the Code of Conduct from the time he entered into Prisoner of War status. Captain Versace assumed command of his fellow American soldiers, scorned the enemy's exhaustive interrogation and indoctrination efforts, and made three unsuccessful attempts to escape, despite his weakened condition which was brought about by his wounds and the extreme privation and hardships he was forced to endure. During his captivity, Captain Versace was segregated in an isolated prisoner of war cage, manacled in irons for prolonged periods of time, and placed on extremely reduced ration. The enemy was unable to break his indomitable will, his faith in God, and his trust in the United States of America. Captain Versace, an American fighting man who epitomized the principles of his country and the Code of Conduct, was executed by the Viet Cong on 26 September 1965. Captain Versace's gallant actions in close contact with an enemy force and unyielding courage and bravery while a prisoner of war are in the highest traditions of the military service and reflect the utmost credit upon himself and the United States Army.

---

From the Archives

We Have Met the Enemy…
Geoff Metcalf


"They who can give up essential liberty to obtain a little temporary safety deserve neither liberty nor safety.
--Benjamin Franklin
"The American people must be willing to give up a degree of personal privacy in exchange for safety and security."
--Louis Freeh


In the wake of the clamor over the most recent WikiLeaks data dump, 'Vault 7', 'UMBRAGE', et al, it should be noted this is not really anything new. What we are seeing here is simply the evolution of something that goes back to the late 50s (to the incomplete best knowledge I have).

It is kinda cool to finally see even

The New York Times

acknowledging material

I was writing about in 1998

.

In April of 1998 I wrote "Privacy has become an anachronism." I was commenting on "a massive system designed to intercept all your e-mail, fax traffic and more." I was explaining 'Echelon', the illegitimate offspring of a

UKUSA Treaty

signed by the United States, United Kingdom, Canada, Australia and New Zealand. Its purpose was, and is, to have a vast global intelligence monster, which allegedly shares common goals. The system was so "efficient" that reportedly National Security Agency folk from Fort Meade could work from Menwith Hill in England to intercept local communications without either nation having to burden themselves with the formality of seeking approval (a court order) or disclosing the operation. And this was all pre-9/11 and pre-the anti-constitutional

'Patriot Act'

.

It is illegal (without a Judge's signed permission) for the United States to spy on its citizens … kinda. The laws have long been circumvented by a mutual pact among five nations. Under the terms of UKUSA agreement, Britain spies on Americans and America spies on British citizens, and then the two conspirators trade data. A classic technical finesse. It is legal, but the intent to evade the spirit is inescapable.

I often fictionalized the genesis of 'Echelon' as an informal meeting of a group of post war American and British intelligence types drinking in some remote rustic bar. An imagined CIA type complains to his MI6 buddy about the hassles of US laws preventing US intelligence from surveillance of bad guys, and the Brit echoes the same complaint.

"Hey wait a moment mate," says Nigel, the make-believe MI6 guy, "I can spy on your guys and you can spy on our bad players…why don't we just come up with a mechanism whereby we spy on your villains, you spy on our villains, and we just 'share' the intel?"

This system was called ECHELON, and has been kicking around in some form longer than most of you. The result of the UKUSA treaty signed by the United States, United Kingdom, Canada, Australia and New Zealand was, and is, to have a vast global intelligence monster which allegedly shares common goals.

The London Telegraph reported in December of 1997 that the Civil liberties Committee of the European Parliament had officially confirmed the existence and purpose of ECHELON. "A global electronic spy network that can eavesdrop on every telephone, e-mail and telex communication around the world will be officially acknowledged for the first time in a European Commission report. …"

The report noted: "Within Europe all e-mail, telephone and fax communications are routinely intercepted by the United States National Security Agency, transferring ll target information from the Eurv opean mainland via the strategic hub of London, then by satellite to Fort Meade in Maryland via the crucial hub at Menwith Hill, in the North York moors in th UK.

"The ECHELON system forms part of the UKUSA system but unlike many of the electronic spy systems developed during the Cold War, ECHELON was designed primarily for non-military targets: governments, organizations and businesses in virtually every country."

An interesting sidebar appeared in the International Herald Tribune under the headline, "Big Corporate Brother: It Knows More About You Than You Think." The story details Acxiom Corp, which was a humongous information service hidden in the Ozark foothills. Twenty-four hours a day, Acxiom electronically gathered and sorts all kinds of data about 196 million Americans. Credit card transactions and magazine subscriptions, telephone numbers, real estate records, automotive data, hunting, business and fishing licenses, consumer surveys and demographic detail that would make a marketing department's research manager salivate. This relatively new (legal) enterprise was known as "data warehousing" or "data-mining", and it underscores the cruel reality that the fiction of personal privacy has become obsolete. Technology's ability to collect and analyze data has made privacy a quaint albeit interesting dinosaur.

The Tribune reported that "Axciom can often determine whether an American owns a dog or cat, enjoys camping or gourmet cooking, reads the Bible or lots of other books. It can often pinpoint an American's occupation, car and favorite vacations. By analyzing the equivalent of billions of pages of data, it often projects for its customers who should be offered a credit card or who is likely to buy a computer."

Most of this information is from y 1998 piece. Echelon has developed, matured, and morphed into a much more powerful hybrid. 'Carnivore' was software to help triage the cacophony of data. Vault 7 and 'Umbrage' are logical (some would argue "insidious") growth.

More to follow…