"It Is Not A Question of Who Is Right Or Wrong But What Is Right Or Wrong That Counts.

"

--Geoff Metcalf
Providing an on line Triage of the news since 1997



Wo

rld & Nation
Seattle Police Clearing 'Lawless and Brutal' CHOP Zone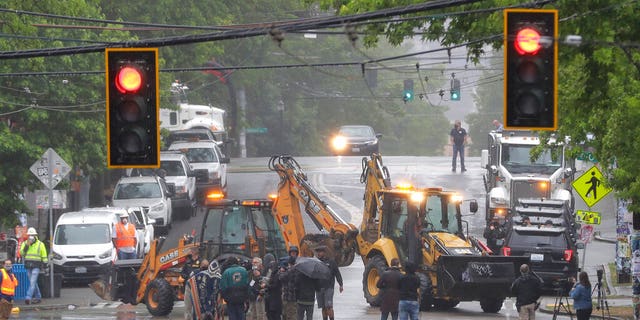 Seattle police started clearing out a protest zone in the city that has become "lawless and brutal" after weeks of violence, including four shootings and the deaths of two teenagers, the city's police chief said Wednesday.

The move came after Seattle Mayor Jenny Durkan declared the gathering of people in and around the police department's East Precinct and Cal Anderson Park an "unlawful assembly," the city's police chief, Carmen Best, said in a statement.

The East Precinct was abandoned weeks ago after protesters clashed with Seattle police outside the station house in the wake of the May 25 killing of George Floyd at the hands of Minneapolis police. Floyd's death triggered a nationwide wave of demonstrations against racial injustice.


---
Judge erases key Trump asylum crackdown policy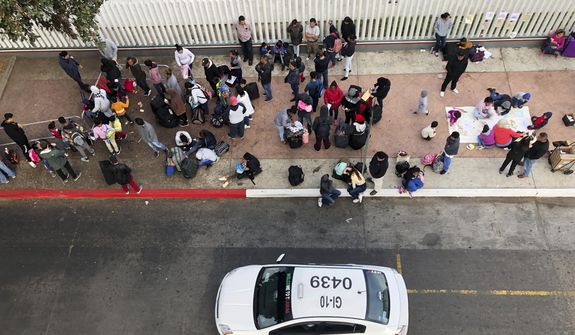 A federal judge struck down a key part of the Trump administration's immigration crackdown framework late Tuesday, ruling that Homeland Security cut too many corners when it tried to block asylum seekers from picking and choosing which country they settle in.
Known as the "third-country" rule, it was intended to prevent Central Americans from crossing Mexico — where they could have claimed asylum — in order to reach the U.S.
Administration officials believe that many illegal immigrants were abusing the system with bogus claims, and making them have to make their claim in Mexico would prevent them from coming.
---
Trump: Russia Bounty Allegations Are 'Fake News'
President Donald Trump on Wednesday dismissed as "Fake News" allegations that Russia offered bounties for killing American troops in Afghanistan. He said news stories about the allegations were made up to "damage me and the Republican Party."
Lawmakers have been demanding answers over the allegations, and Democrats have accused Trump of bowing to Russian President Vladimir Putin at the risk of U.S. soldiers' lives.
They returned from a briefing at the White House on Tuesday saying they learned nothing new about American intelligence assessments that suggested Russia was making overtures to militants as the U.S. and the Taliban held talks to end the conflict in Afghanistan. Senate Republicans who attended a separate briefing largely defended the president, arguing along with the White House that the intelligence was unverified.
The intelligence assessments were first reported by The New York Times, then confirmed to The Associated Press by American intelligence officials and others with knowledge of the matter.
---
Trump threatens veto of defense bill over amendments renaming military bases of Confederate leaders
President Trump overnight threatened to veto the $740.5 billion defense policy bill if it includes legislation to rename military bases and assets that honor Confederate leaders.
Last month, a Republican-majority Senate panel approved a provision to the National Defense Authorization Act — which lays out policy and military spending for the following year — that would require the Pentagon to change the name of military bases and other assets named after Confederate Civil War figures within three years.
Weeks later, a group of 36 Senate Democrats, led by Sen. Elizabeth Warren, Massachusetts Democrat, introduced legislation to speed up the timeline to remove Confederate names from military bases and Pentagon assets within one year.
---
Supreme Court rules Montana scholarship program must include religious schools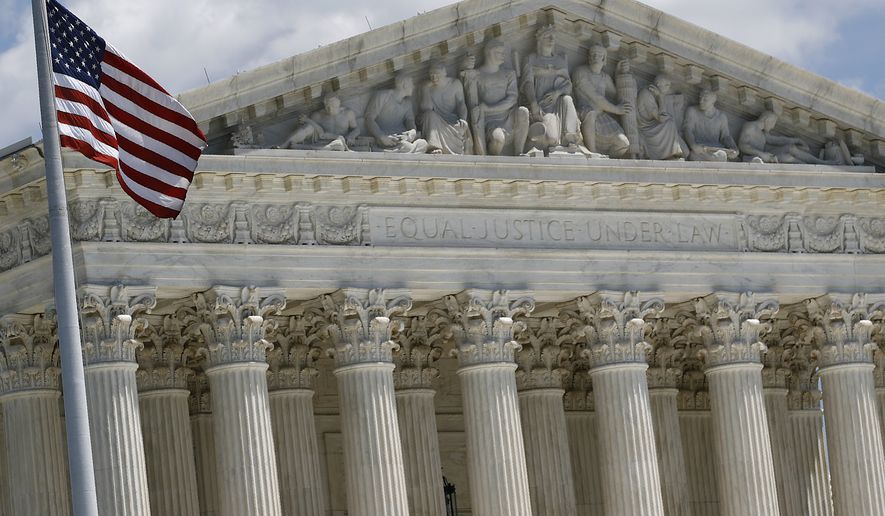 The Supreme Court gave a boost to religious liberty and school choice advocates Tuesday by ruling that barring religious schools from a state scholarship program violated the Constitution.
In a 5-4 decision, the court's conservative majority said Montana violated the First Amendment when it excluded religious schools from a program that allowed parents to use tax credits toward tuition at schools of their choice.
The program was used mostly by families of disadvantaged and disabled children.
---
US Buys Up World Stock of Remdesivir
Virtually all the supply of remdesivir for the next three months has been bought up by the U.S.
The drug, used to treat COVID-19, is made by Gilead. And according to The Guardian newspaper, the U.S. has now bought more than 500,000 doses, which is all of the company's production for July and 90% of August and September.
"President Trump has struck an amazing deal to ensure Americans have access to the first authorized therapeutic for COVID-19," said Health and Human Services Secretary Alex Azar. "To the extent possible, we want to ensure that any American patient who needs remdesivir can get it.
"The Trump administration is doing everything in our power to learn more about life-saving therapeutics for COVID-19 and secure access to these options for the American people."
---
NYC Passes Budget With Police Cuts, but Some Say It's Not Enough
The New York City Council voted to pass the 2021 budget on Tuesday night with cuts to police funding after weeks of fraught negotiations with Mayor Bill de Blasio, but some lawmakers complained it fell short of a $1 billion cut they and protesters demanded.
The austere, coronavirus-era budget tightens spending across city agencies, including a cut of nearly $484 million from the New York Police Department's $6 billion operating budget if the department can adhere to new overtime limits, the council said.
Another $354 million of police funding will be transferred to other city agencies, most prominently in the mayor's agreeing to shift oversight of school safety officers from the NYPD to the Department of Education, the council said.
---
Hong Kong police issue first arrest under China's controversial security law
Police in Hong Kong on Wednesday said they issued their first arrest under the newly passed security law that critics say undermines the semi-autonomous territory's judicial independence and gives China unprecedented power over the city.
The man was arrested for carrying a flag that called for Hong Kong's independence, the Associated Press reported. He was reportedly intercepted by law enforcement after a crowd at the city's Causeway Bay was issued warnings that they could be in violation of the new law. Hong Kong Police also tweeted news of the arrest.
City police said that they raised a "new purple warning flag" to warn protesters that by chanting independence slogans "they may have breached" the new law.
China passed the law on Tuesday that many in the Hong Kong media say will allow Beijing to crack down on any activity there that authorities deem subversive with secessionist aims.
---
Rockland County, Probing COVID Cluster, Uses Subpoenas as People Resist Contact Tracers
Health officials are investigating a new cluster of eight or more COVID-19 cases in Rockland County tied to a large party earlier this month, but they're running into trouble with contact tracing because people refuse to cooperate.
The county plans to resort to subpoenas, as it did during its measles outbreak some years ago, to compel people to work with contact tracers as they work to contain a new potential outbreak. It may mark the first time in the tri-state area that such a measure has been taken over COVID contact tracing noncompliance.
That party linked to the new potential cluster was the first of three large parties in Rockland County in the last two weeks. It was hosted June 13 by someone in New City who was sick with coronavirus at the time, sources say. County officials said Wednesday that the host knew they were symptomatic and held the party anyway.
---
Trump makes punishing leftist anarchists for desecrating monuments a priority
President Trump was elected in large part on the issue of law and order. It's been an issue for generations in this country, as Americans have watched the decline of social cohesion ever since the left enjoyed sympathetic coverage by the mass media during the Vietnam War.
What we are seeing today with riots, vandalism and the wanton destruction of public property and art is a natural and cancerous outgrowth of the encouragement and coddling of leftists and their violent but farcical anarchy.
The good news is, we are seeing Mr. Trump emerge, once again, as the right man at the right time. After weeks of seeing chaos and anarchy unfold on the streets with no apparent response from law enforcement at any level, the White House and Department of Justice have begun to make it clear that there will be serious repercussions for those engaging in mob violence.
---
Mainstream media goes all in with 'panic porn' over COVID-19
Coverage is relentless and often fact-free
Former New York Times reporter Alex Berenson has a perfect name for the mainstream media's coverage of COVID-19: Panic Porn.
Take this headline: "COVID-19 hospitalizations in Texas hit another record Monday."
"Hospitalizations of patients with the novel coronavirus in Texas reached an all-time high Monday after breaking records for nearly every day the previous two weeks," the Fort Worth Star-Telegram wrote Monday.
The MSM have pumped out story after story about hospitals — and especially intensive care units — becoming jammed with COVID-19 patients. And the reports from early on in the pandemic have returned: Hospitals will soon become overrun with critically ill patients.
---
" It is discouraging to think how many people are shocked by honesty and how few by deceit."

-- Noel Coward

(1899-1973) British playwright

---

The Medal of Honor is the highest award for valor in action against an enemy force which can be bestowed upon an individual serving in the Armed Services of the United States.

GeneTrerally presented to its recipient by the President of the United States of America in the name of Congress.

The first award of the Medal of Honor was made March 25, 1863 to Private JACOB PARROTT.The last award of the Medal of Honor was made September 15, 2011 to Sergeant DAKOTA MEYER.

Since then there have been: • 3458 recipients of the Medal of Honor.

• Today there are 85 Living Recipients of the Medal of Honor.

Citation


Captain Humbert R. Versace distinguished himself by extraordinary heroism during the period of 29 October 1963 to 26 September 1965, while serving as S-2 Advisor, Military Assistance Advisory Group, Detachment 52, Ca Mau, Republic of Vietnam. While accompanying a Civilian Irregular Defense Group patrol engaged in combat operations in Thoi Binh District, An Xuyen Province, Captain Versace and the patrol came under sudden and intense mortar, automatic weapons, and small arms fire from elements of a heavily armed enemy battalion. As the battle raged, Captain Versace, although severely wounded in the knee and back by hostile fire, fought valiantly and continued to engage enemy targets. Weakened by his wounds and fatigued by the fierce firefight, Captain Versace stubbornly resisted capture by the over-powering Viet Cong force with the last full measure of his strength and ammunition. Taken prisoner by the Viet Cong, he exemplified the tenets of the Code of Conduct from the time he entered into Prisoner of War status. Captain Versace assumed command of his fellow American soldiers, scorned the enemy's exhaustive interrogation and indoctrination efforts, and made three unsuccessful attempts to escape, despite his weakened condition which was brought about by his wounds and the extreme privation and hardships he was forced to endure. During his captivity, Captain Versace was segregated in an isolated prisoner of war cage, manacled in irons for prolonged periods of time, and placed on extremely reduced ration. The enemy was unable to break his indomitable will, his faith in God, and his trust in the United States of America. Captain Versace, an American fighting man who epitomized the principles of his country and the Code of Conduct, was executed by the Viet Cong on 26 September 1965. Captain Versace's gallant actions in close contact with an enemy force and unyielding courage and bravery while a prisoner of war are in the highest traditions of the military service and reflect the utmost credit upon himself and the United States Army.

---

From the Archives

We Have Met the Enemy…
Geoff Metcalf


"They who can give up essential liberty to obtain a little temporary safety deserve neither liberty nor safety.
--Benjamin Franklin
"The American people must be willing to give up a degree of personal privacy in exchange for safety and security."
--Louis Freeh


In the wake of the clamor over the most recent WikiLeaks data dump, 'Vault 7', 'UMBRAGE', et al, it should be noted this is not really anything new. What we are seeing here is simply the evolution of something that goes back to the late 50s (to the incomplete best knowledge I have).

It is kinda cool to finally see even

The New York Times

acknowledging material

I was writing about in 1998

.

In April of 1998 I wrote "Privacy has become an anachronism." I was commenting on "a massive system designed to intercept all your e-mail, fax traffic and more." I was explaining 'Echelon', the illegitimate offspring of a

UKUSA Treaty

signed by the United States, United Kingdom, Canada, Australia and New Zealand. Its purpose was, and is, to have a vast global intelligence monster, which allegedly shares common goals. The system was so "efficient" that reportedly National Security Agency folk from Fort Meade could work from Menwith Hill in England to intercept local communications without either nation having to burden themselves with the formality of seeking approval (a court order) or disclosing the operation. And this was all pre-9/11 and pre-the anti-constitutional

'Patriot Act'

.

It is illegal (without a Judge's signed permission) for the United States to spy on its citizens … kinda. The laws have long been circumvented by a mutual pact among five nations. Under the terms of UKUSA agreement, Britain spies on Americans and America spies on British citizens, and then the two conspirators trade data. A classic technical finesse. It is legal, but the intent to evade the spirit is inescapable.

I often fictionalized the genesis of 'Echelon' as an informal meeting of a group of post war American and British intelligence types drinking in some remote rustic bar. An imagined CIA type complains to his MI6 buddy about the hassles of US laws preventing US intelligence from surveillance of bad guys, and the Brit echoes the same complaint.

"Hey wait a moment mate," says Nigel, the make-believe MI6 guy, "I can spy on your guys and you can spy on our bad players…why don't we just come up with a mechanism whereby we spy on your villains, you spy on our villains, and we just 'share' the intel?"

This system was called ECHELON, and has been kicking around in some form longer than most of you. The result of the UKUSA treaty signed by the United States, United Kingdom, Canada, Australia and New Zealand was, and is, to have a vast global intelligence monster which allegedly shares common goals.

The London Telegraph reported in December of 1997 that the Civil liberties Committee of the European Parliament had officially confirmed the existence and purpose of ECHELON. "A global electronic spy network that can eavesdrop on every telephone, e-mail and telex communication around the world will be officially acknowledged for the first time in a European Commission report. …"

The report noted: "Within Europe all e-mail, telephone and fax communications are routinely intercepted by the United States National Security Agency, transferring ll target information from the Eurv opean mainland via the strategic hub of London, then by satellite to Fort Meade in Maryland via the crucial hub at Menwith Hill, in the North York moors in the UK.

"The ECHELON system forms part of the UKUSA system but unlike many of the electronic spy systems developed during the Cold War, ECHELON was designed primarily for non-military targets: governments, organizations and businesses in virtually every country."

An interesting sidebar appeared in the International Herald Tribune under the headline, "Big Corporate Brother: It Knows More About You Than You Think." The story details Acxiom Corp, which was a humongous information service hidden in the Ozark foothills. Twenty-four hours a day, Acxiom electronically gathered and sorts all kinds of data about 196 million Americans. Credit card transactions and magazine subscriptions, telephone numbers, real estate records, automotive data, hunting, business and fishing licenses, consumer surveys and demographic detail that would make a marketing department's research manager salivate. This relatively new (legal) enterprise was known as "data warehousing" or "data-mining", and it underscores the cruel reality that the fiction of personal privacy has become obsolete. Technology's ability to collect and analyze data has made privacy a quaint albeit interesting dinosaur.

The Tribune reported that "Axciom can often determine whether an American owns a dog or cat, enjoys camping or gourmet cooking, reads the Bible or lots of other books. It can often pinpoint an American's occupation, car and favorite vacations. By analyzing the equivalent of billions of pages of data, it often projects for its customers who should be offered a credit card or who is likely to buy a computer."

Most of this information is from y 1998 piece. Echelon has developed, matured, and morphed into a much more powerful hybrid. 'Carnivore' was software to help triage the cacophony of data. Vault 7 and 'Umbrage' are logical (some would argue "insidious") growth.

More to follow…