Friday April 20th, 2018
"It Is Not A Question of Who Is Right Or Wrong But What Is Right Or Wrong That Counts.
"
--Geoff Metctalf
---
Wo
rld & National
In Comey memos, Trump fixates on 'hookers,' frets over Flynn
In a series of startlingly candid conversations, President Donald Trump told former FBI Director James Comey that he had serious concerns about the judgment of a top adviser, asked about the possibility of jailing journalists and described a boast from Vladimir Putin about Russian prostitutes, according to Comey's notes of the talks obtained by The Associated Press on Thursday night.
The 15 pages of documents contain new details about a series of interactions with Trump that Comey found so unnerving that he chose to document them in writing. Those seven encounters in the weeks and months before Comey's May 2017 firing include a Trump Tower discussion about allegations involving Trump and prostitutes in Moscow; a White House dinner at which Comey says Trump asked him for his loyalty; and a private Oval Office discussion where the ex-FBI head says the president asked him to end an investigation into Michael Flynn, the former White House national security adviser.
The documents had been eagerly anticipated since their existence was first revealed last year, especially since Comey's interactions with Trump are a critical part of special counsel Robert Mueller's investigation into whether the president sought to obstruct justice. Late Thursday night, Trump tweeted that the memos "show clearly that there was NO COLLUSION and NO OBSTRUCTION."
15 PAGES REVEALED...


Trump said Putin told him, 'We have some of the most beautiful hookers in world'...


Pressure From CNN Prompted Dossier Briefing...


President Laments That Flynn's Life Destroyed While Comey Profits...


'Shady' James...
---
Trump blasts OPEC, says cartel is keeping oil prices 'artificially very high' and that 'will not be accepted'
President Donald Trump blasted the oil-producing cartel OPEC on Twitter on Friday.
"Looks like OPEC is at it again," he wrote. "With record amounts of Oil all over the place, including the fully loaded ships at sea, Oil prices are artificially Very High! No good and will not be accepted!"
WTI oil prices hit a three-year high above $69 a barrel this week and were still trading above $68 on Friday. The international benchmark, Brent crude, was above $73 on Friday after also hitting its highest level since November 2014 this week.
---
'Sanctuary county' declared for Illinois gun owners; citizens 'tired of being pushed around'
An overwhelming majority of board members in Effingham County, Illinois, decided to "flip the script" this week and declare itself a "sanctuary" for gun owners.
Effingham County State's Attorney Bryan Kibler and board member David Campbell called a barrage of gun-control bills working their way through the Illinois House and Senate a clear signal that it's time to "take a stand."
The men joined "Fox & Friends First" on Thursday to discuss a new Second Amendment resolution that passed along an 8-1 vote.
---
DOJ watchdog sends McCabe findings to federal prosecutors for possible charges
The Justice Department's inspector general referred its findings on former FBI Deputy Director Andrew McCabe to the US attorney's office in Washington for possible criminal charges associated with lying to internal investigators, according to a source familiar with the matter.
'I could well be a witness' for the prosecution against McCabe, Comey tells CNN
When exactly the referral was made to the US attorney's office was not immediately clear, and prosecutors there may decline to prosecute.
Last week, the IG issued a report finding that McCabe "lacked candor" on four occasions with internal investigators when discussing a Wall Street Journal article about the FBI's Clinton Foundation investigation, according to a copy of the report obtained by CNN.
---
Rudy Giuliani Joining Trump's Legal Team
A president who has had trouble recruiting new lawyers gets a close ally to come in and help.

Former New York City Mayor Rudy Giuliani is joining President Donald Trump's personal legal team to help with Special Counsel Bob Mueller's probe into potential Russian meddling in the 2016 election, The Washington Post reported on Thursday.
Though talks had been ongoing, a formal announcement was delayed by a slew of foreign policy matters that took over much of the president's time and agenda. A source familiar with the arrangement said that Trump had been preoccupied by North Korea and Syria, which limited his availability to speak with potential new members of his legal team.
Giuliani told the Post that he was joining the team "because I hope we can negotiate an end to this for the good of the country and because I have high regard for the president and for Bob Mueller."
---
Dershowitz: Bringing on Giuliani a 'Very Wise Decision'
It was wise for President Donald Trump to bring former New York City Mayor Rudy Giuliani onto his personal legal team, Harvard Law professor Alan Dershowitz said Thursday night.
Giuliani "is one of the most effective and successful prosecutors in the history of the Southern District," Dershowitz told Fox Business' "Kennedy." "I think it was probably a very wise decision for the president to bring Giuliani on board. He knows all the tricks. He knows all the tactics."
---

Sanctions Are Hurting North Korea. Can They Make Kim Give In?
The isolated North is finding ways to cope with tough new penalties.
On a dark February night, the trucks unloaded their contraband near Hyesan, a North Korean town across a narrow river from China. As border guards looked the other way, workers used carts to pull the cargo of metal ore — tungsten, lead, zinc, copper and gold concentrates, all banned from export under United Nations sanctions — across the frozen river.
By sunrise, all that was left were tire tracks and footprints across the river's frozen surface.
A North Korean witness told an acquaintance living in South Korea that ore, as well as other materials, was being smuggled into China at the crossing almost every night. He said smugglers also headed the other way, moving sugar, flour and 50-kilogram sacks of fertilizers into North Korea.
---
Prince Charles to be next Commonwealth head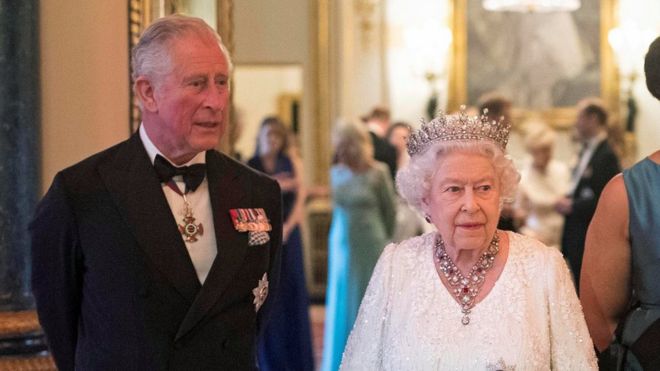 The Prince of Wales will be the next head of the Commonwealth, the BBC understands.
The Queen had said it was her "sincere wish" that Prince Charles would succeed her in the role "one day".
The non-hereditary role would not have automatically passed to Prince Charles, with some suggestions it might rotate among the 53 leaders.
The BBC's diplomatic correspondent James Landale said a source had told the BBC that Commonwealth leaders had agreed the appointment.
---
Study Reveals US Vulnerable From Tech Reliance on China
A new study warns the U.S. government is dangerously vulnerable to Chinese espionage or a cyberattack because of its dependence on electronics and software made in China.
The risk will only grow as China seeks global technological dominance, according to the report for the U.S.-China Economic and Security Review Commission.
The U.S. government's annual $90 billion in spending on information technology is devoted to Chinese products — providing back doors that could be exploited for cyberattacks, Jennifer Bisceglie, chief executive of Interos Solutions, which conducted the study, told The Washington Post.
---
U.S. strikes on Syria prove Trump is no Mr. Nice Guy
This was the week when America was being praised around the world for punishing Syria's evil, despotic, regime that killed scores of men, women and children with its arsenal of lethal chemical weapons.
It was certainly President Trump's finest hour in global leadership, hailed by our allies, several of whom joined in a retaliatory attack to destroy much of Bashar Assad's chemical weapons facilities.
Russia, Mr. Assad's accomplice in murder and mayhem, called the attacks an "act of aggression." Iran, who has bankrolled terrorist plots throughout the region, labeled it a "war crime." And Syria, whose government is accused of crimes against humanity, had the nerve to call the U.S. bombings "barbarous."
---
The Democratic terror of a miracle in North Korea
Trying to spark a new romance, or even arrange a weekend tryst, is not always easy. It's impossible with the help of spectators eager to throw things, not orange blossoms but sticks and stones with sharp edges. But that's how Washington tries to conduct diplomacy, circa 2018.
A tryst is not exactly what Donald Trump is trying to arrange with Kim Jong-un, the Rocket Man-cum-summiteer, but the president is getting all the help he doesn't need in dealing with the threat of nuclear mischief in Asia.
The Democrats are damning the president's work with praise offered through gritted teeth. They're particularly worried, so they say, that the president dispatched Mike Pompeo, the director of the CIA and prospective secretary of State, to work on the details of the summit without taking them into his confidence.
"It is discouraging to think how many people are shocked by honesty and how few by deceit."
-- Noel Coward
(1899-1973) British playwright
---
The Medal of Honor is the highest award for valor in action against an enemy force which can be bestowed upon an individual serving in the Armed Services of the United States.
GeneTrerally presented to its recipient by the President of the United States of America in the name of Congress.
The first award of the Medal of Honor was made March 25, 1863 to Private JACOB PARROTT.The last award of the Medal of Honor was made September 15, 2011 to Sergeant DAKOTA MEYER.
Since then there have been: • 3458 recipients of the Medal of Honor.
• Today there are 85 Living Recipients of the Medal of Honor.
Citation
Captain Humbert R. Versace distinguished himself by extraordinary heroism during the period of 29 October 1963 to 26 September 1965, while serving as S-2 Advisor, Military Assistance Advisory Group, Detachment 52, Ca Mau, Republic of Vietnam. While accompanying a Civilian Irregular Defense Group patrol engaged in combat operations in Thoi Binh District, An Xuyen Province, Captain Versace and the patrol came under sudden and intense mortar, automatic weapons, and small arms fire from elements of a heavily armed enemy battalion. As the battle raged, Captain Versace, although severely wounded in the knee and back by hostile fire, fought valiantly and continued to engage enemy targets. Weakened by his wounds and fatigued by the fierce firefight, Captain Versace stubbornly resisted capture by the over-powering Viet Cong force with the last full measure of his strength and ammunition. Taken prisoner by the Viet Cong, he exemplified the tenets of the Code of Conduct from the time he entered into Prisoner of War status. Captain Versace assumed command of his fellow American soldiers, scorned the enemy's exhaustive interrogation and indoctrination efforts, and made three unsuccessful attempts to escape, despite his weakened condition which was brought about by his wounds and the extreme privation and hardships he was forced to endure. During his captivity, Captain Versace was segregated in an isolated prisoner of war cage, manacled in irons for prolonged periods of time, and placed on extremely reduced ration. The enemy was unable to break his indomitable will, his faith in God, and his trust in the United States of America. Captain Versace, an American fighting man who epitomized the principles of his country and the Code of Conduct, was executed by the Viet Cong on 26 September 1965. Captain Versace's gallant actions in close contact with an enemy force and unyielding courage and bravery while a prisoner of war are in the highest traditions of the military service and reflect the utmost credit upon himself and the United States Army.
---
From the Archives

We Have Met the Enemy…

Geoff Metcalf
"They who can give up essential liberty to obtain a little temporary safety deserve neither liberty nor safety.
--Benjamin Franklin
"The American people must be willing to give up a degree of personal privacy in exchange for safety and security."
--Louis Freeh

In the wake of the clamor over the most recent WikiLeaks data dump, 'Vault 7', 'UMBRAGE', et al, it should be noted this is not really anything new. What we are seeing here is simply the evolution of something that goes back to the late 50s (to the incomplete best knowledge I have).
It is kinda cool to finally see even the New York Times (www.nytimes.com/2017/03/09/opinion/the-truth-about-the-wikileaks-cia-cache.html?_r=0) acknowledging material I was writing about in 1998 (http://www.wnd.com/1998/04/6108/ ).
In April of 1998 I wrote "Privacy has become an anachronism." I was commenting on "a massive system designed to intercept all your e-mail, fax traffic and more." I was explaining 'Echelon', the illegitimate offspring of a UKUSA treaty (https://www.nationalarchives.gov.uk/ukusa/ ) signed by the United States, United Kingdom, Canada, Australia and New Zealand. Its purpose was, and is, to have a vast global intelligence monster, which allegedly shares common goals. The system was so "efficient" that reportedly National Security Agency folk from Fort Meade could work from Menwith Hill in England to intercept local communications without either nation having to burden themselves with the formality of seeking approval (a court order) or disclosing the operation. And this was all pre-9/11 and pre-the anti-constitutional 'Patriot Act'.
https://www.washingtontimes.com/news/2018/mar/15/hyperloop-a-new-transportation-technology-offers-s/
It is illegal (without a Judge's signed permission) for the United States to spy on its citizens … kinda. The laws have long been circumvented by a mutual pact among five nations. Under the terms of UKUSA agreement, Britain spies on Americans and America spies on British citizens, and then the two conspirators trade data. A classic technical finesse. It is legal, but the intent to evade the spirit is inescapable.
I often fictionalized the genesis of 'Echelon' as an informal meeting of a group of post war American and British intelligence types drinking in some remote rustic bar. An imagined CIA type complains to his MI6 buddy about the hassles of US laws preventing US intelligence from surveillance of bad guys, and the Brit echoes the same complaint.
"Hey wait a moment mate," says Nigel, the make-believe MI6 guy, "I can spy on your guys and you can spy on our bad players…why don't we just come up with a mechanism whereby we spy on your villains, you spy on our villains, and we just 'share' the intel?"
This system was called ECHELON, and has been kicking around in some form longer than most of you. The result of the UKUSA treaty signed by the United States, United Kingdom, Canada, Australia and New Zealand was, and is, to have a vast global intelligence monster which allegedly shares common goals.
The London Telegraph reported in December of 1997 that the Civil liberties Committee of the European Parliament had officially confirmed the existence and purpose of ECHELON. "A global electronic spy network that can eavesdrop on every telephone, e-mail and telex communication around the world will be officially acknowledged for the first time in a European Commission report. …"
The report noted: "Within Europe all e-mail, telephone and fax communications are routinely intercepted by the United States National Security Agency, transferring all target information from the European mainland via the strategic hub of London, then by satellite to Fort Meade in Maryland via the crucial hub at Menwith Hill, in the North York moors in the UK.
"The ECHELON system forms part of the UKUSA system but unlike many of the electronic spy systems developed during the Cold War, ECHELON was designed primarily for non-military targets: governments, organizations and businesses in virtually every country."
An interesting sidebar appeared in the International Herald Tribune under the headline, "Big Corporate Brother: It Knows More About You Than You Think." The story details Acxiom Corp, which was a humongous information service hidden in the Ozark foothills. Twenty-four hours a day, Acxiom electronically gathered and sorts all kinds of data about 196 million Americans. Credit card transactions and magazine subscriptions, telephone numbers, real estate records, automotive data, hunting, business and fishing licenses, consumer surveys and demographic detail that would make a marketing department's research manager salivate. This relatively new (legal) enterprise was known as "data warehousing" or "data-mining", and it underscores the cruel reality that the fiction of personal privacy has become obsolete. Technology's ability to collect and analyze data has made privacy a quaint albeit interesting dinosaur.
The Tribune reported that "Axciom can often determine whether an American owns a dog or cat, enjoys camping or gourmet cooking, reads the Bible or lots of other books. It can often pinpoint an American's occupation, car and favorite vacations. By analyzing the equivalent of billions of pages of data, it often projects for its customers who should be offered a credit card or who is likely to buy a computer."
Most of this information is from y 1998 piece. Echelon has developed, matured, and morphed into a much more powerful hybrid. 'Carnivore' was software to help triage the cacophony of data. Vault 7 and 'Umbrage' are logical (some would argue "insidious") growth.
More to follow…