"It Is Not A Question of Who Is Right Or Wrong But What Is Right Or Wrong That Counts.

"

--Geoff Metcalf
Providing an on line Triage of the news since 1997
Wo
rld & Nation
Democrats' Big Plans Shrink in Face of Disunity, Implacable GOP
President Joe Biden's sweeping plans to expand social programs and fight climate change risk being whittled down by internal disputes among Democrats, who've been thwarted by Republicans on immigration, voting rights and gun control.
Meanwhile, the nation is hurtling toward a possible government shutdown and potential default on government obligations in coming weeks. With Democrats in control of both Congress and the White House, the economic fallout of either would have political consequences for Biden's party in the midterm elections next year.
Top Democrats are now seeking middle ground between the party's progressives and moderates, who are at odds over the size and scope of the $3.5 trillion package encompassing most of Biden's domestic agenda. With the future of his tax-and-spending plan and a separate infrastructure bill riding on party unity, leaders are seeking to lower expectations among House progressives, warning that the hefty price tag could be cut to meet moderates' demands.
---
The press ever-so-politely turns on Biden, as troubles mount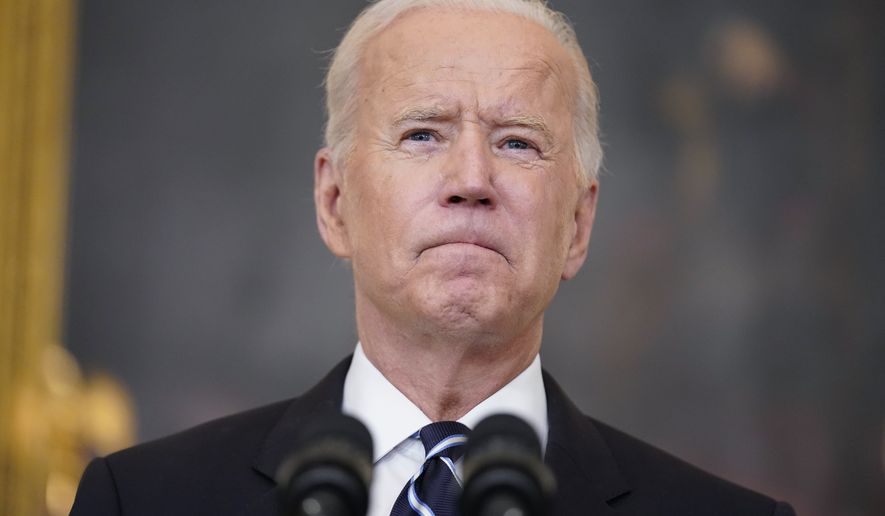 It was a horrible, no good, very bad Friday afternoon for President Biden as he headed out for a long weekend at the beach:
The Food and Drug Administration (FDA) rejected Biden's COVID-19 booster shots for all Americans.
France recalled its ambassador to the U.S. after Team Biden snubbed our oldest ally in making a national security deal with the United Kingdom and Australia.
And a drone strike the administration claimed took out a key ISIS-K planner did no such thing; the Pentagon confirmed that 10 civilians were killed, including seven children.
---
House clears stopgap measure to avert shutdown and suspend debt ceiling
The House on Tuesday passed a short-term government funding bill that includes a provision to suspend the debt limit and directs billions of dollars to efforts to relocate Afghan refugees and for disaster relief following recent hurricanes and wildfires.
The measure, the text of which was released earlier Tuesday, cleared the House in a party-line vote of 220 to 211. It now heads to the Senate, where Republicans have vowed to oppose the package.
The 93-page bill, known as a continuing resolution, maintains current federal funding levels through December 3 and includes a suspension of the debt limit through December 16, 2022. If passed by the House and Senate, lawmakers would avoid two fiscal crises they are facing in the coming weeks: a partial government shutdown and defaulting on the nation's debts, which Biden administration officials have warned would have catastrophic economic consequences.
---
DHS chief Mayorkas sidelines agents during investigation into images of rough treatment of migrants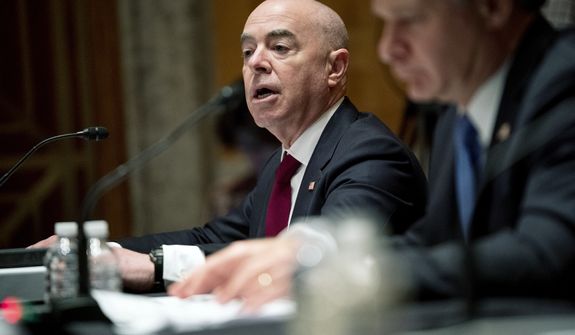 Border Patrol agents who were involved in a rough encounter with migrants this week in Texas have been sidelined from law enforcement duties during an investigation into their behavior, Homeland Security Secretary Alejandro Mayorkas told lawmakers on Wednesday.
The images of agents on horseback seemingly berating and lashing their reins on migrants who breached the border have drawn a feverish reaction from Democrats, who demanded discipline.
Mr. Mayorkas told the House Homeland Security Committee he shared their outrage and vowed to "pull no punches" in punishing anyone found to have acted outside the rules.
---
Four House Republicans introduce articles of impeachment against Biden
Four conservative House Republicans introduced new articles of impeachment against President Biden on Tuesday.
Rep. Bob Gibbs, Ohio Republican, introduced the articles of impeachment, citing three counts — Mr. Biden's botched retreat from Afghanistan, the southern border crisis, and his bid to extend a federal moratorium on evictions.
"I take this seriously. I don't think it's haphazard. I'm not trying to get media attention for myself," Mr. Gibbs told the Washington Examiner. "He's done so much damage to this country in less than nine months, which is really scary."
The three other sponsors are Republican Reps. Andy Biggs of Arizona and Brian Babin and Randy Weber of Texas.
---
Jerome Adams Claims HHS Won't Verify His Employment as Surgeon General
Former Surgeon General Jerome Adams apparently had difficulty getting his past government employment verified.
Adams, who served as surgeon general under former President Donald Trump from September 2017 to January 2021, took to Twitter on Tuesday afternoon to post an email he received while trying to refinance his mortgage.
"Hi Jerome, I'm having an issue verifying your employment as the US Surgeon General. I used both addresses provided and the US Dept of Health and Humans Services was unwilling to provide the verification," the email read according to Adams' tweet.
---
Police fire rubber bullets to clear demonstration at Melbourne's war memorial
Police have fired rubber bullets, stinger grenades and pepper balls at anti-vaxx protesters stationed at Melbourne's war memorial on a third day of violent demonstrations.
Around 400 people, who have been rallying to demand an end to mandatory vaccinations for construction workers, swarmed Victoria's Shrine of Remembrance which was built to honour the state's men and women who served in the First World War.
Throughout Wednesday the mob chanted 'lest we forget' as they stood in front of the monument, some decked out in body armour and helmets in anticipation of a police attack while others urged officers not to arrest them out of 'respect for the Anzacs'.
After an hours-long standoff where police offered to let protesters leave, officers opened fire to clear demonstrators who had started pelting them with bottles.
---
Top U.S. Gen. Milley meets with Russian counterpart on post-Afghanistan path
America's top military officer on Wednesday with his Russian counterpart in Finland even as U.S. officials struggle to secure basing rights from former Soviet countries bordering Afghanistan for a regional anti-terrorism campaign now that the Taliban are in charge in Kabul.
Chairman of the Joint Chiefs of Staff Gen. Mark Milley met with Gen. Valery Gerasimov, Chief of the Russian General Staff, in Helsinki to discuss "regional conflicts, strategic stability, and other operational and strategic issues," according to Col. David Butler, spokesman for the Joint Staff.
In accordance with past practice, both military leaders kept the specific details of the conversation private, Col. Butler said.
---
White House aides shout down questions during Biden-Johnson meeting
White House aides late Tuesday shouted down reporters' questions to President Biden and British Prime Minister Boris Johnson during an Oval Office meeting, leaving the president's answer to an immigration question undecipherable.
The pool of reporters covering the event immediately filed a formal complaint with White House press secretary Jen Psaki's office.
"White House aides shouted down U.S. attempts to ask questions," CBS reporter Ed O'Keefe tweeted. "I asked Biden about the southern border and we couldn't decipher what he said."
Other reporters also griped on Twitter, and British journalist Pippa Crerar chimed in, saying the shouting was "totally out of order."
---
More Top News
---
---
'Joe Biden and the Terrible, Horrible, No Good, Very Bad Day'
He can dodge reporters, but not the polls
President Joe Biden had a disastrous day last Friday. It's hard to imagine how it could have been any worse.
First, the crisis at the U.S.-Mexico border exploded. More than 12,000 foreigners flooded the Del Rio Port of Entry along the Texas-Mexico border — so many that thousands crowded under a bridge as U.S. Customs and Border Protection agents tried to handle the mob.
The crisis got so bad that the Office of Field Operations at the port of entry temporarily shut down and re-routed traffic to another entry point "to respond to urgent safety and security needs presented by an influx of migrants into Del Rio and is effective immediately."
---
Tax hikes reveal Congress' economic ignorance
Why do almost all airliners cruise at approximately 550 Mph, the same speed they did 65 years ago? Faster planes can be built. The Concorde (1976-2003) flew at over twice the speed of the latest Boeing-787, and the fastest planes ever built (first flight in 1964), the SR-71 "Blackbird" flew at more than 2,000 Mph, or about four times as fast as a Boeing-737.
Fuel efficiency in airplanes falls rapidly as they approach the speed of sound (761 mph at sea level), and few people are willing to pay the very high ticket prices required (and in a smaller seat) to get from New York to London three hours faster. In sum, it makes little economic sense – at the present level of technology – to build high-speed aircraft for mass civilian travel. Engineering economics 101.
As one who has spent decades trying to teach Tax Economics 101 to students, members of the media, and the political class, it is painful to acknowledge that the current crop of "leaders" seems to have learned nothing. Back in the early 1980s, during the Reagan presidency, many of us were under the illusion that we were rolling back economic illiteracy. Mr. Reagan explained the basics with great clarity (he had a degree in economics), and most of his economic team were unusually talented with excellent communication skills.
---
" It is discouraging to think how many people are shocked by honesty and how few by deceit."

-- Noel Coward

(1899-1973) British playwright

---

The Medal of Honor is the highest award for valor in action against an enemy force which can be bestowed upon an individual serving in the Armed Services of the United States.

GeneTrerally presented to its recipient by the President of the United States of America in the name of Congress.

The first award of the Medal of Honor was made March 25, 1863 to Private JACOB PARROTT.The last award of the Medal of Honor was made September 15, 2011 to Sergeant DAKOTA MEYER.

Since then there have been: • 3458 recipients of the Medal of Honor.

• Today there are 85 Living Recipients of the Medal of Honor.

Citation


Captain Humbert R. Versace distinguished himself by extraordinary heroism during the period of 29 October 1963 to 26 September 1965, while serving as S-2 Advisor, Military Assistance Advisory Group, Detachment 52, Ca Mau, Republic of Vietnam. While accompanying a Civilian Irregular Defense Group patrol engaged in combat operations in Thoi Binh District, An Xuyen Province, Captain Versace and the patrol came under sudden and intense mortar, automatic weapons, and small arms fire from elements of a heavily armed enemy battalion. As the battle raged, Captain Versace, although severely wounded in the knee and back by hostile fire, fought valiantly and continued to engage enemy targets. Weakened by his wounds and fatigued by the fierce firefight, Captain Versace stubbornly resisted capture by the over-powering Viet Cong force with the last full measure of his strength and ammunition. Taken prisoner by the Viet Cong, he exemplified the tenets of the Code of Conduct from the time he entered into Prisoner of War status. Captain Versace assumed command of his fellow American soldiers, scorned the enemy's exhaustive interrogation and indoctrination efforts, and made three unsuccessful attempts to escape, despite his weakened condition which was brought about by his wounds and the extreme privation and hardships he was forced to endure. During his captivity, Captain Versace was segregated in an isolated prisoner of war cage, manacled in irons for prolonged periods of time, and placed on extremely reduced ration. The enemy was unable to break his indomitable will, his faith in God, and his trust in the United States of America. Captain Versace, an American fighting man who epitomized the principles of his country and the Code of Conduct, was executed by the Viet Cong on 26 September 1965. Captain Versace's gallant actions in close contact with an enemy force and unyielding courage and bravery while a prisoner of war are in the highest traditions of the military service and reflect the utmost credit upon himself and the United States Army.

---

From the Archives

We Have Met the Enemy…
Geoff Metcalf


"They who can give up essential liberty to obtain a little temporary safety deserve neither liberty nor safety.
--Benjamin Franklin
"The American people must be willing to give up a degree of personal privacy in exchange for safety and security."
--Louis Freeh


In the wake of the clamor over the most recent WikiLeaks data dump, 'Vault 7', 'UMBRAGE', et al, it should be noted this is not really anything new. What we are seeing here is simply the evolution of something that goes back to the late 50s (to the incomplete best knowledge I have).

It is kinda cool to finally see even

The New York Times

acknowledging material

I was writing about in 1998

.

In April of 1998 I wrote "Privacy has become an anachronism." I was commenting on "a massive system designed to intercept all your e-mail, fax traffic and more." I was explaining 'Echelon', the illegitimate offspring of a

UKUSA Treaty

signed by the United States, United Kingdom, Canada, Australia and New Zealand. Its purpose was, and is, to have a vast global intelligence monster, which allegedly shares common goals. The system was so "efficient" that reportedly National Security Agency folk from Fort Meade could work from Menwith Hill in England to intercept local communications without either nation having to burden themselves with the formality of seeking approval (a court order) or disclosing the operation. And this was all pre-9/11 and pre-the anti-constitutional

'Patriot Act'

.

It is illegal (without a Judge's signed permission) for the United States to spy on its citizens … kinda. The laws have long been circumvented by a mutual pact among five nations. Under the terms of UKUSA agreement, Britain spies on Americans and America spies on British citizens, and then the two conspirators trade data. A classic technical finesse. It is legal, but the intent to evade the spirit is inescapable.

I often fictionalized the genesis of 'Echelon' as an informal meeting of a group of post war American and British intelligence types drinking in some remote rustic bar. An imagined CIA type complains to his MI6 buddy about the hassles of US laws preventing US intelligence from surveillance of bad guys, and the Brit echoes the same complaint.

"Hey wait a moment mate," says Nigel, the make-believe MI6 guy, "I can spy on your guys and you can spy on our bad players…why don't we just come up with a mechanism whereby we spy on your villains, you spy on our villains, and we just 'share' the intel?"

This system was called ECHELON, and has been kicking around in some form longer than most of you. The result of the UKUSA treaty signed by the United States, United Kingdom, Canada, Australia and New Zealand was, and is, to have a vast global intelligence monster which allegedly shares common goals.

The London Telegraph reported in December of 1997 that the Civil liberties Committee of the European Parliament had officially confirmed the existence and purpose of ECHELON. "A global electronic spy network that can eavesdrop on every telephone, e-mail and telex communication around the world will be officially acknowledged for the first time in a European Commission report. …"

The report noted: "Within Europe all e-mail, telephone and fax communications are routinely intercepted by the United States National Security Agency, transferring ll target information from the Eurv opean mainland via the strategic hub of London, then by satellite to Fort Meade in Maryland via the crucial hub at Menwith Hill, in the North York moors in th UK.

"The ECHELON system forms part of the UKUSA system but unlike many of the electronic spy systems developed during the Cold War, ECHELON was designed primarily for non-military targets: governments, organizations and businesses in virtually every country."

An interesting sidebar appeared in the International Herald Tribune under the headline, "Big Corporate Brother: It Knows More About You Than You Think." The story details Acxiom Corp, which was a humongous information service hidden in the Ozark foothills. Twenty-four hours a day, Acxiom electronically gathered and sorts all kinds of data about 196 million Americans. Credit card transactions and magazine subscriptions, telephone numbers, real estate records, automotive data, hunting, business and fishing licenses, consumer surveys and demographic detail that would make a marketing department's research manager salivate. This relati vely new (legal) enterprise was known as "data warehousing" or "data-mining", and it underscores the cruel reality that the fiction of personal privacy has become obsolete. Technology's ability to collect and analyze data has made privacy a quaint albeit interesting dinosaur.

The Tribune reported that "Axciom can often determine whether an American owns a dog or cat, enjoys camping or gourmet cooking, reads the Bible or lots of other books. It can often pinpoint an American's occupation, car and favorite vacations. By analyzing the equivalent of billions of pages of data, it often projects for its customers who should be offered a credit card or who is likely to buy a computer."

Most of this information is from y 1998 piece. Echelon has developed, matured, and morphed into a much more powerful hybrid. 'Carnivore' was software to help triage the cacophony of data. Vault 7 and 'Umbrage' are logical (some would argue "insidious") growth.

More to follow…