"It Is Not A Question of Who Is Right Or Wrong But What Is Right Or Wrong That Counts.

"

--Geoff Metcalf
Providing an on line Triage of the news since 1997



Wo

rld & Nation
How Trump got Mexico to solve America's border surge when Congress wouldn't
'Outsourced' the problem, ended catch and release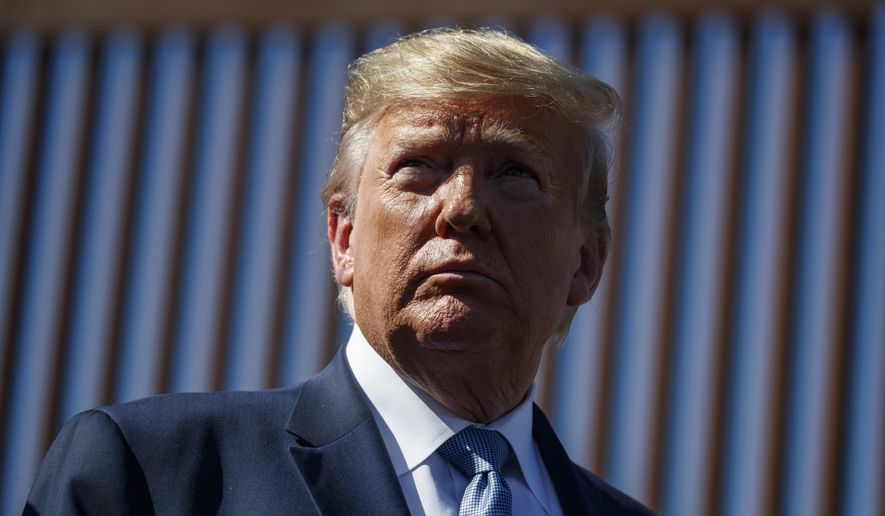 President Trump pleaded with Congress to do something as illegal immigration across the southwestern border soared this spring.
Republicans seemed willing, but it was a nonstarter for Democrats. Party leaders even accused Mr. Trump of manufacturing the crisis.
So the president turned to Mexico with a combination of negotiations, controls, threats and even an explicit quid pro quo: Do something to stop 4,000 people from crossing Mexican territory each day en route to the U.S. or face crippling tariffs.
---
Jonathan Turley, GOP witness, says he's received threats after impeachment testimony
A law school professor summoned by Republicans as a witness in this week's impeachment hearing said Thursday night that he's received threats over his testimony.
Jonathan Turley, a professor at George Washington University Law School, said he was flooded with threats even before he concluded his testimony Wednesday before the House Judiciary Committee.
"My call for greater civility and dialogue may have been the least successful argument I made to the committee," Mr. Turley tweeted. "Before I finished my testimony, my home and office were inundated with threatening messages and demands that I be fired from GW."
---
Jobs growth soars in November as payrolls surge by 266,000
The jobs market turned in a stellar performance in November, with nonfarm payrolls surging by 266,000 and the unemployment rate falling to 3.5%, according to Labor Department numbers released Friday.
Those totals easily beat the Wall Street consensus. Economists surveyed by Dow Jones had been looking for solid job growth of 187,000 and saw the unemployment rate holding steady from October's 3.6%. The decline in November's jobless rate came amid a corresponding 0.1 percentage point drop in the labor force participation rate, to 63.2%.
Stocks opened sharply higher in reaction to the better-than-expected report. Bond yields also surged.
---
US Considers Sending Several Thousand More Troops to Mideast
The Pentagon is considering sending several thousand additional troops to the Middle East to help deter Iranian aggression, amid reports of escalating violence in Iran and continued meddling by Tehran in Iraq, Syria and other parts of the region.
John Rood, defense undersecretary for policy, told senators Thursday that Defense Secretary Mark Esper "intends to make changes" to the number of troops deployed in the region. Other officials said options under consideration could send between 5,000 and 7,000 troops to the Middle East, but they all stressed that there have been no final decisions yet. The officials spoke on condition of anonymity to discuss internal deliberations.
The troop deliberations follow several decisions since spring to beef up the U.S. presence in the Middle East because of a series of maritime attacks and bombings in Saudi Arabia that the U.S. and others have blamed on Iran.
---
Lawmakers consider 'skinny' military spending bill as deadline nears
Congressional negotiators face a make-or-break weekend to nail down a major defense policy and spending bill by Monday's deadline to vote before the looming holiday recess.
Despite sometimes contentious talks, leading House and Senate lawmakers expressed confidence Thursday that they would come to an agreement on the annual National Defense Authorization Act after months of partisan sparring that has ignited questions of whether Congress will pass the legislation by the end of the year.
The massive bill, which sets budget levels for the Pentagon and weighs in on a host of military and security policy issues, has become a test of Capitol Hill's ability to move major legislation in the midst of a drive to impeach President Trump. Despite all the clashes of the past six decades, Congress has managed to pass a National Defense Authorization Act for the past 58 years.
---
Reports: Calls Between Giuliani, WH Budget Office in Doubt
House Intelligence Committee chair Rep. Adam Schiff, D-Calif., has a wrong number in his impeachment case against President Donald Trump, casting doubt on calls between Rudy Guiliani and the White House budget office, two news outlets reported.
Schiff's committee, which took the lead in impeachment, alleged Trump's personal lawyer worked with the administration to freeze $391 million in foreign aid to Ukraine to pressure it to opening an investigation into Joe Biden's family.
The panel's report details phone calls and texts dating from last spring and summer, including a nearly 13-minute call April 24 from an "OMB Phone Number" that were all part of the evidence that built the panel's case for impeachment.
But the phone calls were not coming from inside the Office of Management and Budget, RealClearPolitics and CNN reported.
---
Matt Drudge picks up another conservative competitor with the Bongino Report
Fox contributor's website promises 'real conservative news'
Another rival to the Drudge Report has joined the world of conservative news aggregators.
Fox News contributor Dan Bongino went live Wednesday with the Bongino Report, the latest conservative challenger to kingpin Matt Drudge, whose eponymous website, a conservative must-read for two decades, has been accused of trending leftward.
"Forget Drudge – if you want real conservative news, visit us at BonginoReport.com every day," said Matt Palumbo in an announcement on the Dan Bongino Show website.
---
'Strangest election': Scrambled alliances, muddled messages from Boris Johnson, Jeremy Corbyn
British voters head to polls with Brexit in balance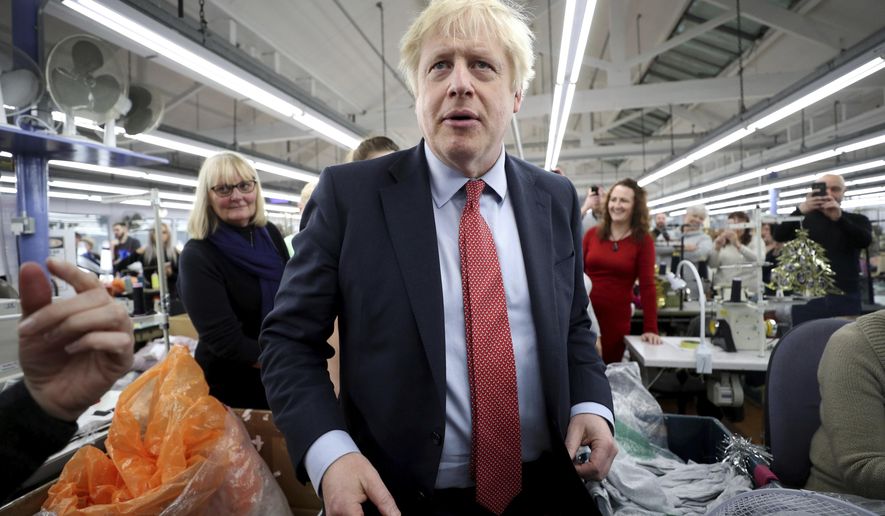 British voters next week will choose, yet again, who should chart their country out of its Brexit quagmire in what some are calling the strangest election in living memory.
The main choices in the snap election: Prime Minister Boris Johnson, a mop-topped, bitingly loquacious former journalist and ally of President Trump who says a Conservative victory is essential to finishing the job on Brexit; and opposition Labor Party leader Jeremy Corbyn, perhaps the most leftist major British party candidate in decades, running on a strongly socialist agenda while fending off a charge from a leading British Orthodox rabbi that his party is rampant with anti-Semitism.
Throw in a slew of smaller parties fiercely for and anti-Brexit and a stew of other domestic issues, and it has become a bewildering political landscape that has proved frustrating and confusing to British voters.
---
Biden finally finds social media buzz with viral Trump video, voter spat
For a candidate who has struggled at times to get noticed on social media, Joe Biden finally got some online attention on Thursday - for better or worse.
First, the Biden campaign posted a video on Twitter that brutally took down President Donald Trump, suggesting he is a laughingstock to other world leaders. Then a heated back-and-forth with an Iowa voter quickly went viral.
Together, the moments generated a digital buzz that has often eluded Biden, whose campaign appeals most to traditional, older Democratic voters. Such attention has generally been enjoyed instead by some of his chief rivals in the 2020 Democratic presidential race.
---
The impeachment report from the House
Americans remain deeply divided about whether Trump should be impeached
The House released a 300-page impeachment report Tuesday detailing wrongdoing by President Trump when he asked the Ukrainian president to dig up dirt to smear former vice president Joe Biden, one of his chief rivals in the 2020 presidential election.
Mr. Trump has insisted that the entire story, based on his phone call with President Volodymyr Zelensky, is a "hoax." But multiple testimony by administration officials, including White House transcripts, prove that Trump did make such a request.
The House Intelligence Committee was scheduled to vote on its final impeachment report this week and to ask other investigative panels to submit the results of their own findings, including the results of the months-long probe by special counsel Robert Mueller.
---
When patent pirates threaten to unplug your smartphone
The U.S. International Trade Commission should not be a pawn in patent disputes
The teenager unable to look up from her phone has quickly become a cliche. But we now all live by our phones and other mobile devices: High-powered business executives, farmers planting crops, parents shuttling kids to school on the way to work, hikers planning their routes, elders texting their grandchildren and millions of small businesses managing every facet of their days. Imagine if our favorite devices were no longer available. It could happen.
A small cadre of financial wheeler-dealers masquerading as a company called Neodron wants the U.S. International Trade Commission or ITC to ban a vast swath of mobile devices from the U.S. market. Neodron, incorporated late last year in Ireland, alleges that touchscreen devices from major U.S. companies Amazon, Dell, HP, Microsoft and Motorola and companies with massive U.S. presence like Samsung contain technology that infringes on its patents. Bear in mind, Neodron didn't actually invent anything or create new products or technological advances. It acquired a few patents, yelled "infringement" and asked the ITC to ban the products in the hopes of getting a big settlement.
---
" It is discouraging to think how many people are shocked by honesty and how few by deceit."

-- Noel Coward

(1899-1973) British playwright

---

The Medal of Honor is the highest award for valor in action against an enemy force which can be bestowed upon an individual serving in the Armed Services of the United States.

GeneTrerally presented to its recipient by the President of the United States of America in the name of Congress.

The first award of the Medal of Honor was made March 25, 1863 to Private JACOB PARROTT.The last award of the Medal of Honor was made September 15, 2011 to Sergeant DAKOTA MEYER.

Since then there have been: • 3458 recipients of the Medal of Honor.

• Today there are 85 Living Recipients of the Medal of Honor.

Citation


Captain Humbert R. Versace distinguished himself by extraordinary heroism during the period of 29 October 1963 to 26 September 1965, while serving as S-2 Advisor, Military Assistance Advisory Group, Detachment 52, Ca Mau, Republic of Vietnam. While accompanying a Civilian Irregular Defense Group patrol engaged in combat operations in Thoi Binh District, An Xuyen Province, Captain Versace and the patrol came under sudden and intense mortar, automatic weapons, and small arms fire from elements of a heavily armed enemy battalion. As the battle raged, Captain Versace, although severely wounded in the knee and back by hostile fire, fought valiantly and continued to engage enemy targets. Weakened by his wounds and fatigued by the fierce firefight, Captain Versace stubbornly resisted capture by the over-powering Viet Cong force with the last full measure of his strength and ammunition. Taken prisoner by the Viet Cong, he exemplified the tenets of the Code of Conduct from the time he entered into Prisoner of War status. Captain Versace assumed command of his fellow American soldiers, scorned the enemy's exhaustive interrogation and indoctrination efforts, and made three unsuccessful attempts to escape, despite his weakened condition which was brought about by his wounds and the extreme privation and hardships he was forced to endure. During his captivity, Captain Versace was segregated in an isolated prisoner of war cage, manacled in irons for prolonged periods of time, and placed on extremely reduced ration. The enemy was unable to break his indomitable will, his faith in God, and his trust in the United States of America. Captain Versace, an American fighting man who epitomized the principles of his country and the Code of Conduct, was executed by the Viet Cong on 26 September 1965. Captain Versace's gallant actions in close contact with an enemy force and unyielding courage and bravery while a prisoner of war are in the highest traditions of the military service and reflect the utmost credit upon himself and the United States Army.

---

From the Archives

We Have Met the Enemy…
Geoff Metcalf


"They who can give up essential liberty to obtain a little temporary safety deserve neither liberty nor safety.
--Benjamin Franklin
"The American people must be willing to give up a degree of personal privacy in exchange for safety and security."
--Louis Freeh


In the wake of the clamor over the most recent WikiLeaks data dump, 'Vault 7', 'UMBRAGE', et al, it should be noted this is not really anything new. What we are seeing here is simply the evolution of something that goes back to the late 50s (to the incomplete best knowledge I have).

It is kinda cool to finally see even

The New York Times

acknowledging material

I was writing about in 1998

.

In April of 1998 I wrote "Privacy has become an anachronism." I was commenting on "a massive system designed to intercept all your e-mail, fax traffic and more." I was explaining 'Echelon', the illegitimate offspring of a

UKUSA Treaty

signed by the United States, United Kingdom, Canada, Australia and New Zealand. Its purpose was, and is, to have a vast global intelligence monster, which allegedly shares common goals. The system was so "efficient" that reportedly National Security Agency folk from Fort Meade could work from Menwith Hill in England to intercept local communications without either nation having to burden themselves with the formality of seeking approval (a court order) or disclosing the operation. And this was all pre-9/11 and pre-the anti-constitutional

'Patriot Act'

.

It is illegal (without a Judge's signed permission) for the United States to spy on its citizens … kinda. The laws have long been circumvented by a mutual pact among five nations. Under the terms of UKUSA agreement, Britain spies on Americans and America spies on British citizens, and then the two conspirators trade data. A classic technical finesse. It is legal, but the intent to evade the spirit is inescapable.

I often fictionalized the genesis of 'Echelon' as an informal meeting of a group of post war American and British intelligence types drinking in some remote rustic bar. An imagined CIA type complains to his MI6 buddy about the hassles of US laws preventing US intelligence from surveillance of bad guys, and the Brit echoes the same complaint.

"Hey wait a moment mate," says Nigel, the make-believe MI6 guy, "I can spy on your guys and you can spy on our bad players…why don't we just come up with a mechanism whereby we spy on your villains, you spy on our villains, and we just 'share' the intel?"

This system was called ECHELON, and has been kicking around in some form longer than most of you. The result of the UKUSA treaty signed by the United States, United Kingdom, Canada, Australia and New Zealand was, and is, to have a vast global intelligence monster which allegedly shares common goals.

The London Telegraph reported in December of 1997 that the Civil liberties Committee of the European Parliament had officially confirmed the existence and purpose of ECHELON. "A global electronic spy network that can eavesdrop on every telephone, e-mail and telex communication around the world will be officially acknowledged for the first time in a European Commission report. …"

The report noted: "Within Europe all e-mail, telephone and fax communications are routinely intercepted by the United States National Security Agency, transferring ll target information from the European mainland via the strategic hub of London, then by satellite to Fort Meade in Maryland via the crucial hub at Menwith Hill, in the North York moors in the UK.

"The ECHELON system forms part of the UKUSA system but unlike many of the electronic spy systems developed during the Cold War, ECHELON was designed primarily for non-military targets: governments, organizations and businesses in virtually every country."

An interesting sidebar appeared in the International Herald Tribune under the headline, "Big Corporate Brother: It Knows More About You Than You Think." The story details Acxiom Corp, which was a humongous information service hidden in the Ozark foothills. Twenty-four hours a day, Acxiom electronically gathered and sorts all kinds of data about 196 million Americans. Credit card transactions and magazine subscriptions, telephone numbers, real estate records, automotive data, hunting, business and fishing licenses, consumer surveys and demographic detail that would make a marketing department's research manager salivate. This relatively new (legal) enterprise was known as "data warehousing" or "data-mining", and it underscores the cruel reality that the fiction of personal privacy has become obsolete. Technology's ability to collect and analyze data has made privacy a quaint albeit interesting dinosaur.

The Tribune reported that "Axciom can often determine whether an American owns a dog or cat, enjoys camping or gourmet cooking, reads the Bible or lots of other books. It can often pinpoint an American's occupation, car and favorite vacations. By analyzing the equivalent of billions of pages of data, it often projects for its customers who should be offered a credit card or who is likely to buy a computer."

Most of this information is from y 1998 piece. Echelon has developed, matured, and morphed into a much more powerful hybrid. 'Carnivore' was software to help triage the cacophony of data. Vault 7 and 'Umbrage' are logical (some would argue "insidious") growth.

More to follow…