---
Updated
hrs

Wo
rld & National
"The Press was protected so that it could bare the secrets of the government and inform the people. Only a free and unrestrained press can effectively expose deception in government. And paramount among the responsibilities of a free press is the duty to prevent any part of the government from deceiving the people."
-- Justice Hugo L. Black
(1886-1971) US Supreme Court Justice

NFL steps into politics, fights tax cut bill with no stadium bond breaks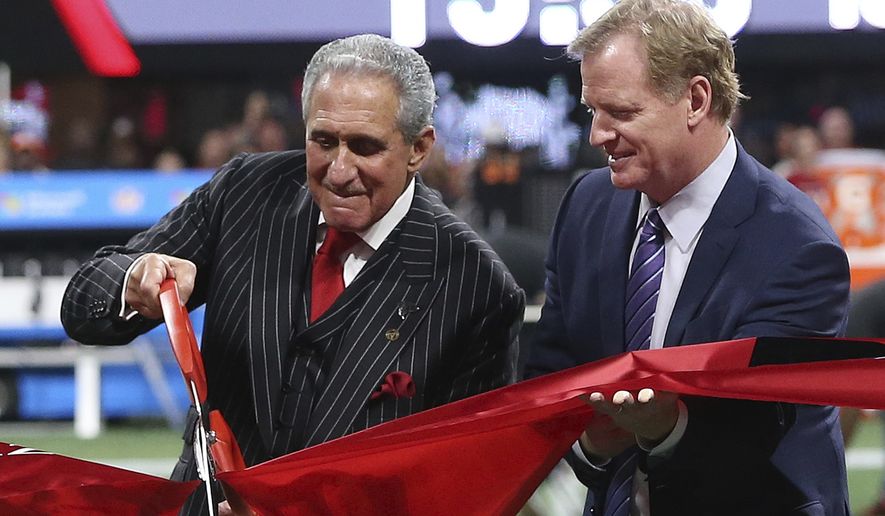 The NFL has come out against House Republicans' tax cut bill, putting the league out on a political limb even as it deals with the fallout from national anthem protests.

Other big pro sports leagues are staying out of the fight, but a spokesman for the National Football League said teams don't want to lose a special tax break that allows them to use tax-free bonds to build stadiums.

The NFL says it deserves the break because new stadiums create jobs.

Tax-free municipal bonds are generally used for roads, hospitals and the like, though a number of communities have extended them to help sports teams.

NFL Civil War Breaks Out
Jerry Jones vs Roger Goodell

---
Al Franken's groping scandal messes Dems' plans fpr Trump
Radio host: 'There's a Democrat governor that could appoint a Democrat replacement'


Radio host Rush Limbaugh says Sen. Al Franken's groping scandal is "gumming up" a Democratic Party plan to oust Republican U.S. Senate candidate Roy Moore and President Trump.

KABC Los Angeles anchor Leeann Tweeden upended the political world Thursday with accusations — and photographic evidence — of sexual misconduct by Mr. Franken while the two were part of a 2006 USO tour. Mr. Limbaugh told his millions of listeners as the news spread that Democrats may have to politically sacrifice the Minnesota senator, given their rhetoric on the Alabama Senate race and Mr. Trump.

"What are the Democrats going to do?" the conservative pundit said. "Seriously. What are the Democrats going to do? They're trying to get rid of two Republicans, and here comes this big hypocrite, Al Franken, totally gumming up the works, totally screwing up the plan.

Franken to face ethics investigation
Melanie Morgan claims Franken Harrassment

---

Ex-Hillary adviser blasts 'hypocrite' Sen. Kirsten Gillibrand for comments on Bill Clinton

A former adviser to Hillary Clinton blasted Sen. Kirsten Gillibrand for saying on Thursday that Bill Clinton should've resigned after his relationship with an intern was revealed during his presidency.

"Yes, I think that is the appropriate response," Ms. Gillibrand, New York Democrat, told The New York Times when asked if Mr. Clinton should've stepped down after his relationship with Monica Lewinsky, then in her early 20s, was revealed.

Ms. Gillibrand did tell the newspaper that she believed circumstances are different today, however, and what is now deemed a "fireable offense" was more tolerated in the 1990s.


---

Grassley schedules judicial heaerings despite 'blue slip' concerns
Hearing for David Stras and Kyle Duncan set for Nov. 29

Senate Judiciary Committee Chairman Charles E. Grassley said Thursday he's scheduling confirmation hearings for two of President Trump's circuit court nominees, despite opposition from two of their home-state senators.

The Iowa Republican said his committee will hold a hearing Nov. 29 for Minnesota Supreme Court Justice David Stras, nominated to the 8th U.S. Circuit Court of Appeals, and Kyle Duncan, nominated to the 5th U.S. Circuit Court of Appeals.

Both Justice Stras and Mr. Duncan had one of their home state senators refuse to return their blue slip, signaling they didn't consent to the nominee.

Blue slips are a long-standing tradition promoting consultation between the president and senators on judicial picks, but Mr. Grassley said they have rarely been a hard-and-fast veto.

"I won't allow senators to prevent a committee hearing for political or ideological reasons. Using the blue slip for these purposes is not consistent with historical practice," said Mr. Grassley on the chamber floor.


---

Uranium One deal informant sued to recoup more than $700K lost in bribes

A FBI informant who gave the government information about a Russian bribery plot implicated in the sale of U.S. uranium rights tried unsuccessfully last year to recover upwards of $700,000 in bribes he said he was authorized to pay as part of the FBI investigation.

William D. Campbell has emerged now as the key figure in a congressional probe into Russia's 2010 purchase of U.S. uranium rights and then-Secretary of State Hillary Clinton's role in approving the deal.

His identity had been shielded for weeks, but court records obtained by The Washington Times, as well as a report by Reuters, identified the man.


---
Gorsuch Honors Scalia, Says Originalism Is Here to Stay


Supreme Court Justice Neil Gorsuch gave a nod to the late Antonin Scalia during a speech Thursday night, crediting the jurist for bringing originalist and textualism to the High Court, according to reports.

"Tonight I can report that a person can be both a publicly committed originalist and textualist and be confirmed to the Supreme Court of the United States," Gorsuch said during his speech to kick off the Federalist Society's annual conference in D.C., the Washington Examiner reported.

"Originalism has regained its place at the table … textualism has triumphed … and neither one is going anywhere on my watch," Gorsuch told the assembly, which included just one other Supreme Court Justice, Samuel Alito, Politico reported.


---

Roy Moore Makes Fundraising Pitch on Breitbart

Judge Roy Moore used the long reach of Breitbart to make a fundraising pitch to conservatives in the run-up to the Dec. 12 special election in Alabama, saying, "I've been abandoned by Washington's establishment Republicans."
In a "Special Message" email from Breitbart News with the subject line, "McConnell's dirty plot to destroy me," Moore is aiming to reach a goal of $500,000.

"I must be able to count on the support of God-fearing conservatives like you to help me defeat the forces of evil seeking to crush out and destroy our conservative movement — starting with me on Dec. 12," the fundraising email reads.
---

Downing North Korean Missiles Is Hard
So the U.S. Is Experimenting.

Concerned that the missile defense system designed to protect American cities is insufficient by itself to deter a North Korean attack, the Trump administration is expanding its strategy to also try to stop Pyongyang's missiles before they get far from Korean airspace.

The new approach, hinted at in an emergency request to Congress last week for $4 billion to deal with North Korea, envisions the stepped-up use of cyberweapons to interfere with the North's control systems before missiles are launched, as well as drones and fighter jets to shoot them down moments after liftoff. The missile defense network on the West Coast would be expanded for use if everything else fails.


---

Two weeks to unlock Brexit, EU tells Britain's May

"There is more work to be done" to unlock Brexit talks, British Prime Minister Theresa May was told on Friday, as the European Union repeated an early December deadline for her to move on the divorce bill and border with Ireland.

May met fellow leaders on the sidelines of an EU summit in Gothenburg, Sweden, to try to break the deadlock over how much Britain will pay on leaving the bloc in 16 months. She signalled again that she would increase an initial offer that is estimated at some 20 billion euros, about a third of what Brussels wants.

But without any immediate plans to detail which financial commitments Britain was planning to cover and with a growing row with Ireland over their shared border, European Council President Donald Tusk, who coordinates Brexit for the bloc's other 27 leaders, concluded Britain must take further steps.


---

Gropergate! The halls of Congress under siege!

The exposure of Al Franken as just another idol with feet of clay was hard for this old guy of crushed dreams and innocent heart to take. Ghost of Strom Thurmond, say it ain't so. Al has been a tower of rectitude and virtue, serving here in the very shadow of Abraham Lincoln and George Washington, and the charges against him are difficult for a patriot to believe.

The charges, sordid as they are, have been properly aged, like old bourbon or VSOP brandy. Al is accused of kissing (and in the style of the French, no less) a fellow thespian. Al has had a checkered career, and this was on a USO tour in to entertain the troops in the Middle East in the year 2006. He even posed laying his hands on her, though she was sleeping and dressed in a flak jacket. It's not clear that Al's hand ever touched even the flak jacket. Flak jackets are made of tough stuff, designed to stop, well, flak, and though Al might have the reputation as the last of the red-hot lovers, my money would be on the flak jacket in a test of stopping power. Modern flak jackets could stop Strom Thurmond. Still, as any feminist would tell you, it's the thought that counts.

Al spent most of Thursday apologizing to the lady late in the flak jacket, one Leeann (pronounced as two words) Tweeden, who has a radio program in Los Angeles, where sexual harassment, innuendo and suggestion were first raised to high art. He issued not one, but two apologies, the second at great length just in case the first one didn't take. He has learned well the Senate tradition of bloviation as eloquence.


---

Why Trump should arm Ukraine

President Trump has often expressed his desire to build a better, more positive relationship with Russia. However, as Secretary of State Tillerson has said, improved bilateral relations will not be possible without ending Russia's aggression against Ukraine.

Washington has energized its diplomatic effort to settle the conflict, as demonstrated by the appointment of Kurt Volker as special envoy. But that more robust diplomatic effort needs backing by other steps, such as sanctions, to encourage the Kremlin to change its approach. It is also time for Mr. Trump to end the Obama administration's policy of denying lethal defensive assistance to Ukraine.

In the aftermath of the 2014 Maidan Revolution in Kyiv, Russian military forces seized Crimea, which Moscow promptly and illegally annexed. Shortly thereafter, the Kremlin launched a covert, hybrid war in the eastern Ukrainian region of Donbas; it began with Russian leadership, funding, heavy weapons, ammunition and "volunteers" — but, at critical moments, regular units of the Russian army joined in. Three years of fighting have left some 10,000 dead.



"It is discouraging to think how many people are shocked by honesty and how few by deceit."

-- Noel Coward

(1899-1973) British playwright
---
---
The Medal of Honor is the highest award for valor in action against an enemy force which can be bestowed upon an individual serving in the Armed Services of the United States.
GeneTrerally presented to its recipient by the President of the United States of America in the name of Congress.
The first award of the Medal of Honor was made March 25, 1863 to Private JACOB PARROTT.The last award of the Medal of Honor was made September 15, 2011 to Sergeant DAKOTA MEYER.
Since then there have been: • 3458 recipients of the Medal of Honor.
• Today there are 85 Living Recipients of the Medal of Honor.
Citation

Captain Humbert R. Versace distinguished himself by extraordinary heroism during the period of 29 October 1963 to 26 September 1965, while serving as S-2 Advisor, Military Assistance Advisory Group, Detachment 52, Ca Mau, Republic of Vietnam. While accompanying a Civilian Irregular Defense Group patrol engaged in combat operations in Thoi Binh District, An Xuyen Province, Captain Versace and the patrol came under sudden and intense mortar, automatic weapons, and small arms fire from elements of a heavily armed enemy battalion. As the battle raged, Captain Versace, although severely wounded in the knee and back by hostile fire, fought valiantly and continued to engage enemy targets. Weakened by his wounds and fatigued by the fierce firefight, Captain Versace stubbornly resisted capture by the over-powering Viet Cong force with the last full measure of his strength and ammunition. Taken prisoner by the Viet Cong, he exemplified the tenets of the Code of Conduct from the time he entered into Prisoner of War status. Captain Versace assumed command of his fellow American soldiers, scorned the enemy's exhaustive interrogation and indoctrination efforts, and made three unsuccessful attempts to escape, despite his weakened condition which was brought about by his wounds and the extreme privation and hardships he was forced to endure. During his captivity, Captain Versace was segregated in an isolated prisoner of war cage, manacled in irons for prolonged periods of time, and placed on extremely reduced ration. The enemy was unable to break his indomitable will, his faith in God, and his trust in the United States of America. Captain Versace, an American fighting man who epitomized the principles of his country and the Code of Conduct, was executed by the Viet Cong on 26 September 1965. Captain Versace's gallant actions in close contact with an enemy force and unyielding courage and bravery while a prisoner of war are in the highest traditions of the military service and reflect the utmost credit upon himself and the United States Army.
---
3/14/20017

We Have Met the Enemy…

Geoff Metcalf
"They who can give up essential liberty to obtain a little temporary safety deserve neither liberty nor safety.
--Benjamin Franklin
"The American people must be willing to give up a degree of personal privacy in exchange for safety and security."
--Louis Freeh

In the wake of the clamor over the most recent WikiLeaks data dump, 'Vault 7', 'UMBRAGE', et al, it should be noted this is not really anything new. What we are seeing here is simply the evolution of something that goes back to the late 50s (to the incomplete best knowledge I have).
It is kinda cool to finally see even the New York Times (www.nytimes.com/2017/03/09/opinion/the-truth-about-the-wikileaks-cia-cache.html?_r=0) acknowledging material I was writing about in 1998 (http://www.wnd.com/1998/04/6108/ ).
In April of 1998 I wrote "Privacy has become an anachronism." I was commenting on "a massive system designed to intercept all your e-mail, fax traffic and more." I was explaining 'Echelon', the illegitimate offspring of a UKUSA treaty (https://www.nationalarchives.gov.uk/ukusa/ ) signed by the United States, United Kingdom, Canada, Australia and New Zealand. Its purpose was, and is, to have a vast global intelligence monster, which allegedly shares common goals. The system was so "efficient" that reportedly National Security Agency folk from Fort Meade could work from Menwith Hill in England to intercept local communications without either nation having to burden themselves with the formality of seeking approval (a court order) or disclosing the operation. And this was all pre-9/11 and pre-the anti-constitutional 'Patriot Act'.
It is illegal (without a Judge's signed permission) for the United States to spy on its citizens … kinda. The laws have long been circumvented by a mutual pact among five nations. Under the terms of UKUSA agreement, Britain spies on Americans and America spies on British citizens, and then the two conspirators trade data. A classic technical finesse. It is legal, but the intent to evade the spirit is inescapable.
I often fictionalized the genesis of 'Echelon' as an informal meeting of a group of post war American and British intelligence types drinking in some remote rustic bar. An imagined CIA type complains to his MI6 buddy about the hassles of US laws preventing US intelligence from surveillance of bad guys, and the Brit echoes the same complaint.
"Hey wait a moment mate," says Nigel, the make-believe MI6 guy, "I can spy on your guys and you can spy on our bad players…why don't we just come up with a mechanism whereby we spy on your villains, you spy on our villains, and we just 'share' the intel?"
This system was called ECHELON, and has been kicking around in some form longer than most of you. The result of the UKUSA treaty signed by the United States, United Kingdom, Canada, Australia and New Zealand was, and is, to have a vast global intelligence monster which allegedly shares common goals.
The London Telegraph reported in December of 1997 that the Civil liberties Committee of the European Parliament had officially confirmed the existence and purpose of ECHELON. "A global electronic spy network that can eavesdrop on every telephone, e-mail and telex communication around the world will be officially acknowledged for the first time in a European Commission report. …"
The report noted: "Within Europe all e-mail, telephone and fax communications are routinely intercepted by the United States National Security Agency, transferring all target information from the European mainland via the strategic hub of London, then by satellite to Fort Meade in Maryland via the crucial hub at Menwith Hill, in the North York moors in the UK.
"The ECHELON system forms part of the UKUSA system but unlike many of the electronic spy systems developed during the Cold War, ECHELON was designed primarily for non-military targets: governments, organizations and businesses in virtually every country."
An interesting sidebar appeared in the International Herald Tribune under the headline, "Big Corporate Brother: It Knows More About You Than You Think." The story details Acxiom Corp, which was a humongous information service hidden in the Ozark foothills. Twenty-four hours a day, Acxiom electronically gathered and sorts all kinds of data about 196 million Americans. Credit card transactions and magazine subscriptions, telephone numbers, real estate records, automotive data, hunting, business and fishing licenses, consumer surveys and demographic detail that would make a marketing department's research manager salivate. This relatively new (legal) enterprise was known as "data warehousing" or "data-mining", and it underscores the cruel reality that the fiction of personal privacy has become obsolete. Technology's ability to collect and analyze data has made privacy a quaint albeit interesting dinosaur.
The Tribune reported that "Axciom can often determine whether an American owns a dog or cat, enjoys camping or gourmet cooking, reads the Bible or lots of other books. It can often pinpoint an American's occupation, car and favorite vacations. By analyzing the equivalent of billions of pages of data, it often projects for its customers who should be offered a credit card or who is likely to buy a computer."
Most of this information is from y 1998 piece. Echelon has developed, matured, and morphed into a much more powerful hybrid. 'Carnivore' was software to help triage the cacophony of data. Vault 7 and 'Umbrage' are logical (some would argue "insidious") growth.
More to follow…