"It Is Not A Question of Who Is Right Or Wrong But What Is Right Or Wrong That Counts.

"

--Geoff Metcalf
Providing an on line Triage of the news since 1997
Wo
rld & Nation
Rep. Liz Cheney: Jan. 6 attack cannot be 'whitewashed'; probe targets Trump White House role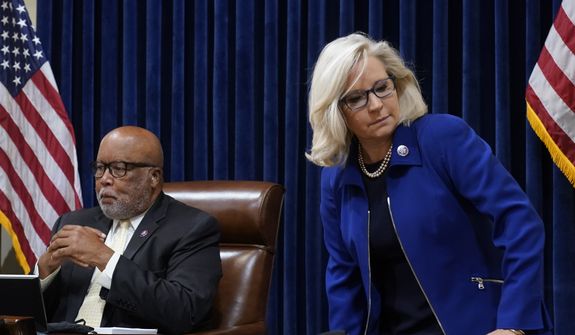 Rep. Liz Cheney said Tuesday Congress must hold those responsible for the Jan. 6 attack on the U.S. Capitol accountable and warned lawmakers they must not let "vicious factionalism of political parties" get in the way of their chief obligation: "to defend the rule of law and the freedom of all Americans."
Speaking at the first hearing of the House select committee on the Jan. 6 riot, the Wyoming congresswoman and one of just two Republicans participating in the committee's work, said no member of Congress should "attempt to defend the indefensible," "whitewash" the events of that day, or "obstruct" the investigation.
Ms. Cheney also focused on the role President Trump and his advisers played in the events of the day.
---
CDC to reverse indoor mask policy, saying fully vaccinated people should wear them indoors in Covid hot spots
The Centers for Disease Control and Prevention is expected to recommend Tuesday that fully vaccinated people begin wearing masks indoors again in places with high Covid-19 transmission rates, according to people familiar with the matter.
Federal health officials still believe fully vaccinated individuals represent a very small amount of transmission, according to the sources. Still, some vaccinated people could be carrying higher levels of the virus than previously understood and potentially transmit the virus to others, they said.
The CDC is slated to hold a briefing at 3 p.m. ET Tuesday.
---
GOP Rep. Ted Budd pushes bill for White House staff to take a course on inflation
Rep. Ted Budd on Tuesday introduced legislation that would require every member of President Biden's staff to take a financial literacy course on inflation before the White House could receive further funding.
Mr. Budd, a North Carolina Republican running for the U.S. Senate, hopes to have the requirement incorporated in the upcoming appropriations bill for the Executive Office of the President (EOP).
The EOP consists of the White House offices and agencies that execute the president's agenda, including the National Economic Council and the Office of Management and Budget.
---
NYC Mayor Bill de Blasio says voices against the COVID-19 vaccinations are 'criminal'
Says small businesses should be free to require proof of shots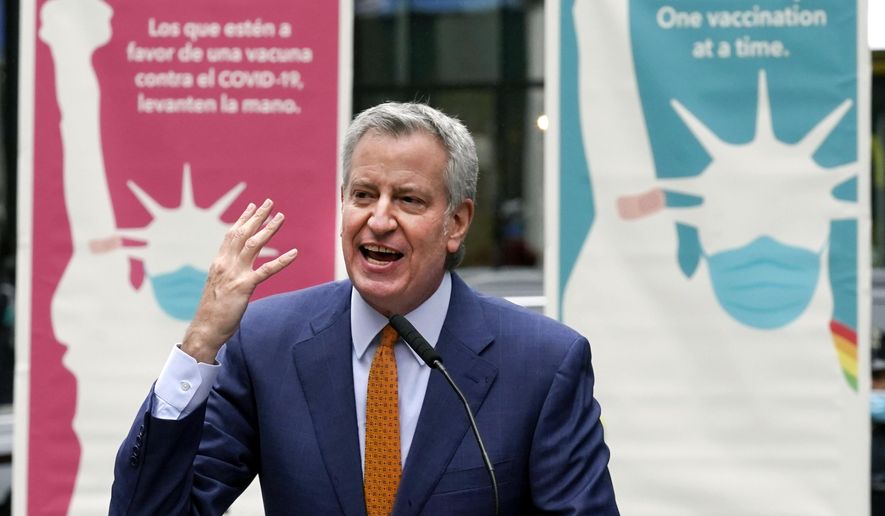 New York City Mayor Bill de Blasio said Tuesday that anti-vaccine voices are "criminal" at this juncture in the pandemic, as the country fights a fast-moving coronavirus variant and schools get ready to reopen.
"What they are doing to this country is undermining our future. They really are. They're taking away the future of this country, because if we go backwards, if we go back to restrictions and shutdowns, this country's going to be in a horrible, dangerous place in terms of our lives, our livelihoods, our economy," Mr. de Blasio, a Democrat, told MSNBC's "Morning Joe." "And if we don't get it right on vaccination, we're going to lose a huge number of Americans."
Mr. de Blasio also defended private employers who demand proof of COVID-19 vaccination from employees one day after he said more than 300,000 city workers must be vaccinated by mid-September or face weekly testing.
---
More Than One-Third of States Tightened Voting Laws This Year
Republicans' desire to increase voting integrity has resulted in new laws implemented around the country this year, The Hill reported Tuesday.
The Brennan Center for Justice at New York University said legislatures in 18 states have passed 30 bills that tighten voter access, with more than 400 bills with similar provisions having been introduced in 49 states in the 2021 legislative sessions.
At least 25 states enacted 54 laws with provisions to expand voting access, the Brennan Center said.
Every new voting law has been passed in states where Republicans own total control of the legislature, The Hill said, and all but two of the states also are run by GOP governors. The exceptions are Kentucky and Louisiana.
---
Sen. Marco Rubio to Newsmax: Biden's Cuba Actions 'Meaningless'
The Biden administration's actions toward Cuba in the wake of the communist government's arrests and mass trials as a response to widespread protests for liberty are ''meaningless,'' Sen. Marco Rubio of Florida told Newsmax on Monday.
The two-term Republican said Biden, who on Thursday used a federal human rights law to punish Alvaro Lopez Miera, minister of Cuba's Revolutionary Armed Forces, and a brigade in the government's intelligence ministry, essentially repeated sanctions levied by the Trump administration.
''The problem is the Biden administration is getting its policy advice on Cuba, apparently, from a bunch of people in Miami, the same that who were in Havana and 2015, drinking mojitos at the bar at the government-owned hotels and celebrating with John Kerry, the opening of our embassy. And these are people that have long favored sort of an engagement with the regime over there.''
Protests erupted throughout the Caribbean island July 11, with thousands marching through the streets waving American flags and calling for ''Libertad'' [Liberty].
---
Olympic champ Biles withdraws from team finals after vault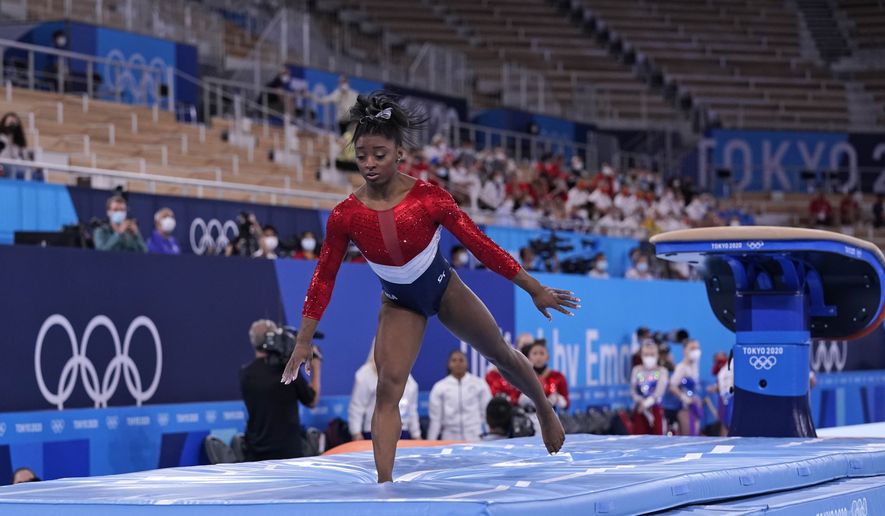 Simone Biles withdrew from the U.S. gymnastics team Olympics final after the team's first rotation in the event.
A U.S. coach told the NBC broadcast that Biles left due to a "mental issue she is having." According to USA Gymnastics, Biles withdrew "due to a medical issue."
The team said she will be assessed daily before returning to the competition.
---
Iran's Secret Cyber Files
Classified documents, allegedly from Iran, reveal secret research into how a cyber attack could be used to sink a cargo ship or blow up a fuel pump at a petrol station.
The internal files, obtained by Sky News, also include information on satellite communication devices used by the global shipping industry as well as a computer-based system that controls things like lights, heating and ventilation in smart buildings across the world.
The papers appear to reveal a particular interest in researching companies and activities in western countries, including the UK, France and the United States.
---
Tunisia's young democracy is rocked as president suspends parliament amid mounting Covid crisis
Tunisia is facing the greatest test to its young democracy in a decade, following a dramatic move by President Kais Saied to oust the country's government and suspend parliament.
The decision late Sunday triggered vastly opposing reactions — thousands of supporters of the president poured into the streets of the capital Tunis, cheering the ouster of what they viewed to be corrupt and incompetent politicians.
Opponents of the president, meanwhile, particularly members of the Islamist Ennahda party, which make up the majority in parliament, accuse Saied of orchestrating a coup. Saied's dissolution of the government took place on July 25, Tunisia's Republic Day, which marked the abolition of its former monarchy in 1957.
---
'Racism, even in geography, cannot be tolerated': Dems crusade to rename places, mountains, rivers
Democratic lawmakers and Interior Secretary Deb Haaland want to change the names of more than 1,000 rivers, mountains and other places because they consider the names to be racist.
A Democratic bill introduced last week in both chambers— one by Sen. Elizabeth Warren of Massachusetts and the other by Rep. Al Green of Texas — would also eliminate the names of places that are named after people who "held racially repugnant views" or "carried out injustices against racial minorities," according to the legislation.
The lawmakers refused to provide a list of names that would be targeted. Places such as Columbus Mountain in Colorado or other places named after Christopher Columbus could arguably make the list because critics of the famed explorer say he was an instrument of injustice due to his ill treatment of indigenous people.
---
More Top News
---
Olympic uninspiration
Offensive German 'unitards' killing human race
This year's summer Olympics in Tokyo are hardly underway, and already they have suffered a fairly epic collapse in ratings, falling to a 33-year low.
That makes this the lowest-rated Olympics since Joe Biden's 1988 campaign for president when he was running as the "young" candidate. Unfortunately for him, that was also the campaign when he ran as the candidate who ripped off other people's speeches and gave them as his own.
It turns out that President Biden is much more appealing as the "old" candidate and all of his biographical lies just needed more time to age.
---
Kristi Noem: A rising star in the conservative movement
South Dakota Gov. Kristi Noem likes to present herself as a "normal everyday" person "who enjoys life."
Appearing at FreedomFest 21, a gathering of 2,700 conservatives and libertarians, Mrs. Noem said, "nobody knew who I was until liberals began attacking me every night on the national news." She's referring to her conservative views on economic and social issues.
Mrs. Noem benefits from a roaring economy. She says there are fewer than 2,500 South Dakotans on public assistance and 28,000 job openings. The state has no income tax. Property taxes average 1.22%. Annual economic growth is 9.9%, among the nation's best. Houses are inexpensive relative to many other places. With such figures, it's no surprise there's been a population growth of 8.9% since 2010.
---
" It is discouraging to think how many people are shocked by honesty and how few by deceit."

-- Noel Coward

(1899-1973) British playwright

---

The Medal of Honor is the highest award for valor in action against an enemy force which can be bestowed upon an individual serving in the Armed Services of the United States.

GeneTrerally presented to its recipient by the President of the United States of America in the name of Congress.

The first award of the Medal of Honor was made March 25, 1863 to Private JACOB PARROTT.The last award of the Medal of Honor was made September 15, 2011 to Sergeant DAKOTA MEYER.

Since then there have been: • 3458 recipients of the Medal of Honor.

• Today there are 85 Living Recipients of the Medal of Honor.

Citation


Captain Humbert R. Versace distinguished himself by extraordinary heroism during the period of 29 October 1963 to 26 September 1965, while serving as S-2 Advisor, Military Assistance Advisory Group, Detachment 52, Ca Mau, Republic of Vietnam. While accompanying a Civilian Irregular Defense Group patrol engaged in combat operations in Thoi Binh District, An Xuyen Province, Captain Versace and the patrol came under sudden and intense mortar, automatic weapons, and small arms fire from elements of a heavily armed enemy battalion. As the battle raged, Captain Versace, although severely wounded in the knee and back by hostile fire, fought valiantly and continued to engage enemy targets. Weakened by his wounds and fatigued by the fierce firefight, Captain Versace stubbornly resisted capture by the over-powering Viet Cong force with the last full measure of his strength and ammunition. Taken prisoner by the Viet Cong, he exemplified the tenets of the Code of Conduct from the time he entered into Prisoner of War status. Captain Versace assumed command of his fellow American soldiers, scorned the enemy's exhaustive interrogation and indoctrination efforts, and made three unsuccessful attempts to escape, despite his weakened condition which was brought about by his wounds and the extreme privation and hardships he was forced to endure. During his captivity, Captain Versace was segregated in an isolated prisoner of war cage, manacled in irons for prolonged periods of time, and placed on extremely reduced ration. The enemy was unable to break his indomitable will, his faith in God, and his trust in the United States of America. Captain Versace, an American fighting man who epitomized the principles of his country and the Code of Conduct, was executed by the Viet Cong on 26 September 1965. Captain Versace's gallant actions in close contact with an enemy force and unyielding courage and bravery while a prisoner of war are in the highest traditions of the military service and reflect the utmost credit upon himself and the United States Army.

---

From the Archives

We Have Met the Enemy…
Geoff Metcalf


"They who can give up essential liberty to obtain a little temporary safety deserve neither liberty nor safety.
--Benjamin Franklin
"The American people must be willing to give up a degree of personal privacy in exchange for safety and security."
--Louis Freeh


In the wake of the clamor over the most recent WikiLeaks data dump, 'Vault 7', 'UMBRAGE', et al, it should be noted this is not really anything new. What we are seeing here is simply the evolution of something that goes back to the late 50s (to the incomplete best knowledge I have).

It is kinda cool to finally see even

The New York Times

acknowledging material

I was writing about in 1998

.

In April of 1998 I wrote "Privacy has become an anachronism." I was commenting on "a massive system designed to intercept all your e-mail, fax traffic and more." I was explaining 'Echelon', the illegitimate offspring of a

UKUSA Treaty

signed by the United States, United Kingdom, Canada, Australia and New Zealand. Its purpose was, and is, to have a vast global intelligence monster, which allegedly shares common goals. The system was so "efficient" that reportedly National Security Agency folk from Fort Meade could work from Menwith Hill in England to intercept local communications without either nation having to burden themselves with the formality of seeking approval (a court order) or disclosing the operation. And this was all pre-9/11 and pre-the anti-constitutional

'Patriot Act'

.

It is illegal (without a Judge's signed permission) for the United States to spy on its citizens … kinda. The laws have long been circumvented by a mutual pact among five nations. Under the terms of UKUSA agreement, Britain spies on Americans and America spies on British citizens, and then the two conspirators trade data. A classic technical finesse. It is legal, but the intent to evade the spirit is inescapable.

I often fictionalized the genesis of 'Echelon' as an informal meeting of a group of post war American and British intelligence types drinking in some remote rustic bar. An imagined CIA type complains to his MI6 buddy about the hassles of US laws preventing US intelligence from surveillance of bad guys, and the Brit echoes the same complaint.

"Hey wait a moment mate," says Nigel, the make-believe MI6 guy, "I can spy on your guys and you can spy on our bad players…why don't we just come up with a mechanism whereby we spy on your villains, you spy on our villains, and we just 'share' the intel?"

This system was called ECHELON, and has been kicking around in some form longer than most of you. The result of the UKUSA treaty signed by the United States, United Kingdom, Canada, Australia and New Zealand was, and is, to have a vast global intelligence monster which allegedly shares common goals.

The London Telegraph reported in December of 1997 that the Civil liberties Committee of the European Parliament had officially confirmed the existence and purpose of ECHELON. "A global electronic spy network that can eavesdrop on every telephone, e-mail and telex communication around the world will be officially acknowledged for the first time in a European Commission report. …"

The report noted: "Within Europe all e-mail, telephone and fax communications are routinely intercepted by the United States National Security Agency, transferring ll target information from the Eurv opean mainland via the strategic hub of London, then by satellite to Fort Meade in Maryland via the crucial hub at Menwith Hill, in the North York moors in th UK.

"The ECHELON system forms part of the UKUSA system but unlike many of the electronic spy systems developed during the Cold War, ECHELON was designed primarily for non-military targets: governments, organizations and businesses in virtually every country."

An interesting sidebar appeared in the International Herald Tribune under the headline, "Big Corporate Brother: It Knows More About You Than You Think." The story details Acxiom Corp, which was a humongous information service hidden in the Ozark foothills. Twenty-four hours a day, Acxiom electronically gathered and sorts all kinds of data about 196 million Americans. Credit card transactions and magazine subscriptions, telephone numbers, real estate records, automotive data, hunting, business and fishing licenses, consumer surveys and demographic detail that would make a marketing department's research manager salivate. This relati vely new (legal) enterprise was known as "data warehousing" or "data-mining", and it underscores the cruel reality that the fiction of personal privacy has become obsolete. Technology's ability to collect and analyze data has made privacy a quaint albeit interesting dinosaur.

The Tribune reported that "Axciom can often determine whether an American owns a dog or cat, enjoys camping or gourmet cooking, reads the Bible or lots of other books. It can often pinpoint an American's occupation, car and favorite vacations. By analyzing the equivalent of billions of pages of data, it often projects for its customers who should be offered a credit card or who is likely to buy a computer."

Most of this information is from y 1998 piece. Echelon has developed, matured, and morphed into a much more powerful hybrid. 'Carnivore' was software to help triage the cacophony of data. Vault 7 and 'Umbrage' are logical (some would argue "insidious") growth.

More to follow…