"It Is Not A Question of Who Is Right Or Wrong But What Is Right Or Wrong That Counts.

"

--Geoff Metcalf
Providing an on line Triage of the news since 1997



Wo

rld & Nation
Trump: 'Very hard thing to concede' election amid alleged fraud
'I know one thing, Joe Biden didn't get 80 million votes'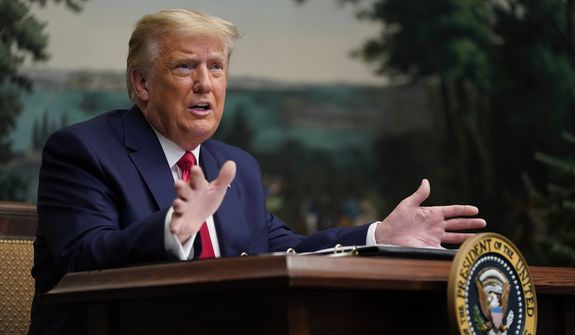 President Trump on Thursday said it would be "very hard" to concede if the Electoral College elects Joseph R. Biden as the next president, insisting that the election results are "a massive fraud."

"It's going to be a very hard thing to concede," Mr. Trump said when reporters at the White House asked what he would do after an Electoral College vote for Mr. Biden. "If they do, they made a mistake."

"No one wants to see the kind of fraud this election has come to represent," he said. "I know one thing, Joe Biden didn't get 80 million votes."

Unofficial election results show Mr. Biden with more than 80 million votes nationwide to Mr. Trump's nearly 74 million votes.


---
Trump says Twitter censorship is a national security issue
President Trump took aim at Twitter late Thursday, saying it was putting out false trends, censoring Republican lawmakers and creating a matter of national security.
He called for Section 230 of the Communications Decency Act, which provides a legal shield for publishers on third-party content, to be terminated.
"Twitter is sending out totally false "Trends" that have absolutely nothing to do with what is really trending in the world. They make it up, and only negative "stuff". Same thing will happen to Twitter as is happening to @FoxNews daytime. Also, big Conservative discrimination!" the president tweeted.
---
Scientist seen as architect of Iran's nuclear program assassinated
Mohsen Fakhrizadeh is referred to as Iran's Robert Oppenheimer, the American scientist who helped father the atomic bomb in 1945.
A leading Iranian nuclear scientist Mohsen Fakhrizadeh was assassinated near the capital Tehran on Friday, Iran's Defense Ministry announced on state television.
"Terrorists murdered an eminent Iranian scientist today," Foreign Minister Mohammad Javad Zarif wrote later on Twitter.
"This cowardice — with serious indications of Israeli role — shows desperate warmongering of perpetrators," Zarif wrote, referring to Iran's arch-enemy Israel. "Iran calls on international community — and especially E.U. — to end their shameful double standards and condemn this act of state terror."
A spokesman for Israeli Prime Minister Benjamin Netanyahu's office told NBC News they were "not commenting" on the reports.
---
Andrew Cuomo blasts Supreme Court ruling on religious gatherings as 'irrelevant' political statement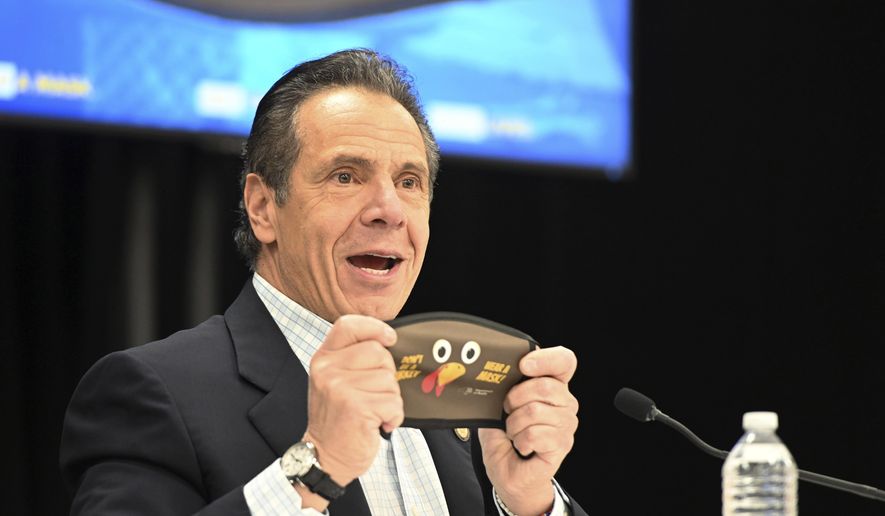 New York Gov. Andrew Cuomo blasted the Supreme Court's ruling blocking his restrictions on religious gatherings as an "irrelevant" political statement.
The Supreme Court on Wednesday ruled 5-4, with newly confirmed Justice Amy Coney Barrett in the majority, to temporarily block Mr. Cuomo from enforcing capacity limits at churches and synagogues in certain state-designated coronavirus hot spots.
"The decision isn't final, in the first place," Mr. Cuomo said Thursday. "It goes back to the second circuit appeals court, so it's not even a final legal decision."
He added that the decision is "irrelevant of any practical impact because of the zone they were talking about is moot. It expired last week."
---
Newsmax/McLaughlin Poll: Two-Thirds of Nation Back Trump on Recounts
More than two-thirds of the nation says it is fair for President Donald Trump to ask for a recount in key states, according to a new Newsmax/McLaughlin & Associates poll released Thursday.
Sixty-seven percent of likely voters backed Trump's recounts where the vote margins in his race with Joe Biden were 1% or closer, which applies to states like Georgia, Pennsylvania, Wisconsin, and Arizona.
Despite the close contests, 65% of Americans say the election will ultimately be decided honestly. But fully a third of all voters, 35%, said that there was significant fraud.
"This seems to be a very disturbing and high number for the country that always prided itself to be the world's leading democracy," pollster John McLaughlin said. "The highest level of fraud concerns are among Trump voters at 70% and Republicans at 65%."
---
'I breathe freedom and liberty today': Michael Flynn reflects on pardon by Trump
Former national security adviser rips Trump critics, praises Sidney Powell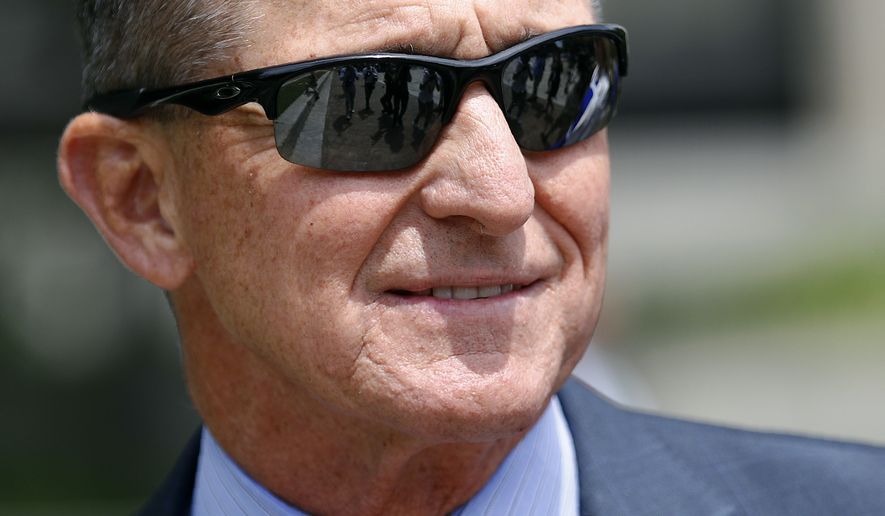 Retired Lt. Gen. Michael Flynn denounced critics of President Trump and praised attorney Sidney Powell as an angel in a Thanksgiving Day statement, his first words since he won a presidential pardon.
Mr. Trump pardoned his first national security adviser a day earlier of his convictions for lying to the FBI in the Robert Mueller investigation, charges that Mr. Trump and others denounced as an Obama administration frame-up.
The lengthy and personal statement, which began with "By Almighty God's grace," also denounced the four-year legal ordeal growing out of his conversations with the Russian ambassador during the Trump transition period, which became grist for the Mueller probe.
---
Barrett confirmation sparks flood of Supreme Court-bound challenges from pro-gun groups
Pro-gun groups have flooded the federal courts with challenges to various firearms restrictions, expecting the cases will work their way up to the newly constituted 6-3 conservative Supreme Court.
The high court generally has declined to take up major gun cases in recent years, but activists are banking that the recent addition of Justice Amy Coney Barrett will help force the court under Chief Justice John G. Roberts Jr. to weigh in sooner or later.
Alan Gottlieb, the founder of the Second Amendment Foundation, said his group immediately started lining up plaintiffs and crafting a flow chart of cases they wanted to file after President Trump nominated Justice Barrett to fill the vacancy left by the late Justice Ruth Bader Ginsburg.
---
FT Credits Trump's 'Warp Speed' for COVID Vaccines
The Financial Times says President Donald Trump's Operation Warp Speed is responsible for the coronavirus vaccines becoming available so soon.
In an article posted Thursday, the Times noted the "vaccine push is now hailed as the bright spot in the Trump administration's COVID-19 response, as products from Pfizer and BioNTech, Moderna, and AstraZeneca and Oxford University move closer to approval."
The key achievement of Operation Warp Speed had been speeding up investment in manufacturing, Angela Rasmussen, a virologist at the Columbia University School of Public Health, told the Times.
---
Trump plans Georgia visit to campaign for Senate runoffs
President Trump plans to campaign for Georgia Senate candidates Kelly Loeffler and David Perdue; political analyst Ron Meyer reacts.
President Trump said Thursday that he plans to visit Georgia to campaign for incumbent Republican Sens. Kelly Loeffler and David Perdue ahead of their Jan. 5 runoff elections.
"Speaking of Georgia, we're going there. I spoke with the two great senators today. I'll probably be going on Saturday," Trump told reporters on Thanksgiving after a virtual call with U.S. troops stationed abroad.
Trump said that he intends to hold some type of campaign rally, although details remain unclear.
---
South Korean chat room operator gets 40 years for blackmail
The operator of online chat rooms in South Korea was sentenced Thursday to 40 years in prison on charges of blackmailing dozens of women, including minors, into filming sexually explicit videos and selling them to others.
The Seoul Central District Court convicted Cho Ju-bin, 24, of violating laws on protecting minors and organizing a criminal ring, court spokesman Kim Yong Chan said.
The court ruled Cho "used various methods to lure and blackmail a large number of victims into making sexually abusive contents and distributed them to many people for an extended period," according to Kim. "He particularly disclosed the identities of many victims and inflicted irreparable damage to them."
---
Thousands of mink culled over COVID fears rise from a mass grave in Denmark
A rushed cull of Denmark's mink over concerns about a coronavirus mutation has left the country facing a new horror, as cadavers of the animals re-emerge from the earth. The macabre phenomenon was observed in a military training field outside the western town of Holstebro, where thousands of mink had been put into an improvised mass grave.
The carcasses rose to the surface, lifted by pressure from gases released by the decomposition, according to local police.
The environment ministry said mink should be covered by at least five feet of soil, but according to public broadcaster DR they were only buried about three feet deep in the field outside Holstebro.
---
Joe Biden and the 'Strolling Bones'
John Kerry and Joe Biden are getting the band back together for a reunion tour
They're the Rolling Stones without the roadies. Or the great music. Or any music, actually.
The Strolling Bones reunion tour.
John Kerry and Joe Biden are getting the band back together again.
Collectively, they have been getting things wrong in Washington for nearly 100 years. Literally, two of the dumbest people on earth … but they do love to hear themselves speak!
---
COVID-19 pandemic is a reminder to return to faith and family
Finding extra thankfulness in a difficult year
Happy Thanksgiving. It may sound odd, but I am extra thankful this year.
While dealing with the global pandemic, I have become more attentive to my faith, my family, my friends and my freedoms.
At the start of March, I learned of my exposure at a national conservative conference to someone who had tested positive for coronavirus. I was frustrated with the prospect of being stuck in self-quarantine for 14 days.
Over time, however, it gave me time to place a renewed focus on my devotional and scripture reading time each morning. I carved out more time for praying to God each day, too.
---
" It is discouraging to think how many people are shocked by honesty and how few by deceit."

-- Noel Coward

(1899-1973) British playwright

---

The Medal of Honor is the highest award for valor in action against an enemy force which can be bestowed upon an individual serving in the Armed Services of the United States.

GeneTrerally presented to its recipient by the President of the United States of America in the name of Congress.

The first award of the Medal of Honor was made March 25, 1863 to Private JACOB PARROTT.The last award of the Medal of Honor was made September 15, 2011 to Sergeant DAKOTA MEYER.

Since then there have been: • 3458 recipients of the Medal of Honor.

• Today there are 85 Living Recipients of the Medal of Honor.

Citation


Captain Humbert R. Versace distinguished himself by extraordinary heroism during the period of 29 October 1963 to 26 September 1965, while serving as S-2 Advisor, Military Assistance Advisory Group, Detachment 52, Ca Mau, Republic of Vietnam. While accompanying a Civilian Irregular Defense Group patrol engaged in combat operations in Thoi Binh District, An Xuyen Province, Captain Versace and the patrol came under sudden and intense mortar, automatic weapons, and small arms fire from elements of a heavily armed enemy battalion. As the battle raged, Captain Versace, although severely wounded in the knee and back by hostile fire, fought valiantly and continued to engage enemy targets. Weakened by his wounds and fatigued by the fierce firefight, Captain Versace stubbornly resisted capture by the over-powering Viet Cong force with the last full measure of his strength and ammunition. Taken prisoner by the Viet Cong, he exemplified the tenets of the Code of Conduct from the time he entered into Prisoner of War status. Captain Versace assumed command of his fellow American soldiers, scorned the enemy's exhaustive interrogation and indoctrination efforts, and made three unsuccessful attempts to escape, despite his weakened condition which was brought about by his wounds and the extreme privation and hardships he was forced to endure. During his captivity, Captain Versace was segregated in an isolated prisoner of war cage, manacled in irons for prolonged periods of time, and placed on extremely reduced ration. The enemy was unable to break his indomitable will, his faith in God, and his trust in the United States of America. Captain Versace, an American fighting man who epitomized the principles of his country and the Code of Conduct, was executed by the Viet Cong on 26 September 1965. Captain Versace's gallant actions in close contact with an enemy force and unyielding courage and bravery while a prisoner of war are in the highest traditions of the military service and reflect the utmost credit upon himself and the United States Army.

---

From the Archives

We Have Met the Enemy…
Geoff Metcalf


"They who can give up essential liberty to obtain a little temporary safety deserve neither liberty nor safety.
--Benjamin Franklin
"The American people must be willing to give up a degree of personal privacy in exchange for safety and security."
--Louis Freeh


In the wake of the clamor over the most recent WikiLeaks data dump, 'Vault 7', 'UMBRAGE', et al, it should be noted this is not really anything new. What we are seeing here is simply the evolution of something that goes back to the late 50s (to the incomplete best knowledge I have).

It is kinda cool to finally see even

The New York Times

acknowledging material

I was writing about in 1998

.

In April of 1998 I wrote "Privacy has become an anachronism." I was commenting on "a massive system designed to intercept all your e-mail, fax traffic and more." I was explaining 'Echelon', the illegitimate offspring of a

UKUSA Treaty

signed by the United States, United Kingdom, Canada, Australia and New Zealand. Its purpose was, and is, to have a vast global intelligence monster, which allegedly shares common goals. The system was so "efficient" that reportedly National Security Agency folk from Fort Meade could work from Menwith Hill in England to intercept local communications without either nation having to burden themselves with the formality of seeking approval (a court order) or disclosing the operation. And this was all pre-9/11 and pre-the anti-constitutional

'Patriot Act'

.

It is illegal (without a Judge's signed permission) for the United States to spy on its citizens … kinda. The laws have long been circumvented by a mutual pact among five nations. Under the terms of UKUSA agreement, Britain spies on Americans and America spies on British citizens, and then the two conspirators trade data. A classic technical finesse. It is legal, but the intent to evade the spirit is inescapable.

I often fictionalized the genesis of 'Echelon' as an informal meeting of a group of post war American and British intelligence types drinking in some remote rustic bar. An imagined CIA type complains to his MI6 buddy about the hassles of US laws preventing US intelligence from surveillance of bad guys, and the Brit echoes the same complaint.

"Hey wait a moment mate," says Nigel, the make-believe MI6 guy, "I can spy on your guys and you can spy on our bad players…why don't we just come up with a mechanism whereby we spy on your villains, you spy on our villains, and we just 'share' the intel?"

This system was called ECHELON, and has been kicking around in some form longer than most of you. The result of the UKUSA treaty signed by the United States, United Kingdom, Canada, Australia and New Zealand was, and is, to have a vast global intelligence monster which allegedly shares common goals.

The London Telegraph reported in December of 1997 that the Civil liberties Committee of the European Parliament had officially confirmed the existence and purpose of ECHELON. "A global electronic spy network that can eavesdrop on every telephone, e-mail and telex communication around the world will be officially acknowledged for the first time in a European Commission report. …"

The report noted: "Within Europe all e-mail, telephone and fax communications are routinely intercepted by the United States National Security Agency, transferring ll target information from the Eurv opean mainland via the strategic hub of London, then by satellite to Fort Meade in Maryland via the crucial hub at Menwith Hill, in the North York moors in th UK.

"The ECHELON system forms part of the UKUSA system but unlike many of the electronic spy systems developed during the Cold War, ECHELON was designed primarily for non-military targets: governments, organizations and businesses in virtually every country."

An interesting sidebar appeared in the International Herald Tribune under the headline, "Big Corporate Brother: It Knows More About You Than You Think." The story details Acxiom Corp, which was a humongous information service hidden in the Ozark foothills. Twenty-four hours a day, Acxiom electronically gathered and sorts all kinds of data about 196 million Americans. Credit card transactions and magazine subscriptions, telephone numbers, real estate records, automotive data, hunting, business and fishing licenses, consumer surveys and demographic detail that would make a marketing department's research manager salivate. This relatively new (legal) enterprise was known as "data warehousing" or "data-mining", and it underscores the cruel reality that the fiction of personal privacy has become obsolete. Technology's ability to collect and analyze data has made privacy a quaint albeit interesting dinosaur.

The Tribune reported that "Axciom can often determine whether an American owns a dog or cat, enjoys camping or gourmet cooking, reads the Bible or lots of other books. It can often pinpoint an American's occupation, car and favorite vacations. By analyzing the equivalent of billions of pages of data, it often projects for its customers who should be offered a credit card or who is likely to buy a computer."

Most of this information is from y 1998 piece. Echelon has developed, matured, and morphed into a much more powerful hybrid. 'Carnivore' was software to help triage the cacophony of data. Vault 7 and 'Umbrage' are logical (some would argue "insidious") growth.

More to follow…