"It Is Not A Question of Who Is Right Or Wrong But What Is Right Or Wrong That Counts.

"

--Geoff Metcalf
Providing an on line Triage of the news since 1997



Wo

rld & Nation
Trump Widens China Tech Attack, Ordering Bans on TikTok and WeChat
President Donald Trump signed a pair of executive orders prohibiting U.S. residents from doing business with the Chinese-owned TikTok and WeChat apps beginning 45 days from now, citing the national security risk of leaving Americans' personal data exposed.
The bans mark a significant escalation by Trump in his confrontation with Beijing as the U.S. seeks to curb China's power in global technology. With the U.S. election less than 90 days away, Trump is making his challenge of China a central theme of his campaign, where he trails Democrat Joe Biden in the polls.
Shares of WeChat's owner, China's Tencent Holdings Ltd., fell as much as 10% in morning trading and sliced almost $70 billion from its market value. The offshore yuan weakened as much as 0.45%, the most in two weeks.
---
Conservative Catholics call on Biden to break 'deafening silence' on anti-Catholic vandalism, arson
Catholic churches hit with fires, beheadings of Jesus, Mary statues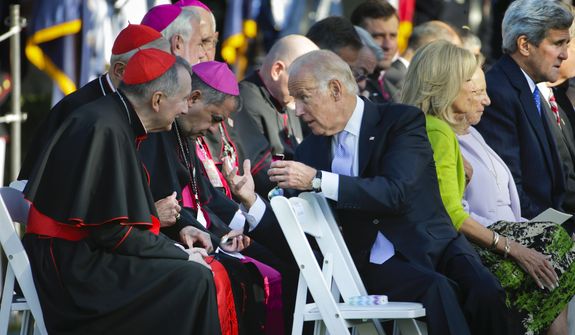 Conservative Catholics called Thursday on former Vice President Joseph R. Biden to break his "deafening silence" on the recent targeting of religious statues and churches, accusing the Catholic Democrat of ignoring the leftist vandalism and arson.
CatholicVote, a faith-based advocacy group, said Mr. Biden should "publicly condemn the disturbing rise in attacks on Catholic symbols, churches, statues and beliefs," which include setting fires; beheading statues of Jesus and the Virgin Mary; pulling down statues of Father Serra, and painting Satanic symbols on churches.
"Catholic churches across America are literally burning, and Joe Biden has said nothing," said CatholicVote president Brian Burch in a statement. "Leading members of the Democratic Party have fueled a climate of hate against Catholics, and these attacks have now led to acts of vandalism and violence."
---
CNN Analyst Sees Trump 'Within Striking Distance' Of Biden
CNN's senior political analyst believes President Donald Trump is "within striking distance" of presumptive Democratic presidential nominee Joe Biden.
In a commentary posted Thursday, analyst Harry Enten said Biden has had the "upper hand" in national and battleground state polls from May to July.
"Yet, while Biden has maintained advantage, Trump has one thing going for him: His position is no longer deteriorating," he wrote.
"A look at the polls shows that even as coronavirus cases and deaths rise, Trump remains within striking distancing of Biden."
---
Unemployment rate fell to 10.2% in July, but job growth eases
The unemployment rate dipped to 10.2% in July, the government reported Friday, as the labor market continued to improve from the coronavirus pandemic.
Employers added a better-than-expected 1.763 million jobs last month, although job growth slowed from 4.8 million in June.
The jobless rate has continued to decline from its high of 14.7% in April, during the worst of the economic shutdowns.
---
White House eyes executive action on COVID relief as talks stall
White House and Democratic negotiators emerged from their tenth covid-relief negotiation late Thursday still "very far apart" on major issues they need for a deal.
Republicans have set Friday up as a new deadline for lawmakers to make significant progress on a larger relief bill, or President Trump will continue to move forward with his plans to use executive action.
"I think there are a lot of issues we are close to a compromise position on but I think there are a handful of very big issues we're still very far apart," Treasury Secretary Steven T. Mnuchin told reporters. "If we conclude tomorrow that there is not a compromise position on the major issues the president has alternatives."
---

'We're very far apart': Coronavirus relief negotiations left in uncertainty after Congress leaves for the weekend

Negotiations over another coronavirus relief package tumbled into a state of uncertainty Thursday evening with congressional leaders and lead White House negotiators painting a grim picture on a path forward, even as millions of anxious Americans wait for vital financial relief.

House Speaker Nancy Pelosi, D-Calif., and Senate Minority Leader Chuck Schumer, D-N.Y., met for a 10th time Thursday evening with Treasury Secretary Steven Mnuchin and White House chief of staff Mark Meadows to hash out their differences over the next round of emergency funds. After three hours, both sides reported progress but also described a bleak portrait of the discussions that may stunt future meetings, even as pressure continues to mount for action to keep renters from being evicted and to help unemployed workers make ends meet.

Both sides have pushed for a compromise by the end of the week, with White House negotiators and the president repeatedly threatening executive action if a deal isn't met.


---
New York attorney general sues to dissolve NRA, sets up gun rights group for political damage
New York's attorney general filed a lawsuit Thursday to dissolve the National Rifle Association after an 18-month probe found the organization "fraught with fraud and abuse," though the damage to the struggling gun rights group could be more political than legal.
State Attorney General Letitia James accused top officials at the NRA of diverting millions of dollars of charitable donations made to the lobbying group and squandering it on family vacations, private jets and expensive dinners.
Current and former executives "instituted a culture of self-dealing mismanagement" to benefit themselves and their families, causing the organization to lose $64 million in three years, Ms. James said.
---
Black Lives Matter protesters could be jailed for LIFE
BLACK Lives Matter protesters could be jailed for life after trashing a district attorney building during a demonstration.
The Salt Lake City protesters could face up to life in jail if they're convicted of splashing red paint and smashing the building's windows last month.
District Attorney Sim Gill inspects the damage to his office
The felony criminal mischief charges are more serious because they carry a gang enhancement.
Prosecutors said Wednesday that's justified because the protesters worked together to cause thousands of dollars in damage, but watchdogs called the use of the 1990s-era law troubling, especially in the context of criminal justice reform and minority communities.
---
Omar, Seeking 2nd Term, Is Targeted For Her Celebrity
As Democrat Antone Melton-Meaux meandered through racks of headscarves and clouds of spice and pepper, he carried a pointed message to the voters he courted at the city's largest Somali market: I want to focus on the work, not being famous.
There's no missing the target of the dig: Rep. Ilhan Omar. Omar, a liberal Democrat, made history two years ago as the first Somali-American elected to Congress and went on to make countless headlines for making controversial statements on Israel, for tangling with President Donald Trump and for a personal life that became tabloid fodder.
All the attention has helped make Omar a progressive star, but it's also drawn criticism and a surprisingly strong primary challenger in Melton-Meaux. The Black attorney and mediator is raising millions in anti-Omar dollars and shaking up what was expected to be an easy race.
The heated primary is playing out in a city already wrestling with racial divisions and political identity. Melton-Meaux has drawn support from some traditional Democrats uncomfortable with Omar's style — highlighting a generation gap that has dogged Democrats this year. He's raised big money from pro-Israel groups with strong support in the city's first-ring suburbs. And his bid has prompted a fight for votes in the Black and Somali-American communities, each roiled by this summer's uprising over George Floyd's death.
---
Portland mayor unleashes police on violent demonstrations
Warns protesters they're helping Trump campaign
Portland Mayor Ted Wheeler, who for weeks had blamed President Trump for fueling riots in his Oregon city, on Thursday acknowledged that the violence has continued even after the federal presence was curtailed, and told peaceful protesters to stay home.
Mr. Wheeler, who is also the city's police commissioner, said he's authorized officers to "do whatever is necessary" to gain control after another night of rioting against officers.
And he used a base political appeal to try to get the riots to stop, saying they're inadvertently helping Mr. Trump.
---
Leading the donkey by the tail
Barack Obama would NEVER have run on a platform like this
Defunding city police departments. Exploding murder rates. Free health care for illegal aliens. Crushing debt. Obliterating American history.
For Democrat politicians, the era of American Exceptionalism is over. Welcome to the land of "Shelter in place!"
The fear-mongering and demagoguery are enough to choke a mule. At least it would choke the mule that symbolized the old Democrat Party. Even the Democrat Party of just a few elections ago.
---
Hidin' Biden stays in basement and skips Milwaukee
Mentally compromised candidate hides from gaffes and plagiarism
Hidin' Biden announced this week that he would no longer travel to Milwaukee, Wisconsin, to accept the Democratic presidential nomination. Instead, Joe Biden will accept the nomination in Delaware (presumably in his basement where he has mostly been hiding out for months).
The former vice president spent much of 2020 hidden in the basement of his home away from the questions of the national press corps. Some of his critics blame it on his age (if elected, he will be 78 on Inauguration Day, while Ronald Reagan was 70 when he was sworn in as the 40th president).
Others question Mr. Biden's mental stability. Joe Rogan, who endorsed Sen. Bernie Sanders earlier this year, said on his podcast, "I believe there is also a large group of people that are very uncomfortable with a man who seems to be mentally compromised winning the election and doing so by hiding," and went on to say, "He was just at another thing the other day and forgot where he was."
---
" It is discouraging to think how many people are shocked by honesty and how few by deceit."

-- Noel Coward

(1899-1973) British playwright

---

The Medal of Honor is the highest award for valor in action against an enemy force which can be bestowed upon an individual serving in the Armed Services of the United States.

GeneTrerally presented to its recipient by the President of the United States of America in the name of Congress.

The first award of the Medal of Honor was made March 25, 1863 to Private JACOB PARROTT.The last award of the Medal of Honor was made September 15, 2011 to Sergeant DAKOTA MEYER.

Since then there have been: • 3458 recipients of the Medal of Honor.

• Today there are 85 Living Recipients of the Medal of Honor.

Citation


Captain Humbert R. Versace distinguished himself by extraordinary heroism during the period of 29 October 1963 to 26 September 1965, while serving as S-2 Advisor, Military Assistance Advisory Group, Detachment 52, Ca Mau, Republic of Vietnam. While accompanying a Civilian Irregular Defense Group patrol engaged in combat operations in Thoi Binh District, An Xuyen Province, Captain Versace and the patrol came under sudden and intense mortar, automatic weapons, and small arms fire from elements of a heavily armed enemy battalion. As the battle raged, Captain Versace, although severely wounded in the knee and back by hostile fire, fought valiantly and continued to engage enemy targets. Weakened by his wounds and fatigued by the fierce firefight, Captain Versace stubbornly resisted capture by the over-powering Viet Cong force with the last full measure of his strength and ammunition. Taken prisoner by the Viet Cong, he exemplified the tenets of the Code of Conduct from the time he entered into Prisoner of War status. Captain Versace assumed command of his fellow American soldiers, scorned the enemy's exhaustive interrogation and indoctrination efforts, and made three unsuccessful attempts to escape, despite his weakened condition which was brought about by his wounds and the extreme privation and hardships he was forced to endure. During his captivity, Captain Versace was segregated in an isolated prisoner of war cage, manacled in irons for prolonged periods of time, and placed on extremely reduced ration. The enemy was unable to break his indomitable will, his faith in God, and his trust in the United States of America. Captain Versace, an American fighting man who epitomized the principles of his country and the Code of Conduct, was executed by the Viet Cong on 26 September 1965. Captain Versace's gallant actions in close contact with an enemy force and unyielding courage and bravery while a prisoner of war are in the highest traditions of the military service and reflect the utmost credit upon himself and the United States Army.

---

From the Archives

We Have Met the Enemy…
Geoff Metcalf


"They who can give up essential liberty to obtain a little temporary safety deserve neither liberty nor safety.
--Benjamin Franklin
"The American people must be willing to give up a degree of personal privacy in exchange for safety and security."
--Louis Freeh


In the wake of the clamor over the most recent WikiLeaks data dump, 'Vault 7', 'UMBRAGE', et al, it should be noted this is not really anything new. What we are seeing here is simply the evolution of something that goes back to the late 50s (to the incomplete best knowledge I have).

It is kinda cool to finally see even

The New York Times

acknowledging material

I was writing about in 1998

.

In April of 1998 I wrote "Privacy has become an anachronism." I was commenting on "a massive system designed to intercept all your e-mail, fax traffic and more." I was explaining 'Echelon', the illegitimate offspring of a

UKUSA Treaty

signed by the United States, United Kingdom, Canada, Australia and New Zealand. Its purpose was, and is, to have a vast global intelligence monster, which allegedly shares common goals. The system was so "efficient" that reportedly National Security Agency folk from Fort Meade could work from Menwith Hill in England to intercept local communications without either nation having to burden themselves with the formality of seeking approval (a court order) or disclosing the operation. And this was all pre-9/11 and pre-the anti-constitutional

'Patriot Act'

.

It is illegal (without a Judge's signed permission) for the United States to spy on its citizens … kinda. The laws have long been circumvented by a mutual pact among five nations. Under the terms of UKUSA agreement, Britain spies on Americans and America spies on British citizens, and then the two conspirators trade data. A classic technical finesse. It is legal, but the intent to evade the spirit is inescapable.

I often fictionalized the genesis of 'Echelon' as an informal meeting of a group of post war American and British intelligence types drinking in some remote rustic bar. An imagined CIA type complains to his MI6 buddy about the hassles of US laws preventing US intelligence from surveillance of bad guys, and the Brit echoes the same complaint.

"Hey wait a moment mate," says Nigel, the make-believe MI6 guy, "I can spy on your guys and you can spy on our bad players…why don't we just come up with a mechanism whereby we spy on your villains, you spy on our villains, and we just 'share' the intel?"

This system was called ECHELON, and has been kicking around in some form longer than most of you. The result of the UKUSA treaty signed by the United States, United Kingdom, Canada, Australia and New Zealand was, and is, to have a vast global intelligence monster which allegedly shares common goals.

The London Telegraph reported in December of 1997 that the Civil liberties Committee of the European Parliament had officially confirmed the existence and purpose of ECHELON. "A global electronic spy network that can eavesdrop on every telephone, e-mail and telex communication around the world will be officially acknowledged for the first time in a European Commission report. …"

The report noted: "Within Europe all e-mail, telephone and fax communications are routinely intercepted by the United States National Security Agency, transferring ll target information from the Eurv opean mainland via the strategic hub of London, then by satellite to Fort Meade in Maryland via the crucial hub at Menwith Hill, in the North York moors in the UK.

"The ECHELON system forms part of the UKUSA system but unlike many of the electronic spy systems developed during the Cold War, ECHELON was designed primarily for non-military targets: governments, organizations and businesses in virtually every country."

An interesting sidebar appeared in the International Herald Tribune under the headline, "Big Corporate Brother: It Knows More About You Than You Think." The story details Acxiom Corp, which was a humongous information service hidden in the Ozark foothills. Twenty-four hours a day, Acxiom electronically gathered and sorts all kinds of data about 196 million Americans. Credit card transactions and magazine subscriptions, telephone numbers, real estate records, automotive data, hunting, business and fishing licenses, consumer surveys and demographic detail that would make a marketing department's research manager salivate. This relatively new (legal) enterprise was known as "data warehousing" or "data-mining", and it underscores the cruel reality that the fiction of personal privacy has become obsolete. Technology's ability to collect and analyze data has made privacy a quaint albeit interesting dinosaur.

The Tribune reported that "Axciom can often determine whether an American owns a dog or cat, enjoys camping or gourmet cooking, reads the Bible or lots of other books. It can often pinpoint an American's occupation, car and favorite vacations. By analyzing the equivalent of billions of pages of data, it often projects for its customers who should be offered a credit card or who is likely to buy a computer."

Most of this information is from y 1998 piece. Echelon has developed, matured, and morphed into a much more powerful hybrid. 'Carnivore' was software to help triage the cacophony of data. Vault 7 and 'Umbrage' are logical (some would argue "insidious") growth.

More to follow…