"It Is Not A Question of Who Is Right Or Wrong But What Is Right Or Wrong That Counts.

"

--Geoff Metcalf
Providing an on line Triage of the news since 1997



Wo

rld & Nation
Republicans storm secure room, demanding more access to impeachment inquiry proceedings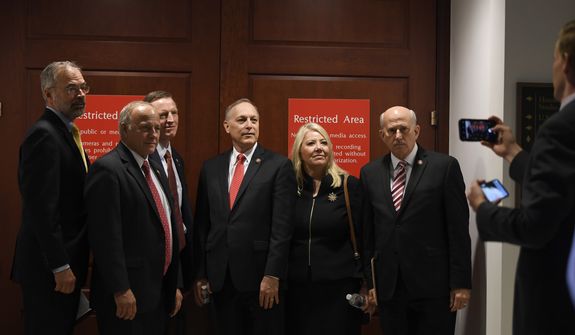 House Republicans on Wednesday stormed the secure room where lawmakers have been questioning impeachment inquiry witnesses, as their frustration with the closed-door proceedings mounts.

More than a dozen GOP lawmakers convened outside the meeting room and were promptly kicked out.

"This is an outrage," Rep. Debbie Lesko, Arizona Republican, said.

The impeachment inquiry is centered on allegations that President Trump attempted to pressure Ukrainian President Zelensky to open investigations for his own personal gain, lead by the House Intelligence, Foreign Affairs, and Oversight committees.


---
Report: Probe of '16 Campaign Surveillance Is Expanding
The Justice Department's investigation of the investigators is expanding based on new evidence uncovered during a recent trip to Rome, Italy, by Attorney General William Barr and U.S. Attorney John Durham, sources told Fox News.
Durham has been tasked with investigating the origins of the 2016 election meddling investigation and potential criminality activity or corruption by government officials, including the FBI and intelligence.
Former senior Obama administration officials Director of National Intelligence James Clapper and CIA Director John Brennan are being considered for interviews because of their connections to the Christopher Steele dossier on President Donald Trump and surveillance of former Trump campaign adviser Carter Page, according to a Fox News source.
---
Democrats see weak spots in their own 2020 prospects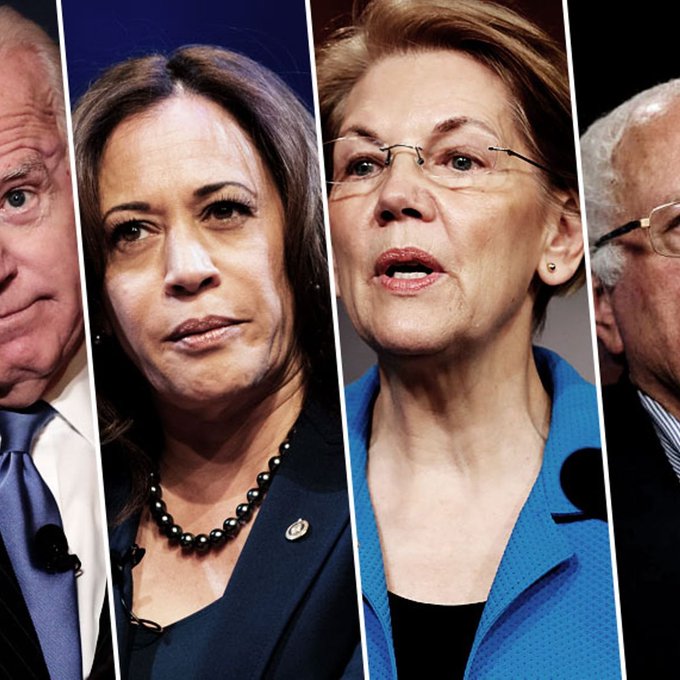 When the 2020 Democratic presidential contest kicked off earlier this year, the massive field was hailed as the most diverse in history, with candidates who spanned the ideological spectrum and offered enough in a broad buffet of options to entice any voter. But after 10 months of campaigning and 15 hours of nationally televised debates, another emotion is rising: anxiety.
Party leaders and activists are citing weakness in all of the leading contenders, including former vice president Joe Biden, who has been forced on the defensive about his family's ethics, performed haltingly in debates and set off alarms with his poor fundraising. They also fret that the two other top-ranking candidates, Sens. Bernie Sanders, I-Vt., and Elizabeth Warren, D-Mass., are too liberal to win a general election. Other candidates have had moments to shine, but none yet has fully transformed that into anything approaching momentum.
---
'National security issue': High unemployment of military spouses undermines recruitment
The difficulties military spouses face finding good-paying jobs are fast becoming not just a matter of individual concern but also a national security issue, one that is undermining the military's ability to recruit and retain personnel.
That warning comes from a panel at the Brookings Institution on Monday that featured some high-level expertise: Holly Petraeus, the wife of former CIA director and retired four-star Army Gen. David H. Petraeus.
Mike Haynie, executive director of the Institute for Veterans and Military Families at Syracuse University, said too many policy analysts fail to appreciate the scope of the problem or the way high unemployment rates among military spouses put stress on families and on the military services.
---
US diplomat: Trump linked Ukraine aid to demand for probe
A top U.S. diplomat testified Tuesday that President Donald Trump was holding back military aid for Ukraine unless the country agreed to investigate Democrats and a company linked to Joe Biden's family, providing lawmakers with a detailed new account of the quid pro quo central to the impeachment probe.
In a lengthy opening statement to House investigators obtained by The Associated Press, William Taylor described Trump's demand that "everything" President Volodymyr Zelenskiy wanted, including vital aid to counter Russia, hinged on making a public vow that Ukraine would investigate Democrats going back to the 2016 U.S. election as well as a company linked to the family of Trump's potential 2020 Democratic rival.
---
Tulsi Gabbard continues Hillary Clinton feud: 'Step down from your throne'
Democratic presidential candidate Tulsi Gabbard continued to stoke a feud with Hillary Clinton on Tuesday by posting a campaign video telling the former secretary of state that her "foreign policy was a disaster."
".@HillaryClinton, your foreign policy was a disaster for our country and the world. It's time for you to acknowledge the damage you have caused and step down from your throne." the Hawaii Democrat tweeted along with the video.
Ms. Gabbard has been quarreling with Mrs. Clinton after the 2016 presidential contender said the Russians have "got their eye on somebody who is currently in the Democratic primary and are grooming her to be the third-party candidate" who can give President Trump a reelection victory.
---
Harvard paper forced to defend allowing ICE fair comment after student backlash
The principal student newspaper at Harvard University is being forced by student activists to defend the standard journalistic practice of asking subjects of stories for comment.
The Crimson, according to a "Note to Readers" published Tuesday, was publicly condemned by the group Act on a Dream and 10 other student groups for seeking comment from Immigration and Customs Enforcement for a Sept. 13 article about an Act protest calling for the agency to be abolished.
More than 650 people have signed a petition, which condemns getting comment from ICE as "cultural insensitivity."
---
Rep. Katie Hill calls for probe of leaked intimate photos
A member of Congress says she's asked for an investigation into intimate photos she says were posted online without her consent.
California Democrat Katie Hill said U.S. Capitol Police are "investigating the situation and potential legal violations of those who posted and distributed the photos." She said the photos included her and "another individual" and declined further comment.
She also denied having had an affair with her legislative director. Hill and her husband, Kenny Heslep, married in 2010 and are getting divorced, she said.
Hill is vice chair of the House Oversight and Reform Committee and a freshman liaison to Democratic leaders. She unseated an incumbent Republican in 2018 and is one of the few openly bisexual members of Congress.
---
'Do-nothing Congress': Pelosi, Dems produce more subpoenas than laws
Thanks to a flurry of Ukraine activity, House Speaker Nancy Pelosi and her Democratic majority have approved more subpoenas to investigate President Trump than they have written laws.
The subpoena issued Tuesday morning to former Ambassador William Taylor marked the 56th that has been publicly acknowledged and aimed at Mr. Trump and his team. That is 10 more than the 46 House bills that have become law this year.
It's far from a subpoena record, but it is complicating Mrs. Pelosi's attempt to portray her troops as focused on their agenda.
---
Hillaween Part 3: Clinton rises from dead, creaks open door to 2020 run
Like an unkillable zombie, she's back.
Well, she never really left, did she?
Hillary Clinton is the undead. Nearly three years after her humiliating defeat to President Trump, the two-time loser is the talk of the political world. Everyone wants to know one thing: Will she or won't she? Even conservative blogger Matt Drudge got in on the act Tuesday, posting a picture of Clinton wearing a witch's hat with the all-capitals headline: "Dem Halloween: Hillary leaves door open."
---
Stephen Miller pushback: 'Permanent bureaucracy a mortal threat to America'
Anonymous efforts by anti-Trump federal bureaucrats to thwart the White House agenda through leaks and complaints to friendly reporters and congressional allies are a "mortal threat" to democracy and the 2016 election results, according to a top administration official.
"This is a mortal threat to the American system of government," said Stephen Miller, the senior adviser for policy.
In 2016, President Trump ran against Washington's "deep state" and "permanent bureaucracy," said Miller, and they remain so angry that they are lying, leaking, and attacking the administration's agenda.
The latest example is the planned book written by an anonymous inside critic and that follows efforts by bureaucrats to thwart Trump policies with leaks to liberal media and Democrats on Capitol Hill.
---
---
"It is discouraging to think how many people are shocked by honesty and how few by deceit."

-- Noel Coward

(1899-1973) British playwright

---

The Medal of Honor is the highest award for valor in action against an enemy force which can be bestowed upon an individual serving in the Armed Services of the United States.

GeneTrerally presented to its recipient by the President of the United States of America in the name of Congress.

The first award of the Medal of Honor was made March 25, 1863 to Private JACOB PARROTT.The last award of the Medal of Honor was made September 15, 2011 to Sergeant DAKOTA MEYER.

Since then there have been: • 3458 recipients of the Medal of Honor.

• Today there are 85 Living Recipients of the Medal of Honor.

Citation


Captain Humbert R. Versace distinguished himself by extraordinary heroism during the period of 29 October 1963 to 26 September 1965, while serving as S-2 Advisor, Military Assistance Advisory Group, Detachment 52, Ca Mau, Republic of Vietnam. While accompanying a Civilian Irregular Defense Group patrol engaged in combat operations in Thoi Binh District, An Xuyen Province, Captain Versace and the patrol came under sudden and intense mortar, automatic weapons, and small arms fire from elements of a heavily armed enemy battalion. As the battle raged, Captain Versace, although severely wounded in the knee and back by hostile fire, fought valiantly and continued to engage enemy targets. Weakened by his wounds and fatigued by the fierce firefight, Captain Versace stubbornly resisted capture by the over-powering Viet Cong force with the last full measure of his strength and ammunition. Taken prisoner by the Viet Cong, he exemplified the tenets of the Code of Conduct from the time he entered into Prisoner of War status. Captain Versace assumed command of his fellow American soldiers, scorned the enemy's exhaustive interrogation and indoctrination efforts, and made three unsuccessful attempts to escape, despite his weakened condition which was brought about by his wounds and the extreme privation and hardships he was forced to endure. During his captivity, Captain Versace was segregated in an isolated prisoner of war cage, manacled in irons for prolonged periods of time, and placed on extremely reduced ration. The enemy was unable to break his indomitable will, his faith in God, and his trust in the United States of America. Captain Versace, an American fighting man who epitomized the principles of his country and the Code of Conduct, was executed by the Viet Cong on 26 September 1965. Captain Versace's gallant actions in close contact with an enemy force and unyielding courage and bravery while a prisoner of war are in the highest traditions of the military service and reflect the utmost credit upon himself and the United States Army.

---

From the Archives

We Have Met the Enemy…
Geoff Metcalf


"They who can give up essential liberty to obtain a little temporary safety deserve neither liberty nor safety.
--Benjamin Franklin
"The American people must be willing to give up a degree of personal privacy in exchange for safety and security."
--Louis Freeh


In the wake of the clamor over the most recent WikiLeaks data dump, 'Vault 7', 'UMBRAGE', et al, it should be noted this is not really anything new. What we are seeing here is simply the evolution of something that goes back to the late 50s (to the incomplete best knowledge I have).

It is kinda cool to finally see even

The New York Times

acknowledging material

I was writing about in 1998

.

In April of 1998 I wrote "Privacy has become an anachronism." I was commenting on "a massive system designed to intercept all your e-mail, fax traffic and more." I was explaining 'Echelon', the illegitimate offspring of a

UKUSA Treaty

signed by the United States, United Kingdom, Canada, Australia and New Zealand. Its purpose was, and is, to have a vast global intelligence monster, which allegedly shares common goals. The system was so "efficient" that reportedly National Security Agency folk from Fort Meade could work from Menwith Hill in England to intercept local communications without either nation having to burden themselves with the formality of seeking approval (a court order) or disclosing the operation. And this was all pre-9/11 and pre-the anti-constitutional

'Patriot Act'

.

It is illegal (without a Judge's signed permission) for the United States to spy on its citizens … kinda. The laws have long been circumvented by a mutual pact among five nations. Under the terms of UKUSA agreement, Britain spies on Americans and America spies on British citizens, and then the two conspirators trade data. A classic technical finesse. It is legal, but the intent to evade the spirit is inescapable.

I often fictionalized the genesis of 'Echelon' as an informal meeting of a group of post war American and British intelligence types drinking in some remote rustic bar. An imagined CIA type complains to his MI6 buddy about the hassles of US laws preventing US intelligence from surveillance of bad guys, and the Brit echoes the same complaint.

"Hey wait a moment mate," says Nigel, the make-believe MI6 guy, "I can spy on your guys and you can spy on our bad players…why don't we just come up with a mechanism whereby we spy on your villains, you spy on our villains, and we just 'share' the intel?"

This system was called ECHELON, and has been kicking around in some form longer than most of you. The result of the UKUSA treaty signed by the United States, United Kingdom, Canada, Australia and New Zealand was, and is, to have a vast global intelligence monster which allegedly shares common goals.

The London Telegraph reported in December of 1997 that the Civil liberties Committee of the European Parliament had officially confirmed the existence and purpose of ECHELON. "A global electronic spy network that can eavesdrop on every telephone, e-mail and telex communication around the world will be officially acknowledged for the first time in a European Commission report. …"

The report noted: "Within Europe all e-mail, telephone and fax communications are routinely intercepted by the United States National Security Agency, transferring ll target information from the European mainland via the strategic hub of London, then by satellite to Fort Meade in Maryland via the crucial hub at Menwith Hill, in the North York moors in the UK.

"The ECHELON system forms part of the UKUSA system but unlike many of the electronic spy systems developed during the Cold War, ECHELON was designed primarily for non-military targets: governments, organizations and businesses in virtually every country."

An interesting sidebar appeared in the International Herald Tribune under the headline, "Big Corporate Brother: It Knows More About You Than You Think." The story details Acxiom Corp, which was a humongous information service hidden in the Ozark foothills. Twenty-four hours a day, Acxiom electronically gathered and sorts all kinds of data about 196 million Americans. Credit card transactions and magazine subscriptions, telephone numbers, real estate records, automotive data, hunting, business and fishing licenses, consumer surveys and demographic detail that would make a marketing department's research manager salivate. This relatively new (legal) enterprise was known as "data warehousing" or "data-mining", and it underscores the cruel reality that the fiction of personal privacy has become obsolete. Technology's ability to collect and analyze data has made privacy a quaint albeit interesting dinosaur.

The Tribune reported that "Axciom can often determine whether an American owns a dog or cat, enjoys camping or gourmet cooking, reads the Bible or lots of other books. It can often pinpoint an American's occupation, car and favorite vacations. By analyzing the equivalent of billions of pages of data, it often projects for its customers who should be offered a credit card or who is likely to buy a computer."

Most of this information is from y 1998 piece. Echelon has developed, matured, and morphed into a much more powerful hybrid. 'Carnivore' was software to help triage the cacophony of data. Vault 7 and 'Umbrage' are logical (some would argue "insidious") growth.

More to follow…