"It Is Not A Question of Who Is Right Or Wrong But What Is Right Or Wrong That Counts.

"

--Geoff Metcalf
Providing an on line Triage of the news since 1997



Wo

rld & Nation

.

DNI Ratcliffe: 'No Intelligence' Showing Russia Behind Hunter Biden Laptop
There is no evidence to suggest that Russia had anything to do with Hunter Biden's laptop and the scandalous information contained on it, Director of National Intelligence John Ratcliffe said.
Ratcliffe was on Fox Business Network's "Mornings with Maria" Monday and discussed allegations from Democrats that information purportedly on the laptop, which had emails that appear to link the Bidens, including Joe Biden, to China and the Ukraine, could have come from Russia.
"It's funny that some of the people who complain the most about intelligence being politicized are the ones politicizing the intelligence," Ratcliffe said. "Unfortunately, it is [Rep.] Adam Schiff who said the intelligence community believes the Hunter Biden laptop and emails on it are part of a Russian disinformation campaign.
He added that claims of Russia being behind the hard drive's contents, which included emails, photos, and videos, are "simply not true."
---
Joe Biden snaps at CBS reporter for Hunter question: 'Another smear campaign, right up your alley'
Democratic presidential nominee Joseph R. Biden snapped at CBS News reporter Bo Erickson Friday night for asking about a New York Post report that the former vice president described as a "smear campaign."
During a brief exchange with reporters following his campaign rally in Detroit, Mr. Biden was asked by Mr. Erickson, "What is your response to the New York Post story about your son, sir?"
"I know you'd ask it," the former vice president fired back. "I have no response. It's another smear campaign, right up your alley. Those are the questions you always ask."
A clip of the exchange tweeted by Mr. Erickson saying Mr. Biden "went after me" racked up more than 6 million views by Monday morning.
---
Trump says Hunter Biden used vice president's office as a 'for-profit cash machine'
President Trump said Sunday that Hunter Biden, son of Democratic nominee Joseph R. Biden, used his father's vice presidency as a "cash machine" to enrich himself with deals with foreign businessmen.
Speaking to thousands of supporters in this swing state, Mr. Trump said Mr. Biden's family is a "criminal enterprise." The president hammered his rival on news reports that a recovered laptop allegedly belonging to Hunter Biden disclosed emails showing his foreign business deals during the Obama administration.
"That's a laptop from hell," Mr. Trump said. "A giant trove of emails show Hunter Biden making deals, setting up meetings with his father Joe, and using the Office of the Vice President for a for-profit cash machine. That is so dishonest."
Hunter Biden allegedly was paid $10 million per year by a Chinese businessman for "introductions only," and earned more millions from a Ukraine energy company for little or no work.
---
Pelosi sets 48-hour deadline for stimulus talks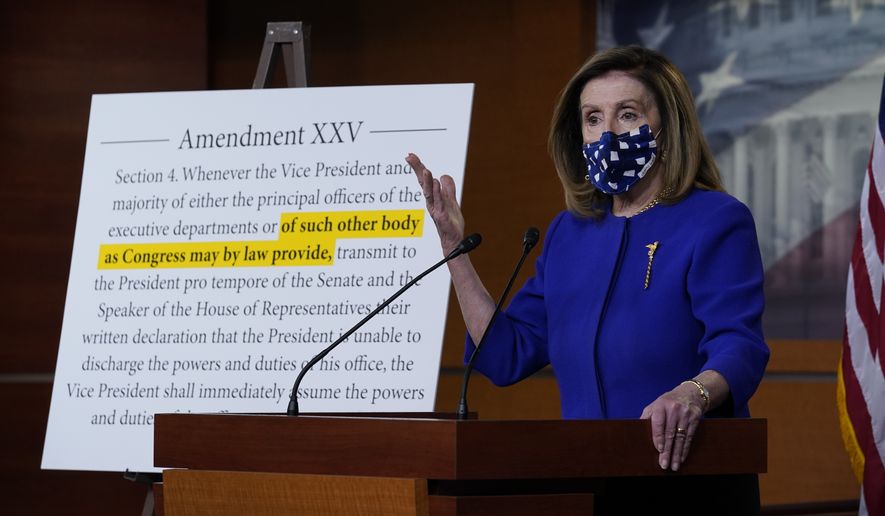 House Speaker Nancy Pelosi said Sunday that she set a 48-hour deadline to reach agreement with the Trump administration on relief negotiations that can be implemented before Election Day.
Mrs. Pelosi disputed assertions that her lack of interaction with President Trump had affected the negotiations and told ABC's "This Week" that the coronavirus relief talks are at loggerheads because the Trump administration believes it understands legislating better than Congress.
"I'm optimistic because again, we've been back and forth on all of this," the California Democrat said. "You know legislation: 'shall' is different from 'may.' The difference amounts to this: When you say 'may,' you're giving the president a slush fund."
New polling in key battleground states of Arizona and Wisconsin, however, suggests that voters are blaming Mrs. Pelosi more than Mr. Trump.
---
Supreme Court to Hear Case Over Border Wall Funding
The Supreme Court agreed Monday to hear the Trump administration's appeal of a lower court ruling that it improperly diverted money to build portions of the border wall with Mexico.
The high court has previously allowed construction to continue, even after a federal appeals court ruled in June that the administration had illegally sidestepped Congress in transferring the Defense Department funds.
The case will not be argued before the winter and it's unclear how the outcome of the presidential election would affect the case, if Democrat Joe Biden wins the White House.
---
Coronavirus Hospitalizations Increasing Throughout US
Coronavirus hospitalizations are rising in 39 states, which have experienced an increase over the past two weeks in the percentage of available hospital beds occupied by patients suffering from the coronavirus, Axios reported on Monday.
Sixteen states have reached or are close to the highest hospitalization rates they have experienced during the pandemic, with Wisconsin faring the worst at 9.4% of the state's beds occupied by patients with coronavirus.
However, despite the concern, no state is anywhere close to the worst-case situation of not having enough capacity to deal with an outbreak of the coronavirus.
---
NYPD Commish Shea: NYC Police Reforms Are 'Disaster'
In a bold rebuke of failed police and police reforms, NYPD Commissioner Dermot Shea said the New York City crime wave is due to bail reform and movements to defund the police.
"We've got to have hard discussions about this 'defunding the police': It is a recipe for disaster," Shea told "The Cats Roundtable" on WABC 770 AM-N.Y. "We've got to talk about laws that really need to be changed.
"We need to be reminded about what's important. Victims are important. Let's strike that right balance between being fair to the accused but not throwing out the rights of victims as well."
The crime wave began even "pre-COVID," as "shootings were up over 20%, almost every category of crime was up over 20%, and it was still winter time," Shea told host John Catsimatidis, adding police reforms are "100%" to blame.
---
Samuel Paty Killing Sets Off Police Raids Across France After Teacher's 'Fatwa' Beheading
Police descended on the homes of dozens of suspected Islamist militants across France on Monday in connection with the "fatwa" decapitation killing of a teacher by a Chechen Muslim teen. Interior Minister Gerald Darmanin said about 80 investigations were under way into online hate speech in France and that more would take place. A police source told Reuters late Sunday that France was preparing to expel 231 foreigners on a government watch list for suspected extremist religious beliefs. Eleven people were in custody, including a school parent who Darmanin said is suspected of calling on social media for Friday's killing of the educator.
More than a million people demonstrated in cities across France on Sunday to show their support for freedom of expression for Samuel Paty, the teacher who was attacked after he is said to have shown cartoons of the Prophet Muhammad to pupils as part of a classroom discussion. Police say Paty, 47, a history and geography instructor, was hacked to death by a teenage Islamist after Muslim parents ran a social-media campaign against him for showing the images.
Paty, the father of a 5-year-old boy, taught in a secondary school in Conflans-Sainte-Honorine on the outskirts of Paris. He was targeted by Abdullah Anzorov, an 18-year-old refugee, as he left the school on Friday. Anzorov, who was shot dead by police after the murder, was born in Moscow to a family from Chechnya, the Muslim Russian republic. His family moved to France when he was 6. He lived in Evreux in Normandy and had no apparent connection with Paty. Jean-Michel Blanquer, the education minister, who was among several cabinet members present at the demonstrations, said, "A teacher is perfectly entitled to show the cartoons."
---
India army apprehends Chinese soldier amid military standoff
The Indian army said it apprehended a Chinese soldier Monday in the remote Ladakh region, where the two countries are locked in a monthslong military standoff along their disputed mountain border.
The soldier, Cpl. Wang Ya Long from China's People's Liberation Army, was apprehended inside Indian-controlled Ladakh's Demchok area and was to be released soon, the army said in a statement.
It said the soldier "had strayed" across the de facto border along the eastern section of what's known as the Line of Actual Control, a loose demarcation separating Indian- and Chinese-controlled areas.
---
Dianne Feinstein's embrace of Lindsey Graham angers liberals
Rare civility marks Amy Coney Barrett hearings
Liberal groups erupted in anger after Sen. Dianne Feinstein praised the way Republicans ran last week's confirmation hearing for Supreme Court nominee Amy Coney Barrett and demanded that the senator be ousted as Democrats' top member on the Judiciary Committee.
Ms. Feinstein wasn't the only Democrat to compliment Sen. Lindsey Graham, South Carolina Republican and committee chairman, but when she embraced him at the end of four days of hearings, it sent shock waves through the activist network that had spent weeks trying to gin up opposition to President Trump's high court nominee.
Organizations such as NARAL Pro-Choice America and the feminist UltraViolet said Ms. Feinstein damaged those chances.
---
Senate COVID-19 relief fight really about control of Republican Party
Campaign to replace Trump begins Nov. 4, whether he leaves office in 2021 or 2025
For the last six months, Republicans in the Senate, ably led by Majority Leader Mitch McConnell, have been remarkably consistent about their unwillingness to expand the strike zone for COVID-19 relief. They believe that a modest package, focused on help to citizens — rather than mostly profligate states — and liability protections for businesses is more likely to help the economy recover than simply turning on the firehose of cash and spraying it liberally in all directions.
This approach has held steady despite the Trump administration's persistent pressure and the routine hectoring of Treasury Secretary Steven T. Mnuchin.
Part of the resistance is, of course, precisely because it is the secretary of the treasury who is leading the administration's efforts. Many Republican senators are confident that Mr. Mnuchin is a Democrat who prefers Democratic solutions.
---
Church leaders sell their souls to the Democratic Party
Evangelicals stumble over themselves to endorse a political party and a candidate openly against life
Over the past couple of months, while the world has been distracted by all-things-COVID-19, a very important bit of news slipped under our radar and went virtually unnoticed. The contemporary church sold its soul to the Devil for a pot of political porridge.
Consider the evidence.
Last week "pro-life" evangelicals across the land started stumbling over themselves to endorse a political party and a candidate who is openly against life and against evangelicals.
At the same time, pastors, priests and laymen too numerous to count continued to trample each other in a parade proclaiming that some lives matter but others don't (especially the lives of Donald Trump and his supporters).
---
" It is discouraging to think how many people are shocked by honesty and how few by deceit."

-- Noel Coward

(1899-1973) British playwright

---

The Medal of Honor is the highest award for valor in action against an enemy force which can be bestowed upon an individual serving in the Armed Services of the United States.

GeneTrerally presented to its recipient by the President of the United States of America in the name of Congress.

The first award of the Medal of Honor was made March 25, 1863 to Private JACOB PARROTT.The last award of the Medal of Honor was made September 15, 2011 to Sergeant DAKOTA MEYER.

Since then there have been: • 3458 recipients of the Medal of Honor.

• Today there are 85 Living Recipients of the Medal of Honor.

Citation


Captain Humbert R. Versace distinguished himself by extraordinary heroism during the period of 29 October 1963 to 26 September 1965, while serving as S-2 Advisor, Military Assistance Advisory Group, Detachment 52, Ca Mau, Republic of Vietnam. While accompanying a Civilian Irregular Defense Group patrol engaged in combat operations in Thoi Binh District, An Xuyen Province, Captain Versace and the patrol came under sudden and intense mortar, automatic weapons, and small arms fire from elements of a heavily armed enemy battalion. As the battle raged, Captain Versace, although severely wounded in the knee and back by hostile fire, fought valiantly and continued to engage enemy targets. Weakened by his wounds and fatigued by the fierce firefight, Captain Versace stubbornly resisted capture by the over-powering Viet Cong force with the last full measure of his strength and ammunition. Taken prisoner by the Viet Cong, he exemplified the tenets of the Code of Conduct from the time he entered into Prisoner of War status. Captain Versace assumed command of his fellow American soldiers, scorned the enemy's exhaustive interrogation and indoctrination efforts, and made three unsuccessful attempts to escape, despite his weakened condition which was brought about by his wounds and the extreme privation and hardships he was forced to endure. During his captivity, Captain Versace was segregated in an isolated prisoner of war cage, manacled in irons for prolonged periods of time, and placed on extremely reduced ration. The enemy was unable to break his indomitable will, his faith in God, and his trust in the United States of America. Captain Versace, an American fighting man who epitomized the principles of his country and the Code of Conduct, was executed by the Viet Cong on 26 September 1965. Captain Versace's gallant actions in close contact with an enemy force and unyielding courage and bravery while a prisoner of war are in the highest traditions of the military service and reflect the utmost credit upon himself and the United States Army.

---

From the Archives

We Have Met the Enemy…
Geoff Metcalf


"They who can give up essential liberty to obtain a little temporary safety deserve neither liberty nor safety.
--Benjamin Franklin
"The American people must be willing to give up a degree of personal privacy in exchange for safety and security."
--Louis Freeh


In the wake of the clamor over the most recent WikiLeaks data dump, 'Vault 7', 'UMBRAGE', et al, it should be noted this is not really anything new. What we are seeing here is simply the evolution of something that goes back to the late 50s (to the incomplete best knowledge I have).

It is kinda cool to finally see even

The New York Times

acknowledging material

I was writing about in 1998

.

In April of 1998 I wrote "Privacy has become an anachronism." I was commenting on "a massive system designed to intercept all your e-mail, fax traffic and more." I was explaining 'Echelon', the illegitimate offspring of a

UKUSA Treaty

signed by the United States, United Kingdom, Canada, Australia and New Zealand. Its purpose was, and is, to have a vast global intelligence monster, which allegedly shares common goals. The system was so "efficient" that reportedly National Security Agency folk from Fort Meade could work from Menwith Hill in England to intercept local communications without either nation having to burden themselves with the formality of seeking approval (a court order) or disclosing the operation. And this was all pre-9/11 and pre-the anti-constitutional

'Patriot Act'

.

It is illegal (without a Judge's signed permission) for the United States to spy on its citizens … kinda. The laws have long been circumvented by a mutual pact among five nations. Under the terms of UKUSA agreement, Britain spies on Americans and America spies on British citizens, and then the two conspirators trade data. A classic technical finesse. It is legal, but the intent to evade the spirit is inescapable.

I often fictionalized the genesis of 'Echelon' as an informal meeting of a group of post war American and British intelligence types drinking in some remote rustic bar. An imagined CIA type complains to his MI6 buddy about the hassles of US laws preventing US intelligence from surveillance of bad guys, and the Brit echoes the same complaint.

"Hey wait a moment mate," says Nigel, the make-believe MI6 guy, "I can spy on your guys and you can spy on our bad players…why don't we just come up with a mechanism whereby we spy on your villains, you spy on our villains, and we just 'share' the intel?"

This system was called ECHELON, and has been kicking around in some form longer than most of you. The result of the UKUSA treaty signed by the United States, United Kingdom, Canada, Australia and New Zealand was, and is, to have a vast global intelligence monster which allegedly shares common goals.

The London Telegraph reported in December of 1997 that the Civil liberties Committee of the European Parliament had officially confirmed the existence and purpose of ECHELON. "A global electronic spy network that can eavesdrop on every telephone, e-mail and telex communication around the world will be officially acknowledged for the first time in a European Commission report. …"

The report noted: "Within Europe all e-mail, telephone and fax communications are routinely intercepted by the United States National Security Agency, transferring ll target information from the Eurv opean mainland via the strategic hub of London, then by satellite to Fort Meade in Maryland via the crucial hub at Menwith Hill, in the North York moors in th UK.

"The ECHELON system forms part of the UKUSA system but unlike many of the electronic spy systems developed during the Cold War, ECHELON was designed primarily for non-military targets: governments, organizations and businesses in virtually every country."

An interesting sidebar appeared in the International Herald Tribune under the headline, "Big Corporate Brother: It Knows More About You Than You Think." The story details Acxiom Corp, which was a humongous information service hidden in the Ozark foothills. Twenty-four hours a day, Acxiom electronically gathered and sorts all kinds of data about 196 million Americans. Credit card transactions and magazine subscriptions, telephone numbers, real estate records, automotive data, hunting, business and fishing licenses, consumer surveys and demographic detail that would make a marketing department's research manager salivate. This relatively new (legal) enterprise was known as "data warehousing" or "data-mining", and it underscores the cruel reality that the fiction of personal privacy has become obsolete. Technology's ability to collect and analyze data has made privacy a quaint albeit interesting dinosaur.

The Tribune reported that "Axciom can often determine whether an American owns a dog or cat, enjoys camping or gourmet cooking, reads the Bible or lots of other books. It can often pinpoint an American's occupation, car and favorite vacations. By analyzing the equivalent of billions of pages of data, it often projects for its customers who should be offered a credit card or who is likely to buy a computer."

Most of this information is from y 1998 piece. Echelon has developed, matured, and morphed into a much more powerful hybrid. 'Carnivore' was software to help triage the cacophony of data. Vault 7 and 'Umbrage' are logical (some would argue "insidious") growth.

More to follow…