"It Is Not A Question of Who Is Right Or Wrong But What Is Right Or Wrong That Counts.

"

--Geoff Metcalf



Wo
rld & National
Stopping stolen valor: Uncle Sam cracks down on bogus veterans charities
Operation Donate with Honor seeks to expose fraudulent fundraisers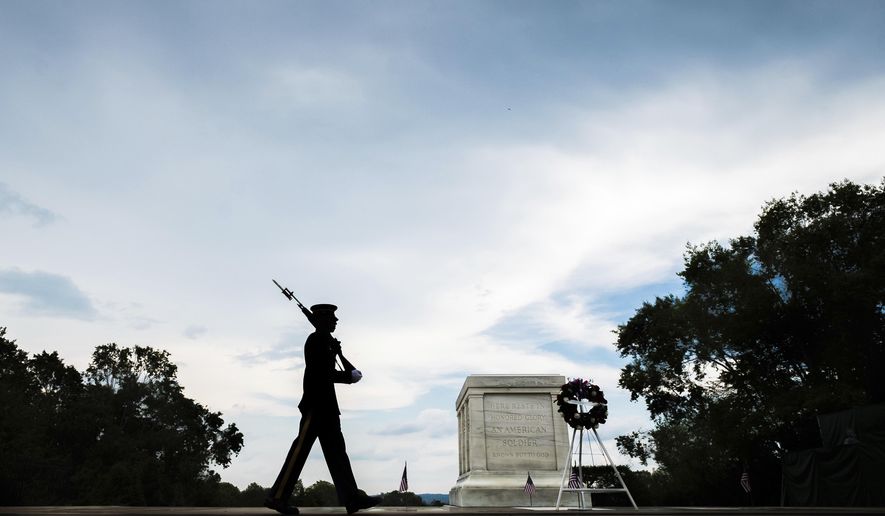 For many donors, Help the Vets sounded like a great cause: The group said contributions would benefit disabled veterans by helping pay for medical care, assist with suicide prevention, even fund family retreats.
As it turned out, however, Help the Vets was a "sham charity" that primarily benefited its founder and president, Neil G. "Paul" Paulson, who raised $11 million over three years by misleading soft-hearted contributors, according to a complaint filed Wednesday by federal and state authorities.
Fed up with charitable scams that exploit public sympathy for veterans, the Federal Trade Commission struck back Thursday by unveiling Operation Donate with Honor, a sweeping campaign aimed at exposing scammers who tug at donors' heartstrings with false promises of helping military personnel.
---
Trump: 'Ready to Go' With Tariffs on $500B of Chinese Imports
President Donald Trump has indicated that he's willing to hit every product imported from China with tariffs, sending U.S. markets sliding before the opening bell Friday.
In a taped interview with the business channel CNBC, Trump said "I'm willing to go to 500," referring roughly to the $505.5 billion in goods imported last year from China.
The administration to date has slapped tariffs on $34 billion of Chinese goods in a trade dispute over what it calls the nation's predatory practices.
---
Trump: China, EU 'Manipulating Currencies'
President Donald Trump doubled down Friday morning on his plan to impose massive tariffs on China and the European Union, tweeting that the United States should be on a "level playing field'' with countries that have been "manipulating their currencies."
---
Even US Intel Chief in the Dark about Trump-Putin Talks
Even Donald Trump's intelligence chief doesn't know what was said in the president's one-on-one meeting with Russian President Vladimir Putin this week in Helsinki.
Director of National Intelligence Dan Coats was also unaware that Putin was being invited to Washington.
Coats made those surprise admissions Thursday in his first public comments since rebutting Trump's questioning of the U.S. intelligence assessment that Russia interfered in the 2016 election.
---
Judge Jeanine Pirro and Whoopi Goldberg shout it out over 'Trump Derangement Syndrome'
Judge Jeanine Pirro sparked a yelling match Thursday with "The View" host Whoopi Goldberg with a comment about "Trump Derangement Syndrome."
Ms. Pirro was on TV show to discuss her new book "Liars, Leakers and Liberals," when she pointed at Ms. Goldberg to suggest she had "Trump Derangement Syndrome."
The phrase has been used by President Trump and other conservatives to describe what they understand to be liberal hysteria over the president.
---
NFL freezes anthem protest policy
The National Football League put on hold Thursday its policy requiring players on the field to stand for the national anthem.
In a statement, the league said it was engaged in "confidential" talks with the NFL Players Association to resolve a grievance the union had filed last week against the league.
"In order to allow this constructive dialogue to continue, we have come to a standstill agreement on the NFLPA's grievance and on the NFL's anthem policy," the NFL said in its statement. "No new rules relating to the anthem will be issued or enforced for the next several weeks while these confidential discussions are ongoing."
---
Mueller reportedly grants Tony Podesta immunity to testify against Paul Manafort
Special counsel Robert Mueller has reportedly given a key Democratic operative immunity to testify against former Trump campaign manager Paul Manafort.
According to Tucker Carlson, speaking Thursday evening on his Fox News program, Mr. Mueller has offered immunity to Tony Podesta, founder of the Podesta Group and brother of former Hillary Clinton campaign chairman John Podesta.
Mr. Carlson also complained of a political double standard, repeating a claim he had made last October that Tony Podesta and the Podesta Group had committed at least some of those same offenses, such as not registering as foreign agents.
---
Sanctions law behind Putin's request to Trump for former U.S. officials
Russian President Vladimir Putin's request to U.S. President Donald Trump for a joint investigation of former U.S. officials sought by the Kremlin for "illegal activities," including a U.S. ambassador to Russia, is just the latest effort in a years-long campaign to undermine a U.S. law that imposes financial sanctions on Putin's officials.
Putin and advocates for the Kremlin's position had had no success with the campaign - until Trump became president. The Magnitsky Act of 2012 is the backdrop of Putin's proposal to Trump at the Helsinki meeting earlier this week that the United States give Russian officials access to former U.S. ambassador to Russia Michael McFaul, in exchange for allowing the FBI to question 12 Russian agents recently indicted for interfering with the 2016 U.S. presidential election.
Trump was receptive to the suggestion, calling it "an interesting idea." That created a fire storm of criticism among Republican and Democratic lawmakers alike. But on Thursday, the White House reversed course with spokeswoman Sarah Sanders saying, "It is a proposal made in sincerity by President Putin, but President Trump disagrees with it."
---
McConnell issues Supreme Court ultimatum
The Senate GOP leader is vowing to squeeze Democrats with a vote on Brett Kavanaugh right before the midterms if they don't back down on their demand for documents.
Mitch McConnell has a warning for Democrats demanding copious documents on Supreme Court nominee Brett Kavanaugh: Be careful what you wish for.
The Senate majority leader privately told senior Republicans on Wednesday that if Democrats keep pushing for access to upwards of a million pages in records from President Donald Trump's high court pick, he's prepared to let Kavanaugh's confirmation vote slip until just before November's midterm elections, according to multiple sources.
---
American flag burned outside U.S. Rep. Maxine Waters' L.A. office
A small crowd that gathered Thursday outside the Los Angeles office of U.S. Rep. Maxine Waters, D-California, to counter an expected protest by a self-styled militia group burned an American flag taken from the back of a pickup truck. The incident happened after the far-right Oath Keepers group didn't appear at the office after saying it would rally against the congresswoman.
A group of counter-protesters there to support Waters were chanting "black power" and other slogans when the pickup approached.
The vehicle, occupied by two men who appeared to be white, was stopped by the crowd. Some marchers opened the doors and one grabbed the flag flying on a pole in the bed of the truck, which sped off.
---
Awash in a tsunami of trivia
The media is guilty of manifold sins, as God and everyone else know, but President Trump has misdiagnosed what's wrong with the media. It's not deliberate "fakery," but a tsunami of too much news badly edited, if edited at all. We're awash in information, much of it show-biz trivia that we don't need.
Once upon a time there were newspapers with editors, old guys who brooked nothing that smelled like "opinion." Some of them actually did wear green eyeshades, as in the movies, and very few of them looked like the suave Adolphe Menjou or Cary Grant in successive movie versions of "The Front Page." The scruffy, boisterous Walter Matthau was believable in the 1970 version.
Editors in those days of the previous century were not there to make reporters feel good about themselves or to provide a safe space for earnest beginners in the trade. The reporters only rarely, try as they might, could even figure out the politics of the editor. Everybody was there to learn how to get the story right, and get it first, or have a good reason why not. Everybody was expected to be a skeptic — "if your mother tells you she loves you, check it out" — and exposure up close to the real world transformed more than a few into cynics.
---
It's 1933 in South Africa
A rising radical politician promises that he will bring the majority of his population out of poverty and depression by getting rid of an unpopular minority and redistributing their ill-gotten gains among the poor and downtrodden. He openly threatens ethnic cleansing to what he claims is the criminal race that has systematically oppressed his people for centuries.
The sitting national leader sees the rising popularity of this demagogue and adopts many of his arguments. If this sounds like Germany in 1933, it was — however, it is also South Africa in 2018.
In 1933, the target minority was Jews. Today, the intended victims in South Africa are white farmers. In both cases, the despised minority represented much of the nation's prosperity. In both cases, the world has looked the other way.
"It is discouraging to think how many people are shocked by honesty and how few by deceit."
-- Noel Coward
(1899-1973) British playwright
---
The Medal of Honor is the highest award for valor in action against an enemy force which can be bestowed upon an individual serving in the Armed Services of the United States.
GeneTrerally presented to its recipient by the President of the United States of America in the name of Congress.
The first award of the Medal of Honor was made March 25, 1863 to Private JACOB PARROTT.The last award of the Medal of Honor was made September 15, 2011 to Sergeant DAKOTA MEYER.
Since then there have been: • 3458 recipients of the Medal of Honor.
• Today there are 85 Living Recipients of the Medal of Honor.
Citation
Captain Humbert R. Versace distinguished himself by extraordinary heroism during the period of 29 October 1963 to 26 September 1965, while serving as S-2 Advisor, Military Assistance Advisory Group, Detachment 52, Ca Mau, Republic of Vietnam. While accompanying a Civilian Irregular Defense Group patrol engaged in combat operations in Thoi Binh District, An Xuyen Province, Captain Versace and the patrol came under sudden and intense mortar, automatic weapons, and small arms fire from elements of a heavily armed enemy battalion. As the battle raged, Captain Versace, although severely wounded in the knee and back by hostile fire, fought valiantly and continued to engage enemy targets. Weakened by his wounds and fatigued by the fierce firefight, Captain Versace stubbornly resisted capture by the over-powering Viet Cong force with the last full measure of his strength and ammunition. Taken prisoner by the Viet Cong, he exemplified the tenets of the Code of Conduct from the time he entered into Prisoner of War status. Captain Versace assumed command of his fellow American soldiers, scorned the enemy's exhaustive interrogation and indoctrination efforts, and made three unsuccessful attempts to escape, despite his weakened condition which was brought about by his wounds and the extreme privation and hardships he was forced to endure. During his captivity, Captain Versace was segregated in an isolated prisoner of war cage, manacled in irons for prolonged periods of time, and placed on extremely reduced ration. The enemy was unable to break his indomitable will, his faith in God, and his trust in the United States of America. Captain Versace, an American fighting man who epitomized the principles of his country and the Code of Conduct, was executed by the Viet Cong on 26 September 1965. Captain Versace's gallant actions in close contact with an enemy force and unyielding courage and bravery while a prisoner of war are in the highest traditions of the military service and reflect the utmost credit upon himself and the United States Army.
---
From the Archives

We Have Met the Enemy…

Geoff Metcalf
"They who can give up essential liberty to obtain a little temporary safety deserve neither liberty nor safety.
--Benjamin Franklin
"The American people must be willing to give up a degree of personal privacy in exchange for safety and security."
--Louis Freeh

In the wake of the clamor over the most recent WikiLeaks data dump, 'Vault 7', 'UMBRAGE', et al, it should be noted this is not really anything new. What we are seeing here is simply the evolution of something that goes back to the late 50s (to the incomplete best knowledge I have).
It is kinda cool to finally see even
The New York Times
acknowledging material
I was writing about in 1998
.
In April of 1998 I wrote "Privacy has become an anachronism." I was commenting on "a massive system designed to intercept all your e-mail, fax traffic and more." I was explaining 'Echelon', the illegitimate offspring of a
UKUSA Treaty
signed by the United States, United Kingdom, Canada, Australia and New Zealand. Its purpose was, and is, to have a vast global intelligence monster, which allegedly shares common goals. The system was so "efficient" that reportedly National Security Agency folk from Fort Meade could work from Menwith Hill in England to intercept local communications without either nation having to burden themselves with the formality of seeking approval (a court order) or disclosing the operation. And this was all pre-9/11 and pre-the anti-constitutional
'Patriot Act'
.
It is illegal (without a Judge's signed permission) for the United States to spy on its citizens … kinda. The laws have long been circumvented by a mutual pact among five nations. Under the terms of UKUSA agreement, Britain spies on Americans and America spies on British citizens, and then the two conspirators trade data. A classic technical finesse. It is legal, but the intent to evade the spirit is inescapable.
I often fictionalized the genesis of 'Echelon' as an informal meeting of a group of post war American and British intelligence types drinking in some remote rustic bar. An imagined CIA type complains to his MI6 buddy about the hassles of US laws preventing US intelligence from surveillance of bad guys, and the Brit echoes the same complaint.
"Hey wait a moment mate," says Nigel, the make-believe MI6 guy, "I can spy on your guys and you can spy on our bad players…why don't we just come up with a mechanism whereby we spy on your villains, you spy on our villains, and we just 'share' the intel?"
This system was called ECHELON, and has been kicking around in some form longer than most of you. The result of the UKUSA treaty signed by the United States, United Kingdom, Canada, Australia and New Zealand was, and is, to have a vast global intelligence monster which allegedly shares common goals.
The London Telegraph reported in December of 1997 that the Civil liberties Committee of the European Parliament had officially confirmed the existence and purpose of ECHELON. "A global electronic spy network that can eavesdrop on every telephone, e-mail and telex communication around the world will be officially acknowledged for the first time in a European Commission report. …"
The report noted: "Within Europe all e-mail, telephone and fax communications are routinely intercepted by the United States National Security Agency, transferring all target information from the European mainland via the strategic hub of London, then by satellite to Fort Meade in Maryland via the crucial hub at Menwith Hill, in the North York moors in the UK.
"The ECHELON system forms part of the UKUSA system but unlike many of the electronic spy systems developed during the Cold War, ECHELON was designed primarily for non-military targets: governments, organizations and businesses in virtually every country."
An interesting sidebar appeared in the International Herald Tribune under the headline, "Big Corporate Brother: It Knows More About You Than You Think." The story details Acxiom Corp, which was a humongous information service hidden in the Ozark foothills. Twenty-four hours a day, Acxiom electronically gathered and sorts all kinds of data about 196 million Americans. Credit card transactions and magazine subscriptions, telephone numbers, real estate records, automotive data, hunting, business and fishing licenses, consumer surveys and demographic detail that would make a marketing department's research manager salivate. This relatively new (legal) enterprise was known as "data warehousing" or "data-mining", and it underscores the cruel reality that the fiction of personal privacy has become obsolete. Technology's ability to collect and analyze data has made privacy a quaint albeit interesting dinosaur.
The Tribune reported that "Axciom can often determine whether an American owns a dog or cat, enjoys camping or gourmet cooking, reads the Bible or lots of other books. It can often pinpoint an American's occupation, car and favorite vacations. By analyzing the equivalent of billions of pages of data, it often projects for its customers who should be offered a credit card or who is likely to buy a computer."
Most of this information is from y 1998 piece. Echelon has developed, matured, and morphed into a much more powerful hybrid. 'Carnivore' was software to help triage the cacophony of data. Vault 7 and 'Umbrage' are logical (some would argue "insidious") growth.
More to follow…