"It Is Not A Question of Who Is Right Or Wrong But What Is Right Or Wrong That Counts.

"

--Geoff Metcalf




Wo

rld & National



Caravan forces short-term shutdown on U.S. border as DHS boosts security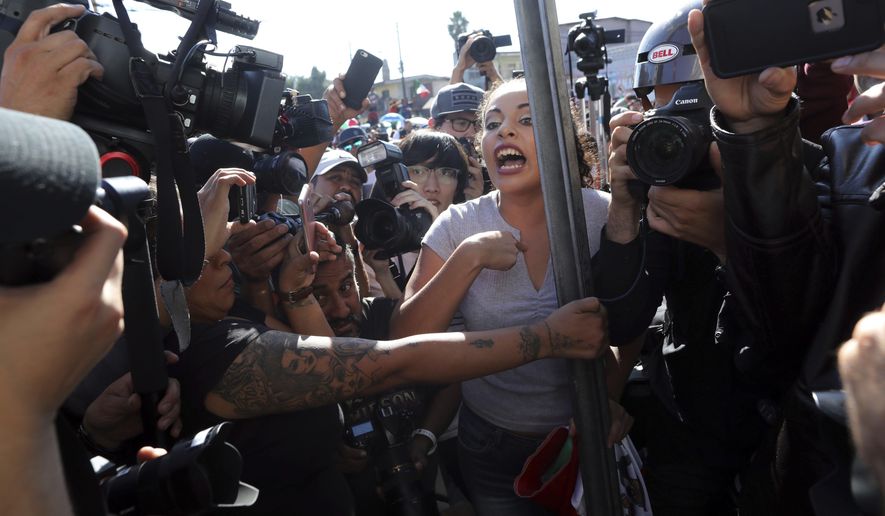 Homeland Security shut down incoming traffic at the country's busiest land-border crossing in order to harden the port of entry, Secretary Kirstjen Nielsen said Monday.

Ms. Nielsen said had gotten word a large number of migrants were preparing to "rush the border," hoping to overwhelm U.S. authorities at the San Ysidro entry point, just north of Tijuana, Mexico.

"Unfortunately, some members of the caravan are purposely causing disruptions at our border ports of entry," she said on Twitter. "There is a legal and illegal way to enter the U.S. We have deployed additional forces to protect our border. We will enforce all our laws."


---
Trump, conservatives demand probe into Clinton-Steele-Moscow links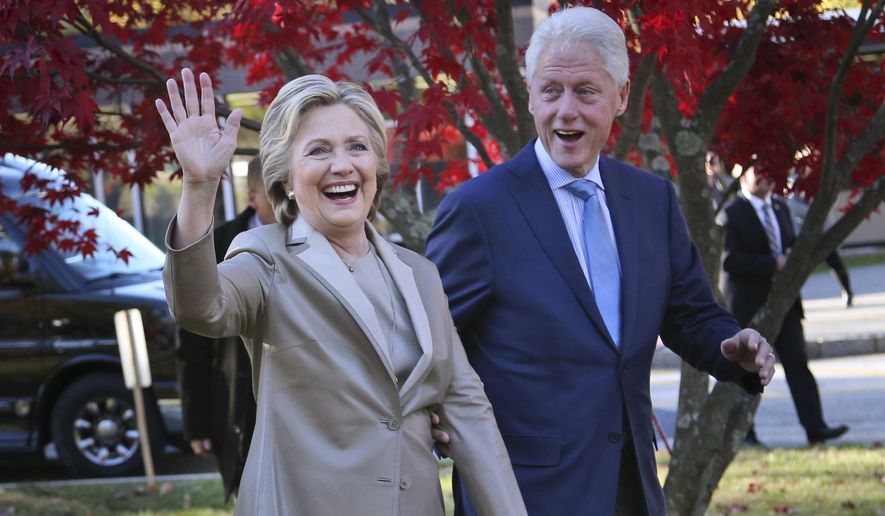 President Trump's frustration last week over special counsel Robert Mueller not investigating the Democrats' links to Russia election meddling is aimed at Christopher Steele, the British ex-spy who compiled and imported the unverified dossier.
"The only 'Collusion' is that of the Democrats with Russia and many others," he tweeted Nov. 15.
Mr. Steele is a paid Democratic Party operative who spread among Washington power elites pre-Election Day Trump gossip originating from Moscow.
Mr. Mueller has made a theme of enforcing the Foreign Agent Registration Act (FARA), which requires people working on behalf of foreigners to register with the Justice Department or face criminal liability. He also has charged Russian nationals with fraud against the U.S. by interfering in the 2016 election.
The Steele issue has reached Mr. Mueller. An attorney for one indicted Russian firm, Concord Management and Consulting LLC, accused Mr. Mueller of selective prosecution.
---
Dem senators sue to overturn Trump's DOJ appointment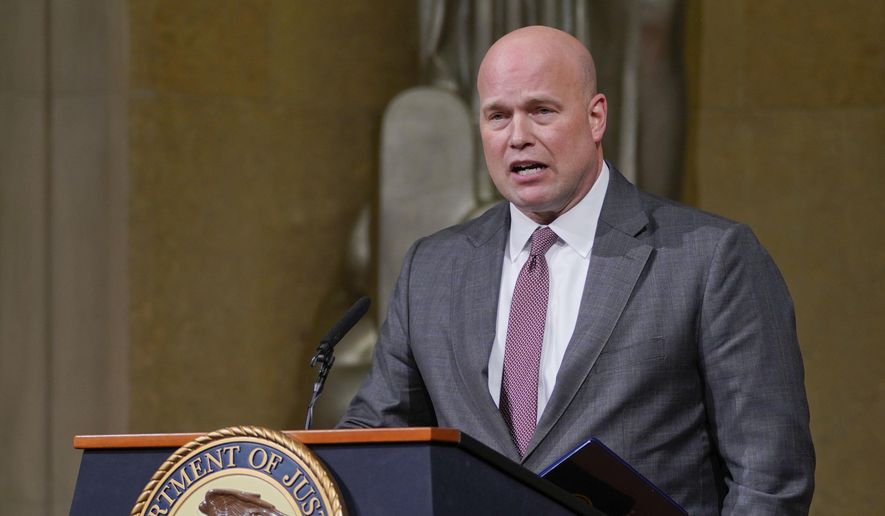 Three Senate Democrats filed a federal lawsuit Monday asking a judge to oust acting Attorney General Matthew G. Whitaker and install Deputy Attorney General Rod Rosenstein instead.
Sens. Richard Blumenthal, Sheldon Whitehouse and Mazie K. Hirono, all members of the Judiciary Committee, said President Trump circumvented both the law and the Constitution by designating Mr. Whitaker.
They argue that undermines the Constitution's demand that the president only appoint top officials with the "advice and consent" of the Senate.
---
White House vows new decision on Jim Acosta's press pass Monday afternoon
The White House has already notified CNN reporter Jim Acosta that officials are preparing to re-revoke his press credentials, sending him a letter laying out his purported offenses and giving him a chance to respond.
The letter was sent Friday, just hours after a federal judge ruled the White House had acted hastily in revoking his press pass the first time, after a disruptive press conference with the president earlier this month.
After the judge scolded the White House for not giving Mr. Acosta due process — a chance to argue his case — the new letter, filed in court documents Monday morning, gave him until Sunday night to respond.
---
Report: Fla. Election Chief Snipes Resigns
Beleaguered Broward County election chief Brenda Snipes on Sunday submitted her resignation following a messy recount in Florida for U.S. Senate, governor and agriculture commissioner, according to the South Florida Sun-Sentinel.
"It is true; she did send it," said Snipes' attorney Burnadette Norris-Weeks, who saw a draft of the letter.
Snipes, 75, was condemned for sending results two minutes after Thursday's 3 p.m. ET recount deadline in the race between Gov. Rick Scott and incumbent Sen. Bill Nelson, D-Fla., for Senate.
Snipes was also sued by Scott's Senate campaign, which alleged "fraud" in the vote count. Scott won the race against Sen. Nelson after a manual recount.
It is not the first lawsuit against Snipes, and the lengthy recount was not the first, either.
---
Facebook is on track to post its longest losing streak ever, and some say there's more pain ahead
Facebook is facing a mountain of problems.
The social media giant's stock fell nearly 5 percent on Monday, hitting its lowest level since February 2017, as the social media company came under fire after a damaging report about its top management in The New York Times.
Facebook is poised to close its third straight month in the red, which would mark its longest monthly losing streak on record. Furthermore, Facebook is on track for its longest quarterly losing streak since 2013, and its first full year of losses since going public. According to some experts, the stock isn't done falling.
---
Sen. Grassley chides Trump: Stop publicly criticizing John Kelly
Sen. Charles E. Grassley said Monday he wants President Trump to not publicly criticize White House Chief of Staff John F. Kelly out of respect of his military service.
The current chief of staff served more than 45 years in the Marines and retired in 2016.
Mr. Kelly appears to be on the outs with the president, as speculation swirls around whether or not Mr. Trump will push him out of the administration.
The president told Fox News' Chris Wallace that he isn't entirely satisfied with Mr. Kelly's work.
---
Nancy on the ropes? Pelosi faces serious challenge from Dems in bid to be House speaker
Tim Ryan says the party should look elsewhere to better reflect Rust Belt states, black women
Rep. Tim Ryan had just been sworn in to Congress when he first voted for Nancy Pelosi to be speaker of the House in 2003.
The Ohio Democrat voted for her again in the next seven elections, helping elevate her to the role and making her the first-ever woman to reach the House's highest post in 2007, and sticking with her even after Democrats lost the chamber in 2011.
In his 16 years in Congress, Mr. Ryan has never known a Democratic leader other than Mrs. Pelosi. He says it's long enough.
Despite overseeing Democrats' surge back to the majority, Mrs. Pelosi is facing a serious challenge from within her own ranks from a rump group of lawmakers who say the party needs new blood at the top. Mr. Ryan, who's one of Mrs. Pelosi's chief antagonists, says the party needs to look elsewhere to reflect Rust Belt states critical to Democrats' fortunes, and the black women who are the "backbone" of the Democratic vote.
---
Trump Rips Bill Clinton: 'Missed His Shot' on Osama Bin Laden
President Donald Trump on Monday continued to bemoan the length of time it took for the United States to locate al-Qaida leader Osama bin Laden, attacking former President Bill Clinton for having "missed his shot."
"Of course we should have captured Osama Bin Laden long before we did," Trump tweeted Monday morning. "I pointed him out in my book just BEFORE the attack on the World Trade Center. President Clinton famously missed his shot. We paid Pakistan Billions of Dollars & they never told us he was living there. Fools!.."
He continued in a second tweet, "....We no longer pay Pakistan the $Billions because they would take our money and do nothing for us, Bin Laden being a prime example, Afghanistan being another. They were just one of many countries that take from the United States without giving anything in return. That's ENDING!"
---
Consistency, the hobgoblin in North Korea
New imagery taken by commercial satellites shows that North Korea is continuing to deploy nuclear-capable ballistic missiles at undisclosed bases, according to a study released last week by the Center for Strategic and International Studies (CSIS).
The CSIS study centers on the "Sakkanmol" base, one of between a dozen and 20 such undisclosed bases. It says the base covers several square miles and contains long tunnels sufficient to house 18 mobile missile launch vehicles. What's news to the public was certainly already known to the Pentagon because our spy satellites pass over North Korea several times a day.
The New York Times and The Washington Post seized upon the CSIS report quickly to insist that President Trump's diplomatic initiative with North Korea's Kim Jong-un had failed and that he was being played for a sucker.
There's some truth in all that, but you'd have to wade through a fog of political harangues to find it.
---
Building on the broadband investment bump
Some rare good news as we emerge from an intense and exhausting political season: In 2017, investment in broadband rose by $1.5 billion to $76.3 billion. This reversed a decline of approximately $3.2 billion in 2015-16.
What made the difference? Regulation. Specifically, the Federal Communications Commission (FCC) repealed the rules it unwisely imposed in 2015 that treated broadband as a monopoly and restored the rules that had been in place for nearly 20 years beforehand, under which the Internet first grew and flourished thanks to billions of dollars in investment and a bipartisan consensus.
This seems like common sense, but for the past several years, the political and tech communities have been mired in a bitter debate over "net neutrality" that obscures the real facts. Broadband is not a monopoly, and policies from the 1930s are inappropriate for the rapidly converging technologies and platforms of today.
"It is discouraging to think how many people are shocked by honesty and how few by deceit."

-- Noel Coward

(1899-1973) British playwright

---

The Medal of Honor is the highest award for valor in action against an enemy force which can be bestowed upon an individual serving in the Armed Services of the United States.

GeneTrerally presented to its recipient by the President of the United States of America in the name of Congress.

The first award of the Medal of Honor was made March 25, 1863 to Private JACOB PARROTT.The last award of the Medal of Honor was made September 15, 2011 to Sergeant DAKOTA MEYER.

Since then there have been: • 3458 recipients of the Medal of Honor.

• Today there are 85 Living Recipients of the Medal of Honor.

Citation


Captain Humbert R. Versace distinguished himself by extraordinary heroism during the period of 29 October 1963 to 26 September 1965, while serving as S-2 Advisor, Military Assistance Advisory Group, Detachment 52, Ca Mau, Republic of Vietnam. While accompanying a Civilian Irregular Defense Group patrol engaged in combat operations in Thoi Binh District, An Xuyen Province, Captain Versace and the patrol came under sudden and intense mortar, automatic weapons, and small arms fire from elements of a heavily armed enemy battalion. As the battle raged, Captain Versace, although severely wounded in the knee and back by hostile fire, fought valiantly and continued to engage enemy targets. Weakened by his wounds and fatigued by the fierce firefight, Captain Versace stubbornly resisted capture by the over-powering Viet Cong force with the last full measure of his strength and ammunition. Taken prisoner by the Viet Cong, he exemplified the tenets of the Code of Conduct from the time he entered into Prisoner of War status. Captain Versace assumed command of his fellow American soldiers, scorned the enemy's exhaustive interrogation and indoctrination efforts, and made three unsuccessful attempts to escape, despite his weakened condition which was brought about by his wounds and the extreme privation and hardships he was forced to endure. During his captivity, Captain Versace was segregated in an isolated prisoner of war cage, manacled in irons for prolonged periods of time, and placed on extremely reduced ration. The enemy was unable to break his indomitable will, his faith in God, and his trust in the United States of America. Captain Versace, an American fighting man who epitomized the principles of his country and the Code of Conduct, was executed by the Viet Cong on 26 September 1965. Captain Versace's gallant actions in close contact with an enemy force and unyielding courage and bravery while a prisoner of war are in the highest traditions of the military service and reflect the utmost credit upon himself and the United States Army.

---

From the Archives

We Have Met the Enemy…
Geoff Metcalf


"They who can give up essential liberty to obtain a little temporary safety deserve neither liberty nor safety.
--Benjamin Franklin
"The American people must be willing to give up a degree of personal privacy in exchange for safety and security."
--Louis Freeh


In the wake of the clamor over the most recent WikiLeaks data dump, 'Vault 7', 'UMBRAGE', et al, it should be noted this is not really anything new. What we are seeing here is simply the evolution of something that goes back to the late 50s (to the incomplete best knowledge I have).

It is kinda cool to finally see even

The New York Times

acknowledging material

I was writing about in 1998

.

In April of 1998 I wrote "Privacy has become an anachronism." I was commenting on "a massive system designed to intercept all your e-mail, fax traffic and more." I was explaining 'Echelon', the illegitimate offspring of a

UKUSA Treaty

signed by the United States, United Kingdom, Canada, Australia and New Zealand. Its purpose was, and is, to have a vast global intelligence monster, which allegedly shares common goals. The system was so "efficient" that reportedly National Security Agency folk from Fort Meade could work from Menwith Hill in England to intercept local communications without either nation having to burden themselves with the formality of seeking approval (a court order) or disclosing the operation. And this was all pre-9/11 and pre-the anti-constitutional

'Patriot Act'

.

It is illegal (without a Judge's signed permission) for the United States to spy on its citizens … kinda. The laws have long been circumvented by a mutual pact among five nations. Under the terms of UKUSA agreement, Britain spies on Americans and America spies on British citizens, and then the two conspirators trade data. A classic technical finesse. It is legal, but the intent to evade the spirit is inescapable.

I often fictionalized the genesis of 'Echelon' as an informal meeting of a group of post war American and British intelligence types drinking in some remote rustic bar. An imagined CIA type complains to his MI6 buddy about the hassles of US laws preventing US intelligence from surveillance of bad guys, and the Brit echoes the same complaint.

"Hey wait a moment mate," says Nigel, the make-believe MI6 guy, "I can spy on your guys and you can spy on our bad players…why don't we just come up with a mechanism whereby we spy on your villains, you spy on our villains, and we just 'share' the intel?"

This system was called ECHELON, and has been kicking around in some form longer than most of you. The result of the UKUSA treaty signed by the United States, United Kingdom, Canada, Australia and New Zealand was, and is, to have a vast global intelligence monster which allegedly shares common goals.

The London Telegraph reported in December of 1997 that the Civil liberties Committee of the European Parliament had officially confirmed the existence and purpose of ECHELON. "A global electronic spy network that can eavesdrop on every telephone, e-mail and telex communication around the world will be officially acknowledged for the first time in a European Commission report. …"

The report noted: "Within Europe all e-mail, telephone and fax communications are routinely intercepted by the United States National Security Agency, transferring all target information from the European mainland via the strategic hub of London, then by satellite to Fort Meade in Maryland via the crucial hub at Menwith Hill, in the North York moors in the UK.

"The ECHELON system forms part of the UKUSA system but unlike many of the electronic spy systems developed during the Cold War, ECHELON was designed primarily for non-military targets: governments, organizations and businesses in virtually every country."

An interesting sidebar appeared in the International Herald Tribune under the headline, "Big Corporate Brother: It Knows More About You Than You Think." The story details Acxiom Corp, which was a humongous information service hidden in the Ozark foothills. Twenty-four hours a day, Acxiom electronically gathered and sorts all kinds of data about 196 million Americans. Credit card transactions and magazine subscriptions, telephone numbers, real estate records, automotive data, hunting, business and fishing licenses, consumer surveys and demographic detail that would make a marketing department's research manager salivate. This relatively new (legal) enterprise was known as "data warehousing" or "data-mining", and it underscores the cruel reality that the fiction of personal privacy has become obsolete. Technology's ability to collect and analyze data has made privacy a quaint albeit interesting dinosaur.

The Tribune reported that "Axciom can often determine whether an American owns a dog or cat, enjoys camping or gourmet cooking, reads the Bible or lots of other books. It can often pinpoint an American's occupation, car and favorite vacations. By analyzing the equivalent of billions of pages of data, it often projects for its customers who should be offered a credit card or who is likely to buy a computer."

Most of this information is from y 1998 piece. Echelon has developed, matured, and morphed into a much more powerful hybrid. 'Carnivore' was software to help triage the cacophony of data. Vault 7 and 'Umbrage' are logical (some would argue "insidious") growth.

More to follow…