"It Is Not A Question of Who Is Right Or Wrong But What Is Right Or Wrong That Counts.

"

--Geoff Metcalf




Wo

rld & National
A former Hillary Clinton adviser says there's a chance she will run in 2020
Ready to go through the 2016 election all over again
Philippe Reines, who worked for Hillary Clinton going back to 2002 and was her senior adviser at the State Department, made the argument to Politico Friday that the former Democratic nominee might actually be the party's best hope for defeating Trump in 2020. He said no other Democrat has "anywhere near a base of 32 million people," especially not Sens. Bernie Sanders (I-Vt.) or Elizabeth Warren (D-Mass.). The party, he feels, shouldn't dismiss her as a failed candidate because she's "smarter" and "tougher" than most, and she "could raise money easier than most."
But it doesn't sound like this is just wishful thinking on his part. He really thinks it could happen, saying the chances of Clinton running in 2020 are "not zero."
Publicly, Clinton has said she will not run again, but Reines doesn't sound so sure she'll keep her word on that. Politico explored Clinton's careful re-entry into the political arena, noting that she's going on tour with former President Bill Clinton this fall and has reportedly even called up journalists who cover the White House to put out "the occasional feeler."
18 DAYS...


How Republicans could [barely] hang on to House...


Trump praises congressman who body-slammed reporter...


Kavanaugh NOT helping?


Battle for suburban women...


Many don't plan to vote...


2 years after trauma of hack, DNC builds tech team with veteran bench...




PAPER: TX DEMS ASK NONCITIZENS TO REGISTER TO VOTE...




Beto supporters can't name any of his accomplishments...




OCASIO-CORTEZ: Like, Like, Like, for Sure, Like, Yeah, Yeah, Like, Like Yeah...

---
Texas Dems ask noncitizens to register to vote, send applications with citizenship box pre-checked
The Texas Democratic Party asked non-citizens to register to vote, sending out applications to immigrants with the box citizenship already checked "Yes," according to new complaints filed Thursday asking prosecutors to see what laws may have been broken.
The Public Interest Legal Foundation alerted district attorneys and the federal Justice Department to the pre-checked applications, and also included a signed affidavit from a man who said some of his relatives, who aren't citizens, received the mailing.
"This is how the Texas Democratic Party is inviting foreign influence in an election in a federal election cycle," said Logan Churchwell, spokesman for the PILF, a group that's made its mark policing states' voter registration practices.
The Texas secretary of state's office said it, too, had gotten complaints both from immigrants and from relatives of dead people who said they got mailings asking them to register.
---
Pompeo scolds ABC News for 'factually false' report he listened to Khashoggi murder tape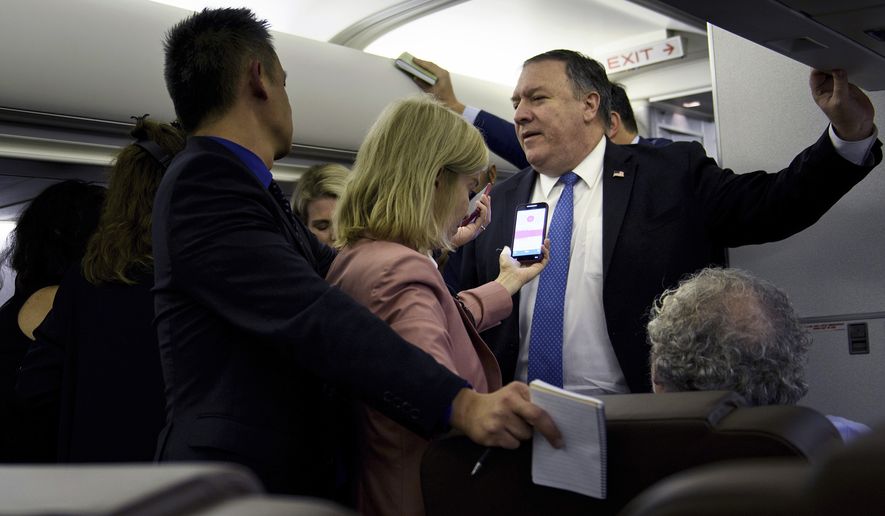 Secretary of State Mike Pompeo is flatly denying an ABC News report that said he listened to, and read the transcript of, audio of columnist Jamal Khashoggi being murdered in the Saudi Arabian consulate in Istanbul.
ABC quoted a "senior Turkish official" for the bombshell story that indirectly confirms that such a tape exists and that a Saudi hit squad killed Mr. Khashoggi.
The Turks have leaked a number of sensational allegations to the U.S. press about how the missing Islamic activist met his demise. To date, the administration of Recep Erdogan hasn't released any video or audio evidence which would apparently have come from bugging the consulate.
---
Turkey's Foreign Minister: We Have Not Shared Khashoggi Audio with US
---
Kelly, Bolton Get in Profane Shouting Match Outside the Oval Office
President Donald Trump's chief of staff and his national security adviser engaged in a heated argument outside the Oval Office on Thursday, according to three people familiar with the episode.
The chief of staff, John Kelly, and the national security adviser, John Bolton, fought over immigration and border crossings, including the performance of the Homeland Security Department under Secretary Kirstjen Nielsen, one person familiar with the matter said. She was at the White House for meetings on Thursday, but the people disagreed about whether she witnessed the argument.
Bolton criticized DHS, and Kelly defended Nielsen, a former deputy whom he supported to replace him at the department. Two people described the exchange as less a shouting match than an intense argument. Kelly then stormed away, so upset that he uttered some profanities.
---
Mexico asks UN for help with Migrant Caravan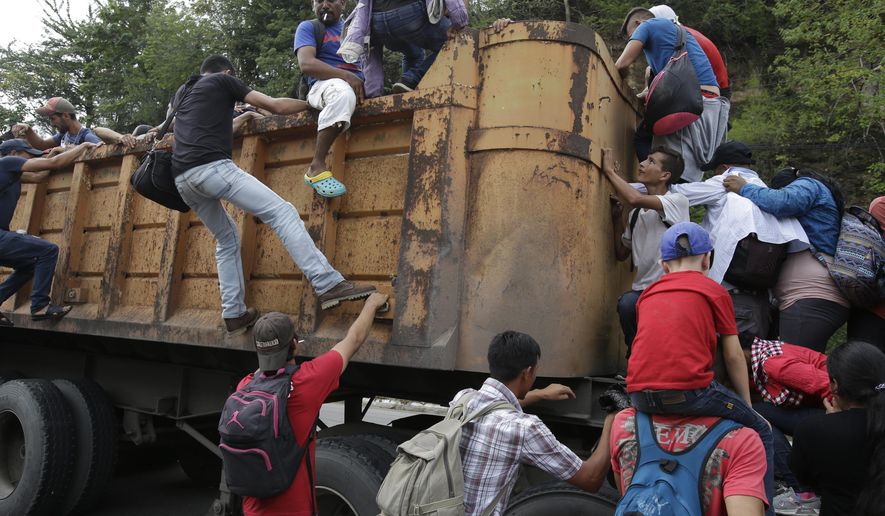 Mexico has asked the United Nations for assistance with the migrant caravan knocking on its border, saying international officials must help figure out who deserves asylum and who should be deported or refused entry.
Hundreds of Mexican police faced off Thursday across the Mexico-Guatemala border against the vanguard of the caravan, which has grown to some 4,000 people, mostly from Honduras. Some migrants reportedly made it to shelters in Mexico.
Mexican officials were desperately trying to block the migrants after President Trump threatened Thursday to cancel his proposed U.S.-Mexico-Canada trade deal as punishment for Mexico's failure to patrol its southern border.
---
Pelosi on the 'collateral damage' of Democrats' economic policies: 'So be it'
House Minority Leader Nancy Pelosi said American voters will simply have to deal with the "collateral damage" that comes their way if Democrats craft economic policies in the years ahead.
The California Democrat recently sat down with New York Times columnist Paul Krugman in the Big Apple to discuss public policy. The event, hosted by the Jewish organization 92nd Street Y, included a portion on climate change that sparked the lawmaker's pronouncement.
"We owe the American people to be there for them, for their financial security, respecting the dignity and worth of every person in our country, and if there is some collateral damage for some others who do not share our view, well, so be it, but it shouldn't be our original purpose," she said Sunday.
---
Public May Never See Mueller Report
Special counsel Robert Mueller's report on Russian election interference might never be seen by the public, according to Politico.
"That's just the way this works," said John Q. Barrett, a former associate counsel who helped investigate arms sales to Iran under former President Ronald Reagan. "Mueller is a criminal investigator. He's not government oversight, and he's not a historian."
"He won't be a good witness," said Paul Rosenzweig, a former senior counsel to independent counsel Kenneth Starr who is now a senior fellow at the R Street Institute. "His answers will be, 'yes', 'no' and 'maybe.'"
---
Looking for answers beyond the pale
Nobody in the West really understands the Arab mind. Killing a political adversary is understandable, though heartily to be disapproved of. But cutting up the corpse with a surgical saw, and doing it without first waiting for the poor guy to die, is beyond the Western, Judeo-Christian pale.
If that's what happened to Jamal Khashoggi in the Saudi Consulate in Istanbul, no Middle East hand old or otherwise will be surprised.
"So," says Daniel Pipes, president of the Middle East Forum, "Mohammad bin Salman [the crown prince of Saudi Arabia], "is on a wild tear, but no one notices until a journalist resident in the United States is, apparently, savagely disposed of? We should know by now what the Saudi regime is, and if we did, the Khashoggi incident would be dismaying, but not shocking."
---
Trump's foreign policy reset
The release of Pastor Andrew Brunson and his return home to the United States was an answer to the prayers of millions and the result of an administration that has reset our foreign policy by fearlessly engaging on issues that other administrations only talked about addressing.
Some might be hesitant to use the term reset as it pertains to U.S. foreign policy, but that is what the Trump administration has accomplished. They have especially reconfigured our approach as it relates to the well-being of Americans treated unjustly by foreign governments as hostages and by the recognition that religious freedom is a fundamental human right.
The images of Pastor Andrew Brunson sitting next to President Trump in the Oval Office, broadcast around the world less than 24 hours after he was released from Turkish custody, were the culmination of months of dogged diplomacy and fierce determination to see an American citizen come home.
"It is discouraging to think how many people are shocked by honesty and how few by deceit."

-- Noel Coward

(1899-1973) British playwright

---

The Medal of Honor is the highest award for valor in action against an enemy force which can be bestowed upon an individual serving in the Armed Services of the United States.

GeneTrerally presented to its recipient by the President of the United States of America in the name of Congress.

The first award of the Medal of Honor was made March 25, 1863 to Private JACOB PARROTT.The last award of the Medal of Honor was made September 15, 2011 to Sergeant DAKOTA MEYER.

Since then there have been: • 3458 recipients of the Medal of Honor.

• Today there are 85 Living Recipients of the Medal of Honor.

Citation


Captain Humbert R. Versace distinguished himself by extraordinary heroism during the period of 29 October 1963 to 26 September 1965, while serving as S-2 Advisor, Military Assistance Advisory Group, Detachment 52, Ca Mau, Republic of Vietnam. While accompanying a Civilian Irregular Defense Group patrol engaged in combat operations in Thoi Binh District, An Xuyen Province, Captain Versace and the patrol came under sudden and intense mortar, automatic weapons, and small arms fire from elements of a heavily armed enemy battalion. As the battle raged, Captain Versace, although severely wounded in the knee and back by hostile fire, fought valiantly and continued to engage enemy targets. Weakened by his wounds and fatigued by the fierce firefight, Captain Versace stubbornly resisted capture by the over-powering Viet Cong force with the last full measure of his strength and ammunition. Taken prisoner by the Viet Cong, he exemplified the tenets of the Code of Conduct from the time he entered into Prisoner of War status. Captain Versace assumed command of his fellow American soldiers, scorned the enemy's exhaustive interrogation and indoctrination efforts, and made three unsuccessful attempts to escape, despite his weakened condition which was brought about by his wounds and the extreme privation and hardships he was forced to endure. During his captivity, Captain Versace was segregated in an isolated prisoner of war cage, manacled in irons for prolonged periods of time, and placed on extremely reduced ration. The enemy was unable to break his indomitable will, his faith in God, and his trust in the United States of America. Captain Versace, an American fighting man who epitomized the principles of his country and the Code of Conduct, was executed by the Viet Cong on 26 September 1965. Captain Versace's gallant actions in close contact with an enemy force and unyielding courage and bravery while a prisoner of war are in the highest traditions of the military service and reflect the utmost credit upon himself and the United States Army.

---

From the Archives

We Have Met the Enemy…
Geoff Metcalf


"They who can give up essential liberty to obtain a little temporary safety deserve neither liberty nor safety.
--Benjamin Franklin
"The American people must be willing to give up a degree of personal privacy in exchange for safety and security."
--Louis Freeh


In the wake of the clamor over the most recent WikiLeaks data dump, 'Vault 7', 'UMBRAGE', et al, it should be noted this is not really anything new. What we are seeing here is simply the evolution of something that goes back to the late 50s (to the incomplete best knowledge I have).

It is kinda cool to finally see even

The New York Times

acknowledging material

I was writing about in 1998

.

In April of 1998 I wrote "Privacy has become an anachronism." I was commenting on "a massive system designed to intercept all your e-mail, fax traffic and more." I was explaining 'Echelon', the illegitimate offspring of a

UKUSA Treaty

signed by the United States, United Kingdom, Canada, Australia and New Zealand. Its purpose was, and is, to have a vast global intelligence monster, which allegedly shares common goals. The system was so "efficient" that reportedly National Security Agency folk from Fort Meade could work from Menwith Hill in England to intercept local communications without either nation having to burden themselves with the formality of seeking approval (a court order) or disclosing the operation. And this was all pre-9/11 and pre-the anti-constitutional

'Patriot Act'

.

It is illegal (without a Judge's signed permission) for the United States to spy on its citizens … kinda. The laws have long been circumvented by a mutual pact among five nations. Under the terms of UKUSA agreement, Britain spies on Americans and America spies on British citizens, and then the two conspirators trade data. A classic technical finesse. It is legal, but the intent to evade the spirit is inescapable.

I often fictionalized the genesis of 'Echelon' as an informal meeting of a group of post war American and British intelligence types drinking in some remote rustic bar. An imagined CIA type complains to his MI6 buddy about the hassles of US laws preventing US intelligence from surveillance of bad guys, and the Brit echoes the same complaint.

"Hey wait a moment mate," says Nigel, the make-believe MI6 guy, "I can spy on your guys and you can spy on our bad players…why don't we just come up with a mechanism whereby we spy on your villains, you spy on our villains, and we just 'share' the intel?"

This system was called ECHELON, and has been kicking around in some form longer than most of you. The result of the UKUSA treaty signed by the United States, United Kingdom, Canada, Australia and New Zealand was, and is, to have a vast global intelligence monster which allegedly shares common goals.

The London Telegraph reported in December of 1997 that the Civil liberties Committee of the European Parliament had officially confirmed the existence and purpose of ECHELON. "A global electronic spy network that can eavesdrop on every telephone, e-mail and telex communication around the world will be officially acknowledged for the first time in a European Commission report. …"

The report noted: "Within Europe all e-mail, telephone and fax communications are routinely intercepted by the United States National Security Agency, transferring all target information from the European mainland via the strategic hub of London, then by satellite to Fort Meade in Maryland via the crucial hub at Menwith Hill, in the North York moors in the UK.

"The ECHELON system forms part of the UKUSA system but unlike many of the electronic spy systems developed during the Cold War, ECHELON was designed primarily for non-military targets: governments, organizations and businesses in virtually every country."

An interesting sidebar appeared in the International Herald Tribune under the headline, "Big Corporate Brother: It Knows More About You Than You Think." The story details Acxiom Corp, which was a humongous information service hidden in the Ozark foothills. Twenty-four hours a day, Acxiom electronically gathered and sorts all kinds of data about 196 million Americans. Credit card transactions and magazine subscriptions, telephone numbers, real estate records, automotive data, hunting, business and fishing licenses, consumer surveys and demographic detail that would make a marketing department's research manager salivate. This relatively new (legal) enterprise was known as "data warehousing" or "data-mining", and it underscores the cruel reality that the fiction of personal privacy has become obsolete. Technology's ability to collect and analyze data has made privacy a quaint albeit interesting dinosaur.

The Tribune reported that "Axciom can often determine whether an American owns a dog or cat, enjoys camping or gourmet cooking, reads the Bible or lots of other books. It can often pinpoint an American's occupation, car and favorite vacations. By analyzing the equivalent of billions of pages of data, it often projects for its customers who should be offered a credit card or who is likely to buy a computer."

Most of this information is from y 1998 piece. Echelon has developed, matured, and morphed into a much more powerful hybrid. 'Carnivore' was software to help triage the cacophony of data. Vault 7 and 'Umbrage' are logical (some would argue "insidious") growth.

More to follow…