"It Is Not A Question of Who Is Right Or Wrong But What Is Right Or Wrong That Counts.

"

--Geoff Metcalf



Wo
rld & National
Asia Argento Paid Off Sexual Assault Accuser
Argento was one of the first and most vocal accusers of disgraced movie mogul Harvey Weinstein.
Asia Argento, the Italian actress who was one of the first to publicly accuse Harvey Weinstein of sexual assault, secretly paid off a young male actor accusing her of sexual misconduct in the months after her revelations about the disgraced movie mogul.
According to a report in The New York Times, Argento paid former child actor Jimmy Bennett $380,000. Bennett claims that in 2013, a then 37-year-old Argento assaulted him in a California hotel only two months past his 17th birthday. The age of consent in California is 18.
---
WSJ: Trump Set to Make Dramatic Changes to Military Leadership
President Donald Trump is preparing to make major changes to U.S. military leadership to reflect an emphasis on stealth operations, including switching out commanders across the Middle East and Europe, according to a report in The Wall Street Journal.
Trump is expected to formally nominate Army Lt. Gen. Richard Clarke, a former officer who played a role in the raid to capture Osama bin Laden, to lead the U.S. Special Operations Command based in Tampa, Fla., in the coming months. He would succeed Army Gen. Tony Thomas, who is retiring next year.
The Special Operations Command oversees the specialized forces of all military branches.
---
Leak of White House counsel's cooperation shows Mueller's team 'panicking,' Giuliani says
Trump had 'no problem' with White House counsel's testimony
Trump attorney Rudolph W. Giuliani refuted speculation Sunday that White House counsel Donald McGahn had flipped on President Trump, accusing "desperate" investigators of leaking information about the attorney's cooperation with the special counsel in order to lure the president into a perjury trap.
"They're down to desperation time," Mr. Giuliani said on NBC's "Meet the Press." "They have to write a report, and they don't have a single bit of evidence."
The New York Times, citing multiple unidentified sources, reported Saturday that Mr. McGahn had spent 30 hours over three days answering questions as part of special counsel Robert Mueller's investigation into Russian election interference.
---
James Clapper criticizes 'freight train' John Brennan for overheated anti-Trump rhetoric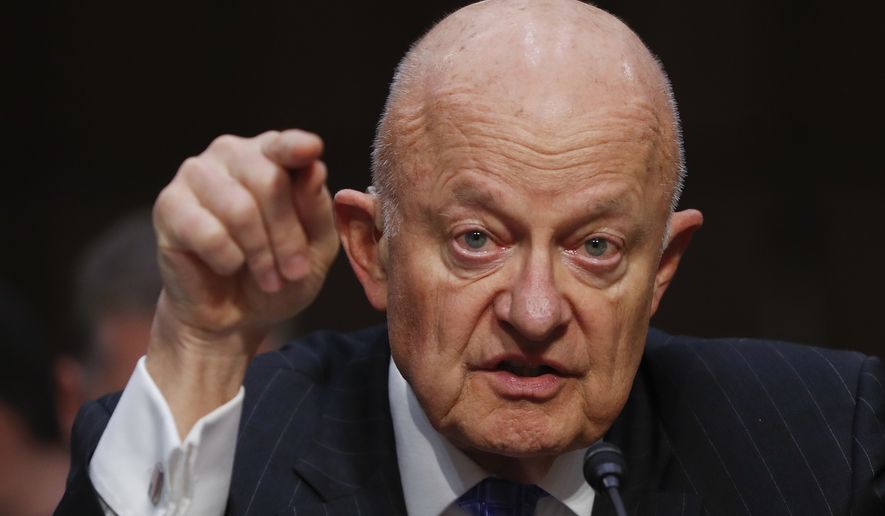 President Trump recently called ex-CIA director John Brennan a "loudmouth," and other intelligence officials wouldn't necessarily disagree.
Former Director of National Intelligence James Clapper on Sunday criticized Mr. Brennan's overheated rhetoric, specifically his description last month of Mr. Trump's behavior at Helsinki as "nothing short of treasonous."
"John and his rhetoric have become I think an issue in and of itself," said Mr. Clapper on CNN's "State of the Union."
---
Pope Francis on sex abuse: 'We showed no care for the little ones'
Pope Francis issued a letter to Catholics around the world Monday condemning the "crime" of priestly sexual abuse and its cover-up and demanding accountability, in response to new revelations in the United States of decades of misconduct by the Catholic Church.
Francis begged forgiveness for the pain suffered by victims and said lay Catholics must be involved in any effort to root out abuse and cover-up. He blasted the self-referential clerical culture that has been blamed for the crisis, with church leaders more concerned for their reputation than the safety of children.
"With shame and repentance, we acknowledge as an ecclesial community that we were not where we should have been, that we did not act in a timely manner, realizing the magnitude and the gravity of the damage done to so many lives," Francis wrote.
---
Gretchen Carlson Denies Claim She "Silenced" and Bullied Miss America
Carlson wrote that she was "surprised and saddened" by Cara Mund's accusations, which have cost the organization $75,000 in scholarships, and she is "concerned that it will dilute the experience for the next woman selected to wear the crown."
Gretchen Carlson, a former Miss America who now serves as chairwoman of the organization's board of directors, on Sunday responded to claims by current Miss America Cara Mund that she has been bullied, manipulated and silenced by the pageant's current leadership, including Carlson and CEO Regina Hopper.
In a letter sent Friday to former Miss Americas, Mund said she decided to speak out despite the risk of punishment.
---
Ellison's political future 'on the ropes' after ex-girlfriend's claims of abuse
Rep. Keith Ellison's political future is "on the ropes" following allegations of domestic abuse that have cast a pall over the congressman's bid to become Minnesota's next attorney general and made some Democrats skittish about getting too close to him in public.
A couple of liberal organizations have called on Mr. Ellison, who is stepping down from his House seat to run for attorney general, to pull the plug on his campaign. Others that were excited about his candidacy have gone quiet.
"Keith Ellison is on the ropes," said Larry Jacobs, director of the Center for the Study of Politics and Governance at the University of Minnesota.
Mr. Ellison's ex-girlfriend Karen Monahan and her son accuse him of physical and verbal abuse — and claim it was caught on tape.
---
White House rejects Turkey's offer on detained pastor
The White House rejected Turkey's offer to release detained American pastor Andrew Brunson in exchange for the U.S. dropping an investigation into Turkish bank Halkbank, a senior White House official told the Wall Street Journal on Sunday.
Ankara offered to drop terrorism charges against Brunson if the U.S. pulled back the billions of dollars in fines it has brought against Halkbank. The U.S. reportedly declined the offer, setting in motion the possibility of further retaliatory measures against Turkey.
"A real NATO ally wouldn't have arrested Brunson in the first place," the source told the Journal.
The Trump administration has turned Brunson's detention into a rallying call among Christian conservatives, particularly Evangelicals, and the president has feuded with Turkish President Recep Tayyip Erdogan openly over the American pastor. The U.S. has called the charges against him baseless.
---
Providing better deals for health coverage
More than a dozen state attorneys general just sued the Department of Labor over a new rule that makes it easier for small businesses and self-employed individuals to form "association health plans." AHPs enable these firms and sole proprietors to band together to negotiate with insurers for better deals for health coverage.
The attorneys general claim the rule violates consumer protections in the Affordable Care Act. But the opposite is true — the rule will work to the great benefit of consumers.
Since Obamacare's many rules took full effect in 2014, the cost of insurance for small firms and self-employed people has skyrocketed. AHPs will grant them access to the affordable, high-quality health plans they want and deserve.
---
More double-talk from the left
Recent news proves beyond any doubt that most of our nation's leaders have lost any ability to think clearly and consistently. It also exposes the Big Lie — the fact that members of the elite class really never believed any of their previous posturing about human rights, personal freedom and the dignity of every human being. Their call for diversity and inclusion was simply sleight-of-hand.
It's now quite obvious that their chants for equality and justice, for openness and tolerance, and their claims of being the party of "every man" and the champions of the Great Society, were clearly nothing but a ruse. With every news cycle it appears that those so proud of their progressive wisdom never really meant any of this and, even more telling: It is increasingly clear that they don't even care that we know it.
Consider just a few headlines:
Rep. Maxine Waters persists in encouraging politically liberal restaurant owners to refuse to provide service and food to conservative patrons while at the same time the entire leadership of Ms. Waters' party doubles down on its demands that all conservatives should be required, by law, to provide food and service (i.e. bake a cake) for any non-conservative who aligns himself with Ms. Waters' politics and party.
"It is discouraging to think how many people are shocked by honesty and how few by deceit."
-- Noel Coward
(1899-1973) British playwright
---
The Medal of Honor is the highest award for valor in action against an enemy force which can be bestowed upon an individual serving in the Armed Services of the United States.
GeneTrerally presented to its recipient by the President of the United States of America in the name of Congress.
The first award of the Medal of Honor was made March 25, 1863 to Private JACOB PARROTT.The last award of the Medal of Honor was made September 15, 2011 to Sergeant DAKOTA MEYER.
Since then there have been: • 3458 recipients of the Medal of Honor.
• Today there are 85 Living Recipients of the Medal of Honor.
Citation
Captain Humbert R. Versace distinguished himself by extraordinary heroism during the period of 29 October 1963 to 26 September 1965, while serving as S-2 Advisor, Military Assistance Advisory Group, Detachment 52, Ca Mau, Republic of Vietnam. While accompanying a Civilian Irregular Defense Group patrol engaged in combat operations in Thoi Binh District, An Xuyen Province, Captain Versace and the patrol came under sudden and intense mortar, automatic weapons, and small arms fire from elements of a heavily armed enemy battalion. As the battle raged, Captain Versace, although severely wounded in the knee and back by hostile fire, fought valiantly and continued to engage enemy targets. Weakened by his wounds and fatigued by the fierce firefight, Captain Versace stubbornly resisted capture by the over-powering Viet Cong force with the last full measure of his strength and ammunition. Taken prisoner by the Viet Cong, he exemplified the tenets of the Code of Conduct from the time he entered into Prisoner of War status. Captain Versace assumed command of his fellow American soldiers, scorned the enemy's exhaustive interrogation and indoctrination efforts, and made three unsuccessful attempts to escape, despite his weakened condition which was brought about by his wounds and the extreme privation and hardships he was forced to endure. During his captivity, Captain Versace was segregated in an isolated prisoner of war cage, manacled in irons for prolonged periods of time, and placed on extremely reduced ration. The enemy was unable to break his indomitable will, his faith in God, and his trust in the United States of America. Captain Versace, an American fighting man who epitomized the principles of his country and the Code of Conduct, was executed by the Viet Cong on 26 September 1965. Captain Versace's gallant actions in close contact with an enemy force and unyielding courage and bravery while a prisoner of war are in the highest traditions of the military service and reflect the utmost credit upon himself and the United States Army.
---
From the Archives

We Have Met the Enemy…

Geoff Metcalf
"They who can give up essential liberty to obtain a little temporary safety deserve neither liberty nor safety.
--Benjamin Franklin
"The American people must be willing to give up a degree of personal privacy in exchange for safety and security."
--Louis Freeh

In the wake of the clamor over the most recent WikiLeaks data dump, 'Vault 7', 'UMBRAGE', et al, it should be noted this is not really anything new. What we are seeing here is simply the evolution of something that goes back to the late 50s (to the incomplete best knowledge I have).
It is kinda cool to finally see even
The New York Times
acknowledging material
I was writing about in 1998
.
In April of 1998 I wrote "Privacy has become an anachronism." I was commenting on "a massive system designed to intercept all your e-mail, fax traffic and more." I was explaining 'Echelon', the illegitimate offspring of a
UKUSA Treaty
signed by the United States, United Kingdom, Canada, Australia and New Zealand. Its purpose was, and is, to have a vast global intelligence monster, which allegedly shares common goals. The system was so "efficient" that reportedly National Security Agency folk from Fort Meade could work from Menwith Hill in England to intercept local communications without either nation having to burden themselves with the formality of seeking approval (a court order) or disclosing the operation. And this was all pre-9/11 and pre-the anti-constitutional
'Patriot Act'
.
It is illegal (without a Judge's signed permission) for the United States to spy on its citizens … kinda. The laws have long been circumvented by a mutual pact among five nations. Under the terms of UKUSA agreement, Britain spies on Americans and America spies on British citizens, and then the two conspirators trade data. A classic technical finesse. It is legal, but the intent to evade the spirit is inescapable.
I often fictionalized the genesis of 'Echelon' as an informal meeting of a group of post war American and British intelligence types drinking in some remote rustic bar. An imagined CIA type complains to his MI6 buddy about the hassles of US laws preventing US intelligence from surveillance of bad guys, and the Brit echoes the same complaint.
"Hey wait a moment mate," says Nigel, the make-believe MI6 guy, "I can spy on your guys and you can spy on our bad players…why don't we just come up with a mechanism whereby we spy on your villains, you spy on our villains, and we just 'share' the intel?"
This system was called ECHELON, and has been kicking around in some form longer than most of you. The result of the UKUSA treaty signed by the United States, United Kingdom, Canada, Australia and New Zealand was, and is, to have a vast global intelligence monster which allegedly shares common goals.
The London Telegraph reported in December of 1997 that the Civil liberties Committee of the European Parliament had officially confirmed the existence and purpose of ECHELON. "A global electronic spy network that can eavesdrop on every telephone, e-mail and telex communication around the world will be officially acknowledged for the first time in a European Commission report. …"
The report noted: "Within Europe all e-mail, telephone and fax communications are routinely intercepted by the United States National Security Agency, transferring all target information from the European mainland via the strategic hub of London, then by satellite to Fort Meade in Maryland via the crucial hub at Menwith Hill, in the North York moors in the UK.
"The ECHELON system forms part of the UKUSA system but unlike many of the electronic spy systems developed during the Cold War, ECHELON was designed primarily for non-military targets: governments, organizations and businesses in virtually every country."
An interesting sidebar appeared in the International Herald Tribune under the headline, "Big Corporate Brother: It Knows More About You Than You Think." The story details Acxiom Corp, which was a humongous information service hidden in the Ozark foothills. Twenty-four hours a day, Acxiom electronically gathered and sorts all kinds of data about 196 million Americans. Credit card transactions and magazine subscriptions, telephone numbers, real estate records, automotive data, hunting, business and fishing licenses, consumer surveys and demographic detail that would make a marketing department's research manager salivate. This relatively new (legal) enterprise was known as "data warehousing" or "data-mining", and it underscores the cruel reality that the fiction of personal privacy has become obsolete. Technology's ability to collect and analyze data has made privacy a quaint albeit interesting dinosaur.
The Tribune reported that "Axciom can often determine whether an American owns a dog or cat, enjoys camping or gourmet cooking, reads the Bible or lots of other books. It can often pinpoint an American's occupation, car and favorite vacations. By analyzing the equivalent of billions of pages of data, it often projects for its customers who should be offered a credit card or who is likely to buy a computer."
Most of this information is from y 1998 piece. Echelon has developed, matured, and morphed into a much more powerful hybrid. 'Carnivore' was software to help triage the cacophony of data. Vault 7 and 'Umbrage' are logical (some would argue "insidious") growth.
More to follow…