"It Is Not A Question of Who Is Right Or Wrong But What Is Right Or Wrong That Counts.

"

--Geoff Metcalf
Providing an on line Triage of the news since 1997



Wo

rld & Nation
Prosecutor role puts Adam Schiff on hot seat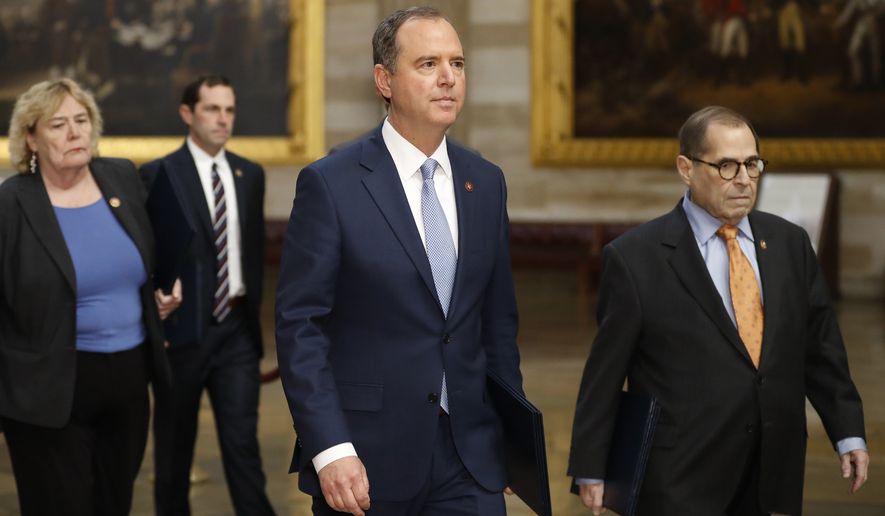 Rep. Adam B. Schiff risks having to answer tough questions about his involvement with a White House whistleblower by serving as a prosecutor at President Trump's trial in the Senate, where senators may be able to hit him with questions about the House case.
As the trial got underway Thursday with the swearing-in of Chief Justice John G. Roberts Jr., senators and other figures in the trial, Senate Republicans considered whether Mr. Schiff's role as a House impeachment manager could put him in the hot seat without calling him as a witness.
Mr. Trump and his Republican allies have clamored for answers about California Democrat's role in starting the impeachment effort. It was revealed in October that Mr. Schiff's staff met with the whistleblower before the complaint that is the basis of the impeachment charges was filed.
Mr. Schiff, chairman of the House Permanent Select Committee on Intelligence, then spearheaded the impeachment inquiry, repeatedly denied knowledge of the whistleblower and worked to keep secret the whistleblower's identity during the inquiry.
---
Trump impeachment defense will include Clinton prosecutor Ken Starr and Alan Dershowitz

President Donald Trump's impeachment defense team will include Ken Starr, whose investigation led to the impeachment of President Bill Clinton, and Harvard law professor Alan Dershowitz, whose clients have included notorious pedophile Jeffrey Epstein.

The Trump team choices came to light as the impeachment trial is set to begin in earnest next Tuesday in the Senate.

President Donald Trump's impeachment defense team will include Ken Starr, whose investigation led to the impeachment of President Bill Clinton, and Harvard law professor Alan Dershowitz, whose clients have included notorious pedophile Jeffrey Epstein.


---
Senate approves Trump's rewrite of North American trade deal
Passage fulfills 2016 campaign pledge; Democratic contenders for White House split on issue
The Senate approved President Trump's rewrite of the North American trade deal Thursday, handing him a second trade victory in as many days while he fights to remain in office.
The U.S.-Mexico-Canada Agreement breezed through on a bipartisan, 89-10 vote just minutes before House lawmakers marched into the chamber with articles of impeachment against Mr. Trump, who said the "USMCA" and Wednesday's initial-stage deal with China show he's delivering good things in the face of a Democratic push to oust him over his Ukraine dealings.
Passage of the USMCA checks off a major campaign promise that Mr. Trump made in 2016. At the time, he railed against trade agreements that many viewed as stacked against American workers.
---
Judge upholds Virginia governor's Capitol gun ban
A judge on Thursday upheld a ban on firearms at a pro-gun rally scheduled for next week in Virginia, rejecting a request from gun-rights groups who had sued to overturn it.
The Virginia Citizens Defense League and Gunowners of America had filed a lawsuit Thursday seeking an injunction against the ban, which Gov. Ralph Northam had imposed on a rally scheduled to take place Monday on the grounds of the Virginia Capitol.
The judge's ruling came hours after the FBI announced the arrest of three alleged white supremacists in Maryland, two of whom authorities said had built an assault rifle using several parts and purchased large quantities of ammunition.
---
'God-given right': Virginia Democrats set off 'Second Amendment sanctuary' spree in Florida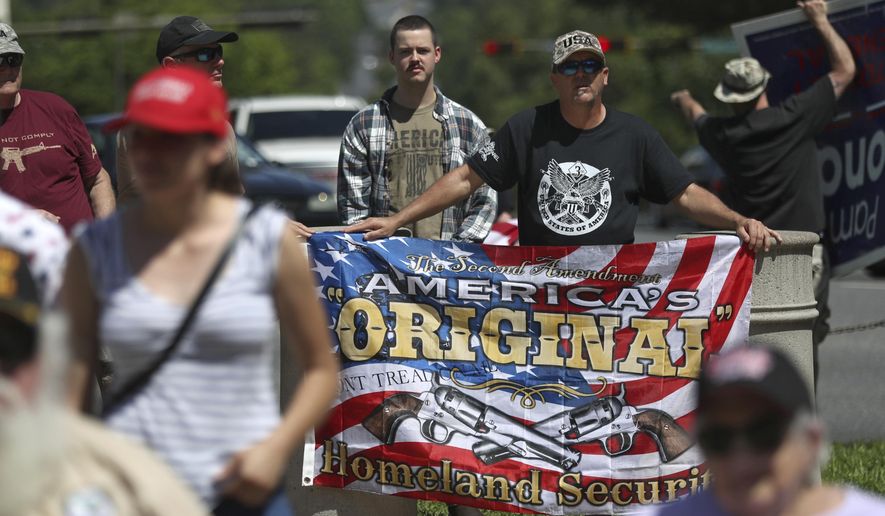 Virginia Democrats' push for new gun controls is having a major ripple effect hundreds of miles south in Florida, where at least 10 counties, fearing their state could be next, have declared themselves "Second Amendment sanctuaries."
With residents' backing, county commissioners have passed resolutions saying they will resist efforts by higher-ups to force gun registration or even confiscation of firearms already in citizens' hands.
On Saturday, gun rights activists plan to rally at government offices in Santa Rosa County, which lies in the Panhandle section of the state with its dense population of military and veterans, hoping to send a message of support to local commissioners and a warning to the Florida legislature not to follow Virginia's path.
---
Iran's Khamenei: Trump Is a 'Clown' Who Will Betray Iranians
Iran's supreme leader slammed President Donald Trump as a "clown" who only pretends to support the Iranian people but will "push a poisonous dagger" into their backs, as he struck a defiant tone in his first Friday sermon in Tehran in eight years.
Ayatollah Ali Khamenei said the mass funerals for Iran's top general, who was killed in a U.S. airstrike earlier this month, show that the Iranian people support the Islamic Republic despite its recent trials. He said the "cowardly" killing of Soleimani had taken out the most effective commander in the battle against the Islamic State group.
In response, Iran launched a barrage of ballistic missiles targeting U.S. troops in Iraq, without causing serious injuries. Khamenei said the strike had dealt a "blow to America's image" as a superpower. In part of the sermon delivered in Arabic, he said the "real punishment" would be in forcing the U.S. to withdraw from the Middle East.
---
11 U.S. service members were injured in Iran's missile attack, Pentagon reveals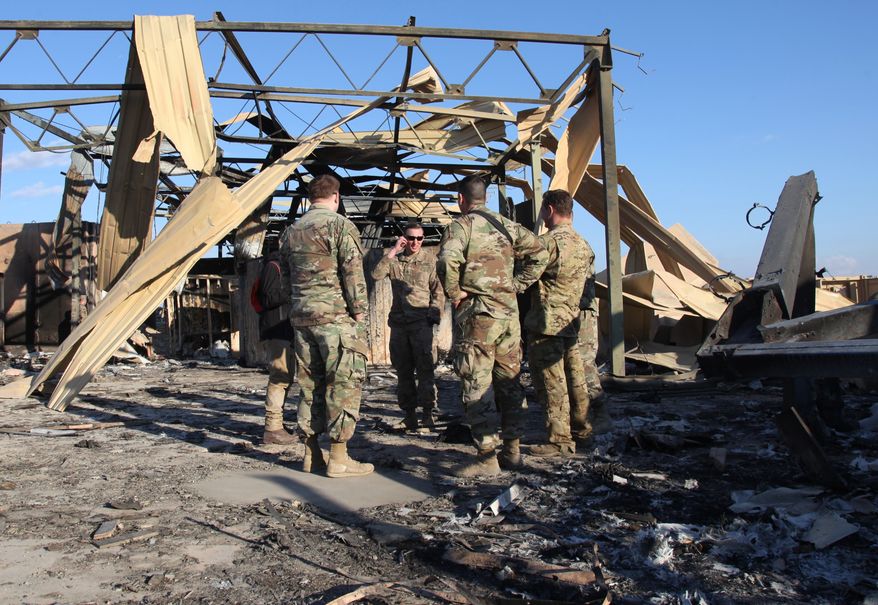 Eleven U.S. service members were treated for concussion symptoms in the days after Iran's Jan. 8 missile attack on an American military base in Iraq, Pentagon officials said late Thursday.
The statement from U.S. Central Command, which oversees operations in the Middle East, is a shift from the Trump administration's previous contention that no Americans had been injured in the attack on Al Asad Air Base.
The incident brought the U.S. and Iran to the brink of war last week and came as direct retaliation for the American airstrike that killed top Iranian Gen. Qassem Soleimani days earlier.
---
Big Tech is worth over $5 trillion now that Alphabet has joined the four comma club
Even as regulators bear down on the top technology companies and some lawmakers seek to break them up, Big Tech is bigger than ever.
On Thursday, Alphabet topped $1 trillion in market value, becoming the fourth U.S. technology company to reach that level, after Apple, Microsoft and Amazon, which has slipped back to about $930 billion.
Adding Facebook into that group, the five most valuable U.S. tech companies are now worth a staggering $5.2 trillion, accounting for over 17% of the S&P 500, according to FactSet. That's up from 11% five years ago, with about two-thirds of the value, or $3.5 trillion, accruing over that stretch.
---
Justice Dept. Investigating Years-Old Leaks and Appears Focused on Comey
Federal prosecutors in Washington are investigating a years-old leak of classified information about a Russian intelligence document, and they appear to be focusing on whether the former F.B.I. director James B. Comey illegally provided details to reporters, according to people familiar with the inquiry.
The case is the second time the Justice Department has investigated leaks potentially involving Mr. Comey, a frequent target of President Trump, who has repeatedly called him a "leaker." Mr. Trump recently suggested without evidence that Mr. Comey should be prosecuted for "unlawful conduct" and spend years in prison.
The timing of the investigation could raise questions about whether it was motivated at least in part by politics. Prosecutors and F.B.I. agents typically investigate leaks of classified information around the time they appear in the news media, not years later. And the inquiry is the latest politically sensitive matter undertaken by the United States attorney's office in Washington, which is also conducting an investigation of Mr. Comey's former deputy, Andrew G. McCabe, that has been plagued by problems.
---
Trump fights for American workers by delivering the United States-Mexico-Canada Agreement
With the United States expected to sign a phase one trade deal with China this week President Trump has shown that he will continue to fight for American workers to create a strong economy that is empowering Made in America manufacturing. The passage in December of the United States-Mexico-Canada Agreement (USMCA) by the House of Representatives was a huge win for American workers and their families.
The Trump administration is working to create jobs, raise wages, help families and hit back at countries that don't play by the rules of international trade. In recent times, unfairly priced and subsidized imports of fabricated structural steel from China, Canada and Mexico have decimated the fabricated structural steel industry, leading to job losses across America's heartland. The fabricated structural steel industry creates employment for 115,000 Americans throughout the country, while supporting hundreds of thousands of indirect jobs.
These high-wage jobs, and the benefits they provide, support tens of thousands of hard-working Americans and their families. In the key states of Maine, New Hampshire, Pennsylvania, Ohio, Michigan, Wisconsin, Minnesota and Iowa, the fabricated structural steel industry directly employs over 18,000 Americans, and indirectly employs many thousands more. In Texas alone, more than 14,000 workers are directly employed by the fabricated structural steel industry.
---
Trump's wine tariff is just a meaningless buzzkill
Why the Trump administration must rethink how the nation makes trade decisions
Americans love wine — especially their international imports. Indeed, around 35 percent of wine sales in America are imported from around the world. Some prefer bubbly, while others enjoy a deep red, but all American wine consumers are facing a problem that just might put their favorite alcoholic beverage out of reach. Months after imposing a 25 percent tax on European wines, the Office of the U.S. Trade Representative announced in early December of 2019 that it's considering a 100 percent tariff on French wine imports. Even worse, the proposed tariff may also be applied to wine's best pairing: cheese.
What did the wine and cheese industry do to the United States? Well, nothing really. So what's the point?
Long story short, President Trump is annoyed with France. In July 2019, France tried to force large American-based digital corporations like Google and Facebook to comply with its newly-passed digital service tax (DST). Mr. Trump denounced this move, and because France hasn't backed down, his response is to hit them with a tariff of 100 percent on wine and other goods like handbags, makeup, and soap — and other products that have nothing to do with the DST.
---
" It is discouraging to think how many people are shocked by honesty and how few by deceit."

-- Noel Coward

(1899-1973) British playwright

---

The Medal of Honor is the highest award for valor in action against an enemy force which can be bestowed upon an individual serving in the Armed Services of the United States.

GeneTrerally presented to its recipient by the President of the United States of America in the name of Congress.

The first award of the Medal of Honor was made March 25, 1863 to Private JACOB PARROTT.The last award of the Medal of Honor was made September 15, 2011 to Sergeant DAKOTA MEYER.

Since then there have been: • 3458 recipients of the Medal of Honor.

• Today there are 85 Living Recipients of the Medal of Honor.

Citation


Captain Humbert R. Versace distinguished himself by extraordinary heroism during the period of 29 October 1963 to 26 September 1965, while serving as S-2 Advisor, Military Assistance Advisory Group, Detachment 52, Ca Mau, Republic of Vietnam. While accompanying a Civilian Irregular Defense Group patrol engaged in combat operations in Thoi Binh District, An Xuyen Province, Captain Versace and the patrol came under sudden and intense mortar, automatic weapons, and small arms fire from elements of a heavily armed enemy battalion. As the battle raged, Captain Versace, although severely wounded in the knee and back by hostile fire, fought valiantly and continued to engage enemy targets. Weakened by his wounds and fatigued by the fierce firefight, Captain Versace stubbornly resisted capture by the over-powering Viet Cong force with the last full measure of his strength and ammunition. Taken prisoner by the Viet Cong, he exemplified the tenets of the Code of Conduct from the time he entered into Prisoner of War status. Captain Versace assumed command of his fellow American soldiers, scorned the enemy's exhaustive interrogation and indoctrination efforts, and made three unsuccessful attempts to escape, despite his weakened condition which was brought about by his wounds and the extreme privation and hardships he was forced to endure. During his captivity, Captain Versace was segregated in an isolated prisoner of war cage, manacled in irons for prolonged periods of time, and placed on extremely reduced ration. The enemy was unable to break his indomitable will, his faith in God, and his trust in the United States of America. Captain Versace, an American fighting man who epitomized the principles of his country and the Code of Conduct, was executed by the Viet Cong on 26 September 1965. Captain Versace's gallant actions in close contact with an enemy force and unyielding courage and bravery while a prisoner of war are in the highest traditions of the military service and reflect the utmost credit upon himself and the United States Army.

---

From the Archives

We Have Met the Enemy…
Geoff Metcalf


"They who can give up essential liberty to obtain a little temporary safety deserve neither liberty nor safety.
--Benjamin Franklin
"The American people must be willing to give up a degree of personal privacy in exchange for safety and security."
--Louis Freeh


In the wake of the clamor over the most recent WikiLeaks data dump, 'Vault 7', 'UMBRAGE', et al, it should be noted this is not really anything new. What we are seeing here is simply the evolution of something that goes back to the late 50s (to the incomplete best knowledge I have).

It is kinda cool to finally see even

The New York Times

acknowledging material

I was writing about in 1998

.

In April of 1998 I wrote "Privacy has become an anachronism." I was commenting on "a massive system designed to intercept all your e-mail, fax traffic and more." I was explaining 'Echelon', the illegitimate offspring of a

UKUSA Treaty

signed by the United States, United Kingdom, Canada, Australia and New Zealand. Its purpose was, and is, to have a vast global intelligence monster, which allegedly shares common goals. The system was so "efficient" that reportedly National Security Agency folk from Fort Meade could work from Menwith Hill in England to intercept local communications without either nation having to burden themselves with the formality of seeking approval (a court order) or disclosing the operation. And this was all pre-9/11 and pre-the anti-constitutional

'Patriot Act'

.

It is illegal (without a Judge's signed permission) for the United States to spy on its citizens … kinda. The laws have long been circumvented by a mutual pact among five nations. Under the terms of UKUSA agreement, Britain spies on Americans and America spies on British citizens, and then the two conspirators trade data. A classic technical finesse. It is legal, but the intent to evade the spirit is inescapable.

I often fictionalized the genesis of 'Echelon' as an informal meeting of a group of post war American and British intelligence types drinking in some remote rustic bar. An imagined CIA type complains to his MI6 buddy about the hassles of US laws preventing US intelligence from surveillance of bad guys, and the Brit echoes the same complaint.

"Hey wait a moment mate," says Nigel, the make-believe MI6 guy, "I can spy on your guys and you can spy on our bad players…why don't we just come up with a mechanism whereby we spy on your villains, you spy on our villains, and we just 'share' the intel?"

This system was called ECHELON, and has been kicking around in some form longer than most of you. The result of the UKUSA treaty signed by the United States, United Kingdom, Canada, Australia and New Zealand was, and is, to have a vast global intelligence monster which allegedly shares common goals.

The London Telegraph reported in December of 1997 that the Civil liberties Committee of the European Parliament had officially confirmed the existence and purpose of ECHELON. "A global electronic spy network that can eavesdrop on every telephone, e-mail and telex communication around the world will be officially acknowledged for the first time in a European Commission report. …"

The report noted: "Within Europe all e-mail, telephone and fax communications are routinely intercepted by the United States National Security Agency, transferring ll target information from the Eurv opean mainland via the strategic hub of London, then by satellite to Fort Meade in Maryland via the crucial hub at Menwith Hill, in the North York moors in the UK.

"The ECHELON system forms part of the UKUSA system but unlike many of the electronic spy systems developed during the Cold War, ECHELON was designed primarily for non-military targets: governments, organizations and businesses in virtually every country."

An interesting sidebar appeared in the International Herald Tribune under the headline, "Big Corporate Brother: It Knows More About You Than You Think." The story details Acxiom Corp, which was a humongous information service hidden in the Ozark foothills. Twenty-four hours a day, Acxiom electronically gathered and sorts all kinds of data about 196 million Americans. Credit card transactions and magazine subscriptions, telephone numbers, real estate records, automotive data, hunting, business and fishing licenses, consumer surveys and demographic detail that would make a marketing department's research manager salivate. This relatively new (legal) enterprise was known as "data warehousing" or "data-mining", and it underscores the cruel reality that the fiction of personal privacy has become obsolete. Technology's ability to collect and analyze data has made privacy a quaint albeit interesting dinosaur.

The Tribune reported that "Axciom can often determine whether an American owns a dog or cat, enjoys camping or gourmet cooking, reads the Bible or lots of other books. It can often pinpoint an American's occupation, car and favorite vacations. By analyzing the equivalent of billions of pages of data, it often projects for its customers who should be offered a credit card or who is likely to buy a computer."

Most of this information is from y 1998 piece. Echelon has developed, matured, and morphed into a much more powerful hybrid. 'Carnivore' was software to help triage the cacophony of data. Vault 7 and 'Umbrage' are logical (some would argue "insidious") growth.

More to follow…