"It Is Not A Question of Who Is Right Or Wrong But What Is Right Or Wrong That Counts.

"

--Geoff Metcalf
Wo

rld & National
Trump warns Iran of 'obliteration' over any more attacks on U.S. military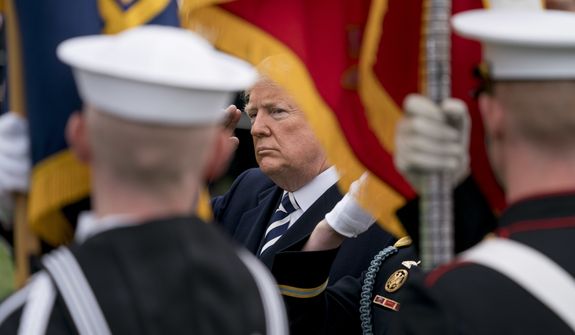 President Trump hit back at Iran's president for insulting him Tuesday and warned that Iran faces "obliteration" if Tehran ever again attacks any part of the U.S. military.

"Iran's very ignorant and insulting statement, put out today, only shows that they do not understand reality," Mr. Trump said on Twitter. "Any attack by Iran on anything American will be met with great and overwhelming force. In some areas, overwhelming will mean obliteration. No more John Kerry & Obama!"

The president was responding to comments Tuesday by Iranian President Hassan Rouhani, who dismissed new U.S. sanctions on Supreme Leader Ali Khamenei as "outrageous and idiotic" and described the White House as "mentally retarded."



---
Iran leaders lash out at White House over "idiotic" new sanctions
Officials in Iran lashed out on Tuesday at the latest round of sanctions imposed by the Trump administration, casting doubt on any hope of an imminent diplomatic end to the standoff over the Islamic Republic's nuclear program. President Hassan Rouhani called the new U.S. sanctions "outrageous and idiotic," and suggested the Trump administration was "afflicted by mental retardation" for imposing them.
The country's foreign ministry spokesman said the latest move by the U.S. brought a "permanent closure" to any hope of diplomacy between the two nations.
President Trump imposed the new sanctions on Monday. For the first time they target Iran's Supreme Leader Ayatollah Ali Khamenei directly, barring his access to the international financial system. The punitive measures -- which add to a long list of financial sanctions already slapped on Tehran by Mr. Trump since he pulled the U.S. out of the nuclear deal with Iran last year -- also target other officials.
---
Dems say they can pass border-crisis bill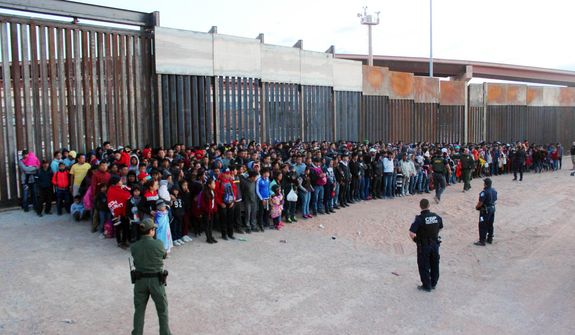 House Democrats say they've tamped down a mini-rebellion and have the votes to pass their border crisis spending bill later Tuesday.
Speaker Nancy Pelosi said they'll speed the measure to the floor, and replied "Yes" when asked if they would be able to pass it.
"It's for the children, the children, the children," she said.
She and fellow leaders spent the night trying to figure out changes they could make to win over wavering Democrats who are wary of voting for anything that seems to deliver a win for President Trump on immigration.
---
Mexico deploys 15,000 troops to U.S. border to block migrants
Mexico now has some 15,000 troops deployed to its northern border with the U.S. to try to help control the flow of migrants headed north, a top official revealed Monday.
Defense Minister Luis Cresencio Sandoval said the personnel is a mix of army units and the country's national guard, and he acknowledged they are detaining migrants preparing to cross into the U.S.
"We simply detain them and turn them over to the authorities," he said, according to Agence France Presse, a news wire service.
The detentions are a change in tactics for Mexico, which is moving to try to placate President Trump. Mr. Trump had threatened to impose crippling tariffs on Mexico unless that country did more to stop the 4,000 to 5,000 Central American migrants crossing its territory each day, en route to the U.S.
---
Bernie Sanders faces a new kind of threat in Elizabeth Warren
The Bernie Sanders campaign, facing a new challenge in the rise of Elizabeth Warren, has settled for now on a careful if sometimes awkward strategy: emphasizing Sanders's unique position in the liberal movement, while avoiding direct attacks on Warren and rolling out plans that overlap with her attention-grabbing ideas.
That approach was on display Monday as Sanders introduced a proposal to cancel all student debt across the country. His plan came less than two weeks after Warren announced her own idea for scrapping student debt, one that would cover fewer people than Sanders's would. "Under the proposal we introduced today, all student debt would be canceled in six months," Sanders said.
---
Consumer confidence drops to lowest level since September 2017
Consumer confidence is on the decline.
The Conference Board's Consumer Confidence Index tumbled to 121.5 in June, dropping from a downwardly revised reading of 131.3 in May and snapping three consecutive months of improvements.
June's results missed consensus expectations for a reading of 131.0, according to Bloomberg-compiled data, and marked the lowest level in nearly two years.
---
Advanced Russian warship enters Havana harbor
One of the Russian navy's most advanced warships entered Havana's harbor Monday and docked at the port used until this month by U.S. cruise lines. Here are some questions and answers about the Admiral Gorshkov's travels through the Caribbean.
The Admiral Gorshkov entered service last year. It is one of the Russian navy's most advanced warships and is armed with cruise missiles, air defense systems and other weapons. The frigate is based at the Arctic port of Severomorsk and is part of Russia's Northern Fleet. It's the first ship in a new class of frigates intended to replace aging Soviet-era destroyers to project power far away from Russian shores. It is accompanied by the multifunctional logistics vessel Elbrus, the medium sea tanker Kama and the rescue tug Nikolai Chiker, the Russian navy says.
The navy says the Admiral Gorshkov crossed through the Panama Canal into the Caribbean Sea on or around June 18. The naval group has covered a distance of over 28,000 nautical miles since leaving Severomorsk in February, with stops in China, Djibouti, Sri Lanka and Colombia, the navy says. It says the ships are scheduled to make calls at several Caribbean ports, without specifying which. The naval group was greeted with a 21-gun salute from Cuban forces stationed at the entrance to the Bay of Havana. The Gorshkov responded with its own salute.
---
Sheriff investigating threats against Oregon Republican chairman as walkout enters day five
The Benton County Sheriff is investigating threats made against Oregon Republican Party chairman Bill Currier, adding to the tension surrounding the standoff between the Democratic governor and runaway Republicans in the state Senate.
Mr. Currier and Becky Currier, his wife, received a total of three messages Sunday morning on their cellphones from what sounded like the same unidentified man threatening their family, according to audio recordings provided to The Washington Times.
"Bill, what if something bad happens to your family? What if somebody shoots them or something bad happens? I think you should be worried," said one message.
Another message said: "F– you. What if something happens to your family? What if somebody gets hurt? What are you going to do then?"
The messages were received after Mr. Currier did interviews with news outlets, including Breitbart radio, defending the 11 Senate Republicans who left the state Thursday to deny a quorum to Senate Democrats seeking to pass a hotly contested cap-and-trade bill.
---
2020 Democrats 'tripping over each other' to prove pro-marijuana bona fides
Marijuana activists say it's time the Democratic Party shows just how far it's moved away from its antipathy to pot, as 20 of the party's candidates gather in Miami this week for their first debates of the 2020 presidential campaign season.
Four years ago, during the last round of Democratic primary debates, Hillary Clinton declined to take a position on whether states should be allowed to set their own agendas on use of the drug.
Now, the party's presidential hopefuls openly discuss their own use and rush to compete with one another on whether to legalize, decriminalize or otherwise welcome marijuana into the mainstream at the national level.
"They're basically tripping over each other at this point to show just how pro-cannabis they are," said Erik Altieri, executive director of the National Organization for the Reform of Marijuana Laws (NORML). "It's something that where in the past it may have been a throwaway line when asked on it for politicians — now they're actively speaking about it, campaigning on it."
---
Here come the Democratic nobles on parade
The legion of Democrats who think they can take the measure of Donald Trump will go at it beginning Wednesday night, each trying to figure out a way to stand out in a crowd of mediocrities.
They're in the position of Elizabeth Taylor's sixth or seventh or maybe eighth husband, who cried out in frustration: "I know what's expected of me on the wedding night, but how can I make it new and interesting for her?"
The candidates are practicing to come up with the meanest, harshest and most colorful way to say how much more they hate the Donald than anyone else in the whole world, and certainly more than any of the others on the platform in Miami.
---
One-eyed Chuck and the exalted cyclops bumbling in the Senate
Just when you were wondering whether Washington, D.C., is still the dumbest place on earth, along comes Senate Minority Leader Chuck Schumer.
In the Land of the Blind, the one-eyed man is king, you see. So, Mr. Schumer is king in the Land of Democrats. (One-Eyed Schumer is not, however, to be confused with the Senate's "Exalted Cyclops" of the Democratic Party. That white-hooded, one-eyed monster was the venerated late Sen. Robert C. Byrd of West Virginia, who began his political career as a proud member of the Ku Klux Klan.)
No longer into publicly wearing hoods and robes, Mr. Schumer's low-watt party is now in a frenzy over President Trump's decision to not bomb Iran after the rogue nation shot down one of our surveillance drones flying in international airspace. Mr. Trump's generals presented the commander in chief with a plan for retaliating against Iran, but he decided against pulling the trigger because too many Iranians would have died.
Democrats accuse the president of being dangerous, imperious, reckless and trigger-twitchy. (Oh, and racist, too, of course, though Mr. Trump has never been into wearing the white sheets that have robed so many Democrats over the generations.)
So, let's get this straight. Donald Trump is a dangerous, reckless madman — all because he decided NOT to bomb Iran and kill 150 people?
---
---
"It is discouraging to think how many people are shocked by honesty and how few by deceit."

-- Noel Coward

(1899-1973) British playwright

---

The Medal of Honor is the highest award for valor in action against an enemy force which can be bestowed upon an individual serving in the Armed Services of the United States.

GeneTrerally presented to its recipient by the President of the United States of America in the name of Congress.

The first award of the Medal of Honor was made March 25, 1863 to Private JACOB PARROTT.The last award of the Medal of Honor was made September 15, 2011 to Sergeant DAKOTA MEYER.

Since then there have been: • 3458 recipients of the Medal of Honor.

• Today there are 85 Living Recipients of the Medal of Honor.

Citation


Captain Humbert R. Versace distinguished himself by extraordinary heroism during the period of 29 October 1963 to 26 September 1965, while serving as S-2 Advisor, Military Assistance Advisory Group, Detachment 52, Ca Mau, Republic of Vietnam. While accompanying a Civilian Irregular Defense Group patrol engaged in combat operations in Thoi Binh District, An Xuyen Province, Captain Versace and the patrol came under sudden and intense mortar, automatic weapons, and small arms fire from elements of a heavily armed enemy battalion. As the battle raged, Captain Versace, although severely wounded in the knee and back by hostile fire, fought valiantly and continued to engage enemy targets. Weakened by his wounds and fatigued by the fierce firefight, Captain Versace stubbornly resisted capture by the over-powering Viet Cong force with the last full measure of his strength and ammunition. Taken prisoner by the Viet Cong, he exemplified the tenets of the Code of Conduct from the time he entered into Prisoner of War status. Captain Versace assumed command of his fellow American soldiers, scorned the enemy's exhaustive interrogation and indoctrination efforts, and made three unsuccessful attempts to escape, despite his weakened condition which was brought about by his wounds and the extreme privation and hardships he was forced to endure. During his captivity, Captain Versace was segregated in an isolated prisoner of war cage, manacled in irons for prolonged periods of time, and placed on extremely reduced ration. The enemy was unable to break his indomitable will, his faith in God, and his trust in the United States of America. Captain Versace, an American fighting man who epitomized the principles of his country and the Code of Conduct, was executed by the Viet Cong on 26 September 1965. Captain Versace's gallant actions in close contact with an enemy force and unyielding courage and bravery while a prisoner of war are in the highest traditions of the military service and reflect the utmost credit upon himself and the United States Army.

---

From the Archives

We Have Met the Enemy…
Geoff Metcalf


"They who can give up essential liberty to obtain a little temporary safety deserve neither liberty nor safety.
--Benjamin Franklin
"The American people must be willing to give up a degree of personal privacy in exchange for safety and security."
--Louis Freeh


In the wake of the clamor over the most recent WikiLeaks data dump, 'Vault 7', 'UMBRAGE', et al, it should be noted this is not really anything new. What we are seeing here is simply the evolution of something that goes back to the late 50s (to the incomplete best knowledge I have).

It is kinda cool to finally see even

The New York Times

acknowledging material

I was writing about in 1998

.

In April of 1998 I wrote "Privacy has become an anachronism." I was commenting on "a massive system designed to intercept all your e-mail, fax traffic and more." I was explaining 'Echelon', the illegitimate offspring of a

UKUSA Treaty

signed by the United States, United Kingdom, Canada, Australia and New Zealand. Its purpose was, and is, to have a vast global intelligence monster, which allegedly shares common goals. The system was so "efficient" that reportedly National Security Agency folk from Fort Meade could work from Menwith Hill in England to intercept local communications without either nation having to burden themselves with the formality of seeking approval (a court order) or disclosing the operation. And this was all pre-9/11 and pre-the anti-constitutional

'Patriot Act'

.

It is illegal (without a Judge's signed permission) for the United States to spy on its citizens … kinda. The laws have long been circumvented by a mutual pact among five nations. Under the terms of UKUSA agreement, Britain spies on Americans and America spies on British citizens, and then the two conspirators trade data. A classic technical finesse. It is legal, but the intent to evade the spirit is inescapable.

I often fictionalized the genesis of 'Echelon' as an informal meeting of a group of post war American and British intelligence types drinking in some remote rustic bar. An imagined CIA type complains to his MI6 buddy about the hassles of US laws preventing US intelligence from surveillance of bad guys, and the Brit echoes the same complaint.

"Hey wait a moment mate," says Nigel, the make-believe MI6 guy, "I can spy on your guys and you can spy on our bad players…why don't we just come up with a mechanism whereby we spy on your villains, you spy on our villains, and we just 'share' the intel?"

This system was called ECHELON, and has been kicking around in some form longer than most of you. The result of the UKUSA treaty signed by the United States, United Kingdom, Canada, Australia and New Zealand was, and is, to have a vast global intelligence monster which allegedly shares common goals.

The London Telegraph reported in December of 1997 that the Civil liberties Committee of the European Parliament had officially confirmed the existence and purpose of ECHELON. "A global electronic spy network that can eavesdrop on every telephone, e-mail and telex communication around the world will be officially acknowledged for the first time in a European Commission report. …"

The report noted: "Within Europe all e-mail, telephone and fax communications are routinely intercepted by the United States National Security Agency, transferring all target information from the European mainland via the strategic hub of London, then by satellite to Fort Meade in Maryland via the crucial hub at Menwith Hill, in the North York moors in the UK.

"The ECHELON system forms part of the UKUSA system but unlike many of the electronic spy systems developed during the Cold War, ECHELON was designed primarily for non-military targets: governments, organizations and businesses in virtually every country."

An interesting sidebar appeared in the International Herald Tribune under the headline, "Big Corporate Brother: It Knows More About You Than You Think." The story details Acxiom Corp, which was a humongous information service hidden in the Ozark foothills. Twenty-four hours a day, Acxiom electronically gathered and sorts all kinds of data about 196 million Americans. Credit card transactions and magazine subscriptions, telephone numbers, real estate records, automotive data, hunting, business and fishing licenses, consumer surveys and demographic detail that would make a marketing department's research manager salivate. This relatively new (legal) enterprise was known as "data warehousing" or "data-mining", and it underscores the cruel reality that the fiction of personal privacy has become obsolete. Technology's ability to collect and analyze data has made privacy a quaint albeit interesting dinosaur.

The Tribune reported that "Axciom can often determine whether an American owns a dog or cat, enjoys camping or gourmet cooking, reads the Bible or lots of other books. It can often pinpoint an American's occupation, car and favorite vacations. By analyzing the equivalent of billions of pages of data, it often projects for its customers who should be offered a credit card or who is likely to buy a computer."

Most of this information is from y 1998 piece. Echelon has developed, matured, and morphed into a much more powerful hybrid. 'Carnivore' was software to help triage the cacophony of data. Vault 7 and 'Umbrage' are logical (some would argue "insidious") growth.

More to follow…