Friday August 29th, 2014
"It Is Not A Question of Who Is Right Or Wrong But What Is Right Or Wrong That Counts.
"
--Geoff Metcalf
---
Updated 1134 PDT
World & National

Vlad talking Trash
Don't mess with nuclear Russia, Putin says

President Vladimir Putin said on Friday Russia's armed forces, backed by its nuclear arsenal, were ready to meet any aggression, declaring at a pro-Kremlin youth camp that foreign states should understand: "It's best not to mess with us."
Putin told the assembly, on the banks of a lake near Moscow, the Russian takeover of Crimea in March was essential to save a largely Russian-speaking population from Ukrainian government violence. He said continued fighting in eastern Ukraine, where pro-Russian separatists launched an uprising in April, was the result of a refusal by Kiev to negotiate.
---

UN Ambassador Power: Russia 'Outright Lied'

Samantha Power, the U.S. ambassador to the United Nations, pulled no punches at an emergency meeting Thursday following newly released NATO satellite images showing Russian combat troops and military equipment in southeastern Ukraine, The Hillreports.

"At every step, Russia has come before this Council to say everything except the truth," Power said. "It has manipulated. It has obfuscated. It has outright lied. So we have learned to measure Russia by its actions and not by its words. In last 48 hours, Russia's actions have spoken volumes"

According to the National Journal, the U.N. Security Council has met 24 times this year just to discuss Ukraine, which has now been invaded in the nation's eastern portion, a maneuver Ukrainian President Petro Poroshenko has declared a "Russian invasion."


---
Obama interrupting weekend to return to DC
President Barack Obama is interrupting a weekend trip to return to the White House.
White House spokesman Josh Earnest said Obama changed his plans for Friday and will return to Washington late in the evening after fundraisers in New York and Rhode Island, instead of overnighting in New York as originally planned.
Earnest said Obama himself made the decision to return to the White House and that it was unrelated to any current events.
---

White House Scarambles: We Have 'Comprehensive Strategy' for ISIS

The White House is scrambling to explain President Barack Obama's "comprehensive strategy" to confront the threat to the United States posed by the Islamic State of Iraq and Syria (ISIS).

White House Press Secretary Josh Earnest told MSNBC's "Morning Joe" that when Obama said, "We don't have a strategy yet" during a press conference on Thursday about the ISIS threat, he was actually addressing the administration's position on military attacks in Syria.

"What the president was talking about yesterday, he was responding to a question specifically about whether or not he was going to seek congressional authorization to order military strikes inside of Syria. And, the president said we don't have a strategy yet.


---
UK terror threat level raised amid fears of attacks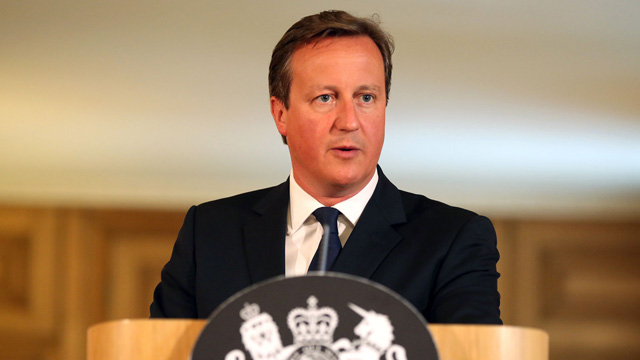 Britain's terror threat level was dramatically raised to severe today amid fears that UK jihadists returning from Iraq and Syria could launch attacks.
The severe warning means an attack is "highly likely", rather than the earlier assessment of substantial where a terror strike is "a strong possibility". Home Secretary Theresa May stressed there was no intelligence to suggest an imminent attack.
After the decision by Britain's Joint Terrorism Analysis Centre, she added: "The increase in the threat level is related to developments in Syria and Iraq, where terrorist groups are planning attacks against the West.
---

FBI Omits Islamists from terror warning
Internal report labels white supremacists, black separatists, militias, abortion extremists main domestic extremists

The FBI's most recent national threat assessment for domestic terrorism makes no reference to Islamist terror threats, despite last year's Boston Marathon bombing and the 2009 Fort Hood shooting—both carried out by radical Muslim Americans.
Instead, the internal FBI intelligence report concluded in its 2013 assessment published this month that the threat to U.S. internal security from extremists is limited to attacks and activities by eight types of domestic extremist movements—none motivated by radical Islam.
---
Obama's Gallup Numbers..
"Strong Disapproval" Double His "Strong Approval"

Americans are more than twice as likely to say they "strongly disapprove" (39%) of President Barack Obama's job performance as they are to say they "strongly approve" (17%). The percentage of Americans who strongly disapprove of Obama has increased over time, while the percentage who strongly approve has dropped by almost half.
In the first year of Obama's presidency, the percentages of Americans who had strong views about the job he was doing were essentially tied, but the strongly negative responses now significantly outweigh the strongly positive ones. The largest segment of Americans today, 39%, strongly disapprove of Obama's job performance, while 14% moderately disapprove. Another 27% moderately approve, while 17% strongly approve.
---

The Islamic State's Terror Laptop of Doom
Buried in a Dell computer captured in Syria are lessons for making bubonic plague bombs and missives on using weapons of mass destruction.
Abu Ali, a commander of a moderate Syrian rebel group in northern Syria, proudly shows a black laptop partly covered in dust. "We took it this year from an ISIS hideout," he says.
Abu Ali says the fighters from the Islamic State of Iraq and al-Sham (ISIS), which have since rebranded themselves as the Islamic State, all fled before he and his men attacked the building. The attack occurred in January in a village in the Syrian province of Idlib, close to the border with Turkey, as part of a larger anti-ISIS offensive occurring at the time. "We found the laptop and the power cord in a room," he continued, "I took it with me. But I have no clue if it still works or if it contains anything interesting."
---
Iran Begins Arminng Palestinian Terrorists
Promises 'the annihilation of the Zionist regime'
Iranian military leaders say that they have begun weapons deliveries to Palestinian terrorists in the West Bank and elsewhere in the region after months of promising increased military support for Israel's enemies, according to regional reports.
A top Iranian military commander confirmed that weapon shipments to the West Bank have already begun and that more will be sent to other "Palestinian resistance groups."
---
Anonymous Site Spurs Talks Between Nikki Finke and Ex-Boss
The journalist Nikki Finke has long struck fear into the hearts of Hollywood executives and entertainers, publishing a blend of vitriol and scoops on her blog Deadline Hollywood.
In recent weeks, though, she had gone silent in the face of a legal dispute with the company that bought Deadline, Penske Media Corporation. It looked as if her career as a chronicler of Hollywood might be over. But now, a book deal and possible return to journalism are in the works.
Ms. Finke made headlines this week after an anonymous group calling itself "The Committee for Decency in Journalism" published a website, NikkiStink.com, that posted pictures and video of the rarely photographed Ms. Finke. It also threatened to disclose more secrets about Ms. Finke's private life if she did not stop publishing her biting journalism.
---

A timid response to cris across a terrified globe
It's hard to imagine a bigger disaster than nine years of a propped-up Iraq quickly slipping into the hands of the Islamic State — a vortex for terrorists from 80 countries. The Islamic State sees itself as the new caliphate, fulfilling Osama bin Laden's global jihad. They use beheadings and videotaped executions to bring doubters into line, while ruthlessly massacring Christians and government troops.
America's armed forces are worn out and discouraged; the nation overspent and tired of foreign do-goodism and misadventures. Our Veterans Affairs hospitals are overwhelmed with casualties — costs we face for decades, while our infrastructure crumbles. Whether 300 troops, or 3,000, we can't fix the unsolvable: an explosion of Islamic extremism. Tragically, America is easily influenced, manipulated and drawn into others' costly, unwinnable conflicts. What have we learned from the expenditure of our blood, irreplaceable youth and trillions of dollars? Little. Since the creation of Israel at the end of World War II — a thorn in Muslims' side — coupled with our dependence on Mideast oil, we've been drawn into their conflicts.
---

Suing the feds gets old
Americans languish while Uncle Sam drags his feet all the way to court
There is a reason so many citizens who reach the Supreme Court of the United States in their battles with the federal government and emerge to face reporters and their cameras are elderly, white-haired widows. Fighting the world's largest law firm is like "Waiting for Godot," but worse. Samuel Beckett's absurdist play was fiction, but the ludicrous lengths to which federal lawyers go to avoid Judgment Day is all too real. Stanley K. Mann of Colorado, now 82, spent 20 years awaiting that day.
On Nov. 1, 1981, Mr. Mann and the Bureau of Land Management entered into a 10-year lease for geothermal resources — a clean, efficient renewable-energy source — on federal lands near Las Cruces, N.M. Wells capable of production in paying quantities were drilled, and Mr. Mann spent many years and more than $1 million to commercialize his discovery. Meanwhile, he paid annual royalties to Bureau of Land Management's sister agency in the Department of the Interior, the Minerals Management Service.
In September 1989, Mr. Mann moved to California where he received mail, including mail forwarded from Colorado. Regarding his geothermal lease, he was in frequent telephone and written communication with the Bureau of Land Management and the Minerals Management Service and repeatedly advised both agencies of his address to ensure he received all correspondence. Nonetheless, on or about Nov. 23, 1993, the bureau sent him an undated document at a wrong address as a result of what was later discovered to be a data-keeping error by an unnamed employee. Not surprisingly, it was returned unclaimed. In 1994, the Bureau of Land Management canceled his lease. In 1996, Mr. Mann visited the bureau's Las Cruces office and learned of the cancellation. His administrative appeal was denied.
In April 1998, Mr. Mann filed a breach of contract lawsuit against the United States for failing to provide him the notice required by federal law. However, in September 2002, the Court of Federal Claims sided with the BLM, finding that the agency's general rules as to "constructive notice" trumped its specific geothermal regulations compelling "actual receipt of notice." Mr. Mann appealed. On June 3, 2003, the U.S. Court of Appeals for the Federal Circuit held oral arguments. Just 24 days later, the three-judge panel reversed the ruling: The United States breached Mr. Mann's lease by failing to send notice of a potential cancellation to his "last address of record."
Medal of Honor
The Medal of Honor is the highest award for valor in action against an enemy force which can be bestowed upon an individual serving in the Armed Services of the United States.
GeneTrerally presented to its recipient by the President of the United States of America in the name of Congress.
The first award of the Medal of Honor was made March 25, 1863 to Private JACOB PARROTT.The last award of the Medal of Honor was made September 15, 2011 to Sergeant DAKOTA MEYER.
Since then there have been: • 3458 recipients of the Medal of Honor.
• Today there are 85 Living Recipients of the Medal of Honor.



CARPENTER, WILLIAM KYLE
Rank: Lance Corporal
U.S. Marine Corps


Citation



For conspicuous gallantry and intrepidity at the risk of his life above and beyond the call of duty while serving as an Automatic Rifleman with Company F, 2d Battalion, 9th Marines, Regimental Combat Team 1, 1st Marine Division (Forward), 1 Marine Expeditionary Force (Forward), in Helmand Province, Afghanistan in support of Operation Enduring Freedom on 21 November 2010. Lance Corporal Carpenter was a member of a platoon-sized coalition force, comprised of two reinforced Marine squads partnered with an Afghan National Army squad. The platoon had established Patrol Base Dakota two days earlier in a small village in the Marjah District in order to disrupt enemy activity and provide security for the local Afghan population. Lance Corporal Carpenter and a fellow Marine were manning a rooftop security position on the perimeter of Patrol Base Dakota when the enemy initiated a daylight attack with hand grenades, one of which landed inside their sandbagged position. Without hesitation, and with complete disregard for his own safety, Lance Corporal Carpenter moved toward the grenade in an attempt to shield his fellow Marine from the deadly blast. When the grenade detonated, his body absorbed the brunt of the blast, severely wounding him, but saving the life of his fellow Marine. By his undaunted courage, bold fighting spirit, and unwavering devotion to duty in the face of almost certain death, Lance Corporal Carpenter reflected great credit upon himself and upheld the highest traditions of the Marine Corps and the United States Naval Service.

---
From the Archives


American Fairness to a Fault — a Deadly One
Tuesday, 10 Nov 2009 02:28 PM

American's tragic flaw is our unbridled fairness, which has been corrupted ever more by the cancer of political correctness to the point we put ourselves at risk rather than create even the perception of prejudice.
Sometime after the VOLAR (all volunteer) Army, the military veered from the "yes sir, yes sir, three bags full" blind adherence to all orders to the concept of refusing "unlawful orders" and that was ostensibly a good thing.
However, the uniformed services do not set or get to pick and choose foreign policy. The civilian leadership sets foreign policy, and the U.S. military enforces it — with a big, honking combined arms stick.
Retired Lt. Col. Ralph Peters has been one of the rare pundits with the courage to target the "culture of political correctness" in leadership of the military. In at least two interviews on Fox, Peters (correctly) blamed the culture of political correctness for the Army's diffidence in taking action against Nidal Malik Hasan in the wake of knowledge of the problem.
Many mechanisms exist for dealing with matters of deep conscience — all without killing those one might think disagree with in principle.
However, it is not prejudice to discriminate based on threat facts in evidence. Refusal to act judiciously for fear of a tainted perception is just plain dumb.
Notwithstanding the articulated fears of the Army chief of staff and the secretary of Homeland Security, officials made an epic mistake in handling suspicions about Hasan. A mistake founded on political correctness and sustained by diffidence that cost the lives of innocents.
Reportedly, U.S. intelligence agencies were aware (months ago) that Hasan was attempting to make contact with people associated with al-Qaida. He spoke openly to too many people about his angst and misdirected sympathies. He was apparently a poster child for suspicion, and the Army failed bigtime to intervene.
"It is not known whether the intelligence agencies informed the Army that one of its officers was seeking to connect with suspected al-Qaida figures," the officials said.
But you damnbetcha they SHOULD have done so.
Investigators want to know whether Hasan maintained contact with a radical mosque leader from Virginia, Anwar al Awlaki, who now lives in Yemen and runs a Web site that promotes jihad around the world against the United States.
In a recent blog posting titled "Nidal Hassan Did the Right Thing," Awlaki calls Hasan a "hero" and a "man of conscience who could not bear living the contradiction of being a Muslim and serving in an army that is fighting against his own people."
Increasingly we are told people who knew or worked with Hasan say he seemed to become gradually more radical in his condemnation of the war in Iraq and Afghanistan. Subordinates and superiors had a responsibility to flag the inappropriate rhetoric, and they apparently did not.
The fear to speak out is a symptom of the PC disease fueled by recriminations and implied threats of discrimination — a fear that indirectly resulted in mayhem.
Sen. Joseph Lieberman said, "If Hasan was showing signs, saying to people that he had become an Islamist extremist, the U.S. Army has to have a zero tolerance," and despite the echo of shutting the barn door after the horse got out, he is right.
Army Chief of Staff Gen. George Casey Jr. is concerned that speculation about the religious beliefs of Hasan could "cause a backlash against some of our Muslim soldiers." He's right, but such a backlash would be a direct result of the failure of command — not prejudice.
When confronted about whether he thought the Army "dropped the ball" in not responding to warning signs, Casey replied that the Army needs to be careful not to jump to conclusions based on early tidbits of information.
Sen. Lindsey Graham, R.-S.C., and Sen. Jack Reed, D-R.I., both of whom are veterans, took pains to say that Muslims have served honorably in the military and at risk to their lives.
"At the end of the day, this is not about his religion — the fact that this man was a Muslim," Graham said on CBS' "Face the Nation."
But, hey, it is (kinda/sorta) about religion (when the FBI says 10 percent of American Mosques preach jihad) — at least from a risk analysis perspective.