"It Is Not A Question of Who Is Right Or Wrong But What Is Right Or Wrong That Counts.

"

--Geoff Metcalf
Providing an on line Triage of the news since 1997
Wo
rld & Nation
Texas governor fights woke revisionist history, signs bill defending Alamo legacy
Bill pushes back on new book framing fight as all about slavery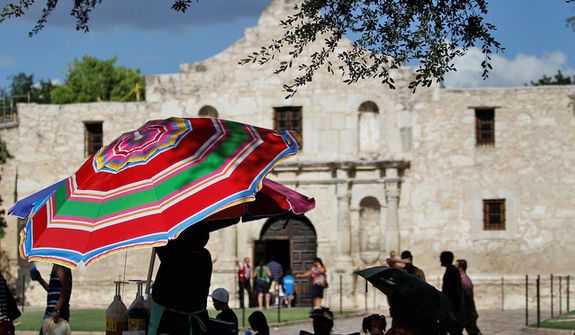 The defenders of the Alamo went down to defeat nearly two centuries ago, but still raging is the clash over the legacy of the storied Texas Revolution battle that gave rise to the cry, "Remember the Alamo!"
Texas Gov. Greg Abbott signed legislation last week to create the 1836 Project named after the year Texas declared its independence from Mexico, to help counter what Republicans describe as an onslaught of critical-race theory and woke revisionist history.
"To keep Texas the best state in the United States of America, we must never forget why Texas became so exceptional in the first place," said Mr. Abbott at the June 7 signing. "A law creating the 1836 Project does that. The 1836 Project promotes patriotic education about Texas and makes sure that generations to come understand Texas values."
---
How Congress, trial lawyers, unions hobble the U.S. in race with China to develop driverless cars
America is in a battle with China over who will dominate the auto market of the future when automated vehicles transport people and goods without anyone behind the steering wheel or even without steering wheels at all.
But a bill intended to help U.S. companies compete has been stalled for two years, largely over the demands of trial lawyers, according to Republican congressional aides involved with the legislation.
https://news.yahoo.com/kim-jong-un-says-prepare-010111616.html
The trial lawyers, an influential lobby with Democrats, are demanding that any legislation concerning driverless vehicles include a guarantee that they will be able to take auto companies to court should anything go wrong.
---
North Korea's Kim Jong-un vows to be ready for confrontation with U.S.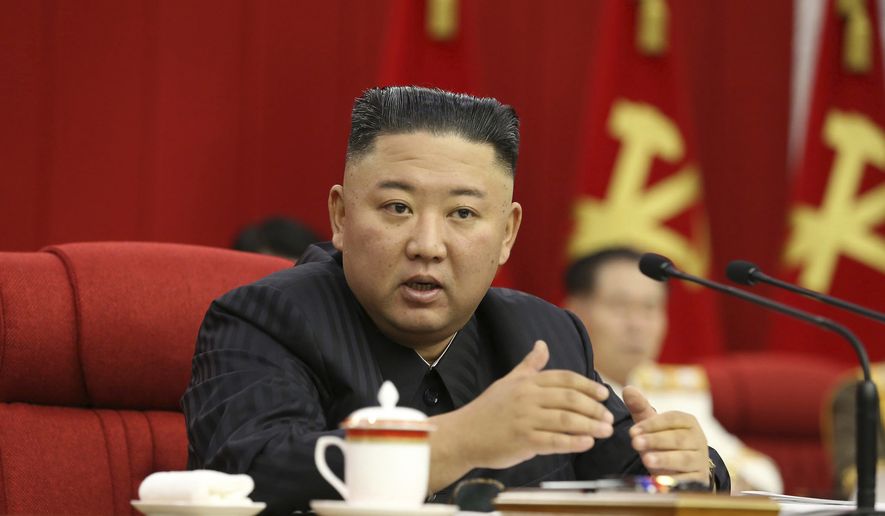 North Korean leader Kim Jong-un ordered his government to be prepared for both dialogue and confrontation with the Biden administration — but more for confrontation — state media reported Friday, days after the United States and others urged the North to abandon its nuclear program and return to talks.
Kim's statement indicates he'll likely push to strengthen his nuclear arsenal and increase pressure on Washington to give up what North Korea considers a hostile policy toward the North, though he'll also prepare for talks to resume, some experts say.
During an ongoing ruling party meeting Thursday, Kim analyzed in detail the policy tendencies of the U.S. under President Biden and clarified steps to be taken in relations with Washington, the Korean Central News Agency said. It did not specify the steps.
---
Ex-White House doctor, House Republicans push for Biden cognitive test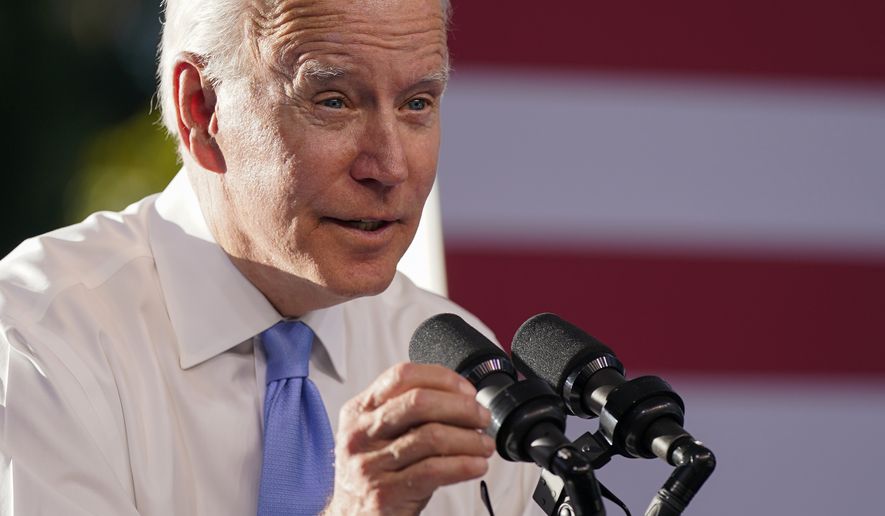 Rep. Ronny Jackson, a former White House doctor, sent a letter to President Biden on Thursday that called on him to prove his mental fitness to be president.
The letter, which was co-signed by 13 other Republican lawmakers, told the president that he seems to be suffering "mental decline and forgetfulness" based on numerous "gaffes."
"We urge you to submit to a cognitive test immediately," the lawmakers wrote.
"Unfortunately, your mental decline and forgetfulness have become more apparent over the past eighteen months. In March, you forgot the name of the Pentagon, the Department of Defense and the Defense Secretary, though you had said 'Secretary Austin' just a few moments prior. The official White House transcript reads 'And I want to thank Sec- —— the former general —— I keep calling him "General." My —— the guy that runs that outfit over there,'" the letter reads.
---
Sen. Cruz: Biden, Harris Have 'Zero Intention' of Fixing Border Crisis
States are jumping in to help Texas and Arizona with the border crisis because President Joe Biden and Vice President Kamala Harris have "zero intention" of doing anything about it, Sen. Ted Cruz said Friday.
"It is a complete and total abdication by the federal government," the Texas Republican said on Fox News' "Fox and Friends." "Joe Biden and Kamala Harris are quite simply not doing their jobs and refusing to enforce the law and they've created an unmitigated crisis at the border."
Meanwhile, Cruz said it is a "very good thing" to see other states stepping up to help at the border. Florida Gov. Ron DeSantis announced earlier this week that Florida will send law enforcement officers to Texas and Arizona to help with border control efforts, while the state is also challenging the Biden administration in federal court about immigration. His announcement was made after Texas Gov. Greg Abbott and Arizona Gov. Doug Ducey sent a letter to governors last week asking for their help in fighting illegal immigration.
---
'View' Hosts McCain, Goldberg Spar Over Biden's Treatment of Media
President Joe Biden's confrontation with a reporter at the end of a press conference in Europe this week prompted a heated exchange between "The View" co-hosts Meghan McCain and Whoopi Goldberg.
The co-hosts went at it Thursday, a day after Biden shouted at CNN's Kaitlan Collins upon her asking the president what made him confident Russian President Putin will change his widely condemned behavior.
Biden's reaction to Collins came at the end of a press conference in Geneva, where he held a summit with Putin.
---
Obamacare survives after Supreme Court rejects latest Republican challenge
The Supreme Court ruled 7-2 on Thursday against Texas and other Republican-led states seeking to strike down Obamacare in the law's latest test before the nation's highest court.
The court reversed an appeals court ruling that had struck down the law's individual mandate provision. Chief Justice John Roberts and fellow conservative Justices Clarence Thomas, Brett Kavanaugh and Amy Coney Barrett joined Justice Stephen Breyer's opinion, as did Sonia Sotomayor and Elena Kagan.
Breyer said Texas and the other states that challenged the law failed to show they were harmed by it.
---
GOP crushes Manchin's hopes for elections compromise
Senate Republicans spent months praising Joe Manchin for his insistence on cross-party compromise. Next week they will almost surely end his hopes for a bipartisan deal on elections.
Senate Minority Leader Mitch McConnell said he believed all 50 Republicans would oppose Sen. Manchin's (D-W.Va.) slimmed-down elections compromise, which focuses on expanding early voting and ending partisan gerrymandering in federal elections. And it's not clear there's a single Republican vote to even begin debate on the matter, potentially dooming Manchin's proposals before they can even make it into the bill.
Both Sens. Lisa Murkowski (R-Alaska) and Mitt Romney (R-Utah) said they would likely oppose a procedural vote next week that would bring Democrats' massive elections reform bill to the Senate floor. Senate Majority Leader Chuck Schumer said that the Senate could amend the bill to adopt Manchin's changes. But Romney said supporting that strategy "doesn't make a lot of sense to me" and Murkowski said "Joe hasn't briefed me on any of this."
---
China mulls end to childbirth restrictions by 2025: report
China is considering ending its limits on childbirth by 2025 after finding its population growth is slowing down.
People familiar with the internal discussions told The Wall Street Journal the country could completely eliminate its childbirth restrictions at the end of the government's current five-year economic plan.
China's National Bureau of Statistics found in May the country's birth rate dropped for four consecutive years from 2016 to 2020.
Xinjiang province has reportedly seen the sharpest birth rate drop globally since 1950.
---
Israel hits Gaza with airstrikes after Hamas fires incendiary balloons
Israel launched airstrikes on the Gaza Strip late Thursday for a second time since a shaky cease-fire ended last month's 11-day war. The strikes came after activists mobilized by Gaza's militant Hamas rulers launched incendiary balloons into Israel for a third straight day.
There were no immediate reports of casualties from the strikes, which could be heard from Gaza City. Israel also carried out airstrikes early Wednesday, targeting what it is said were Hamas facilities, without killing or wounding anyone.
The military said fighter jets struck Hamas "military compounds and a rocket launch site" late Thursday in response to the balloons. It said its forces were preparing for a "variety of scenarios including a resumption of hostilities."
---
Joint Chiefs head says China lacks 'capability' to capture Taiwan
China's military forces have not developed the ability to carry out a military assault against the island of Taiwan, despite a large-scale build-up by Beijing in recent years, the chairman of the Joint Chiefs of Staff told Congress on Thursday.
Army Gen. Mark Milley made the assessment during a Thursday hearing of the Senate Appropriations Committee when asked about China's announced determination of eventually reuniting the island state with the mainland.
Recently the current and former commanders of the Indo-Pacific Command offered differing assessments on when China could conduct an amphibious assault on Taiwan.
---
GOP slams Biden for giving Putin 'Sweet 16' list of targets off-limits to cyberattacks
President Biden is under fire for giving Russian President Vladimir Putin a list of 16 U.S. critical infrastructure sectors that should be off-limits to cyberattacks, with Republicans saying the entire U.S. should be off-limits.
"President Biden can't help signaling weakness, even by accident," said Sen. Ted Cruz, Texas Republican. "All of America's critical infrastructure is off-limits to Putin."
House Minority Leader Kevin McCarthy, California Republican, tweeted, "What's not on the list? ALL American infrastructure should be off-limits for cyber attacks."
At their summit in Geneva on Wednesday, Mr. Biden gave the Russian leader a list of entities that should not be targeted in ransomware attacks or other hacking that is believed to come from Russia.
---

Trump was right; so were we

Last Saturday, former President Donald Trump released a statement that said, "Have you noticed that they are now admitting I was right about everything they lied about before the election?" The statement went on to list specific points, ranging from the efficacy of hydroxychloroquine (HCQ) as a treatment for COVID-19 to the "Russian bounties" story to the need to reopen schools. And you know what? He was right. And so were we.

We were right about the efficacy of HCQ as a treatment for COVID-19. A new study "found that the antimalarial drug hydroxychloroquine, along with zinc, could increase the coronavirus survival rate by as much as nearly 200% if distributed at higher doses to ventilated patients with a severe version of the illness," according to Yahoo! News. Big Tech should not have canceled – and should not continue canceling – those who tout HCQ and its benefits.

We were right about the origins of the COVID-19 virus. When even liberal icon Jon Stewart chooses to joke about the origins of the coronavirus — and mock those who insist it was born naturally, when "a pangolin kissed a turtle" – you know you've hit pay dirt.


---
The unintended consequences of making Juneteenth a national holiday
It is easy to imagine a facile narrative in which people essentially tell themselves, 'Slavery was bad. The good guys won the Civil War. And now racism is over.'
On Wednesday, the House followed the Senate in passing a bill to make Juneteenth a national holiday. President Biden signed it into law Thursday afternoon. After a century and a half, the oldest celebration of Black emancipation is now a federal holiday.
Juneteenth is an occasion we should all commemorate, but what are the risks of taking the celebration of Black freedom mainstream? As more organizations and communities across the nation recognize Juneteenth, there may be some unintended consequences that make it harder for people to recognize the significance of the occasion.
The long effort to make Juneteenth a federally recognized holiday nearly became a reality in 2020 with momentum from historic protests for racial justice. A single lawmaker, Republican Senator Ron Johnson of Wisconsin, opposed the effort, and other GOP officials moved on to other matters.
---
" It is discouraging to think how many people are shocked by honesty and how few by deceit."

-- Noel Coward

(1899-1973) British playwright

---

The Medal of Honor is the highest award for valor in action against an enemy force which can be bestowed upon an individual serving in the Armed Services of the United States.

GeneTrerally presented to its recipient by the President of the United States of America in the name of Congress.

The first award of the Medal of Honor was made March 25, 1863 to Private JACOB PARROTT.The last award of the Medal of Honor was made September 15, 2011 to Sergeant DAKOTA MEYER.

Since then there have been: • 3458 recipients of the Medal of Honor.

• Today there are 85 Living Recipients of the Medal of Honor.

Citation


Captain Humbert R. Versace distinguished himself by extraordinary heroism during the period of 29 October 1963 to 26 September 1965, while serving as S-2 Advisor, Military Assistance Advisory Group, Detachment 52, Ca Mau, Republic of Vietnam. While accompanying a Civilian Irregular Defense Group patrol engaged in combat operations in Thoi Binh District, An Xuyen Province, Captain Versace and the patrol came under sudden and intense mortar, automatic weapons, and small arms fire from elements of a heavily armed enemy battalion. As the battle raged, Captain Versace, although severely wounded in the knee and back by hostile fire, fought valiantly and continued to engage enemy targets. Weakened by his wounds and fatigued by the fierce firefight, Captain Versace stubbornly resisted capture by the over-powering Viet Cong force with the last full measure of his strength and ammunition. Taken prisoner by the Viet Cong, he exemplified the tenets of the Code of Conduct from the time he entered into Prisoner of War status. Captain Versace assumed command of his fellow American soldiers, scorned the enemy's exhaustive interrogation and indoctrination efforts, and made three unsuccessful attempts to escape, despite his weakened condition which was brought about by his wounds and the extreme privation and hardships he was forced to endure. During his captivity, Captain Versace was segregated in an isolated prisoner of war cage, manacled in irons for prolonged periods of time, and placed on extremely reduced ration. The enemy was unable to break his indomitable will, his faith in God, and his trust in the United States of America. Captain Versace, an American fighting man who epitomized the principles of his country and the Code of Conduct, was executed by the Viet Cong on 26 September 1965. Captain Versace's gallant actions in close contact with an enemy force and unyielding courage and bravery while a prisoner of war are in the highest traditions of the military service and reflect the utmost credit upon himself and the United States Army.

---

From the Archives

We Have Met the Enemy…
Geoff Metcalf


"They who can give up essential liberty to obtain a little temporary safety deserve neither liberty nor safety.
--Benjamin Franklin
"The American people must be willing to give up a degree of personal privacy in exchange for safety and security."
--Louis Freeh


In the wake of the clamor over the most recent WikiLeaks data dump, 'Vault 7', 'UMBRAGE', et al, it should be noted this is not really anything new. What we are seeing here is simply the evolution of something that goes back to the late 50s (to the incomplete best knowledge I have).

It is kinda cool to finally see even

The New York Times

acknowledging material

I was writing about in 1998

.

In April of 1998 I wrote "Privacy has become an anachronism." I was commenting on "a massive system designed to intercept all your e-mail, fax traffic and more." I was explaining 'Echelon', the illegitimate offspring of a

UKUSA Treaty

signed by the United States, United Kingdom, Canada, Australia and New Zealand. Its purpose was, and is, to have a vast global intelligence monster, which allegedly shares common goals. The system was so "efficient" that reportedly National Security Agency folk from Fort Meade could work from Menwith Hill in England to intercept local communications without either nation having to burden themselves with the formality of seeking approval (a court order) or disclosing the operation. And this was all pre-9/11 and pre-the anti-constitutional

'Patriot Act'

.

It is illegal (without a Judge's signed permission) for the United States to spy on its citizens … kinda. The laws have long been circumvented by a mutual pact among five nations. Under the terms of UKUSA agreement, Britain spies on Americans and America spies on British citizens, and then the two conspirators trade data. A classic technical finesse. It is legal, but the intent to evade the spirit is inescapable.

I often fictionalized the genesis of 'Echelon' as an informal meeting of a group of post war American and British intelligence types drinking in some remote rustic bar. An imagined CIA type complains to his MI6 buddy about the hassles of US laws preventing US intelligence from surveillance of bad guys, and the Brit echoes the same complaint.

"Hey wait a moment mate," says Nigel, the make-believe MI6 guy, "I can spy on your guys and you can spy on our bad players…why don't we just come up with a mechanism whereby we spy on your villains, you spy on our villains, and we just 'share' the intel?"

This system was called ECHELON, and has been kicking around in some form longer than most of you. The result of the UKUSA treaty signed by the United States, United Kingdom, Canada, Australia and New Zealand was, and is, to have a vast global intelligence monster which allegedly shares common goals.

The London Telegraph reported in December of 1997 that the Civil liberties Committee of the European Parliament had officially confirmed the existence and purpose of ECHELON. "A global electronic spy network that can eavesdrop on every telephone, e-mail and telex communication around the world will be officially acknowledged for the first time in a European Commission report. …"

The report noted: "Within Europe all e-mail, telephone and fax communications are routinely intercepted by the United States National Security Agency, transferring ll target information from the Eurv opean mainland via the strategic hub of London, then by satellite to Fort Meade in Maryland via the crucial hub at Menwith Hill, in the North York moors in th UK.

"The ECHELON system forms part of the UKUSA system but unlike many of the electronic spy systems developed during the Cold War, ECHELON was designed primarily for non-military targets: governments, organizations and businesses in virtually every country."

An interesting sidebar appeared in the International Herald Tribune under the headline, "Big Corporate Brother: It Knows More About You Than You Think." The story details Acxiom Corp, which was a humongous information service hidden in the Ozark foothills. Twenty-four hours a day, Acxiom electronically gathered and sorts all kinds of data about 196 million Americans. Credit card transactions and magazine subscriptions, telephone numbers, real estate records, automotive data, hunting, business and fishing licenses, consumer surveys and demographic detail that would make a marketing department's research manager salivate. This relatively new (legal) enterprise was known as "data warehousing" or "data-mining", and it underscores the cruel reality that the fiction of personal privacy has become obsolete. Technology's ability to collect and analyze data has made privacy a quaint albeit interesting dinosaur.

The Tribune reported that "Axciom can often determine whether an American owns a dog or cat, enjoys camping or gourmet cooking, reads the Bible or lots of other books. It can often pinpoint an American's occupation, car and favorite vacations. By analyzing the equivalent of billions of pages of data, it often projects for its customers who should be offered a credit card or who is likely to buy a computer."

Most of this information is from y 1998 piece. Echelon has developed, matured, and morphed into a much more powerful hybrid. 'Carnivore' was software to help triage the cacophony of data. Vault 7 and 'Umbrage' are logical (some would argue "insidious") growth.

More to follow…