"It Is Not A Question of Who Is Right Or Wrong But What Is Right Or Wrong That Counts.

"

--Geoff Metcalf
Providing an on line Triage of the news since 199
My son has narrated the last book I wrote.
Please consider listening to it and encouraging others to do so too.
(Click on Book Cover)
Wo
rld & Nation
Pentagon debuts its new stealth bomber, the B-21 Raider
America's newest nuclear stealth bomber is making its public debut after years of secret development and as part of the Pentagon's answer to rising concerns over a future conflict with China.
The B-21 Raider is the first new American bomber aircraft in more than 30 years. Almost every aspect of the program is classified. Ahead of its unveiling Friday at an Air Force facility in Palmdale, California, only artists' renderings of the warplane have been released. Those few images reveal that the Raider resembles the black nuclear stealth bomber it will eventually replace, the B-2 Spirit.
The bomber is part of the Pentagon's efforts to modernize all three legs of its nuclear triad, which includes silo-launched nuclear ballistic missiles and submarine-launched warheads, as it shifts from the counterterrorism campaigns of recent decades to meet China's rapid military modernization.
China is on track to have 1,500 nuclear weapons by 2035, and its gains in hypersonics, cyber warfare, space capabilities and other areas present "the most consequential and systemic challenge to U.S. national security and the free and open international system," the Pentagon said this week in its annual China report.
---
Justices block Biden's debt plan at least through February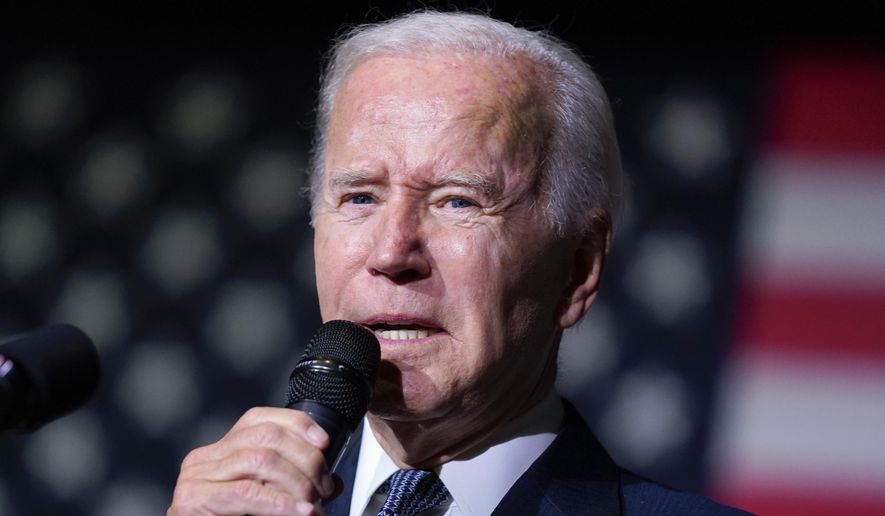 The Supreme Court on Thursday rejected President Biden's request to revive his student debt forgiveness plan, putting it on hold for months but saying they would speed the case onto their docket.
The administration was hoping the justices would allow the plan to take effect while the cases wind their way through a series of lower-court challenges, but the high court dashed those hopes.
The justices, in a brief order, said they had "deferred" Mr. Biden's request until oral argument. They directed the clerk to schedule the case for argument during the court's February session, which runs from Feb. 21 to March 1.
That would set up a final decision by the end of June.
---
Mainers seeing red over Biden serving lobster at state dinner while federal regs threaten lobstermen
The decision to serve lobsters at President Biden's first White House state dinner is steaming folks in Maine, who say the president is enjoying the delicacy while his administration regulates lobstermen out of business.
Rep. Jared Golden, Maine Democrat, said Mr. Biden hasn't kept his campaign promise to protect lobstermen's livelihood. Despite that, 200 butter-poached Maine lobsters were on the menu Thursday night as the president and first lady Jill Biden hosted French President Emmanuel Macron and his wife, Brigitte, for the glittering state dinner.
"If the Biden White House can prioritize purchasing 200 Maine lobsters for a fancy dinner, @POTUS should also take the time to meet with the Maine lobstermen his administration is currently regulating out of business," Mr. Golden tweeted.
Maine's $1-billion-a-year lobster industry and its elected officials are angry about the administration's move to require new lobster gear and fewer vertical fishing lines in the water, part of an effort to protect right whales from becoming entangled. A federal judge last month ordered a two-year extension before the regulations take effect. Lobstermen say the legal battle has left them in limbo.
---
U.S., Japan and South Korea sanction three North Korean officials over missile launches
White House says the door is open to diplomacy, but Pyongyang is ignoring outreach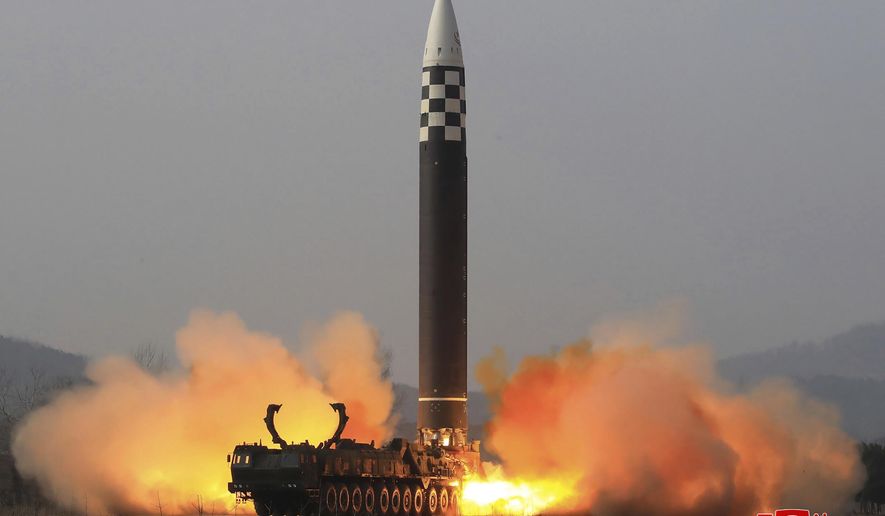 The U.S., South Korea and Japan are sanctioning North Korean officials for the unlawful development of weapons of mass destruction and ballistic missiles as Kim Jong-un conducts missile launches at an unprecedented rate in East Asia.
The Treasury late Thursday pointed to an intercontinental ballistic missile test on Nov. 18 — Pyongyang's eighth this year — on top of 60 other missile launches in 2022 in violation of U.N. resolutions.
The sanctions will target Jon Il-ho, Yu-jin and Kim Su-gil, three officials in the Workers' Party of Korea (WPK), for their roles in weapons development and attendance at numerous launches since 2017.
---
Chinese 'super embassy' blocked in London in blow to Xi Jinping
A Chinese bid for a "super embassy" on the site on the old Royal Mint near Tower Bridge has been blocked amid fierce opposition and a growing political rift between Westminster and Beijing.
In a shock decision, Tower Hamlets council voted unanimously to reject planning permission for the new multi million pound development in the heart of central London, despite advisers recommending the new hub be given the go ahead. Councillors normally follow these recommendations.
The move will pile more pressure on London Mayor Sadiq Khan and Housing Secretary Michael Gove, who have a six-week challenge period in which they could decide to call in the verdict.
Any public inquiry could take up to 18 months to resolve.
---
Senate approves bill to avert rail strike by imposing labor deal on workers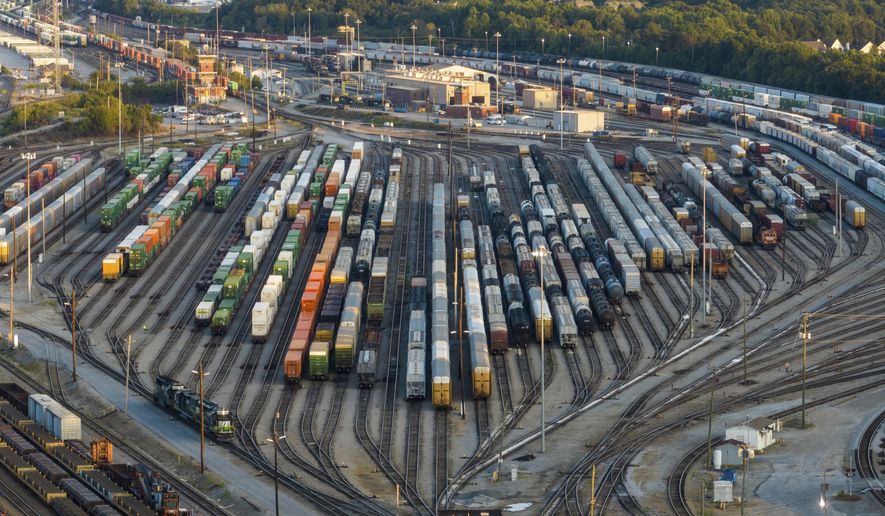 The Senate passed urgent legislation Thursday to impose a labor agreement between railroad unions and companies brokered by the Biden administration, preventing a strike that would have halted the shipment of up to 40% of the nation's goods just weeks before the holidays.
The bill passed with overwhelming bipartisan support by a vote of 80-15-1. Sen. Rand Paul, Kentucky Republican, voted "present." The legislation was approved by the House on Wednesday and now heads to President Biden's desk.
The president, who predicted widespread economic turmoil if Congress didn't intervene in the labor dispute, said he would swiftly sign the bill into law. Union workers were eyeing a strike on Dec. 9.
Mr. Biden said he and lawmakers "have spared this country a Christmas catastrophe in our grocery stores, in our workplaces, and in our communities."
---
House Democrats' new leader Hakeem Jeffries boasts he's ready to tamp down 'The Squad'
Rep. Hakeem Jeffries, whom House Democrats elected to succeed Nancy Pelosi as party leader in January, made clear that he won't let the far-left flank, or any other faction, rule the caucus.
Mr. Jeffries, 52, now entering his second decade in Congress representing a New York district encompassing parts of Brooklyn and Queens, has inherited from Mrs. Pelosi a smaller, divided caucus after a midterm election that showed key voters had soured on some of the policies promoted by the party's most liberal faction.
Veteran Democrats say Mr. Jeffries is well-positioned to manage divisions in the ranks and, in particular, members of the ultra-liberal "Squad" who promote views that include defunding the police, implementing drastic green energy policies and passing massive social welfare spending, often at odds with the rest of the caucus.
In the meantime, he sent a public message to the rank and file that the caucus won't be ruled by the demands of "Squad" leader Rep. Alexandria Ocasio-Cortez, a New York Democrat who once plotted to oust him from office, and other far-left superstars.
---
Pentagon won't yield on ending COVID vaccine mandate for troops, even if Congress threatens budget
The Pentagon is digging in its heels on requiring that troops be vaccinated against the coronavirus even as GOP lawmakers threaten to hold up the National Defense Authorization Act unless the Defense Department ends its COVID-19 mandate.
On Thursday, Pentagon spokesman Brig. Gen. Pat Ryder said the controversial policy is needed to protect the nation's security.
"As a warfighting organization, the health and readiness of our force is paramount. Vaccination for COVID is still a requirement," Gen. Ryder told reporters at the Pentagon, refusing to comment on any possible legislation to force an end to the mandate.
---
Mike Pence to Newsmax: Resistance 'Never Relented' From Day We Took Office
Former Vice President Mike Pence told Newsmax that resistance from the establishment "never relented" against the Trump administration "until the day we left office."
During a Thursday interview on "The Record With Greta Van Susteren," Pence highlighted several roadblocks and accusations levied against then-President Donald Trump that stalled progress on the White House's agenda.
Pence, author of "So Help Me God," attributed much of the hostility to retired intelligence officials like former CIA Director John Brennan. He argued the intelligence community railing against Trump provided credibility for the media to peddle false allegations.
---
TRAIL OF DESTRUCTION Meghan and Harry reignite war on Wills and Kate with 'deliberately' timed release of Netflix trailer to 'ruin' US tour
HARRY and Meghan reignited their war on William and Kate yesterday with an incendiary Netflix trailer.
The 60-second docu-series promo appears to threaten damaging new claims about William, Kate and Queen Camilla — with Harry menacingly saying: "No one sees what's happening behind closed doors."
Meghan and Harry's PR blitz also included intimate new pictures of the couple — despite them insisting they want privacy.
Ingrid Seward, editor-in-chief of Majesty magazine, said: "Putting the trailer out while William and Kate are in Boston looks like an ambush by Harry and Meghan. They are quite good at that kind of thing and timing is everything.
"But looking at how well the Prince and Princess of Wales have been received in Boston by the crowds and the great community work they are doing, I don't think the attempted ambush has worked."
---
Russia Suffering 'Colossal' Military Losses in Intense Battle: Ukraine
Russia's attempts to capture an embattled city in eastern Ukraine have resulted in "colossal" losses for President Vladimir Putin's army, according to a top Ukrainian defense official.
Yuriy Sak, an adviser to Ukraine's minister of defense, told CNBC Wednesday that the city, Bakhmut in the Donetsk region, was "undoubtedly one of the key hotspots at the moment" in the ongoing war.
His assertion that Russia was facing major military losses, as well as other assessments, seems to undercut recent claims from a Russian-installed leader in Donetsk that Bakhmut could soon be within Russia's grasp.
---
Why Hasn't Sam Bankman-Fried Been Arrested Yet?
On December 11, 2008, Bernie Madoff was arrested and criminally charged with one of the biggest financial frauds in history — an audacious, long-running Ponzi scheme that resulted in tens of billions of dollars in lost investor funds. At the time, the scandal sparked a national conversation about the gross deficiencies of our country's white-collar enforcement regime, but ever since the initial revelations about the problems at FTX and about Sam Bankman-Fried's criminal exposure, the Madoff case has resurfaced as a point of comparison for Bankman-Fried's alleged misdeeds — and as a rallying cry for people who believe he should already have been locked up by U.S. prosecutors.
Bankman-Fried was asked about the comparison by Good Morning America anchor George Stephanopoulos and (of course) rejected it, arguing that FTX was a "real business" in contrast to Madoff's outright Ponzi scheme.
But how much weight does the comparison deserve — particularly as a guide to how prosecutors ought to be handling the case? Unfortunately for those seeking immediate action by the Department of Justice, while the juxtaposition — between the swiftness of Madoff's arrest and the fact that SBF is apparently enjoying life in the Bahamas — is superficially compelling, it does not withstand more than a few minutes' worth of scrutiny. In fact, these claims run the serious risk of misleading the many people, including victims, who are understandably angry about what may have been a gigantic fraud. Those who are eager to see Bankman-Fried charged with serious financial crimes will just have to be patient.
---
An arm around a shoulder
There's another revolution brewing in the streets of Iran
The United States men's soccer team defeated Iran recently in a much-watched match in Doha, Qatar. I am not a huge fan of soccer or what sports fans outside of the United States refer to as football. But I watched this match because it interested me. Aside from being an artilleryman in the US Army, I was also a Middle East foreign area officer. My master's thesis focused on the relationship between the US and Iran during the run-up to the Iranian revolution in 1979.
That relationship has been troubled at best and hostile at worst. There is much ill will between our two nations. In the post-WWII environment, the US and Britain were displeased with the rise of a government in Iran headed by Mohammad Mosaddegh, an Iranian politician, author, and lawyer who served as the 35th Prime Minister of Iran from 1951 to 1953. We set in motion a coup to overthrow him.
As you can guess, the US and the UK were concerned about oil and the ability of Western powers to influence events in Iran. The Shah, Mohammad Reza Pahlavi—inclined to be very accommodating to the US and the UK—would continue to reign from 1941 until overthrown during the Iranian Revolution in 1979. Better, we thought in 1953, to have a monarch we could control rather than an elected prime minister that we couldn't.
" It is discouraging to think how many people are shocked by honesty and how few by deceit."

-- Noel Coward

(1899-1973) British playwright

---

THOMAS JEROME HUDNER JR.

RANK: LIEUTENANT, J.G.

CONFLICT/ERA: KOREAN WAR

MILITARY SERVICE BRANCH: U.S. NAVY

MEDAL OF HONOR ACTION DATE: DECEMBER 4, 1950

MEDAL OF HONOR ACTION PLACE: CHOSIN RESERVOIR, KOREA

For conspicuous gallantry and intrepidity at the risk of his life above and beyond the call of duty as a pilot in Fighter Squadron 32, while attempting to rescue a squadron mate whose plane, struck by antiaircraft fire and trailing smoke, was forced down behind enemy lines. Quickly maneuvering to circle the downed pilot and protect him from enemy troops infesting the area, Lt. (j.g.) Hudner risked his life to save the injured flier who was trapped alive in the burning wreckage. Fully aware of the extreme danger in landing on the rough mountainous terrain, and the scant hope of escape or survival in subzero temperature, he put his plane down skillfully in a deliberate wheels-up landing in the presence of enemy troops. With his bare hands, he packed the fuselage with snow to keep the flames away from the pilot and struggled to pull him free. Unsuccessful in this he returned to his crashed aircraft and radioed other airborne planes, requesting that a helicopter be dispatched with an ax and fire extinguisher. He then remained on the spot despite the continuing danger from enemy action and, with the assistance of the rescue pilot, renewed a desperate but unavailing battle against time, cold, and flames. Lt. (j.g.) Hudner's exceptionally valiant action and selfless devotion to a shipmate sustain and enhance the highest traditions of the U.S. Naval Service.

---

From the Archives

We Have Met the Enemy…


Geoff Metcalf


"They who can give up essential liberty to obtain a little temporary safety deserve neither liberty nor safety.


--Benjamin Franklin
"The American people must be willing to give up a degree of personal privacy in exchange for safety and security."


--Louis Freeh


In the wake of the clamor over the most recent WikiLeaks data dump, 'Vault 7', 'UMBRAGE', et al, it should be noted this is not really anything new. What we are seeing here is simply the evolution of something that goes back to the late 50s (to the incomplete best knowledge I have).

It is kinda cool to finally see even

The New York Times

acknowledging material

I was writing about in 1998

.

In April of 1998 I wrote "Privacy has become an anachronism." I was commenting on "a massive system designed to intercept all your e-mail, fax traffic and more." I was explaining 'Echelon', the illegitimate offspring of a

UKUSA Treaty

signed by the United States, United Kingdom, Canada, Australia and New Zealand. Its purpose was, and is, to have a vast global intelligence monster, which allegedly shares common goals. The system was so "efficient" that reportedly National Security Agency folk from Fort Meade could work from Menwith Hill in England to intercept local communications without either nation having to burden themselves with the formality of seeking approval (a court order) or disclosing the operation. And this was all pre-9/11 and pre-the anti-constitutional

'Patriot Act'

.

It is illegal (without a Judge's signed permission) for the United States to spy on its citizens … kinda. The laws have long been circumvented by a mutual pact among five nations. Under the terms of UKUSA agreement, Britain spies on Americans and America spies on British citizens, and then the two conspirators trade data. A classic technical finesse. It is legal, but the intent to evade the spirit is inescapable.

I often fictionalized the genesis of 'Echelon' as an informal meeting of a group of post war American and British intelligence types drinking in some remote rustic bar. An imagined CIA type complains to his MI6 buddy about the hassles of US laws preventing US intelligence from surveillance of bad guys, and the Brit echoes the same complaint.

"Hey wait a moment mate," says Nigel, the make-believe MI6 guy, "I can spy on your guys and you can spy on our bad players…why don't we just come up with a mechanism whereby we spy on your villains, you spy on our villains, and we just 'share' the intel?"

This system was called ECHELON, and has been kicking around in some form longer than most of you. The result of the UKUSA treaty signed by the United States, United Kingdom, Canada, Australia and New Zealand was, and is, to have a vast global intelligence monster which allegedly shares common goals.

The report noted: "Within Europe all e-mail, telephone and fax communications are routinely intercepted by the United States National Security Agency, transferring ll target information from the Eurv opean mainland via the strategic hub of London, then by satellite to Fort Meade in Maryland via the crucial hub at Menwith Hill, in the North York moors in th UK.

"The ECHELON system forms part of the UKUSA system but unlike many of the electronic spy systems developed during the Cold War, ECHELON was designed primarily for non-military targets: governments, organizations and businesses in virtually every country."