"It Is Not A Question of Who Is Right Or Wrong But What Is Right Or Wrong That Counts.

"

--Geoff Metcalf
Providing an on line Triage of the news since 1997
My son has narrated the last book I wrote.
Please consider listening to it and encouraging others to do so too.
(Click on Book Cover)
Wo
rld & Nation
Pro-choice liberals boycott Independence Day
Pro-choice liberals, including a northern California public school board member, are calling for boycotts of Independence Day to protest the Supreme Court's recent decision to overturn Roe v. Wade.
The progressives, many of them women, started calling for the boycotts on social media hours after the U.S. Supreme Court voted on June 24 to overturn the constitutional right to an abortion and return jurisdiction over the procedure to state legislatures.
In a press release on Friday, Bans Off Our Bodies Florida announced a July 2-4 "Independence Day Boycott from Roe v Wade Decision" that calls for a "total freeze-out" on retail spending.
"We're looking to show Florida and the country that the impact of controlling women's bodies will have far-reaching consequences," said Laura Lippo, one of the boycott organizers.
---
Biden admin misses major oil lease deadline: 'an absolute disgrace'
The Biden administration did not give an explanation after it missed its own deadline to plan future oil and gas lease sales Thursday.
Interior Secretary Deb Haaland vowed during a Senate hearing on May 19 to issue a legally-mandated program outlining proposed offshore lease sales over the next five years by Thursday. On Wednesday, Interior Department (DOI) spokesperson Melissa Schwartz confirmed the agency was "on track" to issue the plan by Thursday, according to E&E News.
Schwartz declined to comment on the delay in response to a Fox News Digital inquiry. The White House did not respond to a request for comment.
---
Montana Planned Parenthood to deny abortion pills to out-of-state patients
Women seeking medication abortion from Planned Parenthood of Montana will now be required to show proof of residency in a bid to prevent the sale of pills to women from states where abortions are banned.
The decision, relayed to staff in an email that was revealed by Montana freelance reporter Hunter Pauli, comes in the wake of the Supreme Court striking down Roe v. Wade and appears to be an attempt to shield the organization from lawsuits or criminal charges. Eligibility for surgical abortions will remain unchanged.
"The risks around cross-state provision of services are currently less than clear, with the potential for both civil and criminal action for providing abortions in states with bans," Planned Parenthood Montana President Martha Fuller told staff in an email.
That means patients from South Dakota, Arkansas, Missouri and Oklahoma, where abortion is now banned, will be unable to receive abortion via medication unless they can prove Montana residency.
---
Varney: Another Biden failure, another Harris embarrassment
STUART VARNEY: The Vice President, Kamala Harris, has spoken out about the death of 53 migrants in that boiling-hot, sealed truck in Texas.
She also had something to say about the Governor of Texas, Greg Abbott, who had blamed the administration for the deaths.
The vice president has been widely criticized for her vague, "word salad" statements. That was another one. But let's boil it down:
---
White House press corps demands full access to Biden events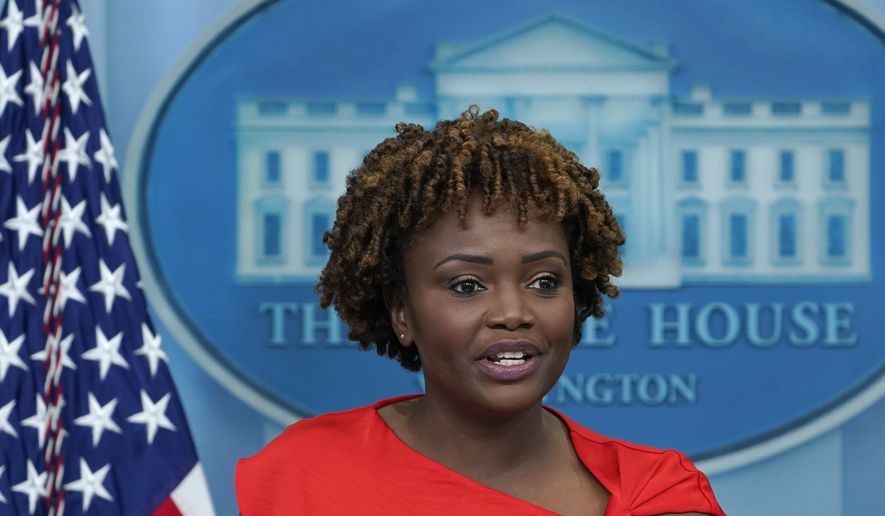 Nearly 70 journalists late Thursday urged White House press secretary Karine Jean-Pierre to drop the secretive pre-screening process the administration has been using to limit reporter access to large events with President Biden.
The letter was signed by scores of journalists across dozens of outlets, including some of the most well-known White House correspondents. The Washington Times was among the outlets that signed the letter.
White House aides have restricted event access to only reporters who have been "pre-credentialed" for events with Mr. Biden. When reporters have pressed for reasons on why they were not approved for an event with the president, they've heard varied explanations ranging from COVID-19 restrictions to limited space in the room where the event was held.
At one point, The Times was told that reporters were rotated on a monthly basis, but that doesn't appear to be accurate as several outlets have gone several months without being admitted.
---
Moscow Denies Striking Apartments Near Ukraine's Odesa
The Kremlin dismissed allegations that Russian missiles had struck an apartment building near the Ukrainian Black Sea port of Odesa early on Friday.
Ukrainian authorities said Russian missiles had hit an apartment building and two holiday camps, killing at least 18 people and wounding dozens.
"I would like to remind you of the president's words that the Russian Armed Forces do not work with civilian targets," Kremlin spokesperson Dmitry Peskov said on a conference call with reporters.
---
Biden claims inflation is lower in the U.S. than abroad. Here are the real numbers.
President Biden repeated a claim Thursday that inflation rates in the United States are lower than they are abroad.
"America is better positioned to lead the world than we ever have been," he said at a press conference at NATO summit in Madrid. "We have the strongest economy in the world, our inflation rates are lower than other nations in the world."
The claim is a repeat of one he made earlier this month when he said in an interview with the Associated Press that inflation is higher "in every major industrial country" compared to the the United States
Data from Trading Economics, however, paint a different picture, showing the United States with a higher inflation rate in May of 2022 than most of the other 20 largest economies in the world.
These data show only the Netherlands, U.K., Spain, Brazil, Russia, Argentina and Turkey are experiencing faster increases in the cost of living than the United States.
---
China lashes out against 'Asian version of NATO'
Alliance leaders expand focus of security threat
The decision by NATO leaders to highlight the global security threat posed by China for the first time has triggered outrage in Beijing, where the Chinese foreign ministry on Thursday accused the Western military alliance of pushing a narrative that "distorts the truth" and "promotes confrontation" between the West and China.
Beijing's accusations came after North Korea's authoritarian regime, which is backed by China, hurled similar warnings this week, saying military coordination among the U.S., South Korea and Japan represents a "dangerous prelude to the creation of [an] 'Asian version of NATO.'"
North Korea's official KCNA news service on Thursday reprinted an analysis by a local think tank scholar arguing NATO has "brought disaster" to Eastern Europe and now seeks to do the same thing in the Asia-Pacific region.
---
Quarter of voters say they may soon have to take up arms against the government, poll says
More than one in four Americans have so much disdain for the government that they believe it may be necessary "at some point soon for citizens to take up arms against the government," according to a new poll from the University of Chicago's Institute of Politics.
Just days before Independence Day, the poll shows that 28% of voters hold such a belief, including one in three Republicans, roughly one in three independents and one in five Democrats.
A majority of Americans also said the government is "corrupt and rigged against everyday people like me," including two-thirds of Republicans and independents, and about half of Democrats.
---
Supreme Court conservatives flex in term full of controversial cases
Trajectory of the court appears unlikely to change in a new term in October, even with a new justice
The Supreme Court ended its term with the conservative justices bending the law sharply rightward in a series of momentous decisions on abortion, gun rights, environmental regulations and religious rights that will reverberate for decades.
The decisions represent triumphs for a conservative legal movement that has sought for decades to remake American law and found its moment in a high court with a bolstered 6-3 conservative tilt that took on issues long linked to Republican policies.
The term that ended Thursday showed that majority "really flexing its muscle" in the cases it selected and the decisions it issued, said Josh Blackman, a professor at South Texas College of Law Houston.
Chief Justice John G. Roberts Jr., who has expressed a desire to maintain the court's reputation as nonpartisan, highlighted that shift when he criticized his fellow conservatives for an abortion case decision that is a "serious jolt to the legal system."
---
Biden to award gun control activist Gabby Giffords, Trump critic Khizr Khan with Medal of Freedom
President Biden announced Friday he will award the Presidential Medal of Freedom next week to 17 individuals including ex-lawmaker and gun control activist Gabby Giffords, the late Sen. John McCain, Trump critic Khizr Khan, Olympic athlete Simone Biles and Academy Award-winning actor Denzel Washington.
Ms. Giffords, a former House lawmaker from Arizona, founded a gun-violence prevention group after surviving an assassination attempt in 2011.
Mr. Khan is the Gold Star father who famously criticized then-candidate Donald Trump in 2016 at the Democratic National Convention, in a speech lambasting Mr. Trump's comments about Muslim Americans. In response, Mr. Trump attacked the Khan family, drawing criticism from some supporters and other Republicans, including Mr. McCain.
Among the other recipients are the late Steve Jobs, who co-founded Apple; Sister Simone Campbell, a Catholic nun who advocates for economic justice; Sandra Lindsay, the first American to receive the COVID-19 vaccine outside of clinical trials, U.S. women's soccer legend Megan Rapinoe. former Sen. Alan Simpson of Wyoming, who advocated for campaign finance reform.
---
This July Fourth, let's rededicate ourselves to protecting liberty and justice for all
Reject 'woke' radicals trying to discredit our founders
We celebrate the Fourth of July and not April 15, because — in America — we commemorate our independence from the government, not our dependence on it. Let's not take that for granted this week — or any week.
Our founders clearly spelled out the American Promise in the Declaration of Independence with these compelling words: "We hold these truths to be self-evident, that all men are created equal, that they are endowed by their Creator with certain unalienable Rights, that among these are Life, Liberty and the pursuit of Happiness.—That to secure these rights, Governments are instituted among Men, deriving their just powers from the consent of the governed."
Despite attempts by "woke" radicals to discredit the founders, our nation was created on the belief that all of us are created equal and that God grants us fundamental rights including life, liberty and the pursuit of happiness. It is important to note that government does not grant us these rights. Rather, it is the responsibility of the government to protect these rights. We must continue to become a more perfect nation as we move closer to fulfilling the promise of the Declaration for all Americans.
---
Look out, the 'abortion election'
America sighs relief as Democrats call for 'sex strike'
Democrats have not been this angry since Abraham Lincoln freed their slaves.
The Jan. 6 committee investigation into the "insurrection" at the Capitol has been cast aside by Democrat activists in favor of firebombing pregnancy centers, threatening justices and fomenting insurrection around the country.
Outside the Supreme Court, placards read: "F—- SCOTUS," "Death to the Supremes," "The Court is Not Democracy" and "Expand the Court!" In other words, the Supreme Court is evil and undemocratic — so let's make it bigger!
Oh, and the court is "undemocratic" — because it returned the issue of abortion to voters across the country.
---
" It is discouraging to think how many people are shocked by honesty and how few by deceit."

-- Noel Coward

(1899-1973) British playwright

---

The Medal of Honor is the highest award for valor in action against an enemy force which can be bestowed upon an individual serving in the Armed Services of the United States.

GeneTrerally presented to its recipient by the President of the United States of America in the name of Congress.

The first award of the Medal of Honor was made March 25, 1863 to Private JACOB PARROTT.The last award of the Medal of Honor was made September 15, 2011 to Sergeant DAKOTA MEYER.

Since then there have been: • 3458 recipients of the Medal of Honor.

• Today there are 85 Living Recipients of the Medal of Honor.

Citation


Captain Humbert R. Versace distinguished himself by extraordinary heroism during the period of 29 October 1963 to 26 September 1965, while serving as S-2 Advisor, Military Assistance Advisory Group, Detachment 52, Ca Mau, Republic of Vietnam. While accompanying a Civilian Irregular Defense Group patrol engaged in combat operations in Thoi Binh District, An Xuyen Province, Captain Versace and the patrol came under sudden and intense mortar, automatic weapons, and small arms fire from elements of a heavily armed enemy battalion. As the battle raged, Captain Versace, although severely wounded in the knee and back by hostile fire, fought valiantly and continued to engage enemy targets. Weakened by his wounds and fatigued by the fierce firefight, Captain Versace stubbornly resisted capture by the over-powering Viet Cong force with the last full measure of his strength and ammunition. Taken prisoner by the Viet Cong, he exemplified the tenets of the Code of Conduct from the time he entered into Prisoner of War status. Captain Versace assumed command of his fellow American soldiers, scorned the enemy's exhaustive interrogation and indoctrination efforts, and made three unsuccessful attempts to escape, despite his weakened condition which was brought about by his wounds and the extreme privation and hardships he was forced to endure. During his captivity, Captain Versace was segregated in an isolated prisoner of war cage, manacled in irons for prolonged periods of time, and placed on extremely reduced ration. The enemy was unable to break his indomitable will, his faith in God, and his trust in the United States of America. Captain Versace, an American fighting man who epitomized the principles of his country and the Code of Conduct, was executed by the Viet Cong on 26 September 1965. Captain Versace's gallant actions in close contact with an enemy force and unyielding courage and bravery while a prisoner of war are in the highest traditions of the military service and reflect the utmost credit upon himself and the United States Army.

---

From the Archives

We Have Met the Enemy…
Geoff Metcalf


"They who can give up essential liberty to obtain a little temporary safety deserve neither liberty nor safety.
--Benjamin Franklin
"The American people must be willing to give up a degree of personal privacy in exchange for safety and security."
--Louis Freeh


In the wake of the clamor over the most recent WikiLeaks data dump, 'Vault 7', 'UMBRAGE', et al, it should be noted this is not really anything new. What we are seeing here is simply the evolution of something that goes back to the late 50s (to the incomplete best knowledge I have).

It is kinda cool to finally see even

The New York Times

acknowledging material

I was writing about in 1998

.

In April of 1998 I wrote "Privacy has become an anachronism." I was commenting on "a massive system designed to intercept all your e-mail, fax traffic and more." I was explaining 'Echelon', the illegitimate offspring of a

UKUSA Treaty

signed by the United States, United Kingdom, Canada, Australia and New Zealand. Its purpose was, and is, to have a vast global intelligence monster, which allegedly shares common goals. The system was so "efficient" that reportedly National Security Agency folk from Fort Meade could work from Menwith Hill in England to intercept local communications without either nation having to burden themselves with the formality of seeking approval (a court order) or disclosing the operation. And this was all pre-9/11 and pre-the anti-constitutional

'Patriot Act'

.

It is illegal (without a Judge's signed permission) for the United States to spy on its citizens … kinda. The laws have long been circumvented by a mutual pact among five nations. Under the terms of UKUSA agreement, Britain spies on Americans and America spies on British citizens, and then the two conspirators trade data. A classic technical finesse. It is legal, but the intent to evade the spirit is inescapable.

I often fictionalized the genesis of 'Echelon' as an informal meeting of a group of post war American and British intelligence types drinking in some remote rustic bar. An imagined CIA type complains to his MI6 buddy about the hassles of US laws preventing US intelligence from surveillance of bad guys, and the Brit echoes the same complaint.

"Hey wait a moment mate," says Nigel, the make-believe MI6 guy, "I can spy on your guys and you can spy on our bad players…why don't we just come up with a mechanism whereby we spy on your villains, you spy on our villains, and we just 'share' the intel?"

This system was called ECHELON, and has been kicking around in some form longer than most of you. The result of the UKUSA treaty signed by the United States, United Kingdom, Canada, Australia and New Zealand was, and is, to have a vast global intelligence monster which allegedly shares common goals.

The report noted: "Within Europe all e-mail, telephone and fax communications are routinely intercepted by the United States National Security Agency, transferring ll target information from the Eurv opean mainland via the strategic hub of London, then by satellite to Fort Meade in Maryland via the crucial hub at Menwith Hill, in the North York moors in th UK.

"The ECHELON system forms part of the UKUSA system but unlike many of the electronic spy systems developed during the Cold War, ECHELON was designed primarily for non-military targets: governments, organizations and businesses in virtually every country."