"It Is Not A Question of Who Is Right Or Wrong But What Is Right Or Wrong That Counts.

"

--Geoff Metcalf






Wo

rld & National
'No Cave!': Trump shoulders shutdown blame, bets Democrats will pay in 2020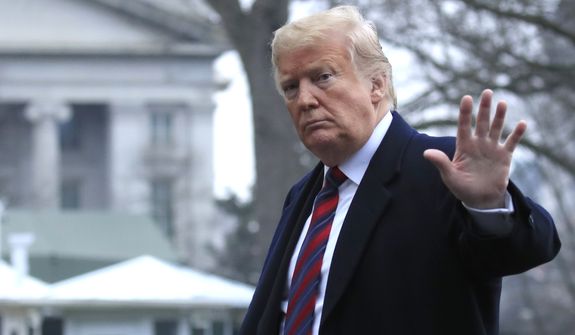 The question for the White House is not who's to blame for the partial government shutdown but rather who will voters blame for weak border security in 2020.
President Trump is convinced that Democrats will pay a hefty price with voters for opposing his border security plan, and he vowed Tuesday to never "cave" in the shutdown fight.
Democrats remain just as adamant that they are winning the showdown, with polls confirming that most Americans pin the blame on Mr. Trump for the shutdown, now in its fifth week.
Jim McLaughlin, a GOP pollster closely allied with the White House, said congressional Democrats have miscalculated.
---

With votes scheduled, Washington searches for way out of shutdown

It may look like a typical Washington farce, but a pair of Senate show votes this week might just be the first, tentative step on a long road out of the longest government shutdown in history.

The White House, the Democratic House and the Republican Senate are about to stage a theatrical effort to make it look like they are doing everything possible to restore the paychecks of 800,000 federal workers.

Republican Senate Majority Leader Mitch McConnell's plan enshrines President Donald Trump's offer to swap temporary protection for some undocumented immigrants for $5.7 billion in funding for his totemic border wall.


---
Trump to renominate 51 picks whose judicial nominations had expired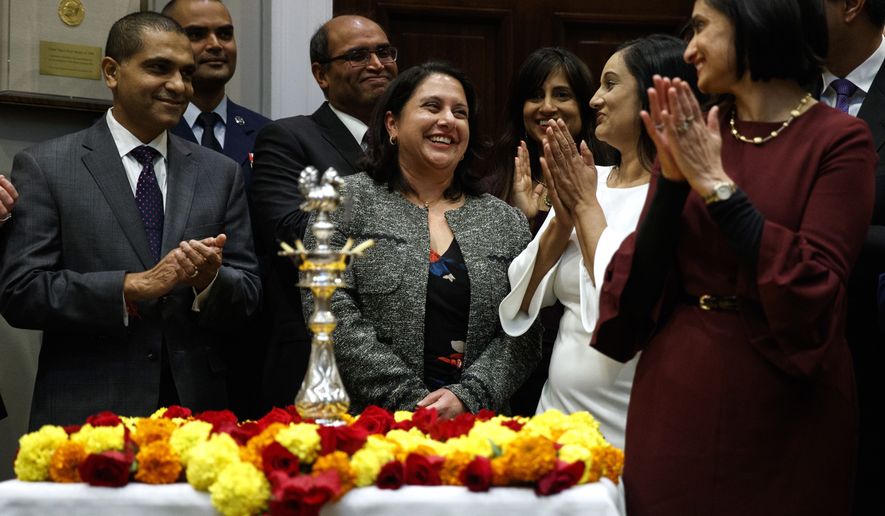 President Trump announced Tuesday his intent to renominate 51 of his judicial nominees, who didn't see confirmation votes during the last Congress and whose nominations had expired at the end of last year.
Out of the 51 picks for the federal bench, nine were for federal circuit court vacancies including Neomi J. Rao, who was tapped to fill Justice Brett M. Kavanaugh's old seat on the D.C. Circuit.
Liberal groups have already vowed to oppose her nomination.
---
Black Hebrew Israelites leader says MAGA hats are 'no better than Klan hoods'
A New York-based leader of the black protest group that taunted Covington Catholic students at the Lincoln Memorial said the youths' Make America Great Again hats are "no better than Klan hoods."
The leader identifying himself as "General Mahayaman" of the Hebrew Israelites told the Philadelphia Inquirer that the encounter on the National Mall last week was "a perfect metaphor for why street speaking is so important."
"There was the American Indian demonstrator who attempted to sing in the face of great hatred," he told the paper, referring to the teenagers wearing MAGA hats, which he said "are no different than Klan hoods."
---
Trump tells Sarah Huckabee Sanders 'not to bother' with press briefings
President Trump blamed the media Tuesday as the reason the White House rarely holds press briefings.
Mr. Trump said he told press secretary Sarah Huckabee Sanders "not to bother" with conducting press briefings because he believes the press will be biased and covers her "rudely."
The reason Sarah Sanders does not go to the "podium" much anymore is that the press covers her so rudely & inaccurately, in particular certain members of the press. I told her not to bother, the word gets out anyway! Most will never cover us fairly & hence, the term, Fake News!
---
AP Sources: Trump, Others Agitated by Giuliani's Performance
Rudy Giuliani's latest media blitz, which was filled with a dizzying array of misstatements and hurried clarifications, agitated President Donald Trump and some of his allies, who have raised the possibility that the outspoken presidential lawyer be at least temporarily sidelined from televised interviews.
Trump was frustrated with Giuliani, according to three White House officials and Republicans close to the White House who were not authorized to speak publicly about private conversations. The president told advisers that he felt his lawyer had obscured what he believed was a public relations victory: the special counsel's rare public statement disputing portions of a BuzzFeed News story that Trump instructed his former attorney, Michael Cohen, to lie before Congress.
The president told confidants that Giuliani had "changed the headlines" for the worse and raised the possibility that Giuliani do fewer cable hits, at least for a while, according to the officials and Republicans.
---
What is the Irish backstop, and why has it complicated Brexit?
Hardly mentioned during the referendum campaign in 2016, arrangements for the Irish border have proved trickier to solve than almost any other issue.
At its heart, Brexit is about untangling more than 40 years of shared laws and policy. That's a tall order for any government, especially given the tight two-year time frame written into the process.
But an issue that was hardly mentioned during the Brexit referendum campaign in 2016 has proved trickier to solve than any other: how to handle the border between the Irish Republic, which is in the European Union, and Northern Ireland, which is part of the United Kingdom.
Today, the 310-mile boundary is largely invisible and runs through schools, farmlands, homes and even a church graveyard. It is also the only land border that the U.K. shares with an E.U. country.
---
China is outraged that the US wants to take the arrested Huawei executive Meng Wanzhou off Canada's hands
Meng Wanzhou, the daughter of Huawei's founder, may soon be in US custody, The New York Times reported on Tuesday.
The US will look to make a formal extradition request "within a week" as law-enforcement pursues the top Huawei executive for breaching American sanctions on Iran.
Meng has been living with her family in Vancouver. Talk of her imminent extradition comes as the ground rules are being prepared for the critical two-way trade war talks between Washington and Beijing.
---
Chicken Little: Alexandria Ocasio-Cortez is the new Al Gore
Almost 13 years ago, former Vice President and amateur climatologist Al Gore released "An Inconvenient Truth."
The alarmist global warming movie was full of alarming predictions, all of which Weatherman Gore said would be happening in the next decade. Sea levels would rise 20 feet. Massive hurricanes and severe tornadoes would be the new norm. The arctic and Antarctica would melt and polar bears would disappear.
None of that happened.
---
The age of neo-imperialism
China, Russia and Iran are very different nations in very different parts of the world, but they have three significant commonalities: All once were great empires. All are now ruled by men who aspire to build great empires anew. All regard the United States as their rival and adversary.
Al Qaeda and the Islamic State also dream of empire, one that would replace the Ottoman Empire, which collapsed in 1922, and its affiliated caliphate, which was abolished two years later.
Important to note: Iran's rulers are not seeking to build a Persian or Iranian empire. Like al Qaeda and the Islamic State, they intend to resurrect a specifically Islamic empire, albeit one dominated by Shia rather than Sunni Muslims.
---
---
"It is discouraging to think how many people are shocked by honesty and how few by deceit."

-- Noel Coward

(1899-1973) British playwright

---

The Medal of Honor is the highest award for valor in action against an enemy force which can be bestowed upon an individual serving in the Armed Services of the United States.

GeneTrerally presented to its recipient by the President of the United States of America in the name of Congress.

The first award of the Medal of Honor was made March 25, 1863 to Private JACOB PARROTT.The last award of the Medal of Honor was made September 15, 2011 to Sergeant DAKOTA MEYER.

Since then there have been: • 3458 recipients of the Medal of Honor.

• Today there are 85 Living Recipients of the Medal of Honor.

Citation


Captain Humbert R. Versace distinguished himself by extraordinary heroism during the period of 29 October 1963 to 26 September 1965, while serving as S-2 Advisor, Military Assistance Advisory Group, Detachment 52, Ca Mau, Republic of Vietnam. While accompanying a Civilian Irregular Defense Group patrol engaged in combat operations in Thoi Binh District, An Xuyen Province, Captain Versace and the patrol came under sudden and intense mortar, automatic weapons, and small arms fire from elements of a heavily armed enemy battalion. As the battle raged, Captain Versace, although severely wounded in the knee and back by hostile fire, fought valiantly and continued to engage enemy targets. Weakened by his wounds and fatigued by the fierce firefight, Captain Versace stubbornly resisted capture by the over-powering Viet Cong force with the last full measure of his strength and ammunition. Taken prisoner by the Viet Cong, he exemplified the tenets of the Code of Conduct from the time he entered into Prisoner of War status. Captain Versace assumed command of his fellow American soldiers, scorned the enemy's exhaustive interrogation and indoctrination efforts, and made three unsuccessful attempts to escape, despite his weakened condition which was brought about by his wounds and the extreme privation and hardships he was forced to endure. During his captivity, Captain Versace was segregated in an isolated prisoner of war cage, manacled in irons for prolonged periods of time, and placed on extremely reduced ration. The enemy was unable to break his indomitable will, his faith in God, and his trust in the United States of America. Captain Versace, an American fighting man who epitomized the principles of his country and the Code of Conduct, was executed by the Viet Cong on 26 September 1965. Captain Versace's gallant actions in close contact with an enemy force and unyielding courage and bravery while a prisoner of war are in the highest traditions of the military service and reflect the utmost credit upon himself and the United States Army.

---

From the Archives

We Have Met the Enemy…
Geoff Metcalf


"They who can give up essential liberty to obtain a little temporary safety deserve neither liberty nor safety.
--Benjamin Franklin
"The American people must be willing to give up a degree of personal privacy in exchange for safety and security."
--Louis Freeh


In the wake of the clamor over the most recent WikiLeaks data dump, 'Vault 7', 'UMBRAGE', et al, it should be noted this is not really anything new. What we are seeing here is simply the evolution of something that goes back to the late 50s (to the incomplete best knowledge I have).

It is kinda cool to finally see even

The New York Times

acknowledging material

I was writing about in 1998

.

In April of 1998 I wrote "Privacy has become an anachronism." I was commenting on "a massive system designed to intercept all your e-mail, fax traffic and more." I was explaining 'Echelon', the illegitimate offspring of a

UKUSA Treaty

signed by the United States, United Kingdom, Canada, Australia and New Zealand. Its purpose was, and is, to have a vast global intelligence monster, which allegedly shares common goals. The system was so "efficient" that reportedly National Security Agency folk from Fort Meade could work from Menwith Hill in England to intercept local communications without either nation having to burden themselves with the formality of seeking approval (a court order) or disclosing the operation. And this was all pre-9/11 and pre-the anti-constitutional

'Patriot Act'

.

It is illegal (without a Judge's signed permission) for the United States to spy on its citizens … kinda. The laws have long been circumvented by a mutual pact among five nations. Under the terms of UKUSA agreement, Britain spies on Americans and America spies on British citizens, and then the two conspirators trade data. A classic technical finesse. It is legal, but the intent to evade the spirit is inescapable.

I often fictionalized the genesis of 'Echelon' as an informal meeting of a group of post war American and British intelligence types drinking in some remote rustic bar. An imagined CIA type complains to his MI6 buddy about the hassles of US laws preventing US intelligence from surveillance of bad guys, and the Brit echoes the same complaint.

"Hey wait a moment mate," says Nigel, the make-believe MI6 guy, "I can spy on your guys and you can spy on our bad players…why don't we just come up with a mechanism whereby we spy on your villains, you spy on our villains, and we just 'share' the intel?"

This system was called ECHELON, and has been kicking around in some form longer than most of you. The result of the UKUSA treaty signed by the United States, United Kingdom, Canada, Australia and New Zealand was, and is, to have a vast global intelligence monster which allegedly shares common goals.

The London Telegraph reported in December of 1997 that the Civil liberties Committee of the European Parliament had officially confirmed the existence and purpose of ECHELON. "A global electronic spy network that can eavesdrop on every telephone, e-mail and telex communication around the world will be officially acknowledged for the first time in a European Commission report. …"

The report noted: "Within Europe all e-mail, telephone and fax communications are routinely intercepted by the United States National Security Agency, transferring all target information from the European mainland via the strategic hub of London, then by satellite to Fort Meade in Maryland via the crucial hub at Menwith Hill, in the North York moors in the UK.

"The ECHELON system forms part of the UKUSA system but unlike many of the electronic spy systems developed during the Cold War, ECHELON was designed primarily for non-military targets: governments, organizations and businesses in virtually every country."

An interesting sidebar appeared in the International Herald Tribune under the headline, "Big Corporate Brother: It Knows More About You Than You Think." The story details Acxiom Corp, which was a humongous information service hidden in the Ozark foothills. Twenty-four hours a day, Acxiom electronically gathered and sorts all kinds of data about 196 million Americans. Credit card transactions and magazine subscriptions, telephone numbers, real estate records, automotive data, hunting, business and fishing licenses, consumer surveys and demographic detail that would make a marketing department's research manager salivate. This relatively new (legal) enterprise was known as "data warehousing" or "data-mining", and it underscores the cruel reality that the fiction of personal privacy has become obsolete. Technology's ability to collect and analyze data has made privacy a quaint albeit interesting dinosaur.

The Tribune reported that "Axciom can often determine whether an American owns a dog or cat, enjoys camping or gourmet cooking, reads the Bible or lots of other books. It can often pinpoint an American's occupation, car and favorite vacations. By analyzing the equivalent of billions of pages of data, it often projects for its customers who should be offered a credit card or who is likely to buy a computer."

Most of this information is from y 1998 piece. Echelon has developed, matured, and morphed into a much more powerful hybrid. 'Carnivore' was software to help triage the cacophony of data. Vault 7 and 'Umbrage' are logical (some would argue "insidious") growth.

More to follow…