"It Is Not A Question of Who Is Right Or Wrong But What Is Right Or Wrong That Counts.

"

--Geoff Metcalf
Providing an on line Triage of the news since 1997



Wo

rld & Nation
Biden overturned Trump deregulation rule that saved U.S. $160 billion: analysis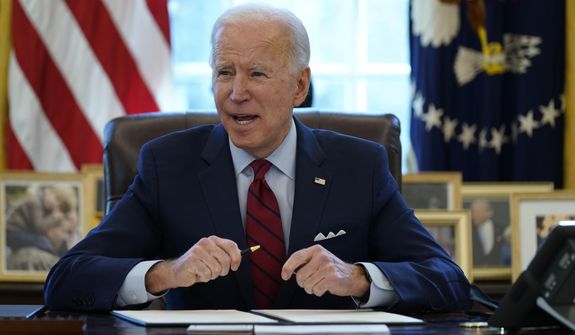 The Trump administration's deregulatory push that President Biden ended on his first day in office helped businesses save about $160 billion, according to an analysis issued as Mr. Biden paves the way for more-aggressive regulations.
Mr. Biden is trying to make a clean break from the former president. He has paused Trump-era deregulatory moves on issues such as drug prices and showerhead water flow and is signaling a far-reaching agenda in other areas.
"Biden has jettisoned … most of what Trump put in place," said Clyde Wayne Crews, vice president for policy and a senior fellow at the free-market Competitive Enterprise Institute think tank. "It's very difficult to imagine there being another administration that would be quite so aggressive in doing the things [President Trump] did, so I do give a lot of credit to the [Trump] administration."
Mr. Trump's moves on the "regulatory budget" resulted in $155 billion to $165 billion of net savings from 2017 to 2021, according to a report from the American Action Forum, a center-right think tank.
---
U.S. airstrike hits Iran-backed militias in Syria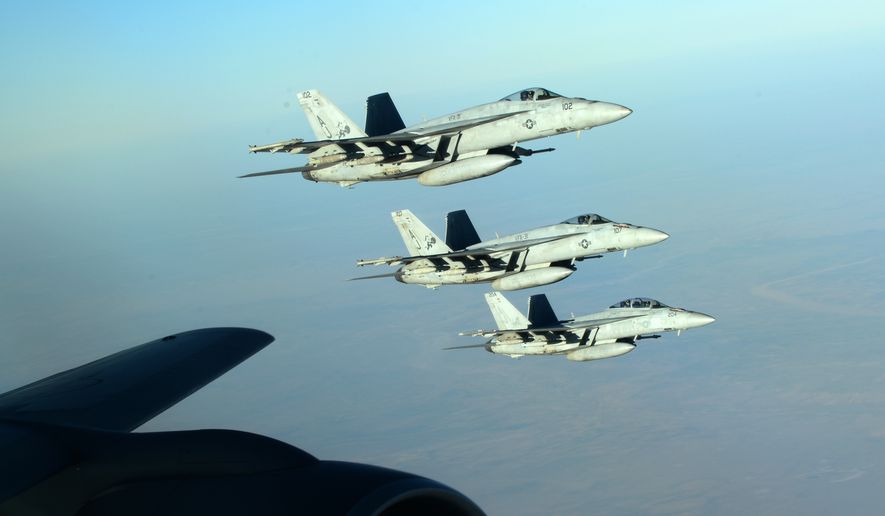 President Biden on Thursday ordered U.S. airstrikes against Iran-backed militias operating inside Syria, Pentagon officials said.
The airstrikes come amid a wave of recent rocket attacks against American personnel stationed in neighboring Iraq, including one recent assault that killed a civilian contractor and wounded a U.S. service member. In its statement, military officials suggested that more attacks against Americans could be on the immediate horizon and that Thursday's airstrikes were aimed at protecting U.S. interests.
"At President Biden's direction, U.S. military forces earlier this evening conducted airstrikes against infrastructure utilized by Iranian-backed militant groups in eastern Syria," Pentagon spokesman John Kirby said. "These strikes were authorized in response to recent attacks against American and Coalition personnel in Iraq, and to ongoing threats to those personnel. Specifically, the strikes destroyed multiple facilities located at a border control point used by a number of Iranian-backed militant groups, including Kait'ib Hezbollah (KH) and Kait'ib Sayyid al-Shuhada (KSS)."
---
Past Biden, Psaki tweets criticizing Trump resurface after new Syria airstrikes
Past Twitter posts about Trump military actions draw sharp reactions Thursday -- including from U.S. Rep. Ilhan Omar
Past Twitter messages from President Biden and one of his top aides -- both criticizing former President Trump -- weren't appearing to age well Thursday after Biden ordered airstrikes against an Iranian-backed militia stronghold in Syria.
In 2017, Jen Psaki, now White House press secretary, questioned what the Trump administration's "legal authority for strikes" was in Syria following a Trump-ordered military action.
"Assad is a brutal dictator," she tweeted, "But Syria is a sovereign country."
When Psaki's nearly four-year-old tweet resurfaced, many Twitter users appreciated the irony.
---
FBI document shows paid spy Halper behind Flynn-Cambridge rumor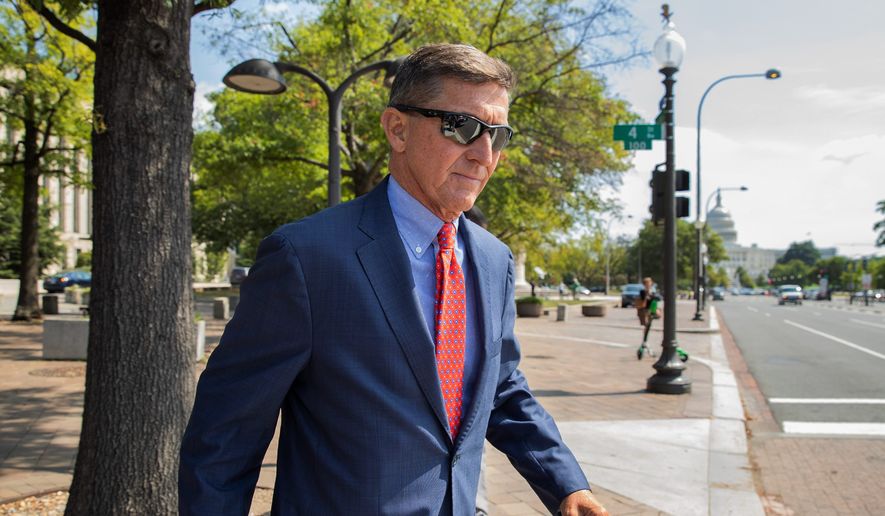 A declassified document confirms that it was noted FBI-paid spy Stefan Halper who told of a supposed inappropriate encounter between retired Army Lt. Gen. Michael Flynn and Russia-born scholar Svetlana Lokhova at the University of Cambridge in 2014.
Mr. Halper's gossipy tale turned out not to be true. But the Flynn-Lokhova canard made its way in 2017 into stories in a number of major newspapers, feeding the Donald Trump-Russia election collusion narrative. A story that Mr. Trump's short-tenured national security adviser was somehow involved with a Russia-born woman made tantalizing headlines — albeit false ones.
The Justice Department previously had released a January 2017 FBI document that closed the Flynn investigation as it related to Russia. The electronic communication told of Mr. Halper's supposed dirt and the fact that none of it turned out to be true. The document did not identify him by name, only referring to a confidential human source (CHS).
---
Pelosi: Minimum Wage Hike Will Remain in House COVID Bill
Speaker Nancy Pelosi, D-Calif., is vowing to keep the minimum wage hike in the $1.9 trillion COVID-19 relief package when the House is expected to take it up on Friday.
Her decision came after Senate Parliamentarian Elizabeth MacDonough ruled the wage hike must be dropped from a massive COVID-19 relief bill the Democrats are trying to speed through Congress.
"The ruling from the Senate parliamentarian is disappointing, because raising the minimum wage would give 27 million Americans a well-deserved raise and pull nearly one million Americans out of poverty in the middle of a once-in-a-century devastating pandemic and economic crisis," Pelosi said in a statement.
---
Democrats' $1.9 trillion relief bill would trigger $36 billion in Medicare cuts in 2022, says CBO
House Democrats' $1.9 trillion coronavirus relief bill would trigger deep cuts to programs such as Medicare unless Congress works around a 2010 law intended to curb federal deficits, the Congressional Budget Office said Thursday.
Lawmakers had been expecting such a report on the cuts, which are unlikely to take effect.
Under a 2010 law, the White House budget office has to identify "sequestration" cuts to offset projected increases in the federal deficit from new legislation.
---
Sen. Rick Scott: Dems, Biden Administration 'Hypocrites' on Border
Sen. Rick Scott Friday slammed the Biden administration and Democrats as "hypocrites" over their immigration policy that continues to keep children in migrant detention centers.
"They are causing this problem by stopping the wall," the Florida Republican said on Fox News' "Fox and Friends." "They are opening up the borders and stopped the stay in Mexico policy, so now we have the poor migrant kids being left at the border by their parents and trying to get them to become citizens so the parents can become citizens."
Meanwhile, Scott, who chairs the National Republican Senatorial Committee, will speak at the Conservative Political Action Conference, or CPAC, in Orlando on Friday and said he will speak about how the Republican "civil war" has been canceled.
---
Trump's push to end 'forever wars' stalled as Biden eyes off-ramp in Afghanistan
Former President Donald Trump's push to end America's "forever wars" in the Middle East may have exited the stage with him, as the Biden administration appears poised to keep troops in Afghanistan past a key May 1 deadline and powerful Republicans say their party must reject the former commander in chief's view of the need to fully remove the U.S. from intractable foreign fights.
President Biden, during his 2020 campaign, also embraced the idea of winding down endless wars abroad, as the U.S. combat mission in Afghanistan approached its 20th year and American forces remained on the ground in Iraq and Syria.
But the new administration's early signals suggest a much more measured approach that could frustrate anti-war liberals as much as Mr. Trump's mixed record on troop withdrawals vexed the more dovish, libertarian-leaning side of his party.
---
US to Buy at Least 100K Doses of Lilly's COVID-19 Antibody Therapy
Drugmaker Eli Lilly and Co said on Friday the U.S. government has agreed to buy at least 100,000 doses of its newly authorized COVID-19 dual antibody cocktail for $210 million, with doses to be delivered through March-end.
The U.S. government will have the option to purchase up to an additional 1.1 million doses through Nov. 25, the company said.
The therapy contains two antibodies, bamlanivimab and etesevimab, and had got U.S. emergency use authorization earlier this month for the treatment of mild to moderate COVID-19 in patients who are at high risk of progressing to severe disease or hospitalization.
---
Court rules British woman who joined ISIS as schoolgirl can't return to UK
The Supreme Court of the United Kingdom ruled on Friday that a British-born woman who went to Syria as a schoolgirl to join ISIS poses a security risk and will not be allowed to return to Britain to fight for her citizenship.
Shamima Begum, now 21, left London in 2015 at the age of 15 and traveled to Syria with two school friends, Reuters reported.
She later lived in Raqqa, the caliphate's self-declared capital, and married an ISIS fighter. She had three children since leaving Britain but all of the infants have since died, the outlet noted.
In 2019, Begum was stripped of her British citizenship over national security concerns. However, a court ruled last year that she could only have a fair appeal if she were allowed back to Britain. Friday's decision means she will have to pursue her appeal against the citizenship move from abroad.
---
Hundreds of schoolgirls abducted in Nigeria, government official says
Hundreds of schoolgirls were abducted in the early hours of Friday when armed men raided a state-run school in Zamfara State, north-west Nigeria, a government official told CNN.
The schoolgirls were taken from their hostels by gunmen who raided the Government Girls' Secondary School in the town of Jangebe, a high-ranking government official with knowledge of the incident told CNN.
A police officer was killed in the attack, according to the source, who did not want to be named as he did not have permission to speak on record.
---
Putin critic Alexey Navalny has been transferred to a penal colony, Russian prison service says
Russian opposition figure Alexey Navalny has been transferred from a Moscow detention center to a penal colony, state media reported on Friday.
The exact location and name of the penal colony was not revealed but Alexander Kalashnikov of Russia's federal penitentiary service (FSIN) told reporters: "According to the court's decision, he left to where he currently should be. Everything is done within the framework of the law and the current legislation."
Kalashnikov added Navalny will be kept in "absolutely normal conditions."
---
COVID-19 proves anew that the individual is greater than the government
The selfless sacrifice of the individual has been the lone beacon of hope
Our year of Wuhan.
We have endured unspeakable hardships and pain. We have seen the very best in people. We have seen the worst in people.
All of our successes — even our very survival — have come from the wise humanity of individuals looking out for one another. Family, neighbors, parents, nurses, roommates, doctors and complete strangers displaying heroic kindness and compassion in a sea of real agony and crazed hysteria.
---
Learning from the espionage malpractice behind the Steele dossier
Mistakes like relying on Steele and his atrocious reporting must not be repeated
Recently declassified notes of an FBI meeting in 2017 with former British MI6 agent Christopher Steele and his Orbis Business Intelligence partner Christopher Burrows add to the growing mountain of evidence discrediting Mr. Steele's infamous dossier — a virulent, self-injected virus in the U.S. political process.
According to the FBI, Mr. Steele said it was Fiona Hill, senior director for European and Russian affairs on the Trump White House's National Security Council from 2017 to 2019, who introduced him to his primary sub-source for the dossier, Igor Danchenko.
Mr. Steele tried to spin the story that insinuated Ms. Hill knew and approved of Mr. Danchenko's role in compiling the salacious dossier, a work product that amounted to a major hit job on then-candidate Donald Trump. A distinguished senior fellow at the Brookings Institution and co-author of a book on Russian President Vladimir Putin's espionage back story, Ms. Hill is a preeminent expert on Russia. Mr. Steele was apparently trying to trade on her impeccable credentials to enhance the perceived veracity of his reporting.
---
" It is discouraging to think how many people are shocked by honesty and how few by deceit."

-- Noel Coward

(1899-1973) British playwright

---

The Medal of Honor is the highest award for valor in action against an enemy force which can be bestowed upon an individual serving in the Armed Services of the United States.

GeneTrerally presented to its recipient by the President of the United States of America in the name of Congress.

The first award of the Medal of Honor was made March 25, 1863 to Private JACOB PARROTT.The last award of the Medal of Honor was made September 15, 2011 to Sergeant DAKOTA MEYER.

Since then there have been: • 3458 recipients of the Medal of Honor.

• Today there are 85 Living Recipients of the Medal of Honor.

Citation


Captain Humbert R. Versace distinguished himself by extraordinary heroism during the period of 29 October 1963 to 26 September 1965, while serving as S-2 Advisor, Military Assistance Advisory Group, Detachment 52, Ca Mau, Republic of Vietnam. While accompanying a Civilian Irregular Defense Group patrol engaged in combat operations in Thoi Binh District, An Xuyen Province, Captain Versace and the patrol came under sudden and intense mortar, automatic weapons, and small arms fire from elements of a heavily armed enemy battalion. As the battle raged, Captain Versace, although severely wounded in the knee and back by hostile fire, fought valiantly and continued to engage enemy targets. Weakened by his wounds and fatigued by the fierce firefight, Captain Versace stubbornly resisted capture by the over-powering Viet Cong force with the last full measure of his strength and ammunition. Taken prisoner by the Viet Cong, he exemplified the tenets of the Code of Conduct from the time he entered into Prisoner of War status. Captain Versace assumed command of his fellow American soldiers, scorned the enemy's exhaustive interrogation and indoctrination efforts, and made three unsuccessful attempts to escape, despite his weakened condition which was brought about by his wounds and the extreme privation and hardships he was forced to endure. During his captivity, Captain Versace was segregated in an isolated prisoner of war cage, manacled in irons for prolonged periods of time, and placed on extremely reduced ration. The enemy was unable to break his indomitable will, his faith in God, and his trust in the United States of America. Captain Versace, an American fighting man who epitomized the principles of his country and the Code of Conduct, was executed by the Viet Cong on 26 September 1965. Captain Versace's gallant actions in close contact with an enemy force and unyielding courage and bravery while a prisoner of war are in the highest traditions of the military service and reflect the utmost credit upon himself and the United States Army.

---

From the Archives

We Have Met the Enemy…
Geoff Metcalf


"They who can give up essential liberty to obtain a little temporary safety deserve neither liberty nor safety.
--Benjamin Franklin
"The American people must be willing to give up a degree of personal privacy in exchange for safety and security."
--Louis Freeh


In the wake of the clamor over the most recent WikiLeaks data dump, 'Vault 7', 'UMBRAGE', et al, it should be noted this is not really anything new. What we are seeing here is simply the evolution of something that goes back to the late 50s (to the incomplete best knowledge I have).

It is kinda cool to finally see even

The New York Times

acknowledging material

I was writing about in 1998

.

In April of 1998 I wrote "Privacy has become an anachronism." I was commenting on "a massive system designed to intercept all your e-mail, fax traffic and more." I was explaining 'Echelon', the illegitimate offspring of a

UKUSA Treaty

signed by the United States, United Kingdom, Canada, Australia and New Zealand. Its purpose was, and is, to have a vast global intelligence monster, which allegedly shares common goals. The system was so "efficient" that reportedly National Security Agency folk from Fort Meade could work from Menwith Hill in England to intercept local communications without either nation having to burden themselves with the formality of seeking approval (a court order) or disclosing the operation. And this was all pre-9/11 and pre-the anti-constitutional

'Patriot Act'

.

It is illegal (without a Judge's signed permission) for the United States to spy on its citizens … kinda. The laws have long been circumvented by a mutual pact among five nations. Under the terms of UKUSA agreement, Britain spies on Americans and America spies on British citizens, and then the two conspirators trade data. A classic technical finesse. It is legal, but the intent to evade the spirit is inescapable.

I often fictionalized the genesis of 'Echelon' as an informal meeting of a group of post war American and British intelligence types drinking in some remote rustic bar. An imagined CIA type complains to his MI6 buddy about the hassles of US laws preventing US intelligence from surveillance of bad guys, and the Brit echoes the same complaint.

"Hey wait a moment mate," says Nigel, the make-believe MI6 guy, "I can spy on your guys and you can spy on our bad players…why don't we just come up with a mechanism whereby we spy on your villains, you spy on our villains, and we just 'share' the intel?"

This system was called ECHELON, and has been kicking around in some form longer than most of you. The result of the UKUSA treaty signed by the United States, United Kingdom, Canada, Australia and New Zealand was, and is, to have a vast global intelligence monster which allegedly shares common goals.

The London Telegraph reported in December of 1997 that the Civil liberties Committee of the European Parliament had officially confirmed the existence and purpose of ECHELON. "A global electronic spy network that can eavesdrop on every telephone, e-mail and telex communication around the world will be officially acknowledged for the first time in a European Commission report. …"

The report noted: "Within Europe all e-mail, telephone and fax communications are routinely intercepted by the United States National Security Agency, transferring ll target information from the Eurv opean mainland via the strategic hub of London, then by satellite to Fort Meade in Maryland via the crucial hub at Menwith Hill, in the North York moors in th UK.

"The ECHELON system forms part of the UKUSA system but unlike many of the electronic spy systems developed during the Cold War, ECHELON was designed primarily for non-military targets: governments, organizations and businesses in virtually every country."

An interesting sidebar appeared in the International Herald Tribune under the headline, "Big Corporate Brother: It Knows More About You Than You Think." The story details Acxiom Corp, which was a humongous information service hidden in the Ozark foothills. Twenty-four hours a day, Acxiom electronically gathered and sorts all kinds of data about 196 million Americans. Credit card transactions and magazine subscriptions, telephone numbers, real estate records, automotive data, hunting, business and fishing licenses, consumer surveys and demographic detail that would make a marketing department's research manager salivate. This relatively new (legal) enterprise was known as "data warehousing" or "data-mining", and it underscores the cruel reality that the fiction of personal privacy has become obsolete. Technology's ability to collect and analyze data has made privacy a quaint albeit interesting dinosaur.

The Tribune reported that "Axciom can often determine whether an American owns a dog or cat, enjoys camping or gourmet cooking, reads the Bible or lots of other books. It can often pinpoint an American's occupation, car and favorite vacations. By analyzing the equivalent of billions of pages of data, it often projects for its customers who should be offered a credit card or who is likely to buy a computer."

Most of this information is from y 1998 piece. Echelon has developed, matured, and morphed into a much more powerful hybrid. 'Carnivore' was software to help triage the cacophony of data. Vault 7 and 'Umbrage' are logical (some would argue "insidious") growth.

More to follow…