"It Is Not A Question of Who Is Right Or Wrong But What Is Right Or Wrong That Counts.

"

--Geoff Metcalf
Providing an on line Triage of the news since 1997



Wo

rld & Nation
Trump: 3M 'Will Have a Big Price to Pay' Over Face Masks
President Donald Trump slammed 3M Co in a tweet late Thursday after earlier announcing he was invoking the Defense Production Act to get the company to produce face masks after the company reportedly refused administration request to divert millions of masks to the U.S. from its Asian hub.
"We hit 3M hard today after seeing what they were doing with their Masks. 'P Act' all the way.' Big surprise to many in government as to what they were doing - will have a big price to pay!" Trump said on Twitter.
3M refused to send 10 million N95 respirator masks from it Singapore hub to the U.S., Financial Times reported Friday, citing an unidentified person with direct knowledge of the matter. The masks were intended for the Asian market, the source said, and the company objected on legal and humanitarian grounds because the move would leave medical workers there without crucial protection.
---
U.S. coronavirus deaths top 1,000 in single day, White House expected to recommend everyone wear masks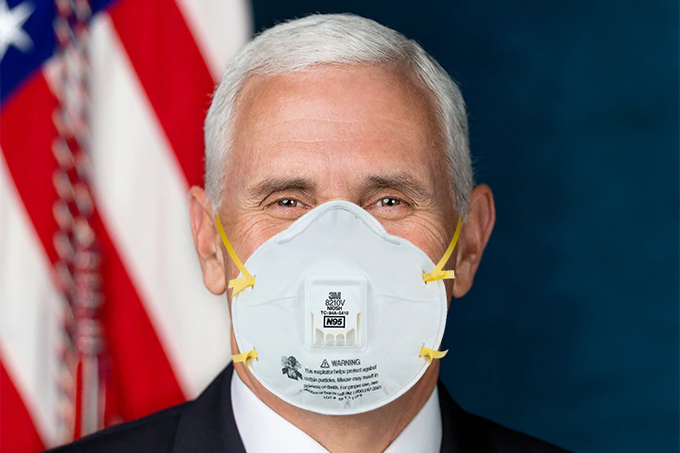 The death toll and economic devastation from the novel coronavirus reached staggering new levels in the United States on Thursday as officials reported more than 1,000 deaths from the pandemic in a single day and revealed that more than 6.6 million Americans had sought unemployment benefits in a single week.
The White House is expected to urge at least some people across the country to begin wearing cloth masks or face coverings in public to dampen the spread of the virus. The potential reversal of earlier mask recommendations - which White House officials indicated Thursday were still being debated - signaled the seriousness of the outbreak and rising concerns in Washington about the effect it could have on millions of Americans.
Local officials in one Texas border town already have threatened to fine those who don't cover their nose and mouth if they go out in public. Vice President Mike Pence said guidance on the topic would be issued in coming days; a White House official later said that the guidance would be targeted to those in areas where community transmission is high.
---
Navy relieves captain who raised alarm about coronavirus outbreak on aircraft carrier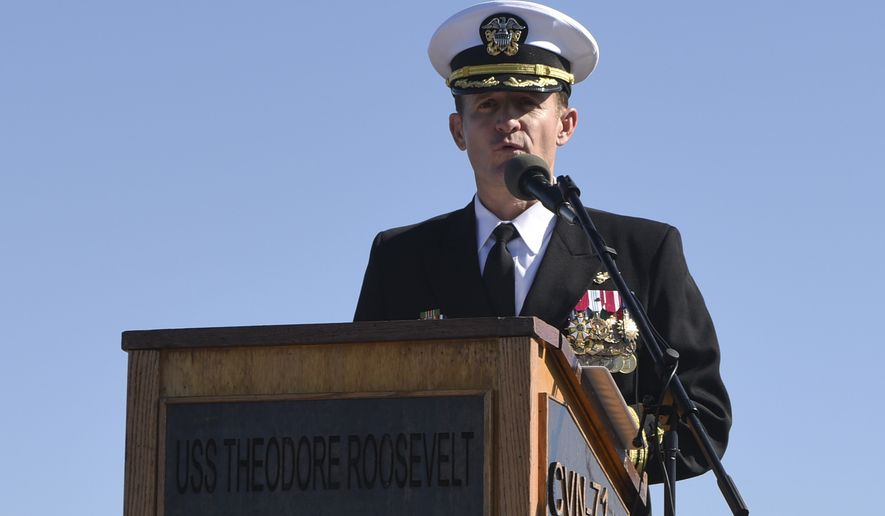 The Navy announced it has relieved the captain who sounded the alarm about an outbreak of COVID-19 aboard the USS Theodore Roosevelt.
Capt. Brett Crozier, who commands the Roosevelt, an aircraft carrier with a crew of nearly 5,000, was relieved of his command Thursday, but he will keep his rank and remain in the Navy.
Crozier raised the alarm this week, sending a strongly worded letter to Navy leadership that detailed his concerns about the spread of the virus on the ship. The letter leaked to the media and generated a series of headlines.
Speaking at a news conference Thursday evening, Acting Navy Secretary Thomas Modly said Crozier was removed from his post because he sent the letter over "non-secure unclassified email" to a "broad array of people" rather than up the chain of command.
---
Trump tears into Schumer in two-page letter: 'I never knew how bad a senator you are'
President Trump's two-page letter to Senate Minority Leader and presidential irritant Charles E. Schumer on Thursday was one for the ages.
Responding to Mr. Schumer's criticism of his handling of the coronavirus outbreak, Mr. Trump called the New York Democrat a spotlight-seeking show horse who would lose a possible primary against Rep. Alexandria Ocasio-Cortez.
"I've known you for many years, but I never knew how bad a senator you are for the state of New York until I became president," the president wrote.
Mr. Schumer appeared on MSNBC's "Morning Joe" on Thursday morning and demanded more action from the White House on delivering medical supplies to states. He also wrote a letter to the president complaining about a "federal leadership void."
---
Hydroxychloroquine rated 'most effective therapy' by doctors for coronavirus: Global survey
Drug known for treating malaria used by U.S. doctors mostly for high-risk COVID-19 patients
An international poll of more than 6,000 doctors released Thursday found that the antimalarial drug hydroxychloroquine was the most highly rated treatment for the novel coronavirus.
The survey conducted by Sermo, a global health care polling company, of 6,227 physicians in 30 countries found that 37% of those treating COVID-19 patients rated hydroxychloroquine as the "most effective therapy" from a list of 15 options.
The U.S. Food and Drug Administration gave chloroquine and its next-generation derivative, hydroxychloroquine, emergency-use authorization Monday for treating the novel coronavirus, although the drug was already being used off-label by some doctors and hospitals for COVID-19 patients.
---
Trump warns Democrats against coronavirus response 'witch hunt'
President Trump warned House Democrats on Thursday to back off plans for what he called another "witch hunt" investigation, this time over his administration's response to the coronavirus outbreak.
"This is not the time for politics, endless partisan investigations — here we go again," Mr. Trump said at his daily coronavirus briefing at the White House. "It's not any time for witch hunts. It's time to get this enemy defeated."
Mr. Trump hammered Capitol Hill Democrats for organizing an inquest of the administration in the middle of a health crisis as he hinted that federal officials will advise that Americans wear masks to limit the spread of coronavirus, only to then suggest a scarf might be better.
---
Zoom Apologizes for Hacks Amid Online Surge During Pandemic
Videoconferencing app Zoom says it is boosting its focus on safety and privacy issues amid a surge in "Zoom-bombing," or video hacking.
The FBI on Monday warned of a nationwide rise in "Zoom-bombing," as more people have turned to videoconferencing amid the coronavirus pandemic. The bureau said it had received multiple reports of hackers taking over universities, schools, churches and political conferences, according to media reports. In Buffalo, N.Y., on Tuesday, a YMCA said its live family storytime was hacked.
Ex-NSA hacker Patrick Wardle also identified a series of issues, including a flaw where Mac users were vulnerable to having microphones and webcams hijacked.
---
European leaders warn coronavirus could lead to the breakup of their union
The coronavirus pandemic, with its simultaneous health and economic crises, is deepening fault lines within Europe in a way some leaders fear could prove to be a final reckoning.
The cohesion of the European Union had been battered by Brexit, bruised by the political fallout from the 2015 migration surge and the 2008 financial crisis, and challenged by rising autocracy in the east that runs contrary to the professed ideals of the European project.
Now, if Europe's leaders cannot chart a more united course, the project lies in what one of its architects described this week as "mortal danger."
---
Latest genius Democrat plan: Make the election about Wuhan virus
As in life, in politics you should be careful what you ask for.
Some Democrat politicians appear hellbent on turning the 2020 election into a referendum on the Wuhan coronavirus pandemic.
They lash themselves to the splintered mast and accuse political enemies of being racist for uttering the place whence the pandemic emerged. They use the global crisis as a diversion to loot the federal treasury for expensive and unpopular proposals that could never survive an open political debate.
And they mock, distort or plain silence President Trump and the team of medical, scientific and economic experts he has assembled to combat this once-a-century calamity.
Meanwhile, former Vice President Joseph R. Biden — the party's presumptive nominee to replace Mr. Trump — takes to the airwaves from his basement home-studio to berate President Trump.
---
Hypocritical leftist media bias against Liberty University and Jerry Falwell Jr. is dangerous
Setting the record straight about Liberty University during the COVID-19 pandemic
Let's set the record straight: The leftist media bias against Liberty University and President Jerry Falwell Jr. is hypocritical, but it's also dangerous.
Just like the libelous assault against Nick Sandman and the Covington Catholic High School students last spring, many activist-journalists believe the pandemic gave them a permission slip for unleashing vile campaigns against religious groups.
Anyone following the news cycle over the past two weeks cannot help but notice the continual headlines punching at Liberty University. Their outrage stemmed from Mr. Falwell's decision to accommodate students returning from spring break, even as the university transitioned its residential program to online courses. This afforded international students and students with nowhere else to go the essential housing and food services they needed and had paid for. It also made it possible for these students to "stay put" and stay safe.
---
" It is discouraging to think how many people are shocked by honesty and how few by deceit."

-- Noel Coward

(1899-1973) British playwright

---

The Medal of Honor is the highest award for valor in action against an enemy force which can be bestowed upon an individual serving in the Armed Services of the United States.

GeneTrerally presented to its recipient by the President of the United States of America in the name of Congress.

The first award of the Medal of Honor was made March 25, 1863 to Private JACOB PARROTT.The last award of the Medal of Honor was made September 15, 2011 to Sergeant DAKOTA MEYER.

Since then there have been: • 3458 recipients of the Medal of Honor.

• Today there are 85 Living Recipients of the Medal of Honor.

Citation


Captain Humbert R. Versace distinguished himself by extraordinary heroism during the period of 29 October 1963 to 26 September 1965, while serving as S-2 Advisor, Military Assistance Advisory Group, Detachment 52, Ca Mau, Republic of Vietnam. While accompanying a Civilian Irregular Defense Group patrol engaged in combat operations in Thoi Binh District, An Xuyen Province, Captain Versace and the patrol came under sudden and intense mortar, automatic weapons, and small arms fire from elements of a heavily armed enemy battalion. As the battle raged, Captain Versace, although severely wounded in the knee and back by hostile fire, fought valiantly and continued to engage enemy targets. Weakened by his wounds and fatigued by the fierce firefight, Captain Versace stubbornly resisted capture by the over-powering Viet Cong force with the last full measure of his strength and ammunition. Taken prisoner by the Viet Cong, he exemplified the tenets of the Code of Conduct from the time he entered into Prisoner of War status. Captain Versace assumed command of his fellow American soldiers, scorned the enemy's exhaustive interrogation and indoctrination efforts, and made three unsuccessful attempts to escape, despite his weakened condition which was brought about by his wounds and the extreme privation and hardships he was forced to endure. During his captivity, Captain Versace was segregated in an isolated prisoner of war cage, manacled in irons for prolonged periods of time, and placed on extremely reduced ration. The enemy was unable to break his indomitable will, his faith in God, and his trust in the United States of America. Captain Versace, an American fighting man who epitomized the principles of his country and the Code of Conduct, was executed by the Viet Cong on 26 September 1965. Captain Versace's gallant actions in close contact with an enemy force and unyielding courage and bravery while a prisoner of war are in the highest traditions of the military service and reflect the utmost credit upon himself and the United States Army.

---

From the Archives

We Have Met the Enemy…
Geoff Metcalf


"They who can give up essential liberty to obtain a little temporary safety deserve neither liberty nor safety.
--Benjamin Franklin
"The American people must be willing to give up a degree of personal privacy in exchange for safety and security."
--Louis Freeh


In the wake of the clamor over the most recent WikiLeaks data dump, 'Vault 7', 'UMBRAGE', et al, it should be noted this is not really anything new. What we are seeing here is simply the evolution of something that goes back to the late 50s (to the incomplete best knowledge I have).

It is kinda cool to finally see even

The New York Times

acknowledging material

I was writing about in 1998

.

In April of 1998 I wrote "Privacy has become an anachronism." I was commenting on "a massive system designed to intercept all your e-mail, fax traffic and more." I was explaining 'Echelon', the illegitimate offspring of a

UKUSA Treaty

signed by the United States, United Kingdom, Canada, Australia and New Zealand. Its purpose was, and is, to have a vast global intelligence monster, which allegedly shares common goals. The system was so "efficient" that reportedly National Security Agency folk from Fort Meade could work from Menwith Hill in England to intercept local communications without either nation having to burden themselves with the formality of seeking approval (a court order) or disclosing the operation. And this was all pre-9/11 and pre-the anti-constitutional

'Patriot Act'

.

It is illegal (without a Judge's signed permission) for the United States to spy on its citizens … kinda. The laws have long been circumvented by a mutual pact among five nations. Under the terms of UKUSA agreement, Britain spies on Americans and America spies on British citizens, and then the two conspirators trade data. A classic technical finesse. It is legal, but the intent to evade the spirit is inescapable.

I often fictionalized the genesis of 'Echelon' as an informal meeting of a group of post war American and British intelligence types drinking in some remote rustic bar. An imagined CIA type complains to his MI6 buddy about the hassles of US laws preventing US intelligence from surveillance of bad guys, and the Brit echoes the same complaint.

"Hey wait a moment mate," says Nigel, the make-believe MI6 guy, "I can spy on your guys and you can spy on our bad players…why don't we just come up with a mechanism whereby we spy on your villains, you spy on our villains, and we just 'share' the intel?"

This system was called ECHELON, and has been kicking around in some form longer than most of you. The result of the UKUSA treaty signed by the United States, United Kingdom, Canada, Australia and New Zealand was, and is, to have a vast global intelligence monster which allegedly shares common goals.

The London Telegraph reported in December of 1997 that the Civil liberties Committee of the European Parliament had officially confirmed the existence and purpose of ECHELON. "A global electronic spy network that can eavesdrop on every telephone, e-mail and telex communication around the world will be officially acknowledged for the first time in a European Commission report. …"

The report noted: "Within Europe all e-mail, telephone and fax communications are routinely intercepted by the United States National Security Agency, transferring ll target information from the Eurv opean mainland via the strategic hub of London, then by satellite to Fort Meade in Maryland via the crucial hub at Menwith Hill, in the North York moors in the UK.

"The ECHELON system forms part of the UKUSA system but unlike many of the electronic spy systems developed during the Cold War, ECHELON was designed primarily for non-military targets: governments, organizations and businesses in virtually every country."

An interesting sidebar appeared in the International Herald Tribune under the headline, "Big Corporate Brother: It Knows More About You Than You Think." The story details Acxiom Corp, which was a humongous information service hidden in the Ozark foothills. Twenty-four hours a day, Acxiom electronically gathered and sorts all kinds of data about 196 million Americans. Credit card transactions and magazine subscriptions, telephone numbers, real estate records, automotive data, hunting, business and fishing licenses, consumer surveys and demographic detail that would make a marketing department's research manager salivate. This relatively new (legal) enterprise was known as "data warehousing" or "data-mining", and it underscores the cruel reality that the fiction of personal privacy has become obsolete. Technology's ability to collect and analyze data has made privacy a quaint albeit interesting dinosaur.

The Tribune reported that "Axciom can often determine whether an American owns a dog or cat, enjoys camping or gourmet cooking, reads the Bible or lots of other books. It can often pinpoint an American's occupation, car and favorite vacations. By analyzing the equivalent of billions of pages of data, it often projects for its customers who should be offered a credit card or who is likely to buy a computer."

Most of this information is from y 1998 piece. Echelon has developed, matured, and morphed into a much more powerful hybrid. 'Carnivore' was software to help triage the cacophony of data. Vault 7 and 'Umbrage' are logical (some would argue "insidious") growth.

More to follow…